Doraemon is an iconic cultural figure in Japan, on the same level as Mickey Mouse or Pikachu in terms of recognition. And with the lovable robot cat celebrating his 50th anniversary this year, Universal Studios Japan has teamed up with Toho Pictures to bring Doraemon to the park in a couple of fun ways! We've already shown you the cute merchandise that combines Jurassic World with the upcoming "Nobita's New Dinosaur" on sale at the park. But now, Universal Studios Japan is taking it to the next level – with a new "XR" virtual reality ride coming August 4th, 2020 through January 6th, 2021!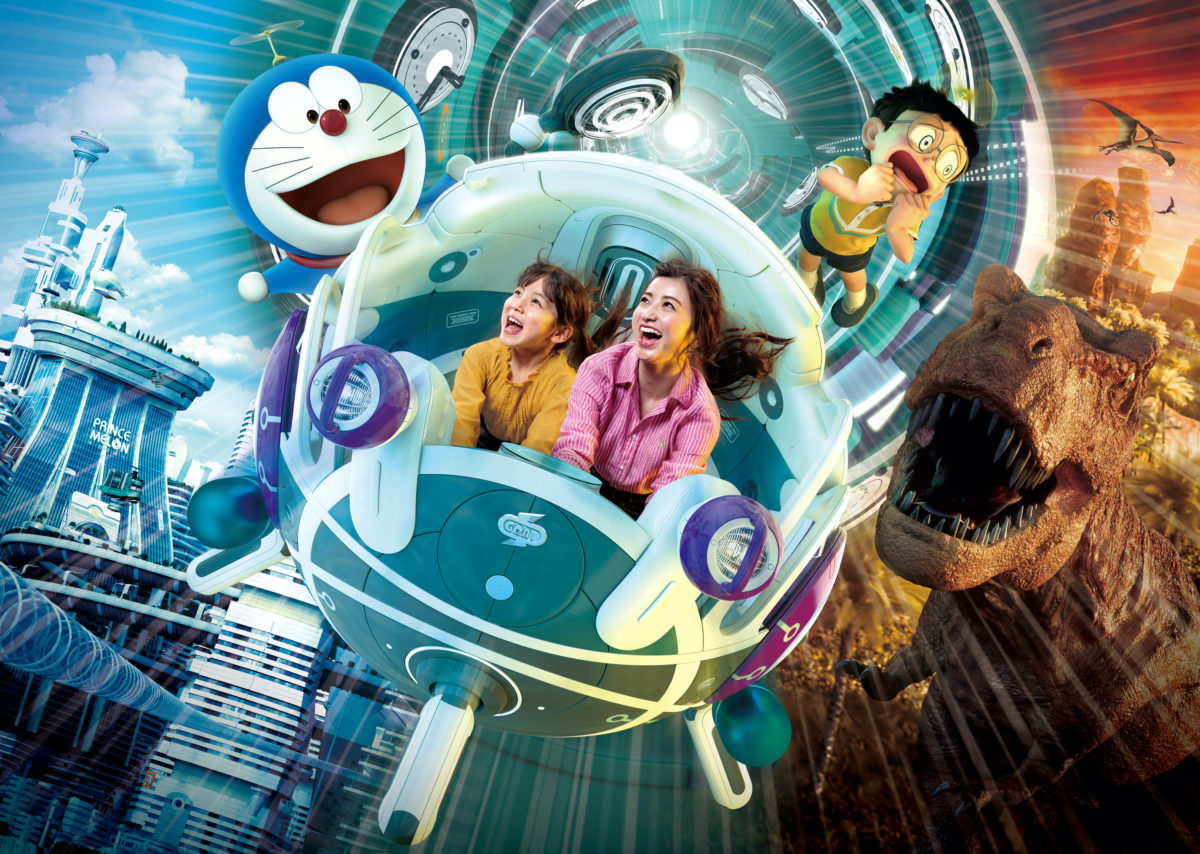 Occupying the space of Space Fantasy: The Ride in Hollywood, the all-new STAND BY ME Doraemon 2 XR Ride immerses Guests in a virtual reality experience with Doraemon and Nobita! Based on the upcoming film STAND BY ME Doraemon 2, the ride takes Guests on a time-travelling journey through the past and the future! Guests will time travel to the future to witness Nobita and Shizuka's wedding, but things won't go exactly as planned! Instead, Nobita steals Doraemon's Time Scooter and Guests must chase after him through the magnificent future and the dangerous Cretaceous period.
The film itself also will feature the theme of time travel, in which Nobita goes back in time to visit his deceased grandmother. She wants to see what he will be like when he grows up, so they begin travelling through time. But like the ride, not everything goes to plan.
The attraction's original story ties in to the film's plot, and Takashi Yamazaki and Ryuichi Yagi, writer and director of the film respectively, have worked with Universal Studios Japan to create this immersive experience!
STAND BY ME Doraemon 2 XR Ride will feature Express Pass and operates in place of Space Fantasy: The Ride through January 6th, 2021. As with the last XR ride, Attack on Titan XR, we expect a few merchandise items to also come August 4th. We look forward to sharing this new experience with you, so stay tuned to Universal Parks News Today for the latest news from Osaka!
Want even more Universal Studios news? Check out our newest website, Universal Parks News Today, for all the latest updates on Universal Parks across the globe! And follow us on social via our YouTube channel, plus Twitter, Instagram, and Facebook. 
Image courtesy of Universal Studios Japan.