We decided to take a break from the parks today and see what we could find at Disney Springs. We're glad we decided to come out, because we found so much going on here! From construction updates to new merchandise, Disney Springs was the place to be today. Let's get started!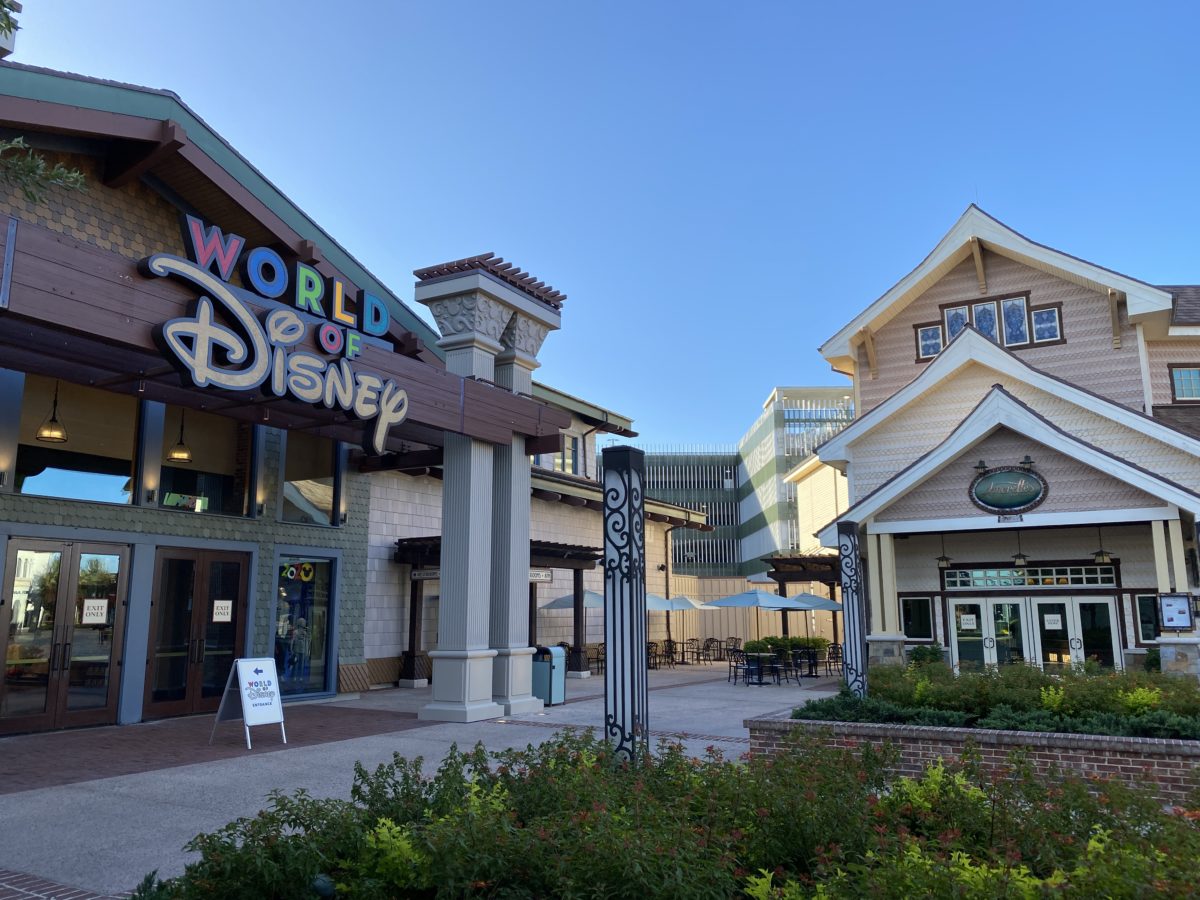 For those of you who have visited the Springs since its reopening in May or if you've been following along here, you'll know that this has been the only entrance to the World of Disney since it reopened, and all other doors served as exits. This door is now an exit, and the entrance has moved around the corner.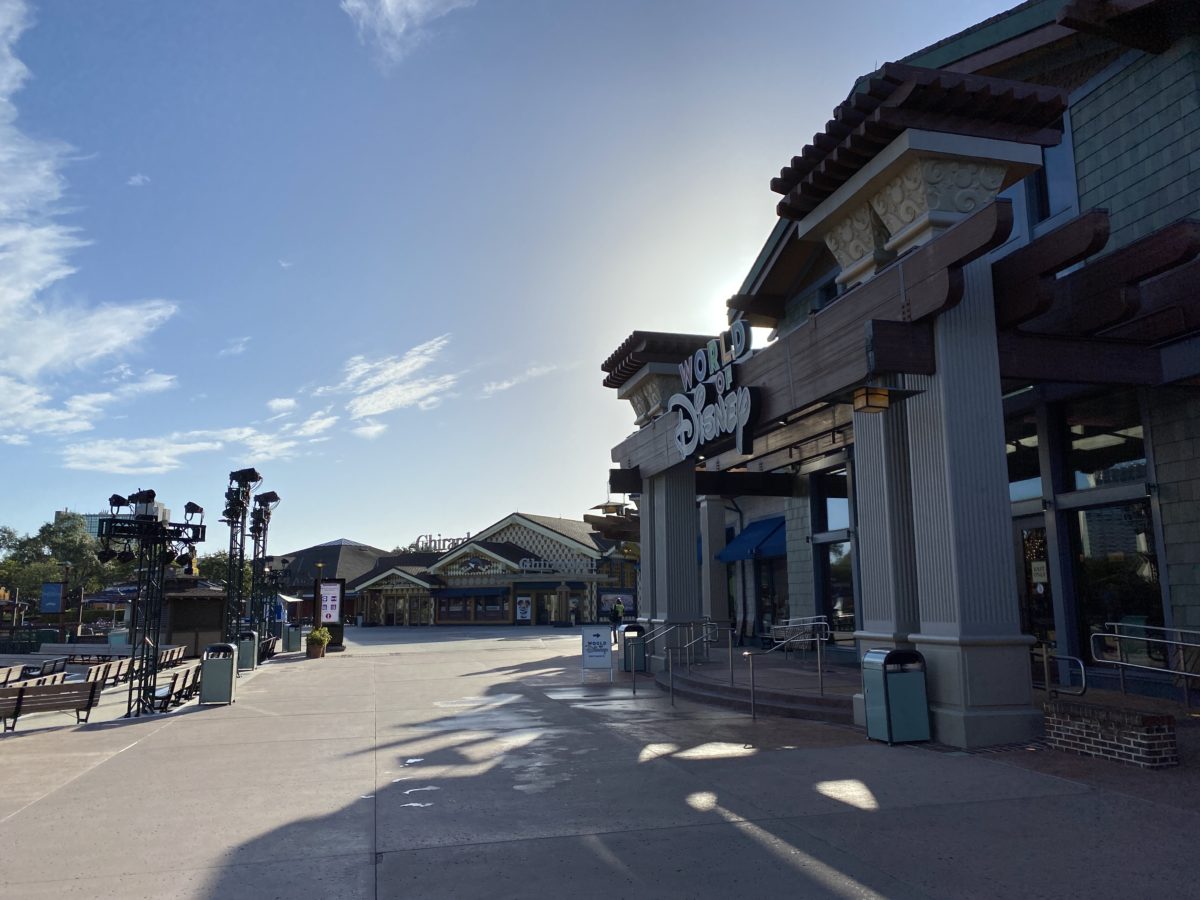 The entrance is now this door, which is in the center of the building, and the queue, which is marked with several social distancing queue markers, stretches to the left of the door and away from this photo's perspective. After speaking with a Cast Member, on busy days, the plan is to use both a Virtual Queue and a Standby line for those wishing to enter World of Disney. That way those wishing to wait may do so, and those wishing to put their name in the Virtual Queue and go get something to eat or shop elsewhere while waiting may do that instead. By using both systems simultaneously neither system will fill up, and guests will not have to wait long no matter which option they choose.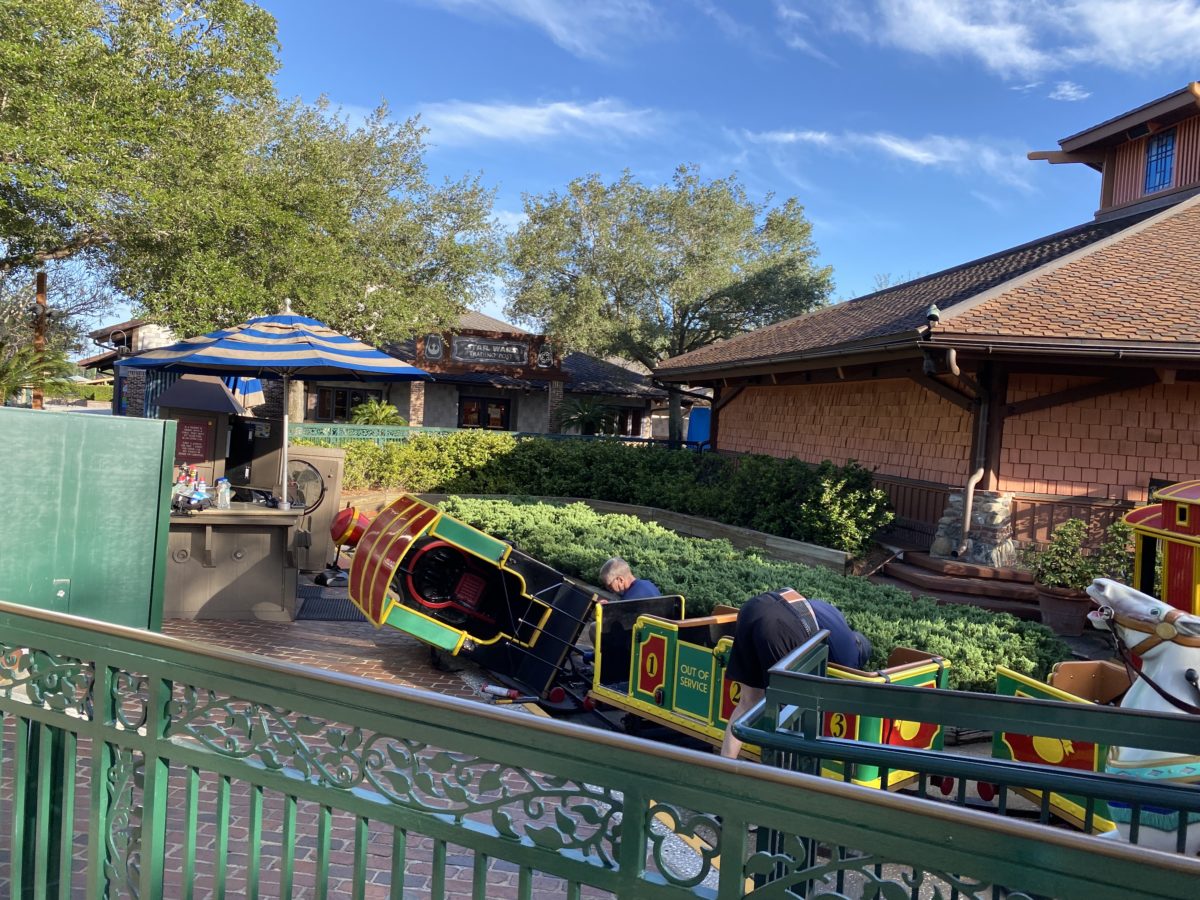 One of our favorite things about getting to the Springs so early is seeing things most people don't get to see. Here a Cast Member is cleaning out the wheels of the train due to a buildup of grease and grime that accumulates as the train runs over the tracks, moving the lubricant necessary to keep it mobile over its various parts.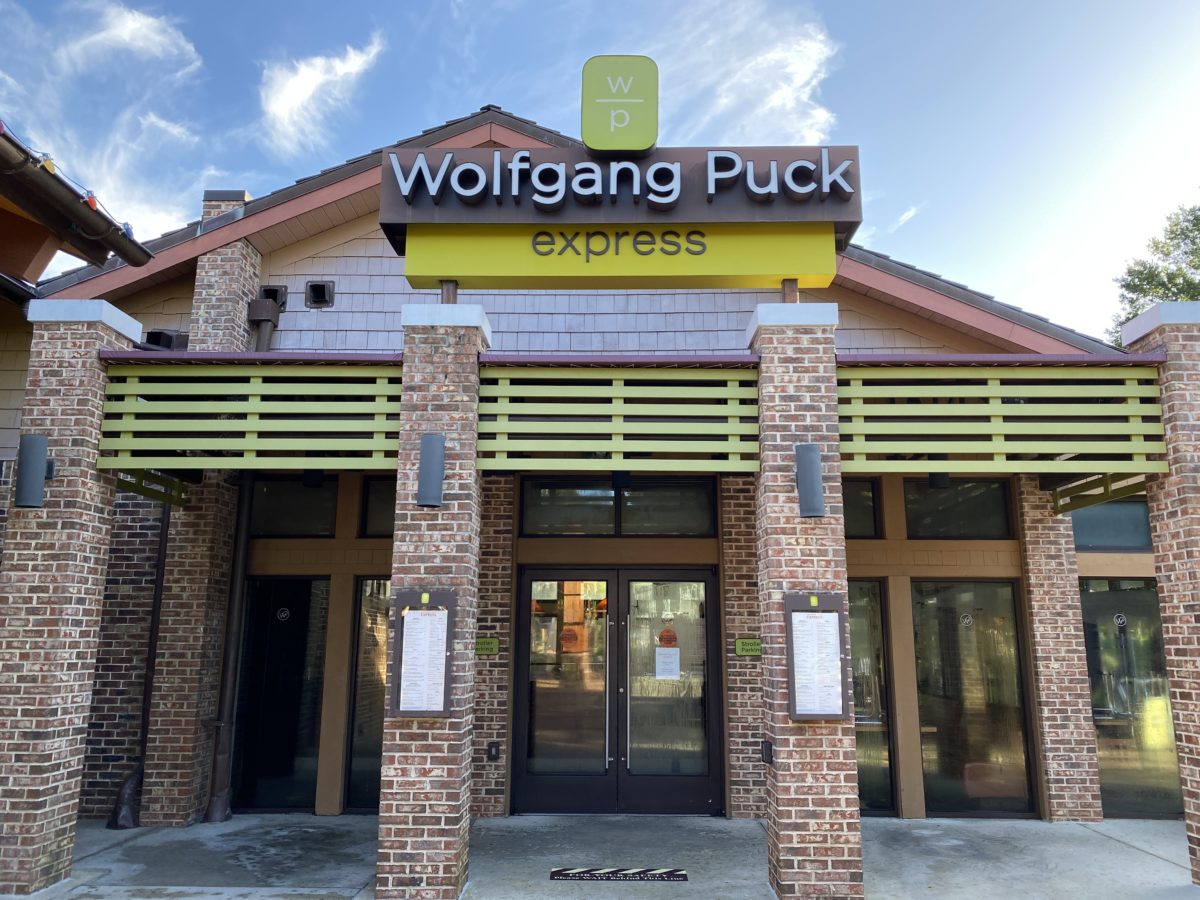 Though we have not seen it open in person, Wolfgang Puck Express no longer has "Sorry We Are Closed" signs in its windows, it now has modified hours posted. We look forward to returning on a day when it is open!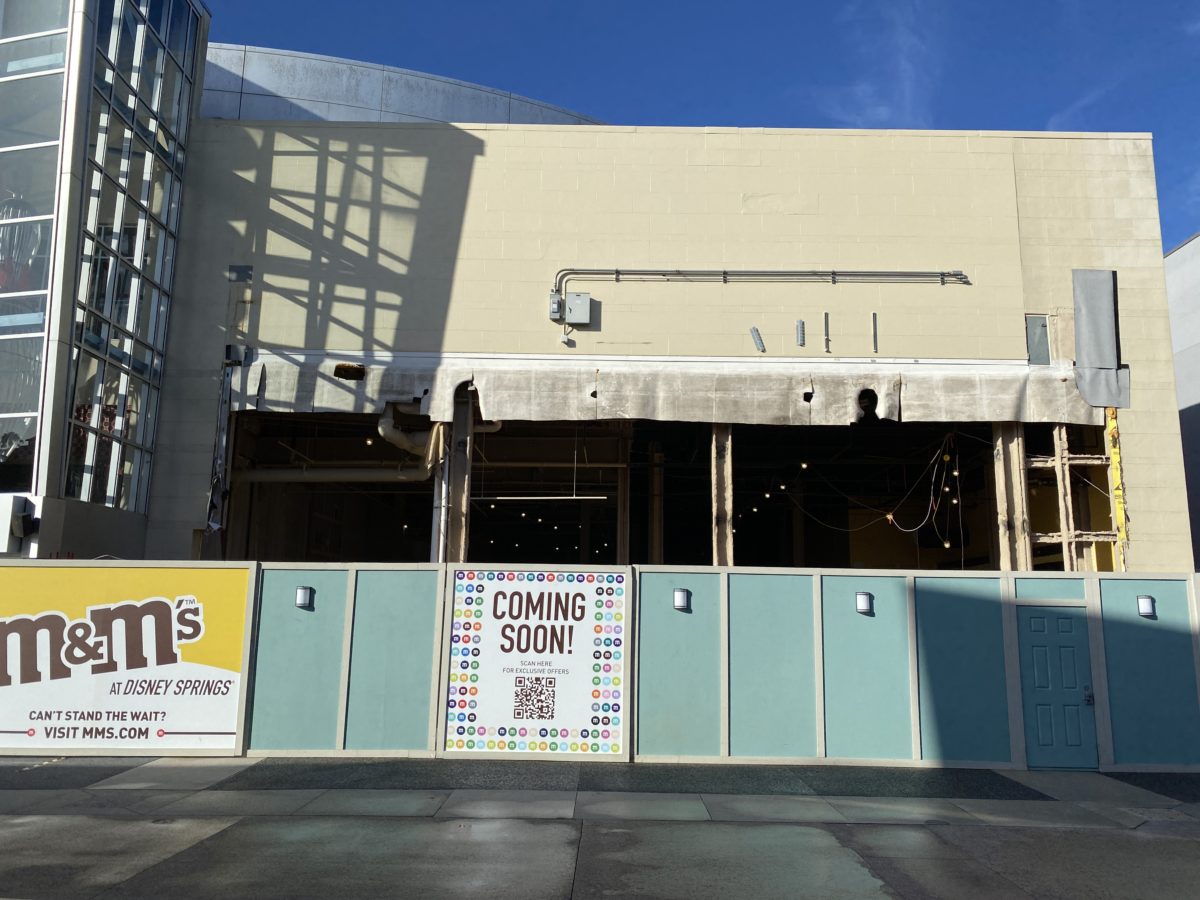 In construction news, the future location of M&M's is looking woefully similar to the last time we saw it, right down to the way the power lines are draped in the lack of a ceiling. We were given hope, however, by the sounds of work being done coming from the shell of the building as we walked by.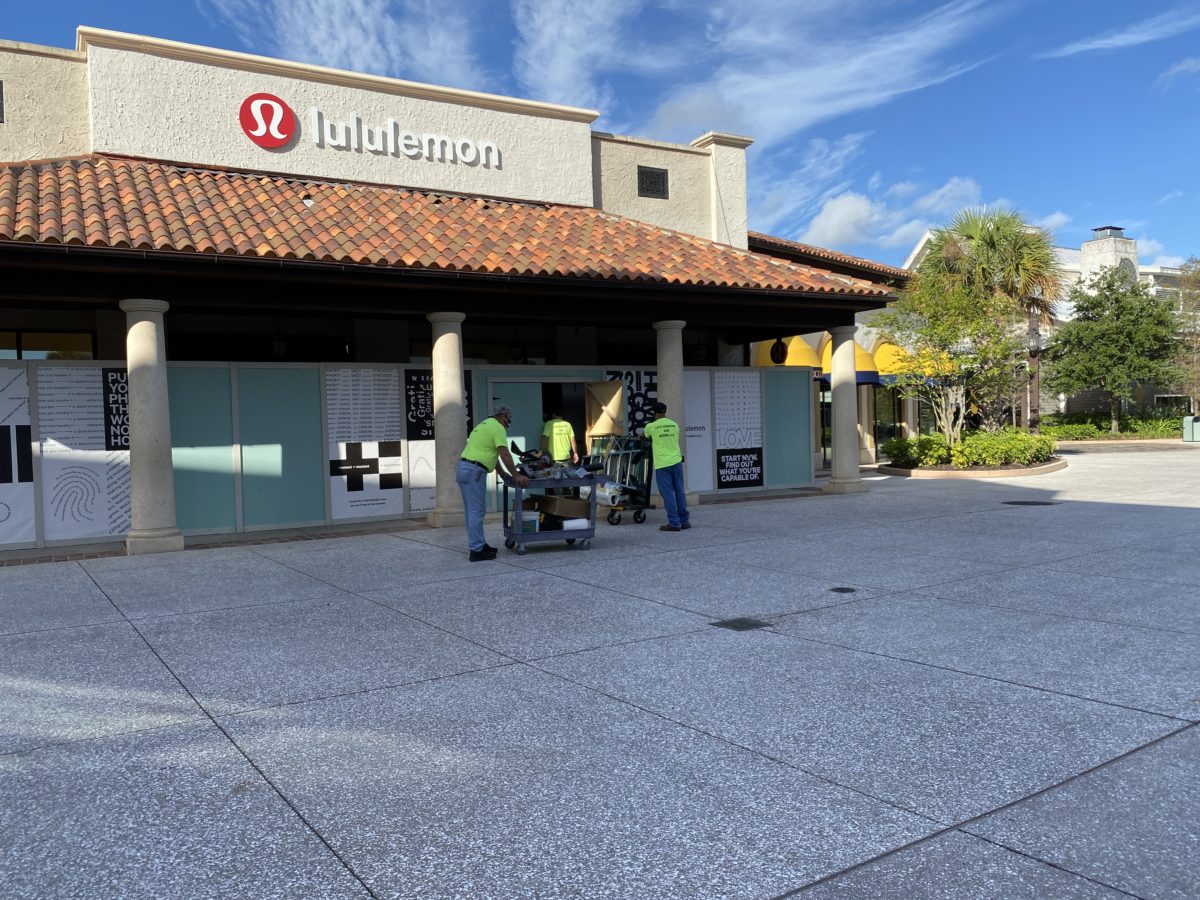 We happed upon a glass delivery at Lululemon today, and later in the day caught a glimpse above the wall of them being installed in the open sockets in the front of the building.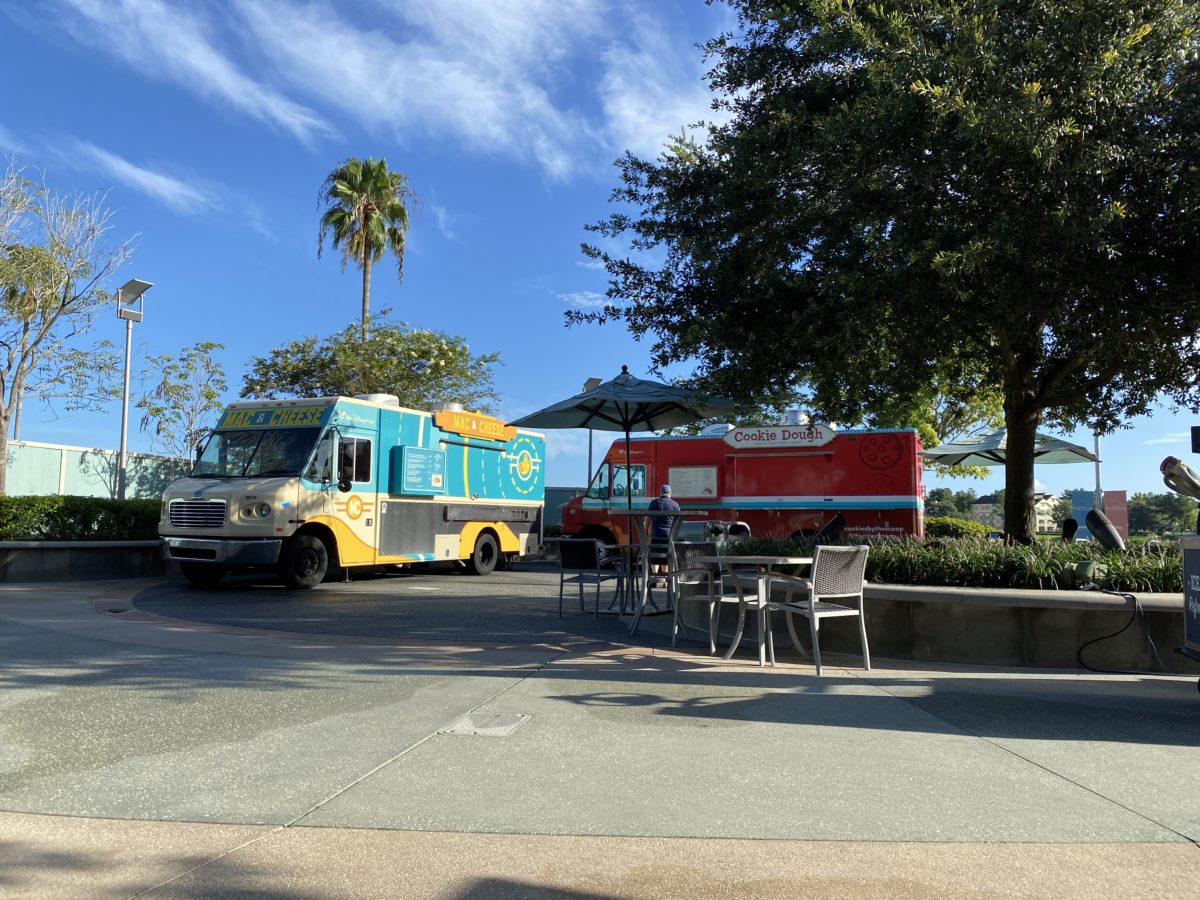 In the ongoing saga that is the case of the missing food truck, today it was the Hot Diggity Dog's turn to be absent. We took a look at the My Disney Experience App to see if it was still listed, and while it is, there is a note that states that all three food trucks may not appear on a daily basis, and that Disney food truck locations, menus, and operating hours are subject to change without notice.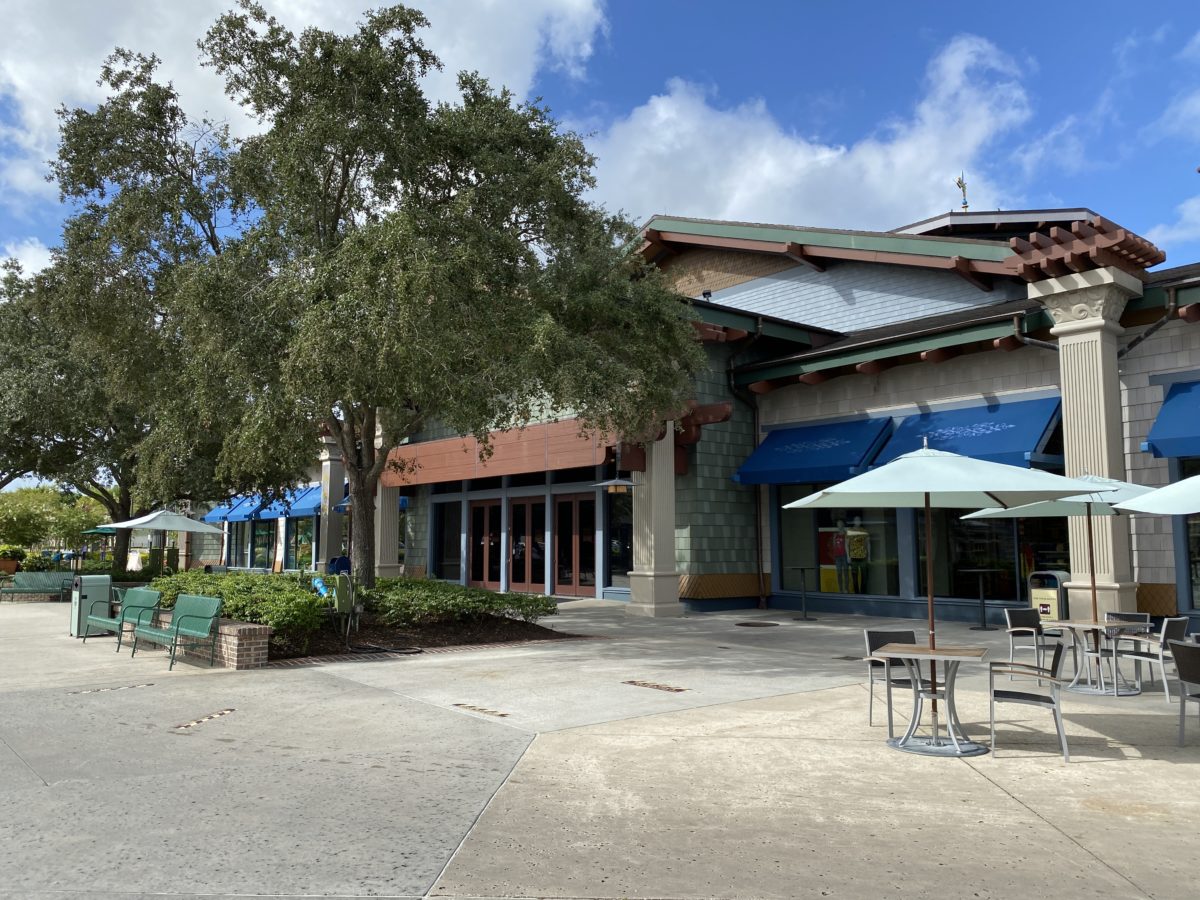 To add to the mystery, the 4 Rivers Cantina Barbacoa Food Truck was missing today, although the queue markers and seating remain in place.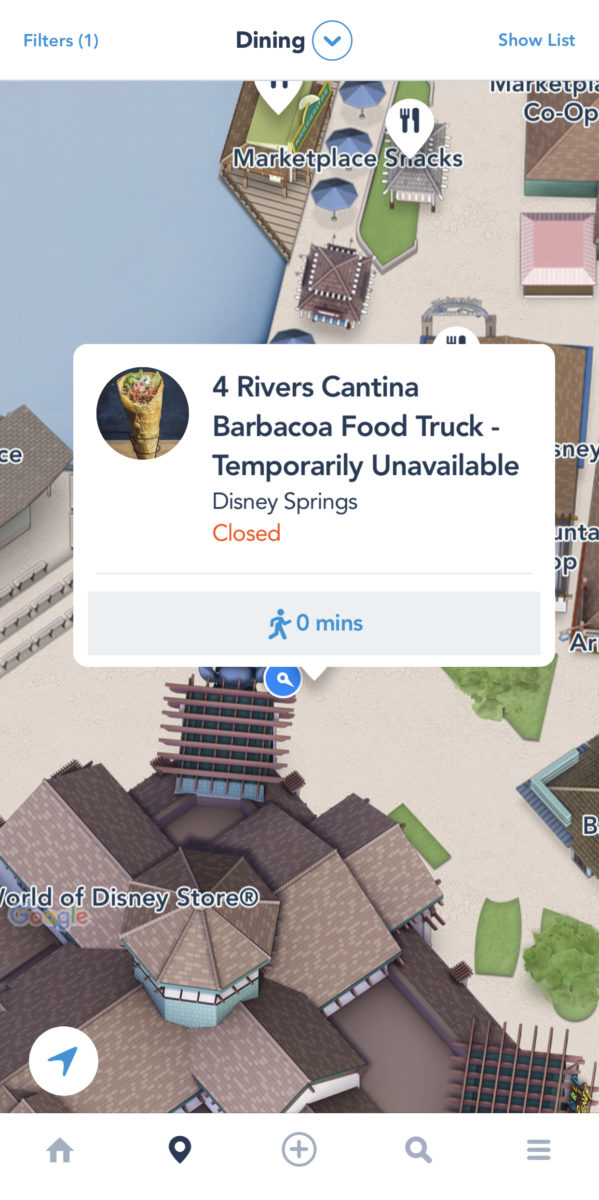 It's listed on My Disney Experience at "Temporarily Unavailable," so given that and that everything except the truck remains, we have hope that it will return.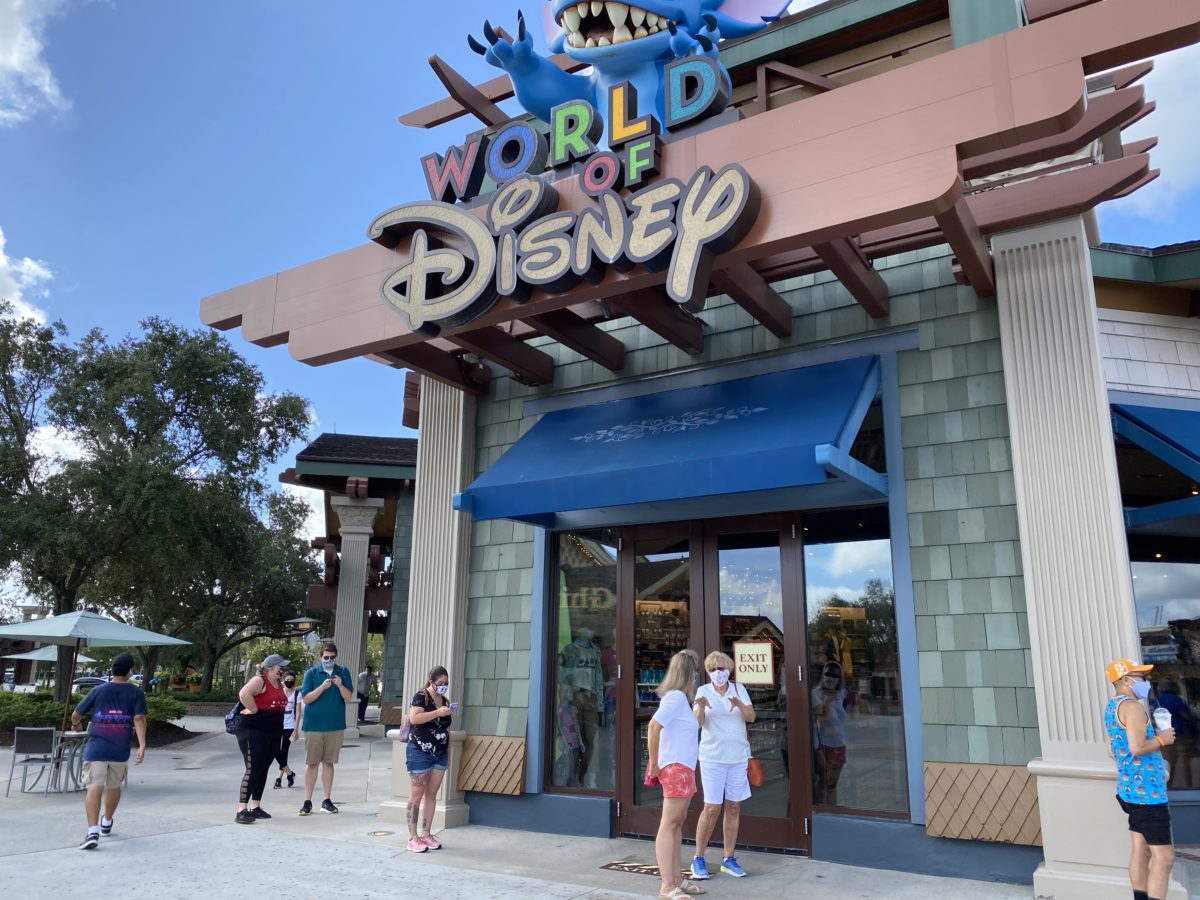 A line formed that wrapped around the corner of the building about 10 minutes prior to World of Disney opening at 10 am. Despite the lack of social distancing markers past the first 8 or so groups, guests did a good job of distancing themselves.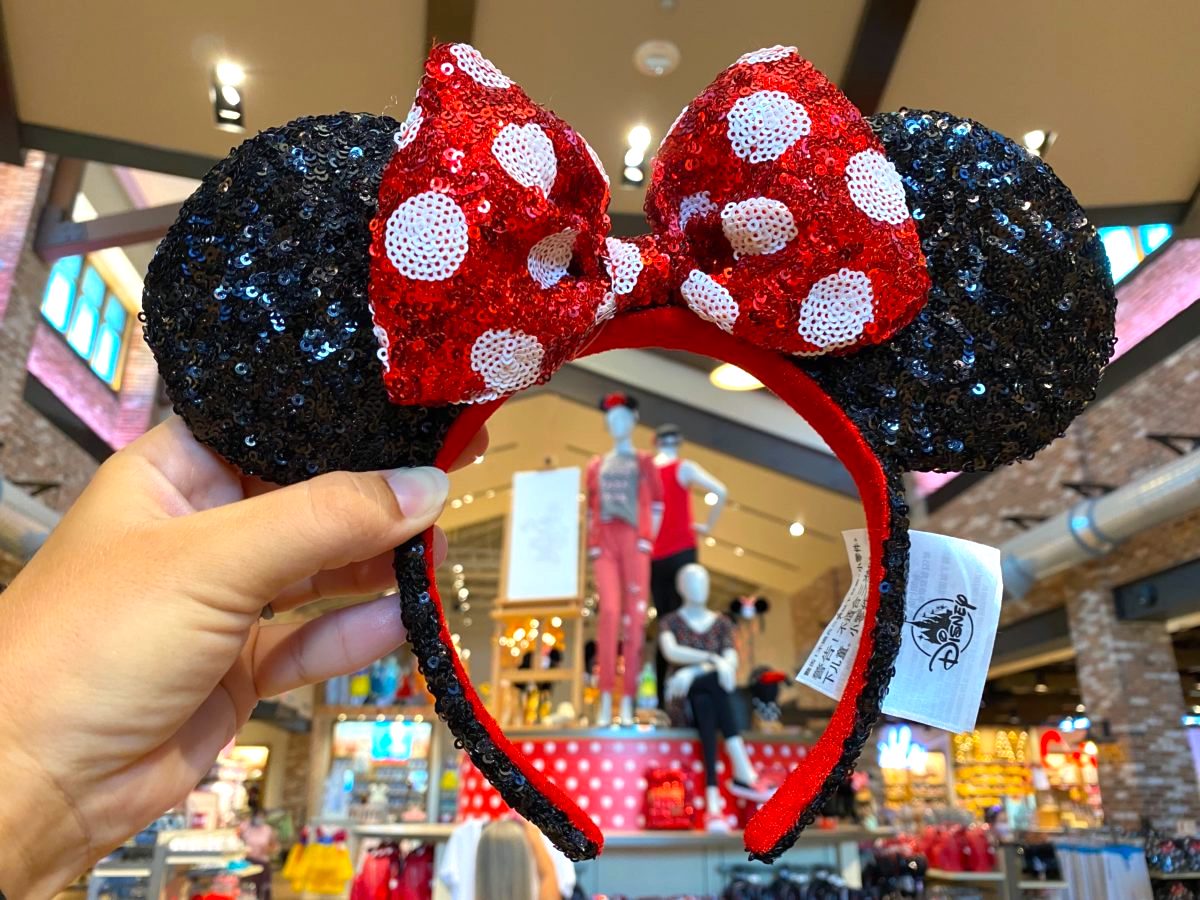 We found a new pair of ears to go along with all the new black and red Minnie Mouse style merchandise we've been finding recently. This set features black sequin ears, a red sequin bow with white sequin polka dots, and an eye-catching red satin lining. For more pictures and information, see our full article here.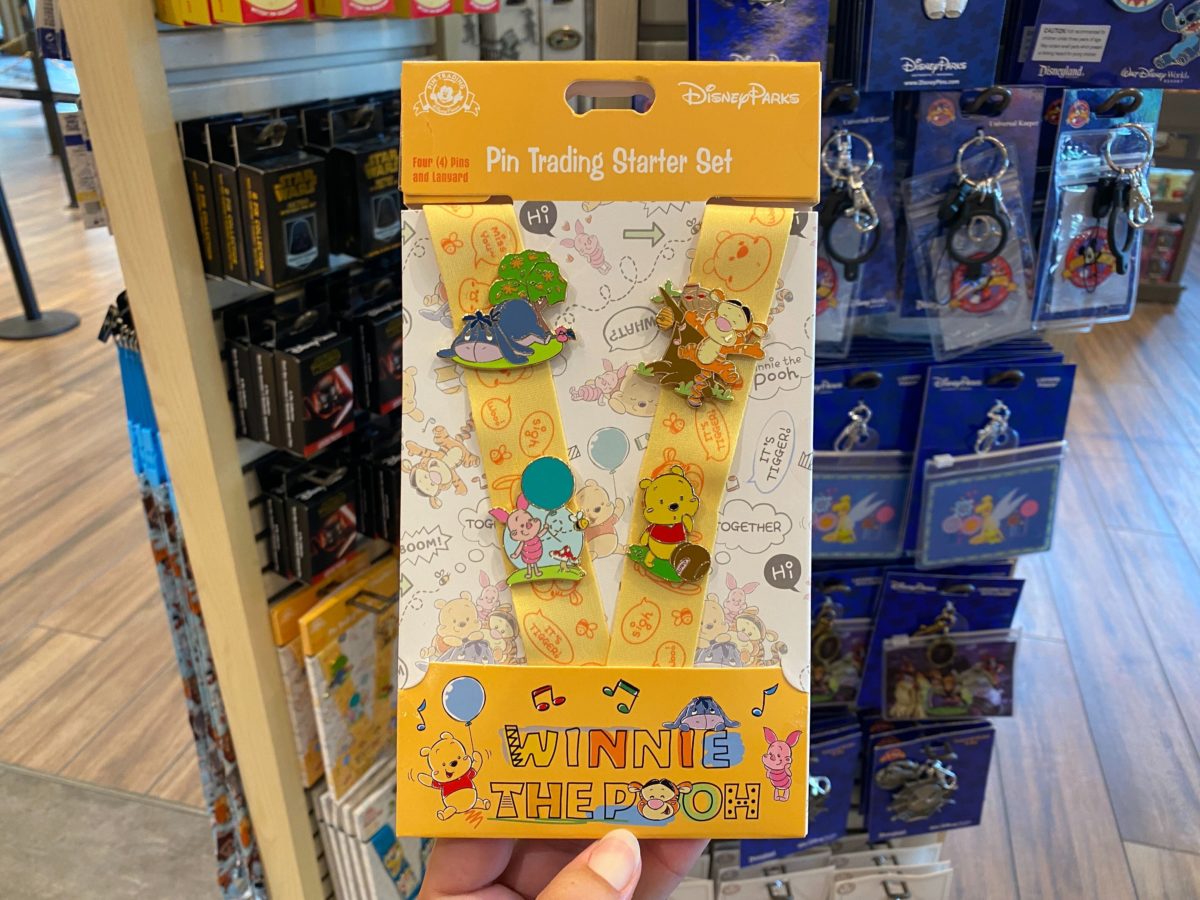 We also found this adorable Winnie the Pooh pin trading starter set, which was originally set to debut in April. We like the fresh take on the art of these classic characters.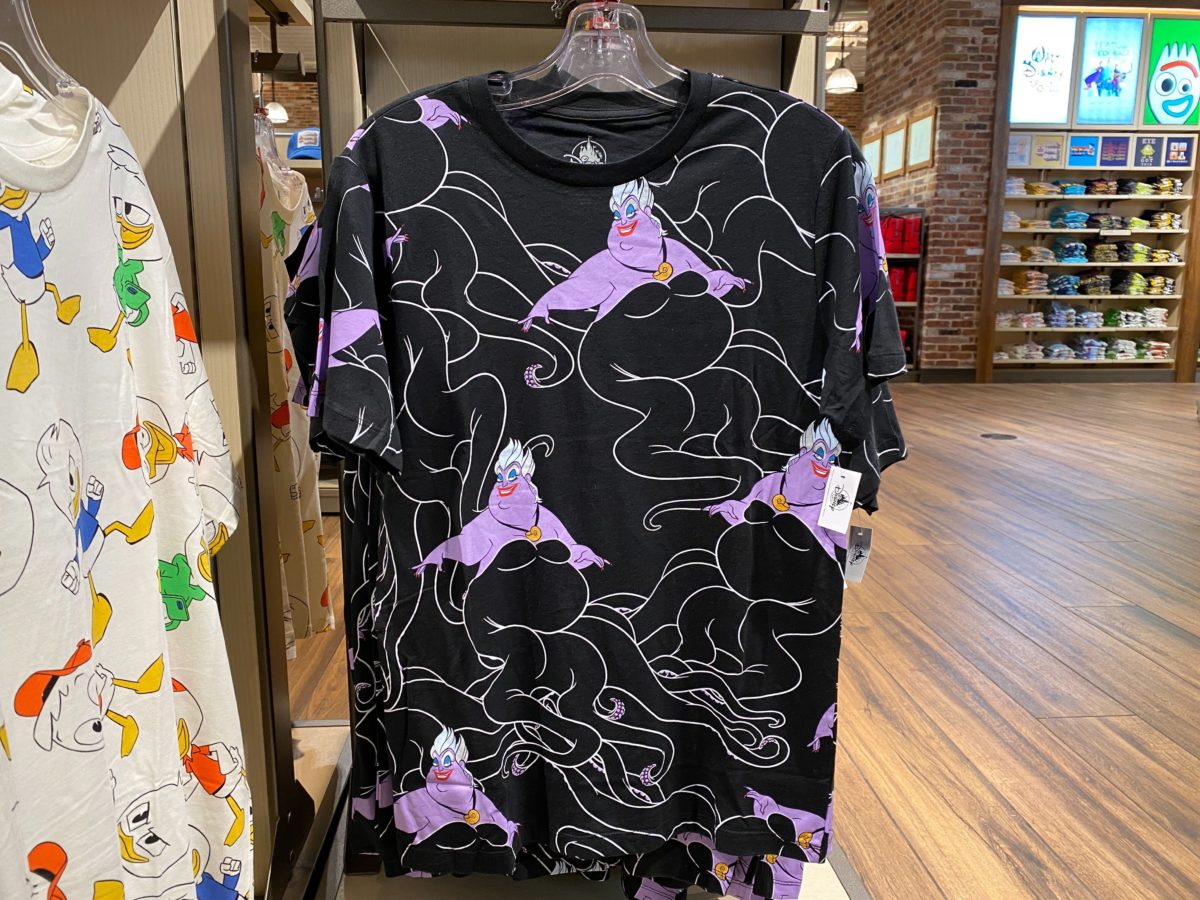 We found a new collection of all-over print shirts at World of Disney featuring Disney animated characters. This one featuring Ursula from The Little Mermaid was our favorite. For pictures and information on the full collection, see our article here.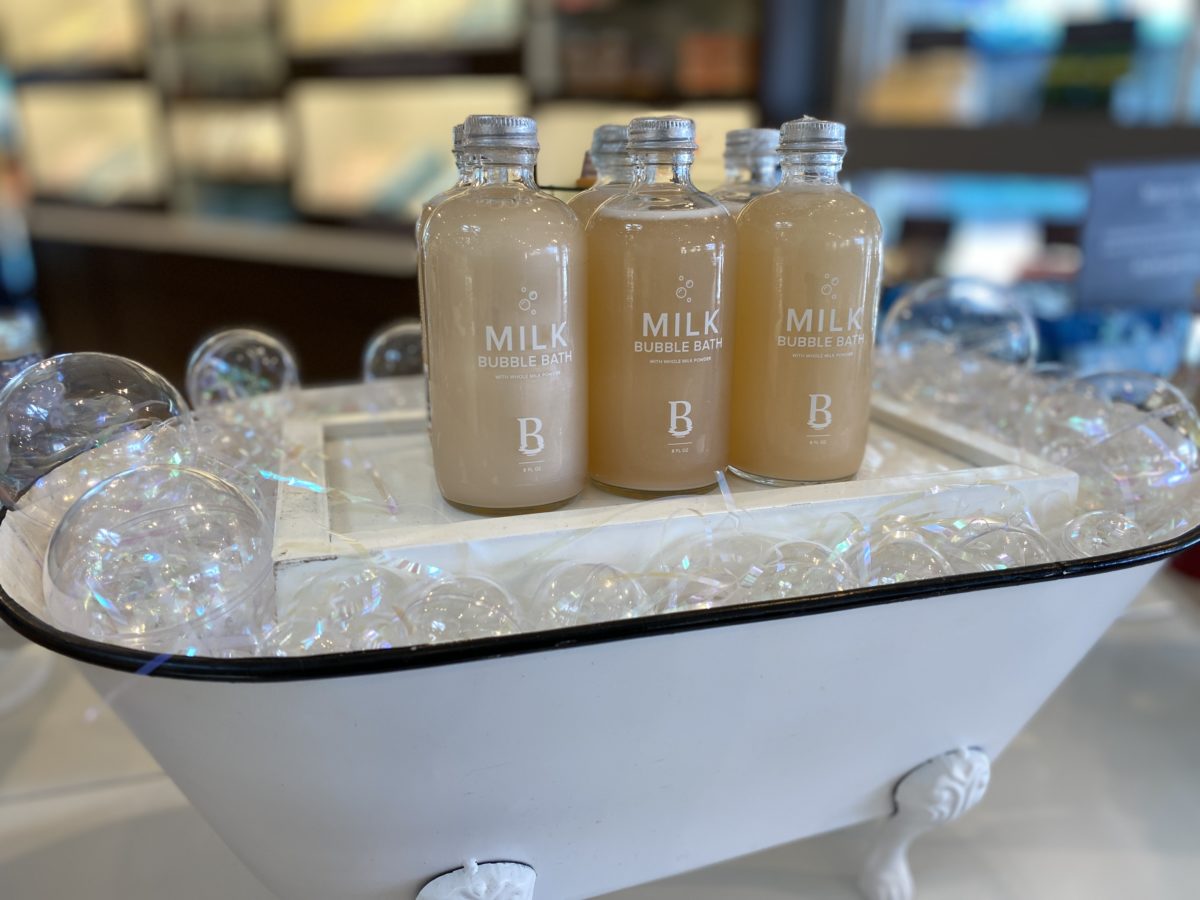 Once we were done at World of Disney, we headed next door to Basin to stock up on Mickey-shaped soap and wash our hands in style. We found this stylish little display of bubble bath solution perfect for your next self-care day at home.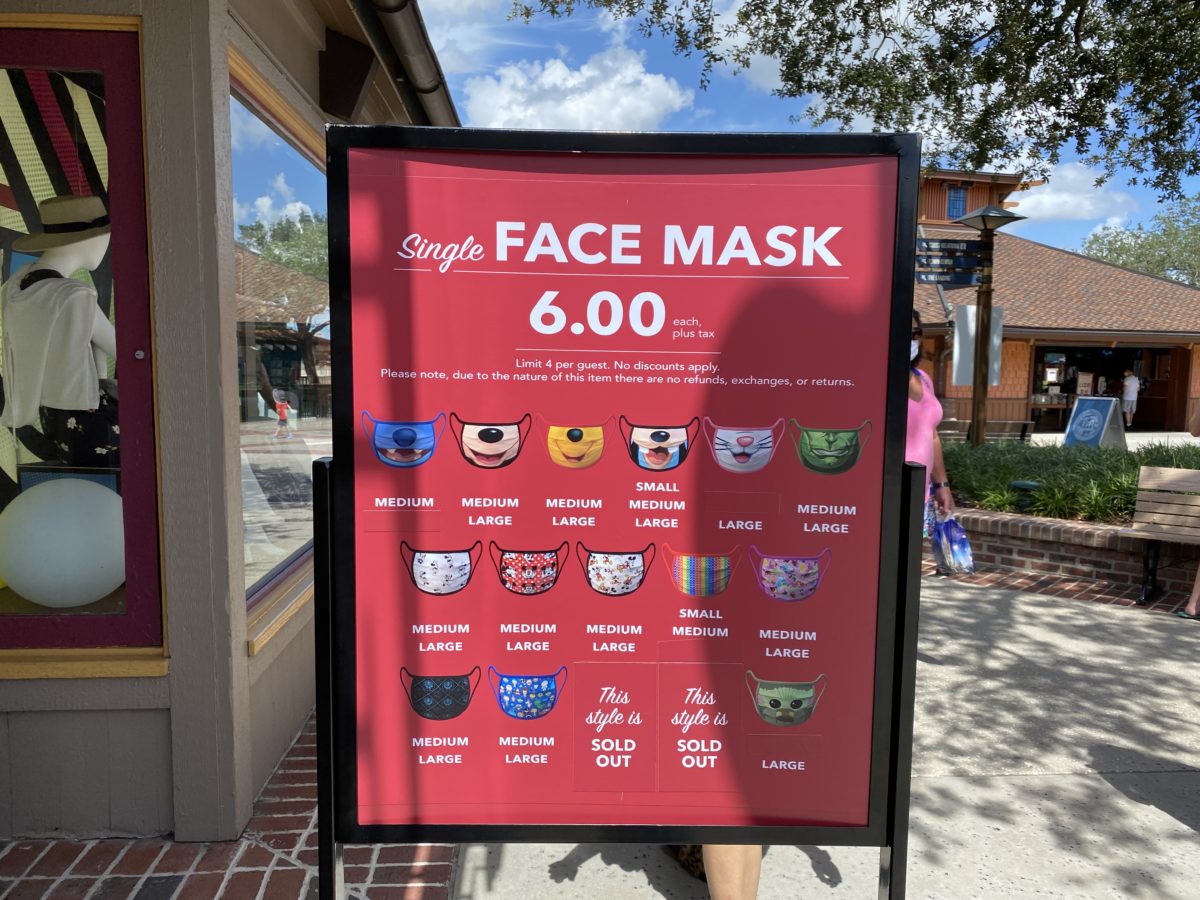 At Tren-D, the only supplier of Disney brand face masks in Disney Springs, there was no wait to get in, but supplies were running a bit low with two styles sold out and several others unavailable in certain sizes. We expect restocks to arrive quickly though, so don't worry.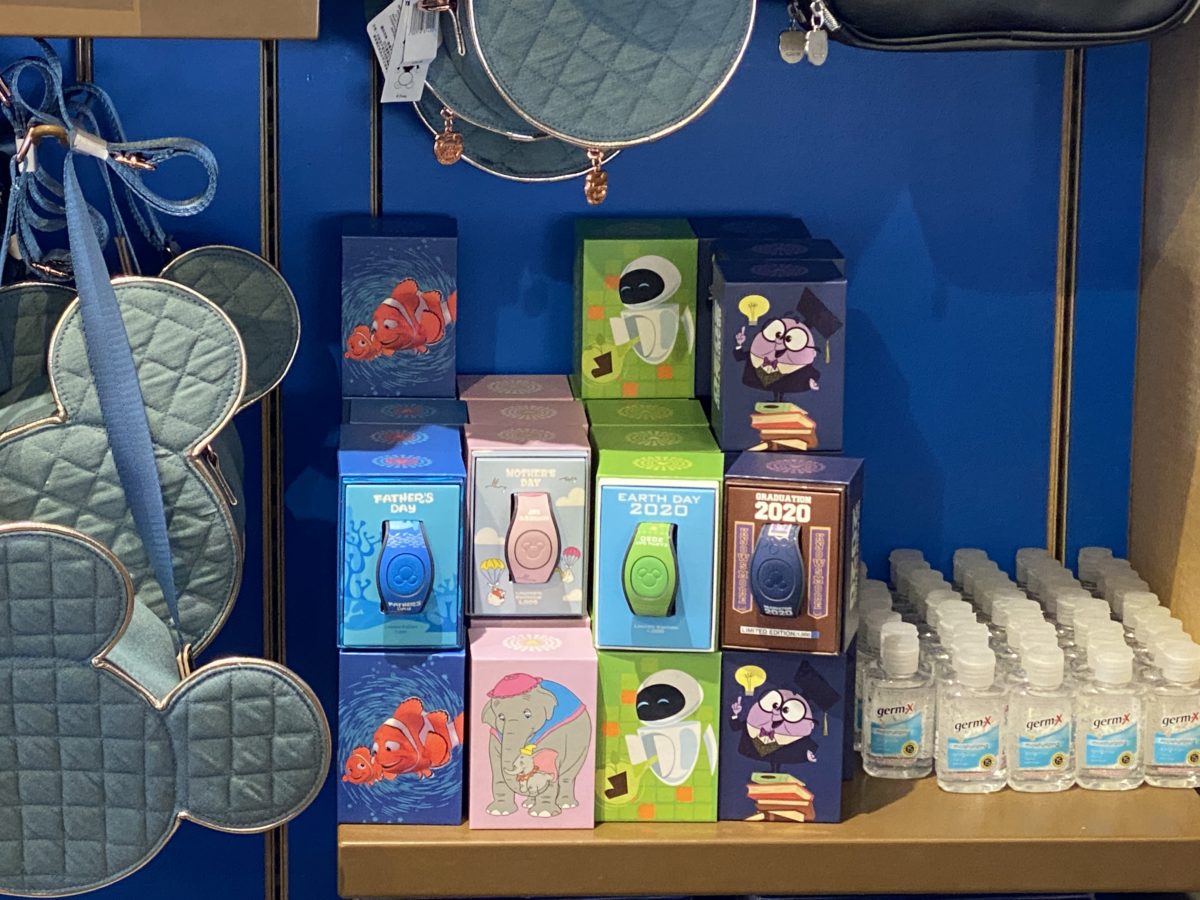 At Pin Traders, a fresh supply of the latest Limited Edition MagicBands was in stock behind the counter. We first found several of these bands at Disney's Animal Kingdom within the first few days of the parks reopening. For more pictures and information, see our article here.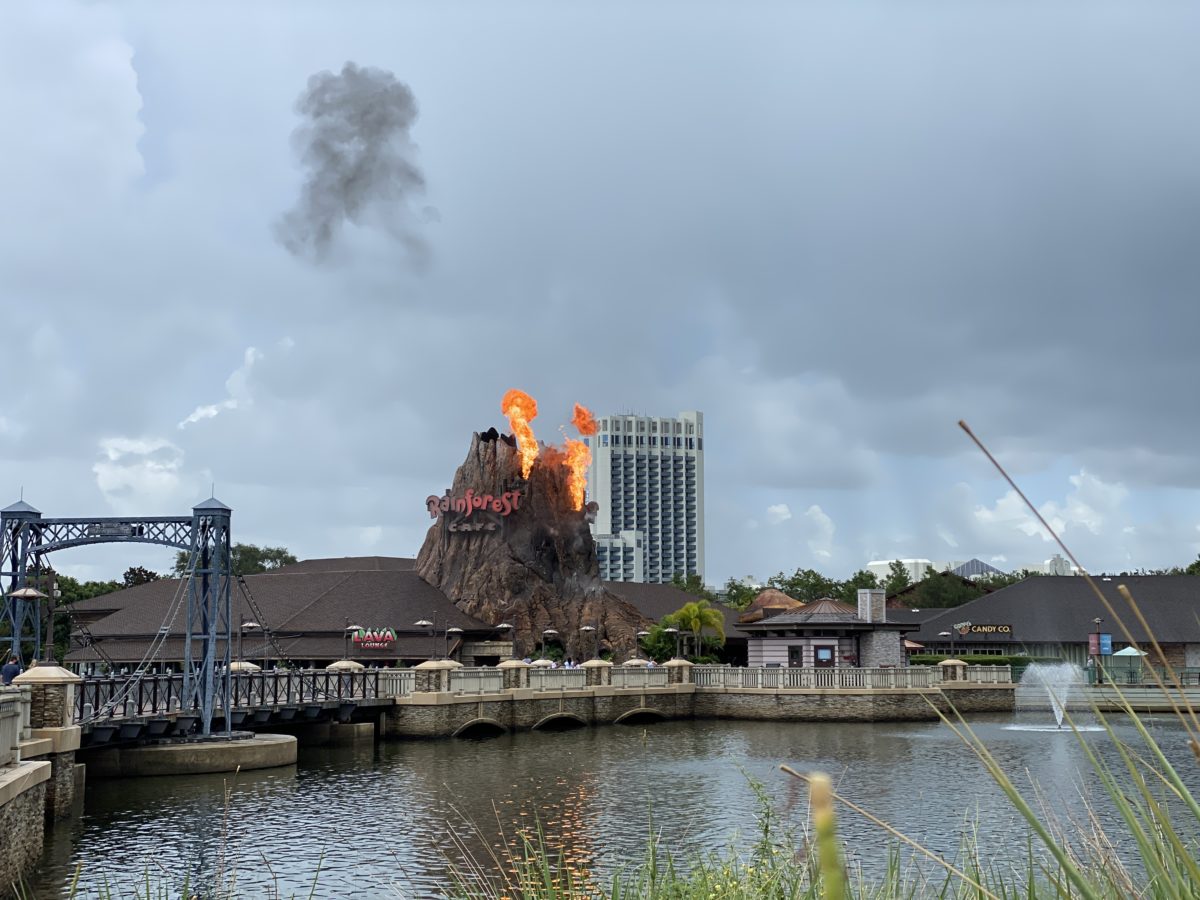 The Rainforest Cafe in Disney Springs recently reopened, which means that periodically throughout the day you can see an impressive pyrotechnics display for a restaurant, with fire seemingly erupting from the volcano.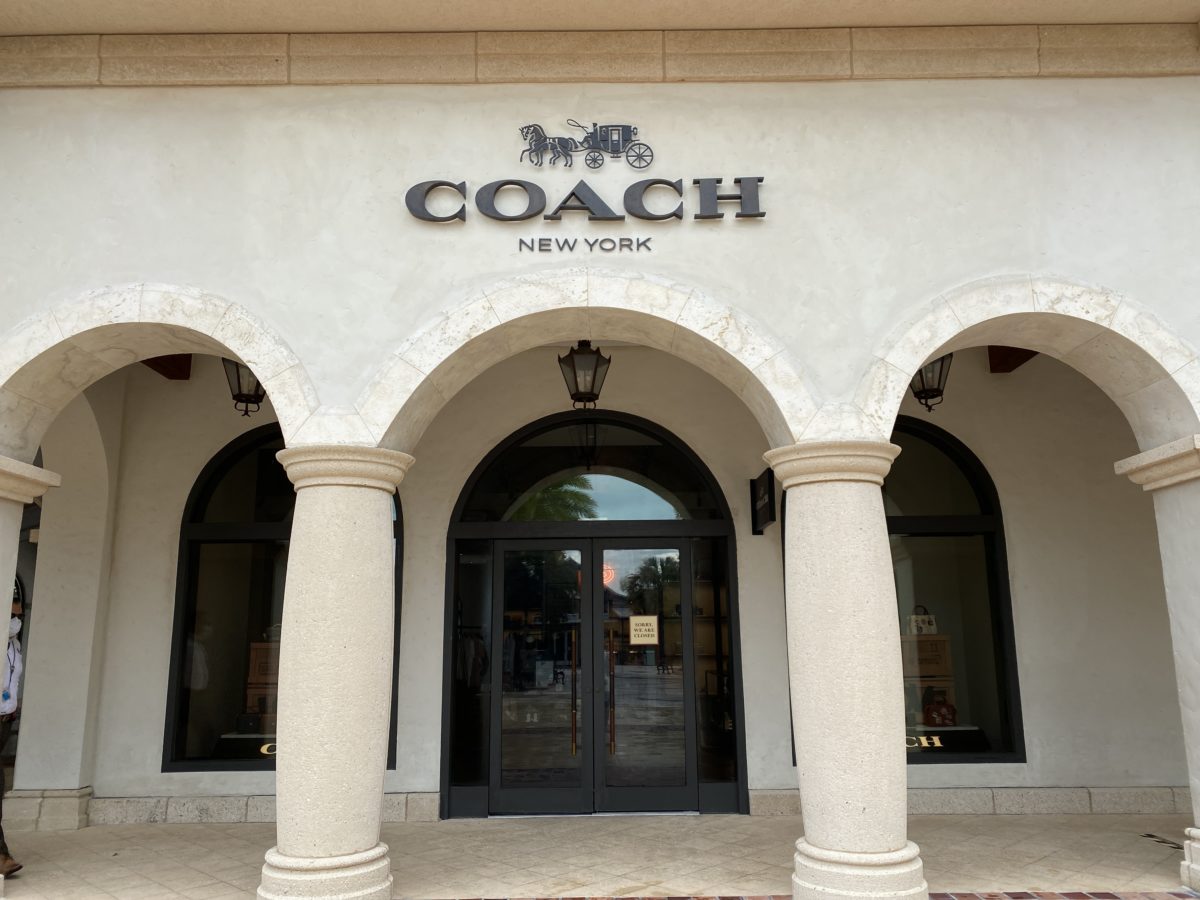 Coach was closed today, with no sign on the door explaining why. We did notice last time that we were here that they had decided to close that day as well.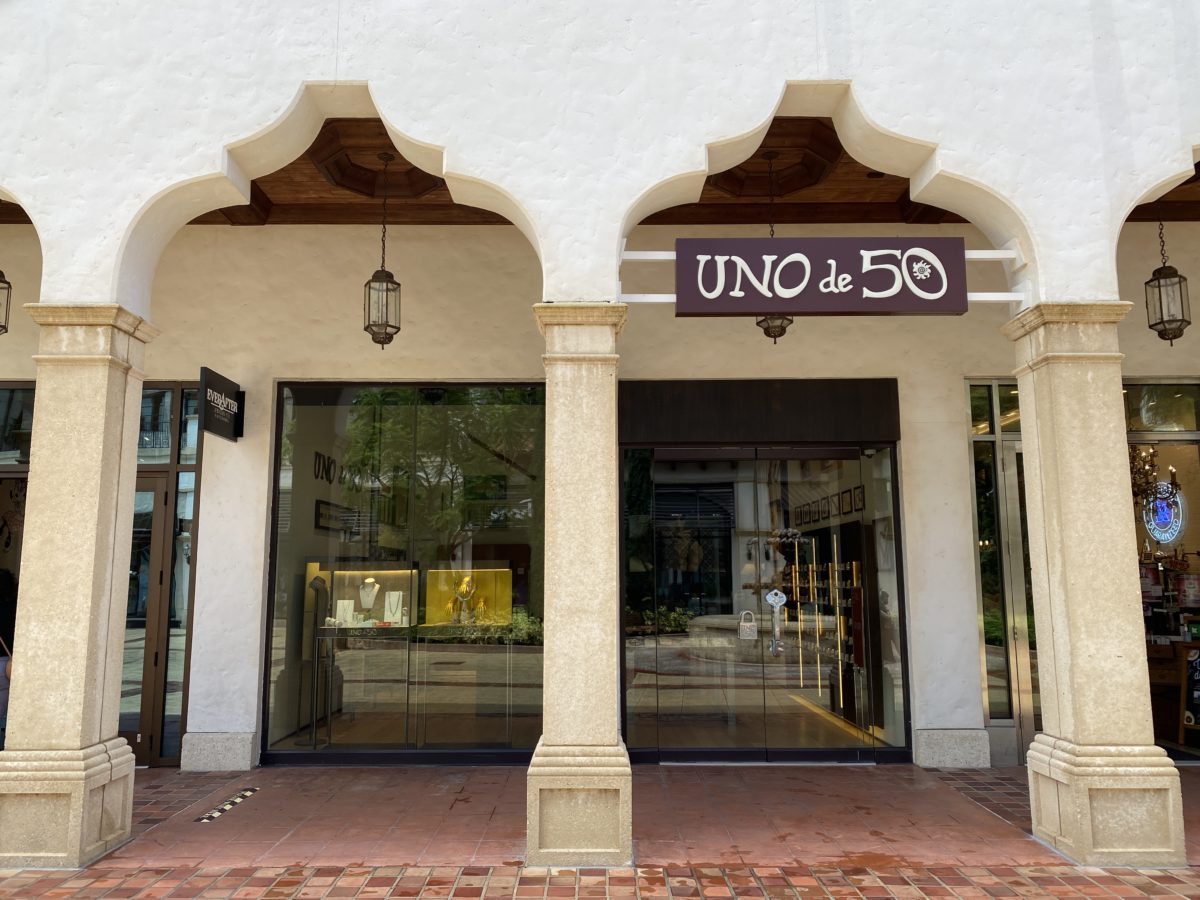 Uno de 50 was also closed today, and while the doors were locked, didn't even have a closed sign on the door.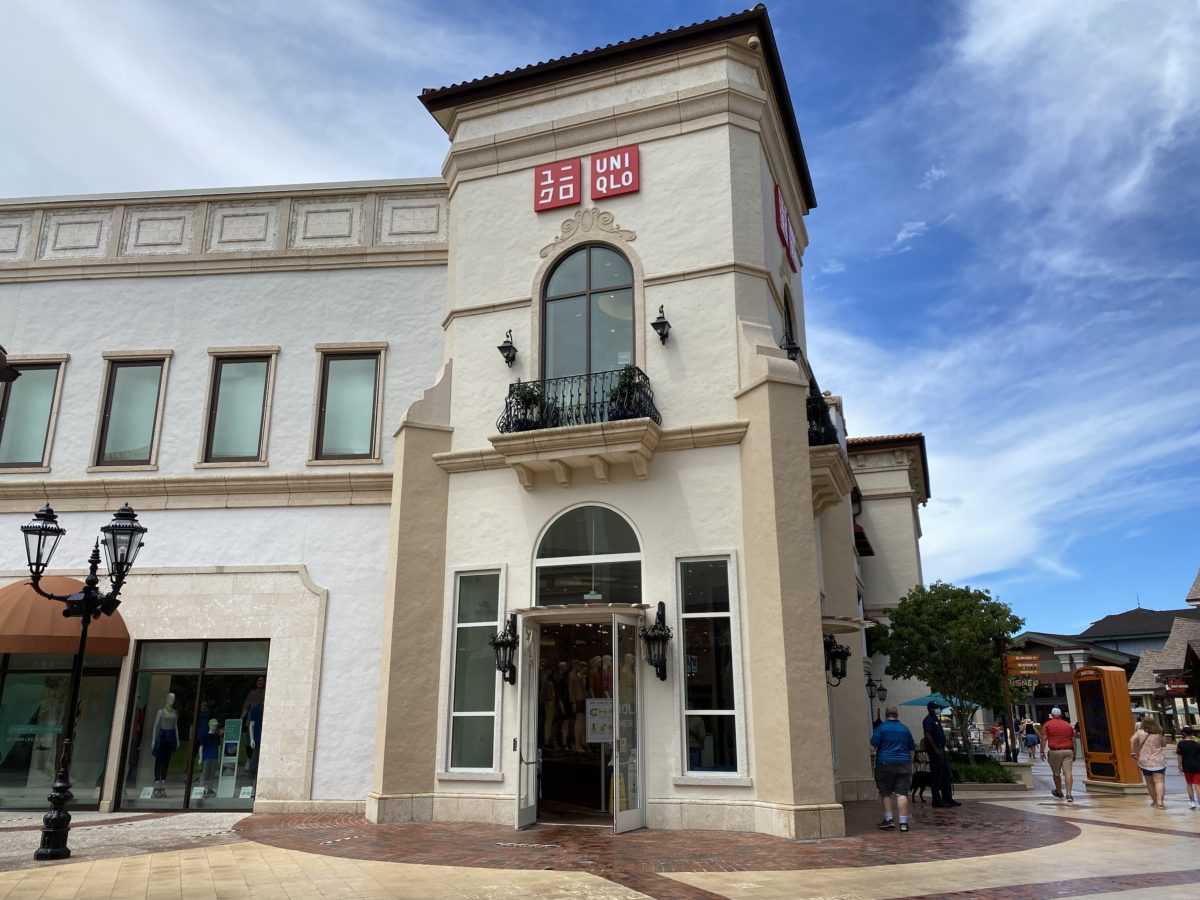 Conversely, UNIQLO has reopened, which we were glad to see, and has rearranged things in the store and released a new collection while closed.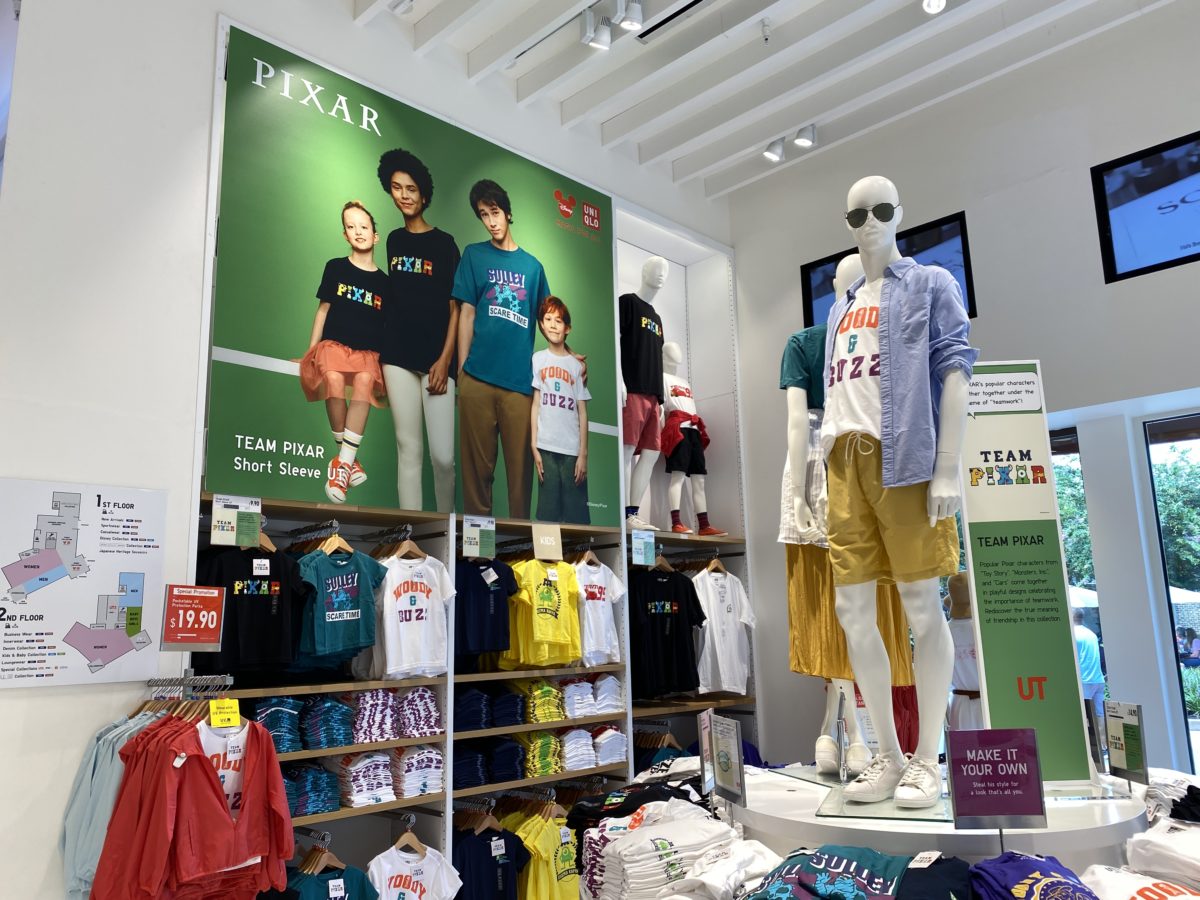 This fun Team Pixar line has taken over the room where the Princess line was and features some bold color block shirts both boys and girls will love.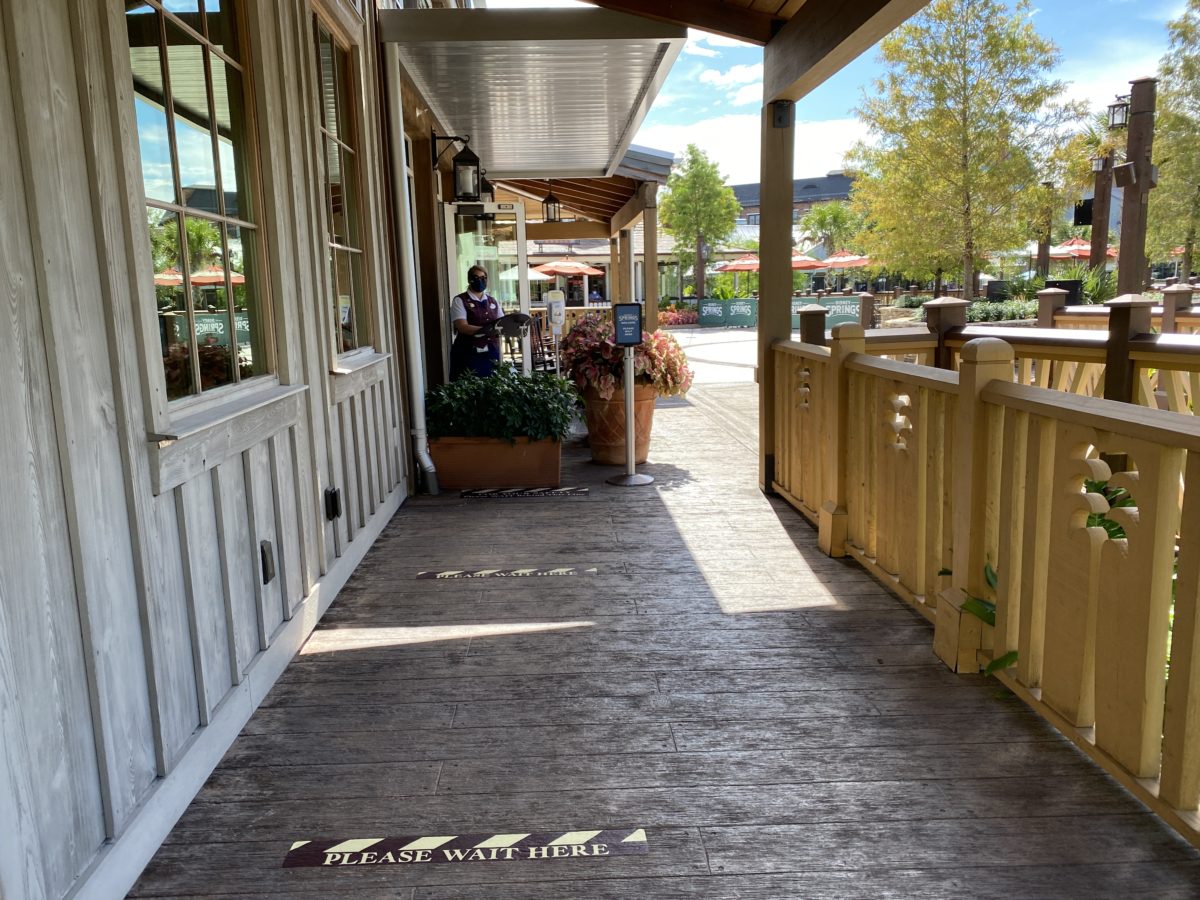 Over at Guest Relations where there used to be rocking chairs around the porch on all sides allowing guests a place in the shade to relax, one side of the building has been cleared to make way for a long socially distanced queue to be installed, ending in this check-in podium at the door closest to D-Luxe Burger. With the parks reopened now, no doubt Disney wanted guests to have a place to go to have their questions answered outside of the parks. There are still places to sit on the other side of the building.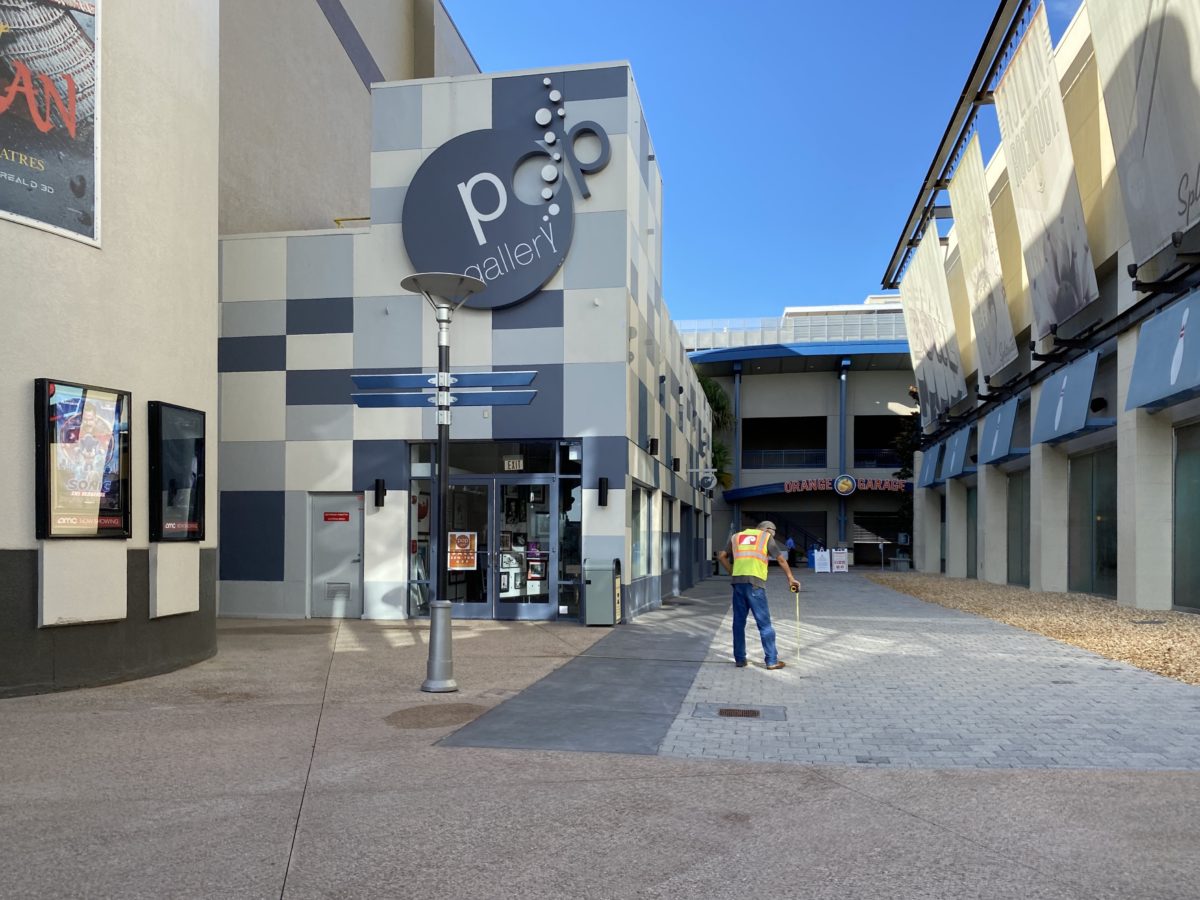 We stopped in at the POP Gallery to take a look around before it closes for good at the end of the month. On our way in, we saw this contractor taking measurements of the walkway outside, between the building wall and the center of the walkway. We're sad to see POP Gallery go, but we're excited about the changes coming!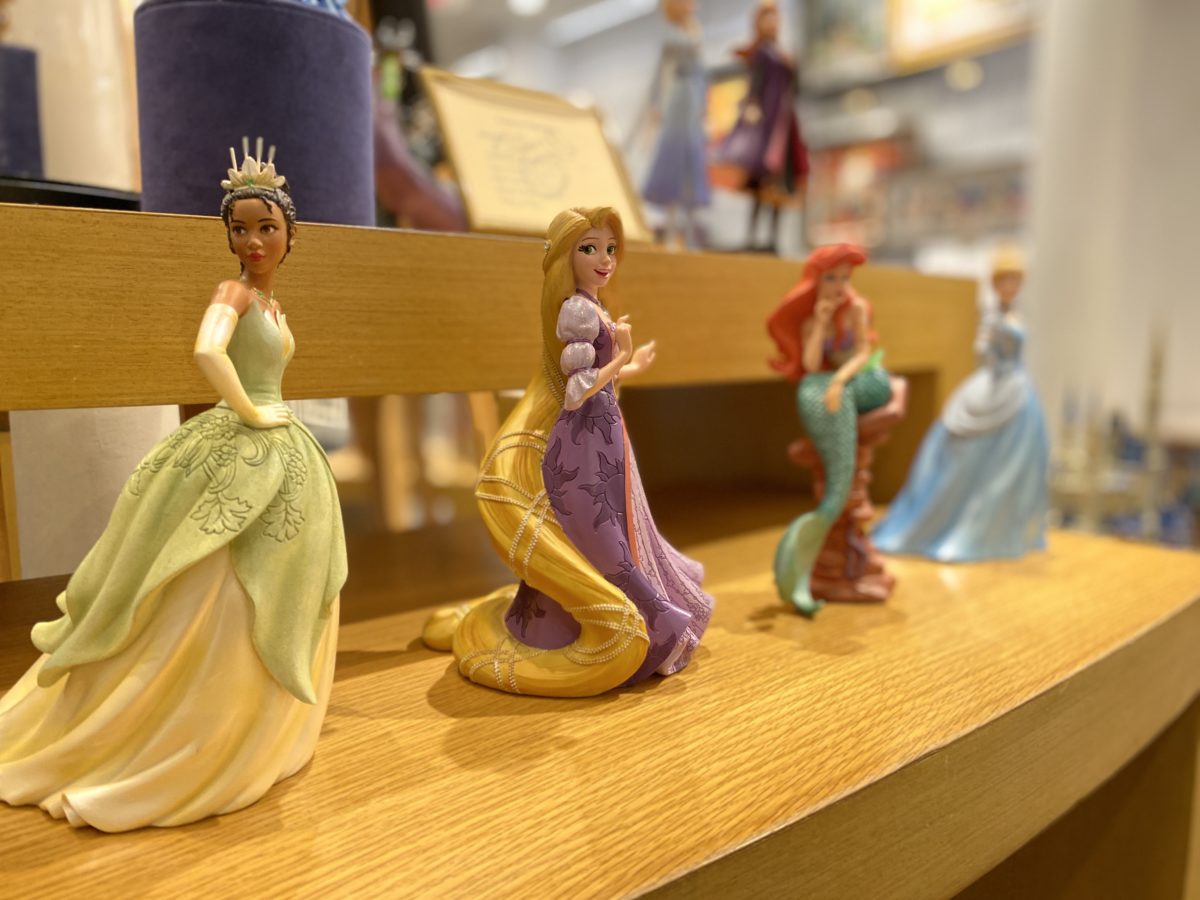 We had a great time at Disney Springs today, we hope you enjoyed coming along with us. Have a magical day!