Summer is a hot, humid, and miserable time in Japan, and Osaka is certainly no exception. Fortunately, it seems Universal Studios Japan is ready to get back in the swing of things with seasonal events now that the reopening has thus far gone smoothly. Starting July 23rd, Universal Studios Japan will present "Universal Summer Parade: We Are One" to Guests for a special, splashy month of summer! We've got all the details, so let's take a look at what's in store!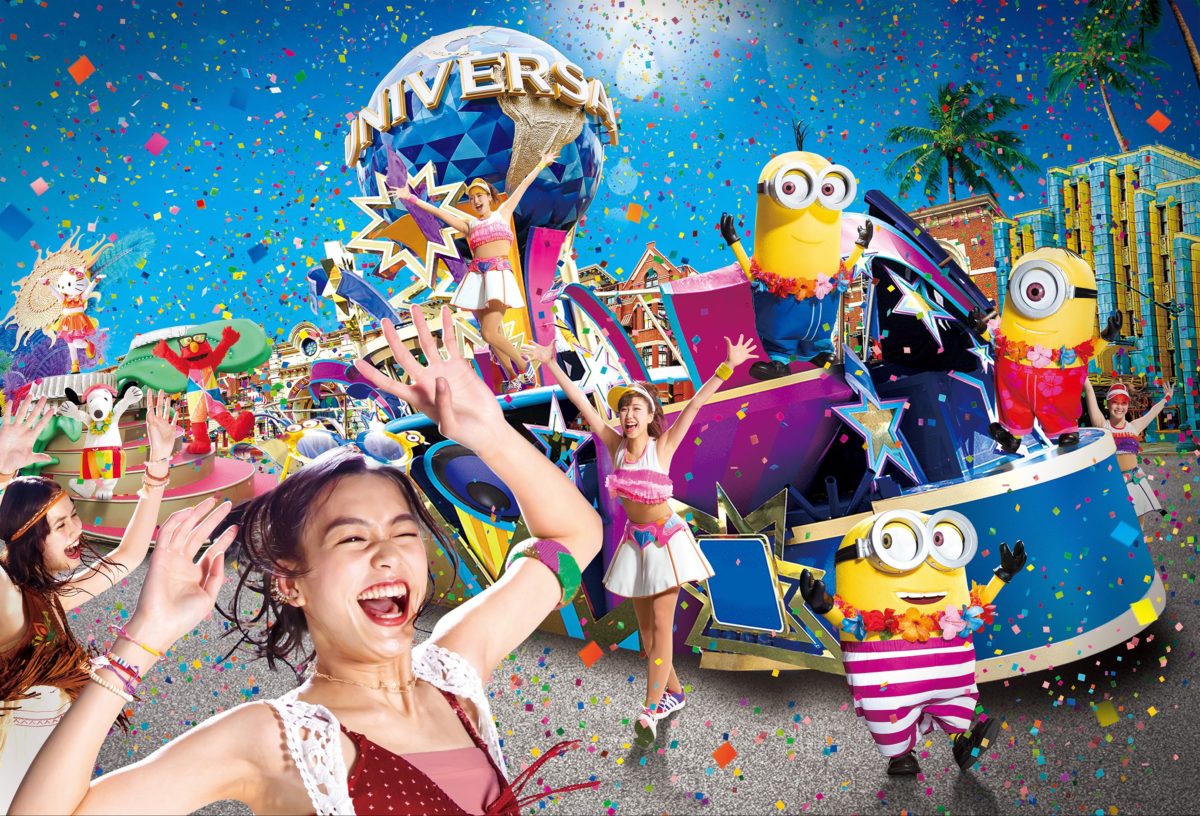 Looks exciting, doesn't it? Universal Studios Japan says that the parade will be a bit different from the usual parade in order to promote Guest safety. Popular characters from the park, such as Minions, Elmo, Snoopy, and Hello Kitty will all gather together and appear on floats. There are five units – Opening, Latin, Europe, India, and America. Each float features a unique and exotic summer motif! Dancers and entertainers on these cool floats with fun outfits will create a lively summer mood through their performances as well. Plus, there's tons of confetti!
Guests will also have a chance to see the Social Dis-Dance, introduced earlier this month as the park reopened. Through dancing, laughing, and enjoying the parade, Guests can release their stress from these stressful times and enjoy their day at Universal Studios Japan!
There are a few catches, of course. There won't be any show stops this year, so Guests can enjoy the same experience anywhere along the parade route. Guests are asked to remain socially distant and avoid facing each other whenever possible. Guests will also be asked to keep their masks on at all times while enjoying the summer parade. To that end, there will be no special viewing areas, kids' areas, water effects, or changing rooms available this year. There will be a wheelchair viewing area, however.
It's nice to see Universal Studios Japan already getting back into the swing of seasonal events. Hopefully, their incredible Halloween Horror Nights will also be safe this year! Only time will tell. Until then, stay tuned to Universal Parks News Today for the latest news out of Osaka and the Universal parks worldwide!
Want even more Universal Studios news? Check out our newest website, Universal Parks News Today, for all the latest updates on Universal Parks across the globe! And follow us on social via our YouTube channel, plus Twitter, Instagram, and Facebook. 
Featured image courtesy of Universal Studios Japan