Chef Mickey's is a fan-favorite breakfast spot located at Disney's Contemporary Resort. Known for its buffet-style character meals, Chef Mickey's has made some significant changes in the wake of COVID-19. Join us as we explore the many restaurant updates and chow down on some delicious Mickey waffles.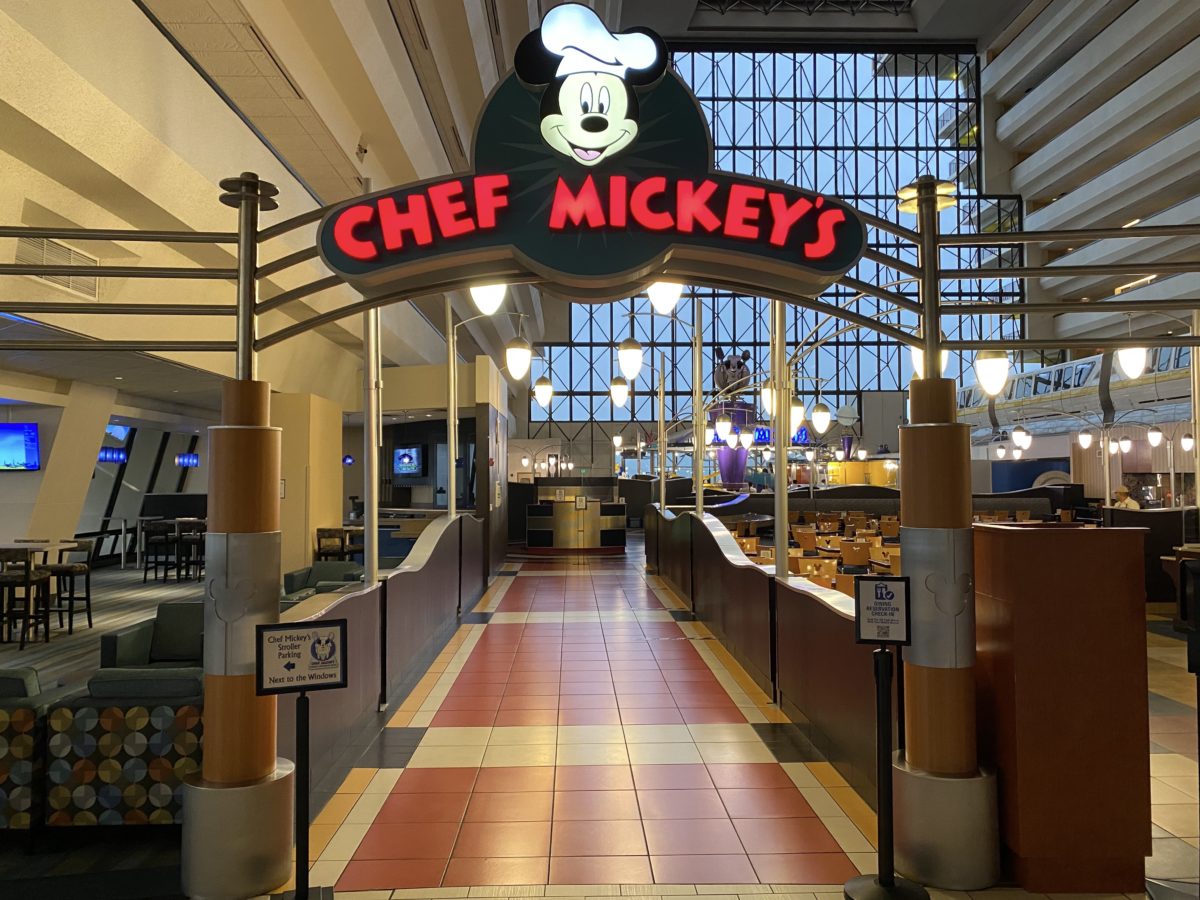 While the Grand Canyon Concourse has been welcoming guests since the reopening of Bay Lake Tower on June 22, Chef Mickey's has just reopened today along with the guest rooms at Disney's Contemporary Resort.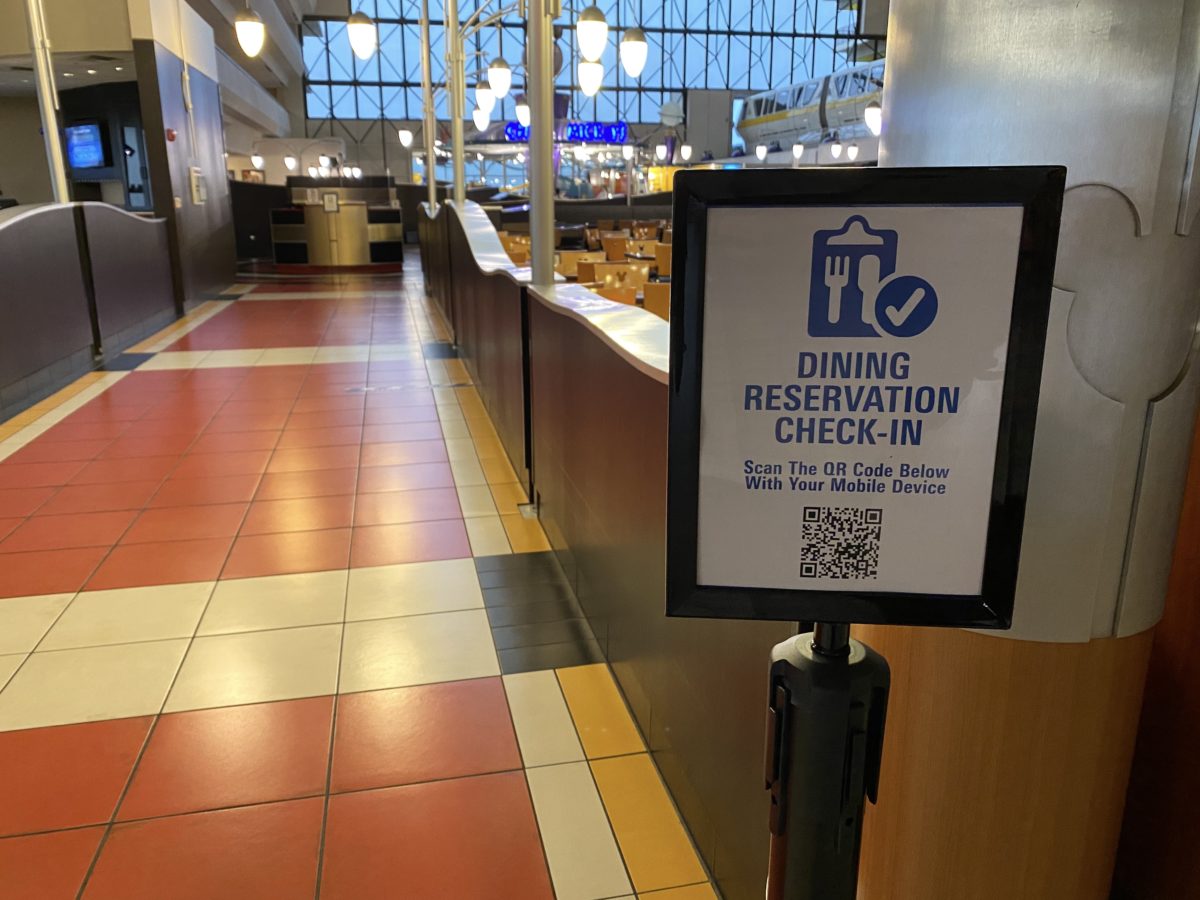 Chef Mickey's participates in the new Mobile Dine Check-In program available on My Disney Experience. On the app, you can check in for your dining reservation, make seating requests and note any dietary restrictions, as well as note any special celebrations. Upon completion, you'll get a text that says you've been successfully checked in! You'll be notified once your table is ready.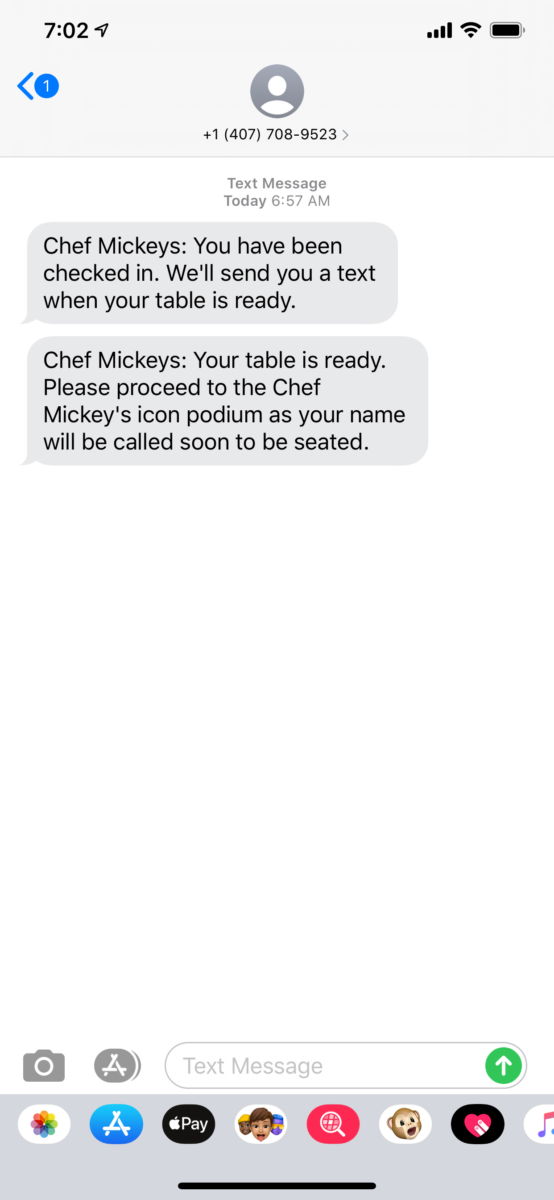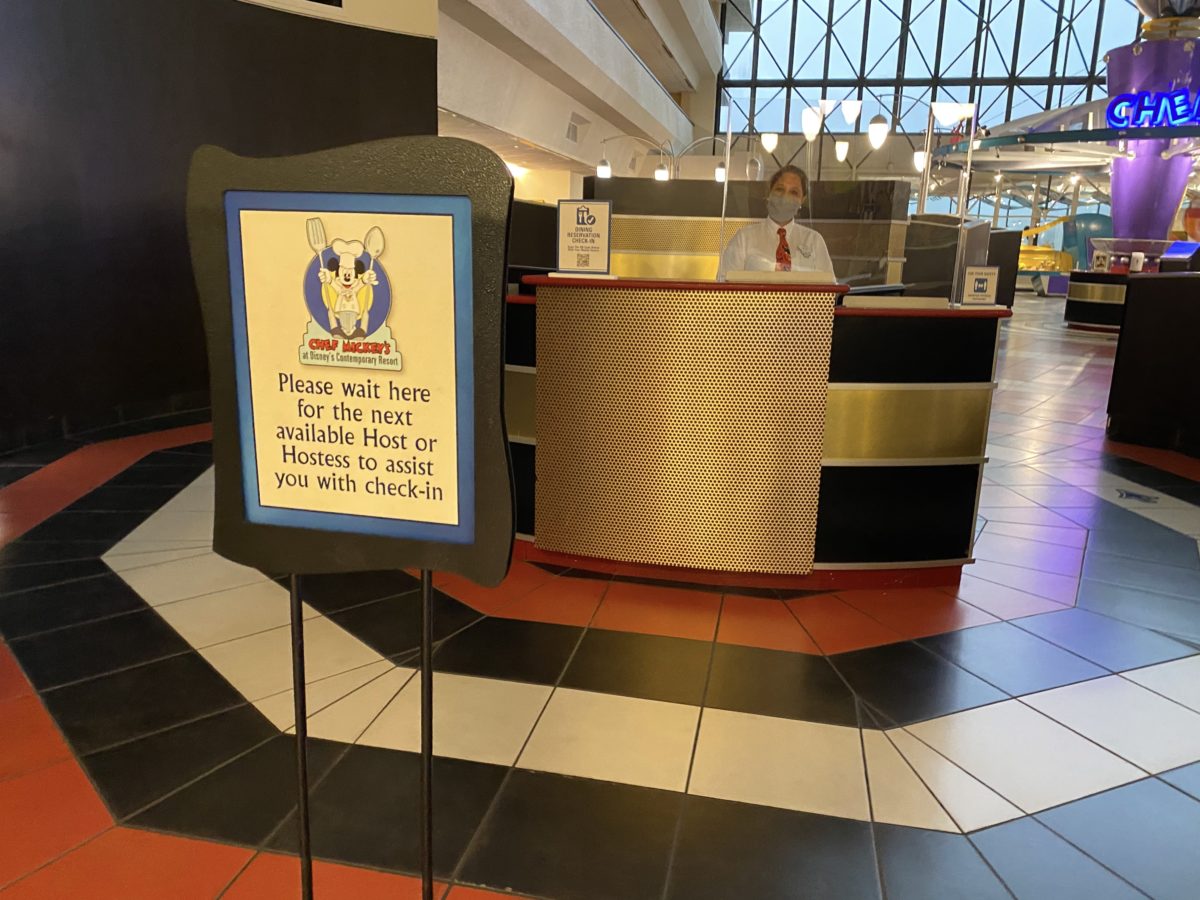 Of course, a Cast Member host is also available at the desk in case you're in need of assistance or would like to check-in traditionally. A plexiglass barrier has been installed on the host desk, for safety.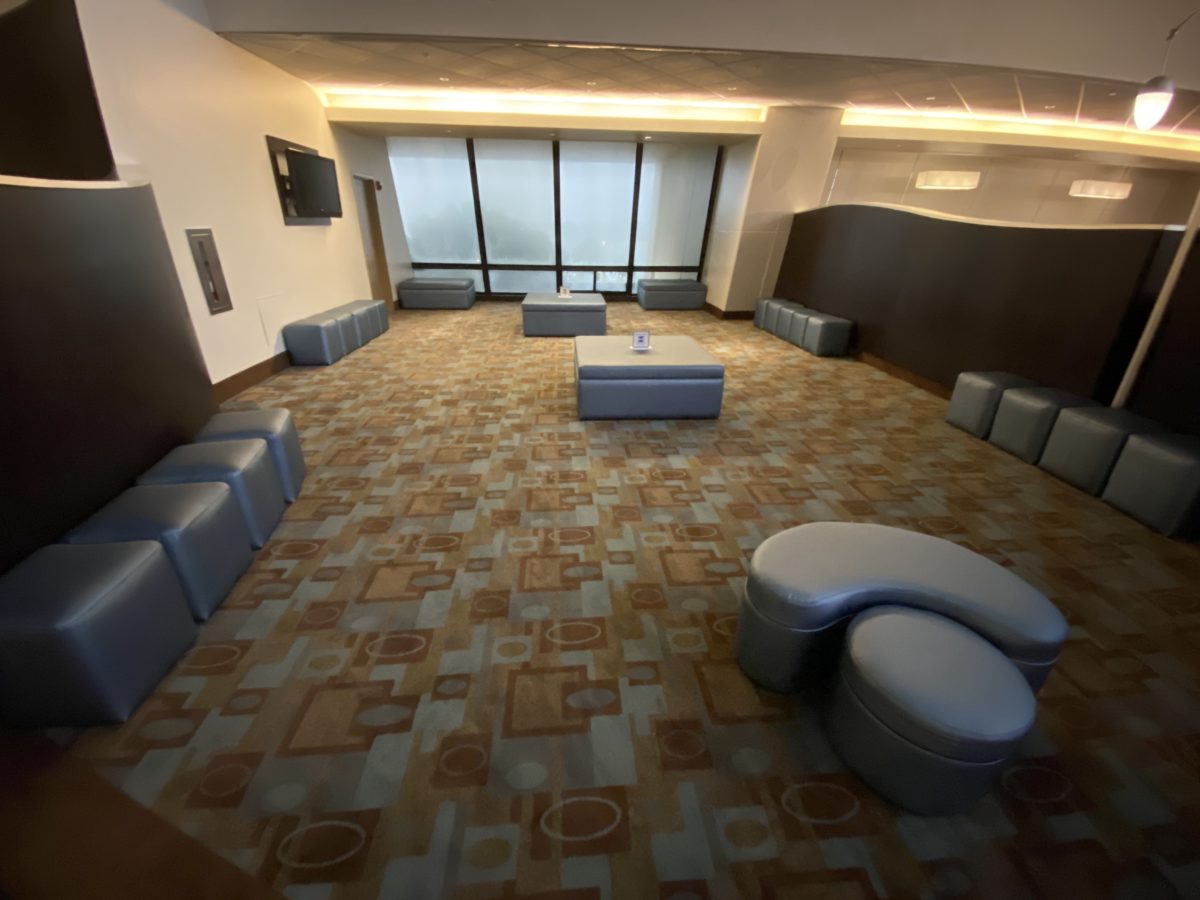 Some seating has been blocked off inside of the waiting area for the popular restaurant, for social distancing.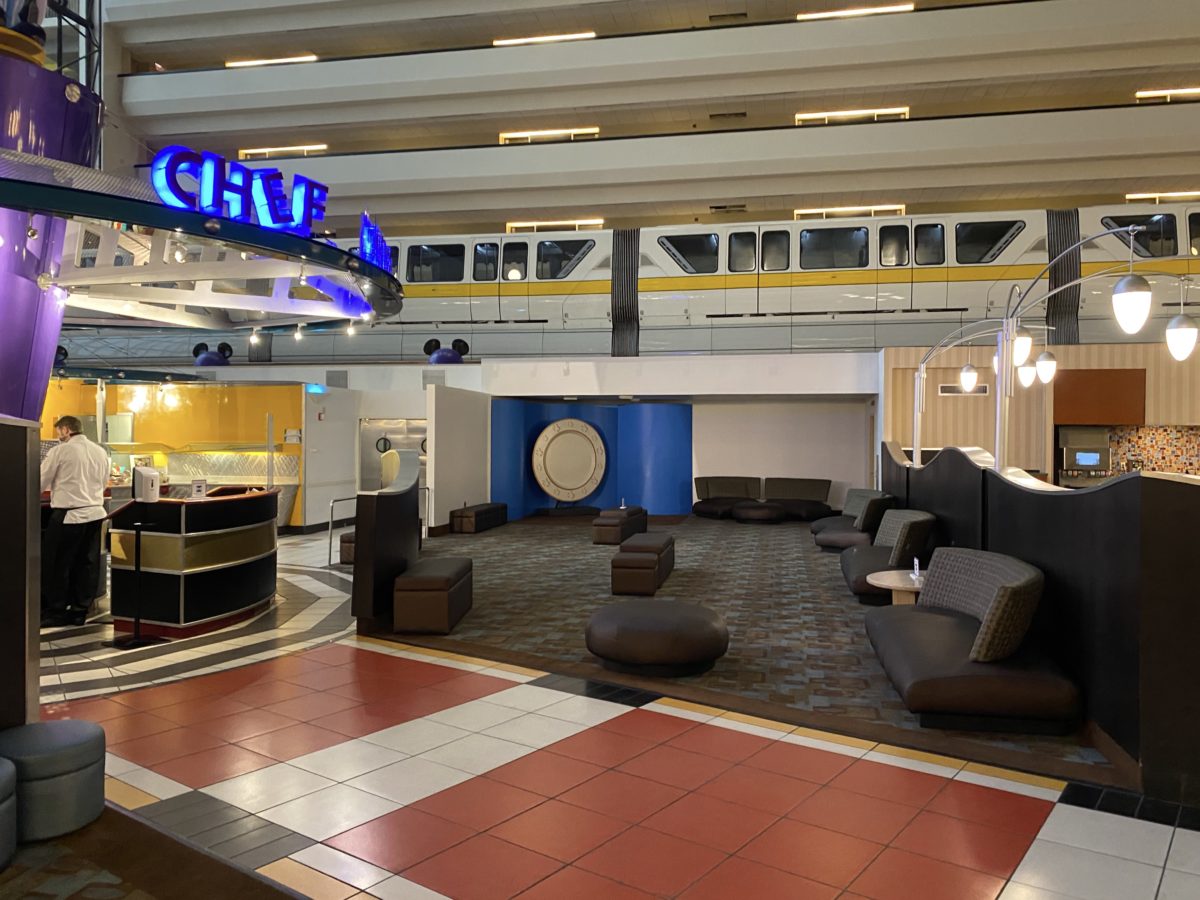 As you can tell by the photos below, the biggest update here is the temporary suspension of characters at Chef Mickey's. Typically, guests can expect to meet Mickey and Minnie Mouse, Pluto, Donald Duck and Goofy while enjoying their food. We certainly do miss the Fab 5, but for now we'll only have Monorails to keep us entertained during our meals here.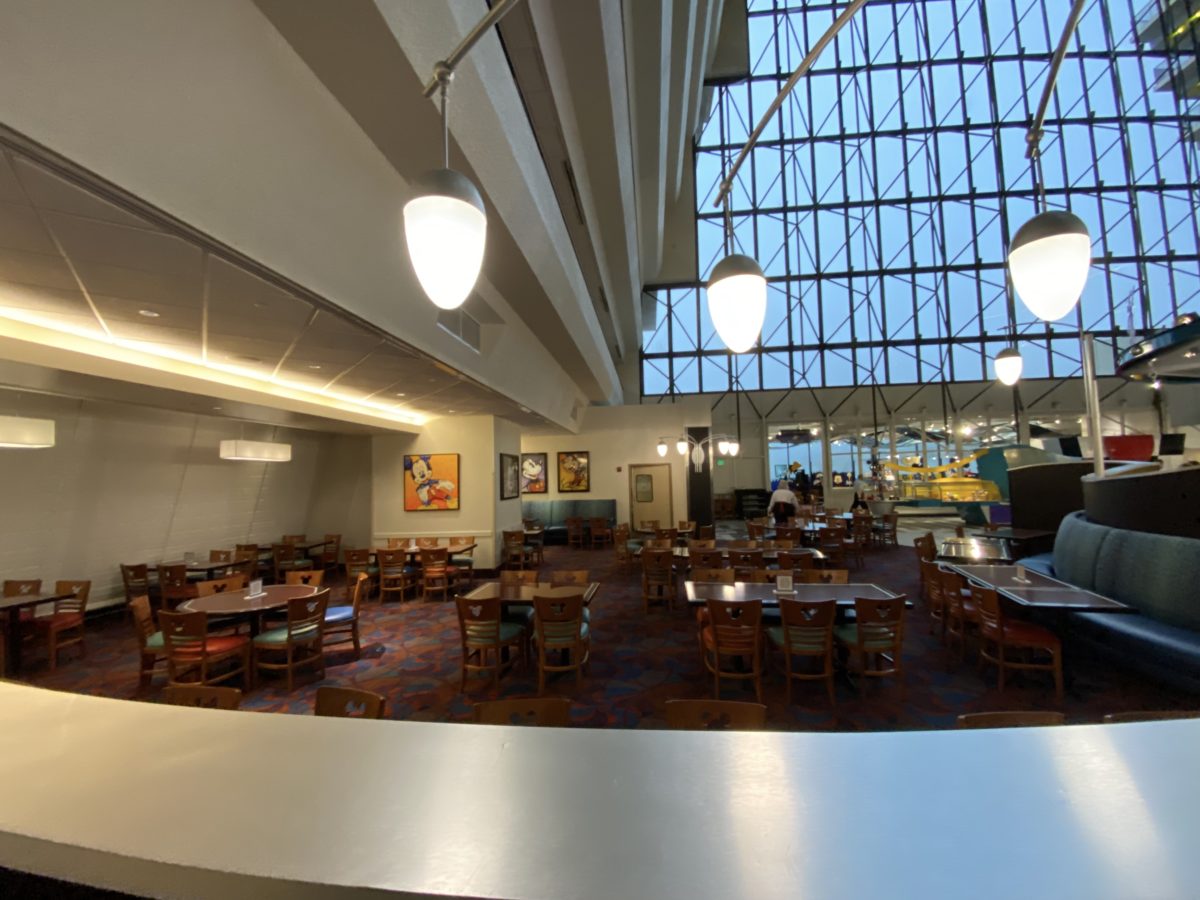 With the lack of characters, it's eerily serene inside Chef Mickey's now, which typically fills the concourse with nearly-cacophonous noise from the families and boisterous characters.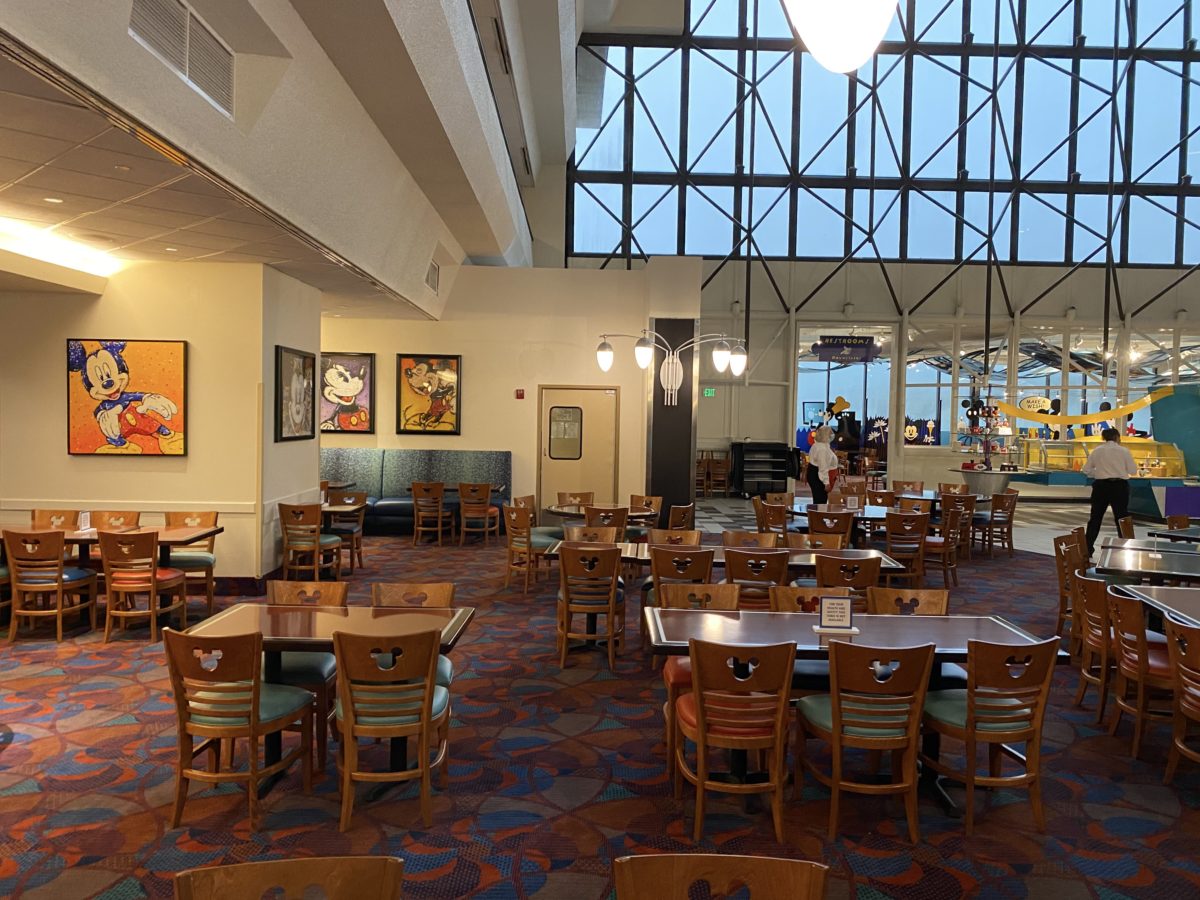 Some tables are marked in order to ensure parties are socially distanced while dining.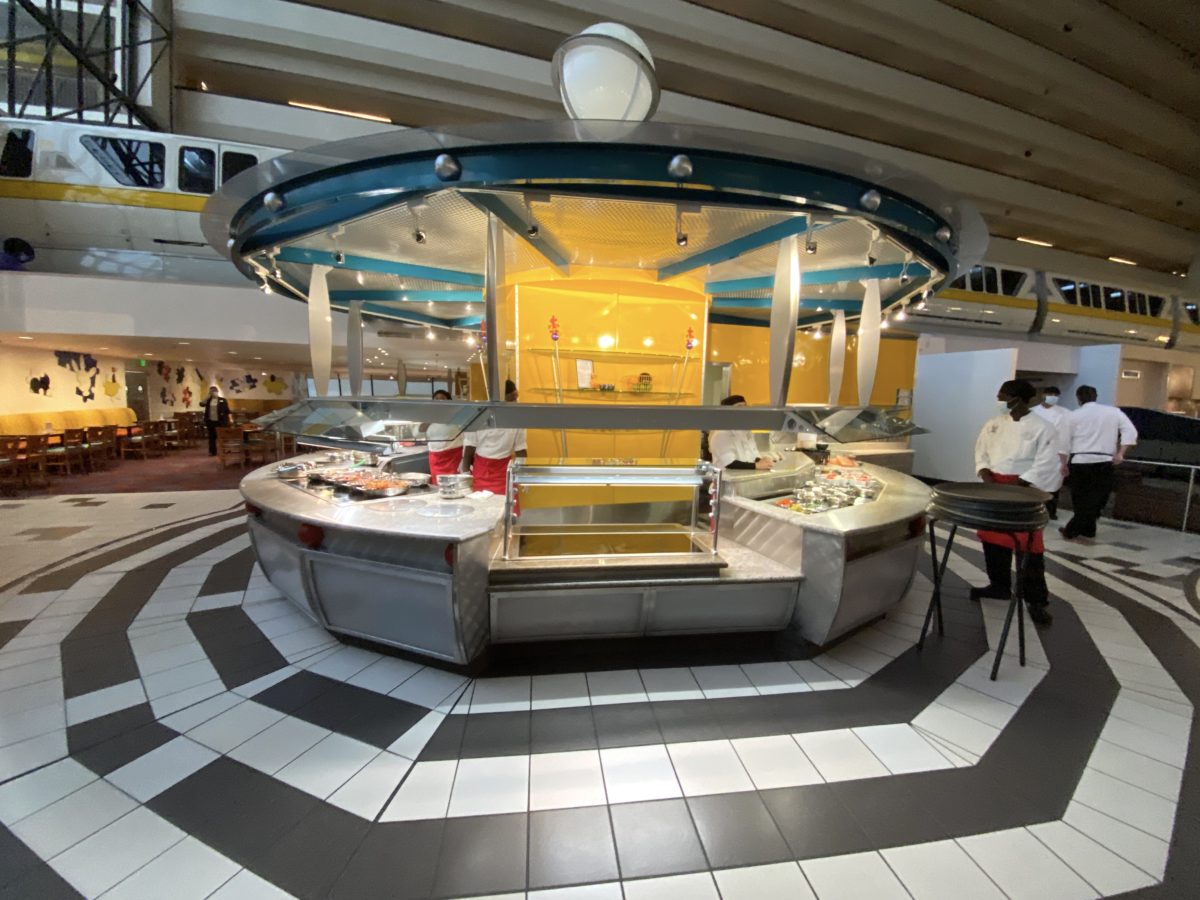 As you walk on over to your table, you'll pass by the buffet stations, which are still in use, but strictly for servers to pick up skillets of food to bring to your table.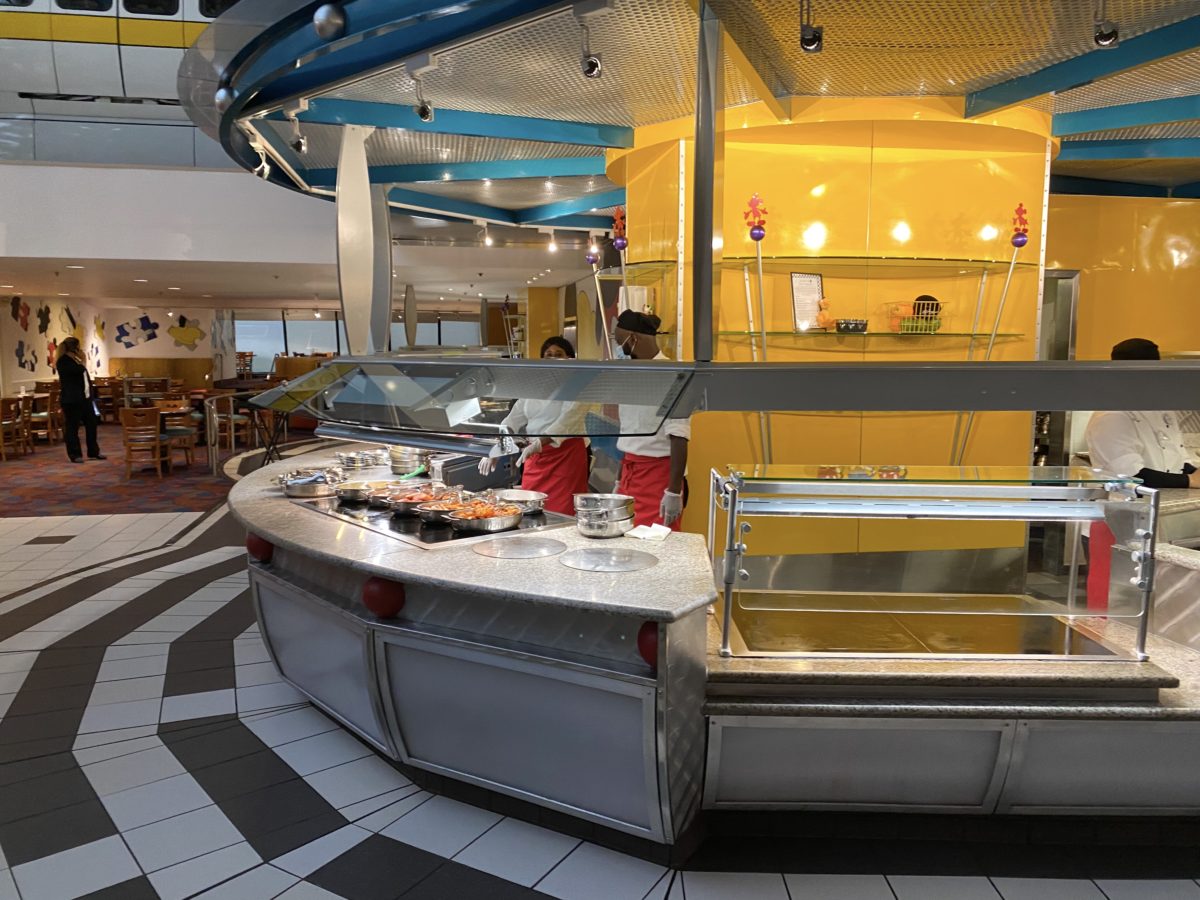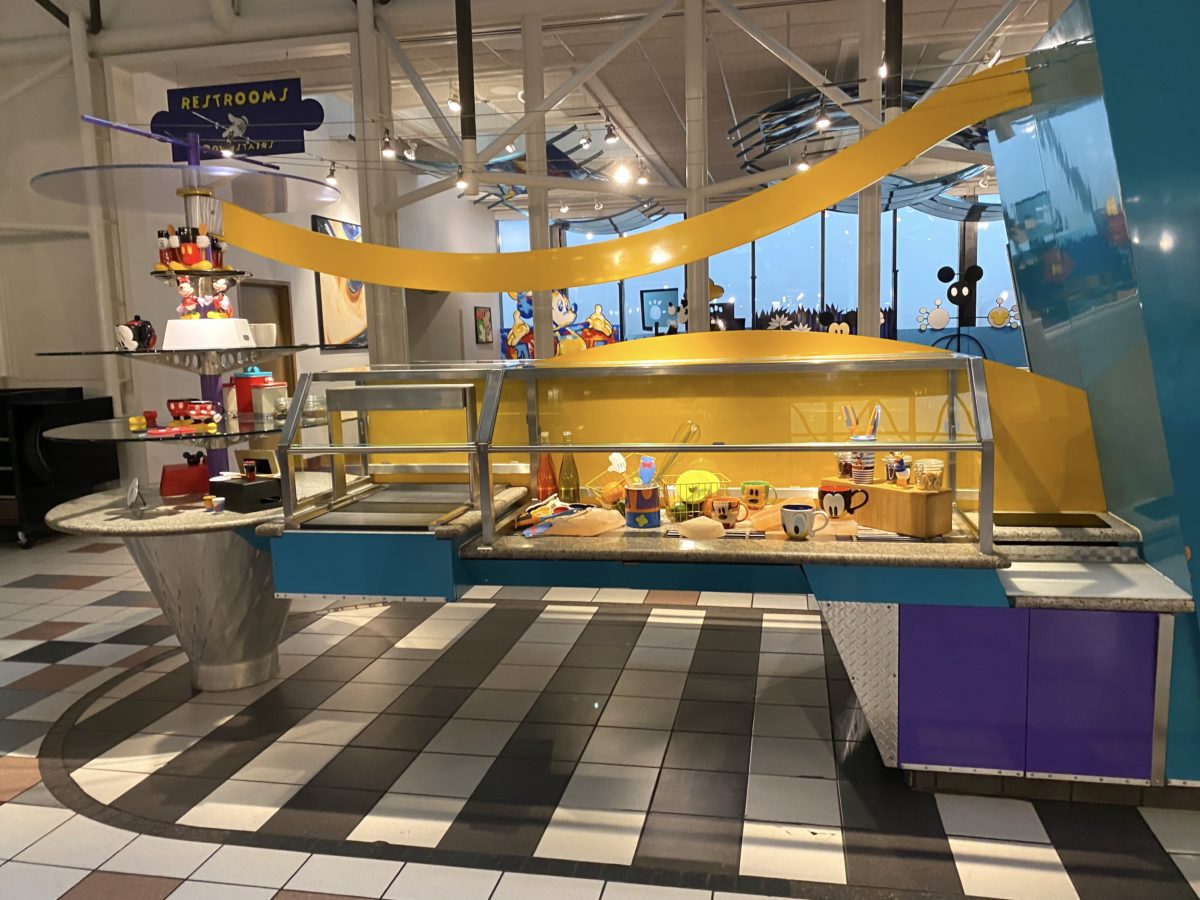 The kid's buffet station has been overlaid with… merchandise in the absence of self-serve food offerings.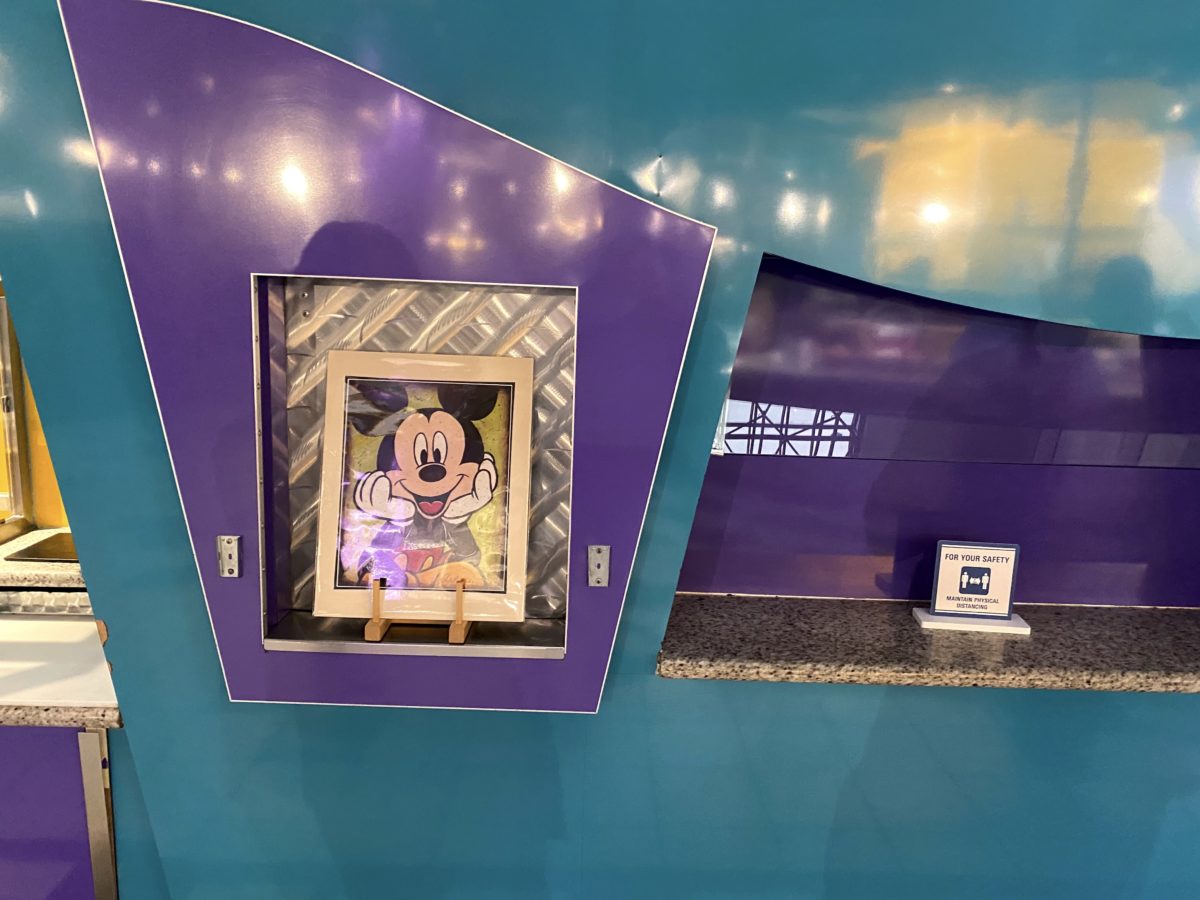 Even the self-serve ice cream machine has had a lithograph placed over it while it's out of use.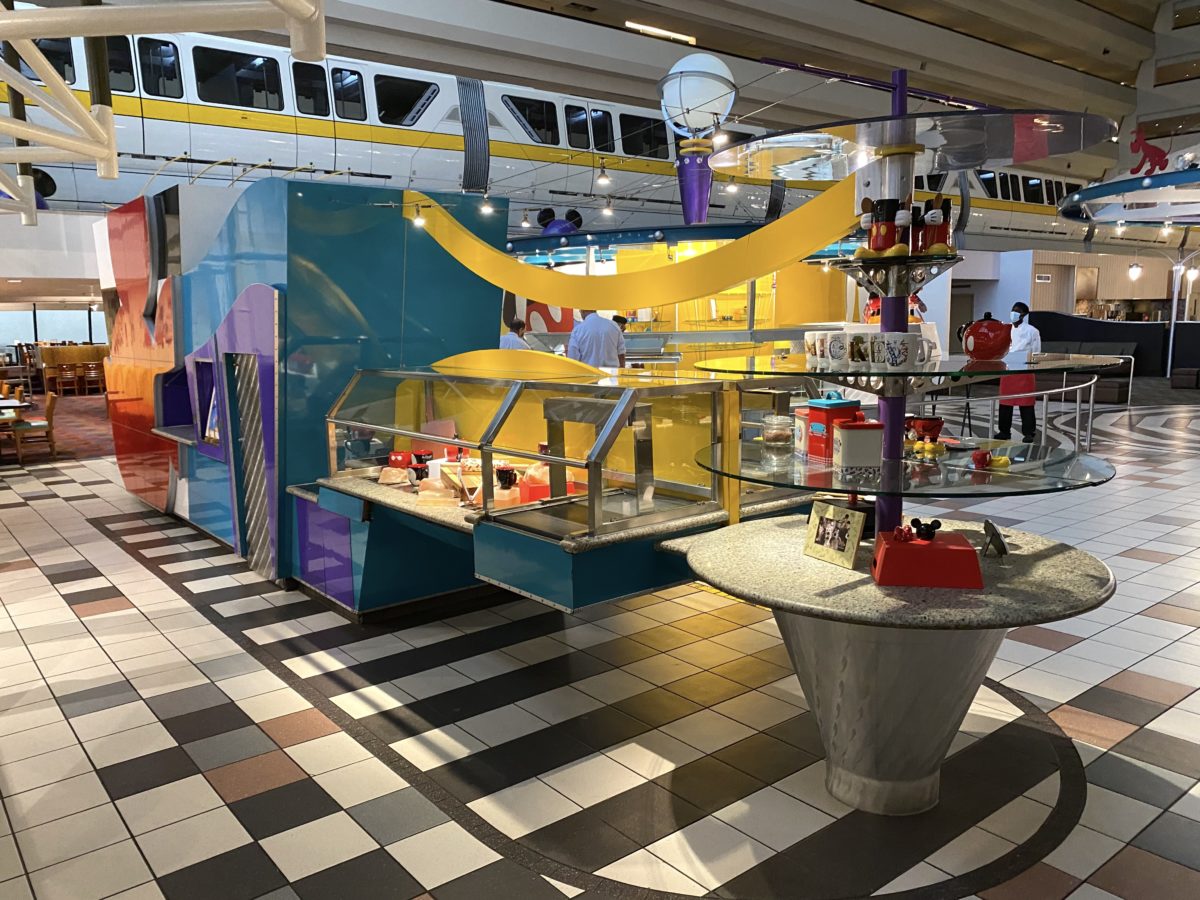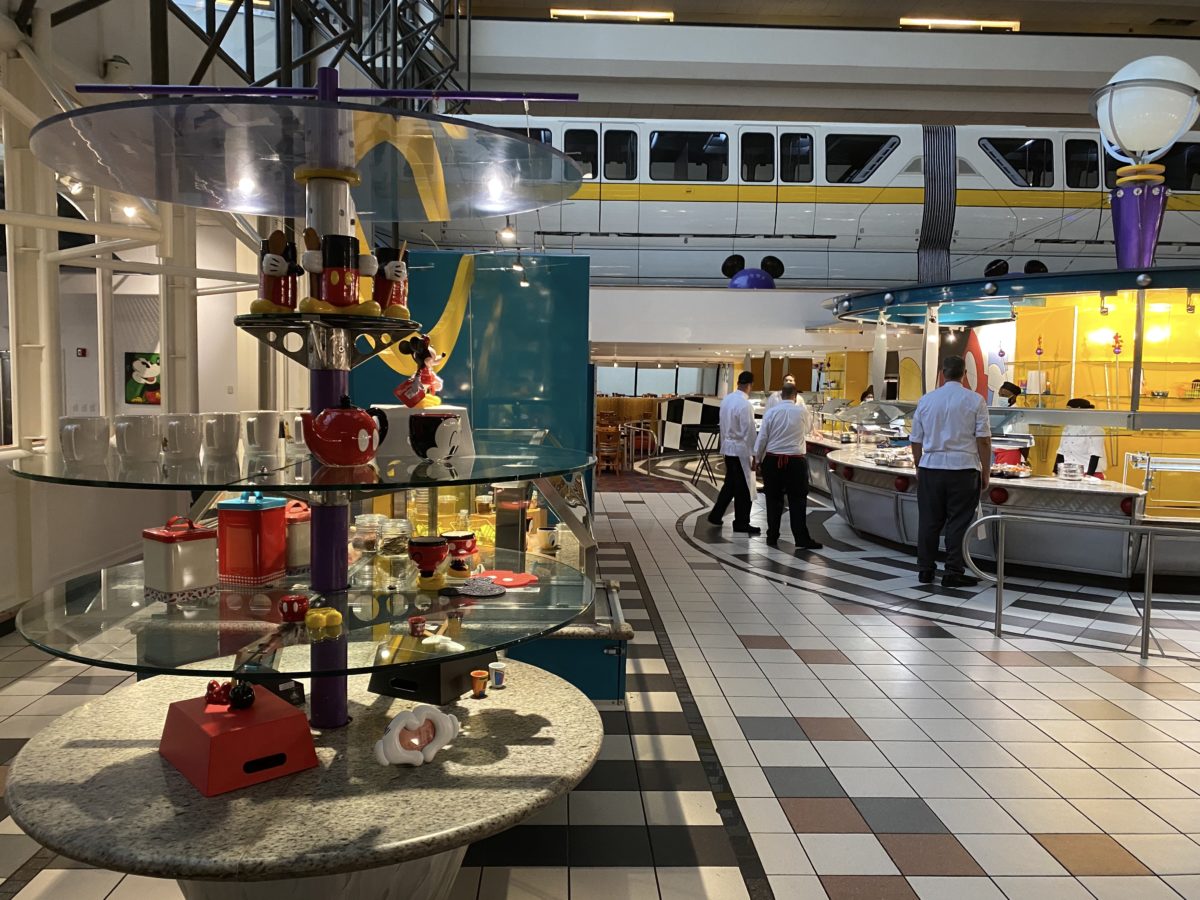 Here, we see the same phenomenon of merchandise taking up the buffet shelves.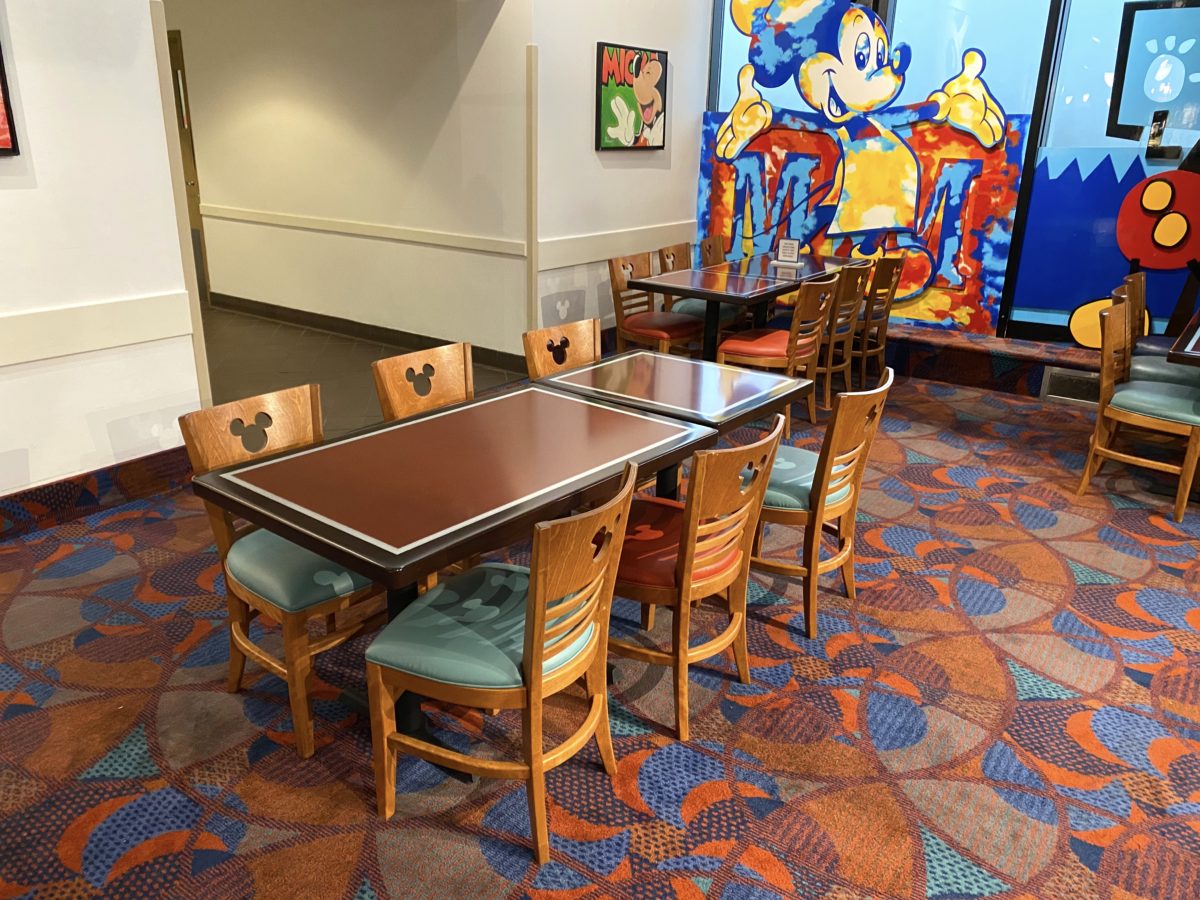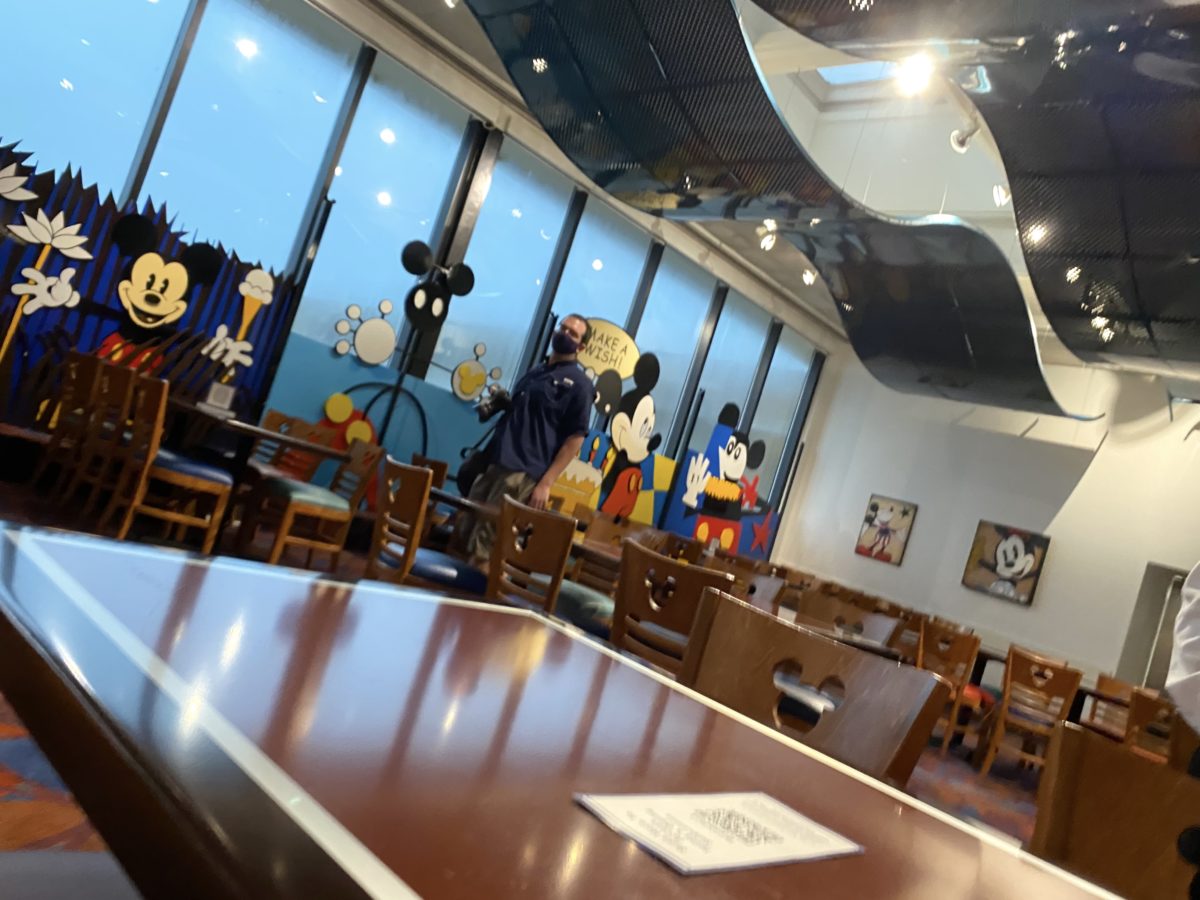 With resort reservations having just opened back up yesterday, the restaurant was basically empty for its first breakfast seating of the day. Guests are encouraged to virtually access the menu with a slip showing a QR code.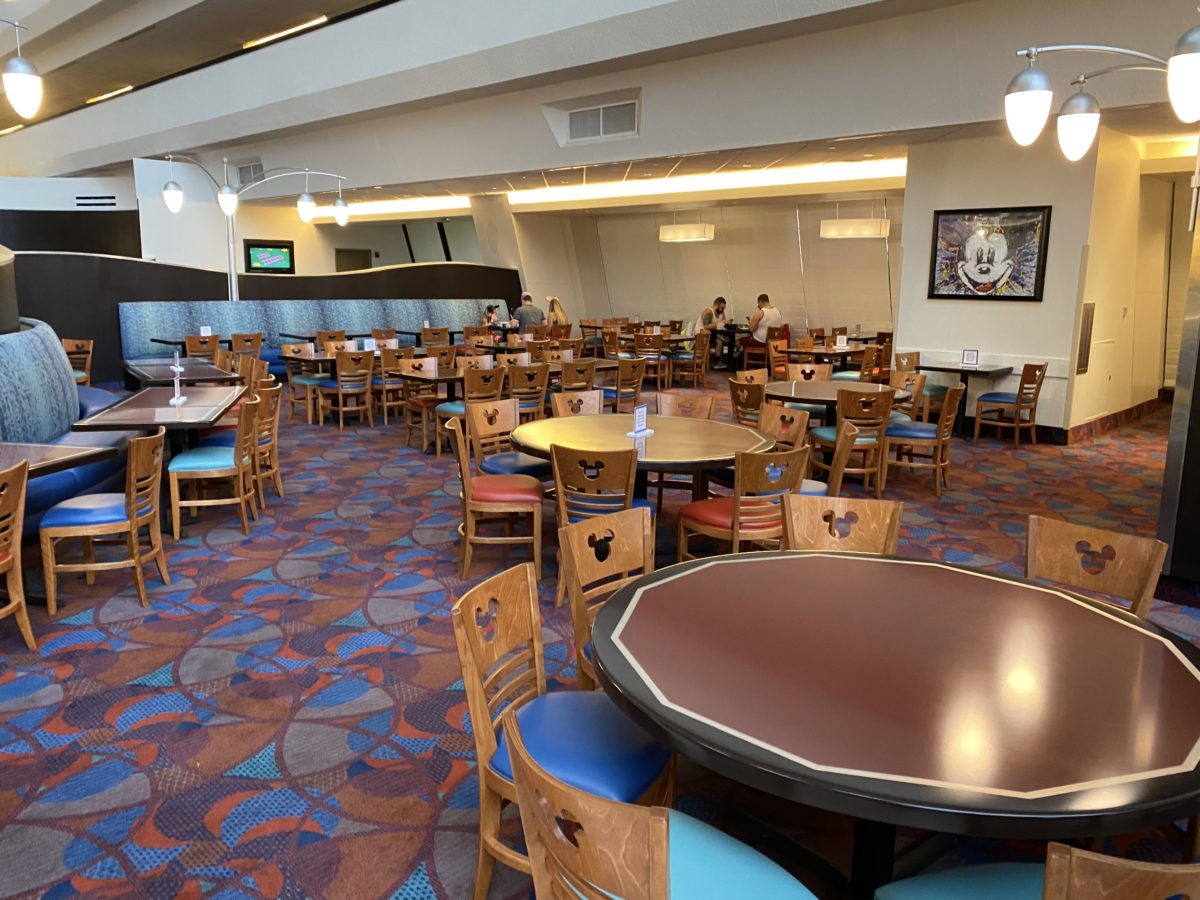 The ambiance feels slightly apocalpytic, given what a lively, energetic environment this usually is.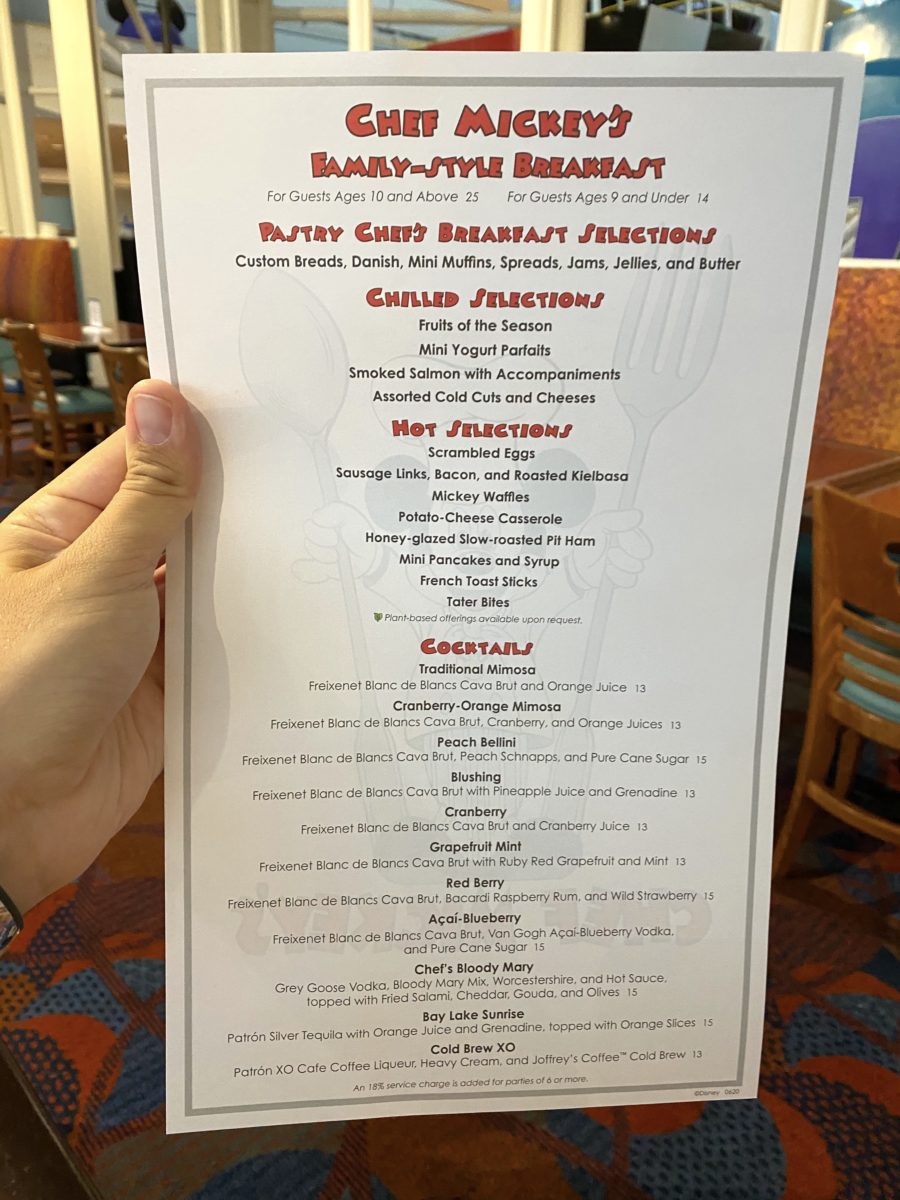 If you aren't a fan of digital menus, paper menus are also available. You'll notice that the pricing has been cut back to "just" $25 per guest ages 10 and up and $14 for kids 9 and under. Options are broken down by Pastries, Cold Selections, and Hot Selections.
In replacement of it's typical "all-you-care-to-enjoy" breakfasts, Chef Mickey's is offering "Family Style" dining, which brings the buffet right to your table. Think breakfast at 'Ohana, minus the Polynesian flare. Cast members bring large servings of Chef Mickey's breakfast-favorites, like scrambled eggs, bacon, Mickey waffles and assorted pastries, right to you (with unlimited refills.)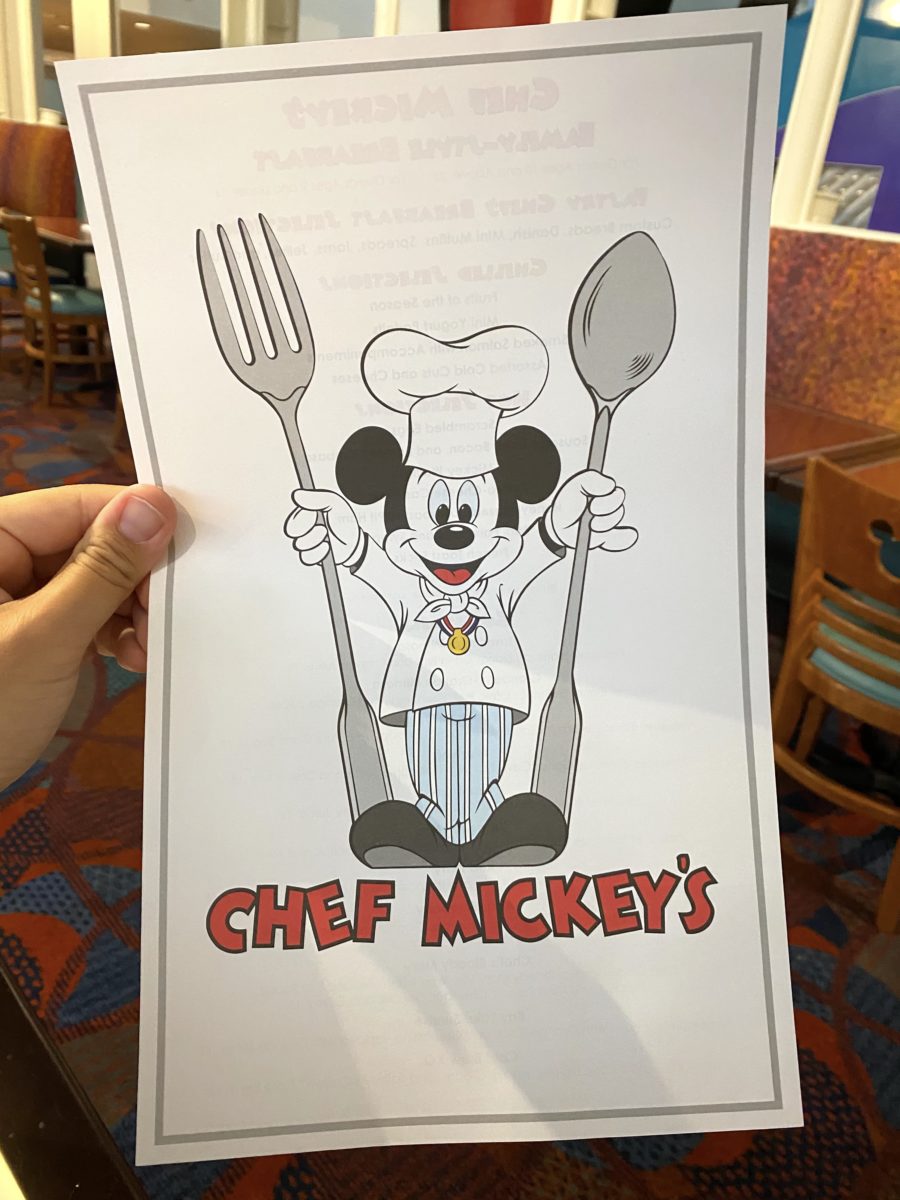 Photos of our "Family Style" breakfast are below.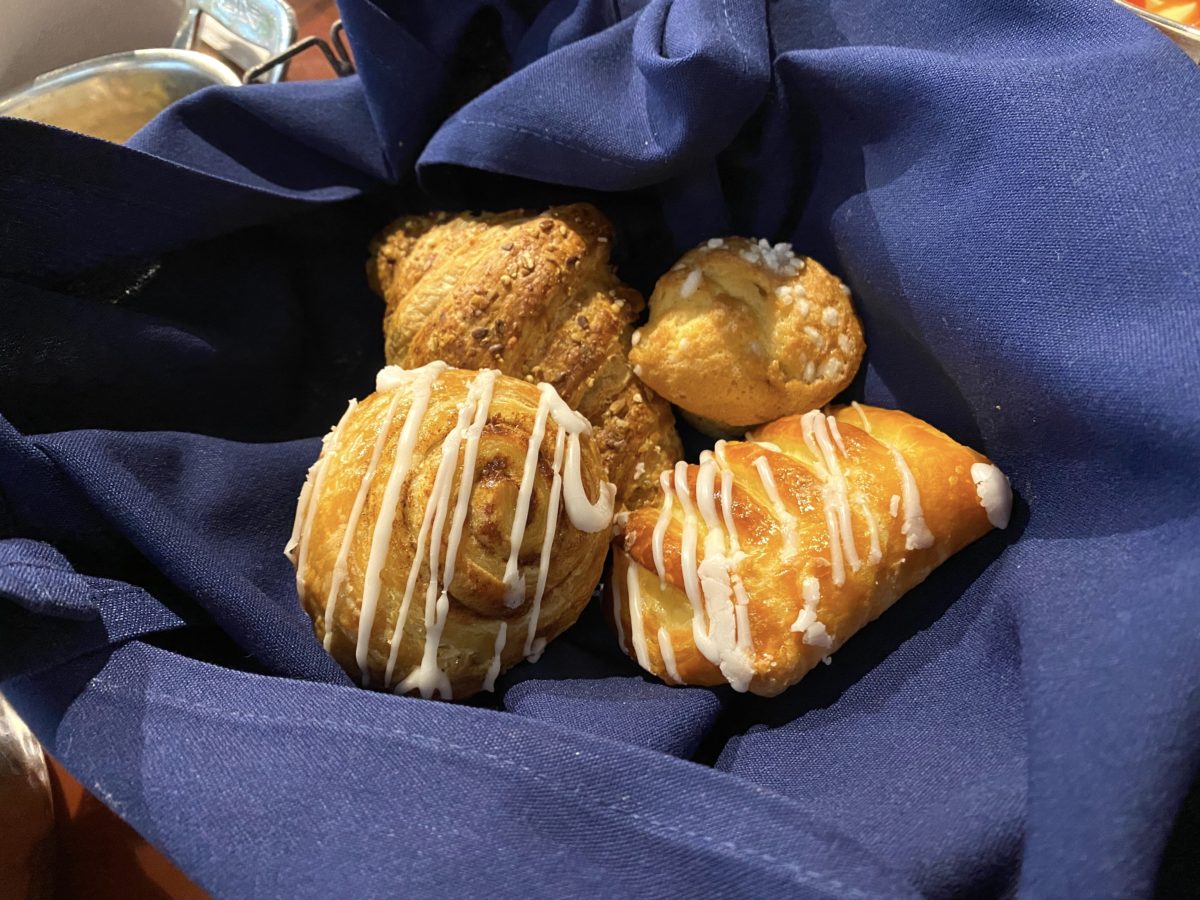 Pastries are the usual resort-wide basics, like the whole-grain croissant, danish, and mini cinnamon roll.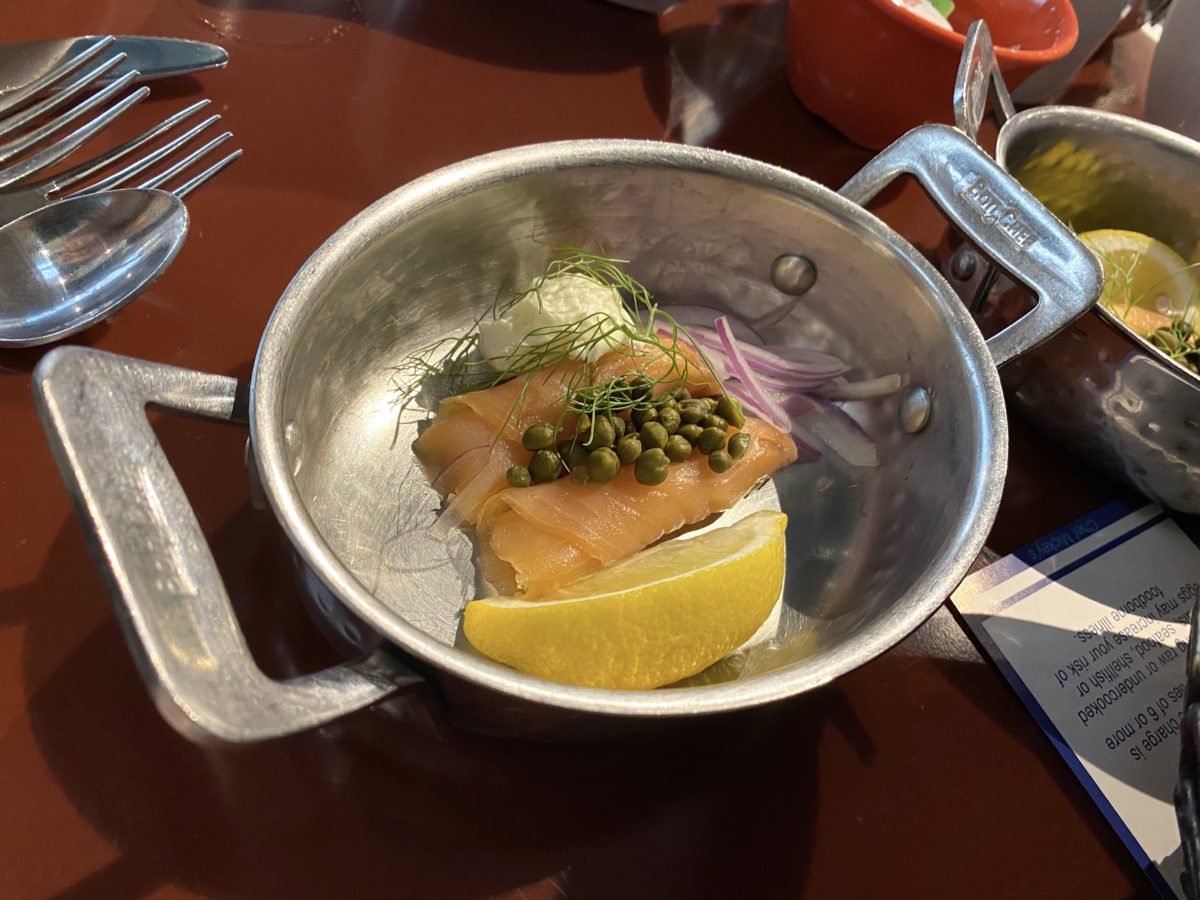 Smoked salmon comes in a smaller skillet with capers, onions, and a lemon wedge for accompaniments.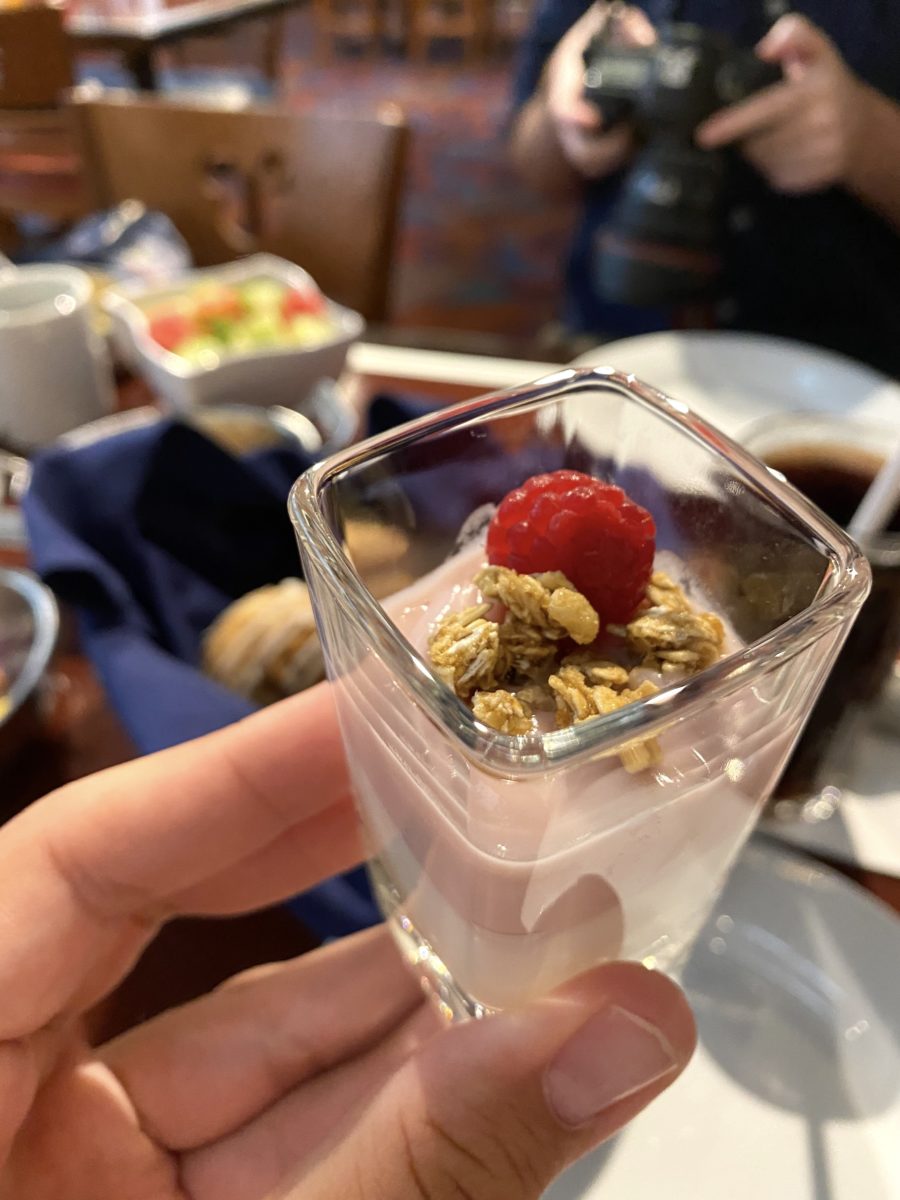 Yogurt and granola is served in these tiny glass cups, topped with a raspberry for flair.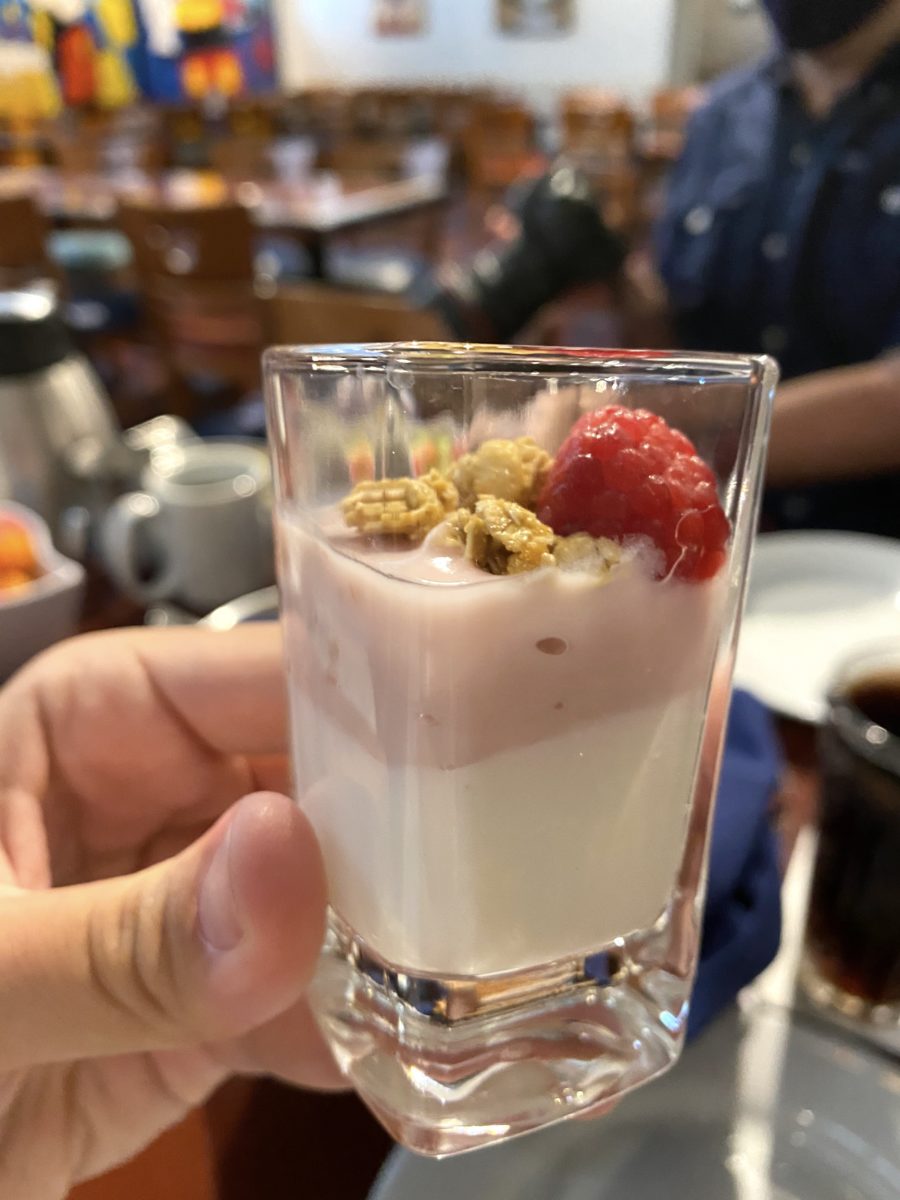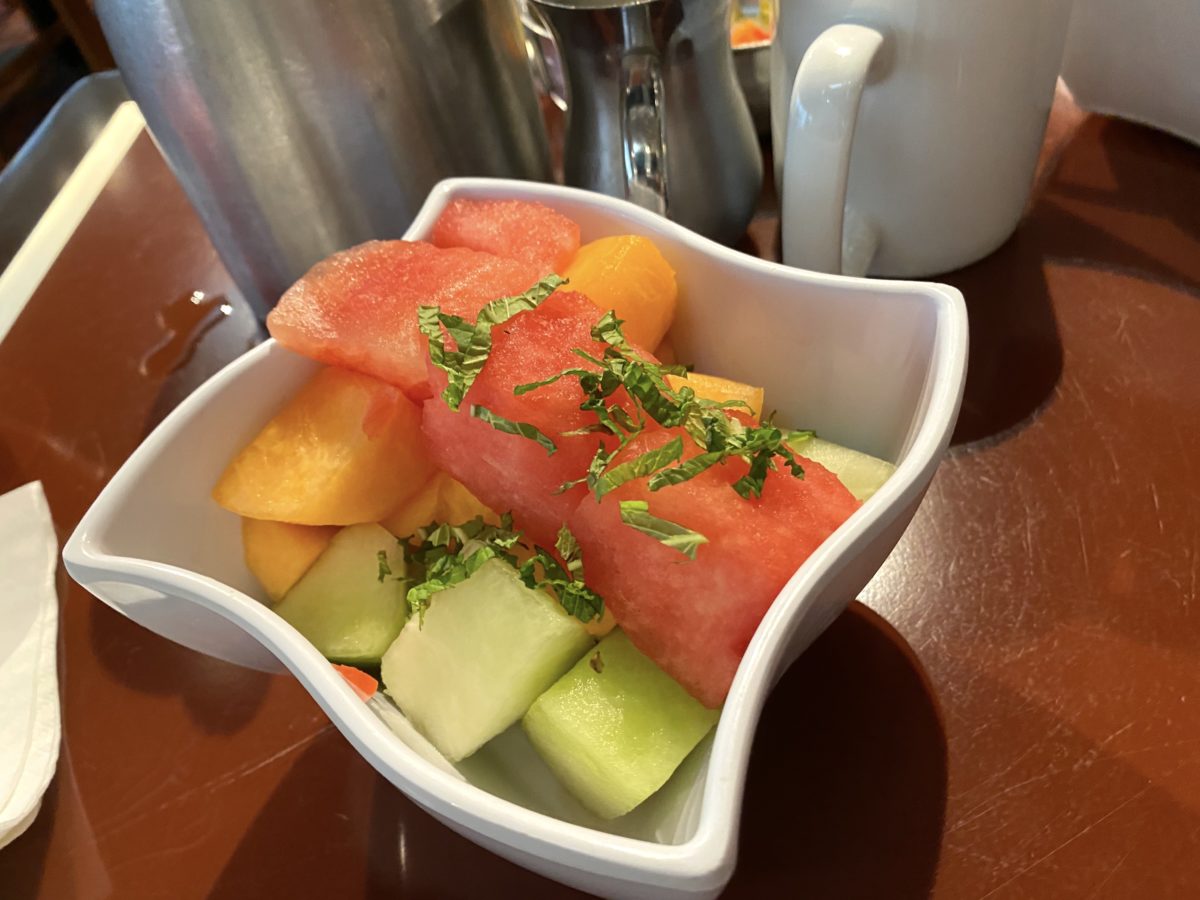 Cut fruit is comprised of mostly melon, with no berries or grapes to liven things up..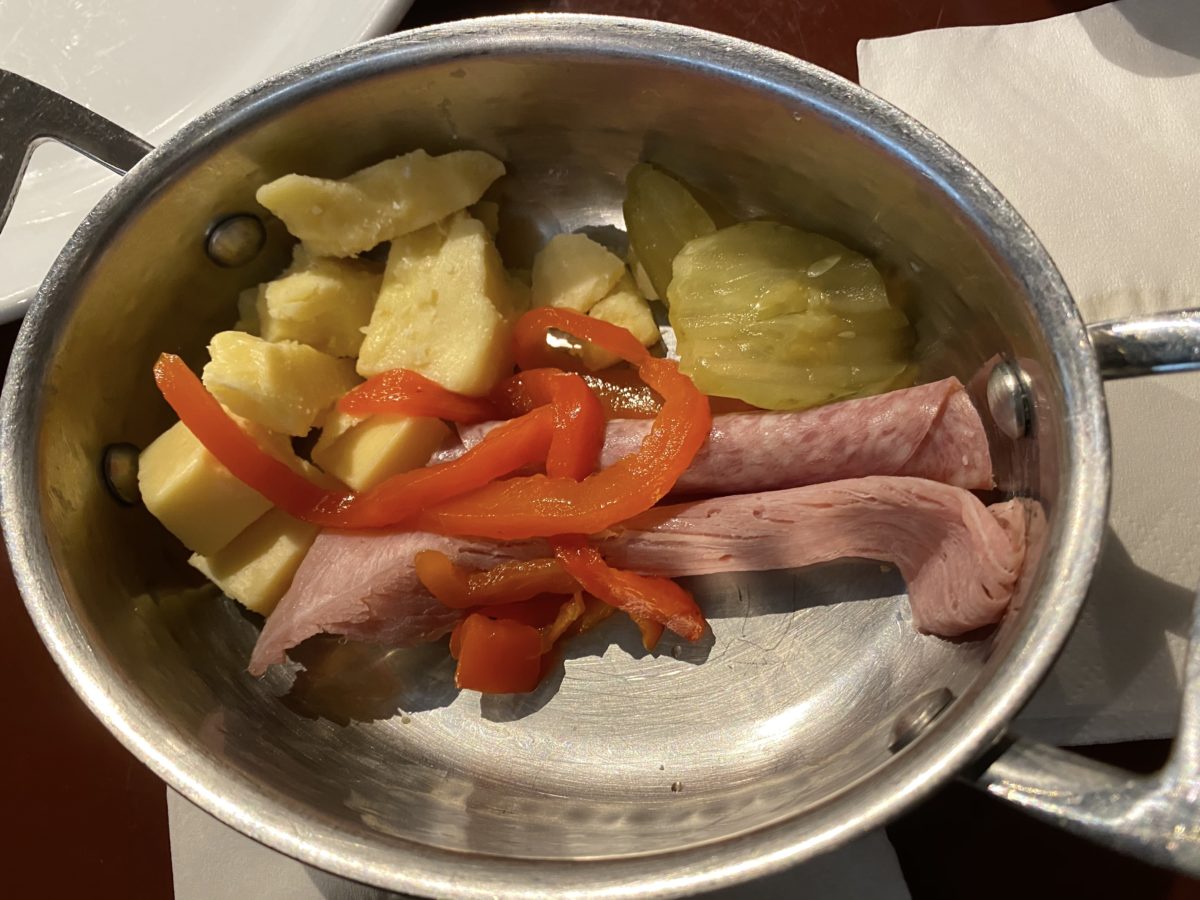 Cold cuts were also fairly basic. Pictured here are some cubed and off-the-block cheese, pickles and marinated red pepper, plus a slice each of rolled salami and ham. Again, nothing fancy as these taste on par with any grocery deli cuts.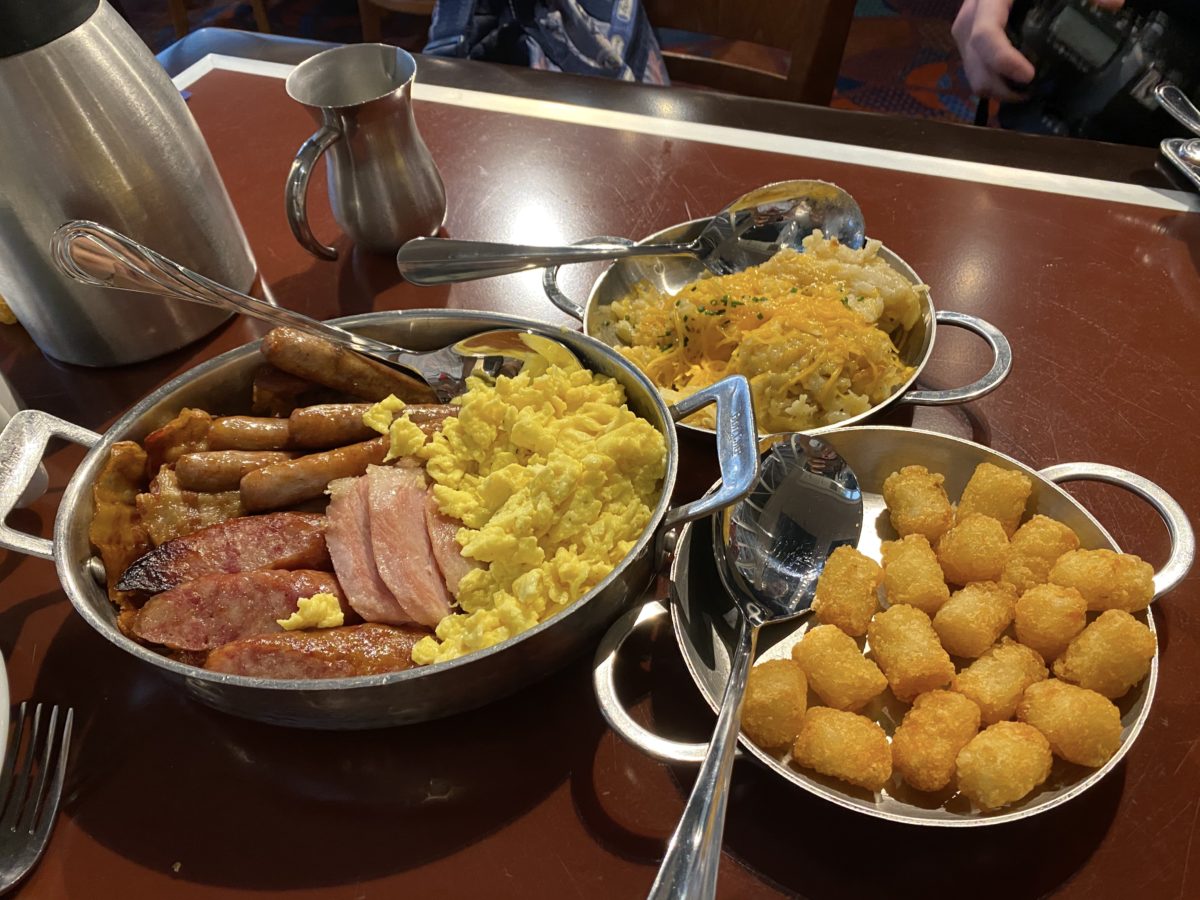 The rest of the items are served in much larger, family-style skillets, with one devoted to just tater tots, another of cheesy potato casserole, and a skillet full of proteins like eggs, sausage, ham, and bacon.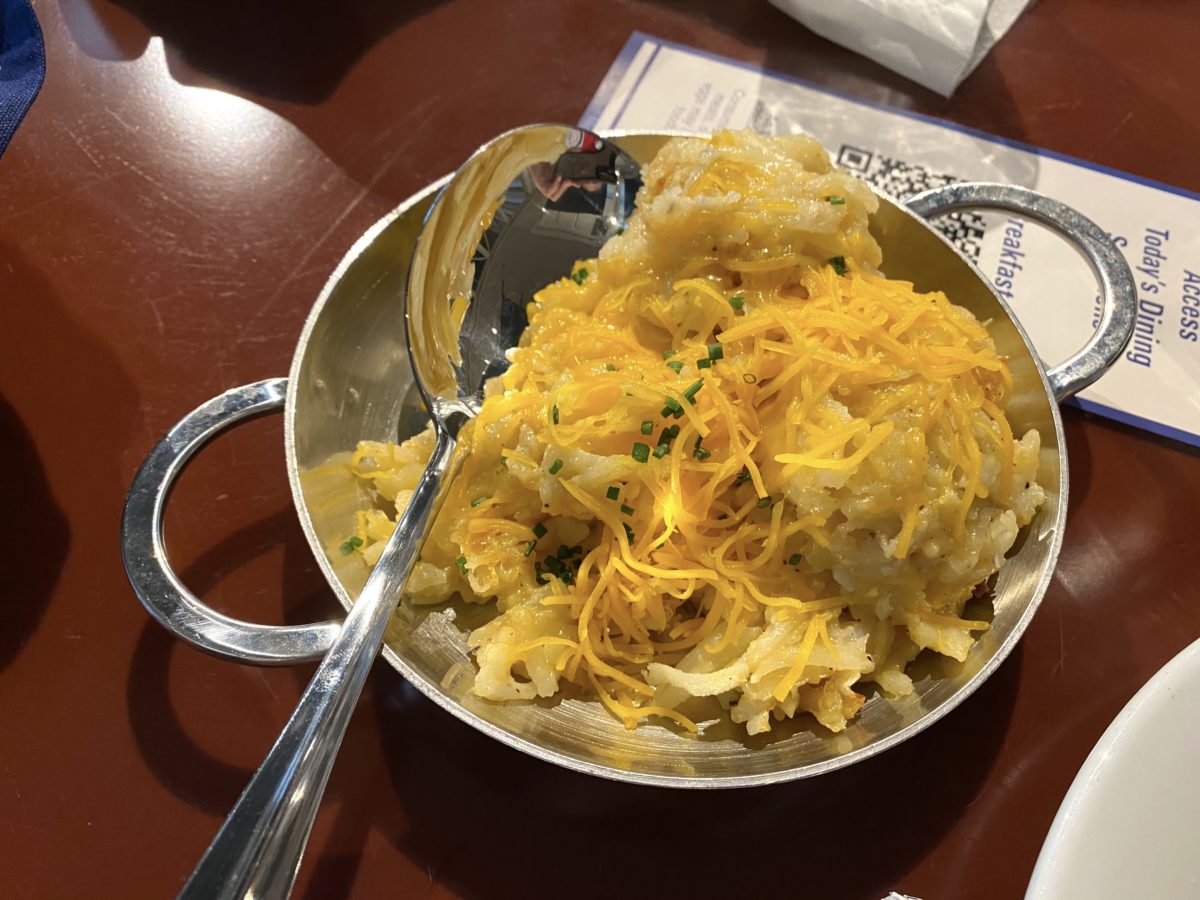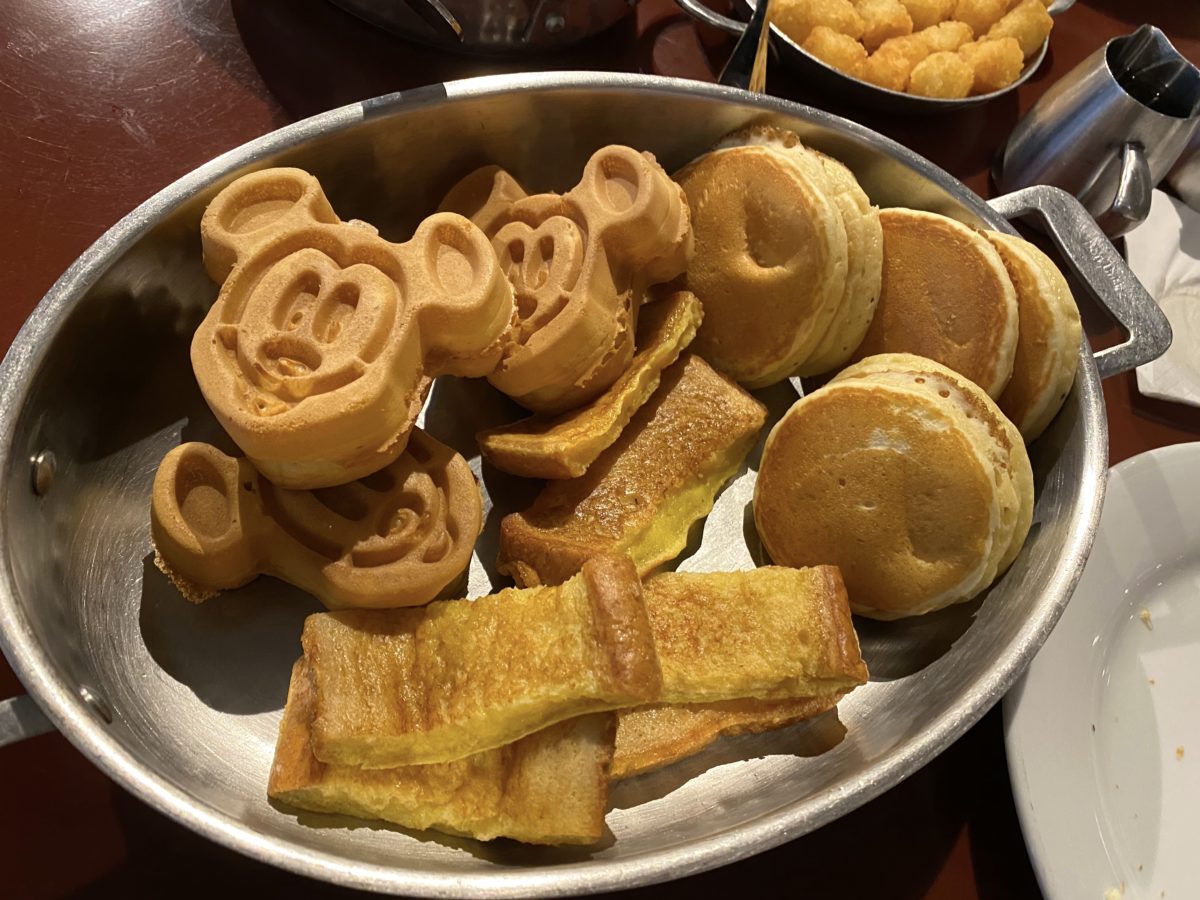 Of course, Mickey Waffles, silver dollar pancakes, and slices of French toast are also available.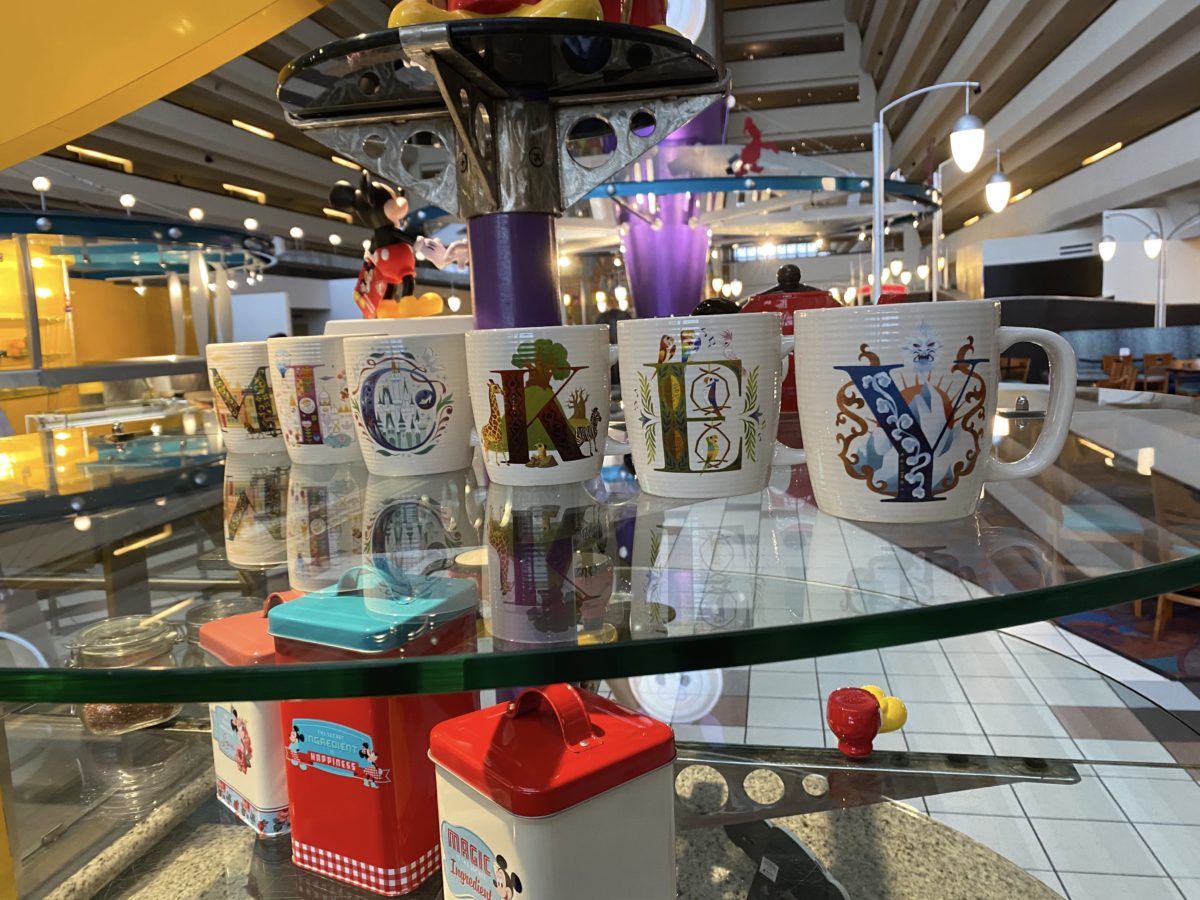 So, how does this new, modified "family-style" breakfast stack up? We never thought we'd say this, but there's no point to coming without the characters. Yes, it's now one of the cheaper buffets on property, which may seem appealing, but the food is as lackluster as ever, and the only ambiance you get is the occasional whoosh of the monorail, paired with an eerie silence that simply does not bode well after being stuck at home for months on end.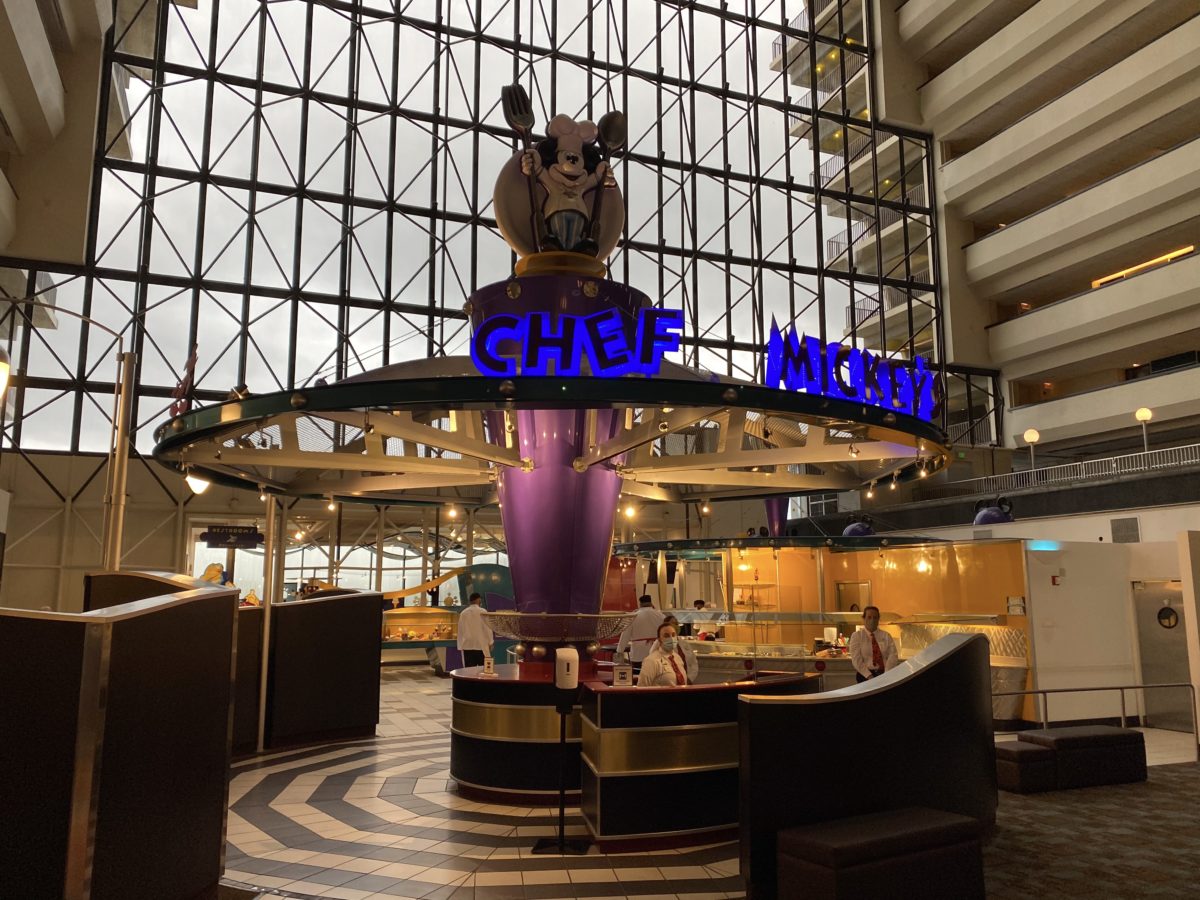 If you're staying at the Contemporary or looking to start your day here, we recommend The Wave for breakfast, if you're not bent on getting stuffed with mediocre breakfast foods. Otherwise, if it's all-you-can-eat you're looking for, with the suspension of buffets across property, your best bet is Whispering Canyon at Disney's Wilderness Lodge, where the variety and quality of food is much better, even if you're also dining in a mostly-empty restaurant in the midst of a pandemic.