Walt Disney World has just released an extension update for its Tables in Wonderland members.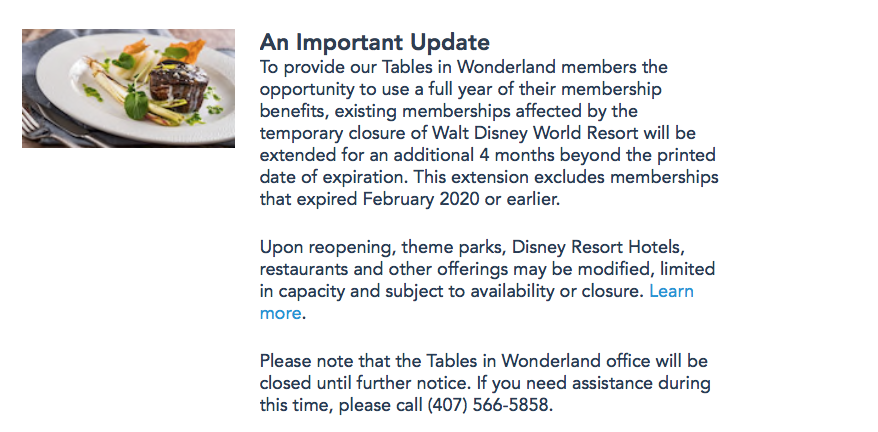 The update has been issued on the Tables in Wonderland landing page on the Walt Disney World website and reads as follows:
To provide our Tables in Wonderland members the opportunity to use a full year of their membership benefits, existing memberships affected by the temporary closure of Walt Disney World Resort will be extended for an additional 4 months beyond the printed date of expiration. This extension excludes memberships that expired February 2020 or earlier.
Upon reopening, theme parks, Disney Resort Hotels, restaurants and other offerings may be modified, limited in capacity and subject to availability or closure. Learn more.
Please note that the Tables in Wonderland office will be closed until further notice. If you need assistance during this time, please call (407) 566-5858.
New Tables in Wonderland memberships are not for sale at this time. Additional information regarding future sales of Tables in Wonderland memberships will be shared at a later date.
If you have any questions or concerns regarding the Tables in Wonderland membership program, please call us at (407) 566-5858 or by emailing us at [email protected]. Guests under 18 years of age must have parent or guardian permission to call.