Ahead of Annual Passholder previews starting this Thursday, Walt Disney World has begun contacting all Passholders who secured a preview registration with additional details on what to bring, how to arrive, and what to expect. You can find the full details below: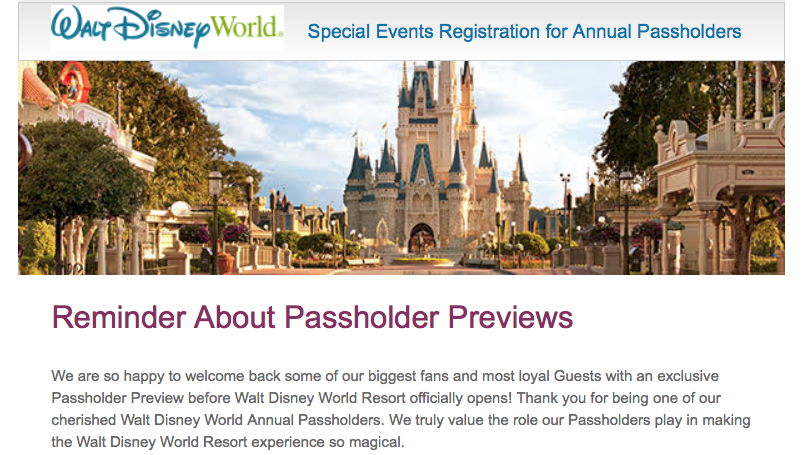 We are so happy to welcome back some of our biggest fans and most loyal Guests with an exclusive Passholder Preview before Walt Disney World Resort officially opens! Thank you for being one of our cherished Walt Disney World Annual Passholders. We truly value the role our Passholders play in making the Walt Disney World Resort experience so magical.
Please make sure to review the check-in information below before you arrive.
What to Bring to the Event
Valid annual pass and a government-issued photo ID for each registered Passholder.
One copy of your confirmation page.
Face coverings are required for all Guests (ages 2 and up).
You may check in at the main entrance of Magic Kingdom park at any time during the park operating hours. Please have your government-issued ID and valid pass ready.
Important Information About Your Event
Restaurants, attractions, experiences and other offerings may be modified and will be limited in capacity and subject to limited availability or closure, based on direction from health experts and government officials to promote physical distancing.
Face coverings are required for all Guests (ages 2 and up) and Cast Members; temperature screenings are required in some locations.
Reservations are nontransferable and may not be sold or bartered.No modifications to reservations.
Valid, activated eligible Walt Disney World annual pass and photo ID are required at check-in for each Passholder and each Passholder Guest.
Activities and attractions subject to change without notice.
Registered Passholders may experience wait times for popular attractions during this event.
If you are staying at a Disney Resort hotel, Disney transportation will not be available for this limited event. You will need to provide your own transportation to the theme park parking lot.
Tram service will not be available from the Guest parking lot to the main entrance of the theme park. (For Magic Kingdom park, there will be no tram service from the parking lot to the Transportation & Ticket Center, but the Express Monorail and the Ferryboats will be available from the Transportation & Ticket Center to main entrance).