Aloha from Adventureland at Tokyo Disneyland! While few menu options have changed after Tokyo Disneyland's extended closure, one eatery has entered the lunchtime fray – Polynesian Terrace Restaurant in Adventureland. Until earlier this year, the lunchtime hours here played host to Lilo's Luau & Fun, which was scheduled to close March 31st, but instead closed February 29th due to COVID-19. Now, there's a new lunch menu featuring pancakes, so we figured we'd drop in and give it a taste ourselves!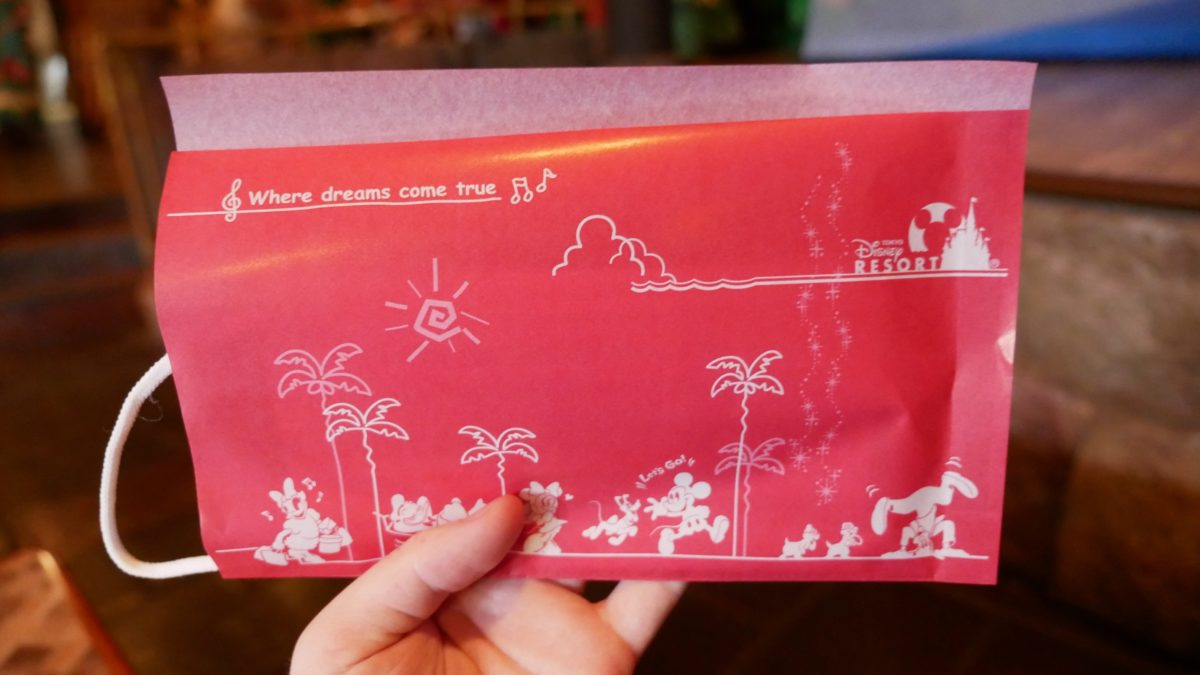 A Priority Seating reservation is recommended at this location, even for lunch. I waited about an hour in the standby line to get this table, so definitely make a Priority Seating reservation if you visit. When dining at every table-service restaurant, Guests are given a small wrapper to stow their masks while dining. It would be nice if every restaurant offered this, honestly.
As we discussed in our social distancing guidelines for reopening, menus at the parks have been replaced with scannable QR codes.
Sparkling Tapioca Drink (Mixed Fruits) – ¥400 ($3.80)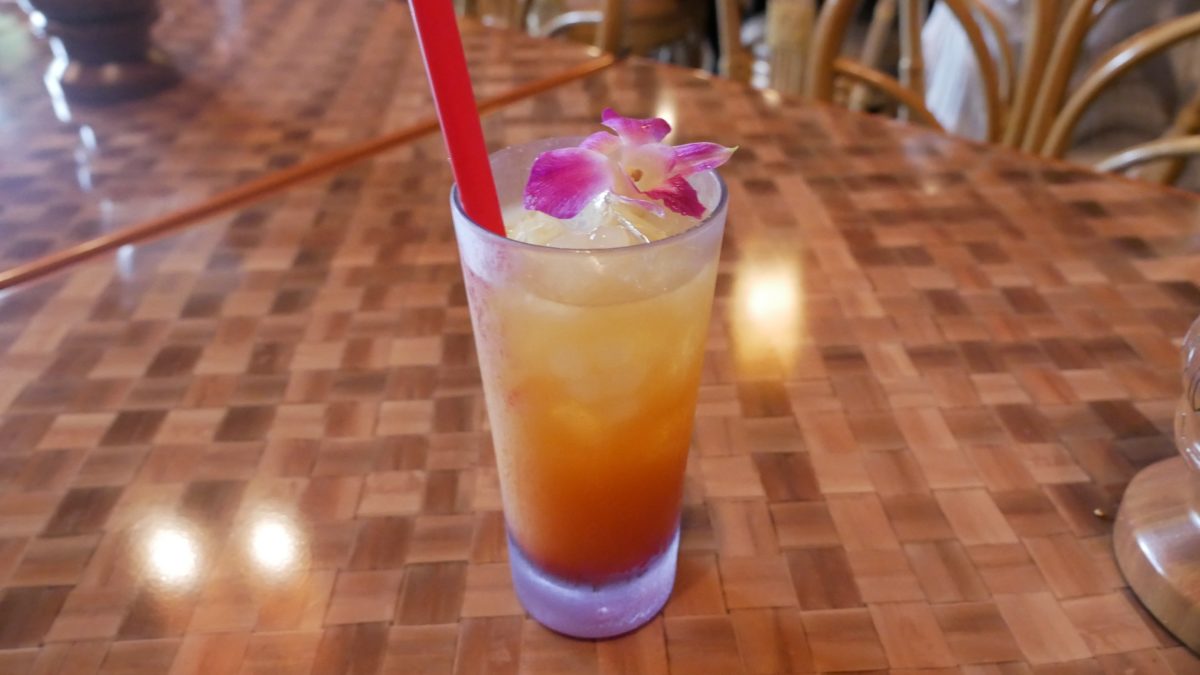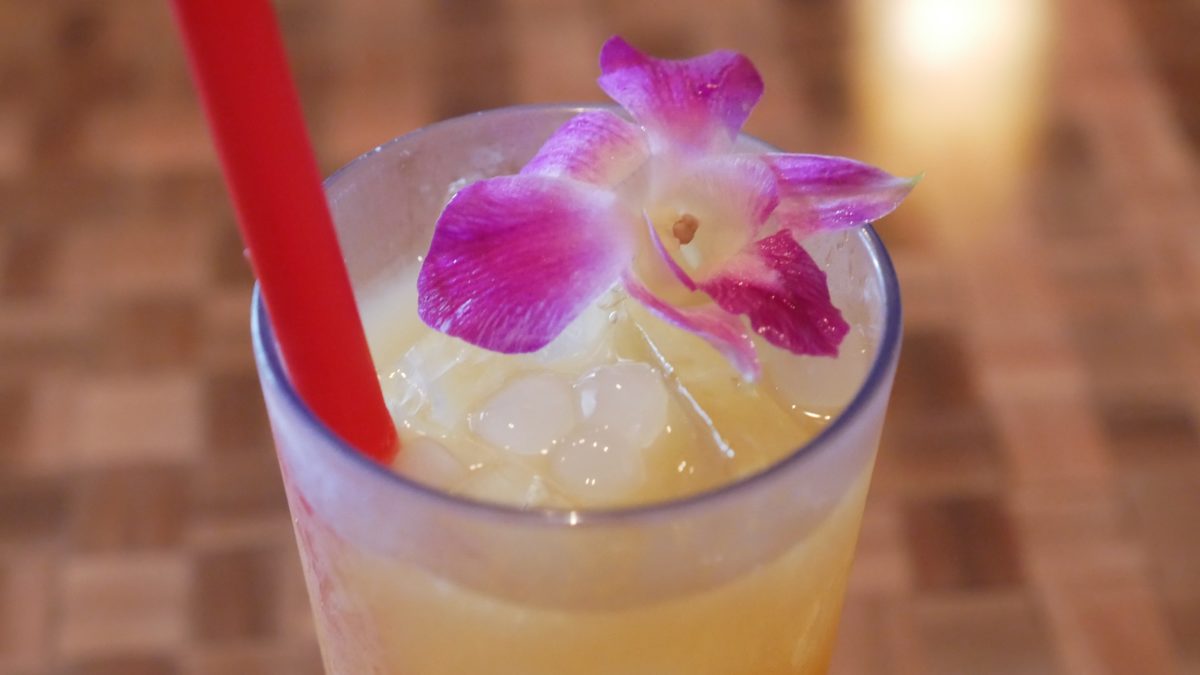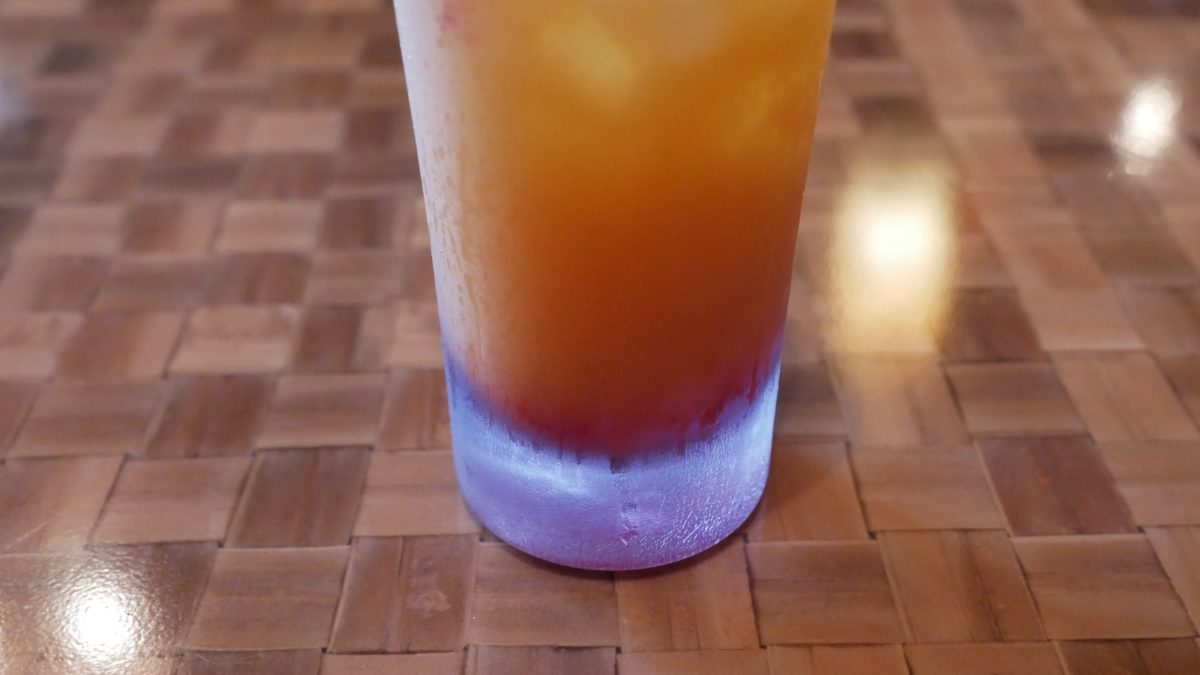 For ¥600 on its own or ¥400 with your meal, you can enjoy this delicious "sparkling" mixed fruits tapioca drink. While the drink is indeed delicious, "sparkling" is a bit inaccurate. It was still a delicious orange flavor with excellent citrus jelly on the bottom, similar to that in the lychee tapioca drink at Zambini Brothers Ristorante in Tokyo DisneySea. I can't recommend enough that you choose this drink over the other choices.
Lunch Pancake Set – ¥1800 ($17.11)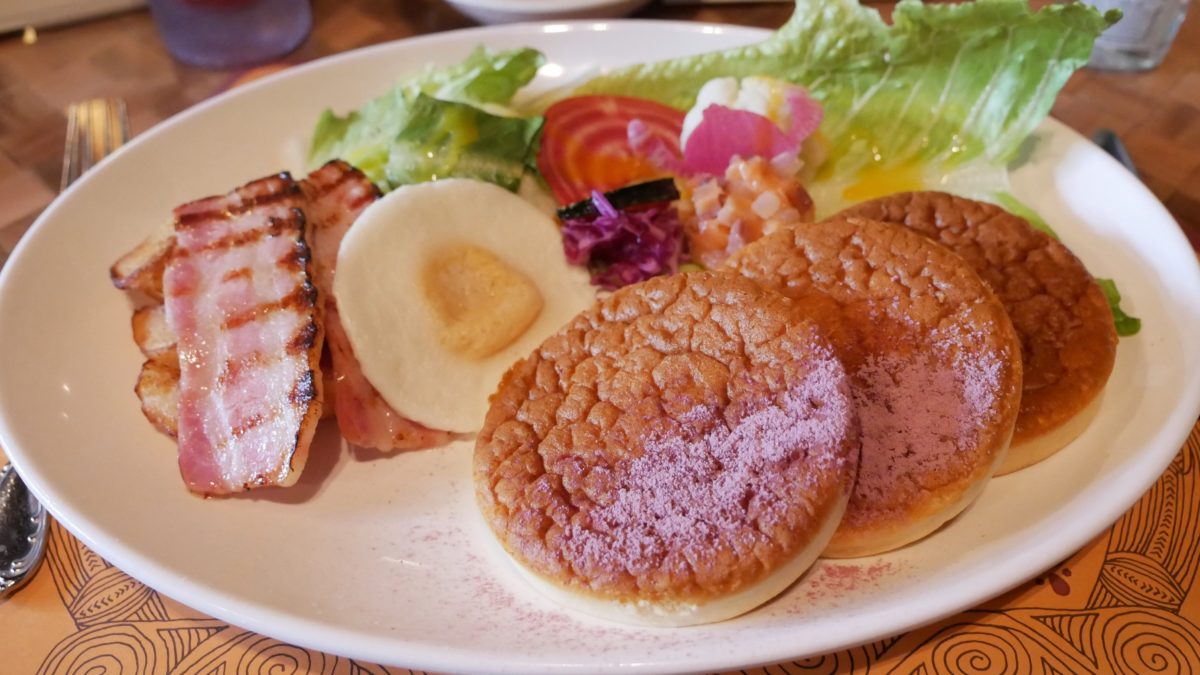 The main attraction, of course, is the new lunch pancake set. A dessert pancake set is also available. The set comes with three fluffy Japanese pancakes, potatoes, bacon, eggs, a salmon tart, and assorted vegetables.
For more information on booking your next trip with our official travel agent sponsor, the Vacationeer, visit wdwnt.travel.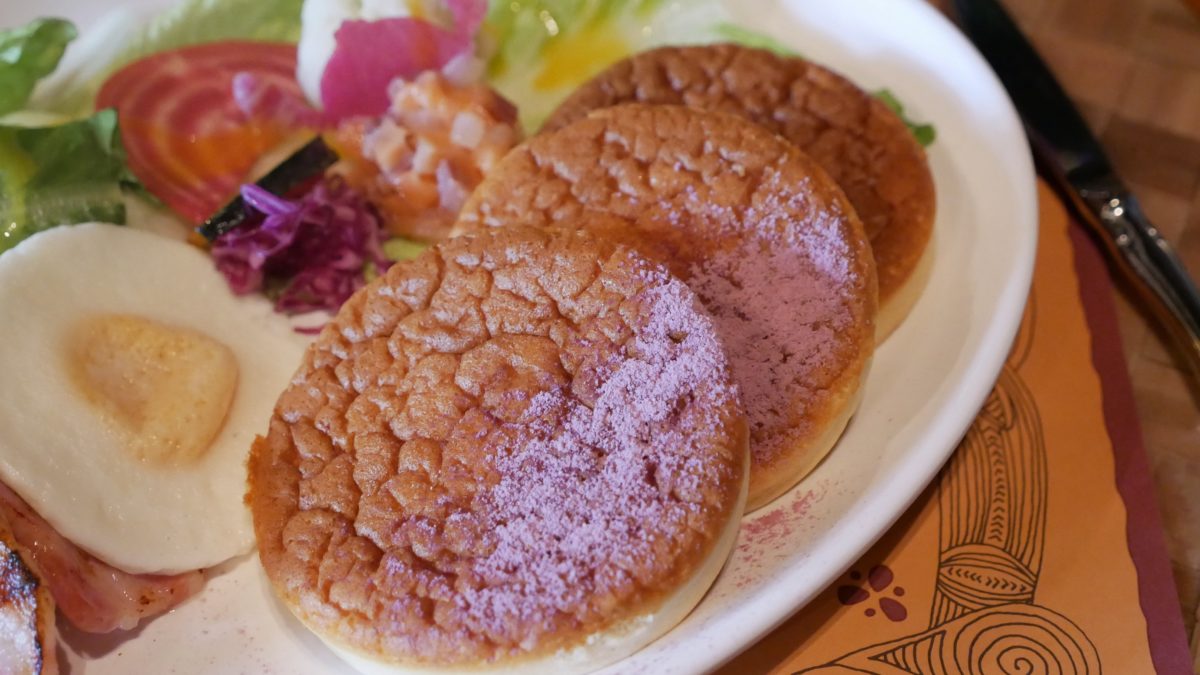 The pancakes were rather par for the course for typical fluffy Japanese pancakes. I've never been a huge fan, I like my pancakes in the flat American style, but they weren't bad at all. The restaurant also provides maple syrup to help add some flavor to these.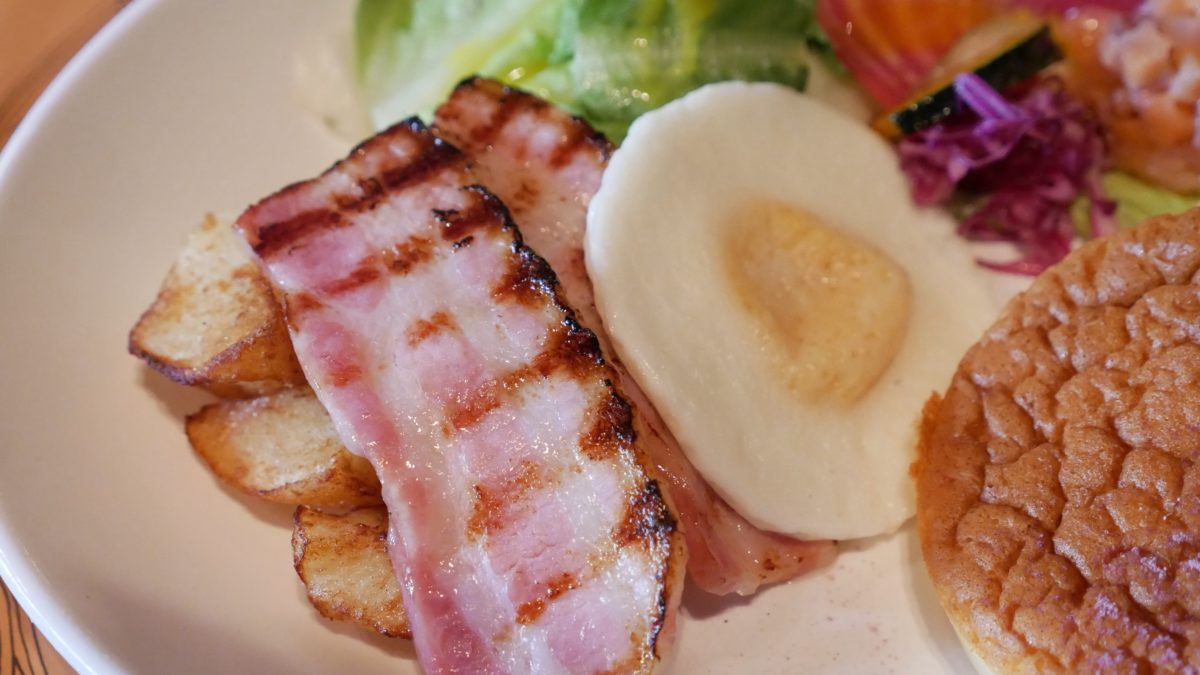 The left side of appetizers includes bacon, an egg, and potatoes. The bacon isn't at all what I'd expect compared to typical American fare, but it was still juicy and tender cooked pork nonetheless. It's cooked to perfection and retains its juicyness! And the potatoes are just to die for. Cooked just right, perfectly seasoned, and just the right portion. I saved some of these for last because I thought they were so good! As for the egg, beware the mess. It's cooked over medium, so the yolk inside is still runny. The egg needs salt, for sure, but otherwise is fine for an over medium egg.
And on the right, we see our vegetables and the salmon tart. In the vegetable assortment we have lettuce, onion, cauliflower, Japanese pumpkin, and a small Stitch-shaped garnish. I loved the vegetables, all of them were fresh and crispy with a delicious citrus dressing on top, and you can't beat that salmon tart. We've sampled this before in our viewing of Mickey's Rainbow Luau, near the top of our favorites from that menu. We're glad to see it in the lunch offering as well!
All in all, I was rather surprised by this lunch set. It's certainly not the best thing you can eat at Tokyo Disneyland, but there's nothing here that will disappoint you. I think I can safely say that a trip to Polynesian Terrace Restaurant for lunch won't be a mistake. The lunch set is available on an open-ended run. Have you tried this set yet? What are your thoughts? Let us know below in the comments or on social media!
Are you considering or planning a visit to Tokyo Disney Resort? Visit TDRPlans for every detail (and more) that you'll need to make your trip the best it can be! Did I mention it's 100% free?