In the summer of 2018 my partner and I visited the Shanghai Disney Resort as part of a two-week trip to the Chinese city, Shanghai. In seven articles, appearing every weekend here at wdwnt.com, I will share our adventure through this newest Disney Resort that opened in 2016. I am writing about the park and its theming, Disneytown, and the hotels. In this second trip report, I will tell you about the first two lands of Shanghai Disneyland: Mickey Avenue and Gardens of Imagination, and I will tell you more about the Splashing Summer season.
Shopping and Dining at Mickey Avenue
Shanghai Disneyland does not have the Main Street, U.S.A. that we know from four of the five other resorts. For mainland China, Disney chose to introduce Mickey Avenue. This relatively short street is the home of Mickey and all his friends, including characters such as Ludwig von Drake and the Three Little Pigs.
You enter the land by going under the clock tower. The first things I noticed were the beautiful new attraction posters that showed what I could expect from this trip to Shanghai Disneyland.
Although the look of Mickey Avenue is definitely different from Main Street, U.S.A., the function and the feeling are the same. There are souvenir shops and small restaurants. All of the buildings tell a story by showing the owners (Disney characters) on the lay-out. There is happy, most of the time jazzy, music to enjoy. My favorite 'joke' is the Three Little Pigs Construction building, and the B.B. Wolf Demolition building, located next to each other.
In the morning, the characters are out to take photos. We saw Mickey and Minnie, Donald and Daisy, Chip and Dale, Goofy and Pluto, and Duffy and his friends.
There are five different souvenir shops: Avenue M Arcade, Sweethearts Confectionery, Carefree Corner, Whistle Stop Shop, and the Lucky Express cart.
A nice place to look around is the Whistle Stop Shop. Not because of the products (mostly Duffy and Friends merchandise), but because of its theming. This place is where the goods of Mickey Avenue arrive, and the shop is all about trains. It even contains a model train that rides around the shop!
Another favorite is the Avenue M Arcade, comparable to the Emporium. You can find a lot of products from throughout the park and you will end at the cashier from Scrooge McDuck. Portraits of this rich duck hang behind the counters and when you leave you will see you have just stepped out of his vault.
For your pin trading, you need to stop at Carefree Corner. This shop also has a lot of details that tell the story of Mickey Avenue. It includes a separate section with a post office, where you can spot the mailboxes of many different Disney characters.
There are four places where you can eat or just grab a snack: Mickey & Pals Market Café, Remy's Patisserie, Il Paperino (ice cream), and Chip & Dale's Treehouse Treats.
Because I am a huge fan of Ratatouille, we started at Remy's Patisserie. This beautifully themed café has a small terrace that is a great place to eat your snack from the bakery with a nice cup of coffee or tea.
After our first stop we wanted to try more and we came back later forgetting the other options at this land.
Mickey Avenue is home to one attraction: Mickey's Film Festival. In this attraction, guests can enter the Walt Disney Grand Theatre in Disneytown through the park and watch short films of the famous mouse. The theater is also home to the Mandarin production of Beauty and the Beast, so sometimes the attraction is closed due to performances or repetitions. Because it was not open when we were there, we did not experience it. We went into the theater for the musical, but more on that later in this series.
Gardens of Imagination
Where all the castle parks have a hub that connects all the different lands, Shanghai Disneyland has a hub that is a land itself. These Gardens of Imagination are larger and a lot greener than I thought. Where I imagined a large version of the usual hubs with some attractions, this one definitely has more with walkways, bridges, and large trees.
This land has five 'attractions'. The real rides are Dumbo the Flying Elephant and the Fantasia Carousel. The last one is beautifully themed with characters and music from Fantasia.
We also walked through the Marvel Universe hall, were you could meet Spider-Man or Captain America and where you could join a comic class or become Iron Man in a form of VR-experience. Not sure what this place is doing in the Gardens, while it would fit better in Tomorrowland that lays next to it.
Another walkthrough is the Garden of the Twelve Friends, where Disney characters are representing the Chinese zodiac signs. There are twelve mosaics with a short explanation of the characteristics of the zodiac signs.
The last 'attraction' is meeting Mickey Mouse in his blue Shanghai Disney Resort outfit. Normally there is about a 40-minute wait, but we went after the firework spectacle Ignite the Dream and then we got our meet almost immediately.
There are no shops at the Gardens of Imagination, apart from one at the Marvel Universe and two merchandise stalls.
For most food and beverage, you also need to go to carts or quick service locations with no seating availability. We got our summer slush drinks (in special Mickey cups!) at Timothy's Treats.
There is one restaurant in the land, the Wandering Moon Restaurant. This place serves typical Chinese dishes and we ordered the dumplings as a snack on our first day. The restaurant was beautifully detailed, and it was a nice place to sit down and relax for a moment. The dumplings tasted very good, but I do believe that not everyone will like this dish because of the structure of this typical Chinese food.
Entertainment at Gardens of Imagination
This land in the middle had two spectacles. The parade, Mickey's Storybook Express, and the firework spectacular, Ignite the Dream. Both shows can be watched (although you might have a very different view) from other lands, but I choose to name them here.
The parade was nice to watch, but we did not think the music was catchy enough. The floats are representing stories from a storybook, and there are some really cool ones!
I think the best was the Mulan float, with drummers and a Chinese theme.
Be prepared for guests with umbrellas. Umbrellas are a good way for avoiding the sun, but some people also use them while watching the parade. When you are behind one of those, try to explain that the umbrella is ruining your sight and hopefully they will disappear.
Ignite the Dream is very similar to Disney Illuminations, the fireworks at Disneyland Paris. Because we knew this, we chose not to wait for the fireworks on a good spot (people start lining up at 6:30 PM, while the show starts at 8:30 PM), but to watch from the side. A con from the Gardens is that there is no large, flat hub anymore, so a lot of places are not that good for watching the fireworks. However, we enjoyed what we could see.
When we were there, the fireworks started 90 minutes before park closing. After the fireworks people do go home, so use this time to enjoy some of the rides without long lines. On our first day we managed to enjoy three attractions that had over two-hour and sometimes three-hour waits during the day, in only two hours in the evening. I will tell you more about these rides in the upcoming reports!
Soak Up the Fun! Summer Season
We were there in summer, so there was also some summer entertainment as part of the Splashing Summer. Mickey Avenue and the Gardens of Imagination were decorated, and there were some special food, merchandise and entertainment offerings. Nothing more or less we are used to from other seasons in other Disney parks.
We especially liked the castle stage show Summer Blast. In this performance, many Disney characters appear in front of the stage with a group of dancers. Imagine characters like Hank (Finding Dory), Maui (Moana), and Sebastian and Flounder (The Little Mermaid) performing in front of the Enchanted Storybook Castle, while liters of water are coming towards the audience. Many fountains and performers with hoses are cooling down the guests, that wear ponchos in order to leave the stage not totally soaked.
There was also a pre-parade before Mickey's Storybook Express called Duffy's Splashing Pre-Parade. In this parade, Duffy and his friends float by while dances are spraying water on the waiting crowds. Simple, but effective.
Next week, we are going left, and I will tell you more about Tomorrowland and the recently opened Disney·Pixar Toy Story Land. If you have any questions regarding my trip or the Shanghai Disney Resort, do not hesitate to contact me at [email protected]
Click below for the earlier trip reports in this series: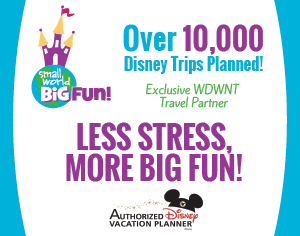 I don't know about you, but there are times when planning a Disney vacation can be overwhelming! There are so many options, where to stay, when to go, is this the best price. So, I want to introduce you all to Cindy Minor and the team at Small World Big Fun. They will help you plan your Disney vacation for FREE. Contact them today!