With Disney Parks around the world closed for the foreseeable future, WDWNT is dipping into our archives of vintage parks materials for a look back into parks history! Today, we're looking back at Walt Disney World's 10th anniversary with this October 1981 issue of Tencennial News!
Note: This article will detail the newsletter page by page, but WIGS Members will have access to download a full-resolution PDF of the entire thing. Head on over to Patreon.com/wdwnt to join WIGS, the WDWNT Inner Globe Society, for as little as $2 a month and unlock access to great content like this, and much more!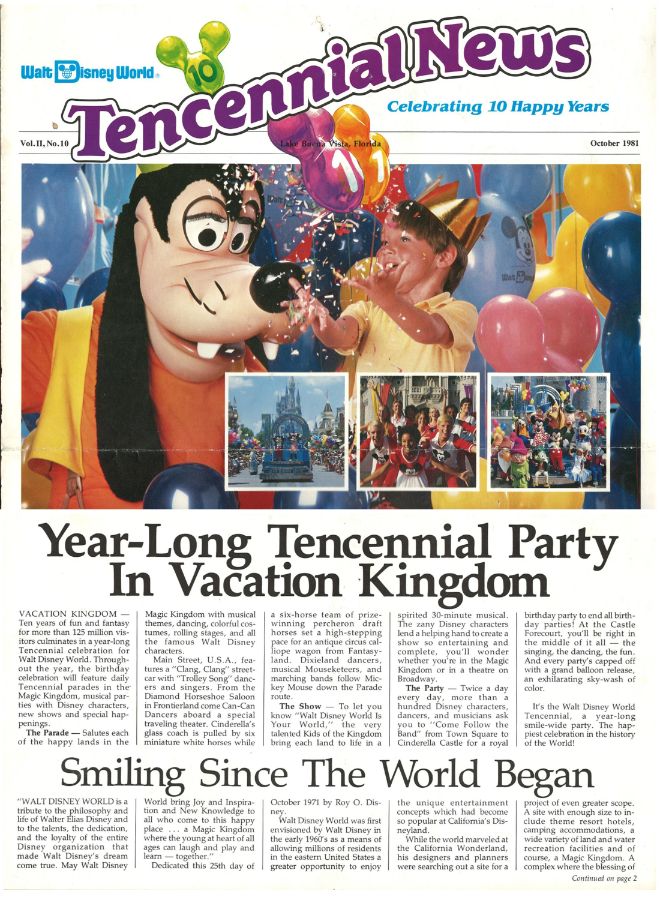 The "coverage" of the tenth anniversary events begin with this introduction:
"VACATION KINGDOM – Ten years of fun and fantasy for more than 125 million visitors culminates in a year-long Tencennial celebration for Walt Disney World. Throughout the year, the birthday celebration will feature daily Tencennial parades in the Magic Kingdom, musical parties with Disney characters, new shows and special happenings."
Descriptions of the parade, a show featuring the Kids of the Kingdom, and a party in front of Cinderella Castle are included, followed by a piece that provides a timeline of the resort's first decade.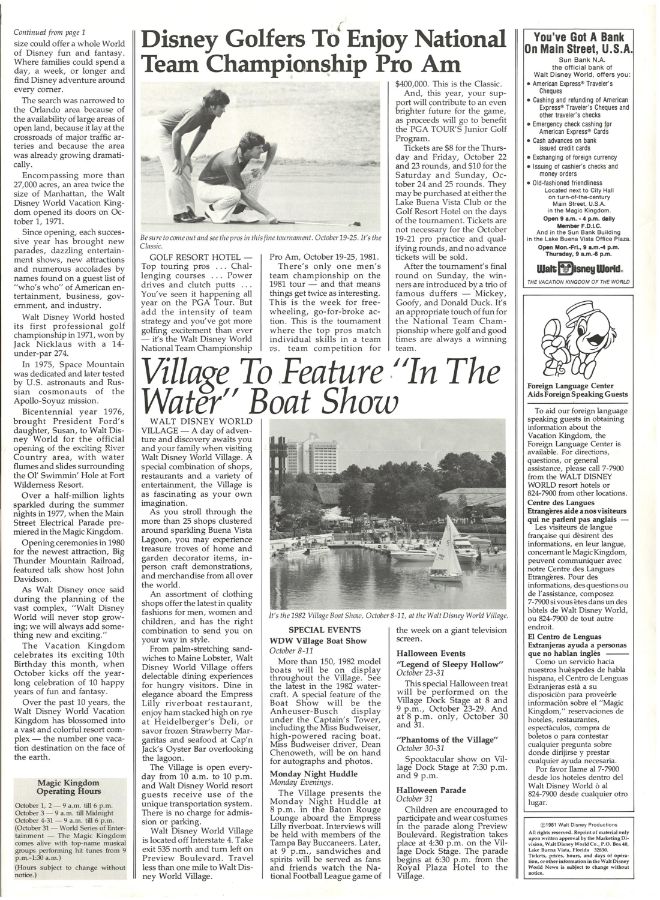 The next page shows events happening around Walt Disney World in October 1981, including the Walt Disney World National Team Championship Pro-Am golf tournament, the Walt Disney World Village Boat Show, appearances by members of the Tampa Bay Buccaneers. But October also means Halloween offerings, and there's plenty of frightful fun at Walt Disney World Village, with performances of "Legend of Sleepy Hollow," "Phantoms of the Village," and a Halloween parade.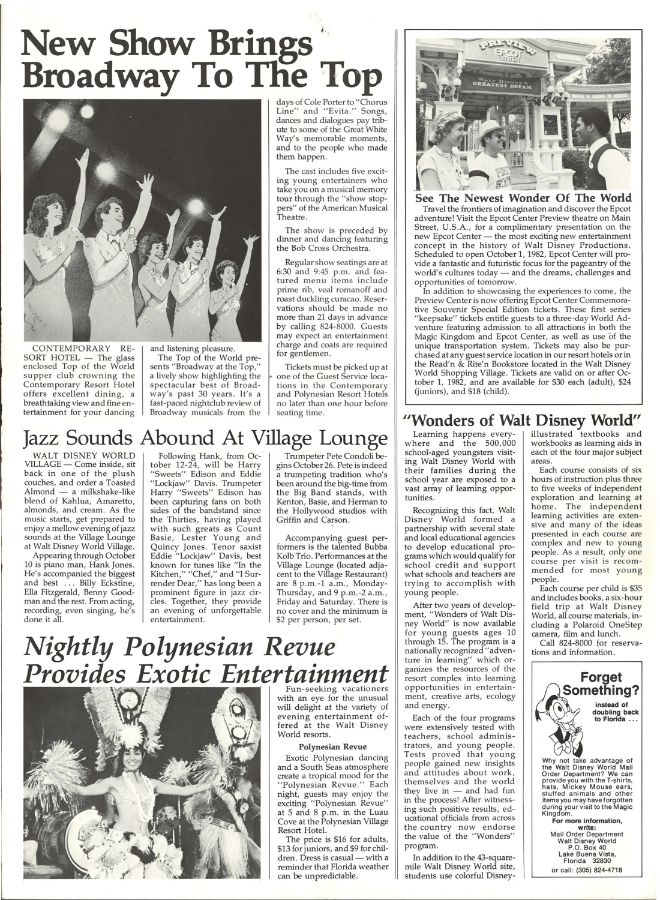 For even more entertainment, look no further than the resort hotels, which feature Broadway-style performances at the Top of the World at the Contemporary Resort Hotel, live jazz music at the Village Lounge, and "Polynesian Revue" at the Polynesian Village Resort Hotel. Of course, if learning sparks the interest of your young ones, sign them up for "Wonders of Walt Disney World," a six-hour "field trip" and at-home course that educates children about entertainment, the creative arts, ecology and energy with the Most Magical Place on Earth as a classroom. Or set course for the future with the next great milestone of Walt Disney World and pre-purchase your Commemorative Souvenir Special Edition tickets for EPCOT Center!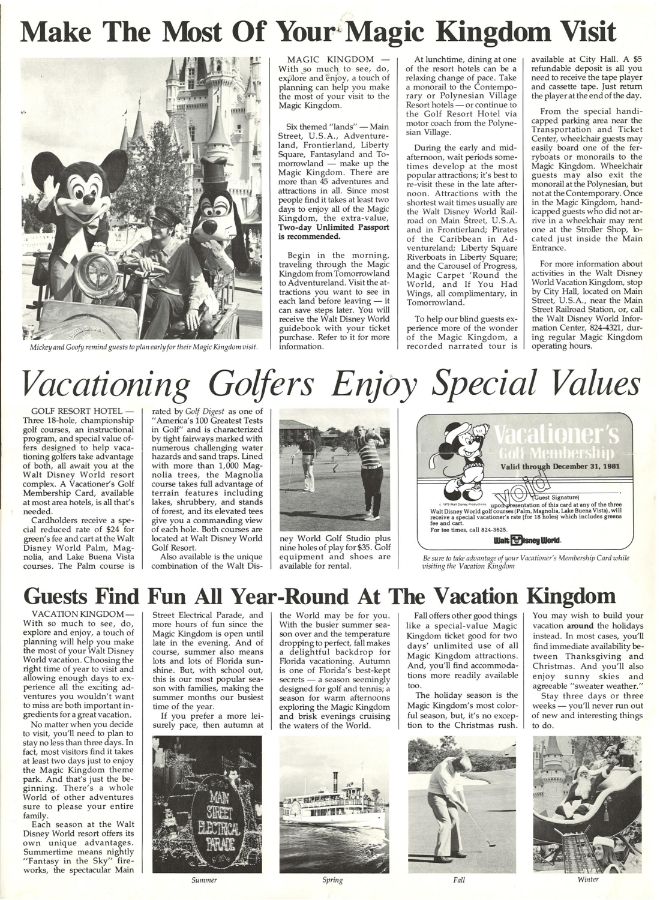 An advice column offers tips on how to make the most of your time at the Magic Kingdom, and there's a "report" on a Vacationer's Golf Membership Card, which provides a discount on green's fees and cart rentals. Finally, the newsletter closes with a look at all the seasonal fun that can be experienced at Walt Disney World. What a way to mark ten years!
MORE:
Concept Art Abounds in This EPCOT Center Preview Booklet From 1981
See EPCOT Center Under Construction in 1980 With This Article From Orlando-land Magazine
WATCH: Ride Rehab Watches – "Kraft Salutes Walt Disney World';s 10th Anniversary", "Cranium Command" Epcot Educational Cartoon, and "Magic Journeys" 2-D LIVE Tonight at 9pm EST