With Disney Parks around the world closed for the foreseeable future, WDWNT is dipping into our archives of vintage parks materials for a look back into parks history! Head back to Mickey's Very Merry Christmas Party at the Magic Kingdom with this lobby card from 1992!
Note: This article will detail the lobby card page by page, but WIGS Members will have access to download a full-resolution PDF of the entire thing. Head on over to Patreon.com/wdwnt to join WIGS, the WDWNT Inner Globe Society, for as little as $2 a month and unlock access to great content like this, and much more!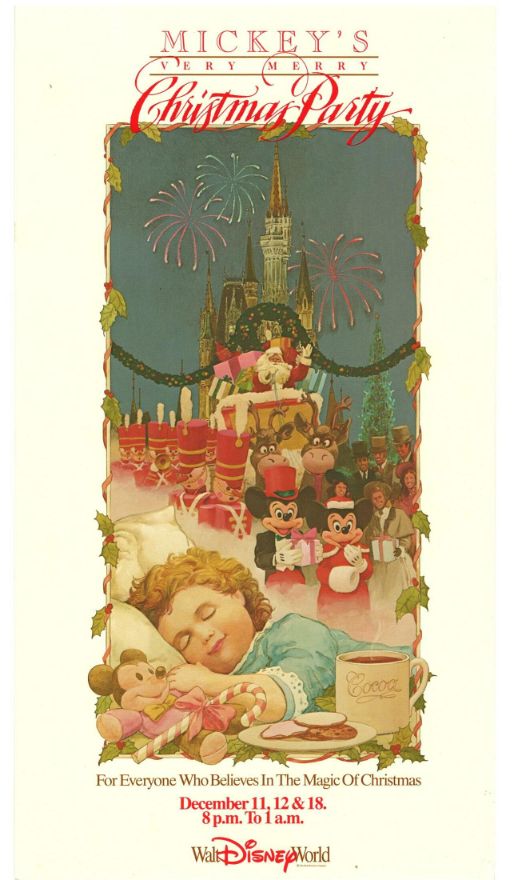 This celebration "for everyone who believes in the magic of Christmas" is promoted with this absolutely gorgeous artwork of a child dreaming of all the yuletide fun the Magic Kingdom has to offer. I could honestly put that art up on my wall… and I'm Jewish! Of course, you know it's a party from years ago, because the event is only being offered for three nights. How are you going to sell exclusive pins and dessert parties that way? (Also, I want to give a shout out to that very 90's Walt Disney World logo.)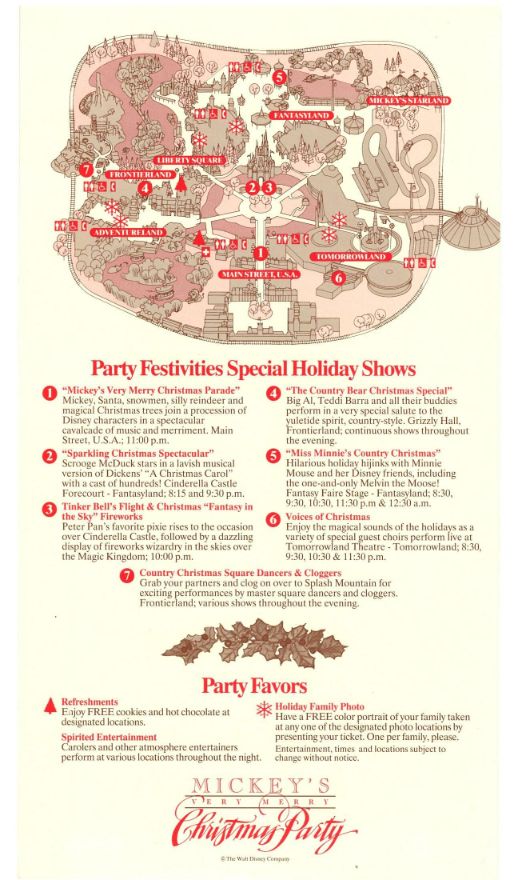 Now we get to the entertainment. There's the old standard, Mickey's Very Merry Christmas Parade, along with a retelling of A Christmas Carol, or more specifically, Mickey's Christmas Carol, in "Sparkling Christmas Spectacular," a holiday version of the "Fantasy in the Sky" fireworks, "Miss Minnie's Country Christmas" (featuring a visit from "the one-and-only Melvin the Moose!"), guest choirs in Tomorrowland, square dancers and cloggers by Splash Mountain, and "The Country Bear Christmas Special," perhaps one of the greatest holiday things Disney has ever done:
"Big Al, Teddi Barra and all their buddies perform in a very special salute to the yuletide spirit, country-style. Grizzly Hall, Frontierland; continuous shows throughout the evening."
If your appetite starts growling, there's free cookies and hot chocolate, a tradition that has carried on at the event to this day. And don't forget to take a free color portrait of you and your family! That's a great way to commemorate your visit to Mickey's Very Merry Christmas Party! What a great way to ring in the season!
MORE:
Dates and Pricing Released For 2020 Mickey's Very Merry Christmas Party at the Magic Kingdom
Aladdin Flies into the Disney-MGM Studios in this Guidemap from 1993
PHOTOS: Revisit the Days of Future Past at the Magic Kingdom with this New Tomorrowland 1995 Press Kit