It was an overcast start to the day, with no line of cars waiting to enter the Orange Garage. Yesterday, World of Disney went back to its posted opening time of 10am, and activated the virtual queue for guests arriving between 8-10am.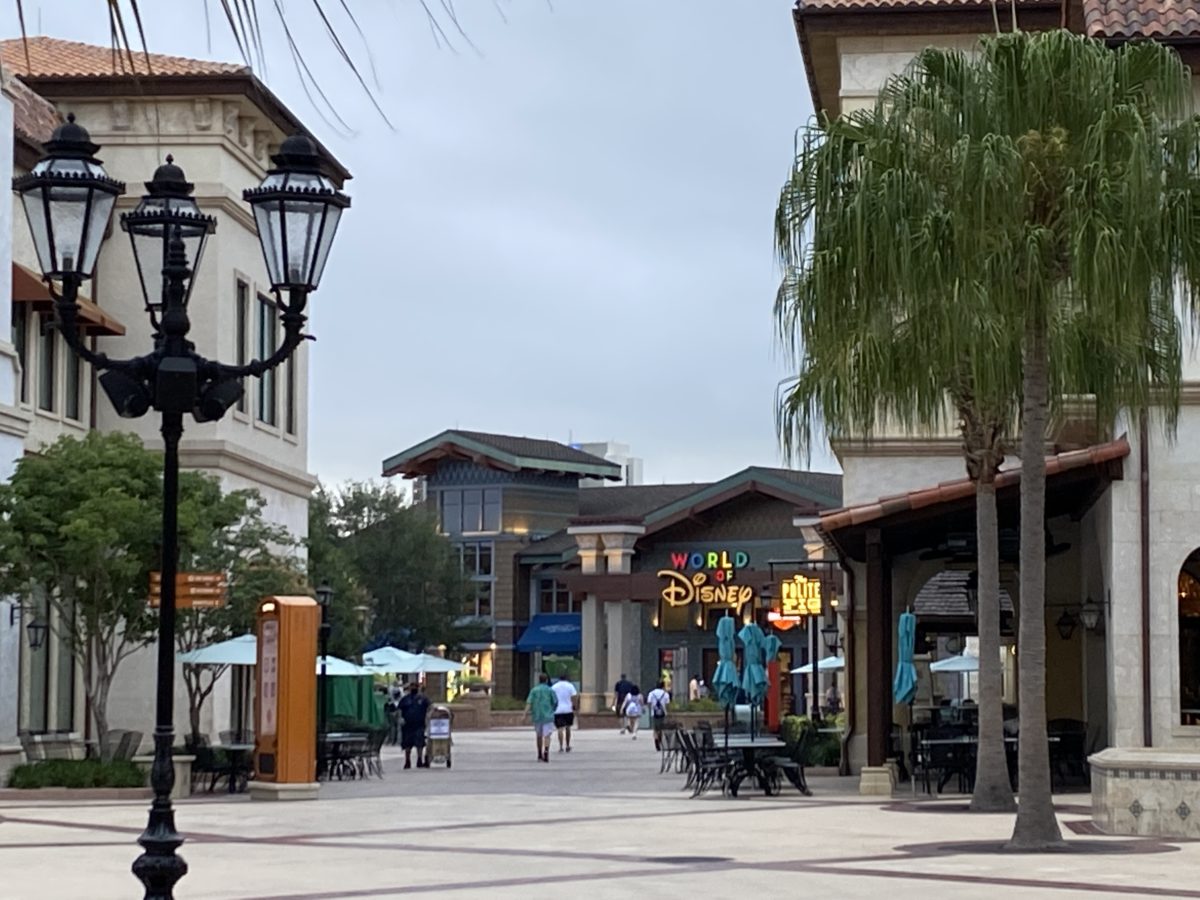 Not many people made the early morning power walk from the garage to be the first few in line, but there was a steady trickle of people entering the virtual queue until opening at 10am.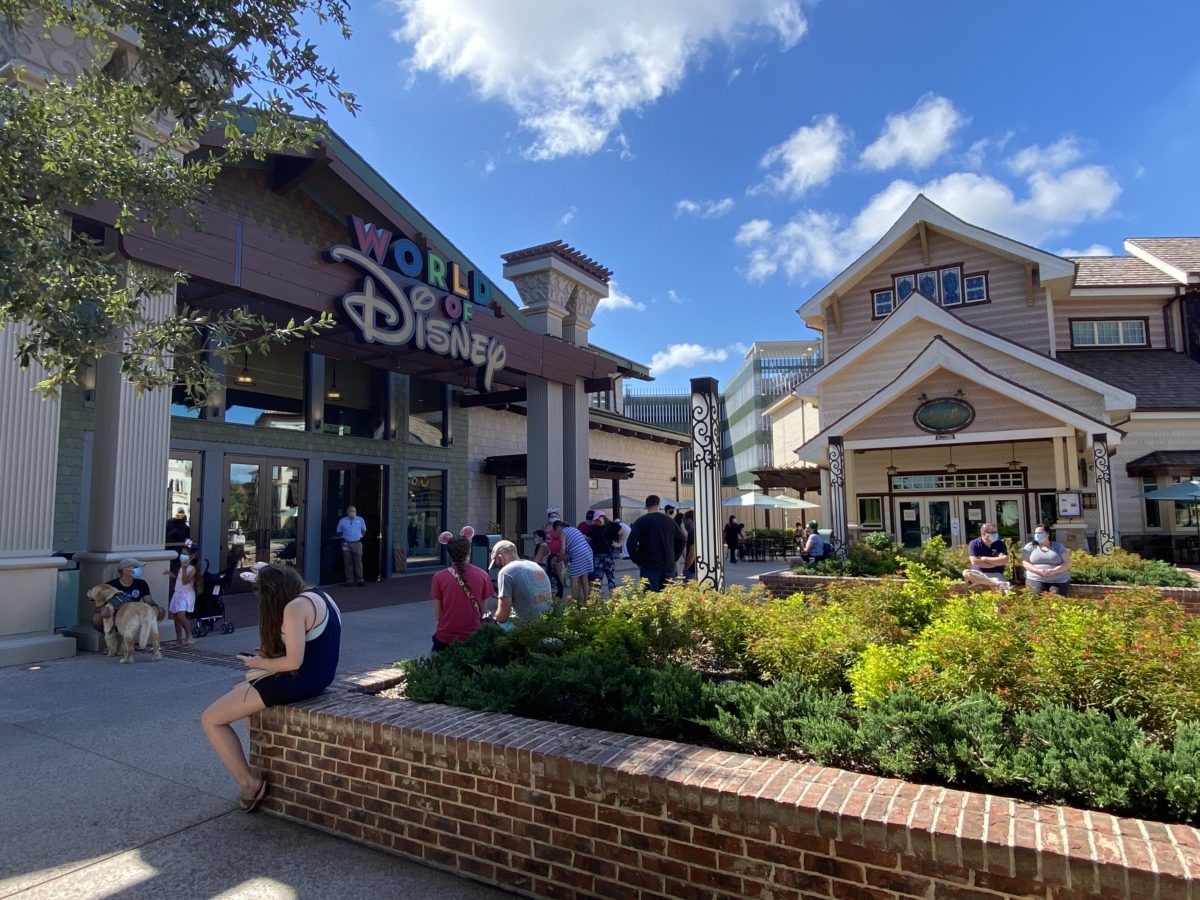 A small crowd gathered near the entrance as 10am drew closer, all waiting for their return text messages from the virtual queue.
Unlike on opening day of World of Disney, it appears that most people got their text all at the same time, and everyone rushed to line up, some choosing the established line with social distancing markers, and some choosing to line up in front of the Cast Member standing at the barricade in front of the store. Those at the front of both lines became verbally upset that either one of them should not be the first to enter the store. In the end, Disney opened both doors and let both lines in at the same time.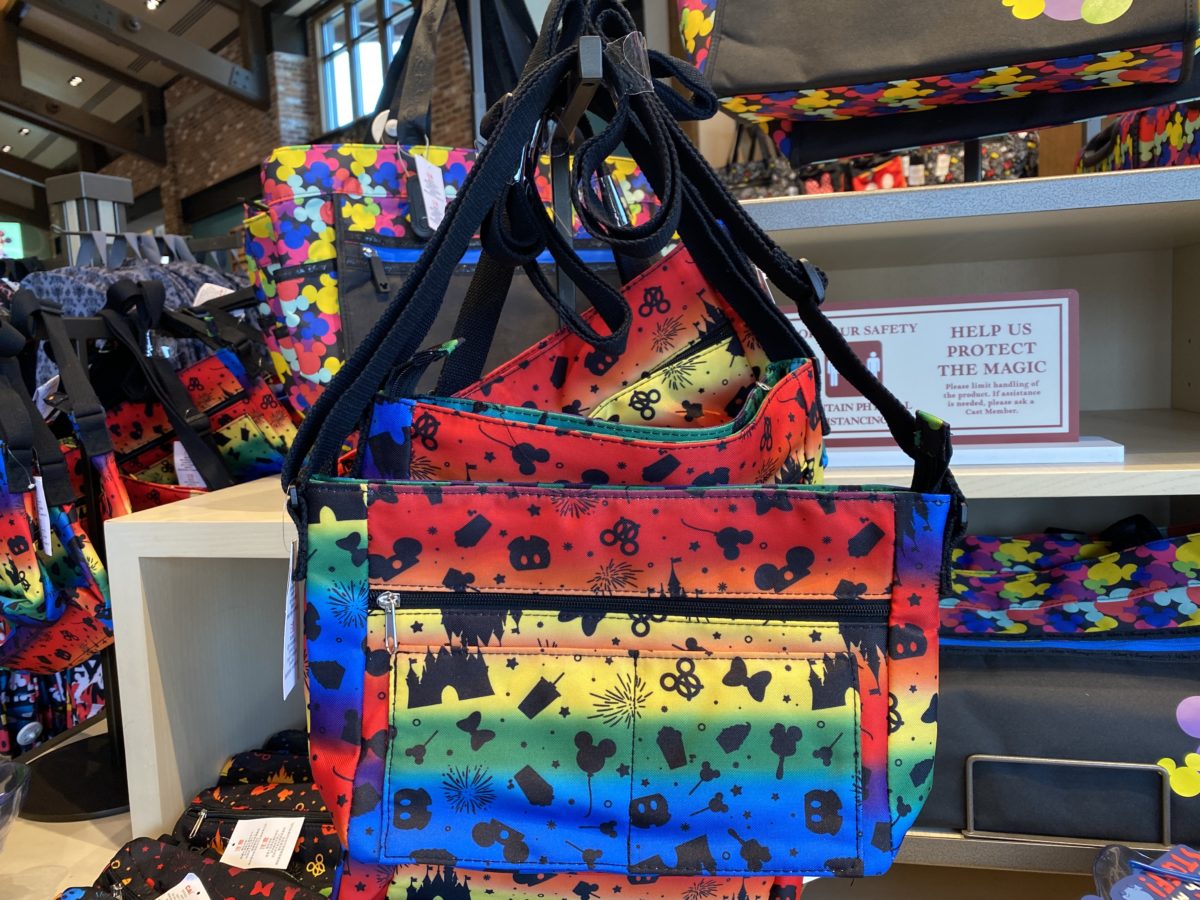 Once inside we were excited to find even more pieces from the rainbow icons line. This crossbody bag has lots of pockets on the outside.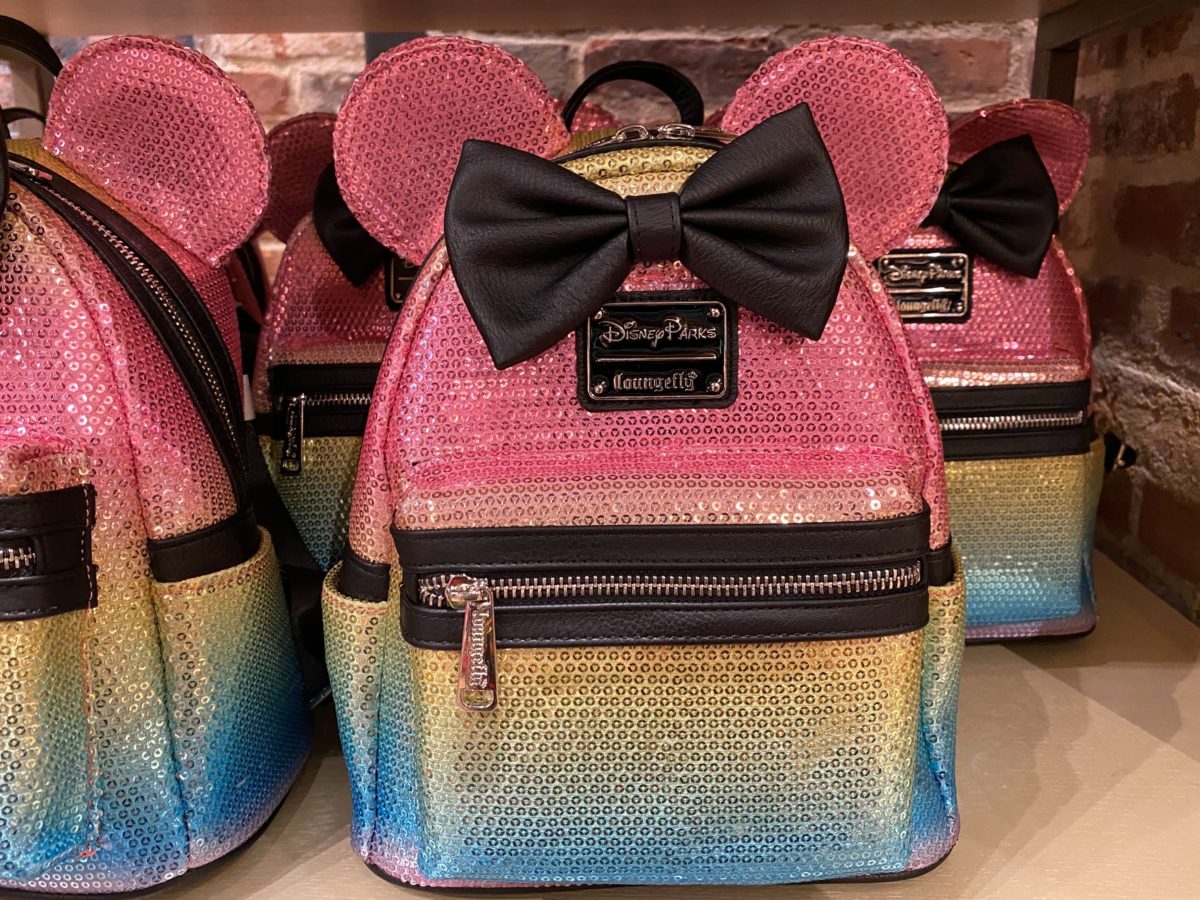 We also found this pastel rainbow sequin Loungefly mini backpack and its matching wristlet, previously released on shopDisney, but new to the parks. For more information, read our full article here.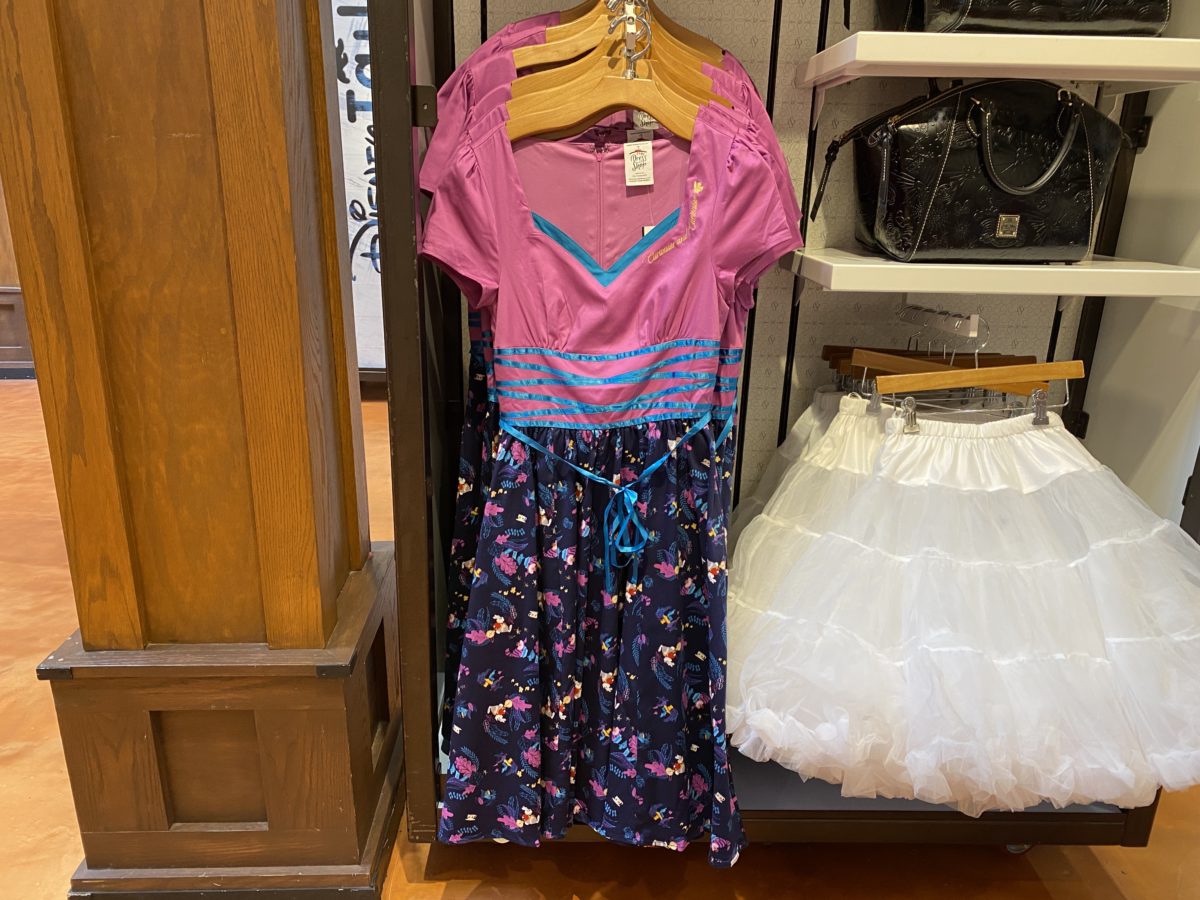 Once inside the Marketplace Co-Op, we found this fun Alice in Wonderland Dress Shop dress. With fun new styles emerging all the time, we can't wait for the Dapper Day events to return in person.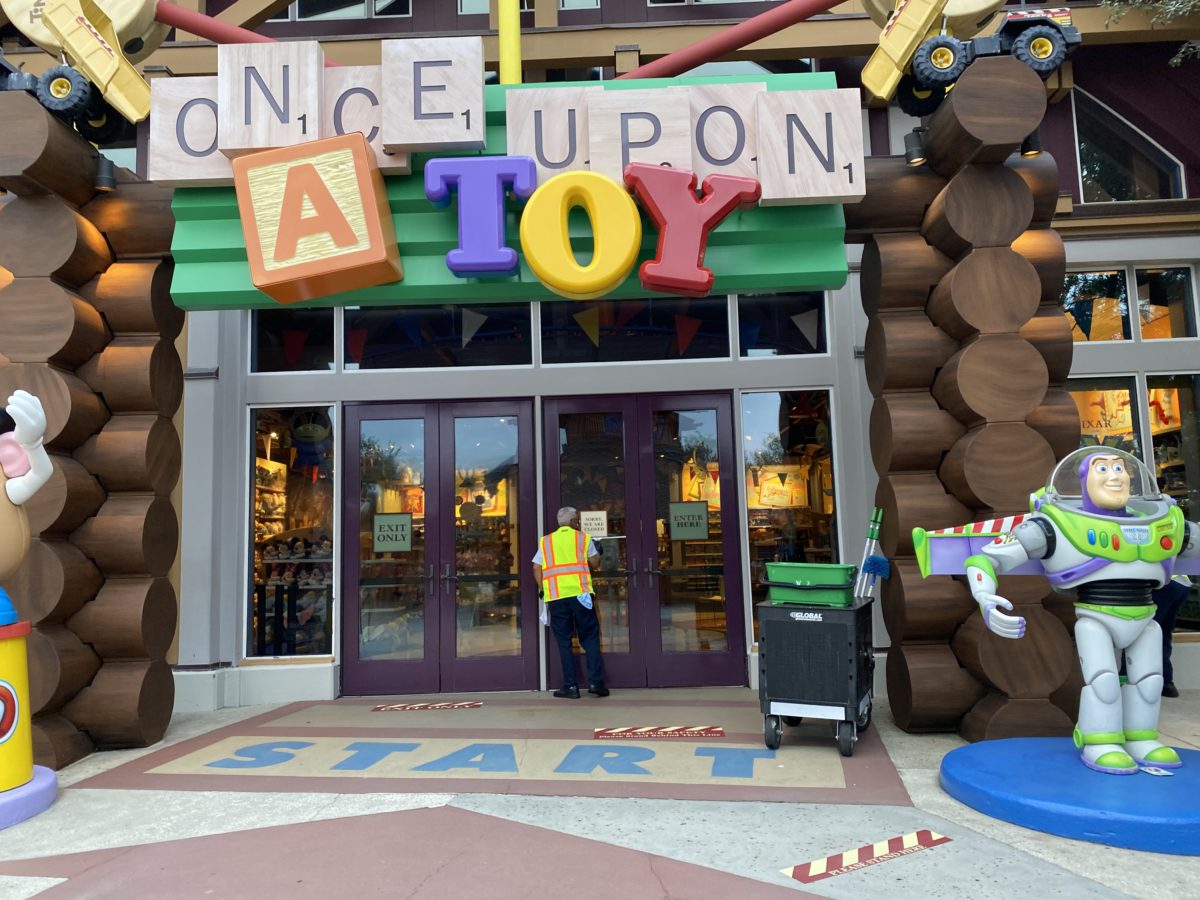 While walking around Disney Springs, one this is definitely seen everywhere: cleaning. Cast Members are working constantly to keep every surface you can think of, and some that you can't, clean and sanitized for guests' safety. We applaud their hard work!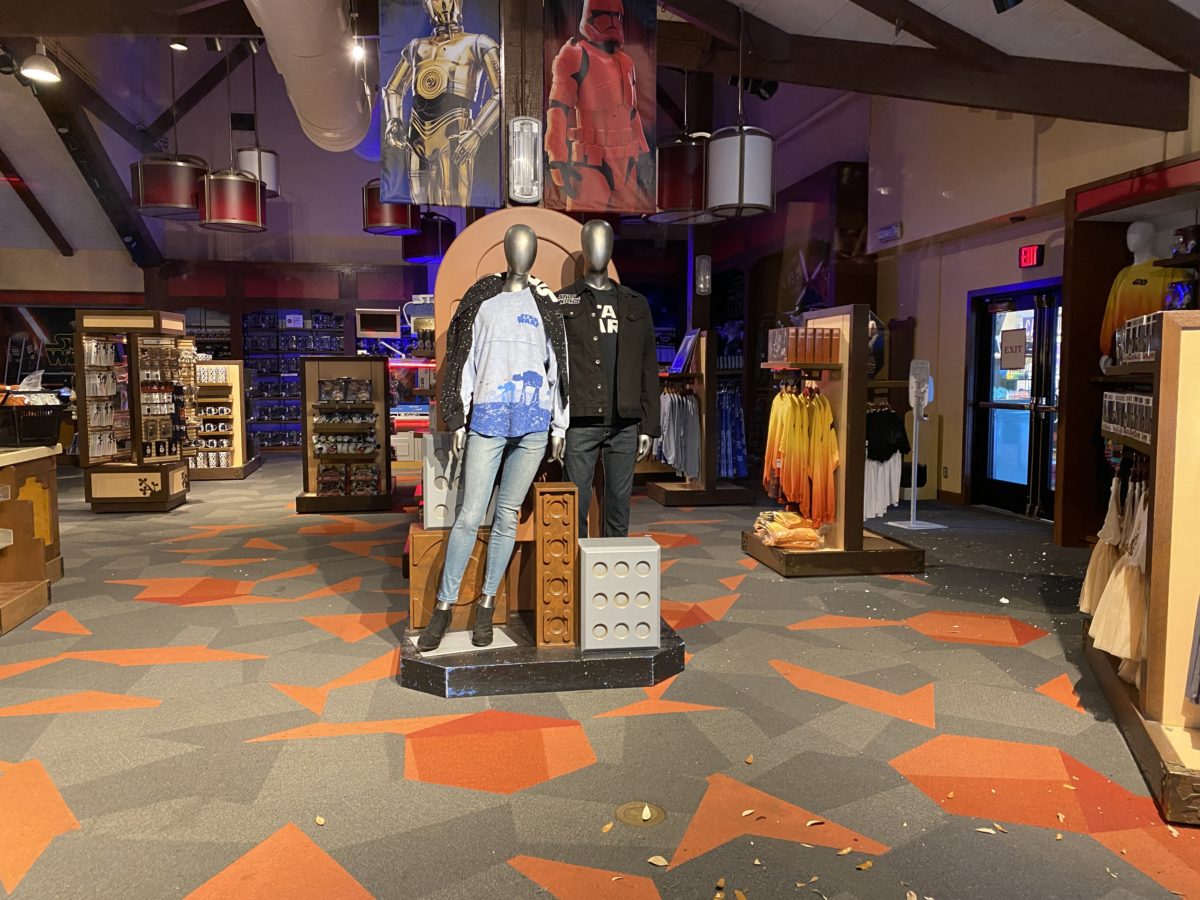 We stopped for a moment and took a look in some windows while walking around today. Several notable Disney-owned locations remained shuttered, including Star Wars Galactic Outpost. While the merchandise seems untouched here, note the leaves and debris blown in and left on the floor. Most locations are in various stages of being restocked or cleared out.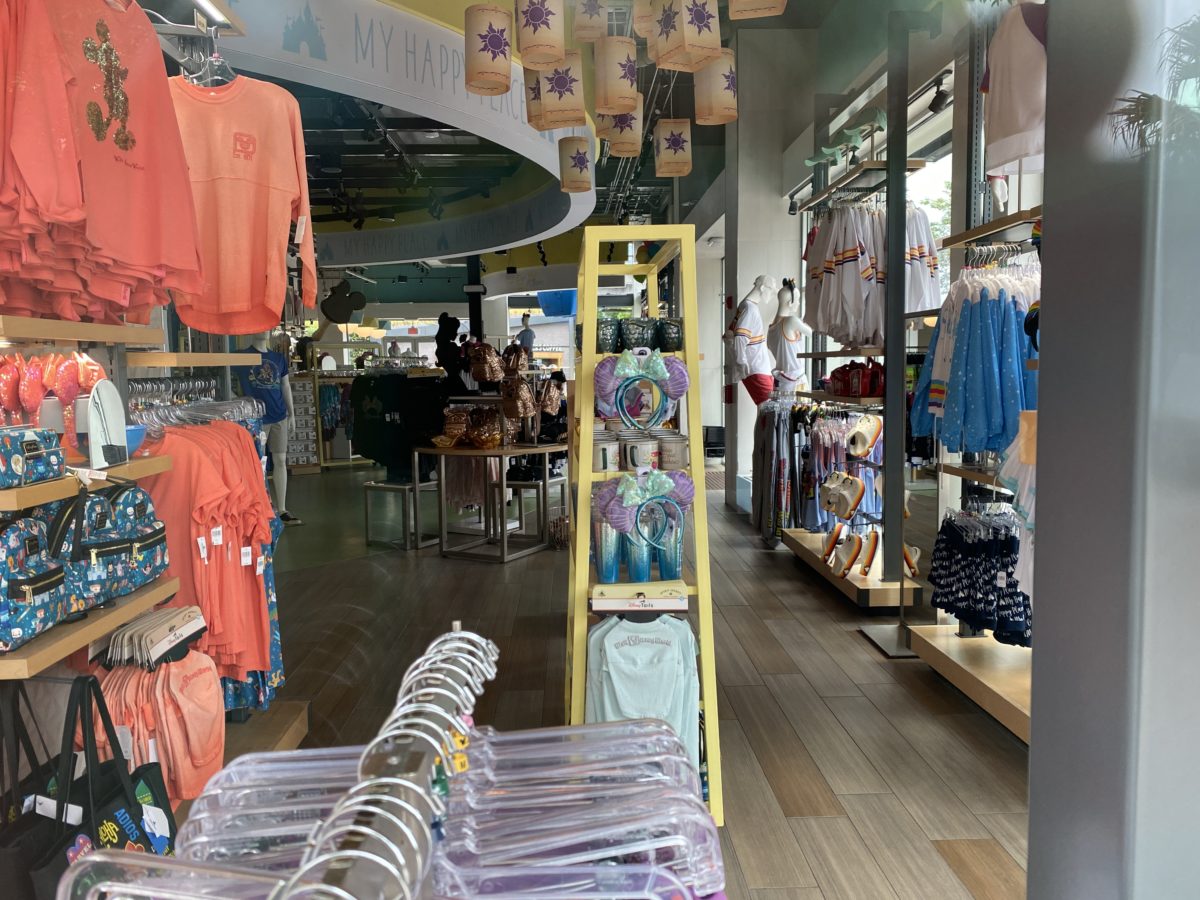 Disney Style is a time capsule of all the latest greatest merchandise… from March 2020. Later in the day, we saw several Cast Members inside this location, which gave us hope that plans for a reopening are being made.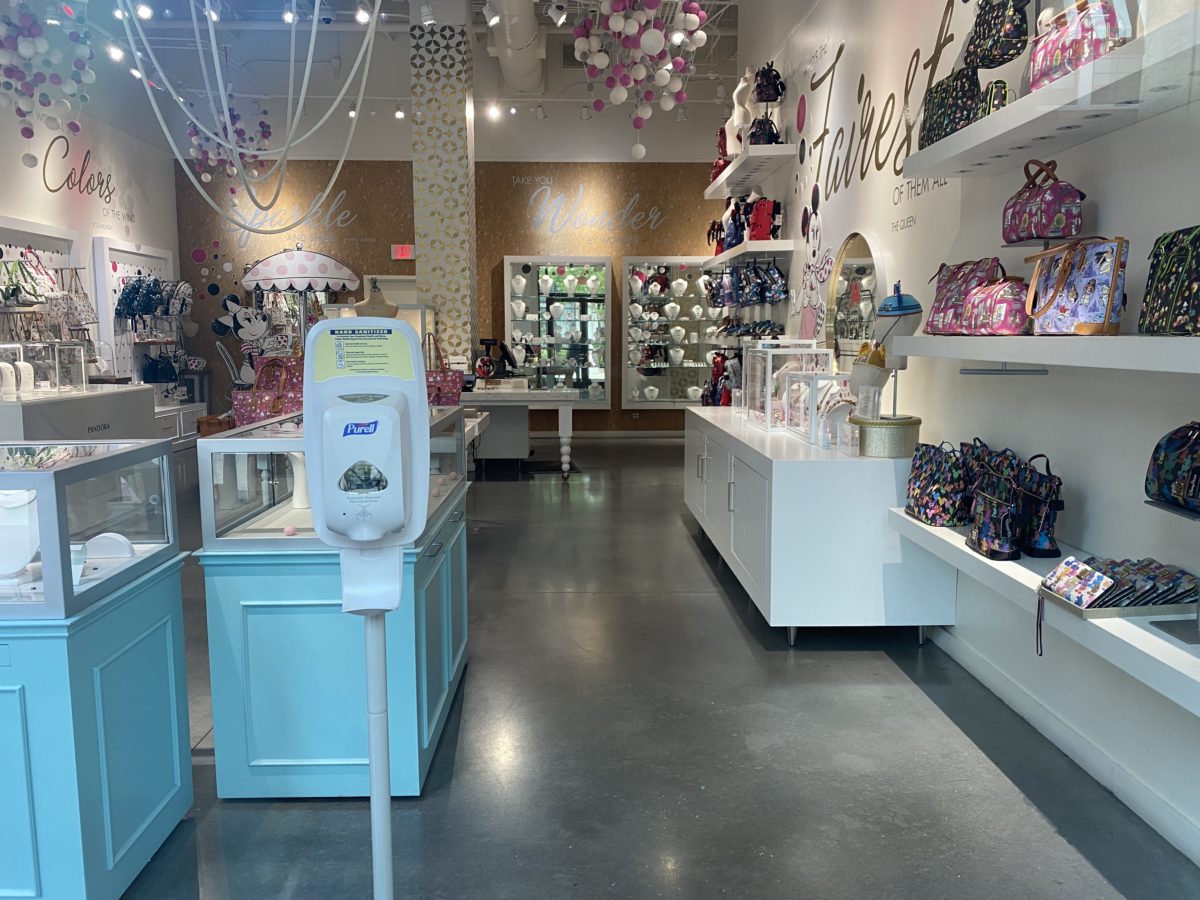 Ever After Jewelry Co. and Accessories has also remained closed, much to the chagrin of Disney handbag fans. Most of the stock remains in the store, but you can see that all of the jewelry cases have been emptied.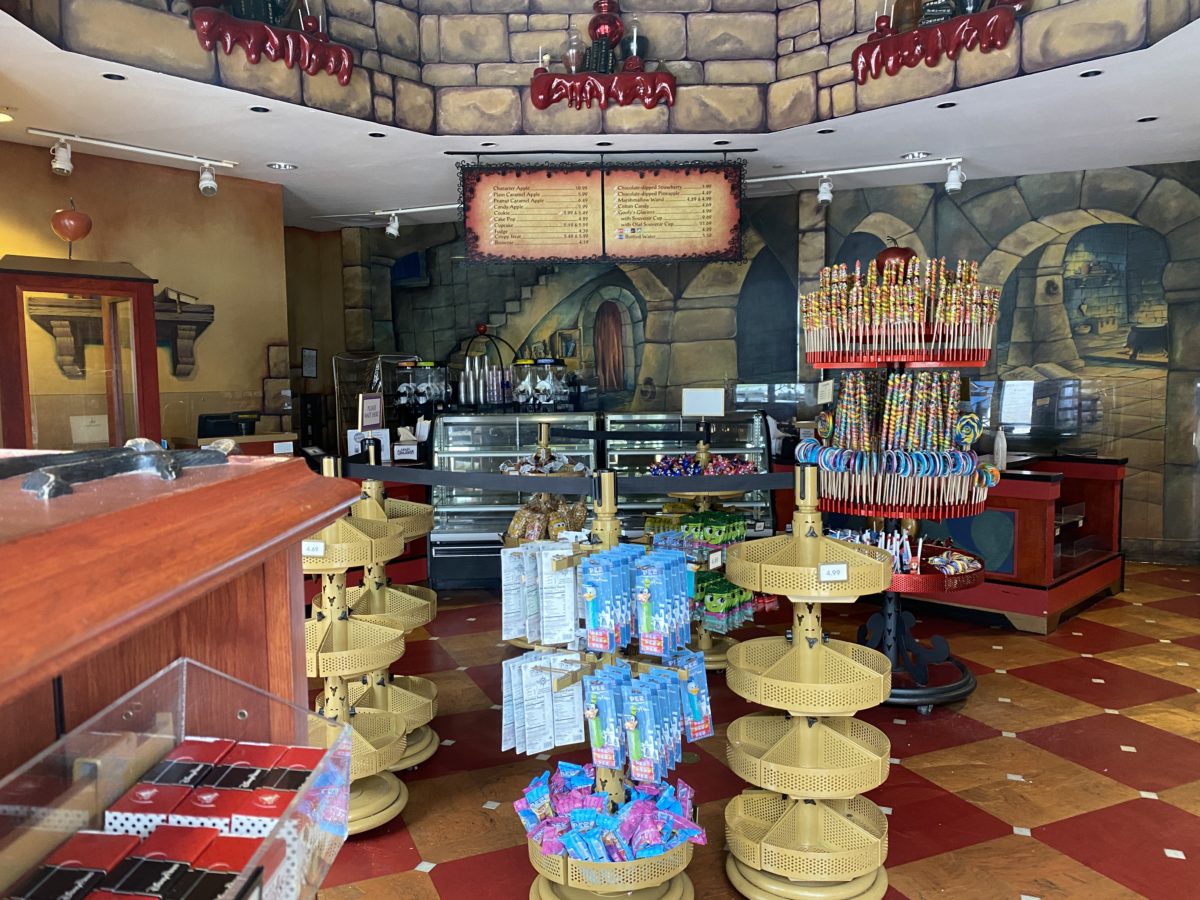 Like Goofy's Candy Co., Candy Cauldron was stripped of all perishable goodies at some point following the closure of Walt Disney World.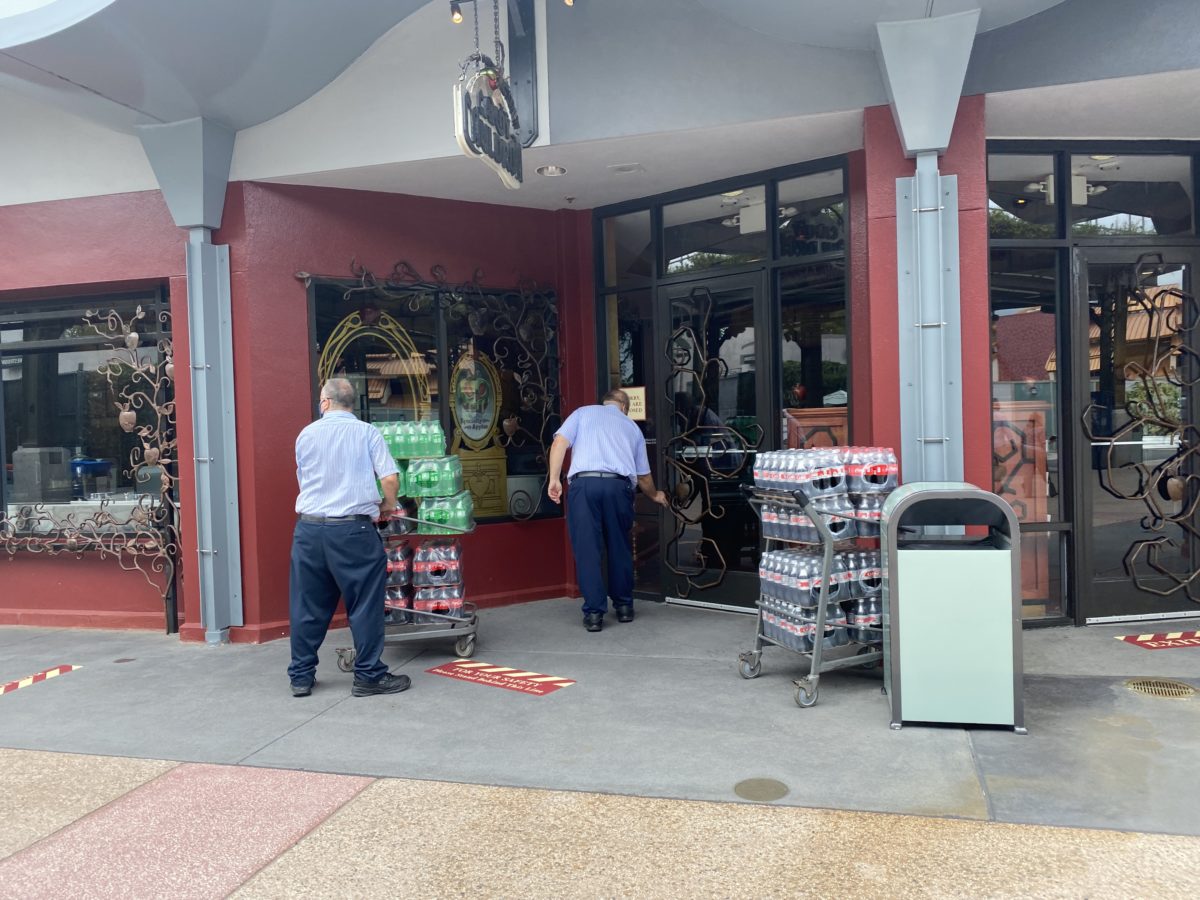 As we were leaving the area, two Cast Members came with a delivery of soda for Candy Cauldron. Maybe it won't be too long before we can get that Mickey cake pop after all!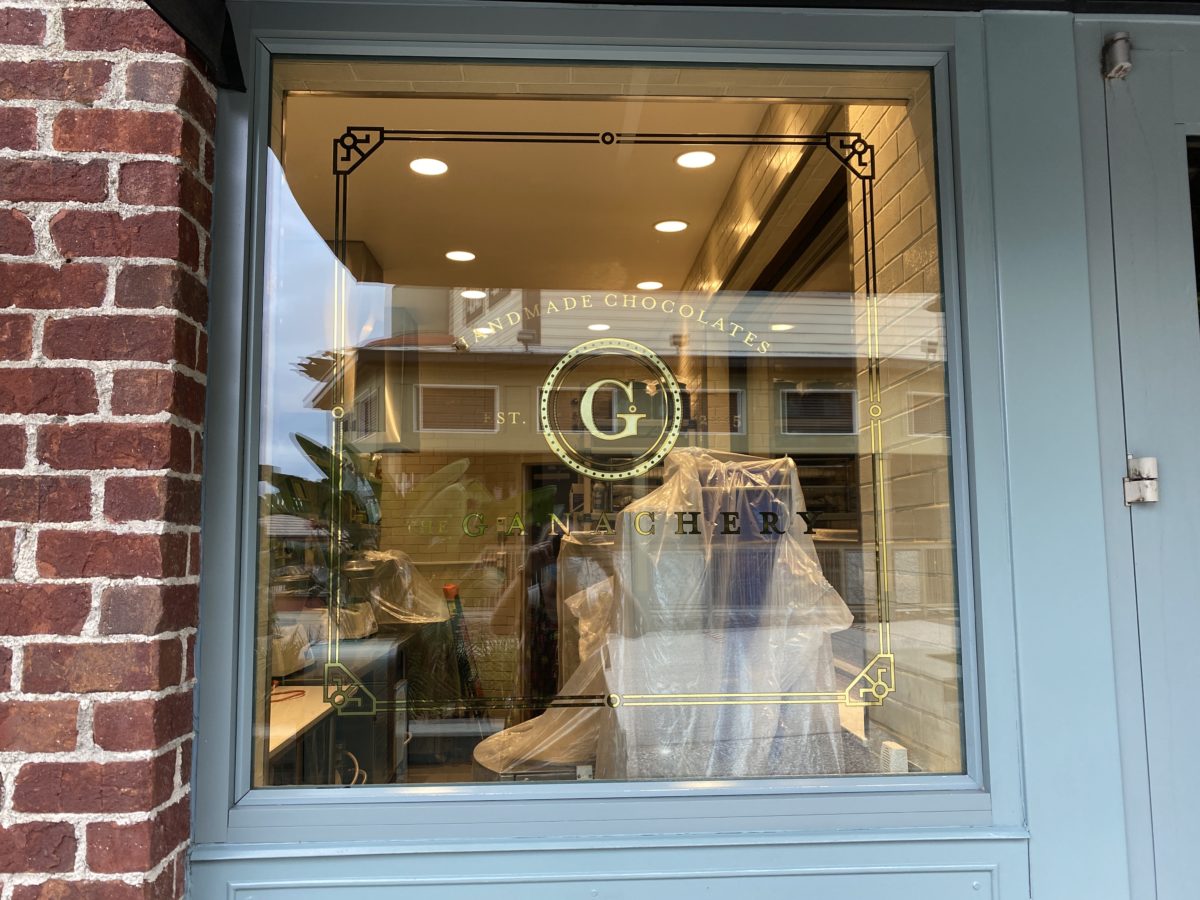 Another closed location that hits us right in the sweet tooth is The Ganachery. Everything is still buttoned up tight here, but we'll let you know as soon as we see movement.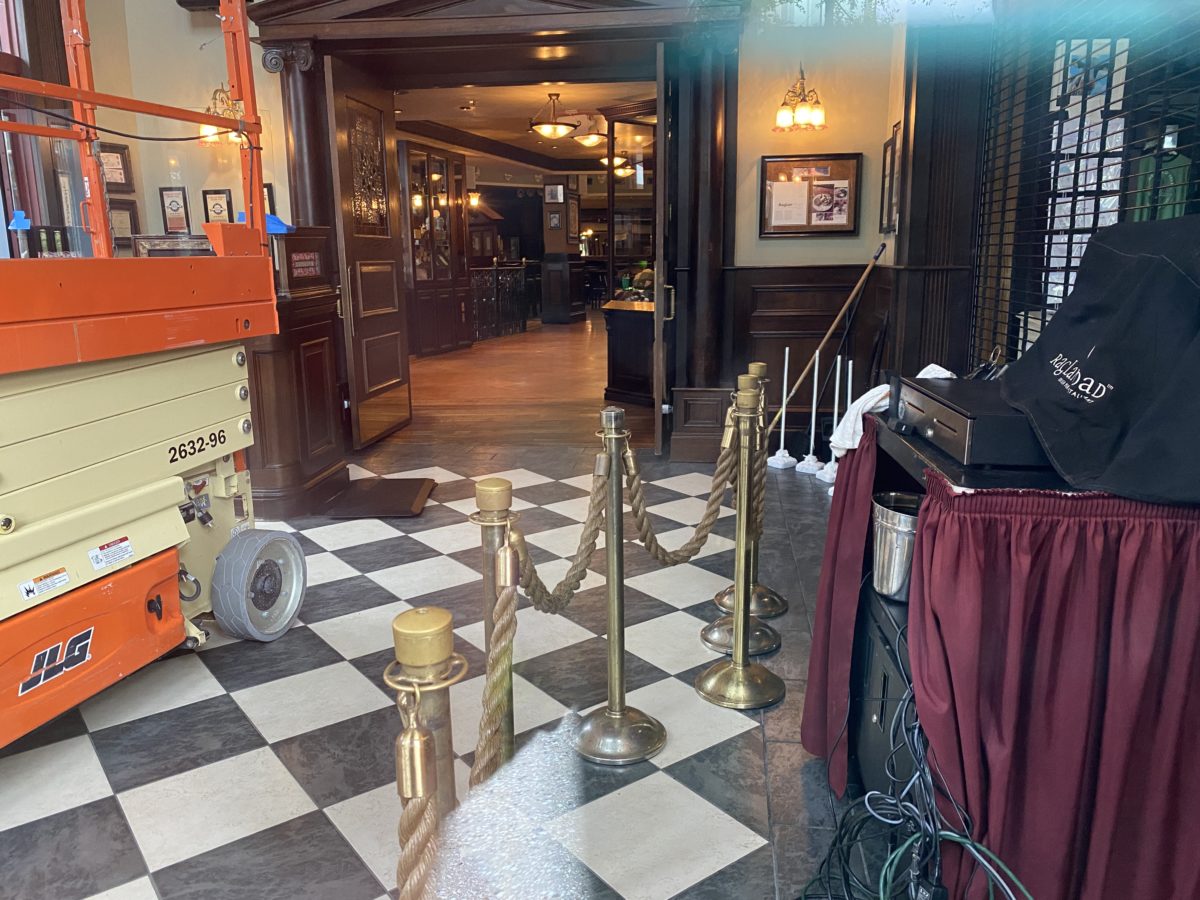 Over at Raglan Road, a scissor lift seems to be stored in the lobby of the closed restaurant. We hope they need to move it soon!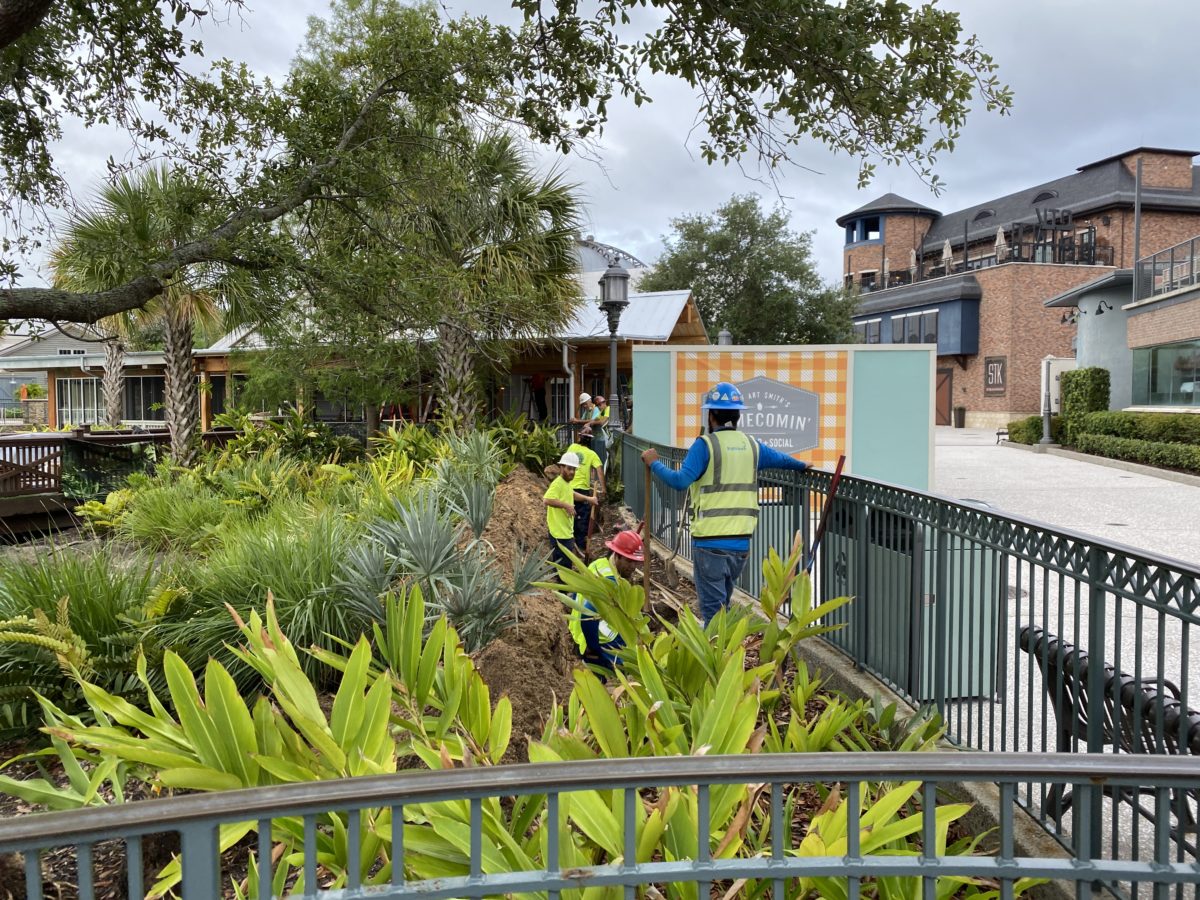 Chef Art Smith's Homecomin' is still closed, and still under construction. Today, workers were digging a large trench just inside this landscaped area.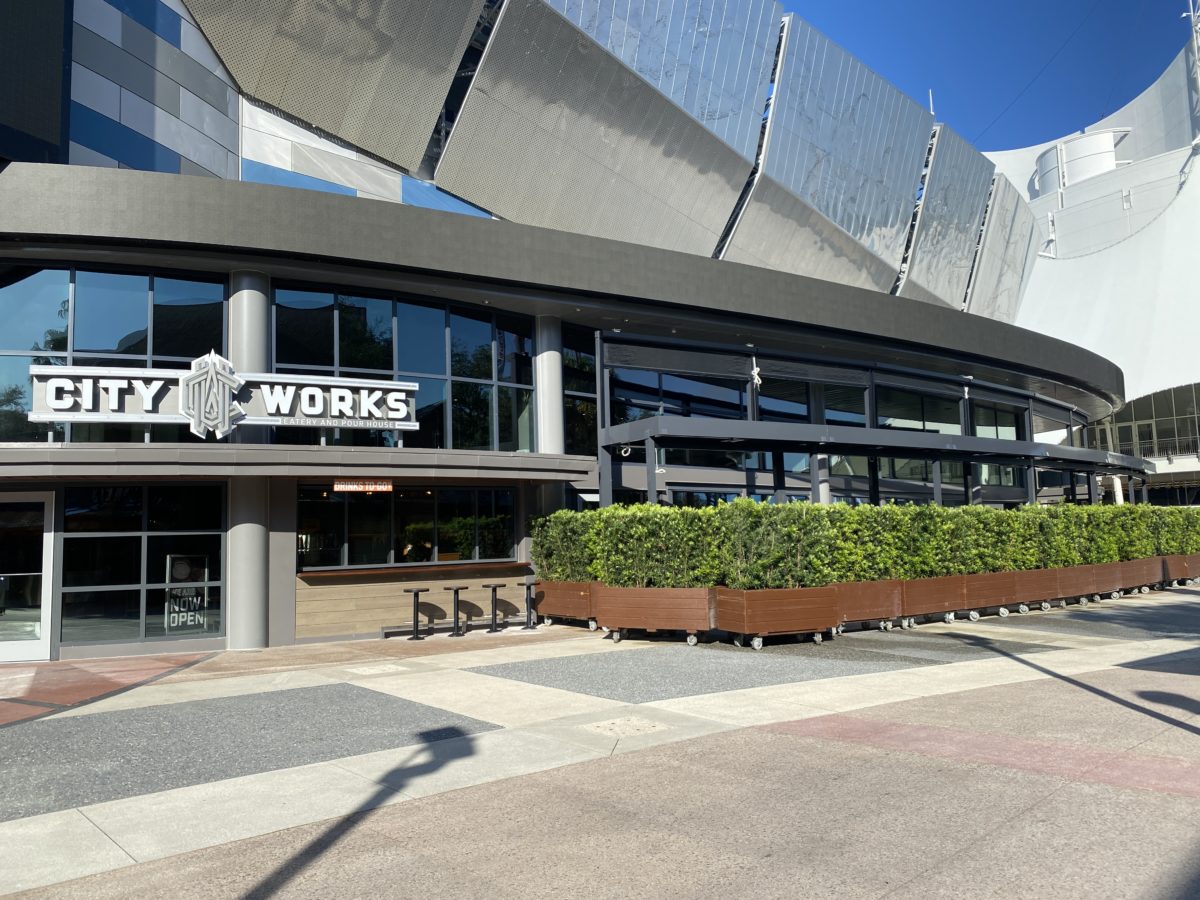 Over at City Works, construction on the covered seating area outside has progressed rapidly, with most of this work being done in the last two days.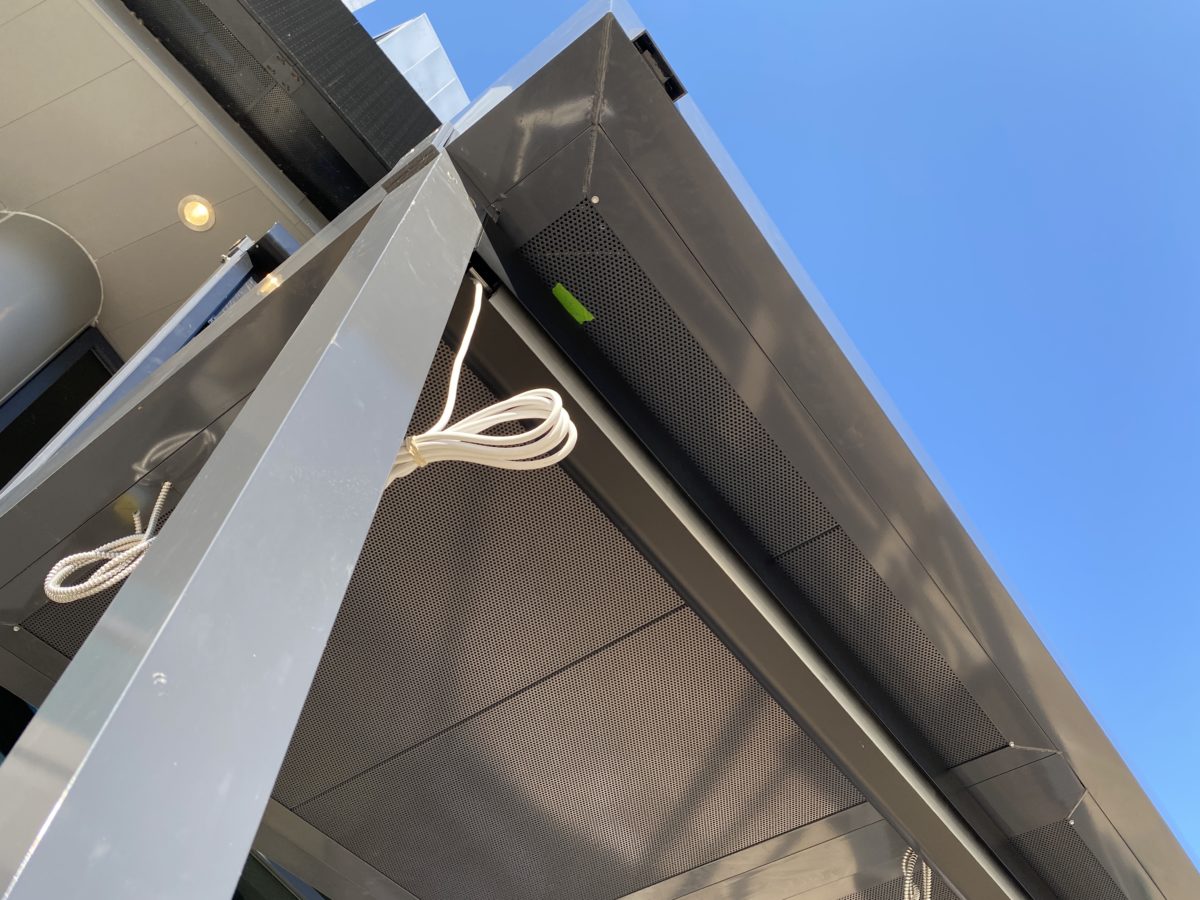 We're really impressed with how quickly this has gone up.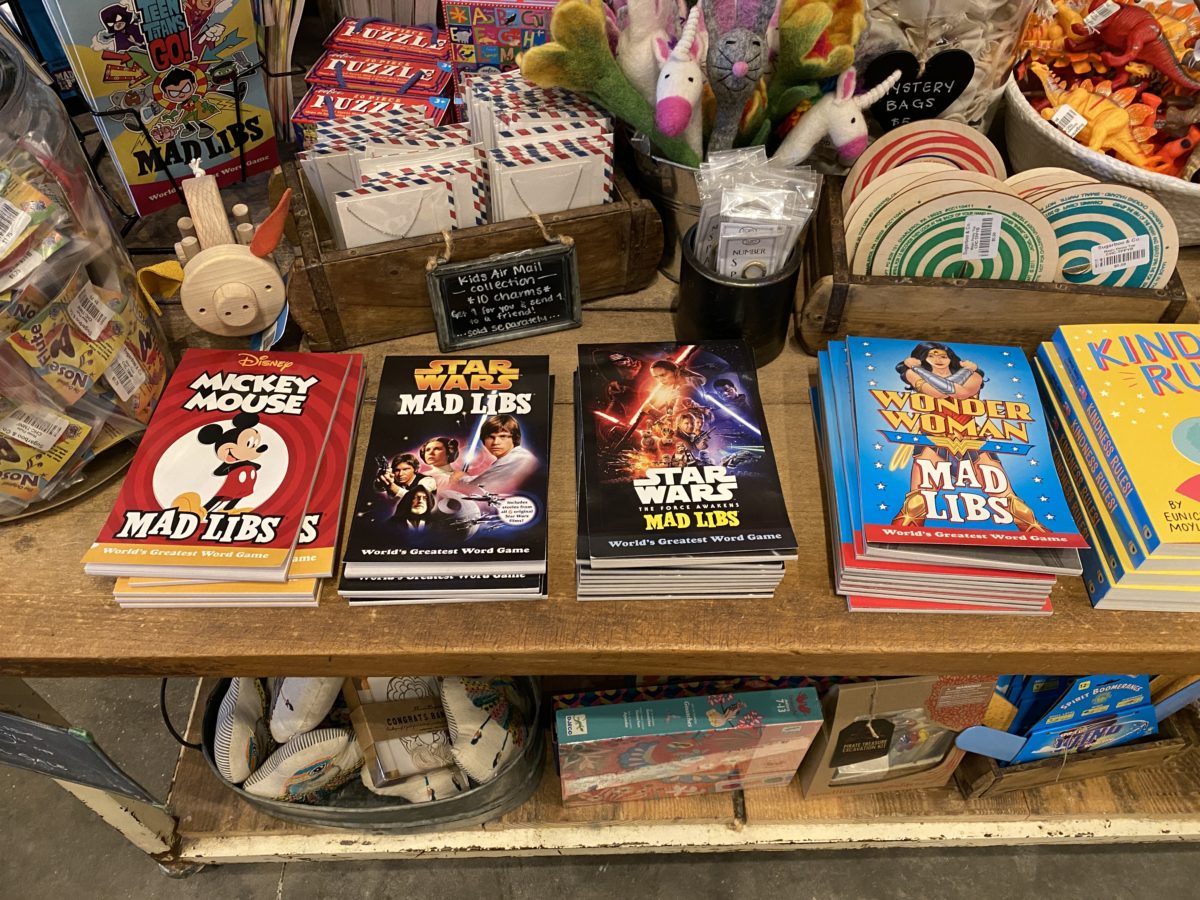 MadLibs were one of my favorite car ride activities as a kid. For your next car or plane ride home from vacation at Disney World, Sugarboo has you covered with these Disney themed MadLibs. Check them out, and have a wacky time!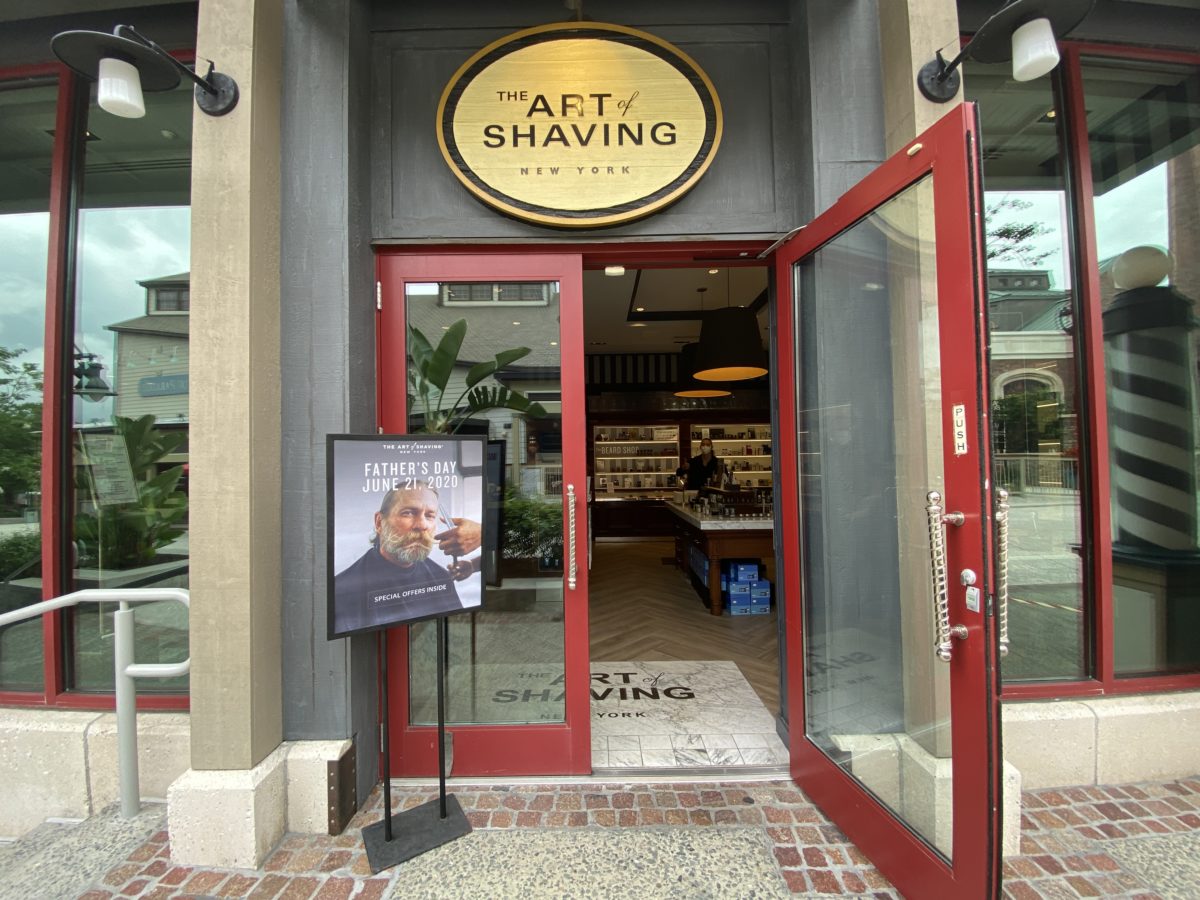 The Art of Shaving has reopened just in time for Father's Day. With beard care products as well as shaving products, there's something for every man here.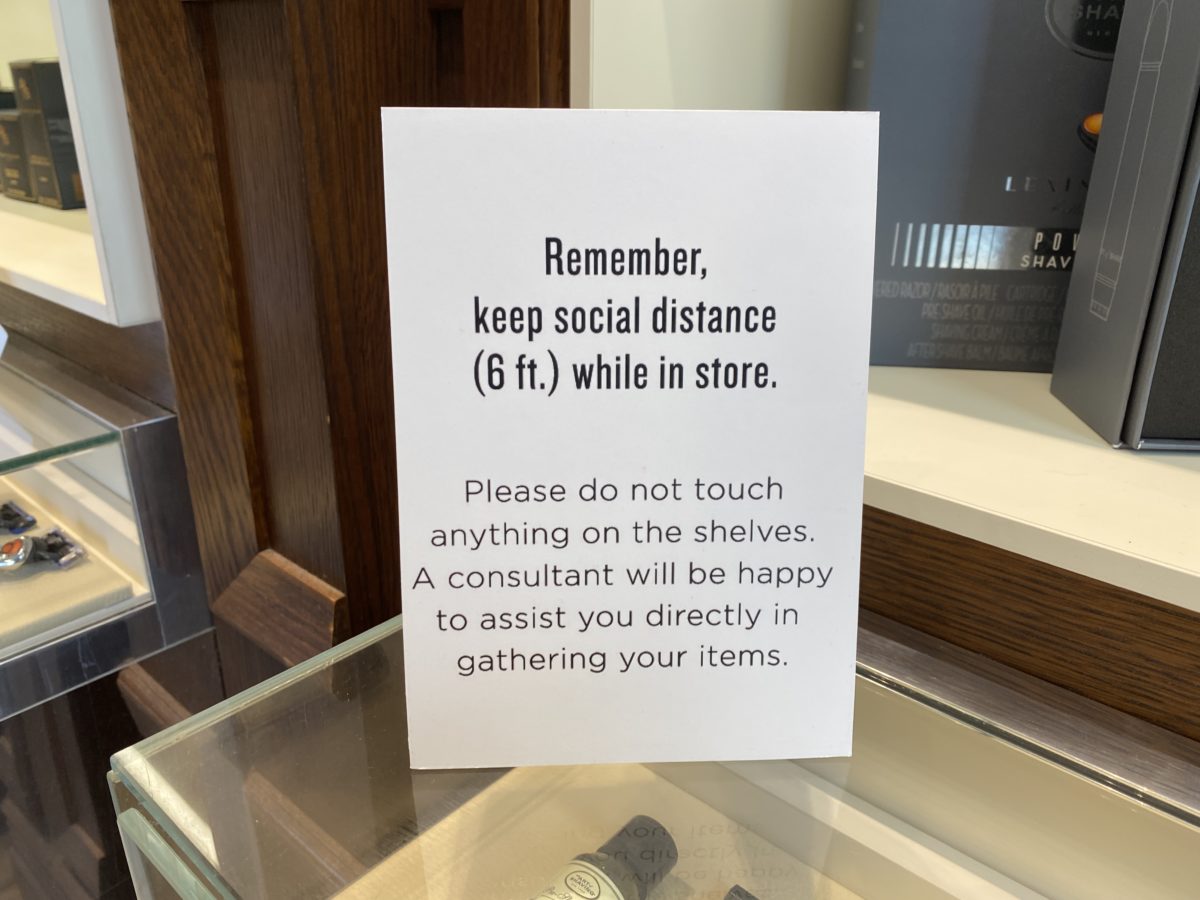 While there weren't any social distancing markers or directional markers on the floor, these signs were present every few feet.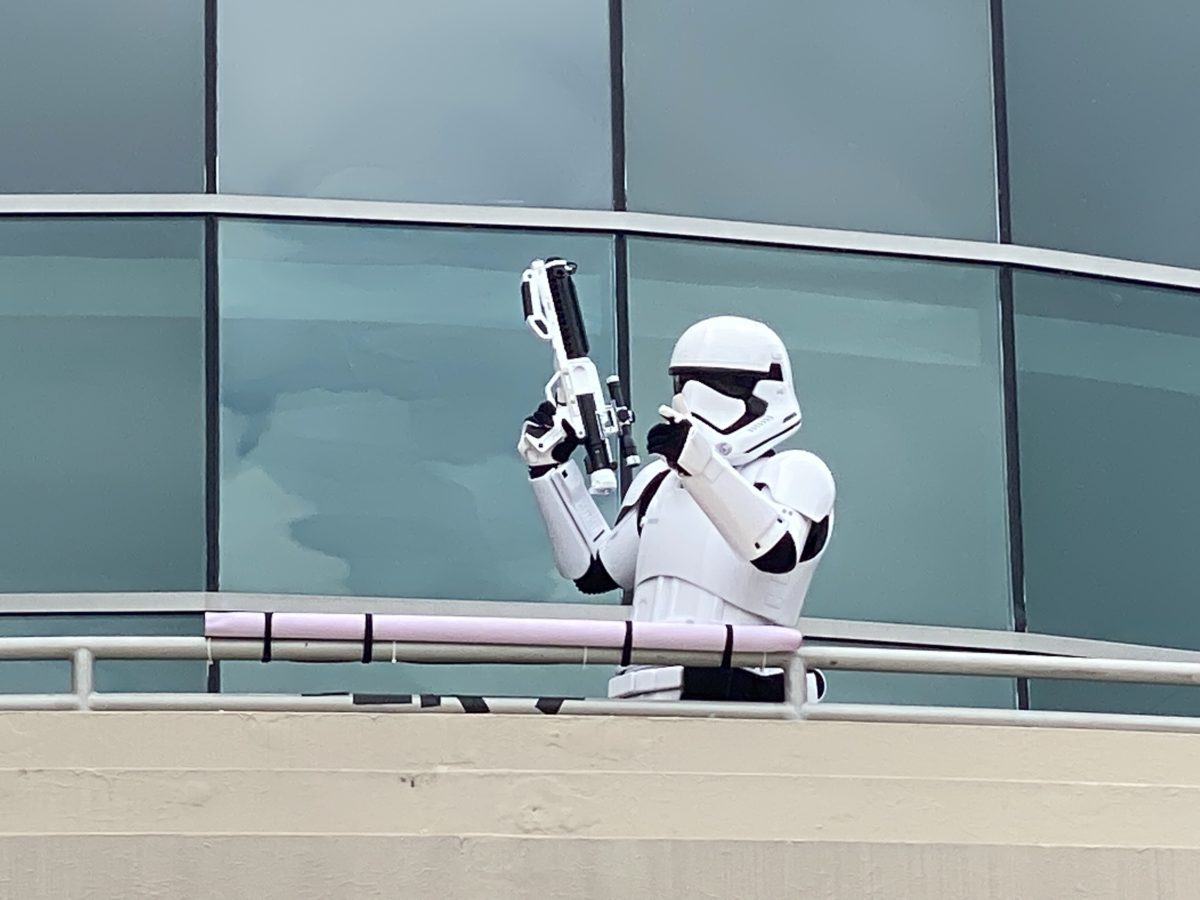 The Stormtroopers braved the rain today to guide guests to "move along" and maintain social distance with First Order flair. While the two stormtroopers remained one male, one female near Lime Garage, the pair on the AMC balcony have switched to two male. They've also increased the frequency of their skits. The First Order banners were missing today, we assume because of the rain.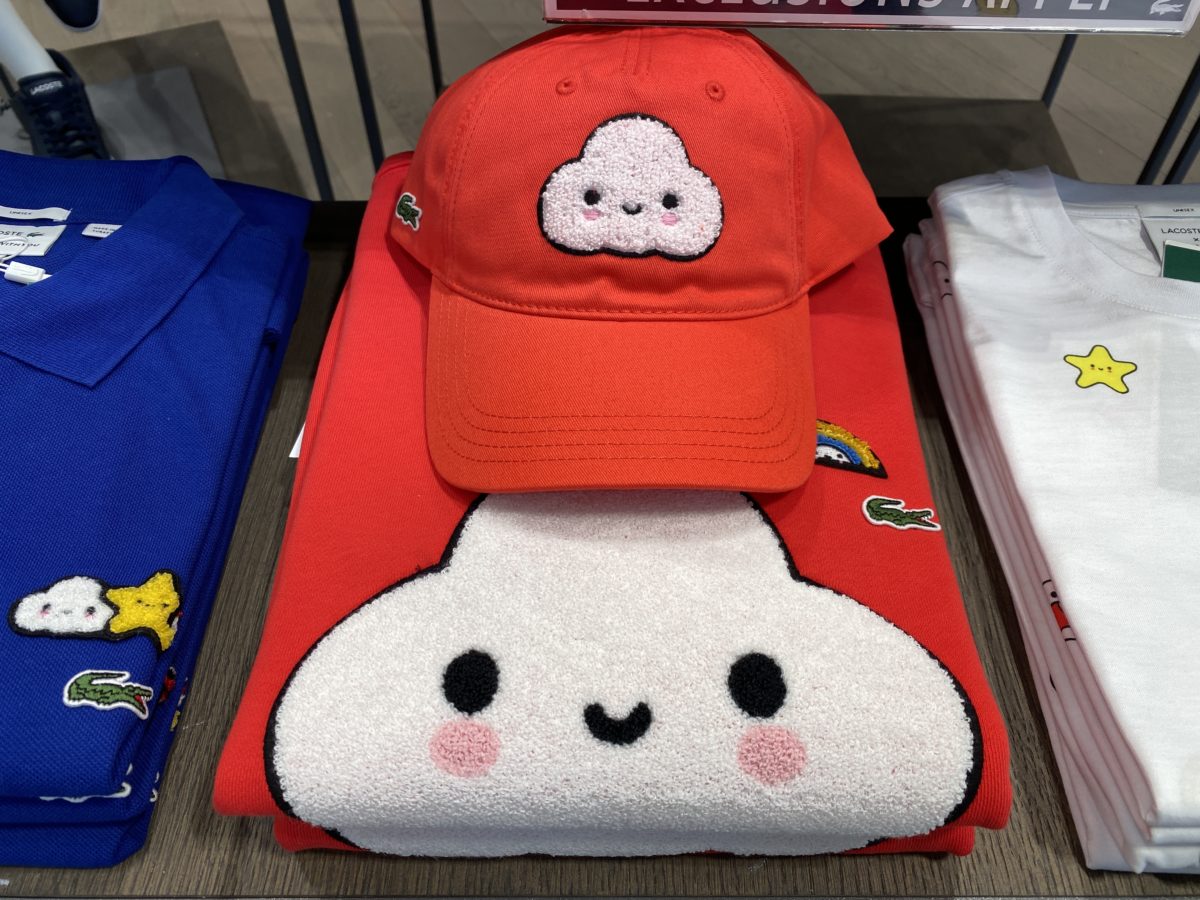 After seeing this happy little cloud at LACOSTE we were even happy it was raining. Look at those rosy cheeks!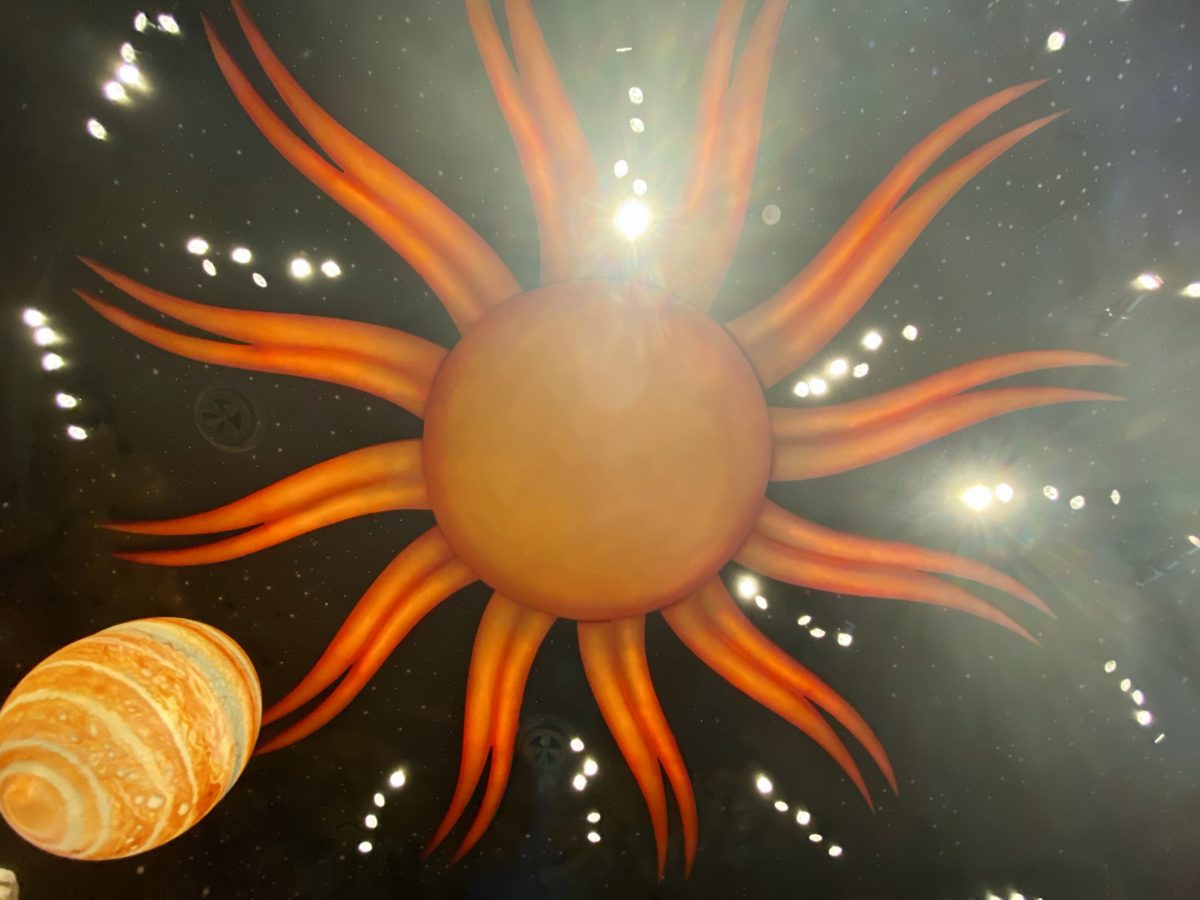 While in the parks, we've enjoyed taking a moment to look up (or down) and appreciate the details that Disney pours into every space we frequent, even if we often miss those details. Since we've been spending more time at Disney Springs, we're trying to do the same thing- take a moment to look up. Do you recognize this view? Let us know in the comments!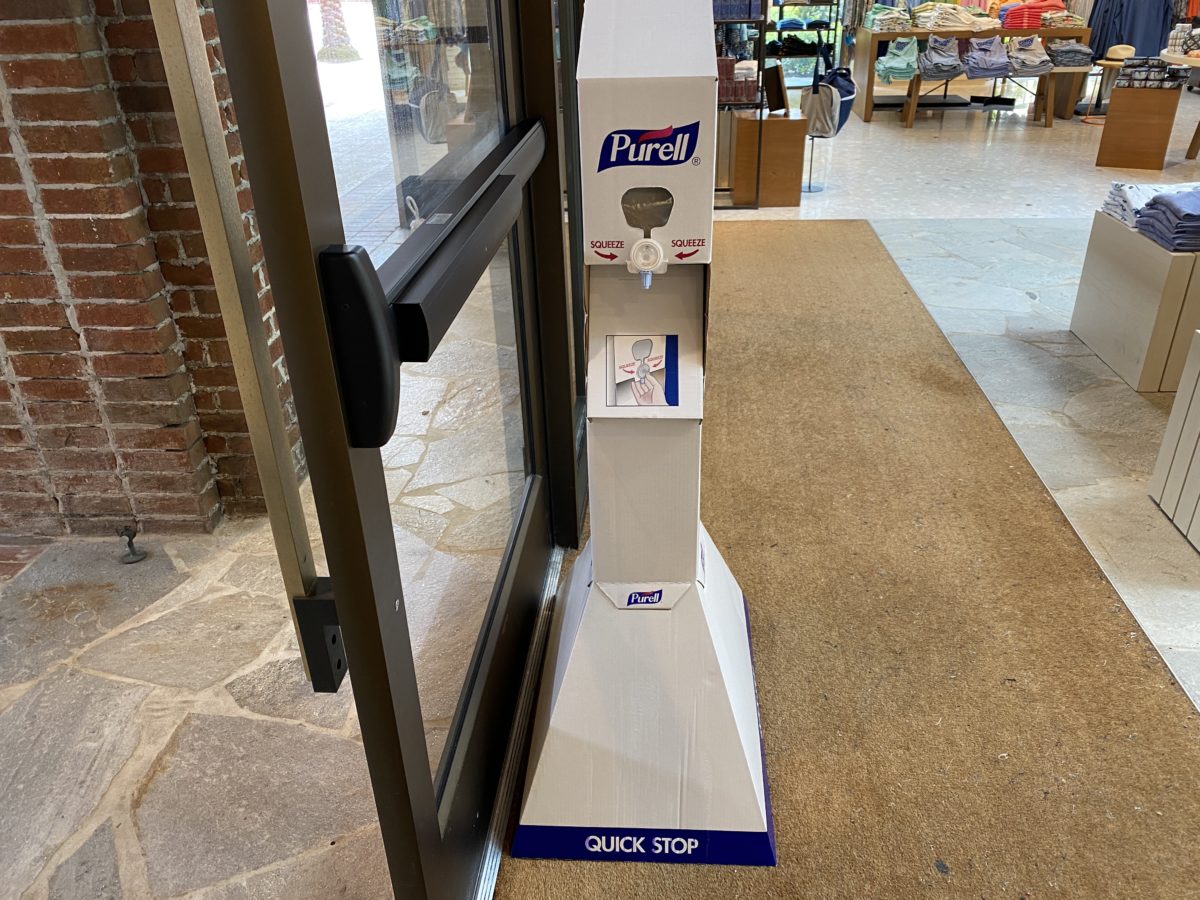 Inside Tommy Bahama, we spotted this new cardboard hand sanitizer station. With demand for such stations increasing dramatically recently, we were impressed Purell's solution.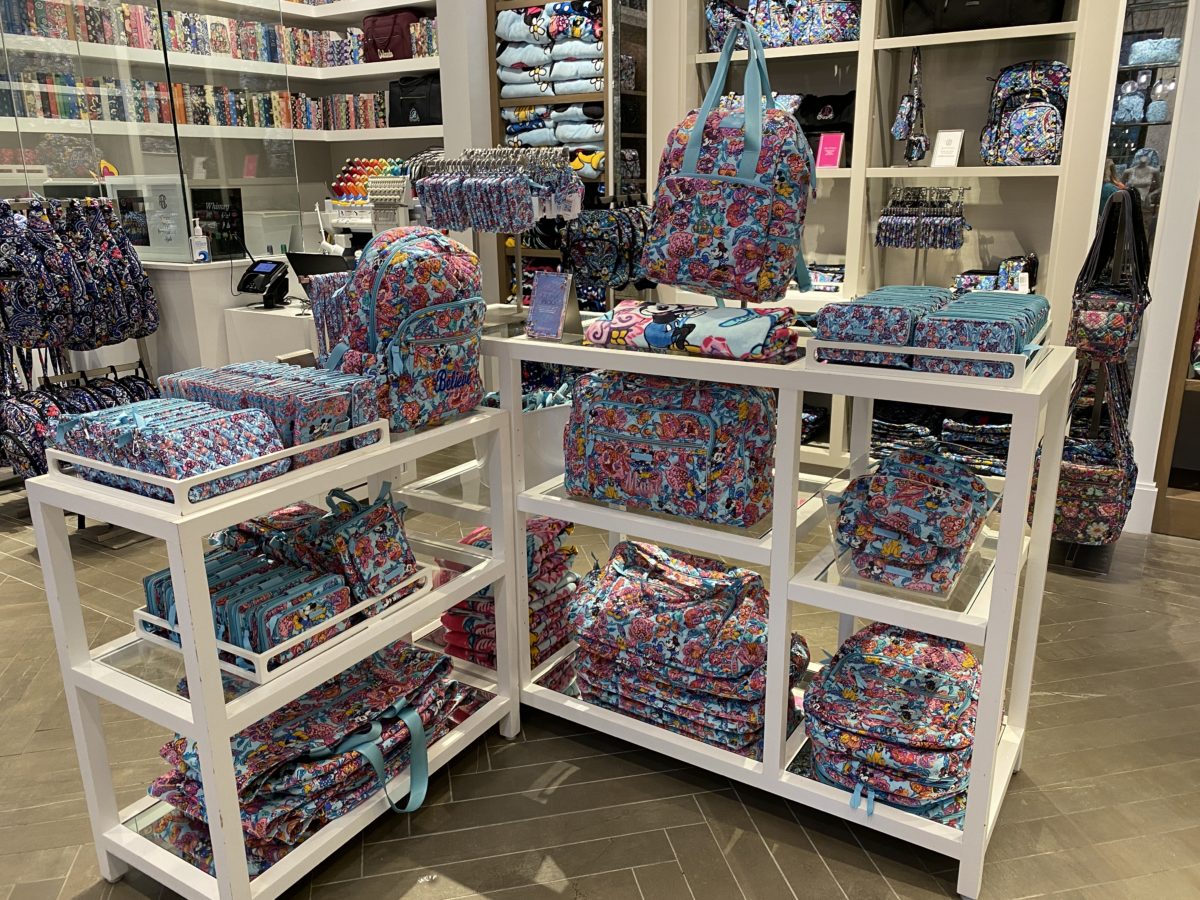 At Very Bradley, a new Disney collection has been released, but with much less fanfare than planned. Originally intended to release in April in celebration of the EPCOT International Flower and Garden Festival, this line features Minnie Mouse amid flowers, similar to the "In bloom" line Disney put out featuring Minnie Mouse. The complimentary fabrics feature scrollwork Mickey Mouse heads and "hidden" Spaceship Earth icons.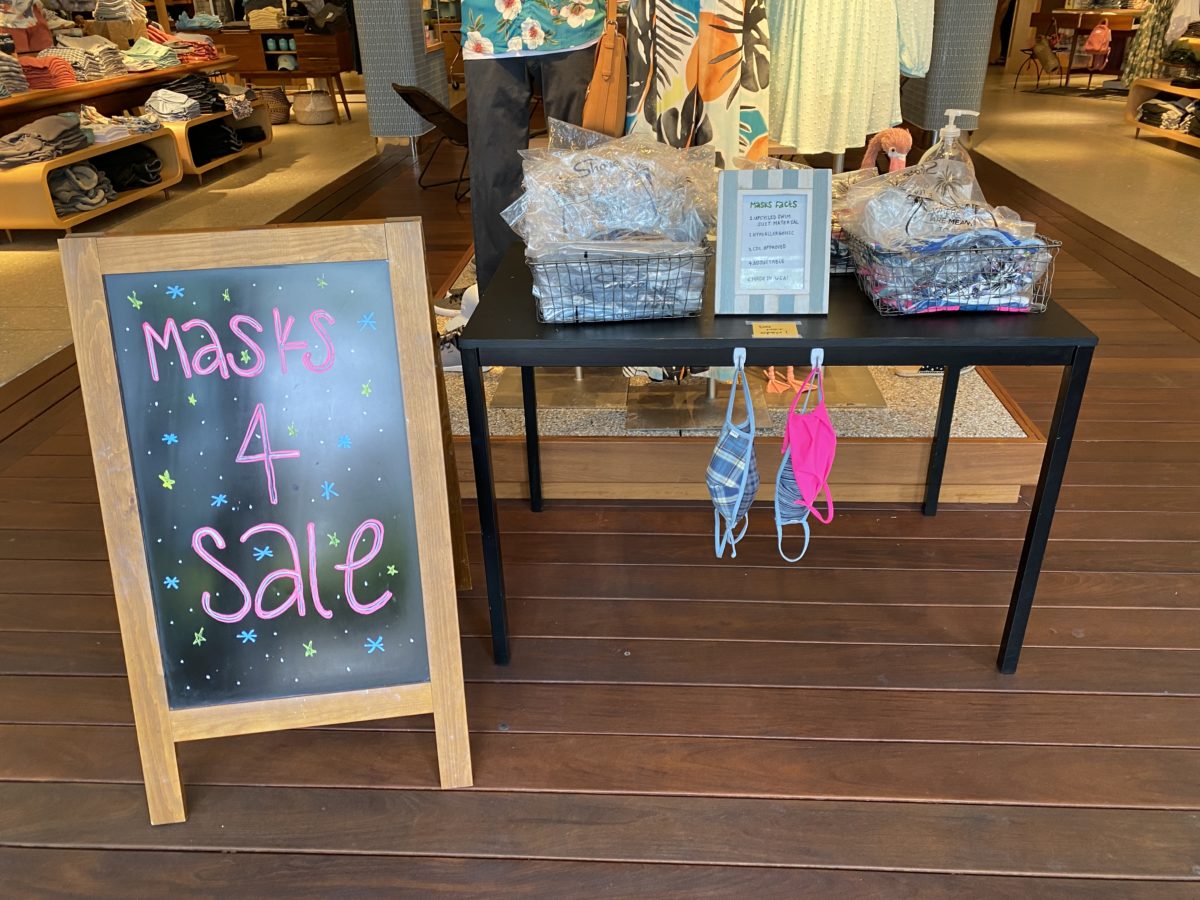 In addition to the masks available at Vera Bradley, Shore has recently become a steady supplier of masks in Disney Springs. Made from upcycled swimsuit material and linen, these masks are hypoallergenic and washable.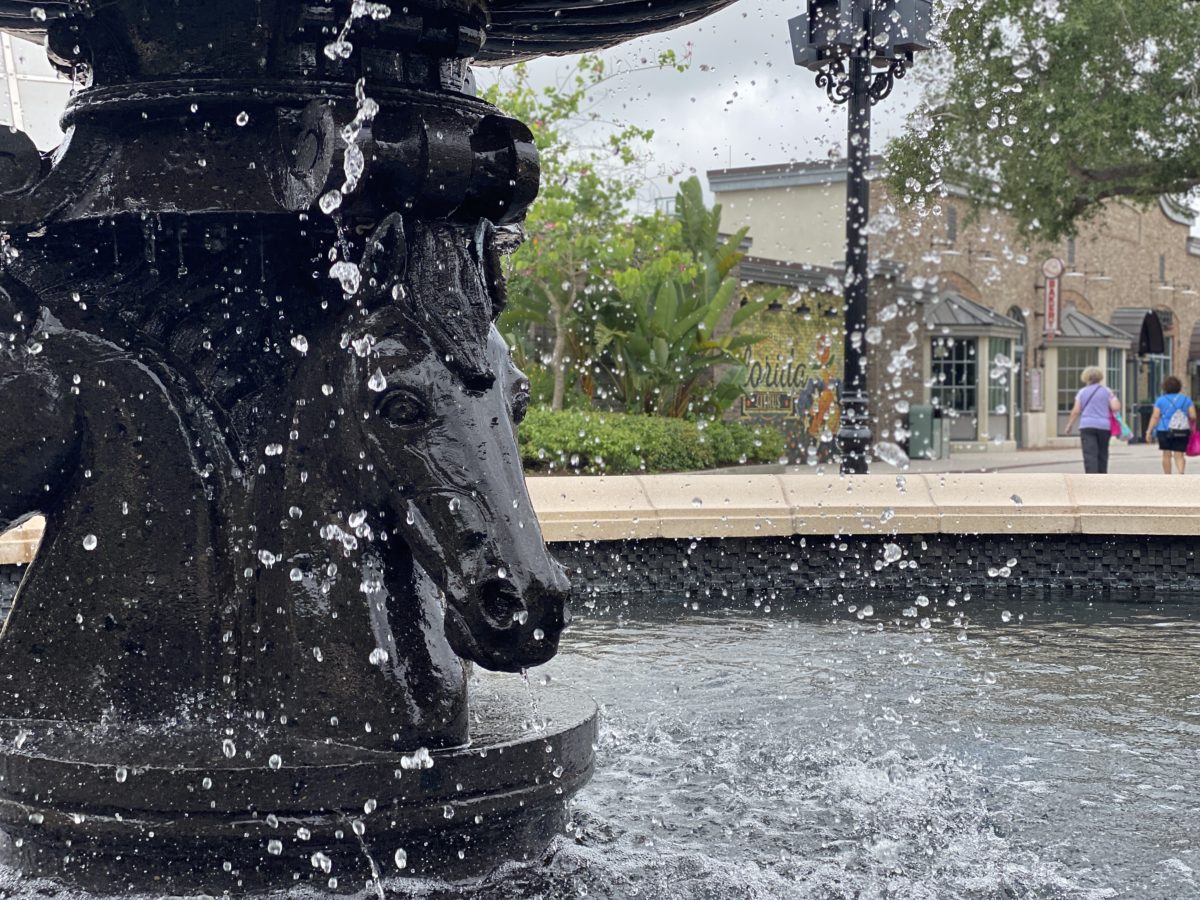 Thank you for coming along to Disney Springs with us today, we hope you enjoyed it as much as we did! Until next time, have a good day, and a great big beautiful tomorrow!