It was a very rainy day at the most magical shopping spot on Earth, but that's never kept us down! We pulled on our ponchos and got to work to bring you the latest news from Disney Springs.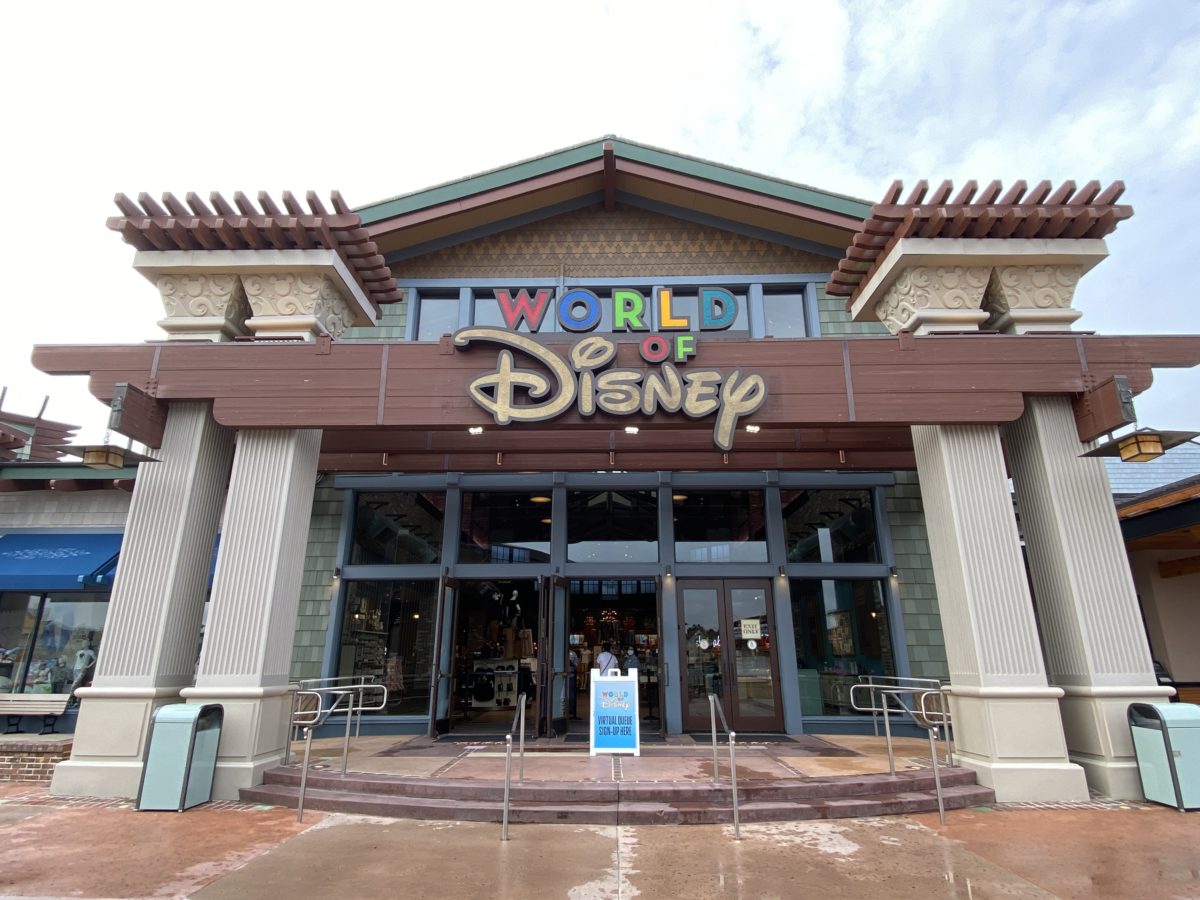 For several days now, World of Disney has returned to a virtual queue system for guests arriving between 8-10am. With the Orange Garage opening at 8am, but none of the stores opening until 10am, in order to avoid a crowd forming, guests are directed to this entrance along the side of the store facing the stage to sign up for the virtual queue. At or close to 10am, those guests will then receive a text message to return to the store, and are allowed to enter and shop.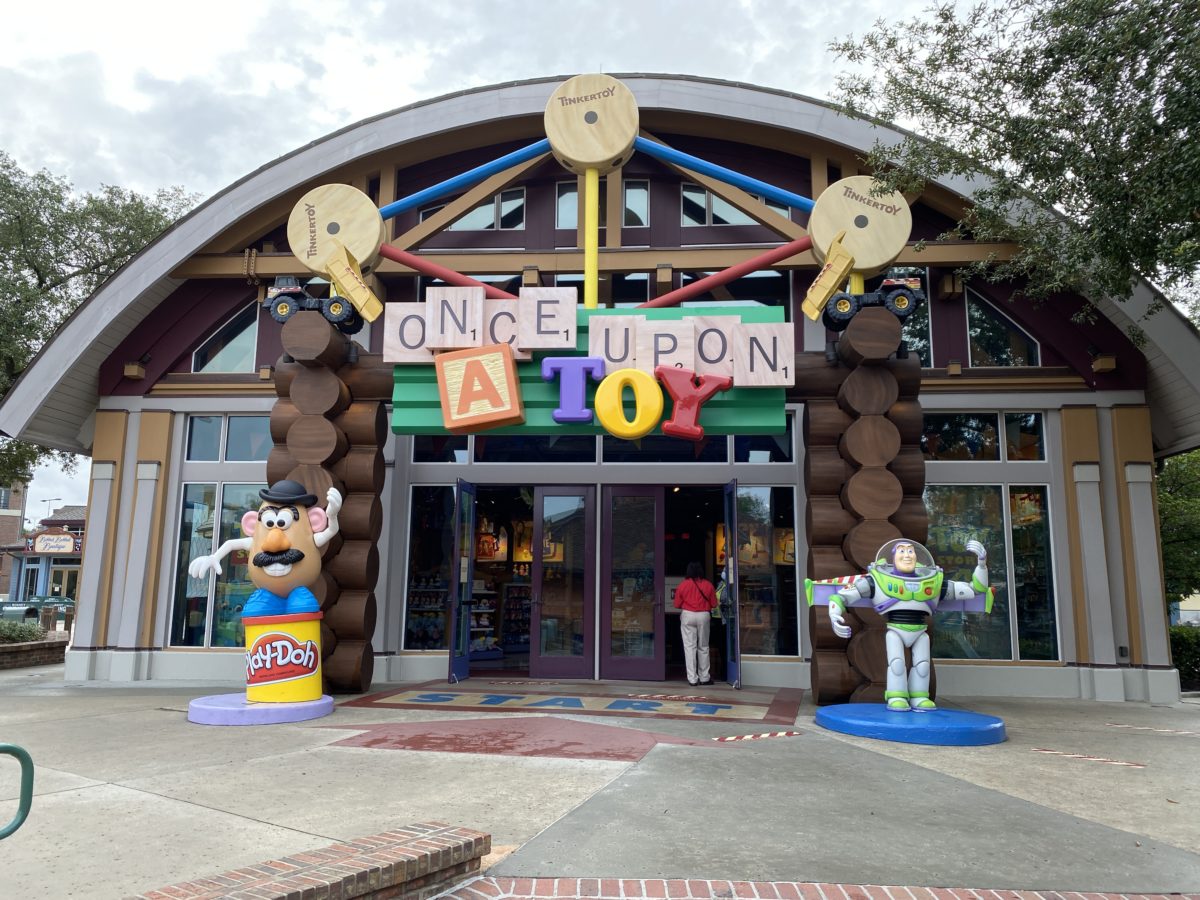 Since its reopening yesterday, Once Upon A Toy has also been utilizing the virtual queue system.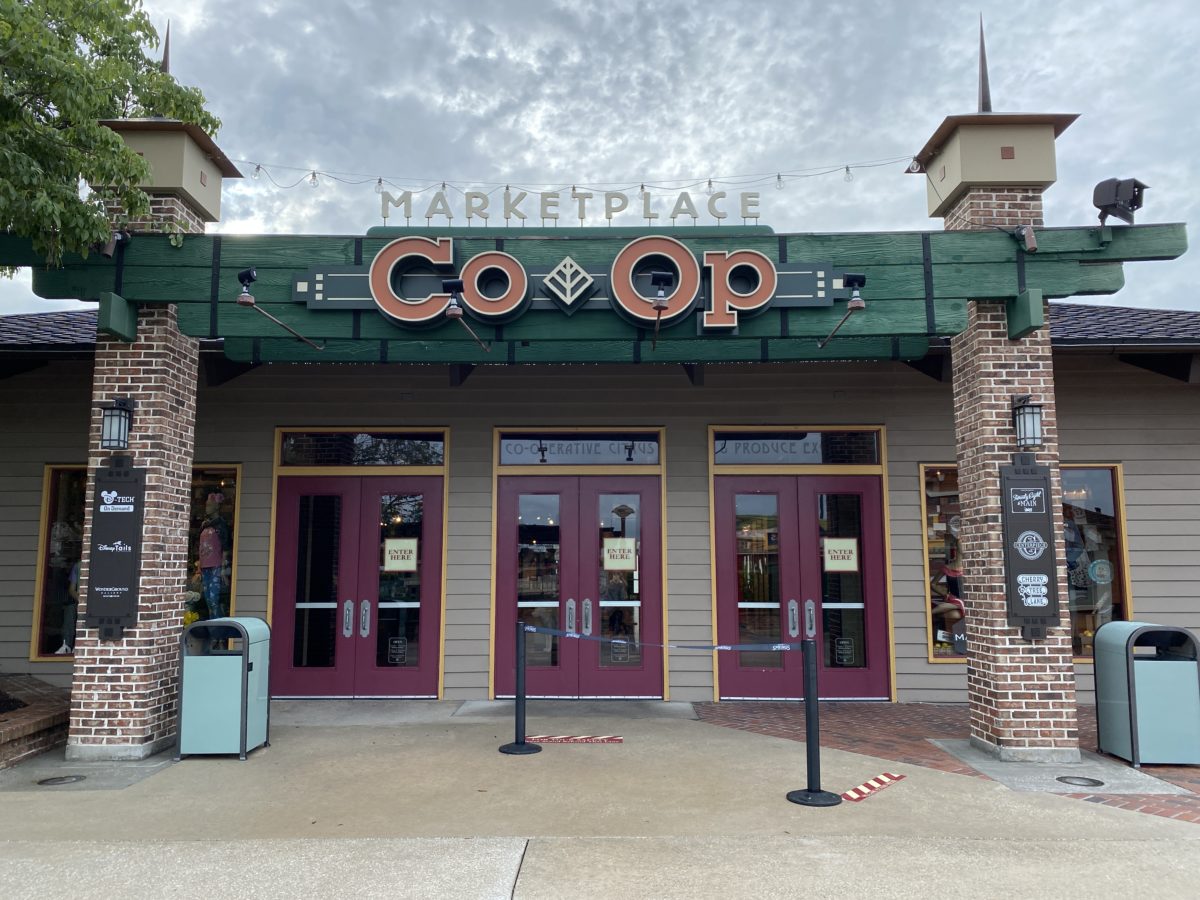 Marketplace Co-Op has seemed to be following whatever World of Disney was doing, whether it was opening early, or using the virtual queue system. Today, we saw a break in that trend with no virtual queue at the Co-Op to match World of Disney. In fact, we did't even see a Cast Member outside of the doors until opening at 10am. We suspect given the smaller crowds today they didn't feel the virtual queue was necessary, even with their smaller capacity.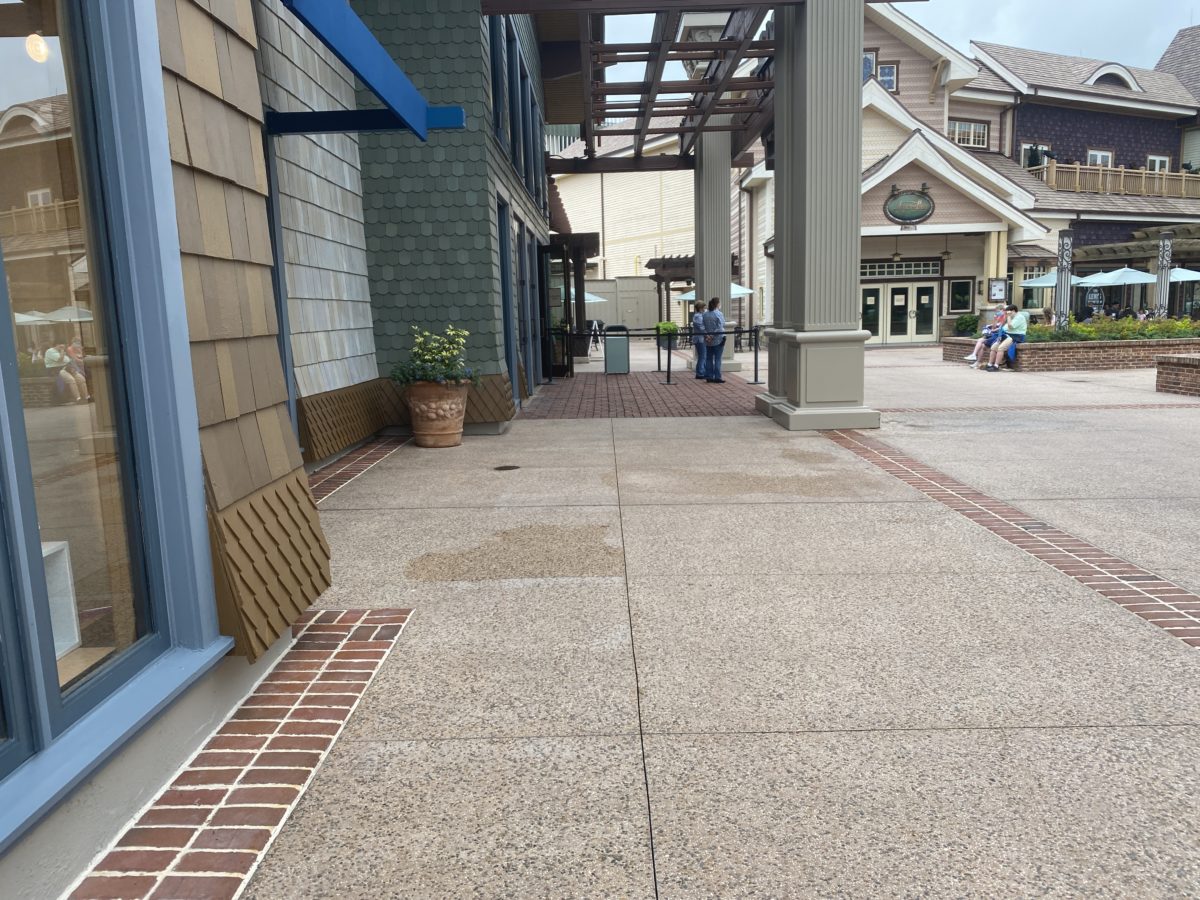 While waiting for World of Disney to open, we noticed that the social distancing markers that used to form a line here had been removed. A few days ago, there was some confusion and resulting tension between guests as two lines formed when return text messages were sent out en-masse for World of Disney at 9:55am. One line formed on the markers, and the other formed at the Cast Member Near the rope. In the end another set of doors was opened so that both lines could enter at once, but it was a tense moment. Looks like Disney has streamlined the process even further.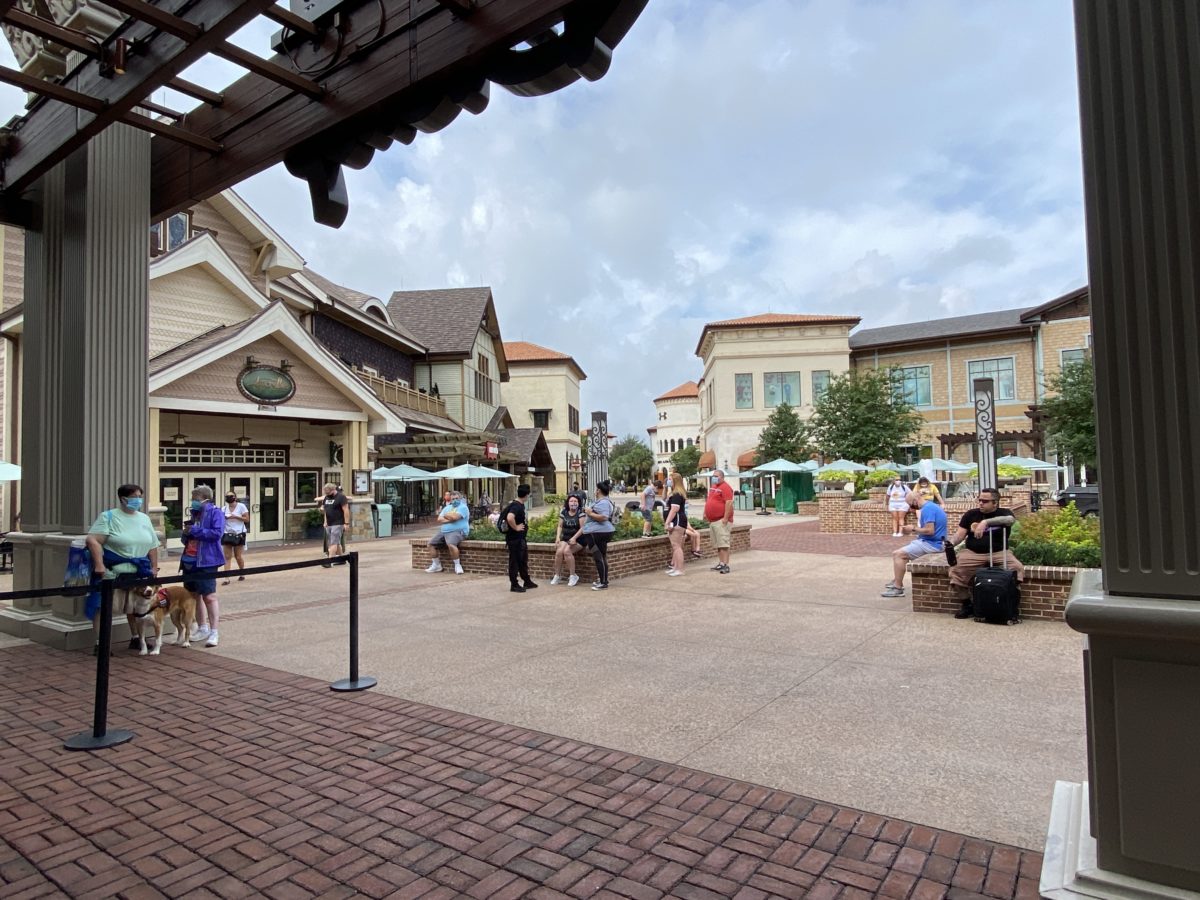 As the time for store opening drew closer, a small crowd gathered. After signing up for the virtual queue after arriving at 8am, it turned out to be unnecessary, as everyone was let in as a group at 9:55am.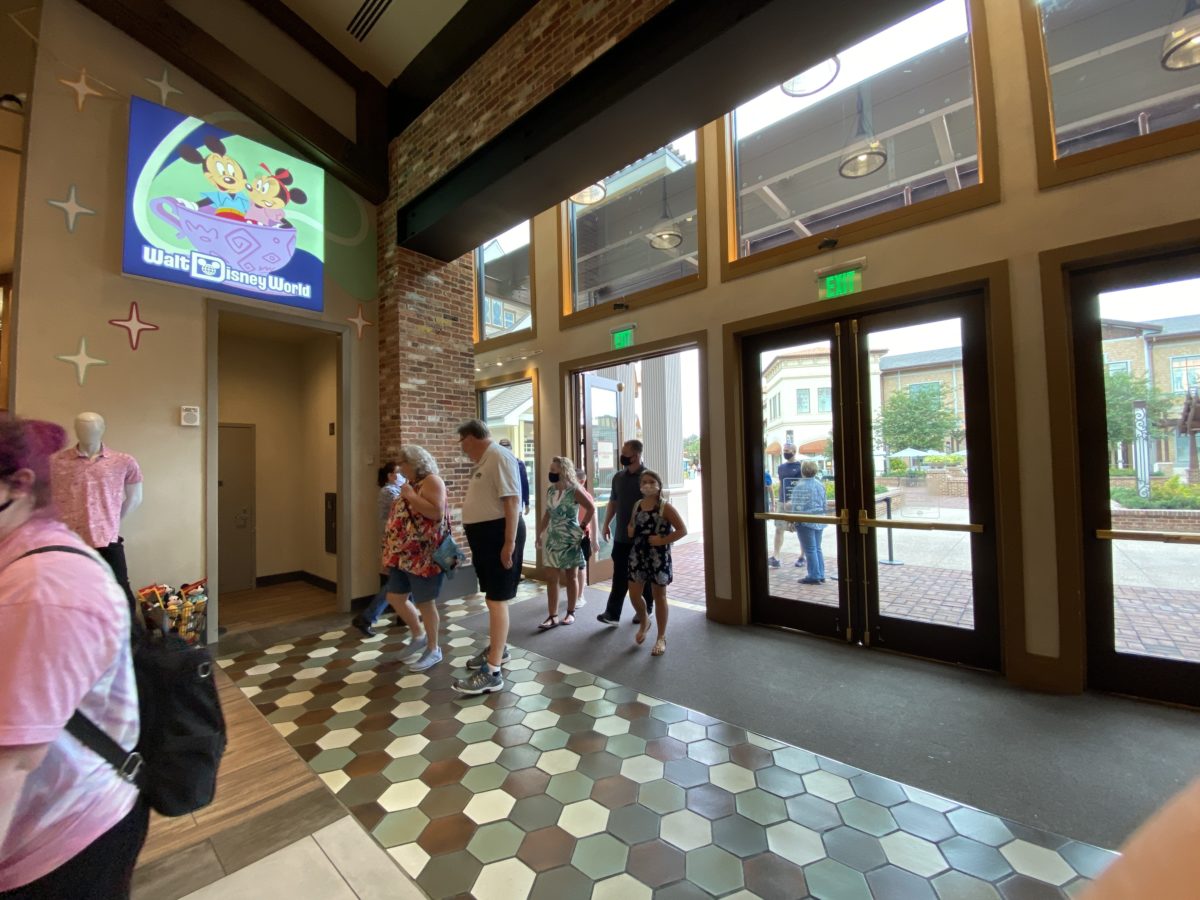 No text messages were ever sent out, and no proof of signing up was asked for. There was plenty of room for everyone inside though, and as it started raining a bit later, we were thankful to be inside.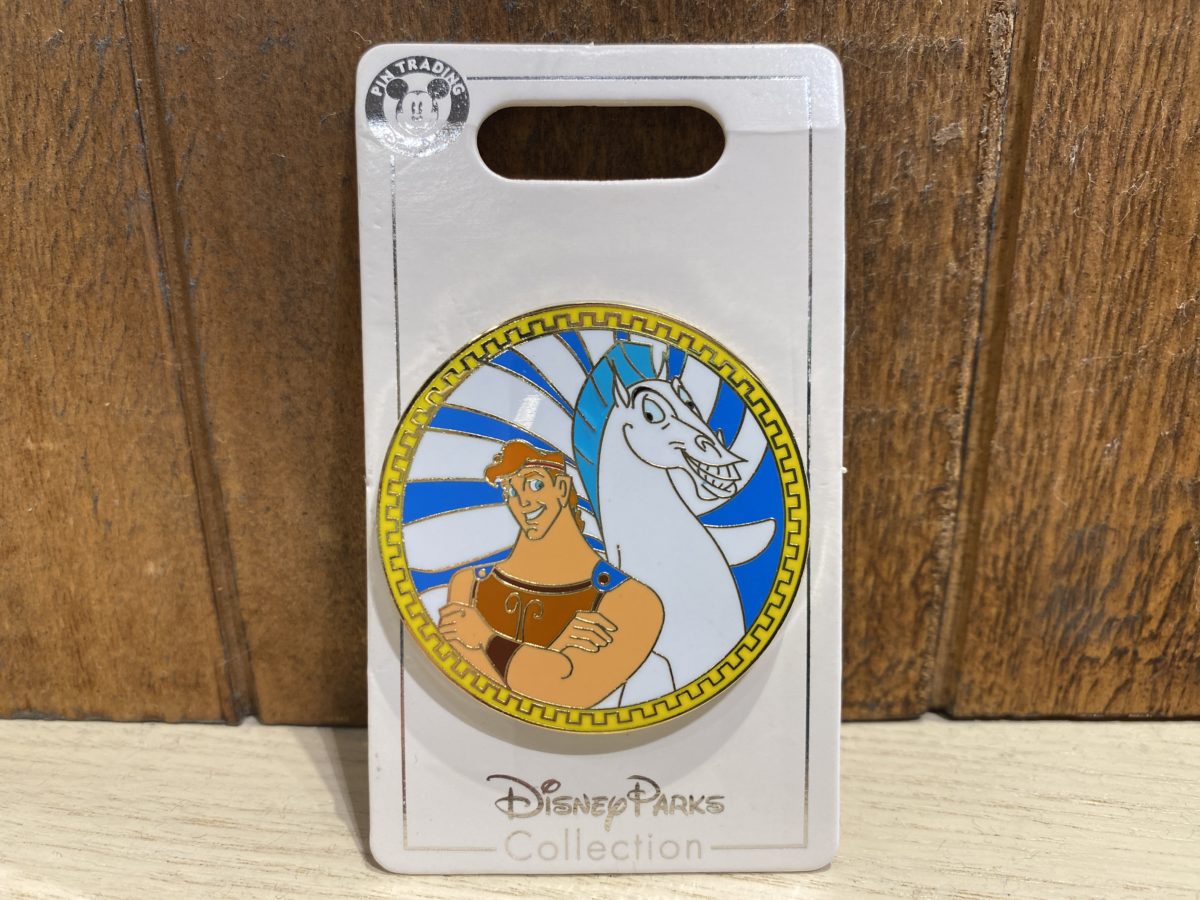 It's Thursday, and you know what that means: new pins! These open edition pins were originally meant to be released in the parks in March and April, but with the closure, their release was postponed until now. They have been available on shopDisney, but this is the first time we've seen them in person. This Hercules and Pegasus pin was originally due in March and retails for $9.99.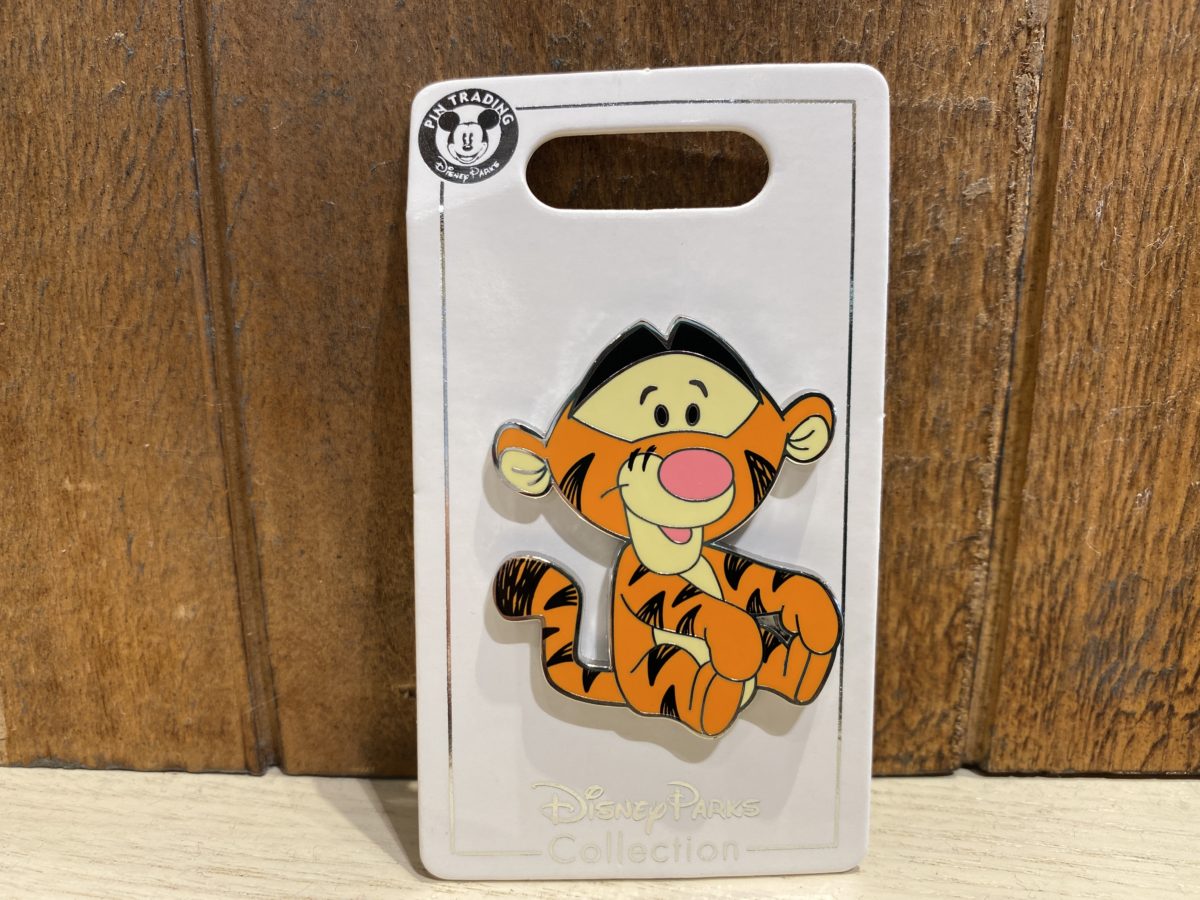 This baby Tigger pin was originally due in March as well, and retails for $9.99.
This Alice In Wonderland pin was originally due in April and retails for $9.99.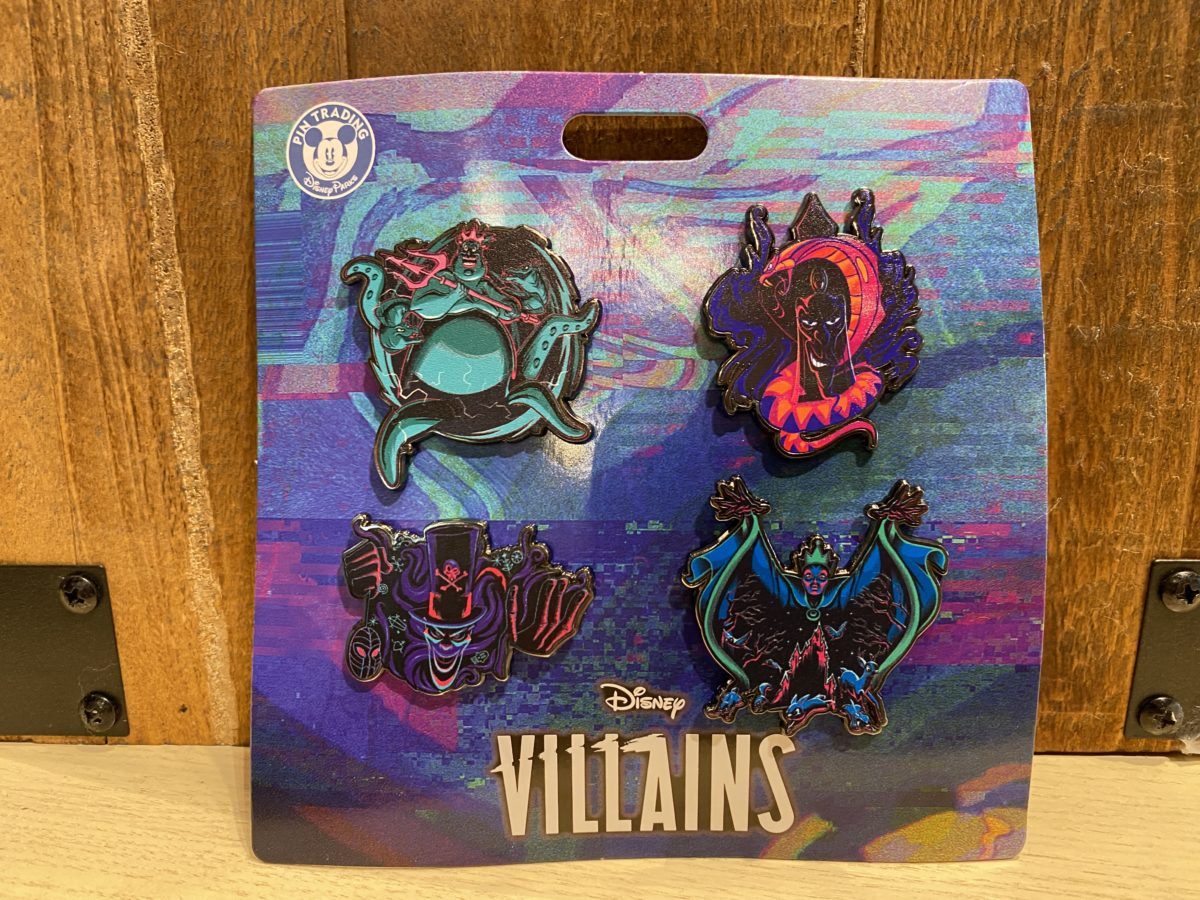 This Disney Villains set was originally due in April and retails for $27.99.
This Disney Parks Attractions set was originally due in April and retails for $27.99.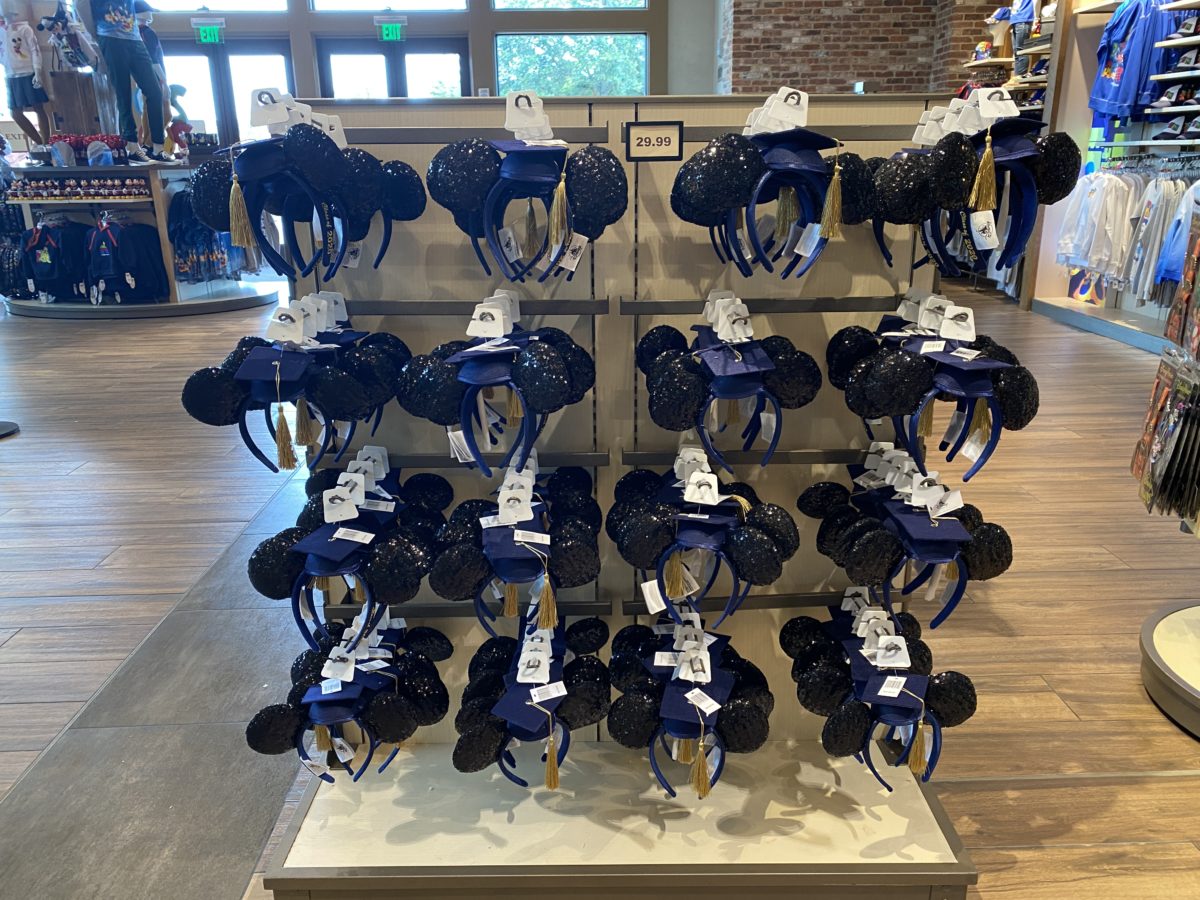 While in World of Disney we saw this freshly restocked display of 2020 Graduation ears. All of the graduation items have been hot sellers recently, get these while you still can!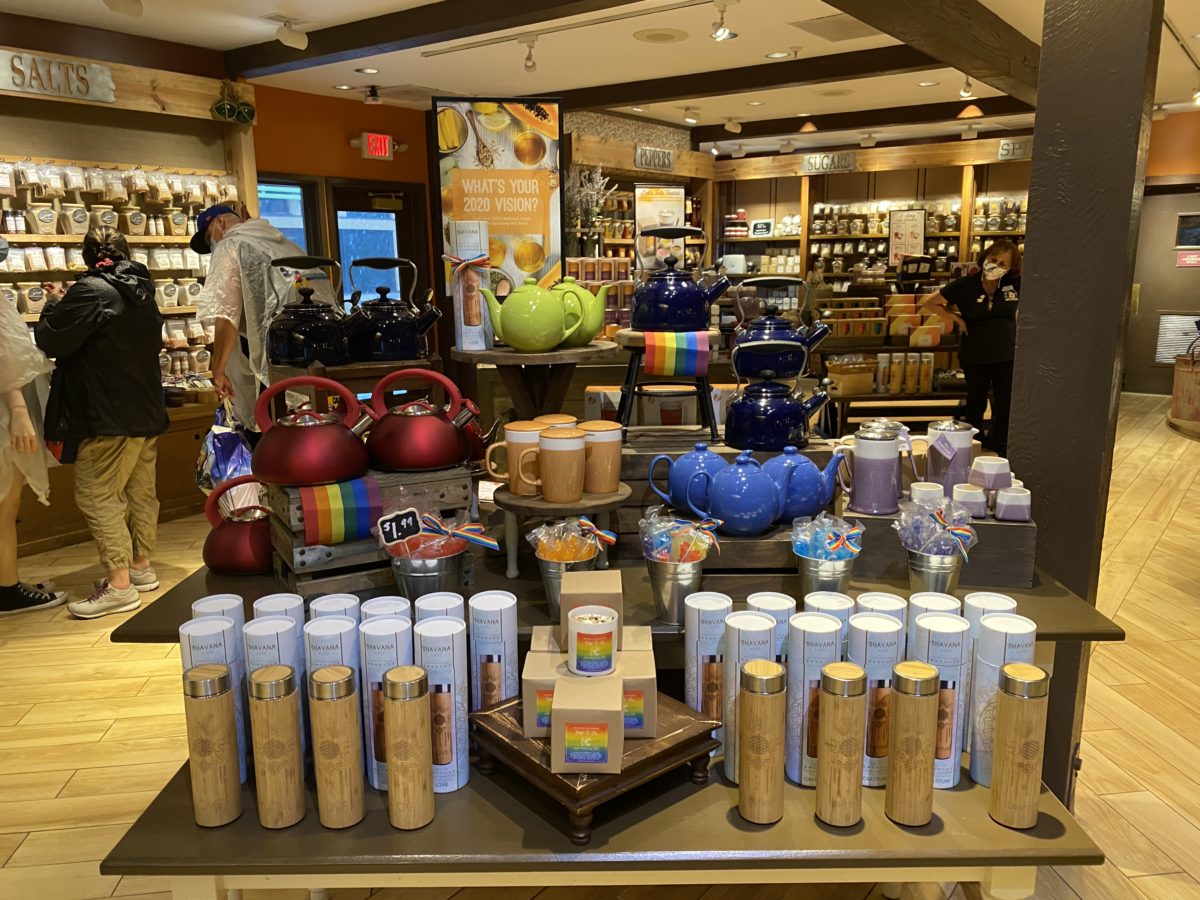 The Spice & Tea Exchange had a fun rainbow display up in honor of Pride Month. Tea pots in every color as well as rock candy and rainbow soy candles are all offerings included in this fun display.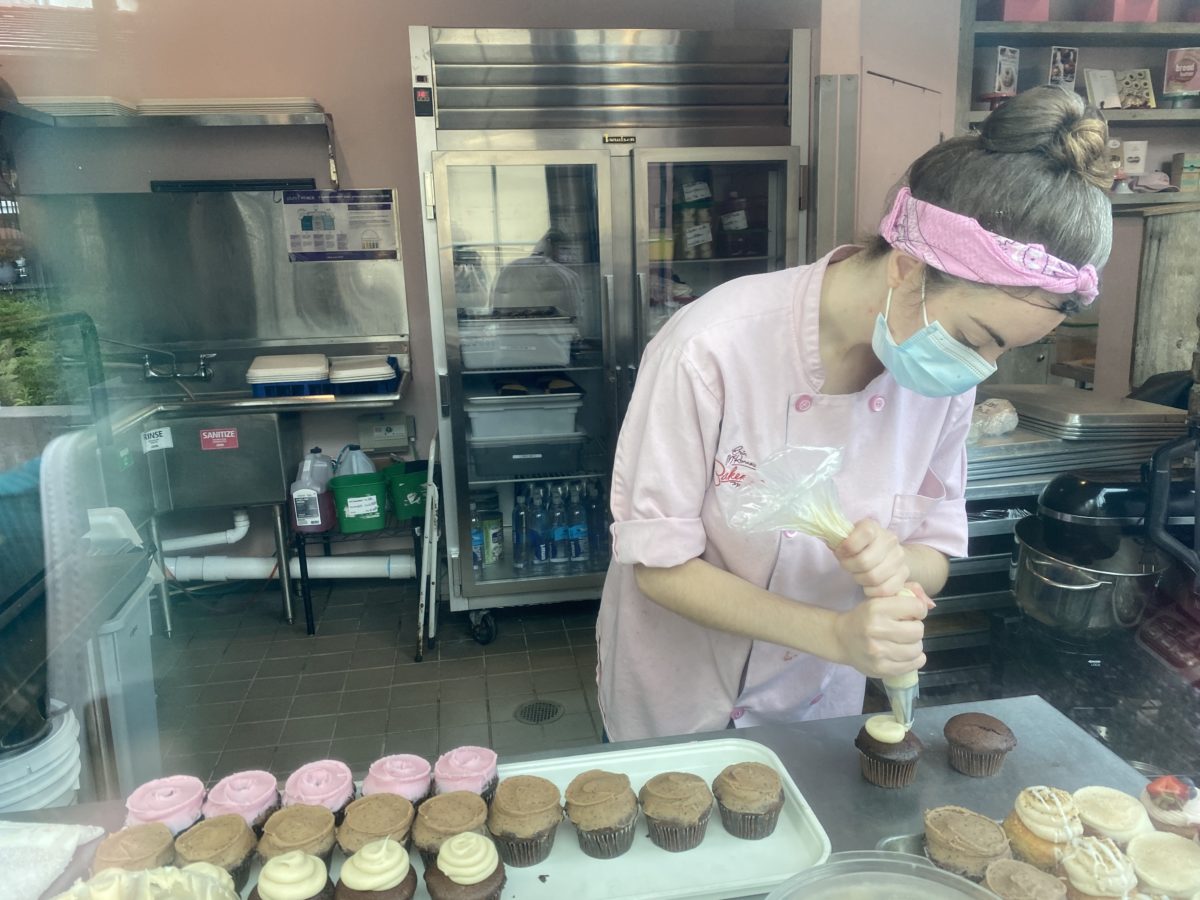 When we went by Erin McKenna's Bakery NYC a lovely baker was putting icing on some yummy looking cupcakes. We could watch this all day!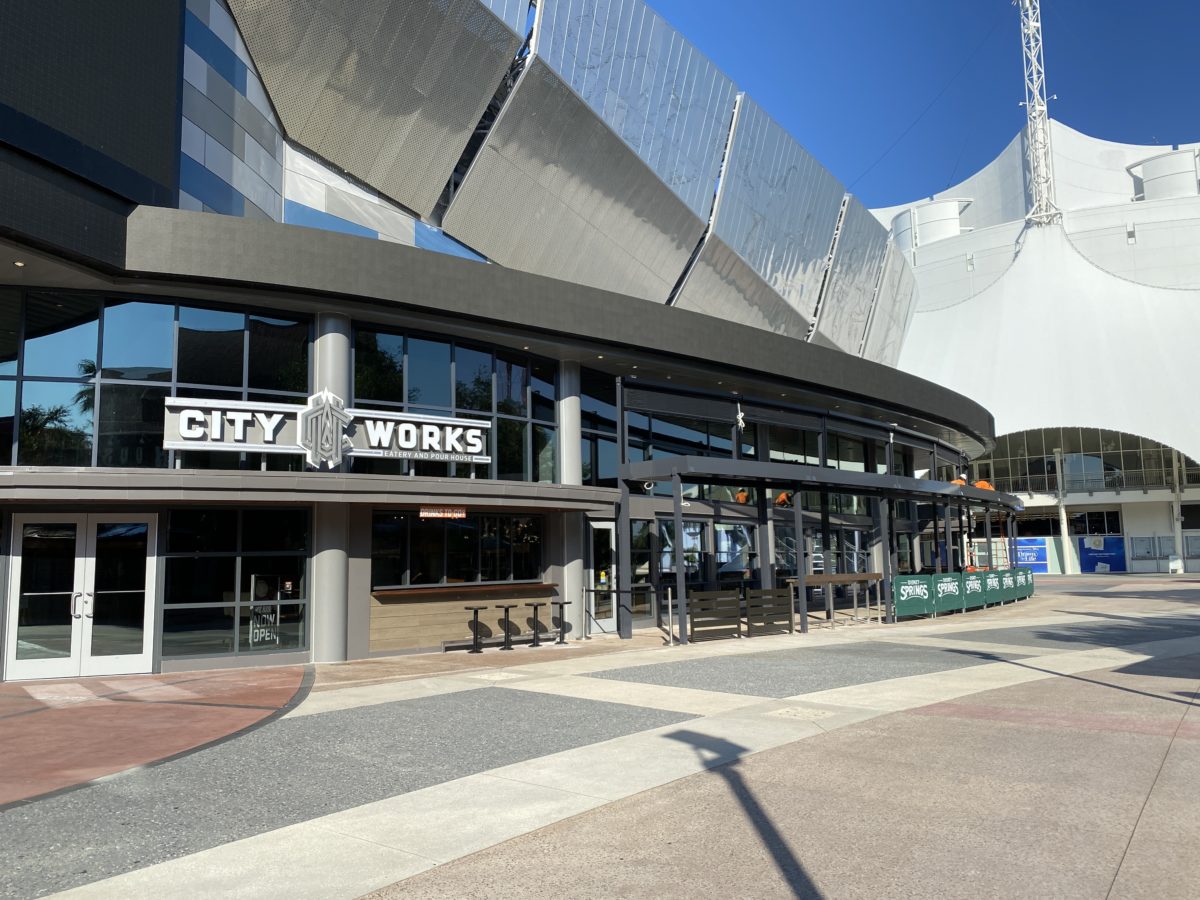 We checked out the progress on City Work's outdoor seating area, which should be finished soon, in order to be ready for the reopening on June 10. It looks like they're almost ready to start the cement work.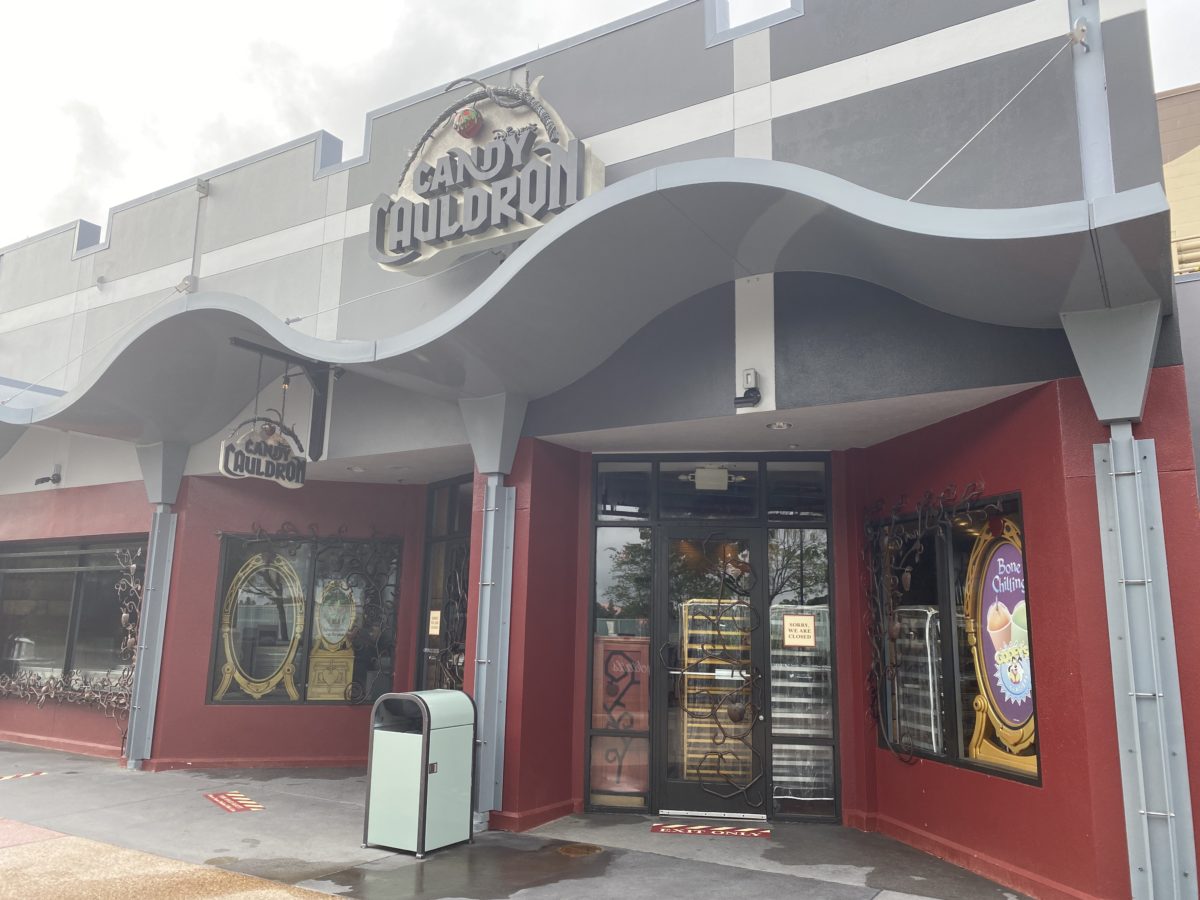 There was lots of activity inside Candy Cauldron, including one person wearing a safety vest with the title "Opening Team" on the back. After seeing soda being delivered there the other day, we are excited to see it open, and hopefully soon.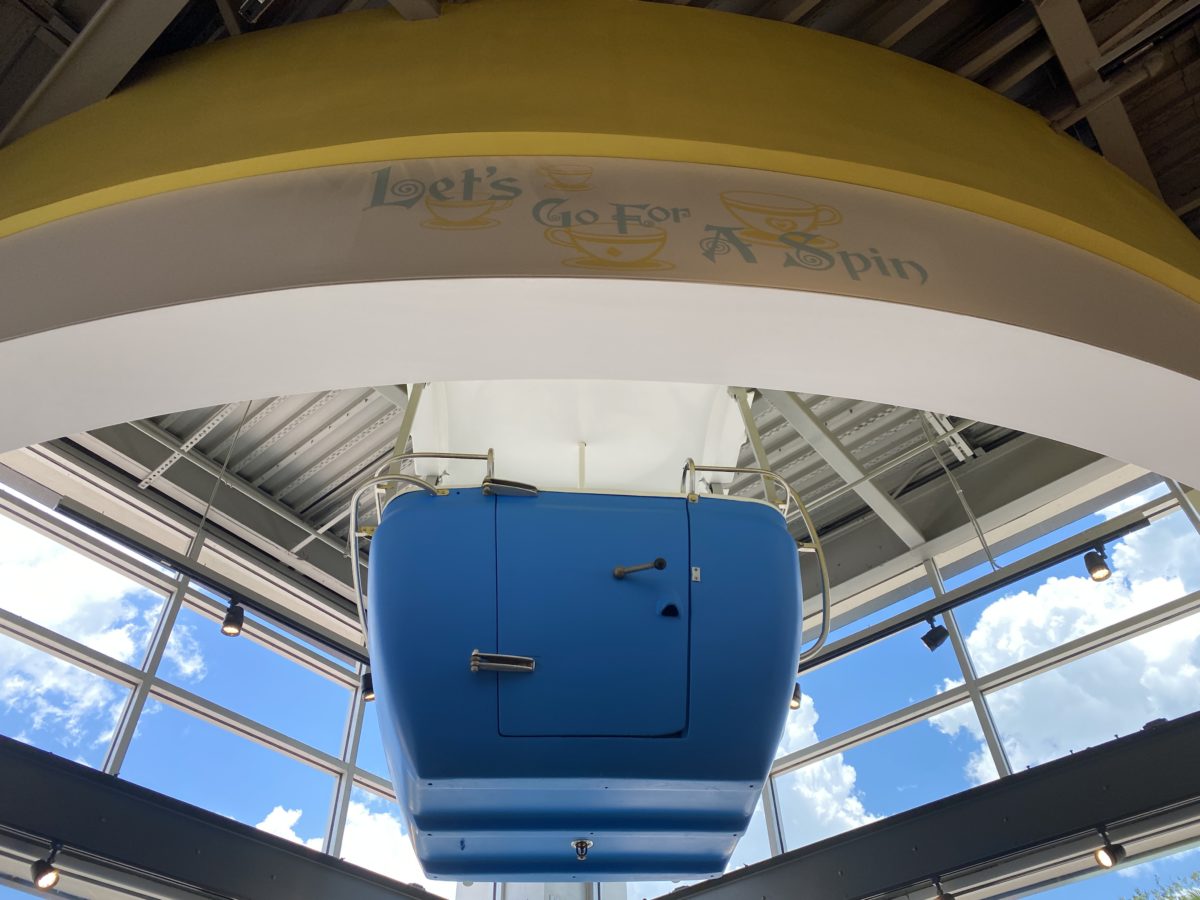 All this rain had us feeling like we were swimming with these fish. Do you recognize this edition of "Look Up?" Let us know in the comments!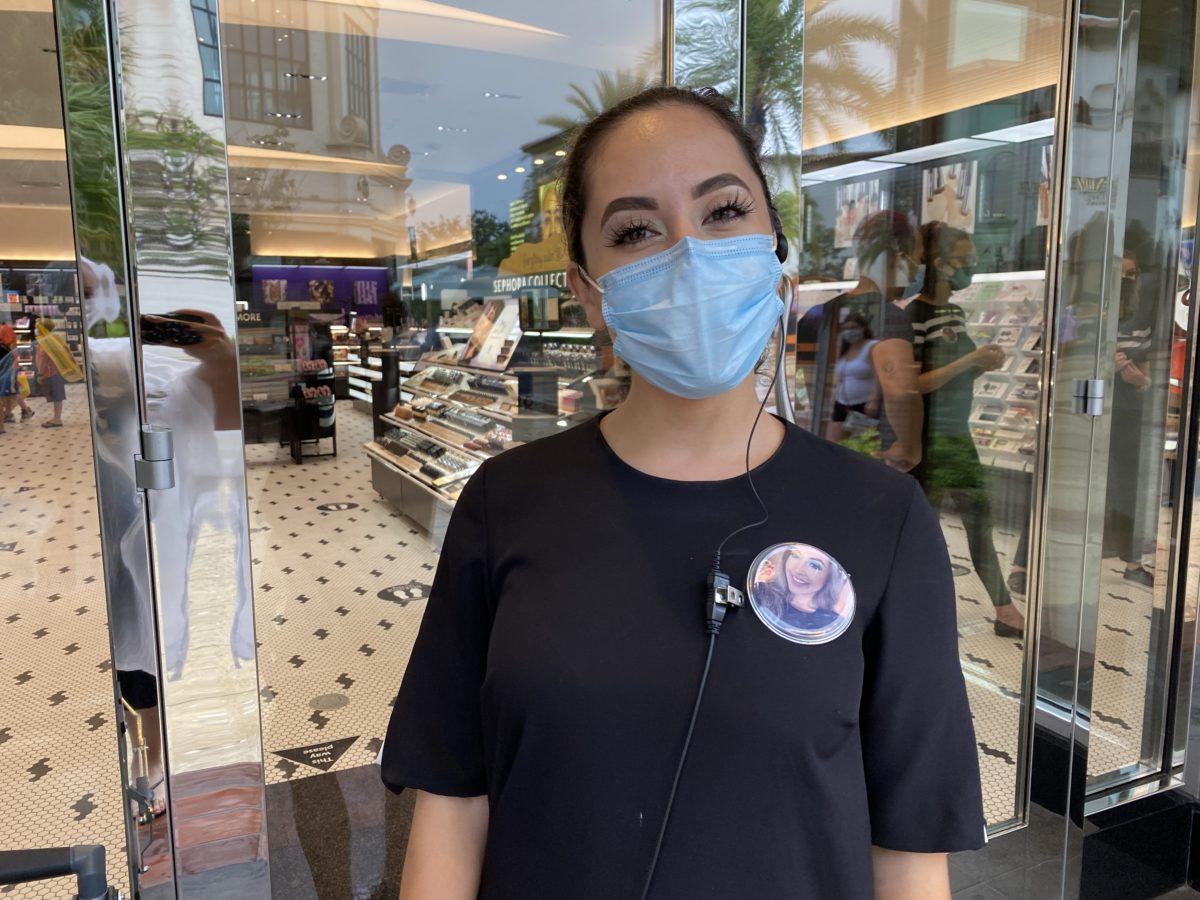 Employees at Sephora have come up with an imaginative way to connect with guestS while still wearing their face covering. Each employee is wearing a button showing a picture of them without a mask on, smiling at the camera. Well done, ladies!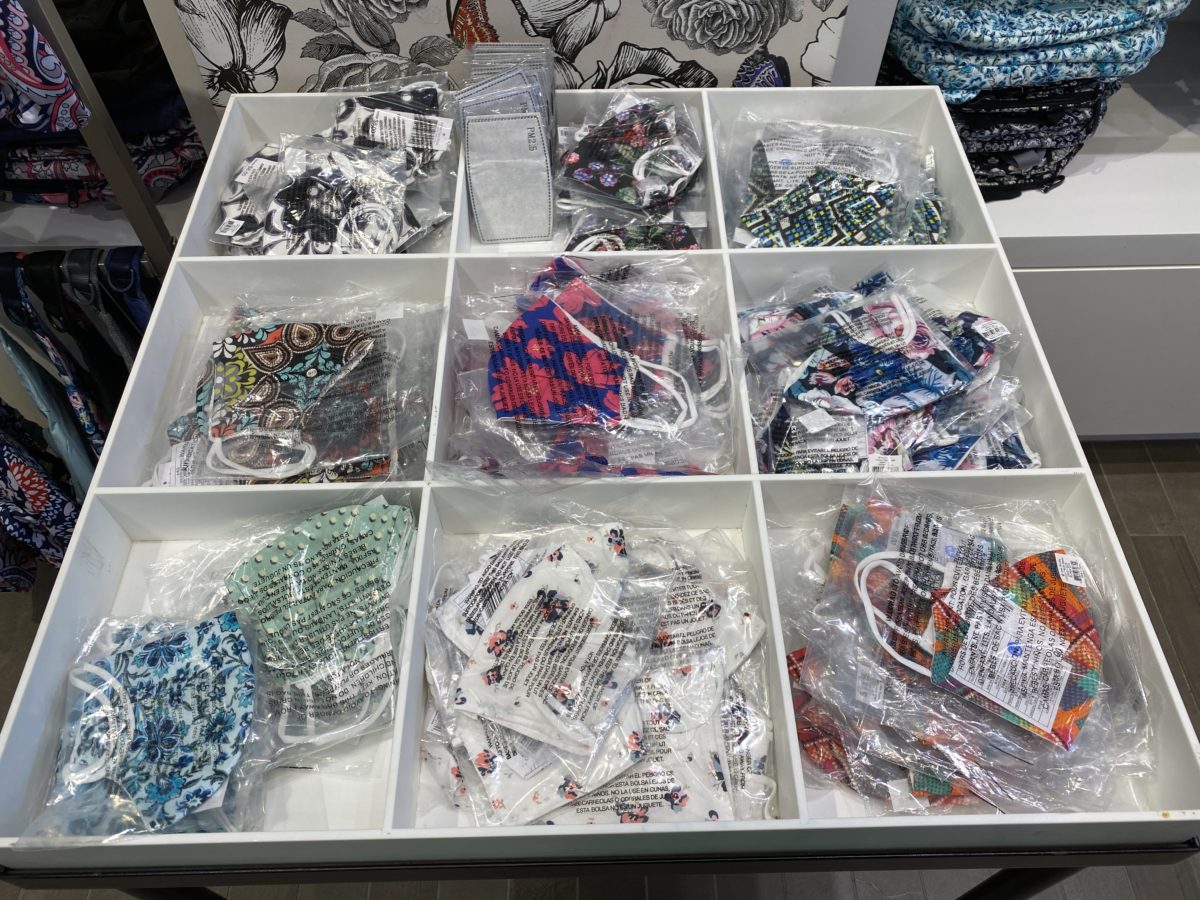 Two locations in Disney Springs have become our go-to for masks available for purchase. Vera Bradley has been the most consistent with stock, and usually stocks different prints each day.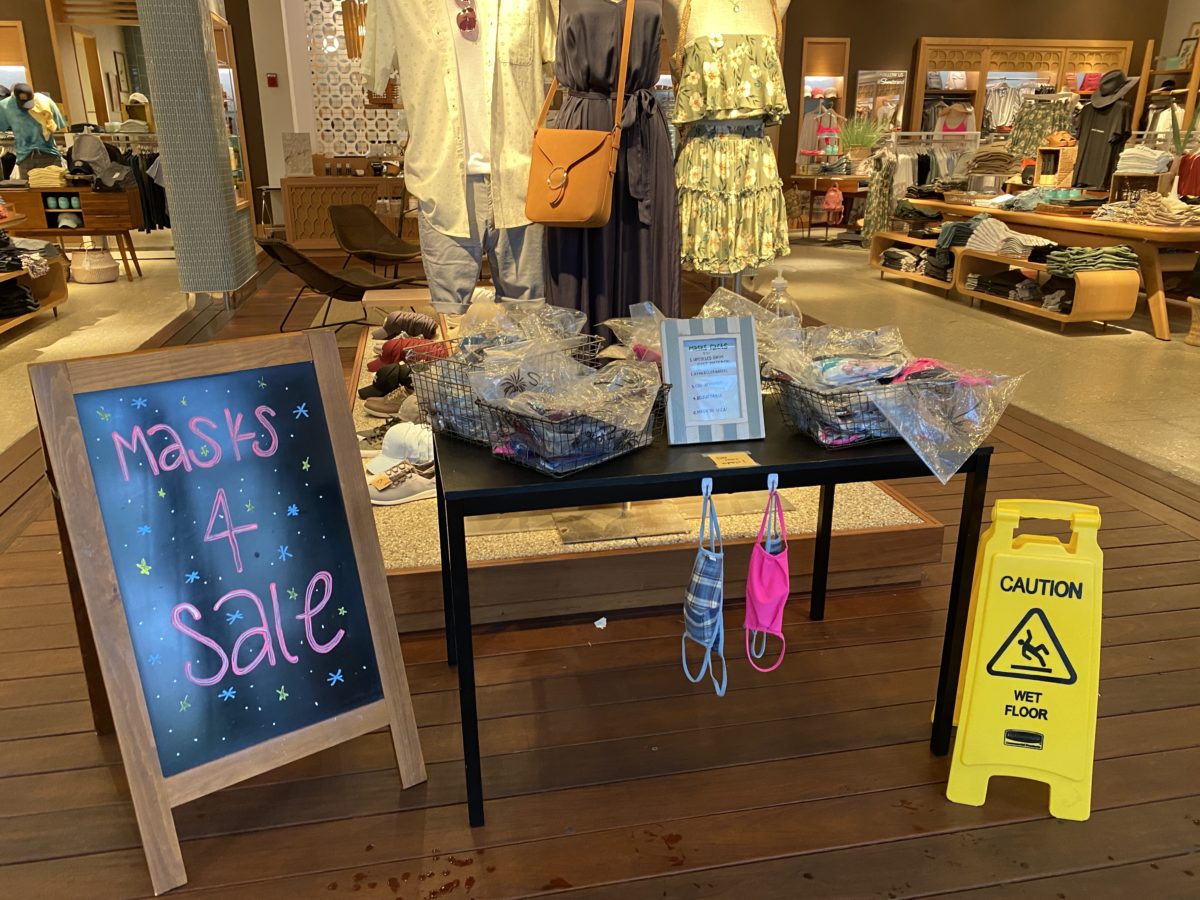 Shore hasn't had them the whole time, but once they got them in, they've had a ton to choose from. With the more masculine linen masks available, they also have an option for men or those wishing to stay away from floral or bright colors or patterns.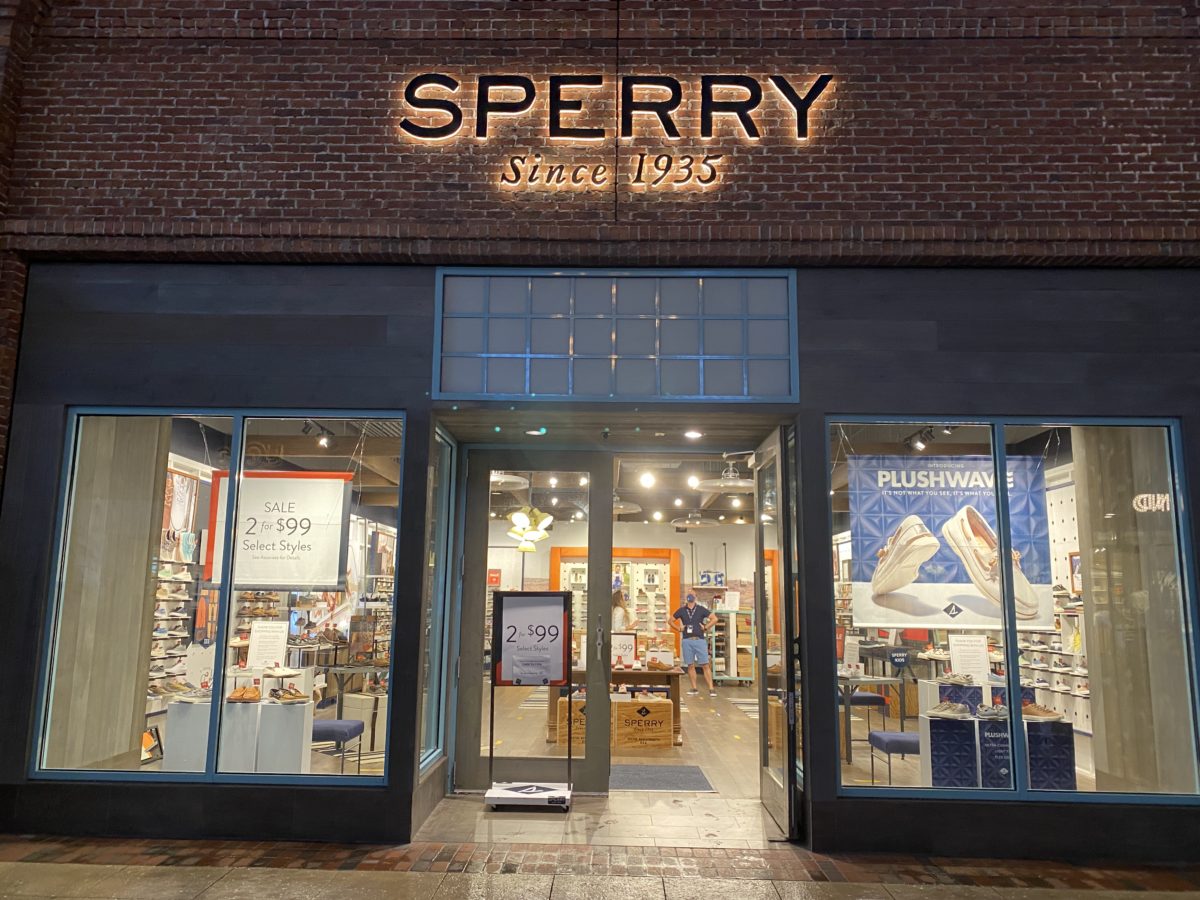 Two locations reopened today, the first of which was Sperry. They are reopening with a sale, and have a traffic flow pattern set up within the store.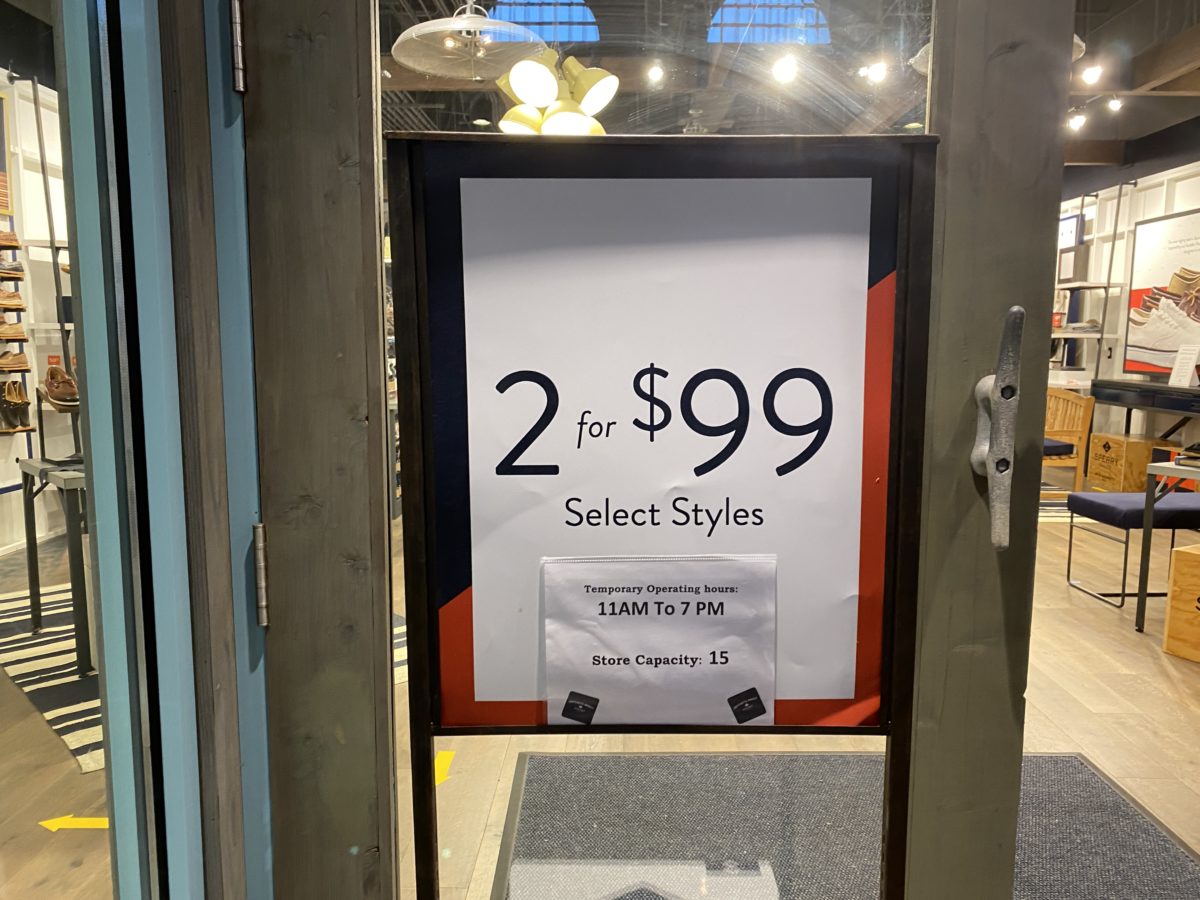 Like many other locations, they have reduced operating hours and a limited capacity.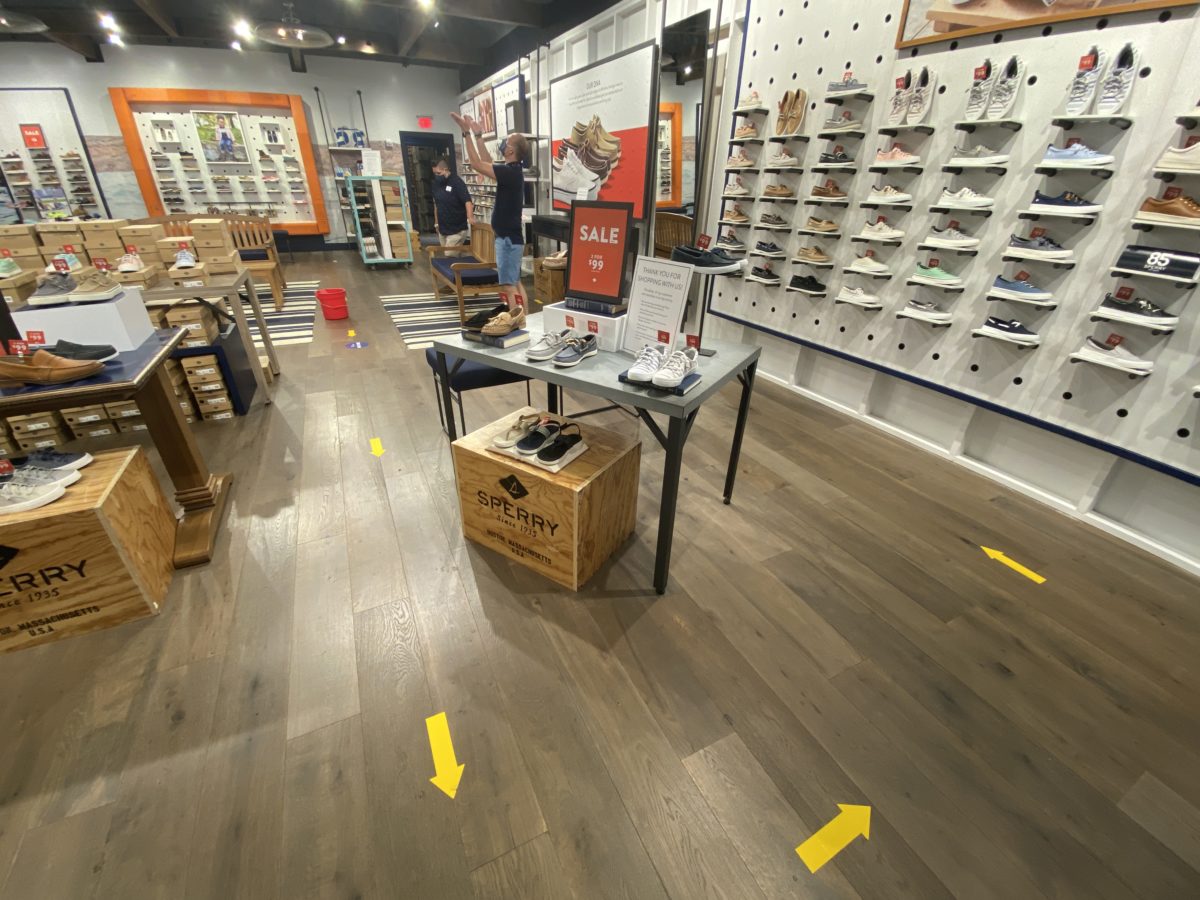 Yellow arrows direct customers in a loop around the store on both sides, allowing guests to browse everything they have to offer.
The other location to reopen was Kipling. They've already decorated their windows in rainbows for Pride Month, and have a whole rainbow line of bags coming.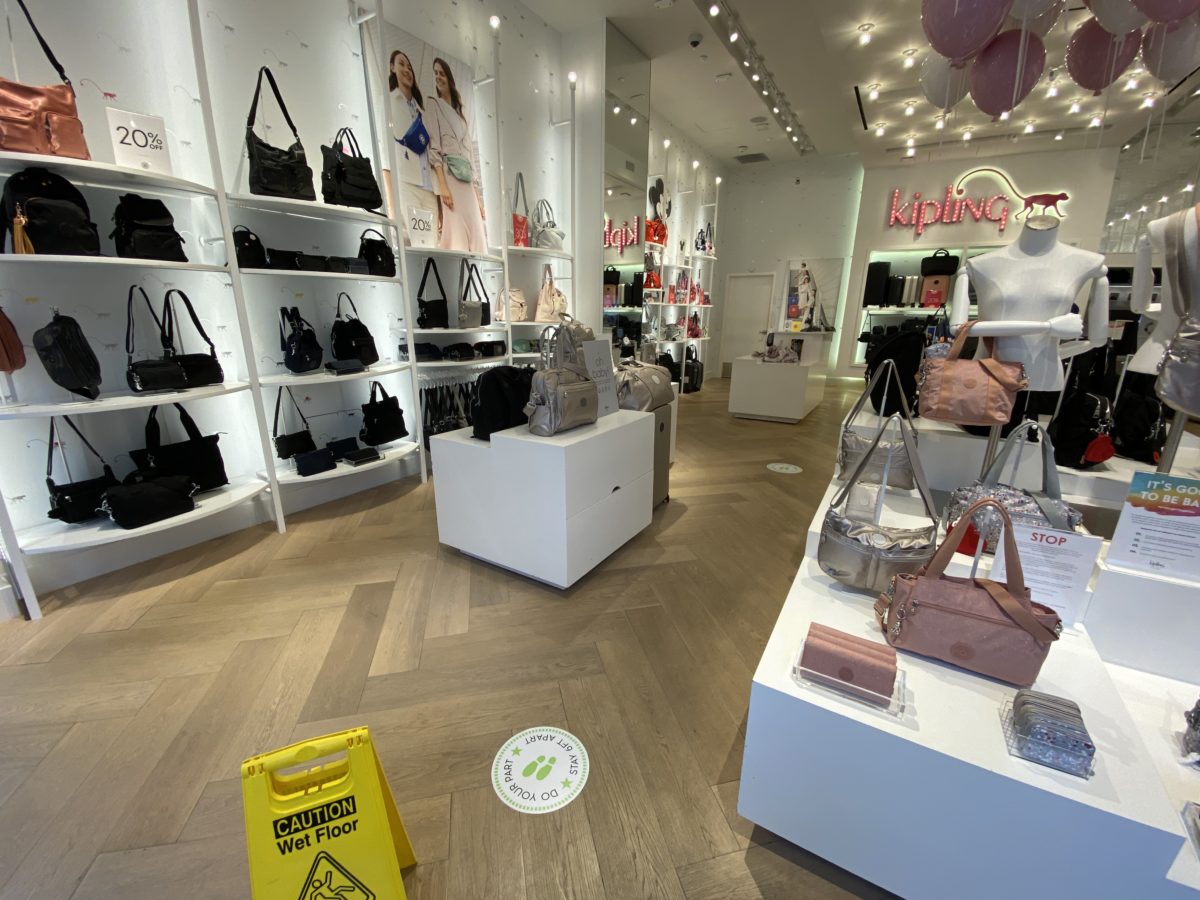 Instead of a flow, social distancing markers remind guests to keep apart from each other to stay safe.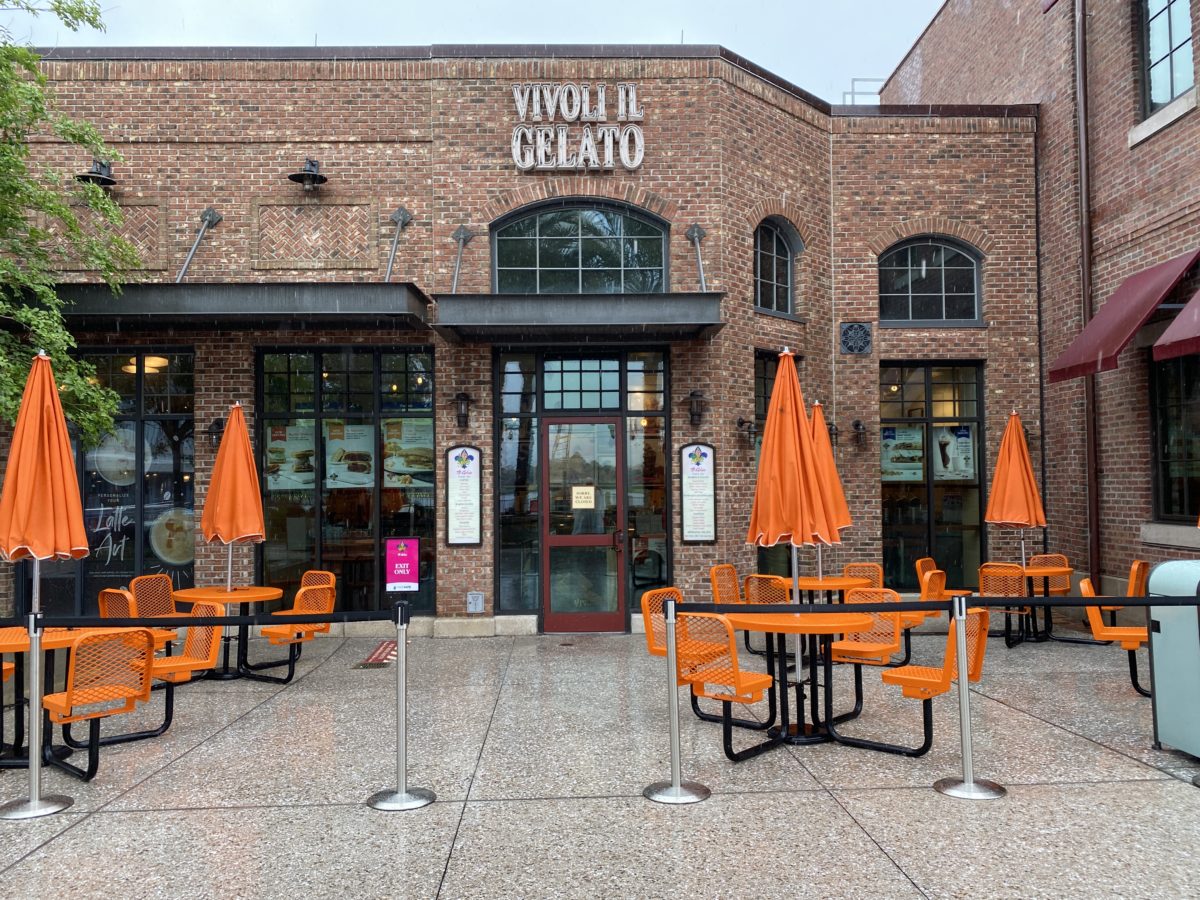 Not yet open, but making obvious preparations is Vivoli il Gelato. These barricades were set up today with signs showing a one way in/out for guests.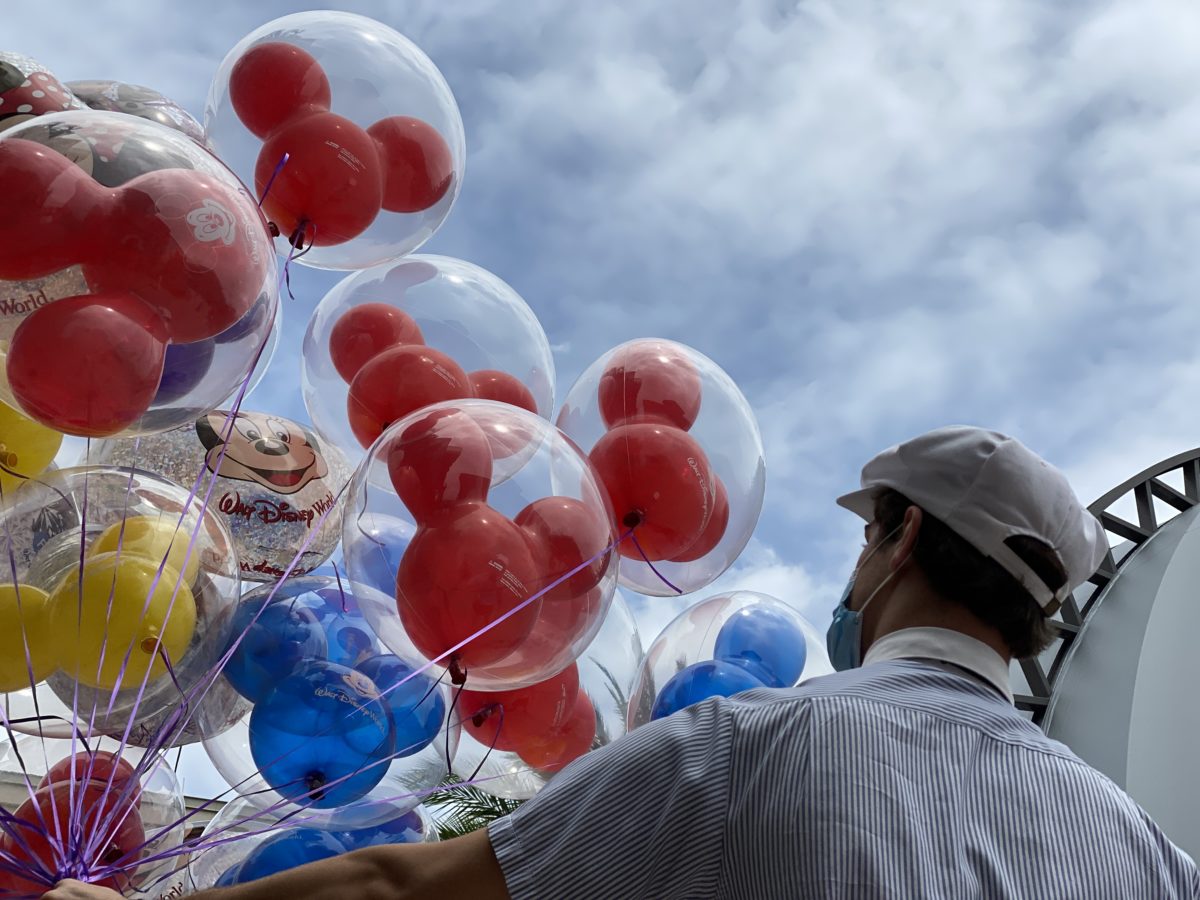 We hope you've had a great time coming along with us on this soggy trip through Disney Springs. With just over a month until the first of the Disney World Parks reopen, we're counting down the days!