We're back at Universal CityWalk Hollywood! After visiting CityWalk for its grand re-opening two weeks ago, we decided to head back today to visit the Universal Studio Store, take a peek at Toothsome Chocolate Emporium construction, and see what other stores and eateries have opened. Follow along on our recent visit!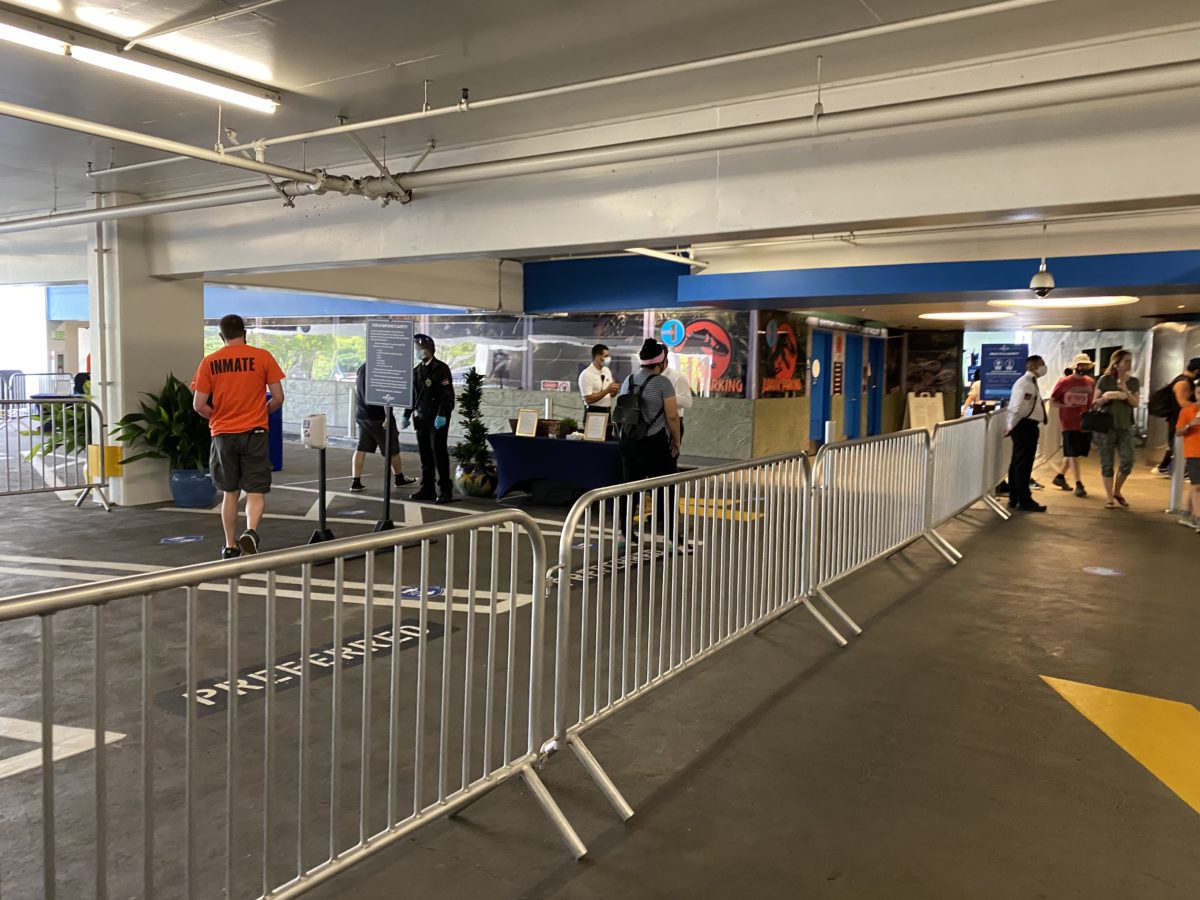 We arrived around 1 pm, an hour after CityWalk opened to the public. As we made our way down from Jurrasic Parking (which is still complimentary), we were greeted by security. The temperature screenings ran swiftly and smoothly with no line. For more information on Universal CityWalk Hollywood's temperature screening, you can read our recent article explaining the process.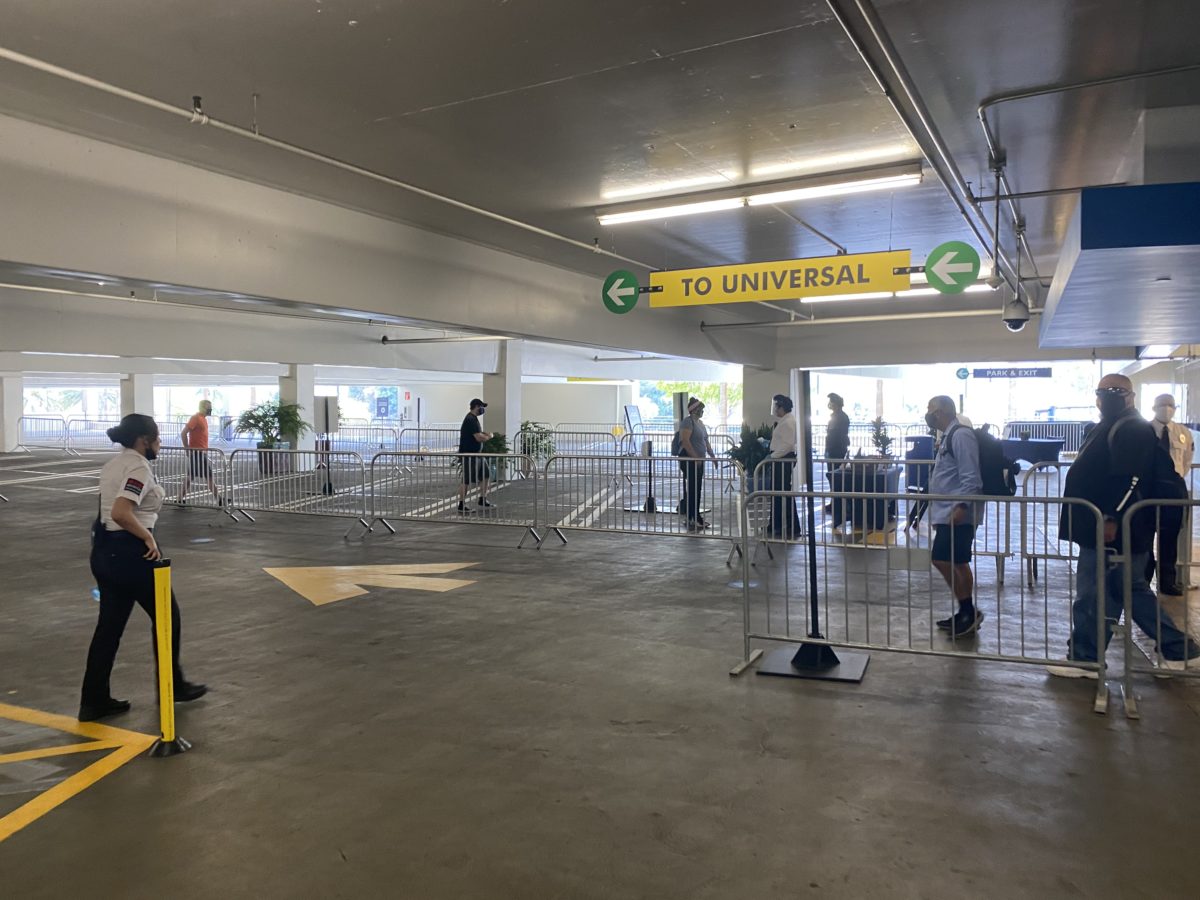 Security made sure guests were directed in the correct direction.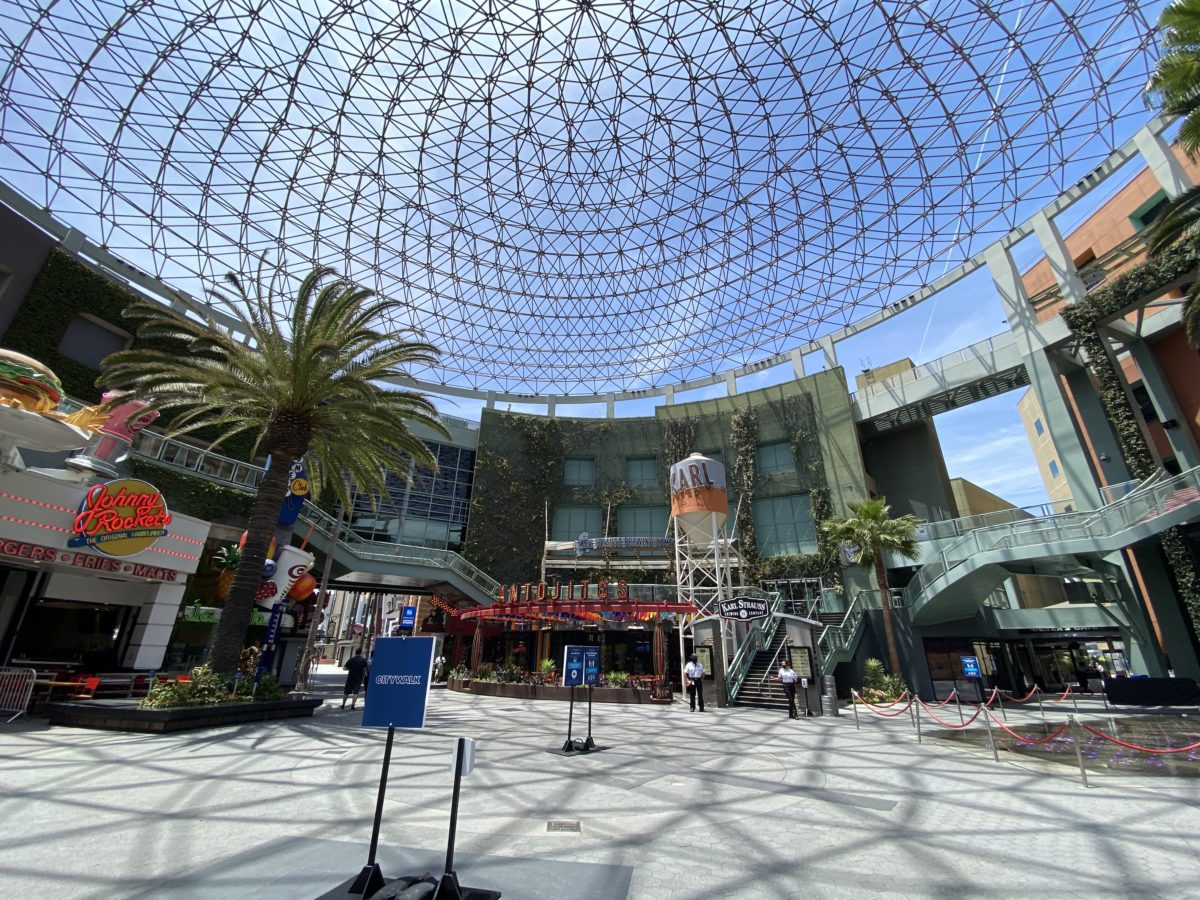 We made it in! We only saw a few other guests wandering around near the entrance from Jurrasic Parking.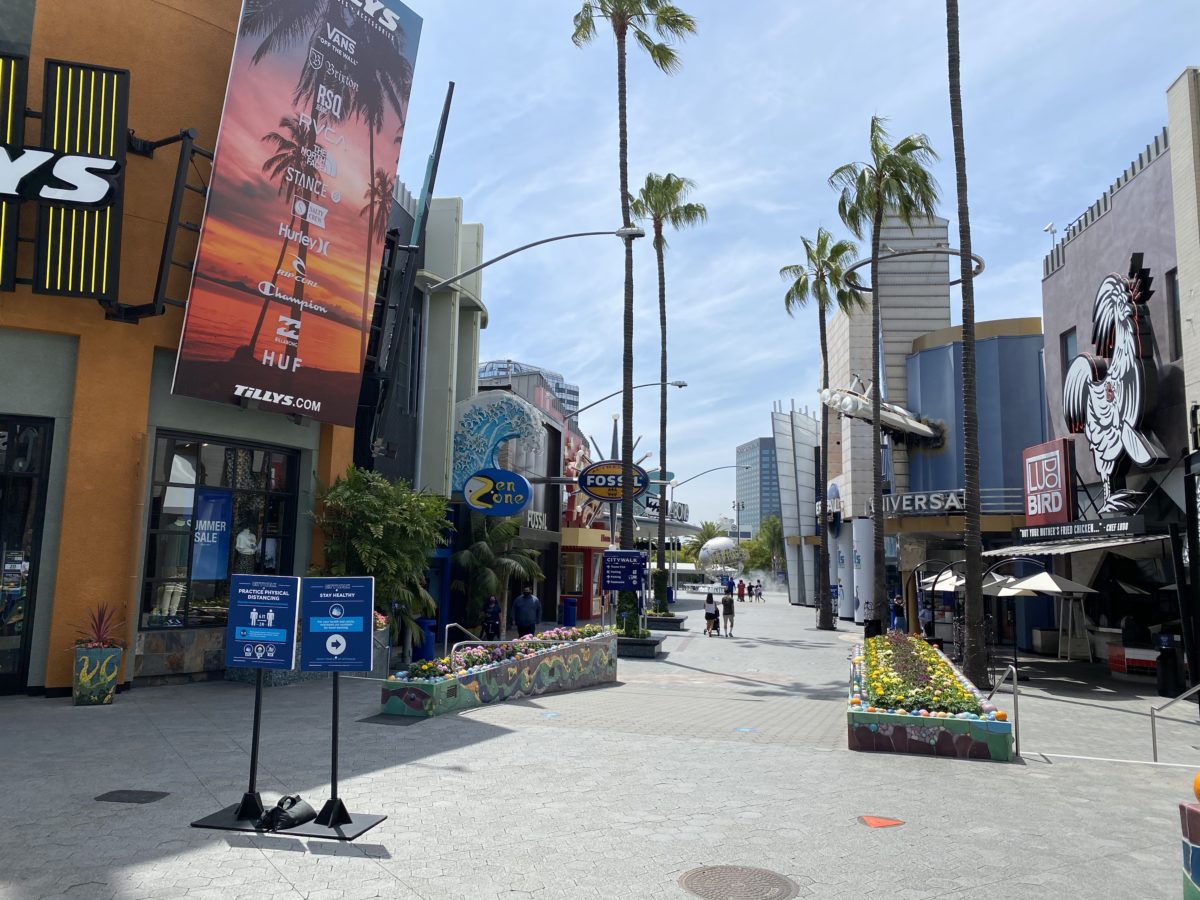 Social distancing signage can still be seen all over CityWalk.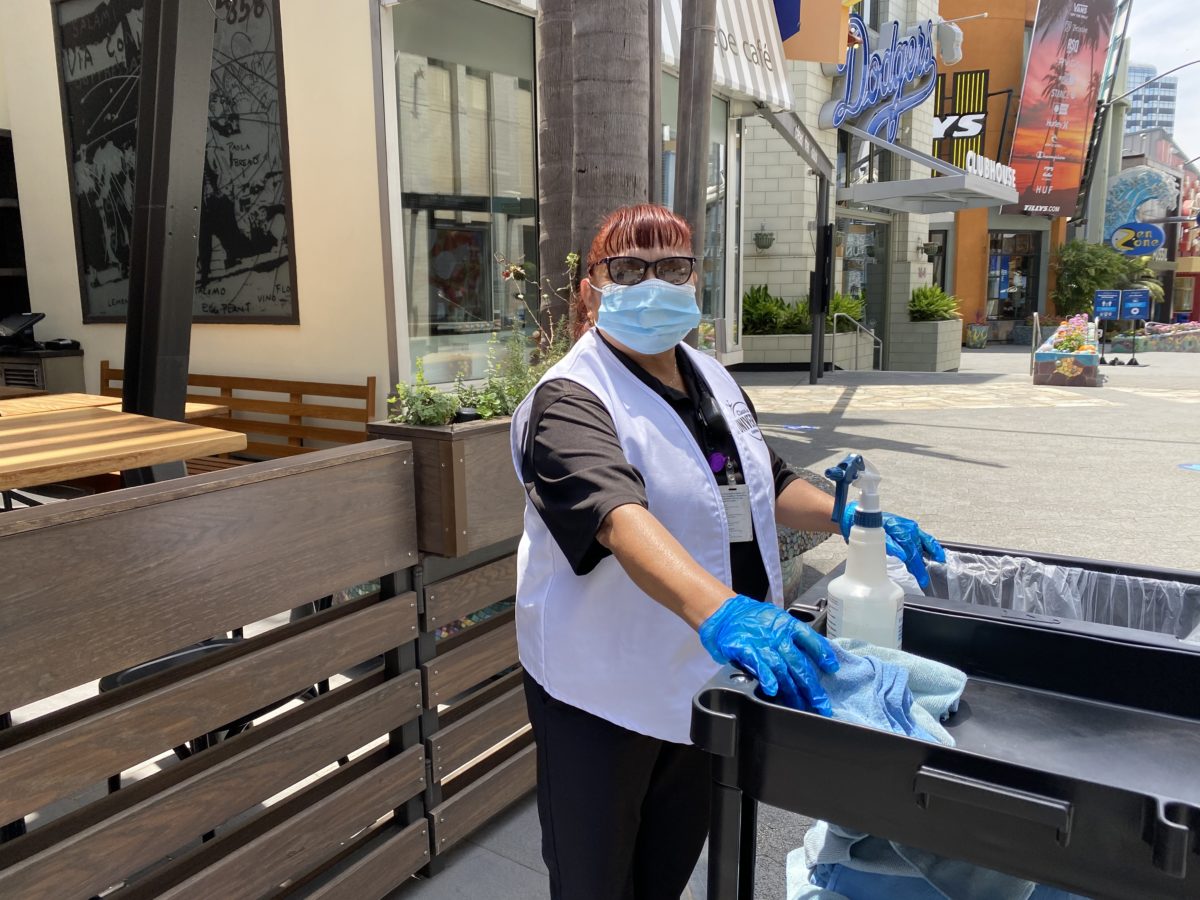 Ran into an amazing Team Member again! Thanks for keeping us safe!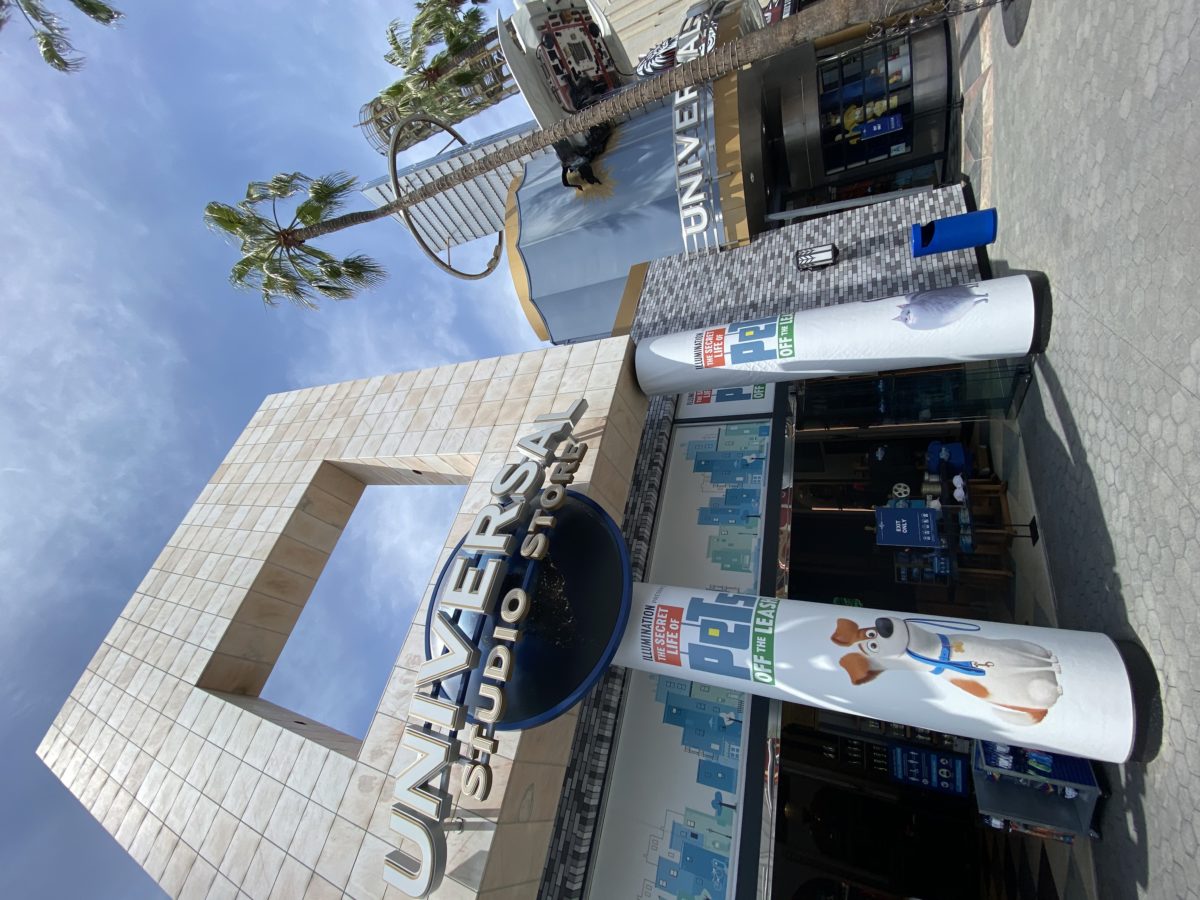 The Universal Studio Store opened its doors with social distancing guidelines in place. Certain doors were designated for exiting/entering which helps guide guests safely.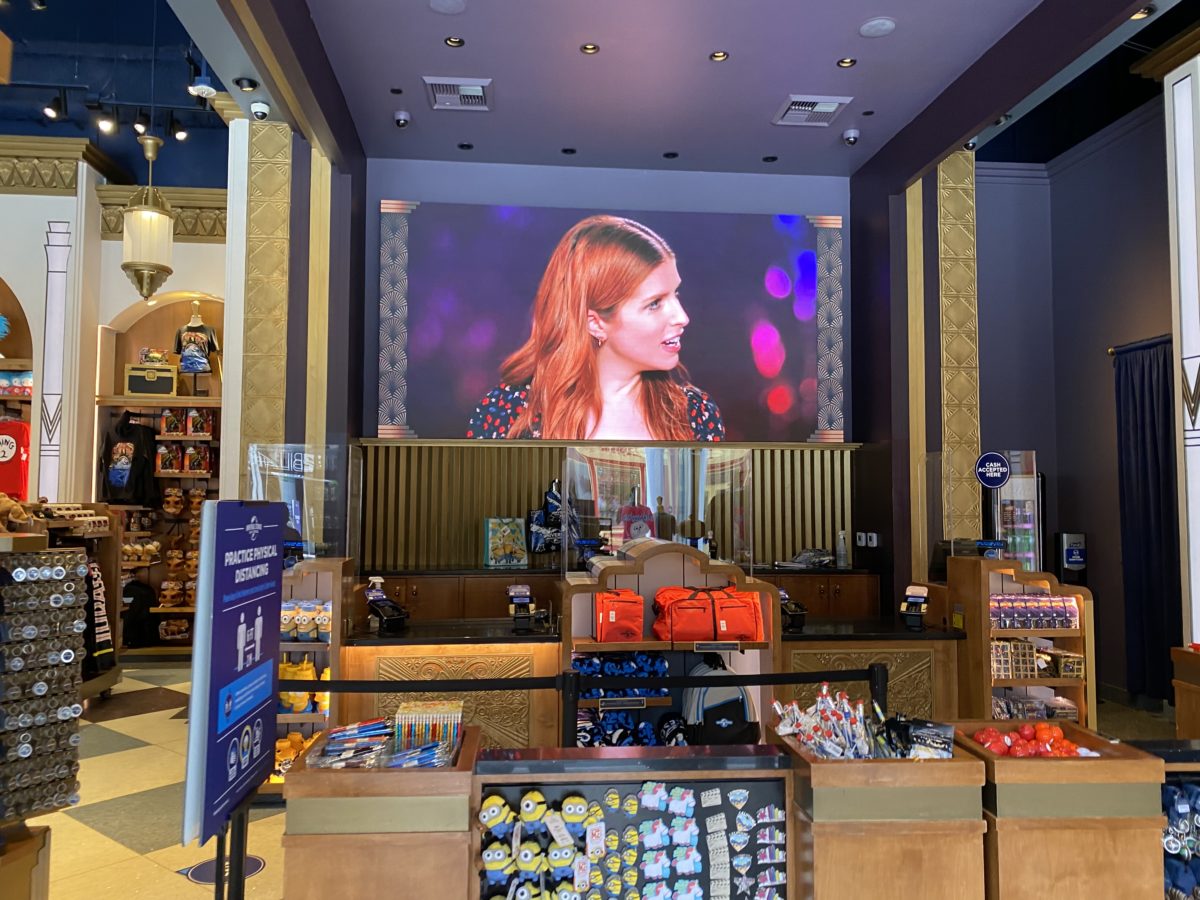 Small blue circle stickers marked the floor near the register to direct shoppers on where to stand.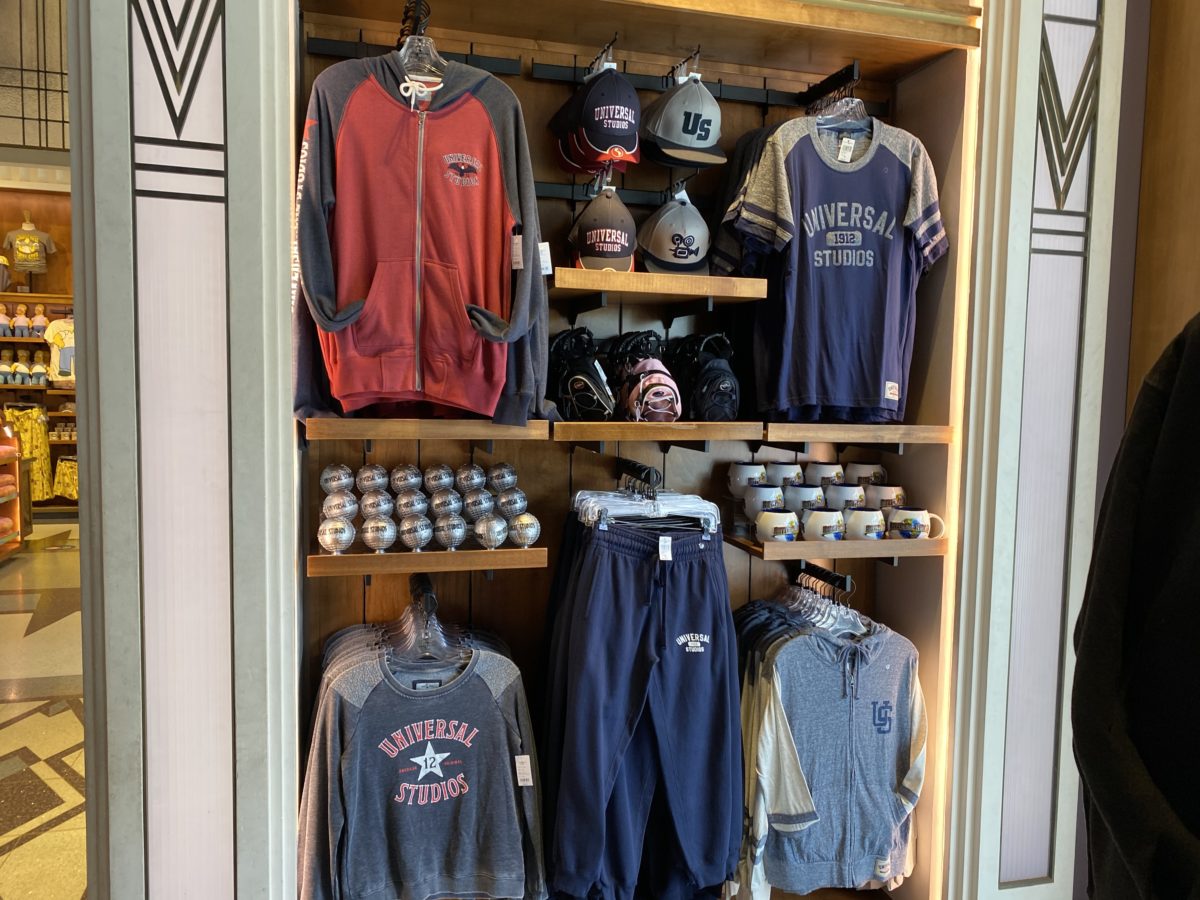 It was nice to see theme park merchandise in a store again!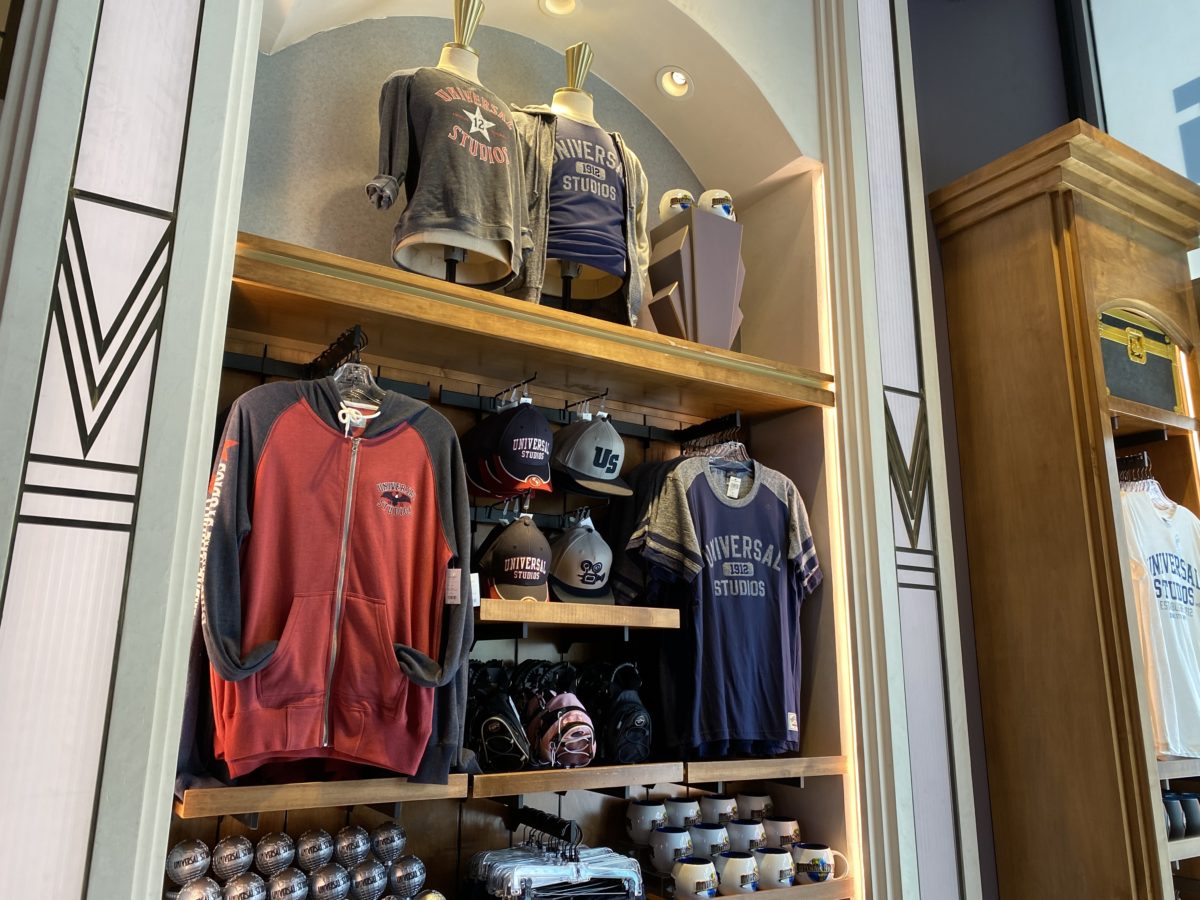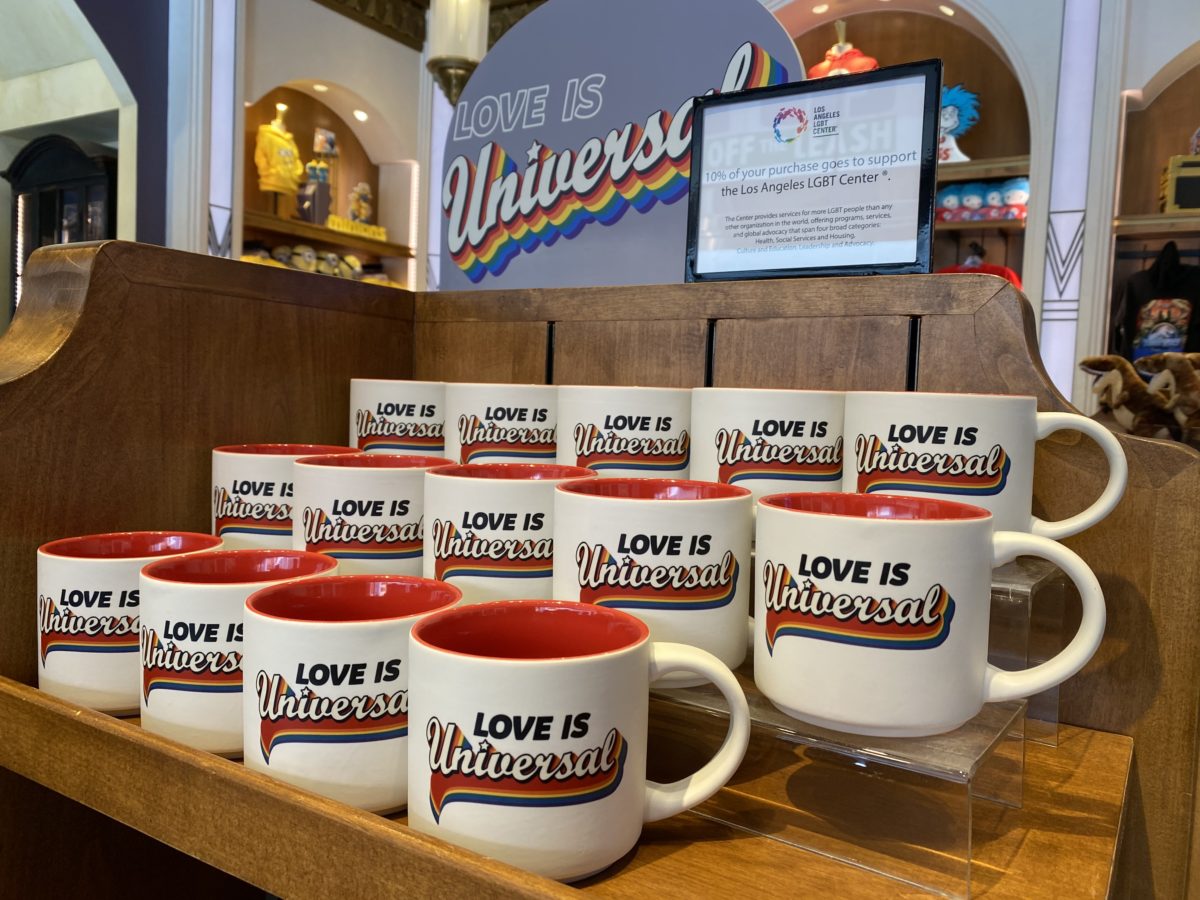 The new "Love is Universal" line is now available.
More social distancing markers were placed in the surrounding rooms.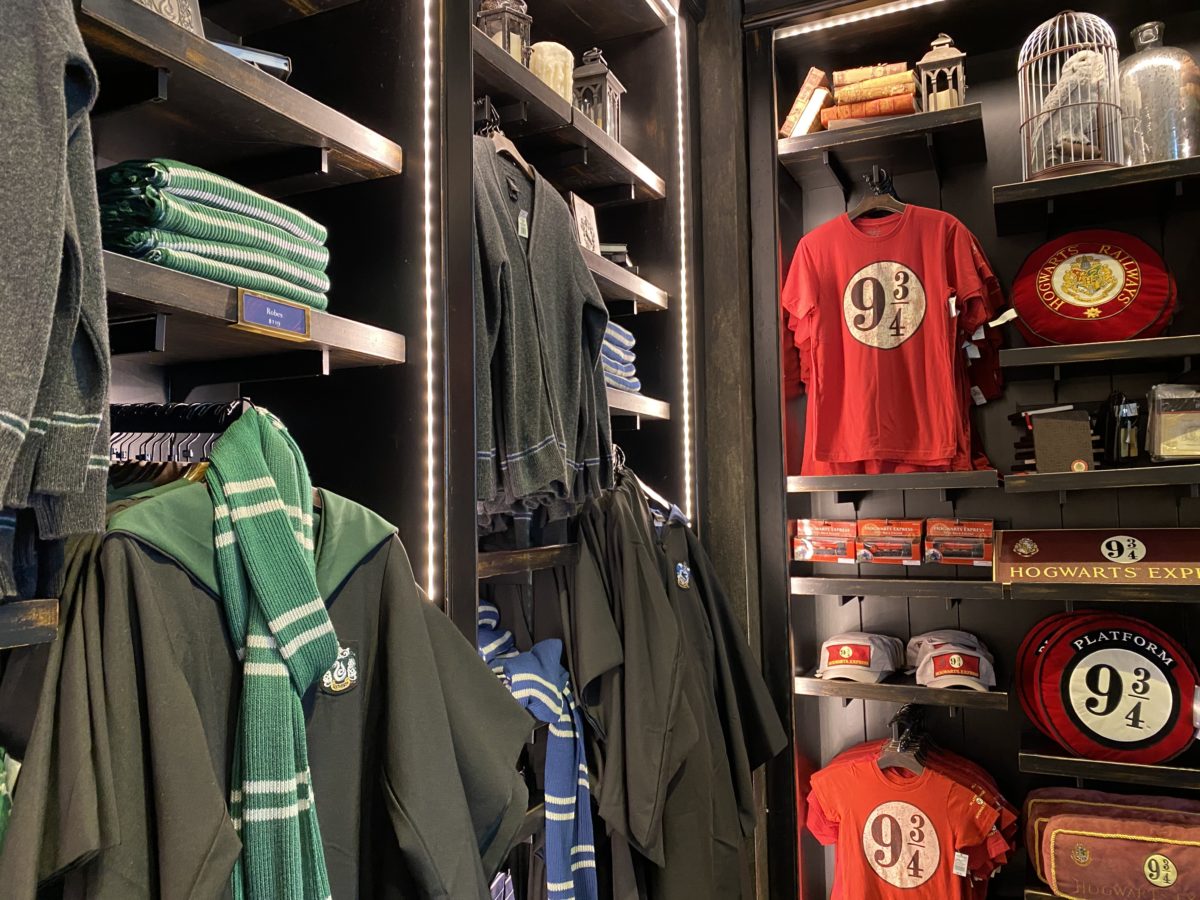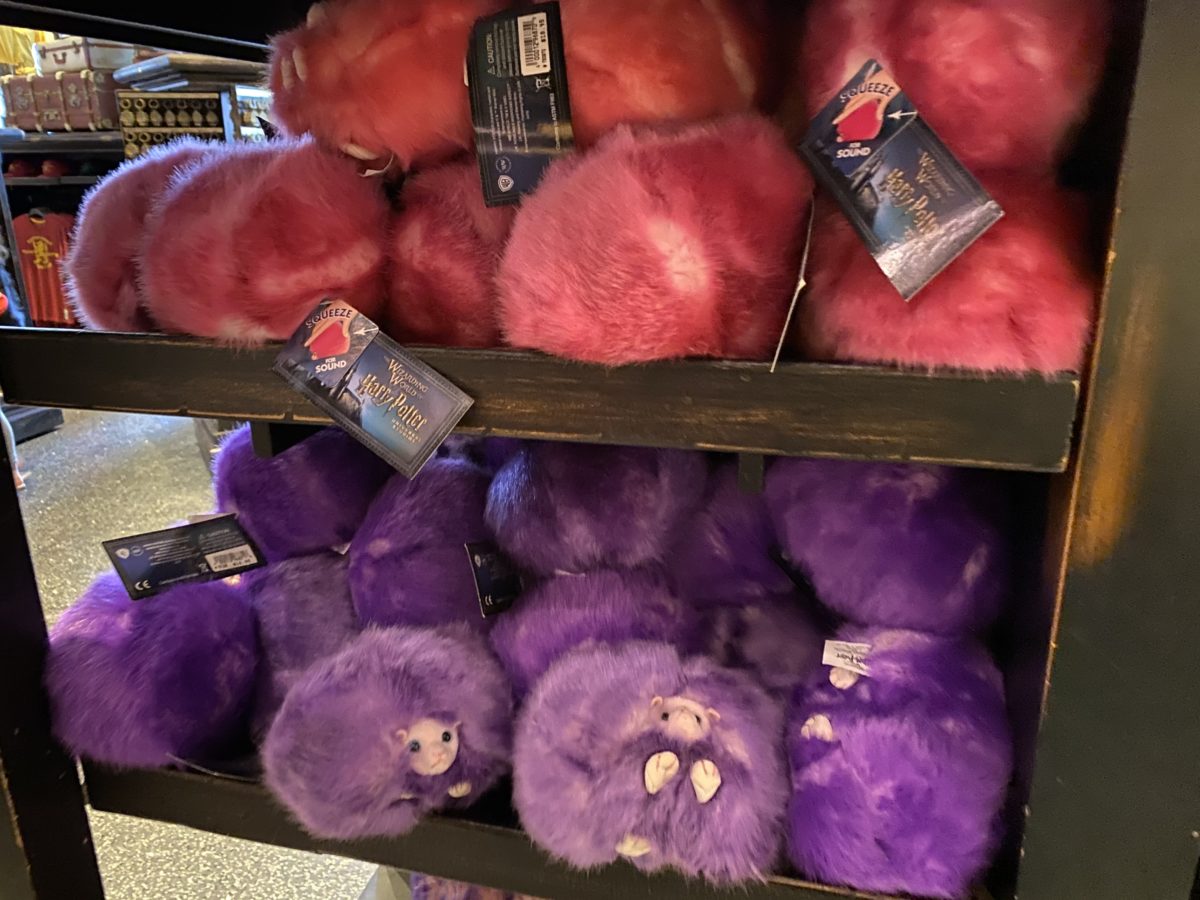 Don't worry witches and wizards, all your Harry Potter merchandise is still available at the Universal Studio Store.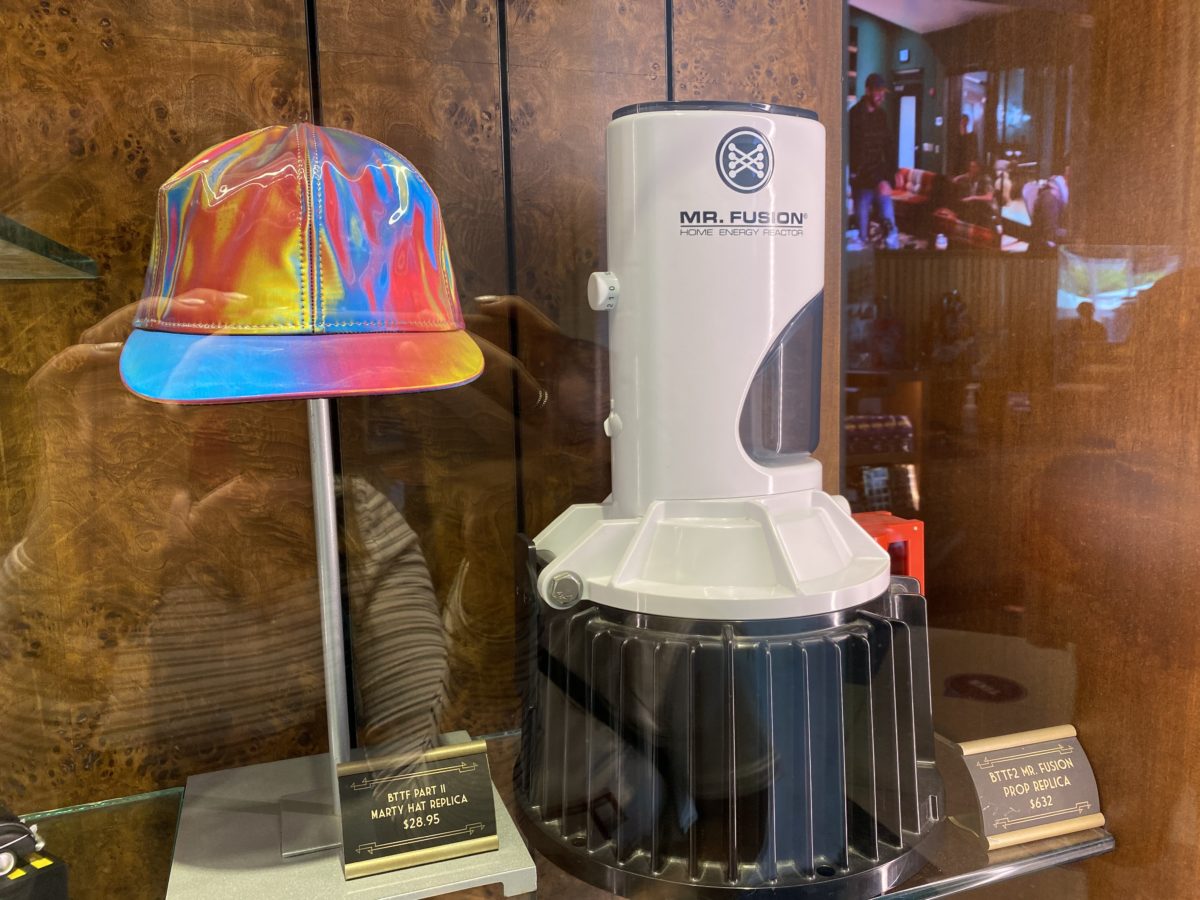 Special replica movie merchandise was available in a case to the left of the register. Any takers?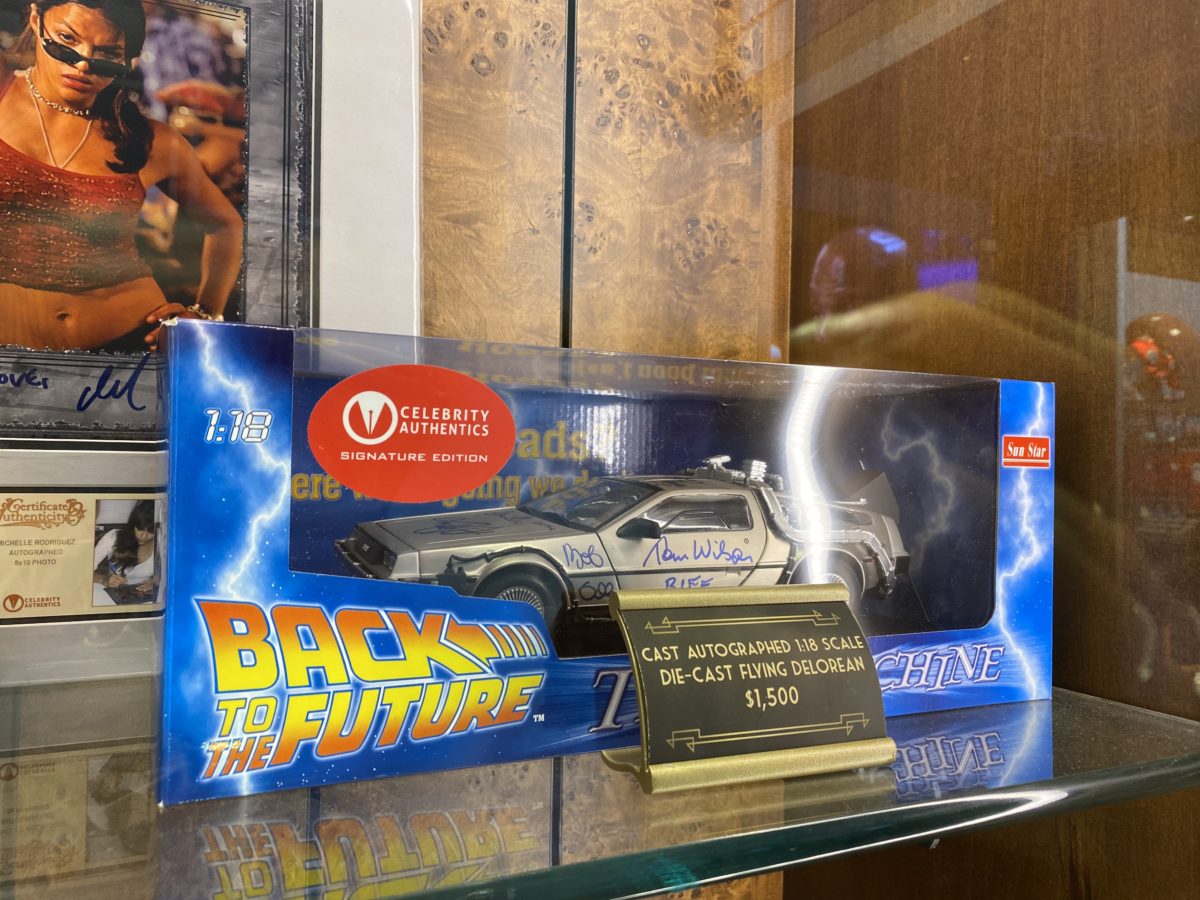 A cast autographed 1:18 scale die-cast flying DeLorean is avaliable for $1,500.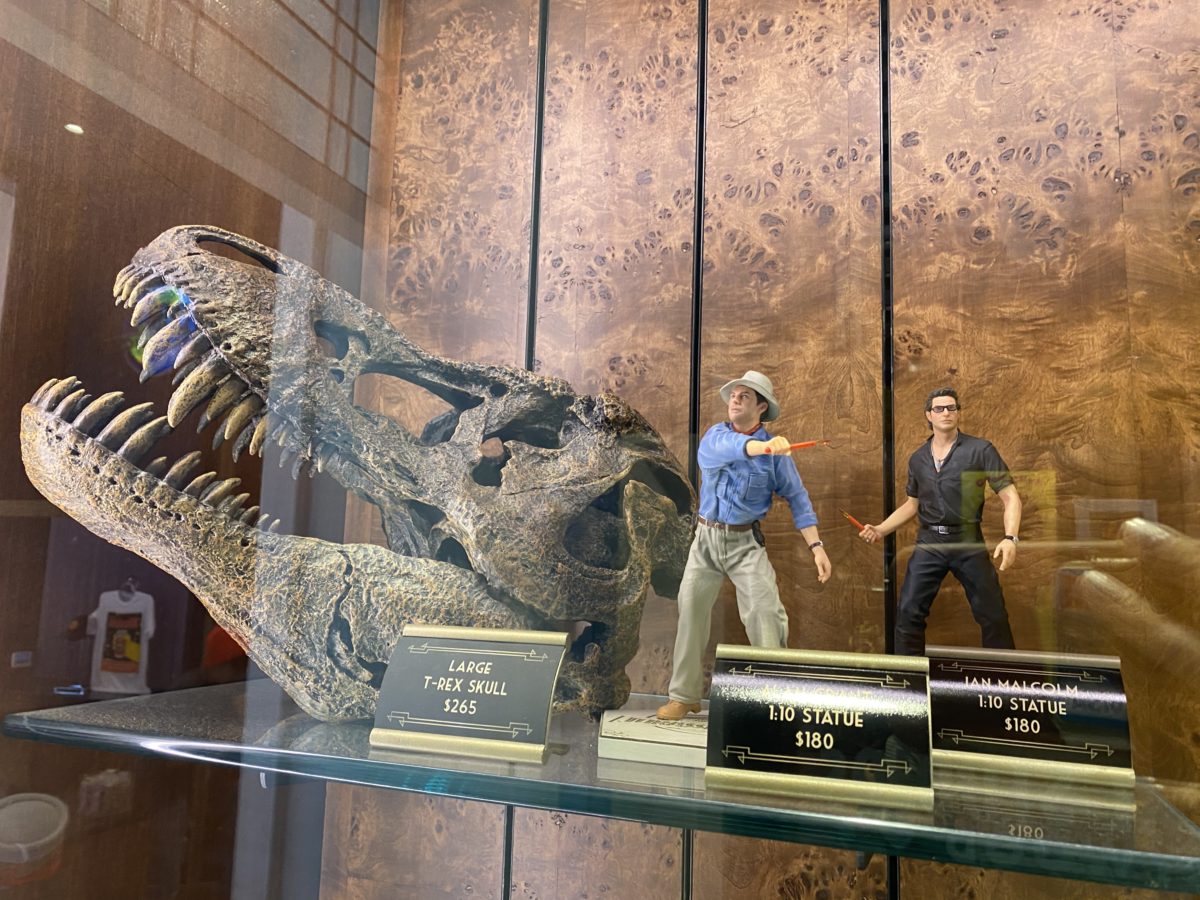 That T-Rex Skull would make a beautiful centerpiece.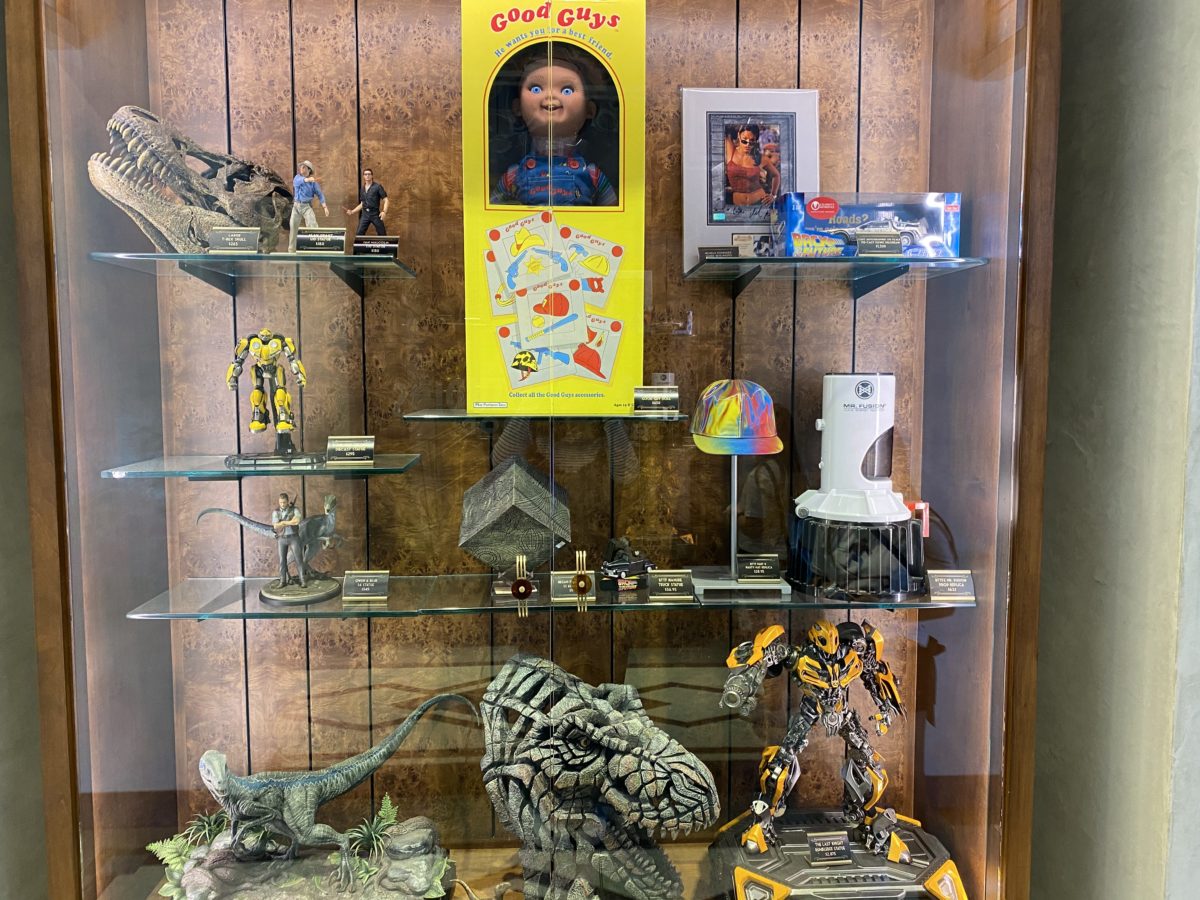 Make sure you check out this section of the Studio Store next time you visit!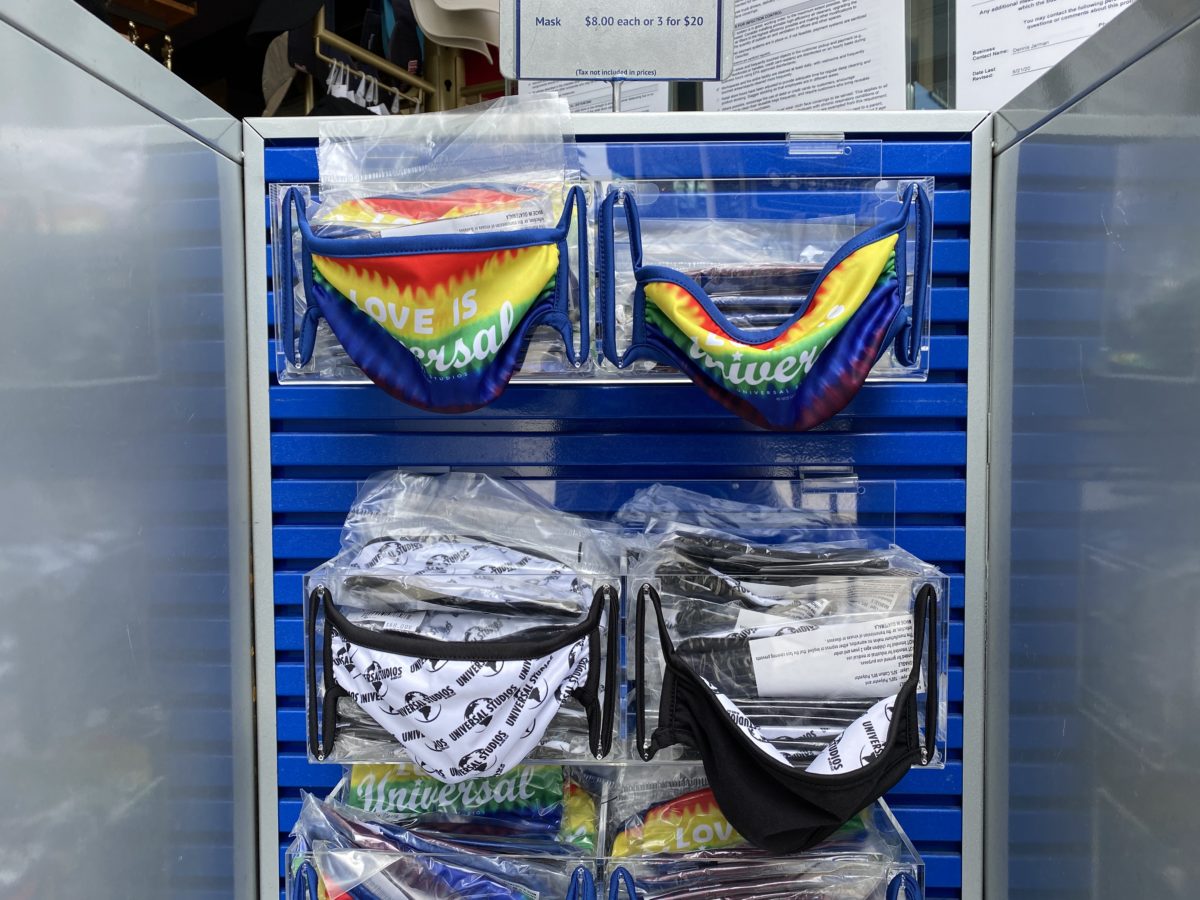 On top of all the regular merchandise, Universal is also selling two unique face coverings. One with the quote "Love is Universal" on top of a rainbow fabric, while the other presents the Universal Studios logo in black and white. $8.00 for 1 mask or $20 for 3 masks.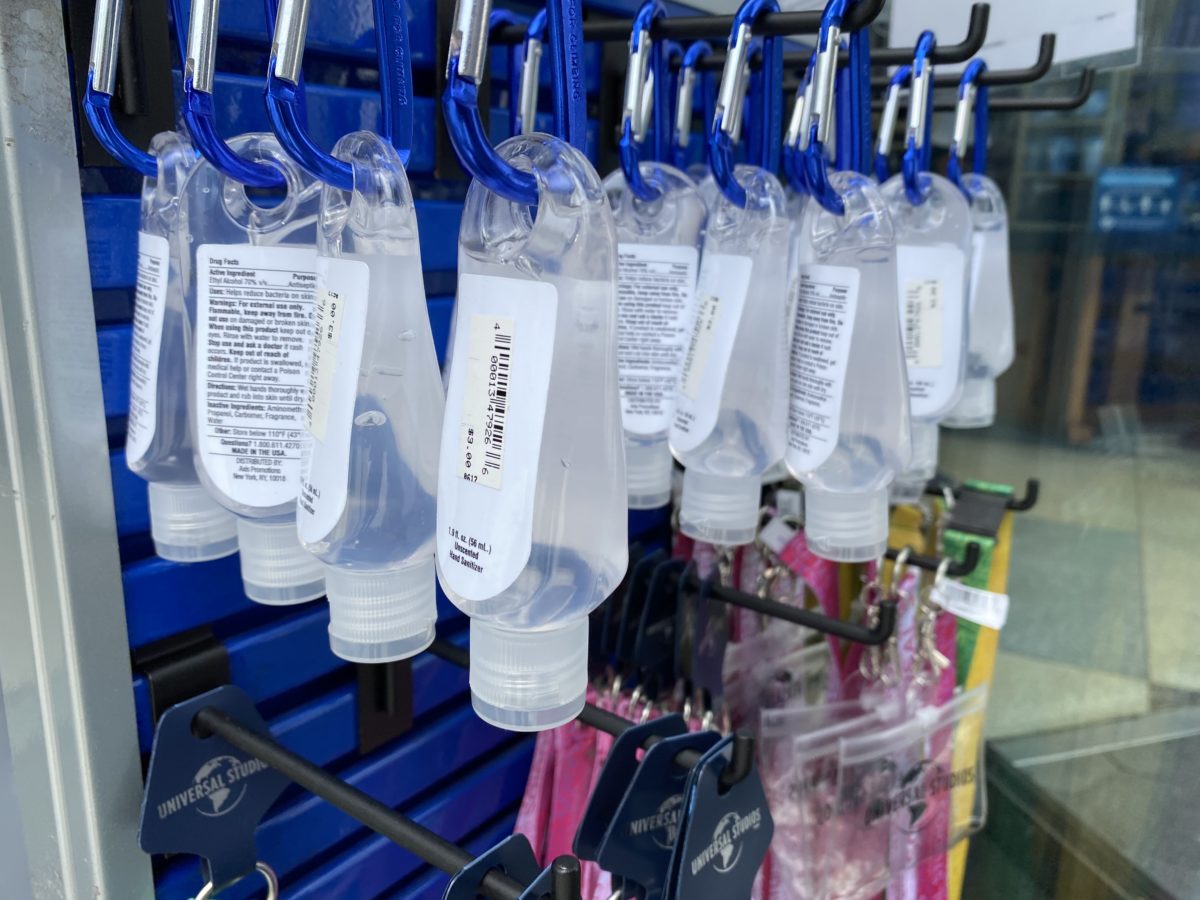 Hand sanitizer was also available for $3.00 each.
We headed over to the Universal Studios park entrance and noticed the music was regularly playing to our surprise, as it wasn't on the opening day of CityWalk.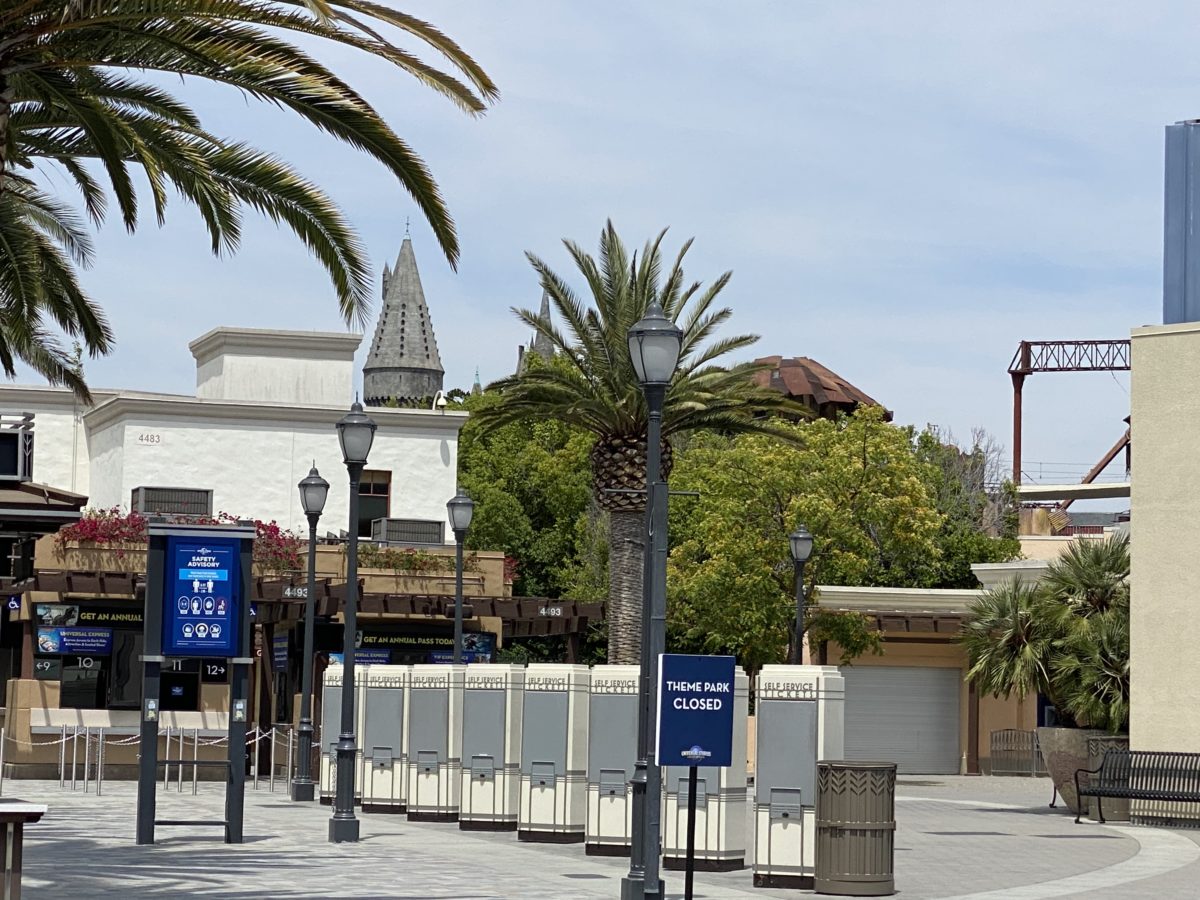 We were able to catch a glimpse of Hogwarts and the exterior structure for the stunt show WaterWorld today near the entrance of the park.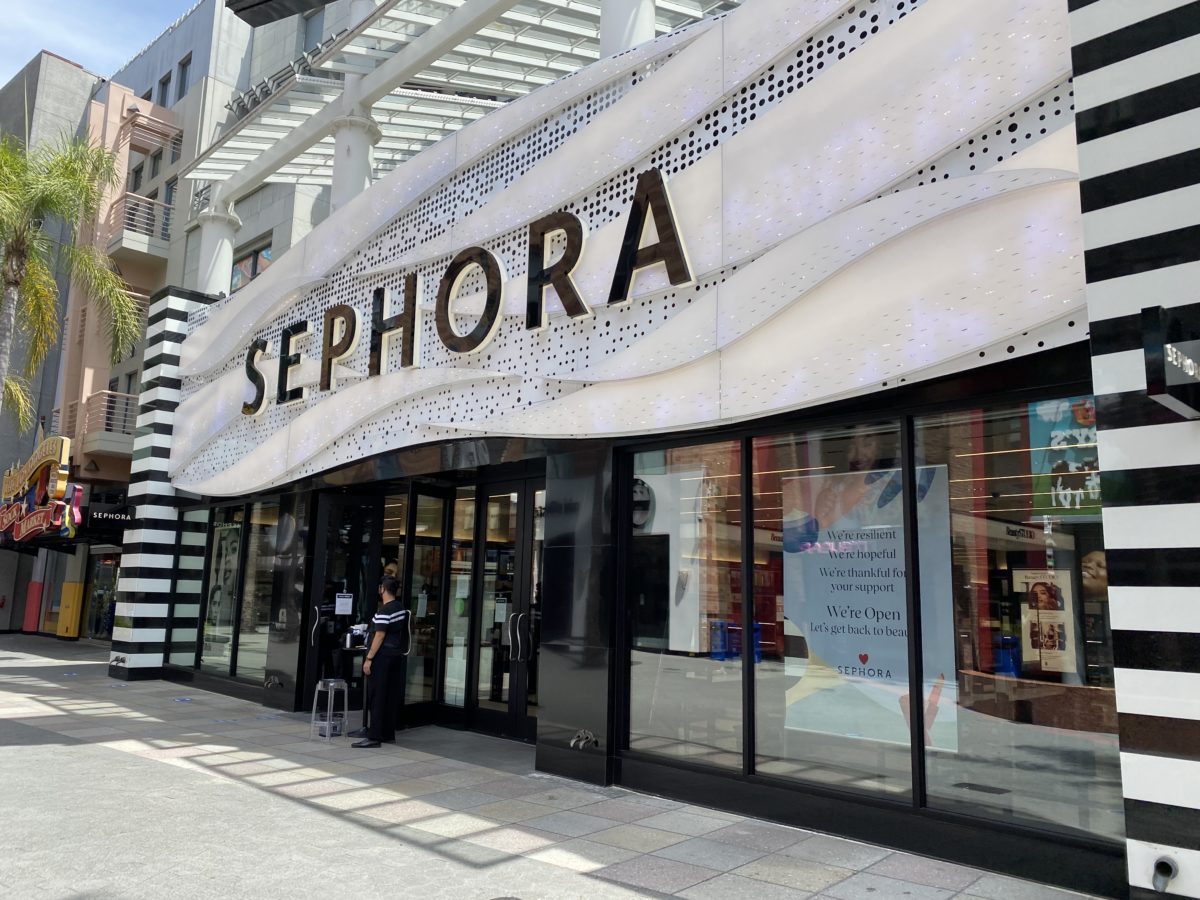 Sephora has now joined CityWalk in opening!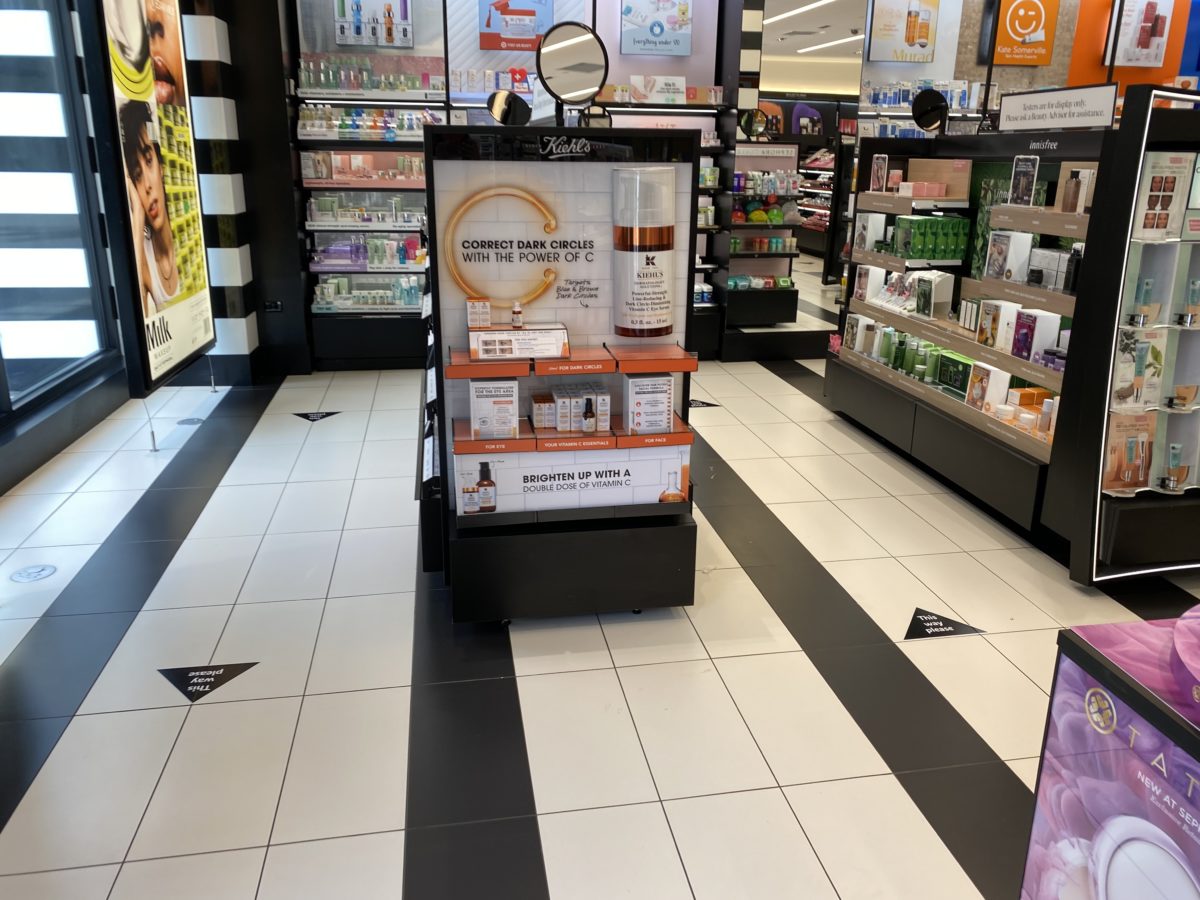 Social distancing stickers were placed on the floor to help flow traffic, although, there wasn't much.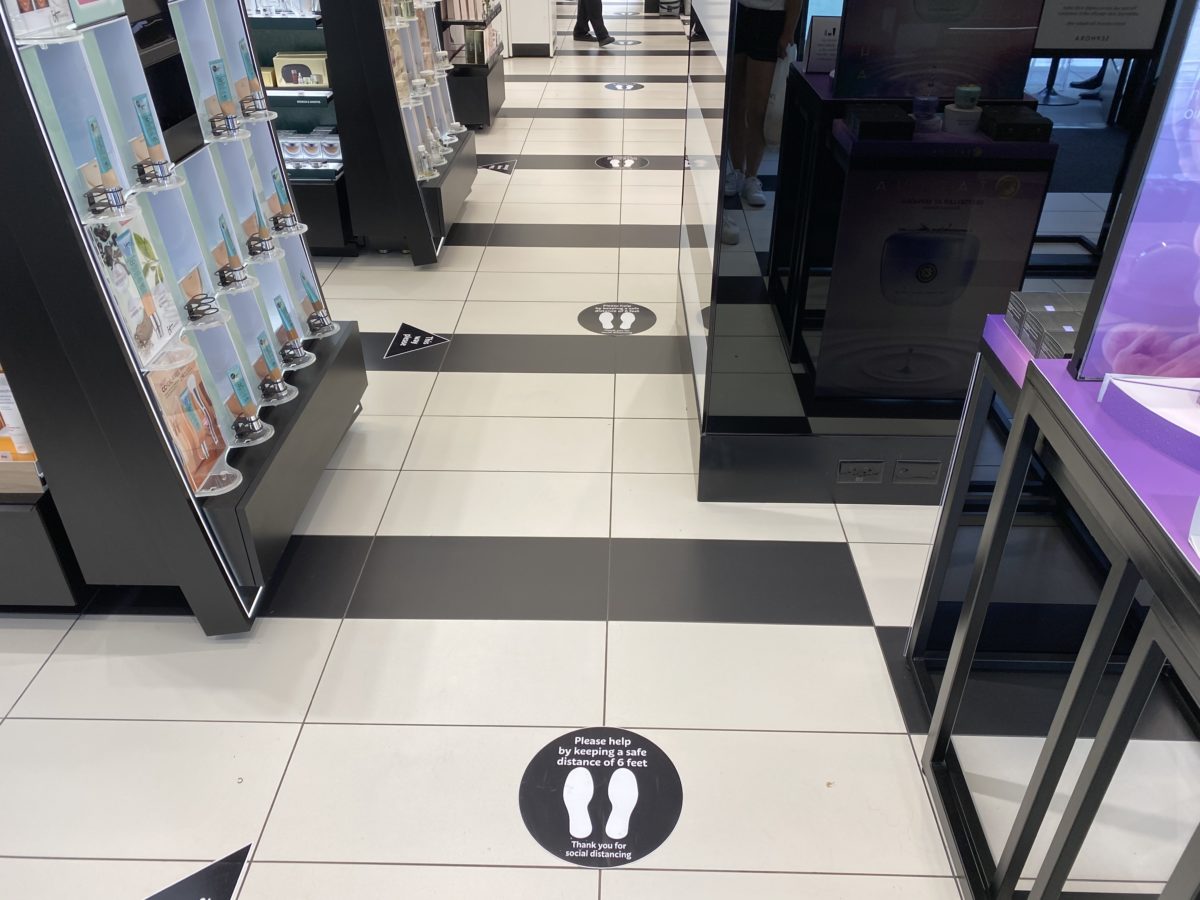 Different circle stickers reminded guests to keep a safe distance of 6 feet.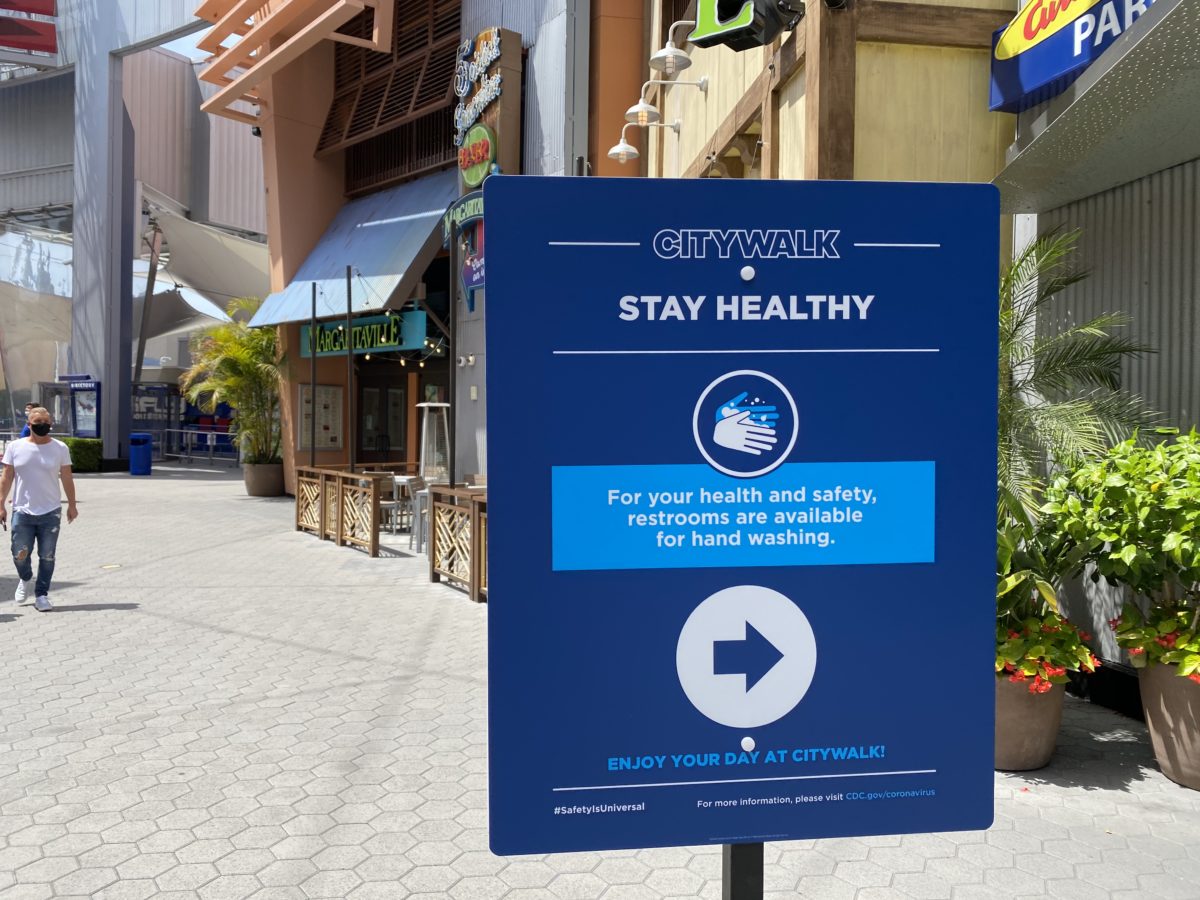 Signage directed guests to the nearest bathroom for hand washing.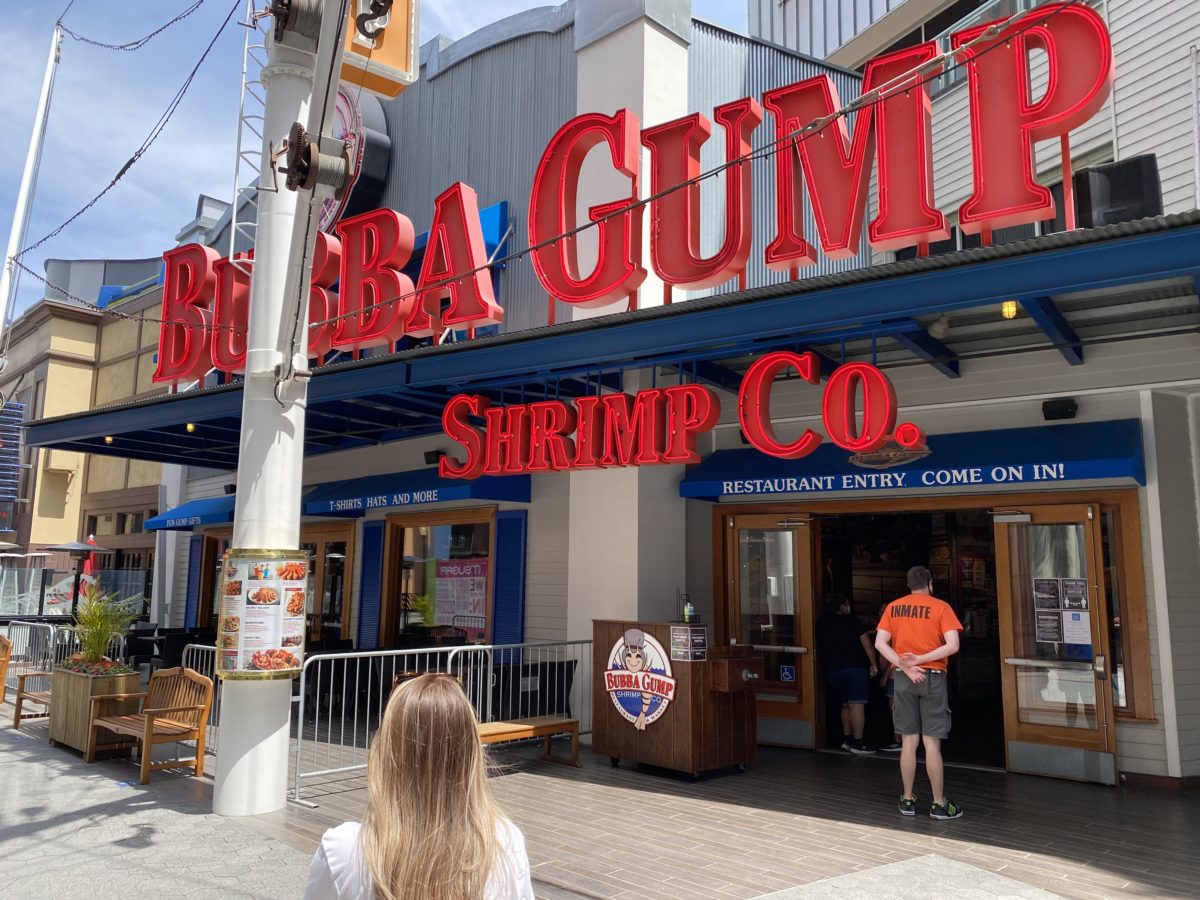 Like Sephora, Bubba Gump Shrimp Co. re-opened at CityWalk shortly after the grand reopening.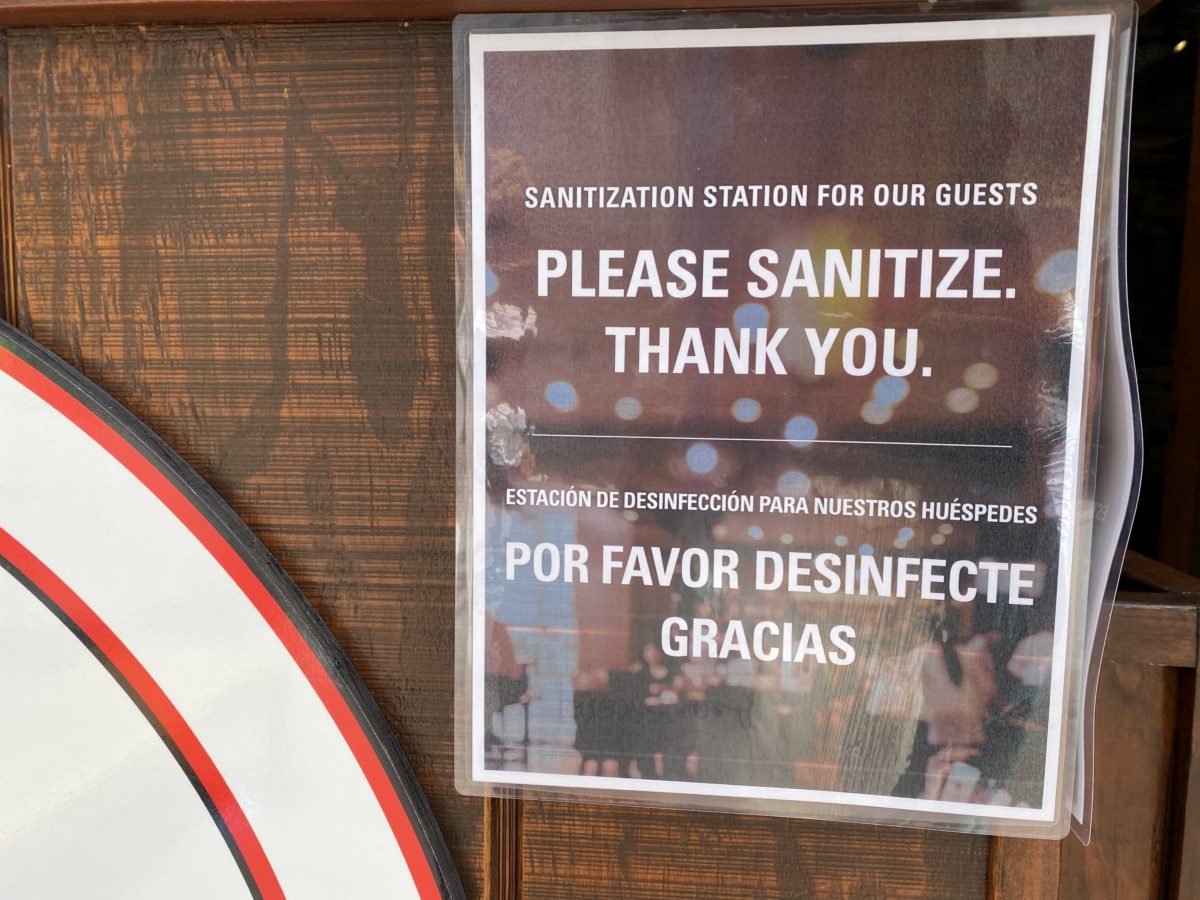 Signage on the host stand asked guests to use sanitizer before entering.
The Bubba Gump gift shop didn't have much of a crowd today.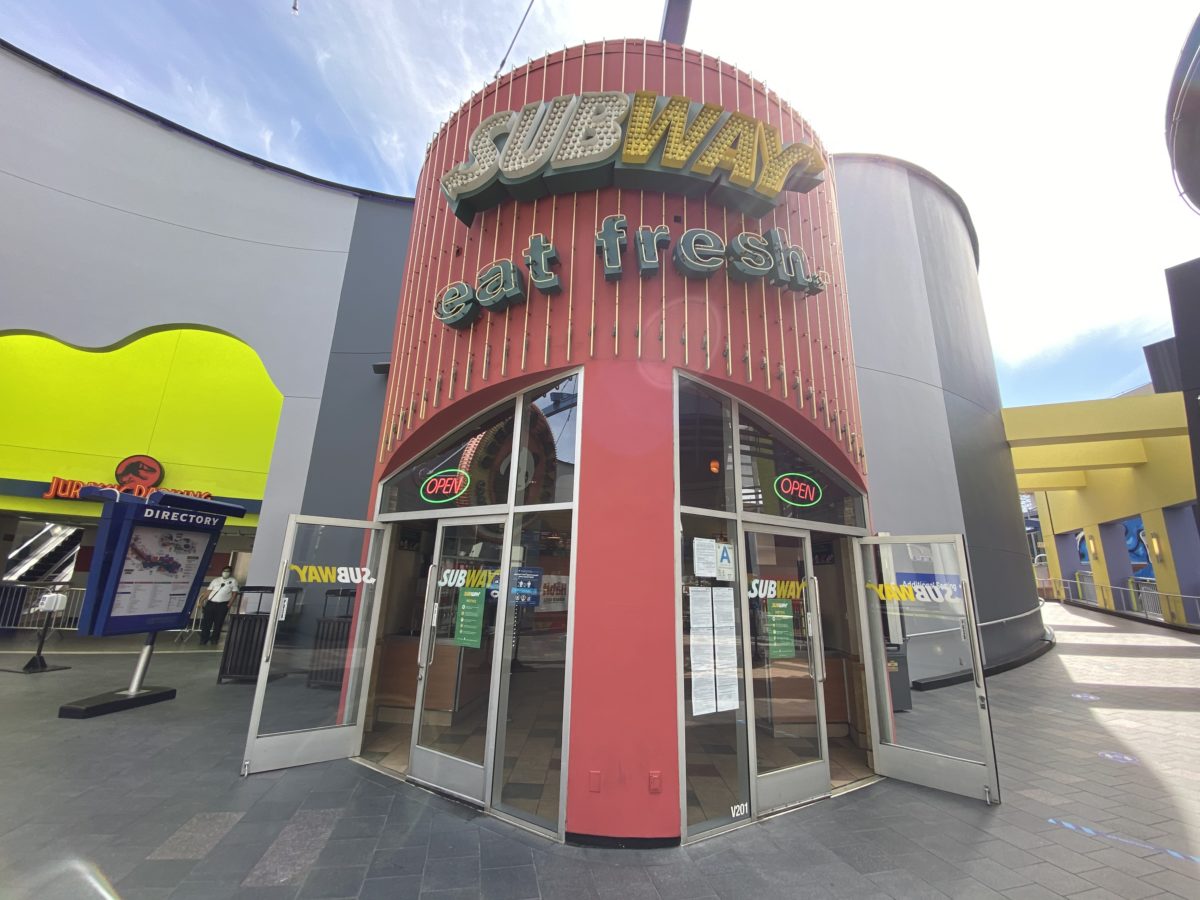 On the upper level of CityWalk, Subway has joined Taco Bell and KFC in resuming operations.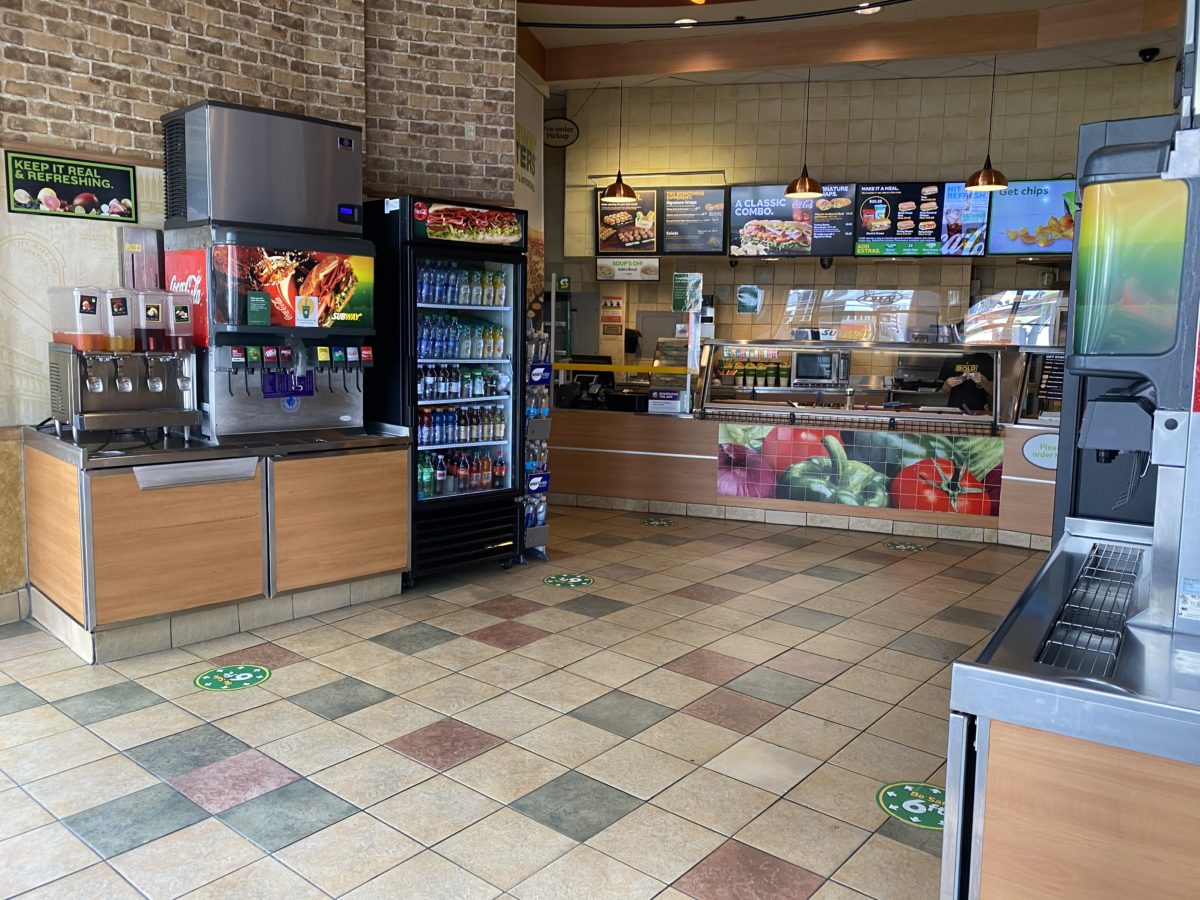 Green social distancing markers were placed throughout the room.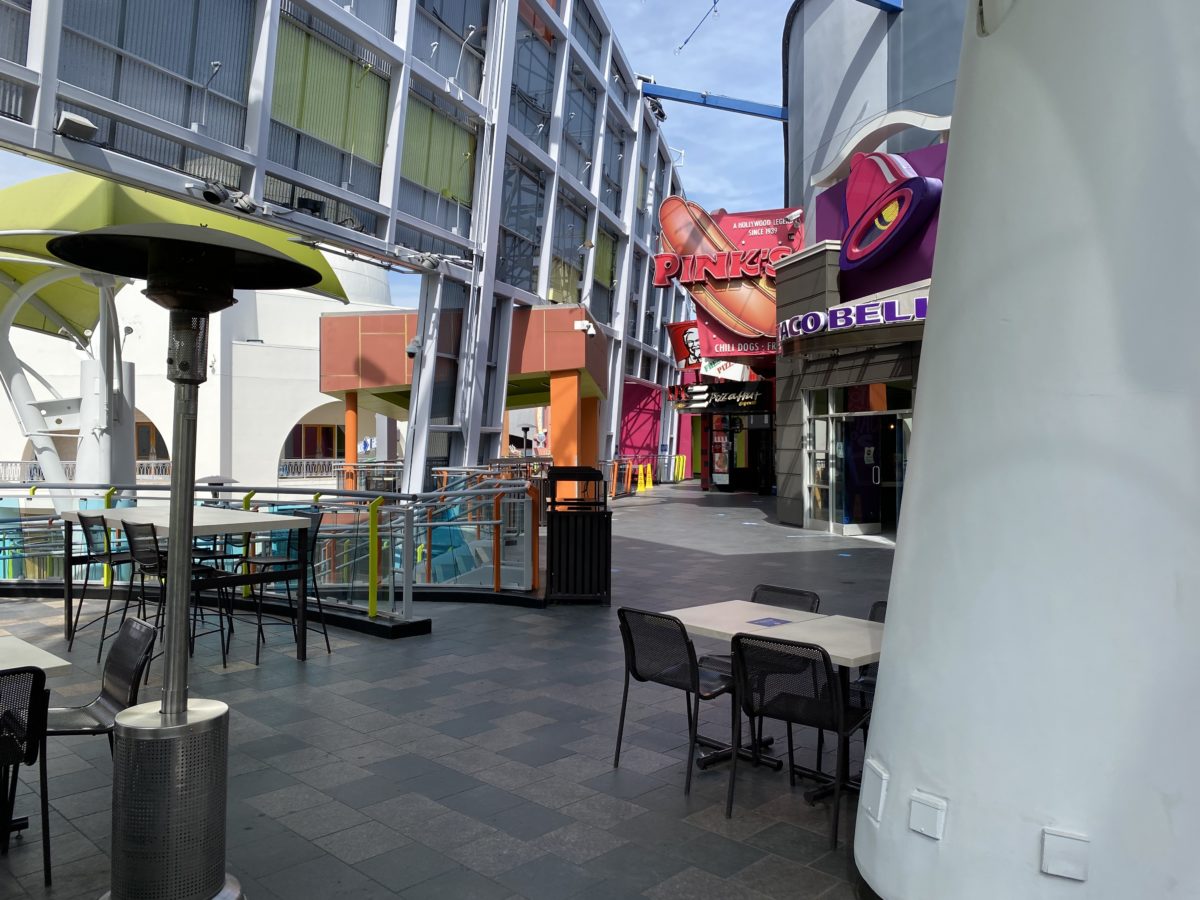 Almost no one to be seen on the Upper Level today.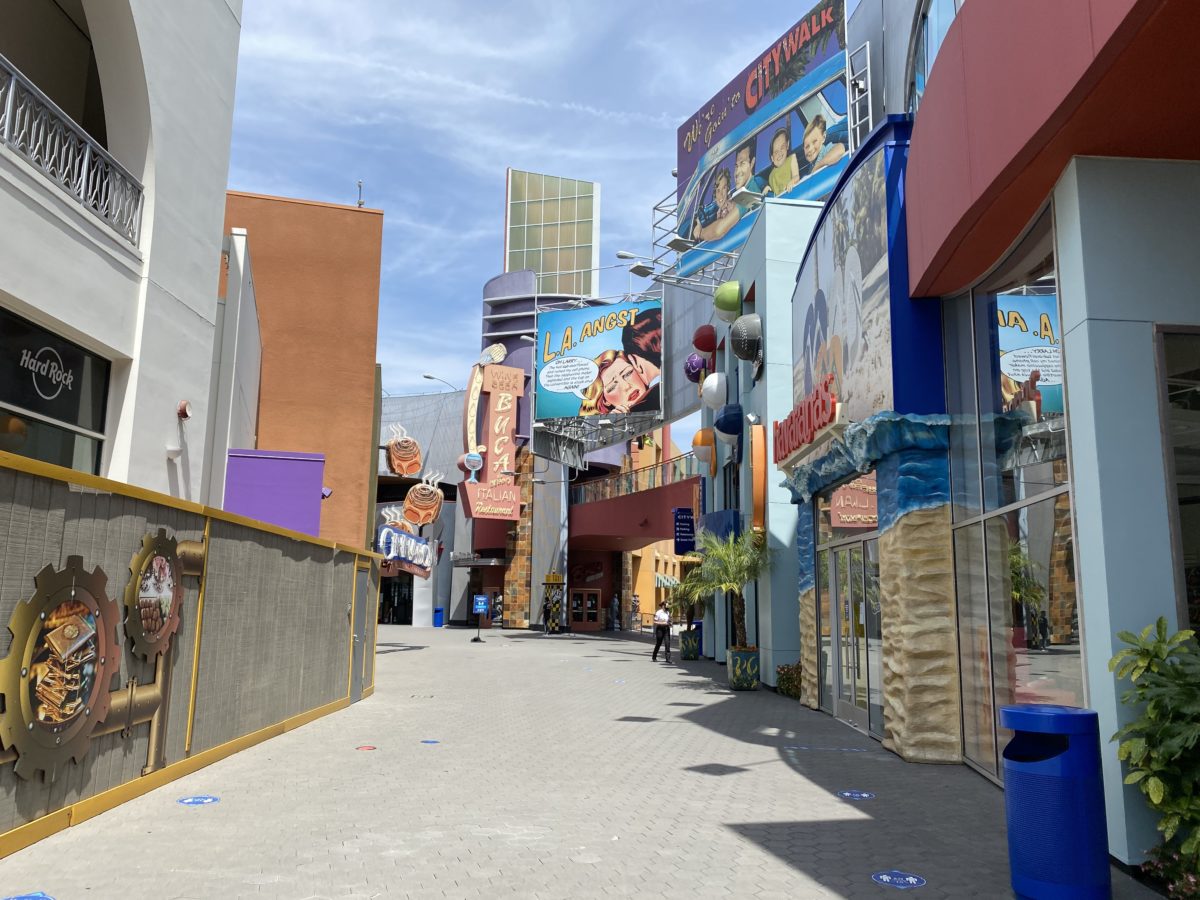 It looks like some of the pathways have received extra social distancing markers.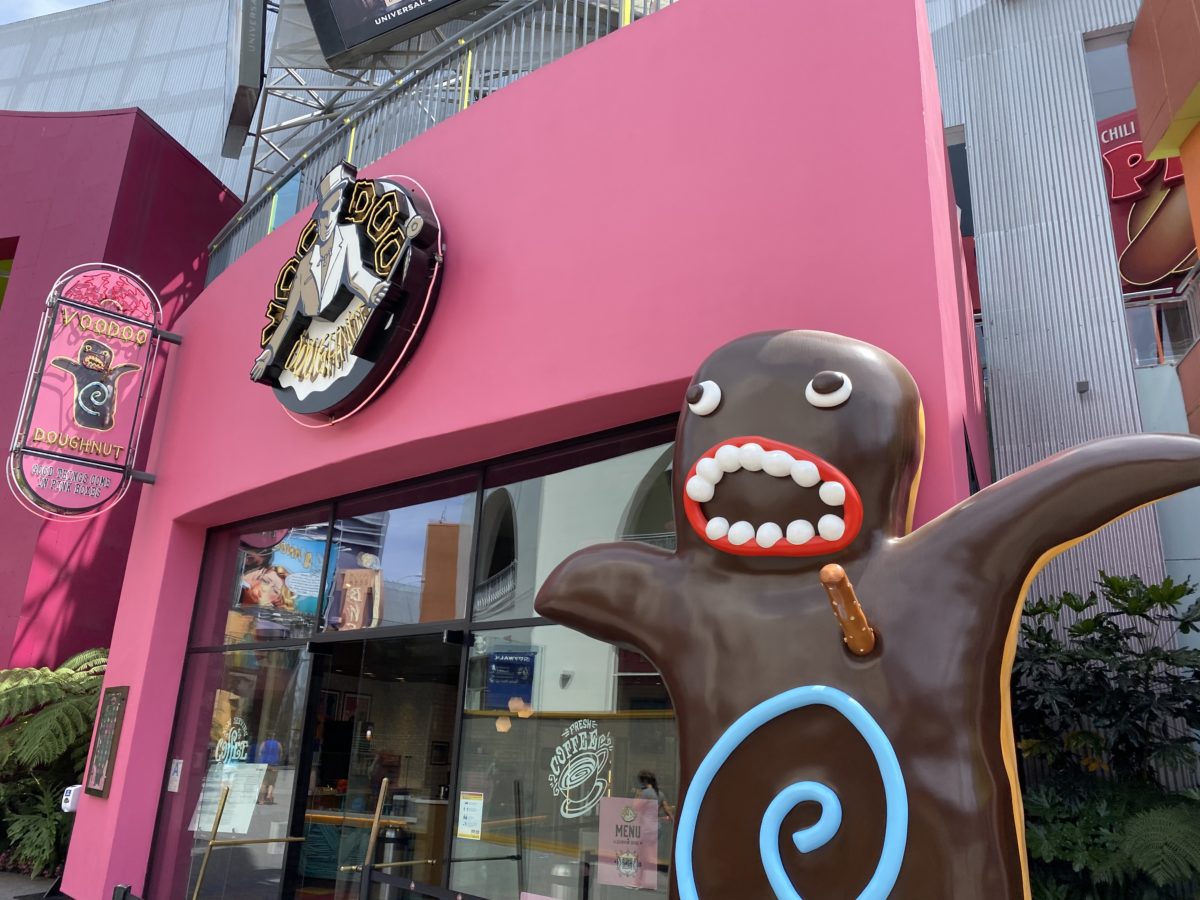 We had to pop into Voodoo Doughnut!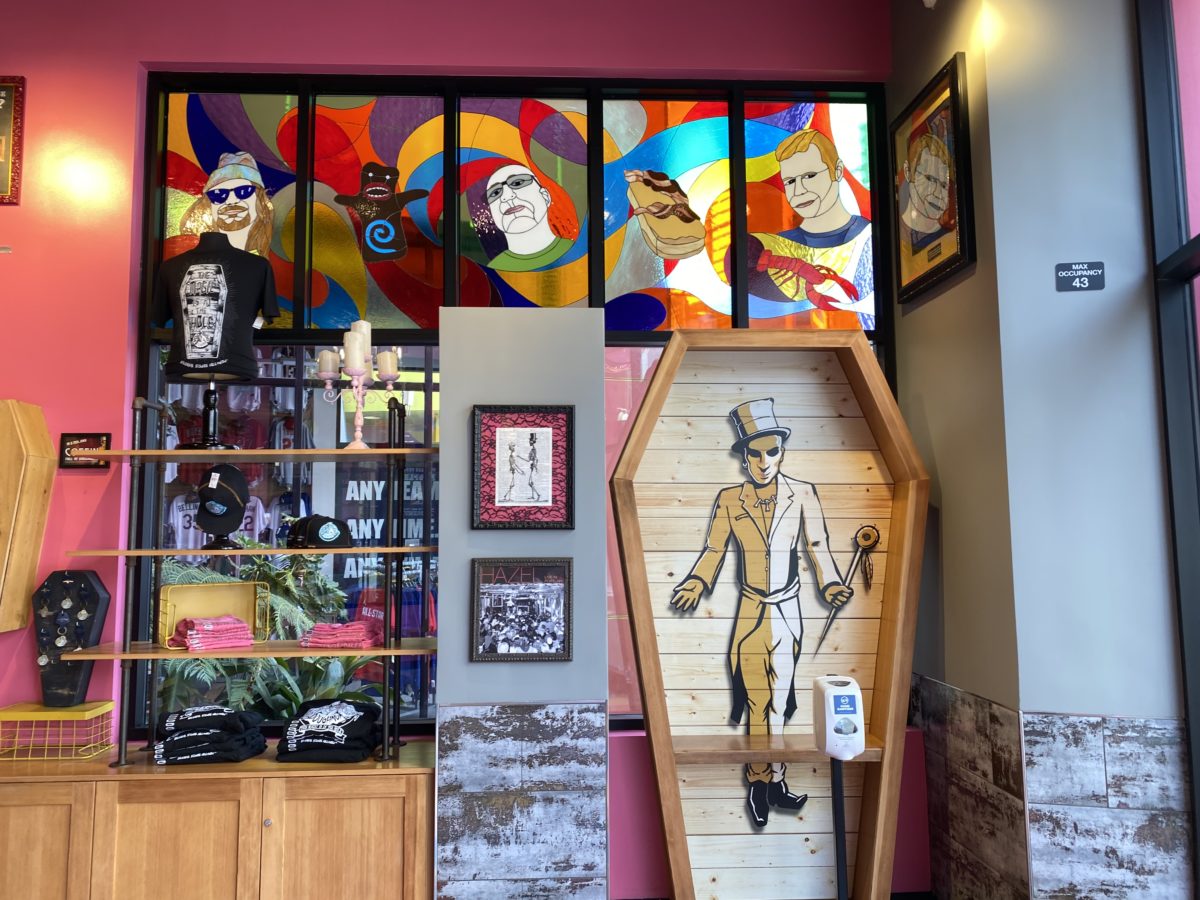 Hand sanitizer is available at the entrance of the restaurant.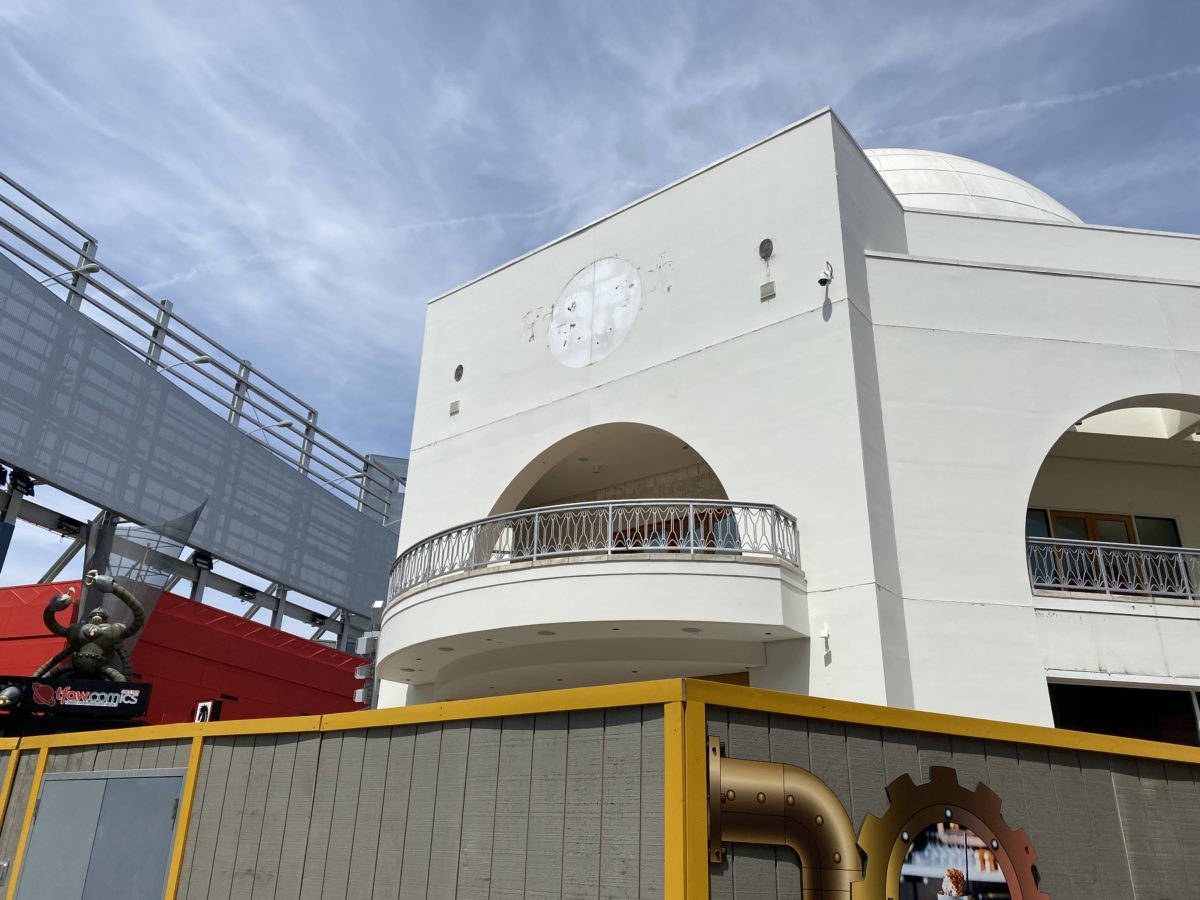 Nothing notably different has occurred at the future space of Toothsome Chocolate Emporium.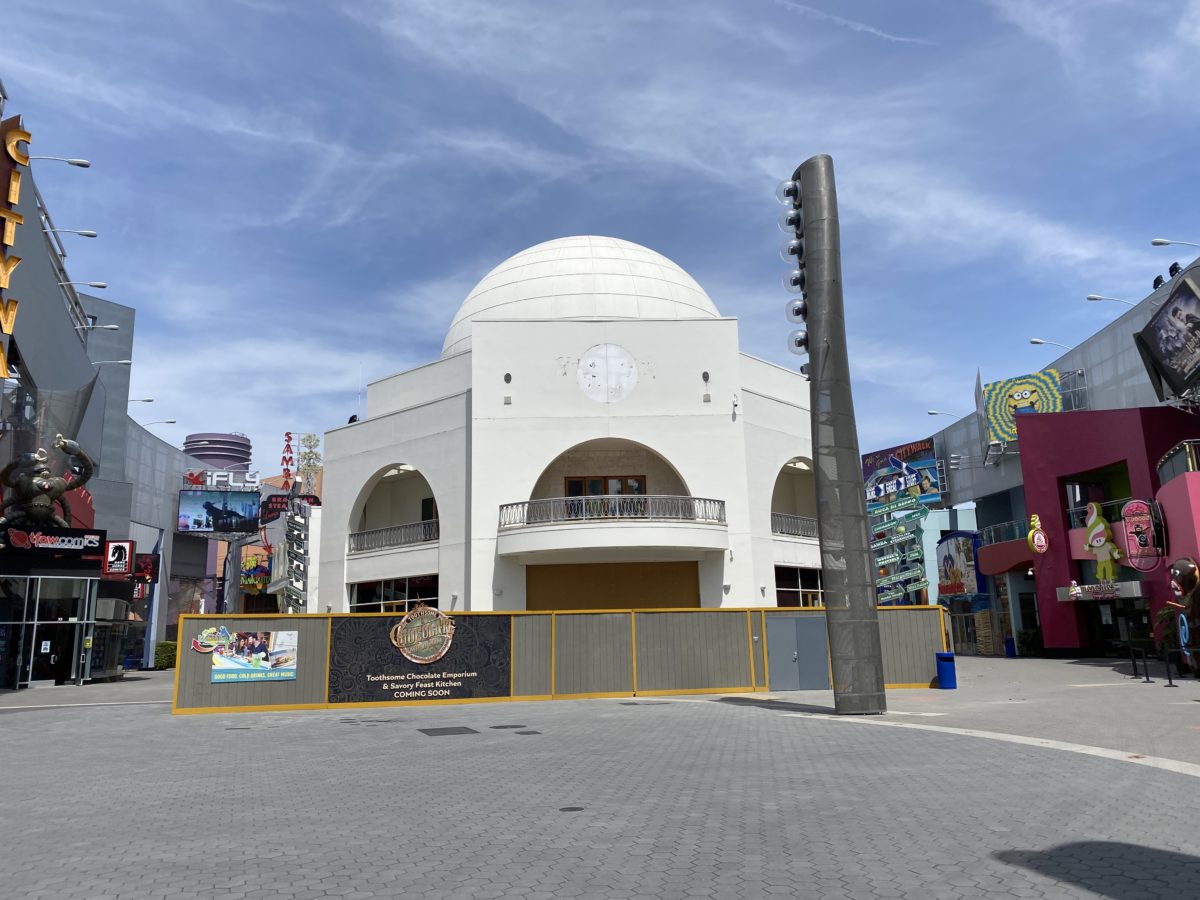 The 5 Tower courtyard was very quiet. This may be due to more opened eateries and stores on the other side of CityWalk.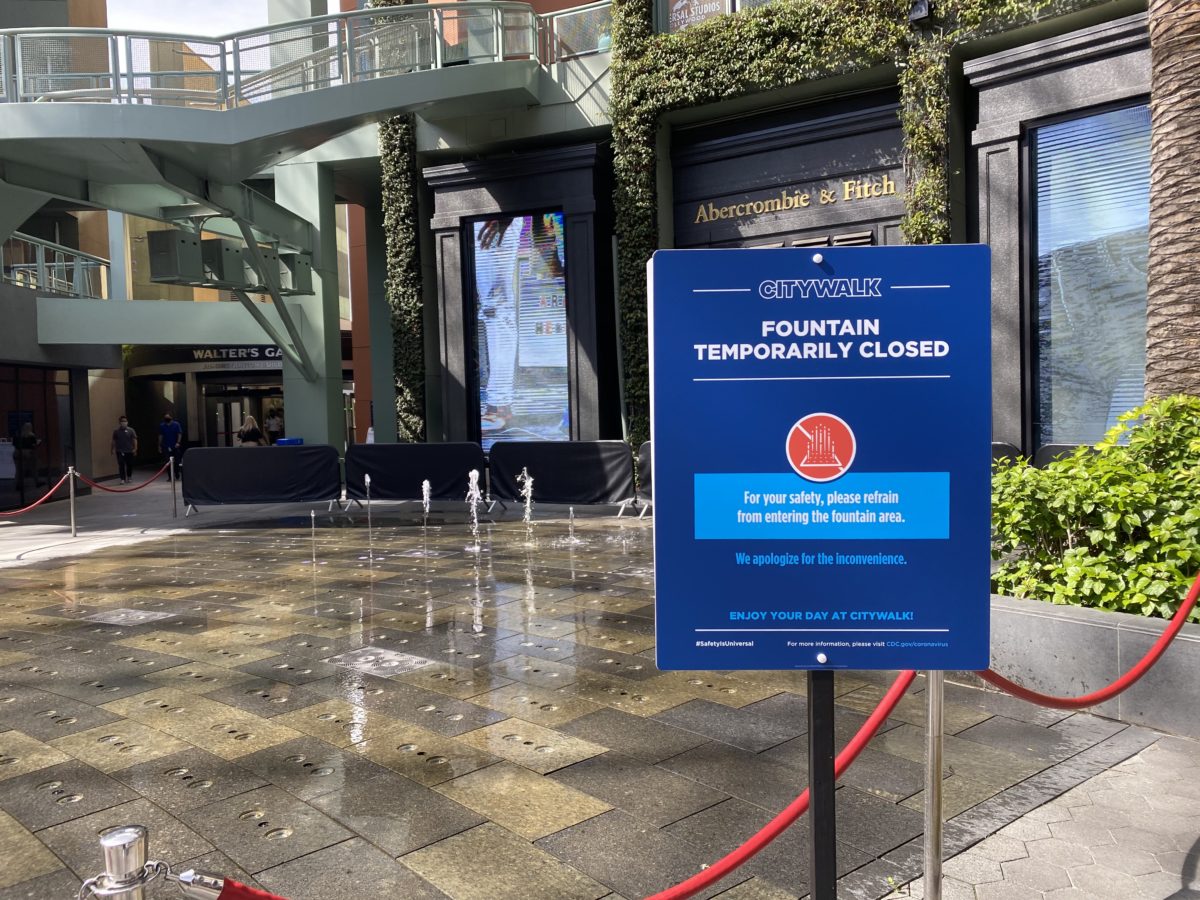 On our way out through the Fountain Court, we noticed the CityWalk fountain is still temporarily closed for the time being.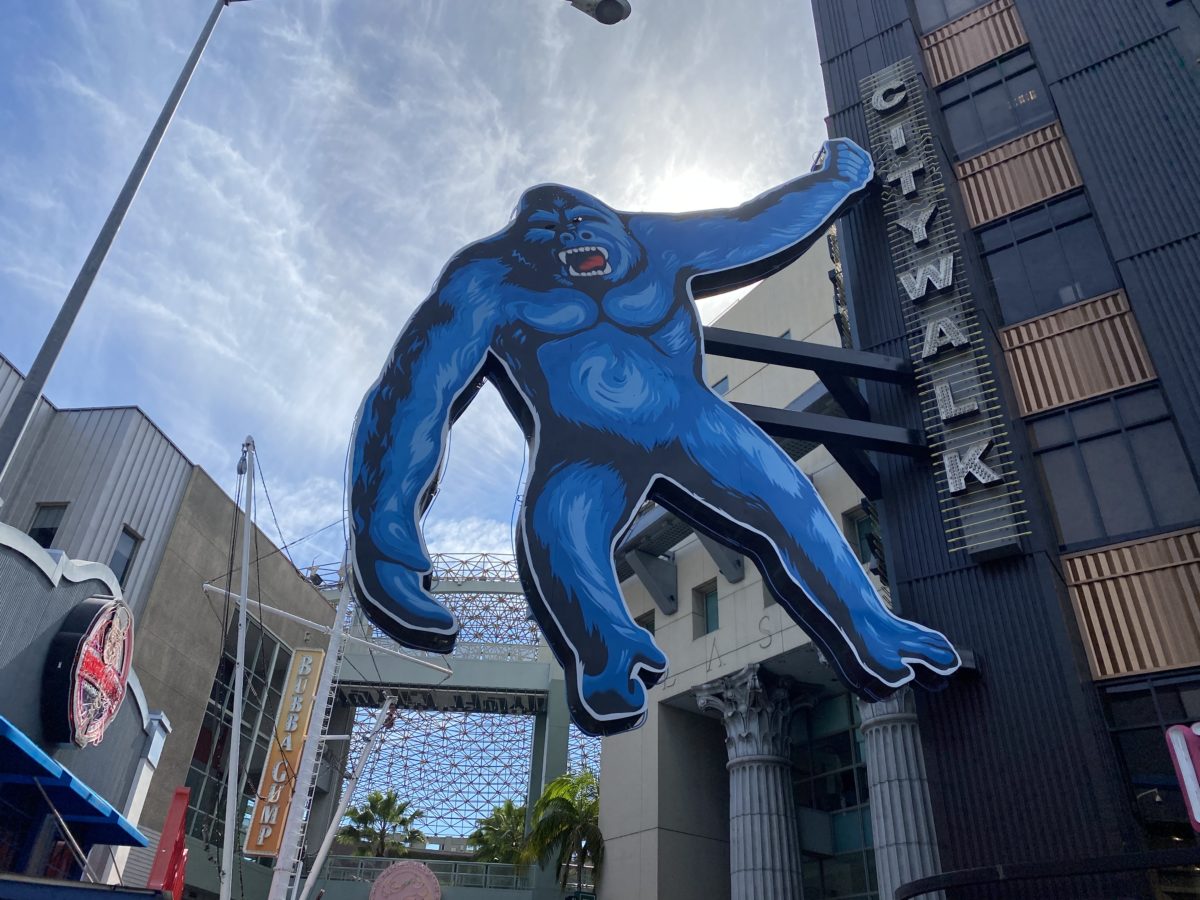 That's all from our most recent visit to CityWalk! Thank you for following along and we hope you've enjoyed it!
Keep checking back at Universal Parks News Today for more updates regarding the Universal Parks from around the world.