Things may have gotten a little bit brighter on the horizon for guests at the Magic Kingdom, as Cinderella Castle is now a shining beacon of pink and gold after its nearly-completed transformation. With a number of resorts now reopened, guests staying in Bay Lake Tower at Disney's Contemporary Resort have some of the best views into Magic Kingdom since the park closure. Let's take an even closer look at the current progress on Cinderella Castle's makeover and the TRON Lightcycle Run coaster:
Cinderella Castle Transformation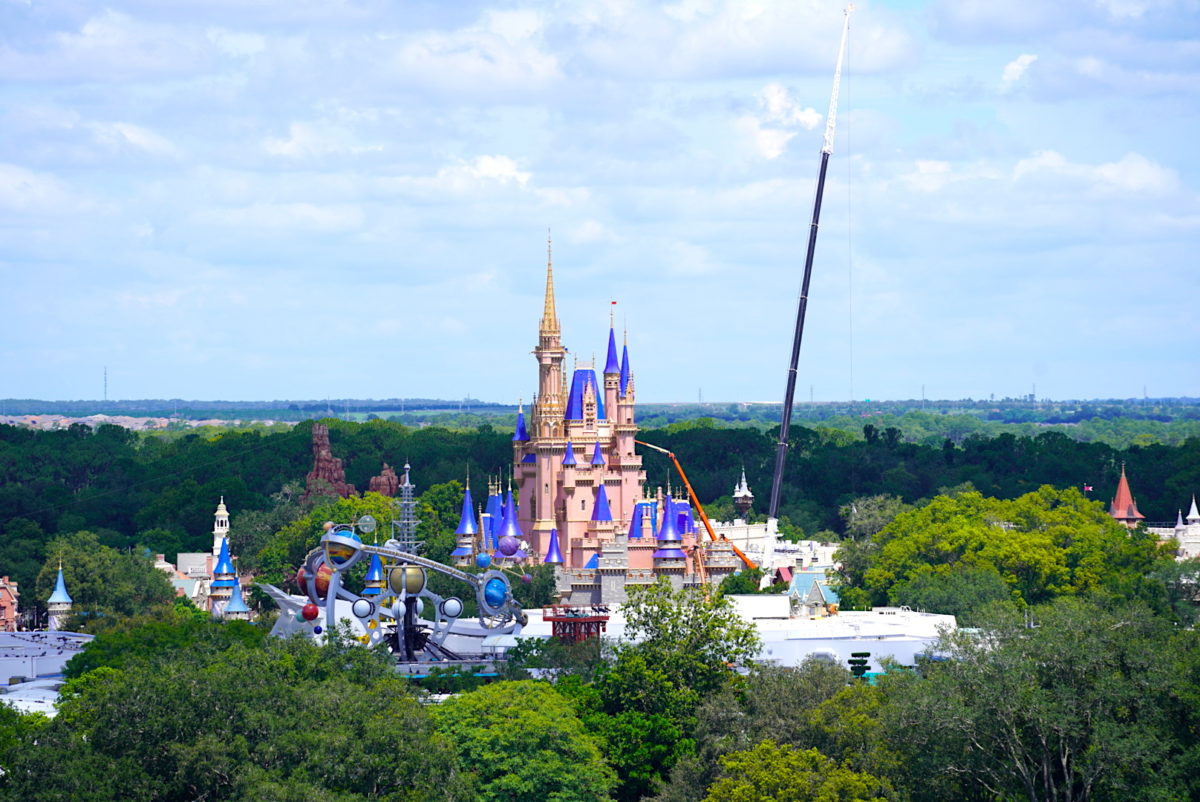 Gone with the grey and in with bright, rose gold hues, gilded accents, and royal blue turrets. The castle's "makeover" is nearly complete as work wraps up along the sides and the adjacent smaller towers that flank the park icon. Views of the castle are rather stunning from this vantage point, but it's taking us a while to get used to the bright pink technicolor castle. Once you see it in person, you're in for somewhat of a shock.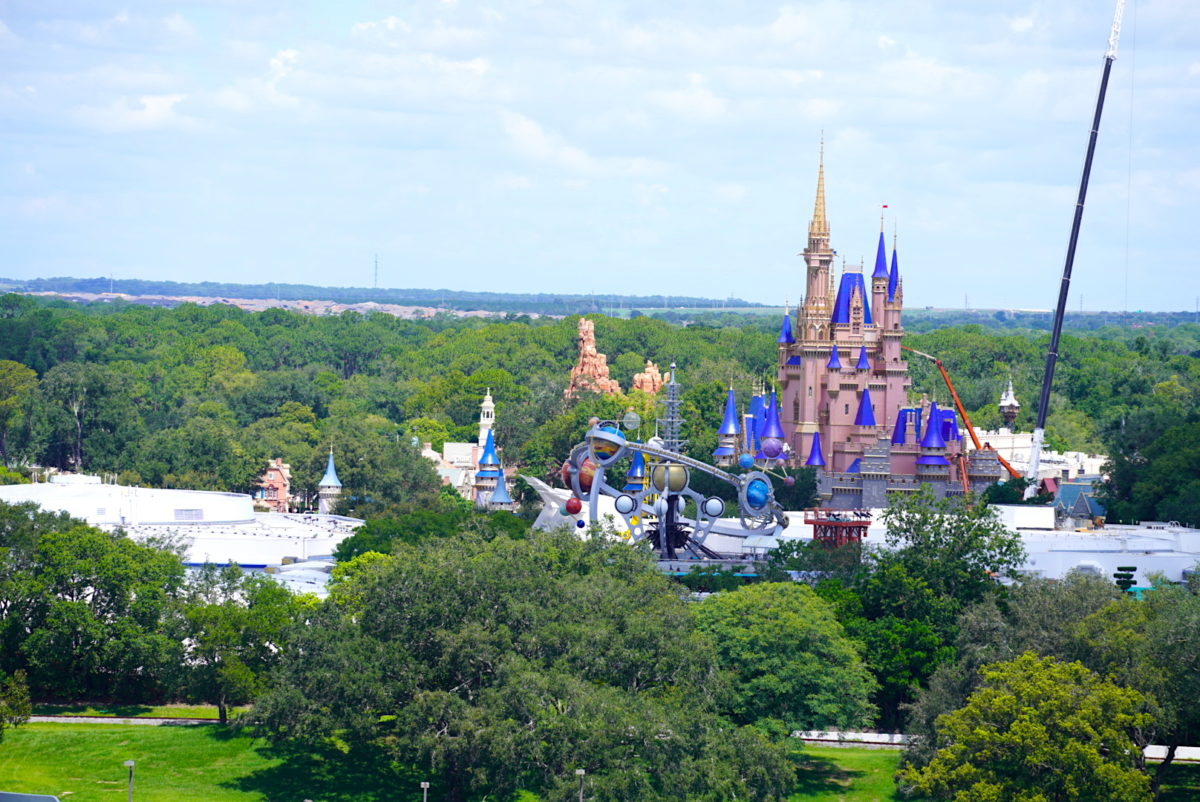 Here's a look at the castle from the Tomorrowland side. We see the Astro Orbiter along the center, but just to the left of it, you can see two mismatched turrets, one with a layer of bright blue paint off to the back, and the light blue unpainted one in the front. All of these side towers and turrets will also be painted as part of the transformation. Back over by the castle, we see some of the orange high-reaches still working on the castle, plus the massive black and white crane along the middle.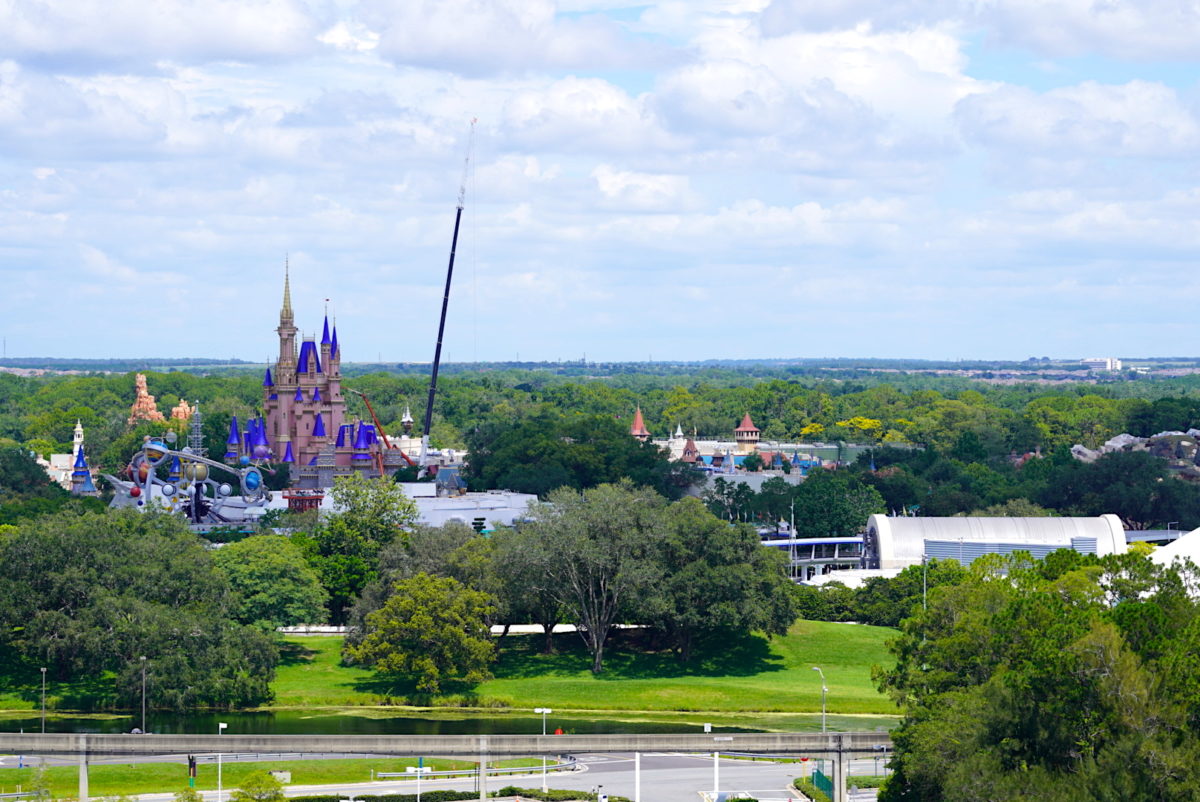 Here, we get a look at the other side of the Magic Kingdom, with the Tomorrowland Light & Power Co. store to the right.
TRON Lightcycle Run Construction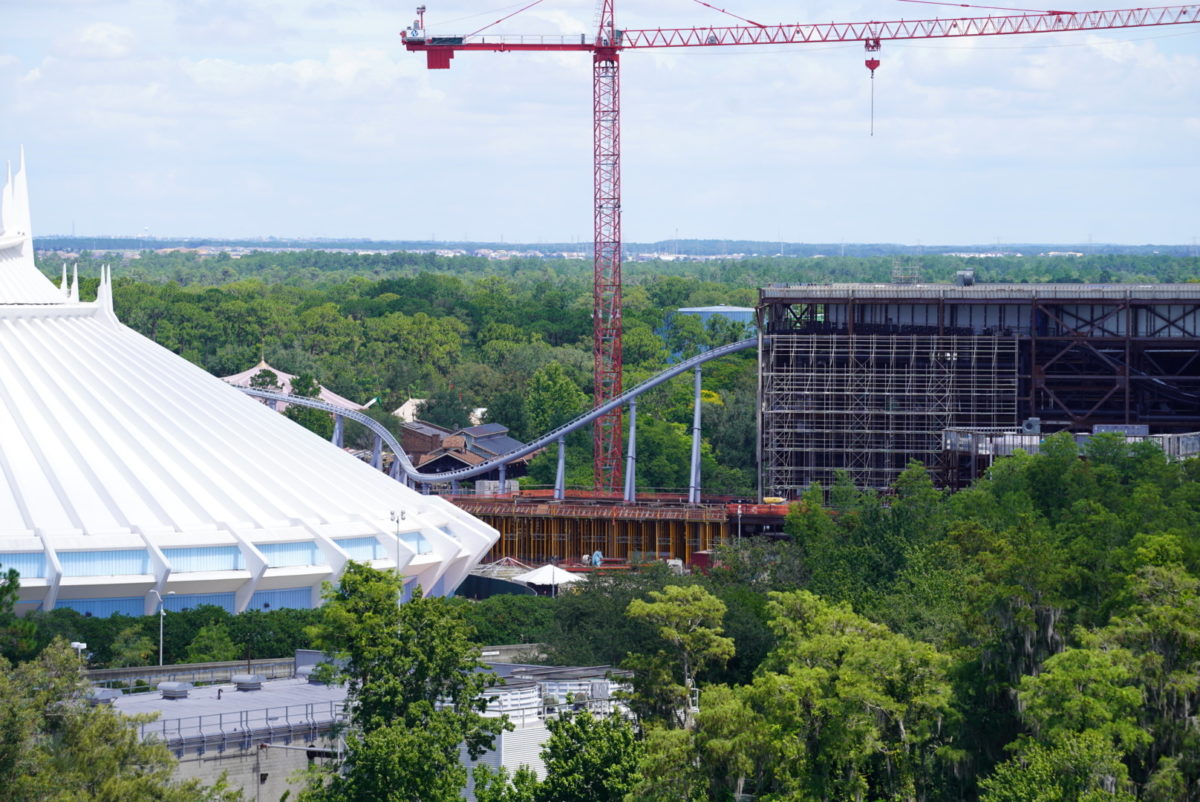 Which brings us to the ever-expansive "Grid" of TRON Lightcycle Run. A massive indoor-outdoor coaster, it's situated next to Space Mountain in Tomorrowland. You can see where the track winds into the show building on the right, with the launch and load area seen along the middle.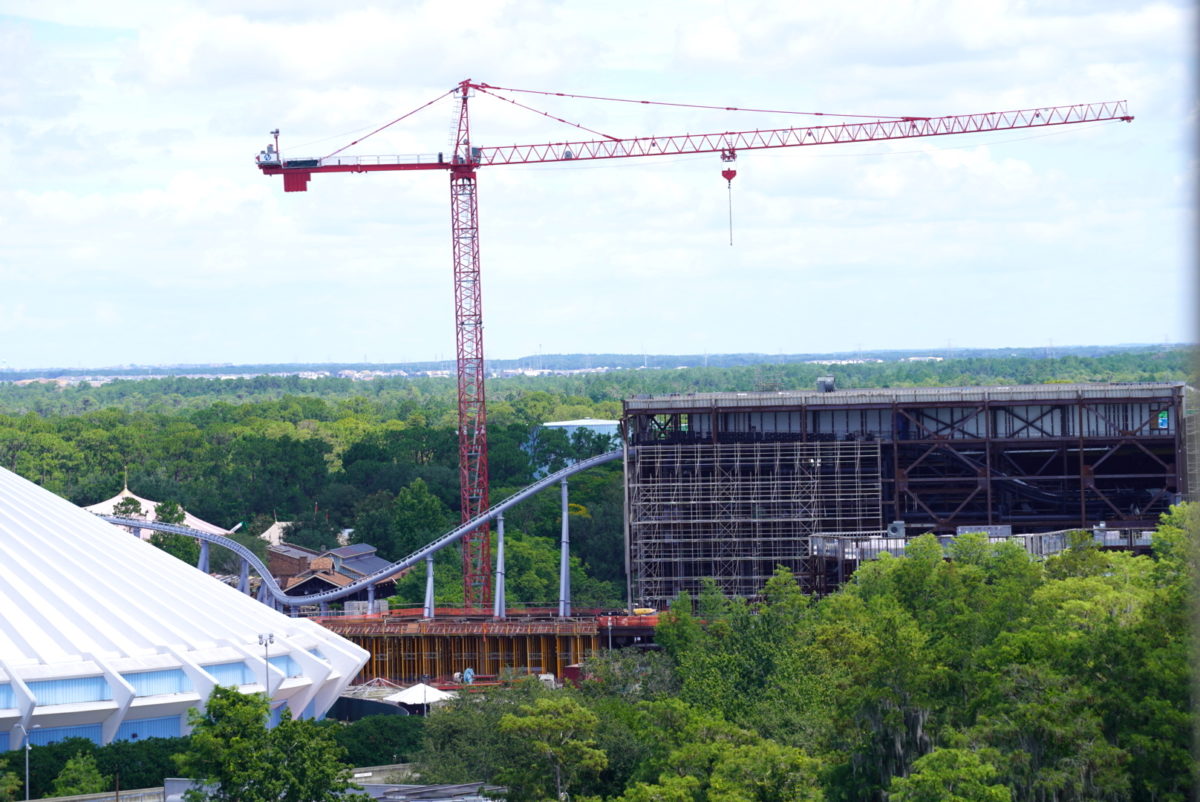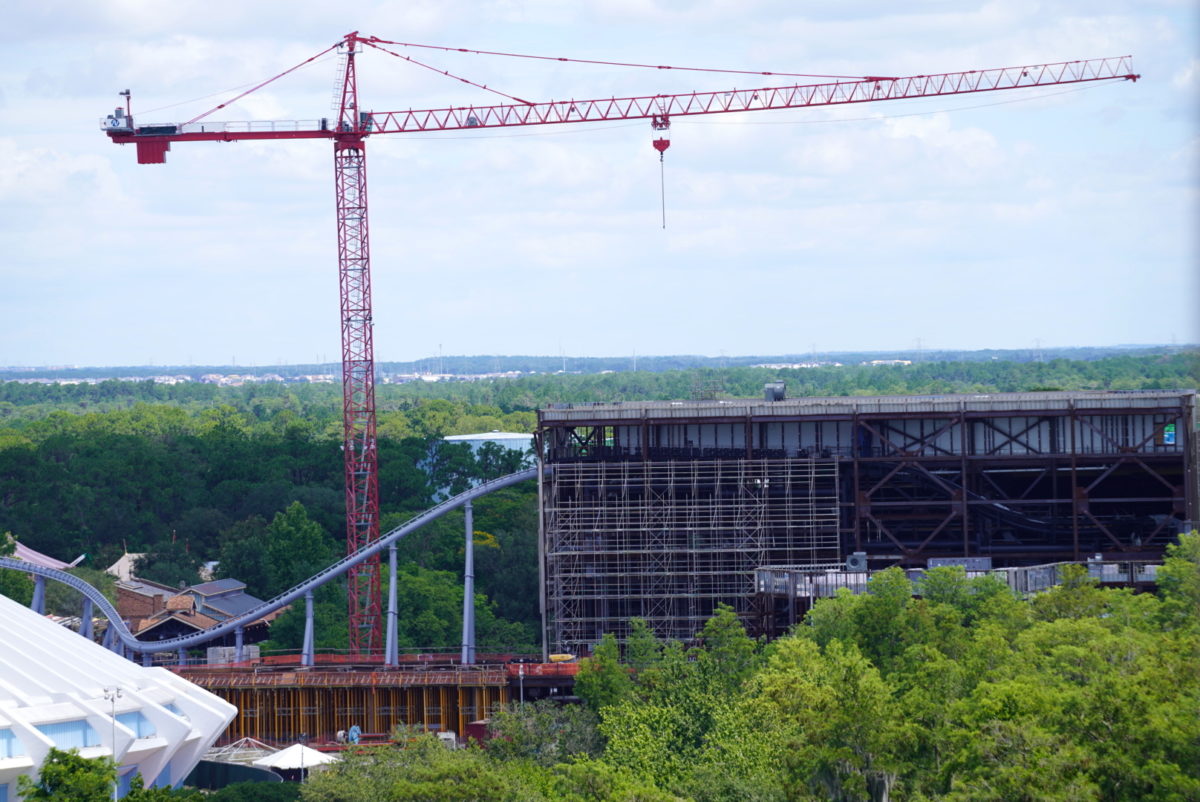 A closer look into the show building and you can actually see the path the track takes along the edge of the walls. It's here that guests will "cycle" through illuminated show props, almost as if they're in the virtual grid from the TRON films.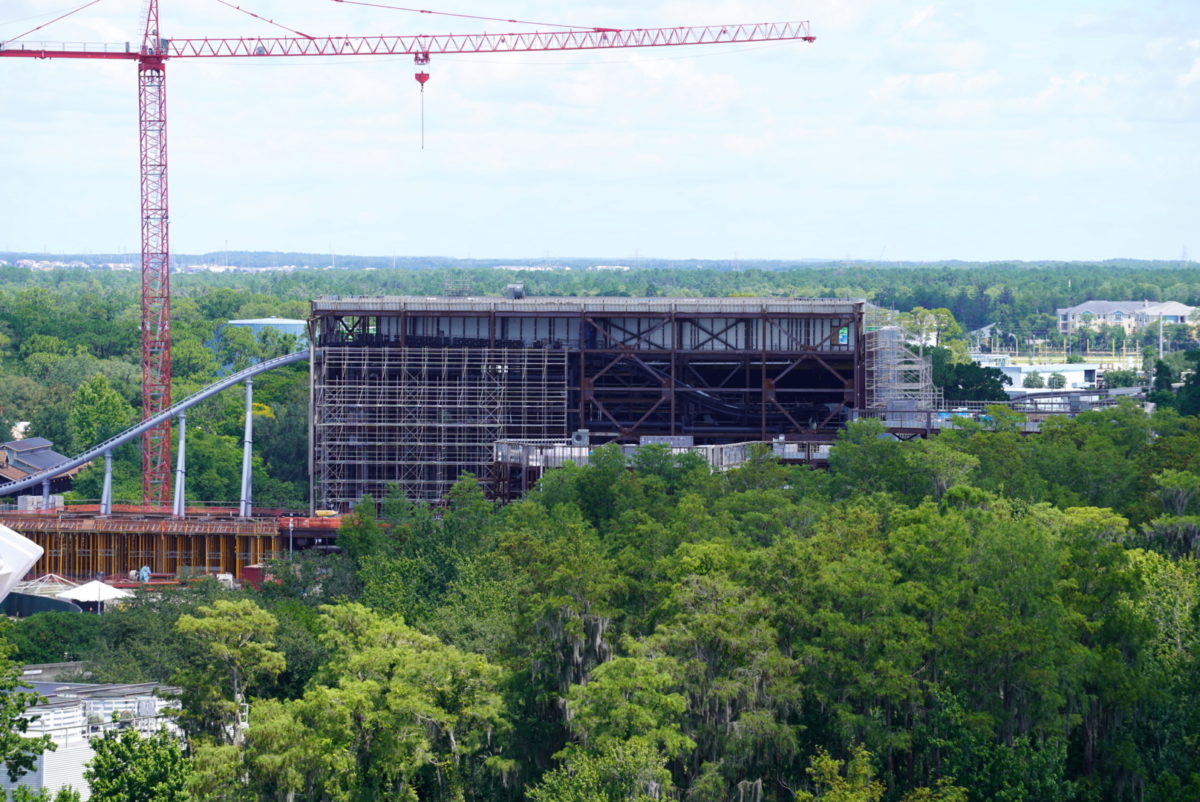 Additional scaffolding can be seen along the right side of the building.
Despite the extended park closure, Cinderella Castle seems just about ready to debut with the Magic Kingdom's reopening on July 11. Disney initially stated the project would be finished by the end of summer, and it may just meet its deadline. TRON Lightcycle Run, on the other hand, has seen much longer delays due to the park closure. It is scheduled to debut in 2021, just in time for the Walt Disney World's 50th anniversary.