Good morning from The Villas at Disney's Grand Floridian Resort & Spa! All day long, we'll be covering the phased reopening of select Disney Vacation Club properties across Walt Disney World, as well as any modifications that may have come to each due to the new Health & Safety Guidelines being implemented throughout the resort.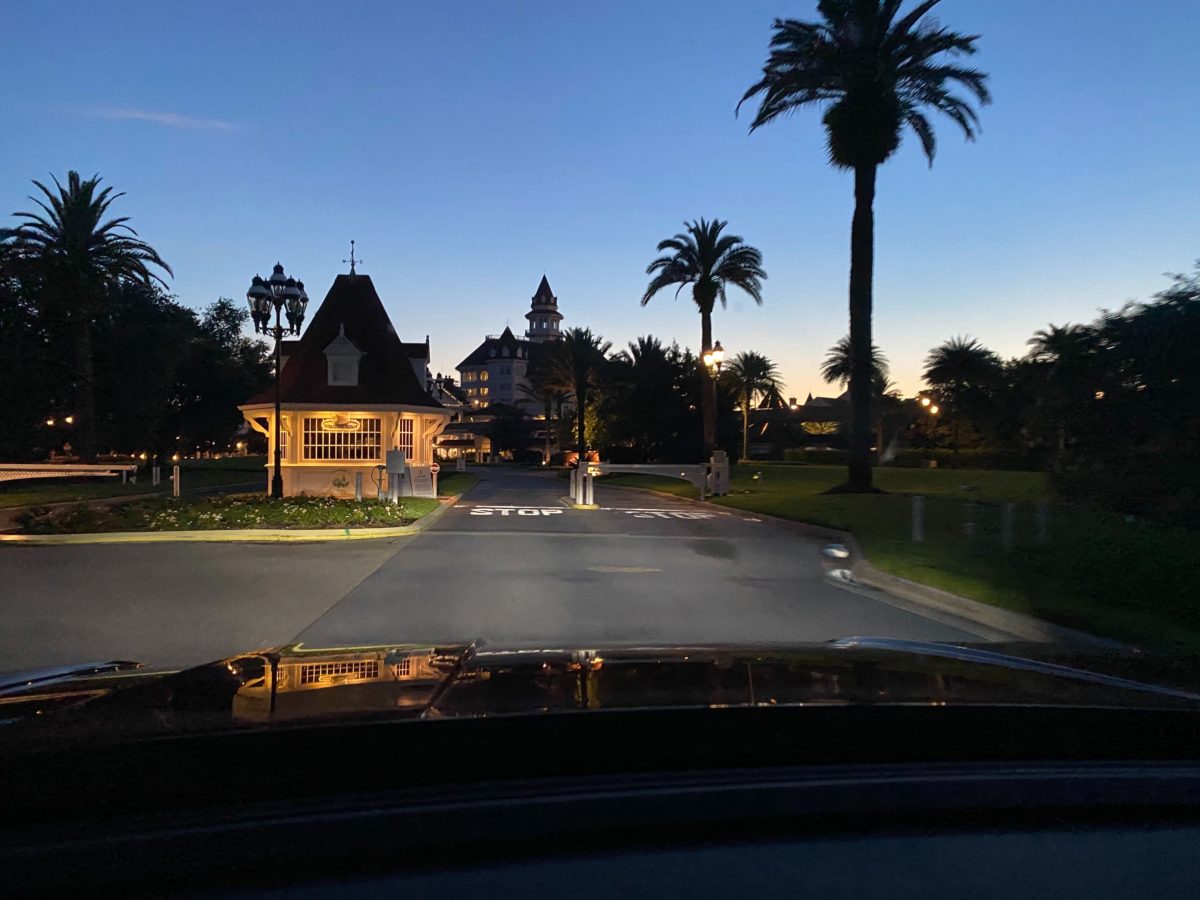 Today, we're rolling up bright and early to Disney's Grand Floridian Resort. Here, the Villas have begun accommodating stays for DVC members and guests, while the rest of the resort has reopened select shopping and dining locations as well.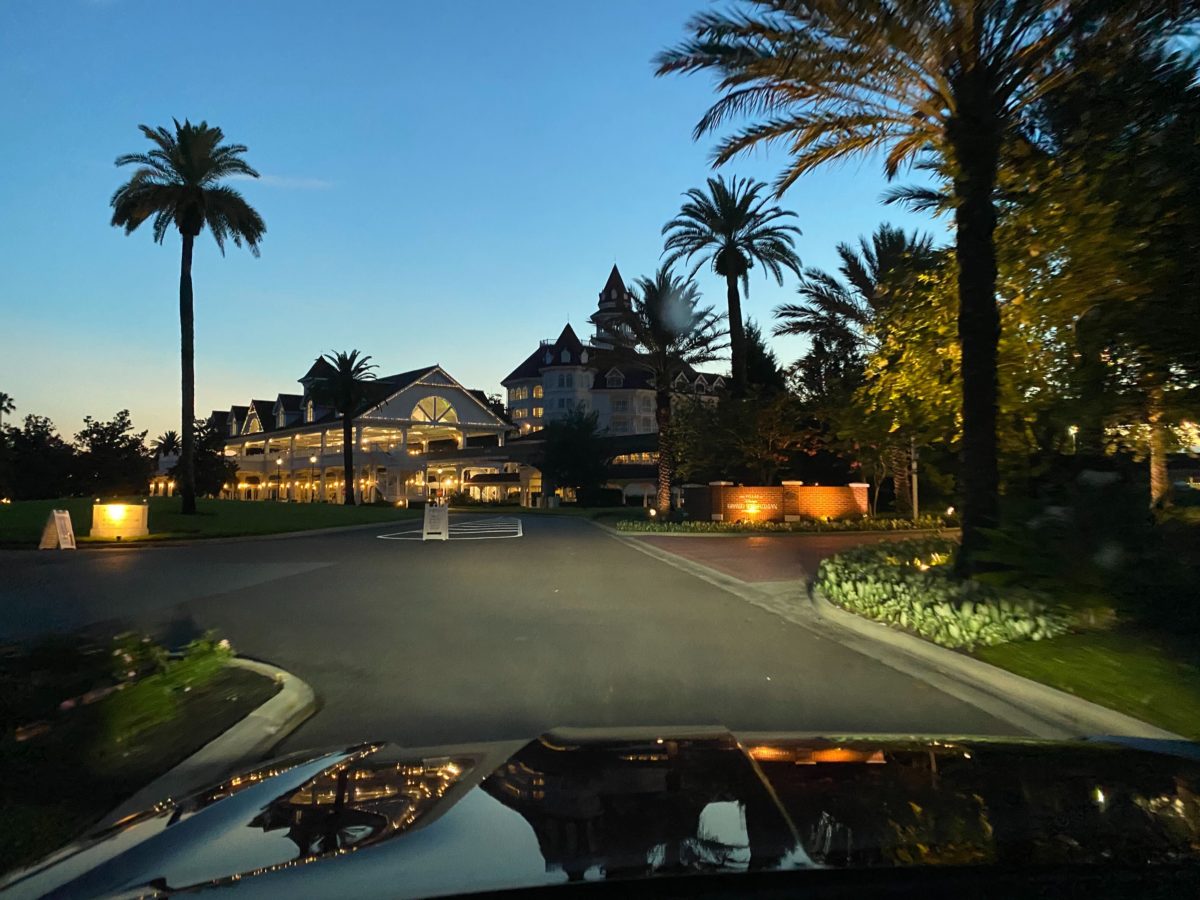 After receiving a warm "Welcome home!" from the Cast Member at the gate, we proceeded to make the right turn onto the Villas portion of the resort.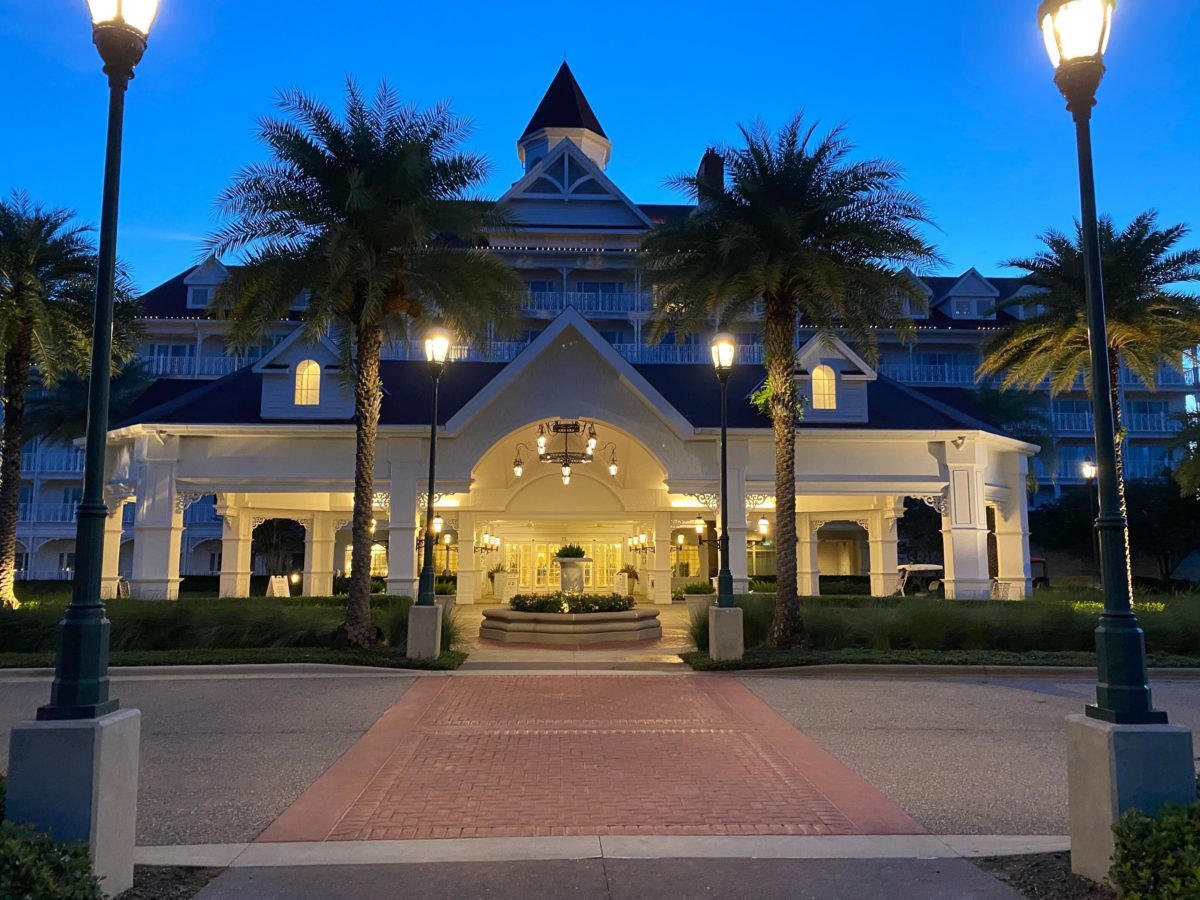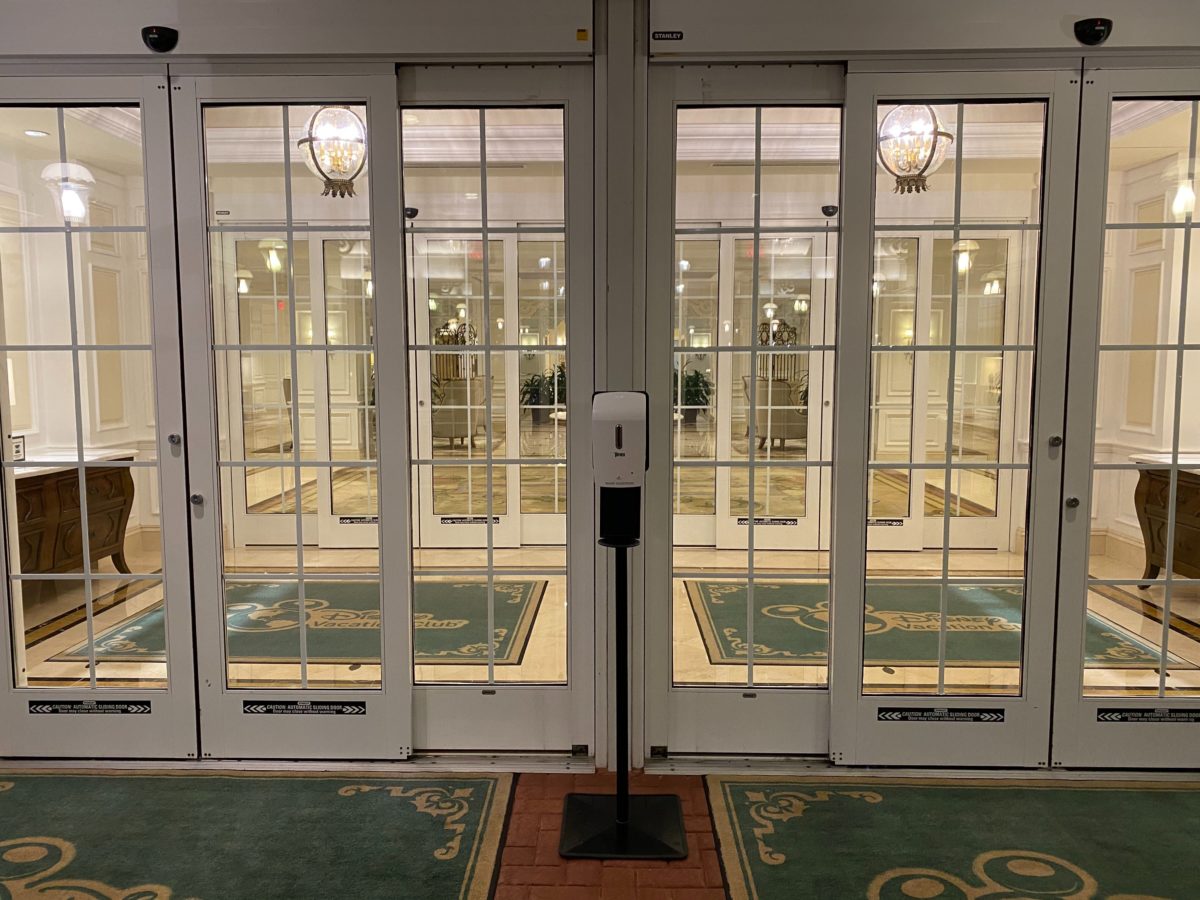 After passing by the requisite hand sanitizer station, we're pleased to report that the gilded penguins of this whimsical, Mary Poppins-inspired lobby are happily welcoming guests with a splash: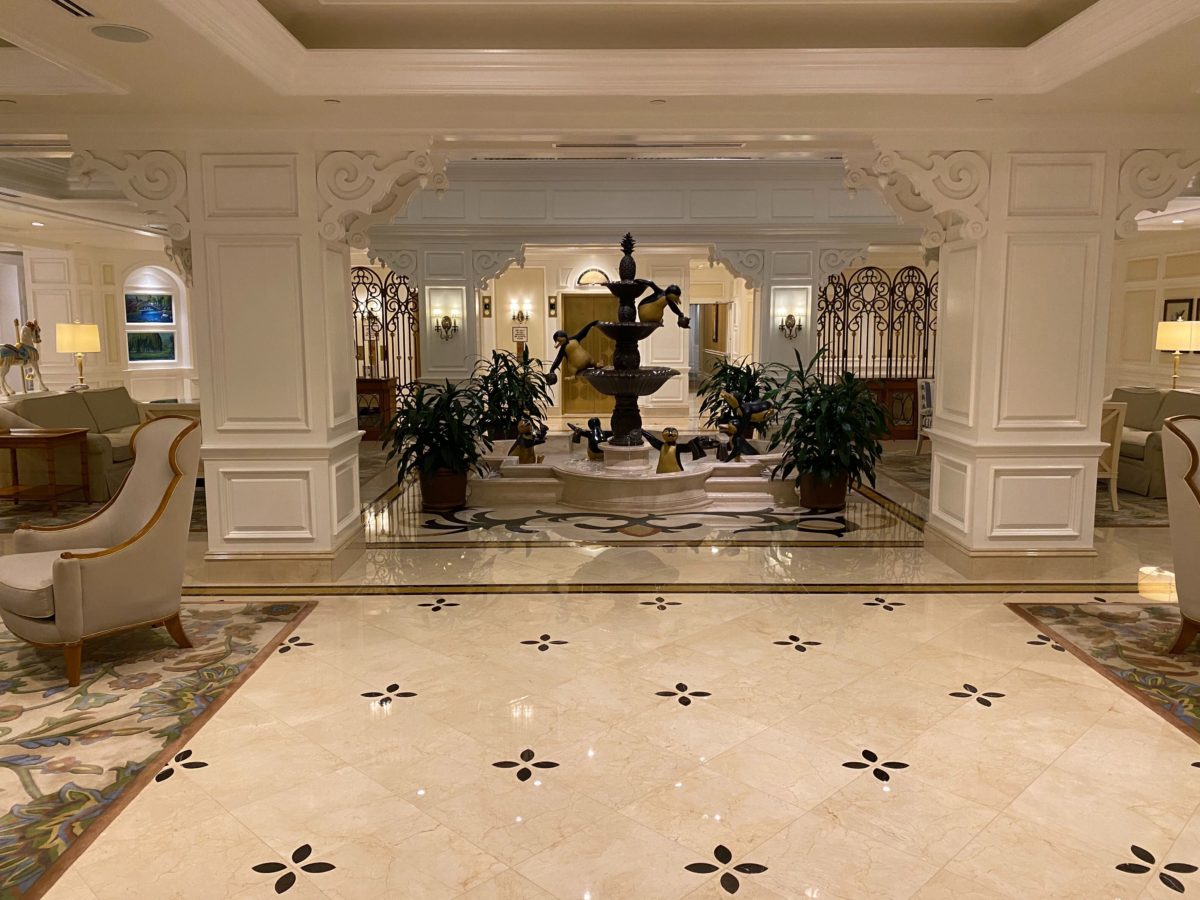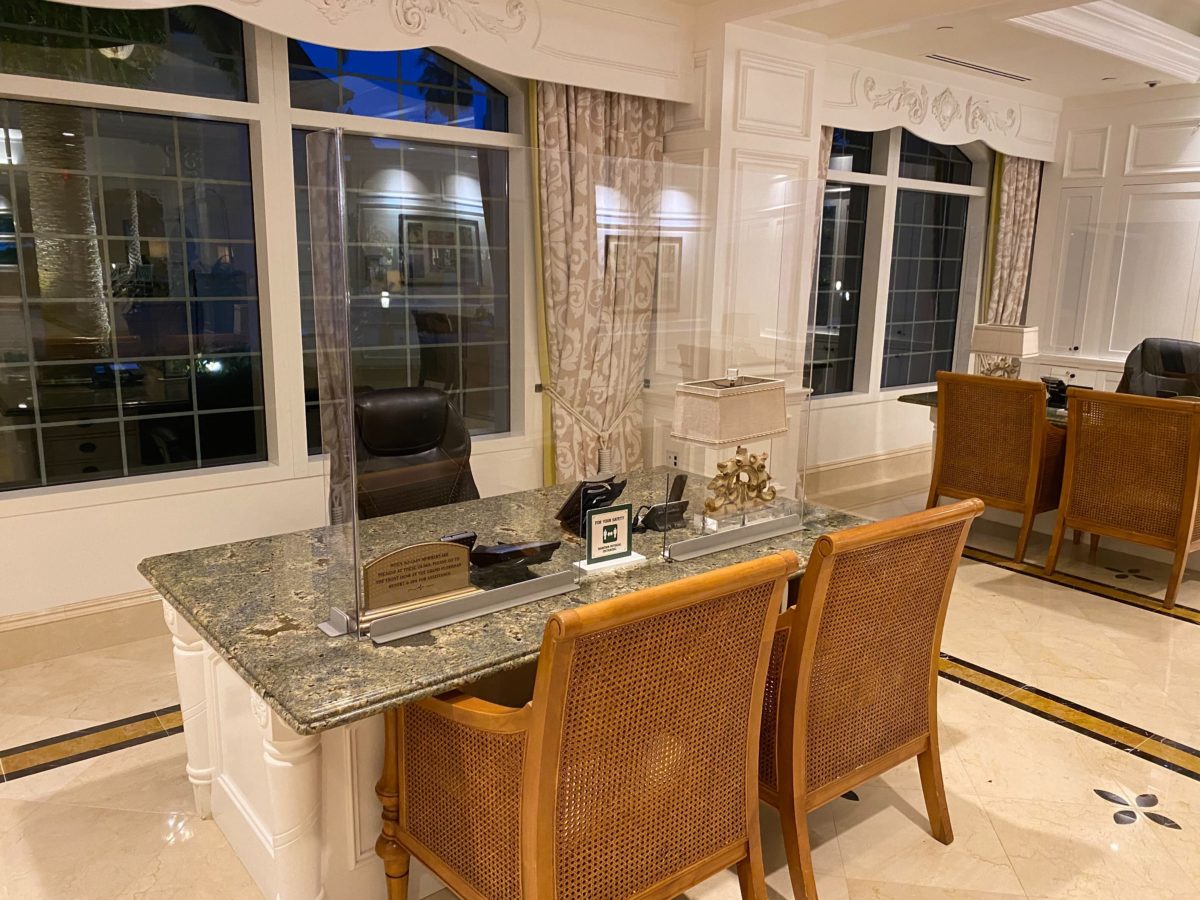 While Online Check-In and the Direct-to-Room Service option is highly encouraged, one of the main perks of The Villas at Disney's Grand Floridian Resort is the lavish check-in process, which includes comfy chairs for guests to sit in while squaring away all of their vacation needs. For those still wishing to check-in in person, plexiglass barriers have been set up at each desk.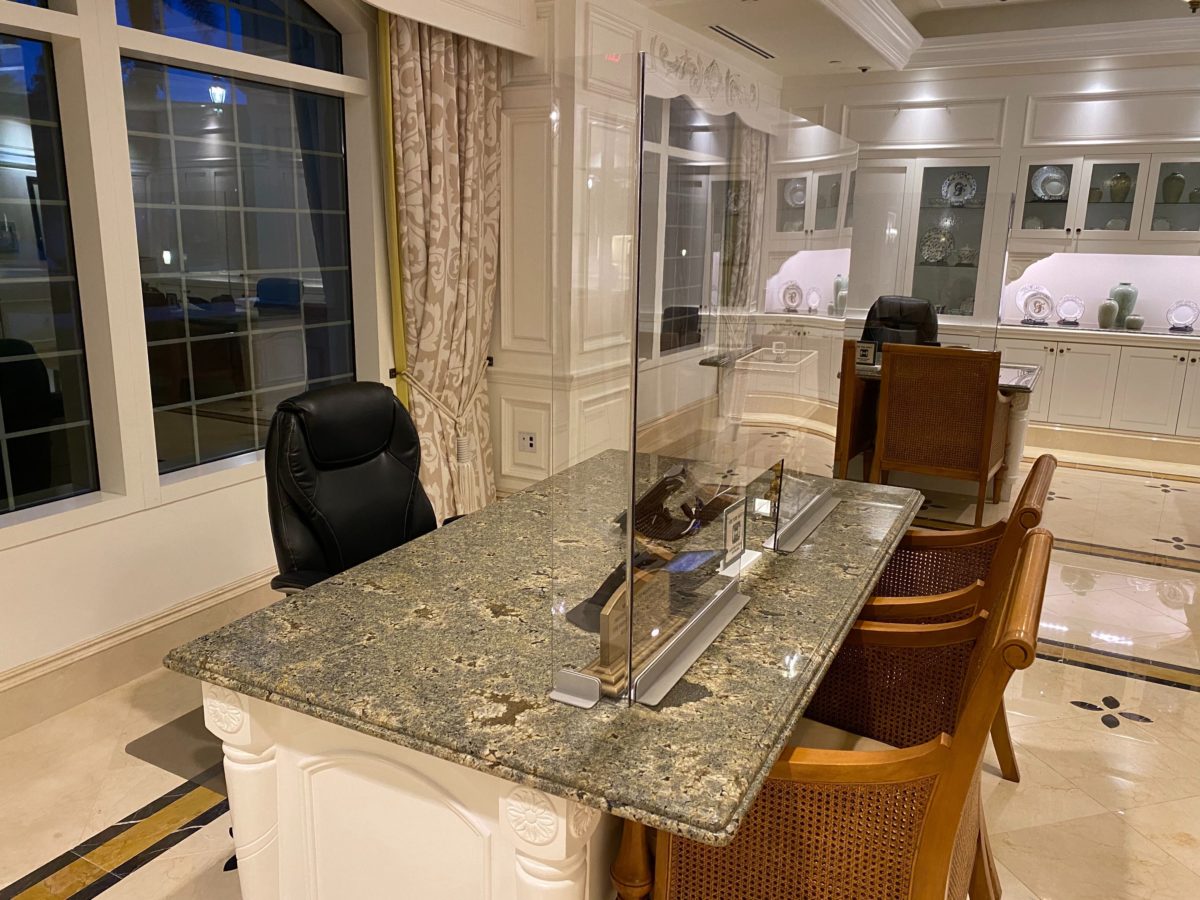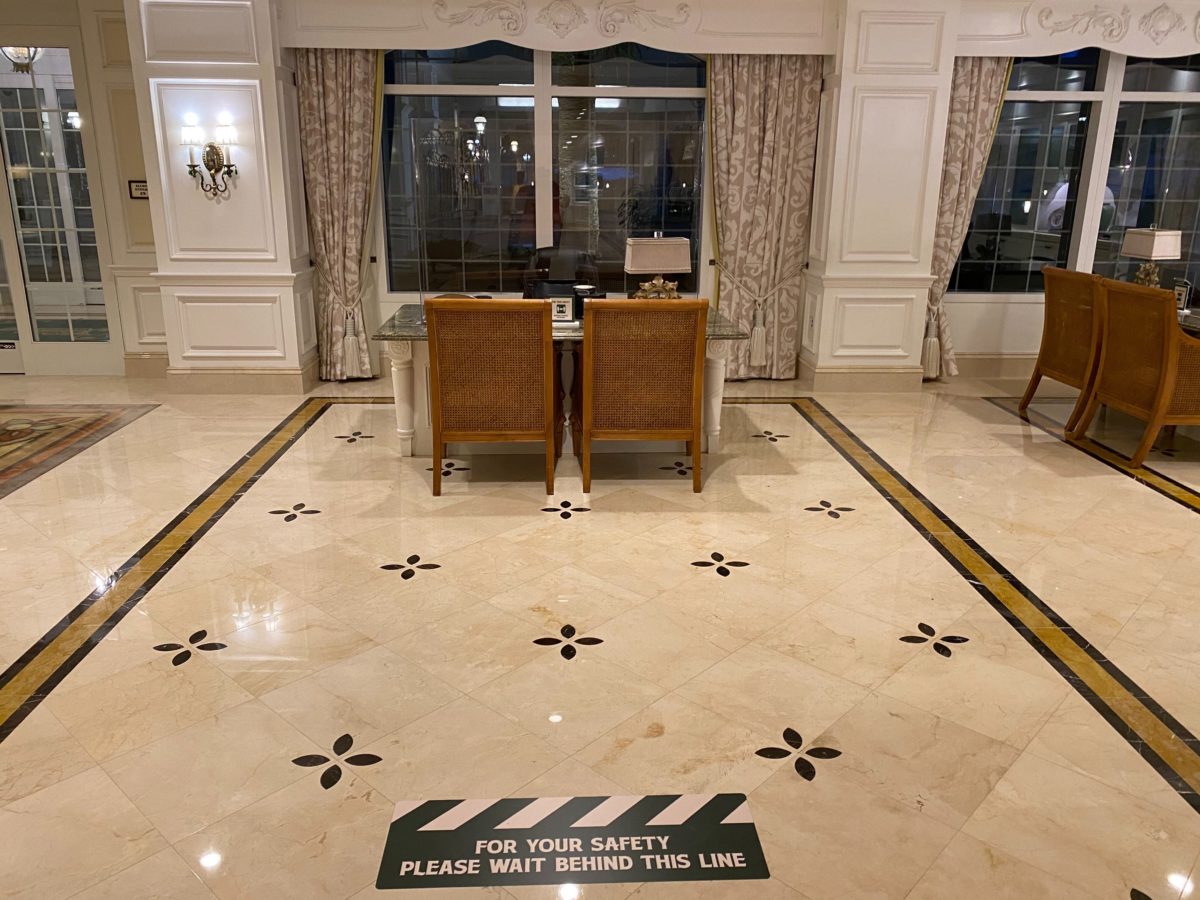 Those waiting to be checked in must stand behind this line for social distancing.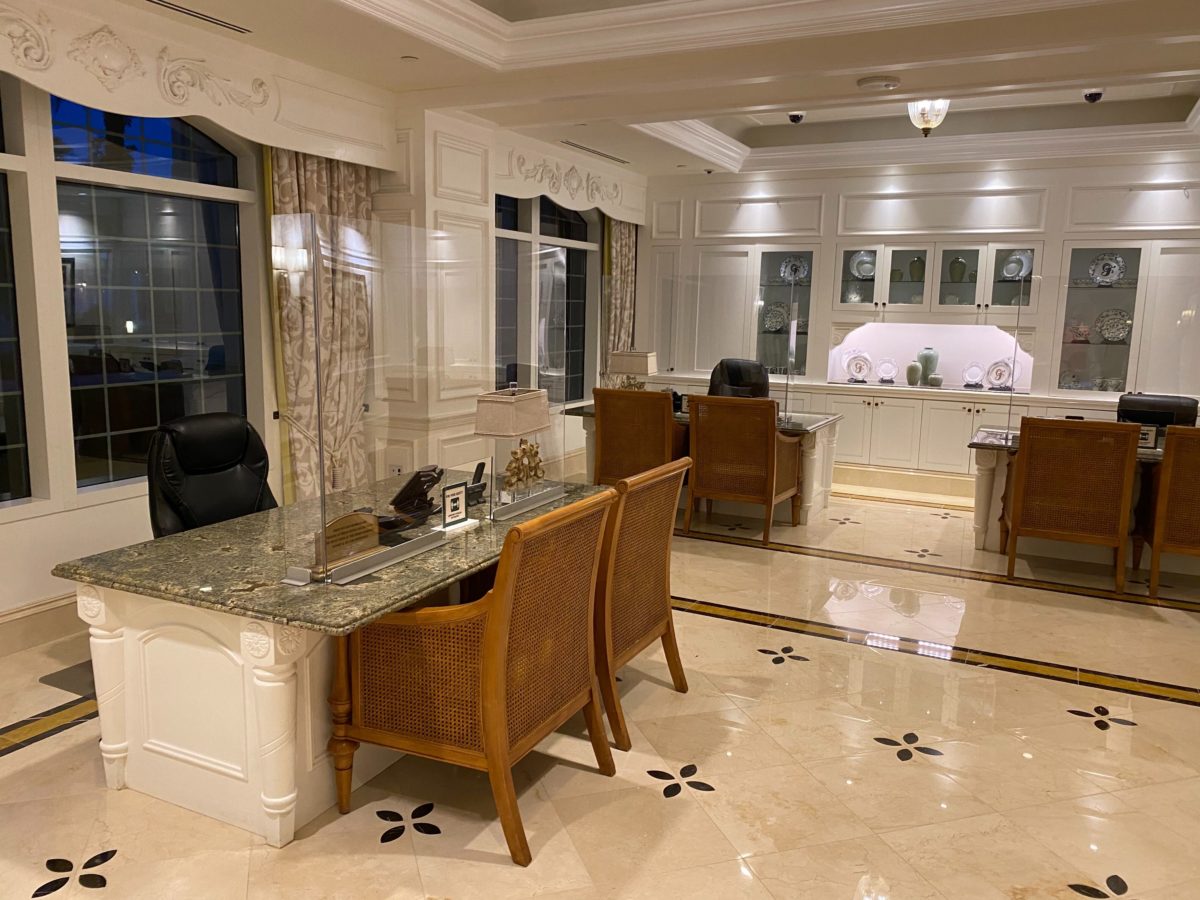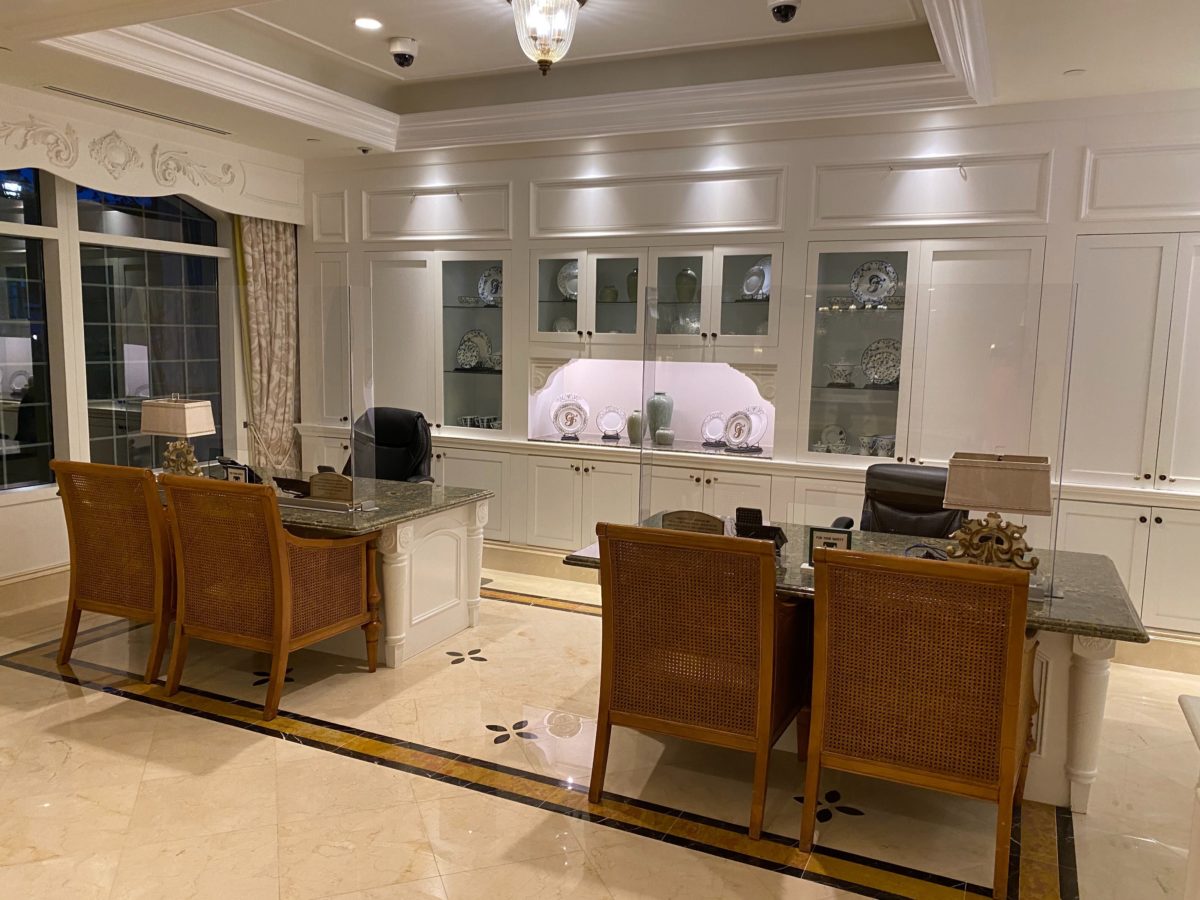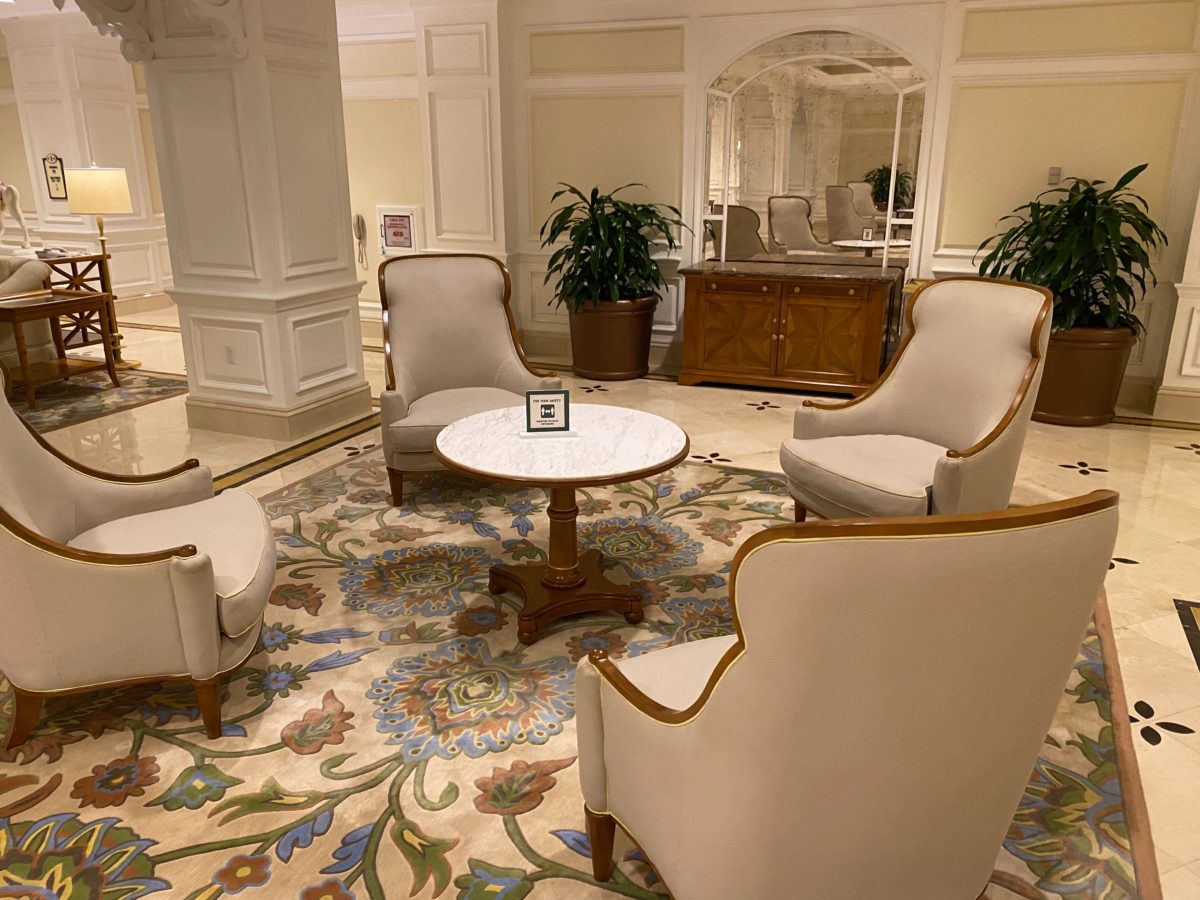 This lobby is one of the quieter ones at the resort, and guests are still allowed to use the seating areas––while maintaining social distancing, of course.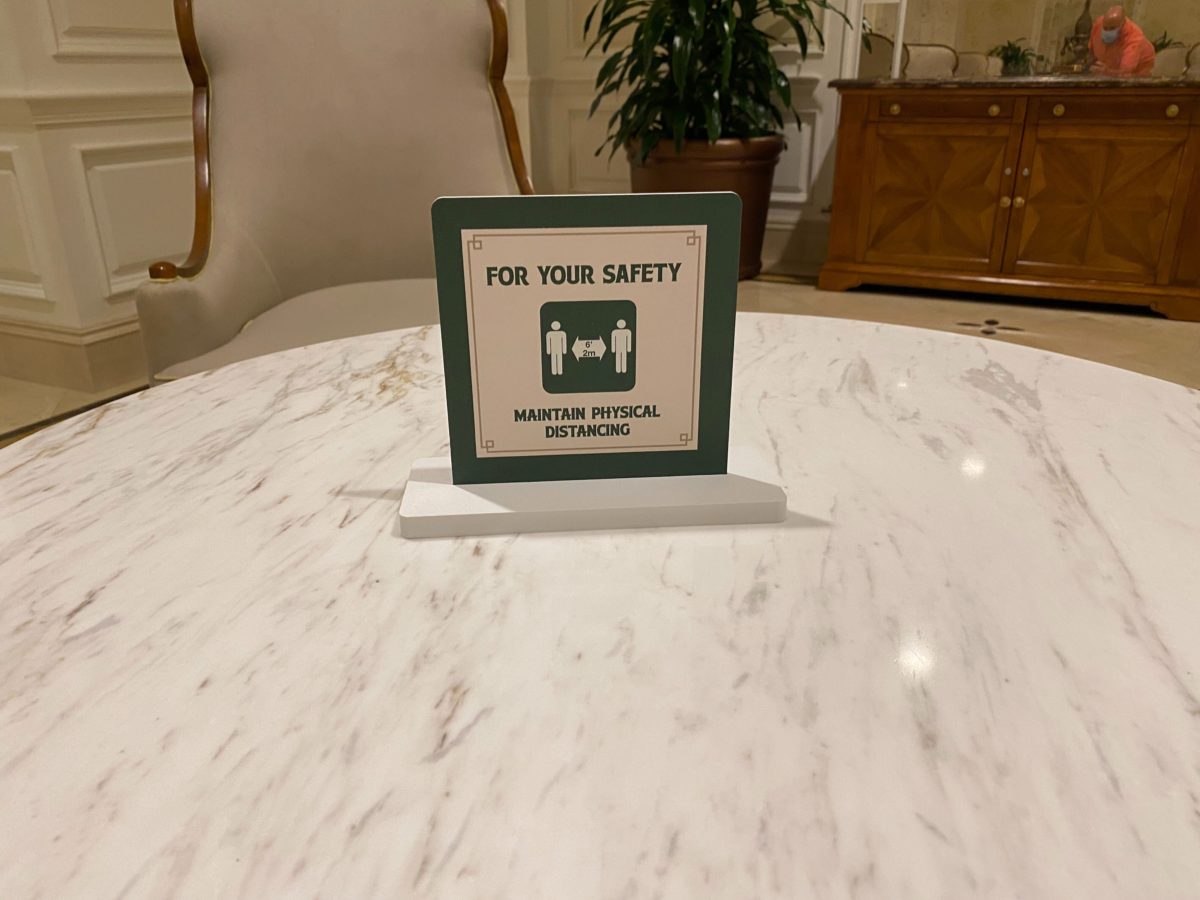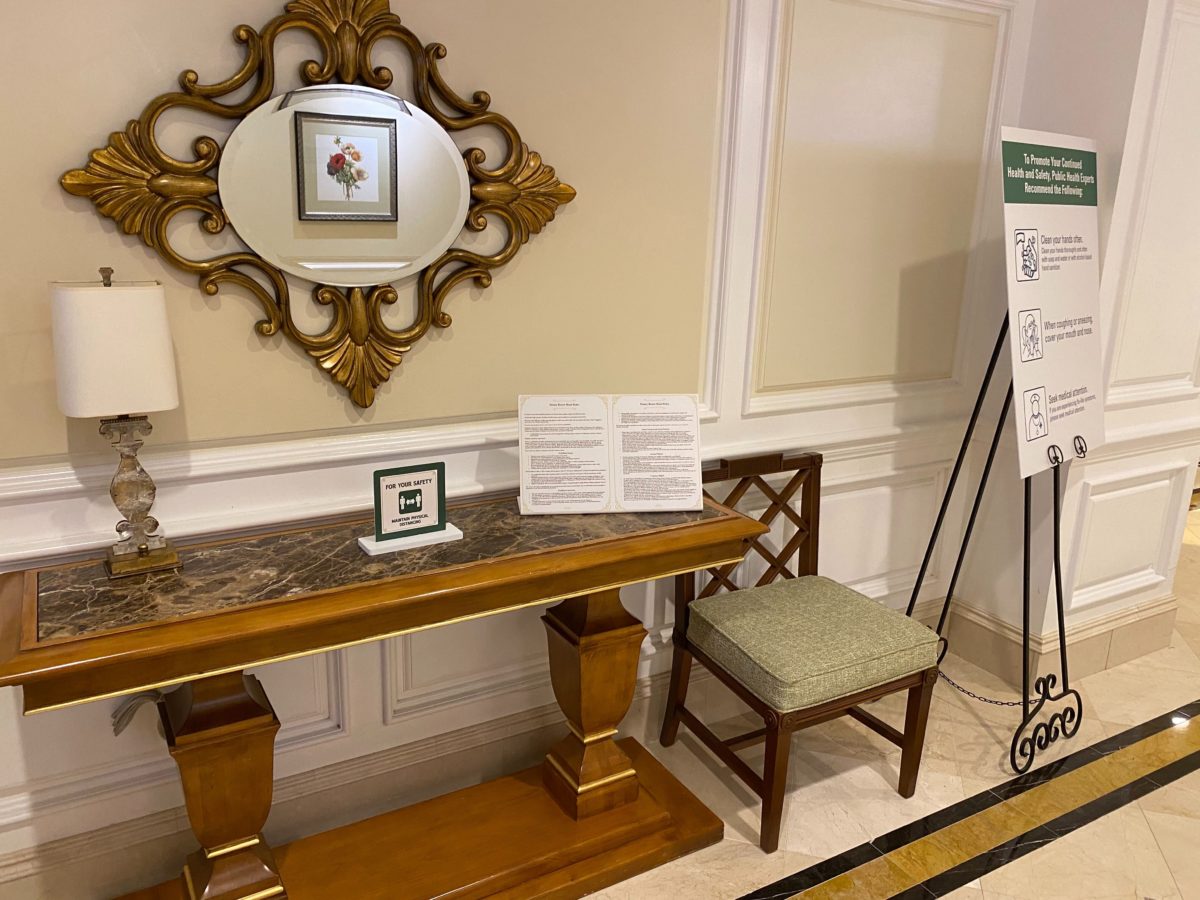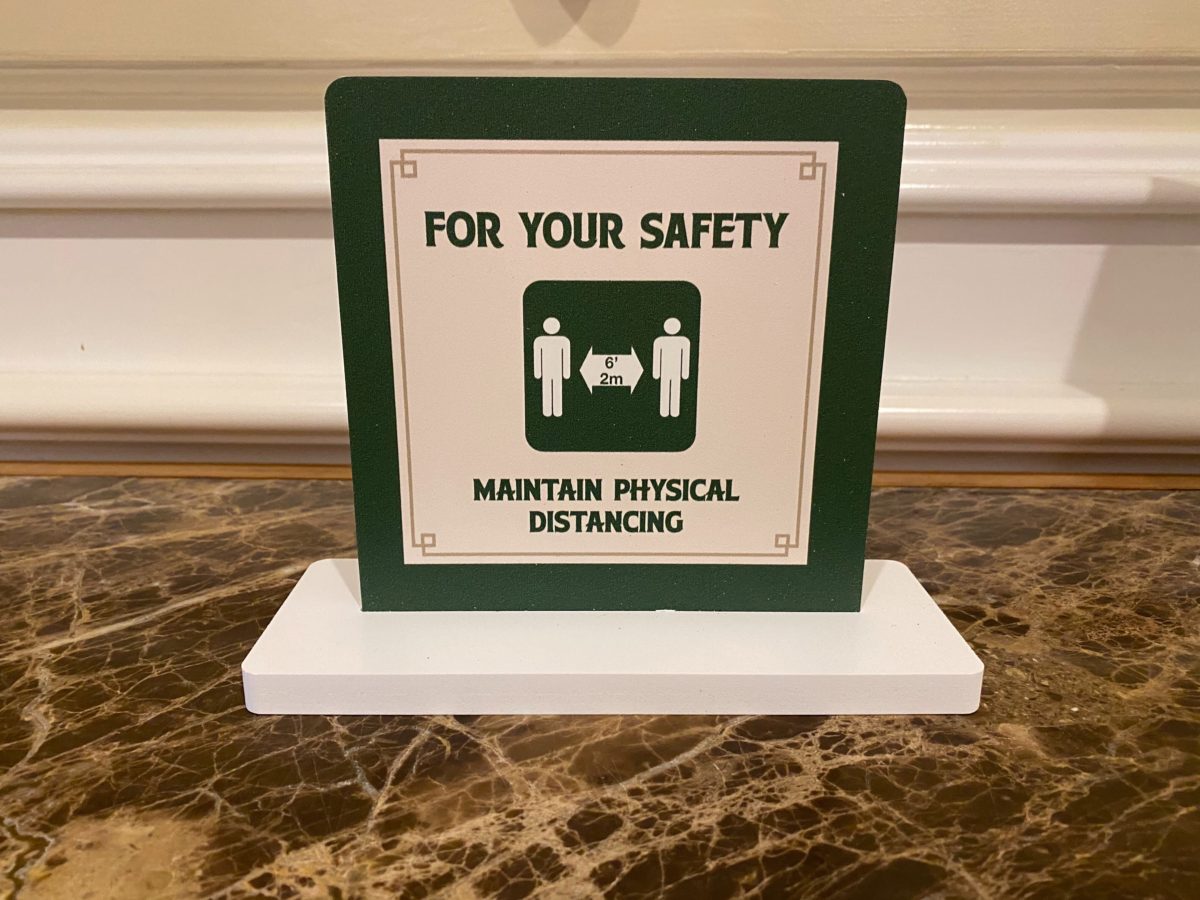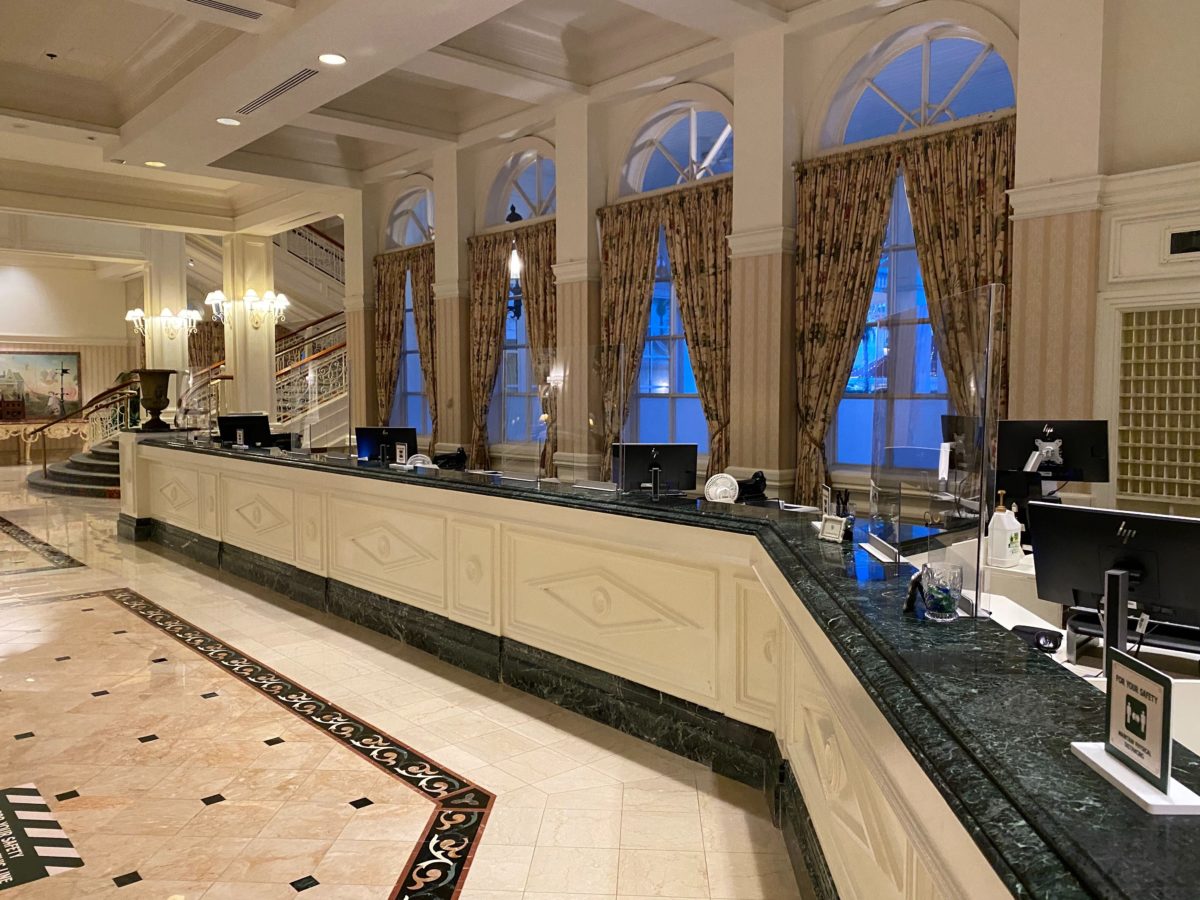 We cross over the covered walkway to the main lobby of Disney's Grand Floridian Resort, where a similar setup is in place for guests checking in here as well.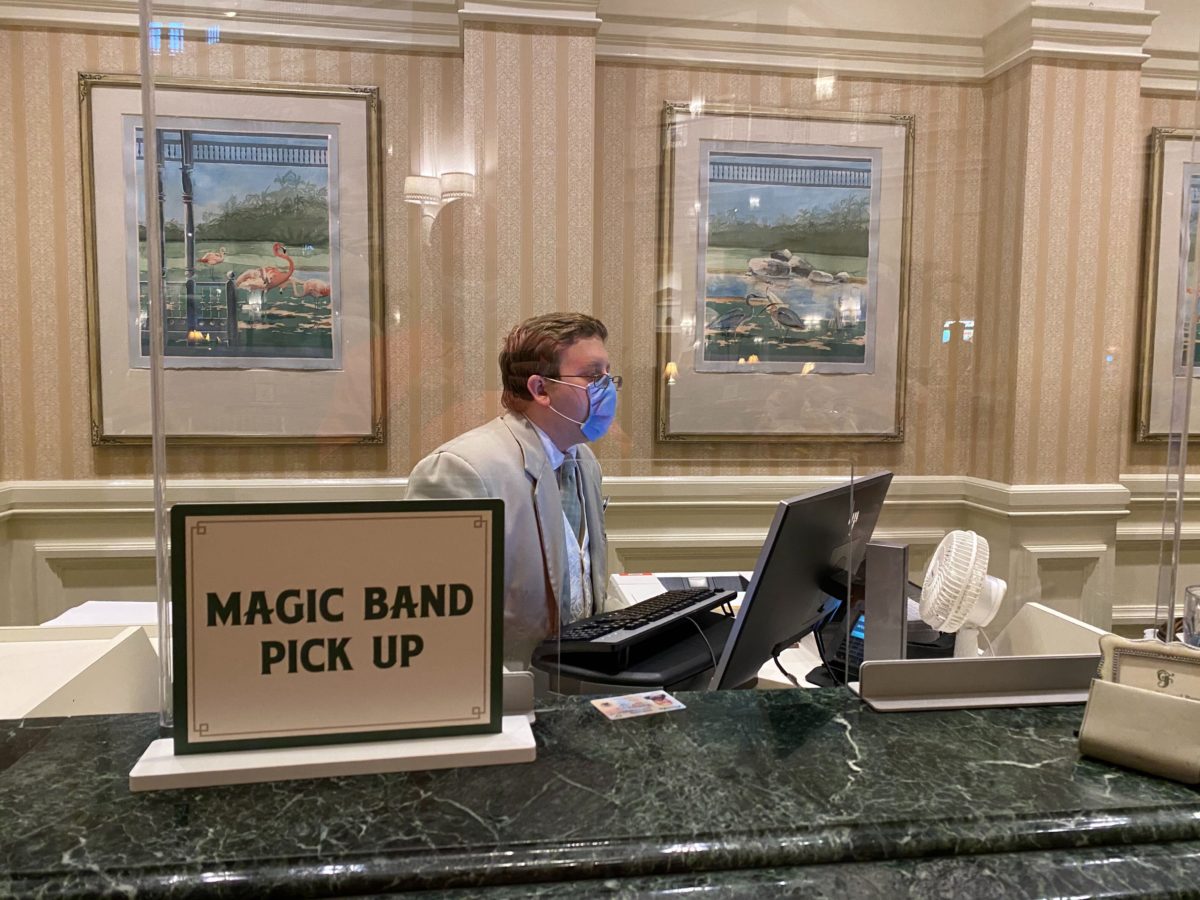 Guests can also pick up their MagicBands here, if they were not mailed beforehand.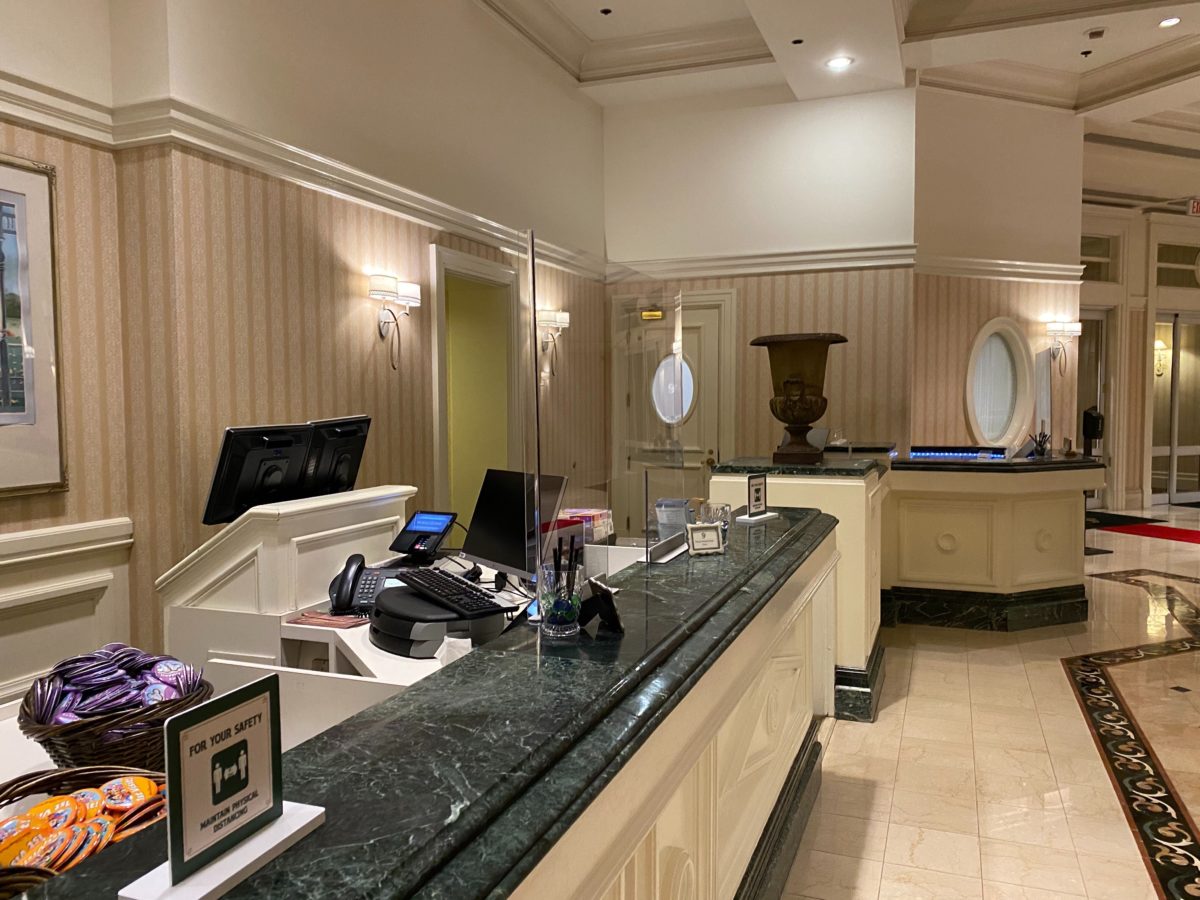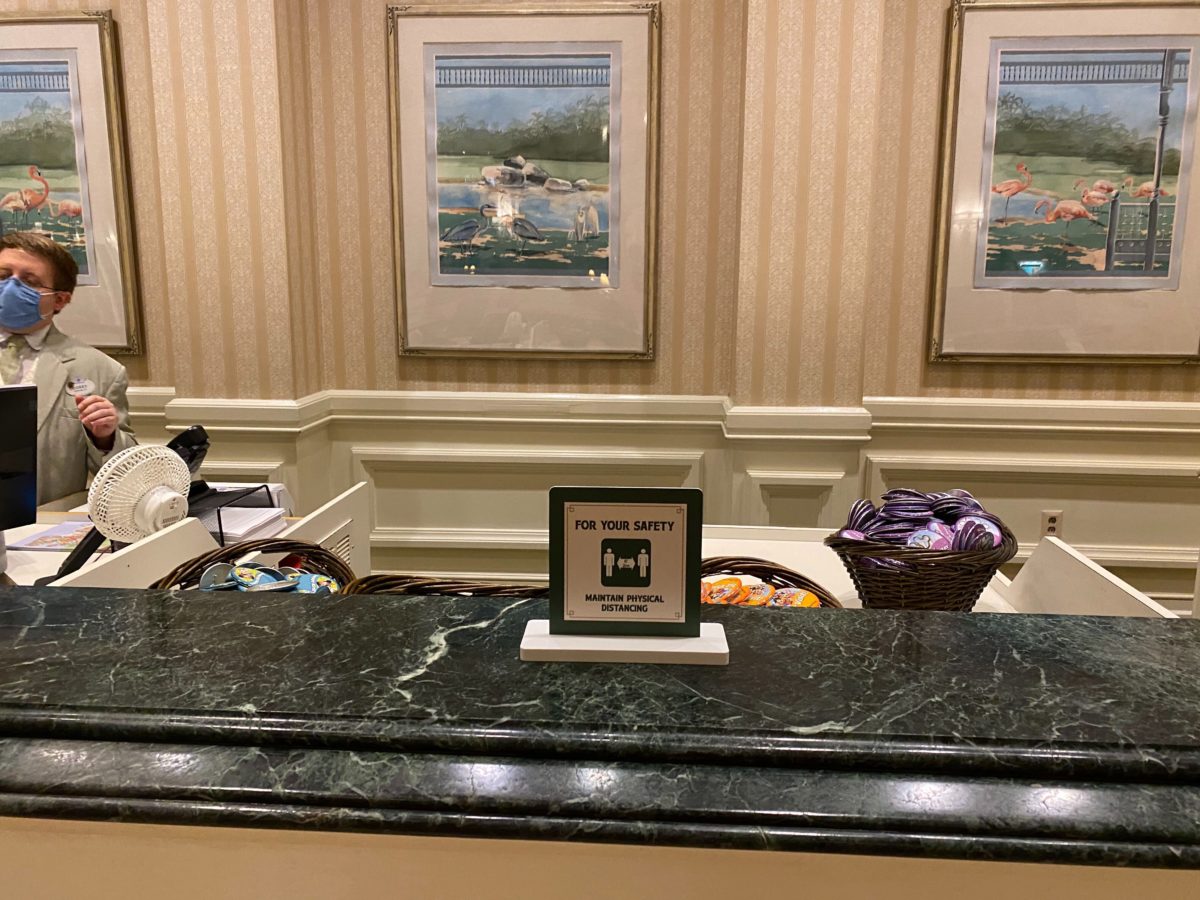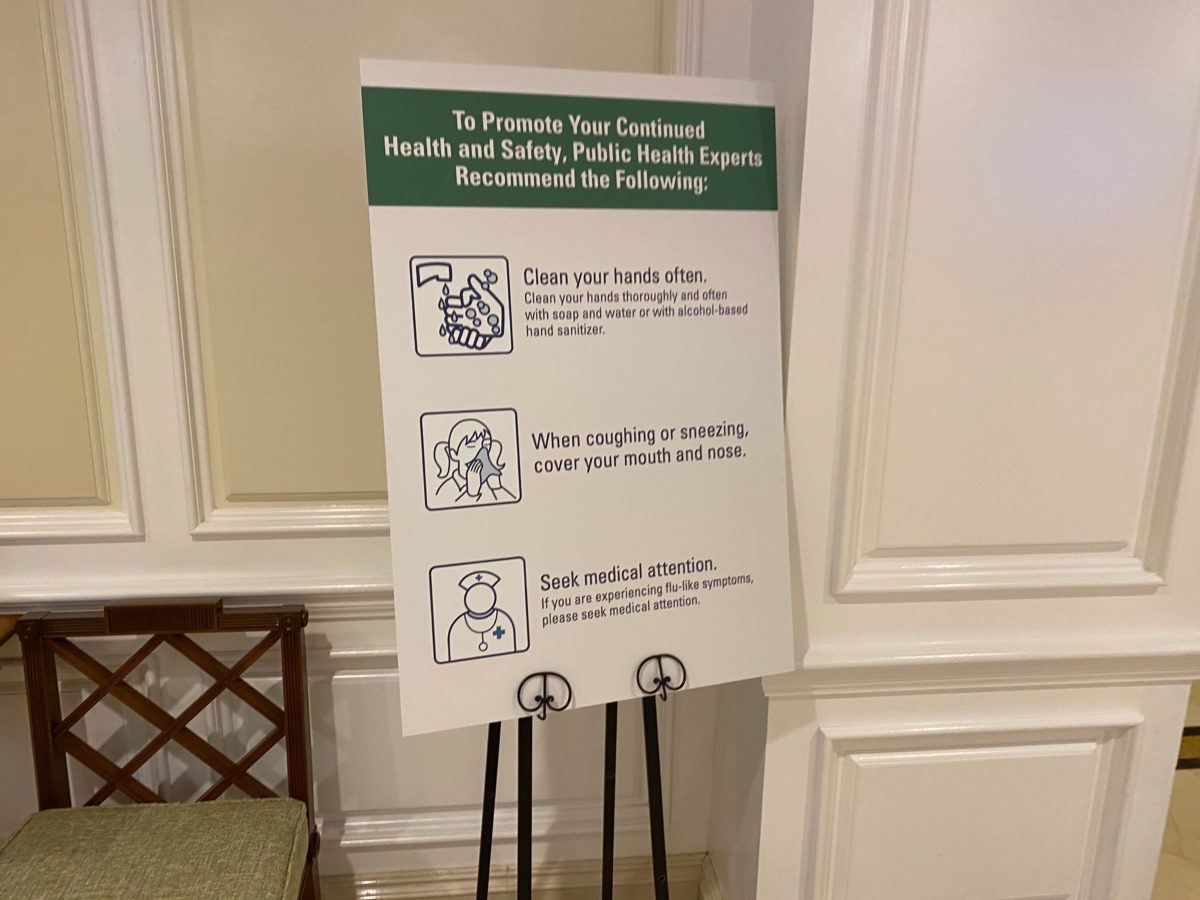 Throughout the lobby and at the exterior of the main resort entrance, you'll spot the ever-present COVID-19 Warning and Health and Safety Notice A-frame signs informing guests of the "new normal" across property.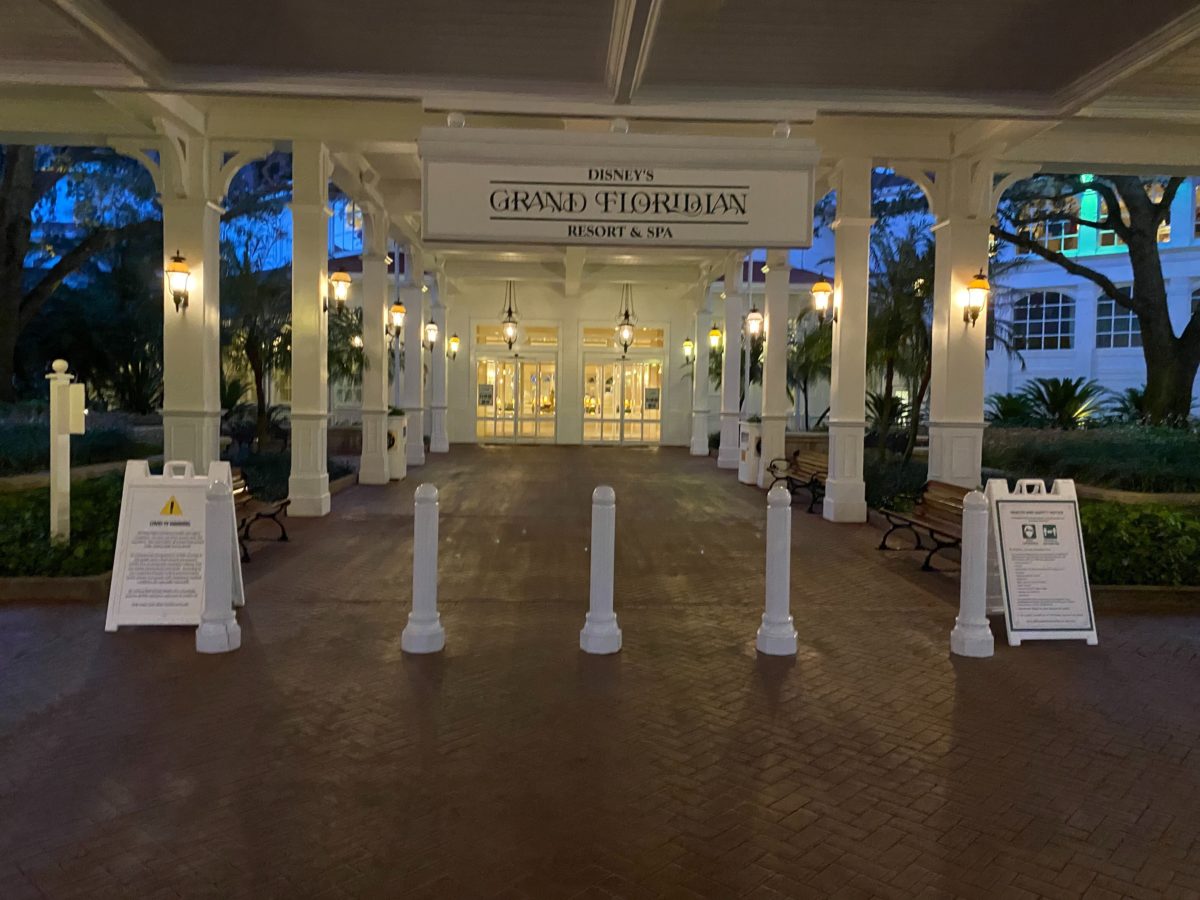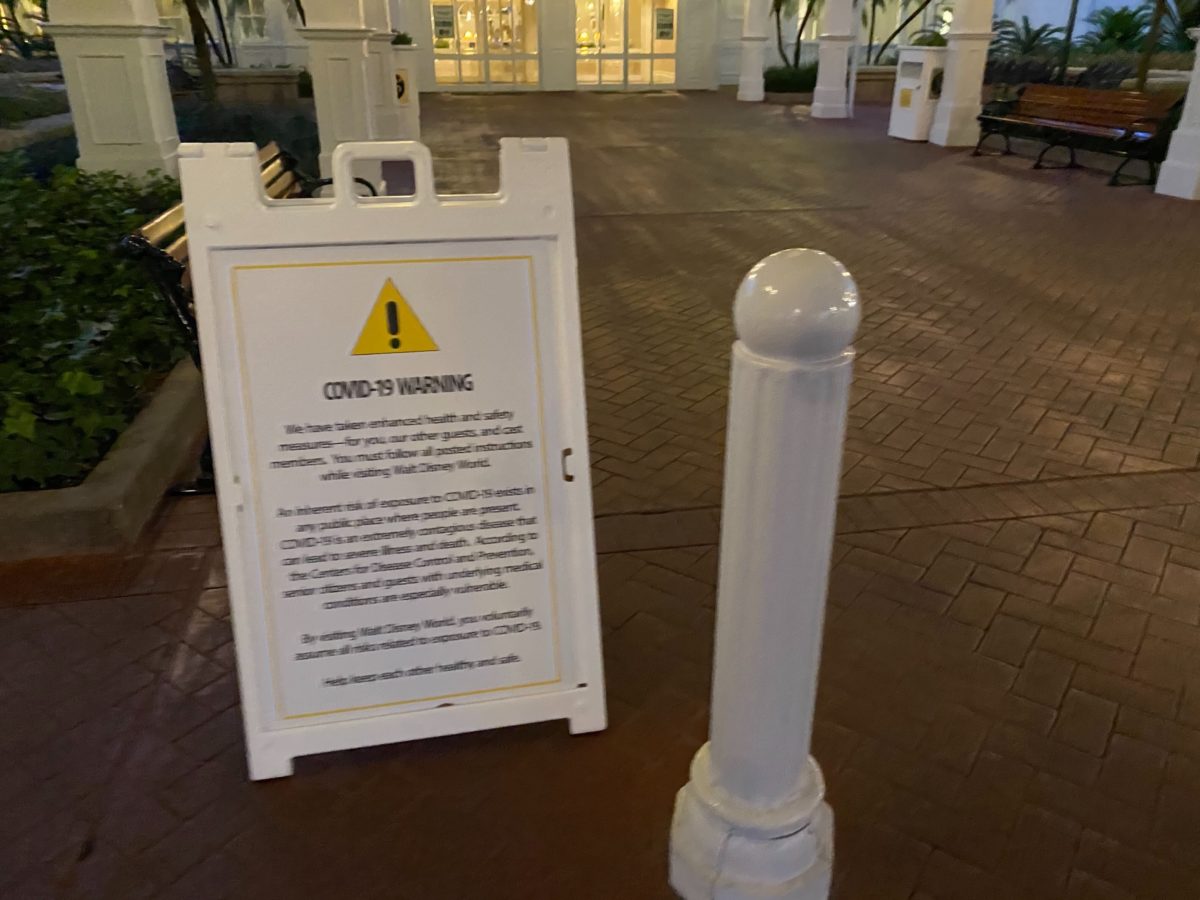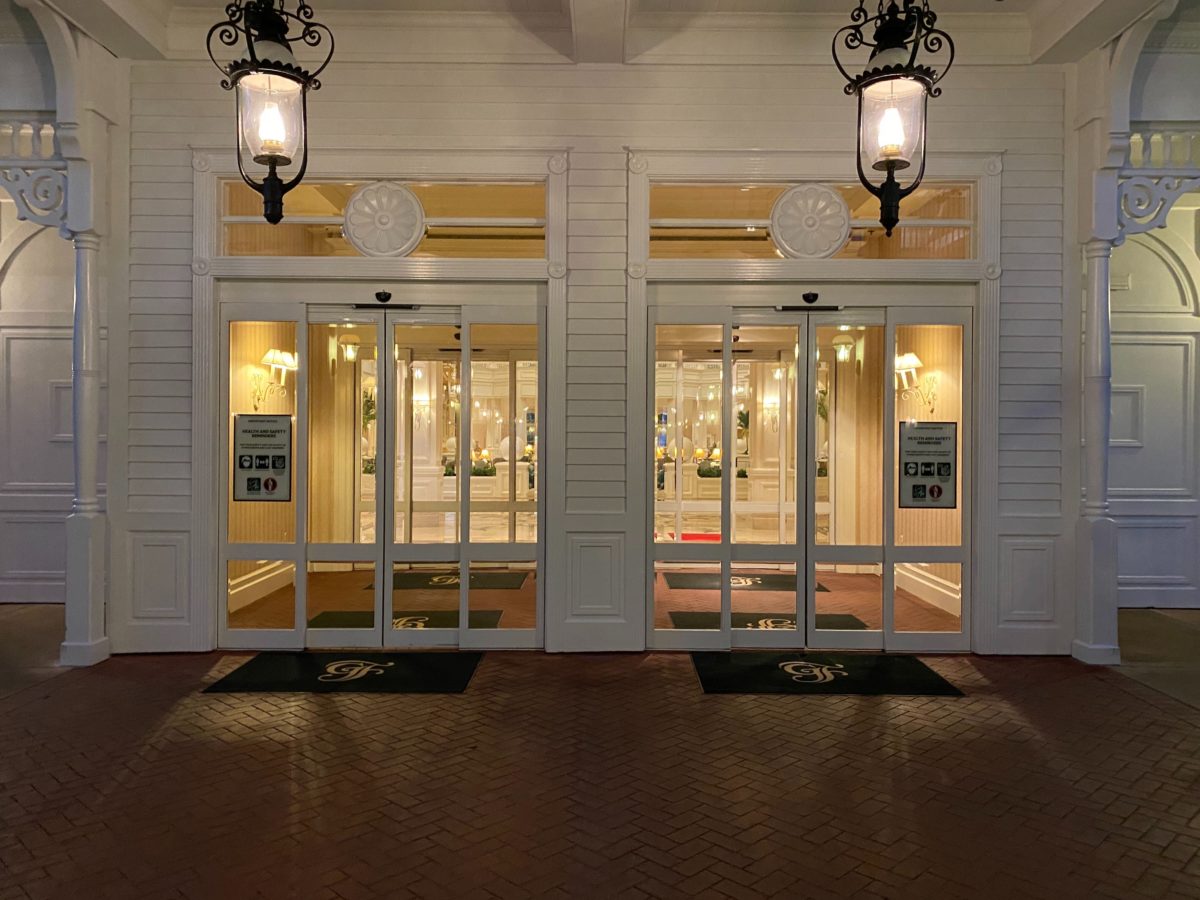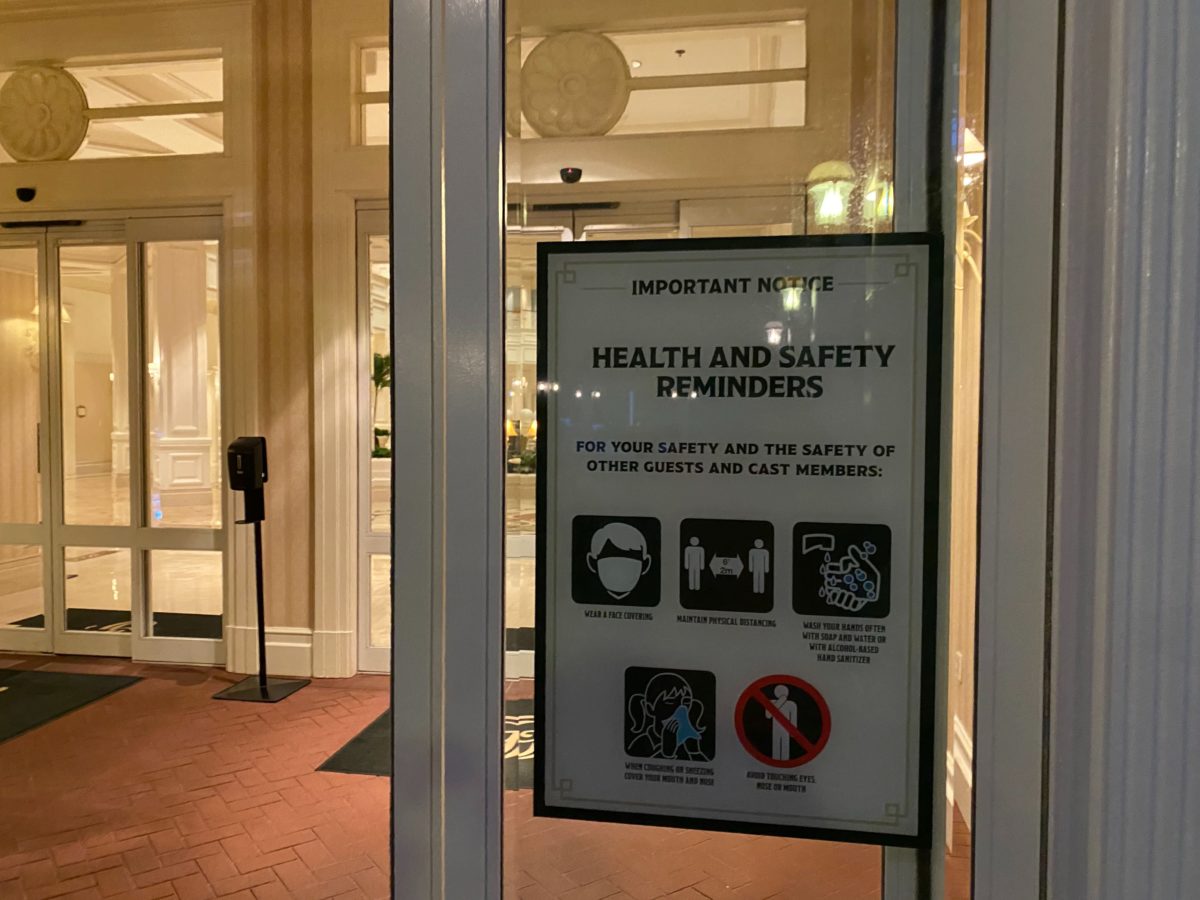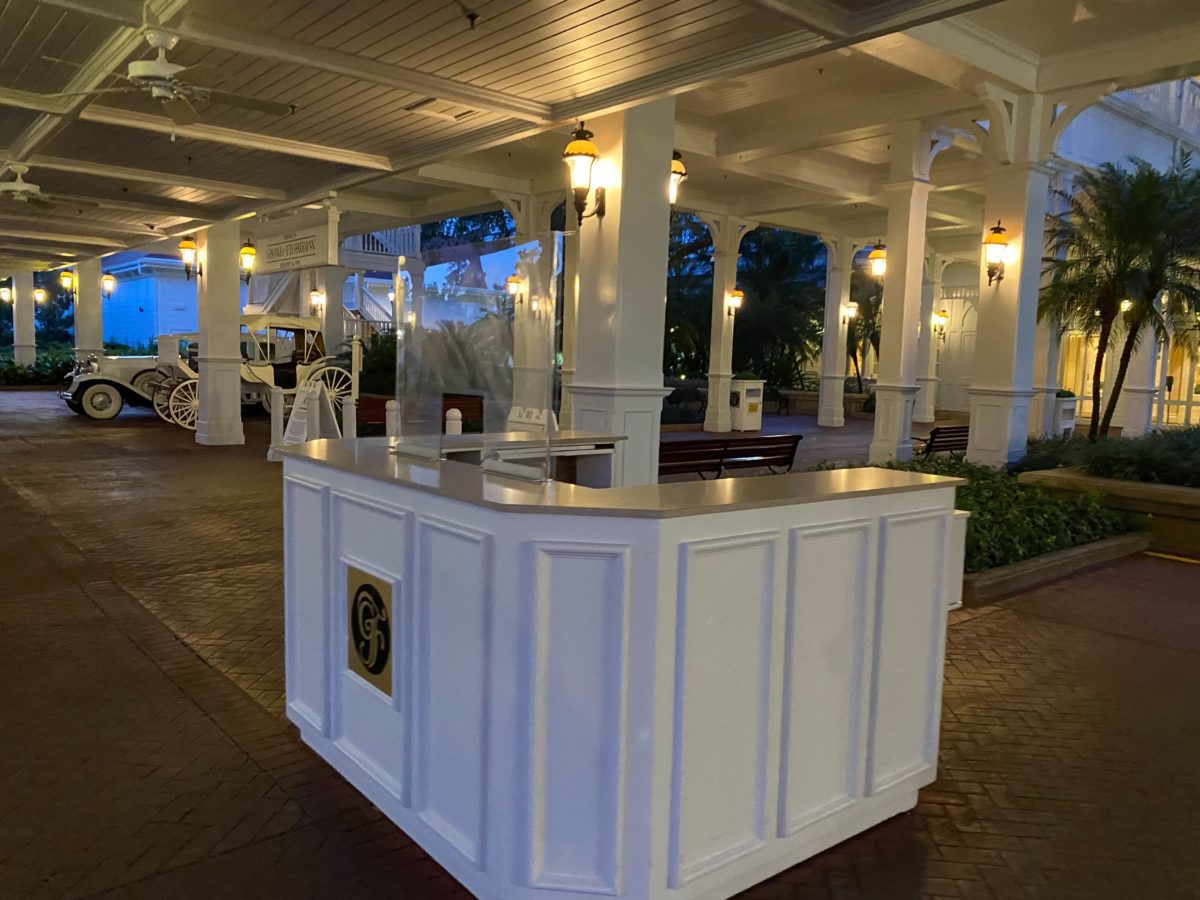 Even the valet desk has received the plexiglass update for safety. Thankfully, the old cars and buggies are still stationed outside for guests to marvel at and take photos with.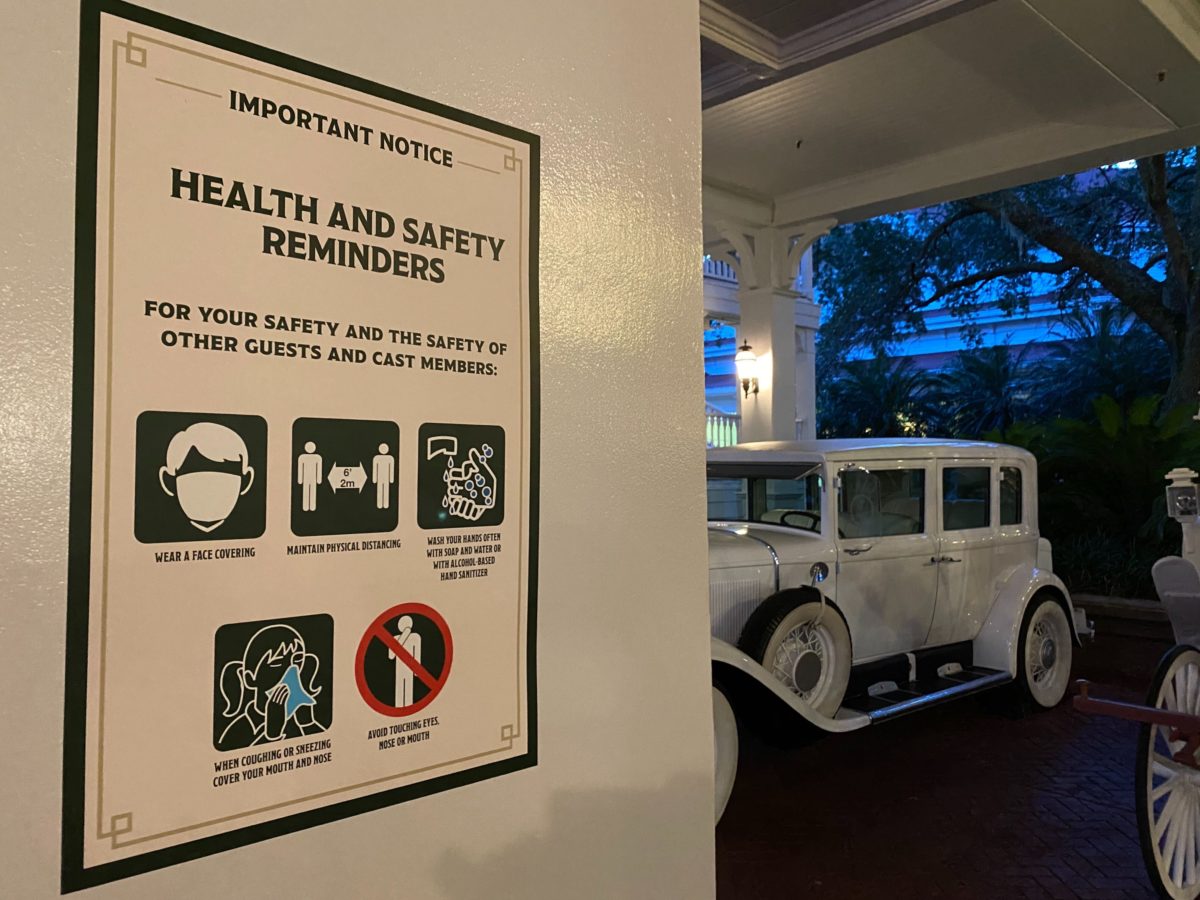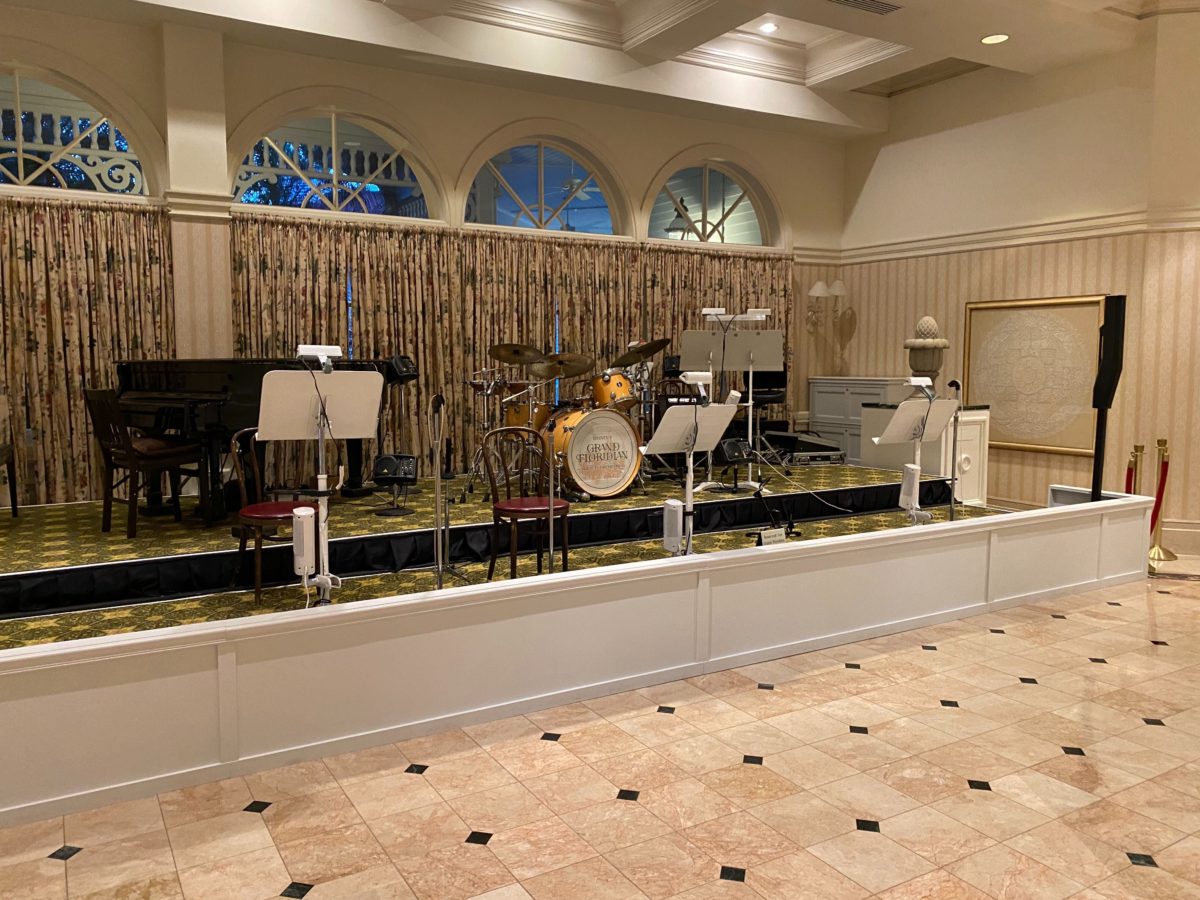 While we hope to see the return of the Grand Floridian Orchestra, it's unknown when they will start performing again. No social distancing markers were placed near the area in front of the stage where guests usually stand to watch or dance. Any shows or performances that render large crowds are temporarily discontinued.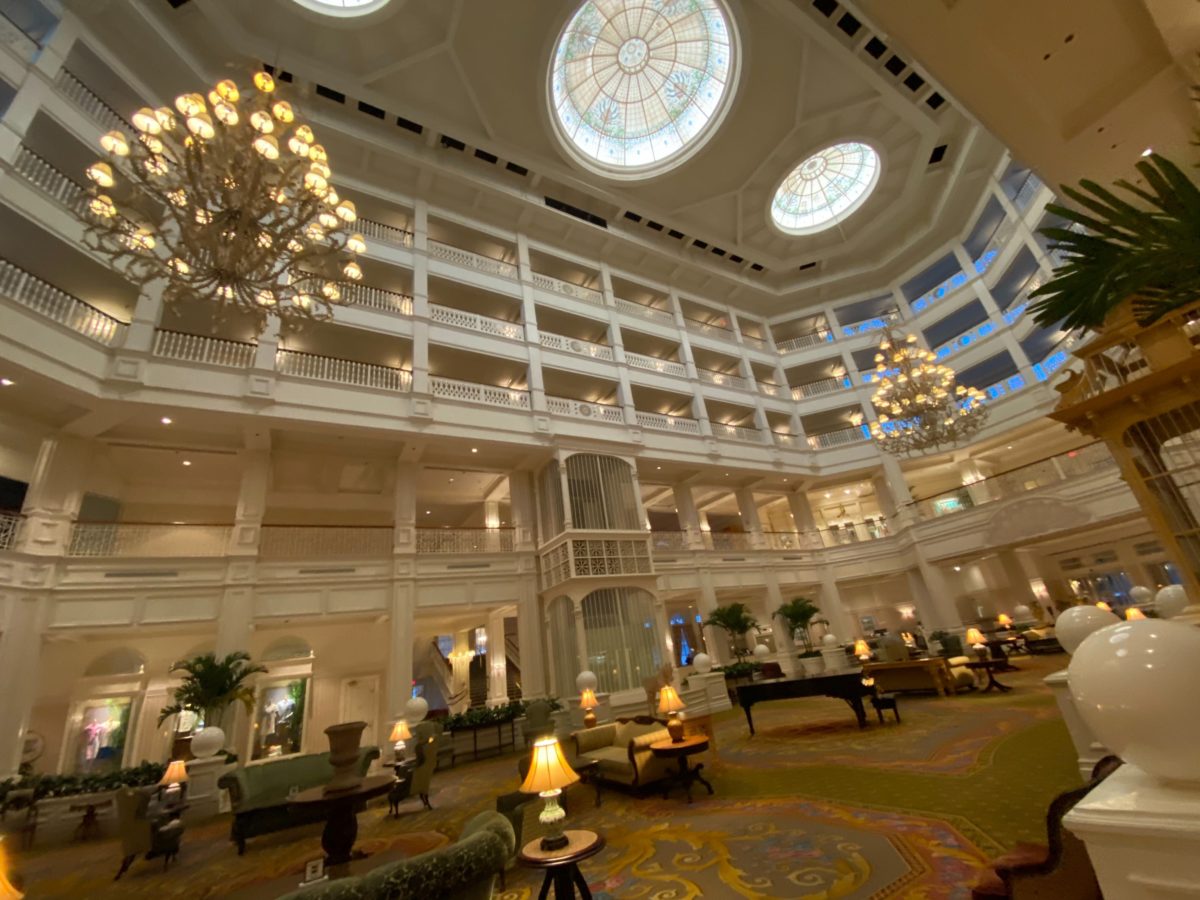 Despite the new guidelines and ever-changing environment, it feels great to be back at Walt Disney World's majestic flagship resort. Do note that in the coming weeks, Disney's Grand Floridian Resort & Spa will also become the temporary home of various NBA teams as they complete their season at the ESPN Wide World of Sports complex. It's unknown whether this lobby will remain open and available to guests moving forward.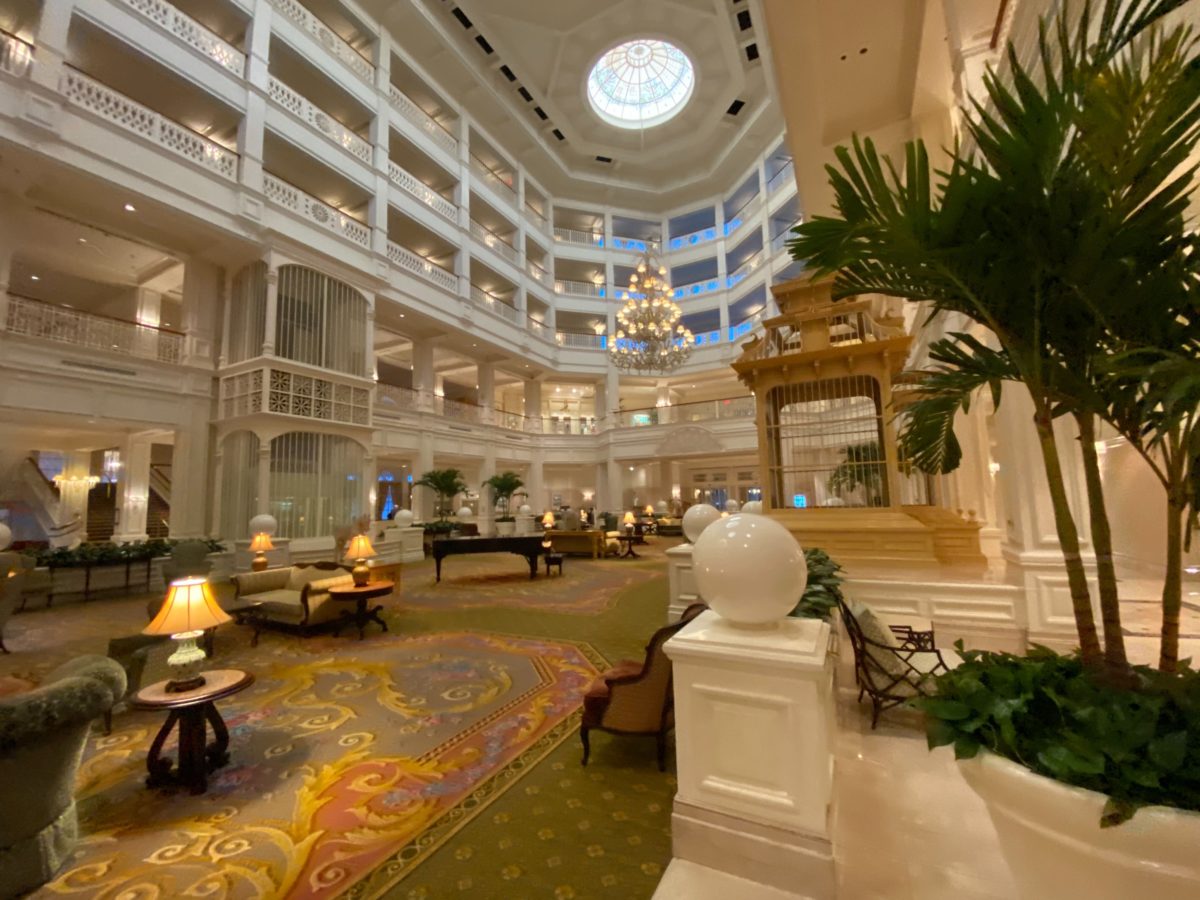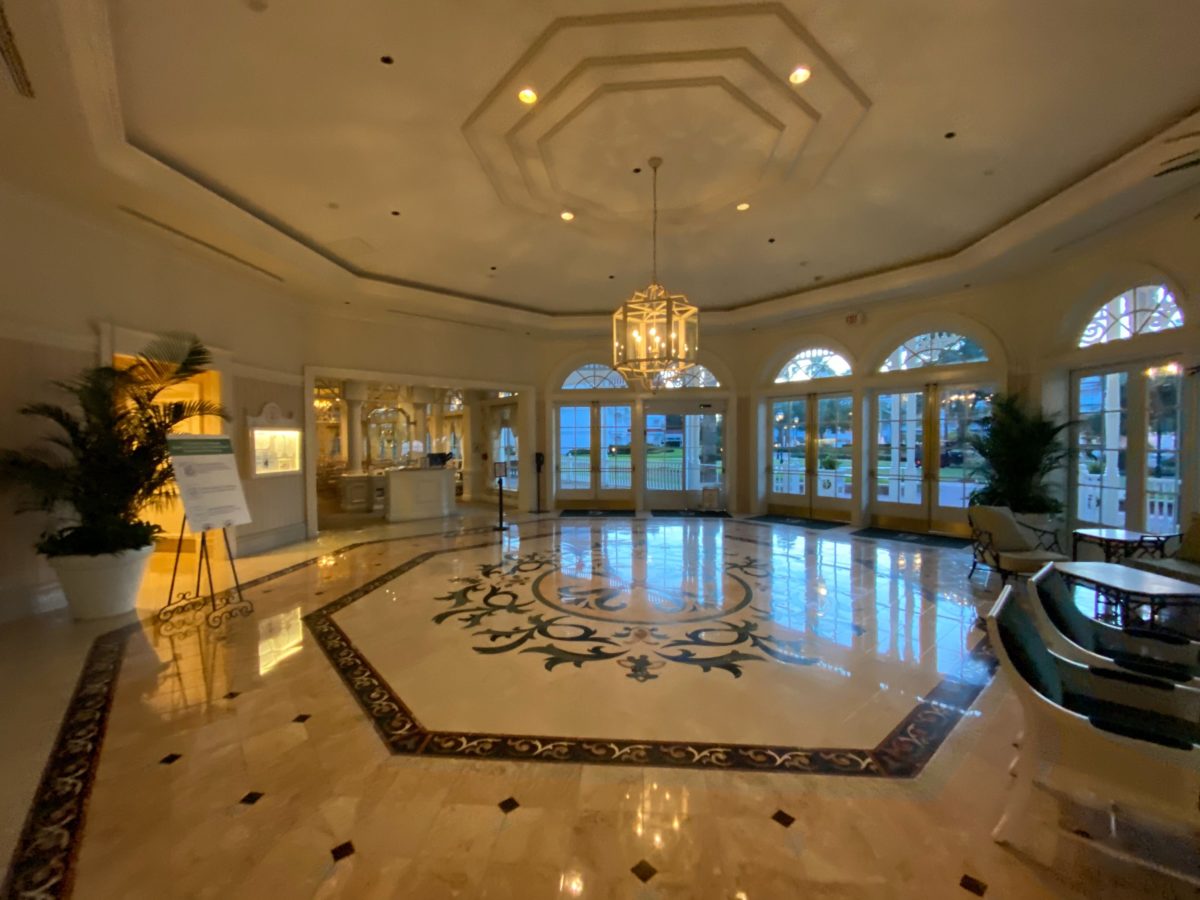 Moving over to one of the main dining hubs at the resort, we have 1900 Park Fare and Grand Floridian Cafe, of which only the latter is reopening for now.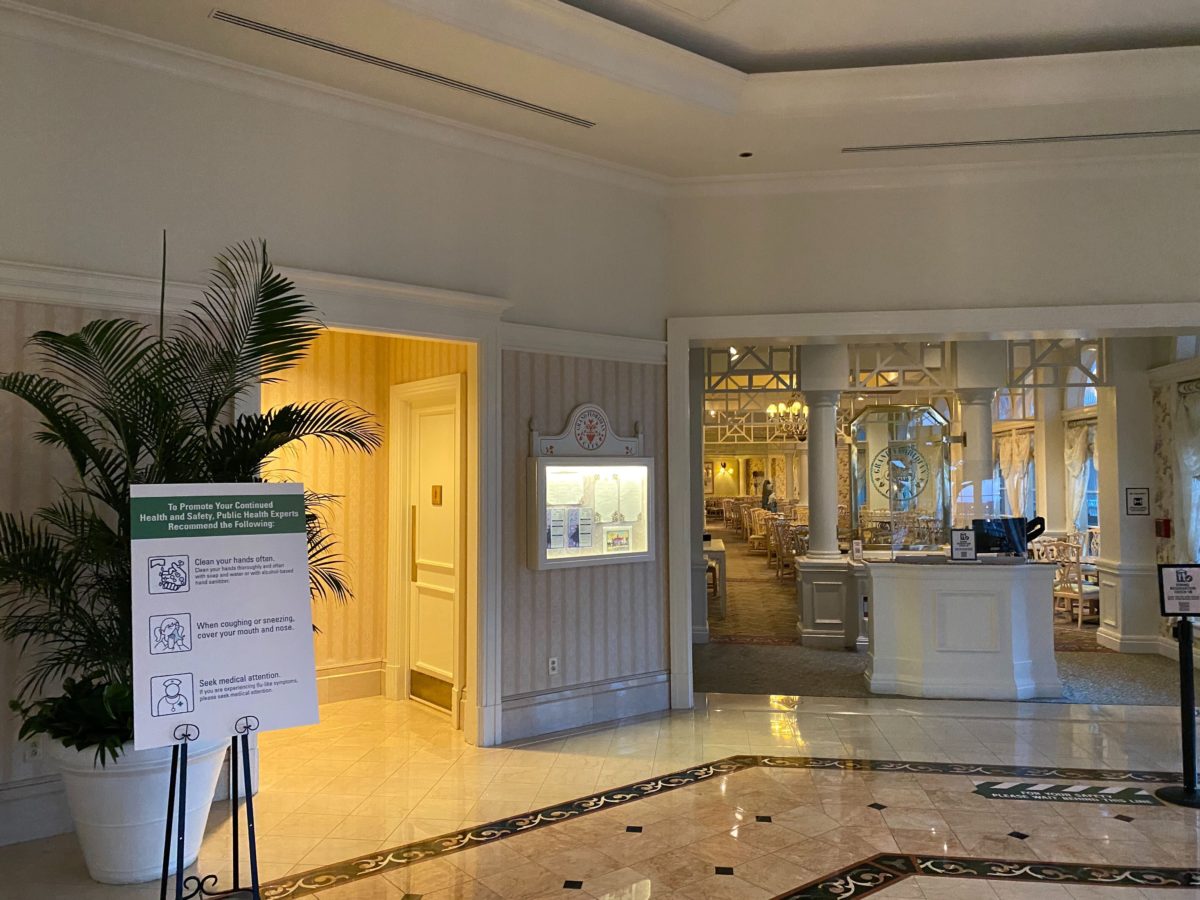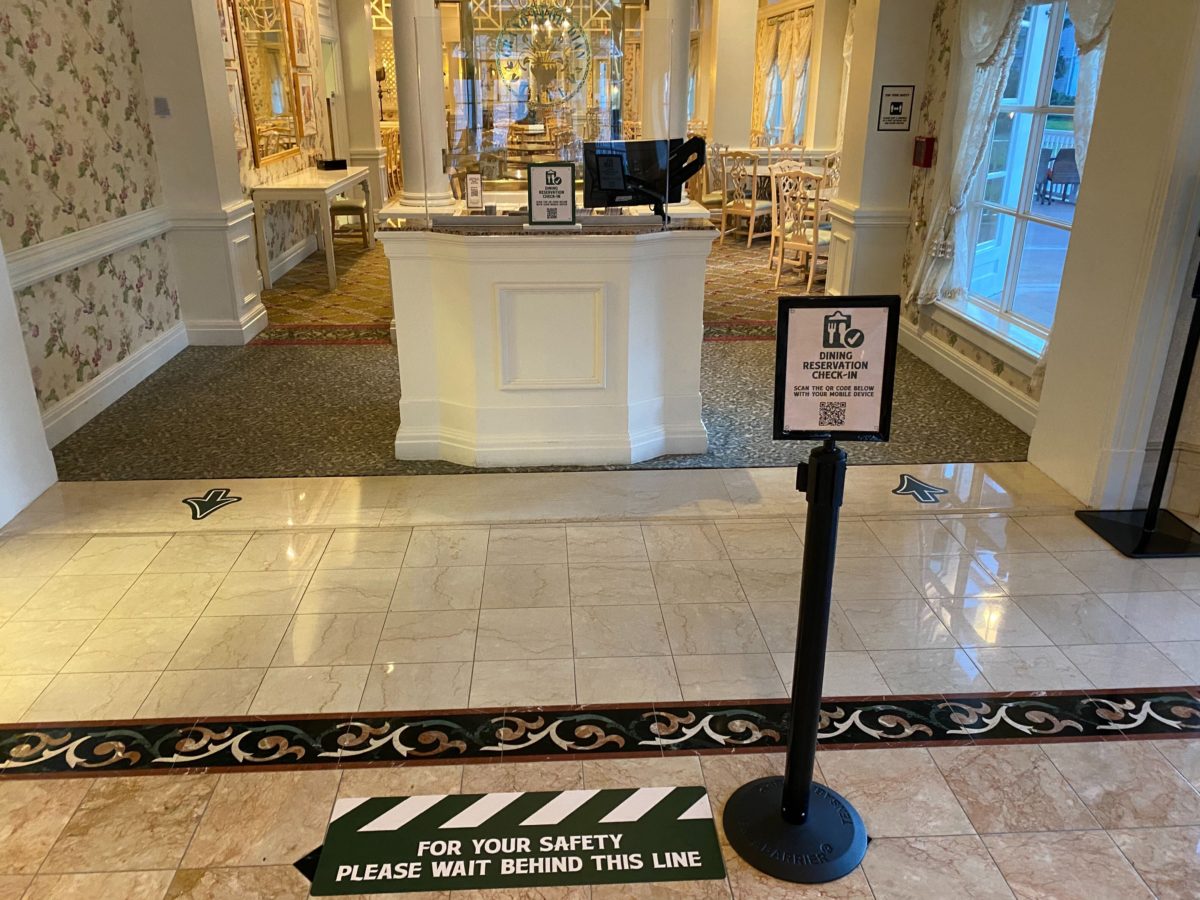 Here, you can see the full setup for Grand Floridian Cafe, including a dedicated entrance and exit marked by arrows on the floor, and a social distancing marker. A scannable QR code is available for guests to view a digital menu. Grand Floridian Cafe is also participating in Mobile Dine Check-in, so you can bypass the host stand completely if you wish. If you're still walking up to the host stand, a plexiglass barrier is in place.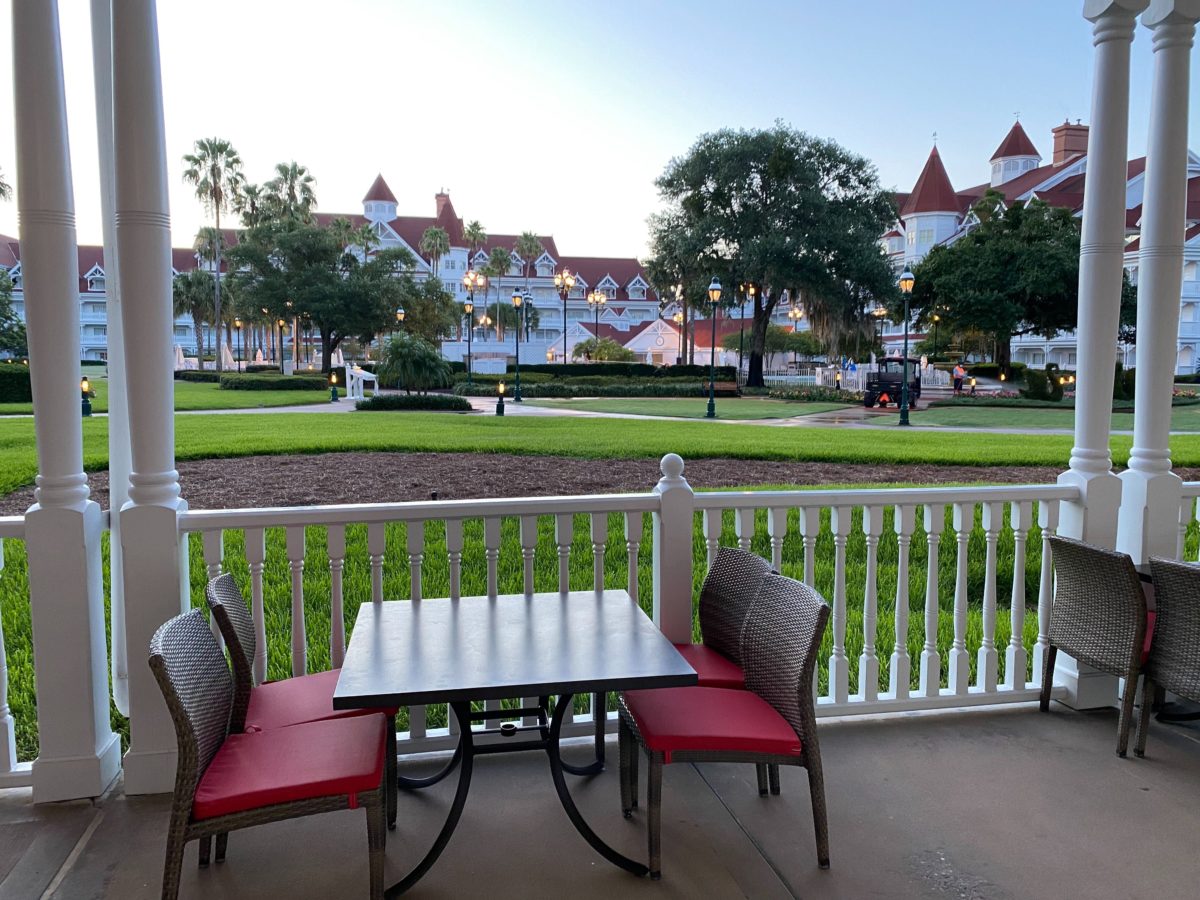 Tables outside the restaurant are spaced six feet apart.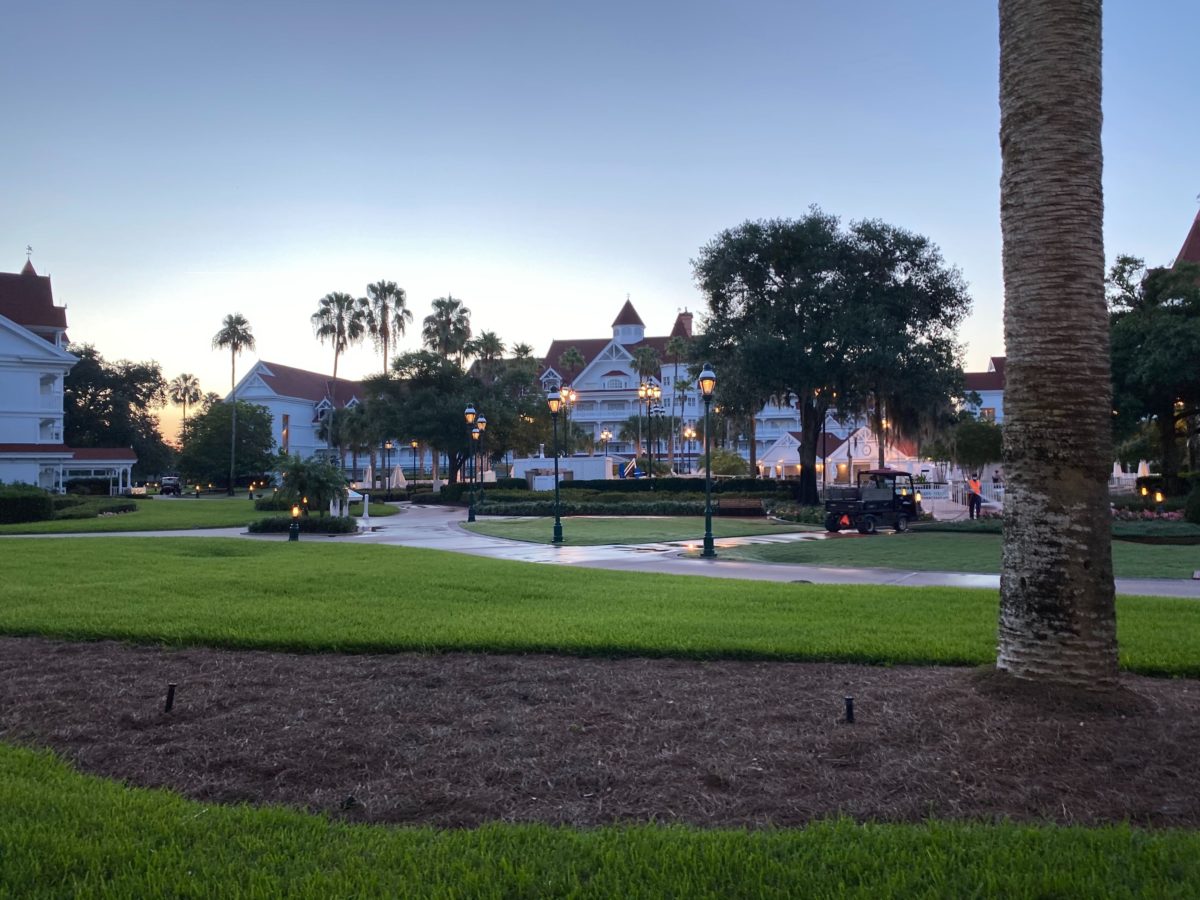 As we roamed the grounds, we noticed a lot of landscaping and prep taking place to welcome back guests.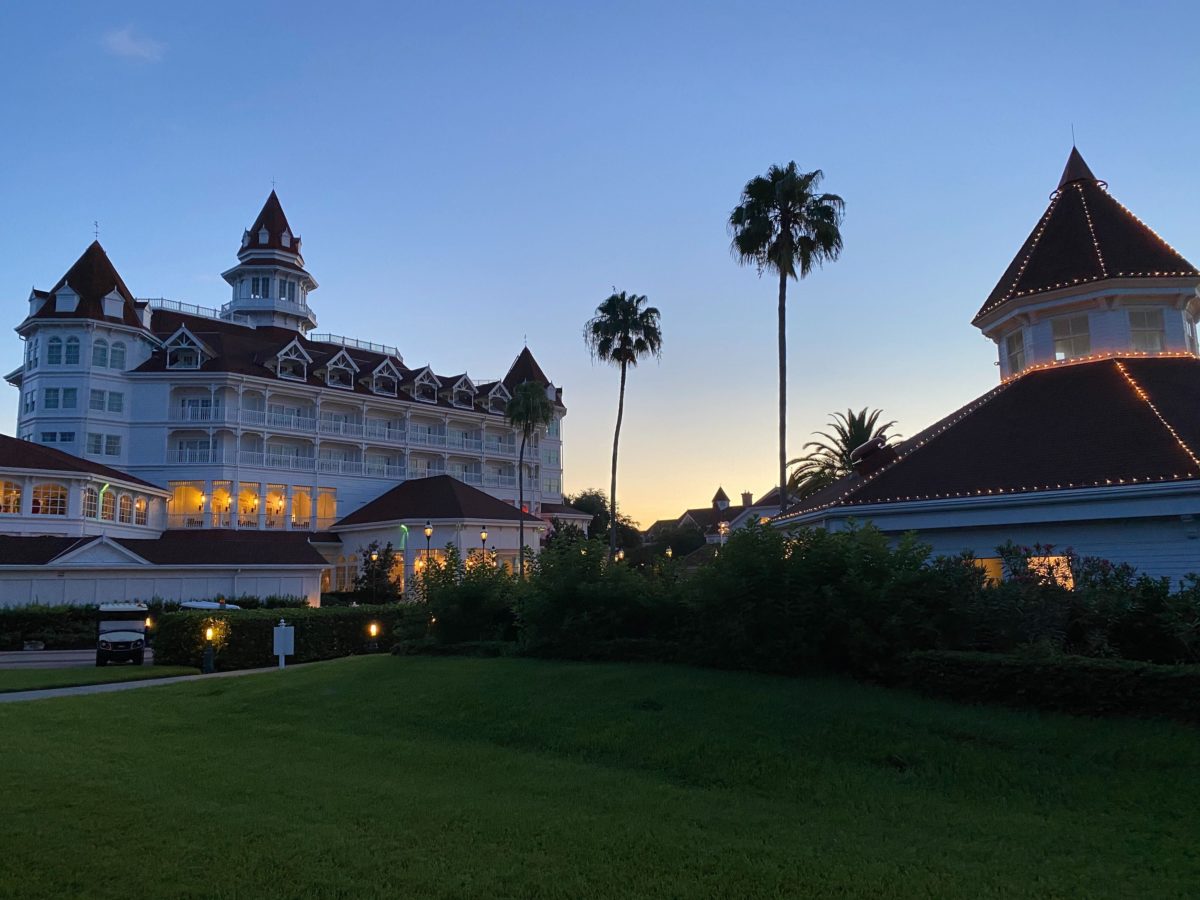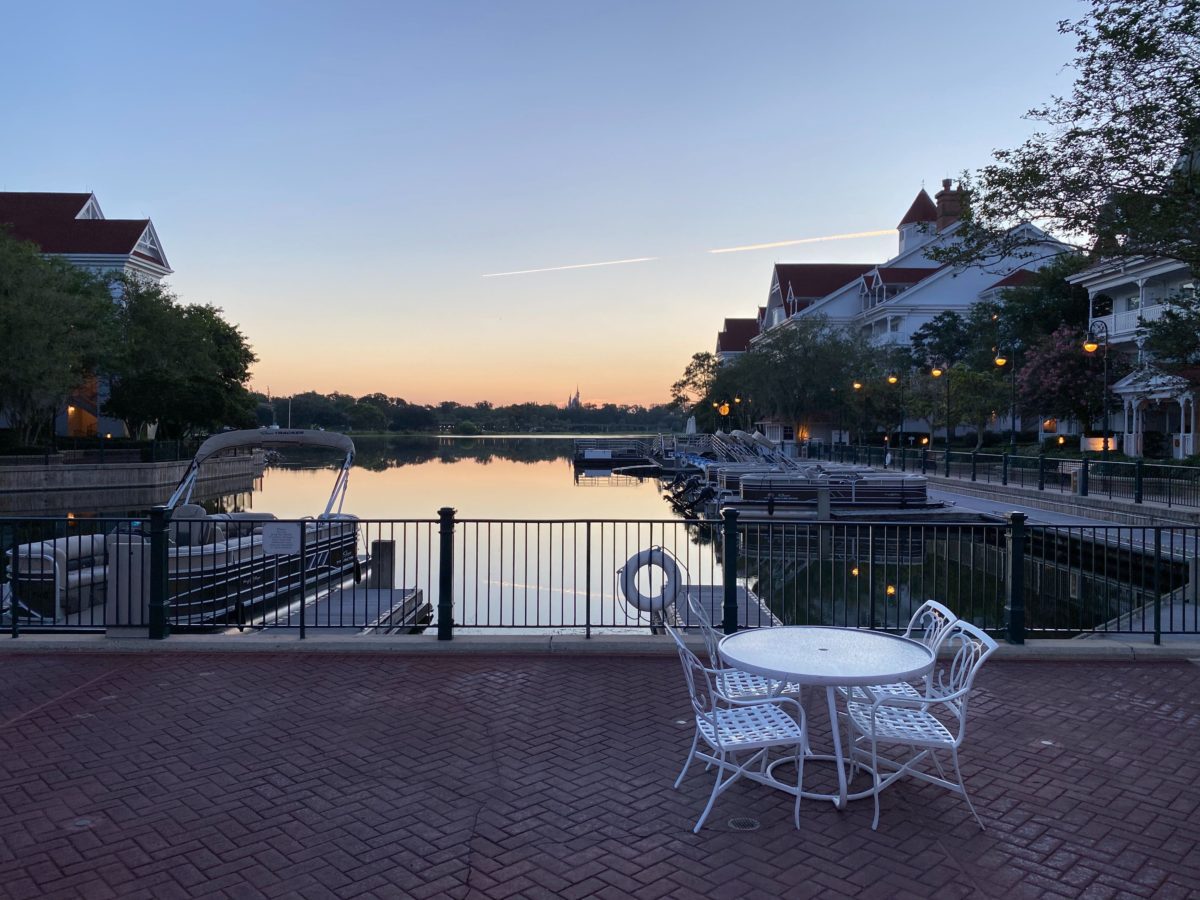 Moving over towards the boat dock, we get a stellar view of the sun rising just past Cinderella Castle in the distance.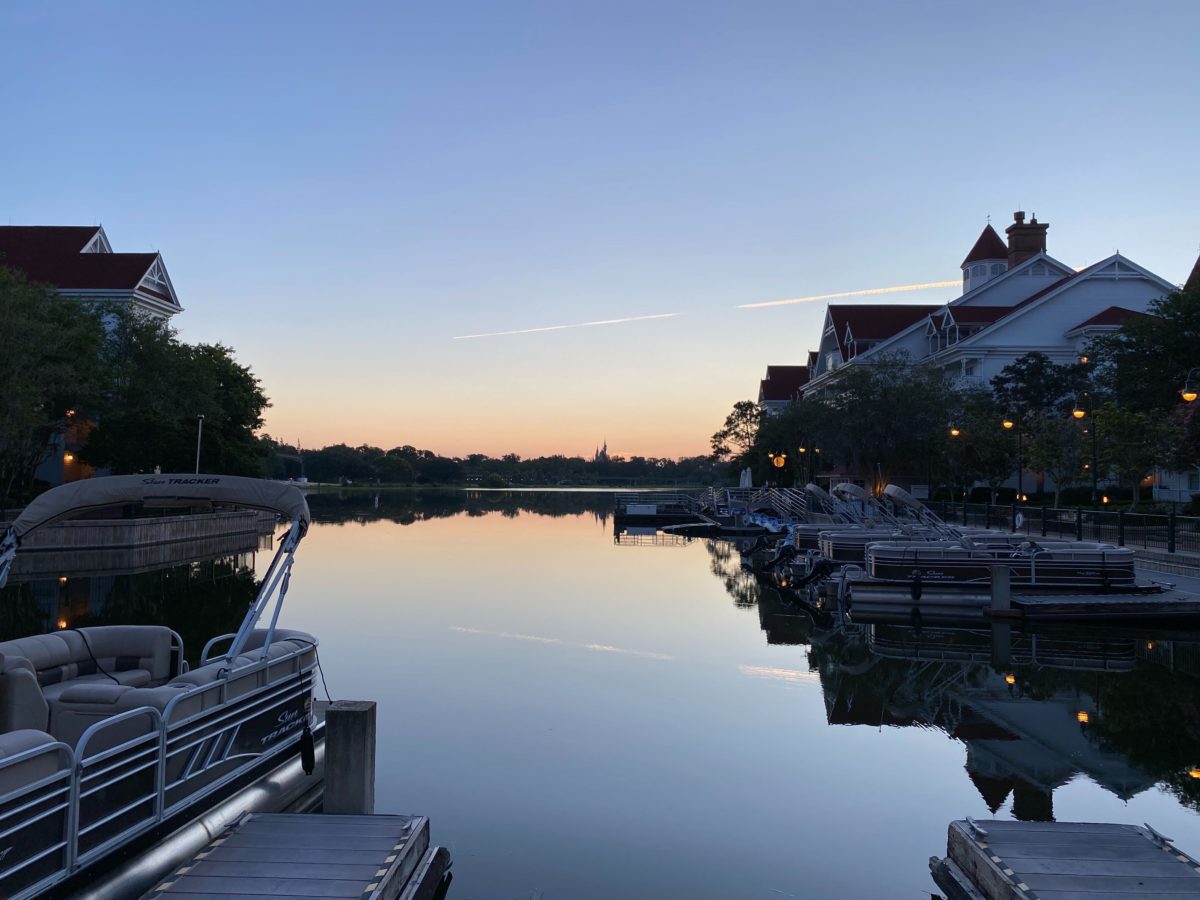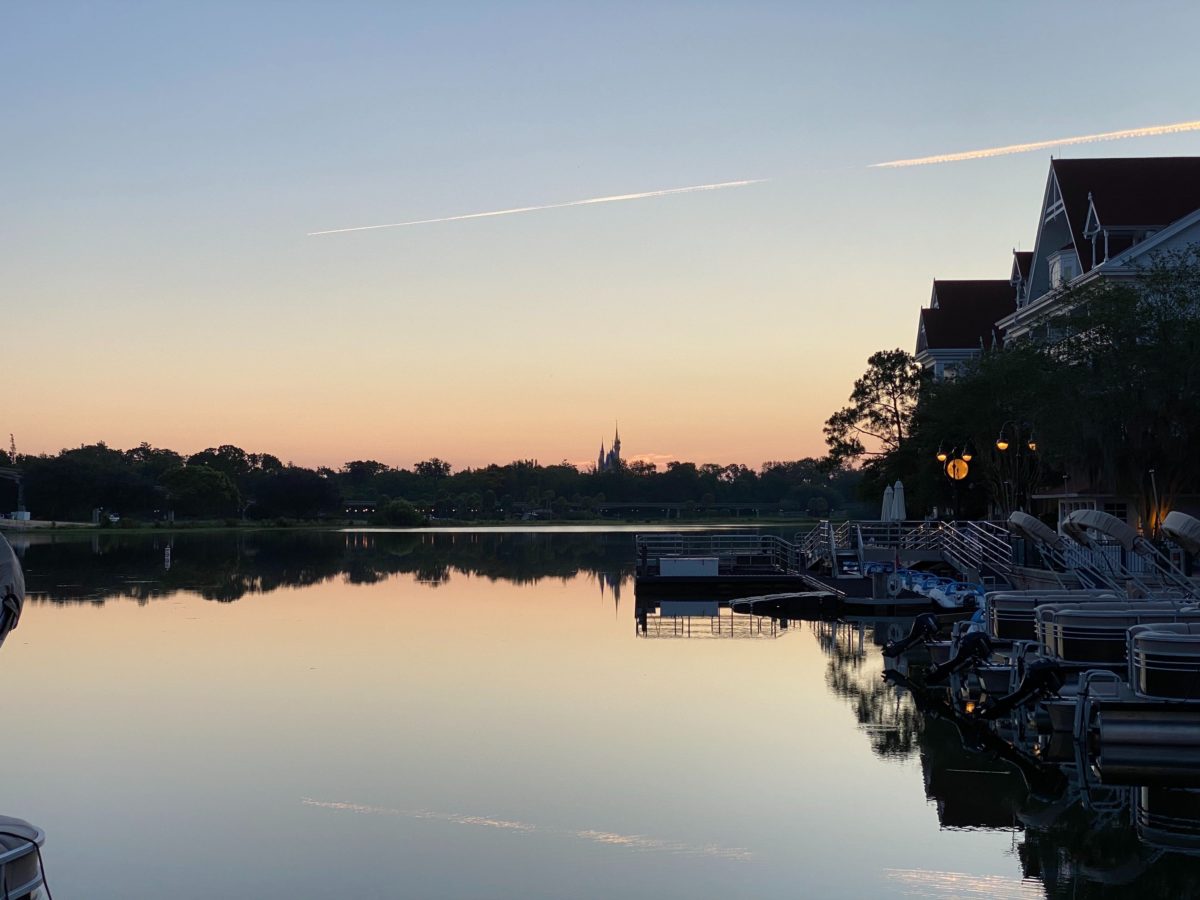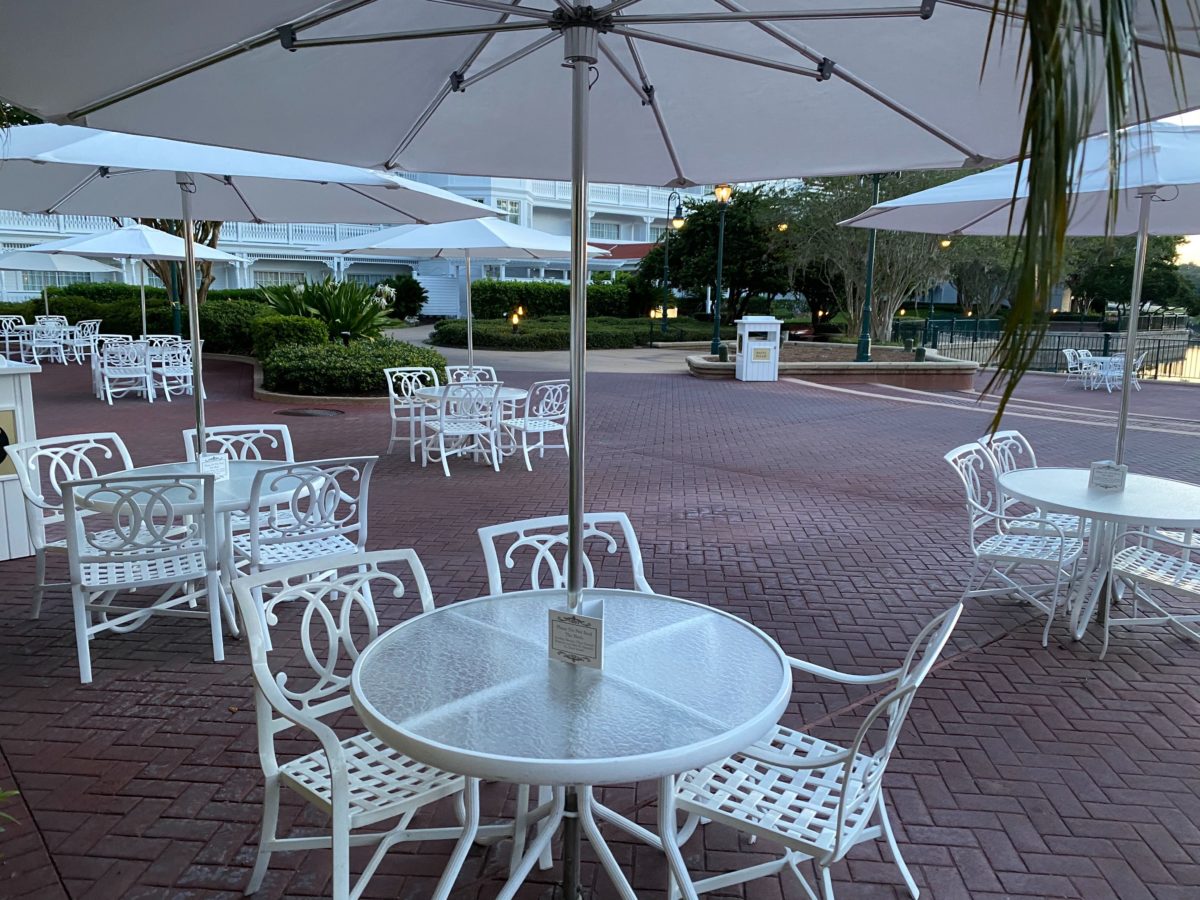 Tables are set up at a distance from each other.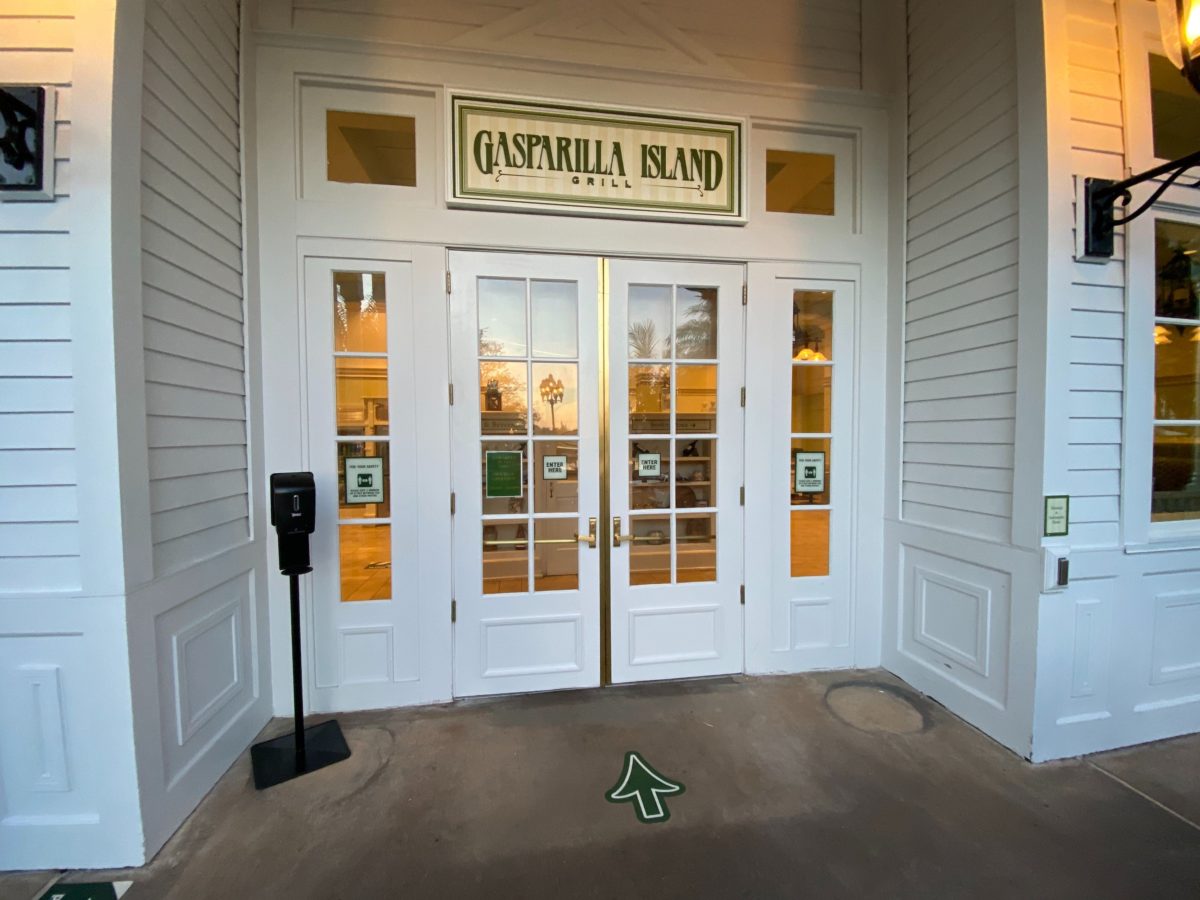 Gasparilla Island Grill will also be reopening at the resort, and similar measures are in place over here as well, with hand sanitizer, a dedicated entrance outlined by an arrow, plus QR code menus. This location also participates in Mobile Order, so you can place an order for food right from the My Disney Experience app.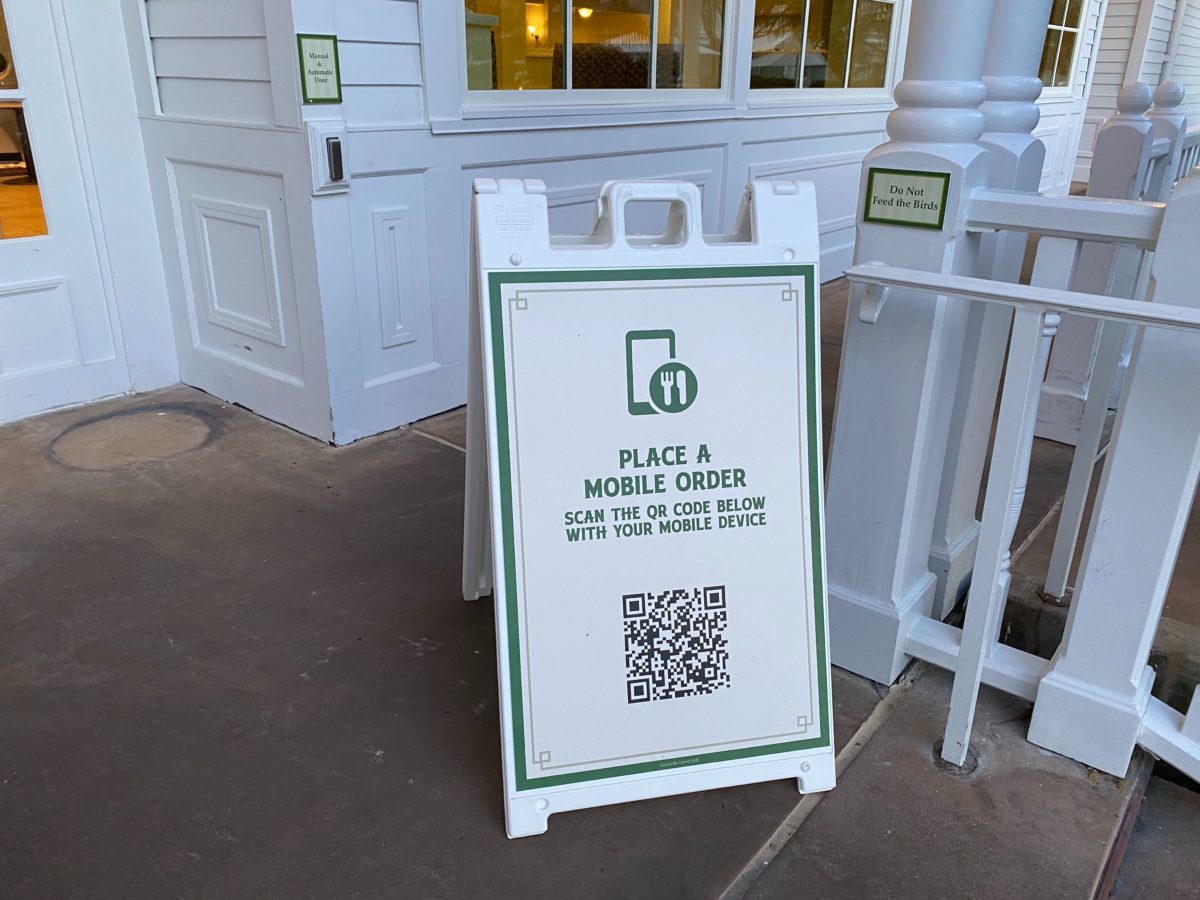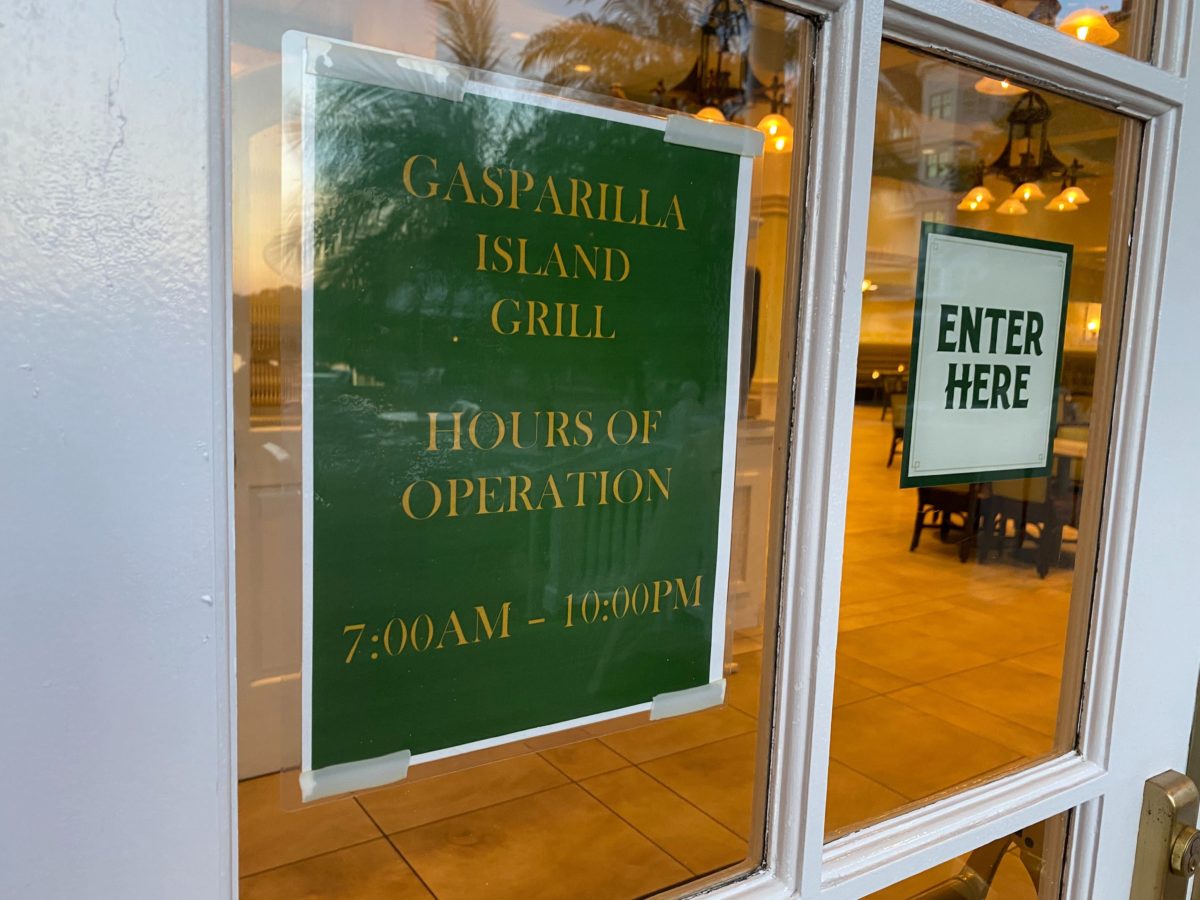 While famed as a 24-hour eatery, Gasparilla Island Grill is operating under reduced hours, open only from 7:00 AM to 10:00 PM, for now.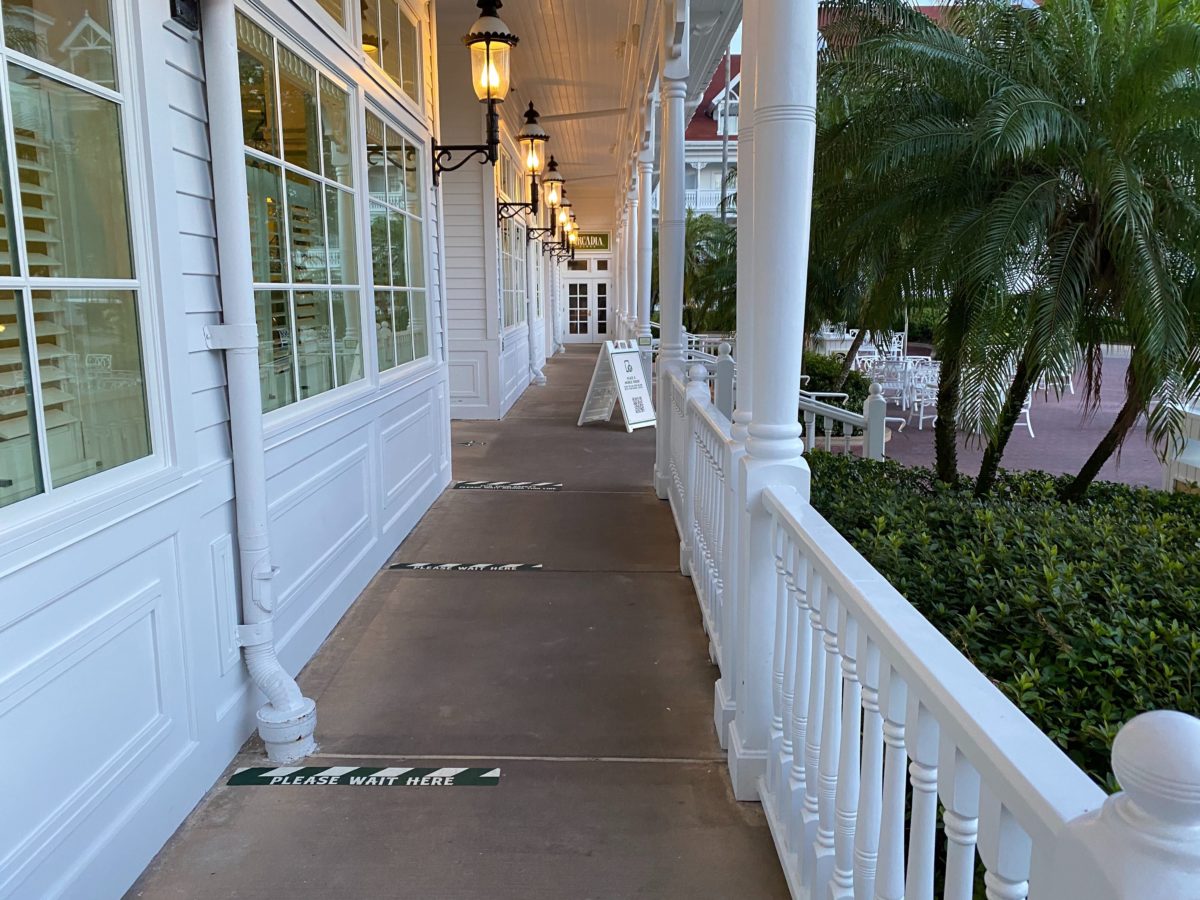 Social distance markers are also in place leading up to the restaurant, for guests to line up.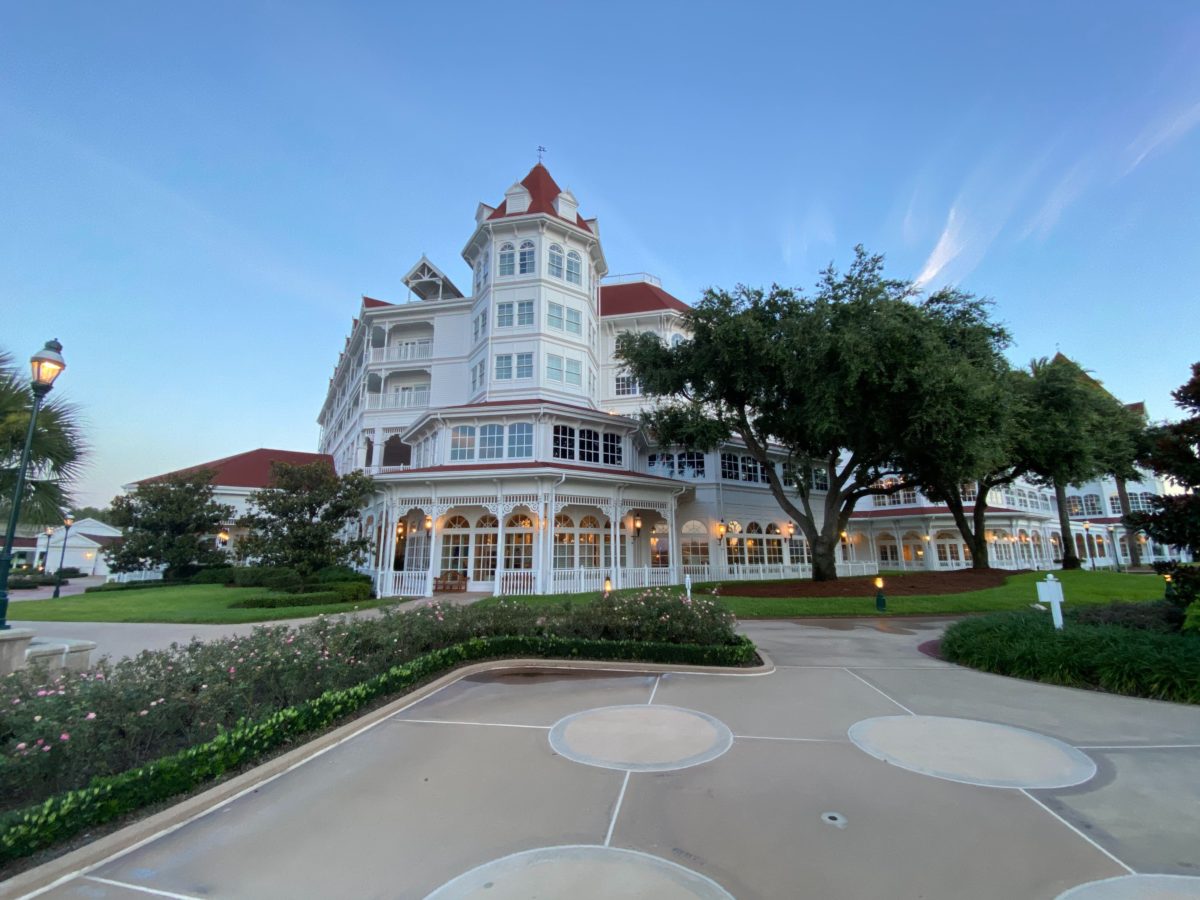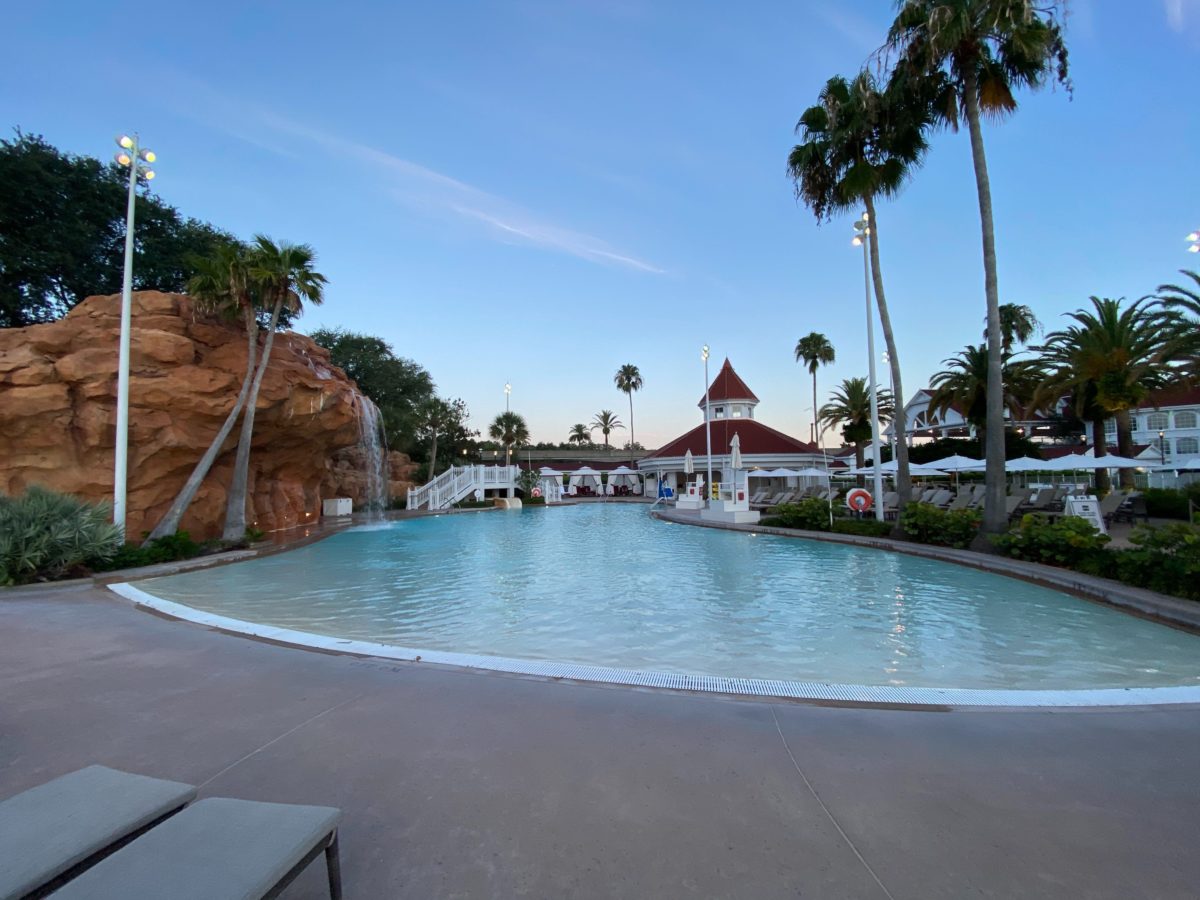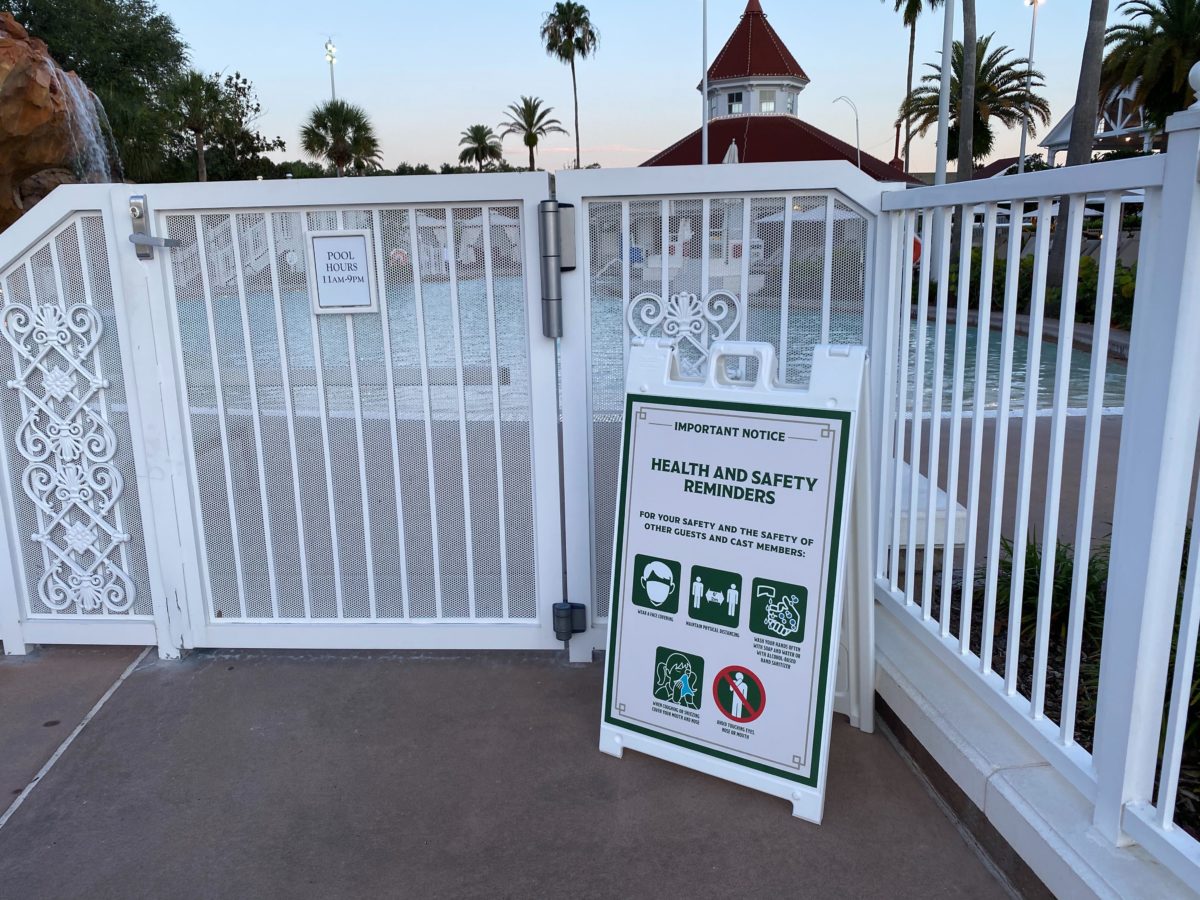 Moving through the resort's lush grounds, we note that the pools are open, with the exception of the kid's pool. The kid's water play area is also still under refurbishment: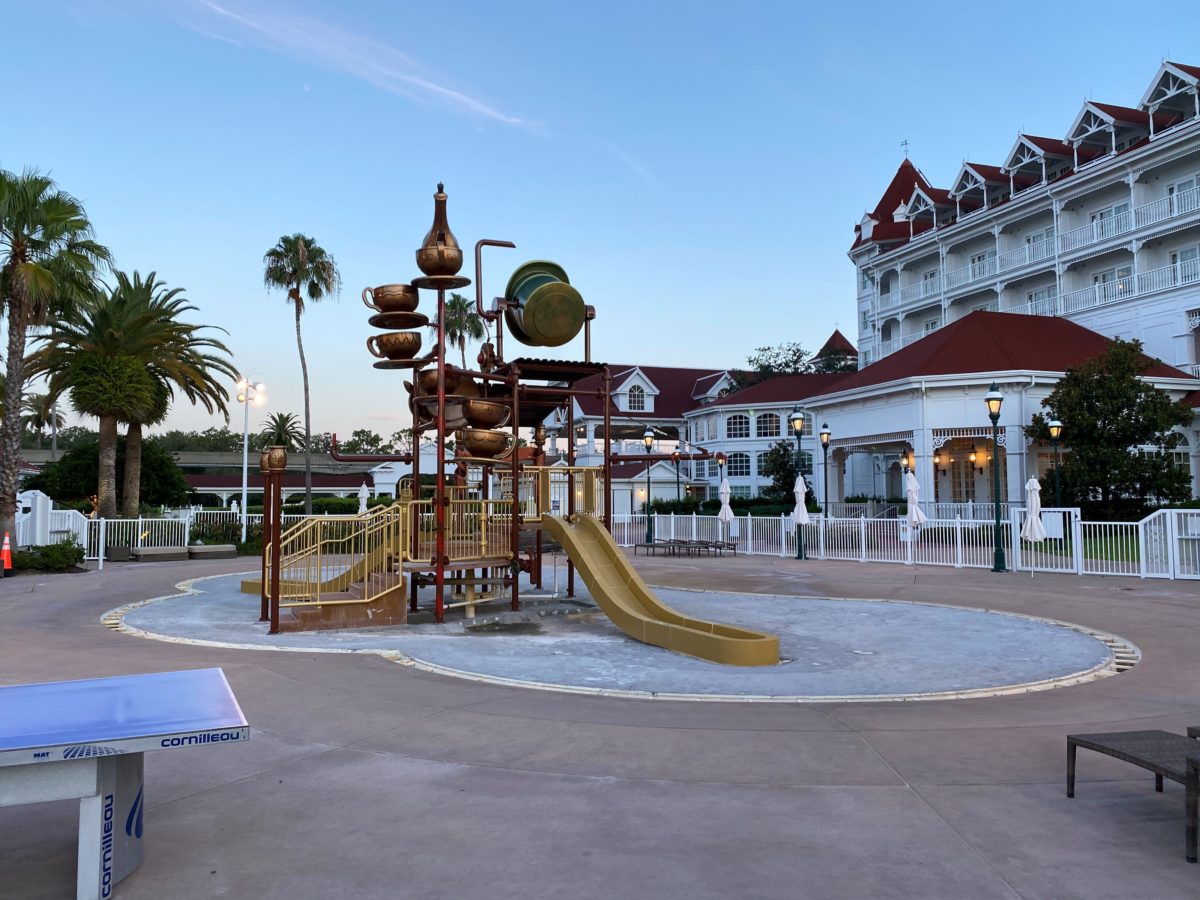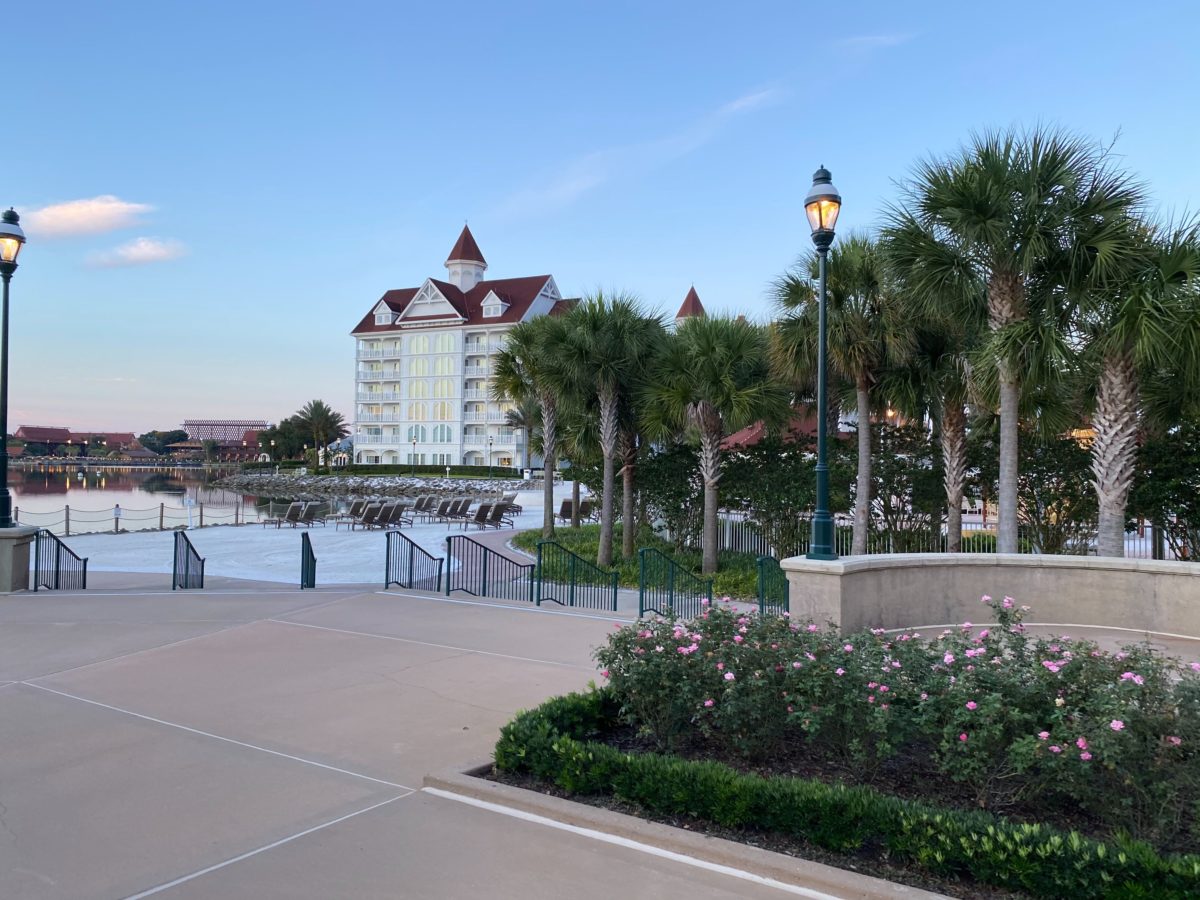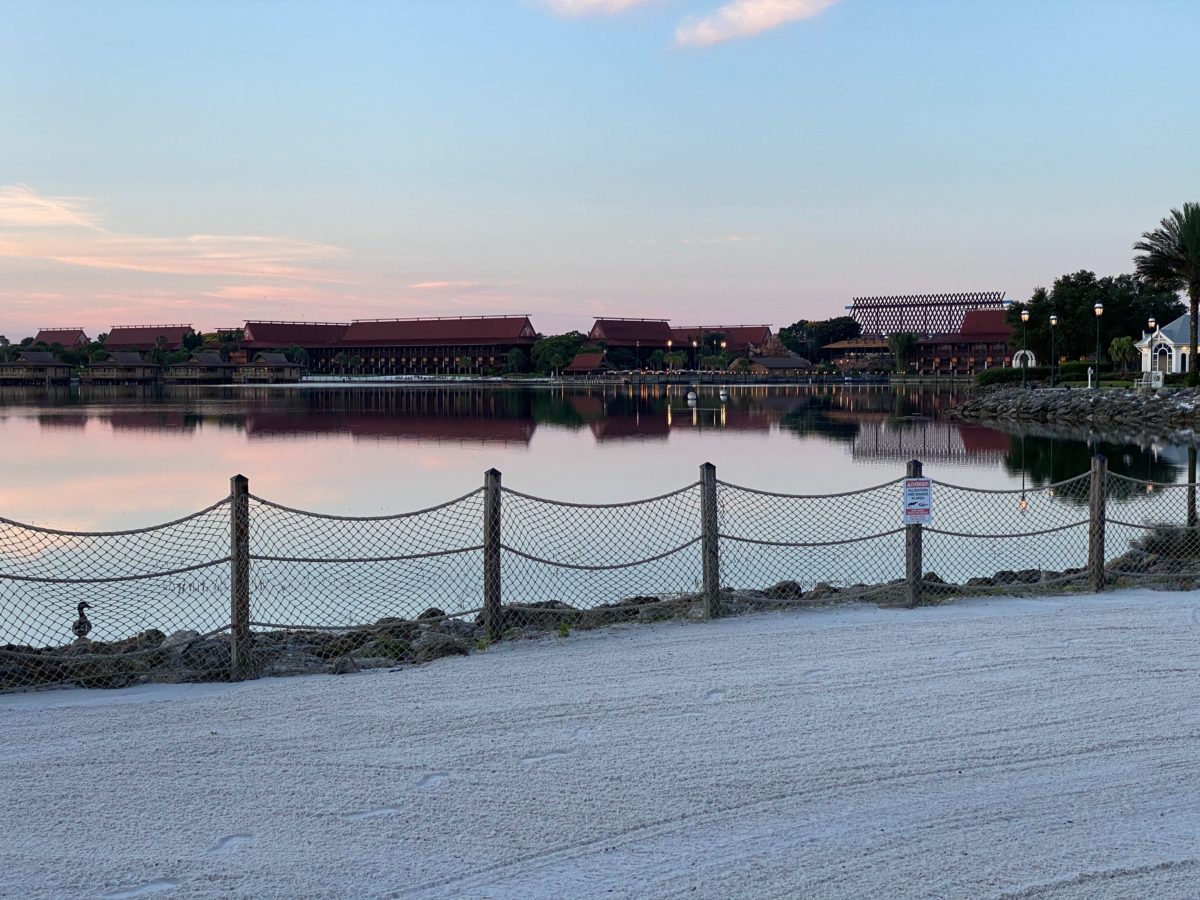 Throughout the resort's stunning, white-sand beaches, lounge chairs are set up in groups, but six feet apart.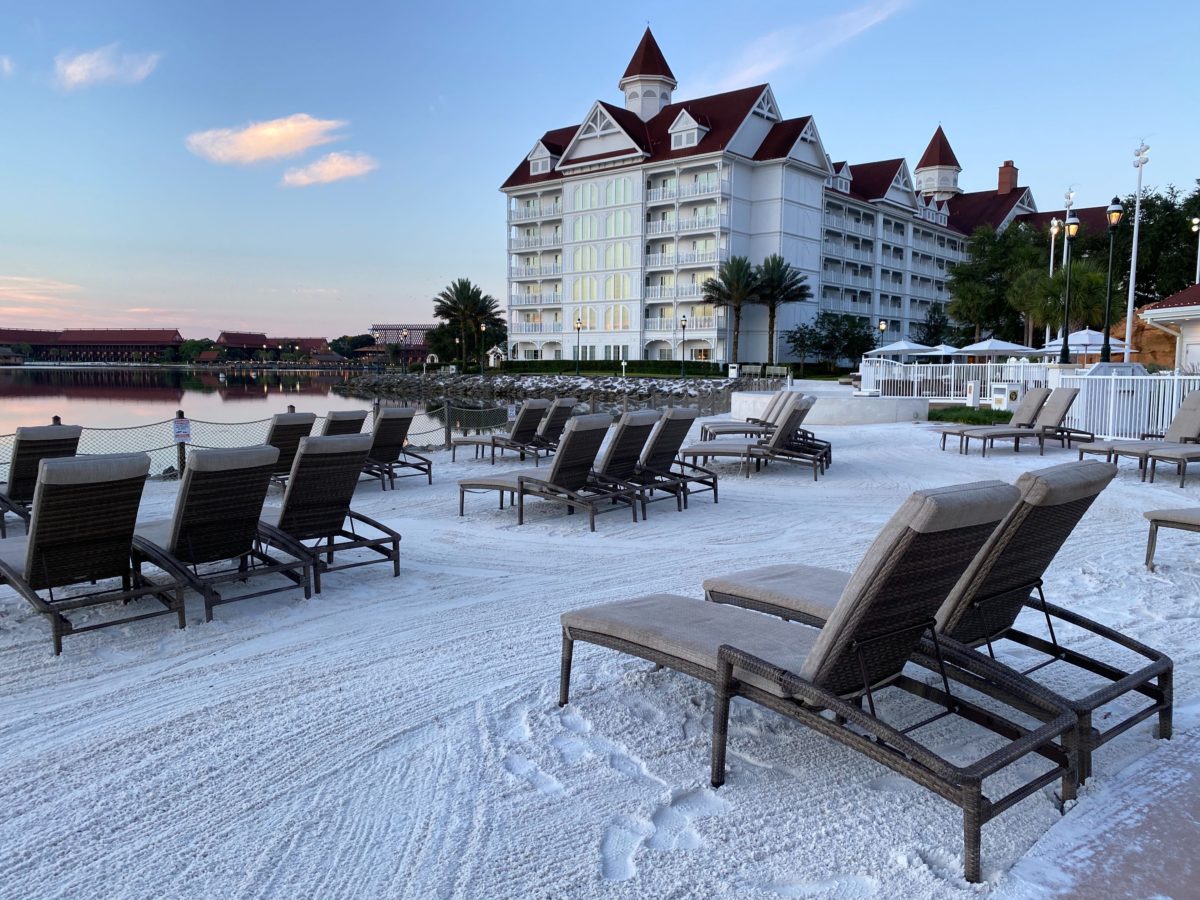 Things may be quiet out here for a while, as the Electrical Water Pageant will not be running, and fireworks are also temporarily discontinued throughout the parks.
Well, what do you think of this first look at the newly-reopened Disney's Grand Floridian Resort & Spa? Will you be enjoying a stay here in the coming months, or are you holding out until next year? Let us know in the comments.