We're back today at Disney's Riviera Resort, one of the DVC resorts that began its phased reopening today at Walt Disney World. After trekking through the newly-reopened Disney's Grand Floridian Resort, we worked up an appetite and headed over to Riviera for one of our favorite character breakfasts on property. Due to new health and safety measures throughout Walt Disney World in response to the COVID-19 pandemic, character meet and greets have been temporarily suspended. Currently, there's only one place to dine with characters, and that's Topolino's Terrace!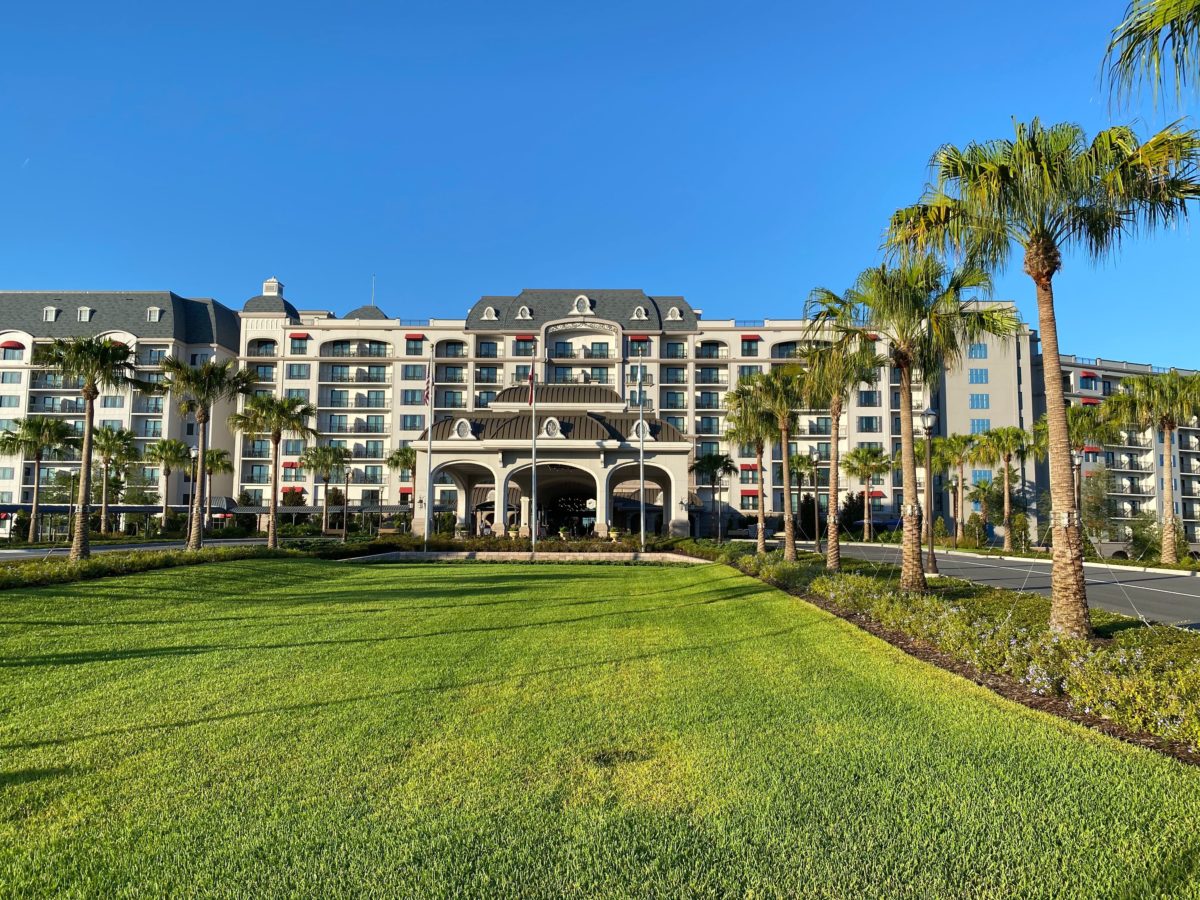 The resort is looking as beautiful as ever. Having opened in mid-December, it was only open for a few months before the unprecedented closures in March… but today, it's good to be back.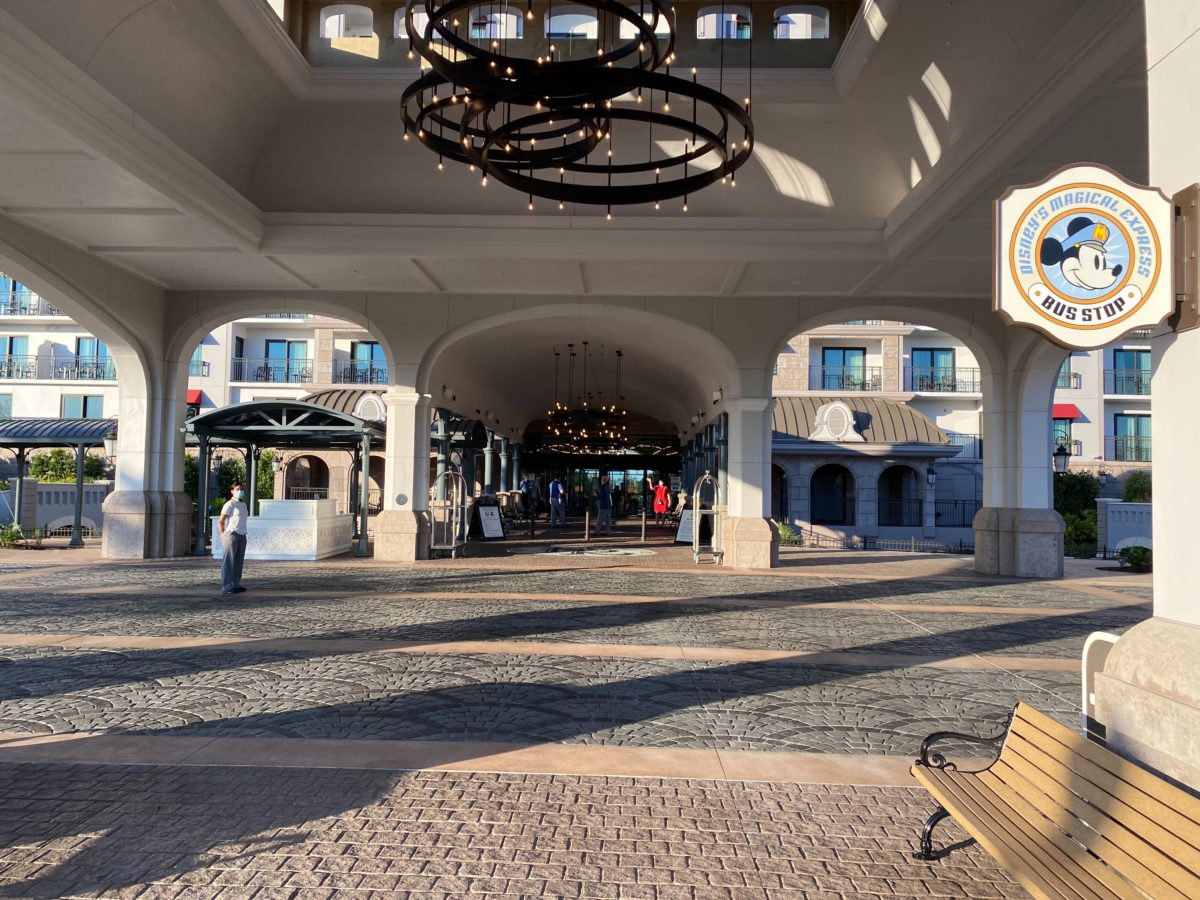 Cast Members eagerly awaited and greeted the very first guests of the day.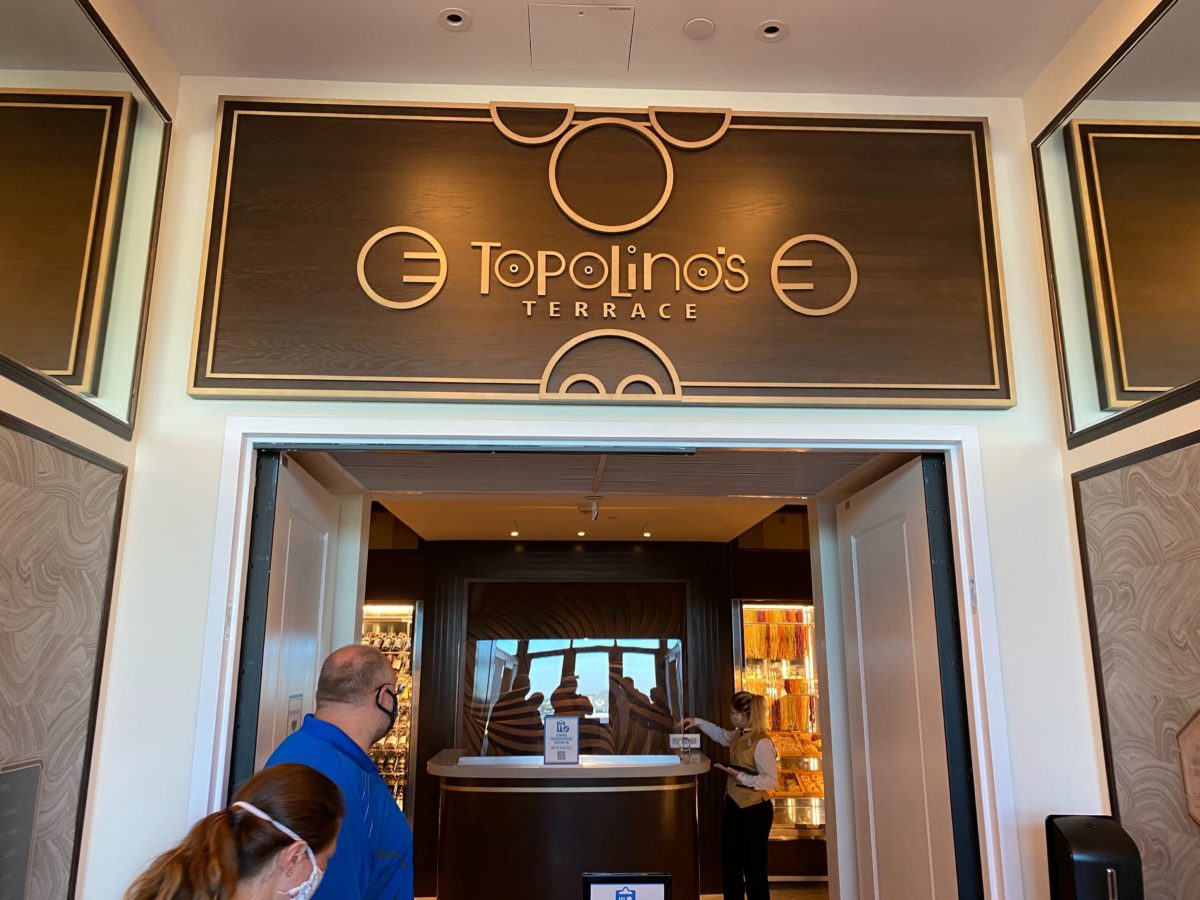 Plexiglass barriers are set up at the hostess stand, and Cast Members now sport matching gold fabric face masks.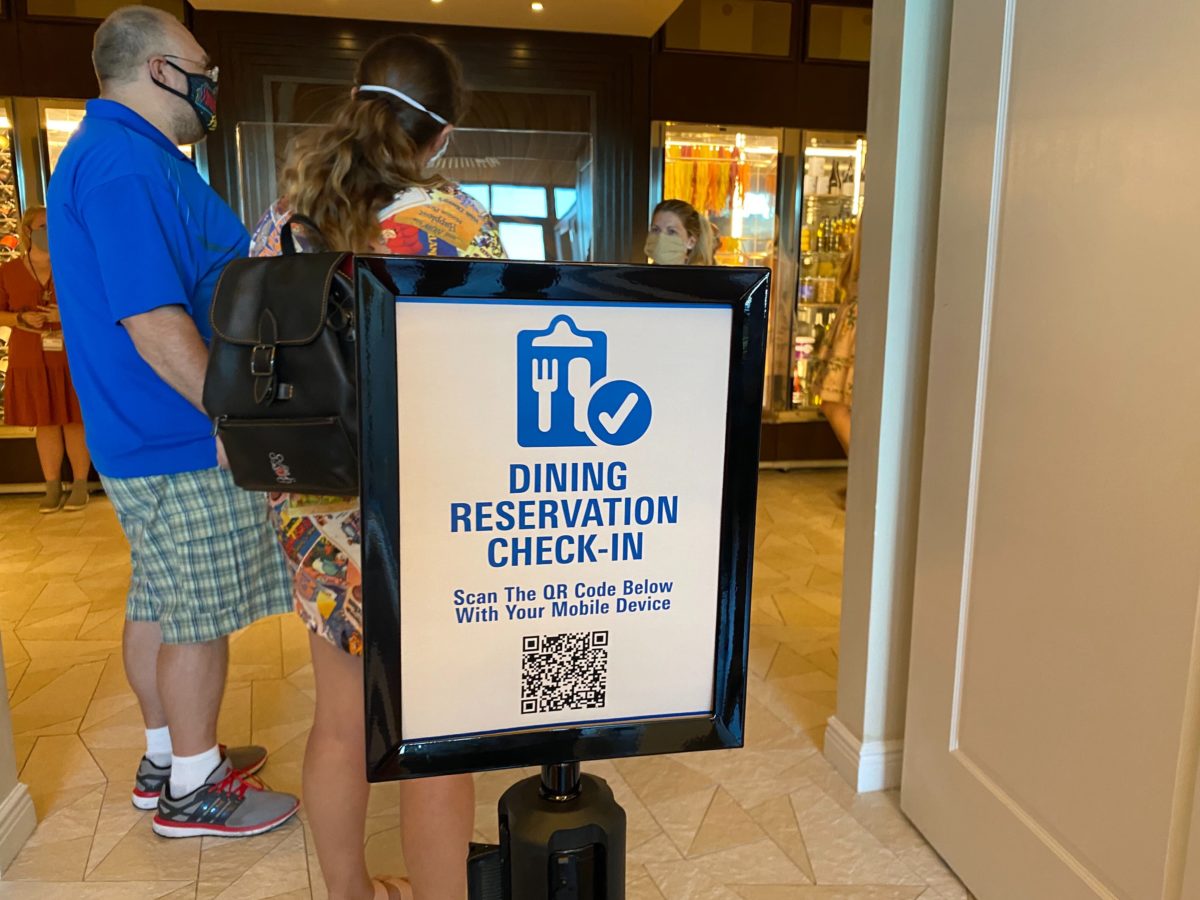 Topolino's Terrace is participating in the new Mobile Dine Check-In program available on My Disney Experience:
On the app, you can check in for your dining reservation, make seating requests and note any dietary restrictions, as well as note any special celebrations. Upon completion, you'll get a text that says you've been successfully checked in! You'll be notified once your table is ready.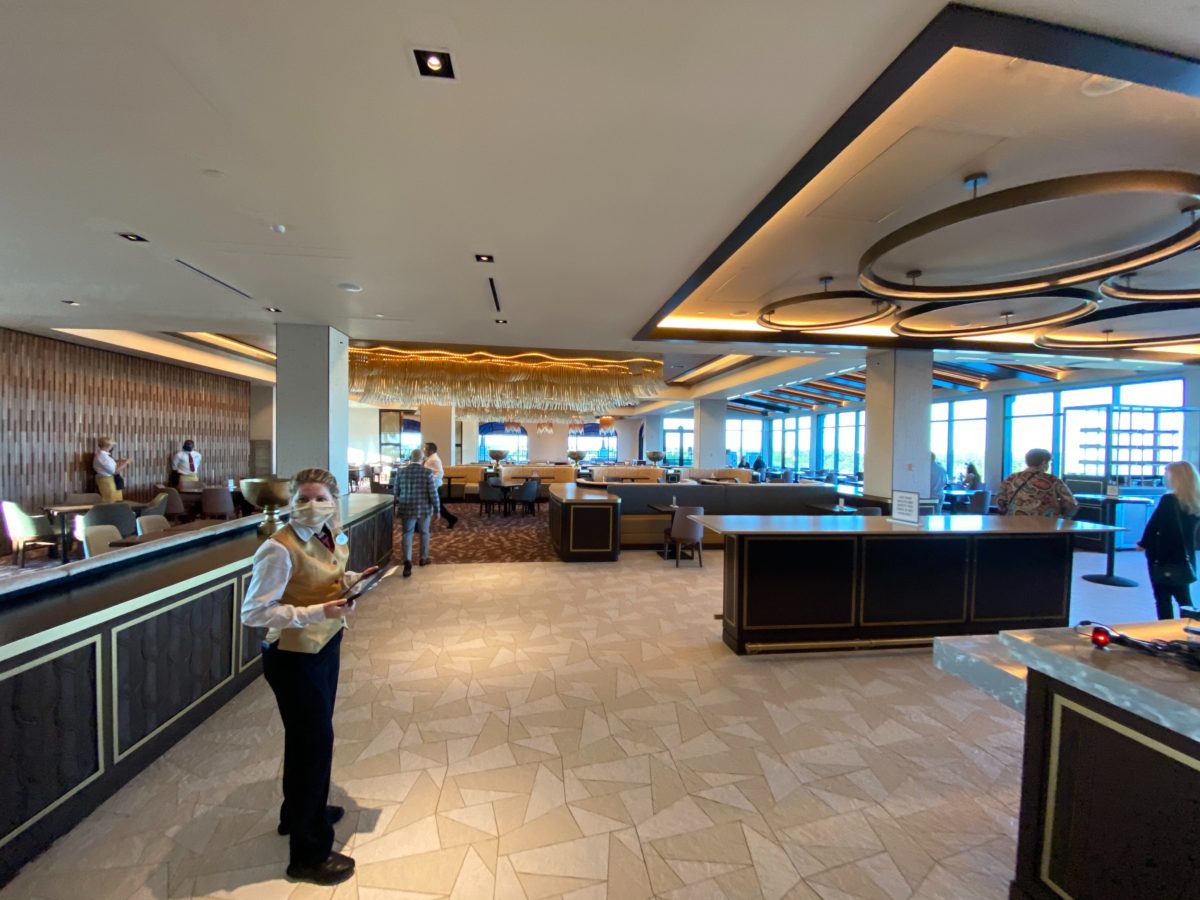 While Topolino's Terrace has always been fairly spacious, they've limited the number of tables and chairs throughout.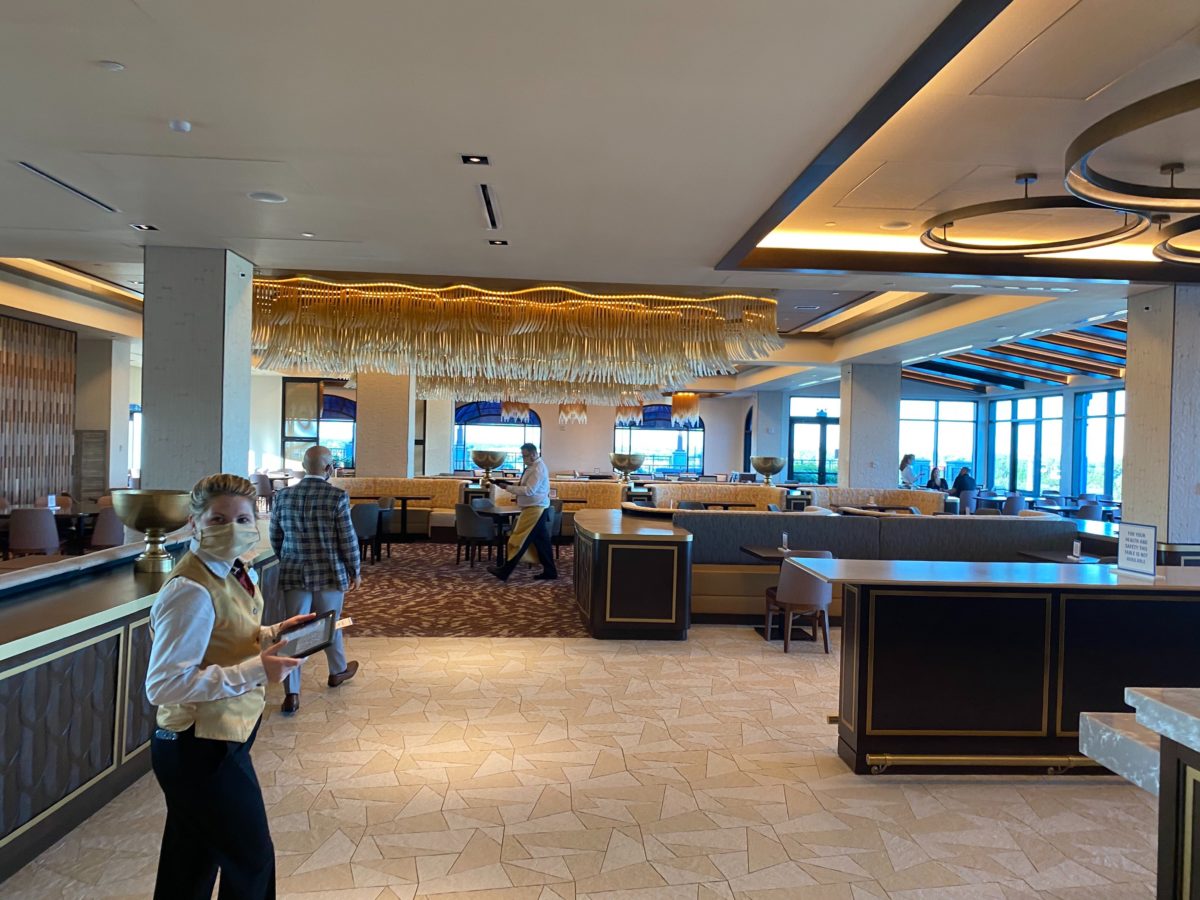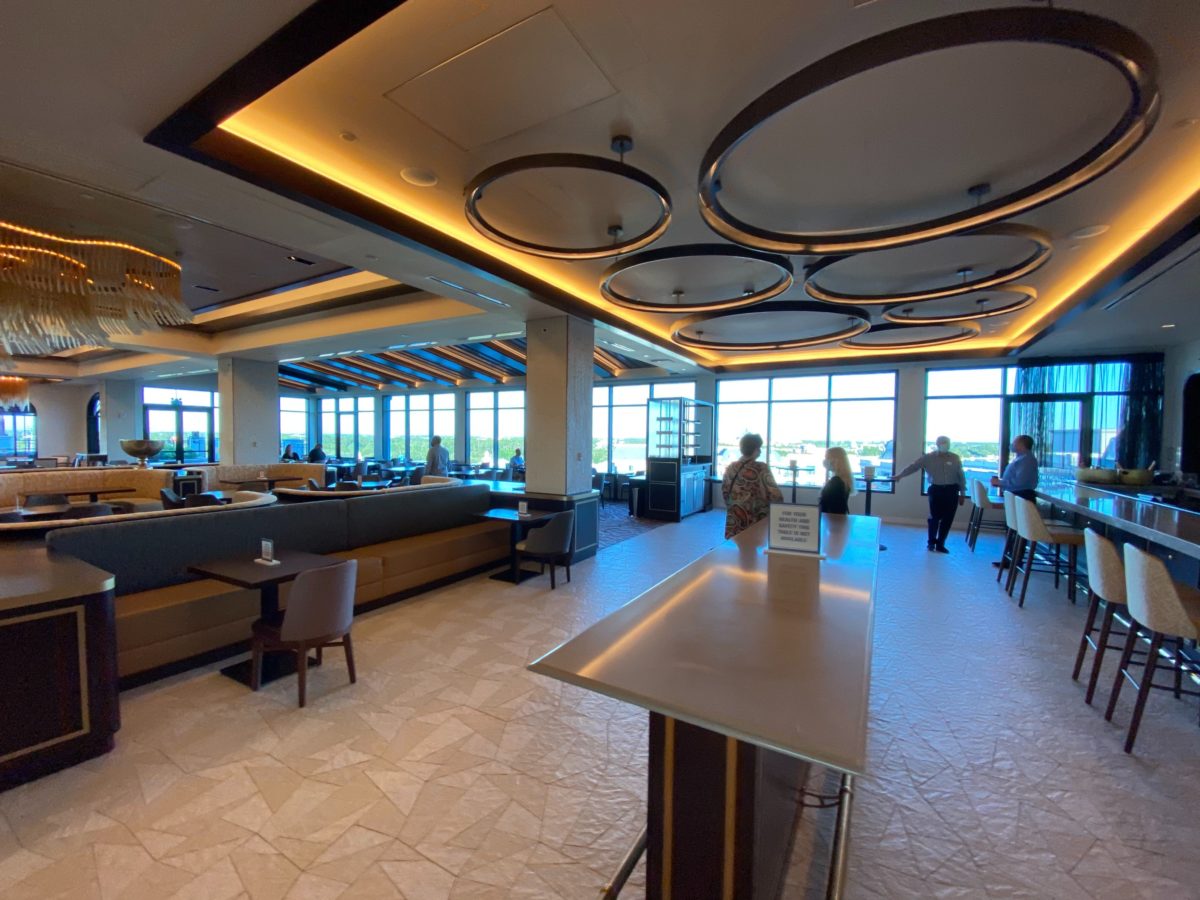 Booths that normally sat four or five tables now only sit two, with ample space for social distancing.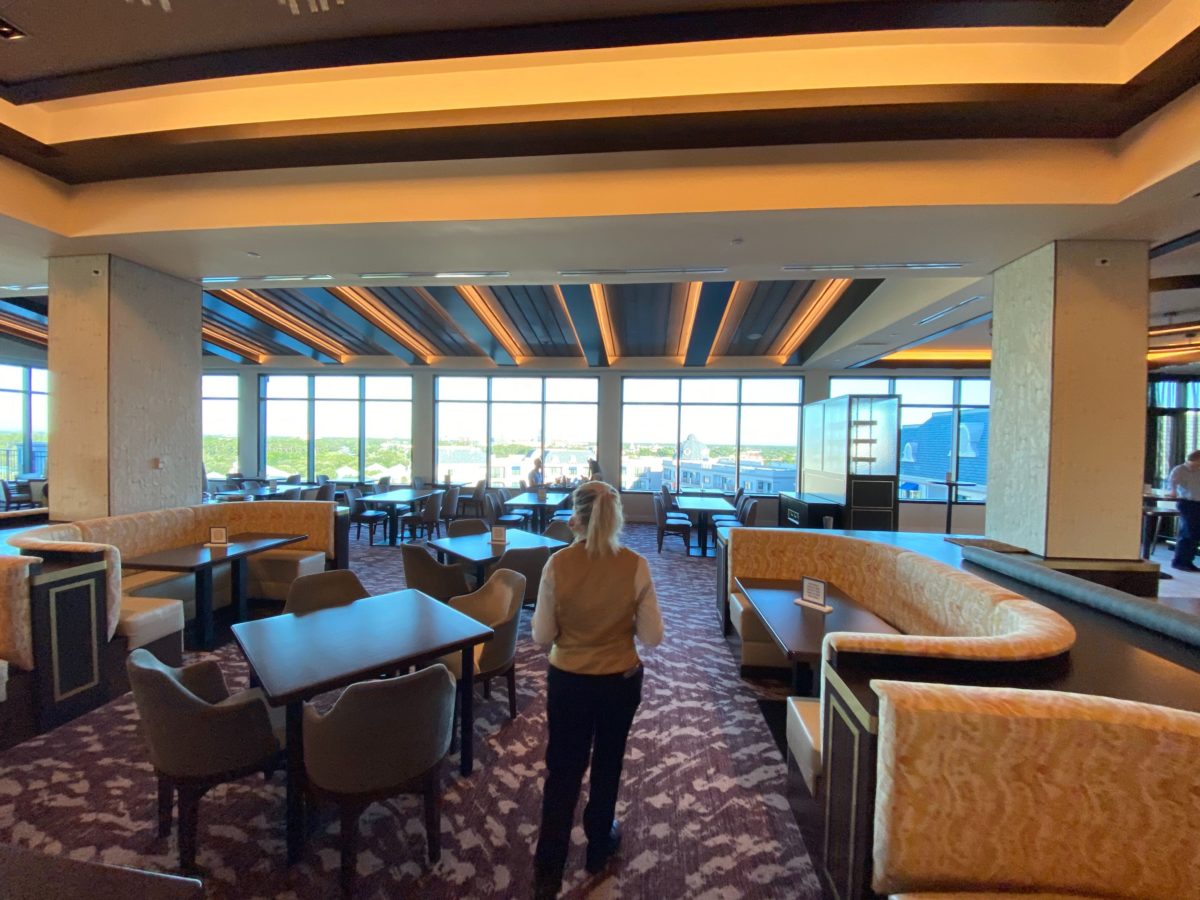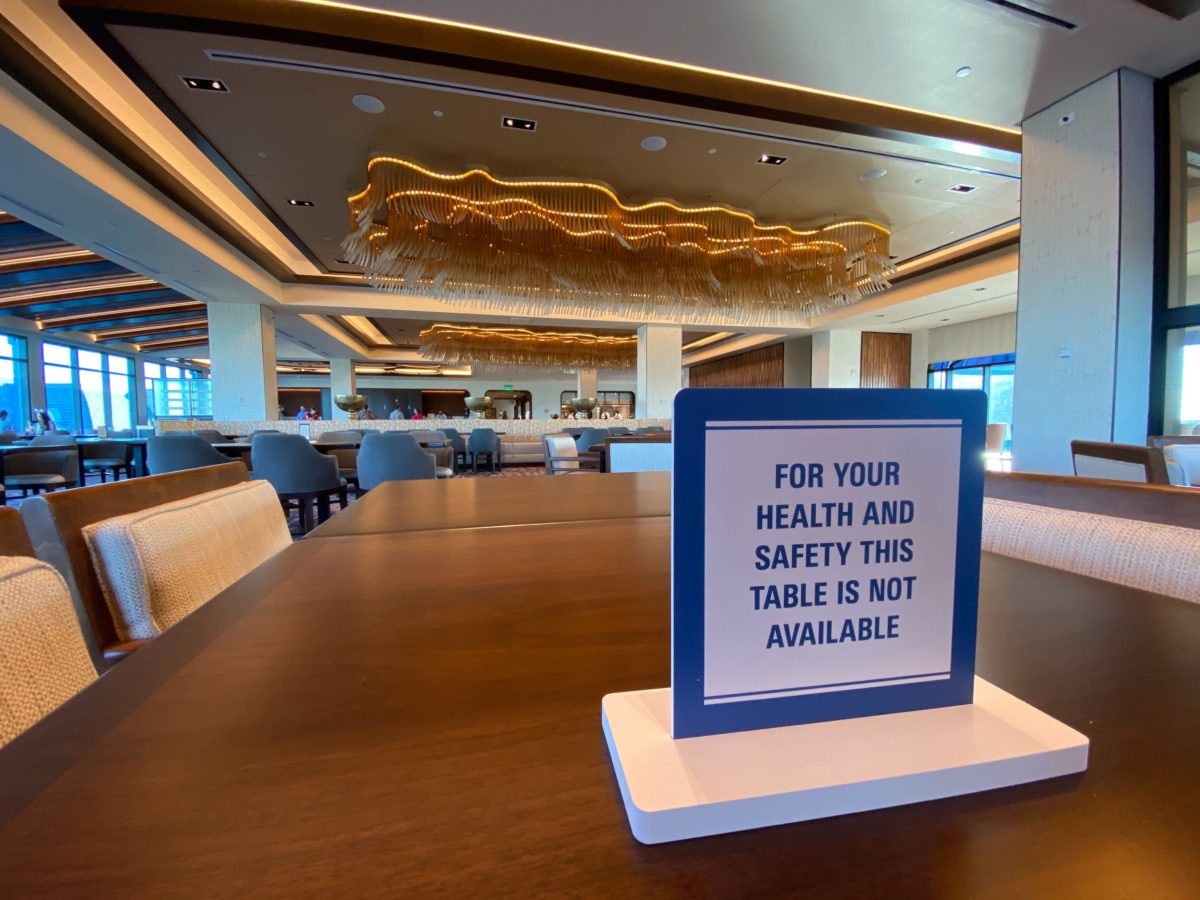 Some tables are marked as unavailable for health and safety.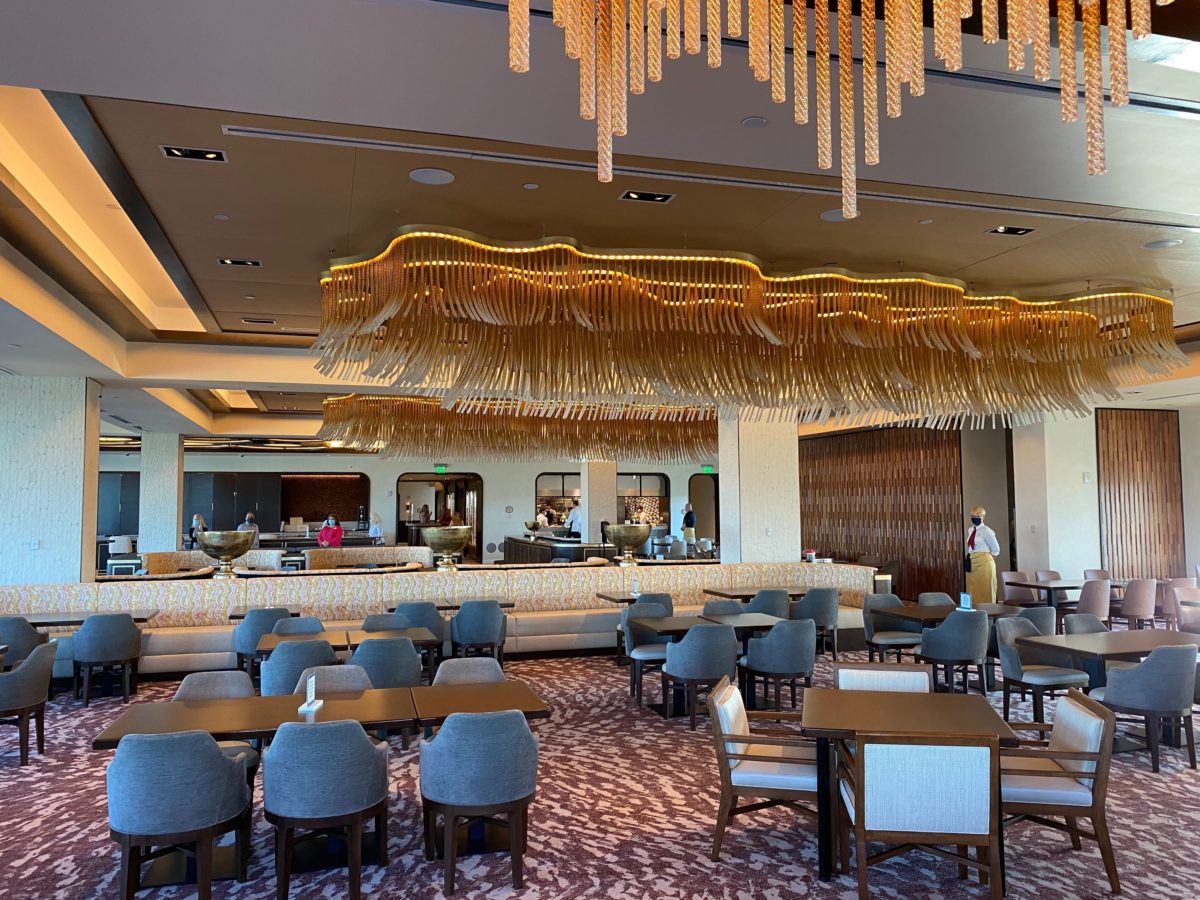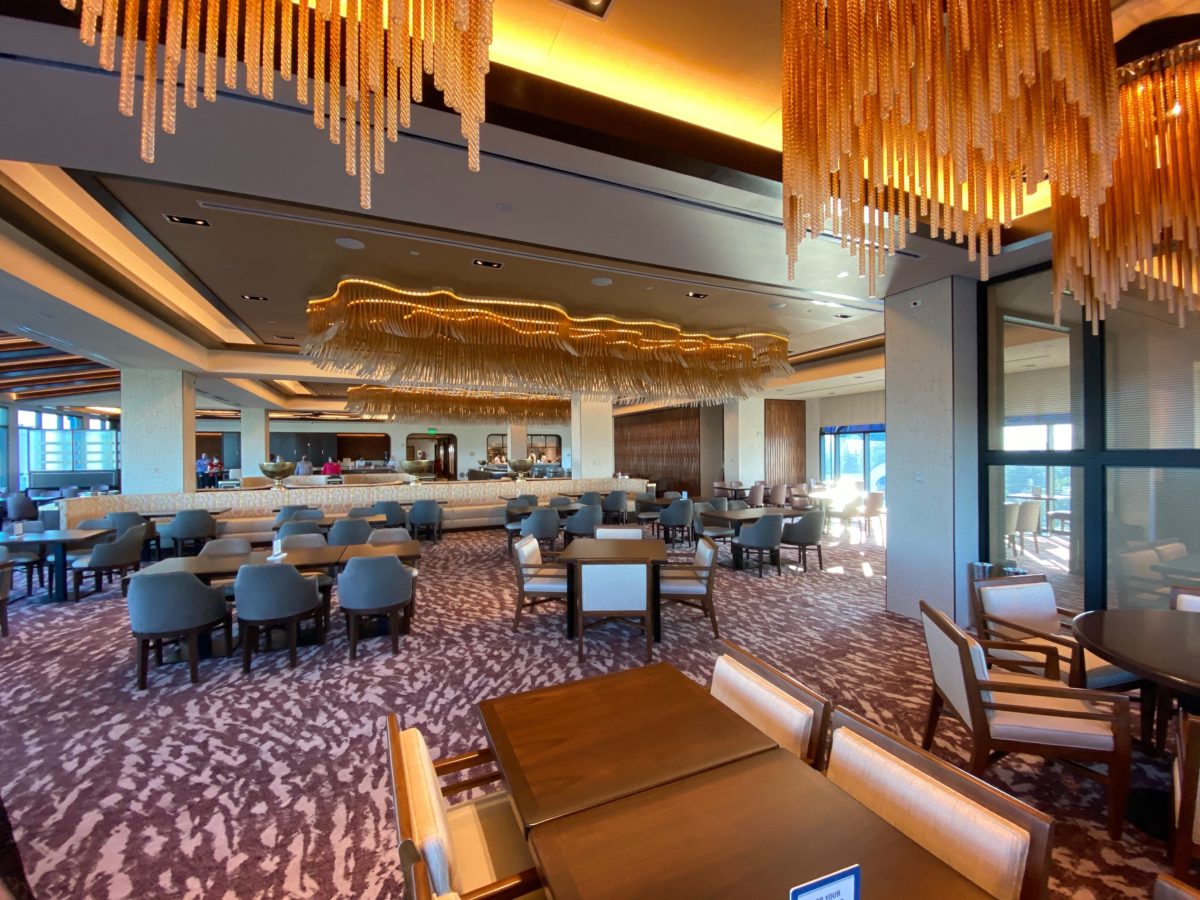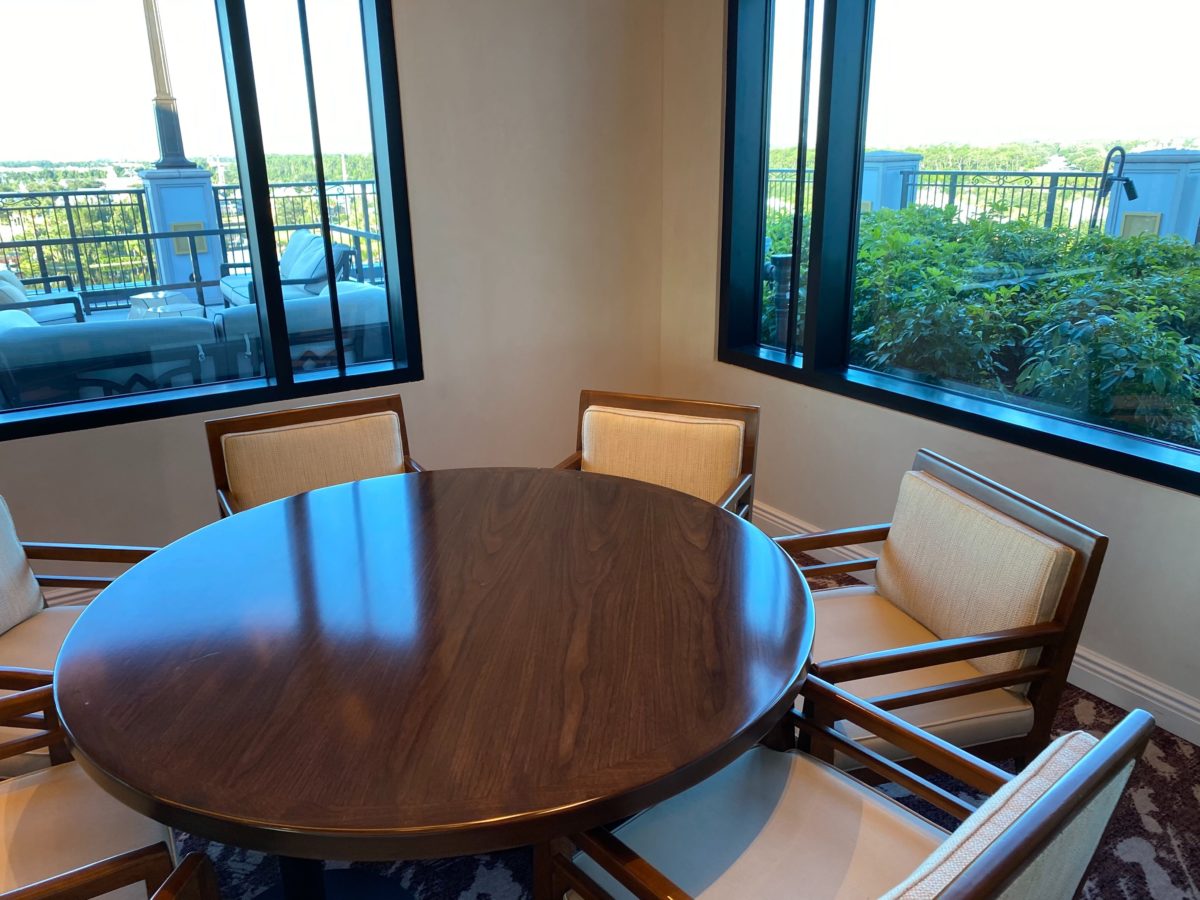 Even if you're a larger party, they can still accommodate you, so don't let the new guidelines deter you from booking a slightly larger number of guests–you'll have plenty of space here.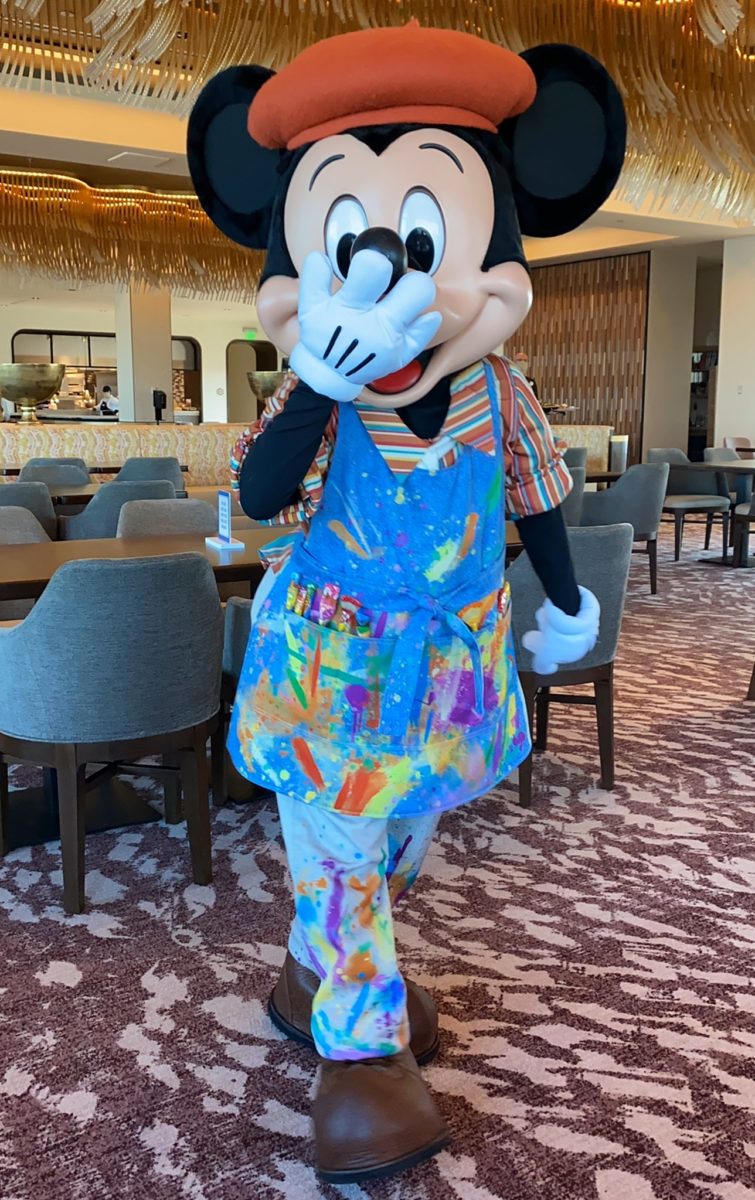 Of course, the characters are the main reason why people come. Here at Topolino's, they're all dressed as artists, sculptors, writers, and dancers, adding some special flare to the experience.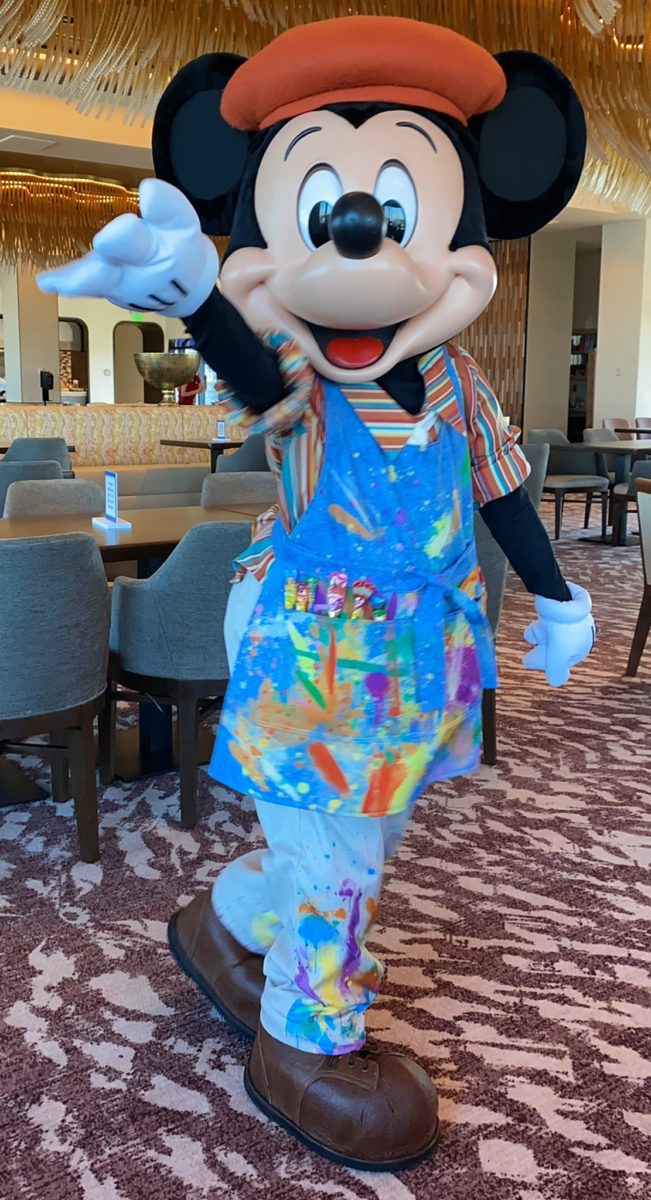 In lieu of stopping at each table and having an up-close encounter with guests, characters do a quick march down the main path of the restaurant at designated times, stopping briefly for photos.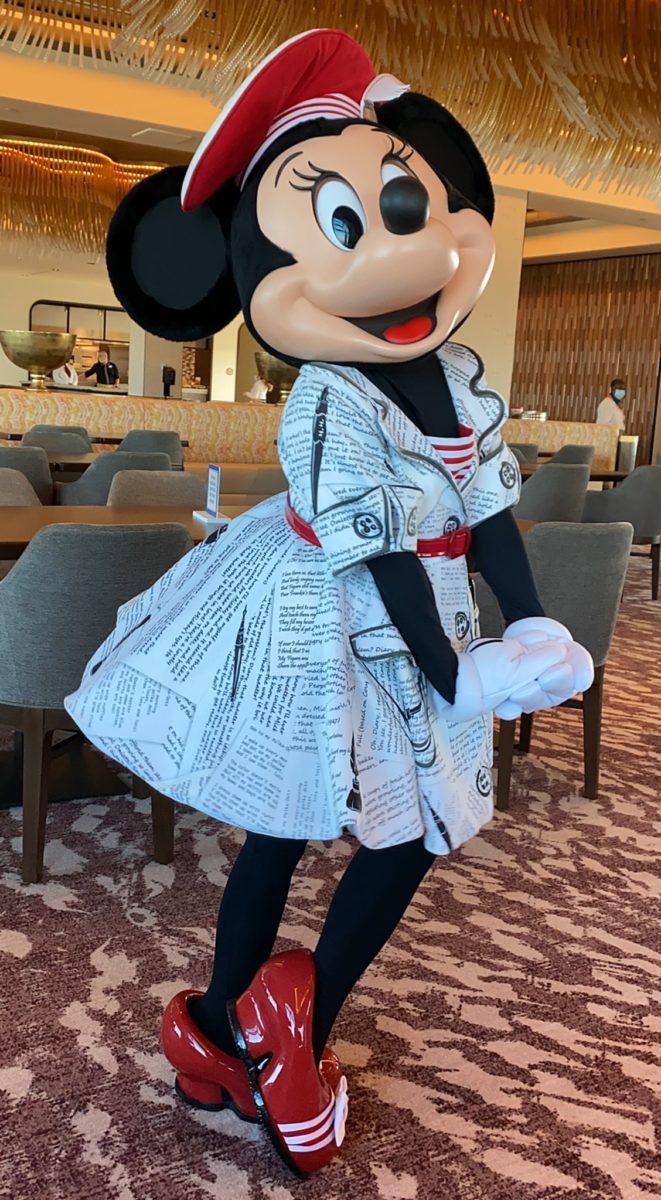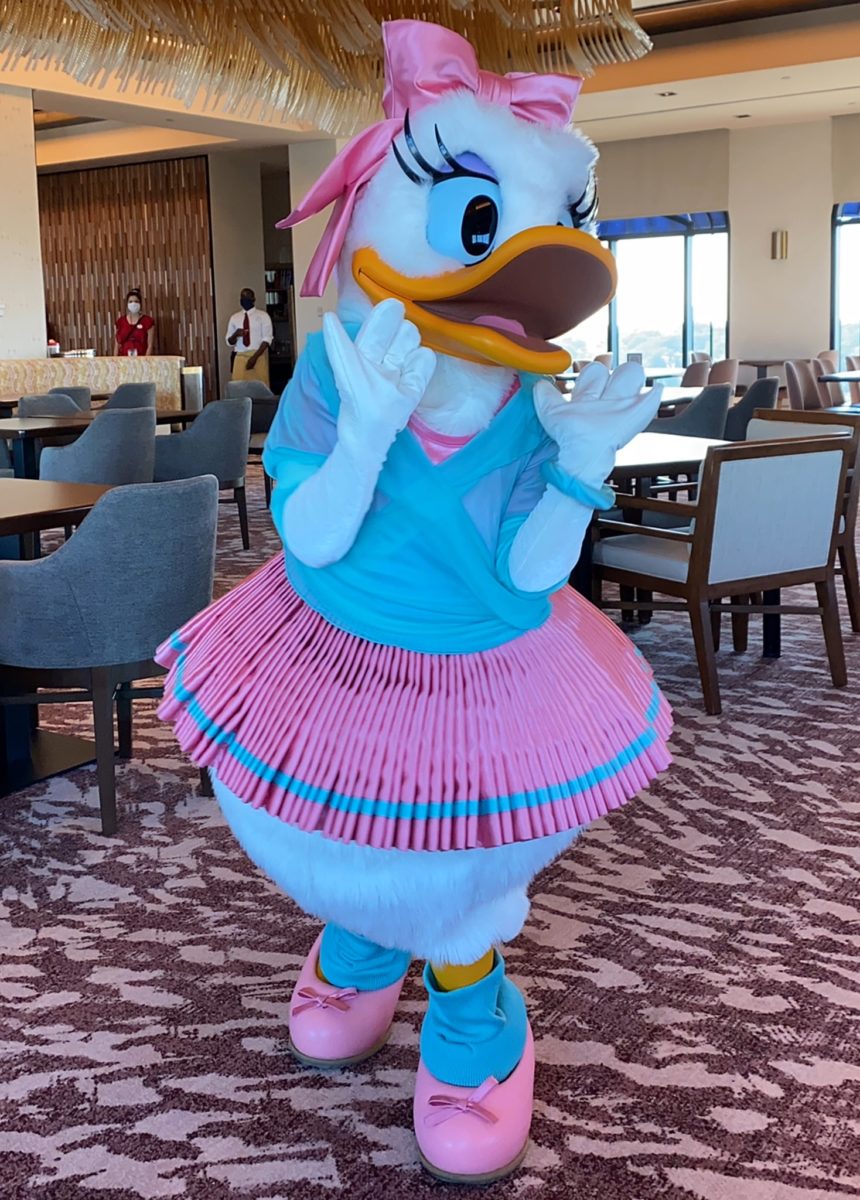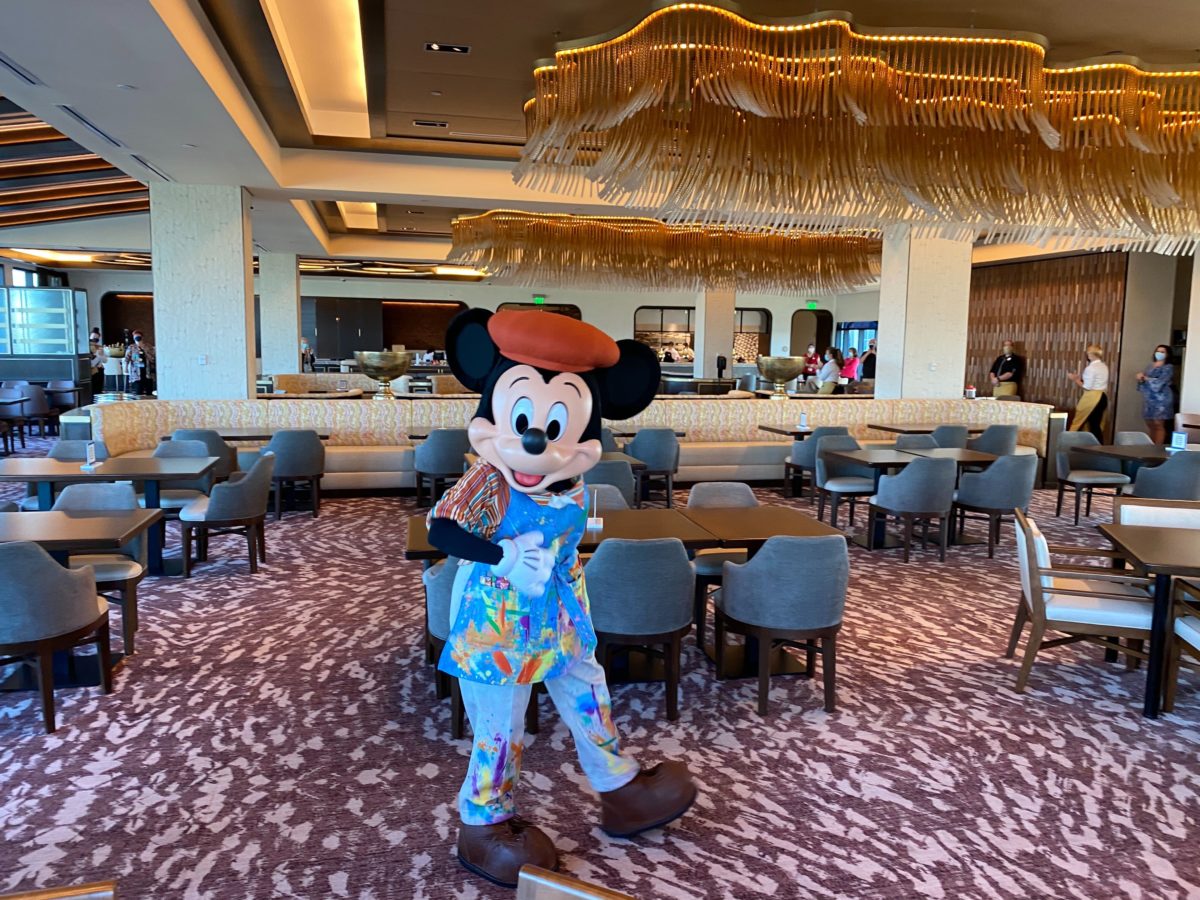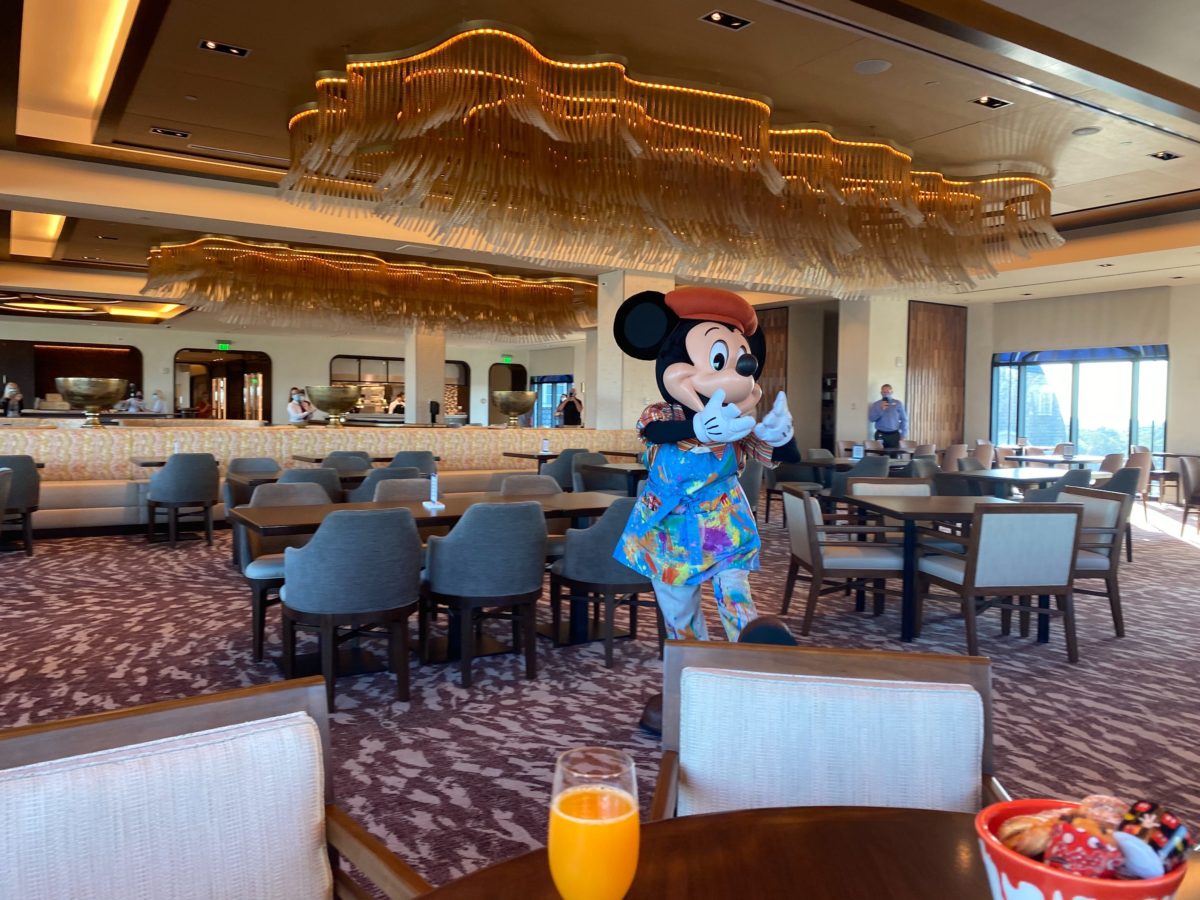 If you're on the fence about this being a half-baked experience, don't be. You'd be surprised how many teary-eyed bloggers there were at this character breakfast, and the reality is, we've all missed these characters dearly. It's still a whimsical experience getting to see them, albeit in a much more swift manner, but they still do a great job at interacting with each table at a distance. For a better look at the full experience, check out our video below: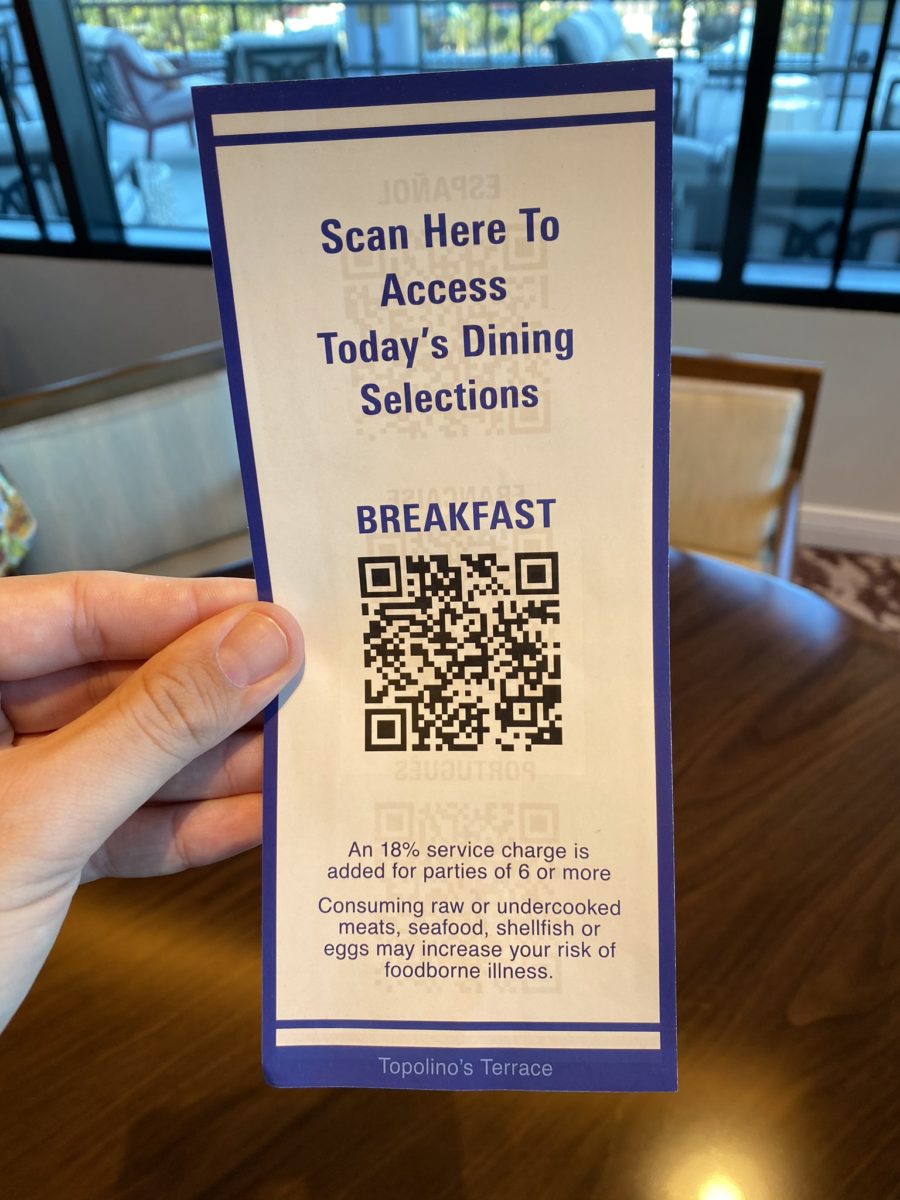 And now, of course, on to the food. Topolino's Terrace now offers a QR code for guests to scan and view a digital menu.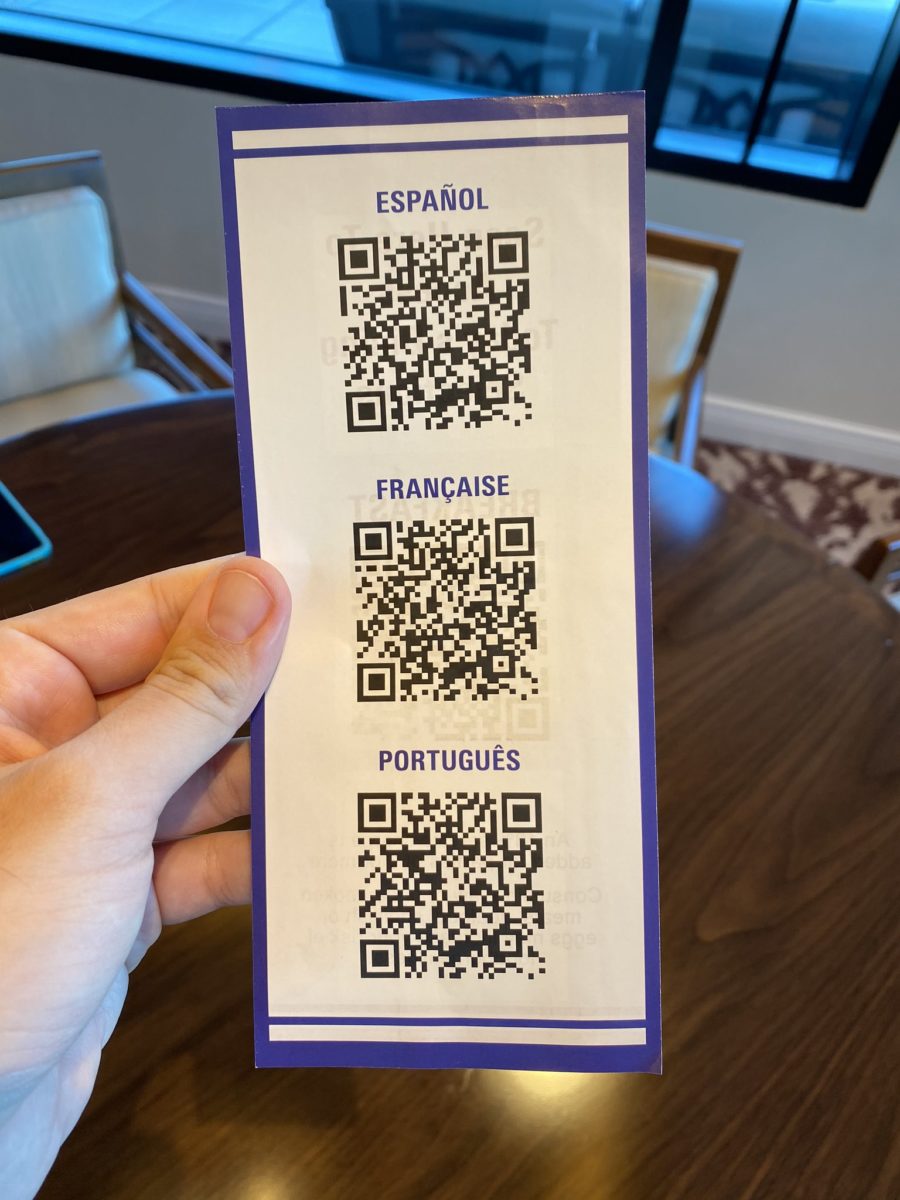 The menu is readily available in a number of languages, including Spanish, French, and Portuguese.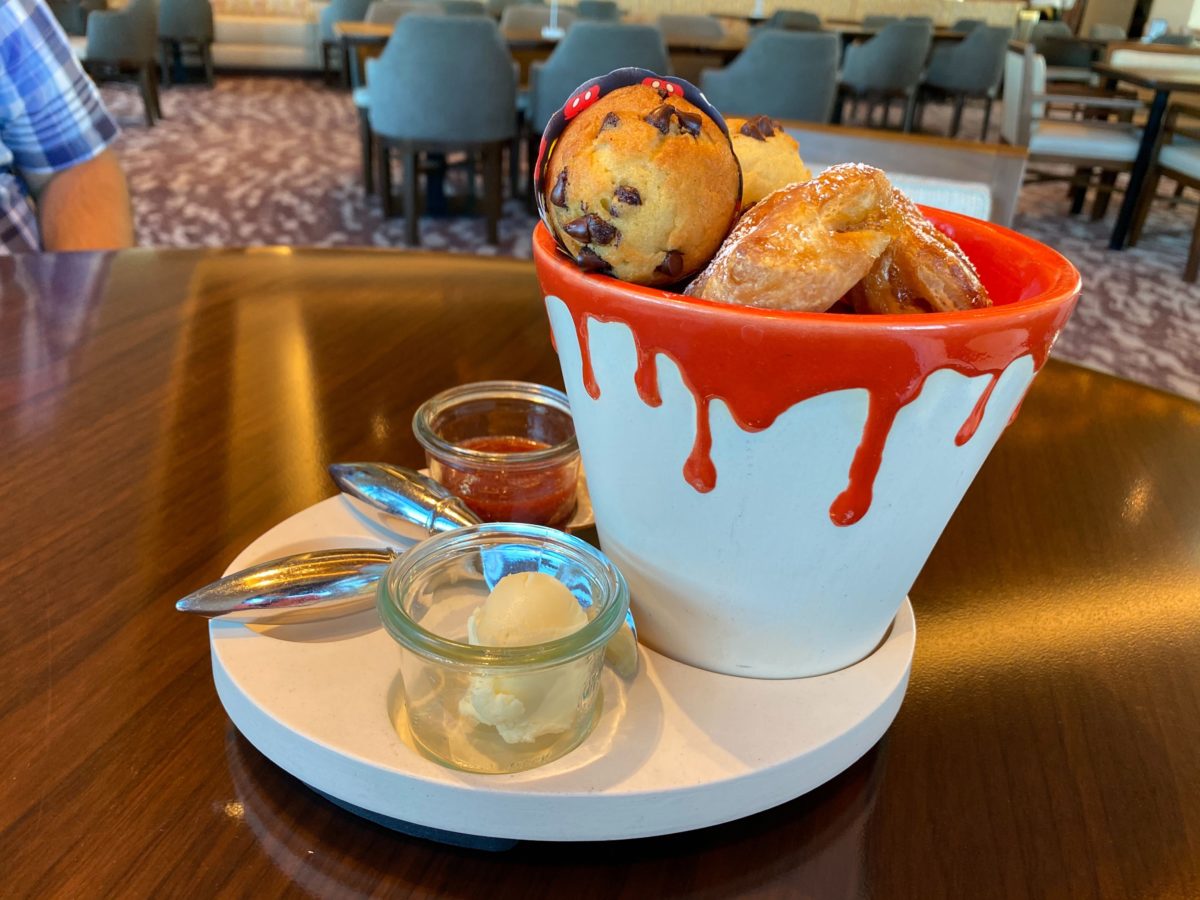 If you recall the bread service from Topolino's initially, you'll remember that there was the long stalk of "shareable" Epi bread. This has since been removed from the bread basket, with only muffins, danishes, and croissants available, plus jam and butter.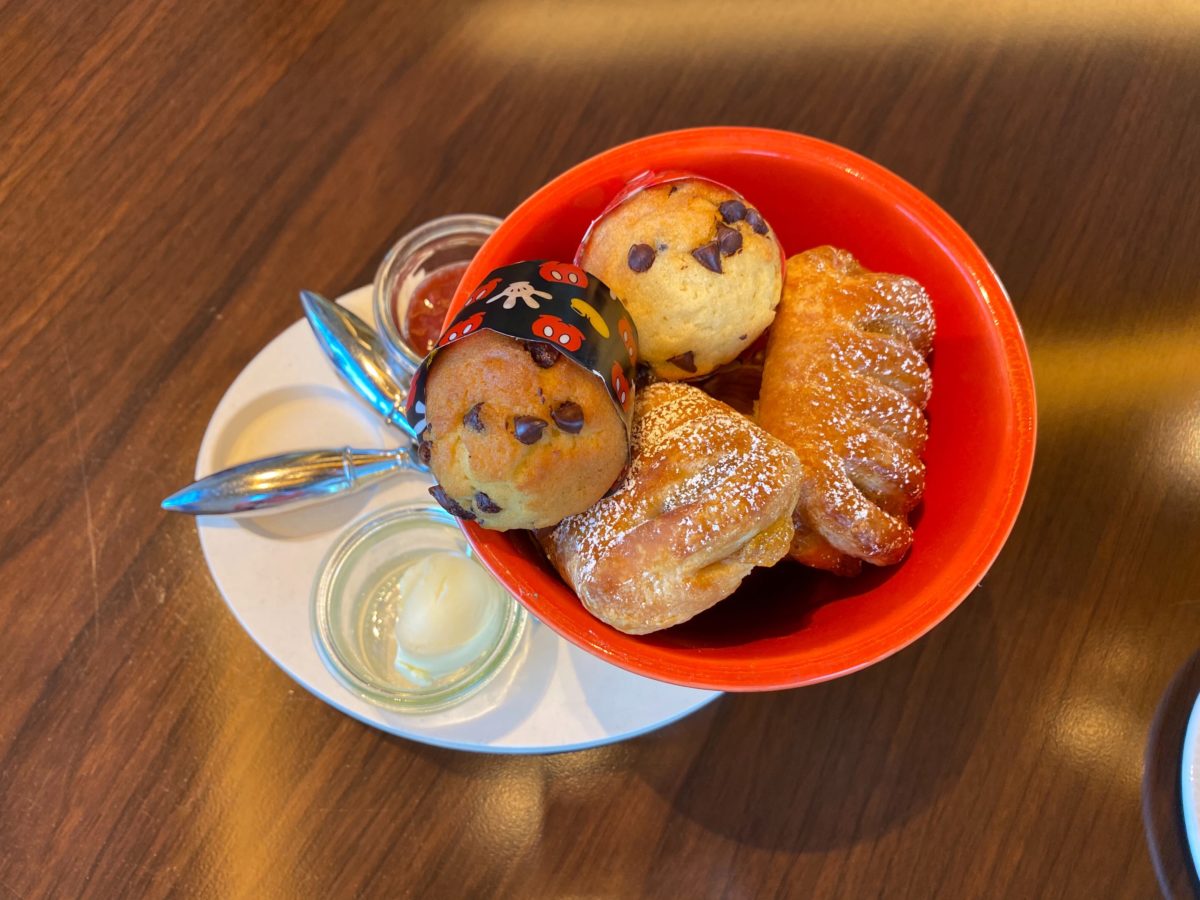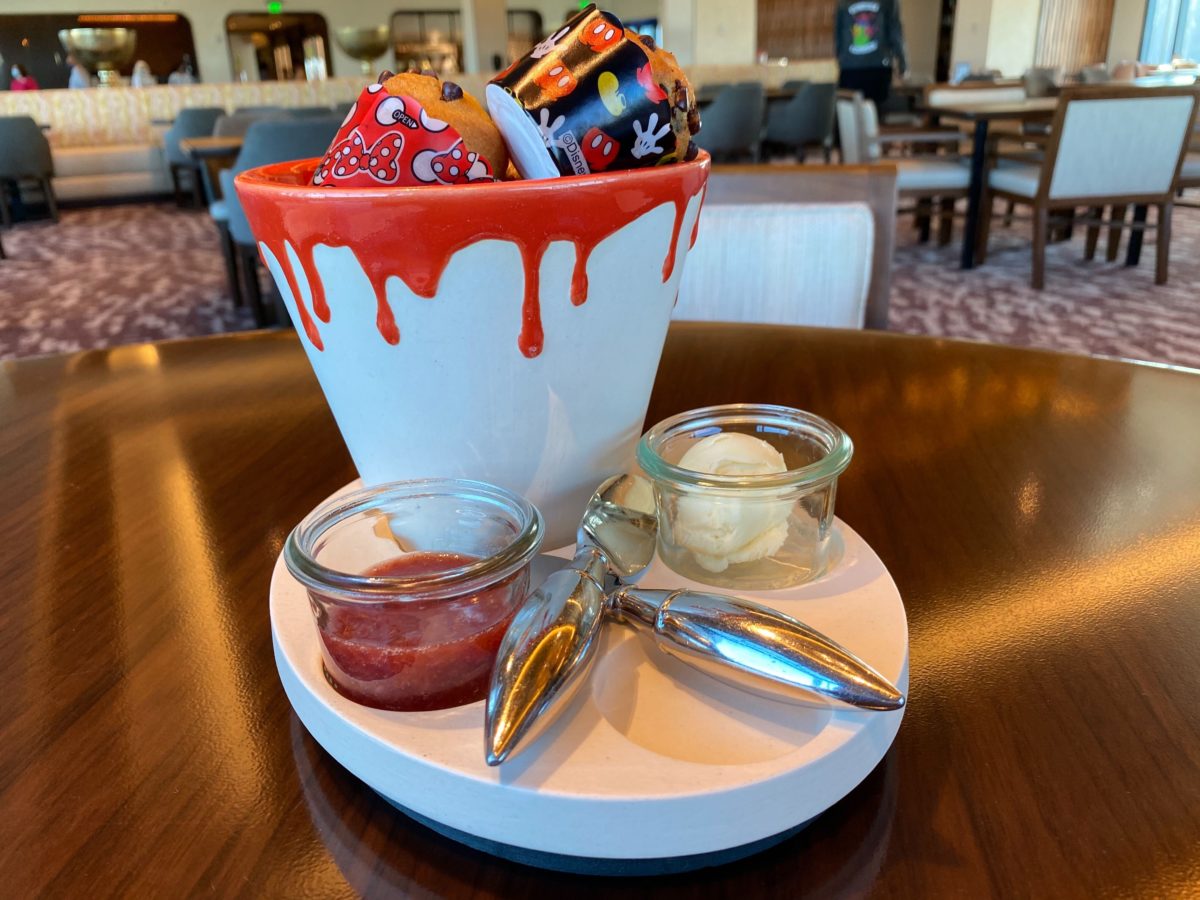 Fruit Plate
Seasonal Fruits, Honey Yogurt, Seed Granola, Toasted Sunflower Butter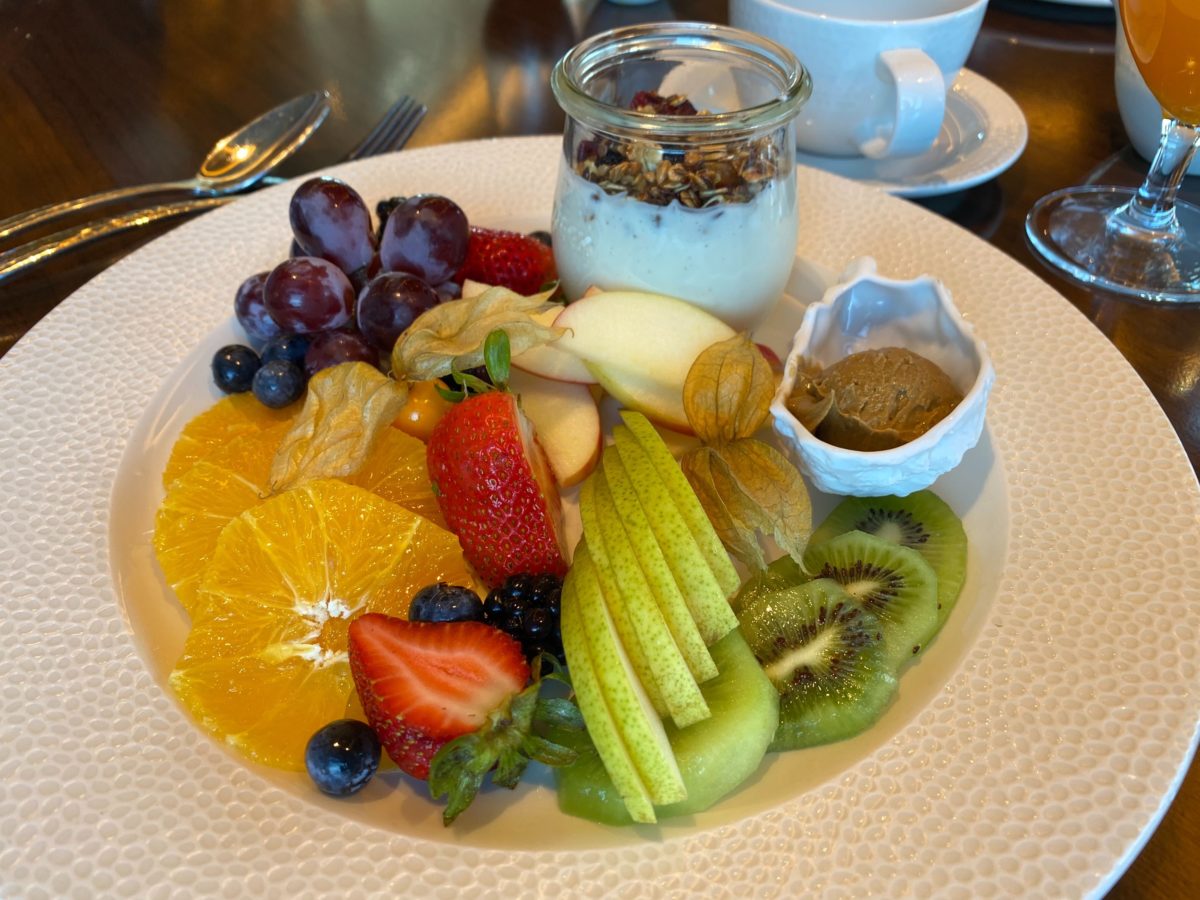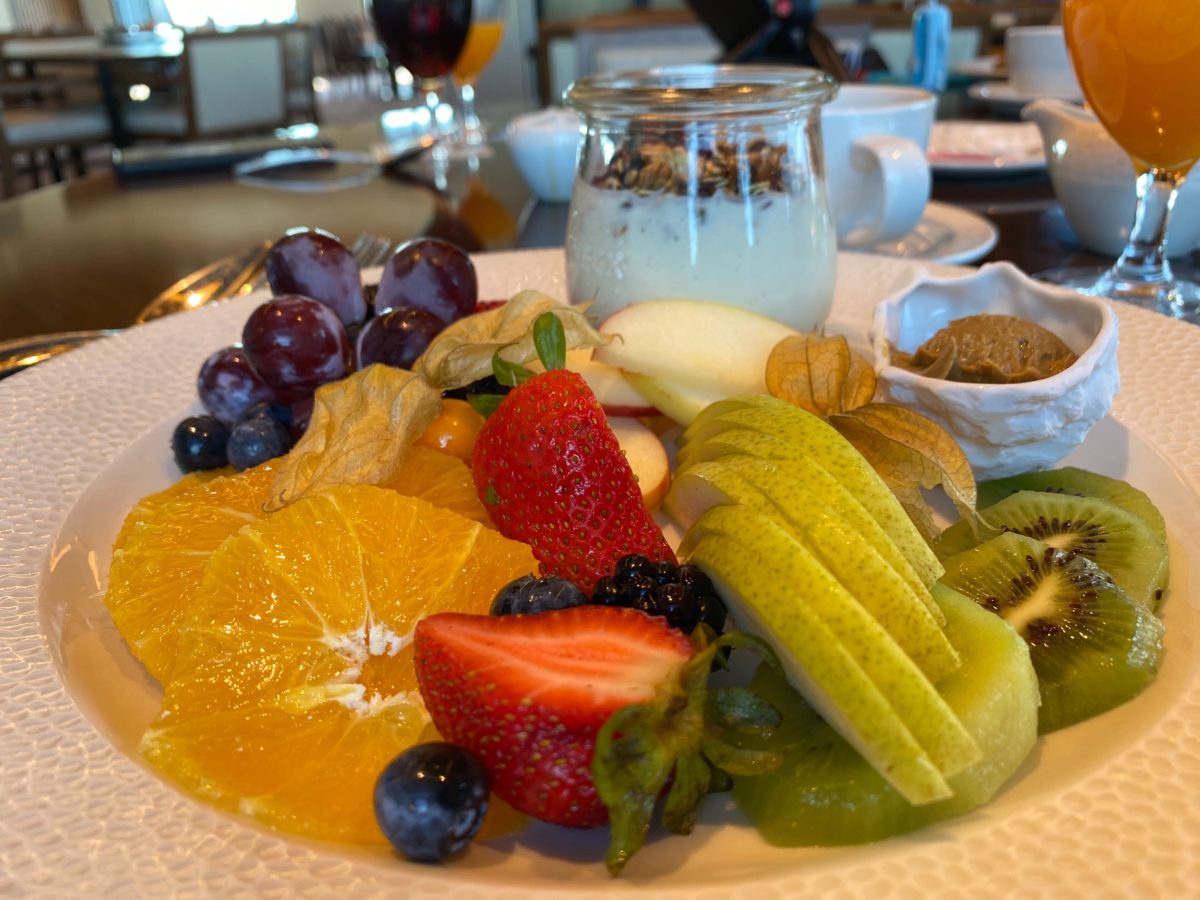 Sour Cream Waffles
Roasted Apples, Chantilly, Orange-Maple Syrup, choice of Smoked Bacon, Ham, Sausage, or Plant-based Sausage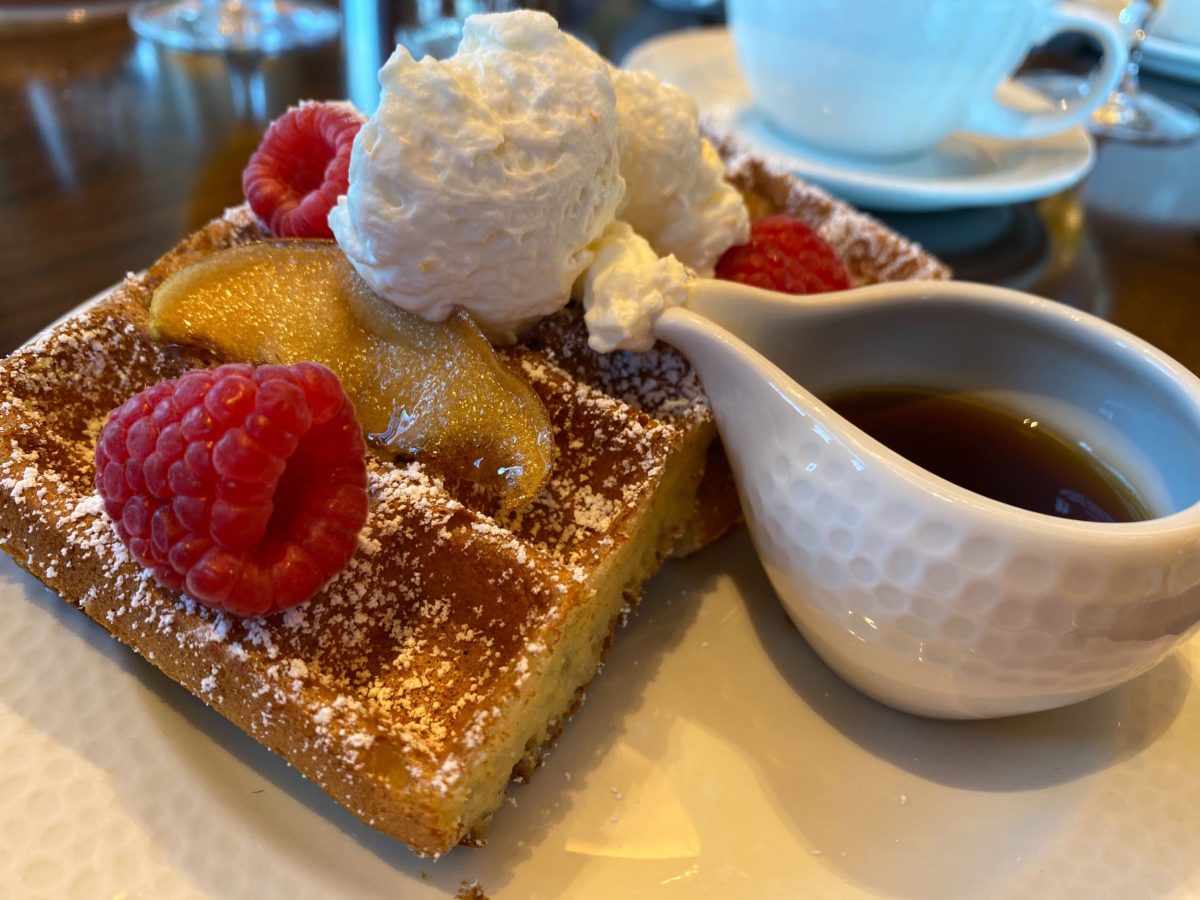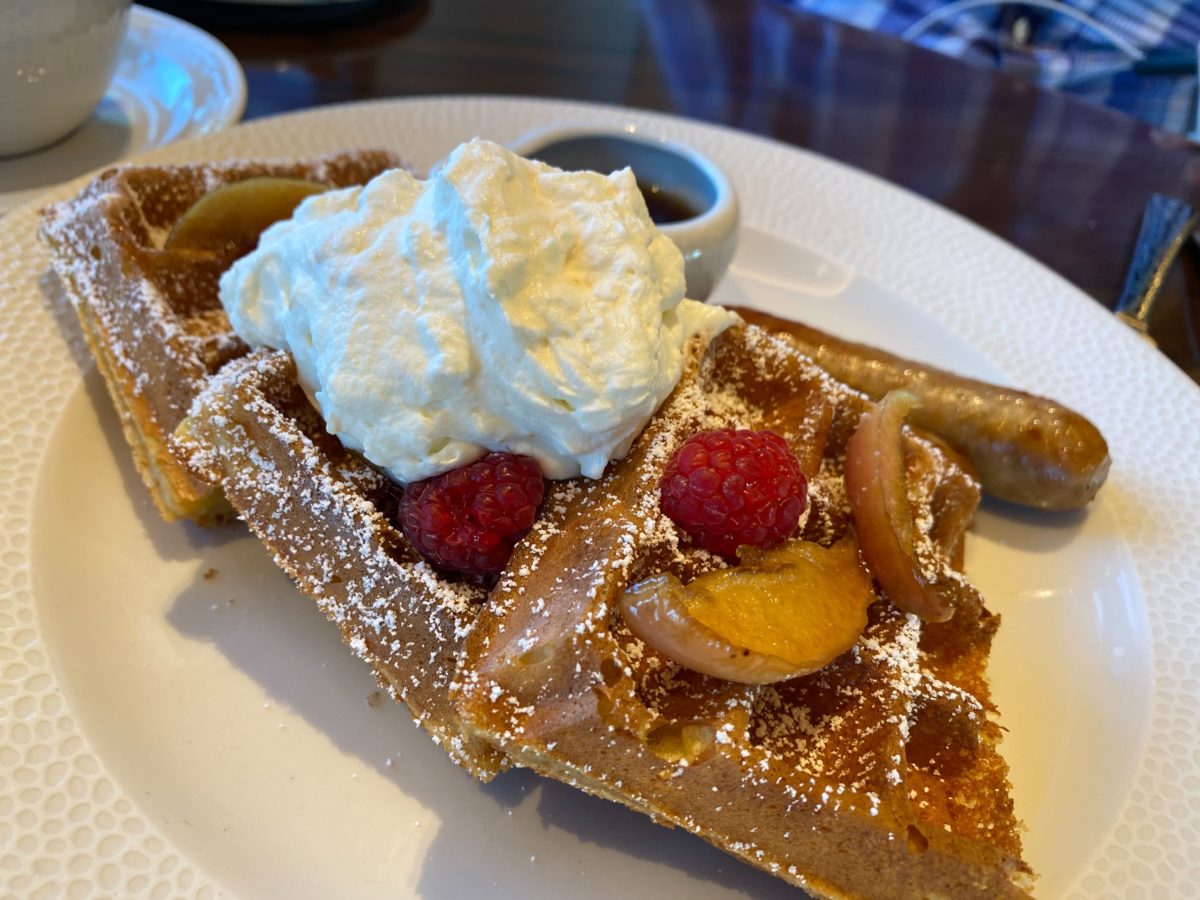 Smoked Salmon
Everything Bagel, Tomato, Red Onion, Cream Cheese, Capers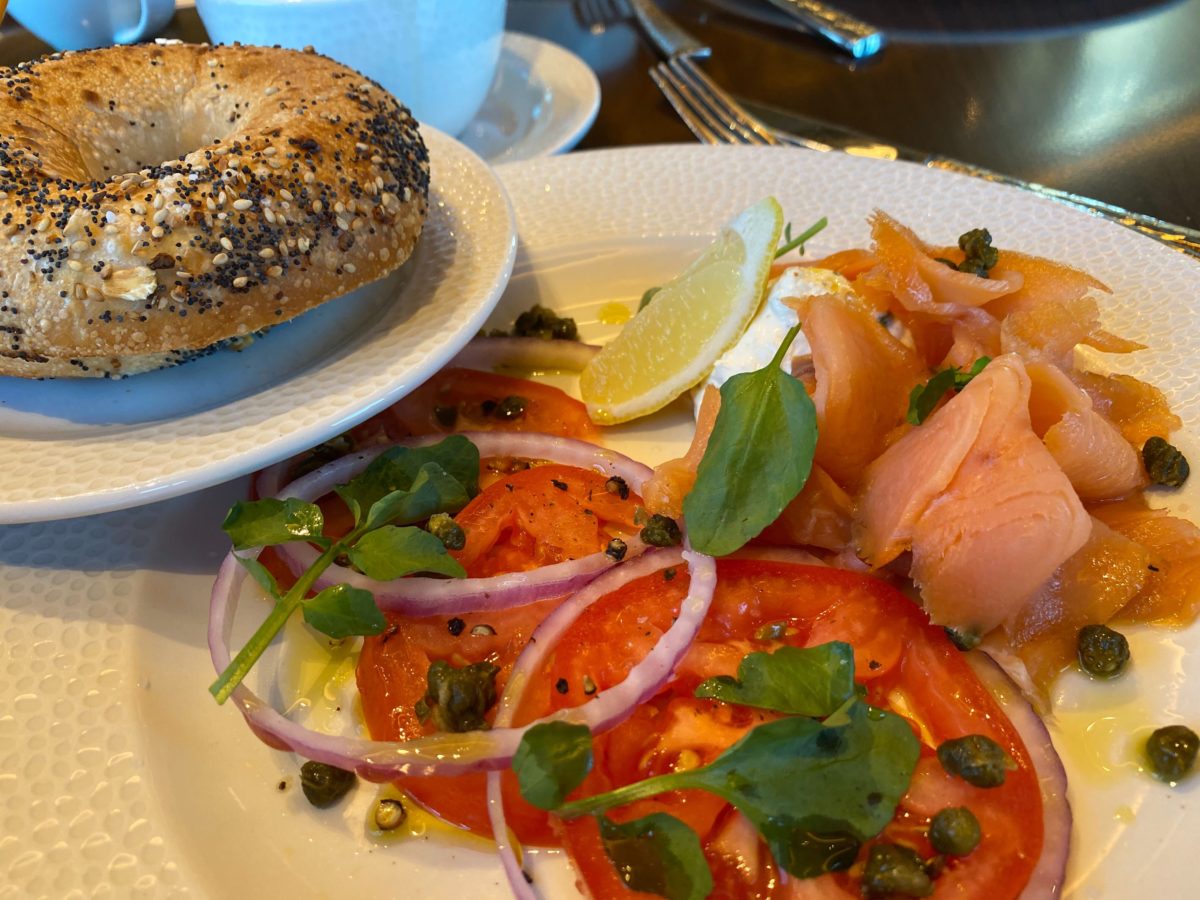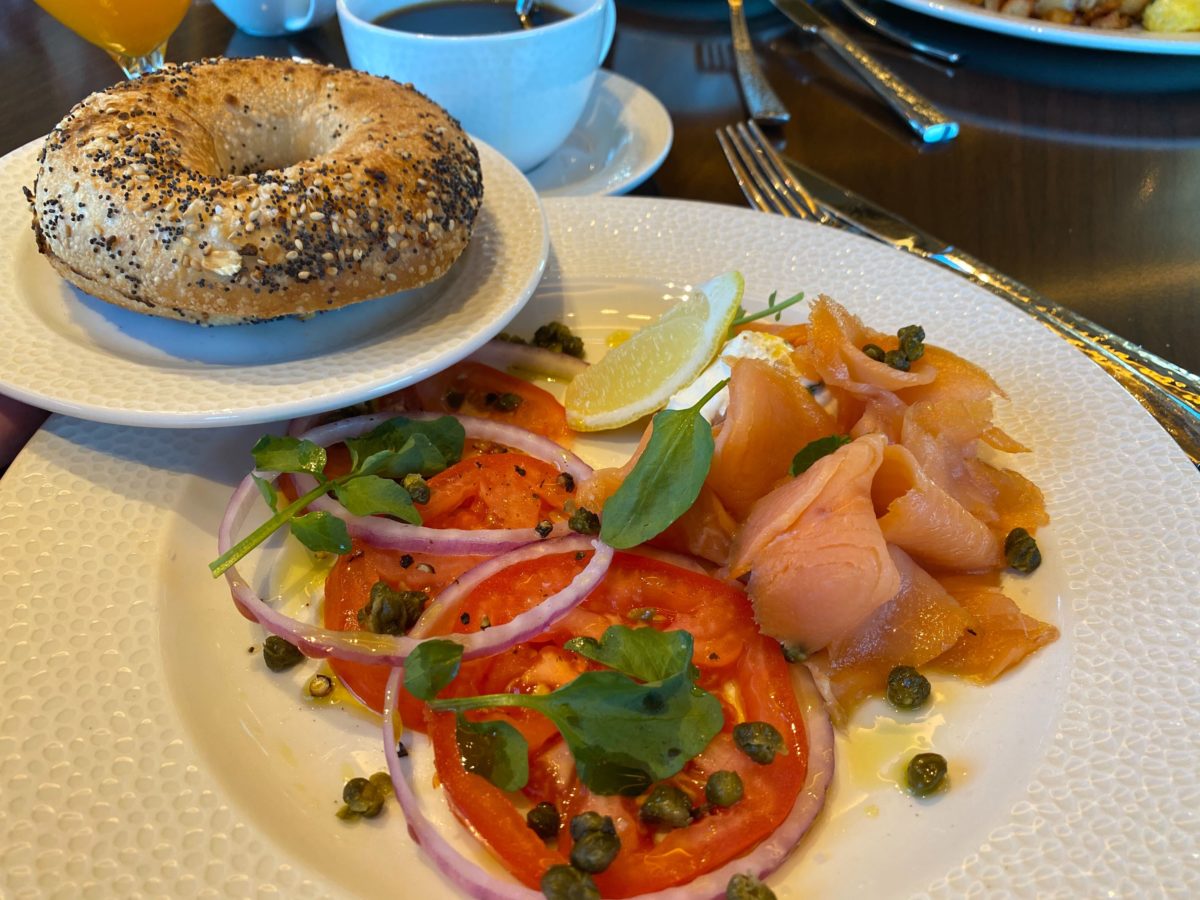 Wild Mushroom Omelette
Spinach, Plant-based Eggs, Plant-based Sausage, Tomatoes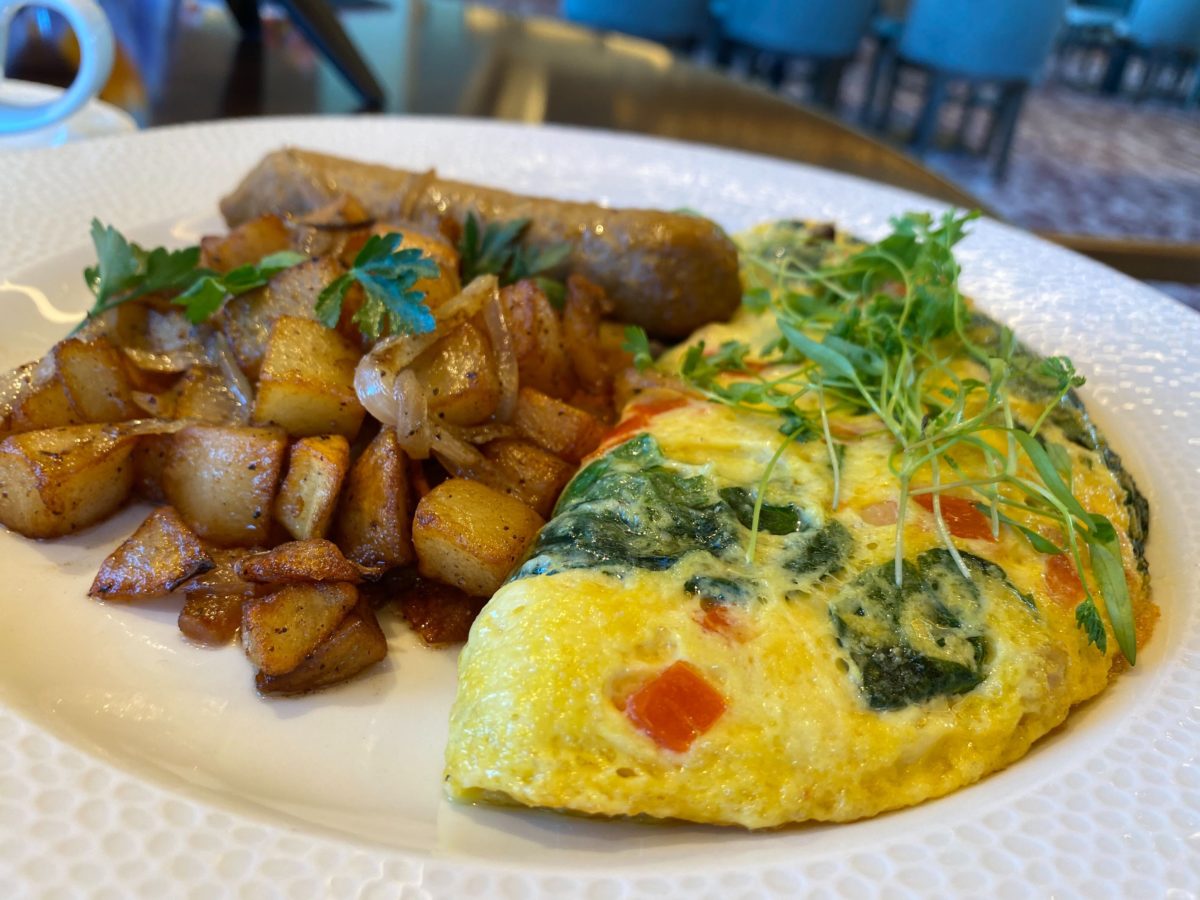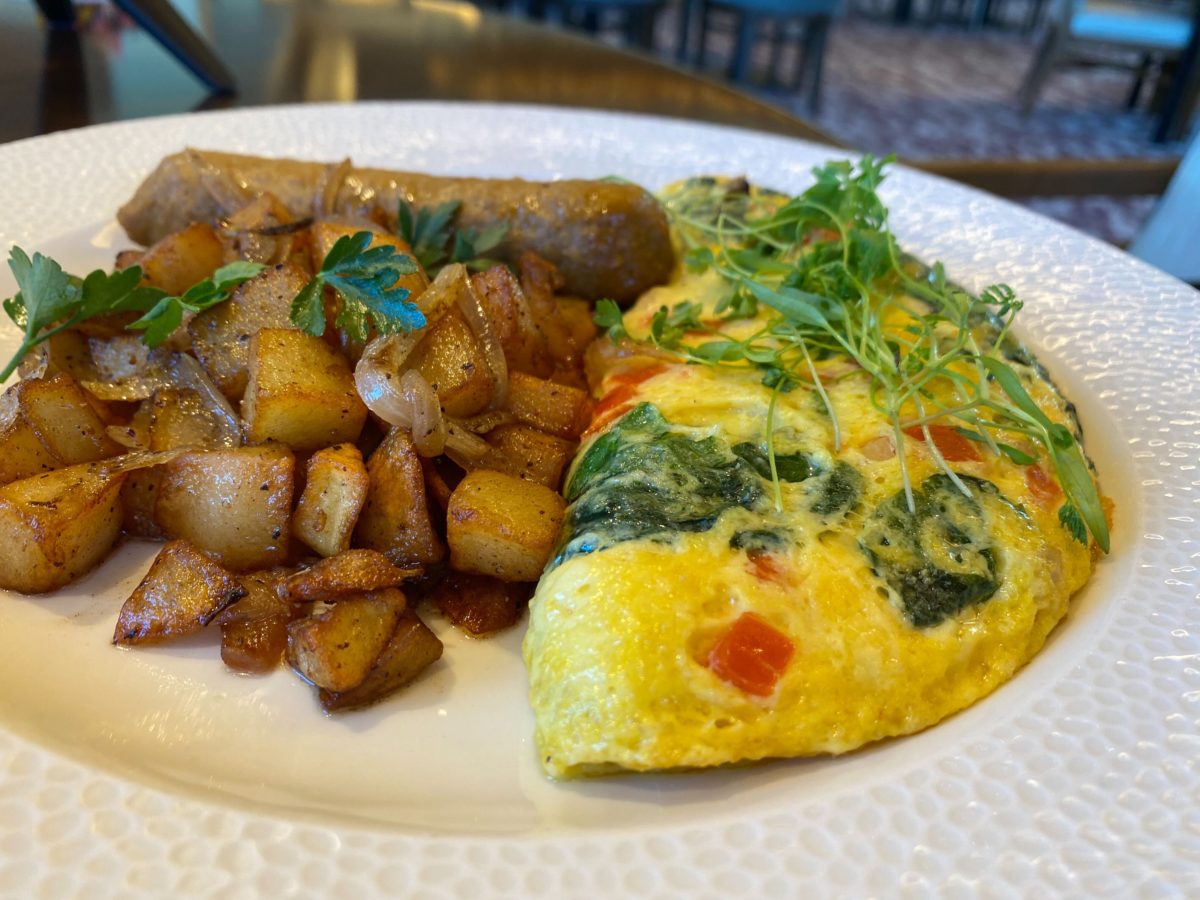 Quiche Gruyere
House-made Pancetta, Roasted Potatoes, Field Greens, Lemon Vinaigrette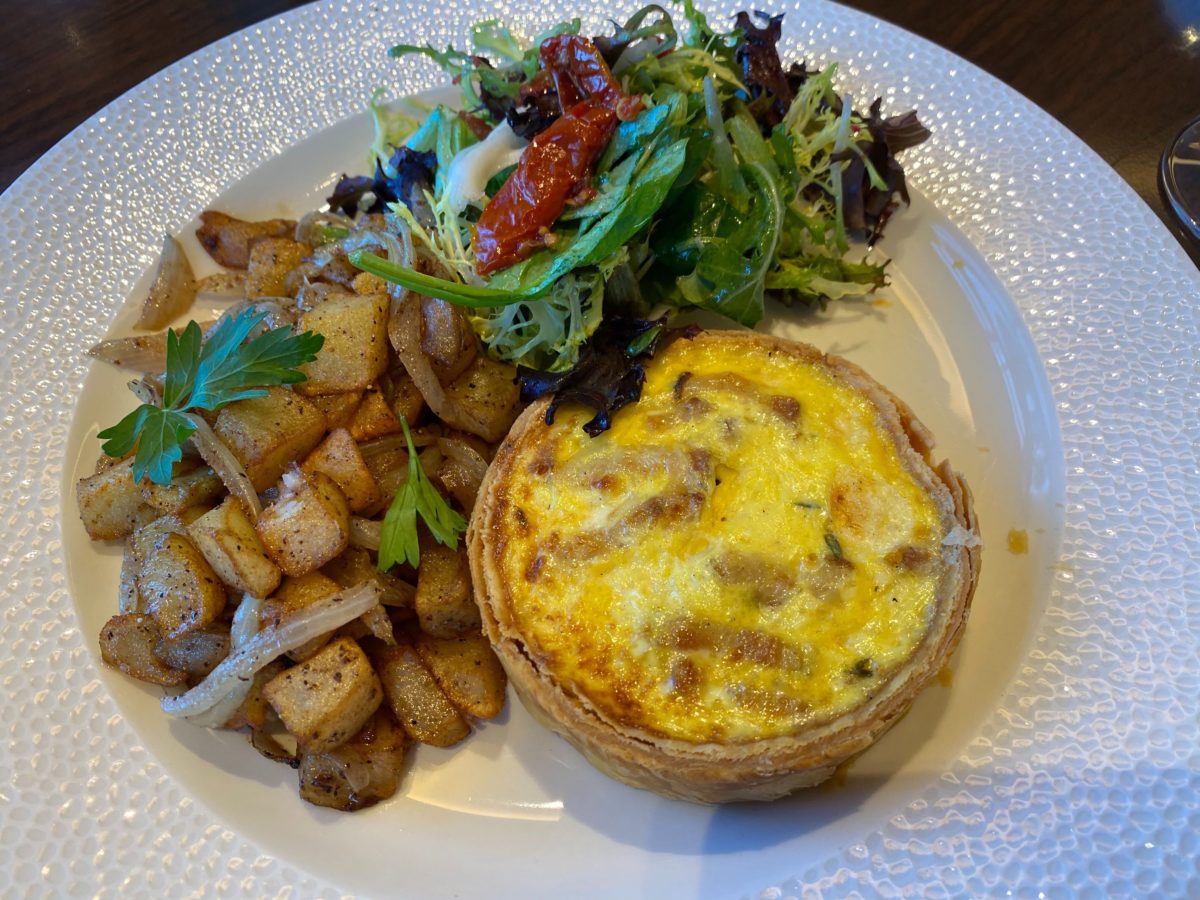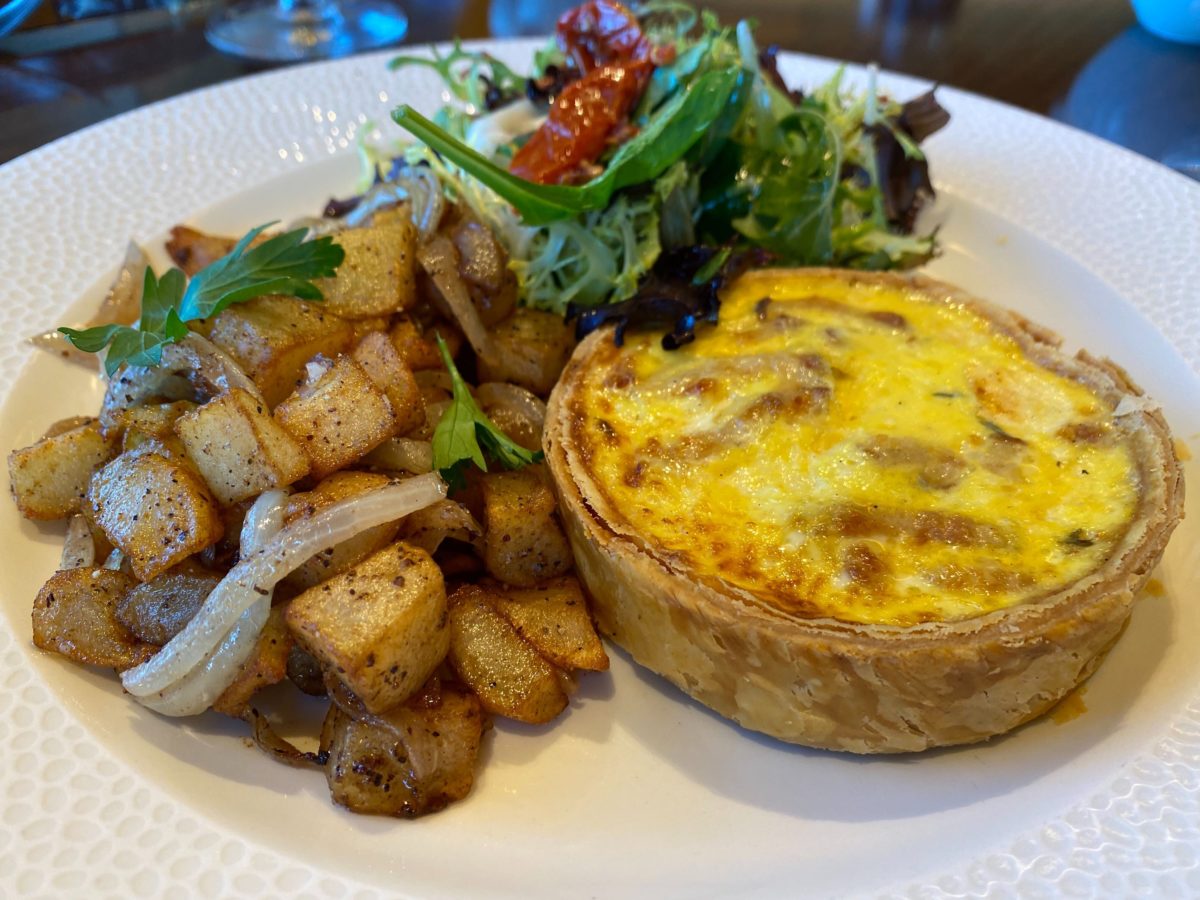 As far as food reviews go, we found all the food to be on par with our earlier, positive reviews from breakfast and brunch. However, at $42 per adult, we missed some of the better, higher-value items, like the famed Wood-fired Butchers Steak, and even the Croissant au Jambon and Spiced Sausage Hash. (Kids' entrees are priced at $27.) At this time, there are still no discounts available for Topolino's Terrace, so you are looking at an expensive breakfast, especially with the upper-tier selections removed from the menu for the reopening. Granted, the chef did kindly offer us second entrees after seeing how visibly disappointed we were at seeing there was no more steak on the menu, but your mileage may vary. (In any case, thank you, Topolino's Terrace Cast Members!) Standard coffee, juice, and tea are also still included as part of the breakfast price.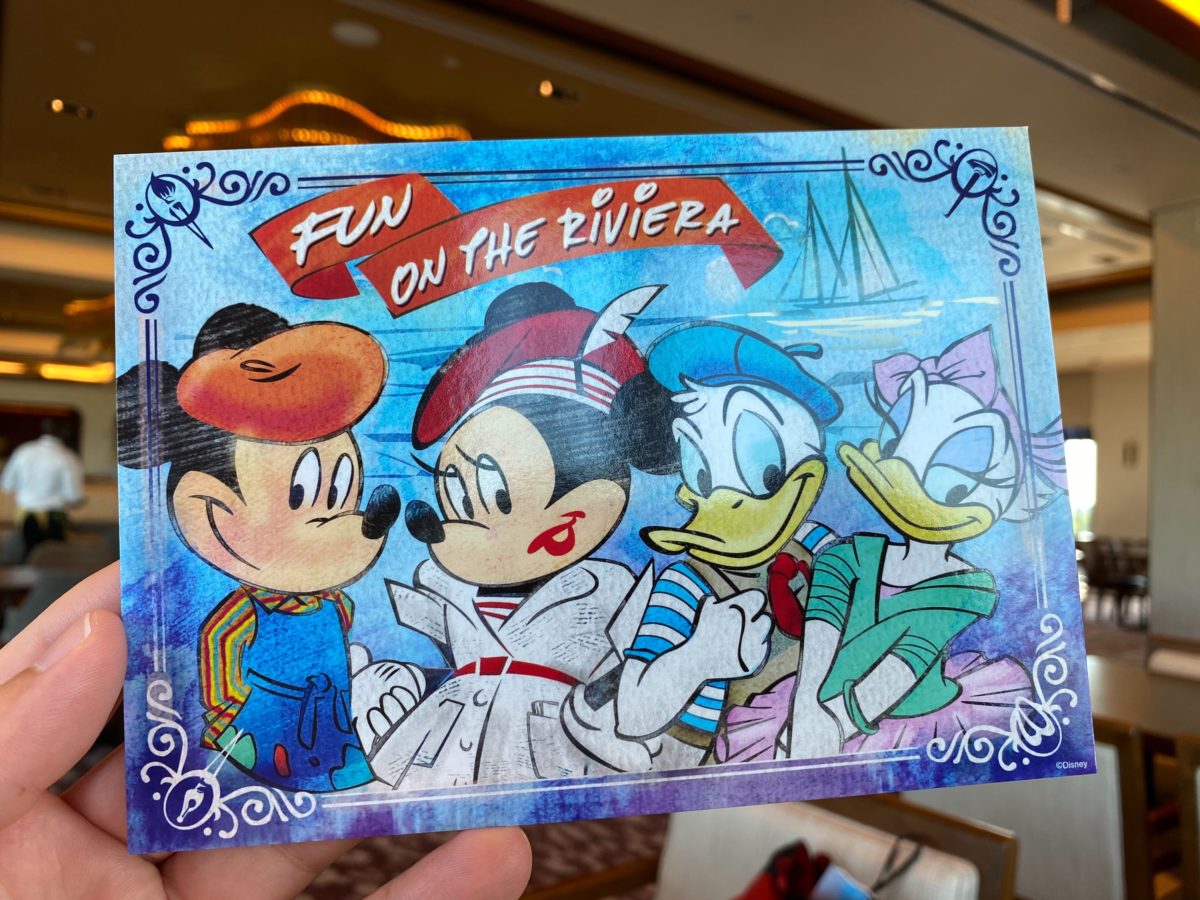 In lieu of autograph books and taking pens, characters now hand out these commemorative autograph cards, which are a great touch.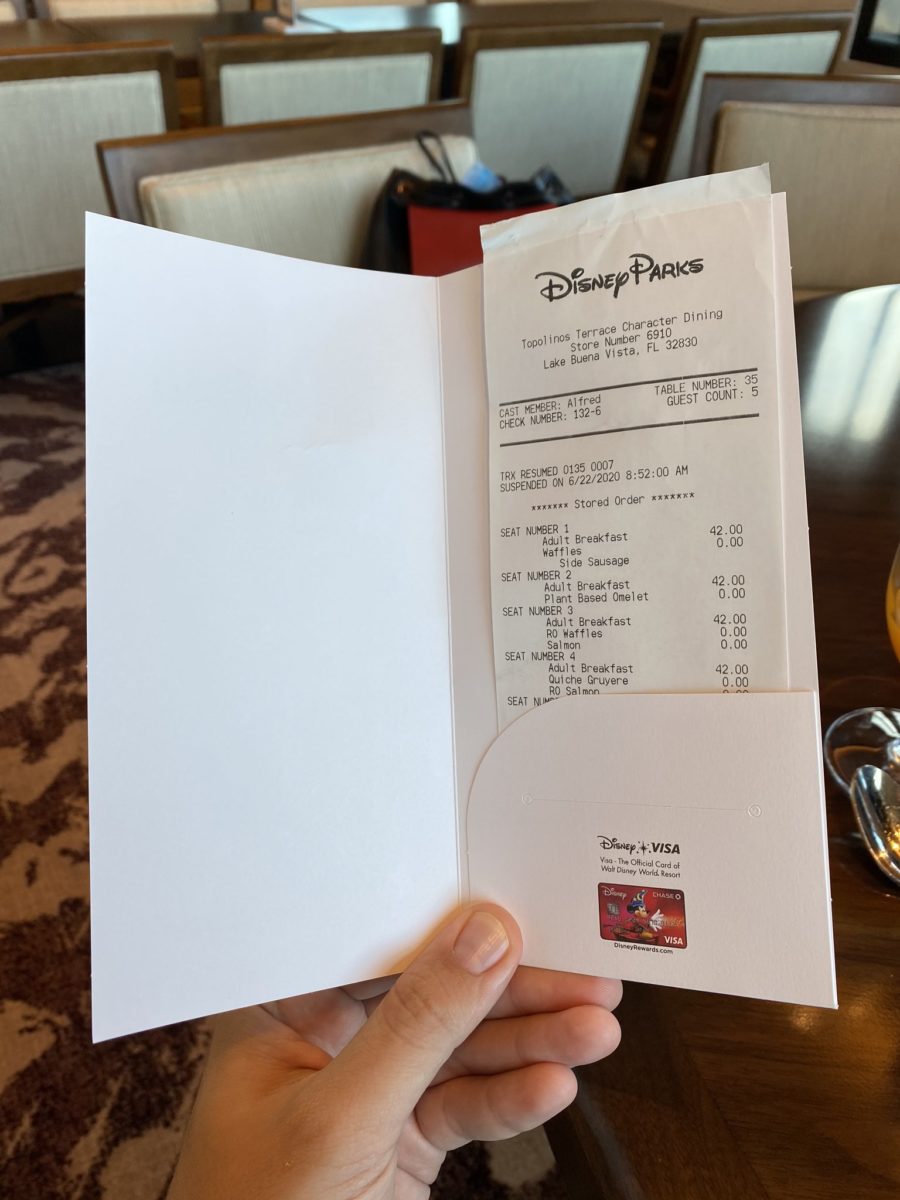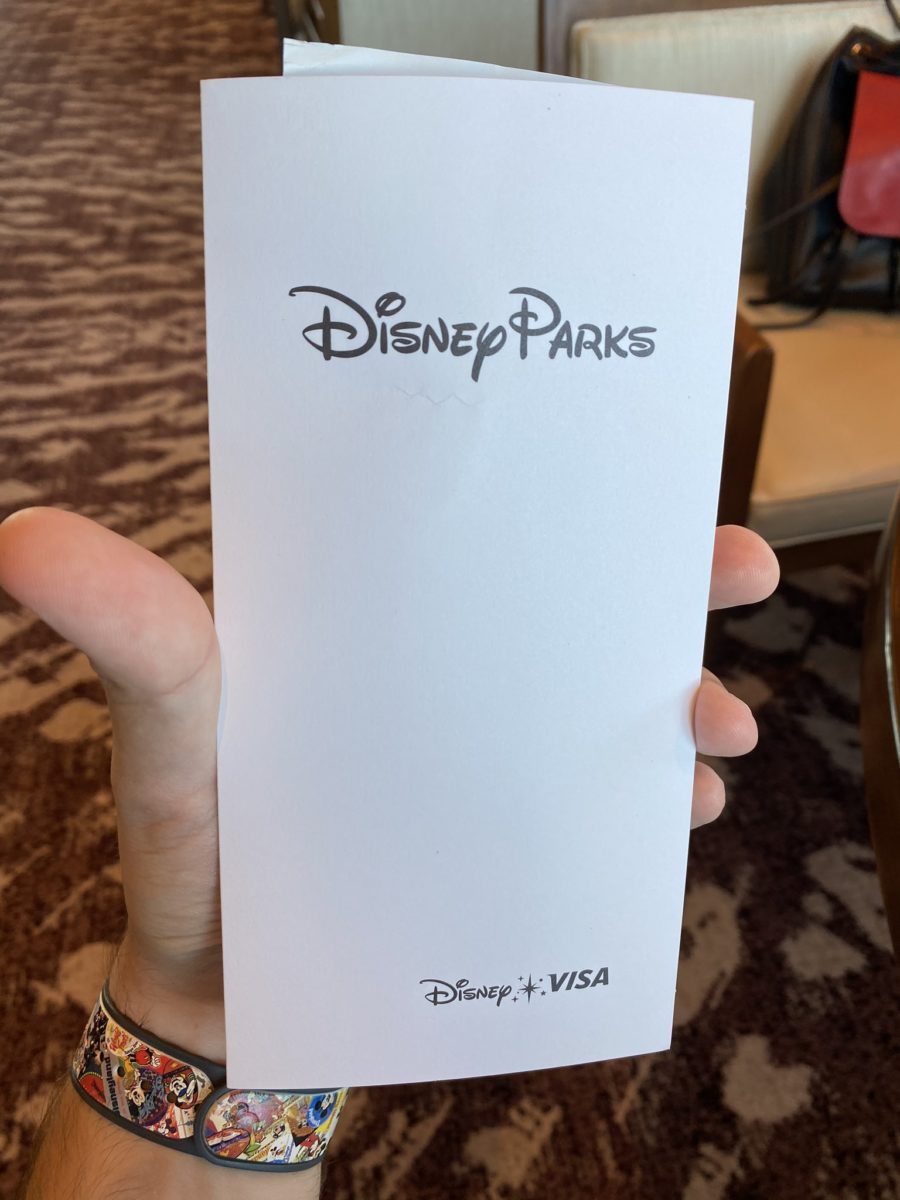 Lastly, single-use paper checkbooks are being used instead of the restaurant's custom ones.
What do you think of the newly modified Topolino's Terrace Character Breakfast? Will you be booking dining reservations here soon, or holding out until the menu comes back in full force (along with the character interactions)? Let us know in the comments!