While wearing a face mask and following social distancing procedures is now the new normal when going out and about in a world with COVID-19, it's beginning to impact how guests feel about their experiences at theme parks.
Universal Orlando Resort has sent out an email survey to guests that attended the Annual Passholder preview days on June 3 and 4 to gain insight on how guests felt about the new health and safety procedures and how their experience was with wearing a face mask throughout their time within the parks.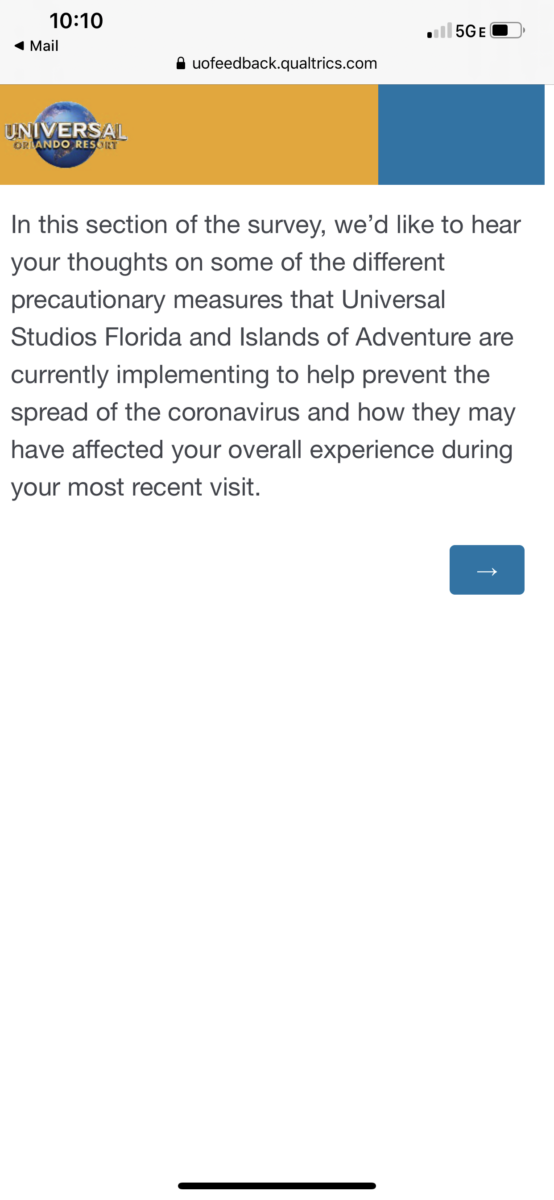 Once participants get past the basic information portion of the survey, they get right into questioning about guests' thoughts regarding all of the new safety procedures throughout Universal Studios Florida and Islands of Adventure.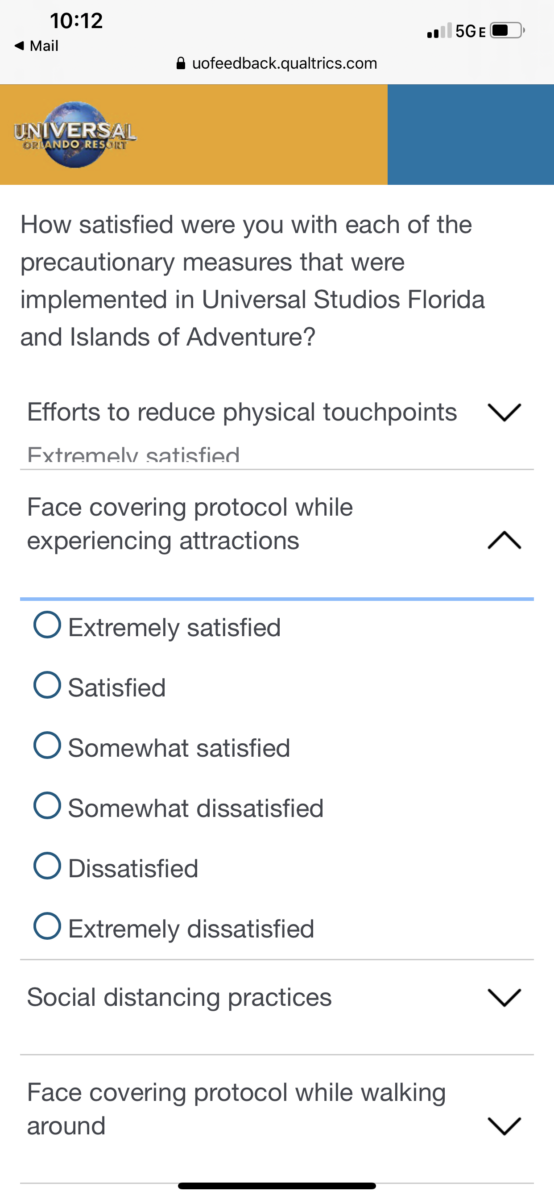 There are fill in the blank questions, allowing guests to freely type out their responses to questions such as "What do you think of the precautionary measures that are being taken to prevent the spread of coronavirus?" and to explain when a guest isn't satisfactory with a safety measurement that is being taken. Most of the questions are answered with a rating system with a spectrum of dissatisfied to satisfied answers, or agree or disagree.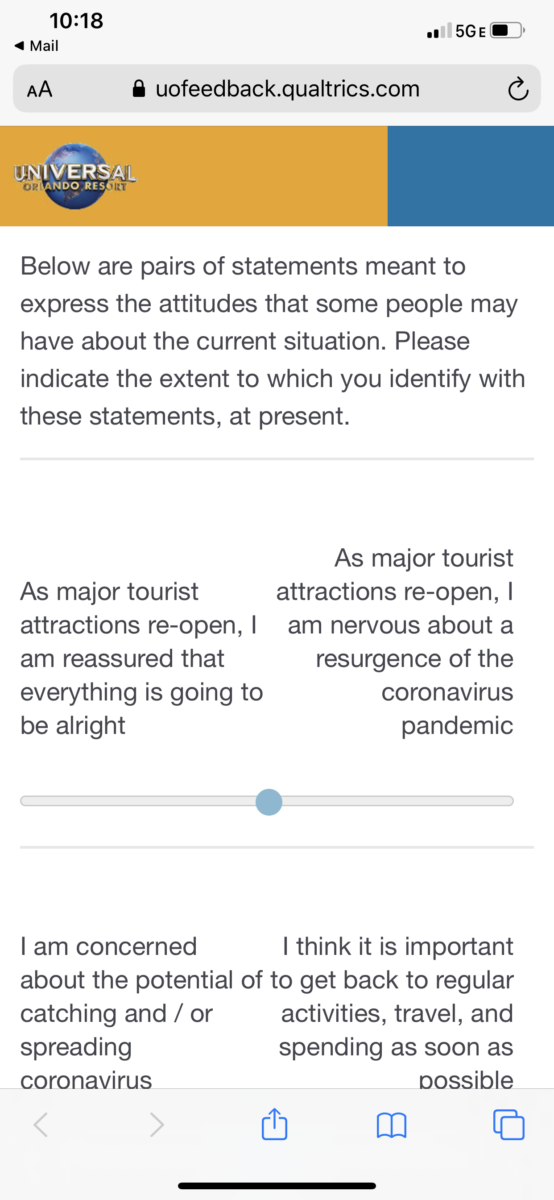 Other questions involved a sliding scale to gauge what guests' emotional and mental standpoint was regarding tourism reopening amid a world with coronavirus cases still active.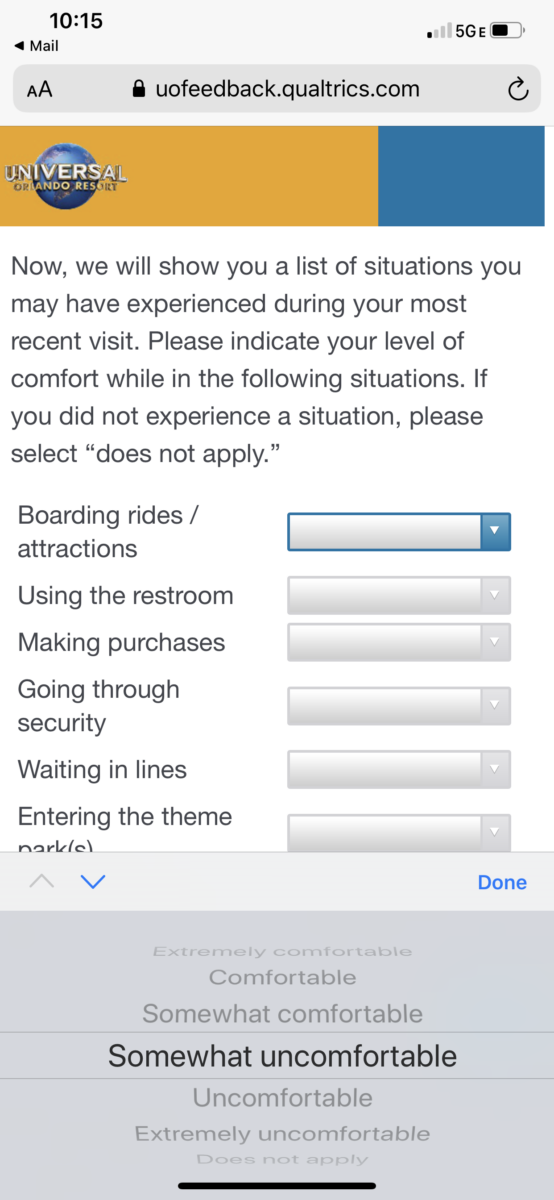 Another section of the survey involved guests describing their comfort level with things they may have interacted with during their time at the theme parks, such as boarding attractions, making merchandise purchases, and even going to the restroom.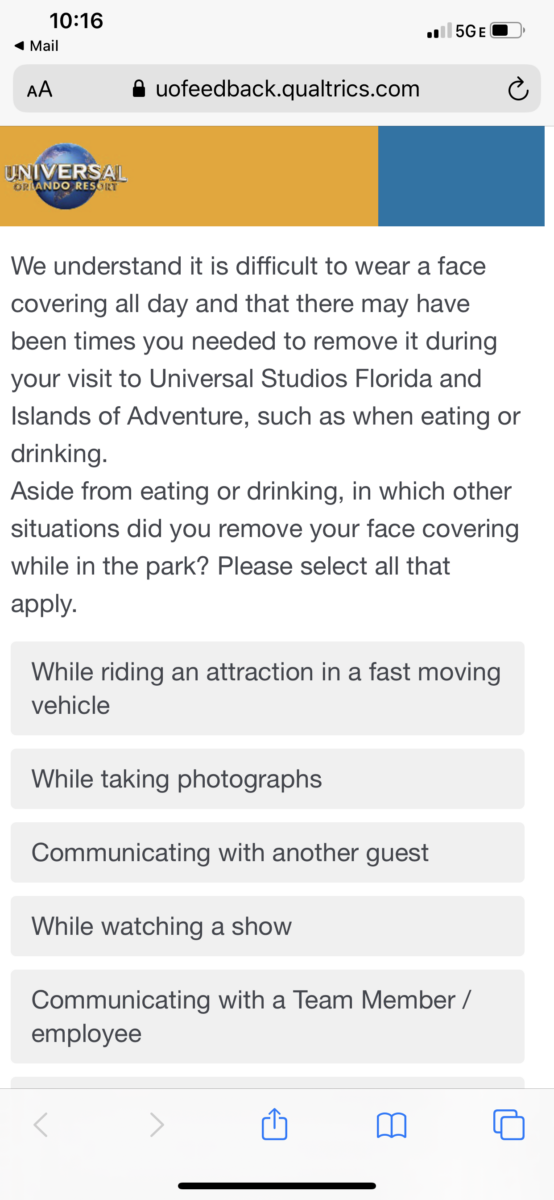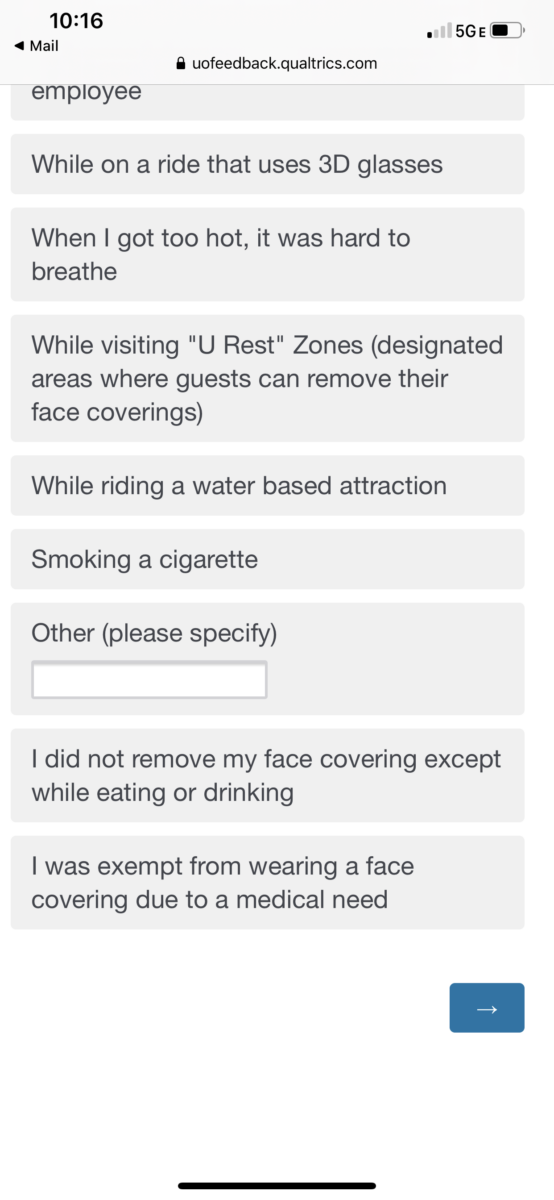 And finally, Universal questioned guests about wearing face masks all day and when guests would remove them, providing a long list of possibilities that guests can select from.
Universal Orlando Resort released a new video earlier this week welcoming back guests and informing them about the new safety procedures that would be in place when guests return. The guests that attended the Annual Passholder preview days also got a first look at these safety measures in place.
Disney Springs has also been stopping guests on their way out to take a survey via a QR code to gain their opinions on their day following the new measures, and how they would feel regarding these being applied to the Walt Disney theme parks when they reopen, as well as sending out a survey to guest's email addresses that are attached to their My Disney Experience account.
What are your own thoughts about how the Universal Orlando Resort is handling these new health and safety measures? Are they impacting your theme park experience? Let us know in the comments!
Want even more Universal Studios news? Check out our newest website, Universal Parks News Today, for all the latest updates on Universal Parks across the globe! And follow us on social via our YouTube channel, plus Twitter, Instagram, and Facebook.