With Disney's Hollywood Studios reopening to the public today, one of its most popular attractions, Star Wars: Rise of the Resistance, has made changes to its virtual queue system.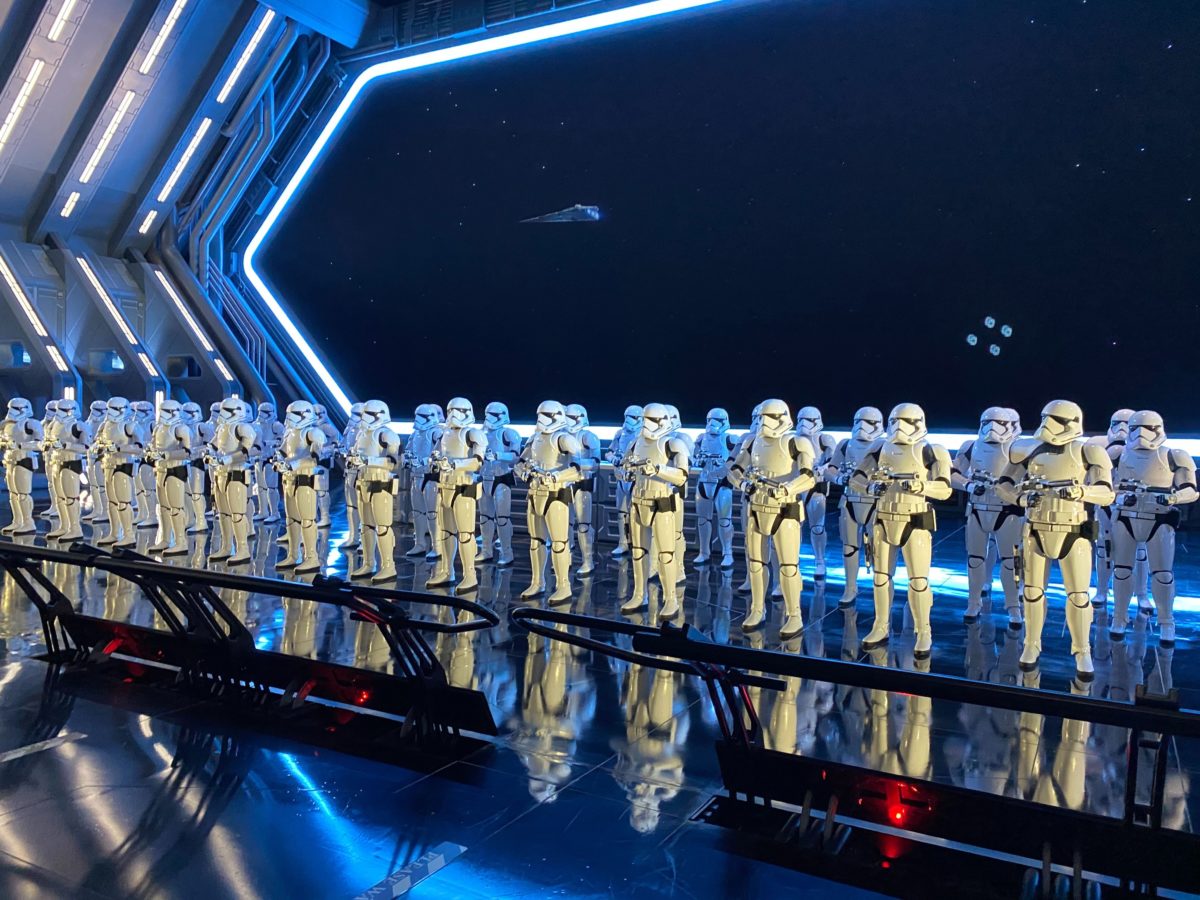 While our experience during Cast Member previews of the Disney's Hollywood Studios reopening involved a stand-by only queue where guests could walk in, today required more prep as a roped-off queue was set up along the entrance to the attraction. Audio announcements can be heard in the park reminding guests of the virtual queue system:
Cast Members from Batuu were stationed outside with iPads to check guests' status within the Virtual Queue:
As we've previously reported, guests have the opportunity to request to join the virtual queue via the My Disney Experience app at three different times during the day: 10 AM, 1 PM, and 4 PM (ET). Previously, all virtual queue spots were released at park open. Guests must be within Disney's Hollywood Studios to request a queue spot.
Once at the park, pull up the My Disney Experience app and scroll down until you see this Rise of the Resistance section, then tap "Join". At each of the three scheduled times, the request process will open.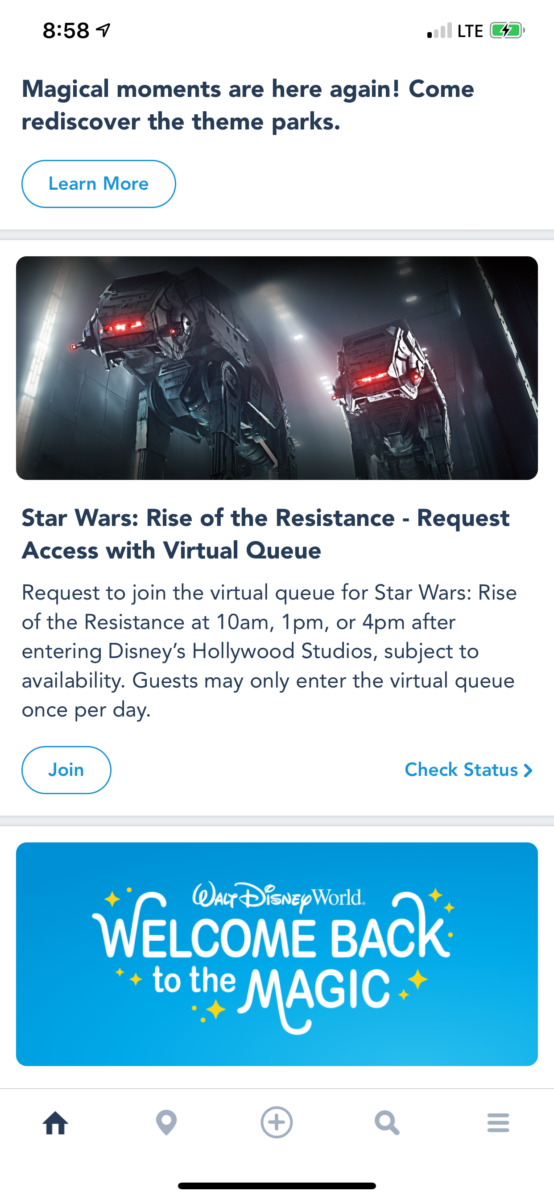 That will then open up a Virtual Queue, or "My Queues" landing page: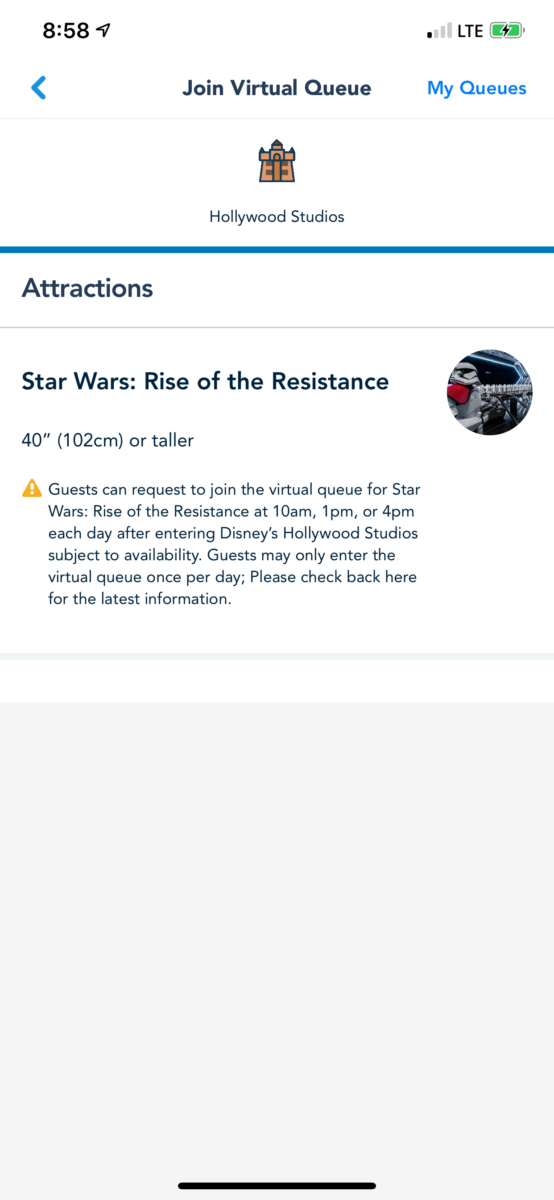 Starting at 10:00 AM, you can then Create Your Party, and enter a Boarding Group. Make sure everyone in your party is selected.
To maintain fairness, guests can only enter the virtual queue once per day. This means that, for example, if you request to join the queue at 10 AM and successfully obtain a spot, you can't request another spot at 1 PM or 4 PM.
With the 10:00 AM Virtual Queue opening, we found that all Boarding Groups had been fully distributed within 5 minutes. By 10:08 AM, the Virtual Queue page had been updated to reflect that no more groups were available, and that guests were to check back at 1:00 PM for another opportunity to join the Virtual Queue if they were not successful in the first round: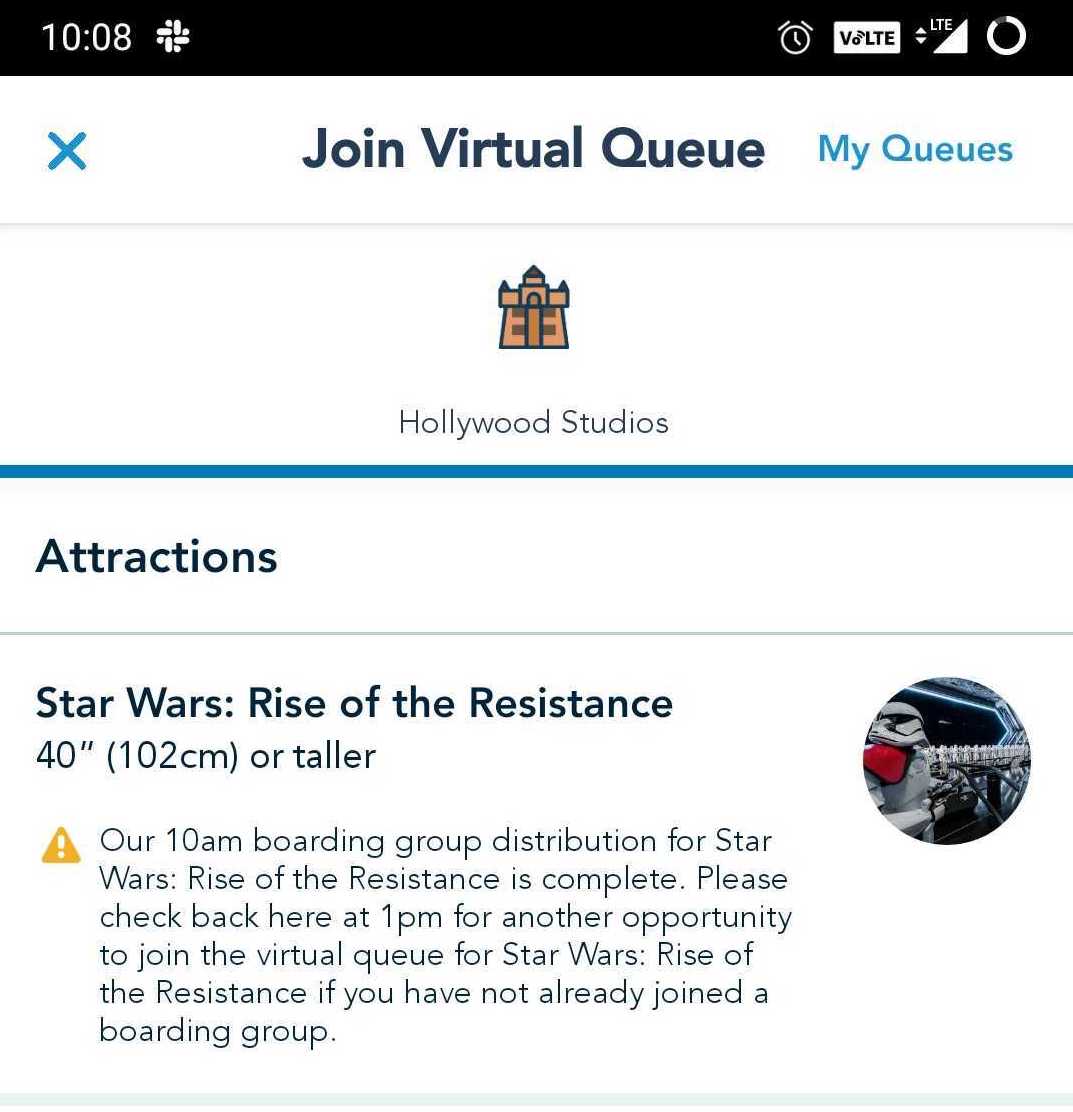 Given that Boarding Groups used to run out in mere seconds in the months prior to the closure at Disney's Hollywood Studios, the fact that they lasted a few minutes is a positive, but we'll have to monitor how the progression of the Virtual Queue goes throughout the day (and the subsequent days) for a better sense of logistics for the attraction.
If your My Disney Experience account is linked to your park tickets and the others in your party, you should be able to enter everyone into the virtual queue at the same time. The app will also display when queue spots are no longer available for a certain distribution time. Should you be unable to attain a queue spot, backup groups may be available. While waiting for your boarding group to be called, you're free to enjoy the rest of what Disney's Hollywood Studios has to offer.
Be sure to have push notifications turned on for My Disney Experience, so that you'll be notified if your group has been called to return. Guests have an hour from the time of the alert to arrive at the entrance to Star Wars: Rise of the Resistance. Because of the possibility of unforeseen circumstances, Disney has stressed that joining the virtual queue is not a guarantee that guests will be able to experience the attraction.
We'll continue to provide updates on Twitter as we're called up for Boarding, as well as further updates on how the Virtual Queue progresses throughout the day. Til the Spire!