During the COVID-19 closure of the Walt Disney World Resort theme parks, we've been dipping into our archives of vintage park materials for a look back into park history! If you're missing IllumiNations: Reflections of Earth, look back on how EPCOT's legendary nighttime spectacular came to be with this issue of Birket Engineering News!
Note: This article will detail the newsletter page by page, but WIGS Members will have access to download a full-resolution PDF of the entire thing. Head on over to Patreon.com/wdwnt to join WIGS, the WDWNT Inner Globe Society, for as little as $2 a month and unlock access to great content like this, and much more!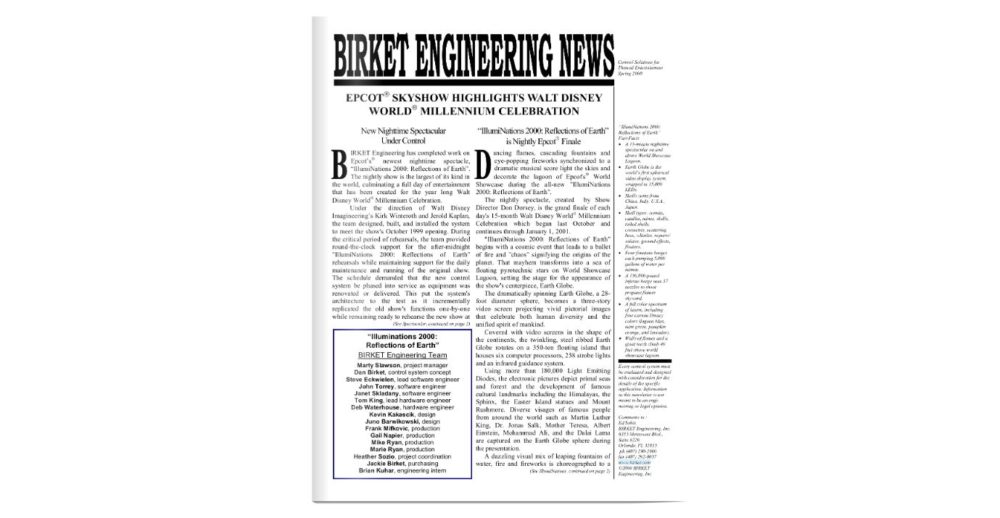 Birket Engineering was responsible for the show control system for the spectacular, controlling the synchronizing of pyrotechnics, lasers, and video projections in sync with that iconic Gavin Greenaway score that thrilled guests for nearly two decades. An interesting tidbit is that the Birket Engineering team was simultaneously managing a phased installation of the new show system and running rehearsal at 11 PM nightly after the park was closed, while still running the daily operation of the previous incarnation of IllumiNations for guests. Another fact I found fascinating: the international theme of the show extended into the effects, with fireworks from China, Italy, Japan, and the United States being used in the show.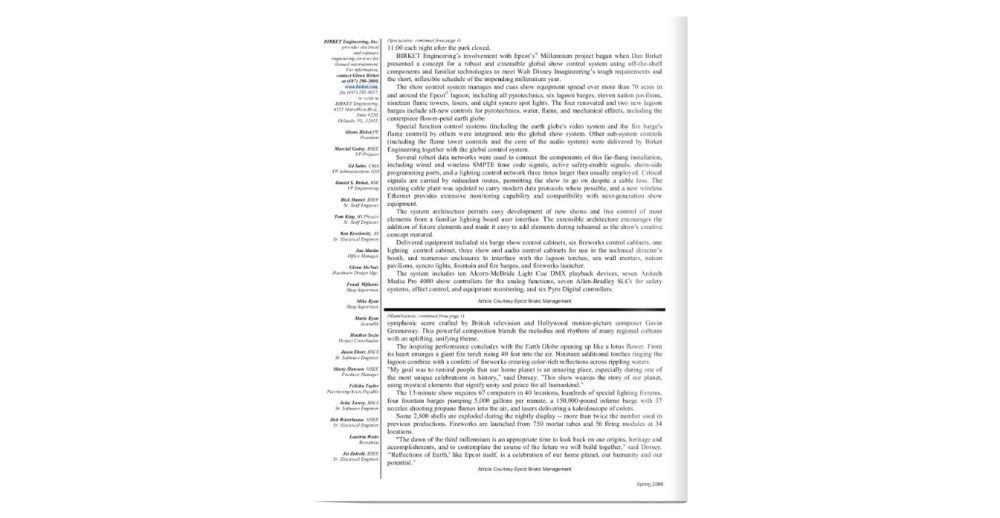 All in all, it made for a thrilling centerpiece to Walt Disney World's Millennium Celebration and a beloved piece of EPCOT history. I don't think I could put it any better than to close with a quote from the creator and Show Director Don Dorsey:
"The dawn of the third millennium is an appropriate time to look back on our origins, heritage, and accomplishments, and to contemplate the course of the future we will build together… 'Reflections of Earth,' like Epcot itself, is a celebration of our home planet, our humanity and our potential."
MORE:
VIDEO: Watch The Last-Ever Final Showing "IllumiNations: Reflections of Earth" as the Fireworks Spectacular Concludes 20 Year Legacy at Epcot
More Special Guests Added! Say Farewell to "IllumiNations: Reflections of Earth" with Show's Creator Don Dorsey and a Live Performance by Composer Gavin Greenaway & Vocalist Kellie Coffey
Buckle Up and Rock Out at the Disney-MGM Studios with this Guide from 1999