With Disney Parks around the world closed for the foreseeable future, WDWNT is dipping into our archives of vintage parks materials for a look back into parks history! And in celebration of Hollywood Studios Appreciation Week, all this week, we're peeking into the studio vault with items from the early years of the Disney-MGM Studios! In 1999, the park was rockin' with the opening of Rock 'n' Roller Coaster Starring Aerosmith, as shown in this guide!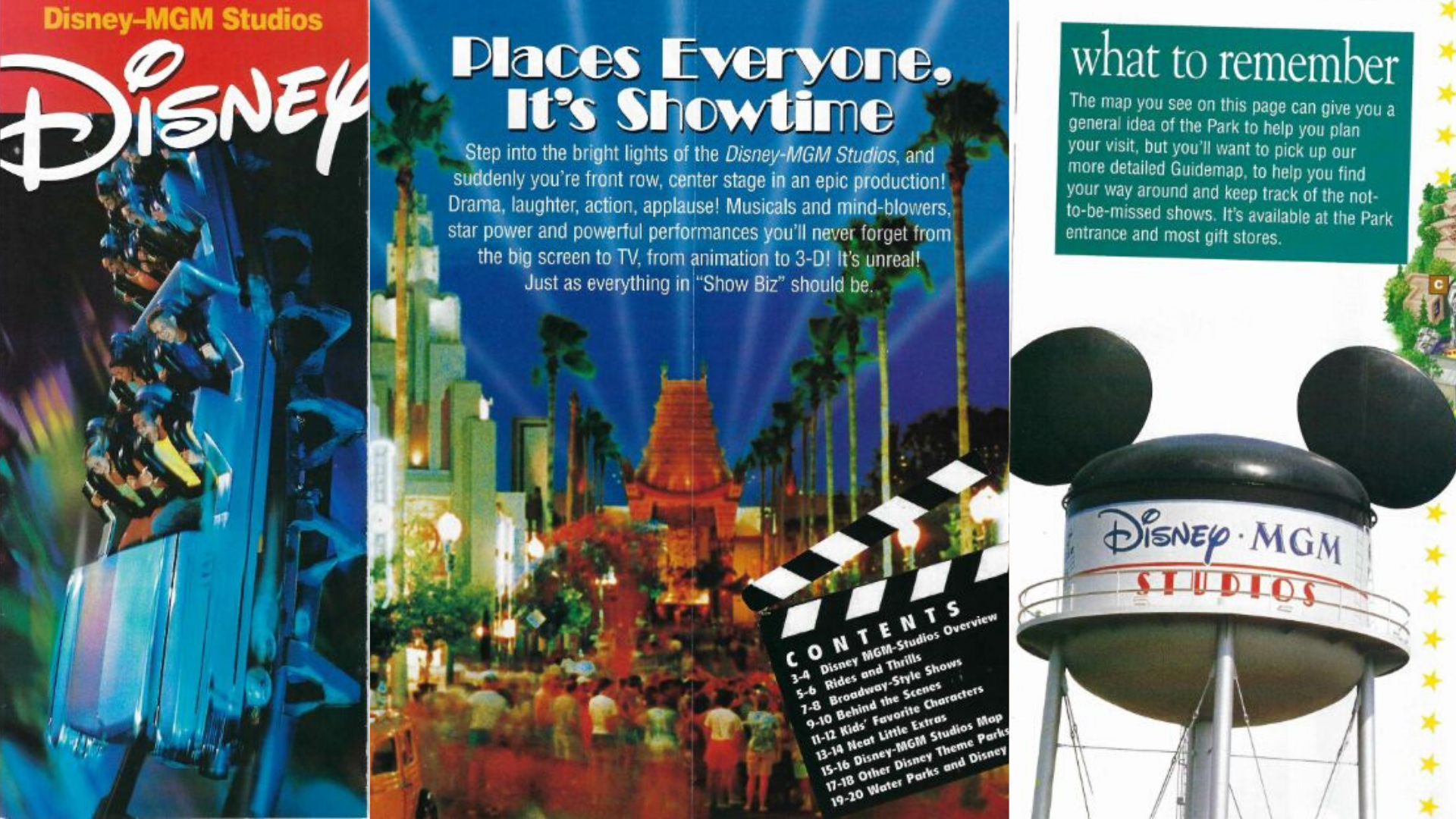 Note: This article will detail the guide page by page, but WIGS Members will have access to download a full-resolution PDF of the entire thing. Head on over to Patreon.com/wdwnt to join WIGS, the WDWNT Inner Globe Society, for as little as $2 a month and unlock access to great content like this, and much more!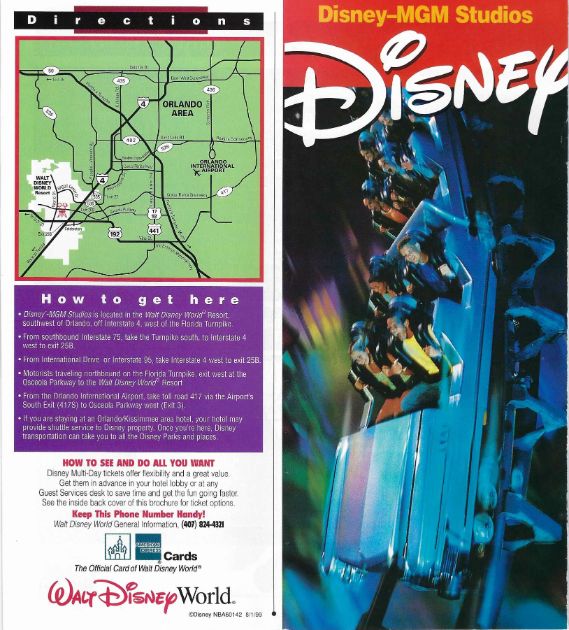 Naturally, the park's first-ever roller coaster would be the focus of the front cover.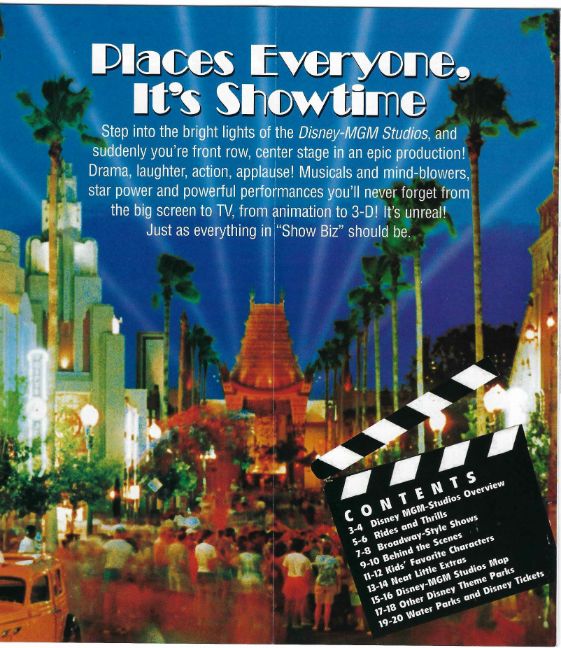 It's certainly showtime all the time at the park, as the description suggests:
"Step into the bright lights of the Disney-MGM Studios, and suddenly you're front row, center stage in an epic production! Drama, laughter, action, applause! Musicals and mind-blowers, star power and powerful performances you'll never forget from the big screen to TV, from animation to 3-D! It's unreal! Just as everything in 'Show Biz' should be."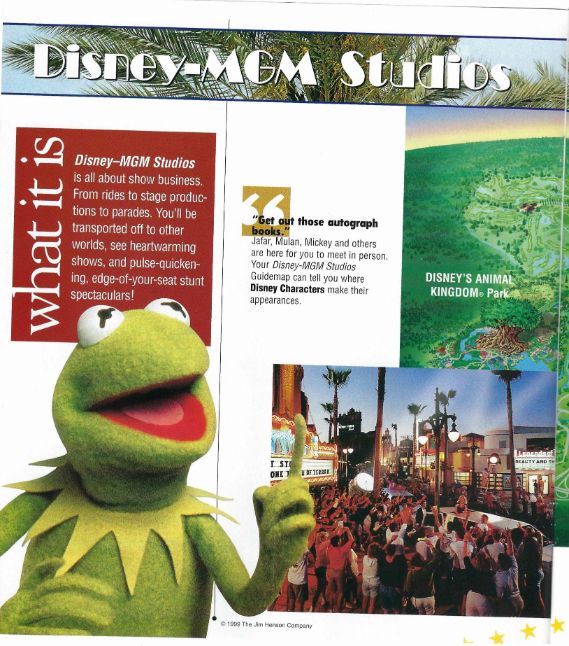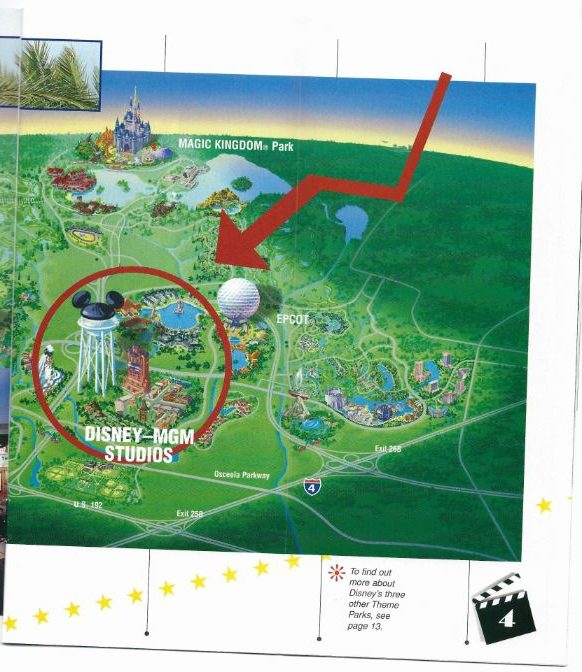 We then "cut" to a map of where the Disney-MGM Studios is within the ever-expanding Walt Disney World resort, including the recently-opened Disney's Animal Kingdom!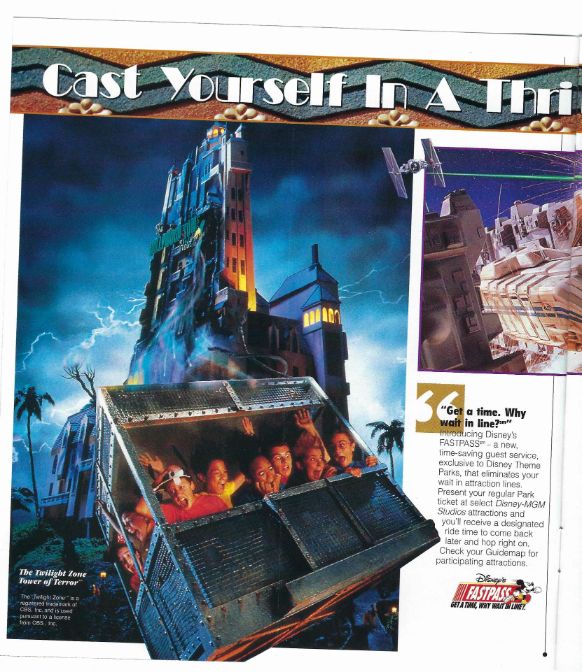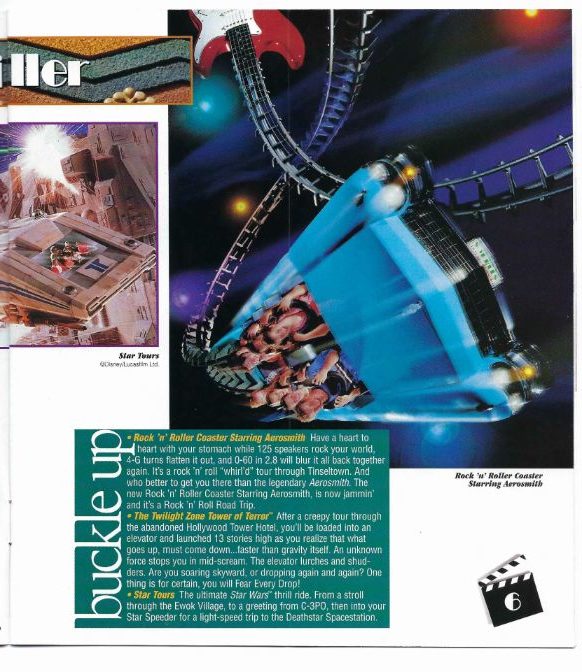 Thrill rides mark the next pair of pages, including Star Tours, The Twilight Zone Tower of Terror, and Rock 'n' Roller Coaster Starring Aerosmith. But how did Disney promote this new attraction?
"Have a heart to heart with your stomach while 125 speakers rock your world, 4-G turns flatten it out, and 0-60 in 2.8 will blur it all back together again. It's a rock 'n' roll 'whirl'd' tour through Tinseltown. And who better to get you there than the legendary Aerosmith. The new Rock 'n' Roller Coaster Starrring Aerosmith, is now jammin' and it's a Rock 'n' Roll Road Trip."
And don't forget to grab a brand-new Disney's FASTPASS to help save your space in line!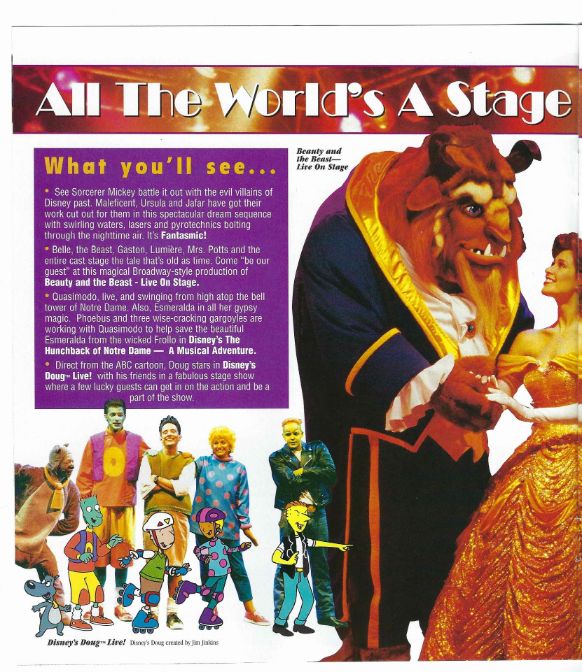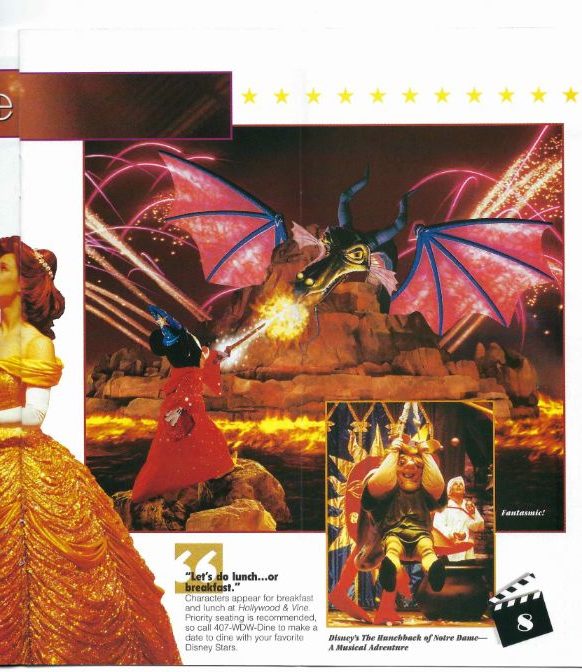 Moving on to live stage spectaculars, another relatively new offering at the park is Fantasmic!, the nighttime spectacular that opened at the park in October 1998. For daytime fun, there's Disney's The Hunchback of Notre Dame – A Musical Adventure and Disney's Doug Live!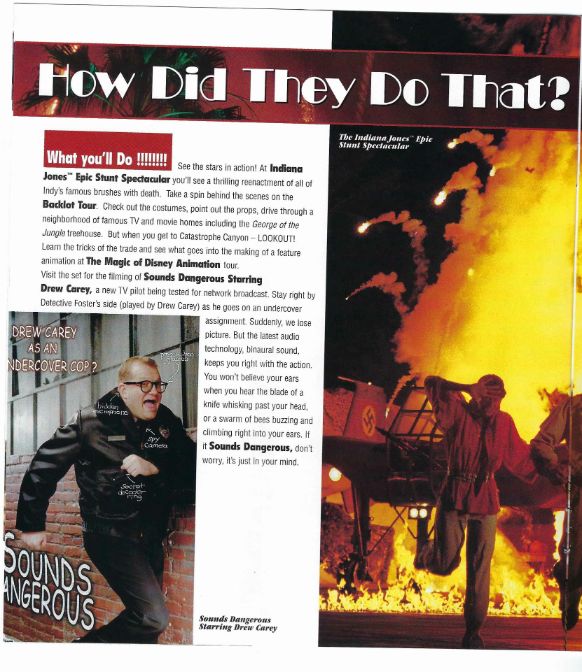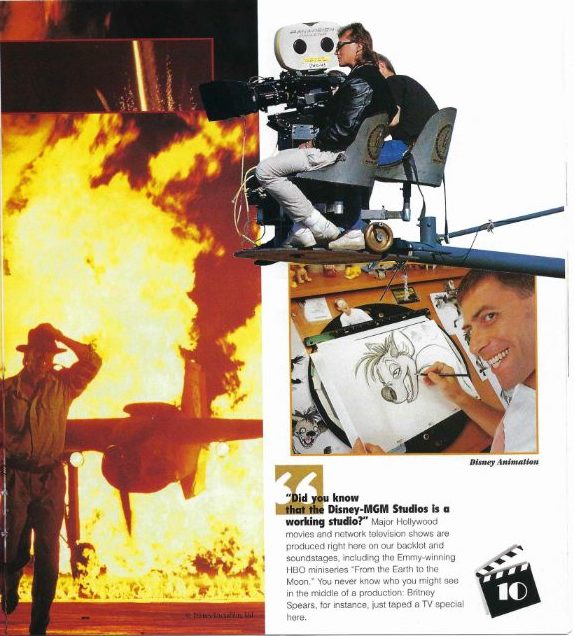 If getting a look behind the scenes (with a dash of Disney fun) is your preference, there's the brand-new attraction Sounds Dangerous! Starring Drew Carey:
"Visit the set for the filming of Sounds Dangerous Starring Drew Carey, a new TV pilot being tested for network broadcast. Stay right by Detective Foster's side (played by Drew Carey) as he goes on an undercover assignment. Suddenly, we lose picture. But the latest audio technology, binaural sound, keeps you right with the action. You won't believe your ears when you hear the blade of a knife whisking past your head, or a swarm of bees buzzing and climbing right into your ears. If it Sounds Dangerous, don't worry, it's just in your mind."
Meanwhile, the Indiana Jones Epic Stunt Spectacular and The Magic of Disney Animation continue to delight park guests a decade after opening. On the production side, the miniseries "From the Earth to the Moon" and a TV special starring Britney Spears have been filmed at the park. (Of course, Spears was no stranger to the studios, as she starred in "The All-New Mickey Mouse Club," which also taped there.)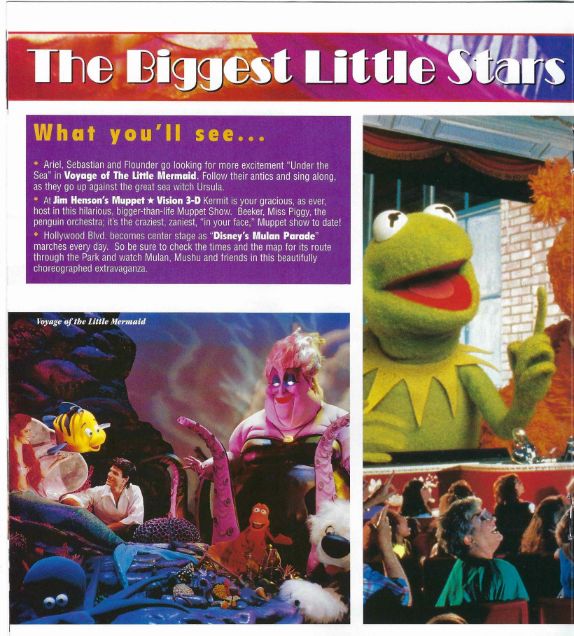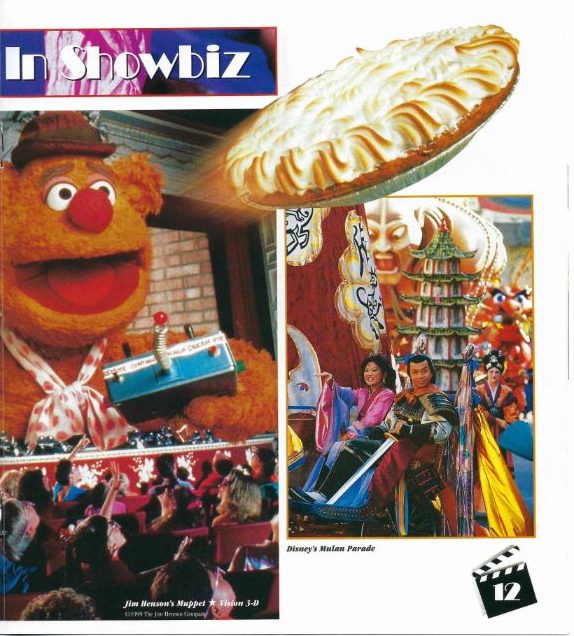 Worried there isn't enough for little ones? With attractions like Voyage of the Little Mermaid, Muppet*Vision 3D, and Disney's Mulan Parade, which ran at the park from 1998 to 2001.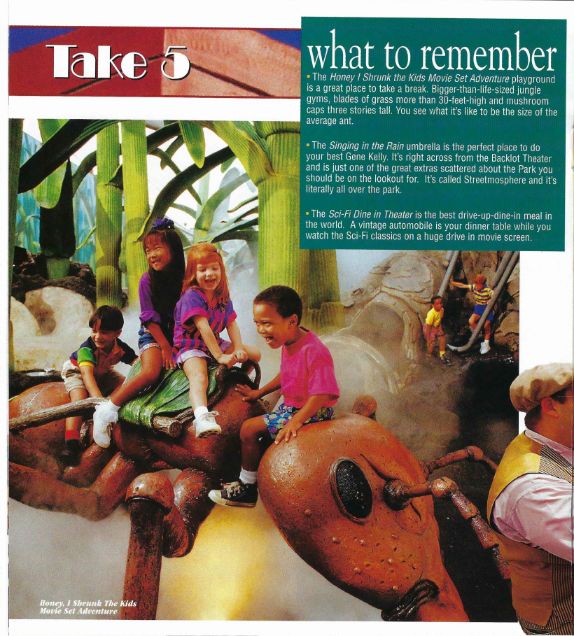 All this adventure and excitement can tire you out, so be sure to "Take 5" at the Honey I Shrunk the Kids Movie Set Adventure, by the Singing in the Rain umbrella photo op, or while grabbing a bite at the Sci-Fi Dine In Theater or The Hollywood Brown Derby.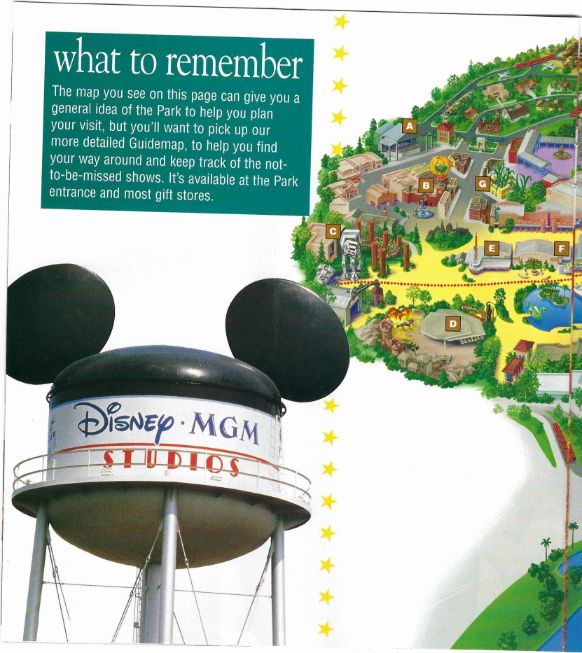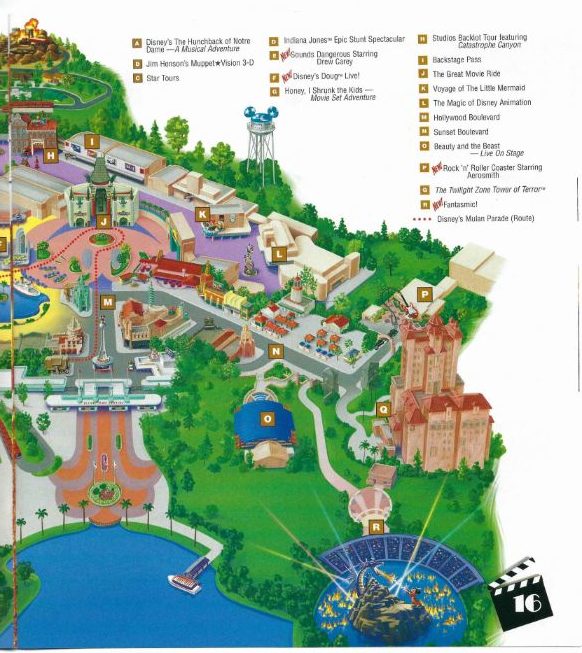 Next is a full map of the park, featuring the new additions in 1999.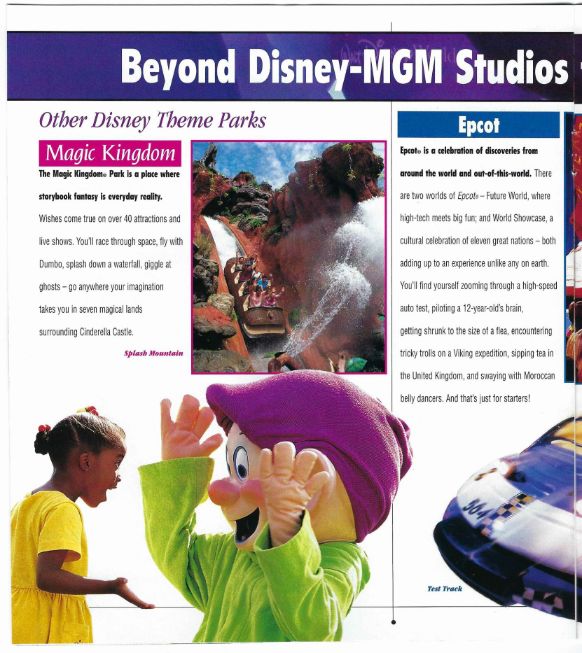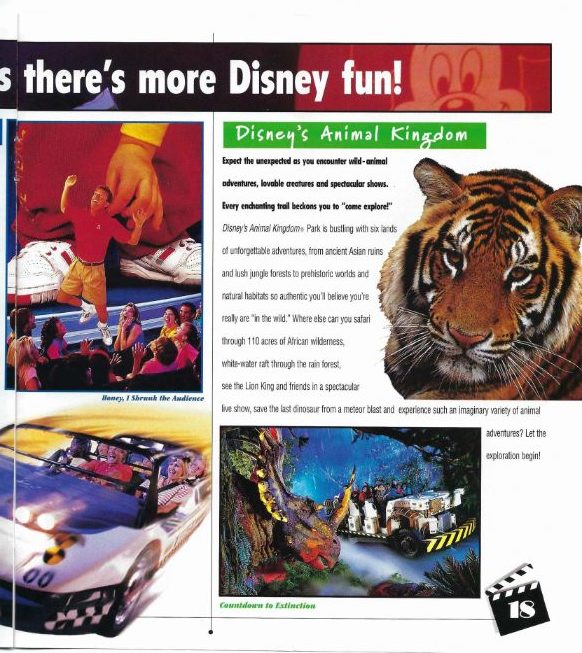 At the other parks of Walt Disney World, Test Track is the new headliner at Epcot, while Disney's Animal Kingdom continues to thrill guests as it enters its second year.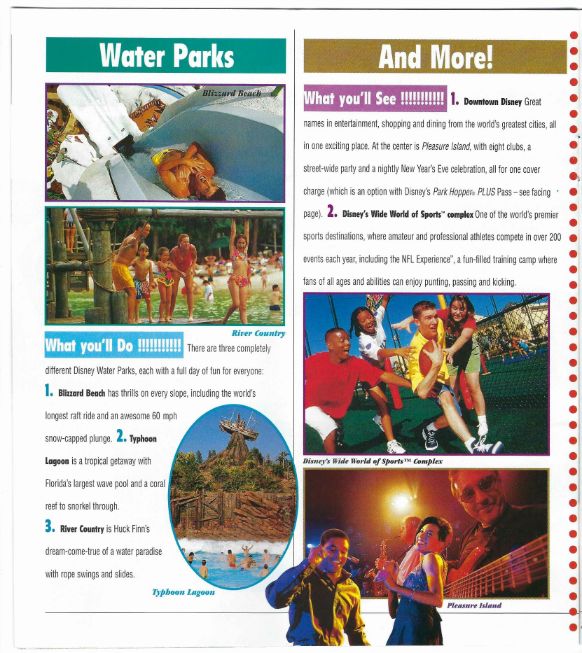 Remember when Walt Disney World had three water parks? From 1995 to 2001, guests could enjoy Typhoon Lagoon, Blizzard Beach, and River Country.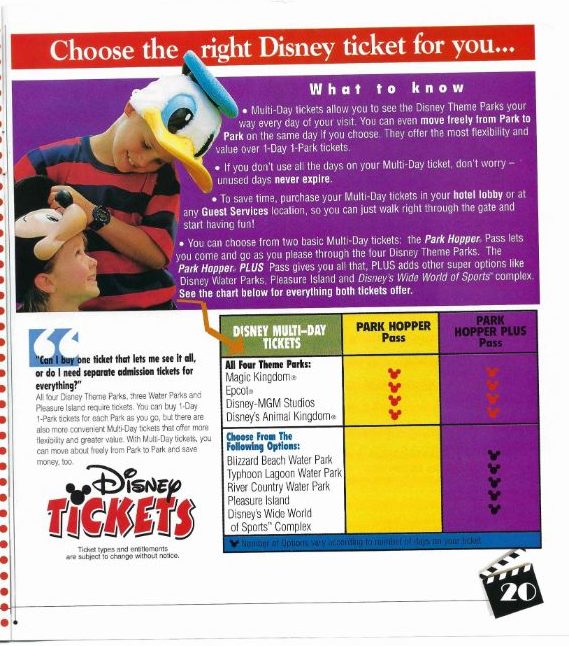 With all that the resort has to offer, you might need help figuring out what kind of tickets you want to purchase. Luckily, the guide offers a whole section devoted to just that.
With a new millennium approaching, the Disney-MGM Studios offered more action and adventure than ever before! Keep reading WDWNT as we unearth more pieces of Disney Parks history!
MORE:
Discover a Star-Studded Gala Opening at the Disney-MGM Studios With this Star Tours Grand Opening Press Itinerary from 1990
Unearth Disneyland History With This Indiana Jones Adventure Cast Premiere Packet From 1995
Explore the Patriotic Theme Park That Never Was With This "Disney's America" Brochure From 1993