The Oriental Land Company, owner and operator of Tokyo Disney Resort, released its FY2019 results today. Their fiscal year runs April 1st to March 30th every year. And as expected from the year after a major celebration and amid the COVID-19 coronavirus extended closure, Oriental Land had a bit of a rough year compared to FY2018.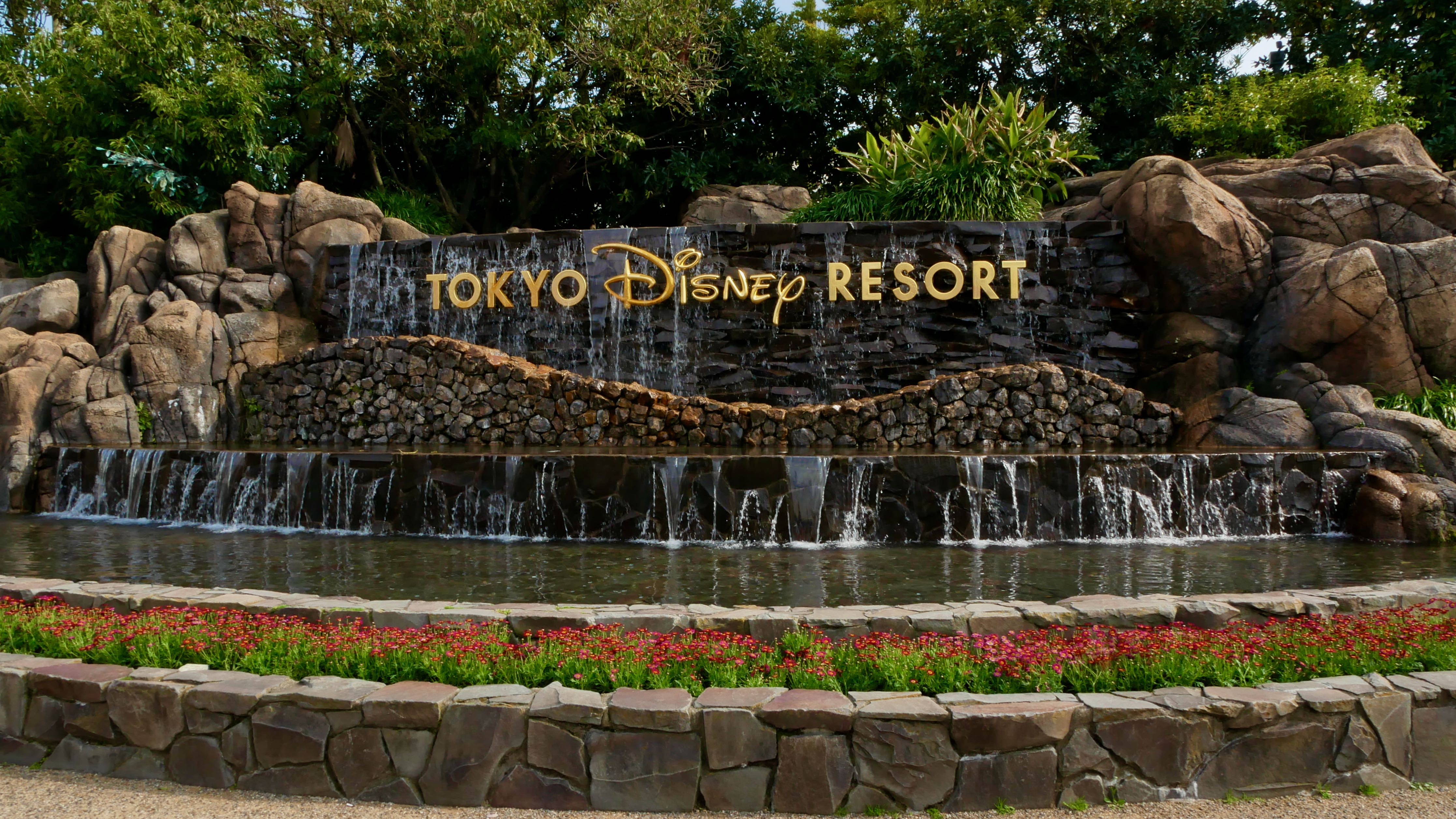 In short, attendance, profits, and net sales are down from FY2018, due in combination to the end of the Tokyo Disney Resort 35th Anniversary "Happiest Celebration", and to the 32 day temporary closure at the tail end of the fiscal year.
FY2019 Results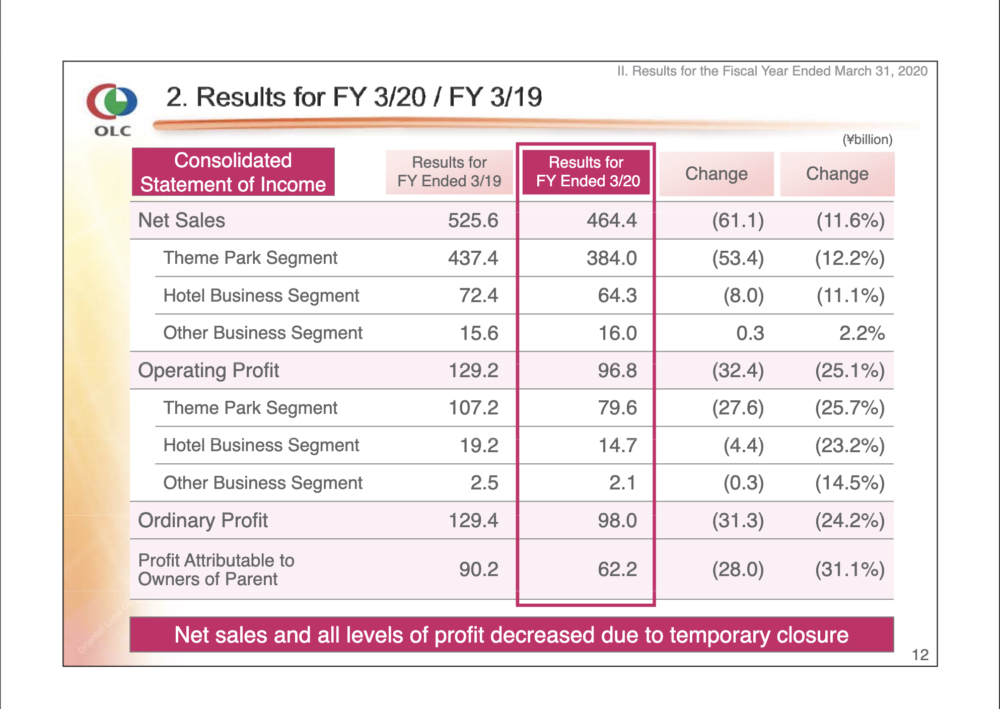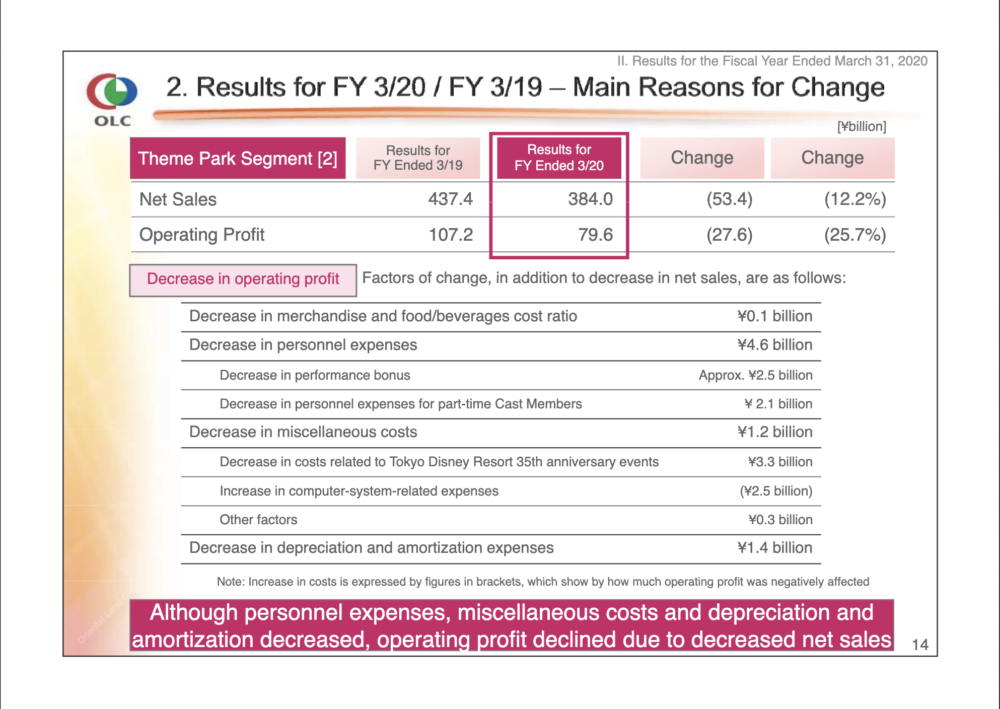 OLC fell short both of projections from last October and the numbers previously seen in FY2018. Net sales across the company were down 11.6% in FY2019. Theme parks saw a 12.2% decrease due to lower attendance and lower net sales per Guest. Meanwhile, hotels saw an 11.1% decrease in revenue due to the temporary closure of the parks, and since the current fiscal year is on the heels of the Tokyo Disney Resort 35th Anniversary celebration. There was also a 2.1% increase in "other business segments" like Ikspiari and the Disney Resort Line.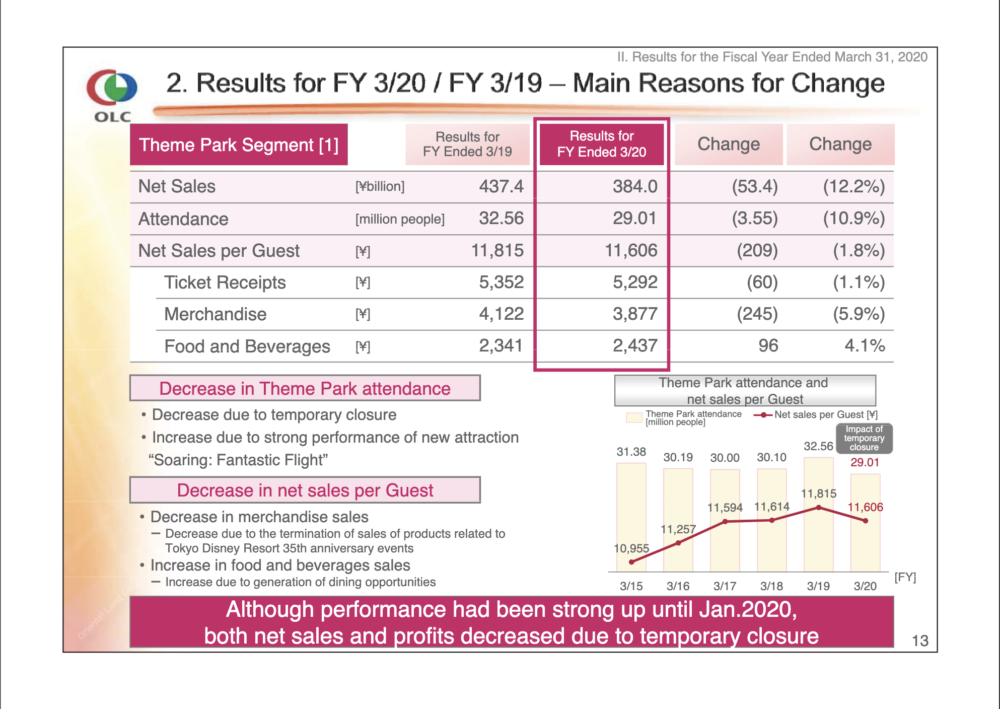 Attendance was down at both Tokyo Disneyland and Tokyo DisneySea due to the temporary closure. While attendance at the parks hit 32,558,000 in FY2018, attendance sharply dropped 10.9% to 29,008,000 in FY2019. This is the lowest level seen since 2012. OLC noted that attendance was still strong before the closure. Also, attendance traditionally falls after an anniversary year at the parks, but the grand opening of Soaring: Fantastic Flight at Tokyo DisneySea did lead to an otherwise strong year.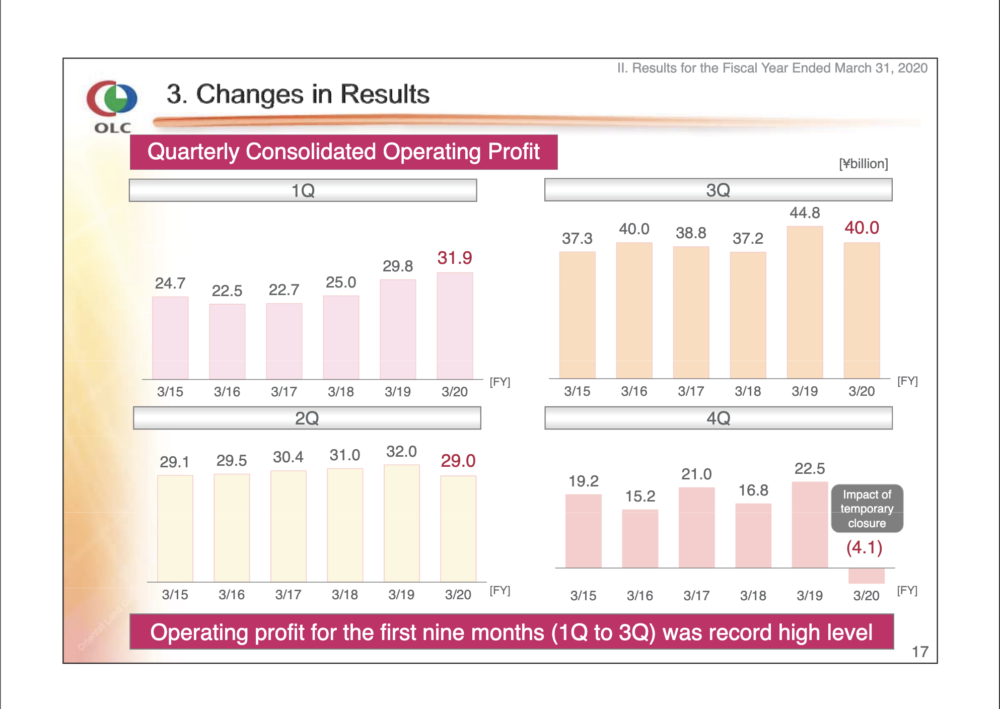 Operating profits for the first three quarters were all at high levels regardless, with the first quarter breaking records. Only during the fourth quarter did the company suffer, with a loss of 4.1 billion yen, or $45.9 million.
FY2020 Forecast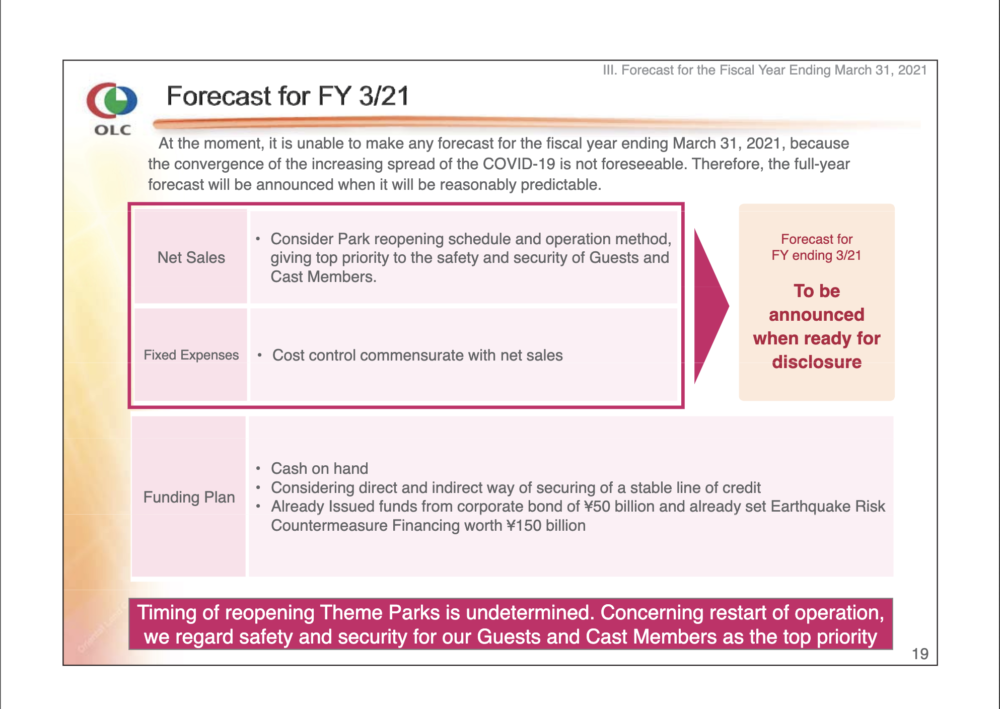 Due to the as-of-yet-unknown impact of COVID-19, OLC is currently unable to forecast the results for FY2020. They will make a prediction once it's more reasonable to do so.
2020 Medium-Term Plan Progress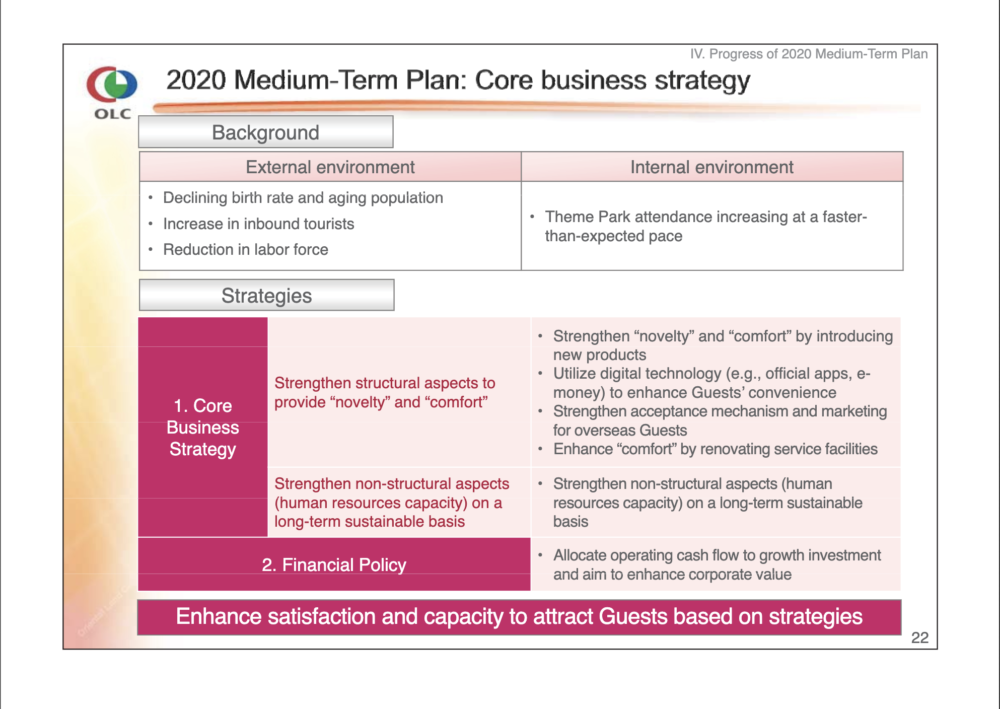 OLC continues to evolve its core business strategy as the world around it changes. Japan's birth rate is declining, the population is aging, and the workforce is shrinking while more and more tourists visit Japan. Attendance to the parks is actually increasing faster than they expected. As such, the 2020 Medium Term Plan aims to strengthen the novelty and comfort at the parks as well as improve the human resources capacities for Cast Members.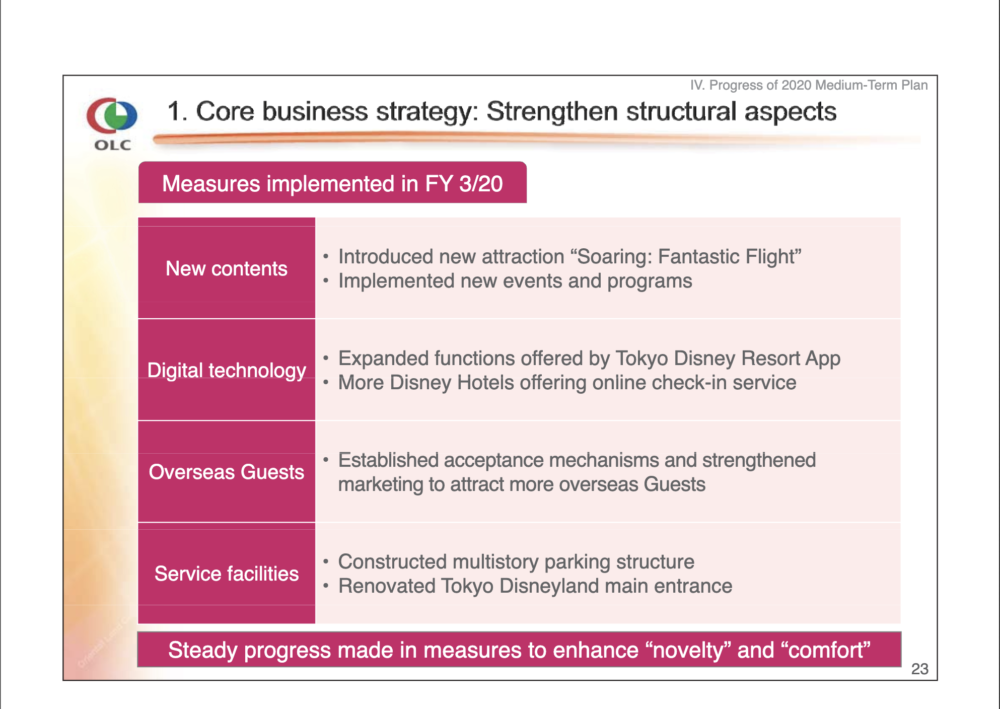 Throughout FY2019, Oriental Land implemented several measures to enhance the "novelty" and "comfort" of the resort to Guests. These included new special events like Donald's Hot Jungle Summer, the new Soaring: Fantastic Flight attraction at Tokyo DisneySea, expansion of the functions of the official TDR app, and the renovation of the Tokyo Disneyland main entrance.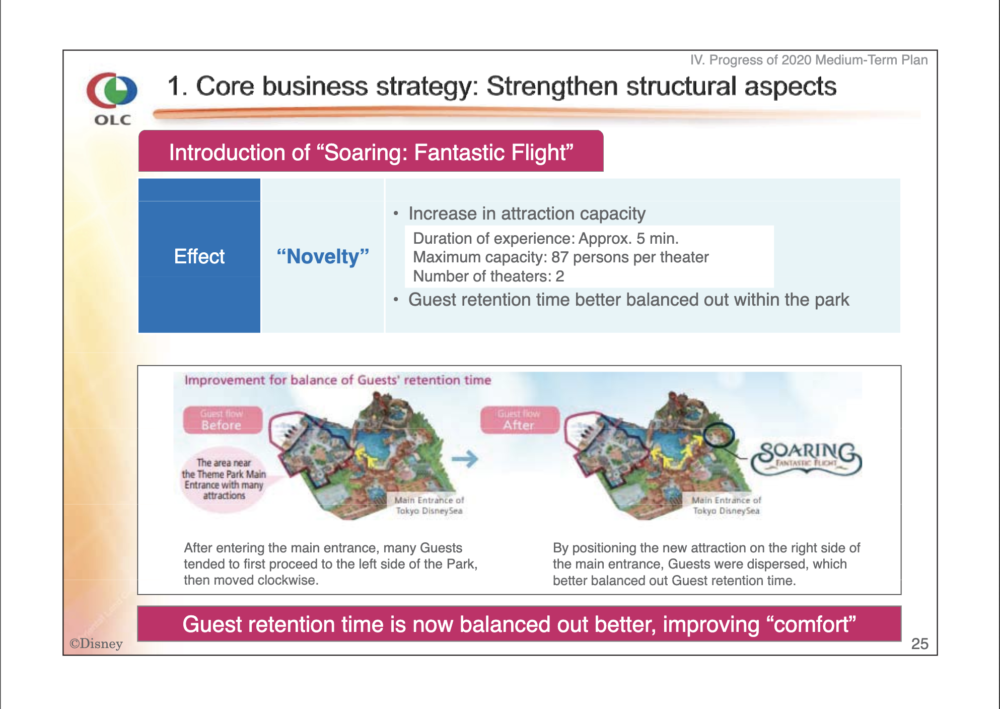 The grand opening of Soaring: Fantastic Flight on July 23rd of last year enhanced both the "novelty" and "comfort" of the Guest experience, by providing Guests with a fairly unique and extremely popular experience while balancing out crowd flow. The attraction cost approximately ¥18 billion, or $168.64 million.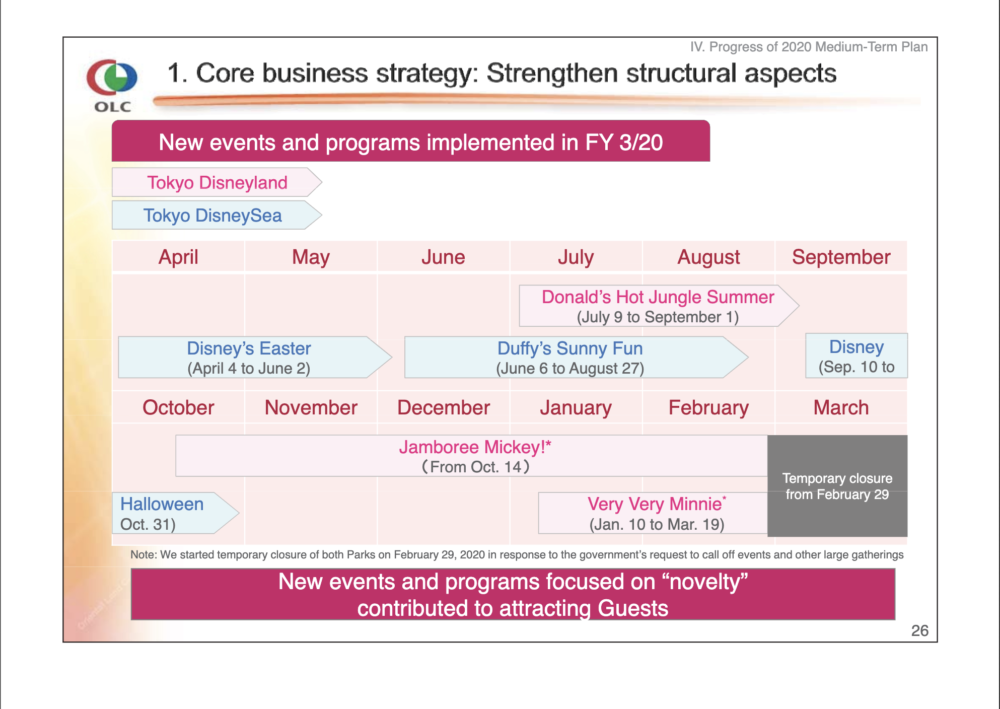 New events like Donald's Hot Jungle Summer and Jamboree Mickey! focused on "novelty" to attract Guests to both parks this year. Three new programs or events were introduced at each park over FY2019.
The Tokyo Disney Resort App, first introduced in 2018, gained many new functions during FY2019 including the digital FastPass functionality, online check-in for the Disney Hotels, and the addition of the Disney Photo function. OLC regards digital technology as a growth potential and pledged to explore further developments.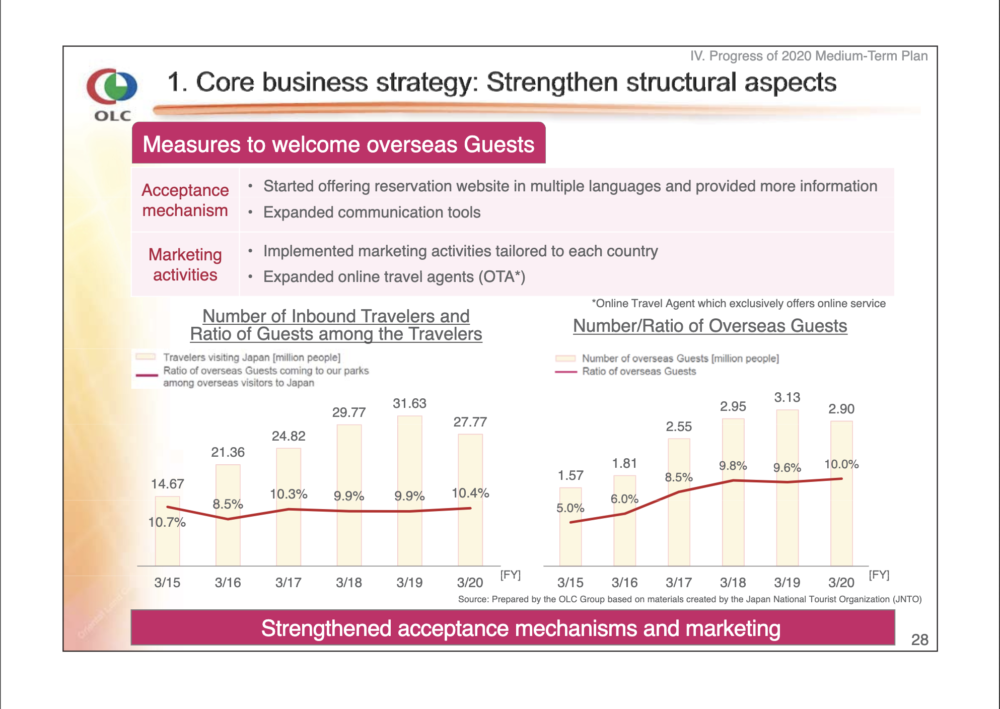 In an effort to welcome more overseas Guests, OLC started offering reservations in multiple languages this year and implemented expanded marketing techniques. In just the past five years, the ratio of overseas to domestic Guests has doubled from 5% to 10%. Attendance from overall foreign visitors to Japan remained relatively steady this year, with 10.4% of all foreign visitors to Japan visiting Tokyo Disney Resort.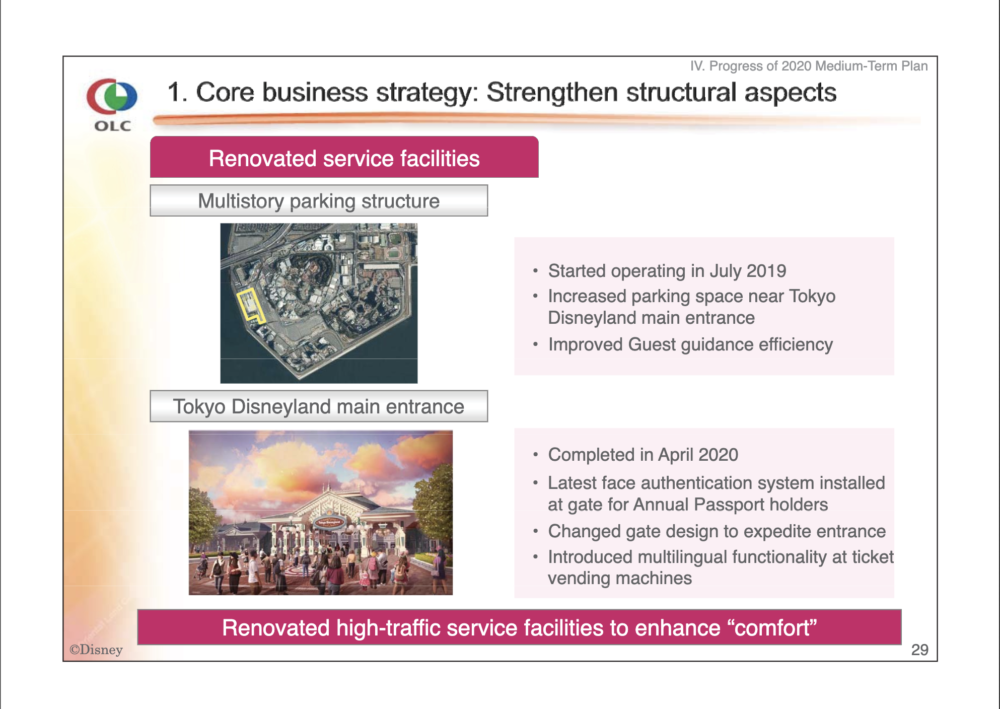 In an effort to enhance "comfort" a new multi-story parking structure opened near Tokyo Disneyland, and the Tokyo Disneyland main entrance was completely rebuilt.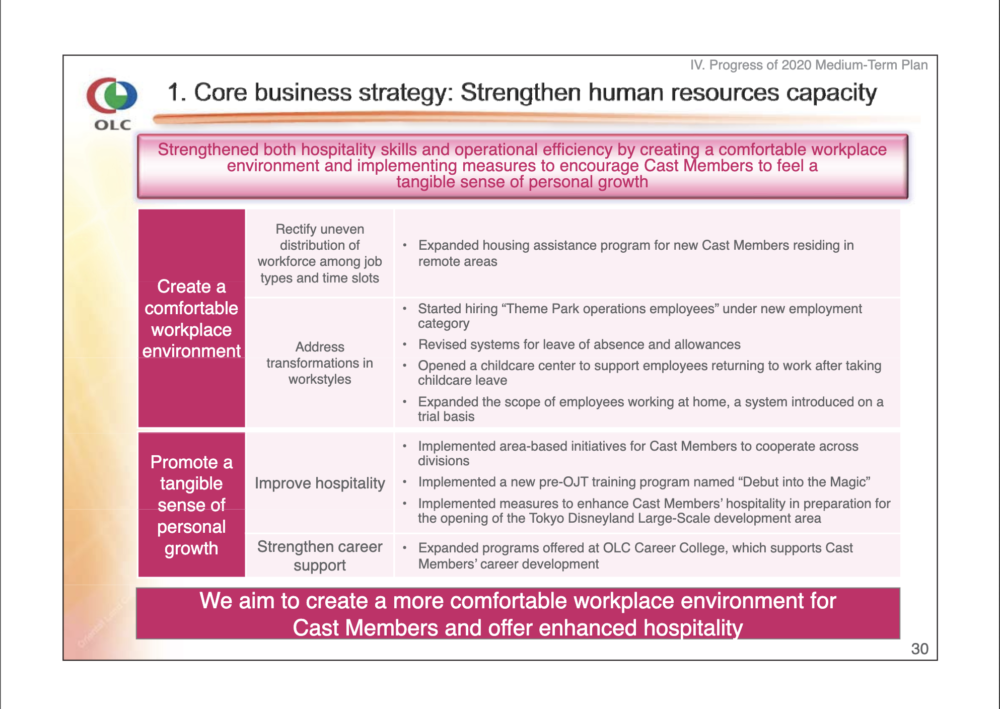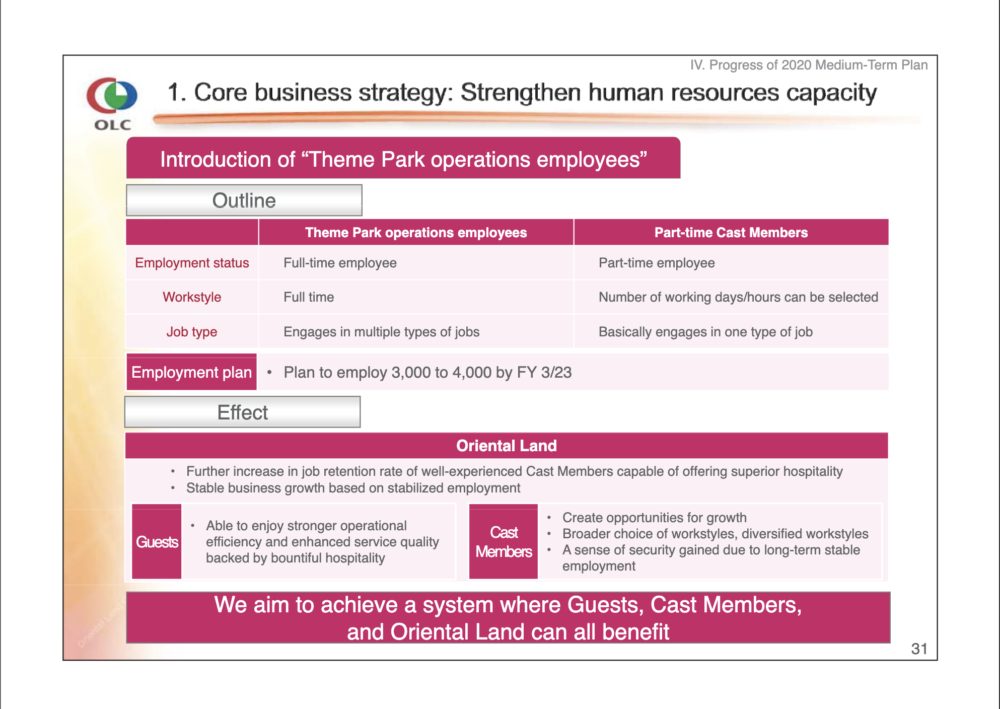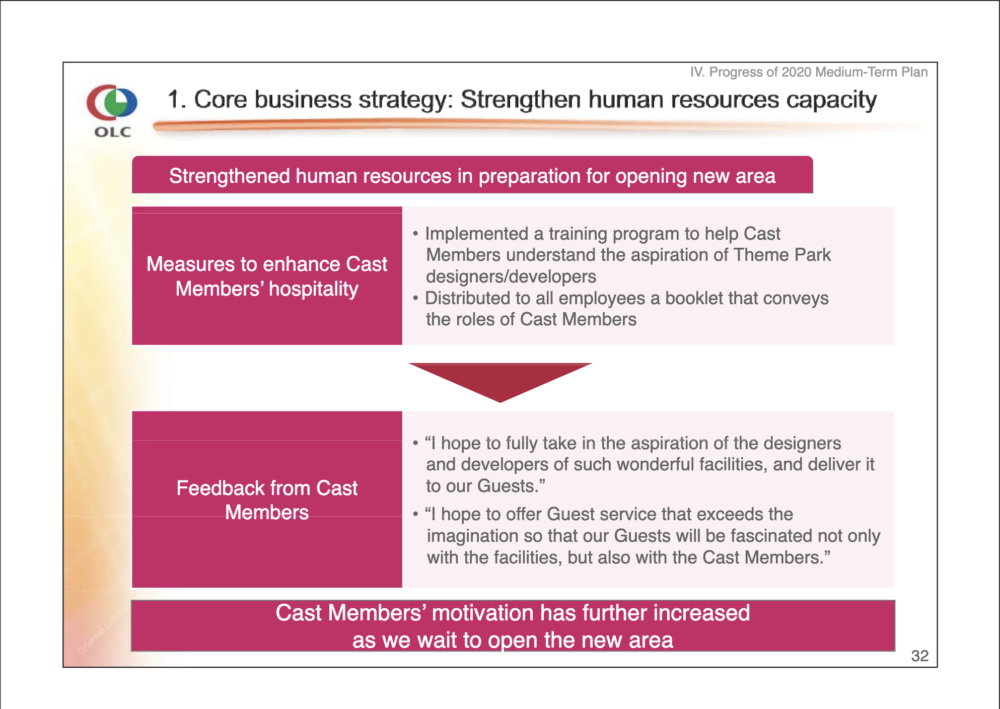 In addition to Guest-facing improvements, OLC also is working to improve their internal culture. This year, they expanded housing assistance programs for Cast Members residing in remote areas, revised leave of absence systems, opened a childcare center, improved hospitality, and expanded offerings at the OLC Career College for Cast development.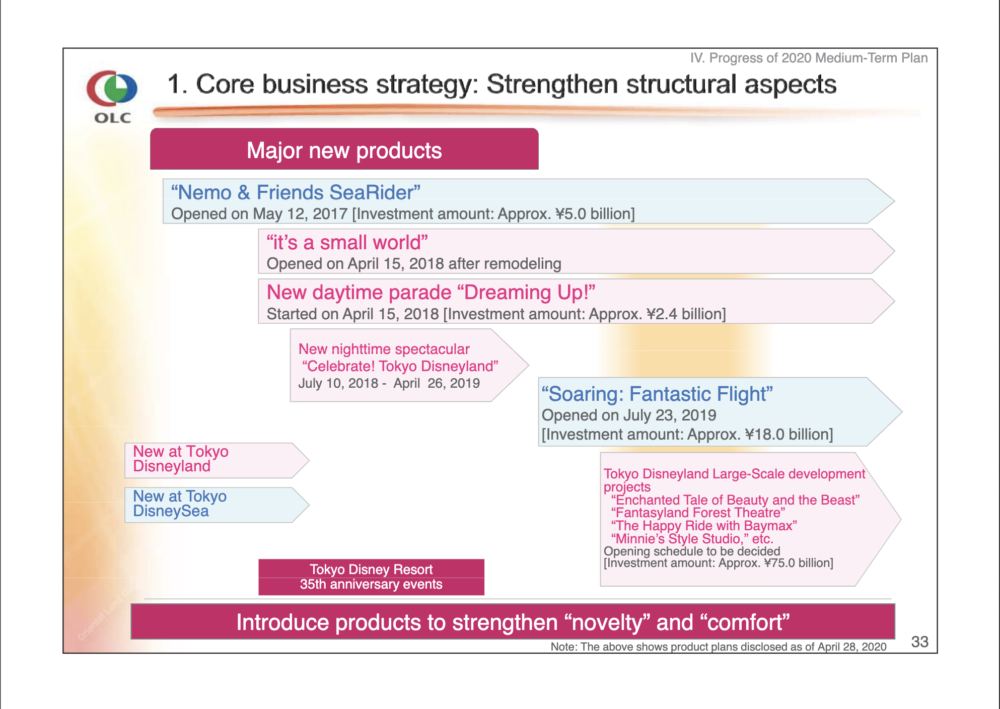 Through the 2020 Medium Term Plan, many projects to strengthen "novelty" and "comfort" have been introduced, including the opening of Nemo & Friends SeaRider at DisneySea, the Tokyo Disney Resort 35th Anniversary "Happiest Celebration", the Celebrate! Tokyo Disneyland nighttime spectacular, and the upcoming New Fantasyland expansion.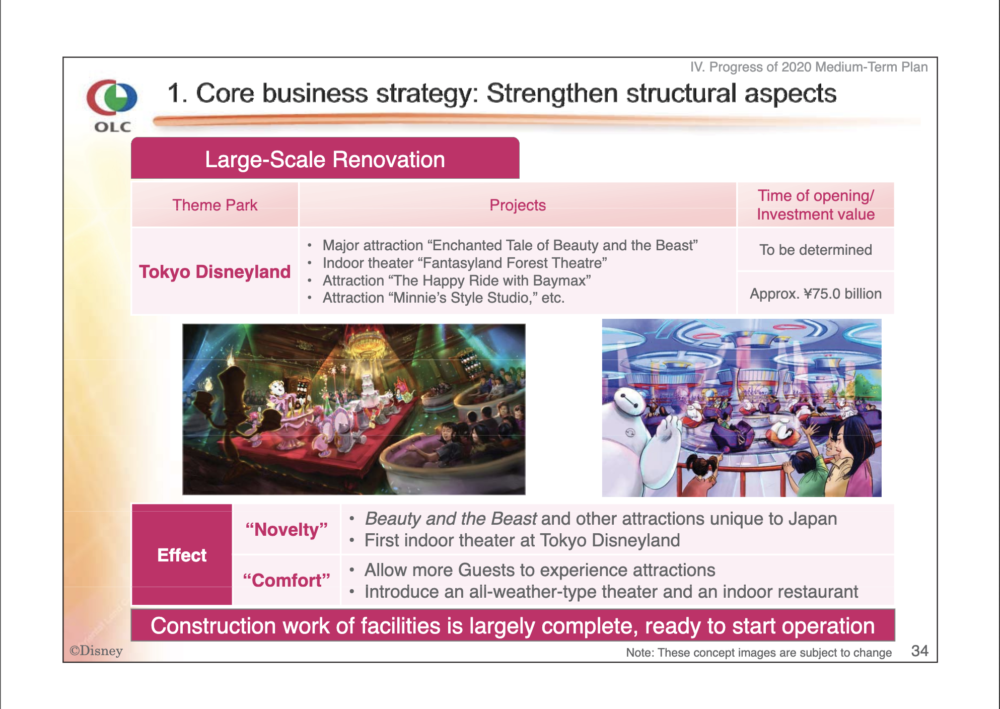 Speaking of New Fantasyland, construction work is "largely complete" and the land is ready to start operation. Approximately ¥75 billion, or $702.68 million was invested in this project.
And even outside of the core business, promotions like limited-time rooms led to maximizing earnings along with revenue management.
Financial Policy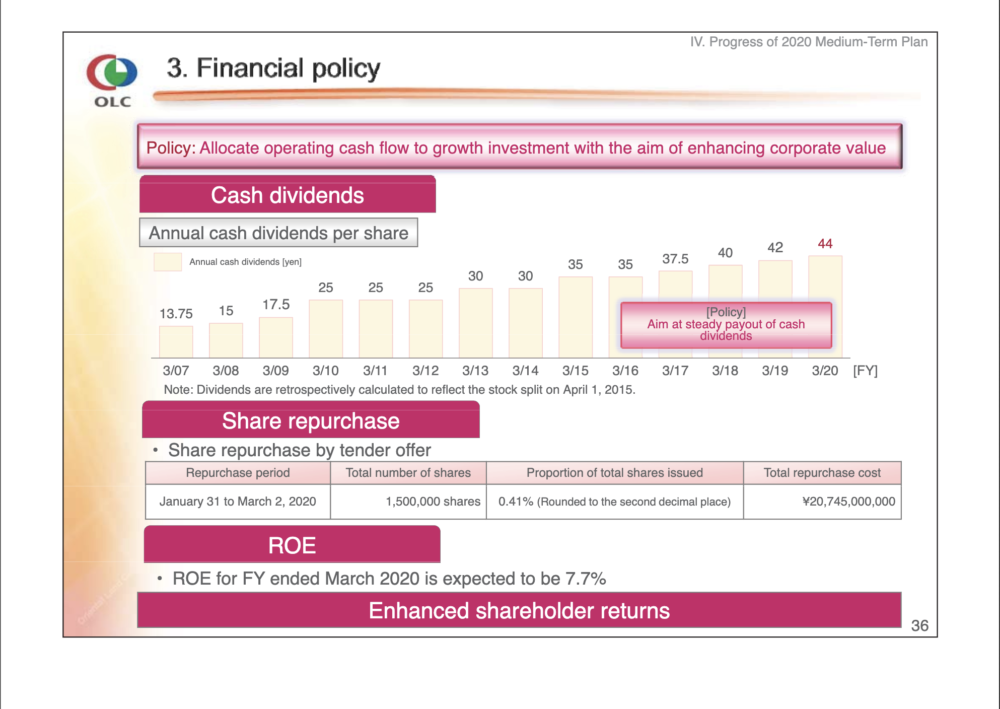 OLC enhanced shareholder returns in FY2019, with a repurchase of around 0.41% of all issued shares. The ROE for this fiscal year is expected to be 7.7%.
Large-Scale Investment Plans Through FY2023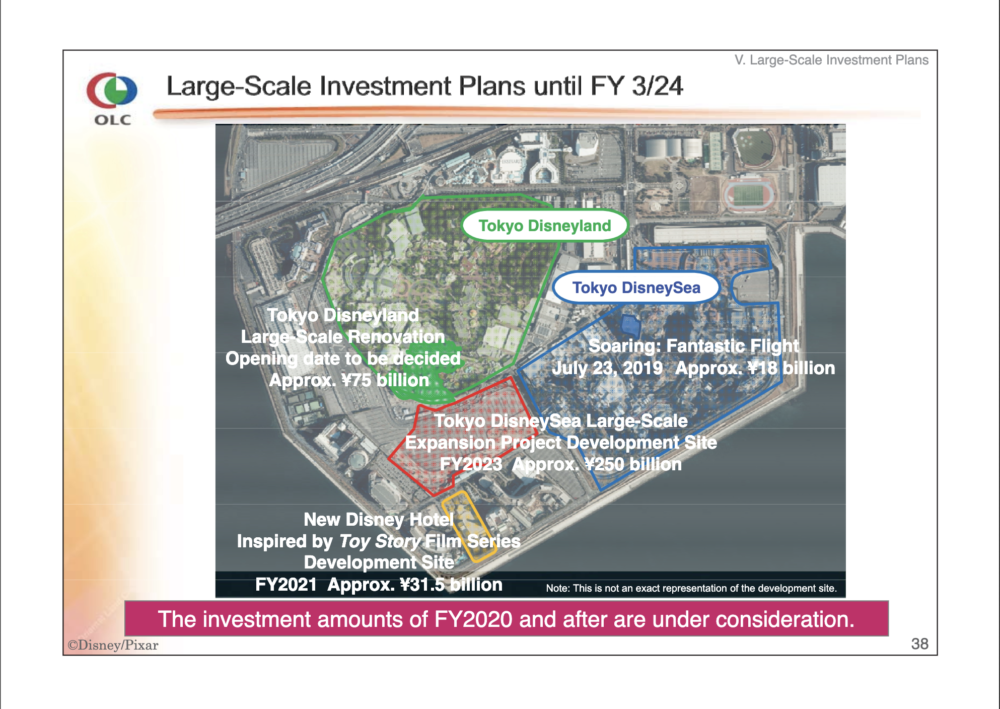 Due to the COVID-19 pandemic, the investment amounts of FY2020 and later are under reconsideration. All plans currently public, including Fantasy Springs and the Toy Story Hotel, will continue as planned.
For Future Growth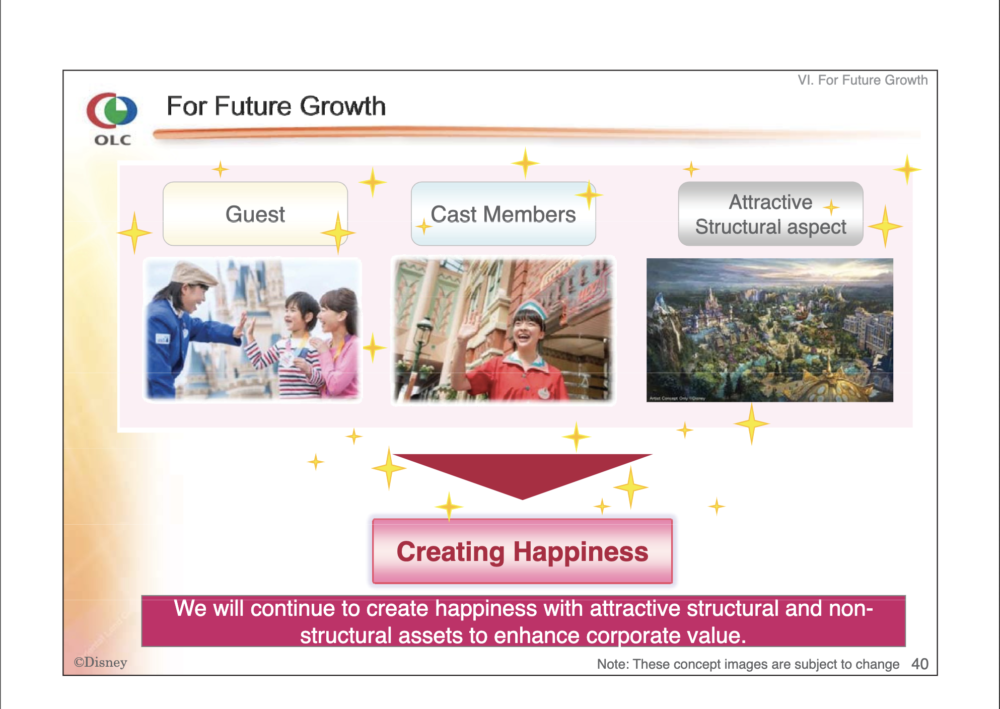 Through a combination of Guests, Cast Members, and attractive structural aspects, OLC will aim to continue creating happiness and enhancing corporate value.