It was another hot, humid day at Disney Springs, but with the reopening of the theme parks less than two weeks away, we are savoring every moment of time we get here before things change and we won't have time to be here as much. Let's see what we can find today!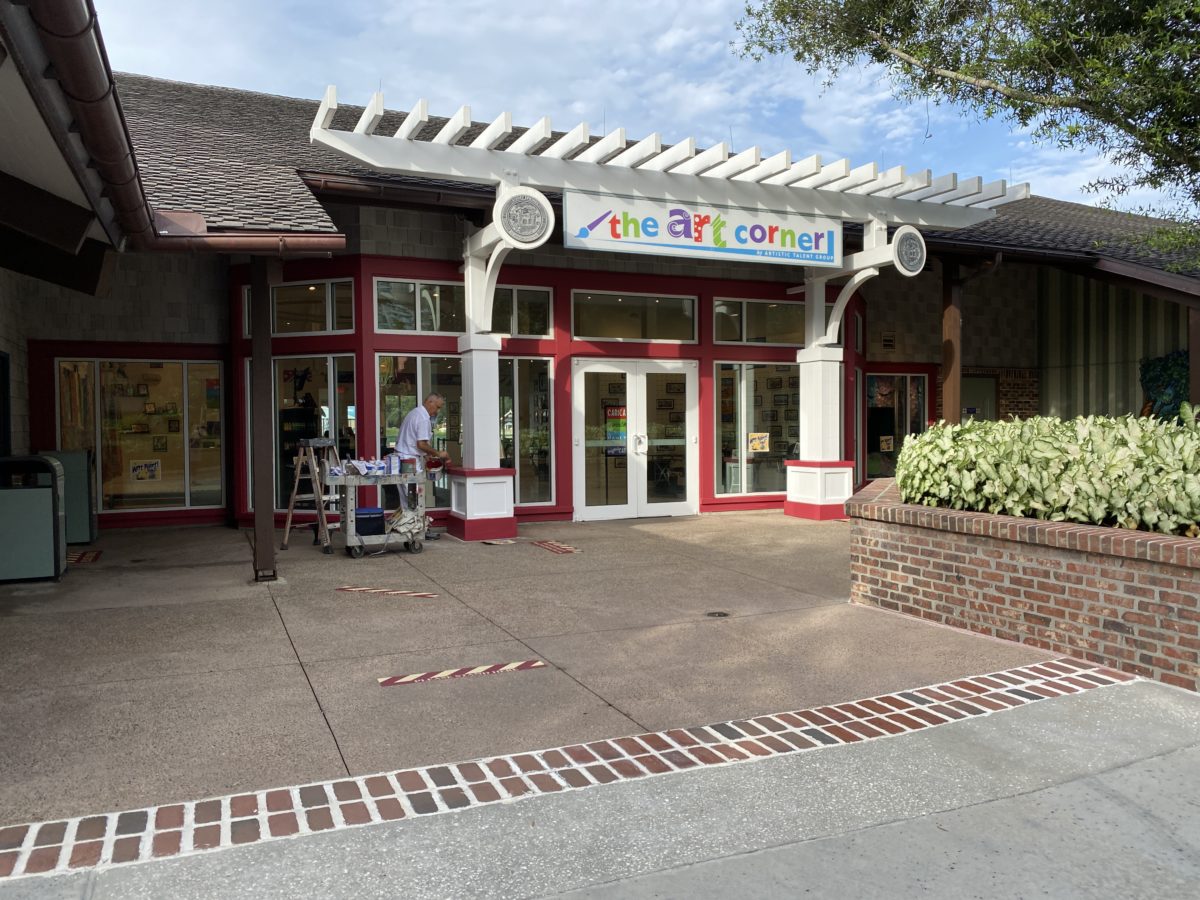 Without many guests there in the early morning before the shops open at 10am, some maintenance work can be seen being finished up before the day gets started. The Art Corner got a fresh coat of paint today, and we think it looks great!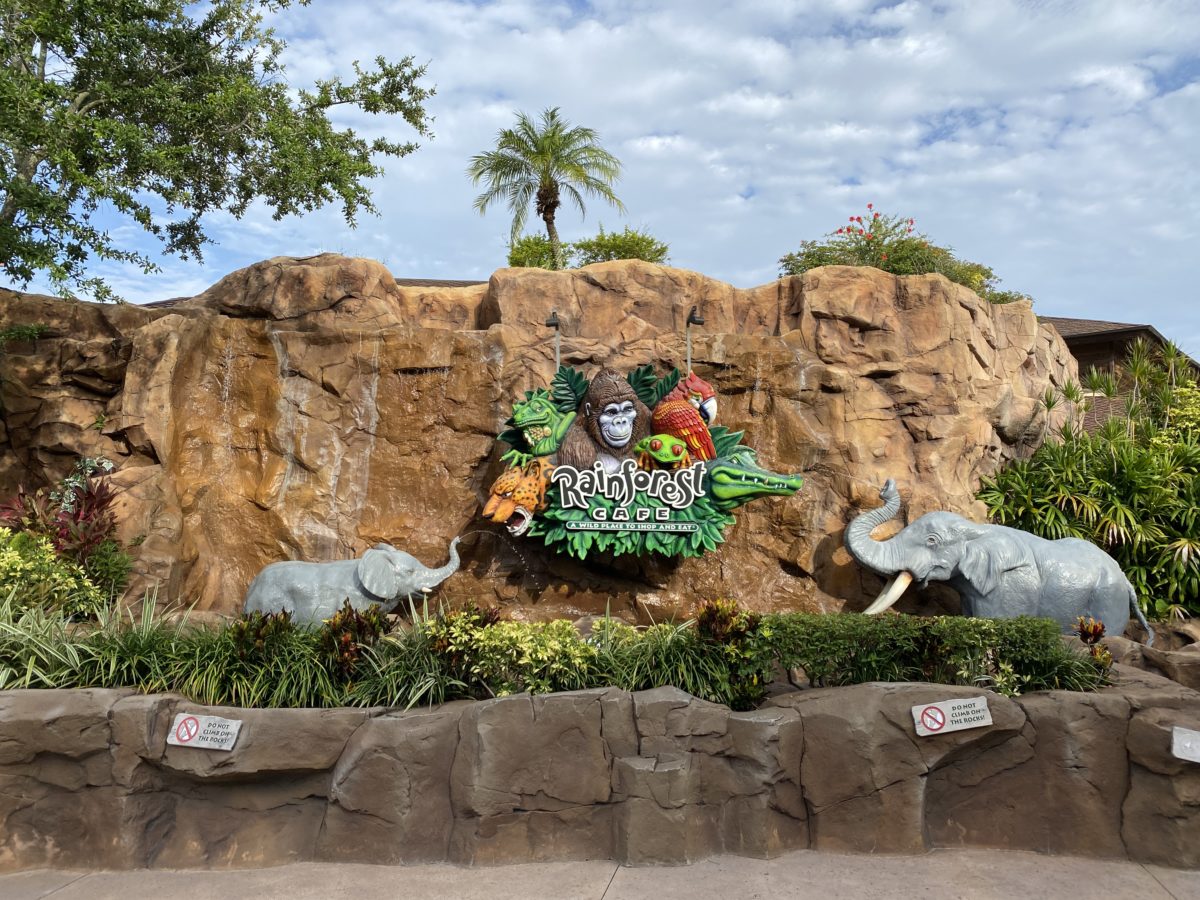 Over at the Rainforest Cafe, the water works on the main sign are back on and seem to be on to stay. We've heard rumors that the restaurant may be opening soon, and we're excited to see if that's true!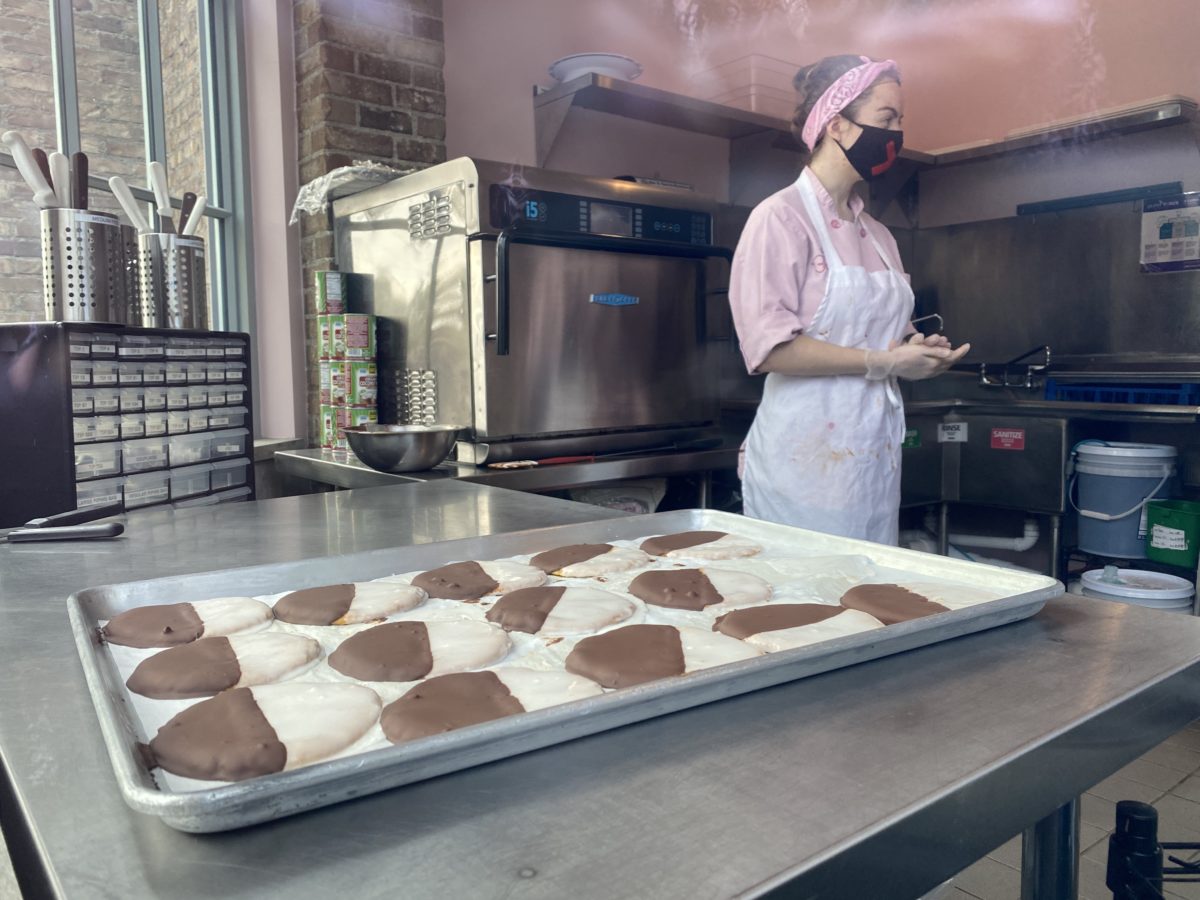 Erin McKenna's Bakery was closed yesterday, but has reopened today, and was in full swing this morning decorating cookies when we went by. Their cold case was full of delectable treats for every palate.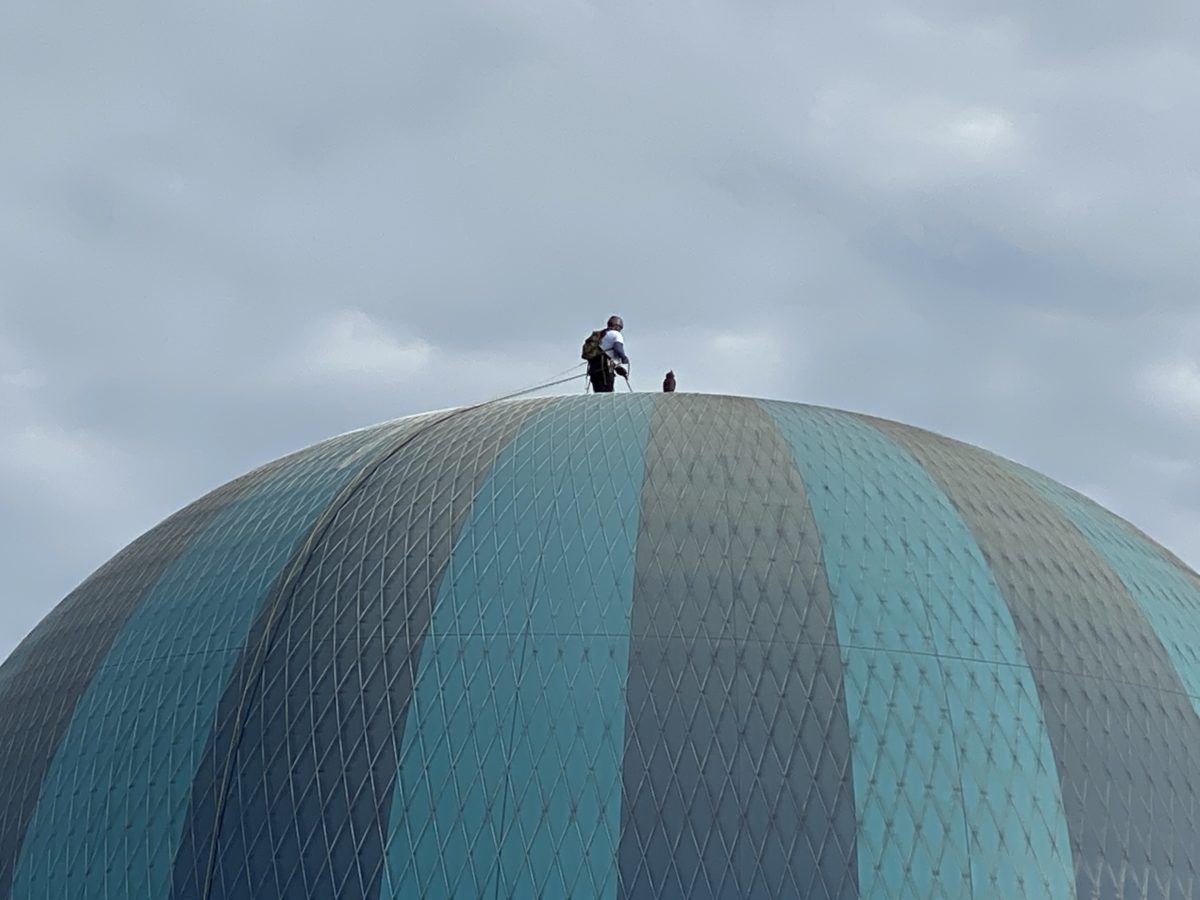 Over at the Aerophile balloon, it looks like they've reinstalled a bird deterrent to the top of the balloon. We suspect with the reduced capacity and demand for the attraction, it may not be in motion often enough to fend off curious winged friends on its own.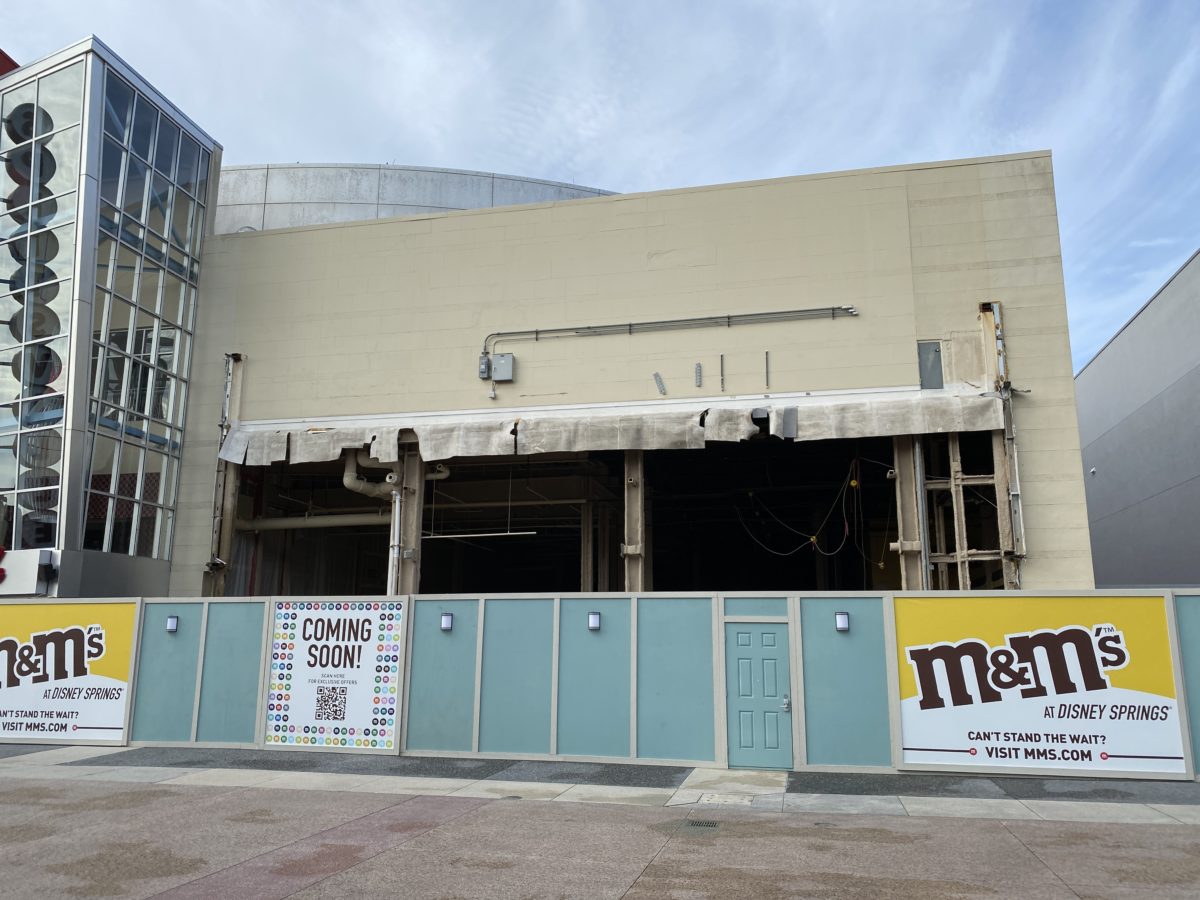 At the future location of M&M, some major demolition has been completed. The whole front portion of this building, which previously extended several feet from the main body of the building, has been torn off to make the entrance to the building flush with the front of the building all the way up.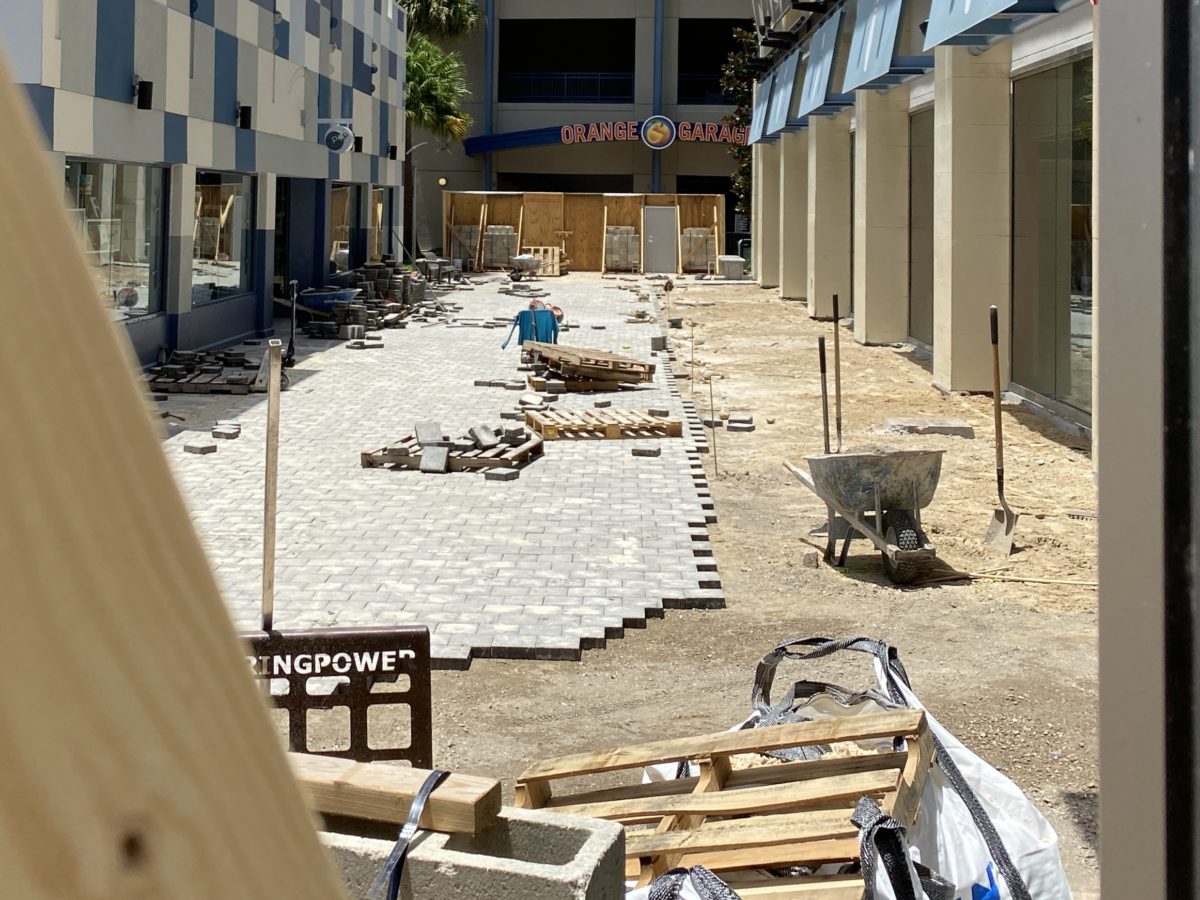 In between Splitsville Luxury Lanes and AMC Theaters, the repaving is coming along very well. The sign out front of the construction wall claims that the POP Gallery, which has been closed due to being blocked by the construction, will reopen July 3, and judging by the rate at which this work is progressing, they just might make it!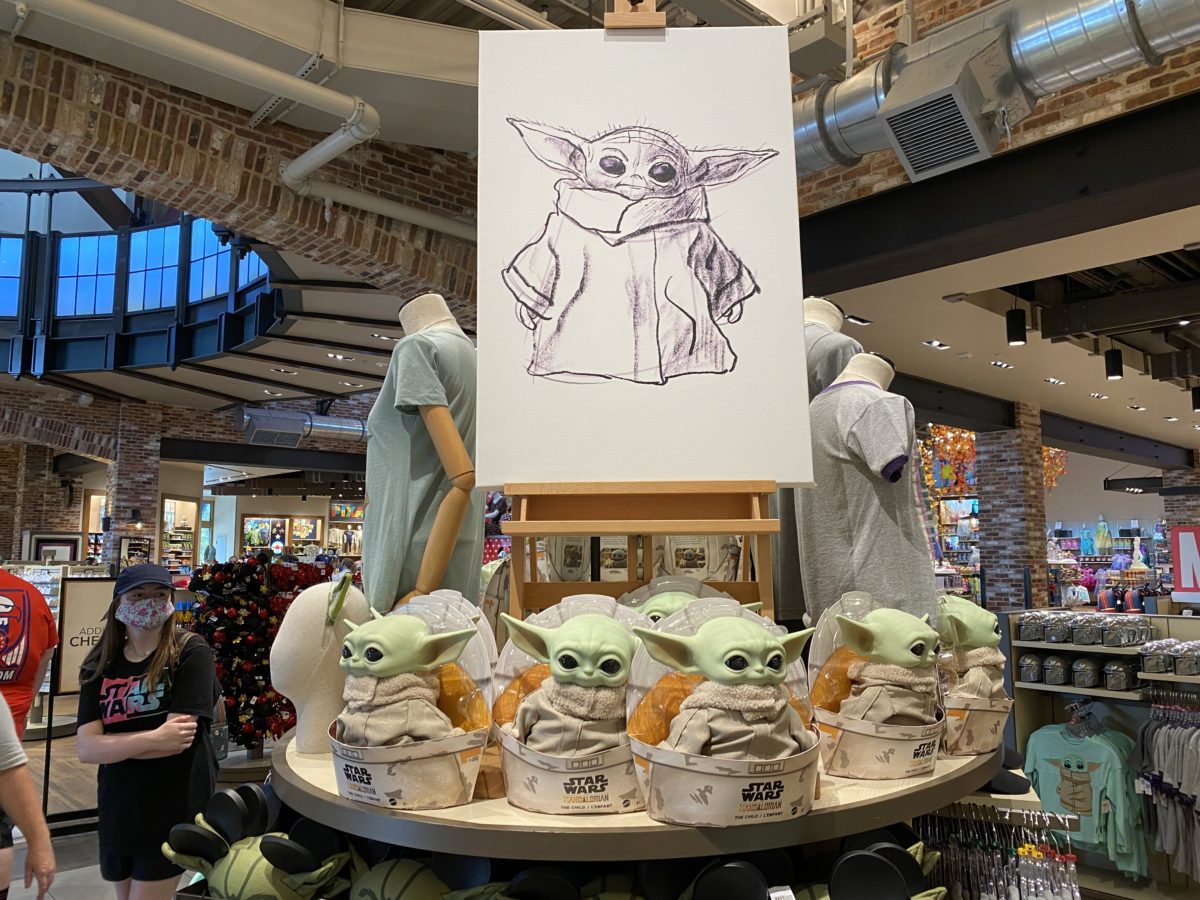 At World of Disney, the Mattel version of The Child from "The Mandalorian" was restocked "in force" and even at midday, there were still plenty to be had.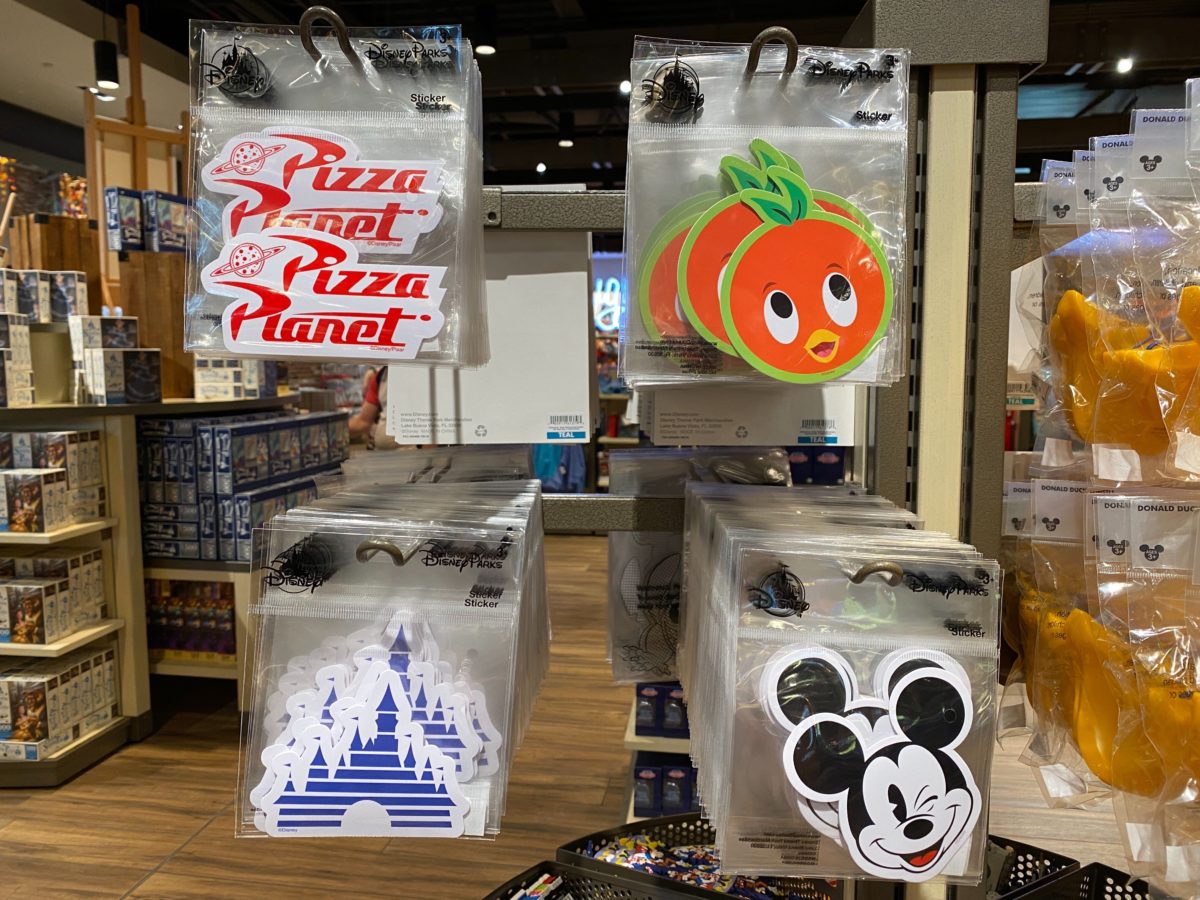 We found new stickers ready to adorn your laptop water bottle, or whatever else might need some Disney flair in your life. For more pictures and information, see our full article here.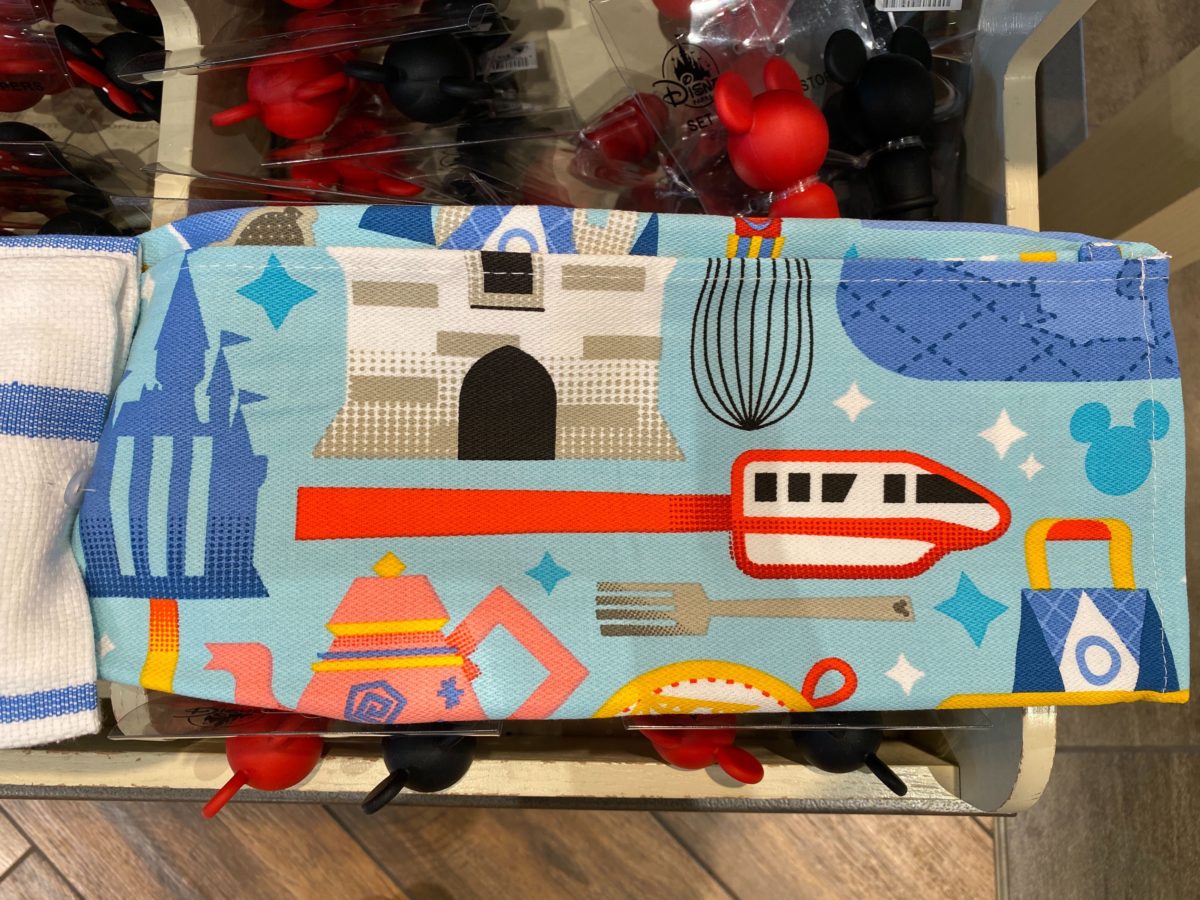 We also found this fun kitchen towel set featuring park icons turned into kitchen wares. We hope they actually make a monorail spatula, we want one! For more pictures of the set and information, see our full article here.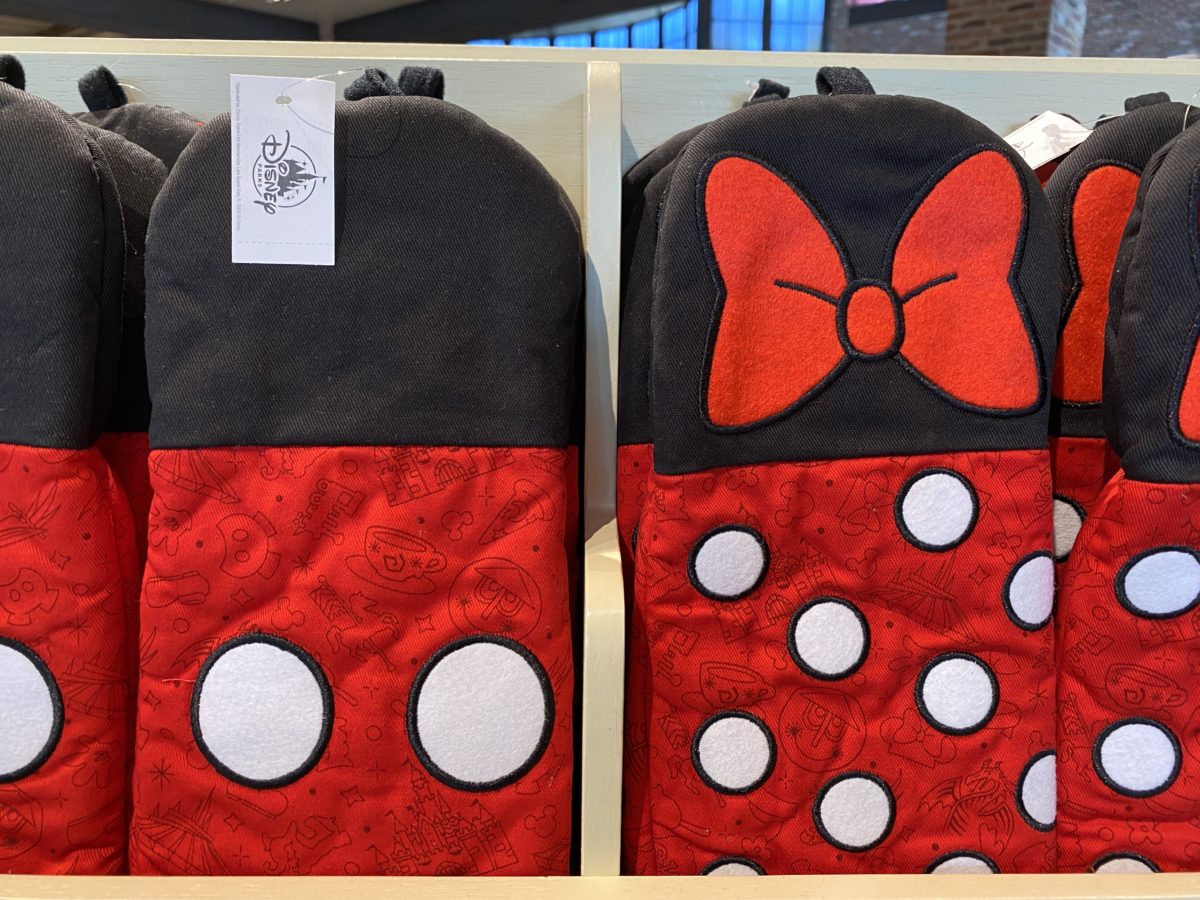 We also noticed these Mickey and Minnie oven mitts have gotten a subtle redesign—the red fabric used to be a solid plain red, but now it features the same park icons as the silicone hot pads and other items in this kitchen wares line. We really like this addition!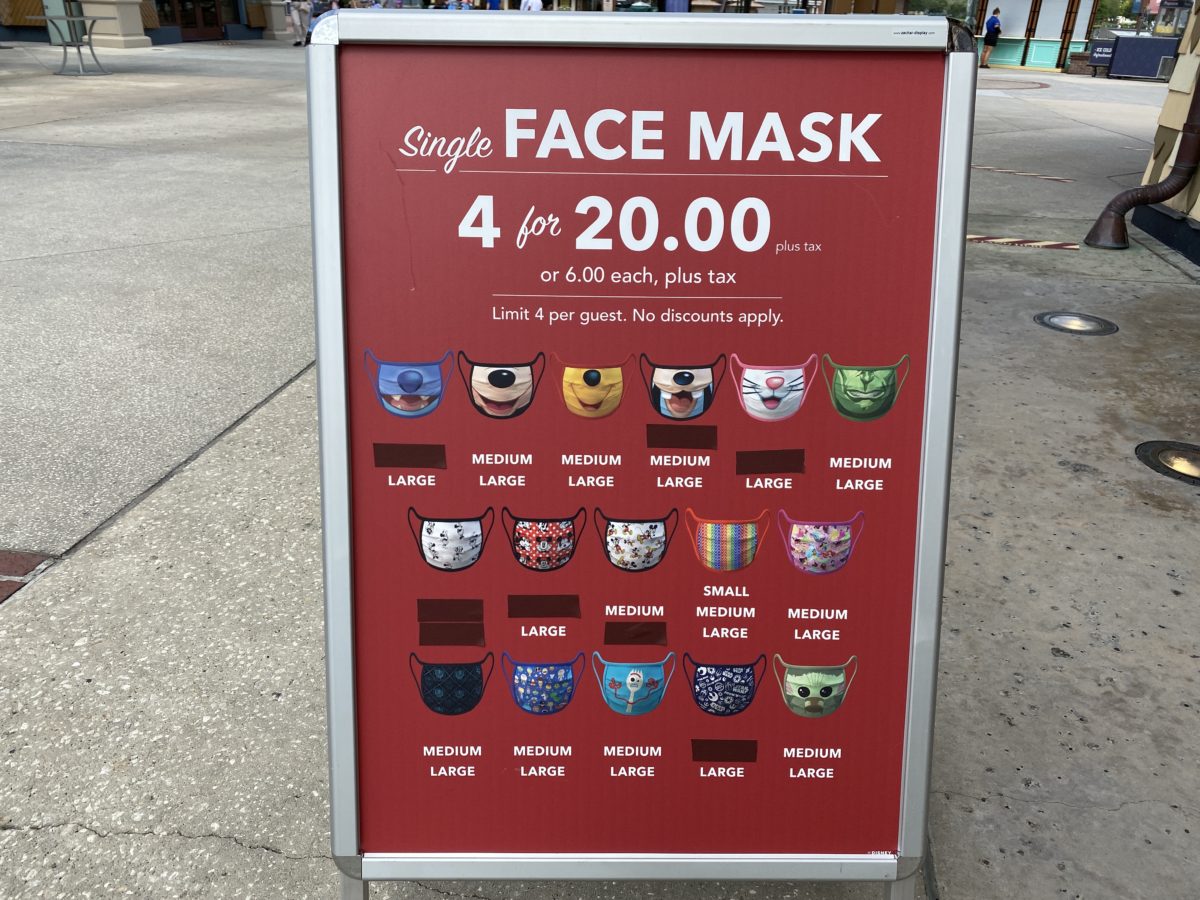 After we left World of Disney, we checked in at Marketplace Co-Op. Disney is still selling their popular character face masks, but as you can see, they have sold out of a lot of different sizes. Only one style is completely unavailable, which is the Mickey Mouse on the white background, but it may be restocked, as we've seen masks be restocked before.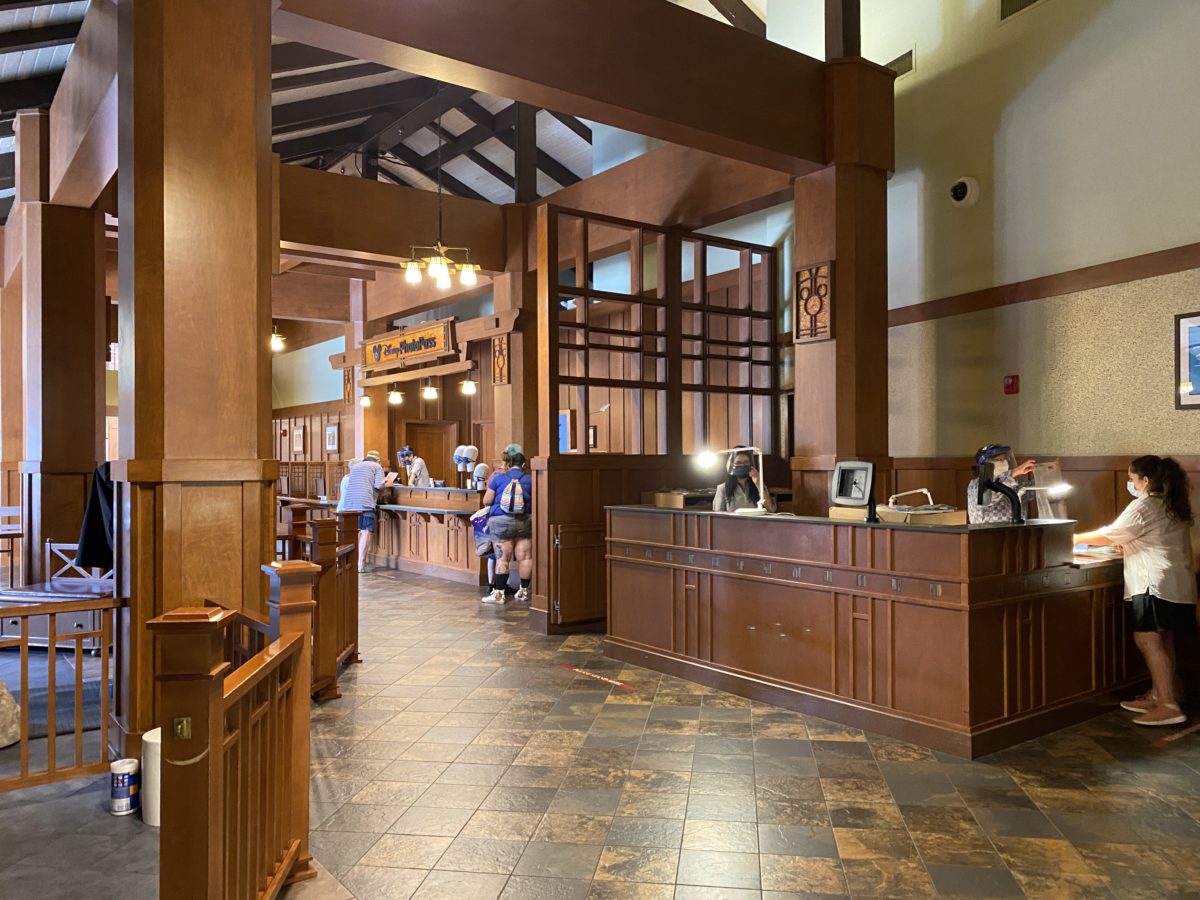 As you can see from the view from Arribas Brothers, not only is the self serve mask kiosk gone, but all the Cast Members are wearing face shields now in addition to face masks. As we reported earlier this week, Cast Members were spotted in this location wearing face shields in response to rising COVID-19 numbers across the state. Without plexiglass dividers at checkout stations, face shields provide an added layer of protection for Cast Members who interact with countless Guests every day.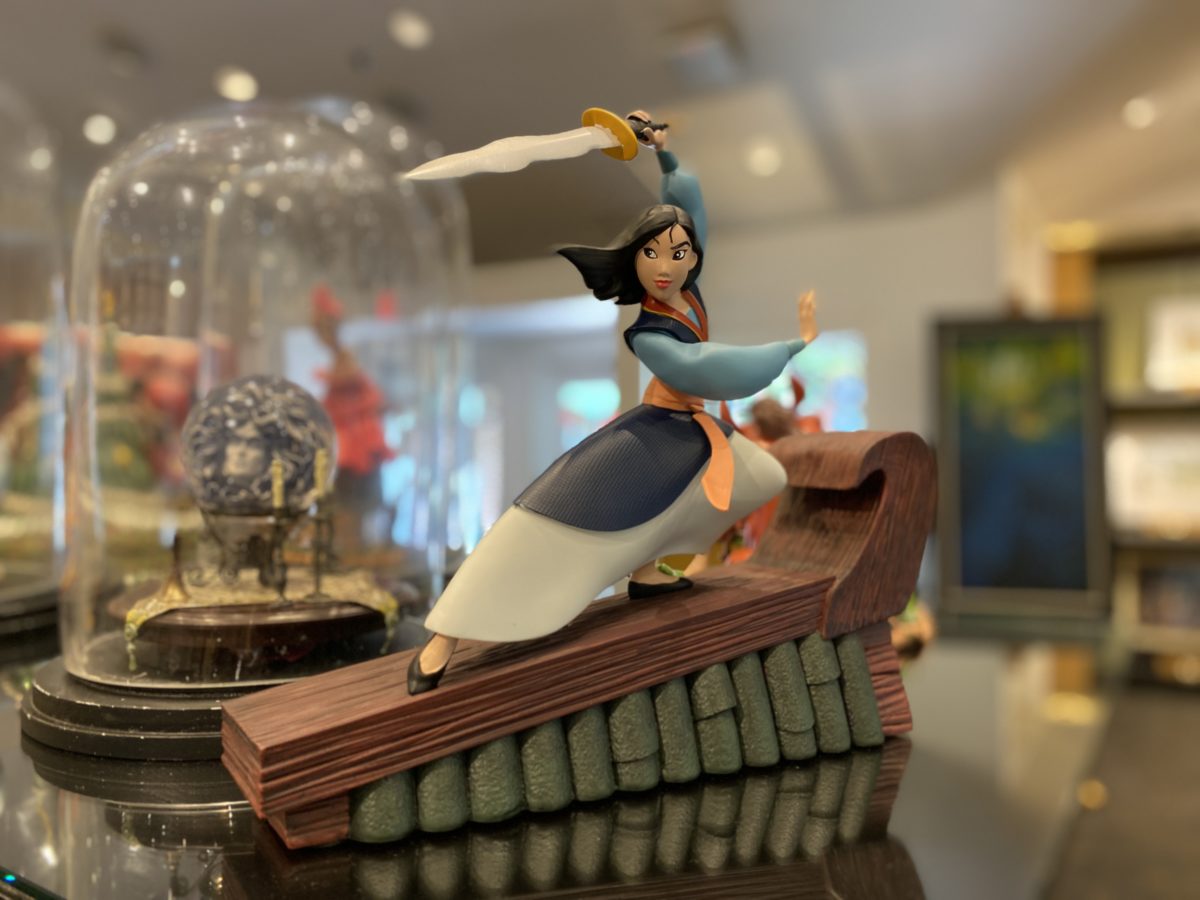 We found this striking statue of Mulan at Art of Disney while browsing for fine art. Are you excited for the new "Mulan" to finally premiere on August 21? After seeing the posters up for it all this time at the Springs, we can't wait to see it!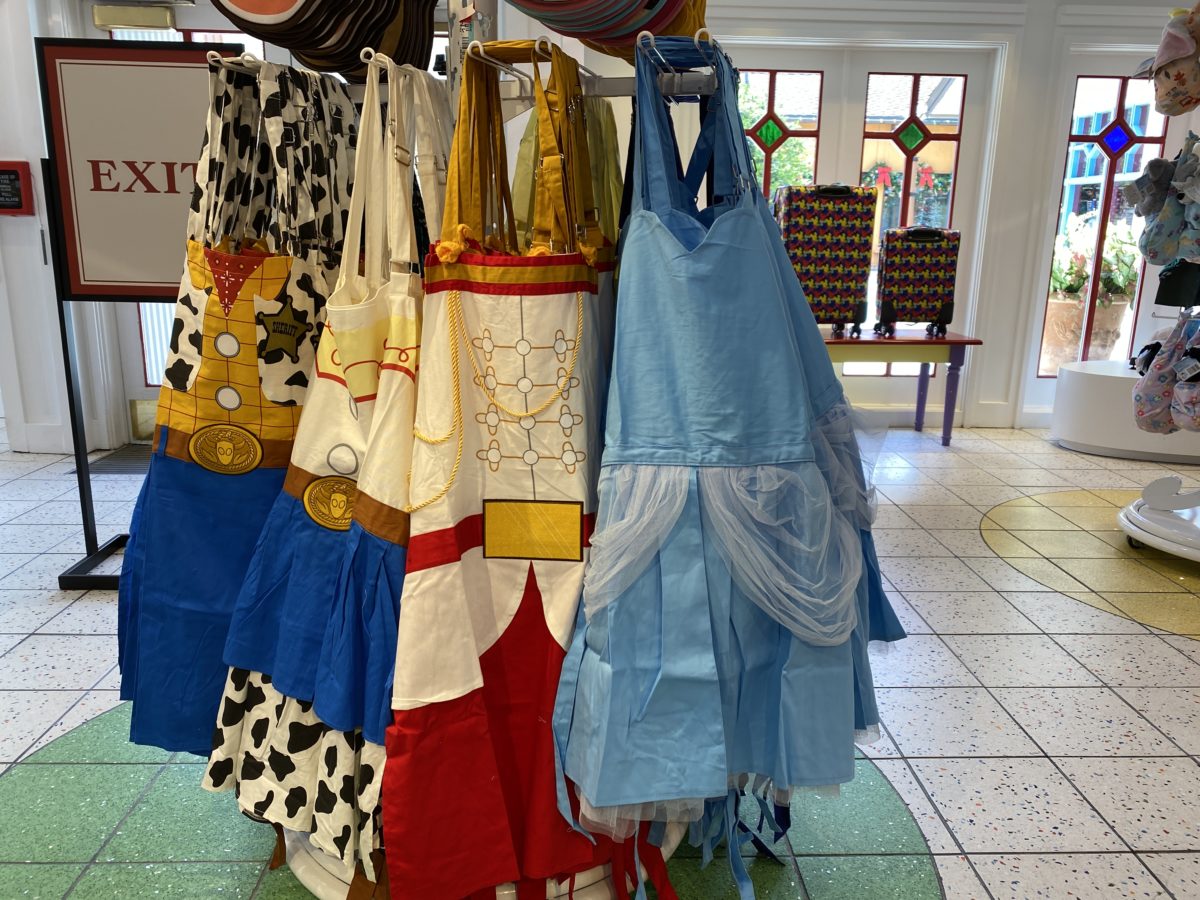 A late comer to the apron crowd, we found a Cinderella apron at Wonderful World of Memories, making what we consider to be the missing piece to the puzzle and completing the set. Now Prince Charming has his Princess! This apron hasn't even made it to World of Disney yet, although we're sure it will soon. It retails for $34.99.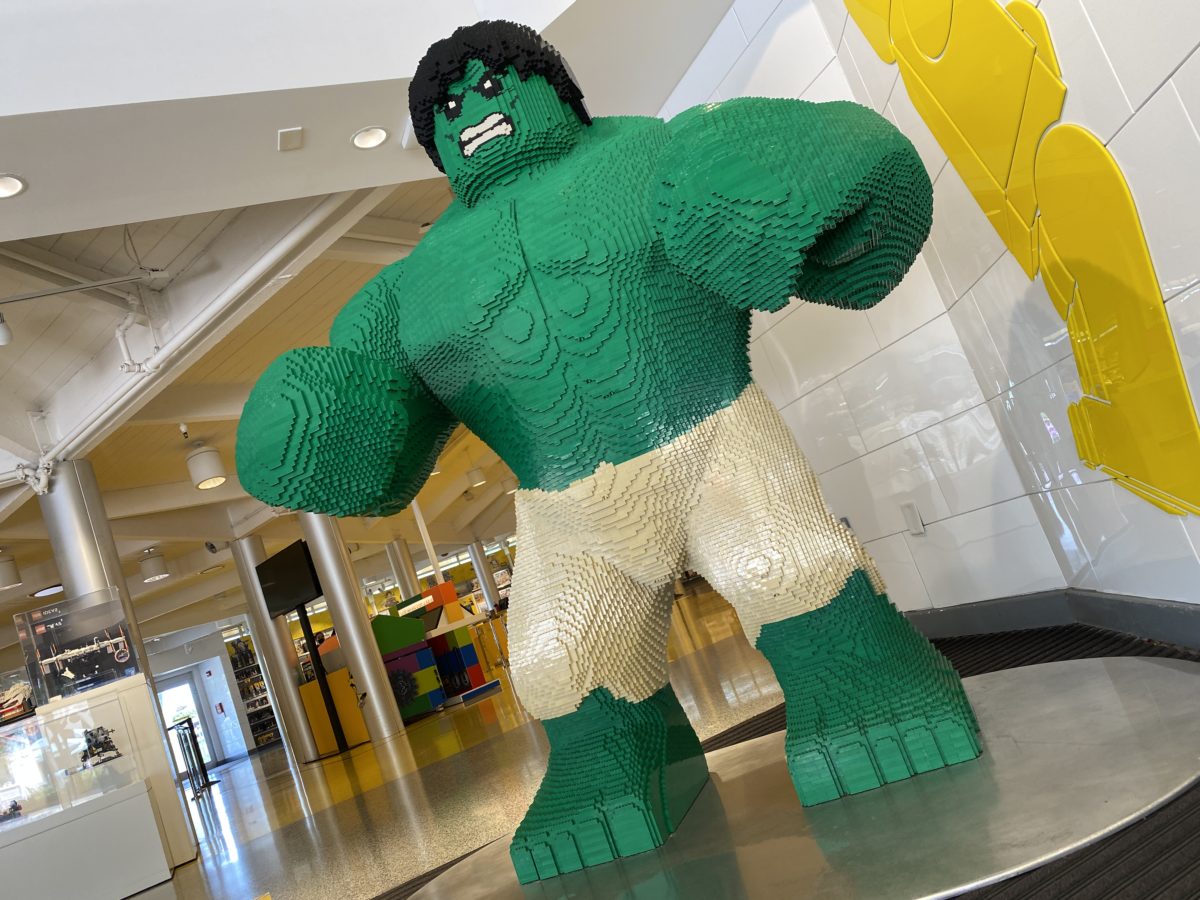 Despite rising case numbers of COVID-19 across the state of Florida, certain restrictions seem to be relaxing somewhat across Disney Springs. The Hulk inside the LEGO Store, which was previously roped off to prevent anyone touching him, has been opened up once more. The handling of product, previously reserved for Cast Members who would hand you the products you wished to purchase, is allowed once again as well. Social distancing while shopping is encouraged, and you much keep your face mask on at all times, but things do seem to be relaxing otherwise. Do you agree with this, or do you think these touchless precautions should have been kept in place? Let us know in the comments!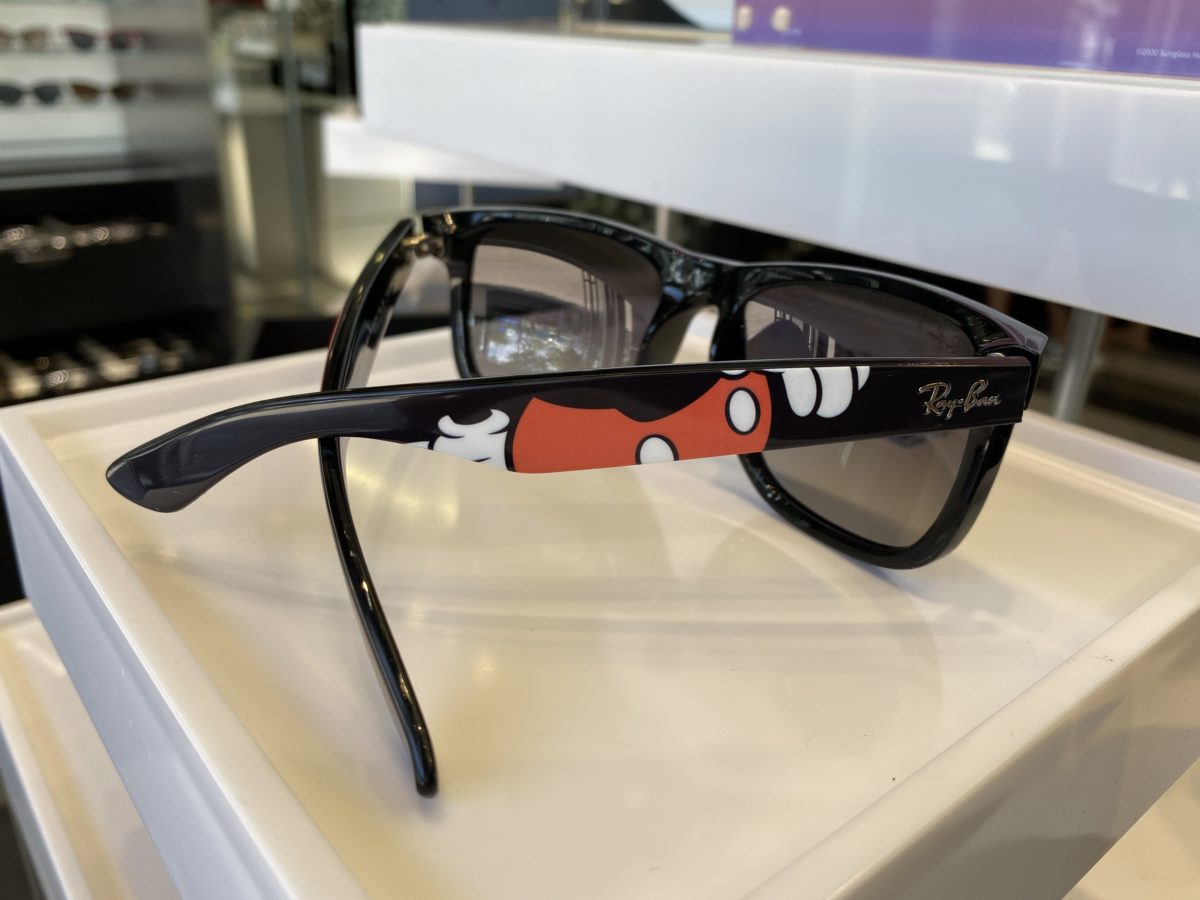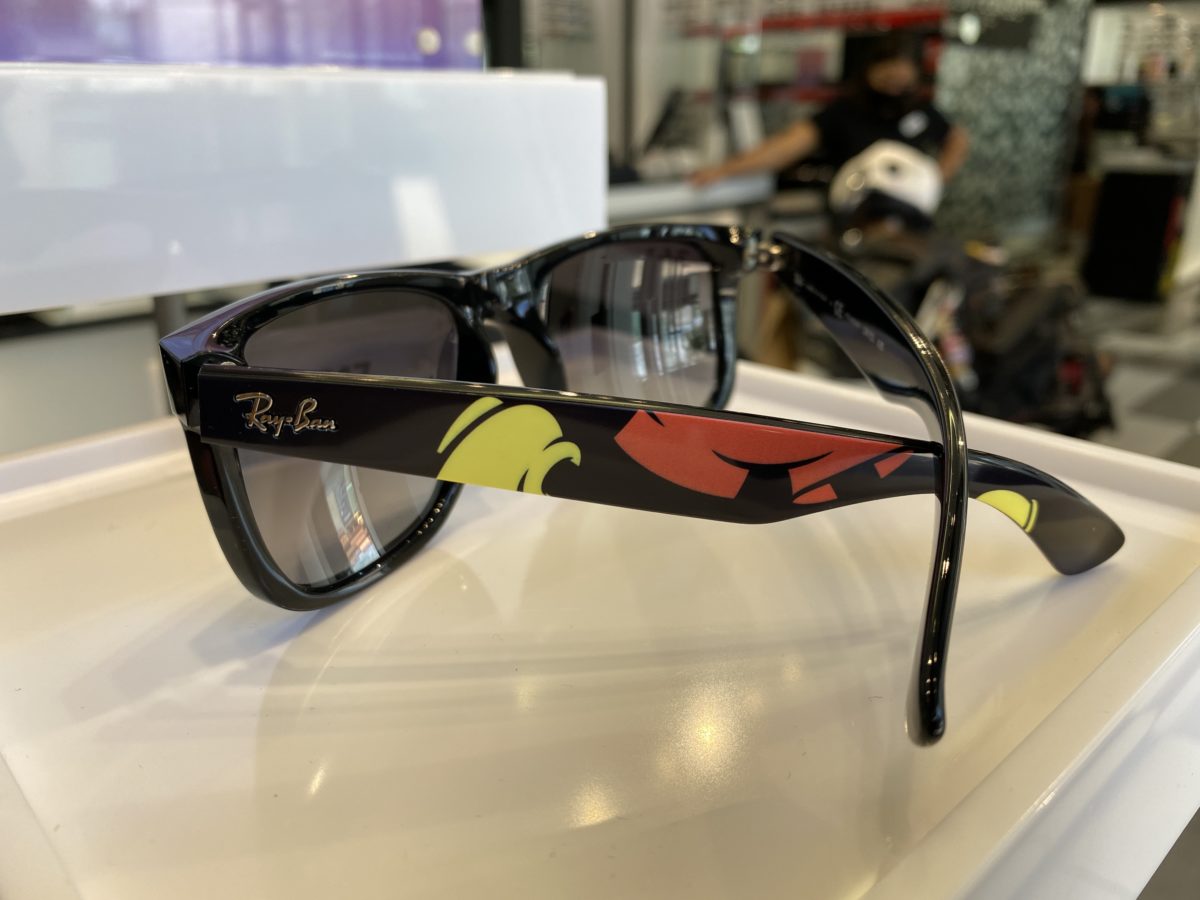 We found these fun new Ray Ban sunglasses featuring Mickey Mouse himself, perfect for these super sunny days here in Florida. This is a new style in the Disney line, so go check it out!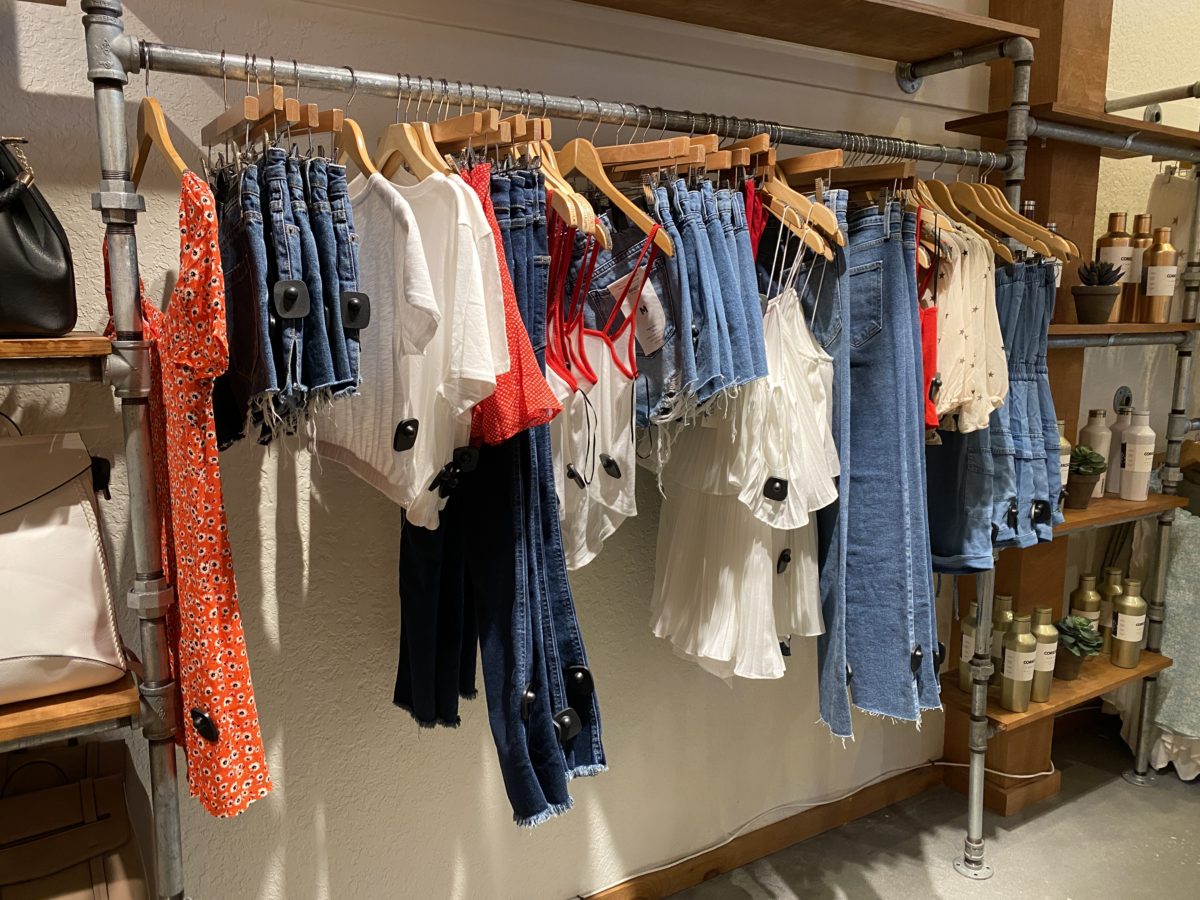 All across the Springs stores are showing their patriotic colors and decorating using their merchandise for Fourth of July. At American Threads, that means lots of jeans to pull together the red, white and blue.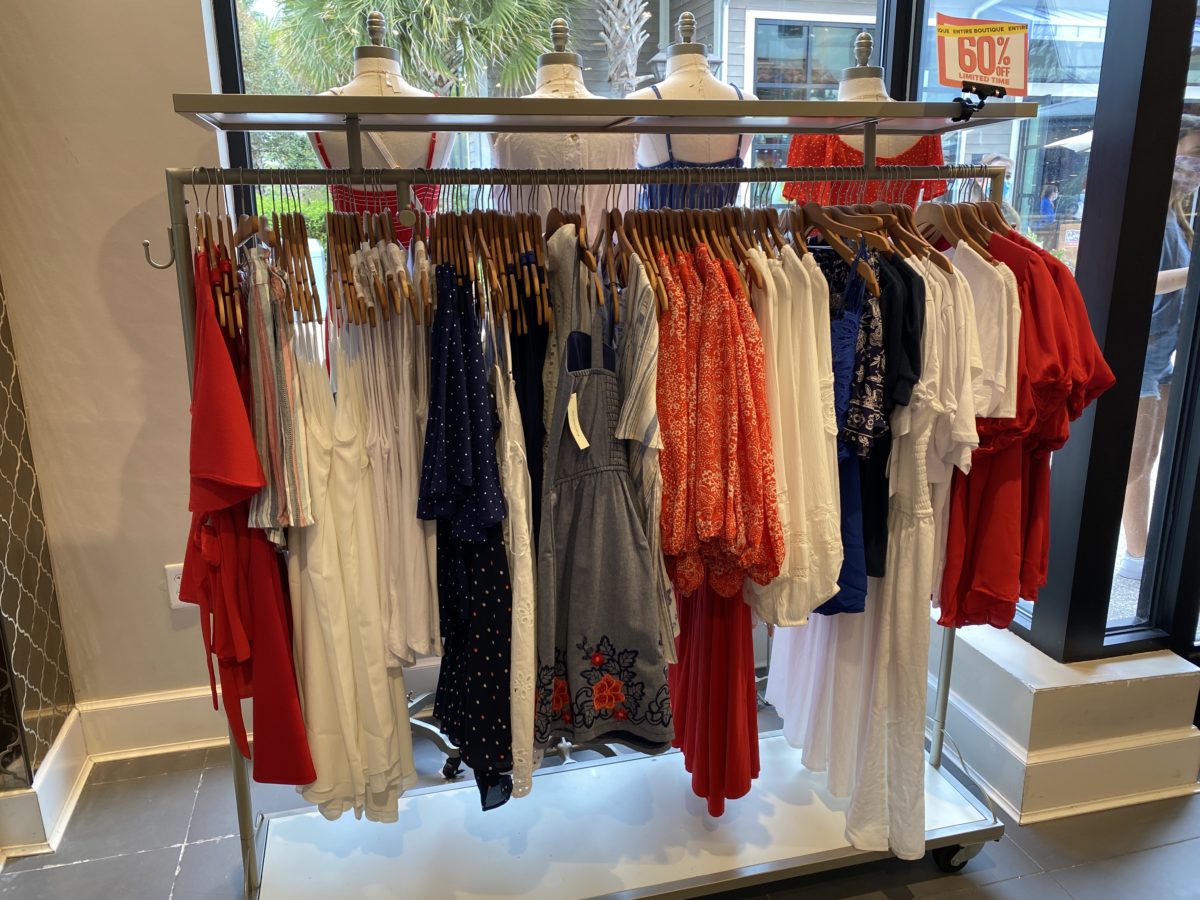 Over at Francesca's, there's a style for everyone in a patriotic color. And it's all on sale!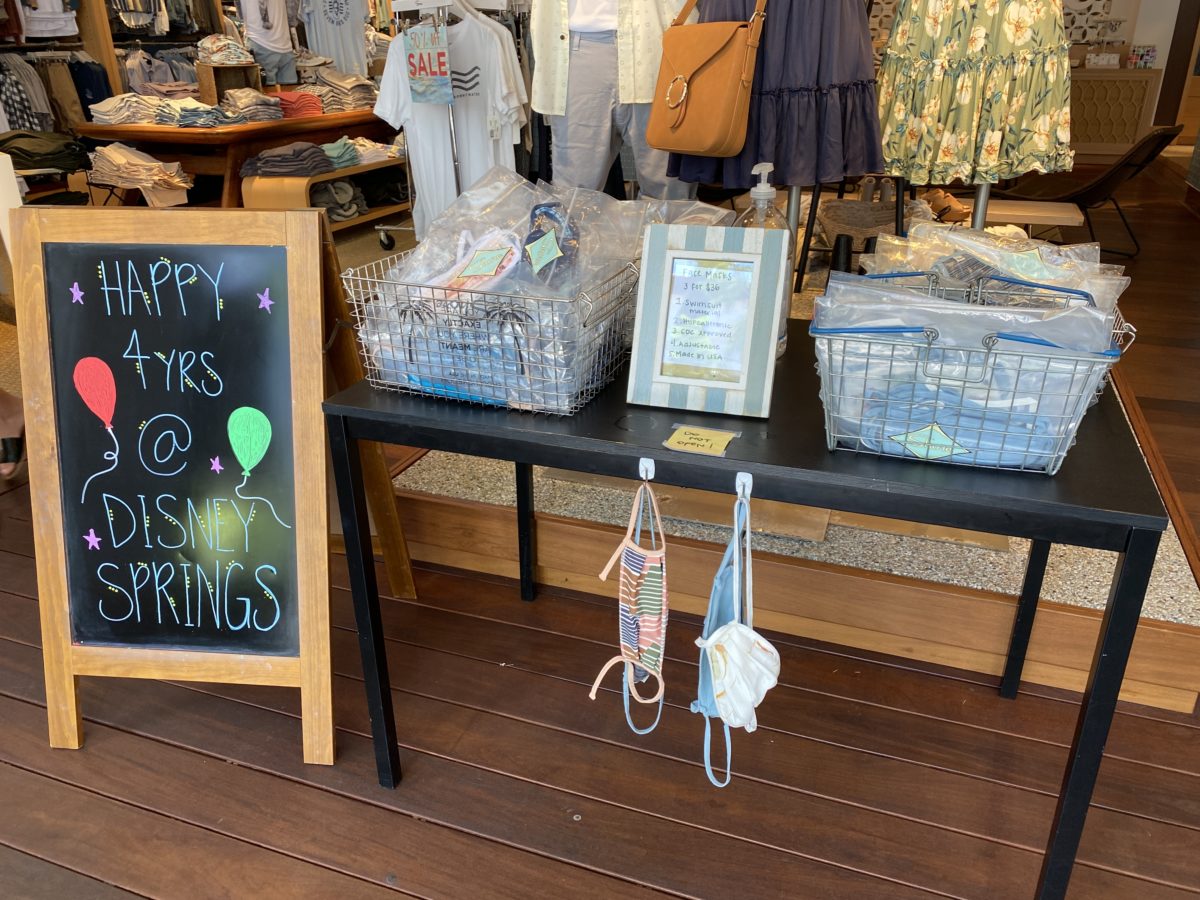 In face mask news, Shore has restocked their popular swimwear fabric masks, but there's been a change: the fabric used to make the masks is no longer upcycled, it has been purchased to make the masks, and therefore the price of the masks has been raised. A pack of three masks is now $36.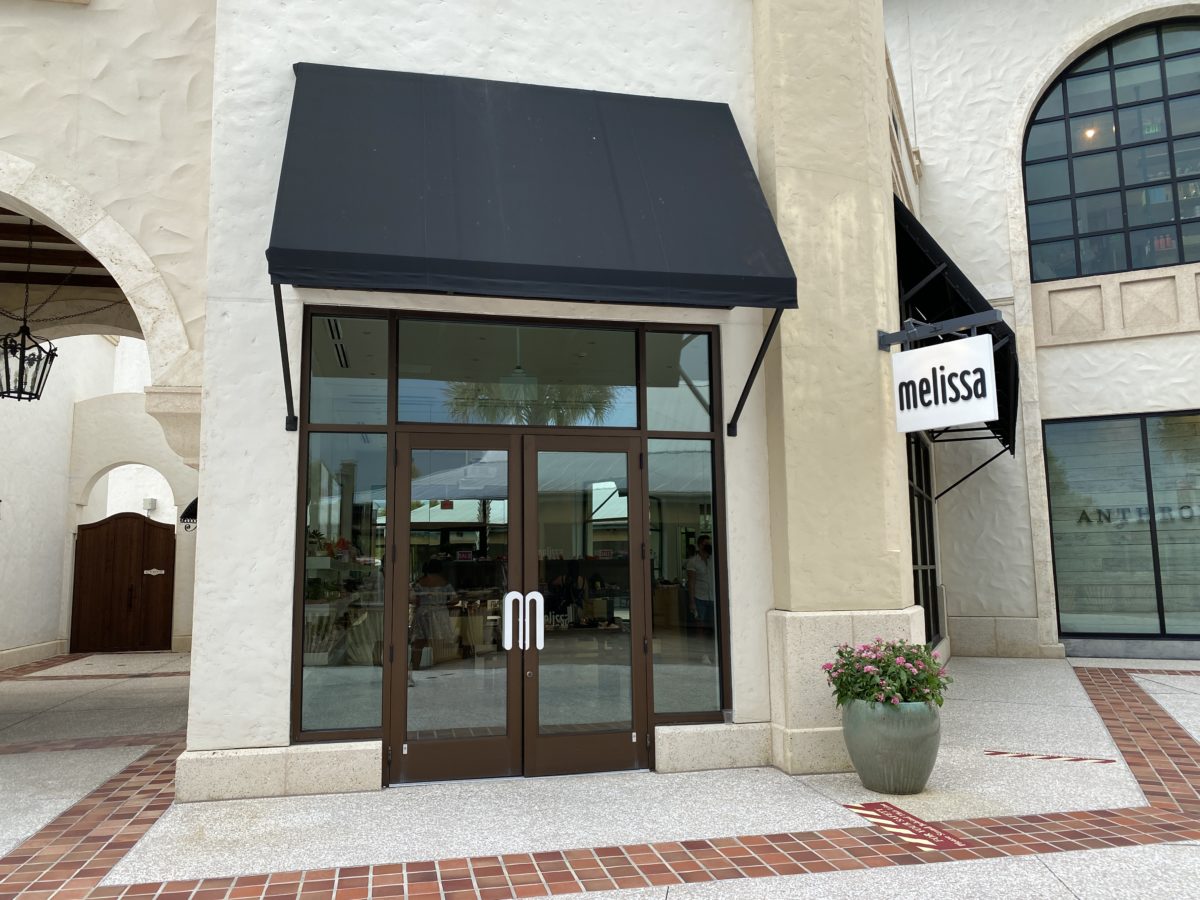 Melissa reopened today, with no visible changes inside to promote social distancing or sanitization.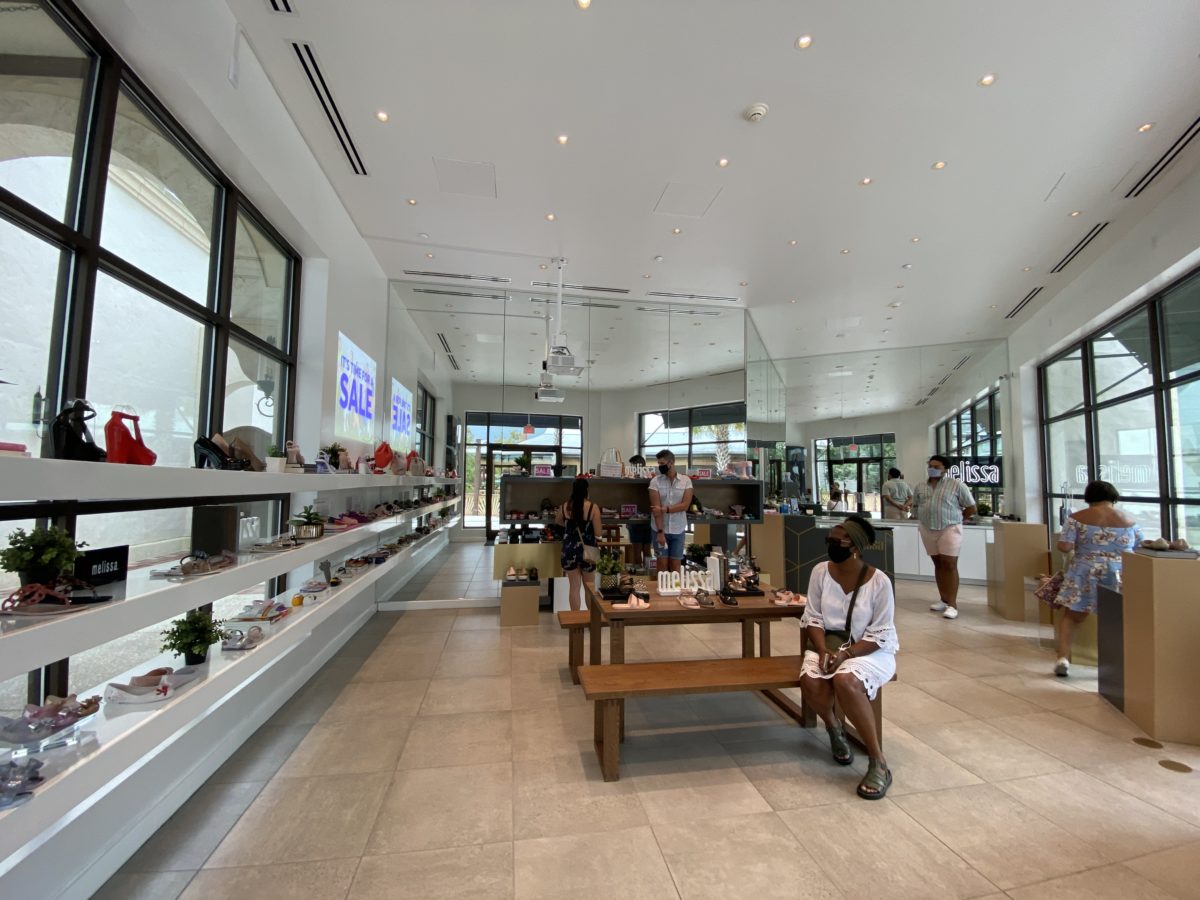 We were told that Guests could still try shoes on, and that they would be sanitized afterwards, as they alway had been. We did spot a bottle of hand sanitizer by the register, but that was the only change we saw to the store.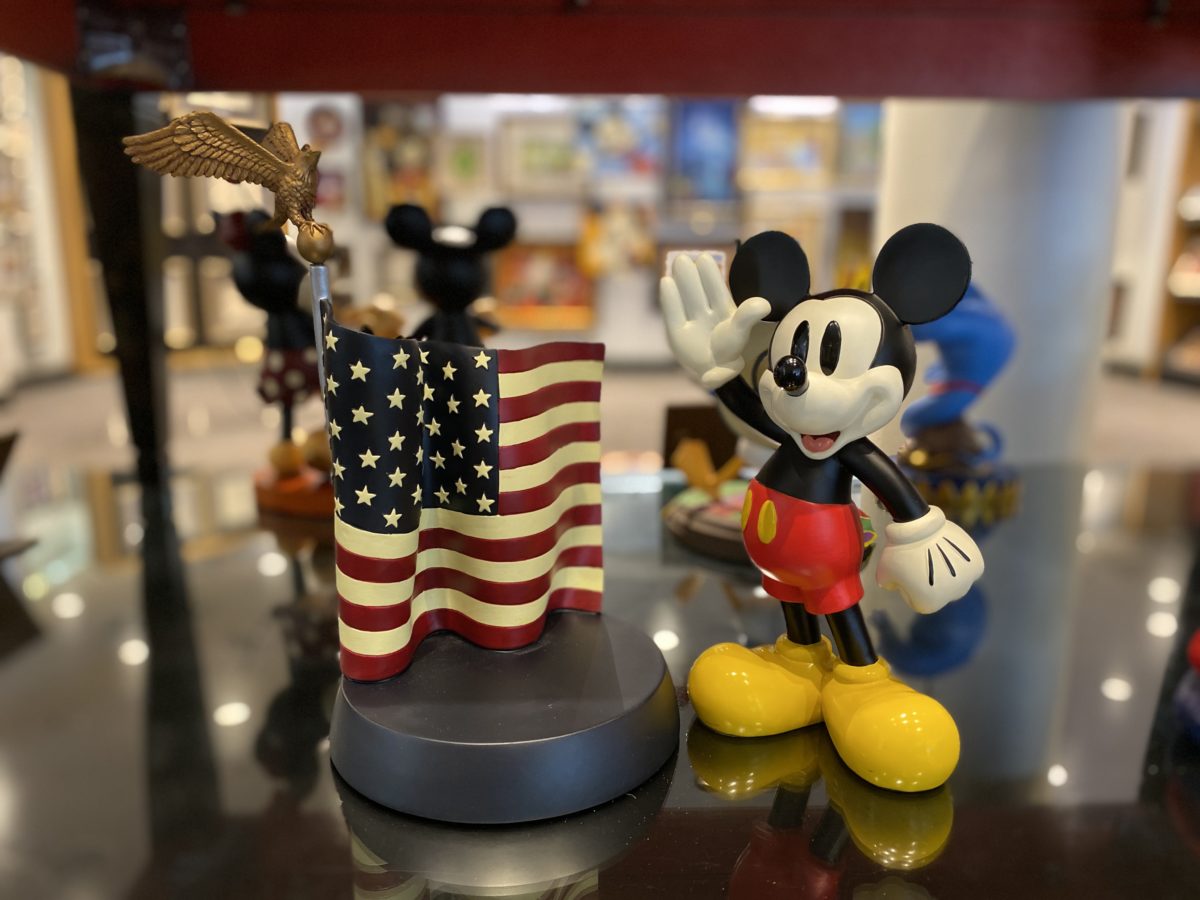 We hope you enjoyed coming along with us to Disney Springs! Have a magical day!