Well, we are officially halfway through the parks as we stroll onto Sunset Boulevard to see what treats La-La Land has to offer.
When it comes to dining in Disney's Hollywood Studios, in my opinion, you have the highest of highs and the lowest of lows. Luckily the highs have great allergy-friendly options. On top of that, the Top 3 on this list are such different eateries that there's no reason anyone should have trouble finding a place they call "dinner".
Without further adieu, fasten your seatbelts, it's going to be a yummy night.
#3 – The Hollywood Brown Derby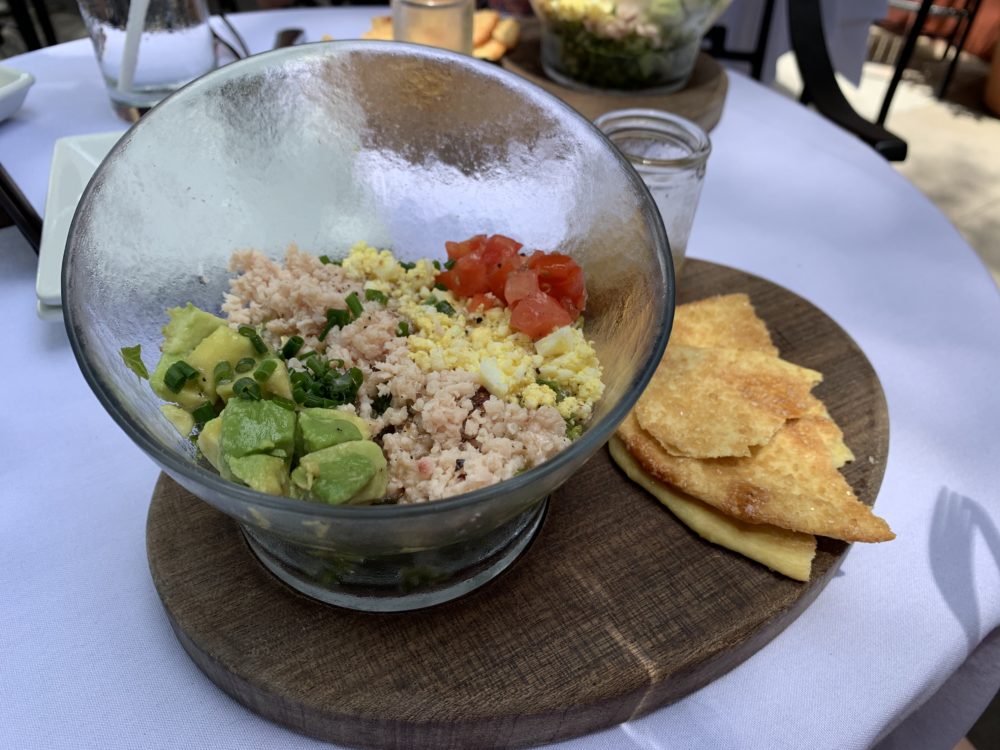 Located right on Hollywood Boulevard, the Hollywood Brown Derby makes you feel as if you just stepped into the Golden Age of Cinema. Modeled after the chain of Brown Derby Restaurants originally established in Los Angeles in the 1920s, this eatery serves up class, history, and fine dining all rolled into one.
I'm sure you are already wondering if you maybe be able to get the Famous Cobb Salad, and the answer is, YES! This iconic salad is available on the Allergy-Friendly menu safe for gluten, fish, peanut, tree nut, and soy allergies. Served with Finely Chopped Greens, Turkey Breast, Bacon, Egg, Tomatoes, Crumbled Blue Cheese, Avocado, Chives, and the signature Cobb Dressing, this salad is as amazing as everyone claims it is. And don't worry, I was able to get this salad many times made dairy-free by simply removing the blue cheese. You also have the option to get the smaller portion in the lounge (pictured) or the full-size salad. Plus there is also an option to add Chicken or Shrimp to this dish if you're looking to make it more filling.
Other options for your entree include the Charred Filet of Angus Beef served with Saffron Potato Mash, Seasonal Vegetables, and a Green Peppercorn Reduction, and the Bell & Evans Chicken Breast which comes with a Red Pepper and Toma Cheese Polenta, Orange Blossom Honey-glazed Rainbow Carrots, and a Madeira Malmsey Reduction. Both of these dishes are safe for those with any gluten, egg, fish, peanut, tree nut, or soy allergies.
If you're looking to enjoy some seafood on your visit to the Hollywood Brown Derby the Ciopinno which consists of Seared Scallops, Lobster, Fish of the Day, Fregola Pasta, Blistered Tomatoes, Fennel, and Olive Bread Croutons in a Cioppino Broth is safe for those with egg, milk, peanut, and tree nut allergies. The Faroe Island Salmon is also a good option for those avoiding gluten, egg, peanuts, tree nuts, shellfish, and soy. This salmon dish features a Tomato Confit Risotto, Pea Nage, and Tendrils.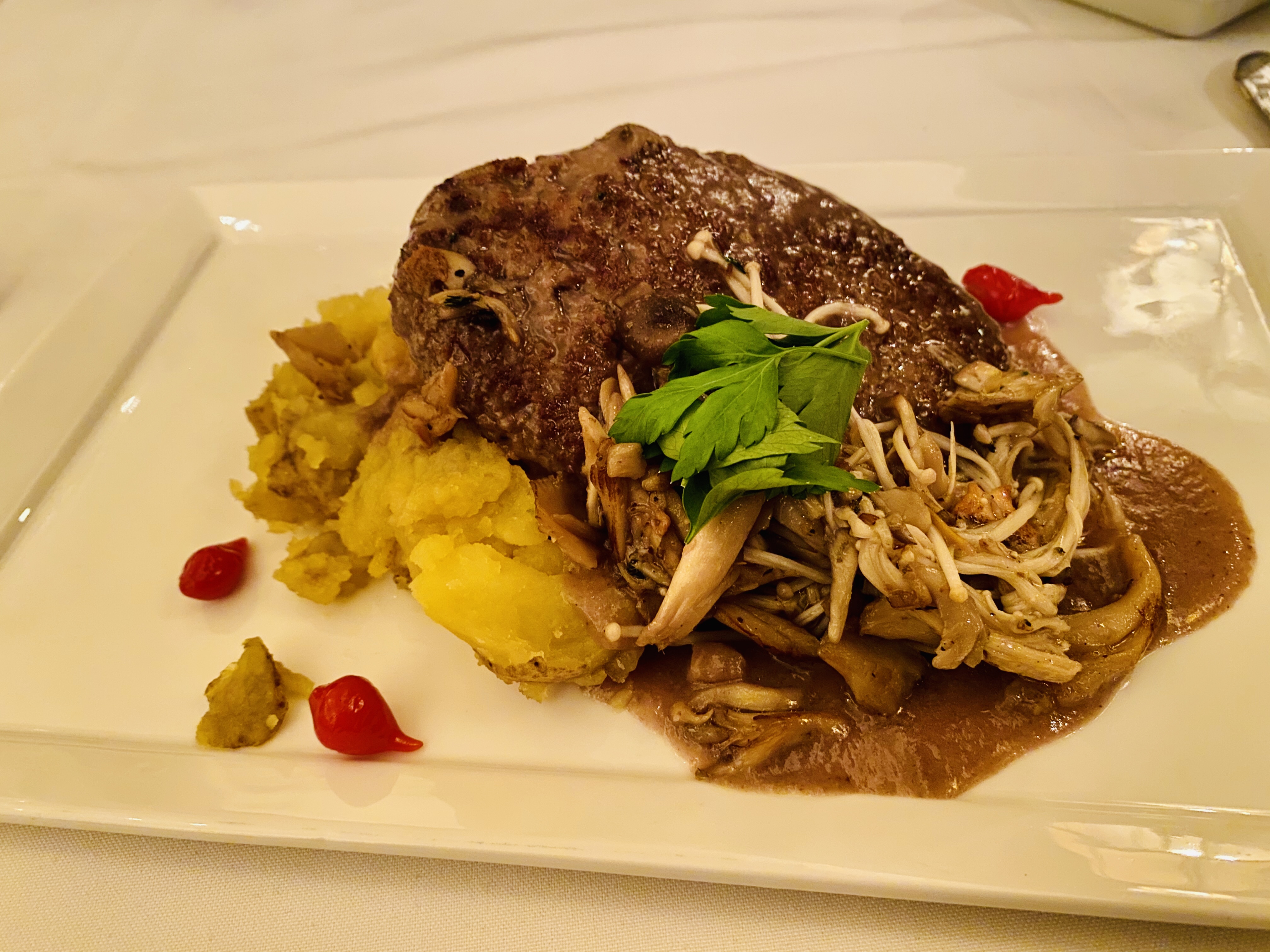 Hollywood Brown Derby also has a few plant-based options on their menu. The most recent addition was the Plant-based Chopped Steak (pictured), comprised of Impossible Meat, this dish is then served with Crushed Yukon Gold Potatoes, Sautéed Wild Mushrooms, and a Mushroom Gravy. They also added a plant-based dessert, and yes, it's chocolatey. The Chocolate-Coconut Cake, which resembles a molten lava cake, features chocolate sauce, hazelnut cream, and fresh raspberries. Seeing as these are vegan options, they are free from milk, eggs, honey, and fish.
Allergy Note: As with any place you dine, do make sure you are clearly ordering from the Allergy-Friendly menu as these options do have non-friendly versions as well. 
#2 – Sci-Fi Dine-In Theater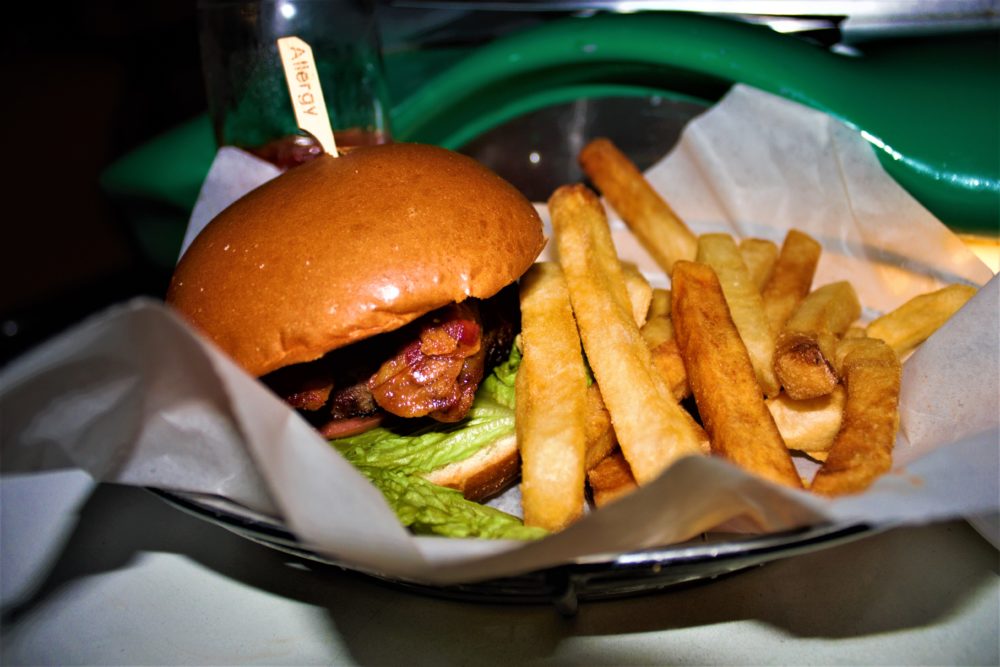 If you're looking for something a little more family-friendly, and fun, the Sci-Fi Dine-In Theater Restaurant is a perfect choice. While dining here, you are transported back to a drive-in theater straight out of the '50s, complete with black & white movies, and milkshakes to boot.
Speaking of Milkshakes, you can feel comfortable ordering one these bad boys in vanilla or chocolate free from gluten and any nuts, and if gluten isn't your allergy, you can even get an Oreo Milkshake. However, probably the most exciting part of this menu is the addition of the dairy-free Cookie Shake! Made from Nondairy Milk and comprised using Enjoy-Life Chocolate Chip Cookies, the whole thing then gets a dollop of Coconut Whipped Cream and will put a smile on anyone's face.
Moving on to some of the appetizer selections, the Allergy-Friendly Spicy Buffalo Chicken Tenders is always a good option. Served with Blue Cheese and Celery Sticks, this traditional appetizer is safe for those dealing with gluten, fish, peanut, and tree nut, allergies. The Shrimp and Crab Fondue is also available if you're looking for something to share that is safe for gluten, egg, and nut allergies. This fondue is comprised of Shrimp, Crab, and Cheeses with Roasted Red Peppers, and Corn Tortilla Chips. If you can't have fish, dairy, or egg, the plant-based Island Cake is the perfect way to go, served with an Apple and Cabbage Slaw, and Dill Rémoulade, this gives you all the Crab Cake vibes while still being safe for your special diet.
When it comes to entrees, the Flame-Broiled Burger (pictured) is also a good option, and perfect to pair with your milkshake, served with Lettuce and Tomato on an allergy-friendly bun (with an option to add bacon) this favorite is safe for gluten, fish, milk, peanut, and tree nut allergies, as well as sesame*. If meat isn't your thing, you can also enjoy this classic in the form of the Flying Saucer Impossible Burger served with grilled portobello mushrooms, a "cashew-mozzarella", garlic-tomato aioli, nut-free pesto, lettuce, and tomato this dish is free from meat, fish, milk, egg, and honey. The Oven-roasted Turkey Wrap is another popular choice, served on an allergy-friendly wrap, this handheld creation features Turkey, Bacon, Lettuce, and Vine-ripened Tomato with a Cilantro-Avocado Aioli and is safe for gluten, fish, milk, peanut, and tree nut allergies.
*Allergy Note: The allergy menus at Disney only cover the top 8 most common allergies, so if you are allergic to something that is not covered, simply ask to speak to a Chef. They will not only be able to accommodate you but even offer something you may not have thought was an option. For some more great hacks and advice be sure to check out @platinum.mouse.by.amy and @foodallergyadventurersclub on Instagram.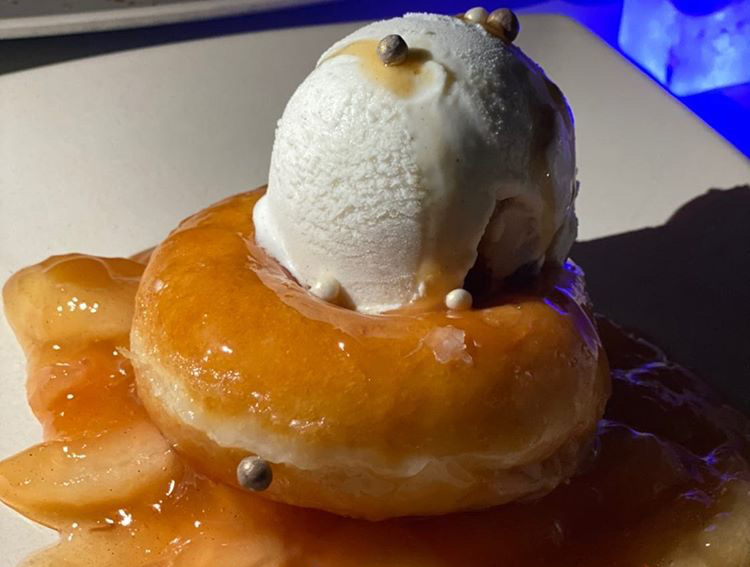 If you opted out of the milkshake and are looking for another dessert option, you can get an allergy-friendly version of the Warm Glazed Doughnut (pictured). Served with delicious Cinnamon Apples and topped with Vanilla Soy Ice-Cream, you really can't go wrong with a combination like that. This dessert is free from milk, peanuts, and tree nuts. If you're looking for something gluten-friendly you can also get an allergy-friendly Brownie Sundae, with Hot Fudge, and Vanilla Bean Ice Cream.
#1 – Mama Melrose's Ristorante Italiano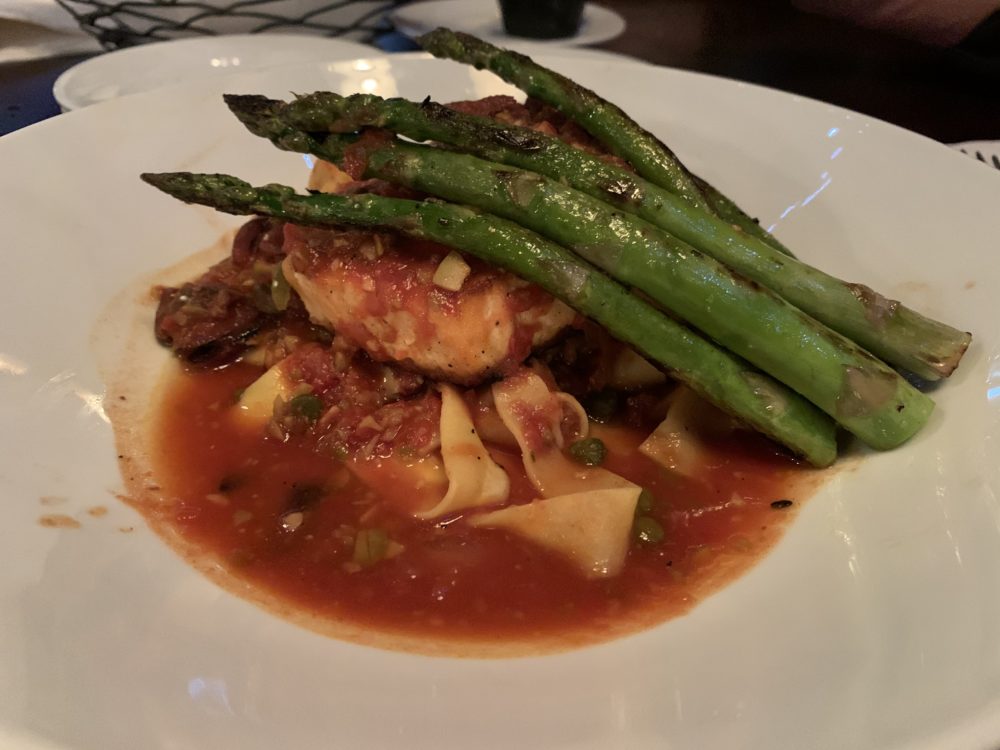 In the mood for some good old Italian cooking? I'd be lying if I said I haven't booked a reservation here for the free bread service alone. Mama Melrose's is certainly one of the places in my family that has always been a staple on every trip. With a warm inviting environment and an extensive menu, you can't really go wrong at Mama's.
Harkening back to that free bread, the dinner rolls served up here are milk- and egg-free and are served with the most delicious herb-infused olive oil for dipping!
Allergy Hack: Almost all places that serve bread in Walt Disney World will also carry Gluten-Free rolls. As long as you have marked your allergy, these should be served to you, however, just in case, do mention it to your server and they will be more than glad to grab some for you!
On to the appetizers, Mama's has a fair amount of flatbread options, that are perfect if you're looking for something for the table. A few of the options are the Carne D'Italia Flatbread featuring Pepperoni, House-Made Sausage, Pancetta, and Spicy Marinara Sauce, and the Margherita Flatbread with Fresh Vine-ripened Tomatoes, Mozzarella, House-made Marinara Sauce, and Fresh Basil. Both of these flatbreads are on the allergy-menu as being safe for gluten, fish, peanut, tree nut, and soy allergies. However, most of the time, they have dairy-free, vegan cheese on hand and can make any of the flatbreads on the menu safe for dairy allergies as well. I have even been able to get the Mushroom Flatbread made safe, so if there is something you want that's not on the allergy menu, always be sure to ask a Chef, you never know what you'll be able to get!
For entrees, the allergy menu is pretty extensive, just some of the options are the Sustainable Fish (pictured), free from all nuts, milk, shellfish, and soy. The house fish (which is Salmon 9/10 times), is served with Pappardelle Pasta, Grilled Asparagus, and is tossed in a delicious Puttanesca Sauce. The Saltimbocca is another great and unique option featuring Pork Tenderloin topped with Prosciutto, Sage, Fontina Cheese, Tuscan Mashed Potatoes, and Broccolini in a Lemon Caper Sauce. This dish is safe for gluten, egg, fish, peanut, tree nut, and soy allergies.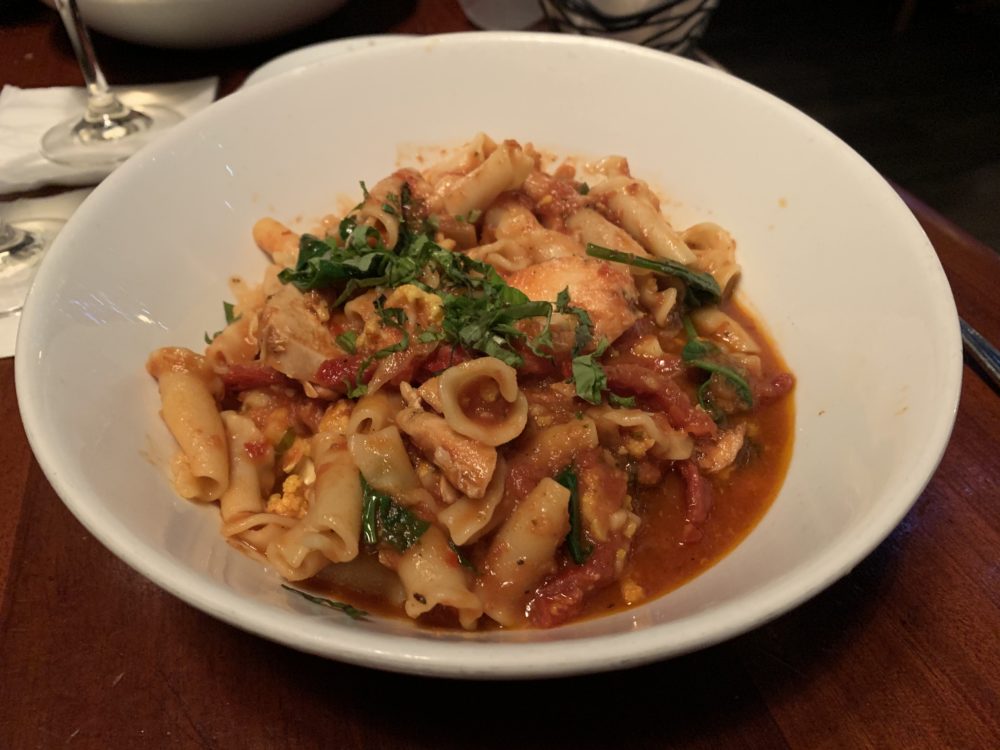 But what about pasta? You'll be glad to know that Mamas has a fair amount of pasta dishes for you to choose from. The Spaghetti Bolognese is always a popular choice, or you can always opt for the Shrimp or Chicken Pasta. This dish is tossed in a Four Cheese Sauce with Cauliflower, Sun-dried Tomatoes, Fresh Spinach, and Sweet Onions. All of these dishes are free from gluten, egg, peanuts, tree nuts, and soy as they all come with a wheat-free pasta. Also, as long as you avoid the Shrimp option, they are also free from fish/shellfish. Luckily for those avoiding dairy, you can get the Shrimp and Chicken Pasta made in a sauce of your choosing, pictured above is the house Fra-Diavolo sauce, and that simple swap made the dish dairy-free.
For dessert, the options are just as plentiful with a gluten, and nut-free (no sugar added) Cheesecake topped with Strawberry Sauce and Whipped Cream, and a Flourless Chocolate Cake drizzled with Chocolate Sauce and Whipped Cream.
If you're looking to avoid dairy and egg, the Cappuccino Affogato is a unique and delicious new option. Featuring a layered Cappucino and Cashew Custard, this tiny coffee cup then gets an accompaniment of Almond Brittle.
If you're only avoiding nuts and soy, you can enjoy a traditional Italian Tiramisu which consists of Layers of Mascarpone and Espresso soaked Lady Fingers and is then topped with Cocoa Powder and Whipped Cream.
This is only a select few of all the options available at Disney's Hollywood Studios, so do make sure to check the Allergy-Friendly menu as well as speak to a Chef upon arrival at any of these eateries.
Don't forget to check out Part 5, which is coming soon! We'll cover the best quick-service options available in Disney's Hollywood Studios, and then, of course, we are off to scavenge around Animal Kingdom!
Top 3 Locations to Dine With Food Allergies in Walt Disney World Part 4: Epcot – Quick Service
Top 3 Locations to Dine With Food Allergies in Walt Disney World Part 3: Epcot – Table Service
Top 3 Locations to Dine With Food Allergies in Walt Disney World Part 2: Magic Kingdom – Quick Service
Top 3 Locations to Dine With Food Allergies in Walt Disney World Part 1: Magic Kingdom – Table Service