What Does Star Wars Taste Like?
Can you imagine being in that meeting? What a massive and rather esoteric undertaking. As fans, we seem to fixate on the multitude of facets Imagineers face when it comes to building wondrous worlds and audacious attractions. Yet rarely do we examine what it takes to capture the flavor of an entire universe… in a single bite! But, I believe in giving Galactic Credit where Galactic Credit is due.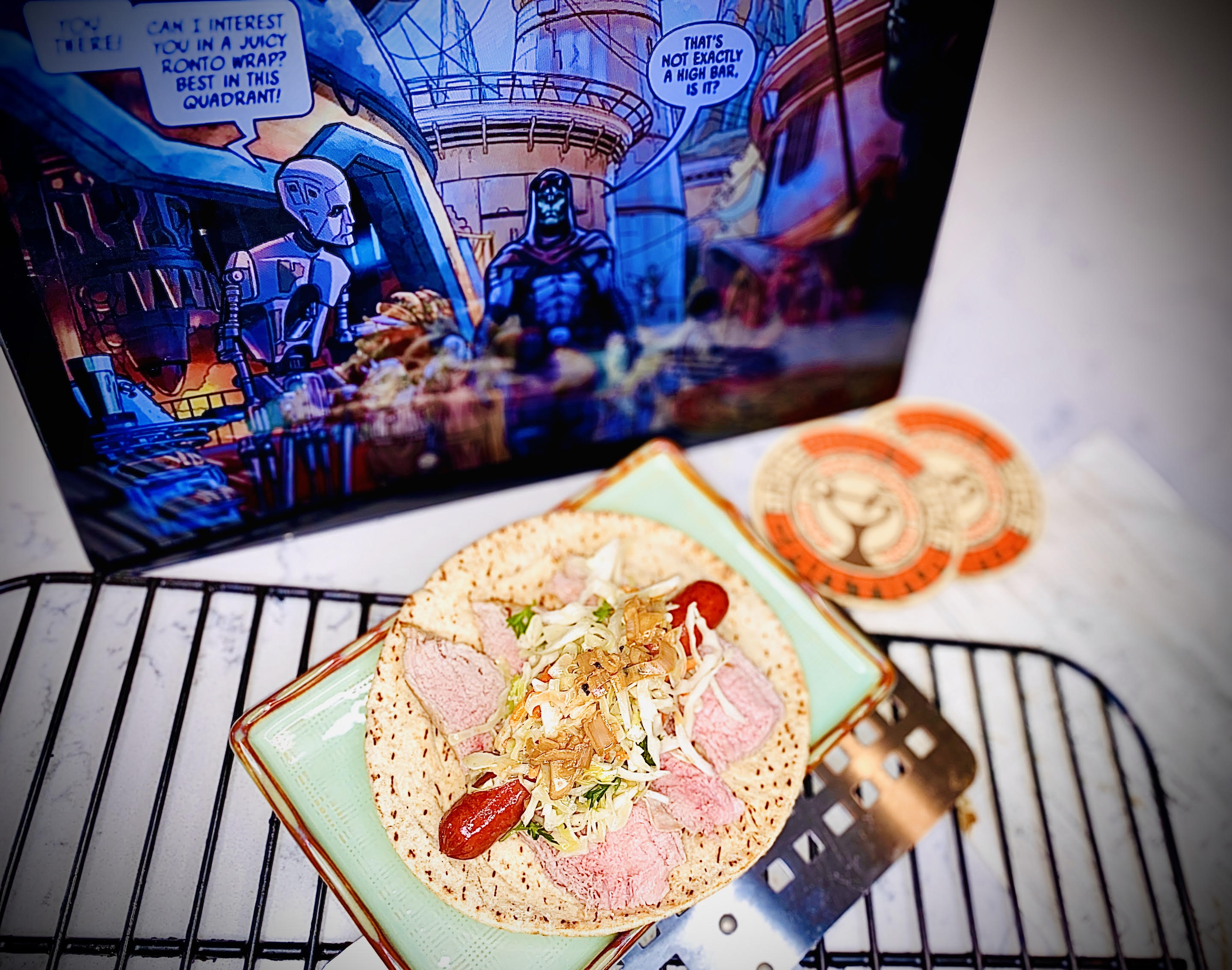 Having traveled to Batuu and back, I am pleased to report that the culinary creative team absolutely knocked it out of the galaxy. So, move aside, Banthas! We're on a one-way trip to Bakkar's Ronto Roasters, where 8D-J8 is gearing up to present a new Ronto Wrap Copycat Recipe from Star Wars: Galaxy's Edge at Disney's Hollywood Studios.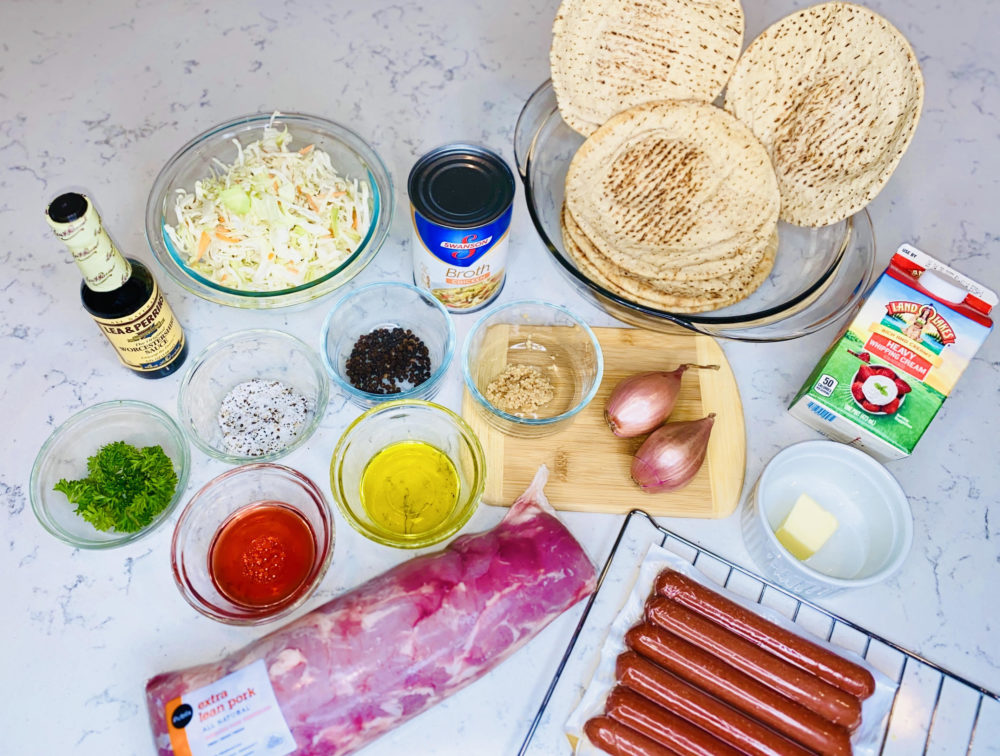 RONTO WRAP COPYCAT RECIPE FROM GALAXY'S EDGE – INGREDIENTS:
2 Tbsp Red Wine Vinegar
2 Tbsp Olive Oil
Salt & Pepper
2 Cups Cole Slaw Mix
2 Tbsp of Chopped Parsley
Pork Tenderloin
All Beef Hot dogs
2 Shallots
1 Tbsp Minced Garlic
½ Cup Chicken Broth
3 Tbsp Cream
1 Tbsp Crushed Black Peppercorn
1 Tsp Worcestershire
4 Pitas, for serving
SUGGESTED MUSIC WHILE PREPARING RONTO WRAP COPYCAT RECIPE FROM GALAXY'S EDGE:
 RONTO WRAP COPYCAT RECIPE FROM GALAXY'S EDGE – PREPARATION:
Whisk Red Wine Vinegar, Olive Oil, Parsley, Salt and Pepper in a bowl.
Pour contents over Cole Slaw Mix and toss to coat.
Brown Pork Tenderloin in pan
Transfer Pork Tenderloin into a 400* oven until cooked through, leaving pink inside. About 15 minutes.
Brown Hot Dogs in same pan used for browning the Pork Tenderloin.
After Hot Dogs are done cooking, saute chopped Garlic and Shallots in same pan. Add Chicken Broth. Cook on medium-to-high heat.
Add Cream, Crushed Black Pepper, and Worcestershire. Mix together and let it come to a boil.
Cut Pork Tenderloin into thin strips. Place on pita.
Lie Hot Dog over Pork Tenderloin.
Pour Cole Slaw Mix over Hot Dog.
Add sauce over entire wrap.
Eat while watching the Suggested Viewing While Dining. This is the way.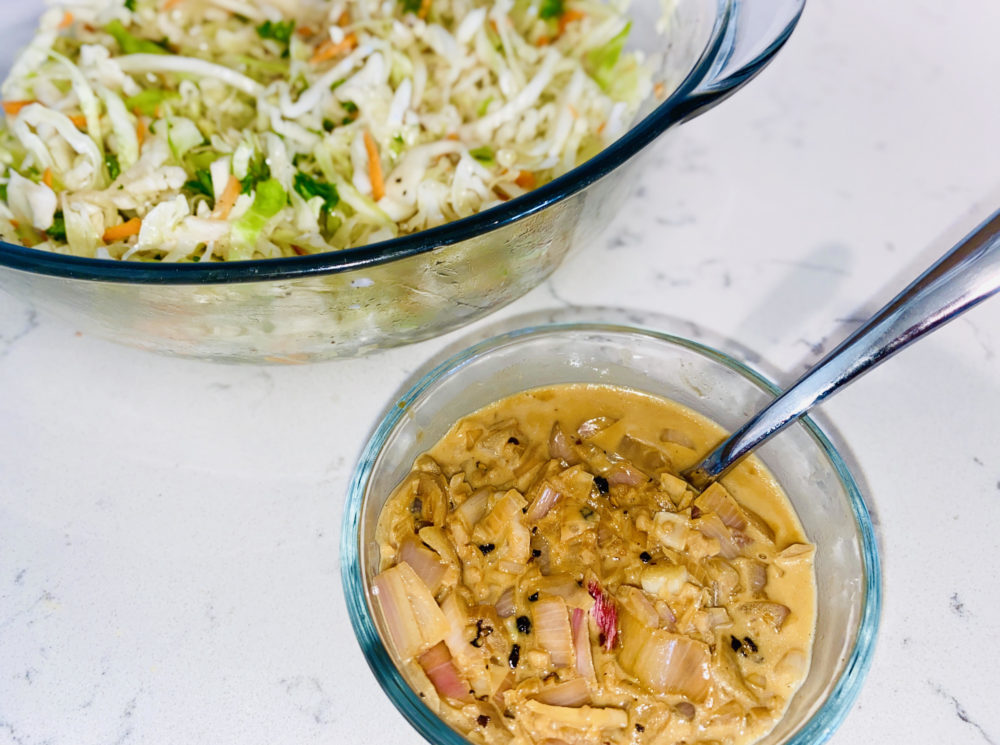 SUGGESTED VIEWING WHILE DINING:
SUGGESTED DINING APPAREL:
We hope you enjoyed our Ronto Wrap Copycat Recipe from Galaxy's Edge at Disney's Hollywood Studios! If you try recreating this recipe, be sure to share it on Twitter or Instagram and let us know by tagging us using @WDWNT. Did you know that this recipe was requested by a WDWNT fan? Have you own recipe request? Let us know in the comments section below.