With Disney Parks around the world closed for the foreseeable future, WDWNT is dipping into our archives of vintage parks materials for a look back into parks history! And in celebration of Hollywood Studios Appreciation Week, all this week, we're peeking into the studio vault with items from the early years of the Disney-MGM Studios! It's New Year's and time to ring in 1991 with Lorenzo Lamas and more, as seen in this Show Times Guide!
Note: This article will detail the guide page by page, but WIGS Members will have access to download a full-resolution PDF of the entire thing. Head on over to Patreon.com/wdwnt to join WIGS, the WDWNT Inner Globe Society, for as little as $2 a month and unlock access to great content like this, and much more!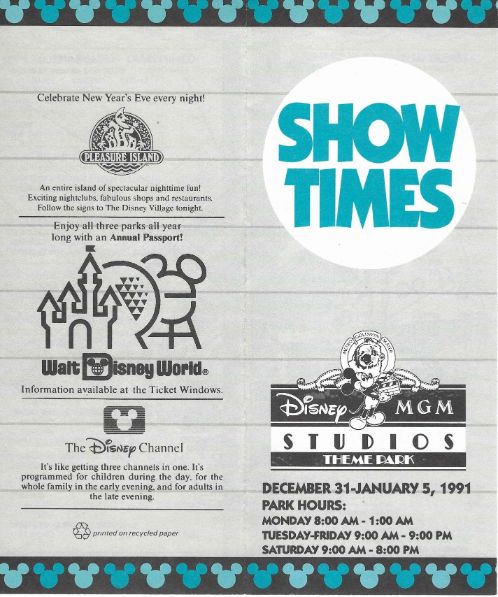 While it may be New Year's Eve every night at Pleasure Island, it was New Year's Eve everywhere when this times guide was first distributed on December 31st, 1990, and then ran through January 5th, 1991. Unsurprisingly, the park was open late that Monday, operating from 8 AM to 1 AM, with 8 PM and 9 PM closings the rest of the week.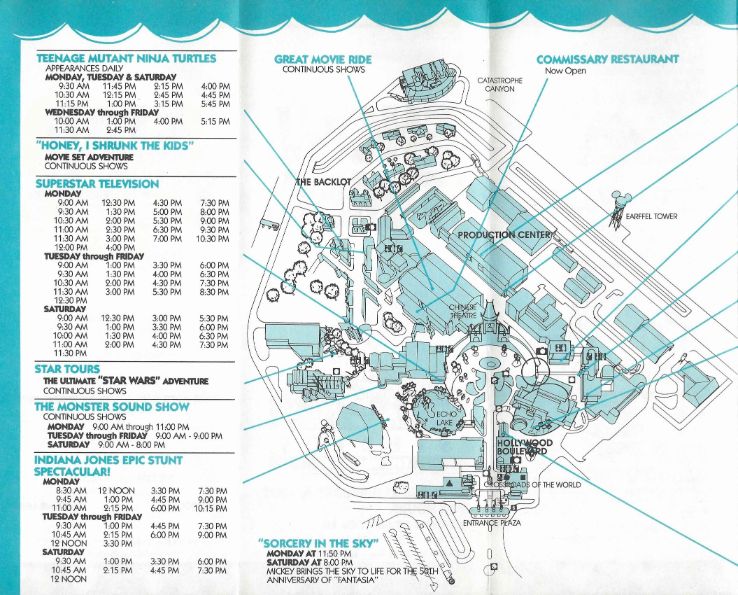 To accommodate the New Year's Eve crowds, extra performances of live shows were added, along with "Sorcery in the Sky" beginning at 11:50 PM to help kick off 1991 in style. No longer being performed nightly, it would only run on weekends, returning on Saturday. If you were hungry, the guide made sure to remind you that the Commissary Restaurant was now open. Today, it's known as the ABC Commissary.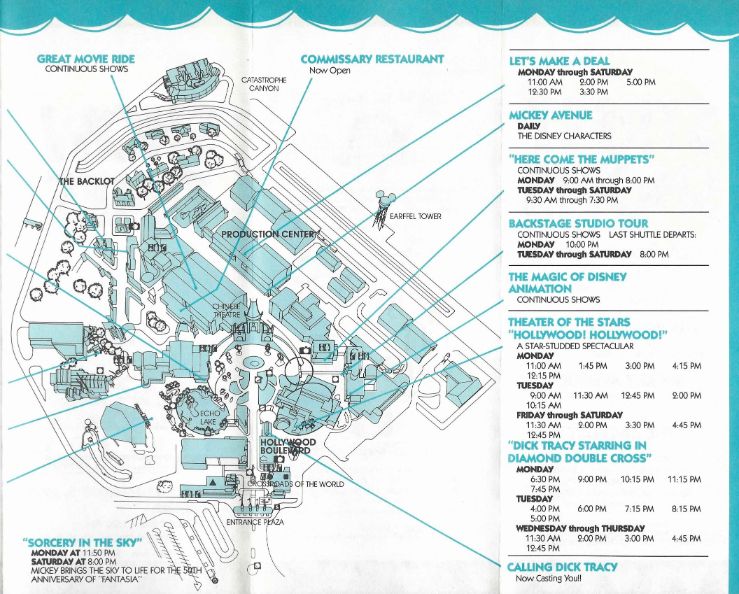 With no taping that week (and the show about to be cancelled), Let's Make a Deal ran at the park five times daily, allowing guests to be in the action of the classic game show. At the Theater of the Stars, "Hollywood! Hollywood!" and "Dick Tracy Starring in Diamond Double Cross" are now being performed on separate days, only being shown in reperatory on Monday and Tuesday. "Diamond Double Cross" plays at the theater on Wednesday and Thursday, while "Hollywood! Hollywood!" gets Friday and Saturday.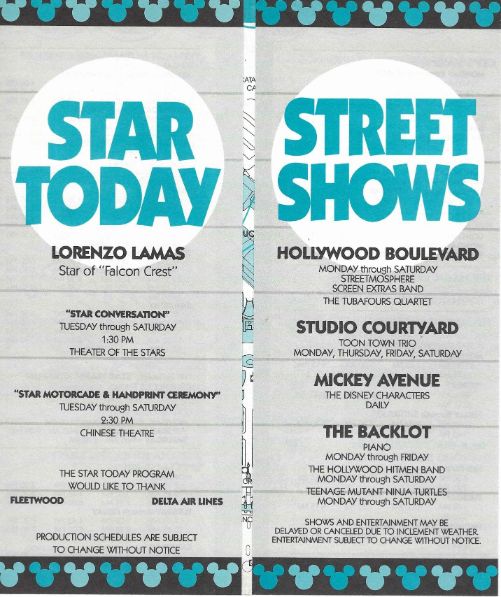 From Tuesday through Saturday, the "Star Today" was Lorenzo Lamas, then the star of the CBS primetime soap opera "Falcon Crest," which had recently ended its run. Now, the Star Conversation came first, happening at 1:30 PM, followed by the Star Motorcade and Handprint Ceremony at 2:30 PM. Street Shows also appeared throughout the day, with highlights including character appearances, Streetmosphere, and The Hollywood Hitmen Band. Not a bad way to welcome a new year!
Keep reading WDWNT as we share more from our archives of Disney Parks history!
MORE:
Unearth Disneyland History With This Indiana Jones Adventure Cast Premiere Packet From 1995
Go Back to the Official Opening of EPCOT Center's World Showcase with this Festival Program From 1982
PHOTOS: Revisit the Days of Future Past at the Magic Kingdom with this New Tomorrowland 1995 Press Kit