With Disney Parks around the world closed for the foreseeable future, WDWNT is dipping into our archives of vintage parks materials for a look back into parks history! Step right up as we aim for a sneak peek at Toy Story Midway Mania at Disney's Hollywood Studios and Disney California Adventure with this May 2008 issue of Disney Newsreel!
Note: This article will detail the magazine page by page, but WIGS Members will have access to download a full-resolution PDF of the entire thing. Head on over to Patreon.com/wdwnt to join WIGS, the WDWNT Inner Globe Society, for as little as $2 a month and unlock access to great content like this, and much more!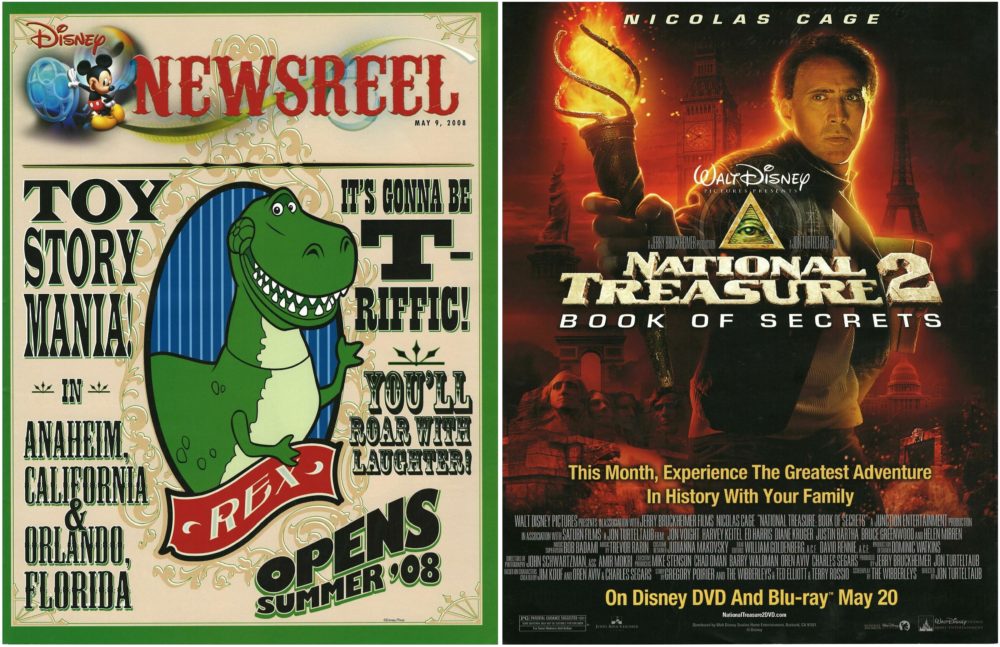 Rex graces the front cover with the promise that "it's gonna be T-riffic!" Meanwhile, the back cover promotes the home video release of National Treasure 2: Book of Secrets. (Even though the issue is twelve years old, we may finally find out what happens next in the Gates family saga soon.)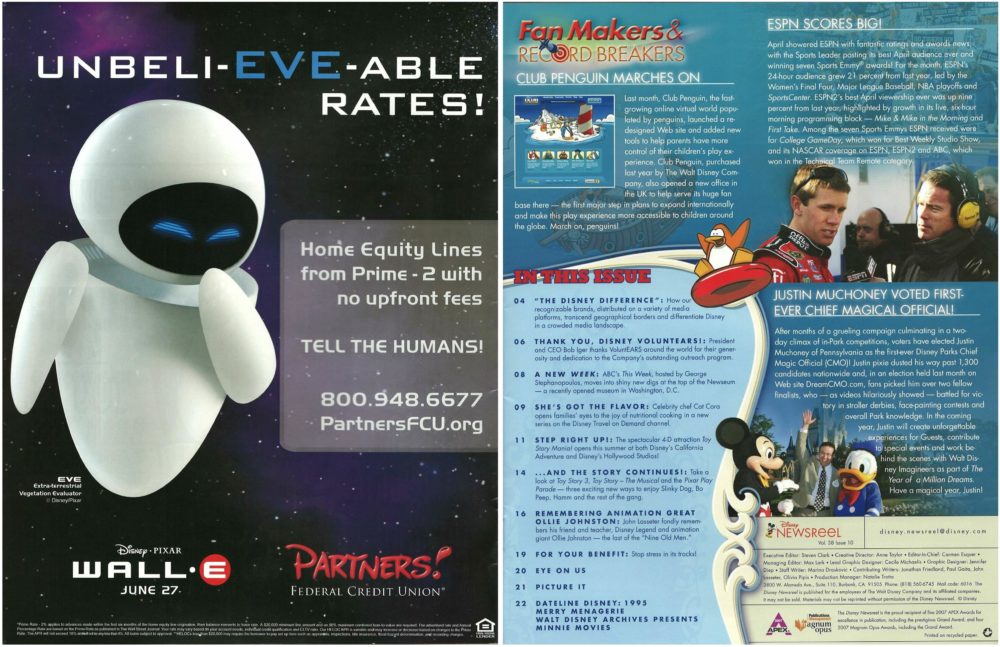 An ad for Partners! Federal Credit Union features EVE from the upcoming Pixar film WALL-E, while accompanying the table of contents are the achievements of Club Penguin, ESPN, and Justin Muchoney, who was named the first Disney Parks Chief Magic Official.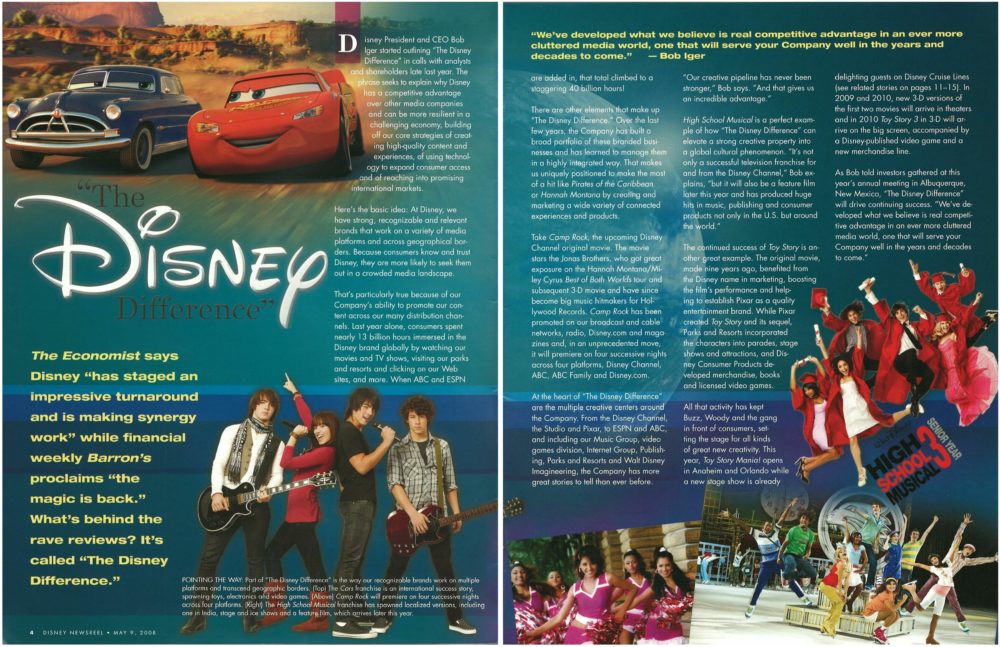 The next spread focuses on "The Disney Difference," a term Bob Iger was using to describe the company's successes at the time.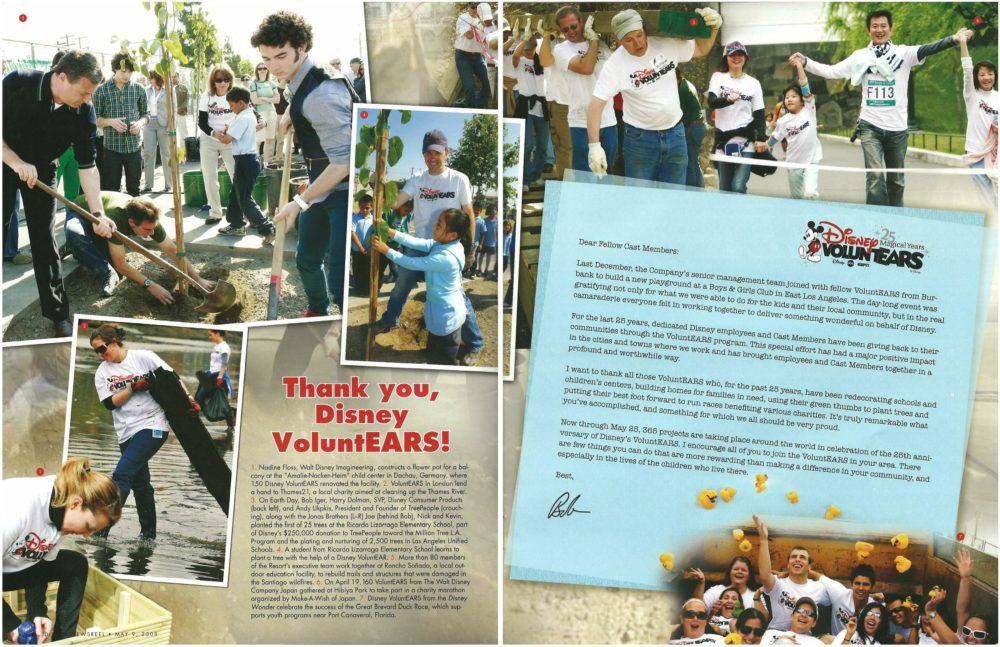 A report on Disney VoluntEARS focuses on the April charity work of the company's employees, including an Earth Day event with Iger and the Jonas Brothers, both of which seem to be making a comeback!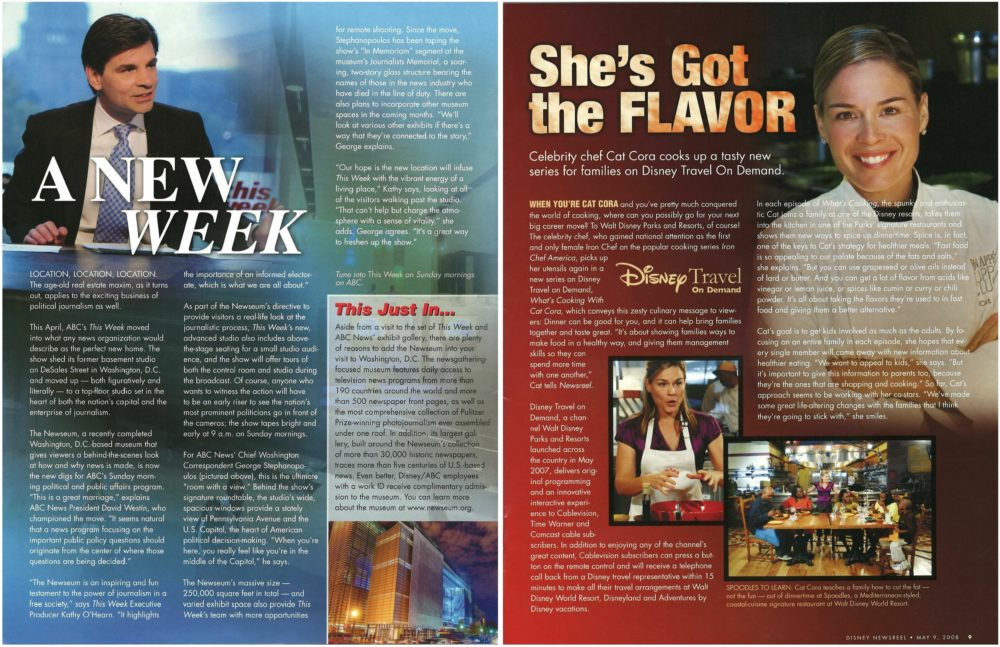 On the television front, ABC's news show "This Week" has moved its studio in Washington D.C. to the new building in the Newseum, which sadly closed its doors late last year, while chef Cat Cora has launched a new show for Disney Travel On Demand. "What's Cooking With Cat Cora."
Next we move on to Toy Story Mania!, which opened to guests at Disney's Hollywood Studios on May 31st, 2008, Disney's California Adventure on June 17th, 2008, and later at Tokyo DisneySea on July 9th, 2012.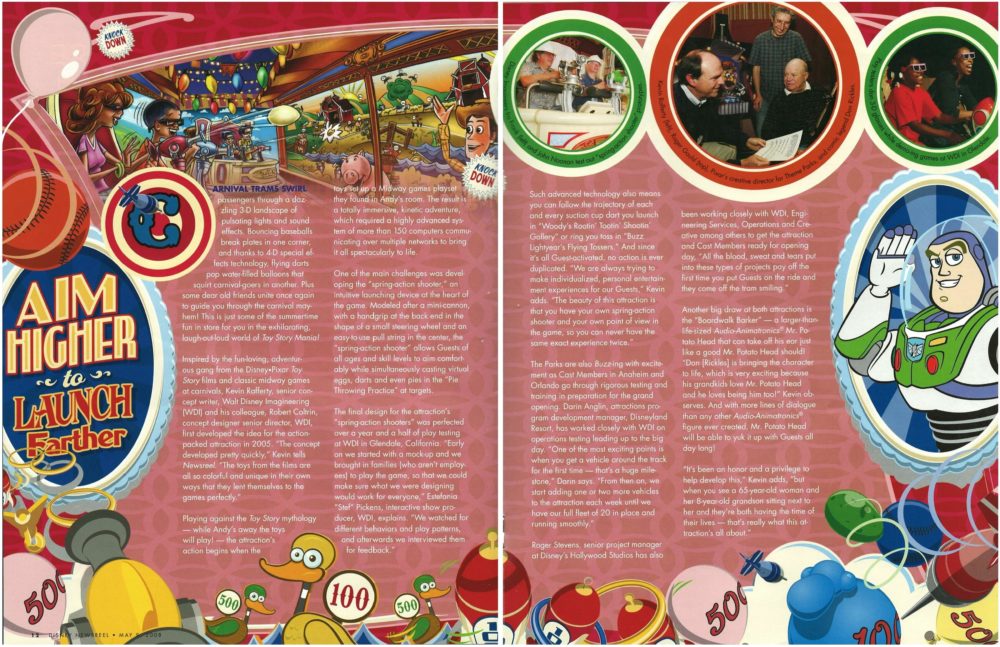 The article describes the technology Walt Disney Imagineering developed for this interactive attraction, including the "spring-action shooter" and the Mr. Potato Head Audio-Animatronic that greets guests. Here's just an excerpt:
"Inspired by the fun-loving, adventurous gang from the Disney-Pixar Toy Story films and classic midway games at carnivals, Kevin Rafferty, senior concept writer, Walt Disney Imagineering [WDI] and his colleague, Robert Coltrin, concept designer senior director, WDI, first developed the idea for the action-packed attraction in 2005. 'The concept developed pretty quickly,' Kevin tells Newsreel. 'The toys from the films are all so colorful and unique in their own ways that they lend themselves to the games perfectly.'
Playing against the Toy Story mythology – while Andy's away the toys will play! – the attraction's action begins when the toys set up a Midway games playset they found in Andy's room. The result is a totally immersive, kinetic adventure, which required a highly advanced system of more than 150 computers communicating over multiple networks to bring it all spectacularly to life."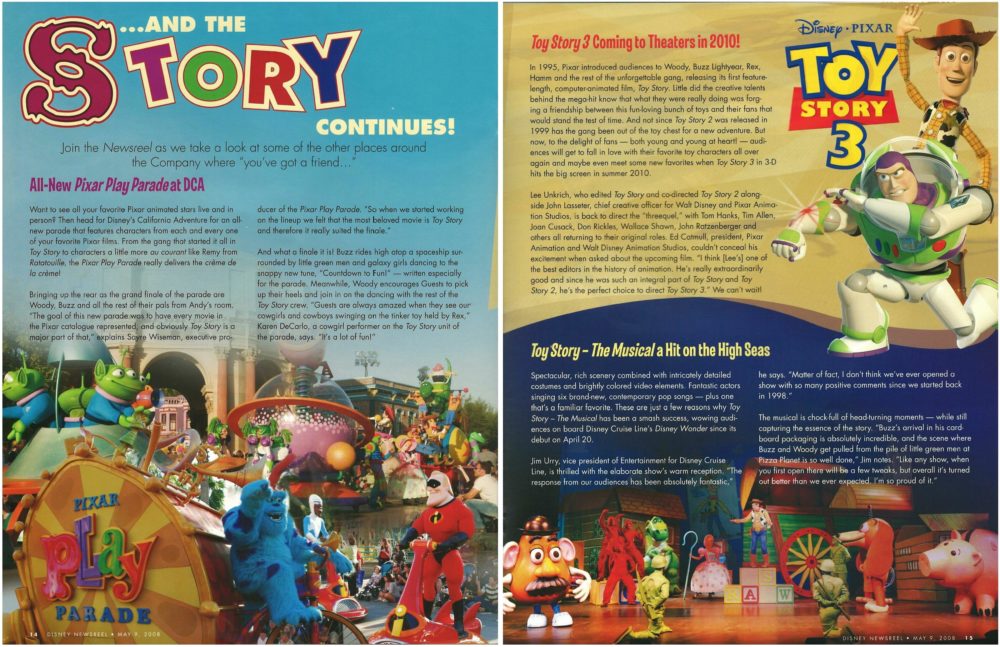 Other recent Toy Story additions are also discussed, including the Pixar Play Parade at Disney's California Adventure, and Toy Story – The Musical on Disney Cruise Line. They also mention Toy Story 3, which was well into production in 2008.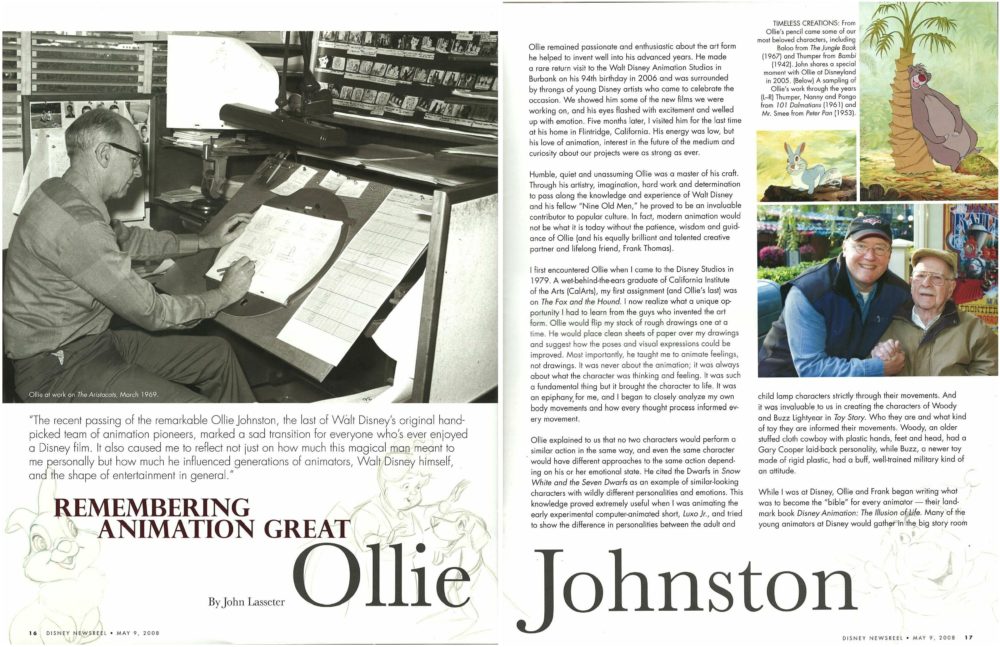 John Lasseter shares his memories of Disney Legend Ollie Johnston, who passed away on April 14th, 2008. Johnston was the last living member of Walt Disney's famed team of animators, the "Nine Old Men."
Lasseter also discusses Johnston's love of trains, which sparked Walt's passion and the creation of Disney's personal miniature railroad, the Carolwood Pacific.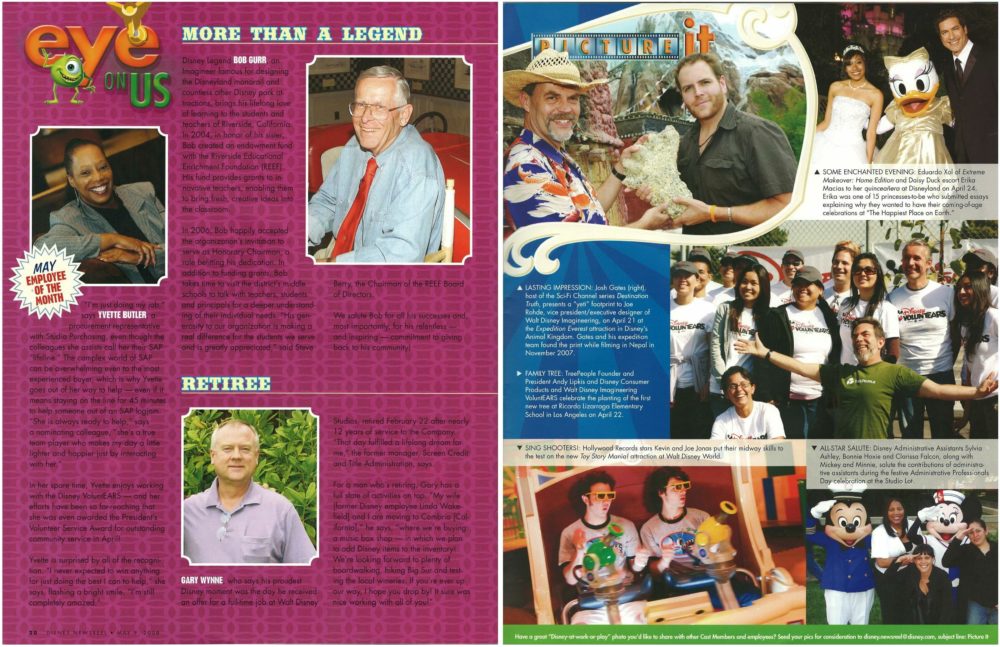 "Eye on Us" features Disney Legend Bob Gurr's work with students and teachers in Riverside, California, and his creation of an endowment fund, while "Picture It" features the Jonas Brothers testing out Toy Story Mania! at Disney's Hollywood Studios, and the host of "Destination Truth," Josh Gates, presenting a yeti "footprint" to Joe Rohde in front of Expedition Everest at Disney's Animal Kingdom.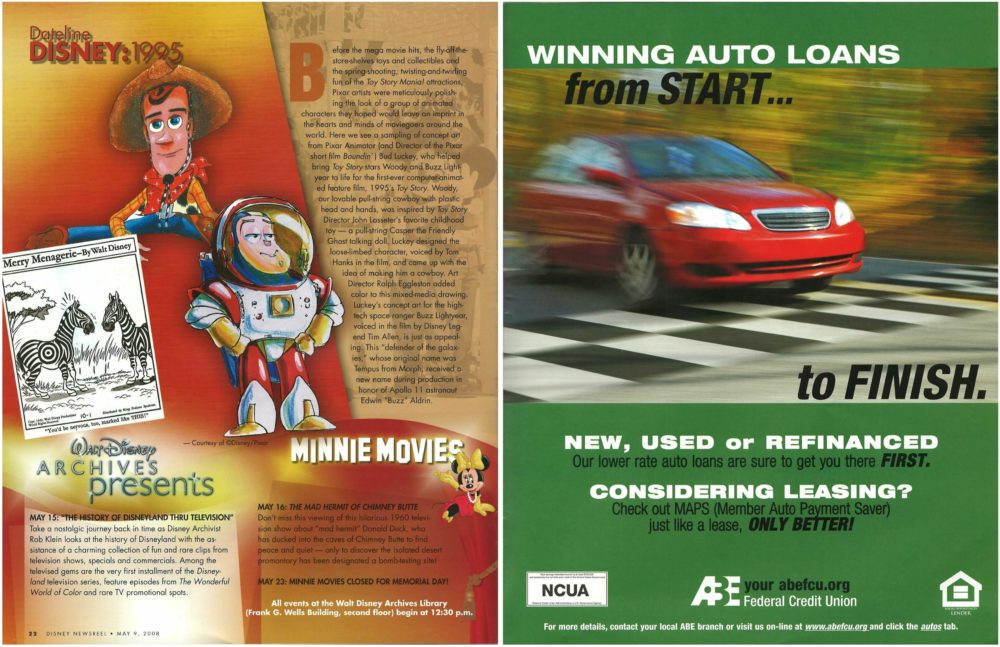 With all this talk of Toy Story, it only makes sense that "Dateline Disney" would focus on 1995, the year the first film premiered. As for me, I'd love to head to the Walt Disney Archives Library for a presentation about "The History of Disneyland Thru Television!"
Keep reading WDWNT for more looks into Disney history!
MORE:
Buckle Up and Rock Out at the Disney-MGM Studios with this Guide from 1999
See the Beginning of the Disneyland Resort (and a Bit of WESTCOT Center) With this Early '90s Draft Environmental Impact Report
Remember the Magic with this Walt Disney World 25th Anniversary Guide from 1996