This post may contain affiliate links; please read the disclosure for more information.
Greetings from a warm and soggy Disney Springs! While the weather may not have been our friend today, there were plenty of finds and updates that made it a great trip. Let's head in to see what's new!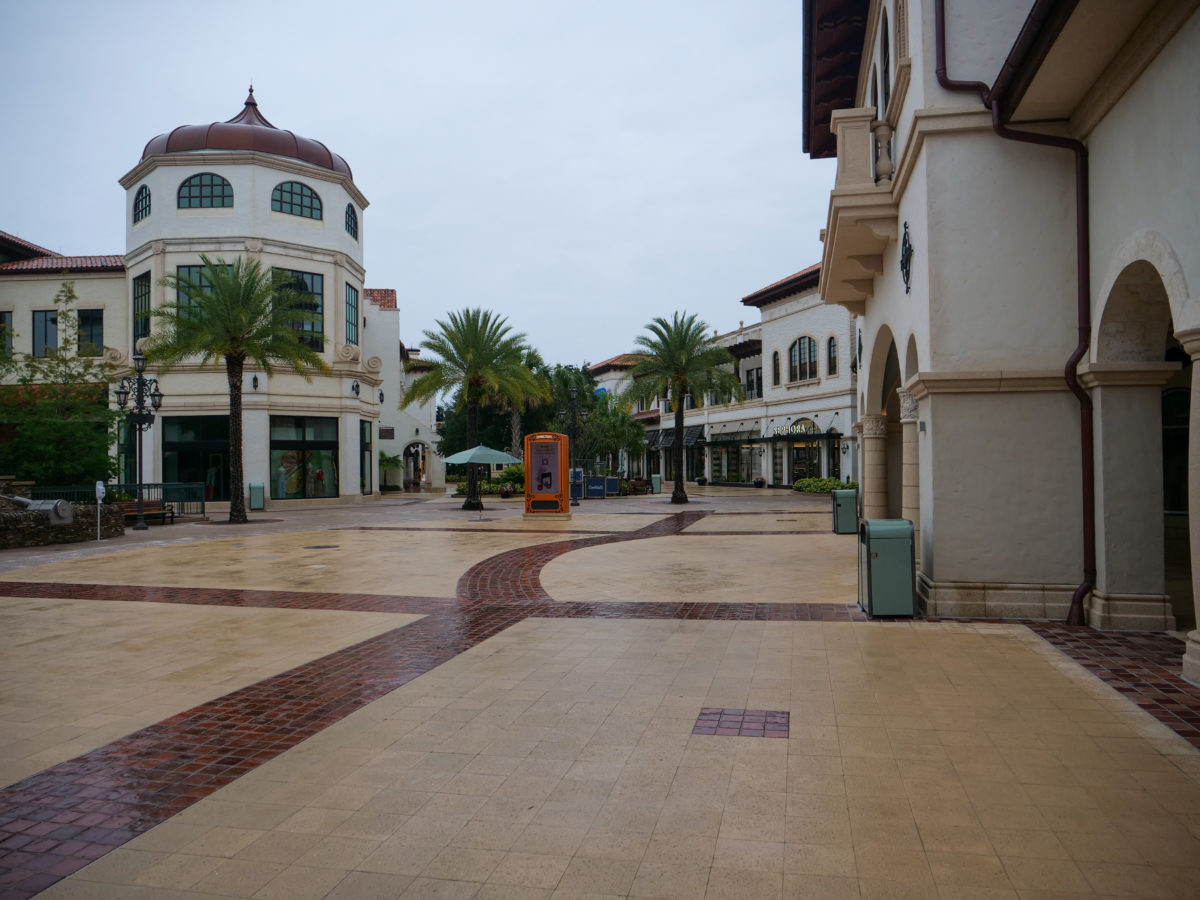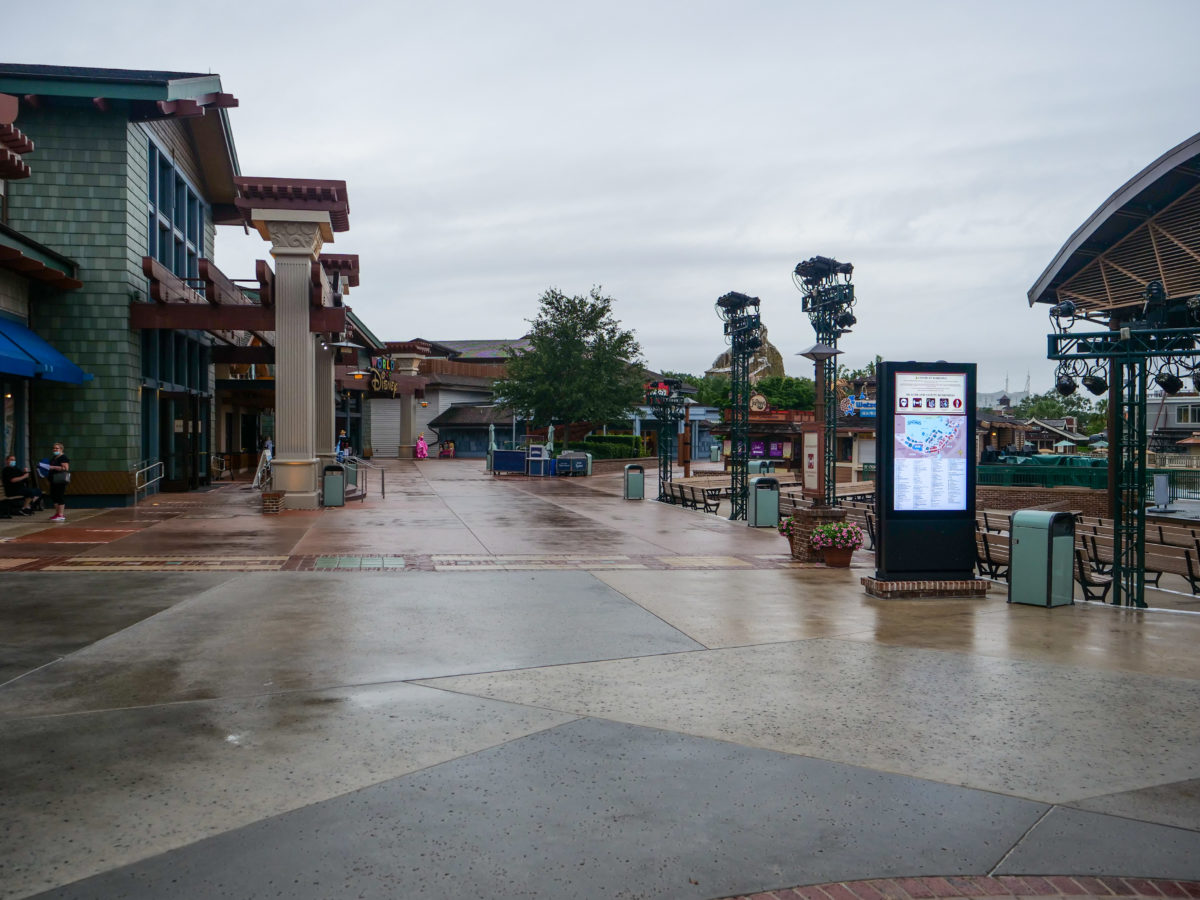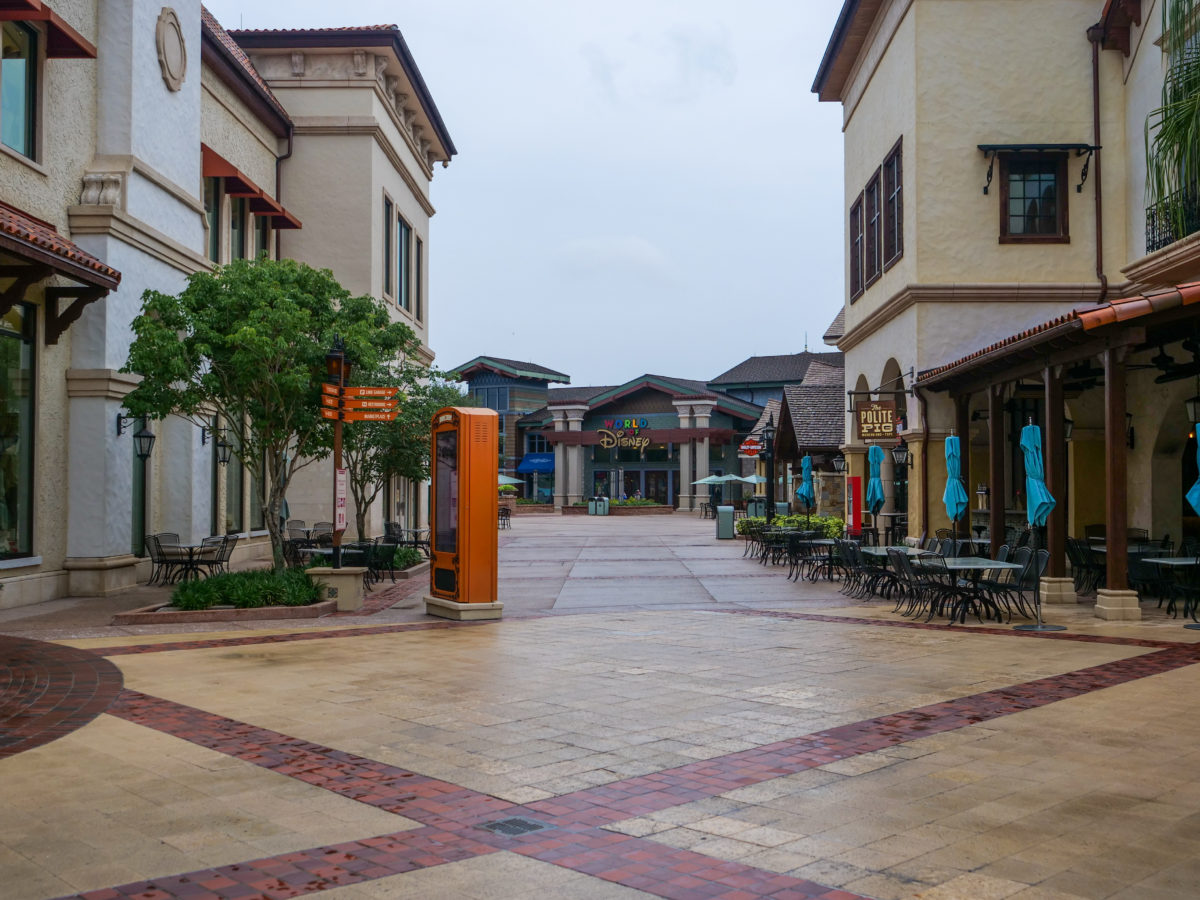 First thing in the morning, Disney Springs was a bit of a ghost town. Though it didn't resume raining for a couple of hours, the weather still wasn't particularly welcoming.
Heading towards the West Side, the scene wasn't much different.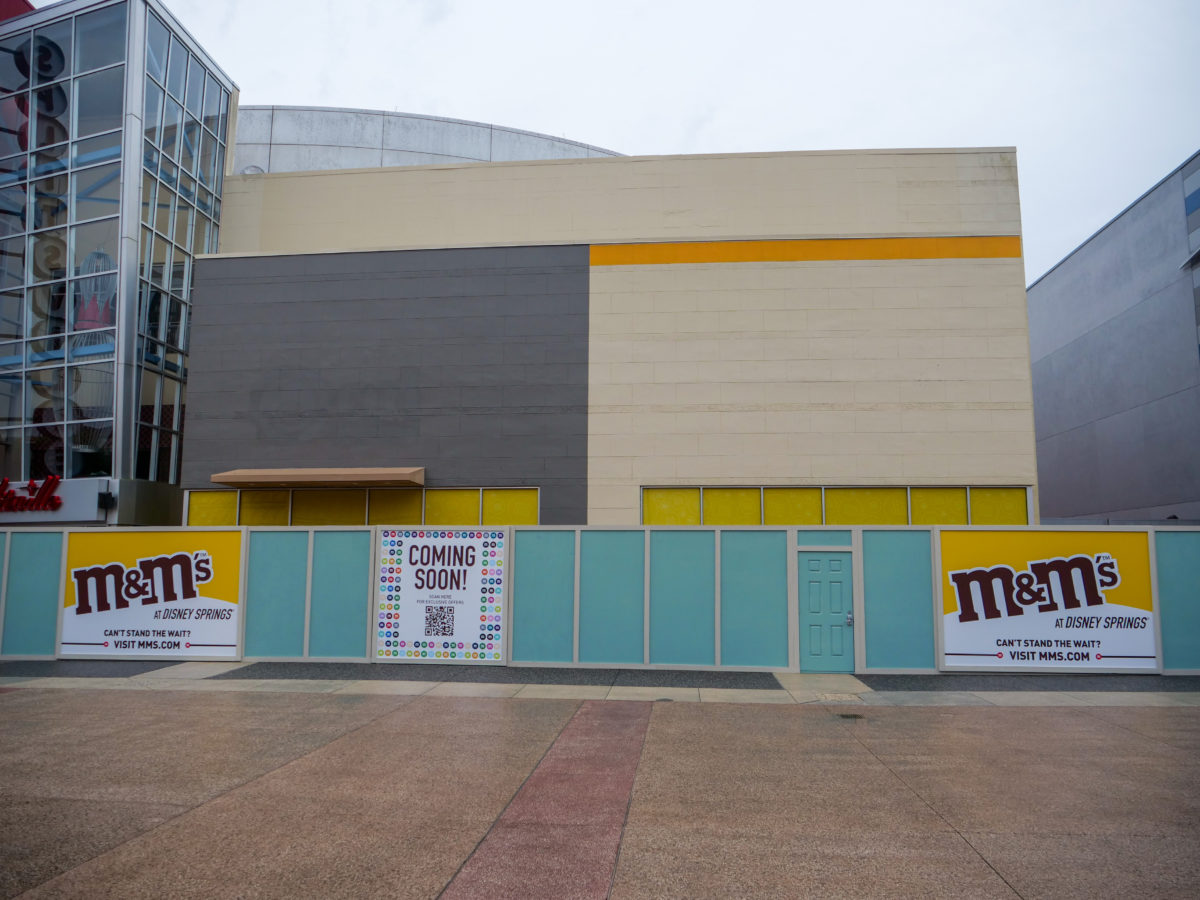 The M&M'S Store, which added these large graphics to the construction walls yesterday, had not had any apparent work done overnight.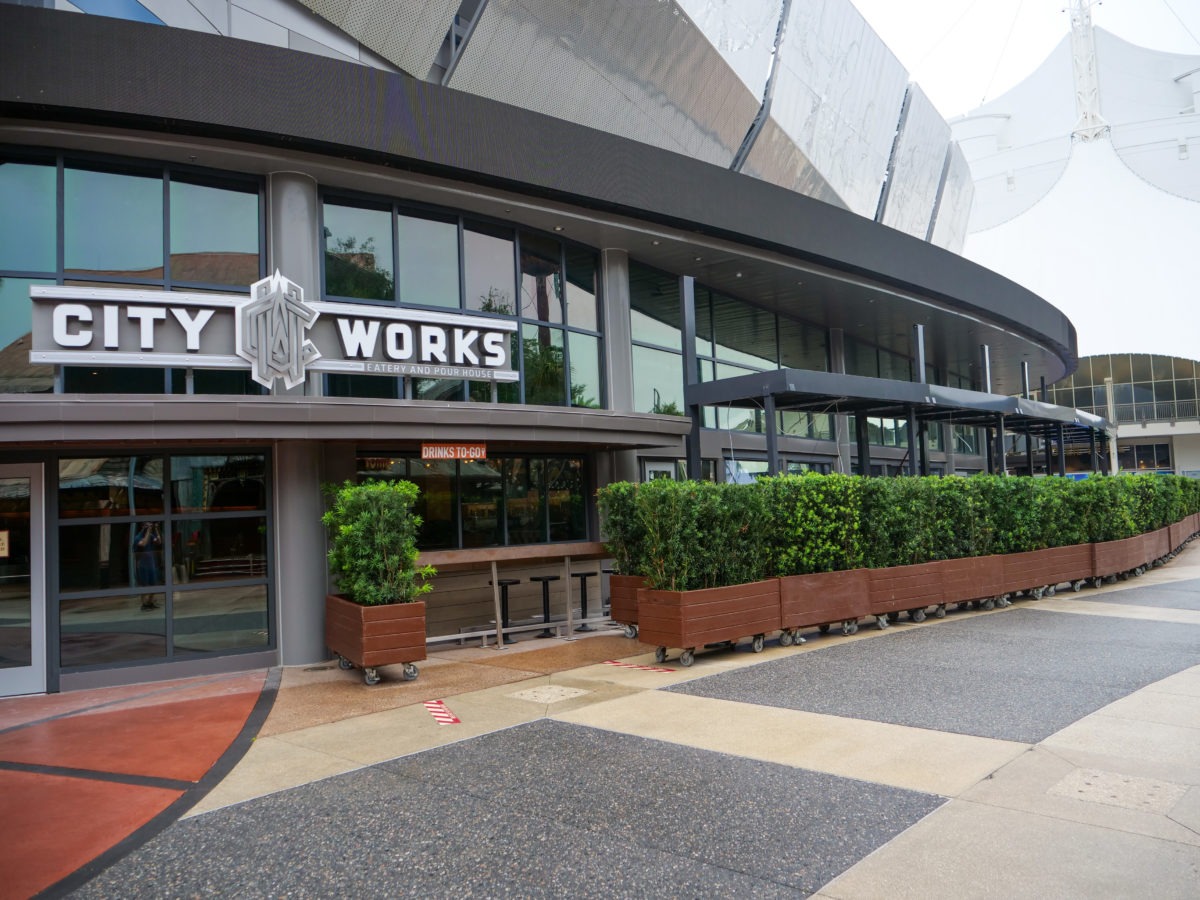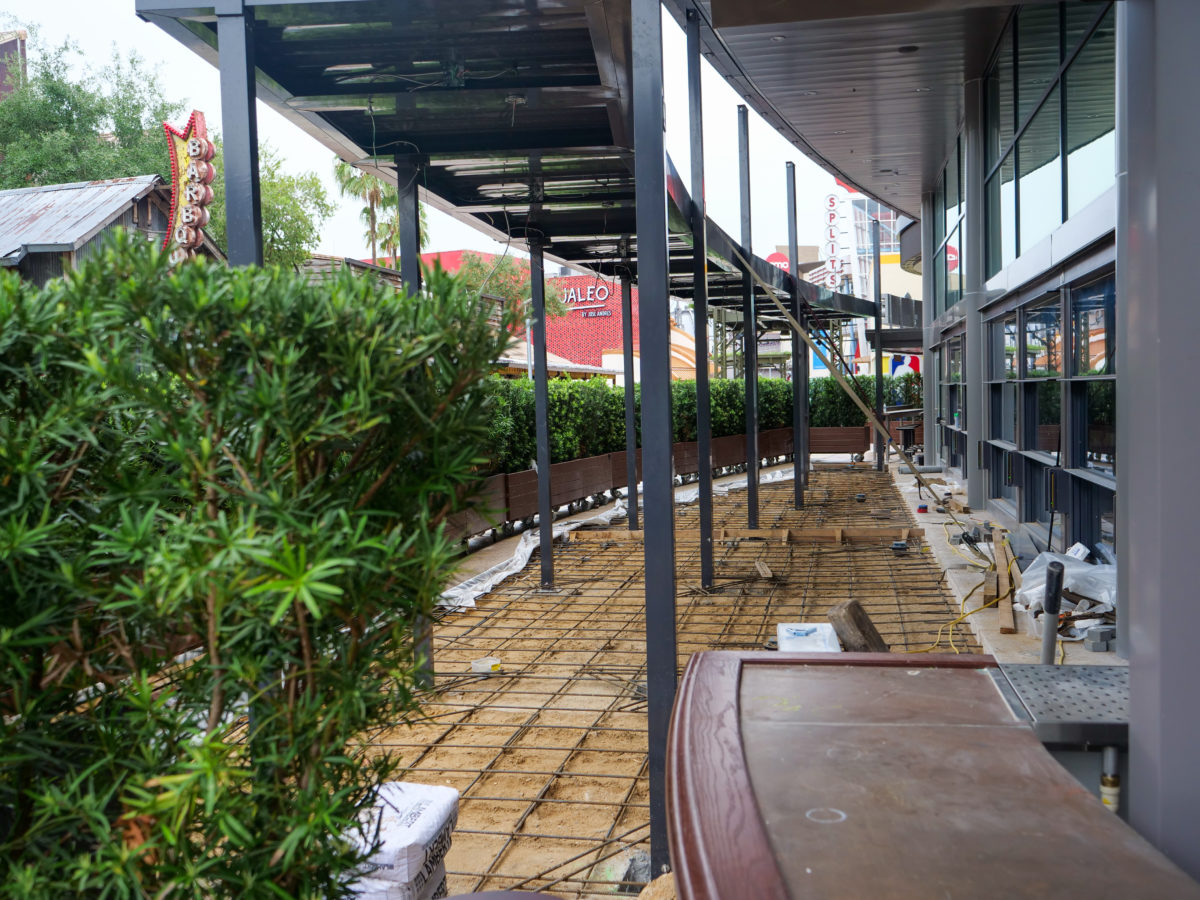 The same was true for City Works Eatery & Pour House, which appeared to be in a nearly identical state from the previous day.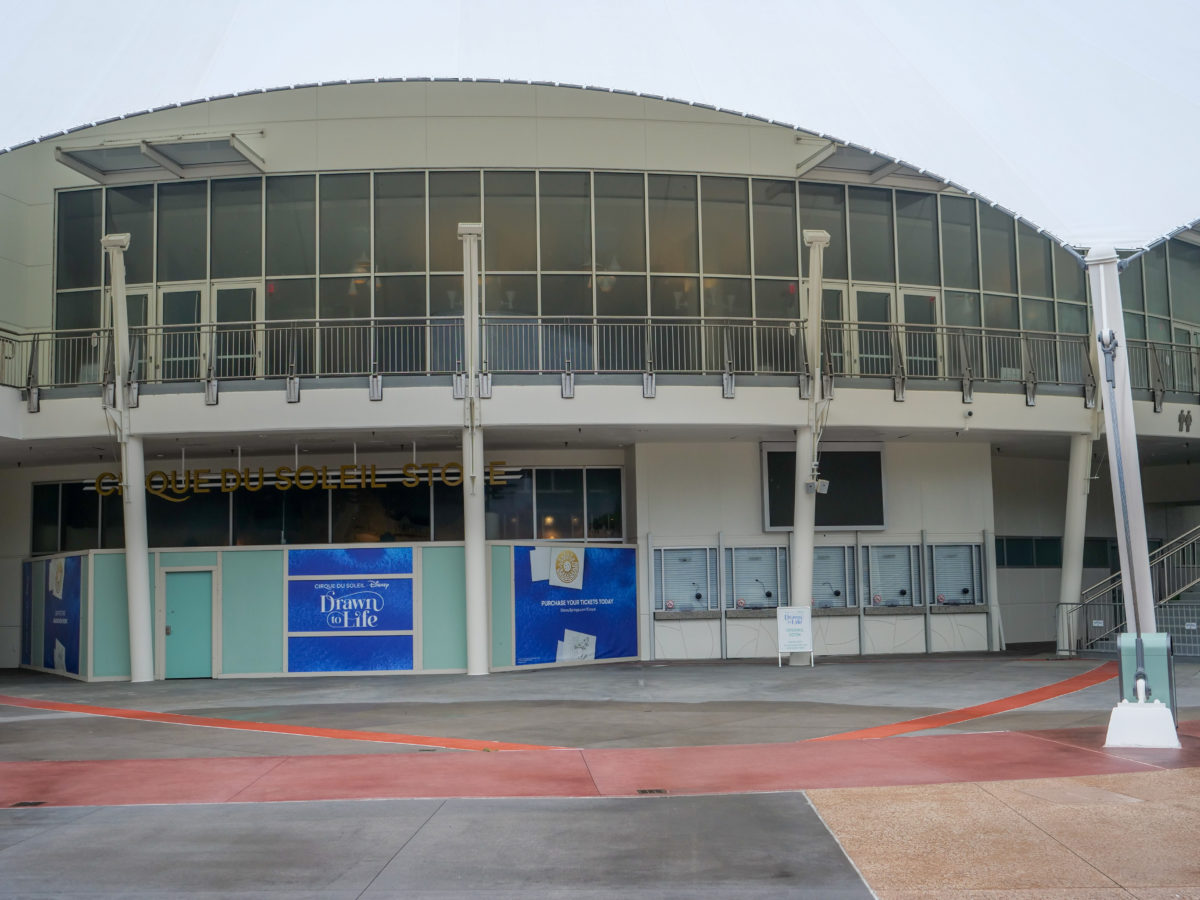 The Cirque du Soleil theatre, home to Drawn to Life, hasn't seen any exterior changes in quite some time. The group hasn't released any updates about when the show might debut, either – the premiere was officially delayed back in March.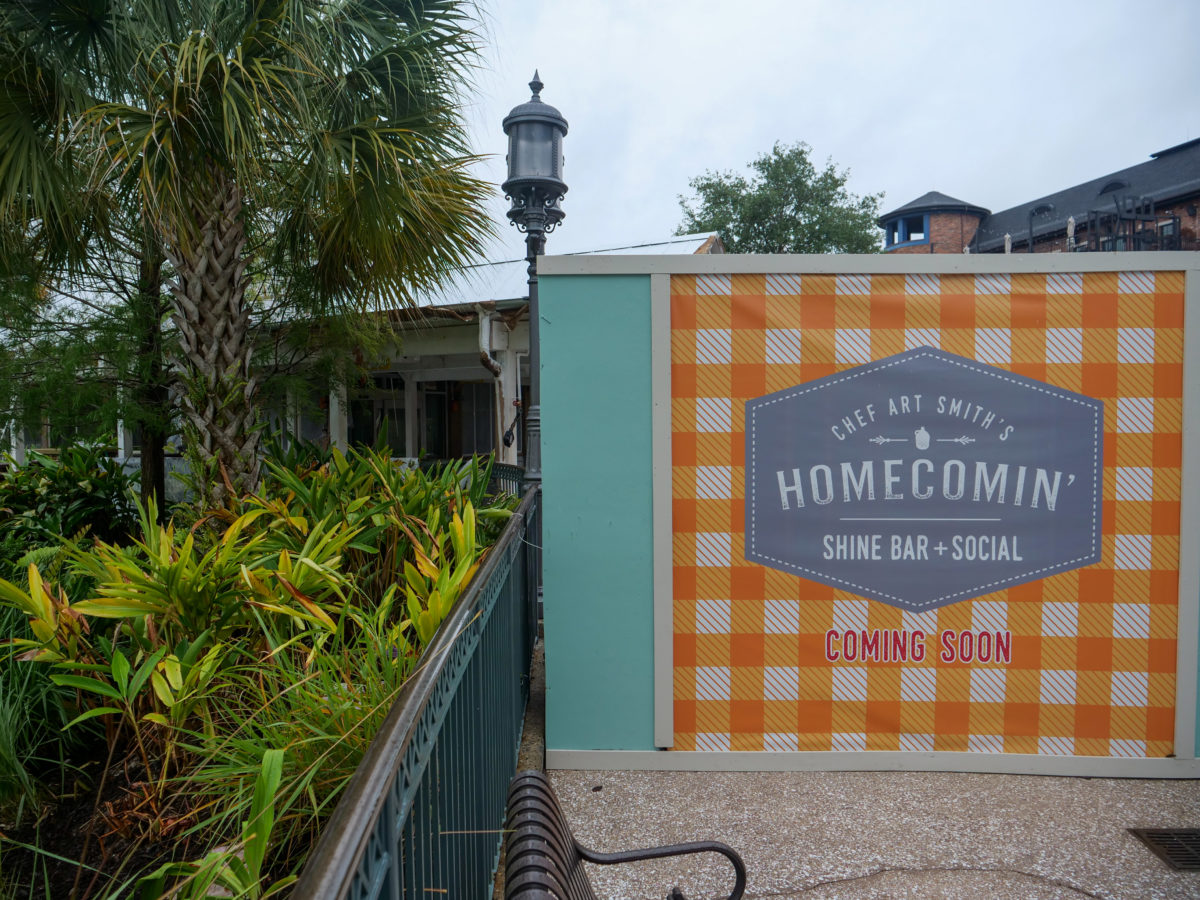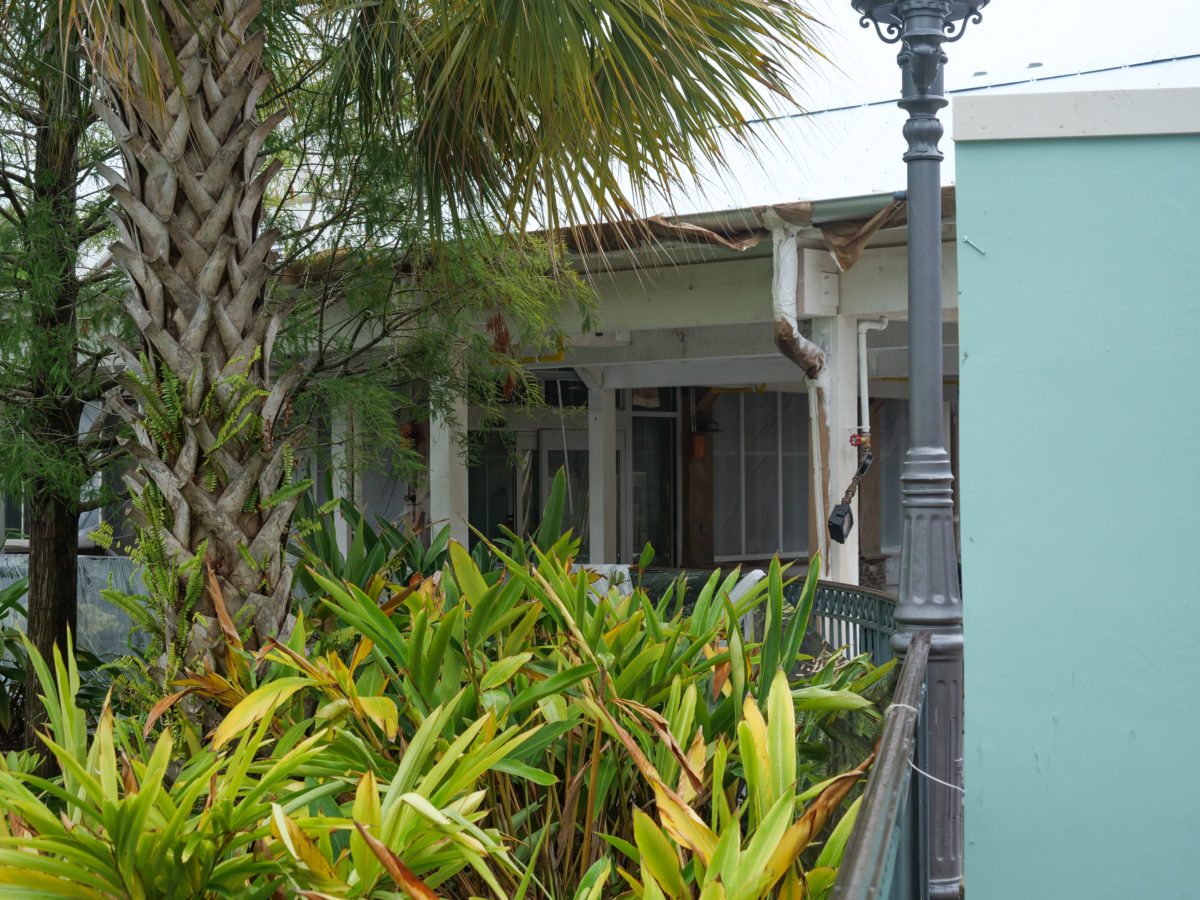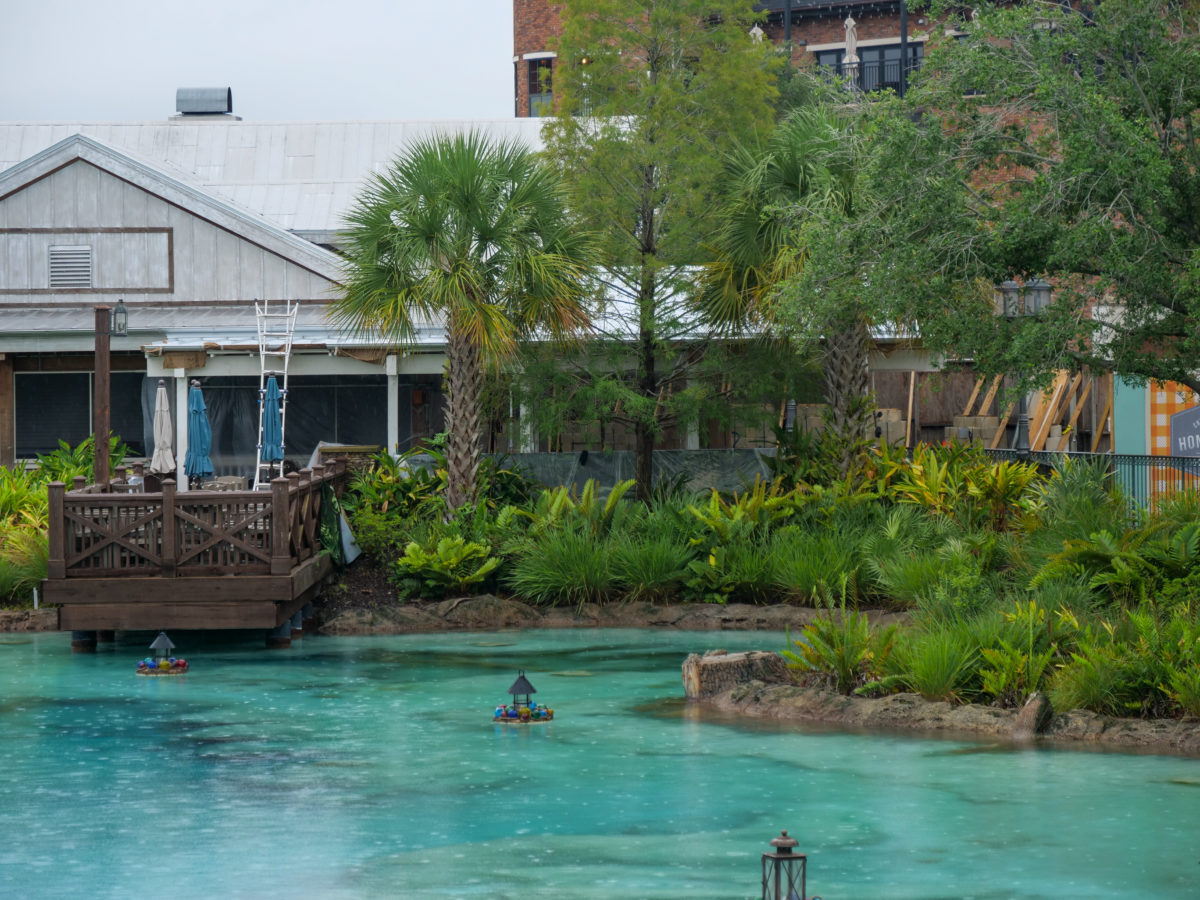 Similar to the other projects mentioned above, things were quiet at Chef Art Smith's Homecomin' where the "Shine Bar + Social" patio bar is being built alongside the existing restaurant.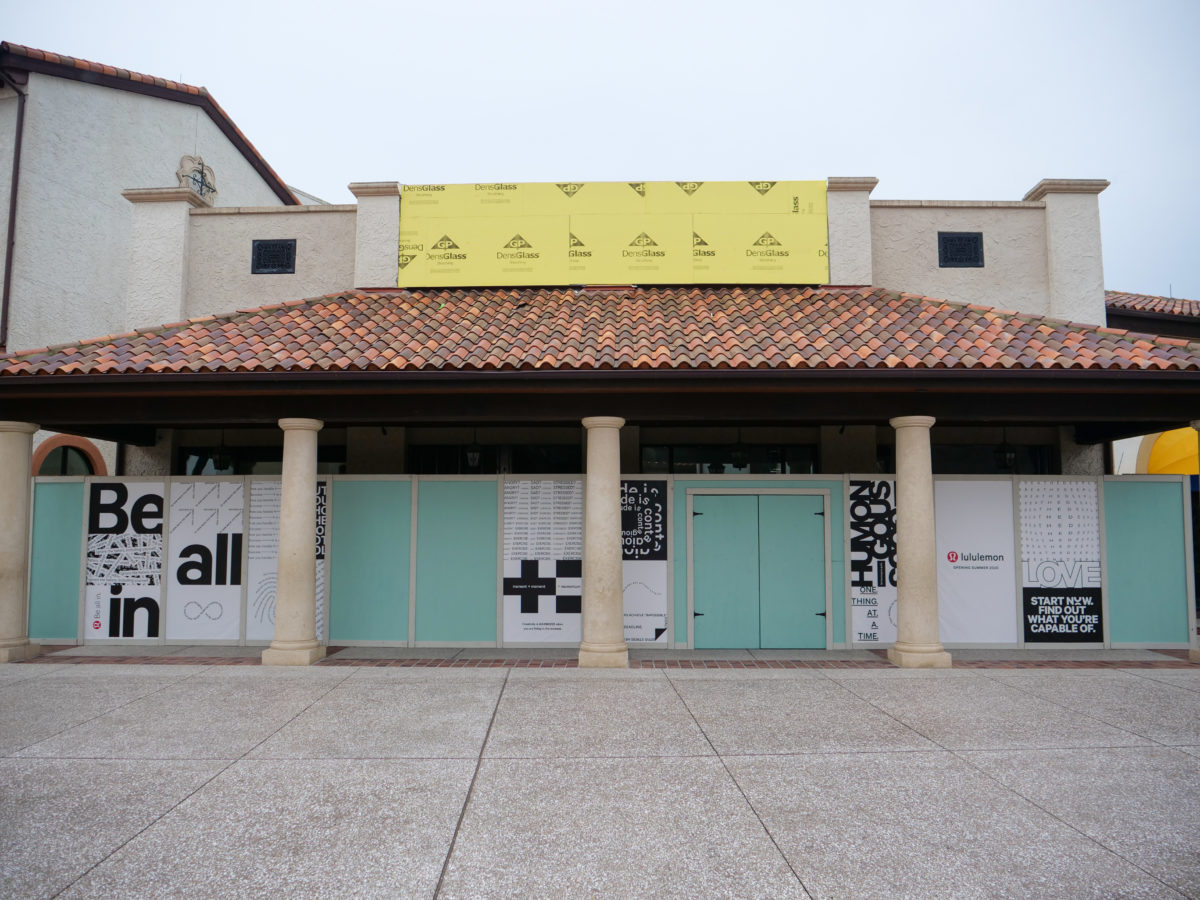 The scene at lululemon has changed very little, and while normally the sounds of an active worksite can be heard from behind the walls, it was silent today.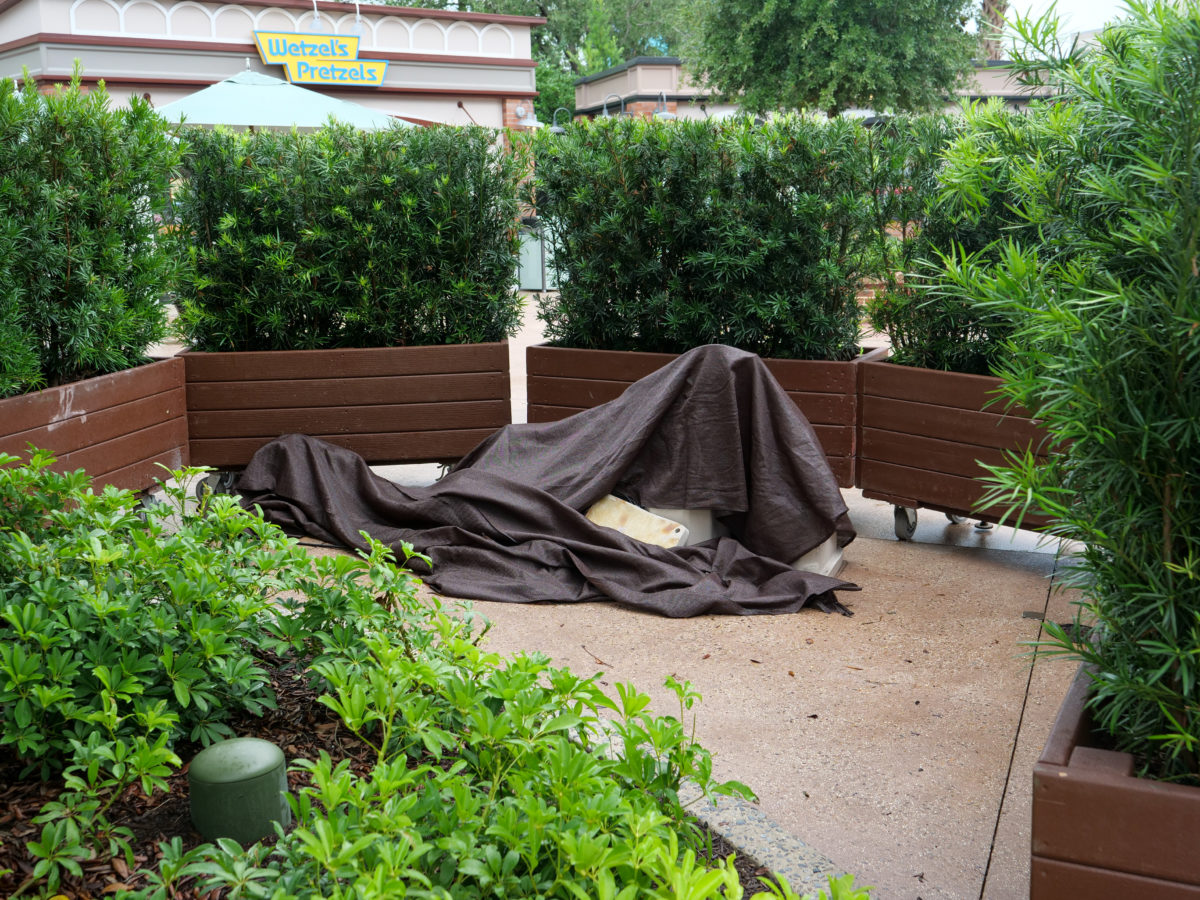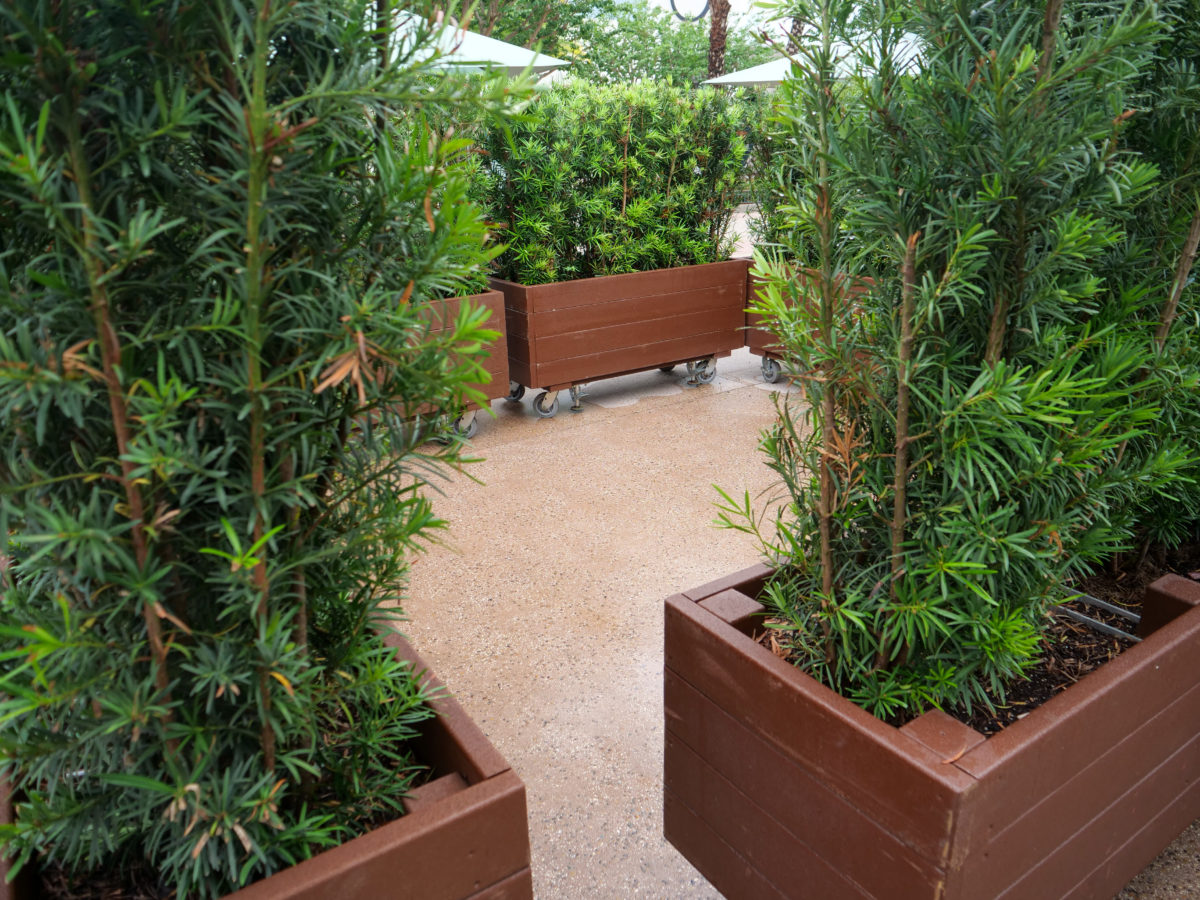 Lastly, in what seems to be a long list of projects that saw no movement in the last twenty-four hours, these two spots near the Coca-Cola store- which are surrounded by rolling planters- are in the same state as yesterday.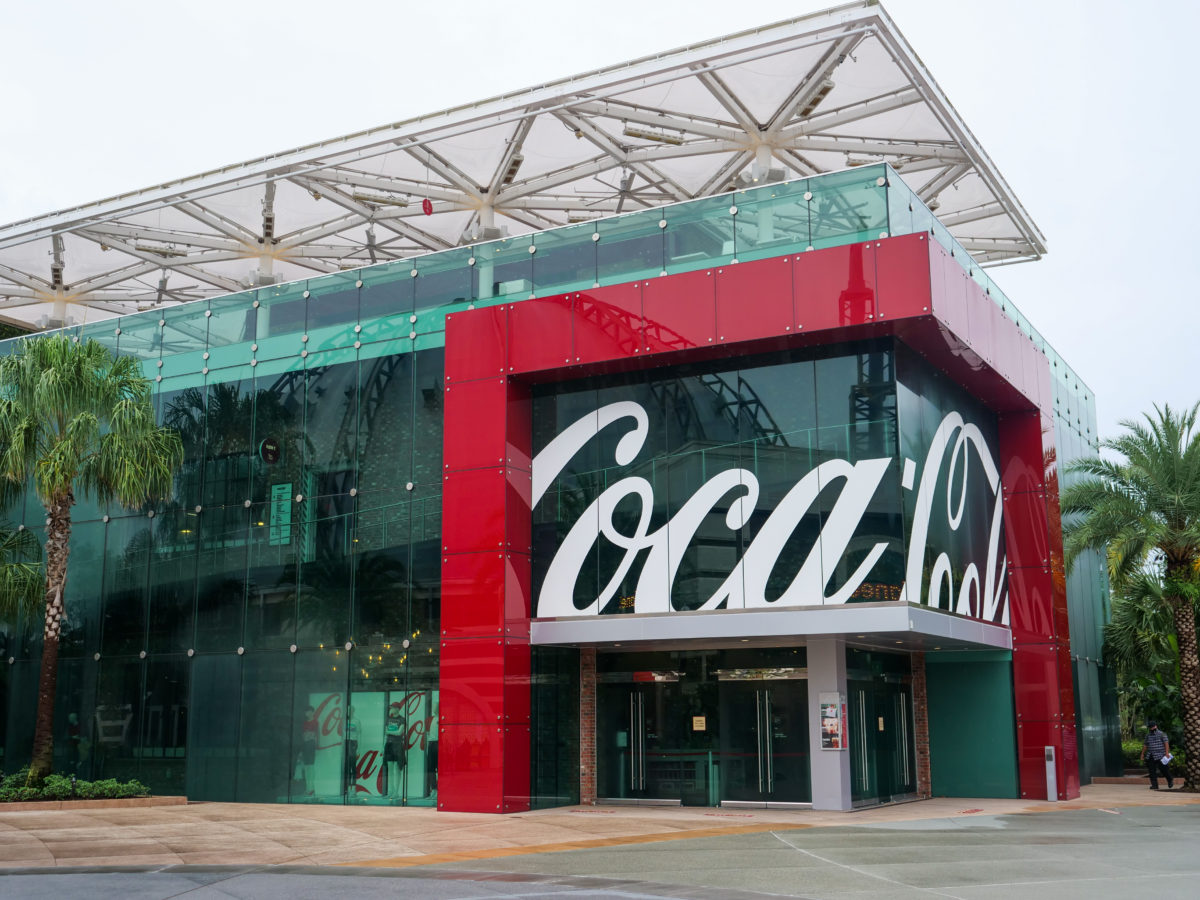 Speaking of the Coca-Cola store, we've yet to receive any updates on when the massive retail space might reopen. We haven't seen any activity inside, either – usually an indicator of a reopening in the near future.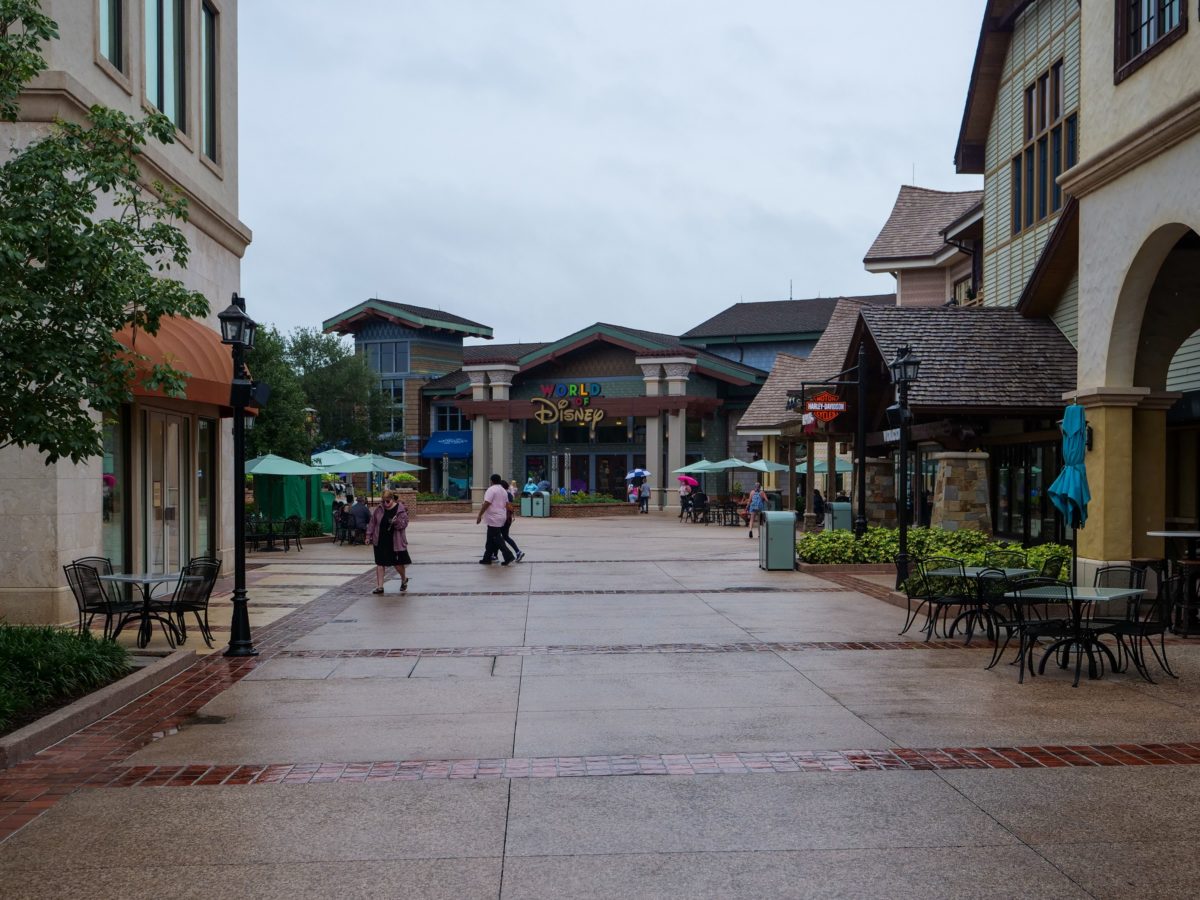 Heading back to World of Disney for its opening, we're going to see that while construction crews seemed to have the day off, the same was not true for Cast Members rolling out new merchandise.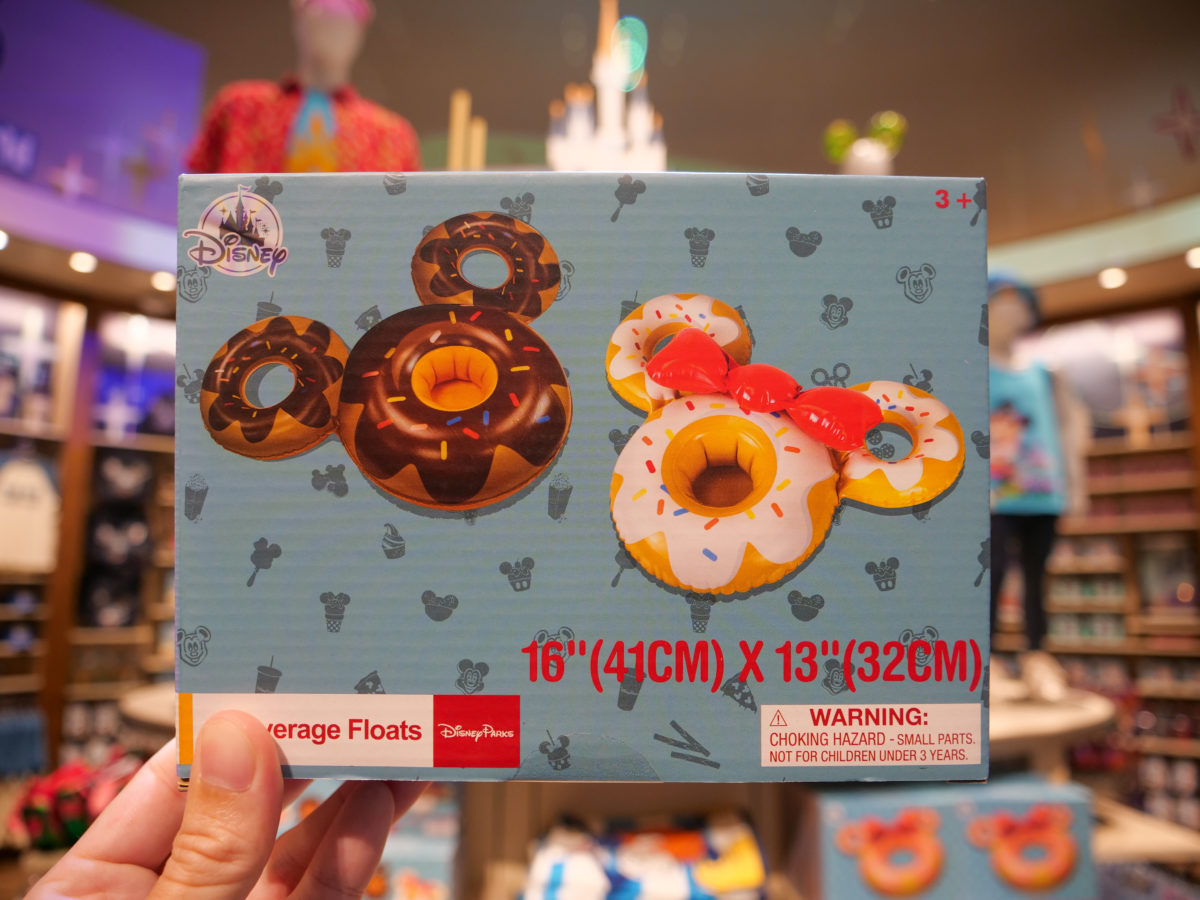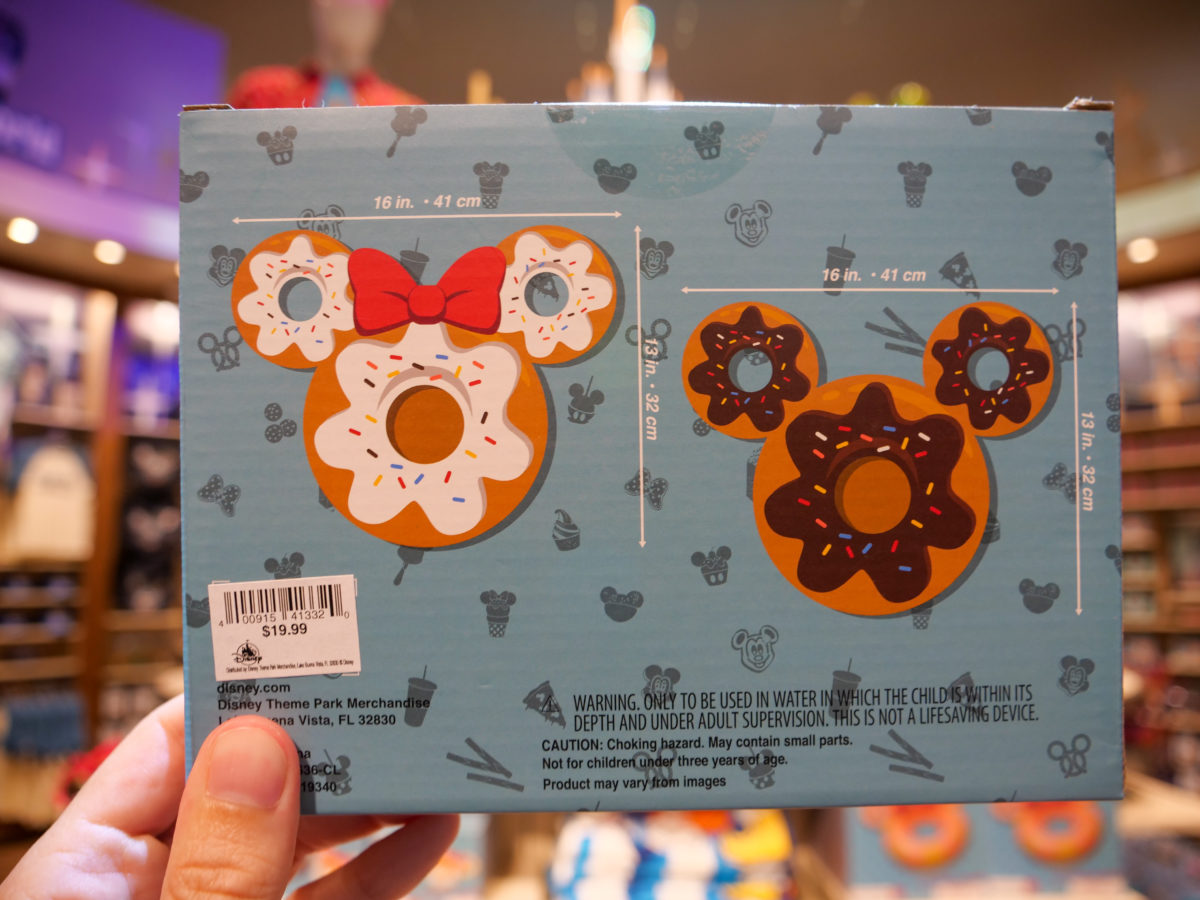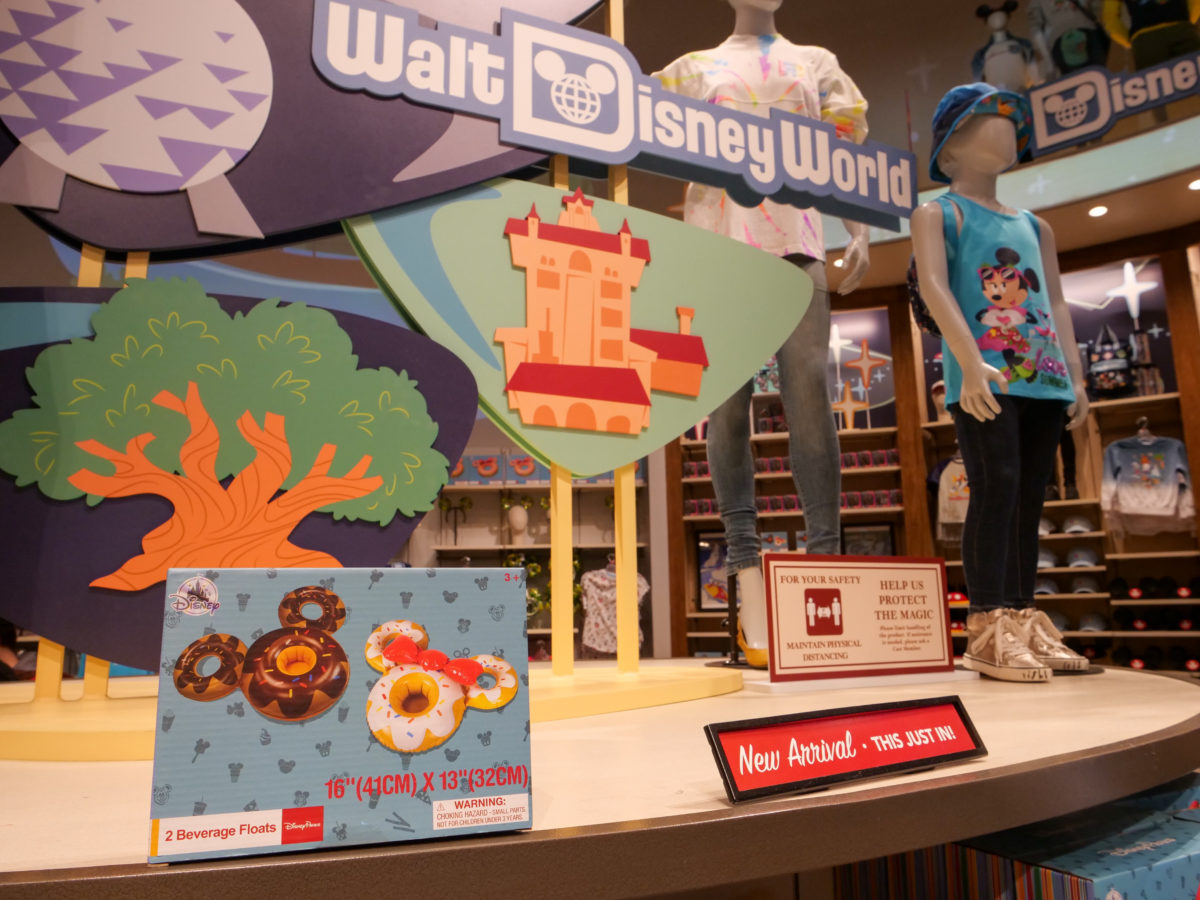 Just inside the entrance, these nifty Mickey and Minnie doughnut-shaped beverage floats drifted onto the shelves. Naturally, something as important as life rafts for drinks necessitated their own post – click here for the full details.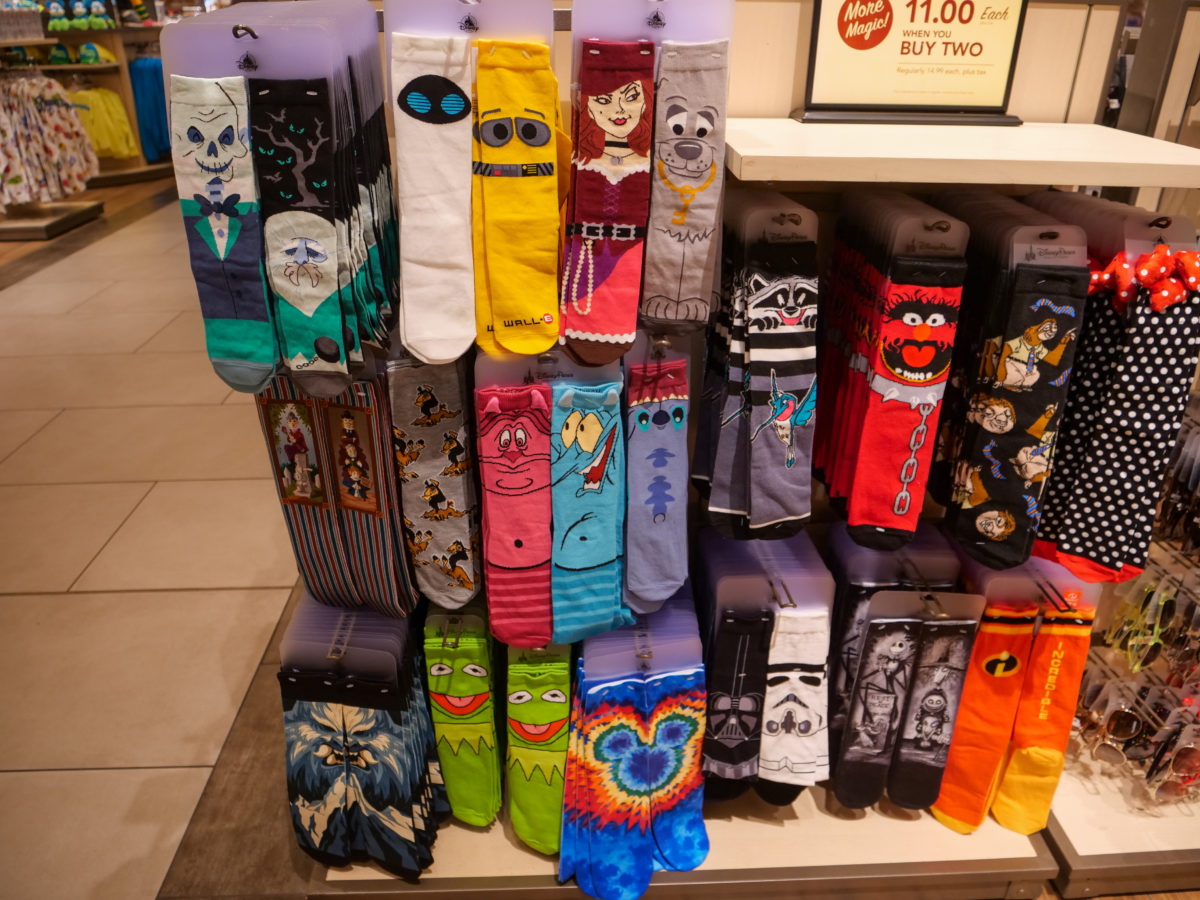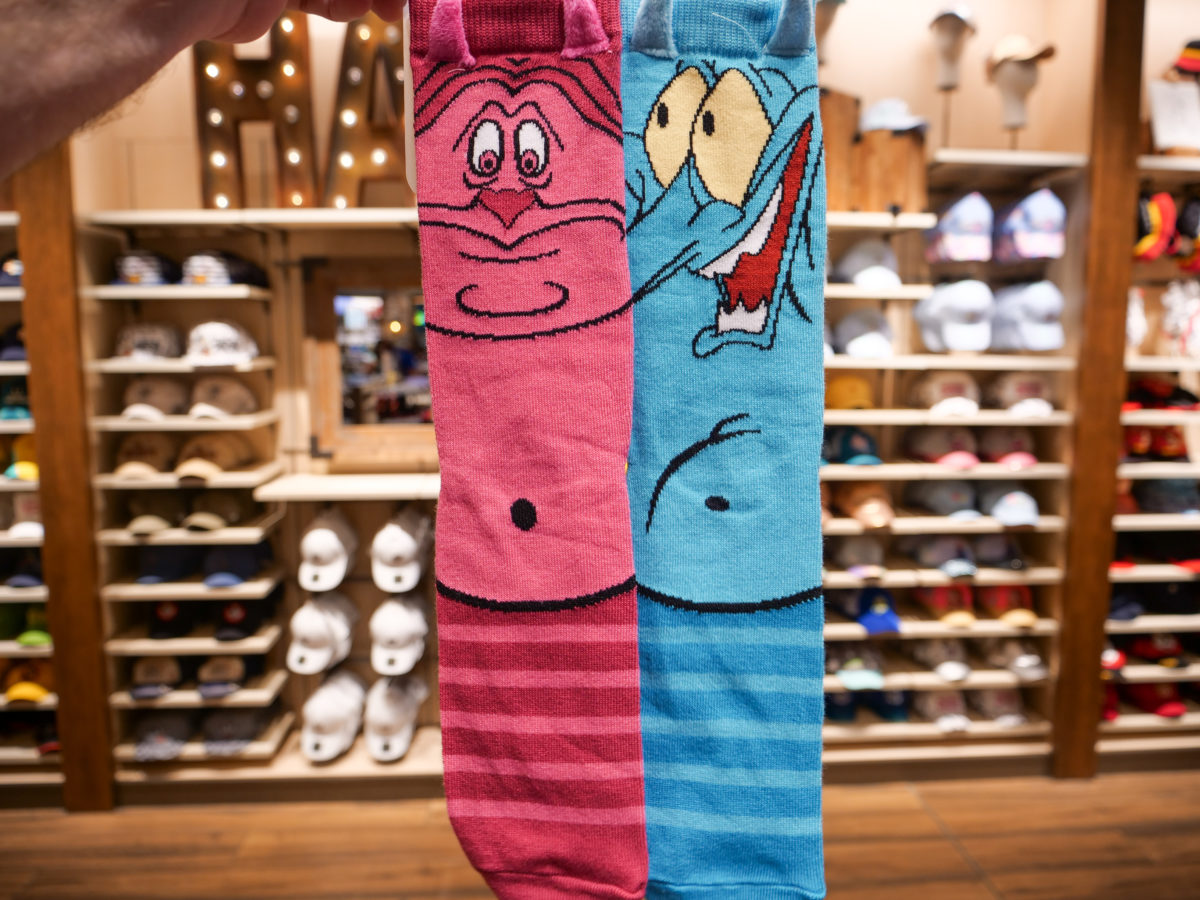 These colorful socks featuring Pain and Panic from Disney's Hercules also made an appearance – click here for all of the details.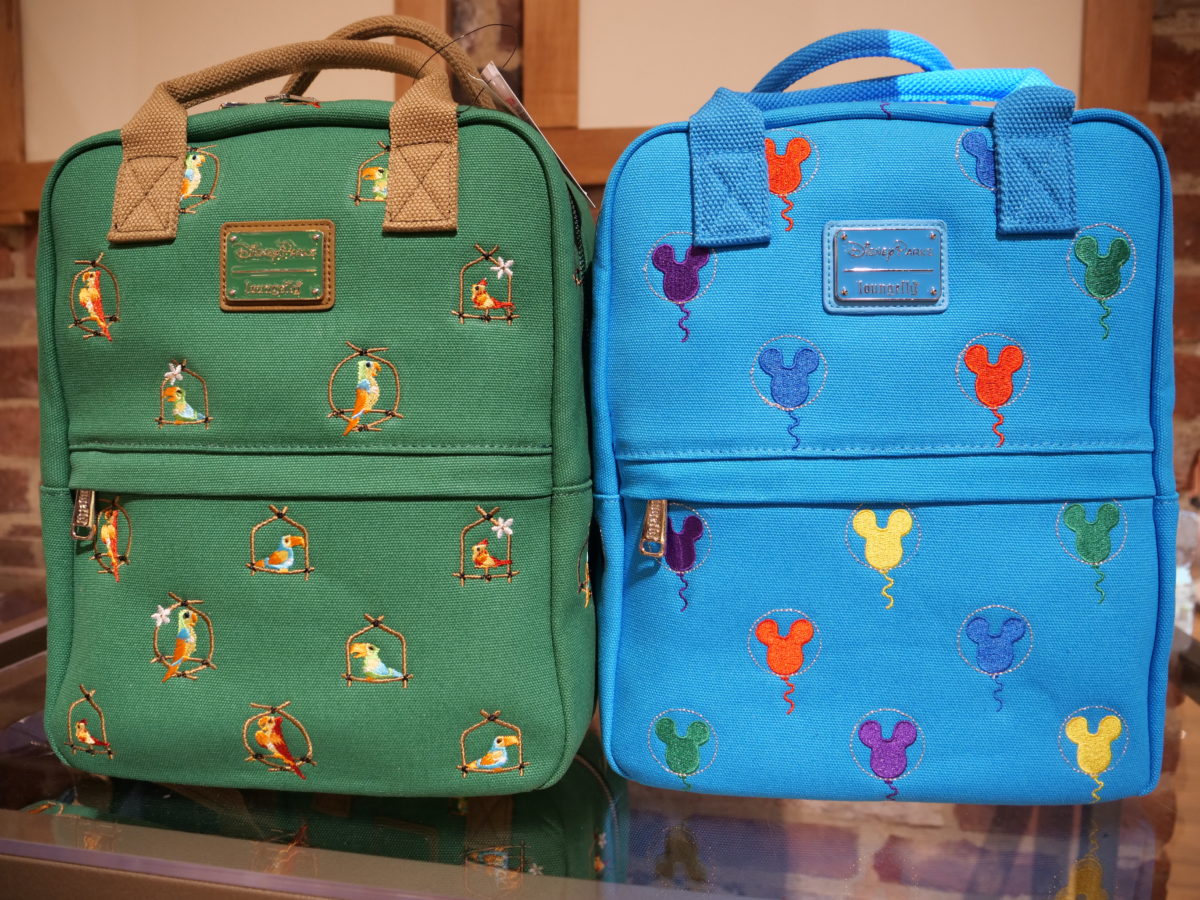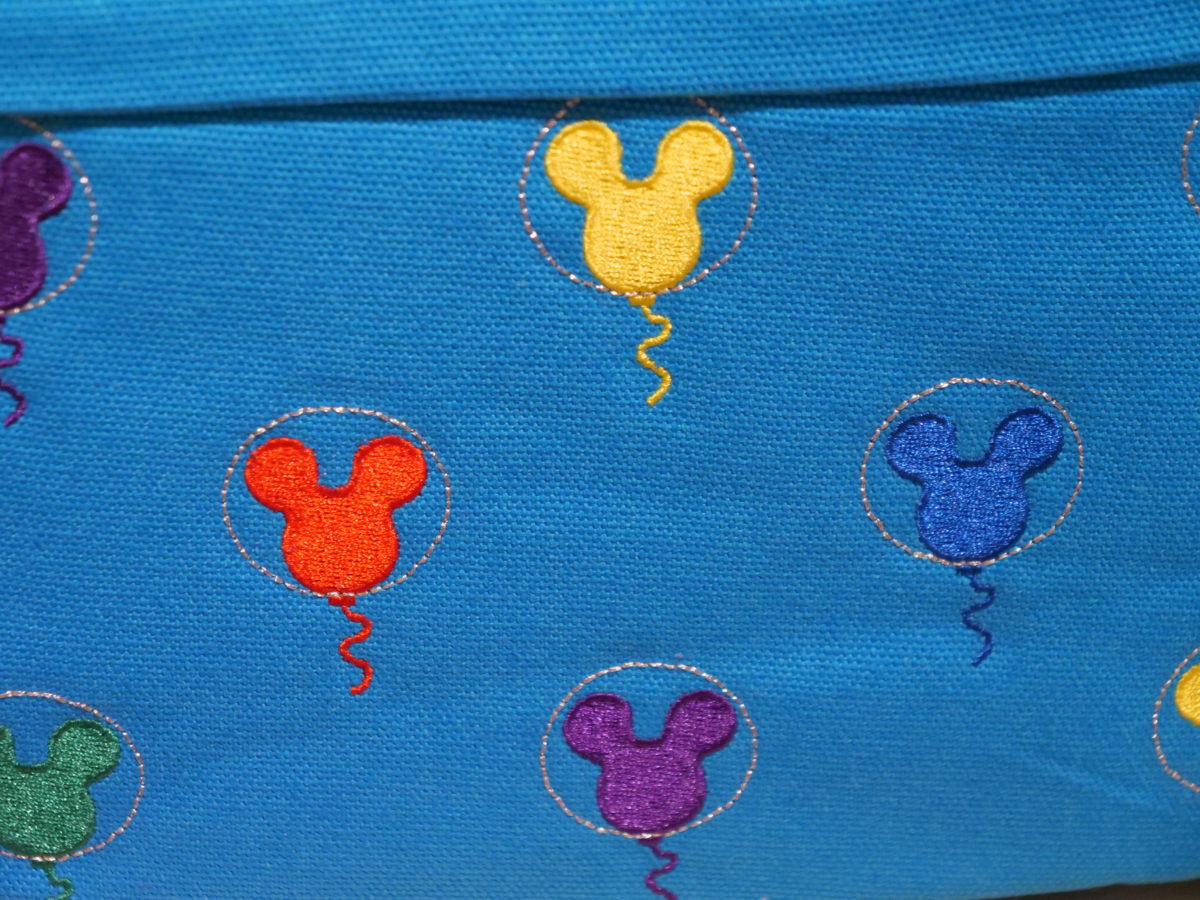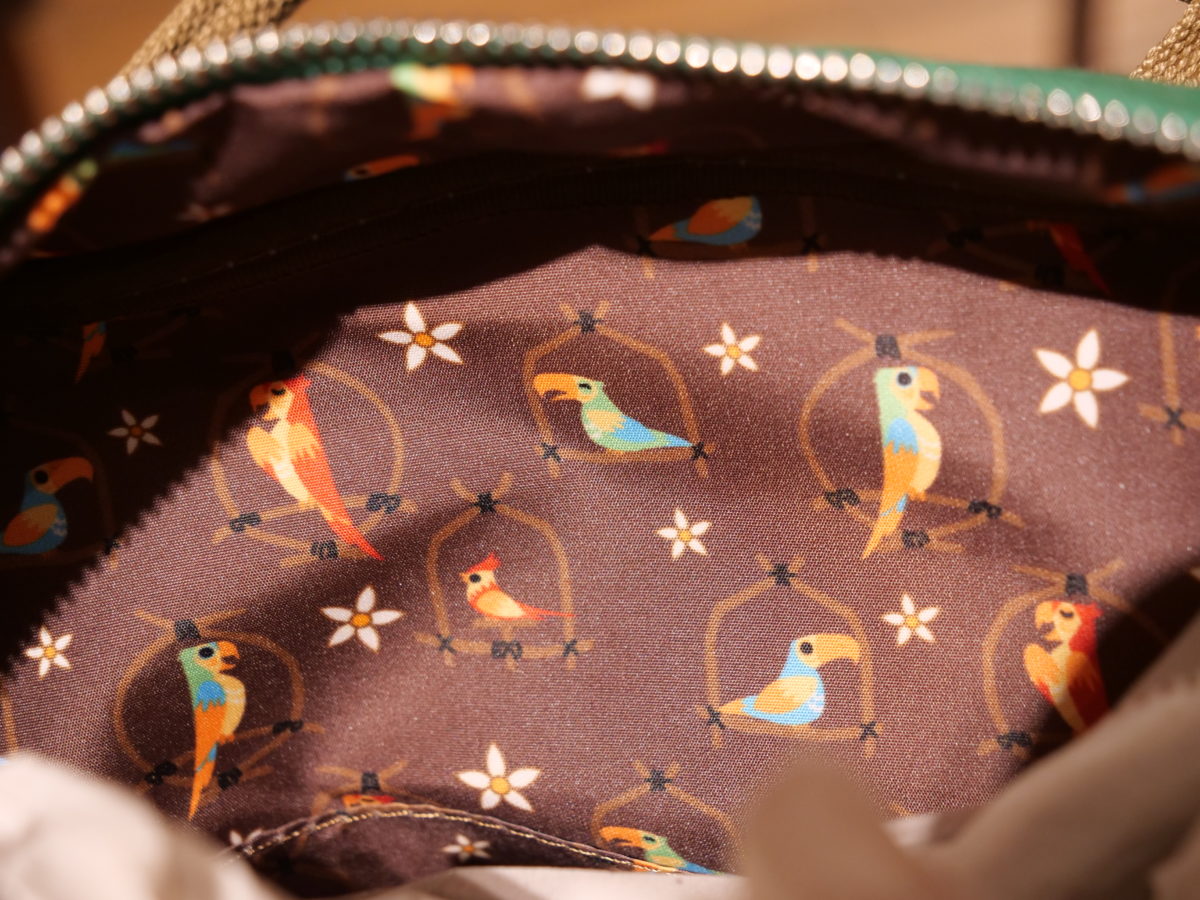 These two fantastically fun Loungefly backpacks also debuted this morning. One features a Mickey balloon pattern, while the other honors Walt Disney's Enchanted Tiki Room. For all of the details on these awesome bags, click here to see that post.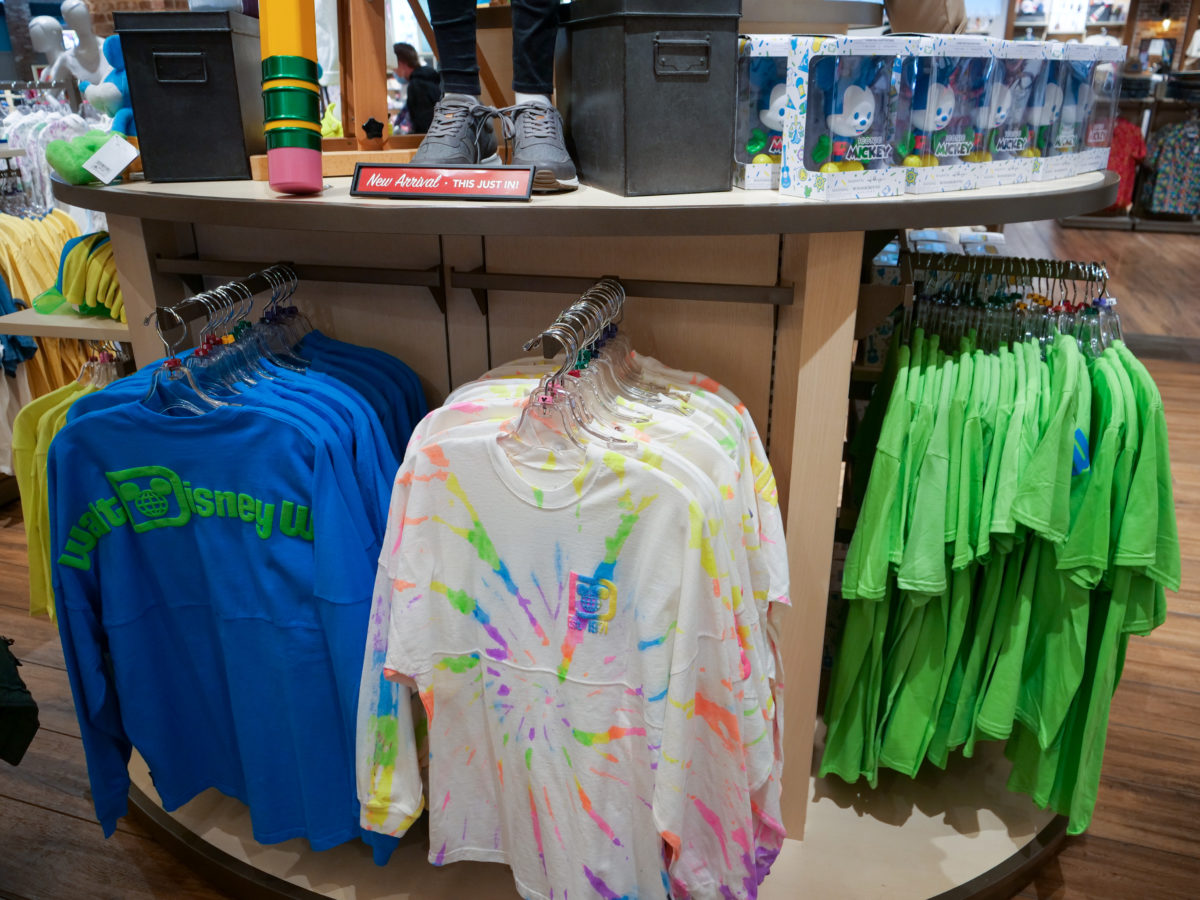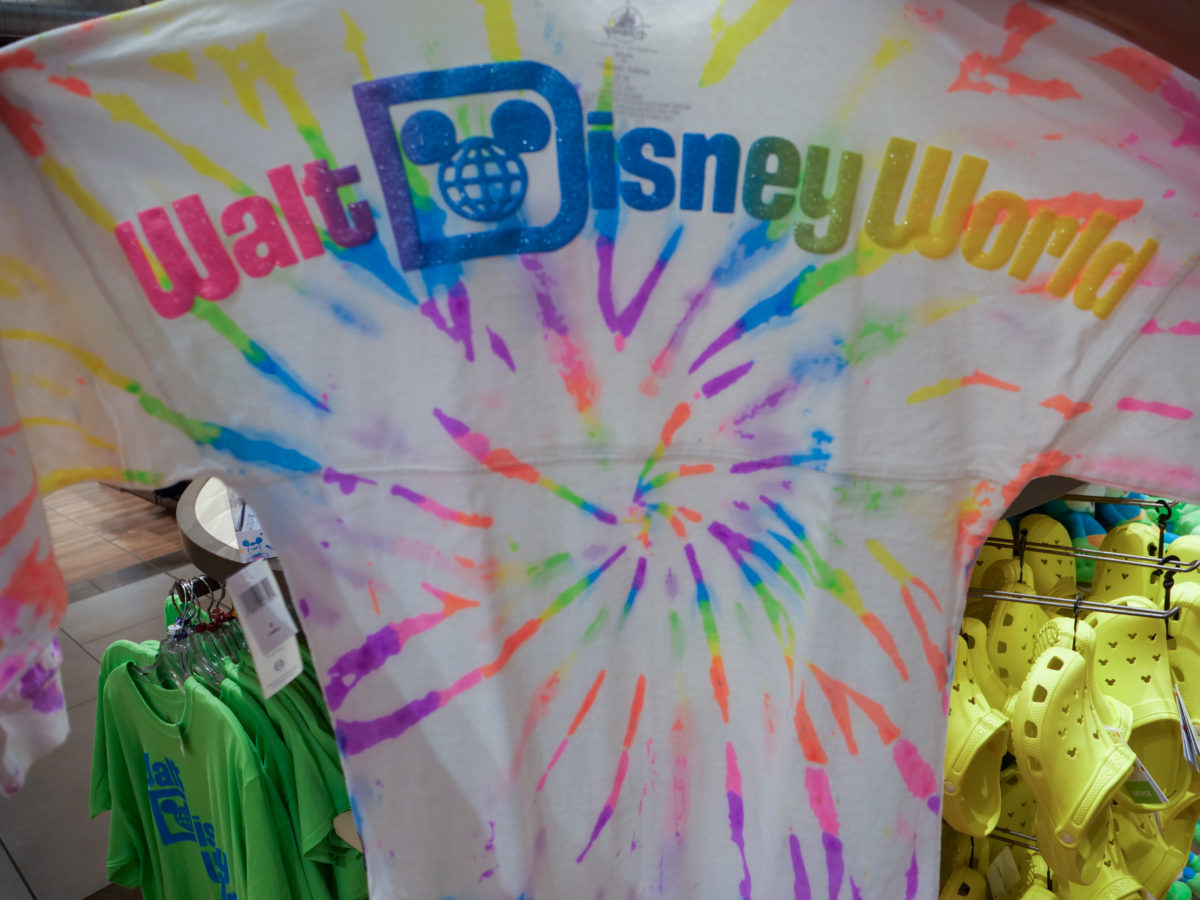 Not to be outdone by Loungefly, a new Spirit Jersey was rolled out. Called "Neon Splatter", this incredibly bright top costs $69.99.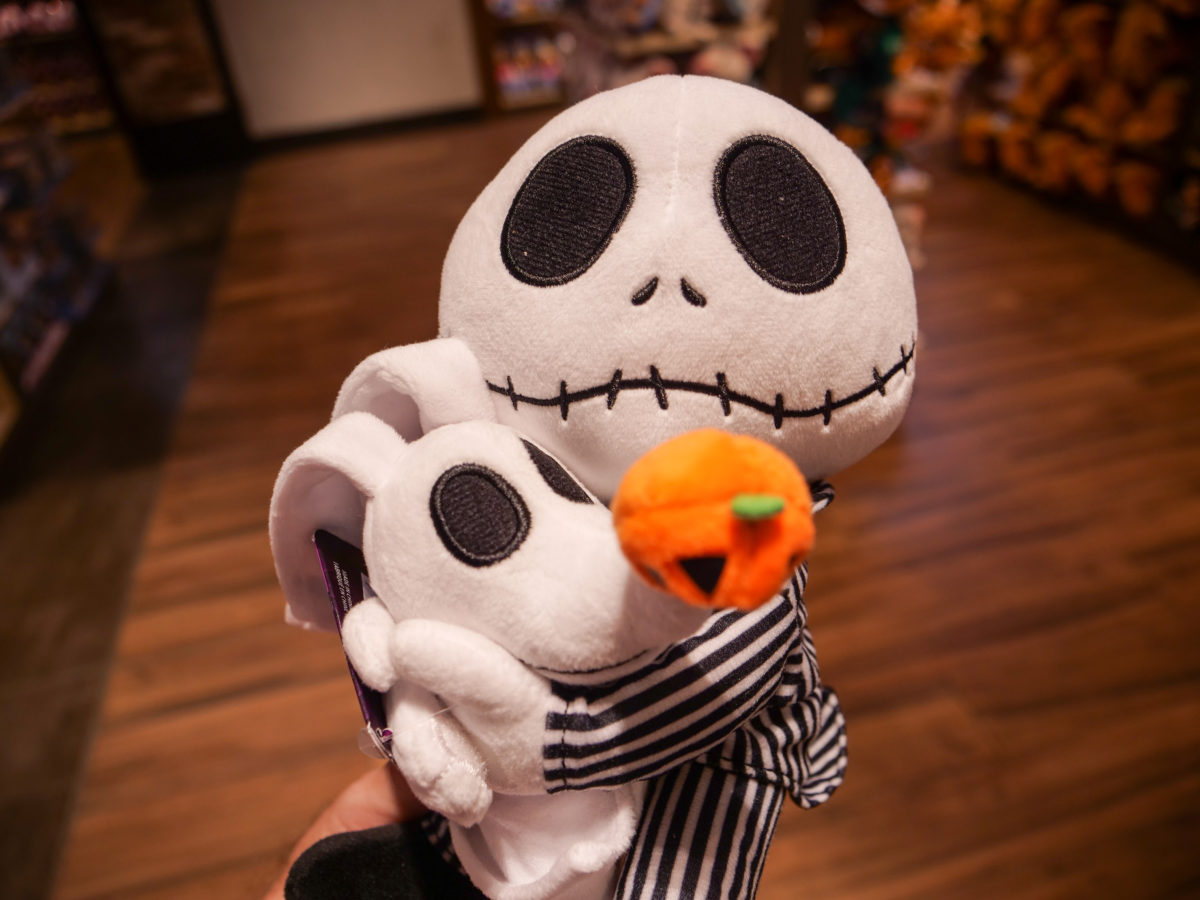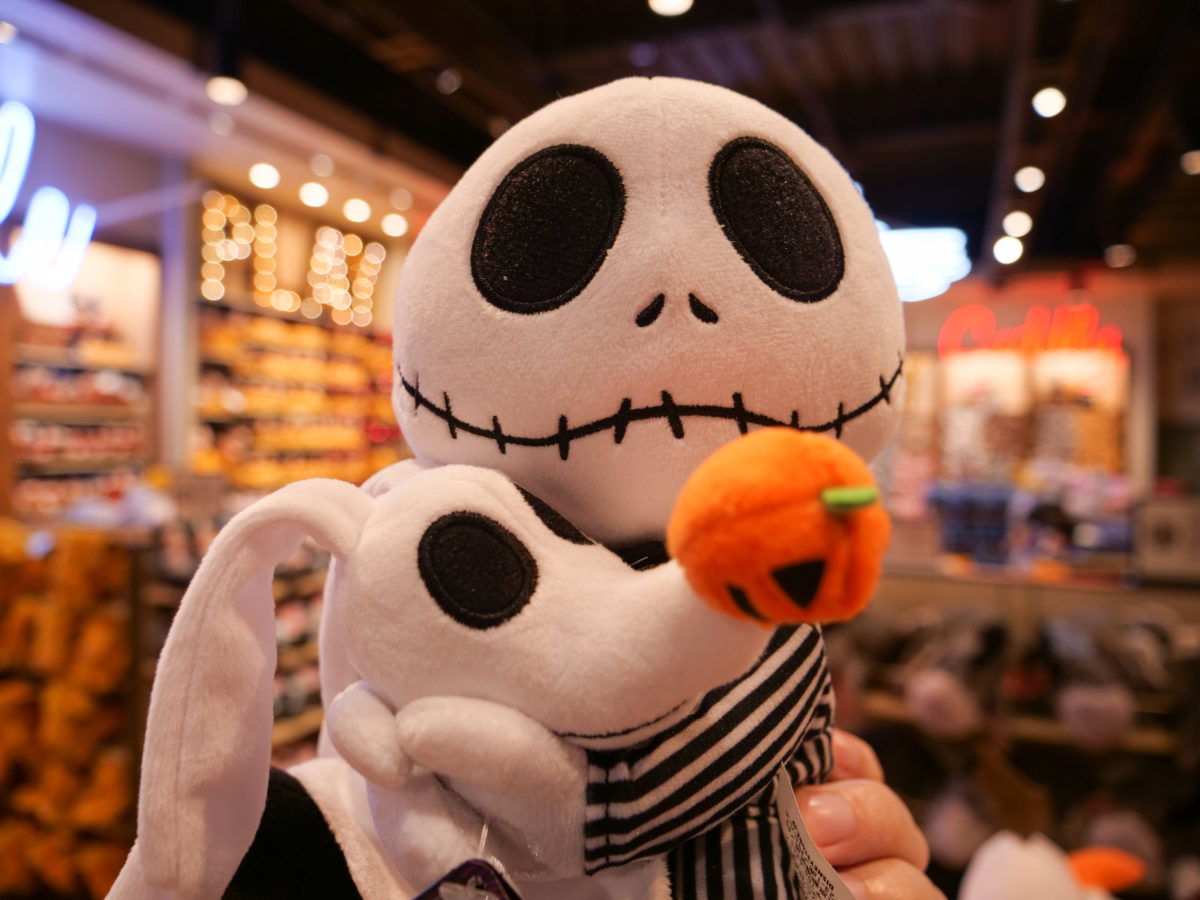 Jack Skellington and Zero are now available in plush form and are a must-have addition for Halloween. Or Christmas? Or, really any time of year! You can check out all of the nightmarish details on this new plush here.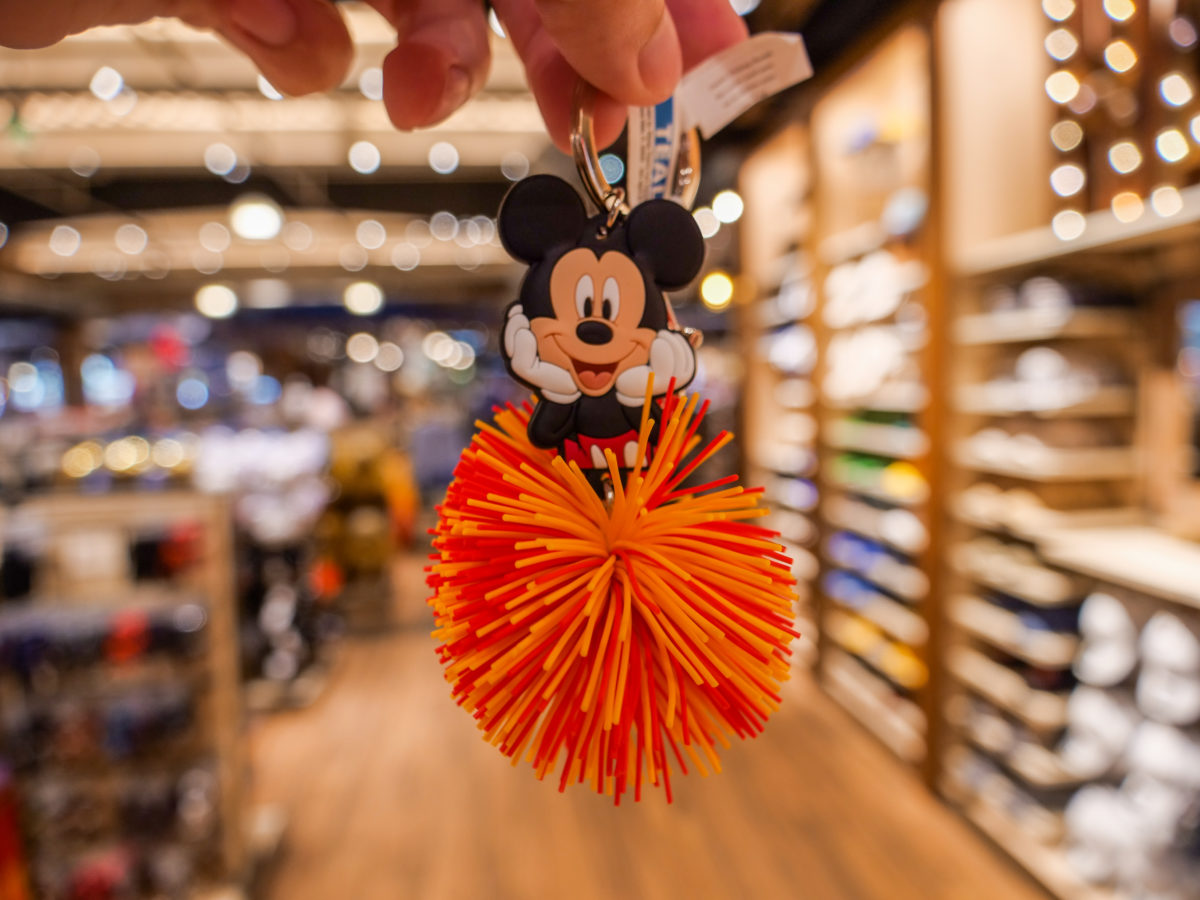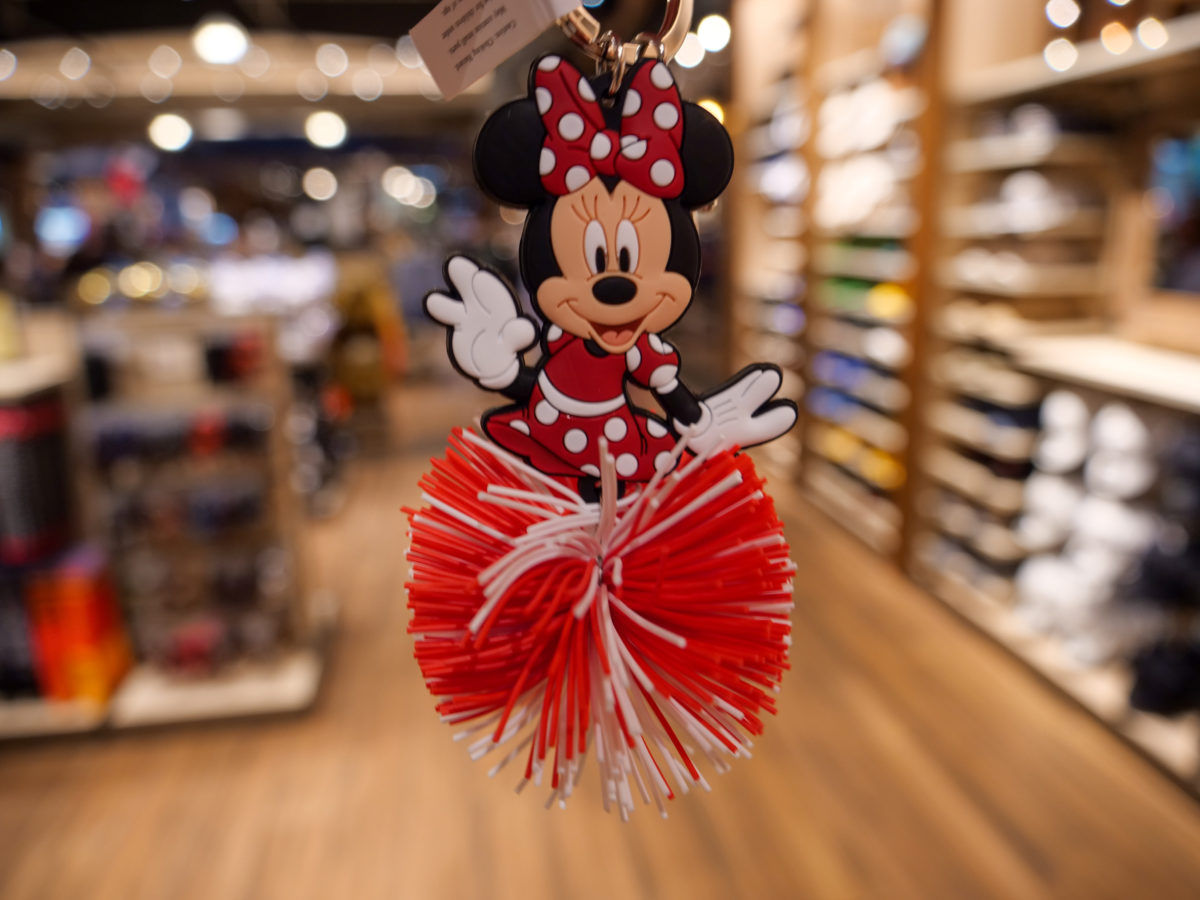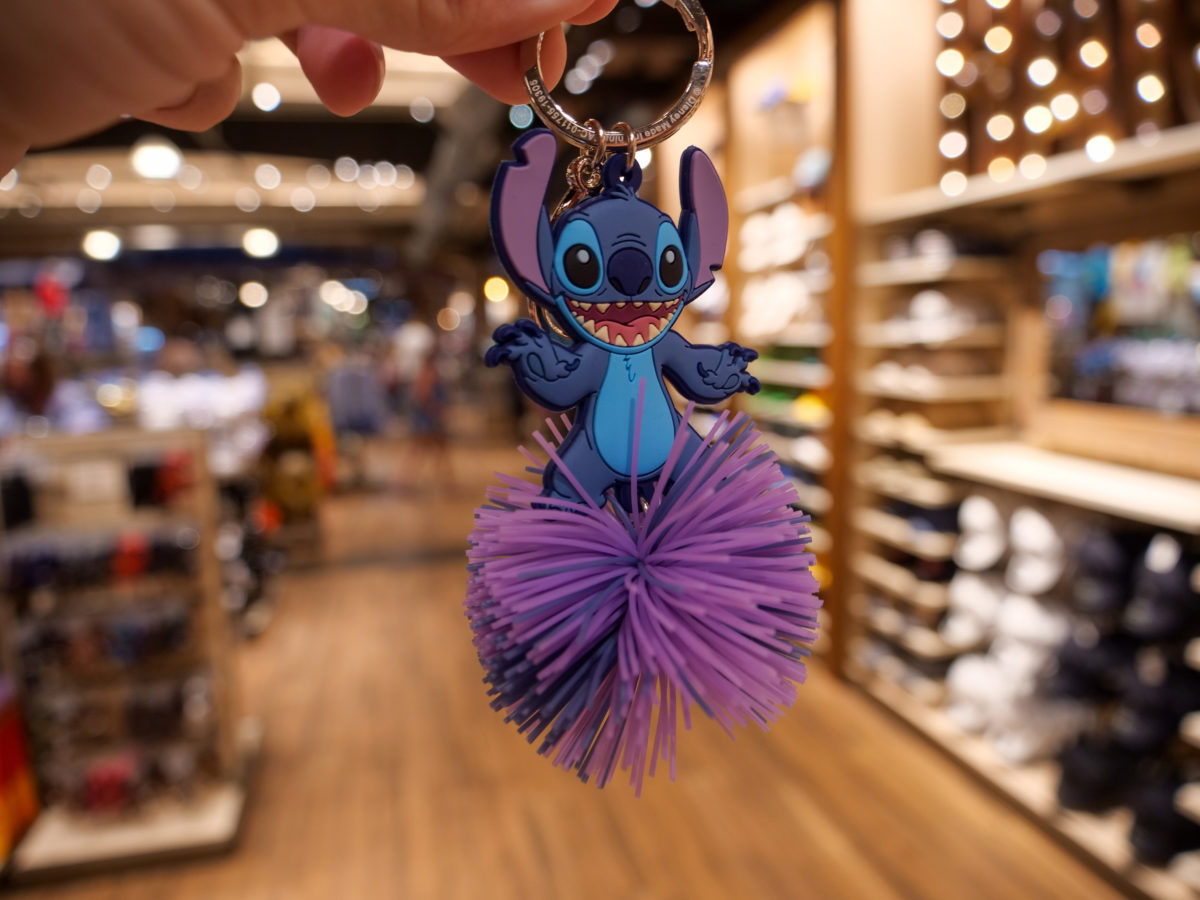 These three new Koosh-style keychains featuring Mickey, Minnie, and Stitch, bounced into World of Disney. These stringy key-holders sell for $12.99 each.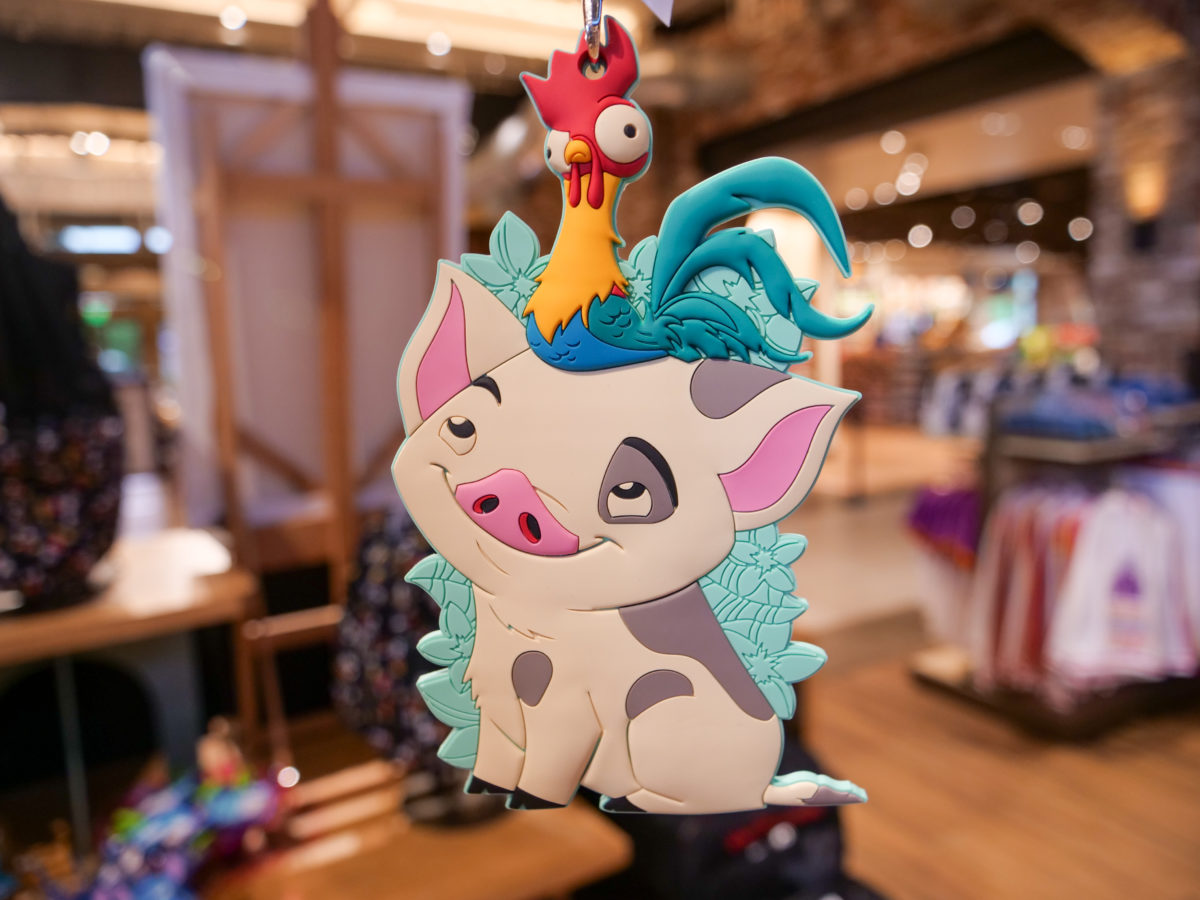 Concluding our merchandise finds for the day, this Moana-themed lanyard featuring Pua and Hei Hei surfed into Disney Springs with a price tag of $17.99.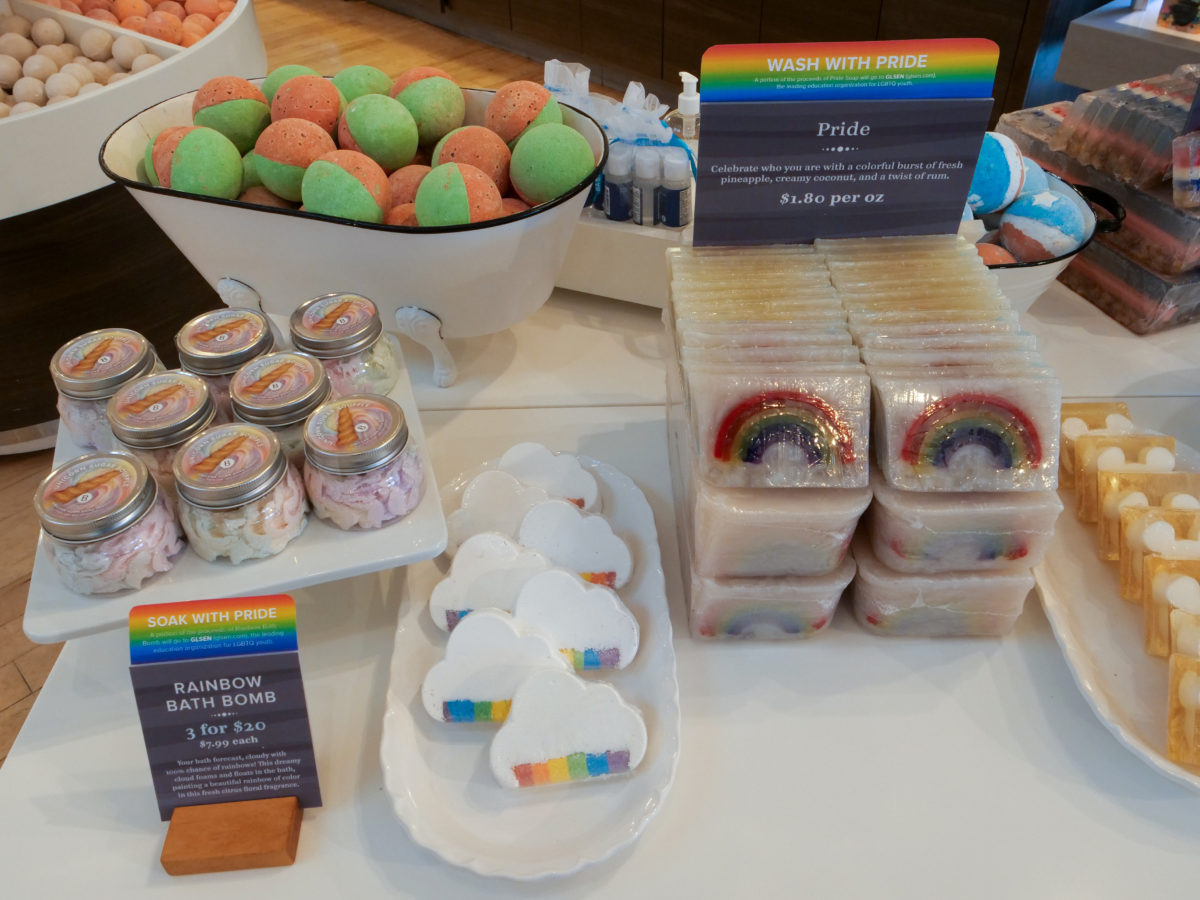 Outside of World of Disney, Basin has a nice selection of colorful items in honor of Pride Month.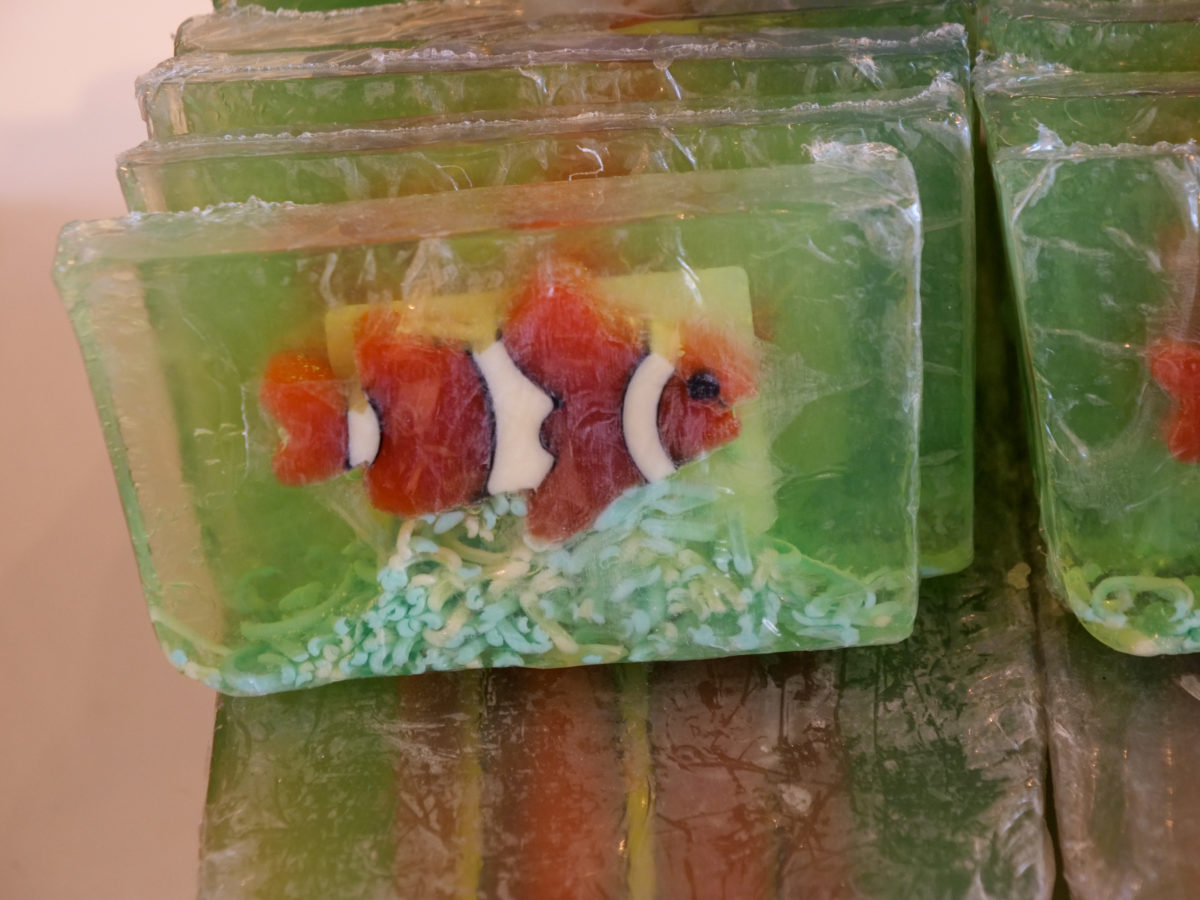 NEMO! Well, this soap bar is officially labeled "clownfish" by Basin, but you can name it whatever you'd like.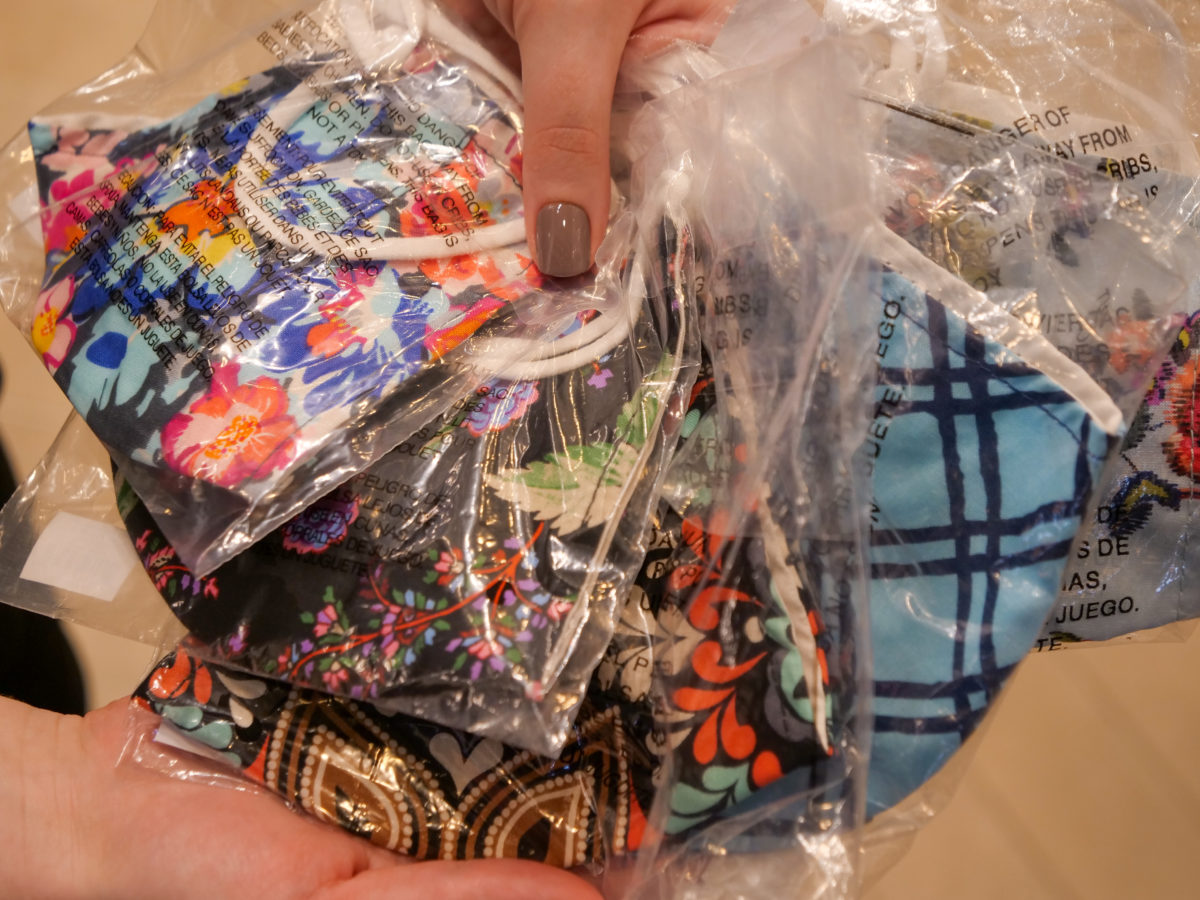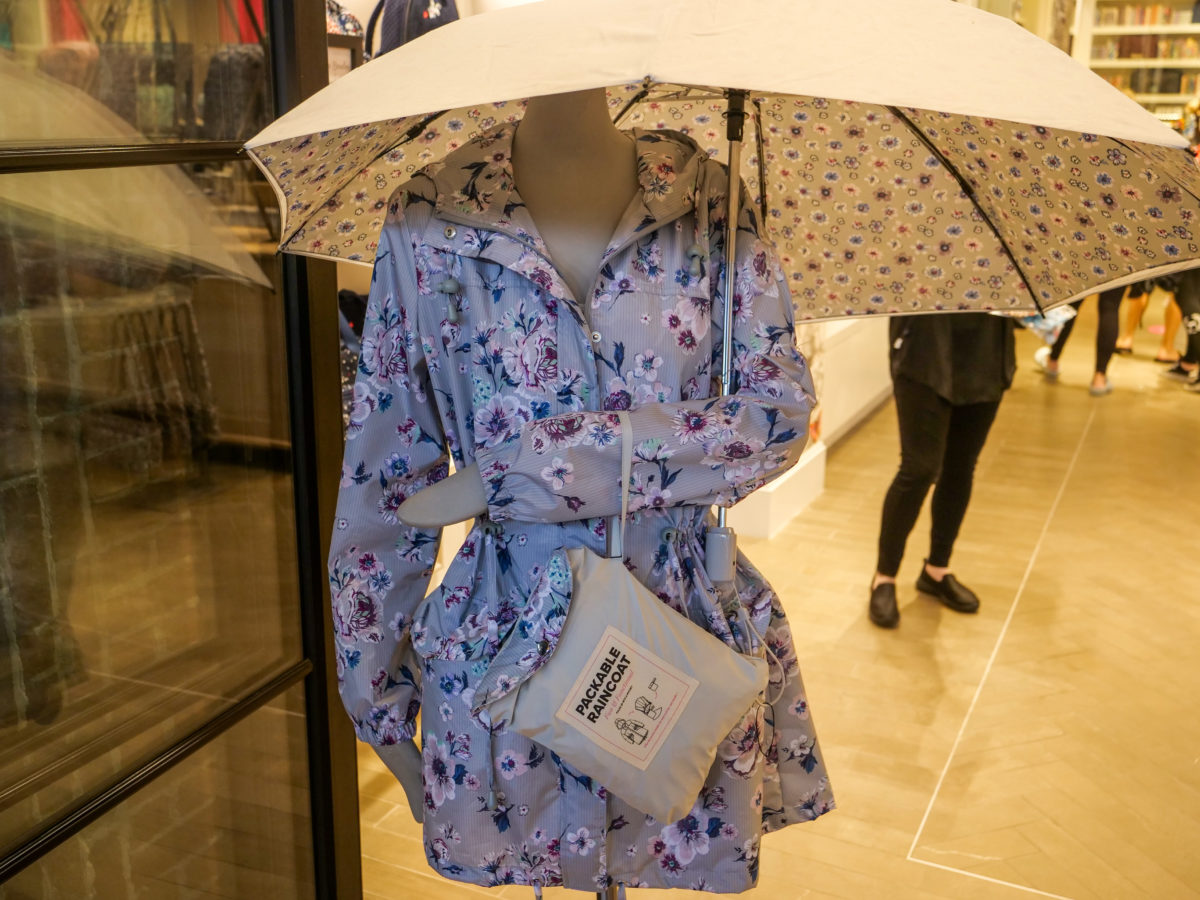 Rounding out the merchandise updates, Vera Bradley had five(!) different styles of masks today, each selling for $8.00. They also, very appropriately, had this raincoat on display near the entrance.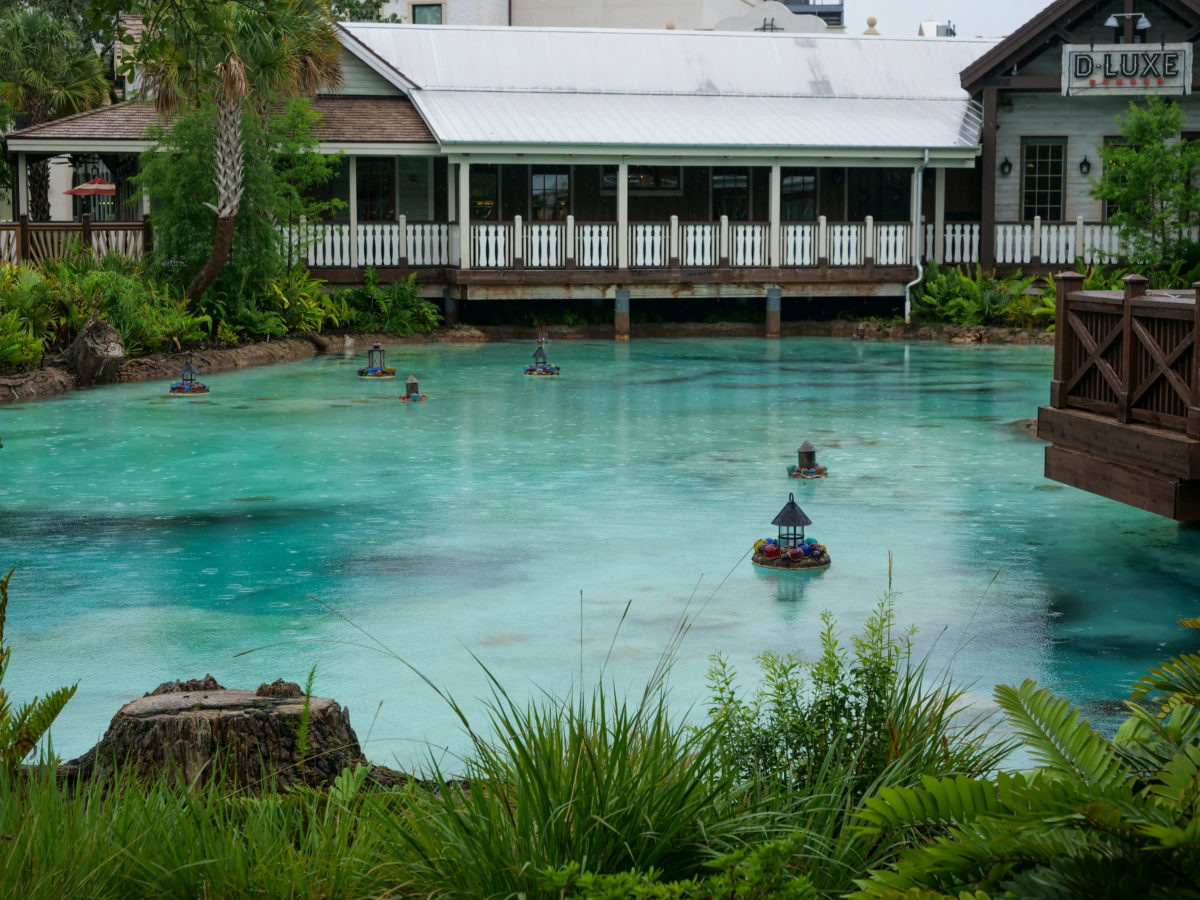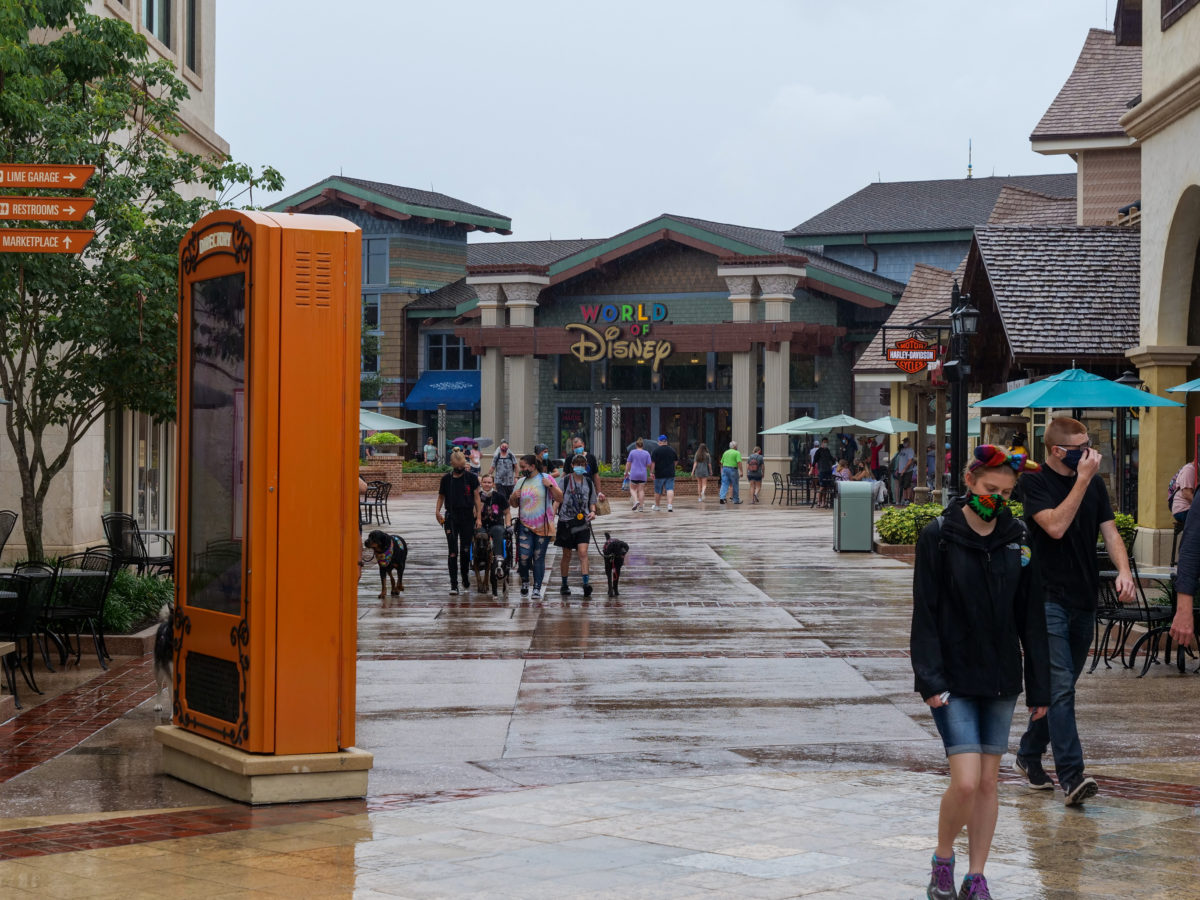 By the afternoon, the rain moved back in, and that raincoat would be quite handy to have.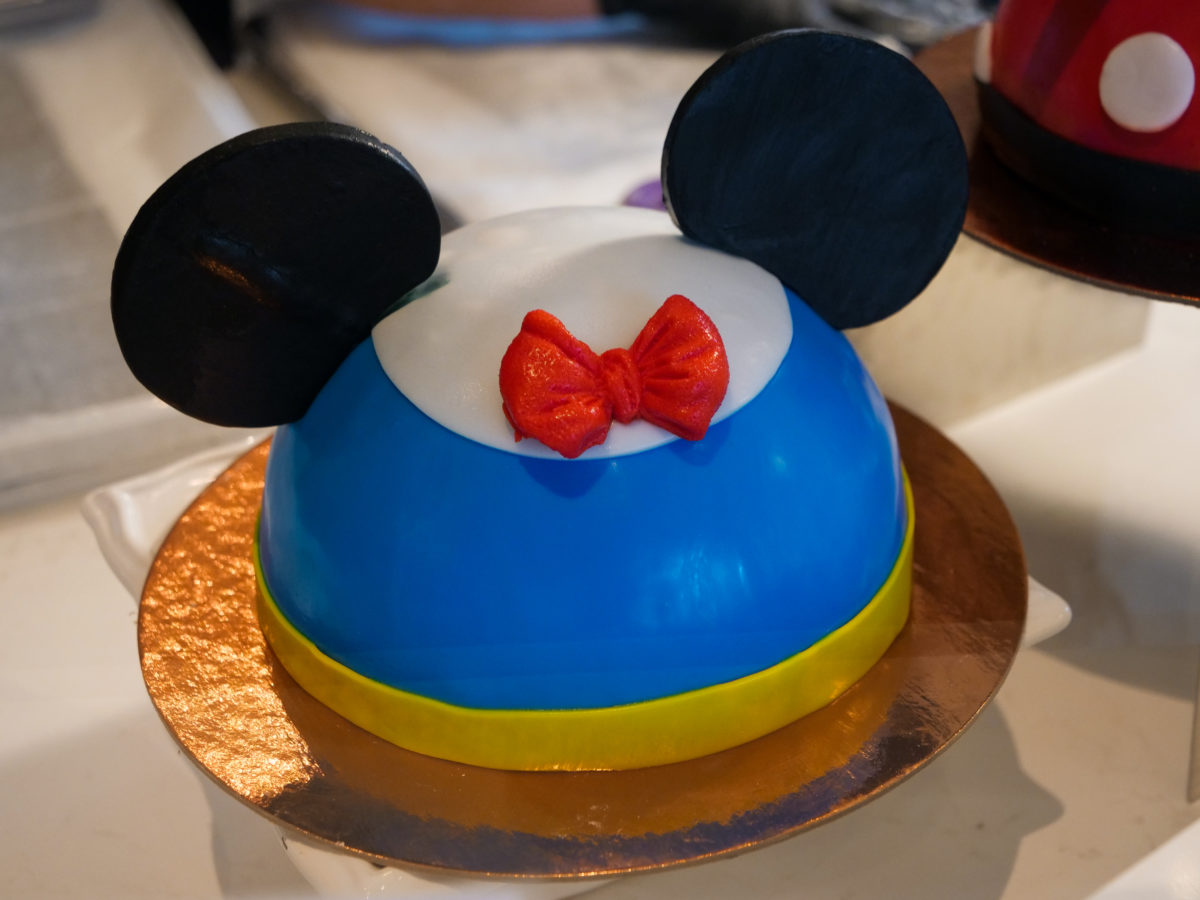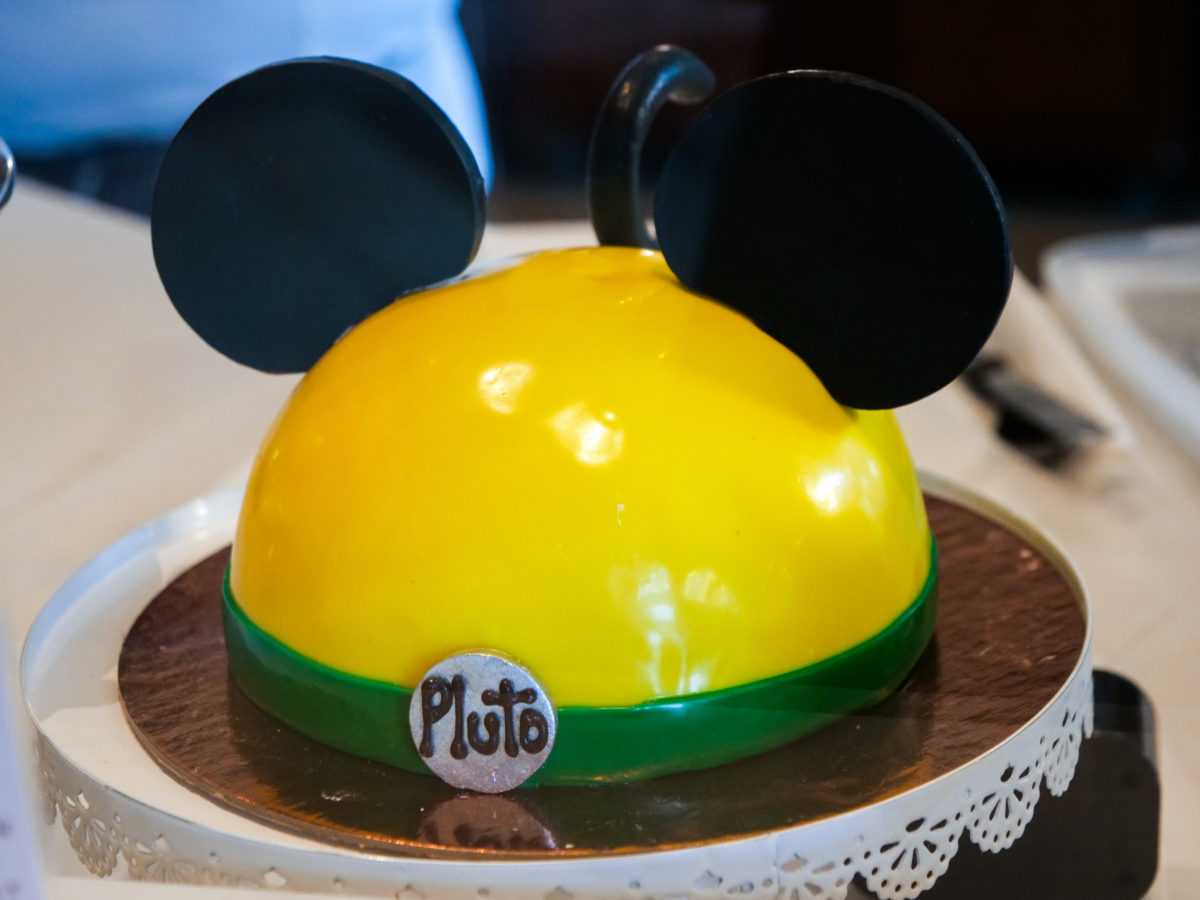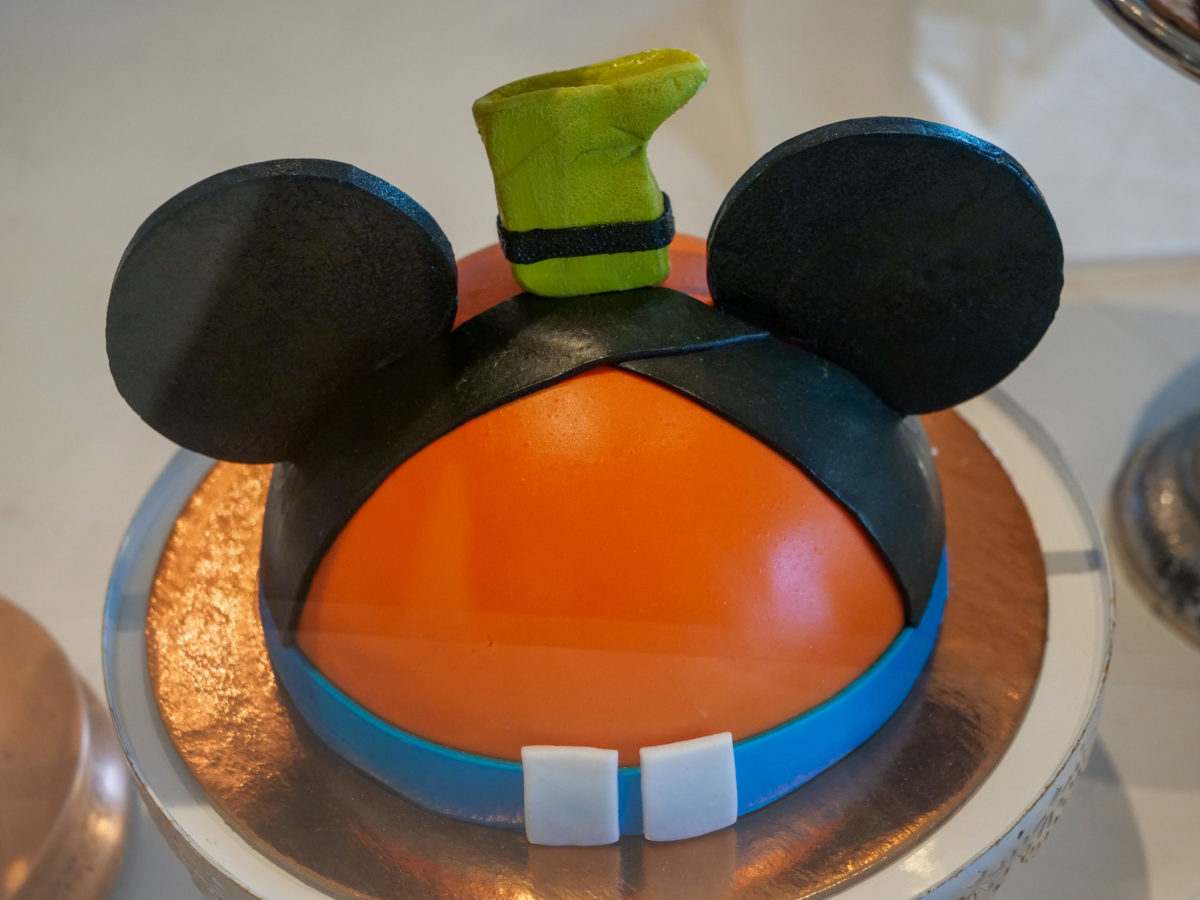 On the food front, Amorette's Patisserie, which just reopened on Friday, expanded their selection with amazing Donald, Pluto, and Goofy cakes joining the ranks of baked goods.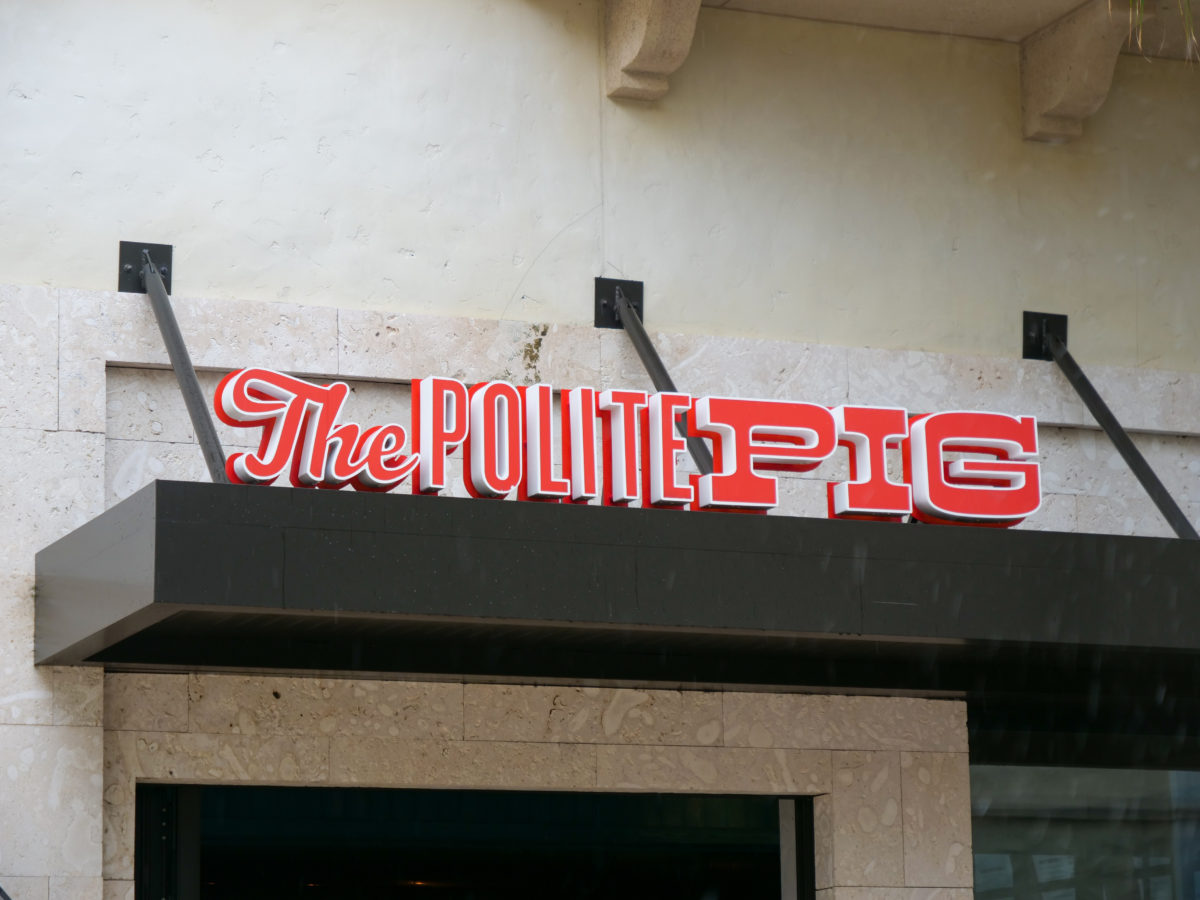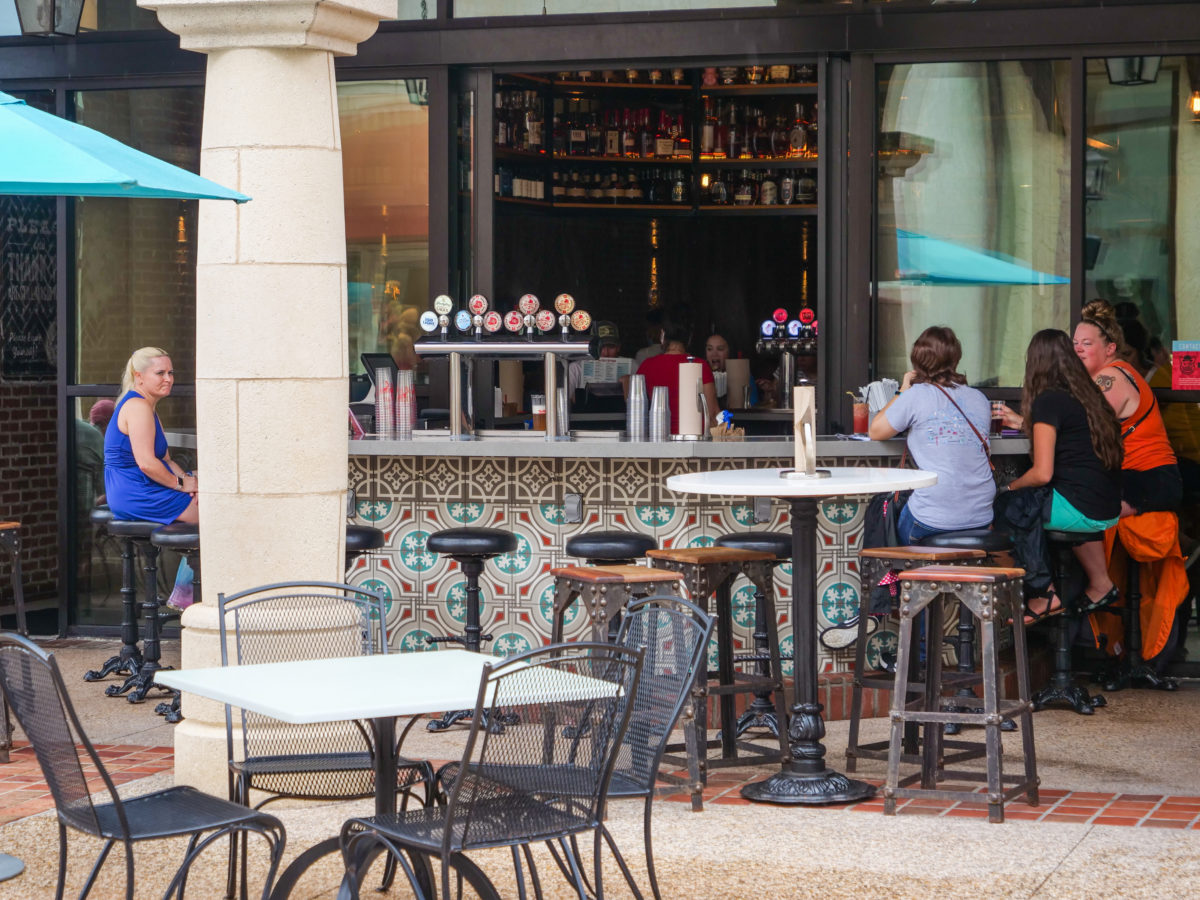 The Polite Pig announced today that they would once again allow guests to sit at their bars, both inside and outside. It didn't take guests long to take them up on that offer.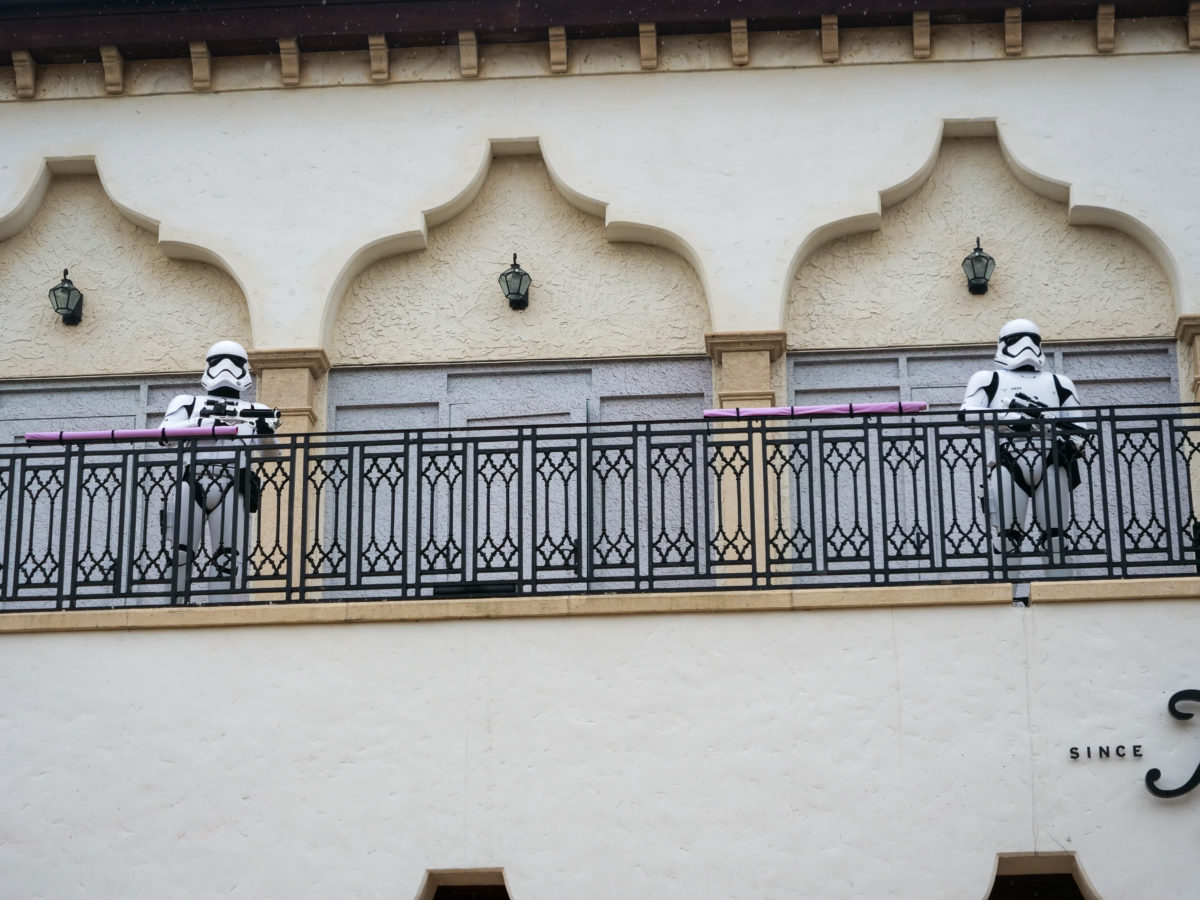 Despite the rain, Stormtroopers were still on hand, albeit with their First Order banners rolled up. We assume Stormtrooper armor protects them from moisture, since it doesn't seem to do much against blasters…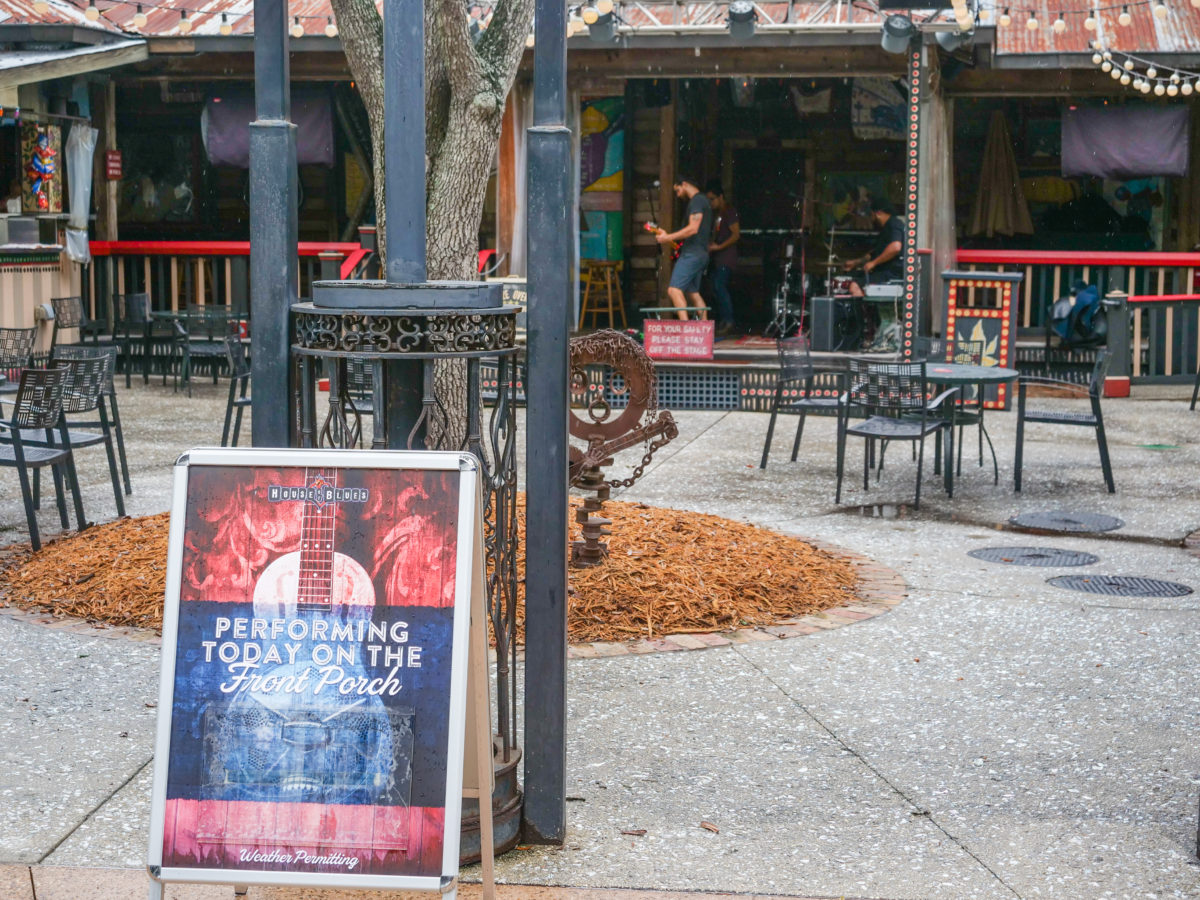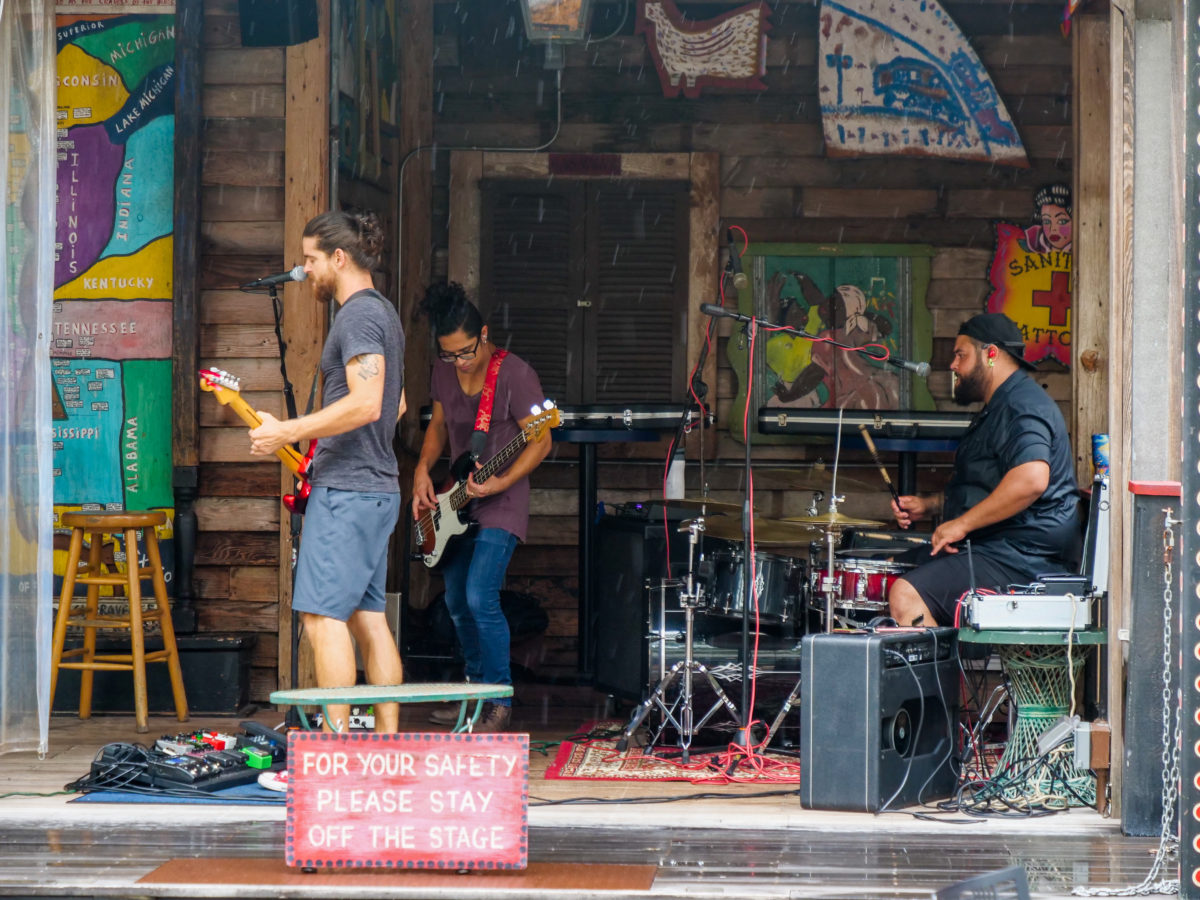 Finally, we're rounding out our day back at the West Side. Specifically, we're checking out the House of Blues Restaurant & Bar, which is featuring live music! These wonderful sounds are a welcome return at what has been a more subdued Disney Springs since the reopening.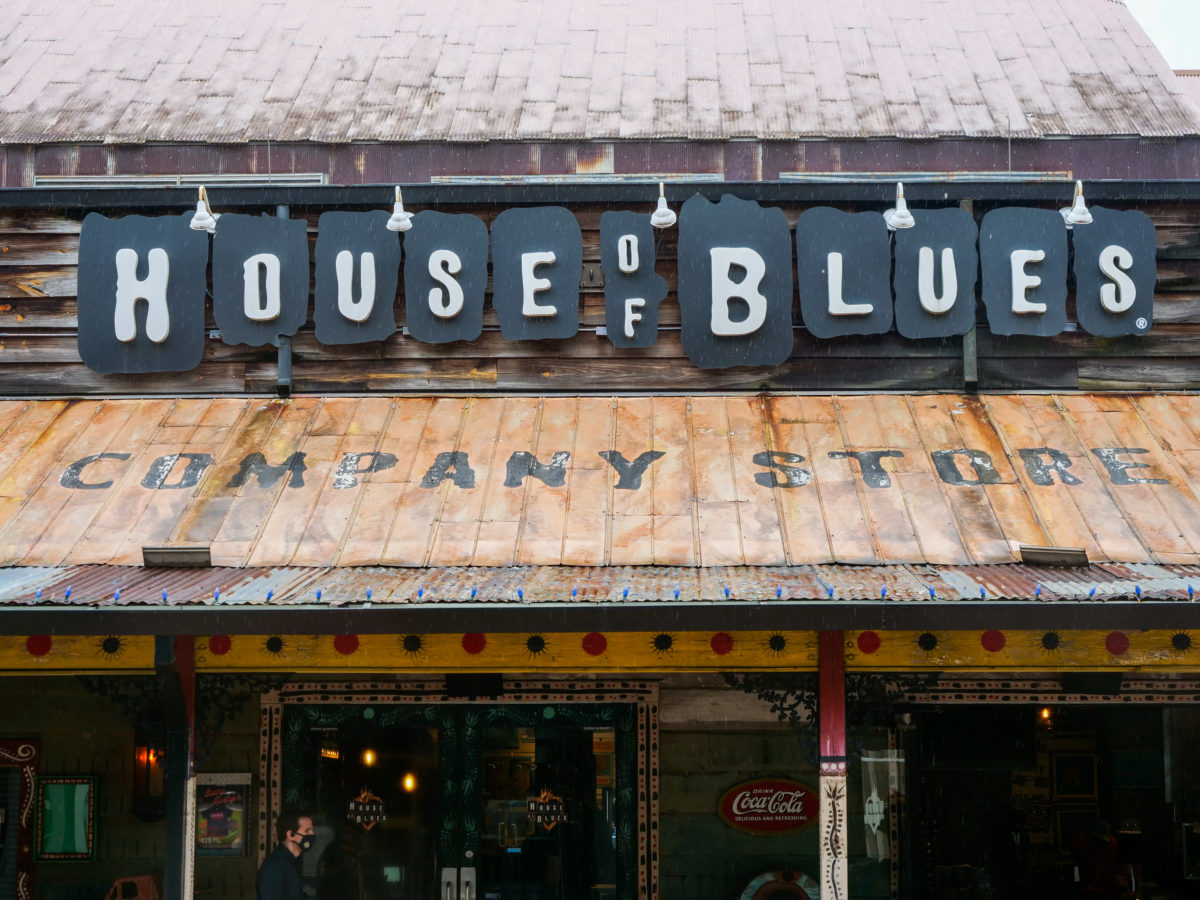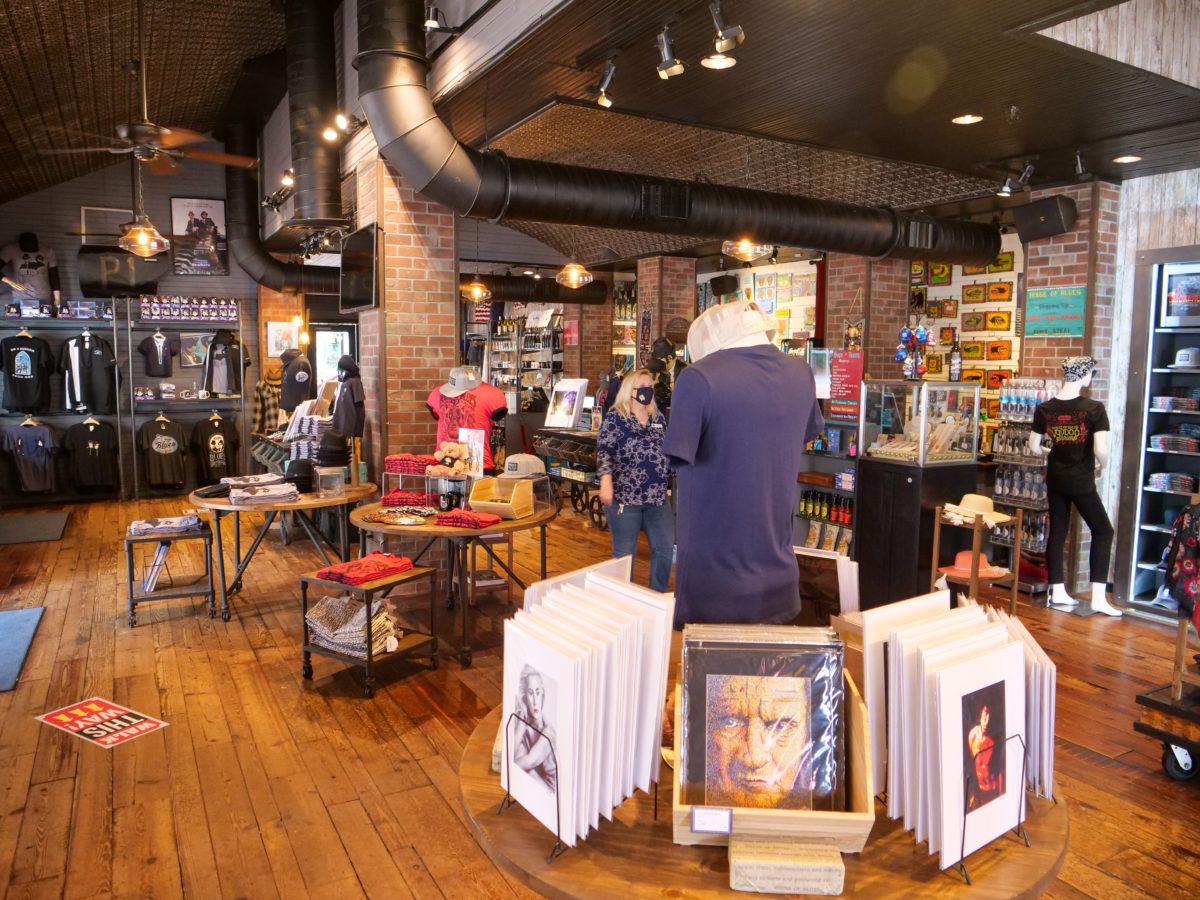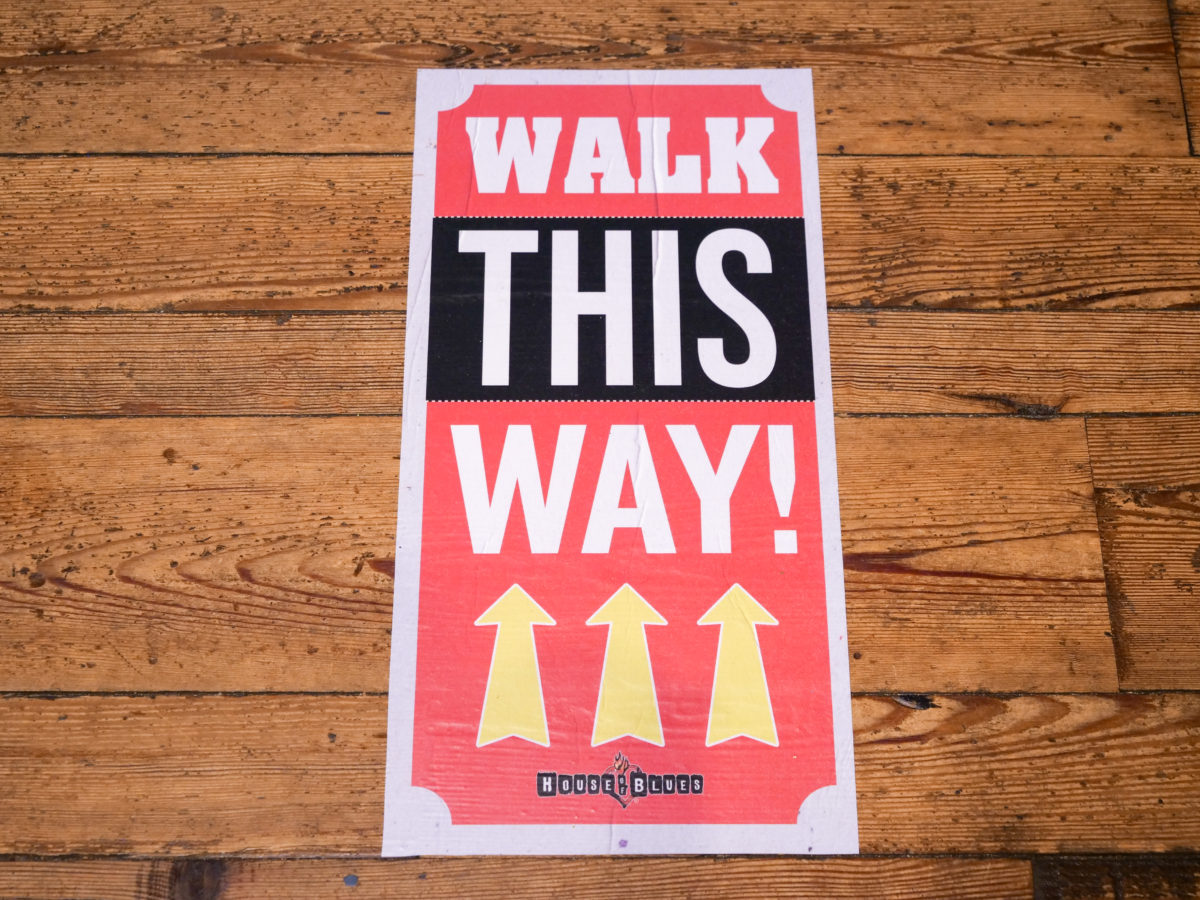 The House of Blues Company Store has also reopened, with updated directional and physical distancing signage in place. If you're in need of musically-oriented merchandise, this is the store for you.
Thanks for joining us today for all of the news and events from Disney Springs. Are you excited about any of the new merchandise, or do the incremental changes at bars and restaurants make you more inclined to visit? Let us know in the comments!