We're finally back at Tokyo Disneyland! The last time we were able to take a real tour of the park was the last day the parks were open, February 29th. We're excited to show you the latest in what's going on here in Japan, so let's get going!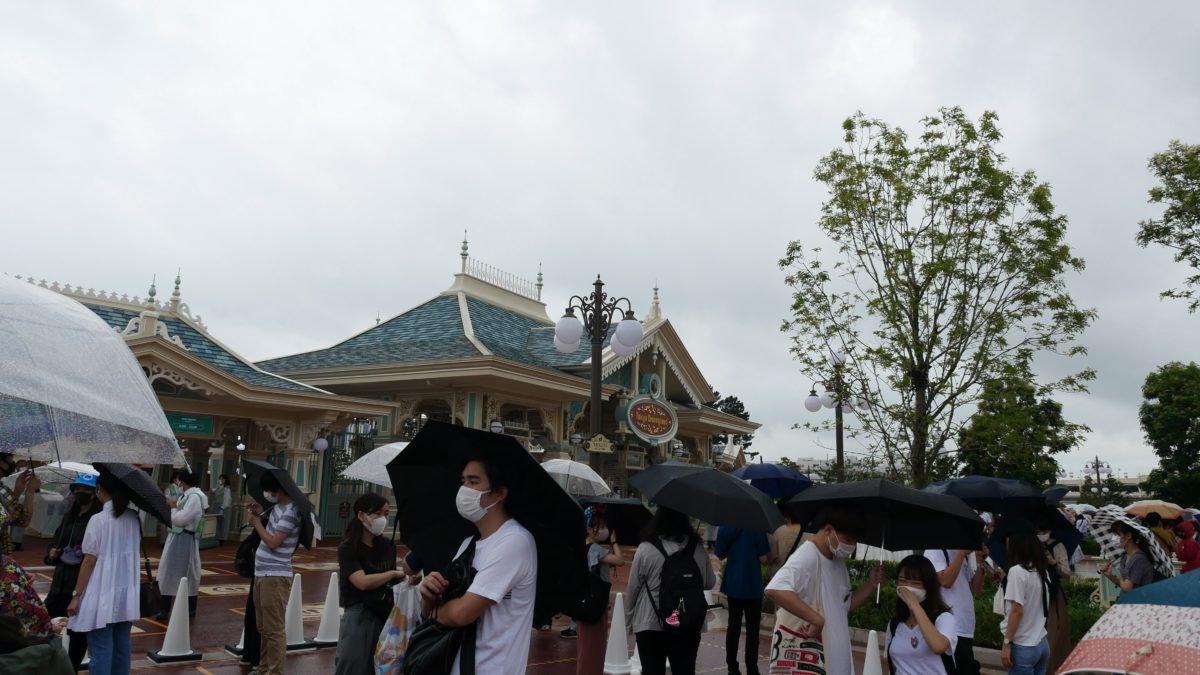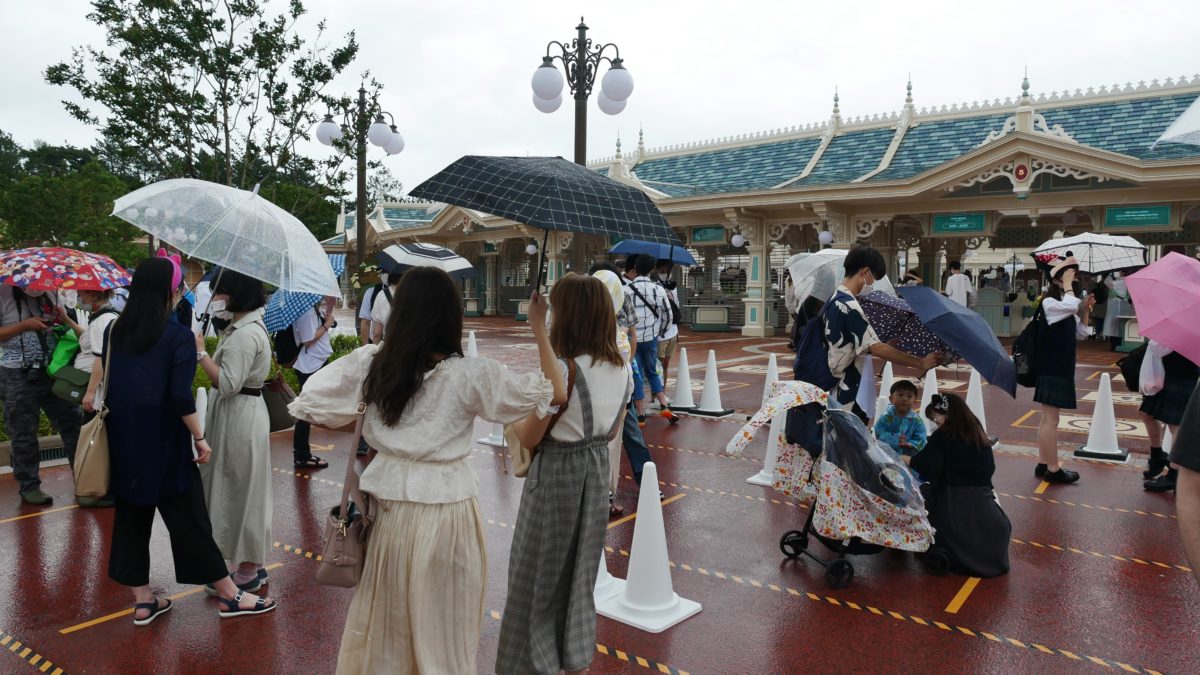 Because Tokyo Disneyland and Tokyo DisneySea are currently staggering entry at three different times of day, we were part of the 11am entry group. Guests were good at staying on or very near their lines, and Cast Members patrolled to make sure social distancing was maintained.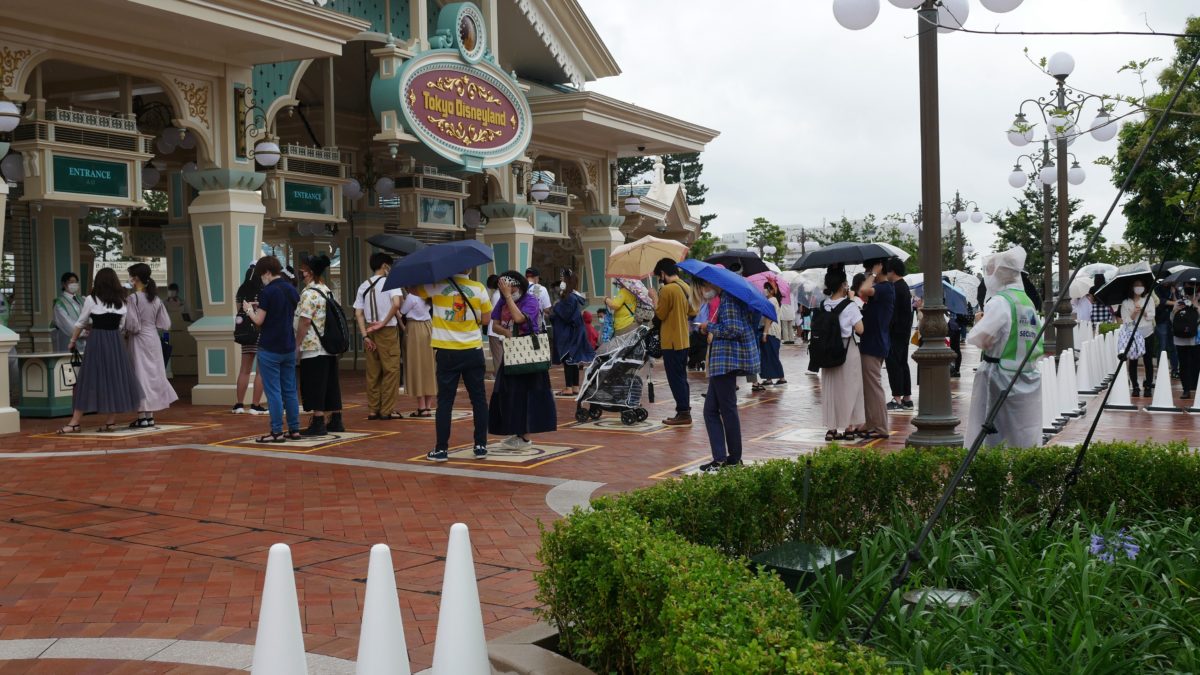 This stringent adherence even extended to the boxes once the lines were moved up. The line was advanced in segments to ensure Guests didn't stand too close to or pass other Guests.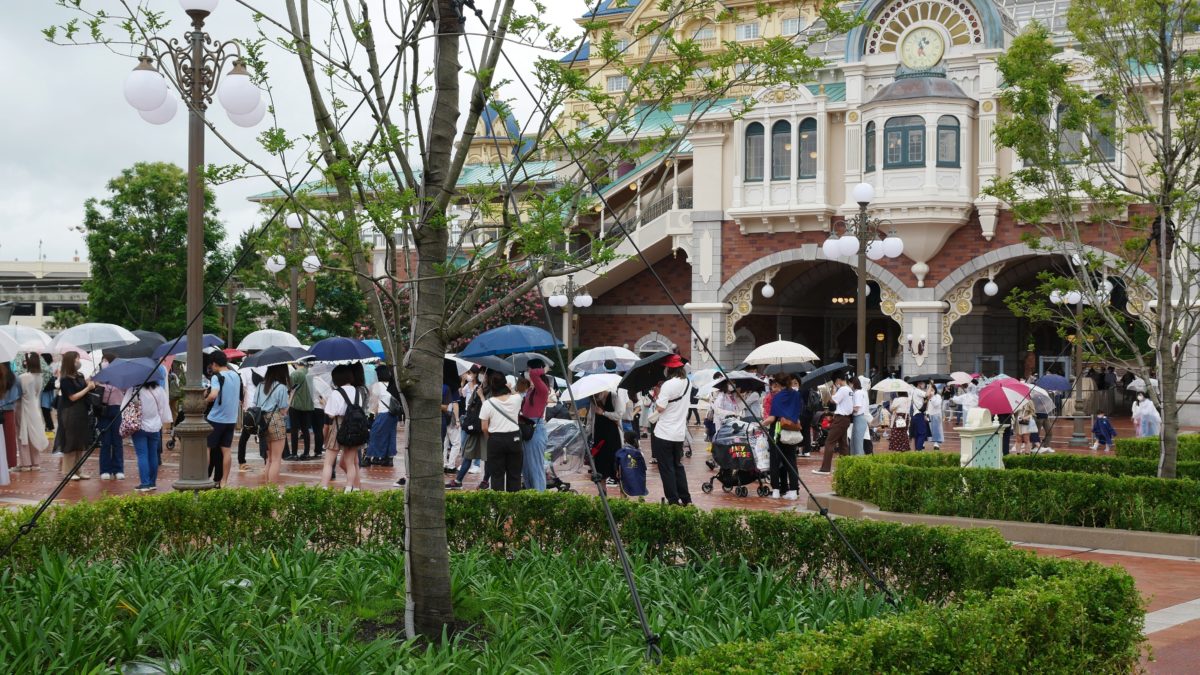 By opening time, the line was rather far back. But make no mistake, it really wasn't that many people. Social distancing certainly helps makes crowds far larger than they really are.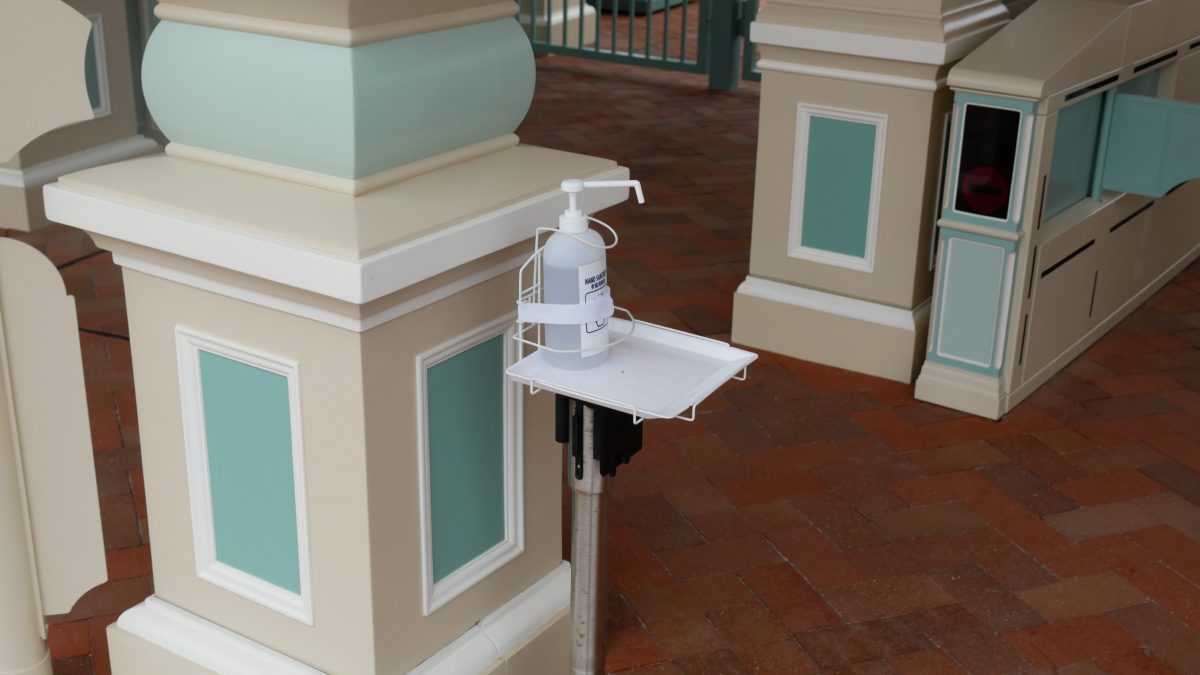 Once inside the park, just about every turnstile had a hand sanitizer dispenser next to it. I'd say around half of Guests disinfected their hands as they entered.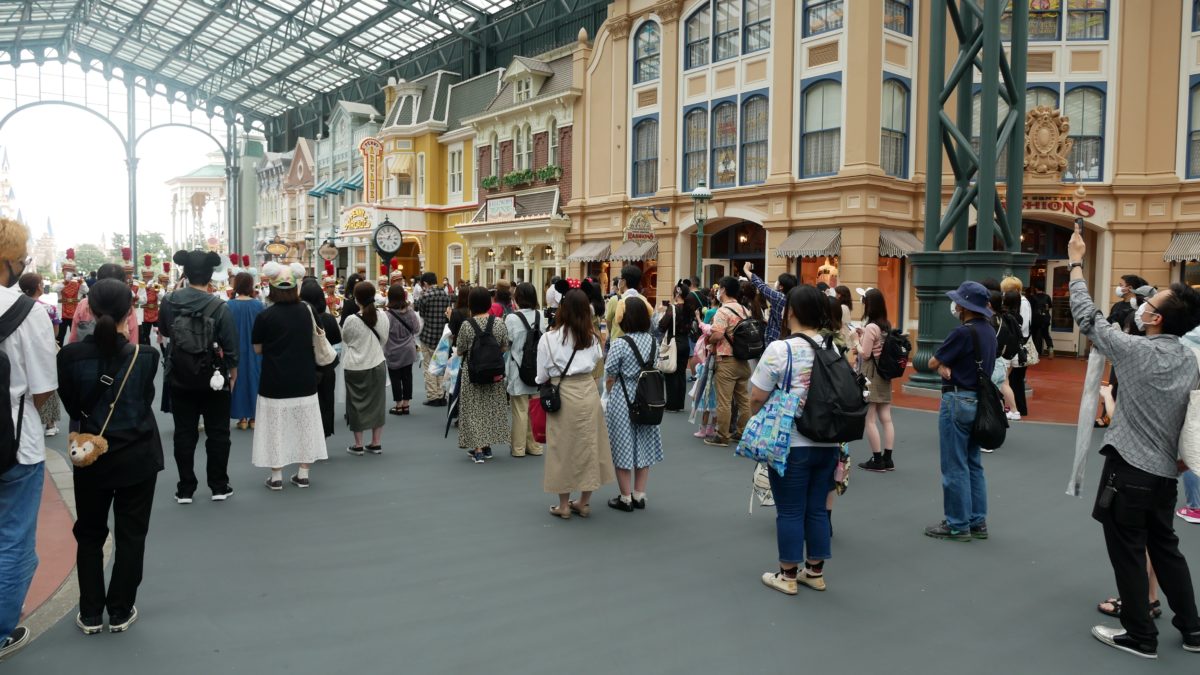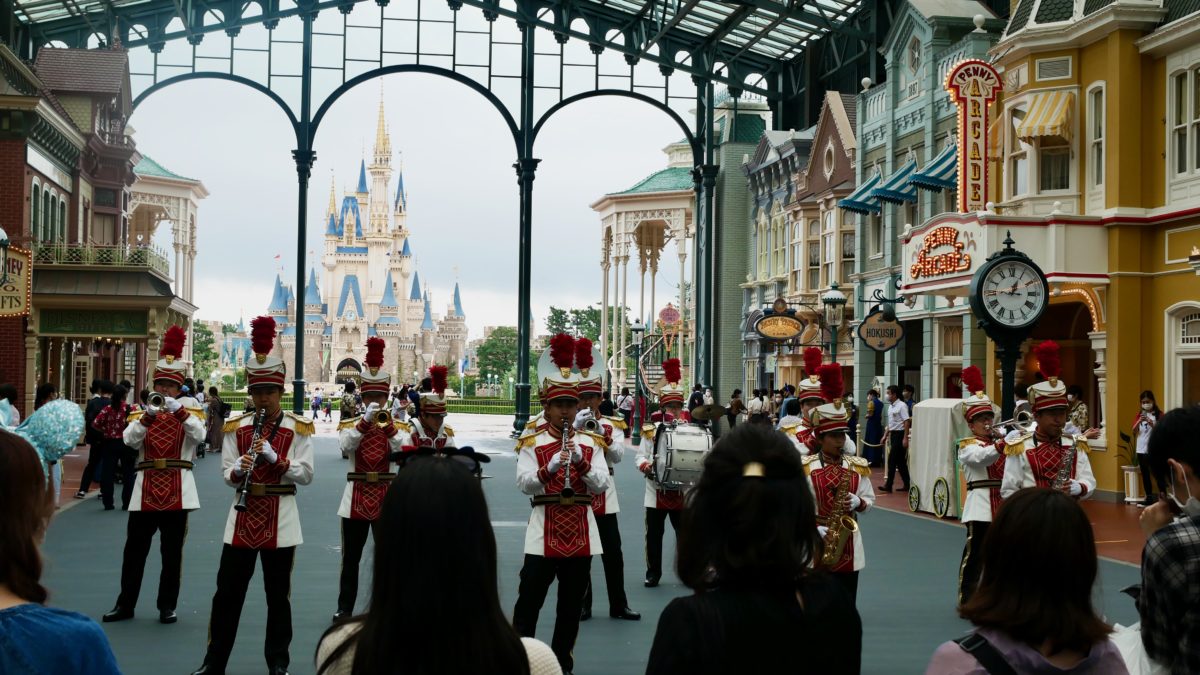 Not too long after entry, the Tokyo Disneyland Band, the last remaining entertainment from pre-COVID times, emerged to play some Disney hits. Social distancing wasn't necessarily as well-enforced as it was other times, but most Guests were still fairly separated.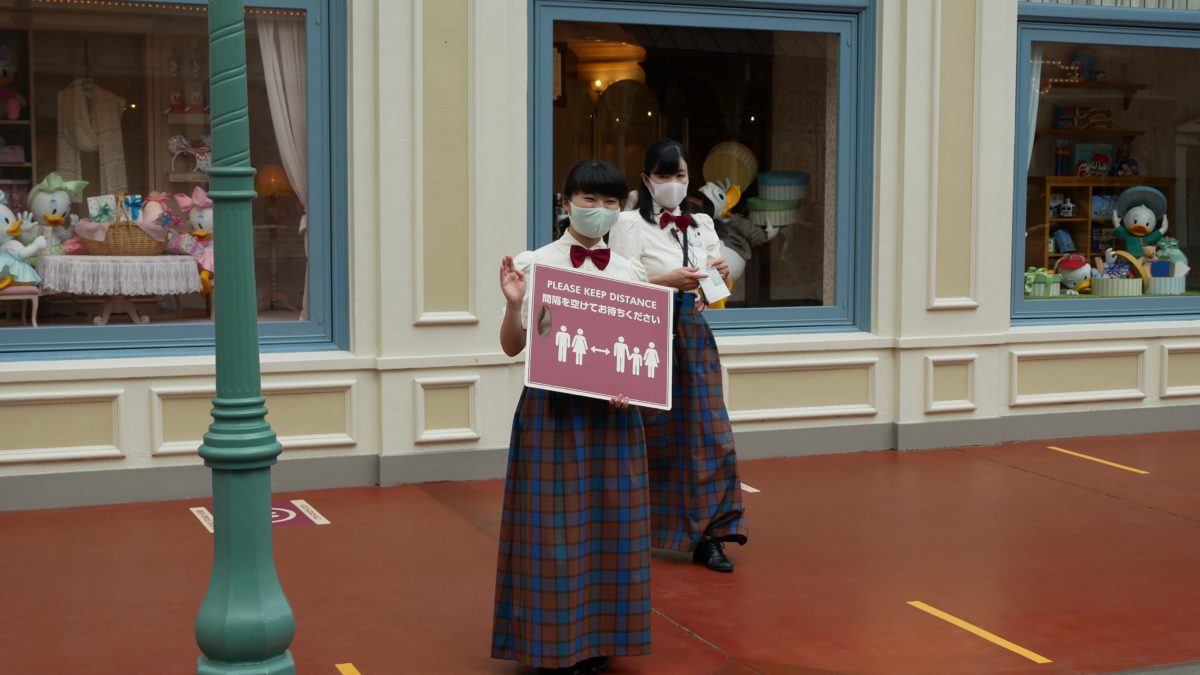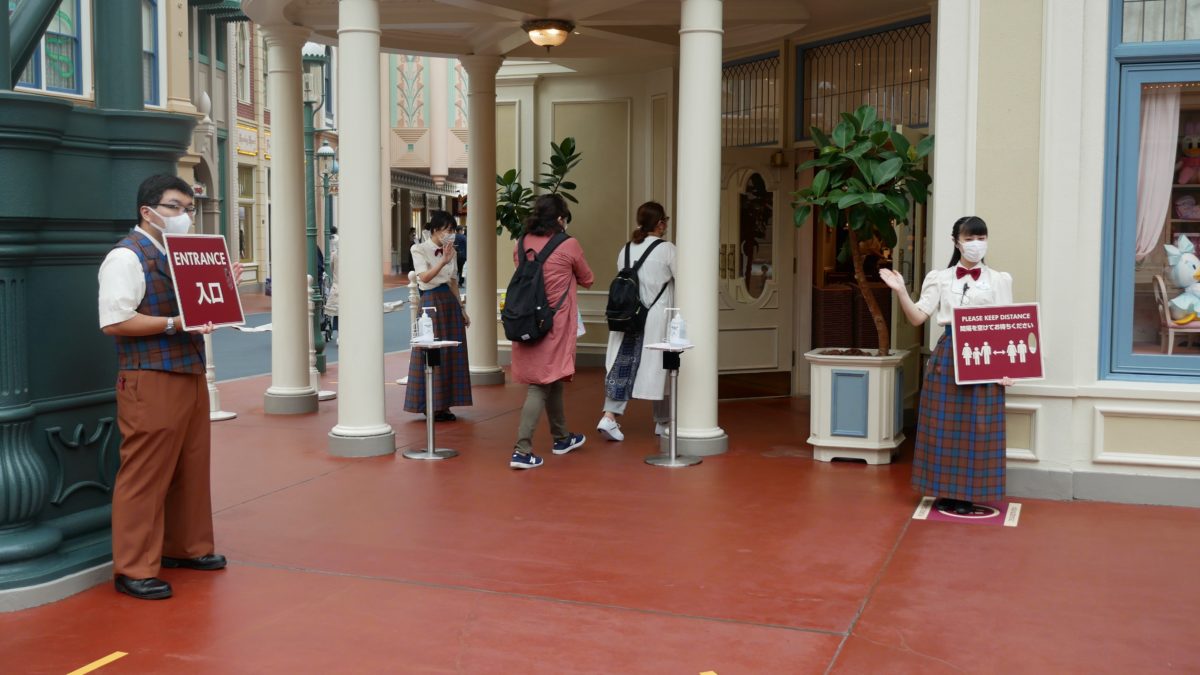 Cast Members stood outside most stores, including the Grand Emporium, making sure social distance was obeyed and instructing entering Guests to sanitize their hands. I saw a much higher success rate with sanitizers here than at the park entrance.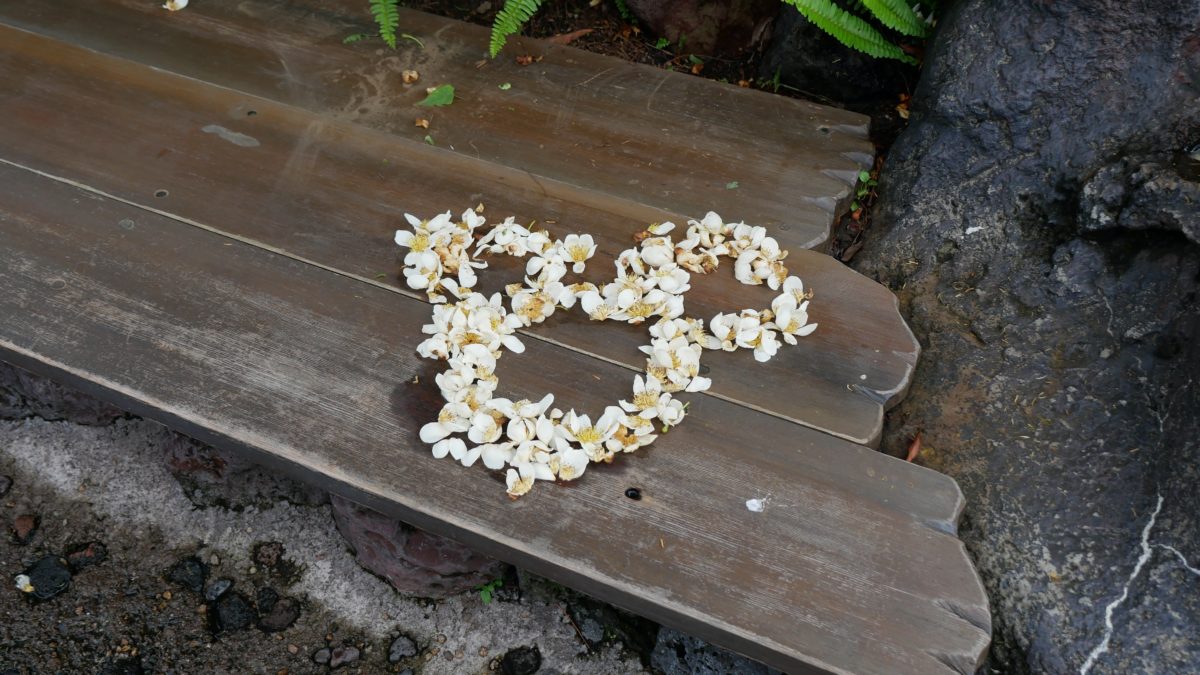 Over in Adventureland, a thoughtful Cast Member had arranged fallen buds in the shape of a Mickey head! I always love little touches like this in the parks.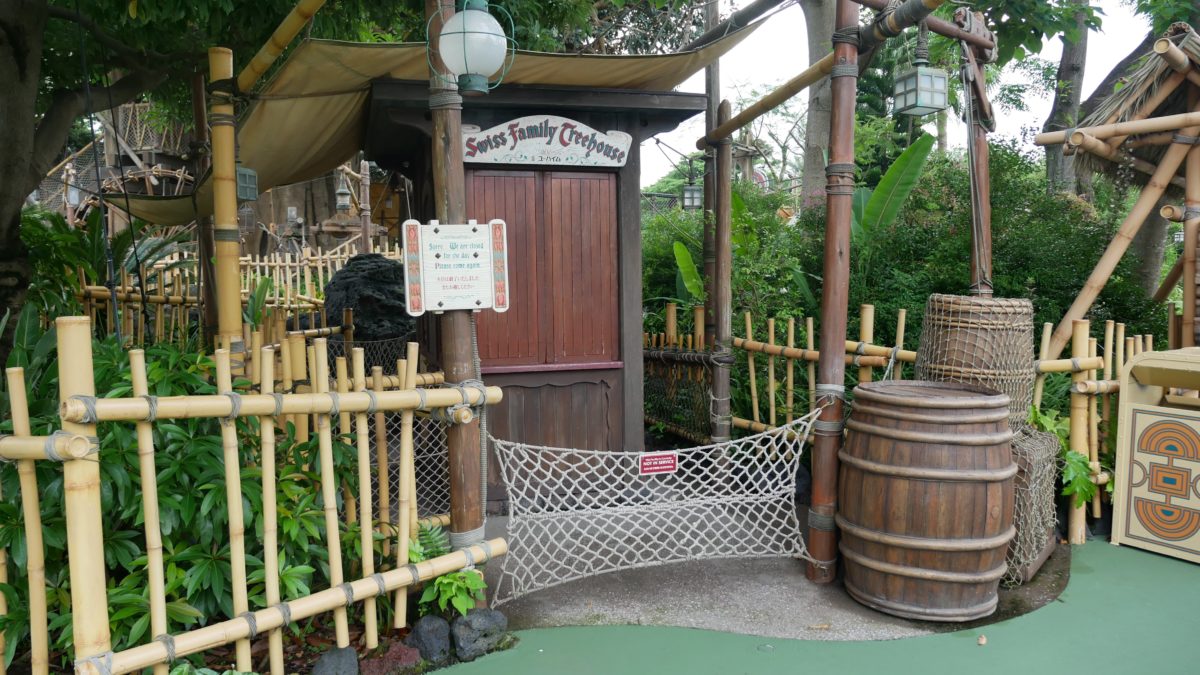 Some attractions, like Swiss Family Treehouse, are still not operating right now for a litany of possible reasons. For this attraction, there's probably too many hand rails to keep disinfected.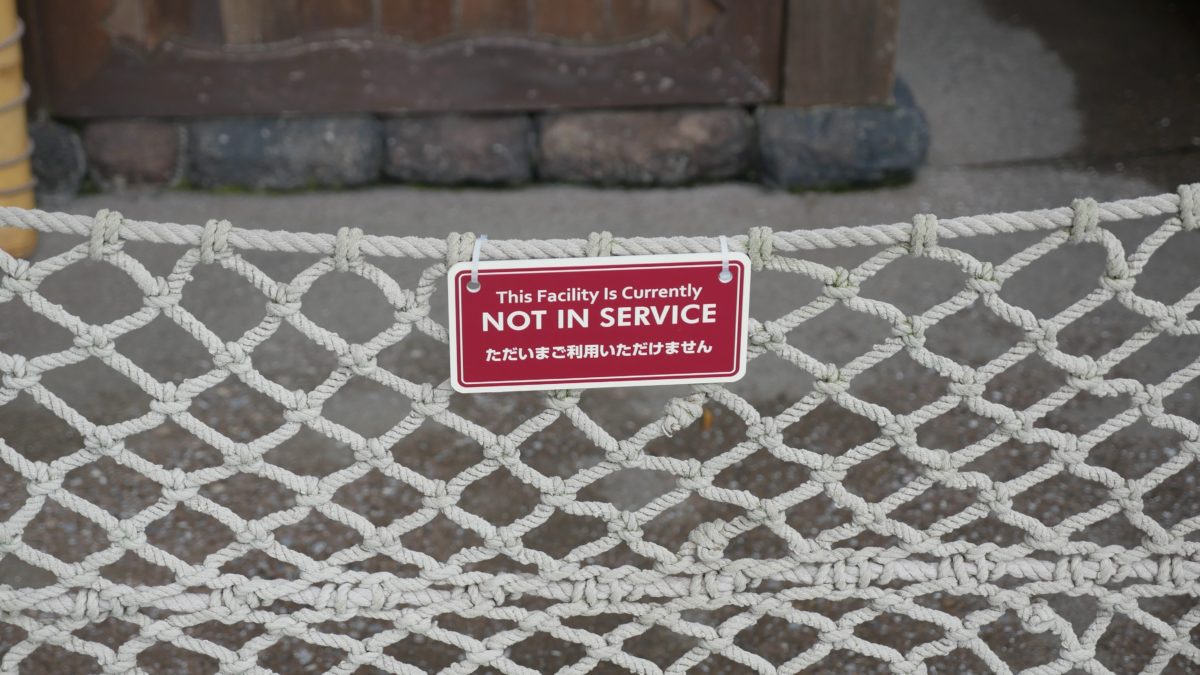 Restaurants, shops, and attractions that remain closed are marked with this sign that reads "This facility is currently not in service."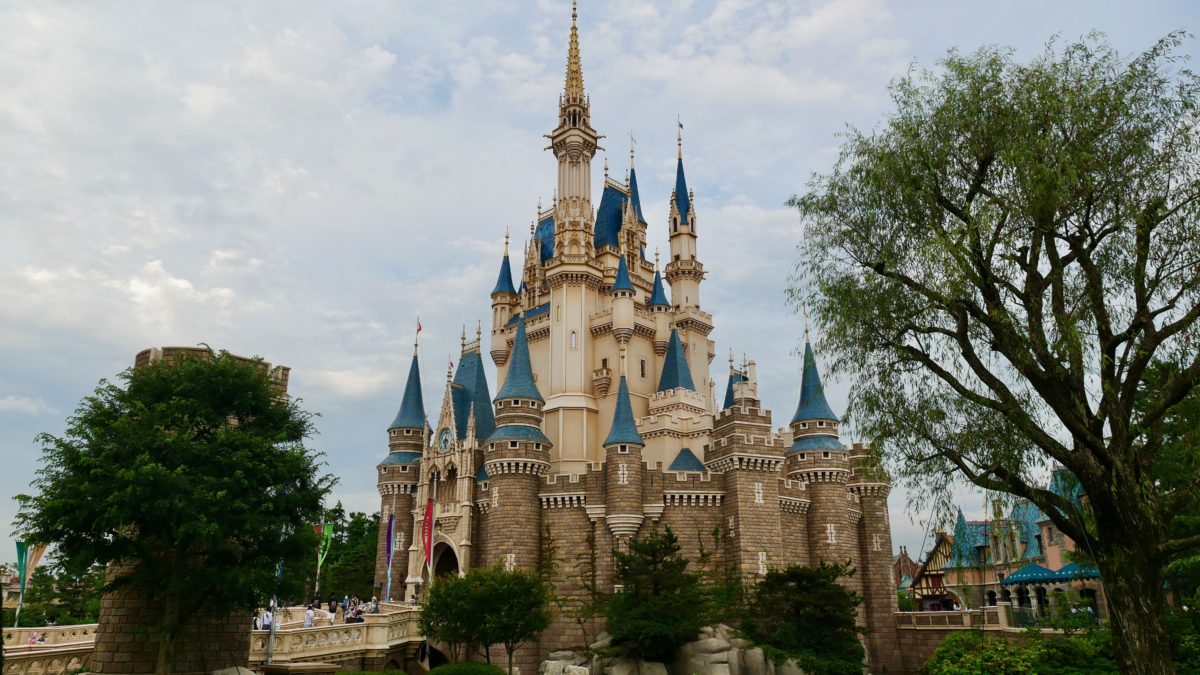 Over in the hub, we can get a gander at the finally-completed Cinderella Castle! After a long six-month refurbishment and a further three months of park closure since, this is the first we've seen our beloved park icon fully in the open since September 2019. What a different time that was.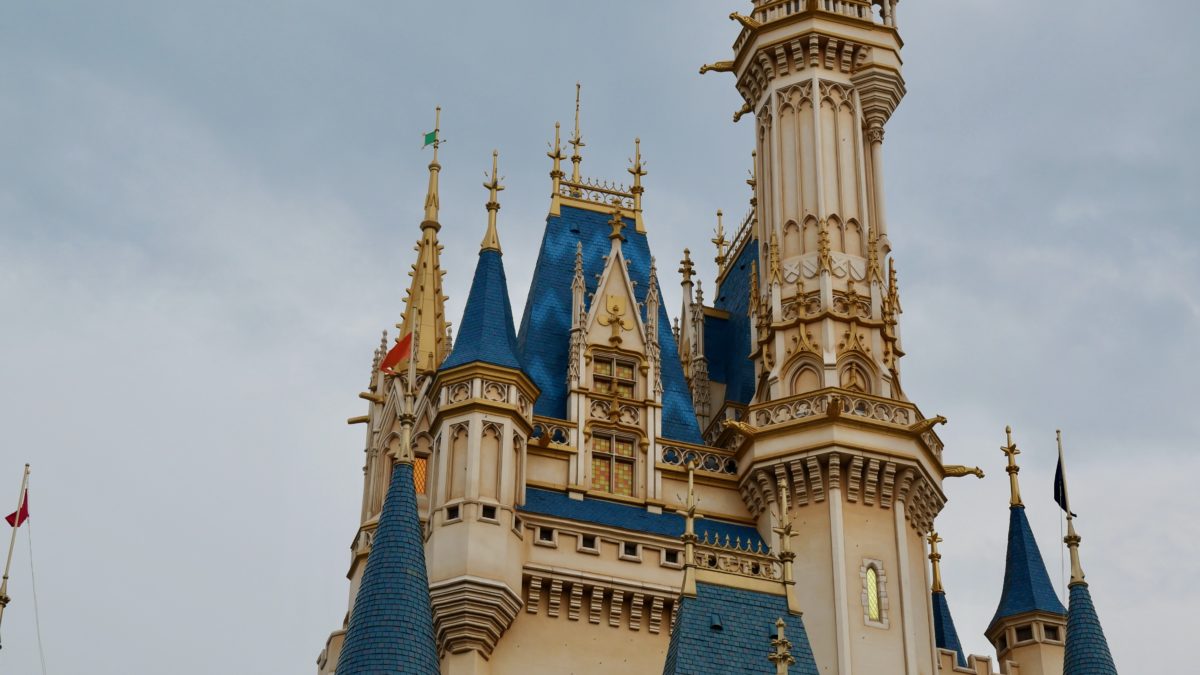 From the front, we can see some of the minor changes made to the castle. The most visibly different segment is the top of the central structure, which now features the zig-zag stripes introduced to Florida's castle many years ago. Those are now gone with the ongoing refurbishment at the Magic Kingdom.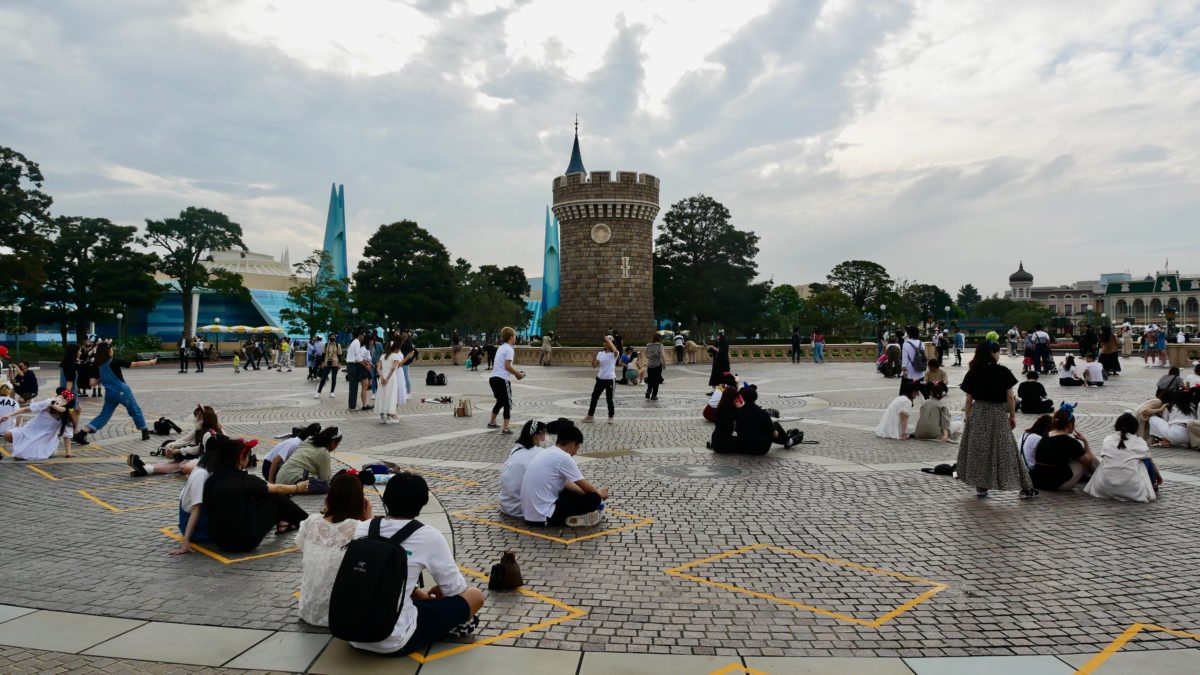 A number of Guests waited in their boxes for the next character greeting out of the castle. The aisatsu, as it's called in Japanese, happens at unknown times of day. But you can usually ask the nearest Cast Member for a rough time estimate.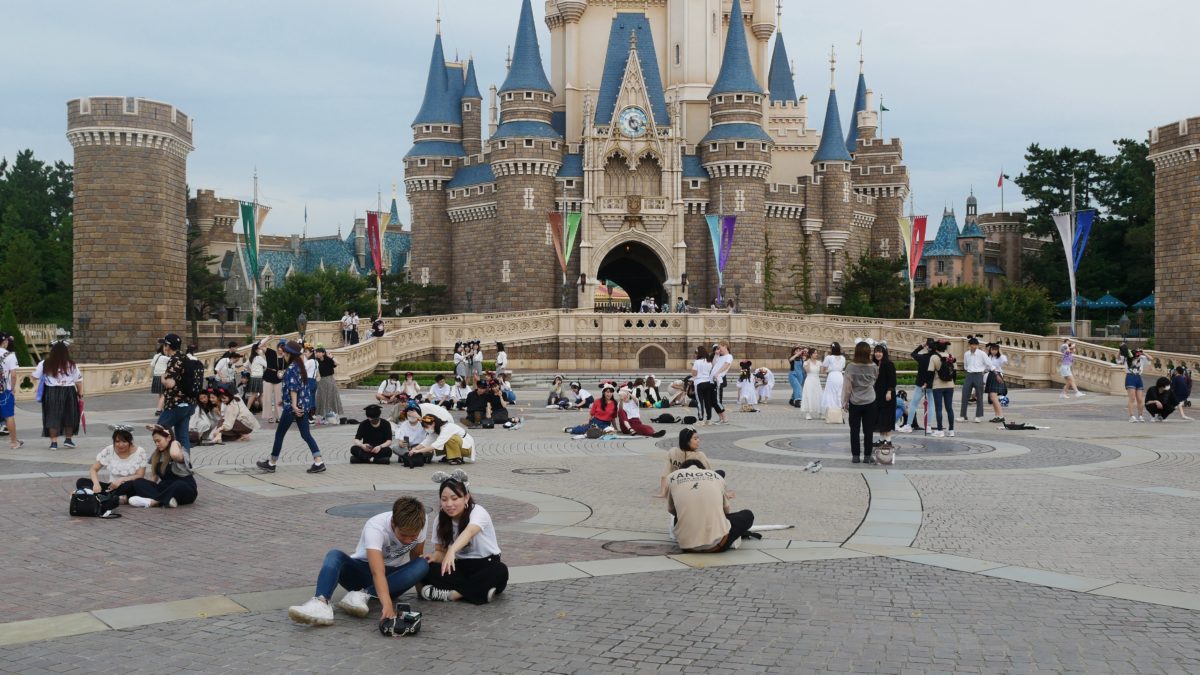 The scene of young Guests posing in front of Cinderella Castle is nothing new. But the fact that they're taking off their masks and Cast Members seem okay with it is a little distressing to say the least. Cast Members have been very vigilant about enforcing mask-wearing around the park, but it seems the Castle Forecourt is an exception. Maybe because they're all spread out a bit? I did see more crowded times when Guests were a lot closer together and nothing was done either.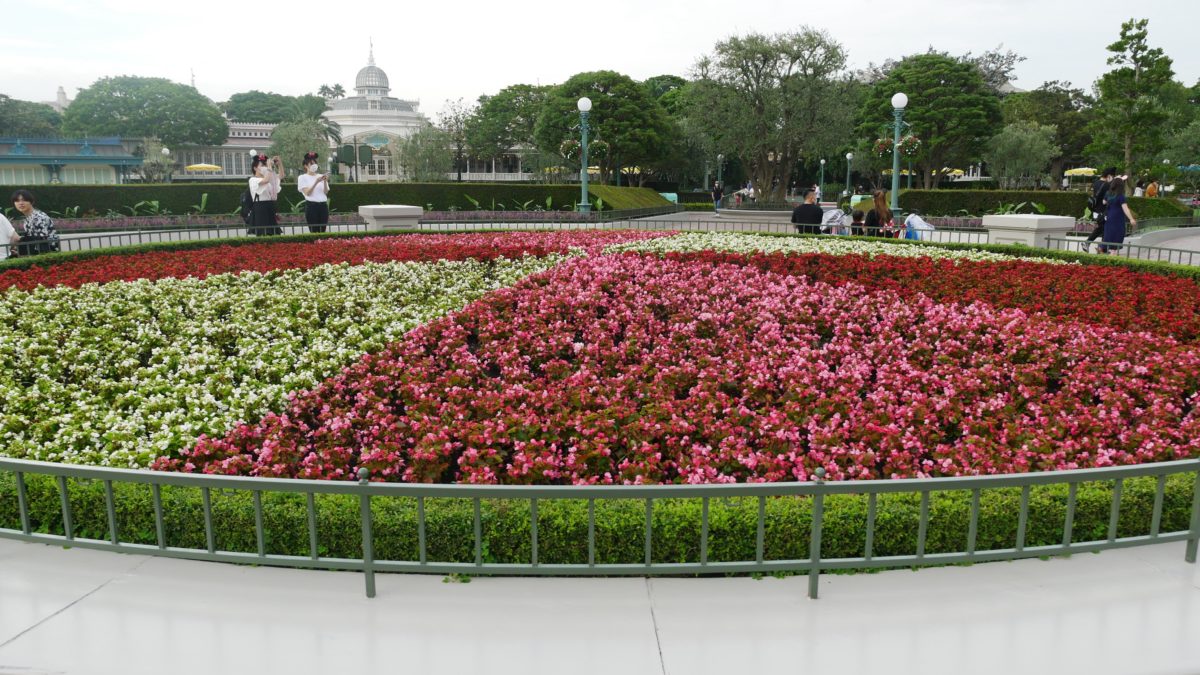 Because there's no special event right now, the central flowerbed is just a pinwheel of flowers. It's still quite pretty, though!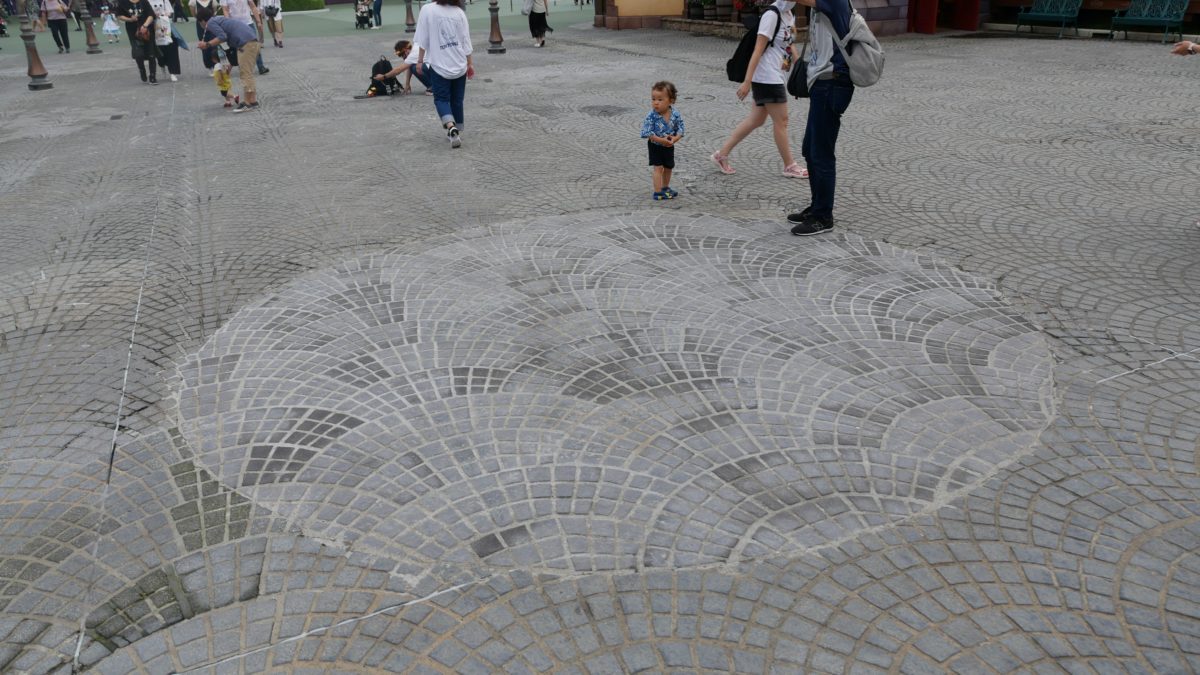 Despite the completion of the castle project, the Fantasia statue featuring Mickey as the Sorcerer's Apprentice is still conspicuously absent. The statue has been there since 2003 as a gift from The Walt Disney Company to celebrate Tokyo Disneyland's 20th anniversary.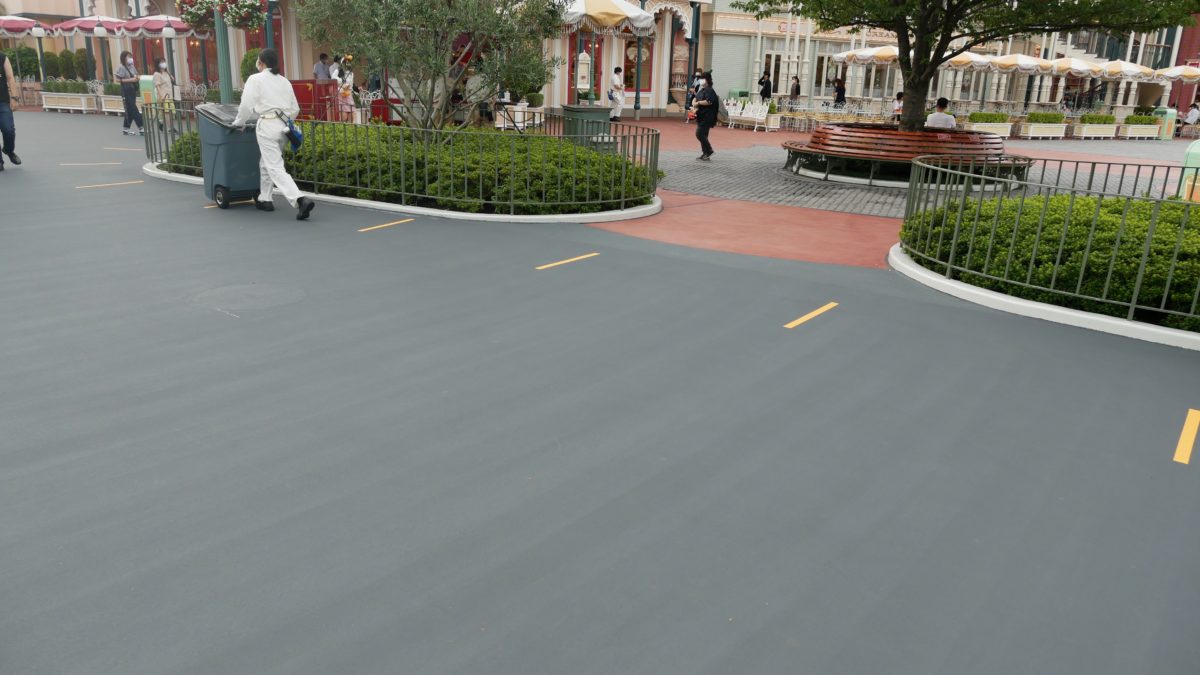 All around the park, social distancing markers are set up for everything from attractions to popcorn wagons.
Scaffolding around one of my favorite snack spots, Sweetheart Cafe, is finally gone, and the outdoor seating is once again open!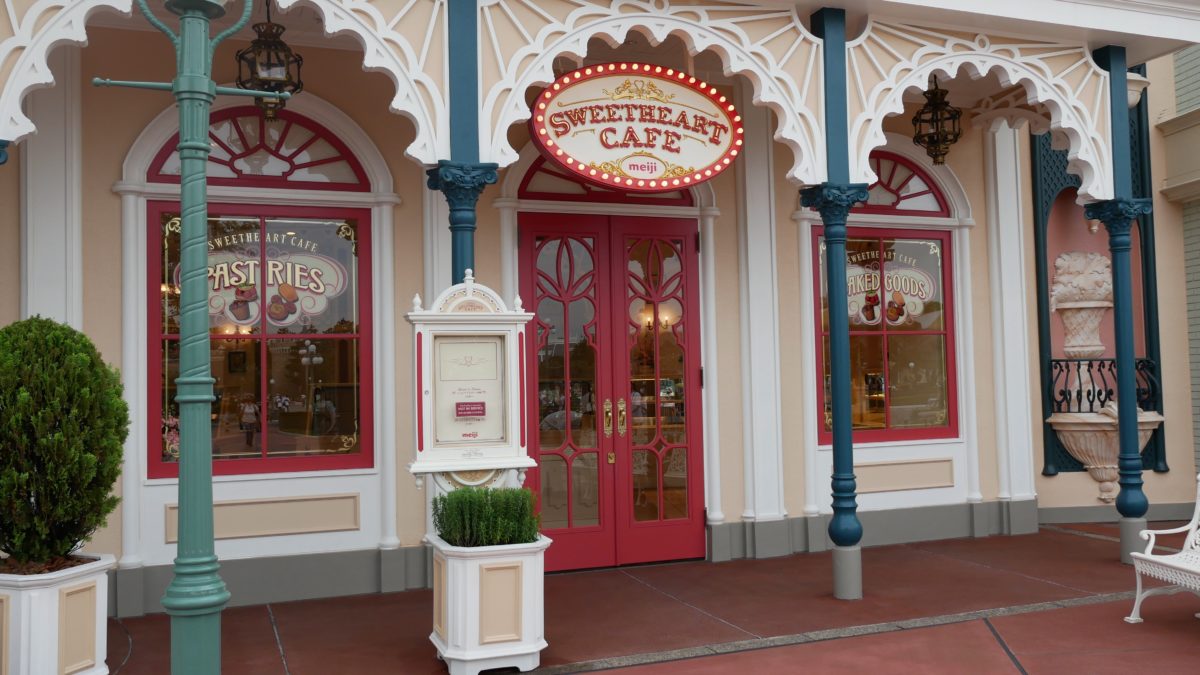 Sadly the cafe itself is currently on the list of closed restaurants. I need my Mike Wazowski Melon Bread fix!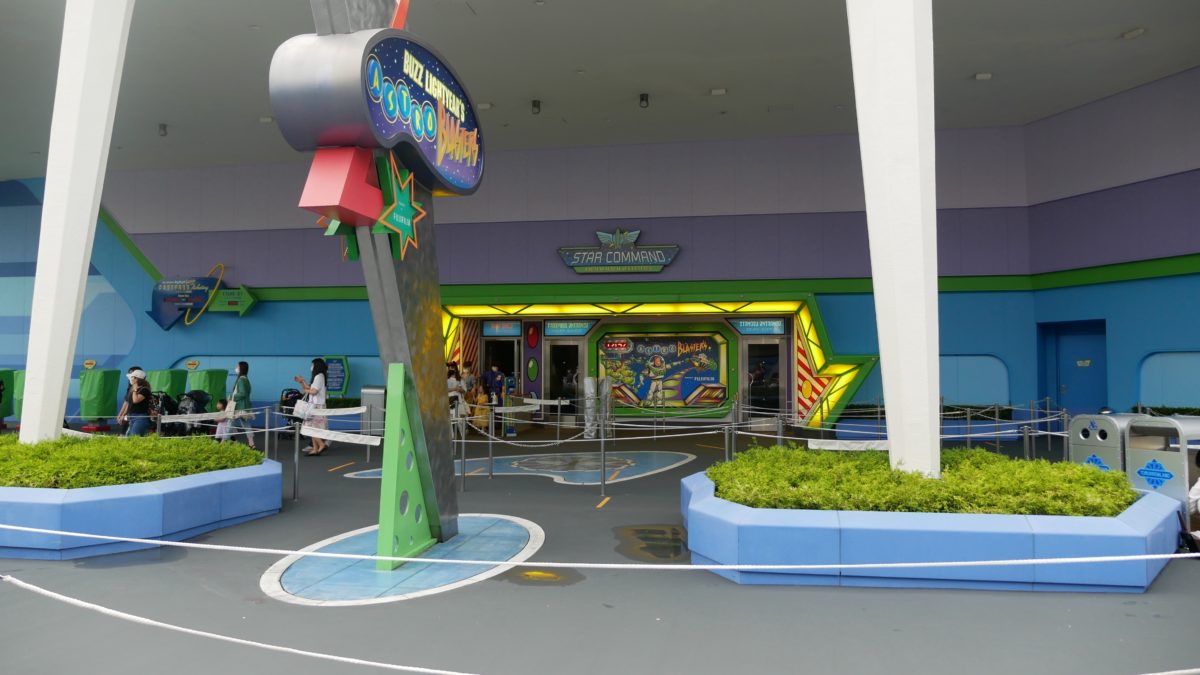 Occasionally, attractions are closed for sanitization. Buzz Lightyear's Astro Blasters, being a particularly touch-heavy attraction, is a frequent victim.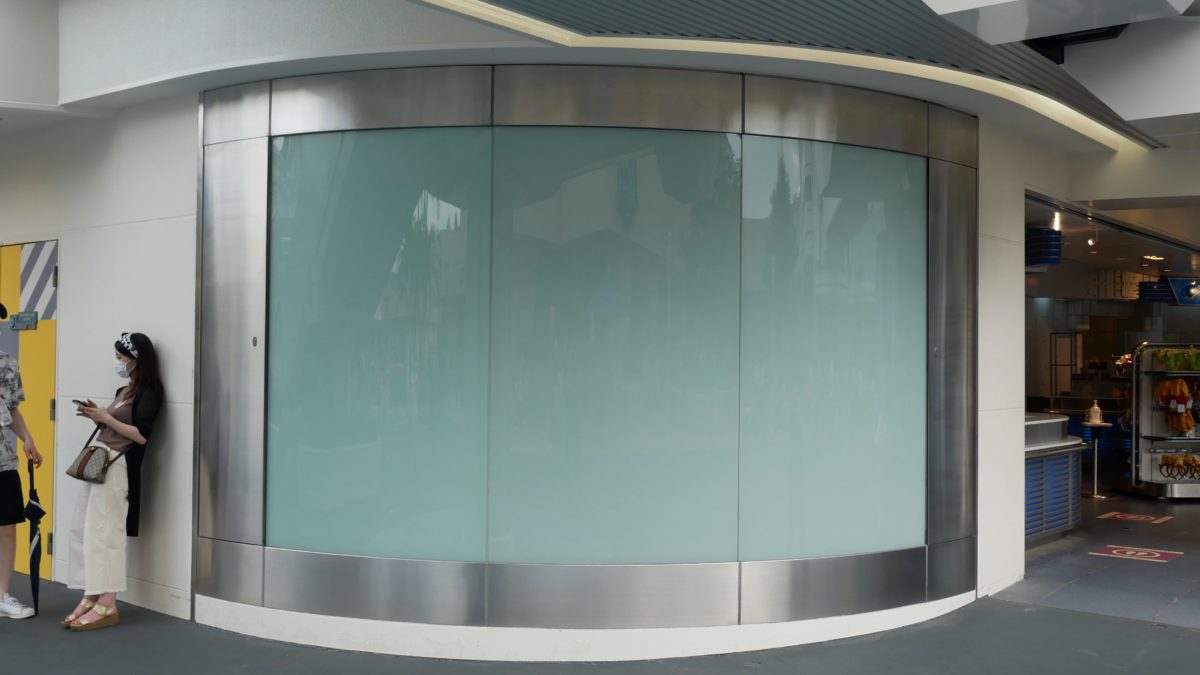 The window display promoting Star Wars Episode IX: The Rise of Skywalker has disappeared in Tomorrowland.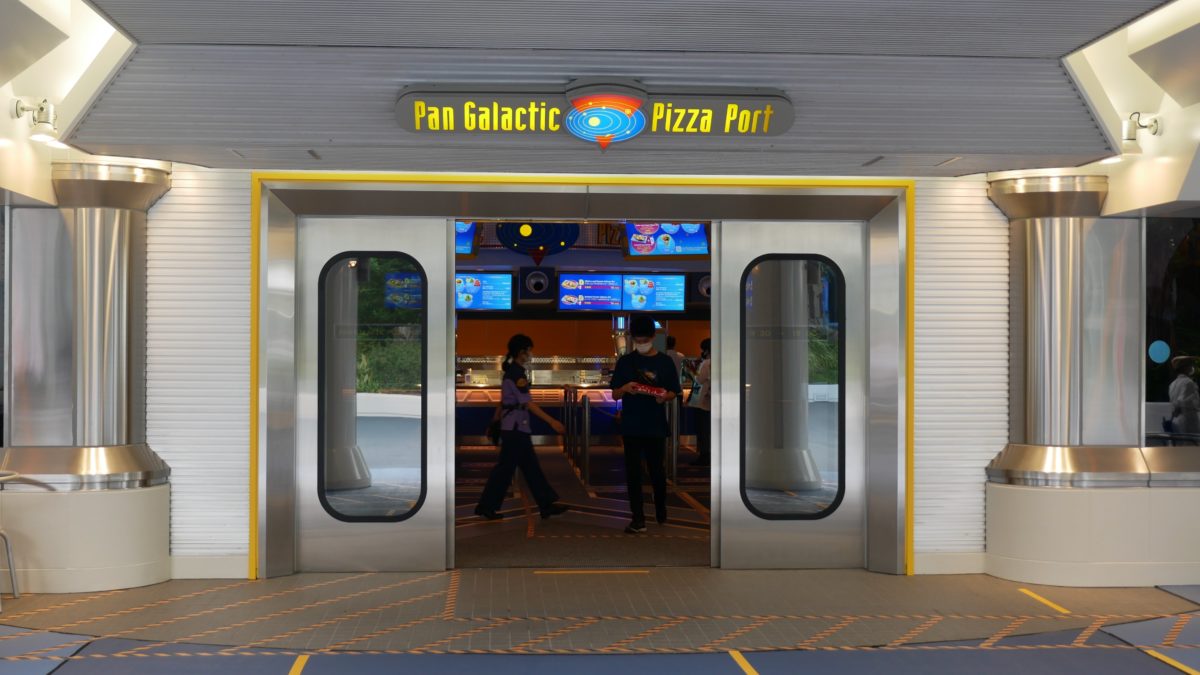 But you know what hasn't disappeared? Pan Galactic Pizza Port! It's back from a long five month refurbishment, complete with our good friend Tony Solaroni. We'll have a closer look at the new automated ordering system soon, so stay tuned to WDWNT!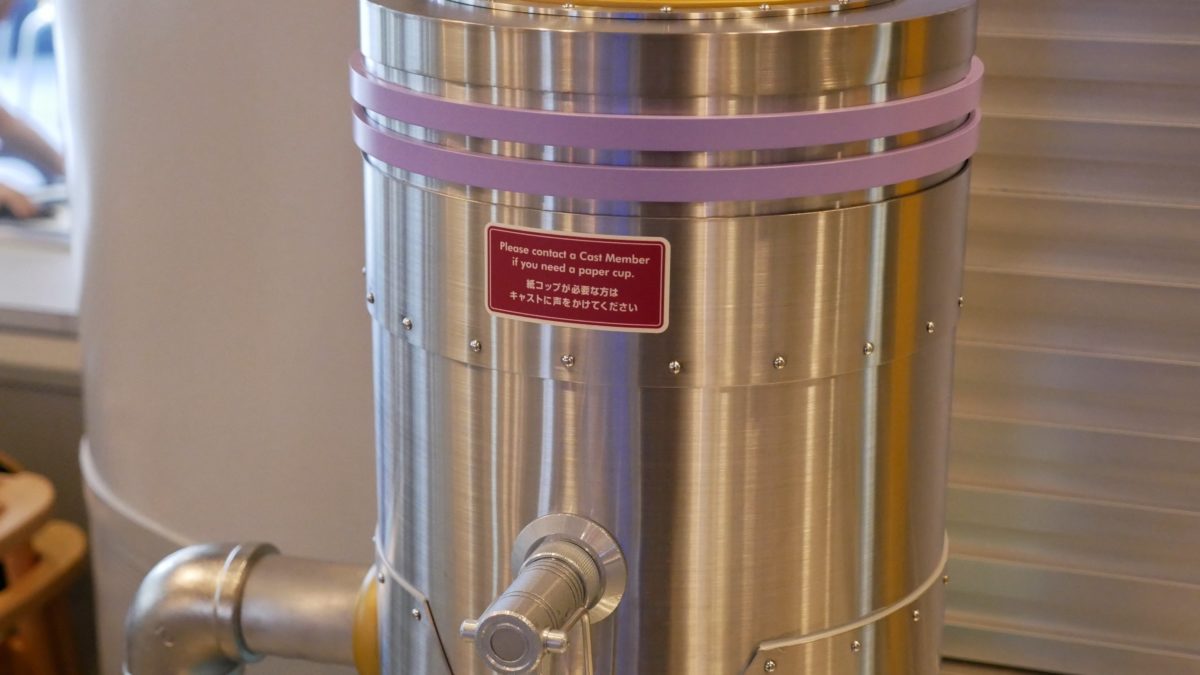 Free water is available at every Tokyo Disney Resort counter service restaurant. Usually the blue cups are next to the water station, but instead, you must ask a Cast Member due to COVID-19 precautions.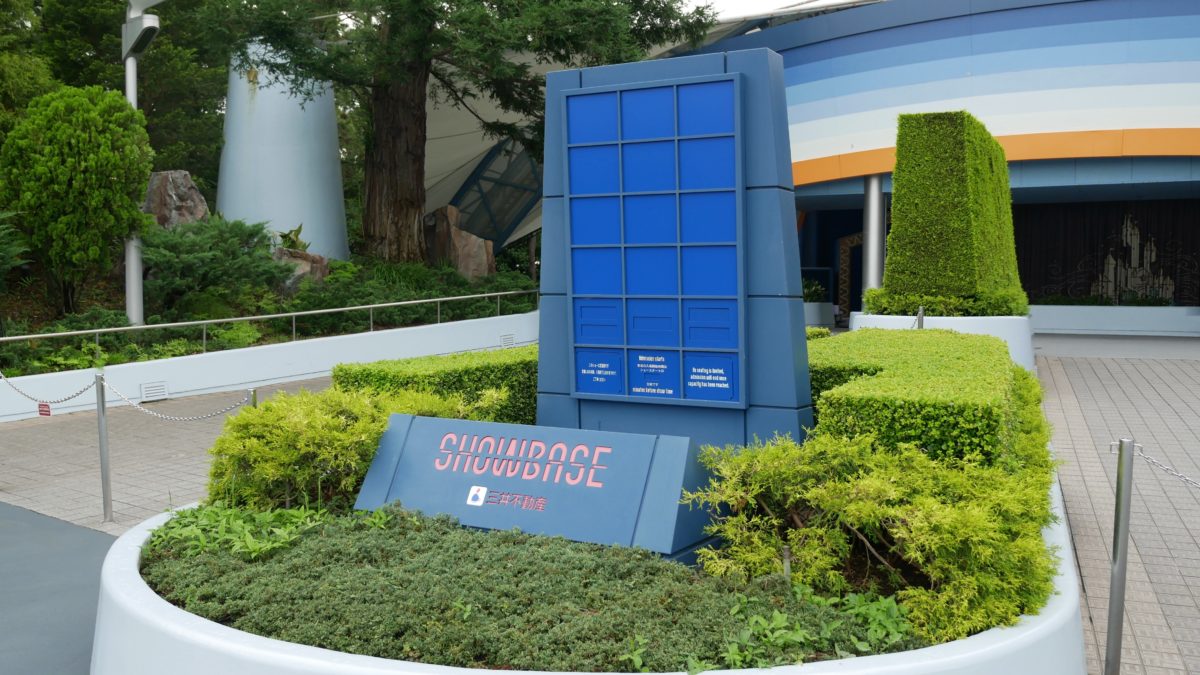 Since the extended closure ended the brief but beloved run of It's Very Minnie, Showbase now sits empty with no planned shows for a long, long time.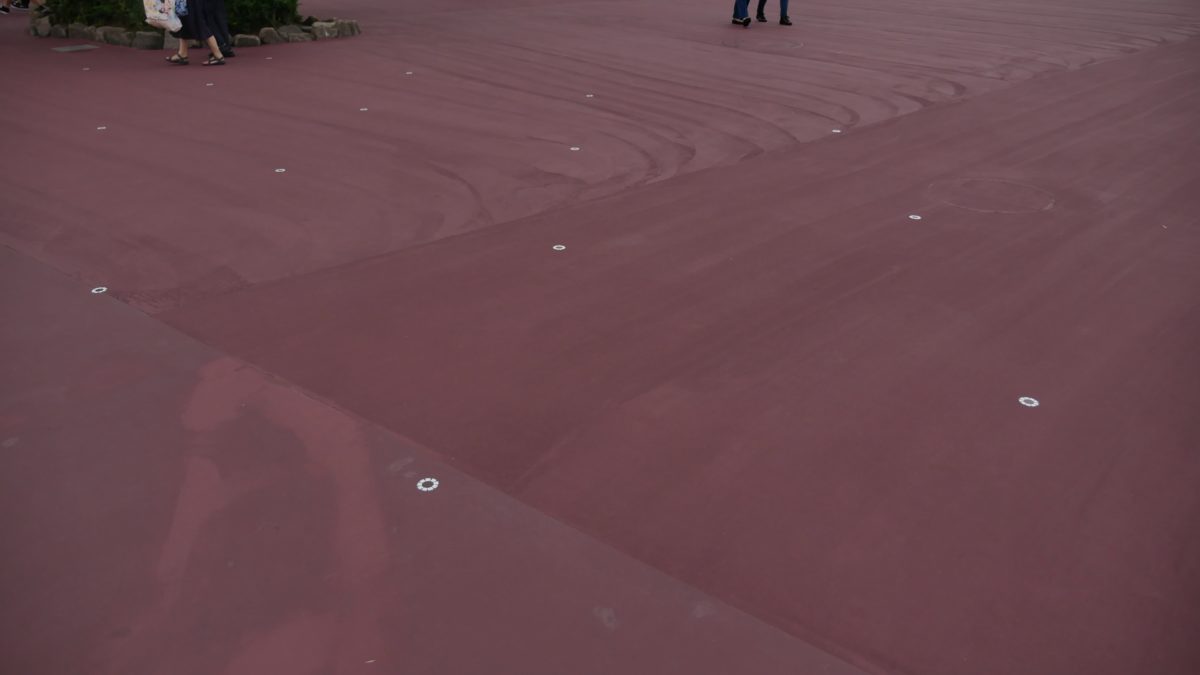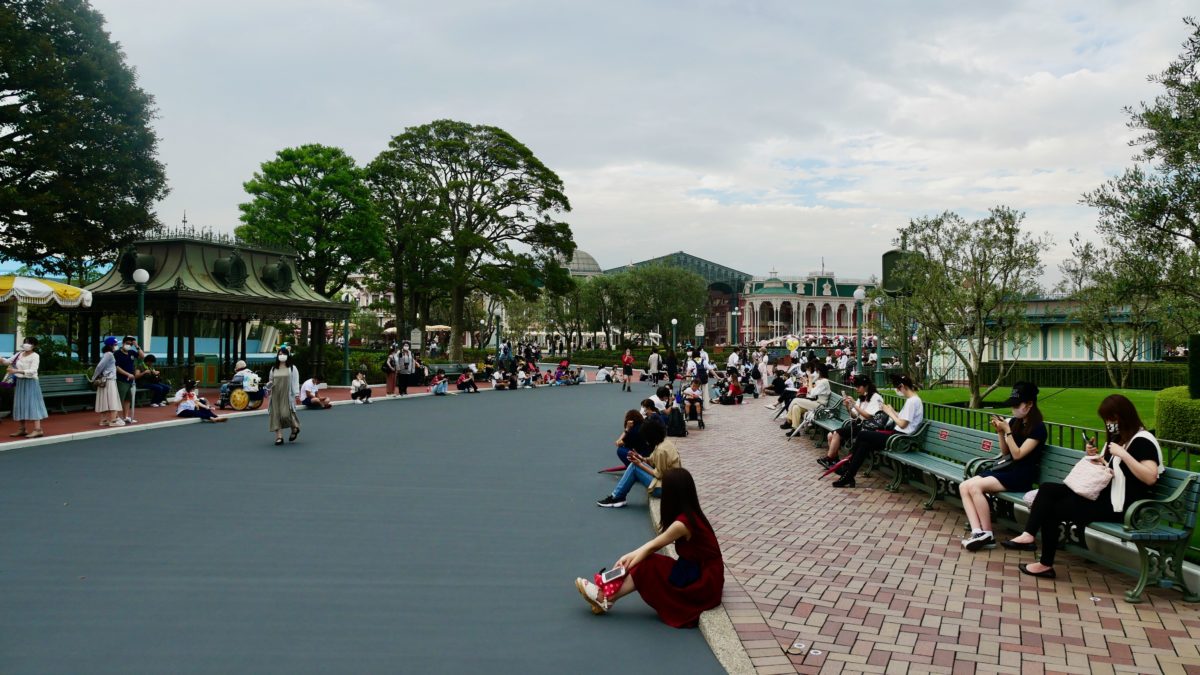 Around the parade route, white dots mark where Guests may be seated in a socially distanced manner. I wonder if this same system could be used to return Dreaming Up! and Tokyo Disneyland Electrical Parade: DreamLights anytime soon?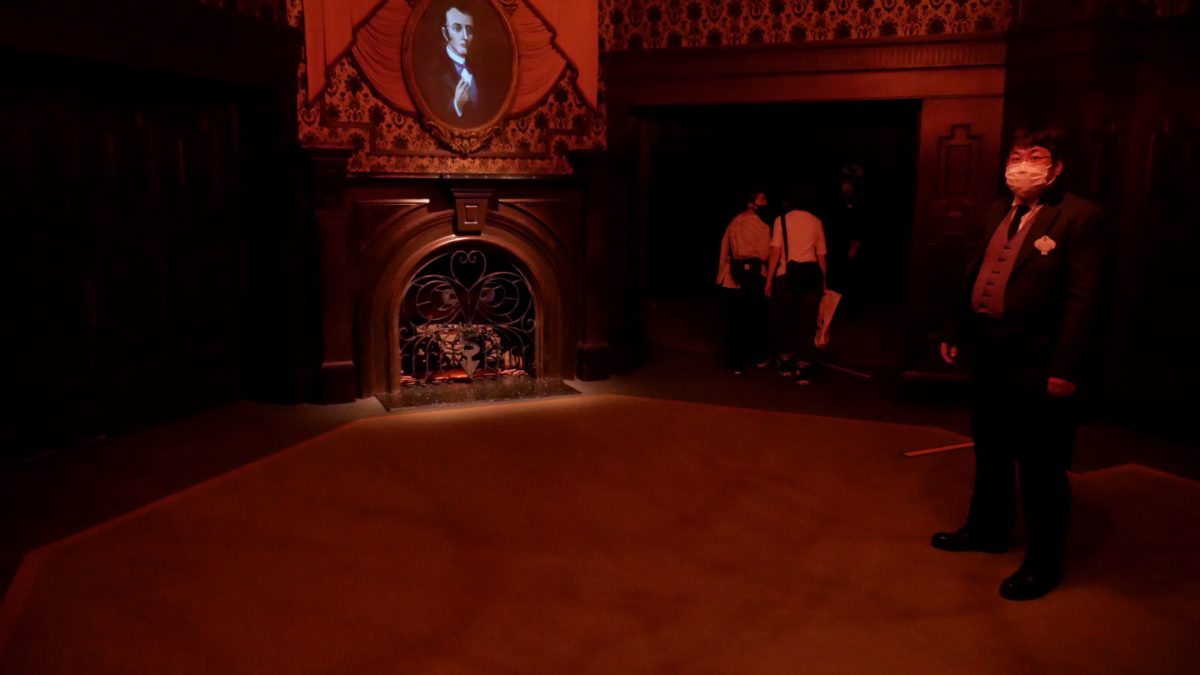 Just like at the Magic Kingdom, The Haunted Mansion's stretching room is in use as extra queue space, unfortunately. Hopefully we can see the return of this iconic pre-show soon!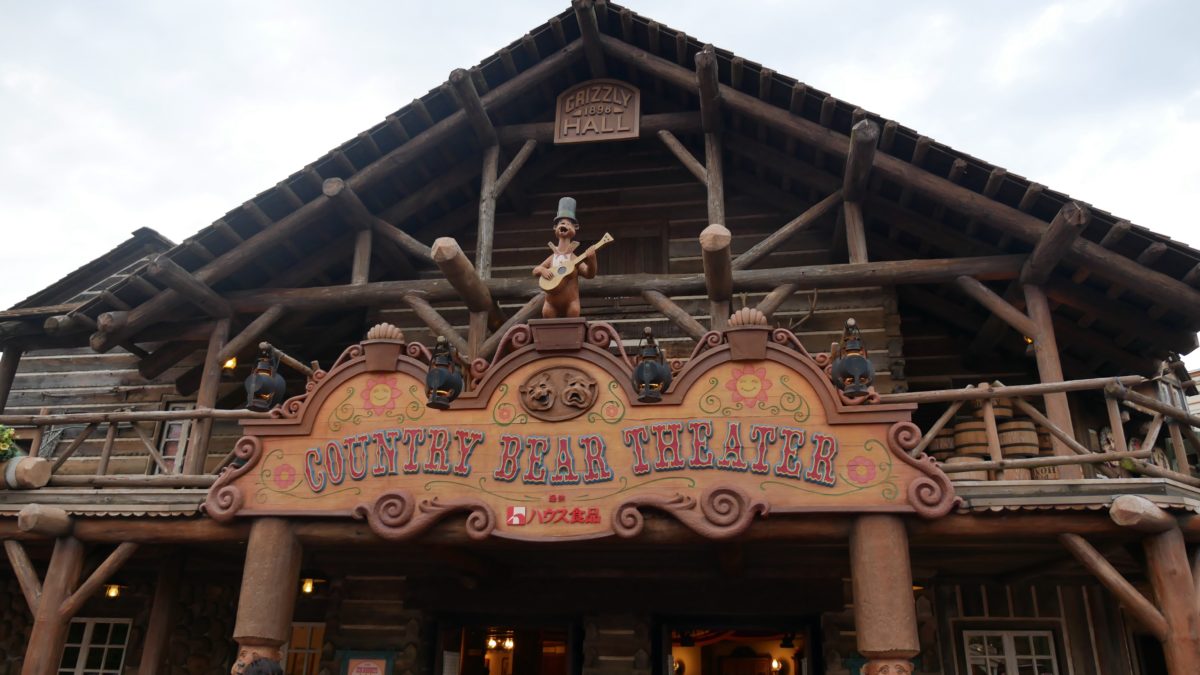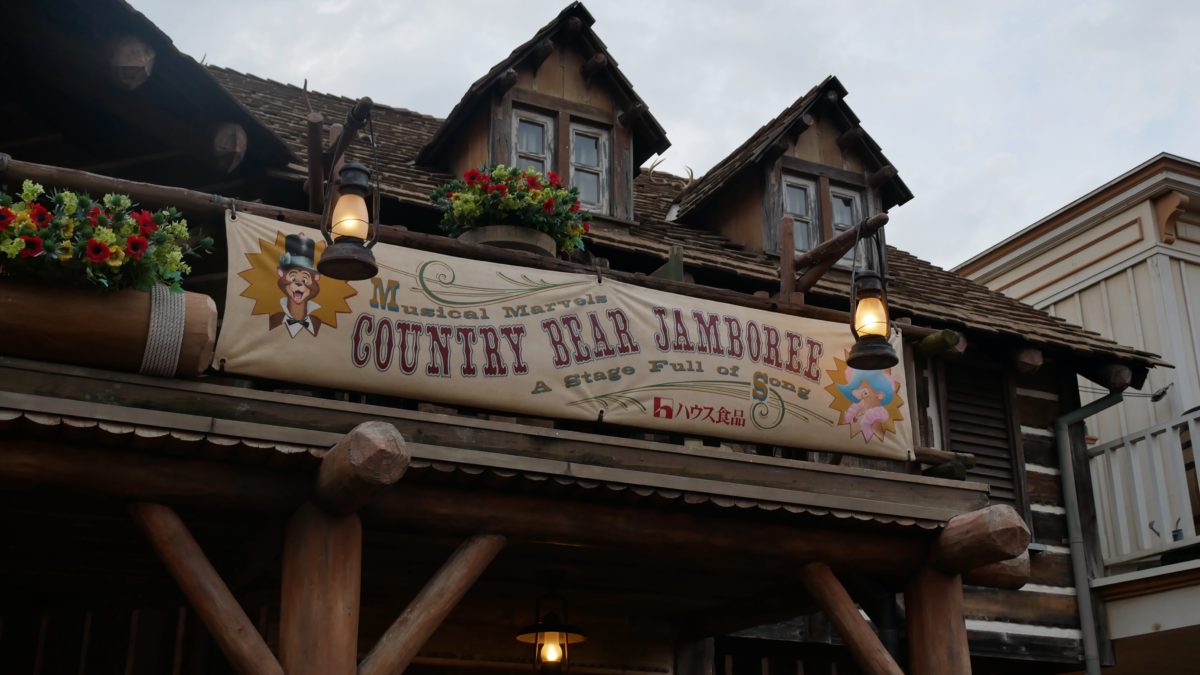 In case you missed it earlier this week, the Tokyo Disney Resort officially cancelled the Country Bear Vacation Jamboree for this year, so the original version of the show is still playing.
And of course, we can't visit Tokyo Disneyland without talking about Splash Mountain! Like at the Magic Kingdom, Splash Mountain saw the highest waits out of the whole park, despite this version not slated for closure. Perhaps it was hot and humid Tokyo summer that motivated Guests!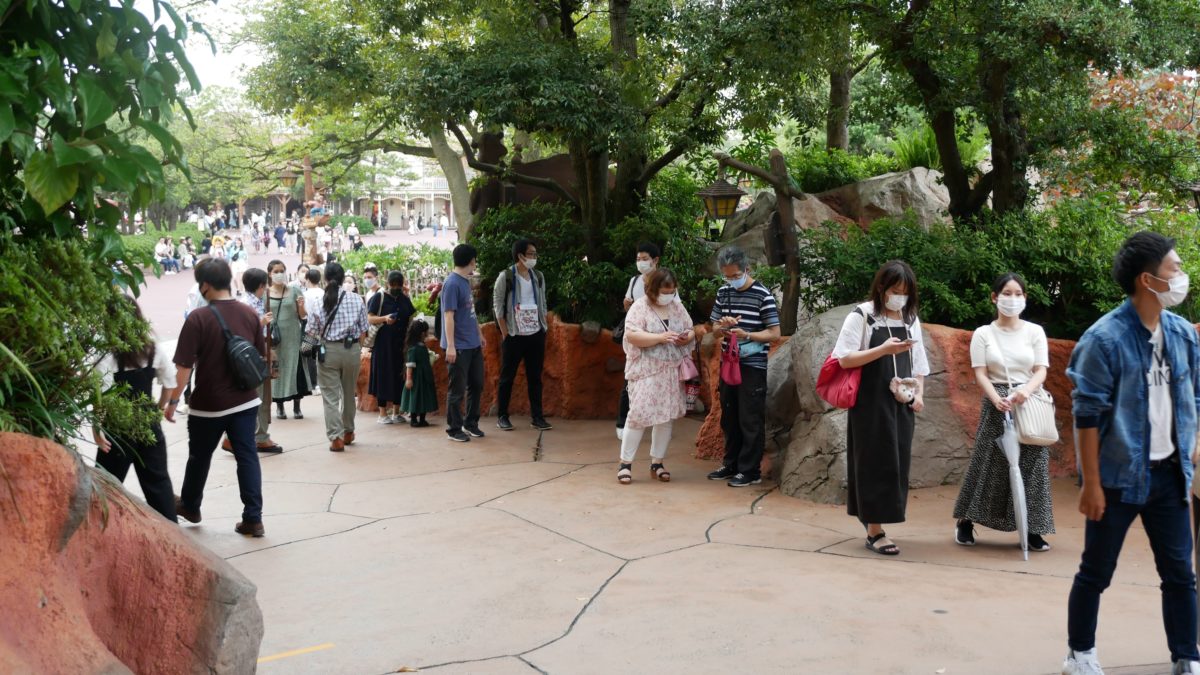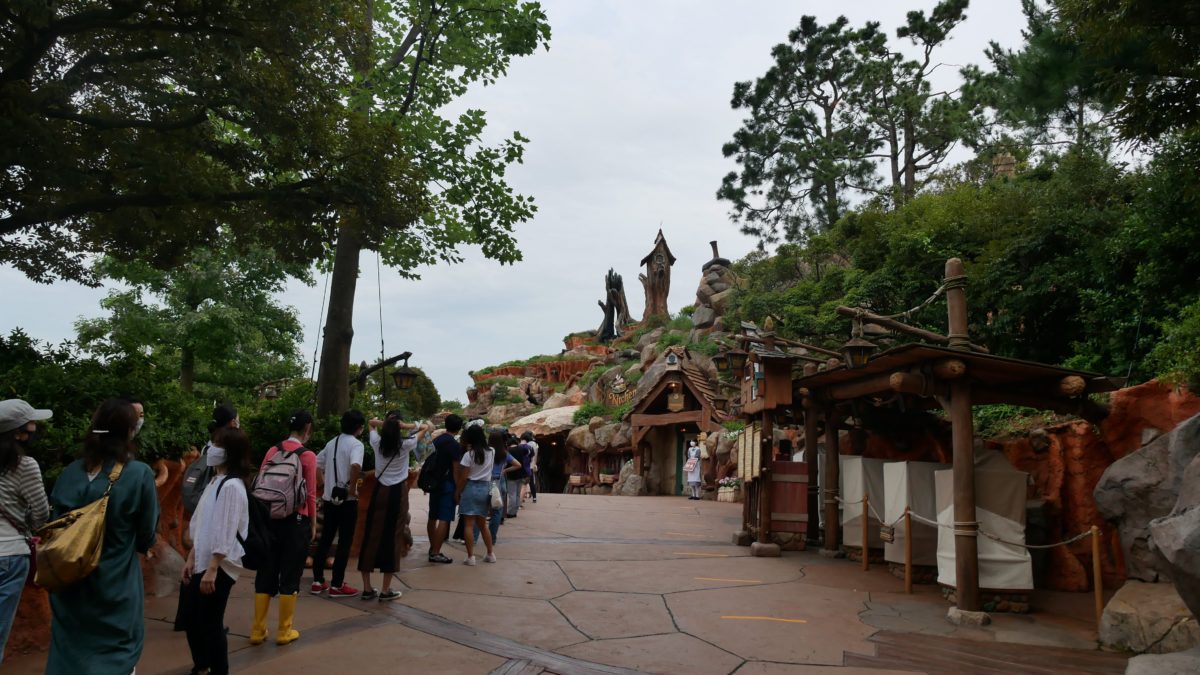 As a matter of fact, the socially-distanced line was so long, it stretched all the way through and around Critter Country to the parade route!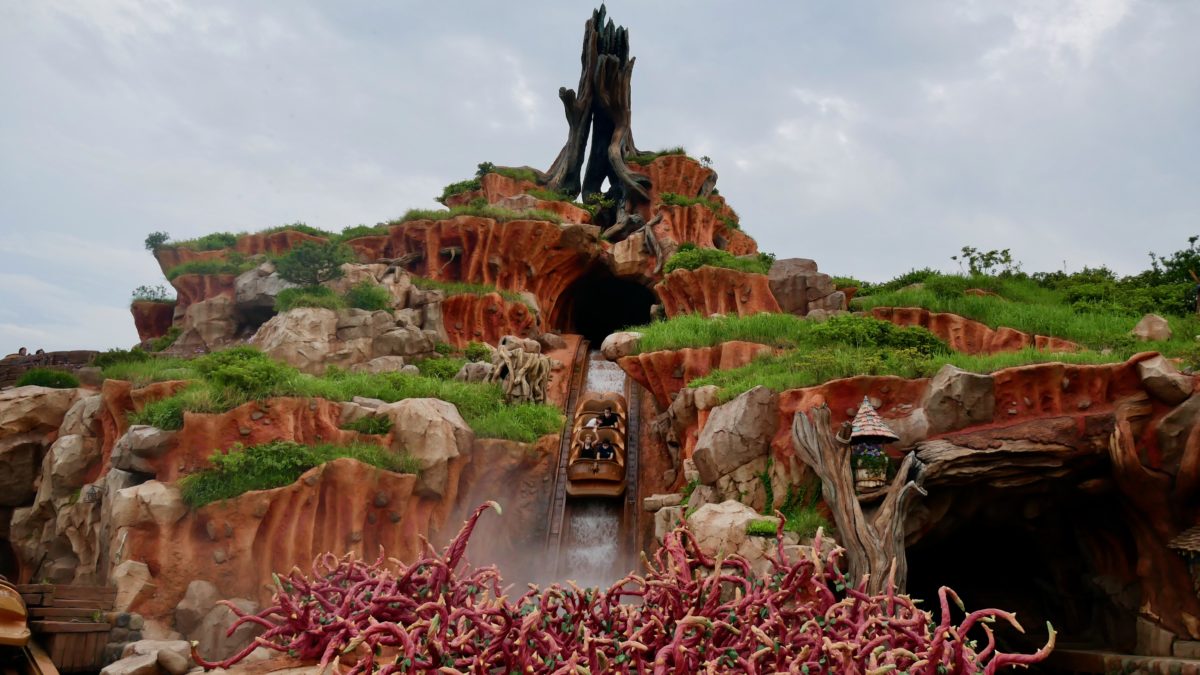 Whatever the reason, Guests were clearly very eager to take a plunge down into the Briar Patch!
And that's the latest news from Tokyo Disneyland! It's so nice to be back in the park again, and we look forward to sharing it with you as much as possible as ticket restrictions loosen. What was your favorite new development? Let us know in the comments below or on social media!
Are you considering or planning a visit to Tokyo Disney Resort? Visit TDRPlans for every detail (and more) that you'll need to make your trip the best it can be! Did I mention it's 100% free? Oh, and stay tuned to WDWNT for up-to-date news on Tokyo Disney Resort, Walt Disney World, and Disney Parks worldwide!