The Halloween Horror Nights Tribute Store has finally opened at Universal Studios Florida, full of frightful surprises and gory excitement. We have been closely monitoring the store's preparations for weeks already, so we are thrilled to start the Halloween season with a trip inside. Following this week's crushing announcement that Halloween Horror Night events were to be cancelled at the Universal Orlando Resort this year, the store opening had experienced an unexpected delay this month. Now it is back, so let's take a look around…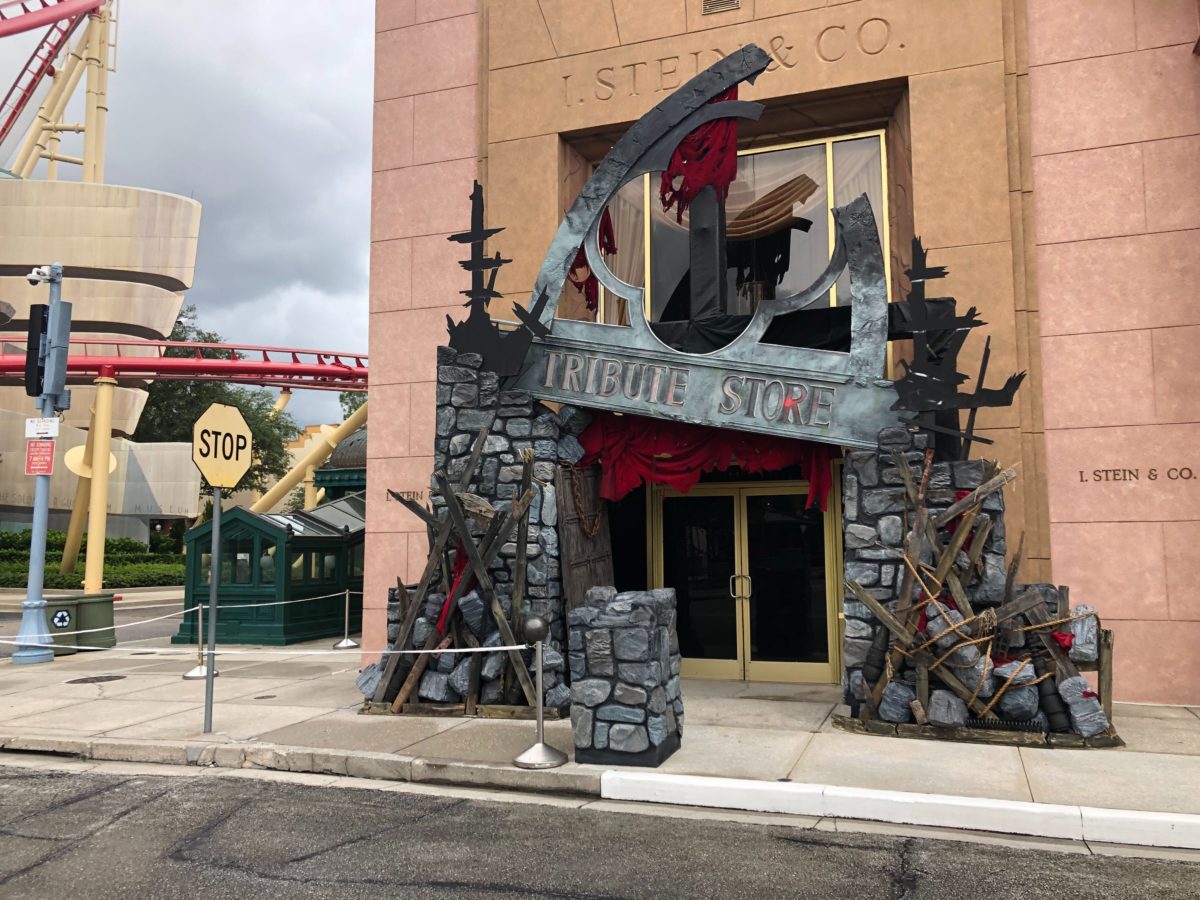 As you enter the store, a series of social distancing markers have been set up outside the entrance, along with a roped-off queue.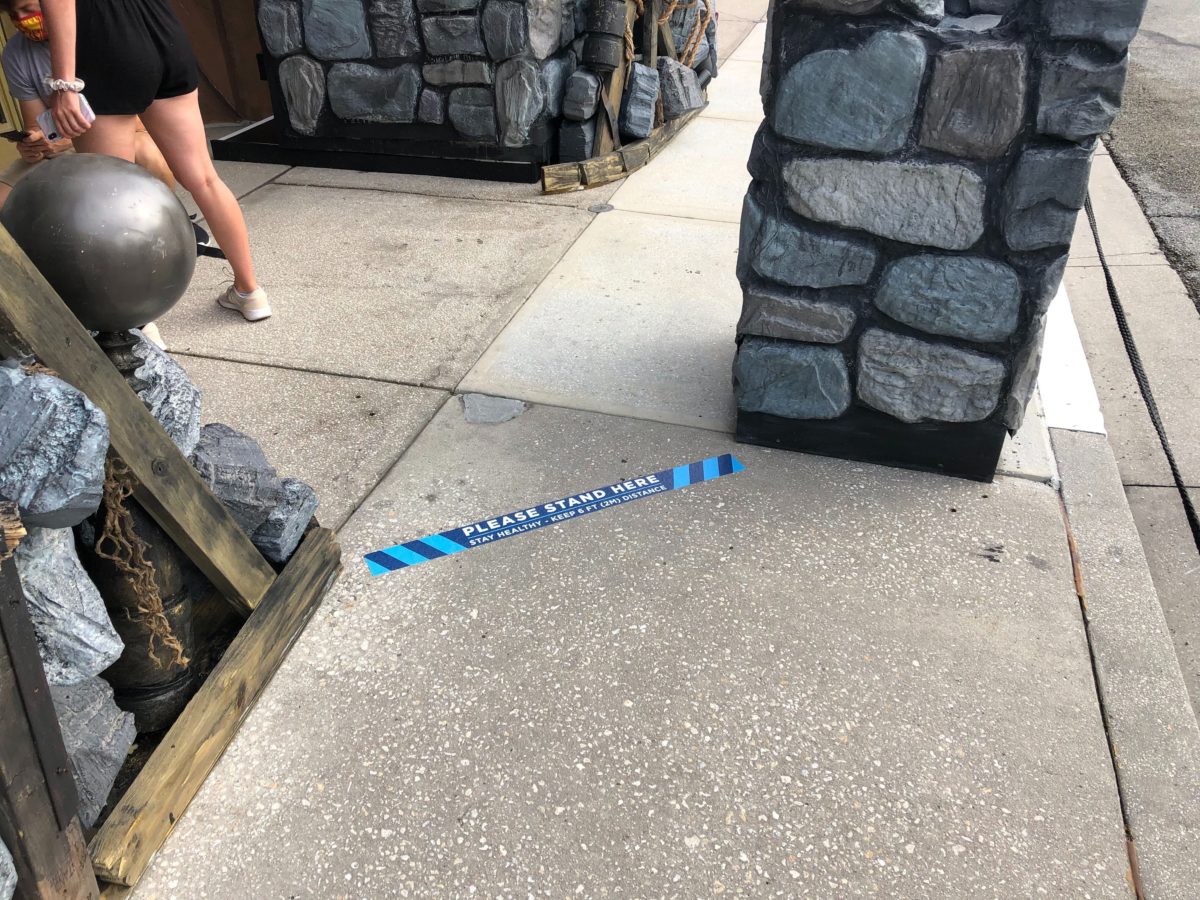 Due to new health and safety guidelines, there is a limit to the number of guests allowed inside. Once inside the Tribute Store, guests will be held in the first room before proceeding to the next room if capacity is maxed out.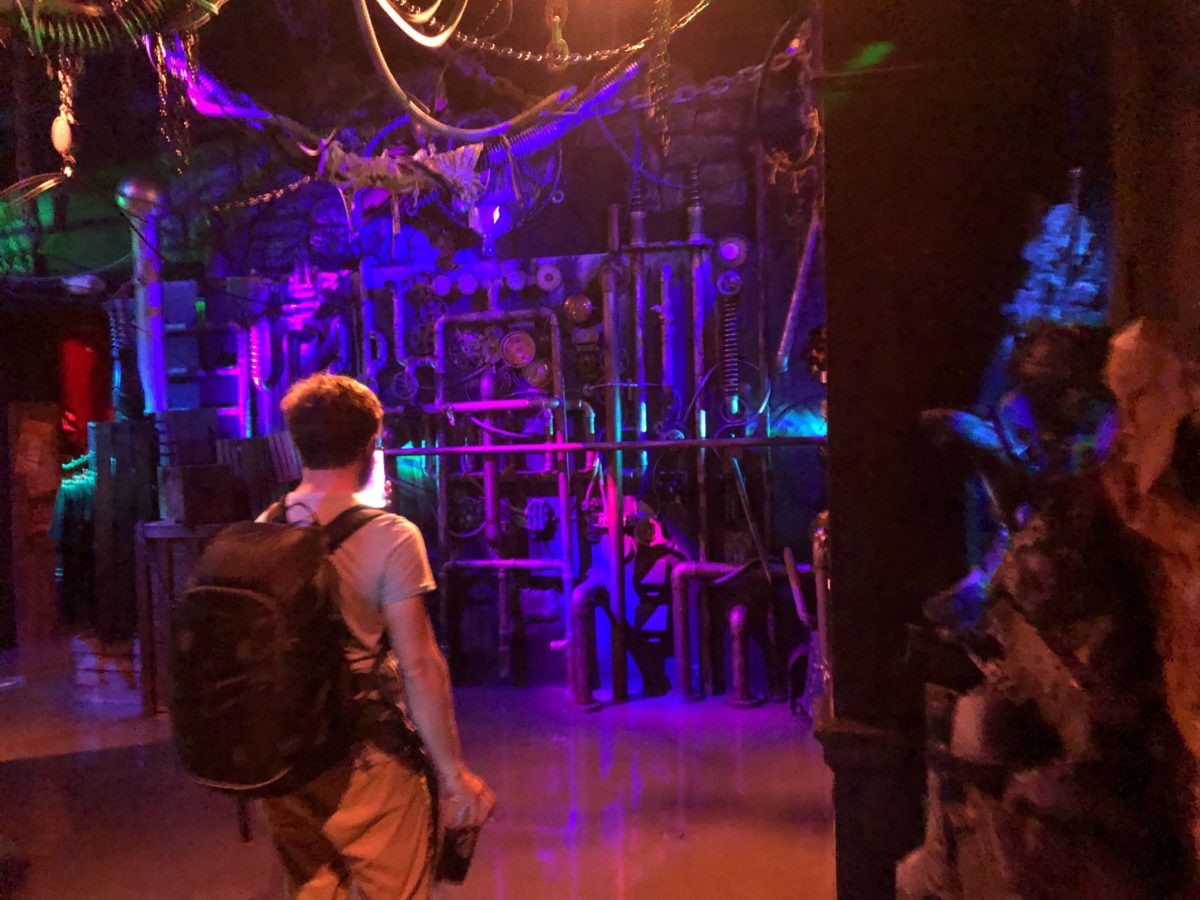 As you enter, there's all of the gory, industrial touches we've come to know and love from Halloween Horror Nights.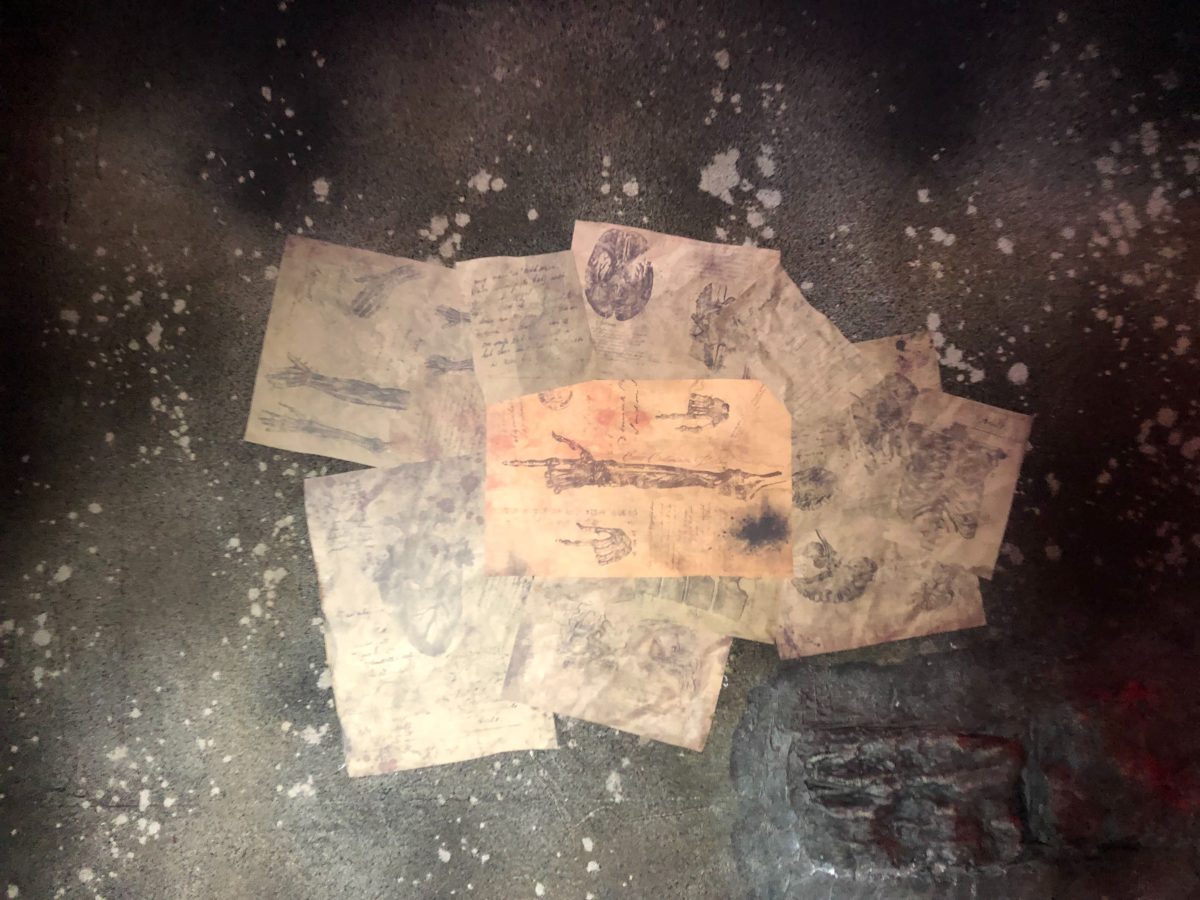 The first room as you enter has more of a classical vibe, if you will—it's Frankensteins laboratory!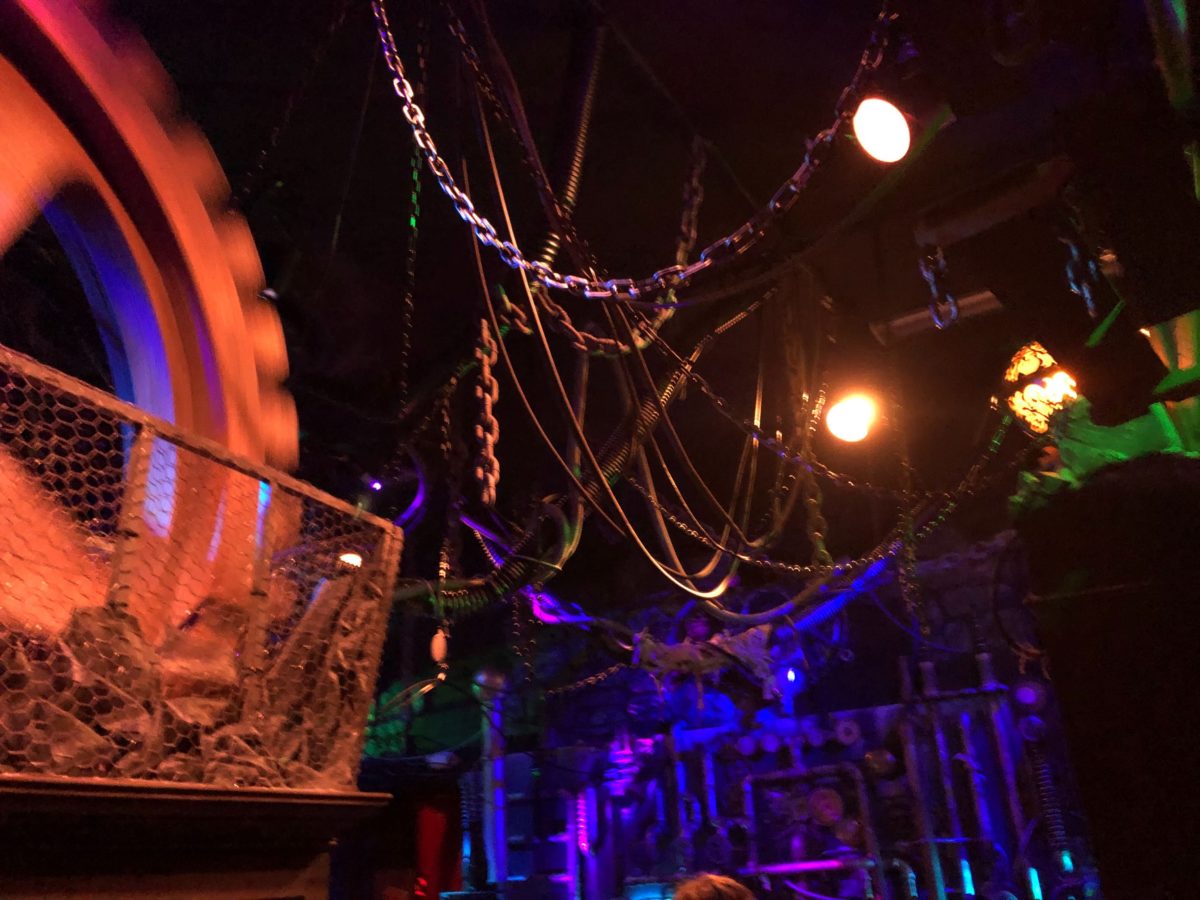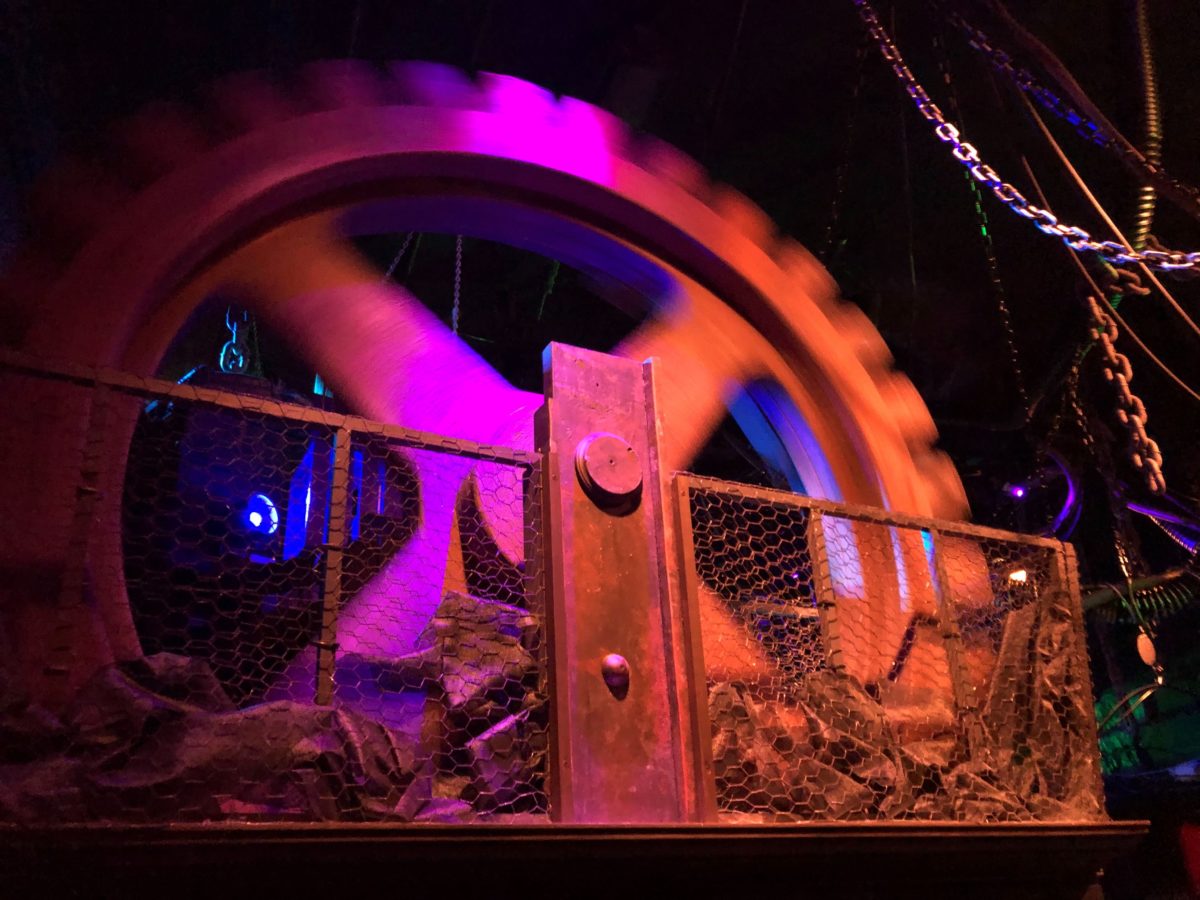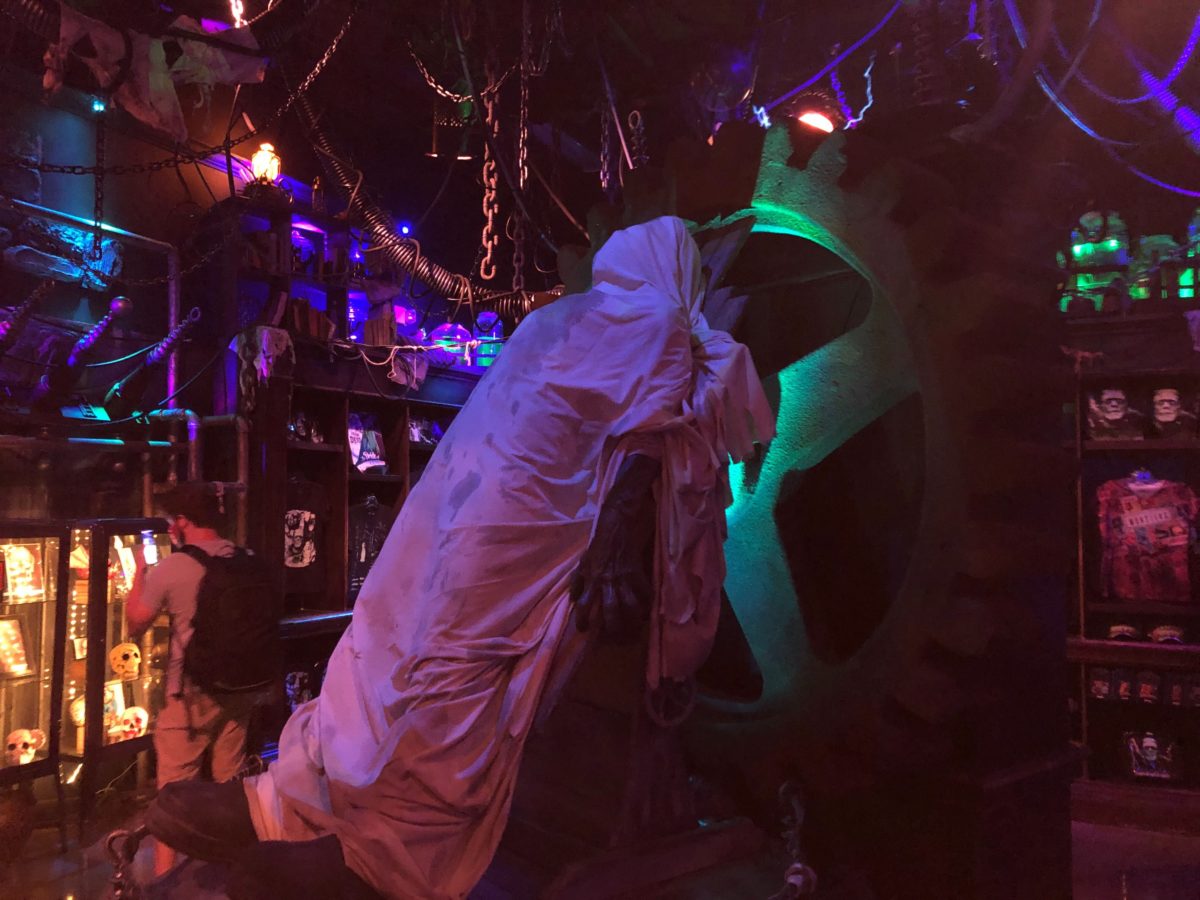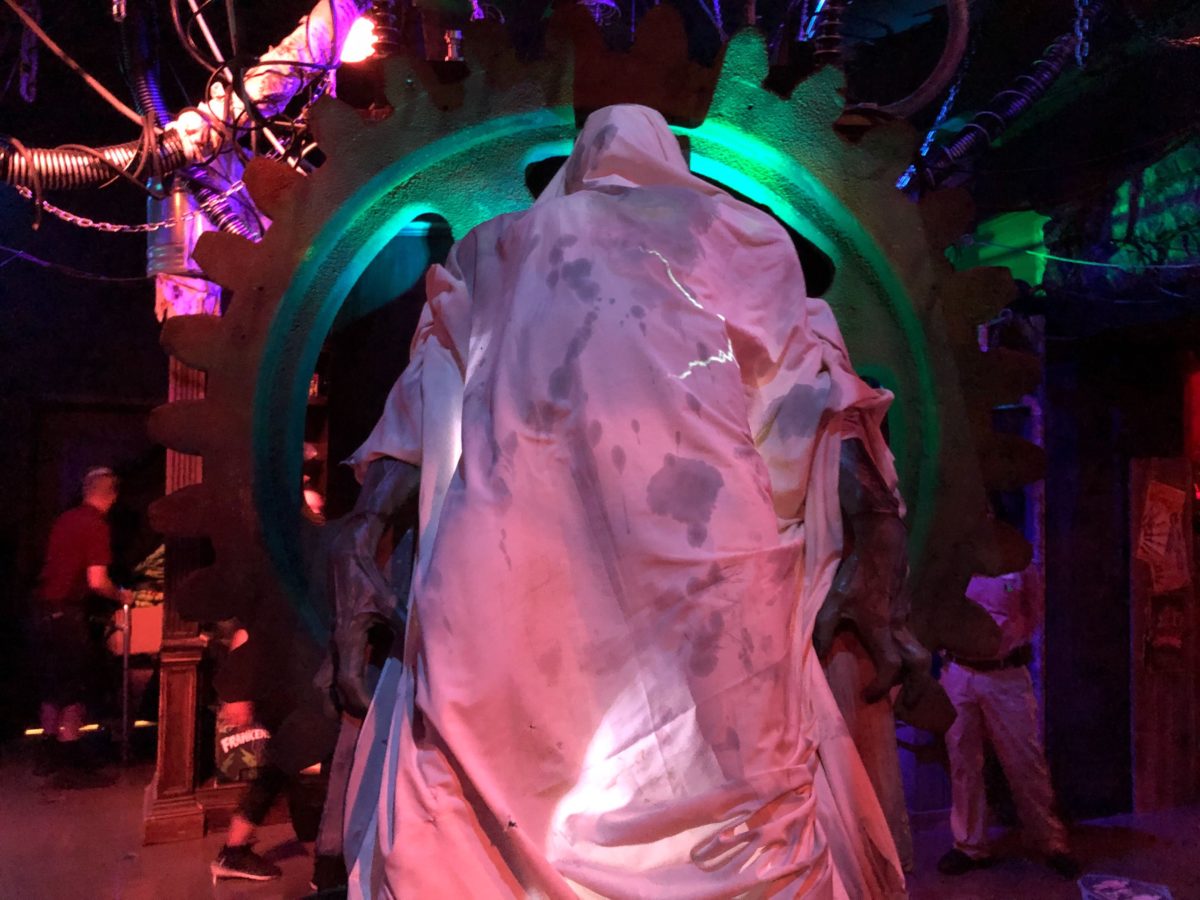 This room centers around Universal Monsters, including a large Frankenstein as the centerpiece of the room, pulsing with electricity.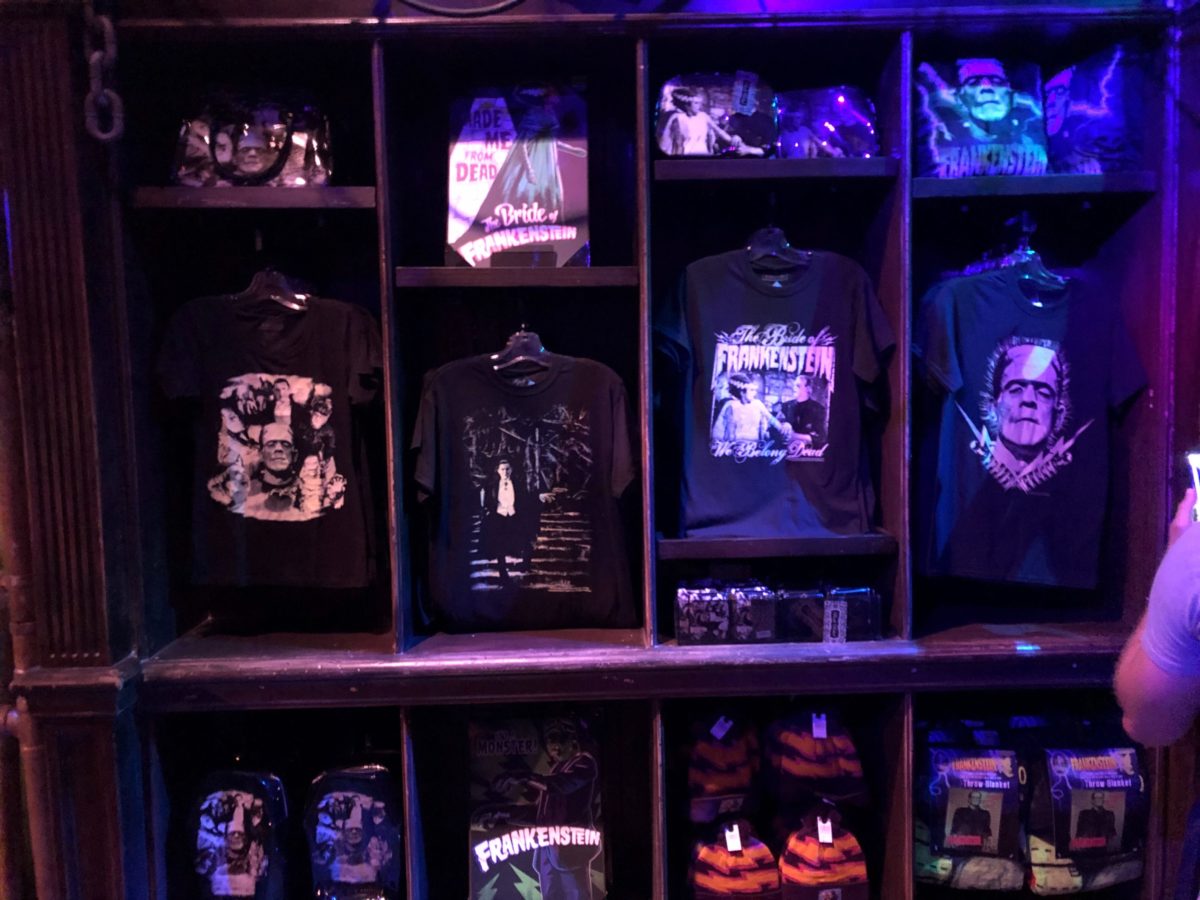 There's plenty of Universal Monsters merch featuring Frankenstein and his Bride.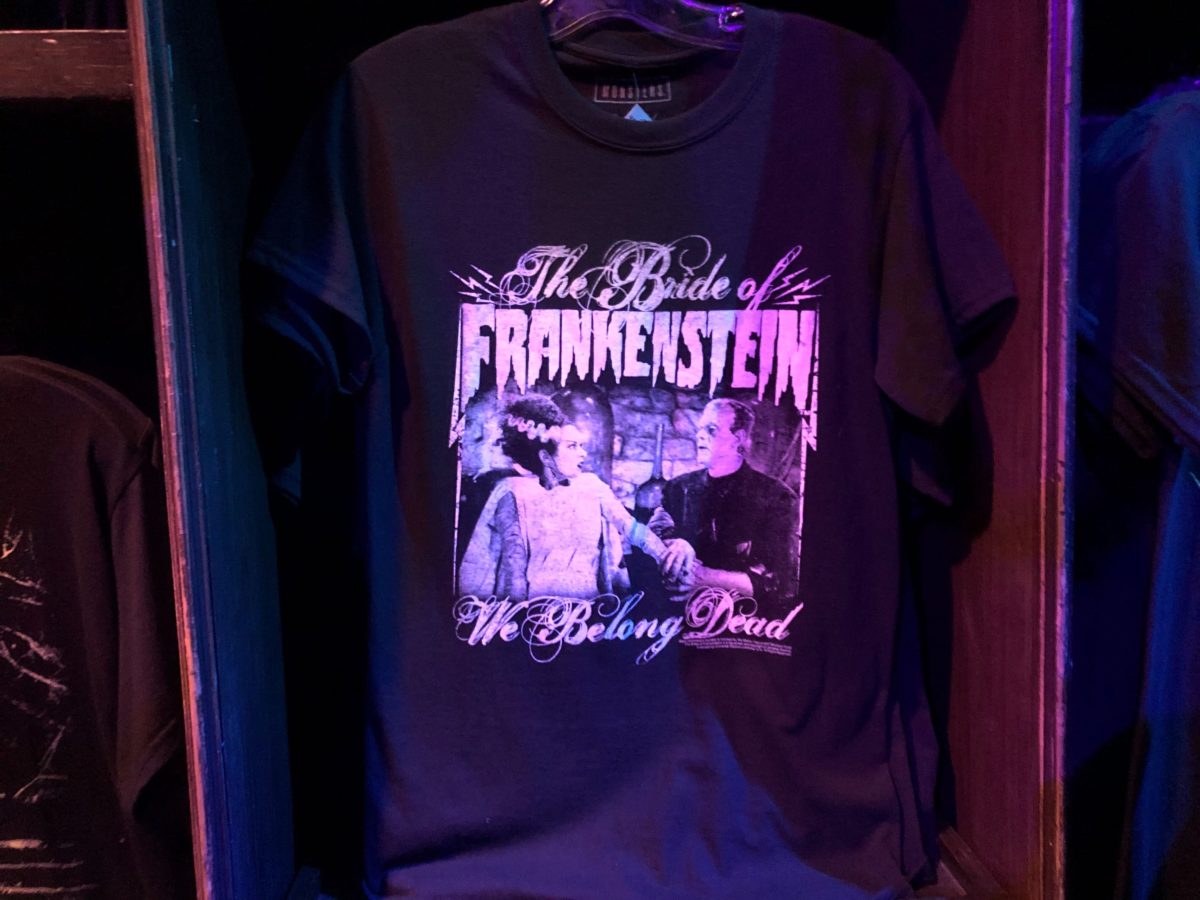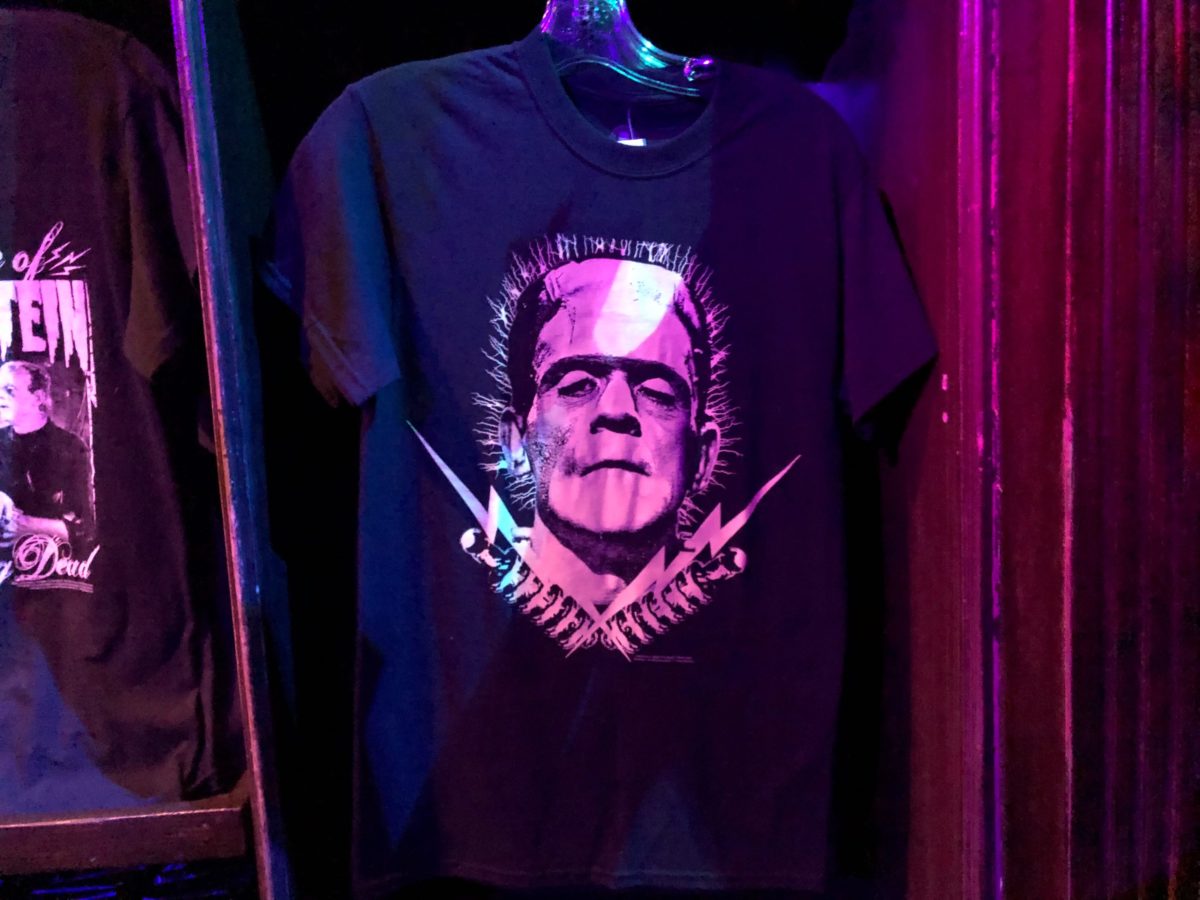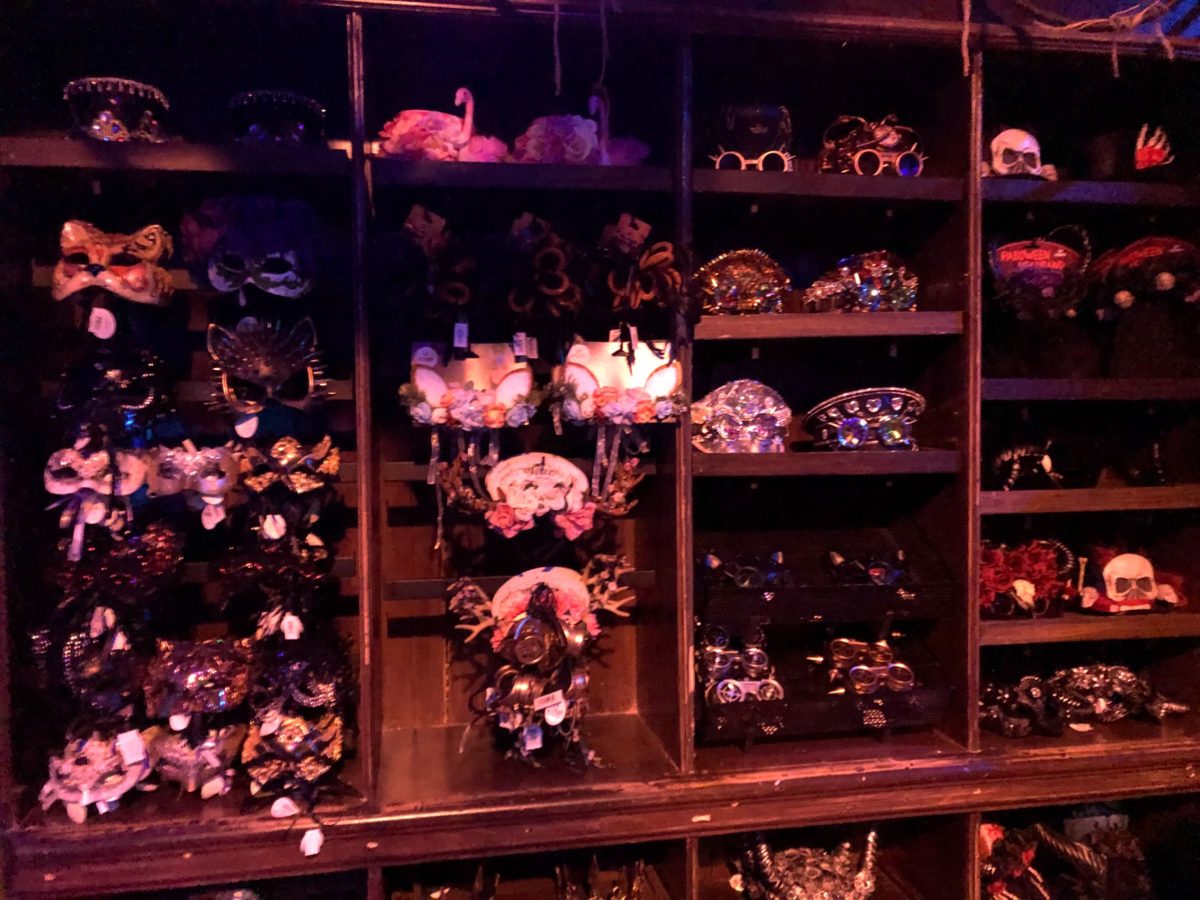 Plus some odd accessories, like generic carnival masks, witches hats, and other headgear.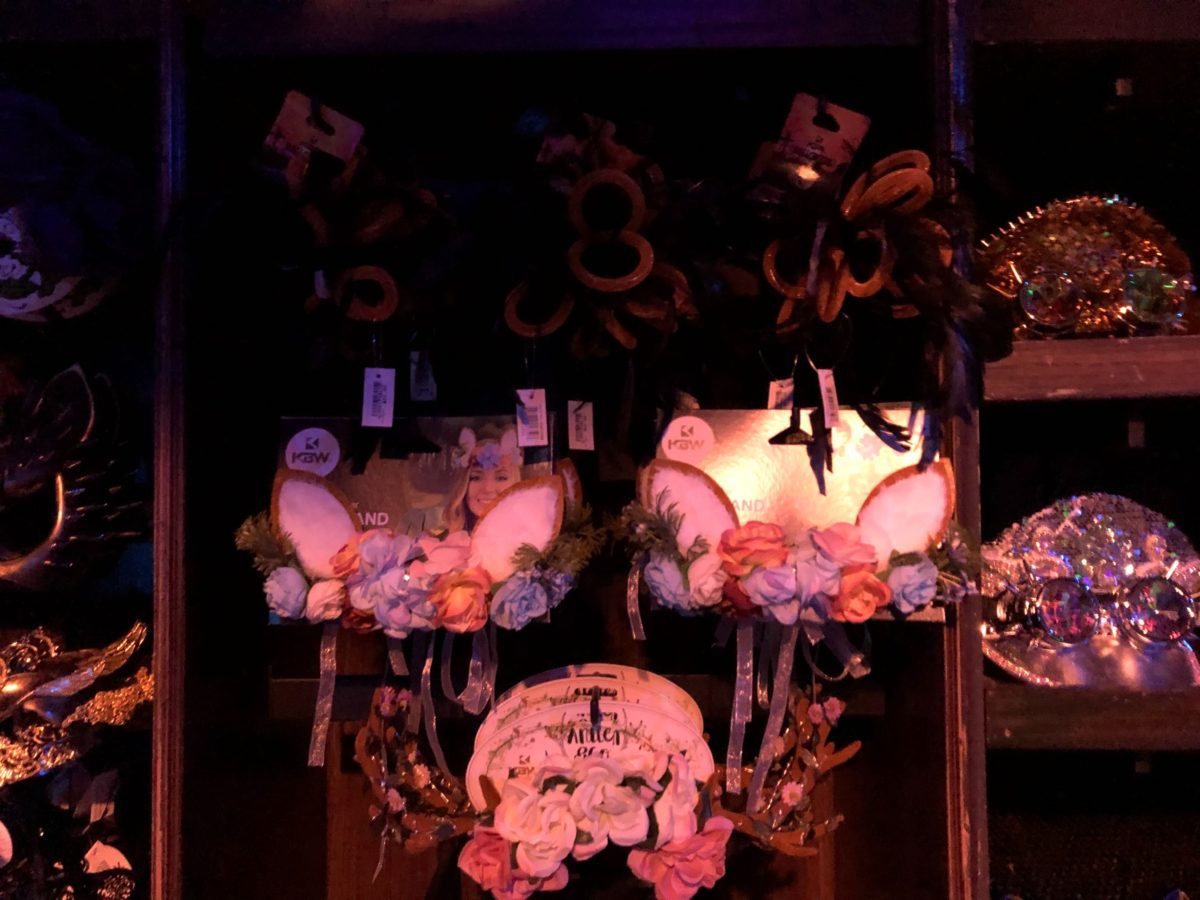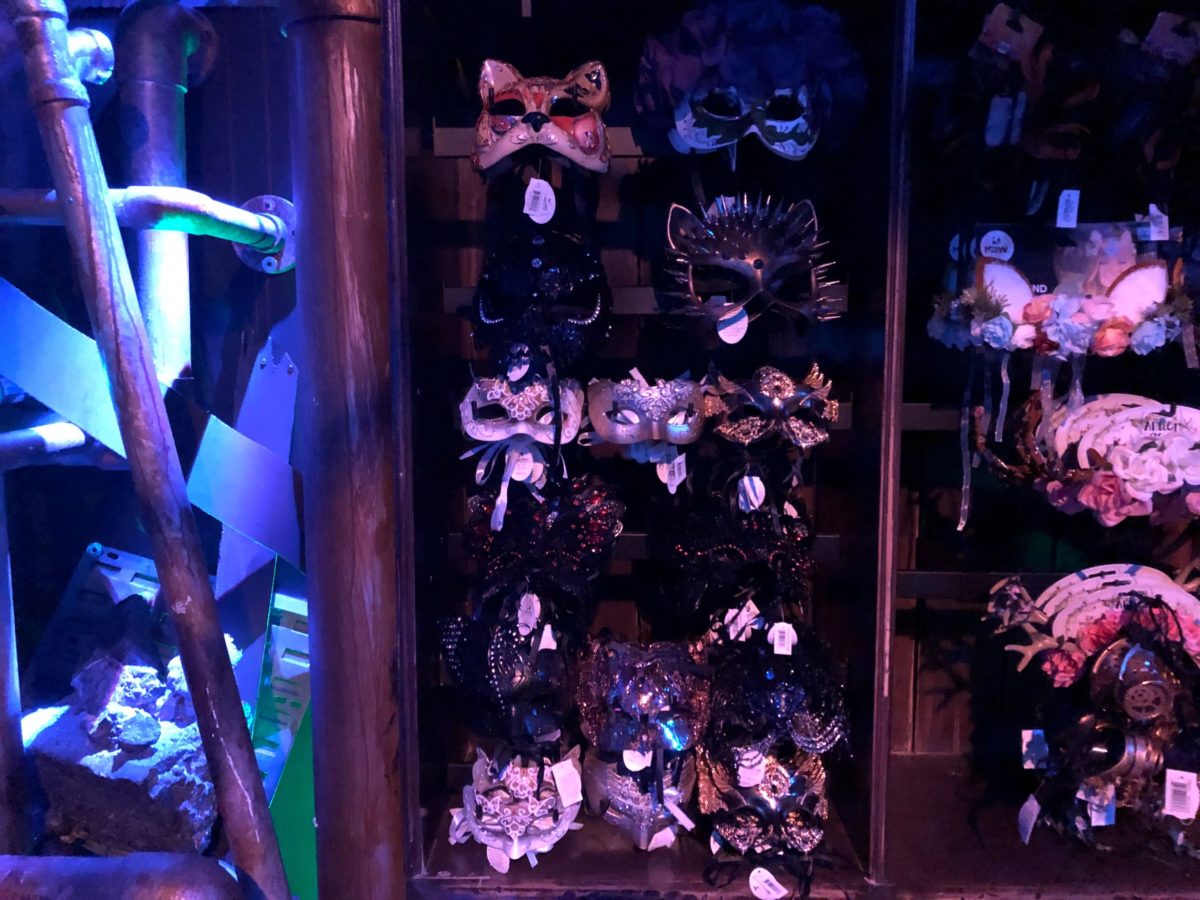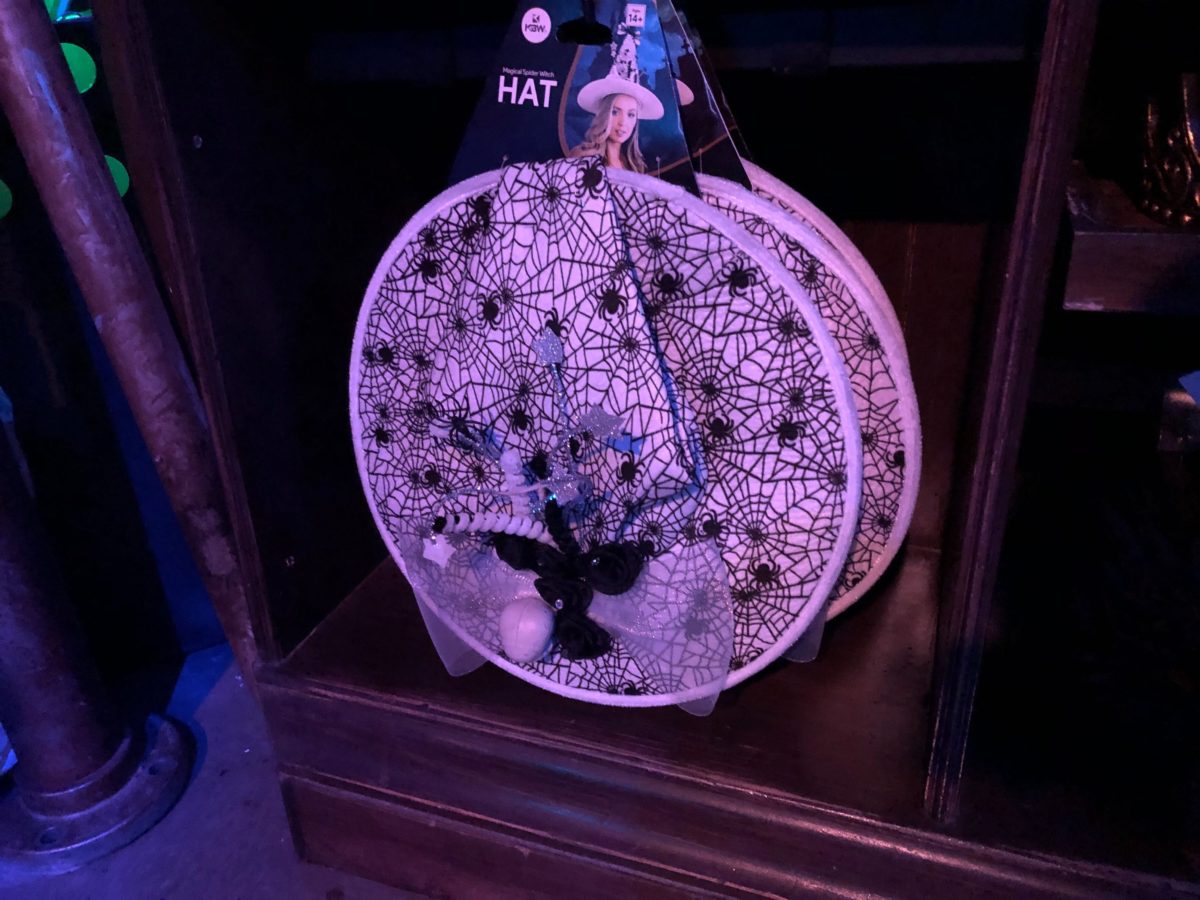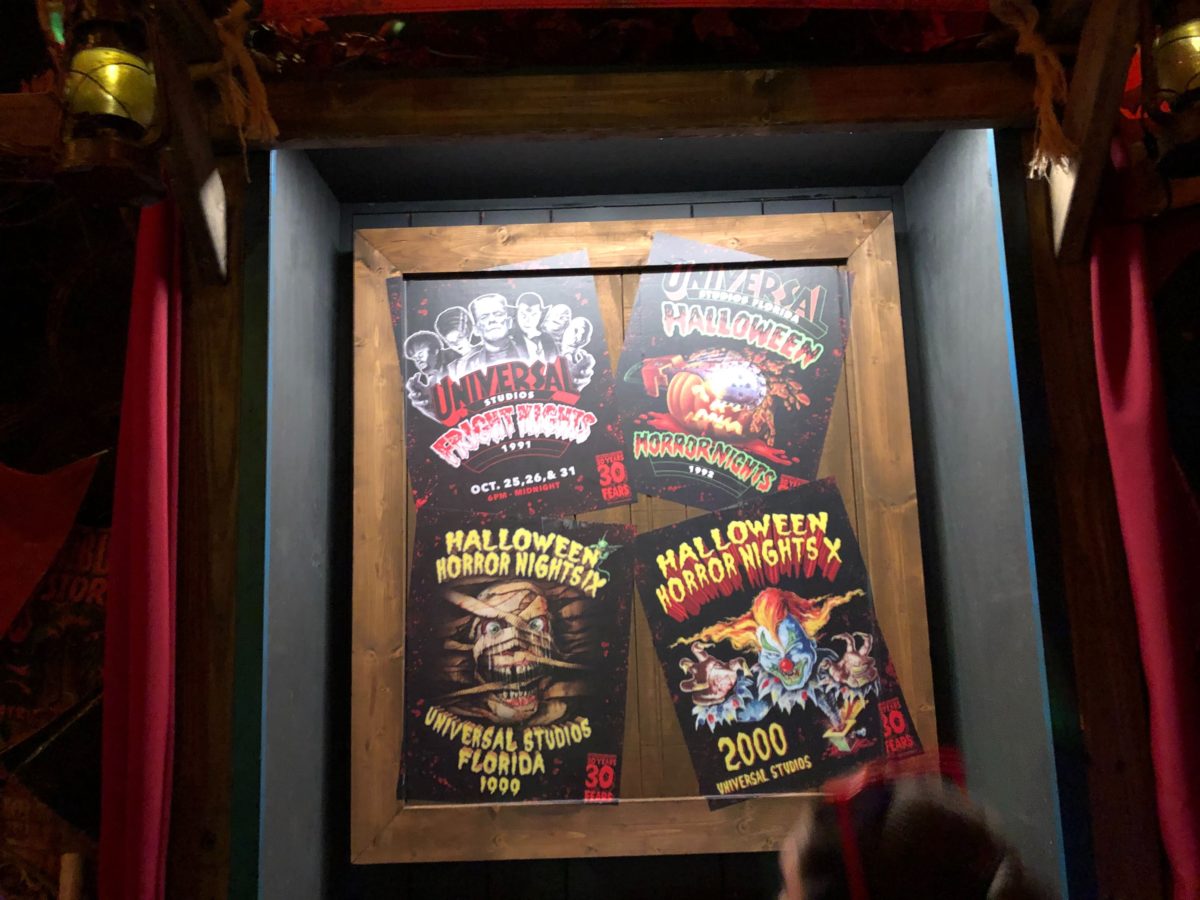 Most importantly, however, is the availability of "30 Years, 30 Fears" merchandise, celebrating key milestones from Halloween Horror Nights, starting with its early years as Universal Studios Fright Nights.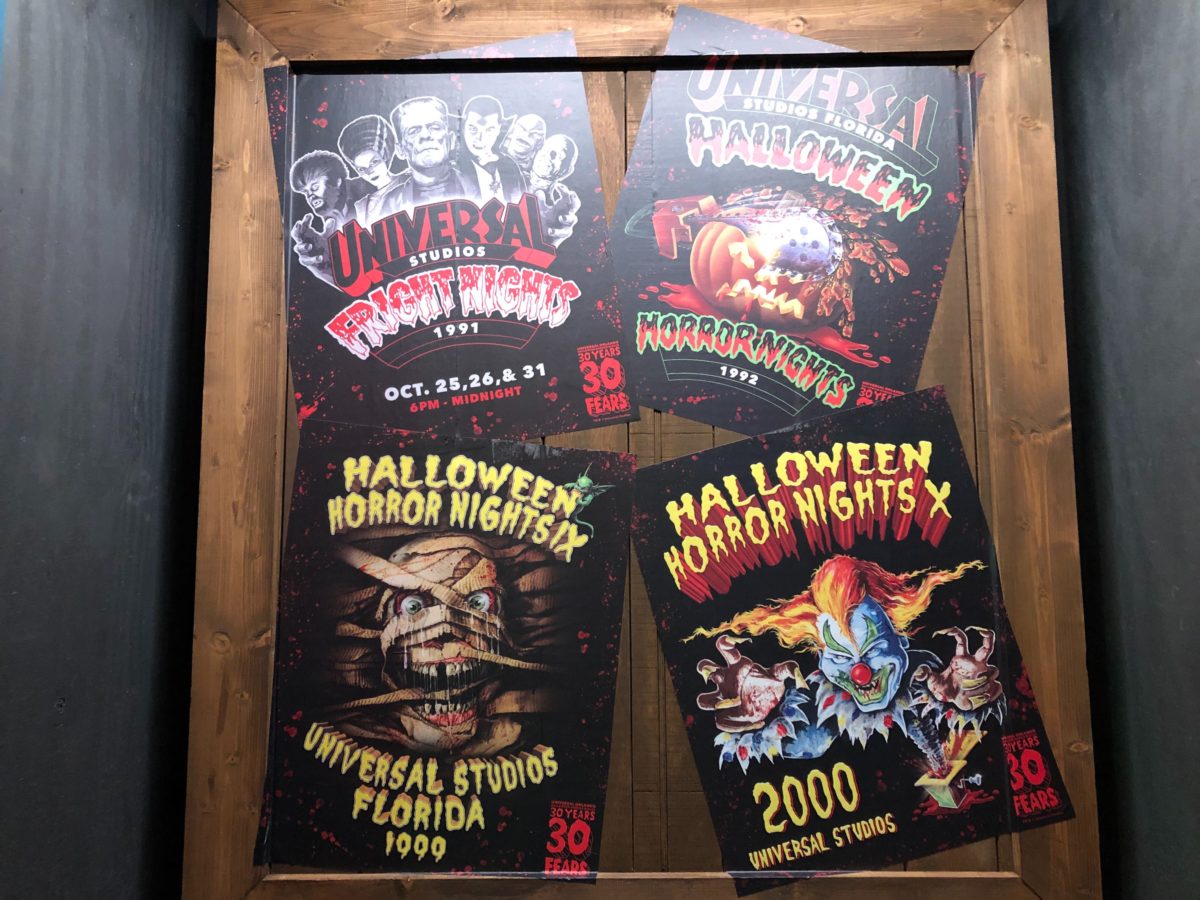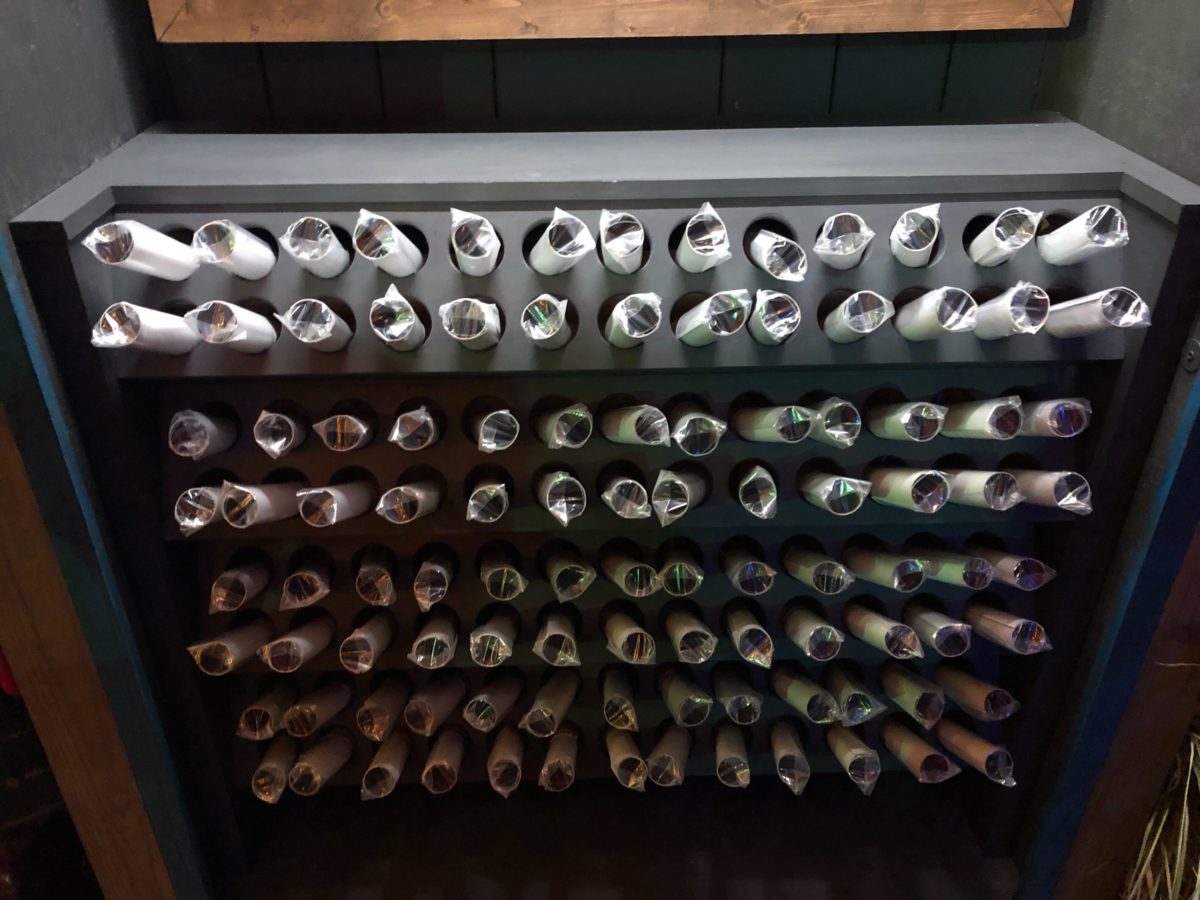 There's a poster rack for all four of the designs.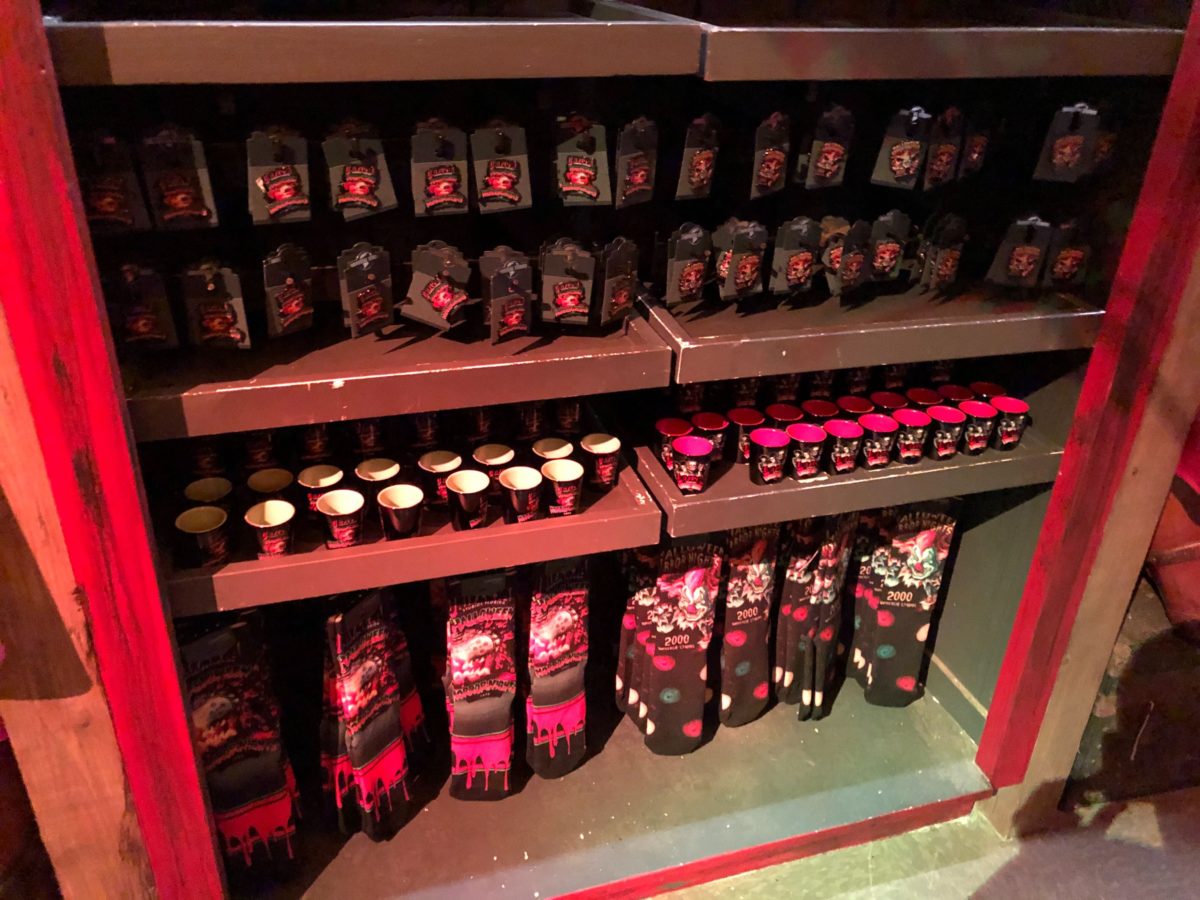 The full collection that debuted earlier this month online is now available to purchase in person, including pins, shot glasses, socks, and tees. Pricing for each collection is as follows: Shirts are $28, posters are $15, shot glasses are $10, pins are $12, and socks are $20.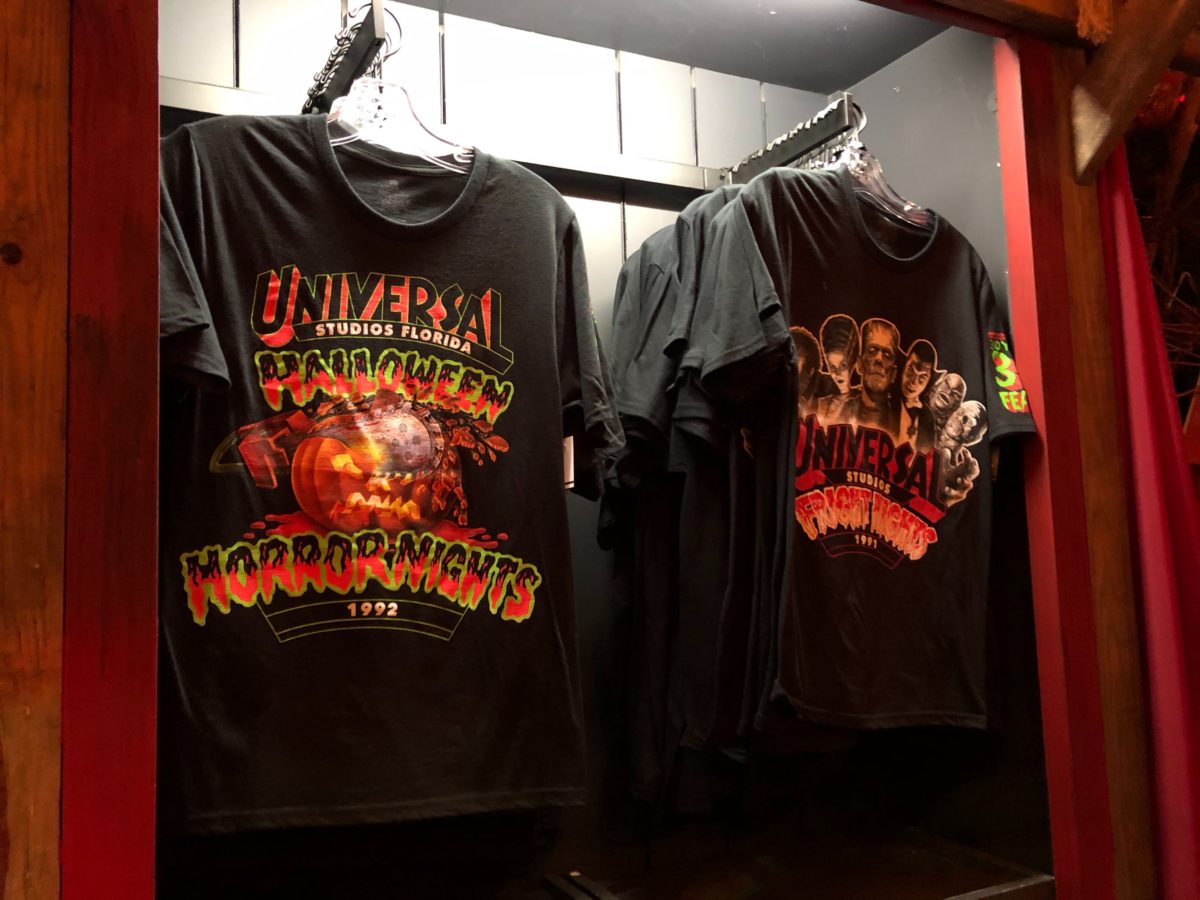 Fright Nights 1990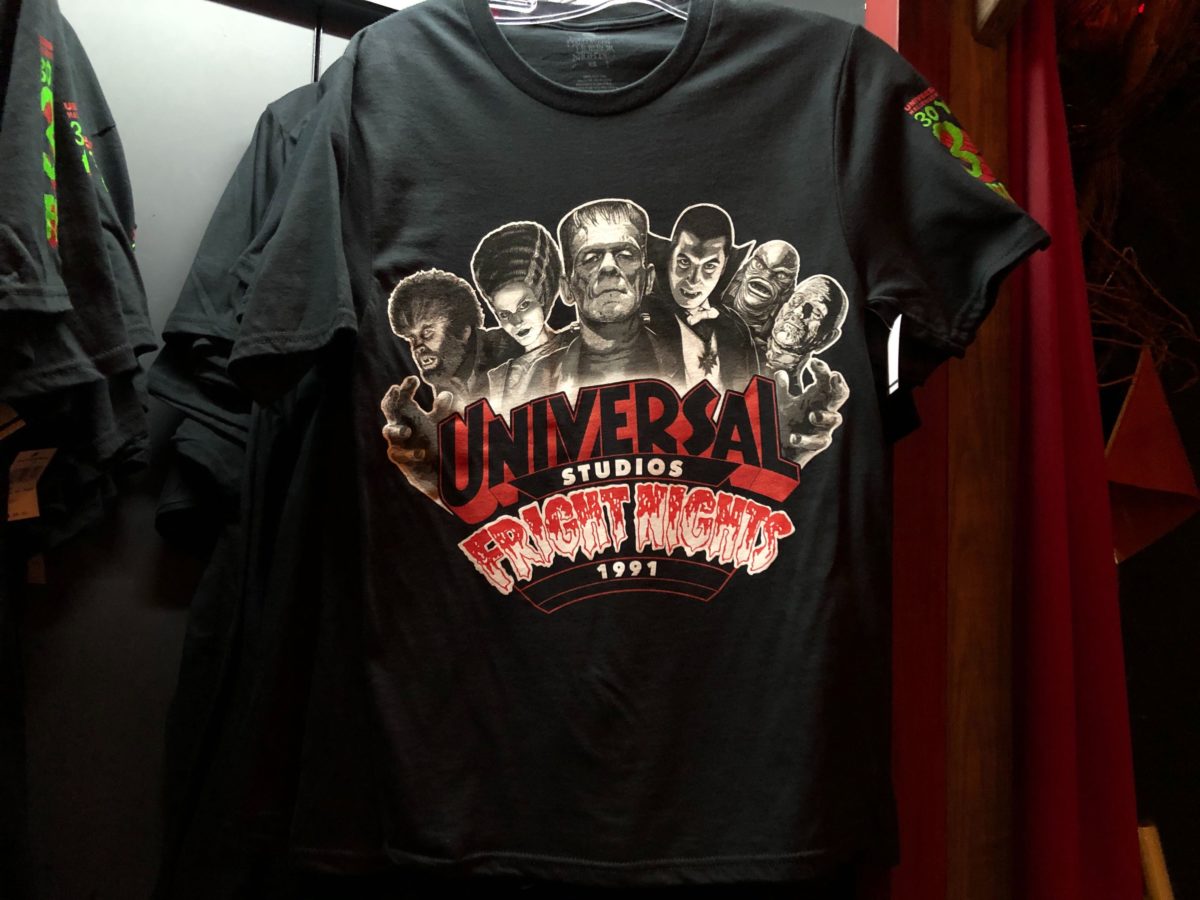 Halloween Horror Nights 1992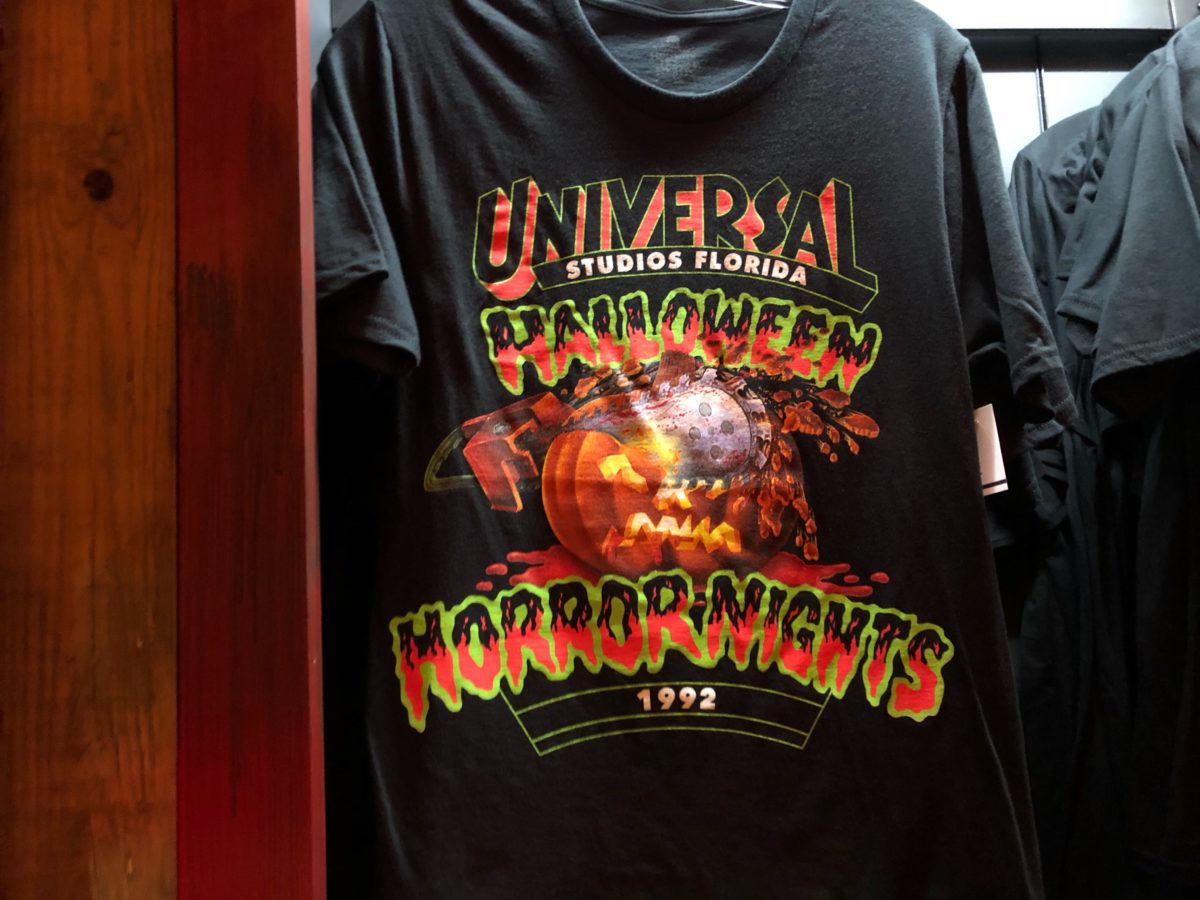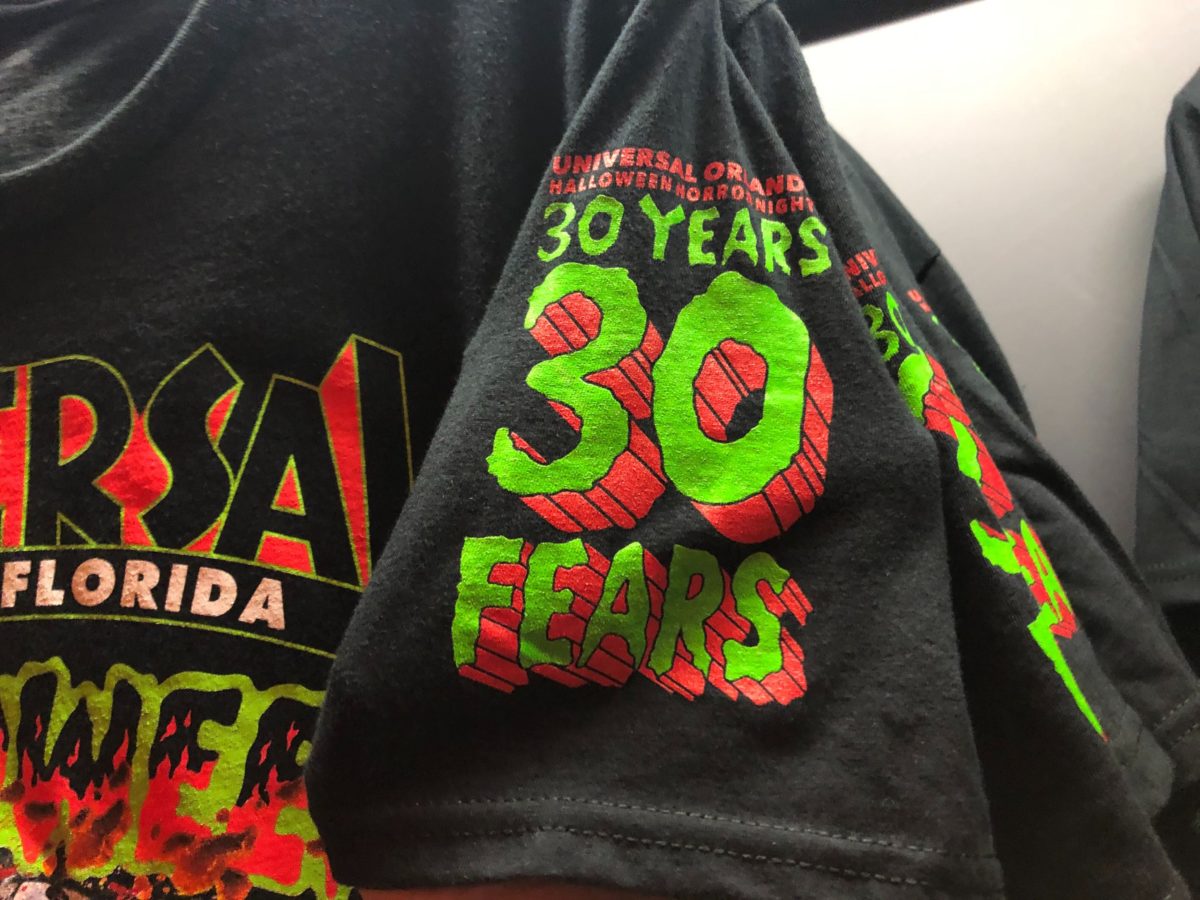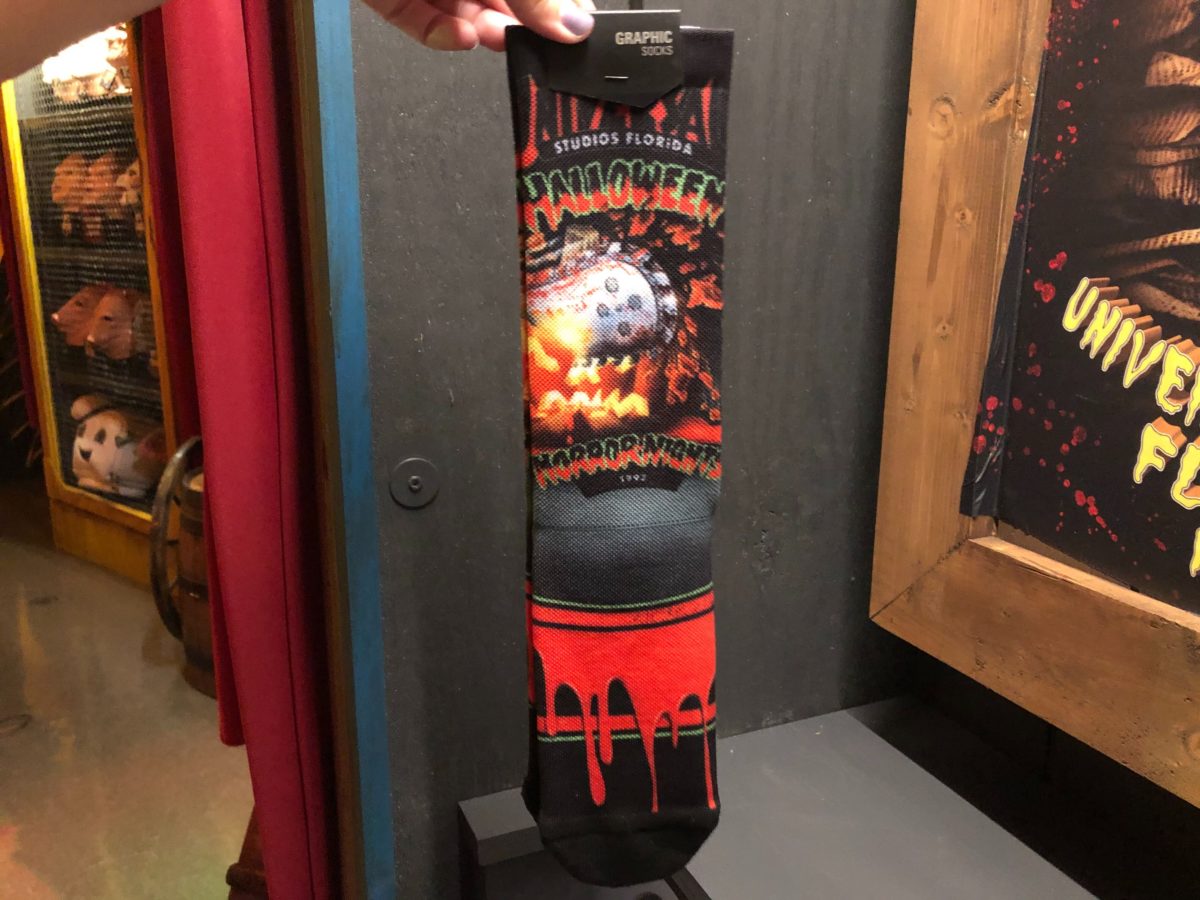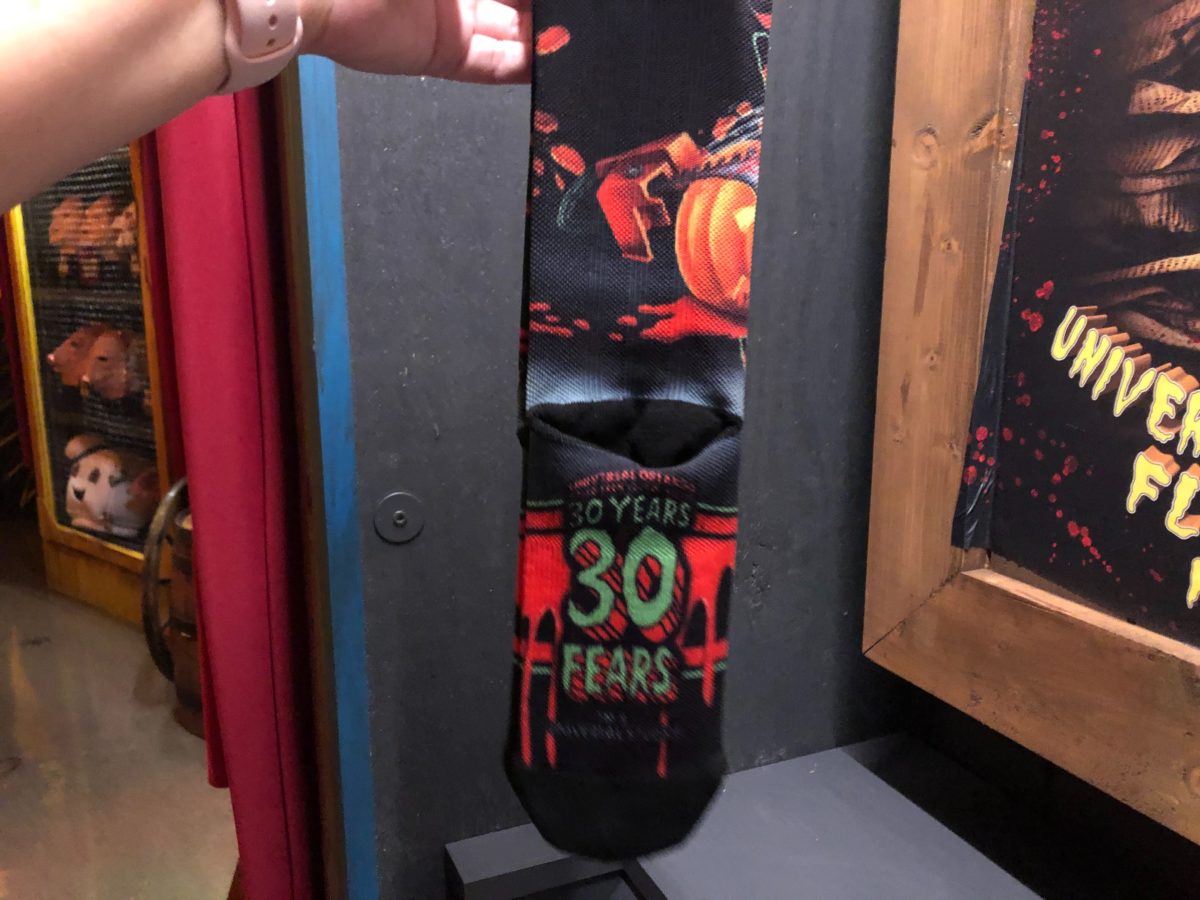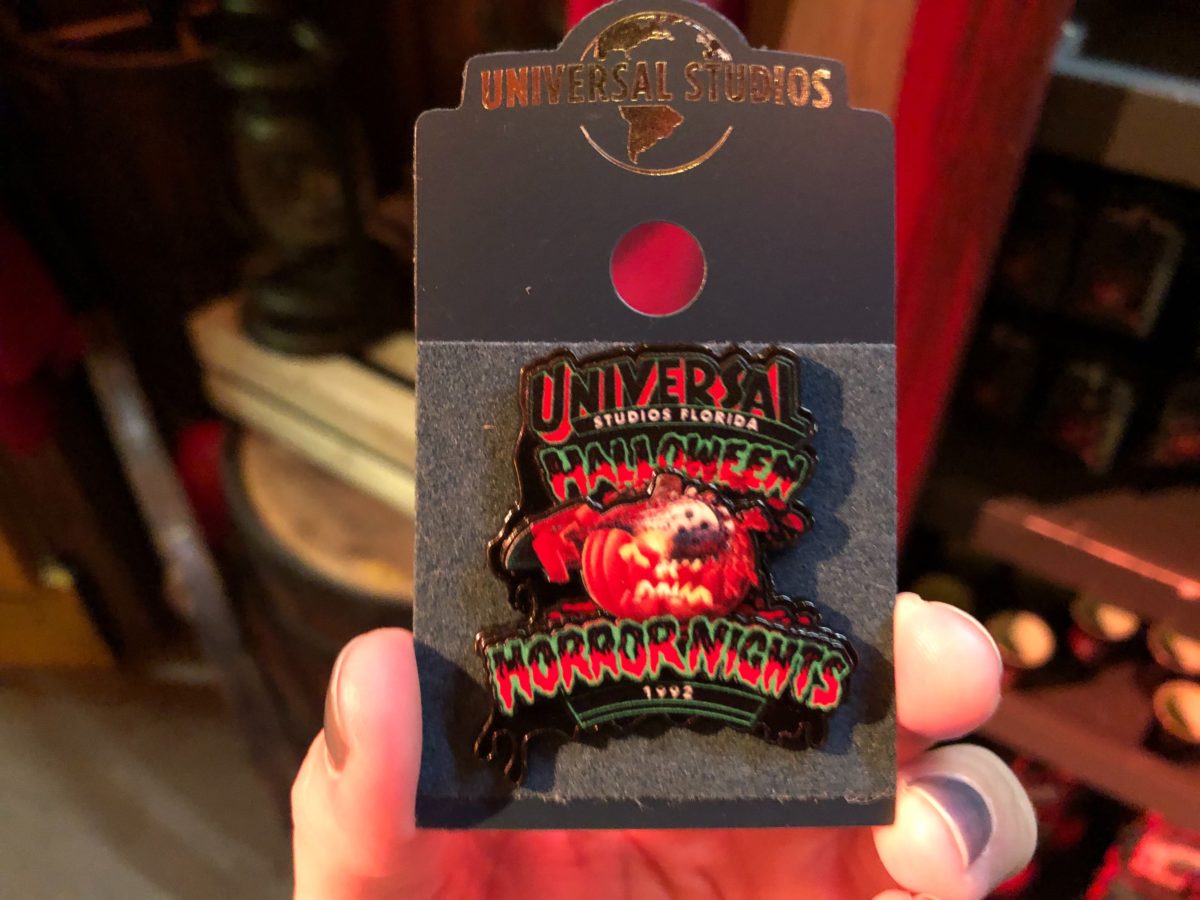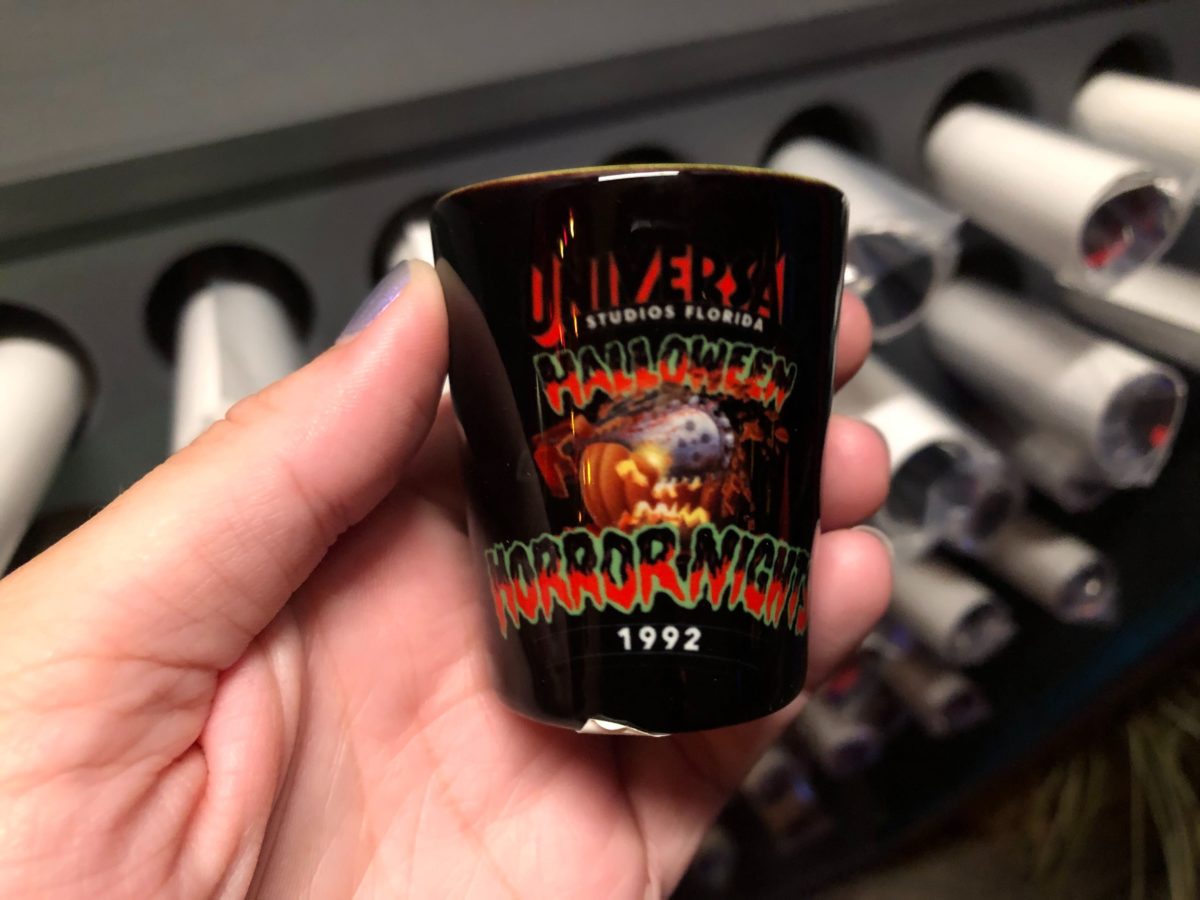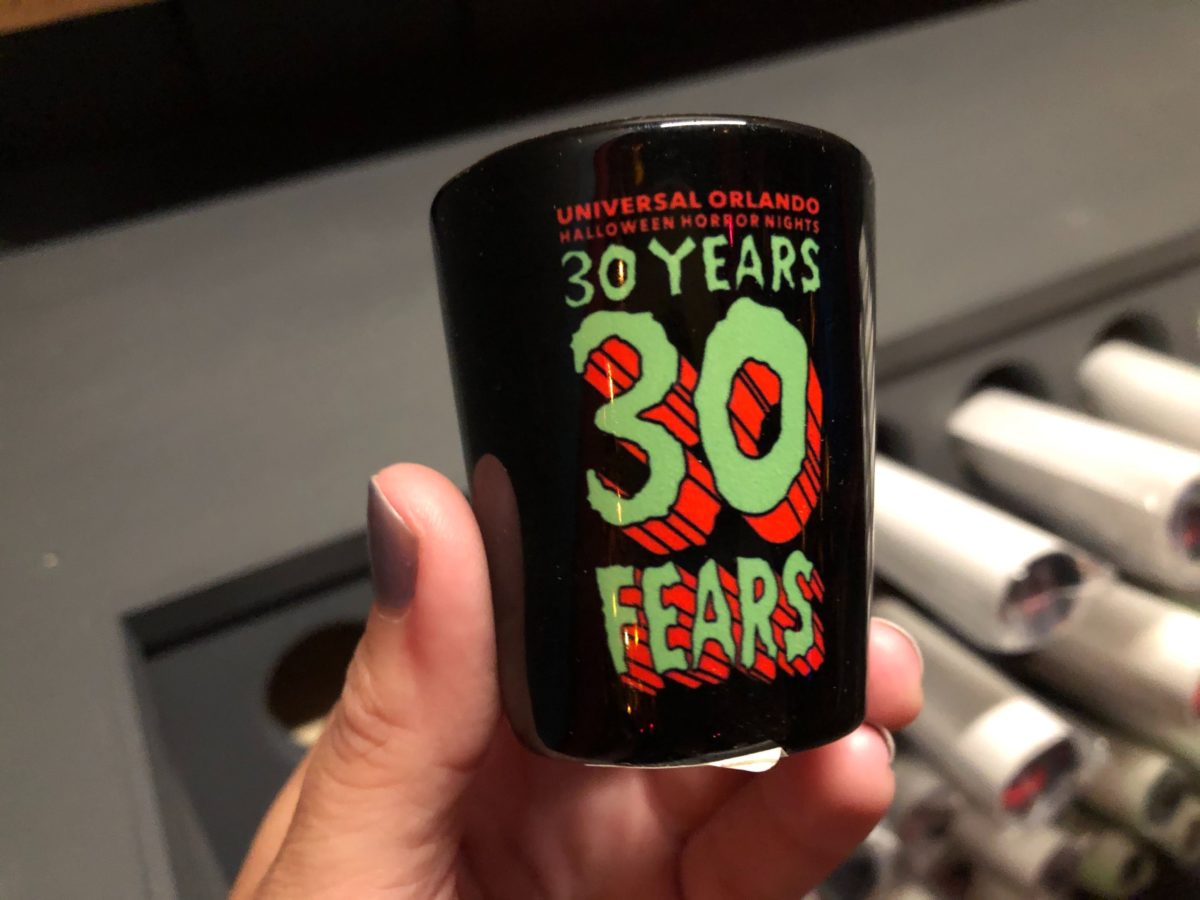 Halloween Horror Nights IX 1999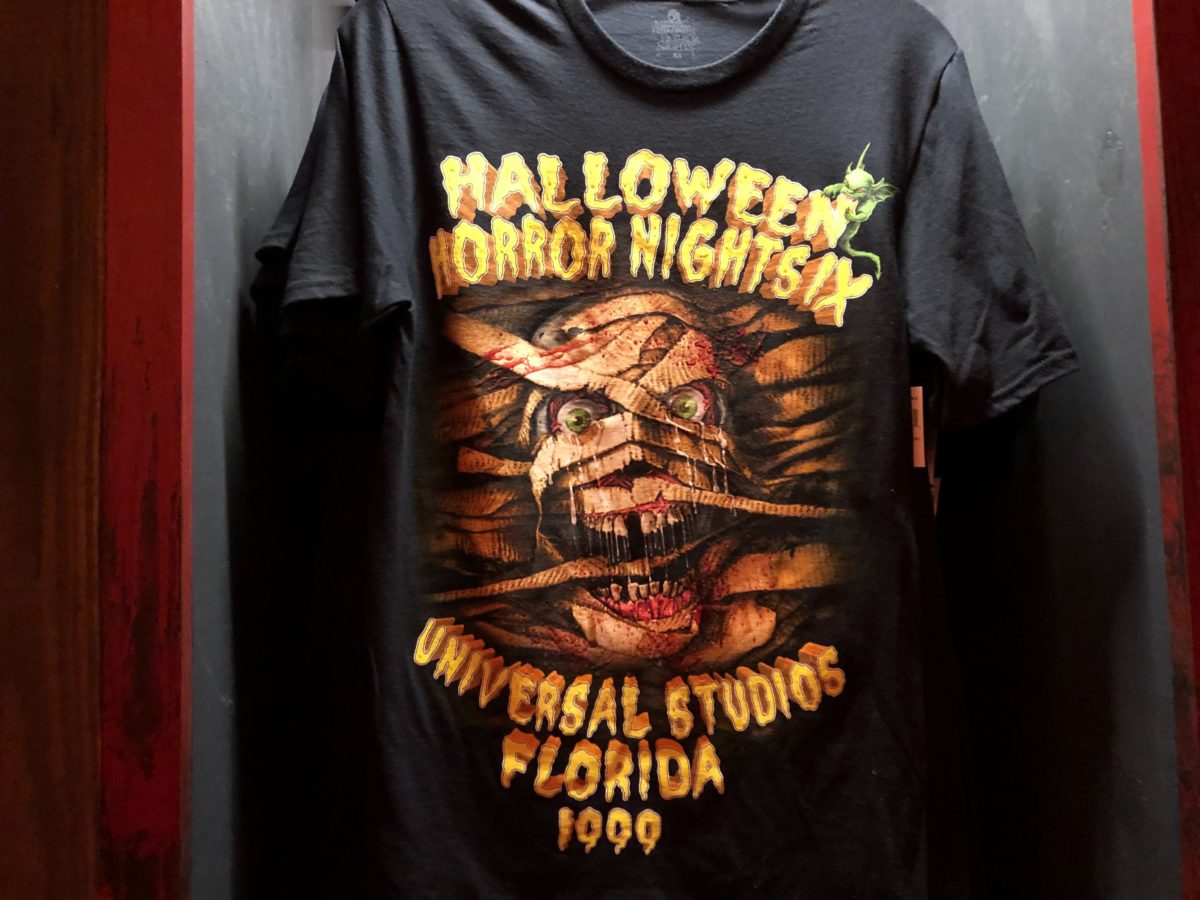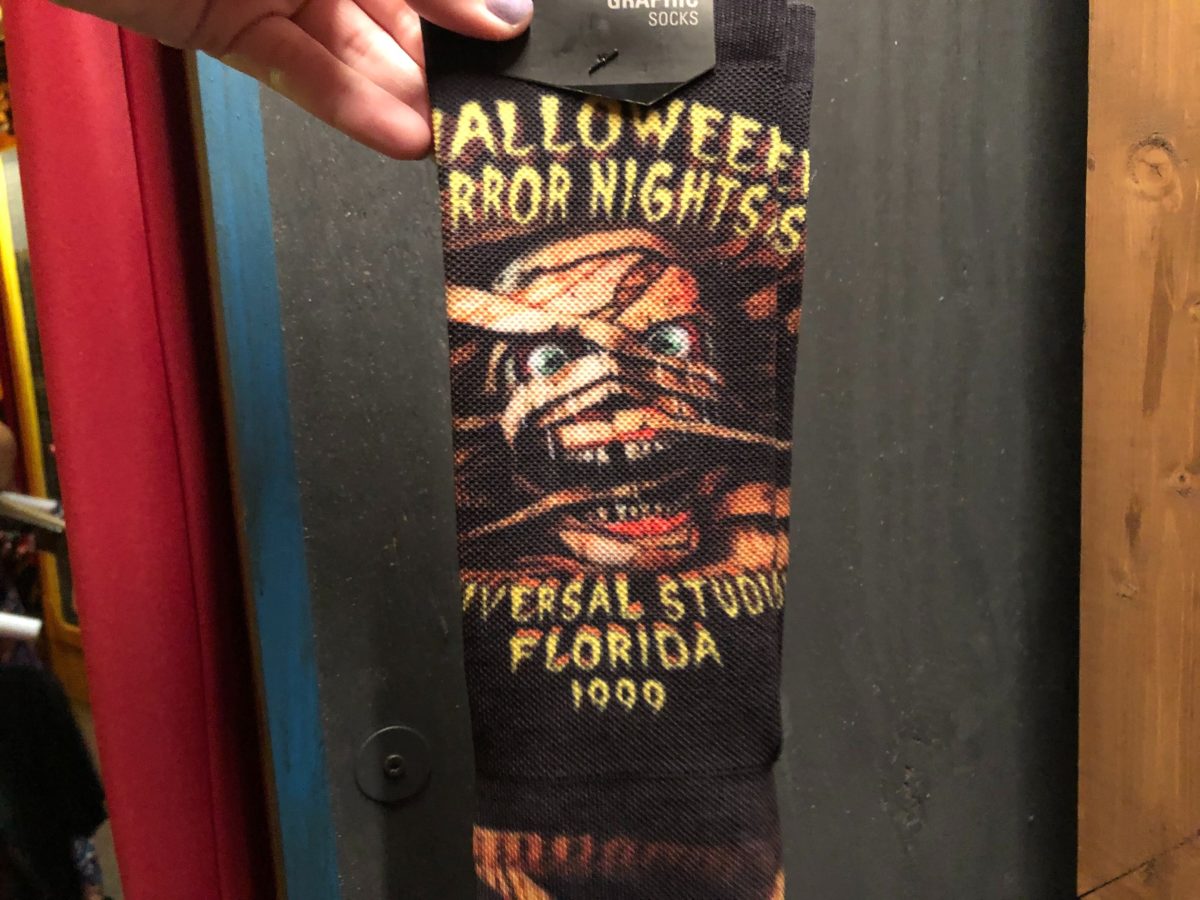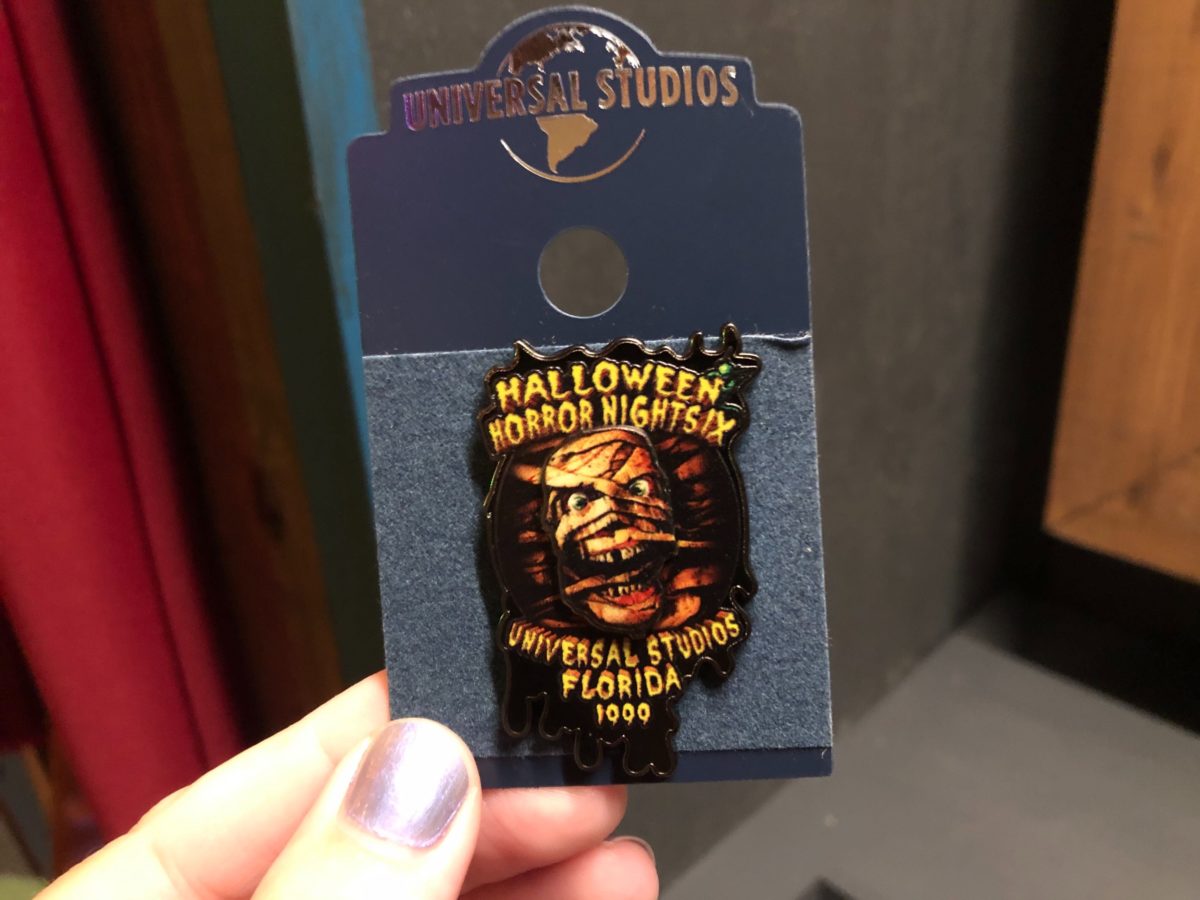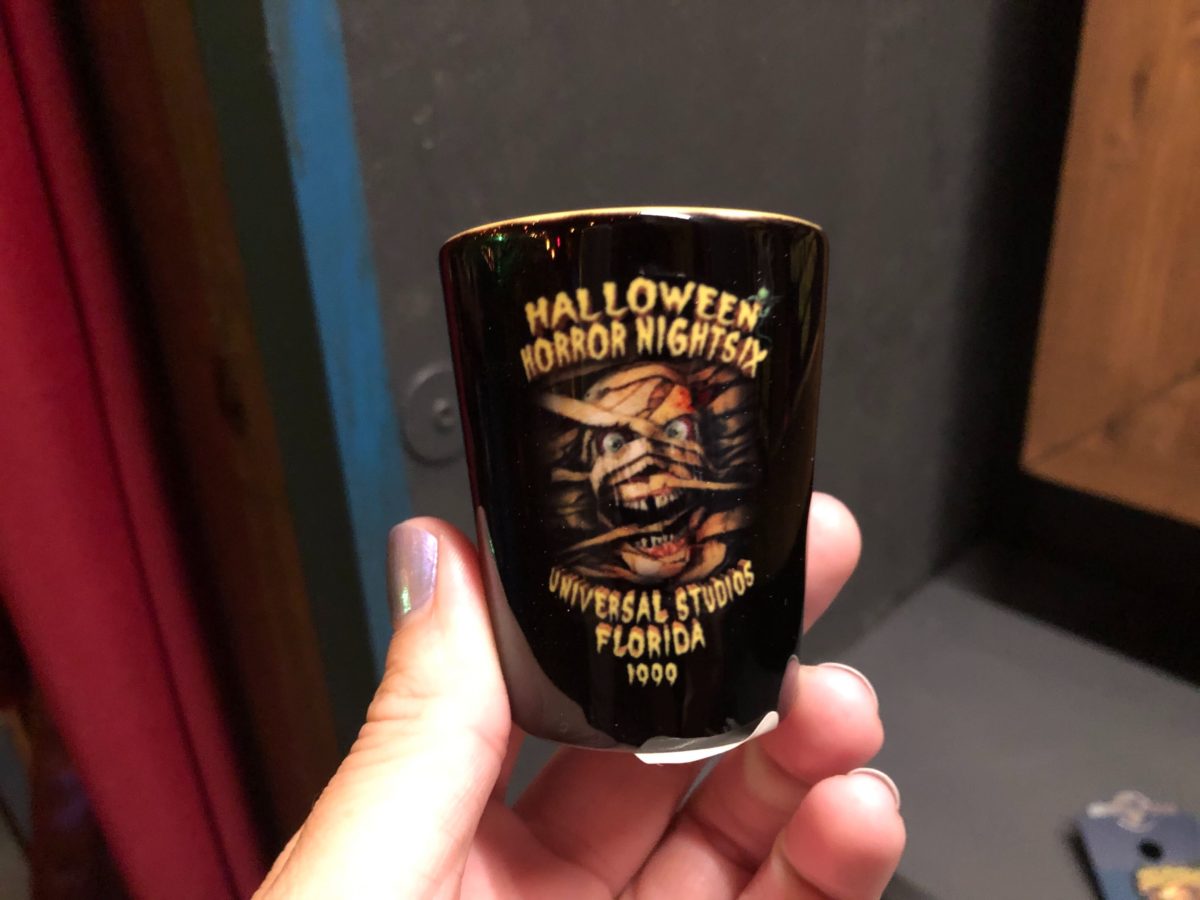 Halloween Horror Nights X 2000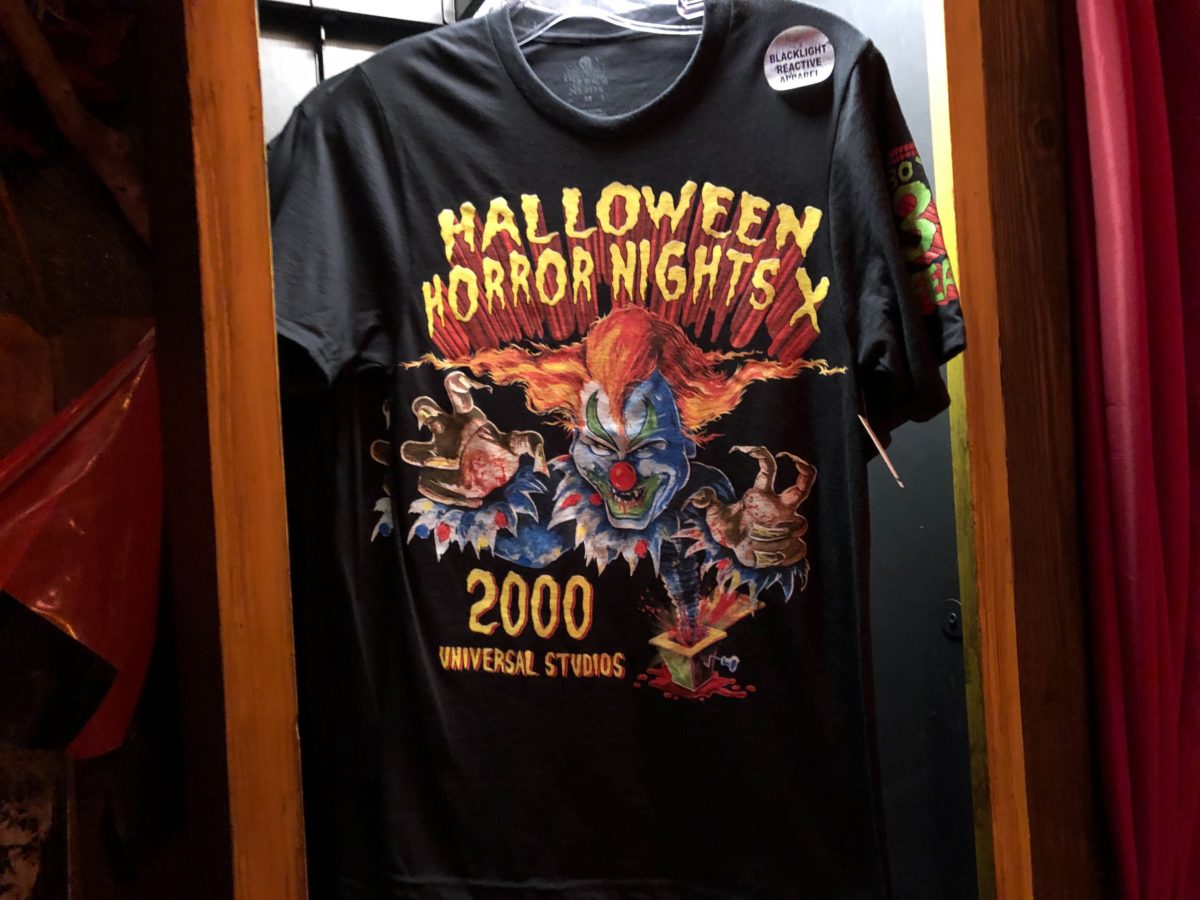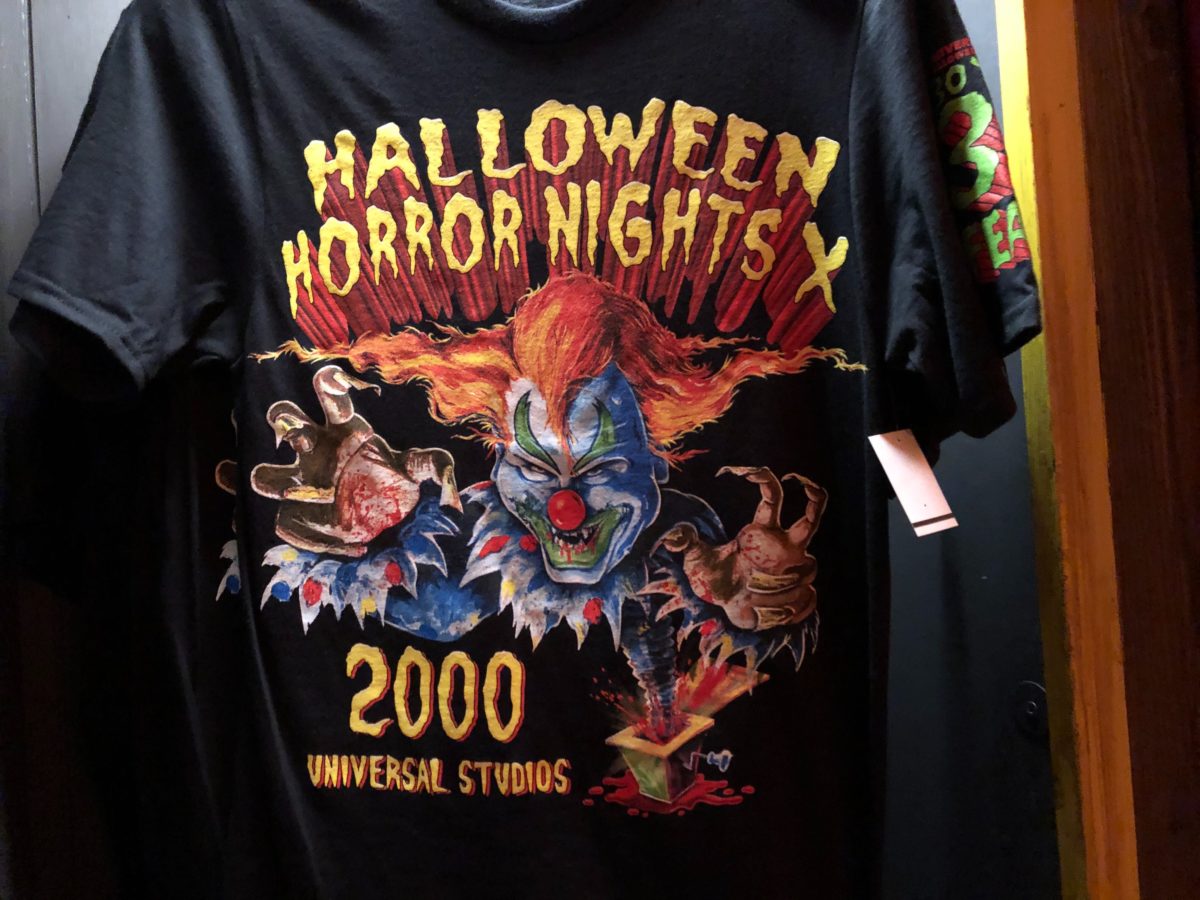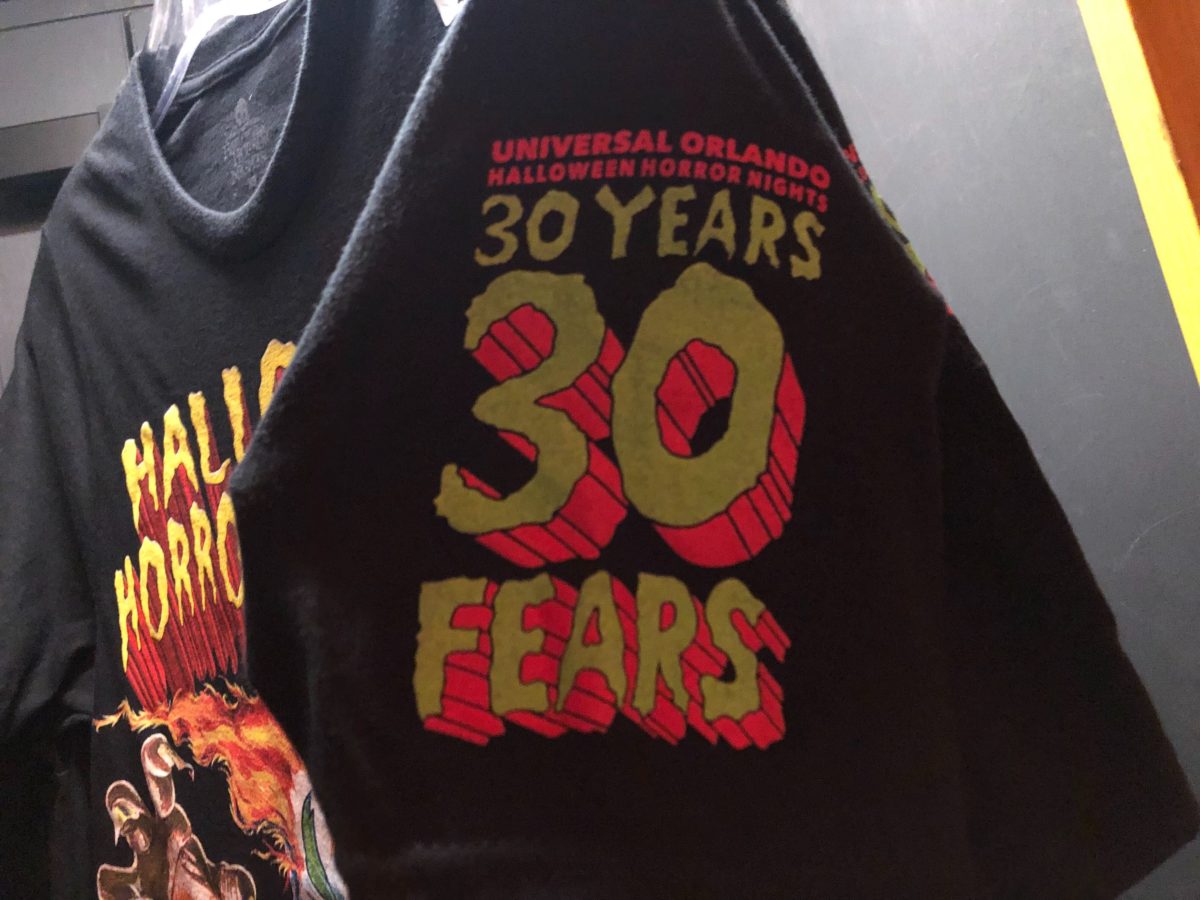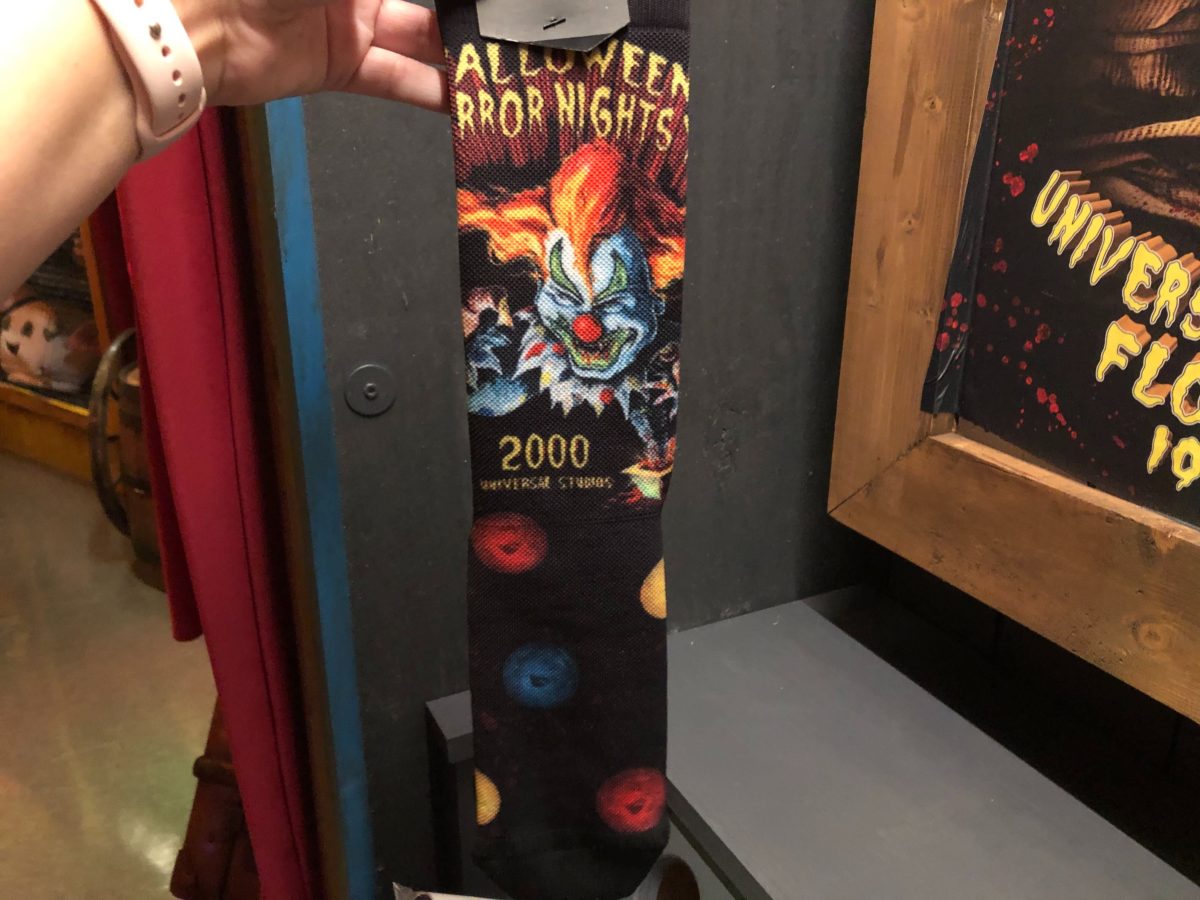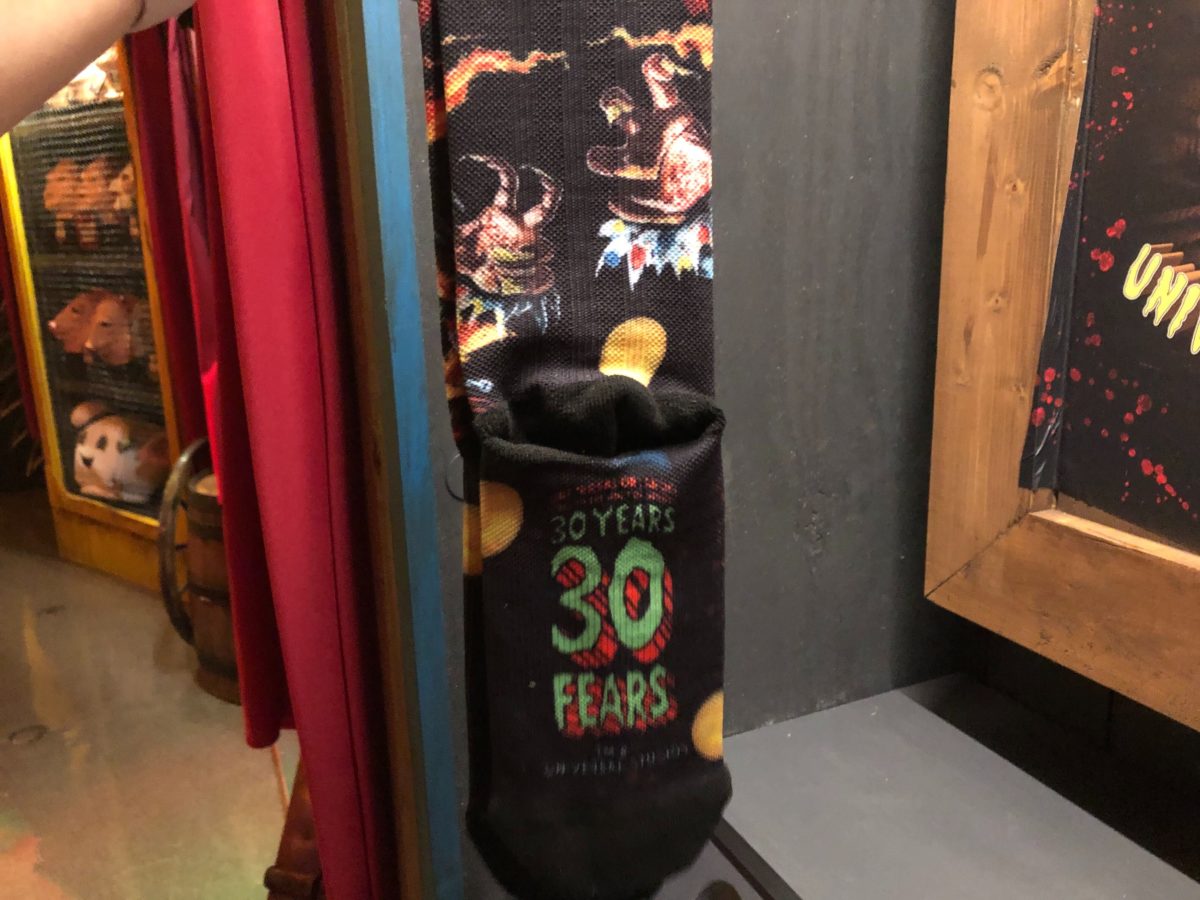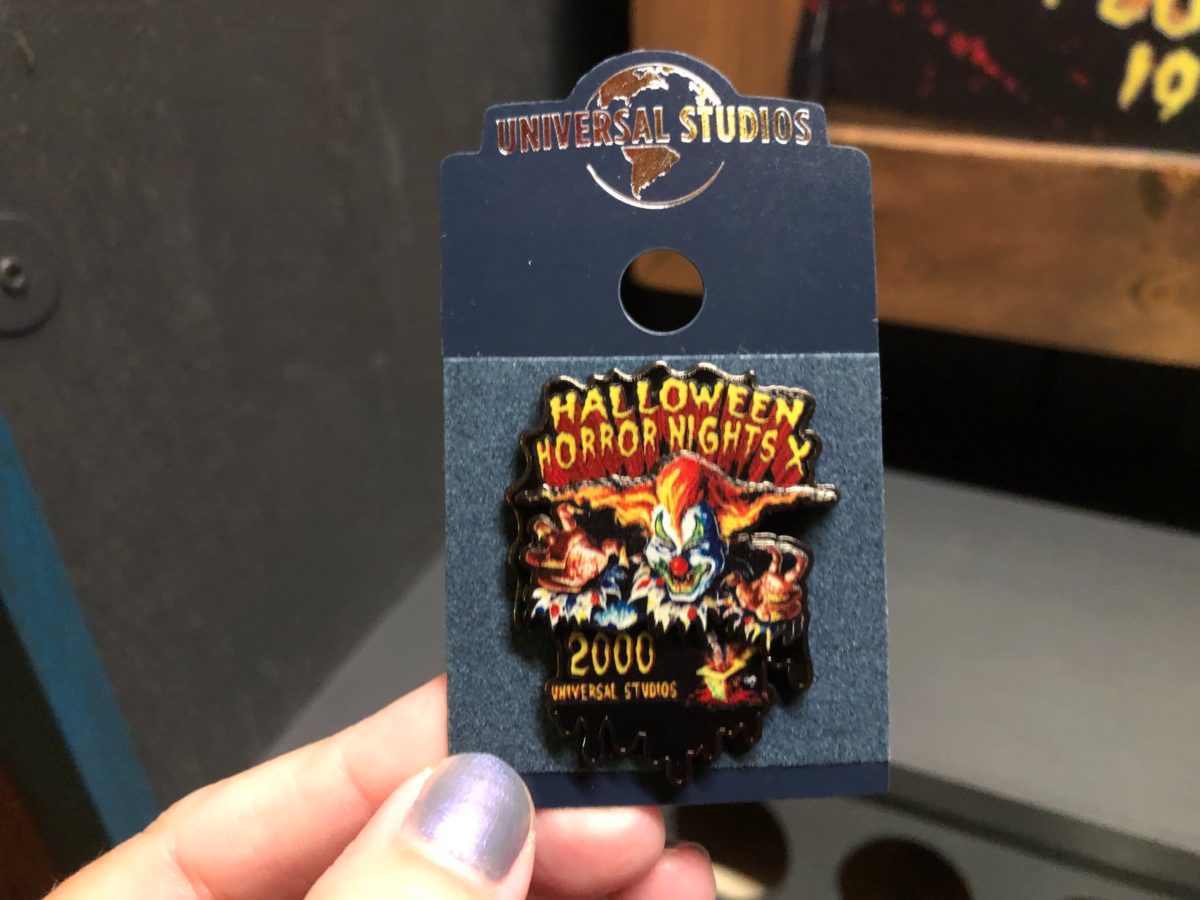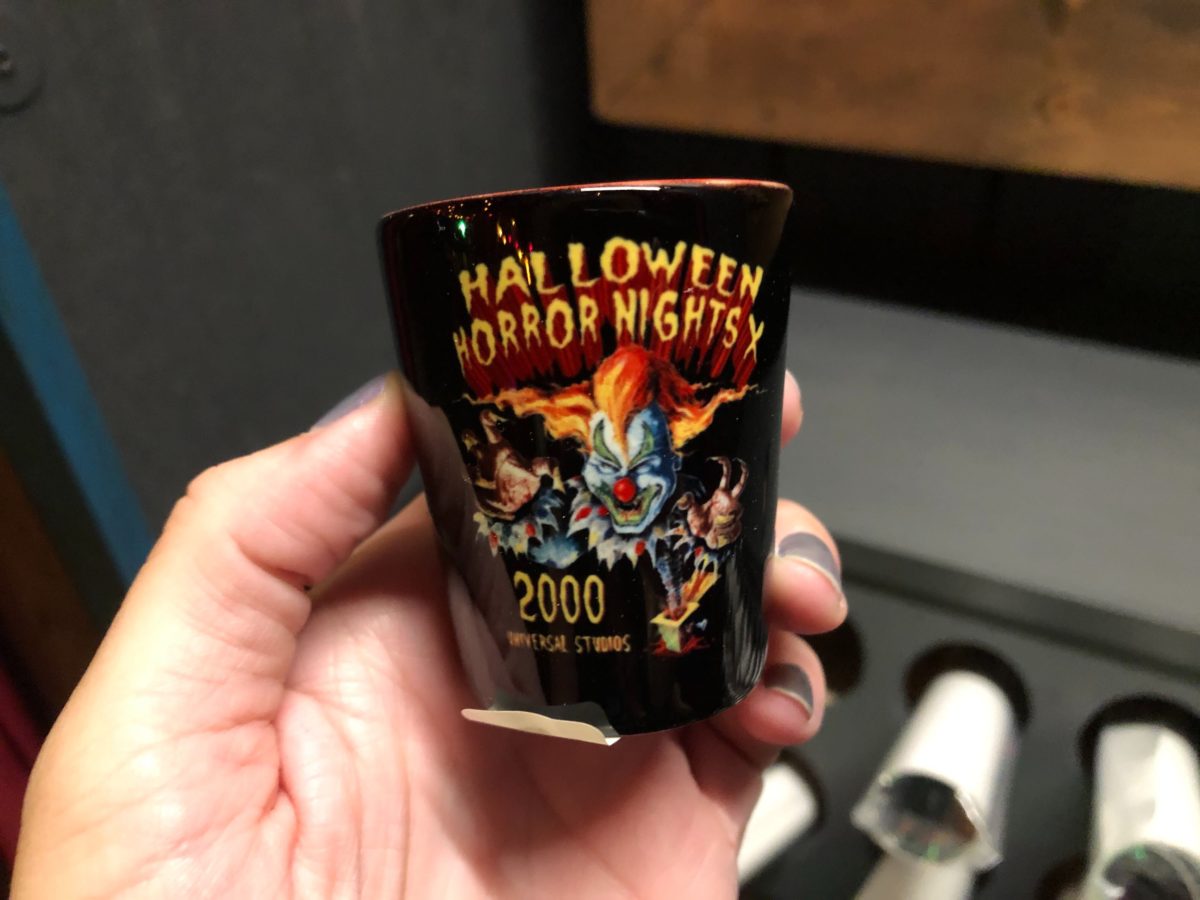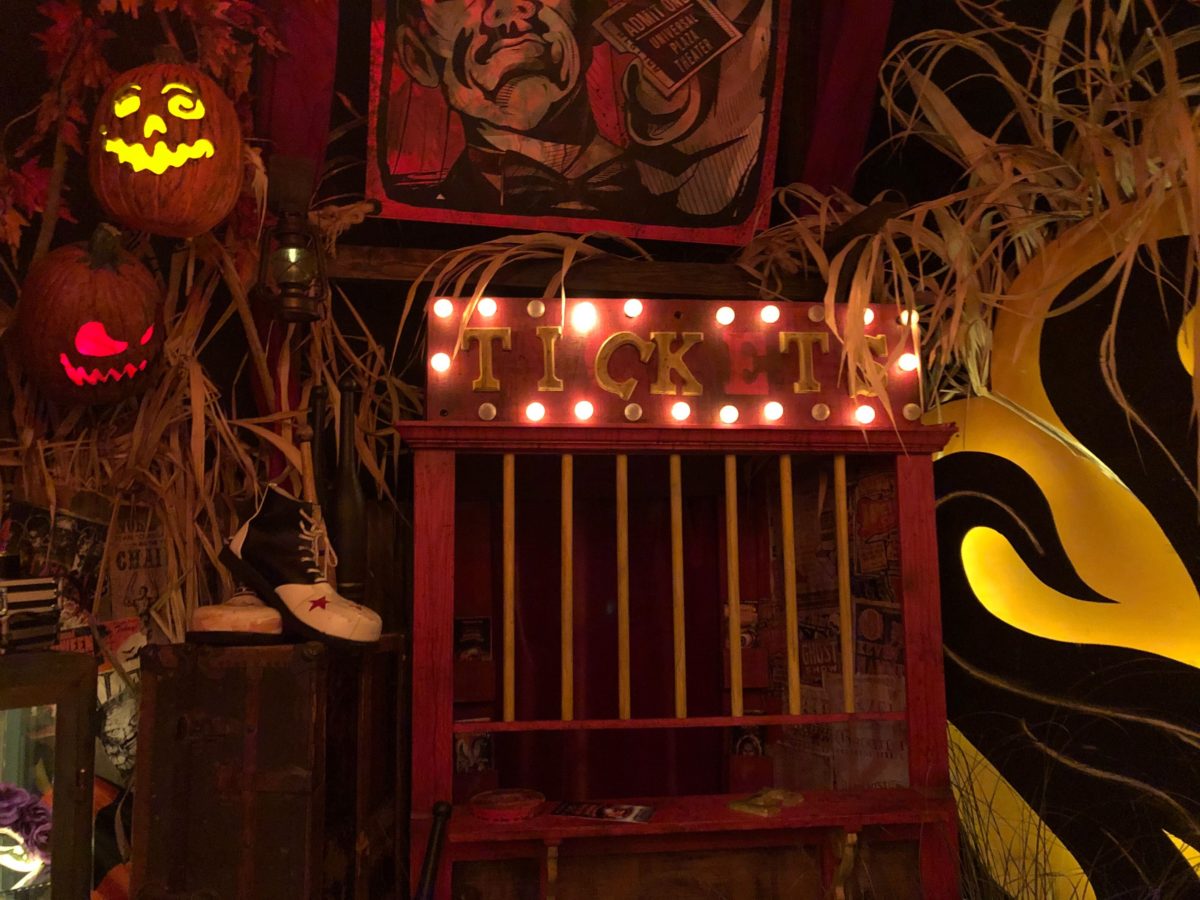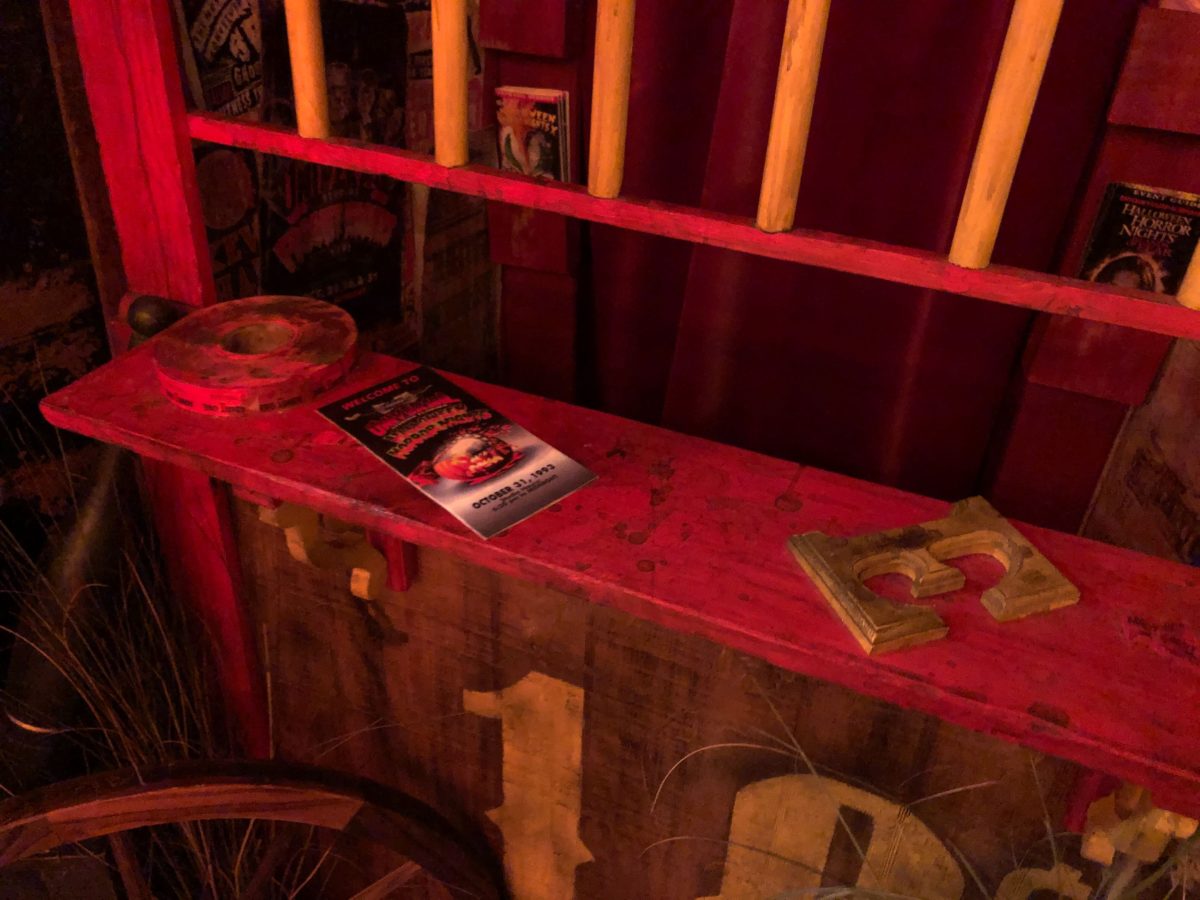 The store then transitions to a more rustic vibe, featuring lots of circus props, and of course, Jack the Clown from Universal Studios Halloween Horror Nights X 2000.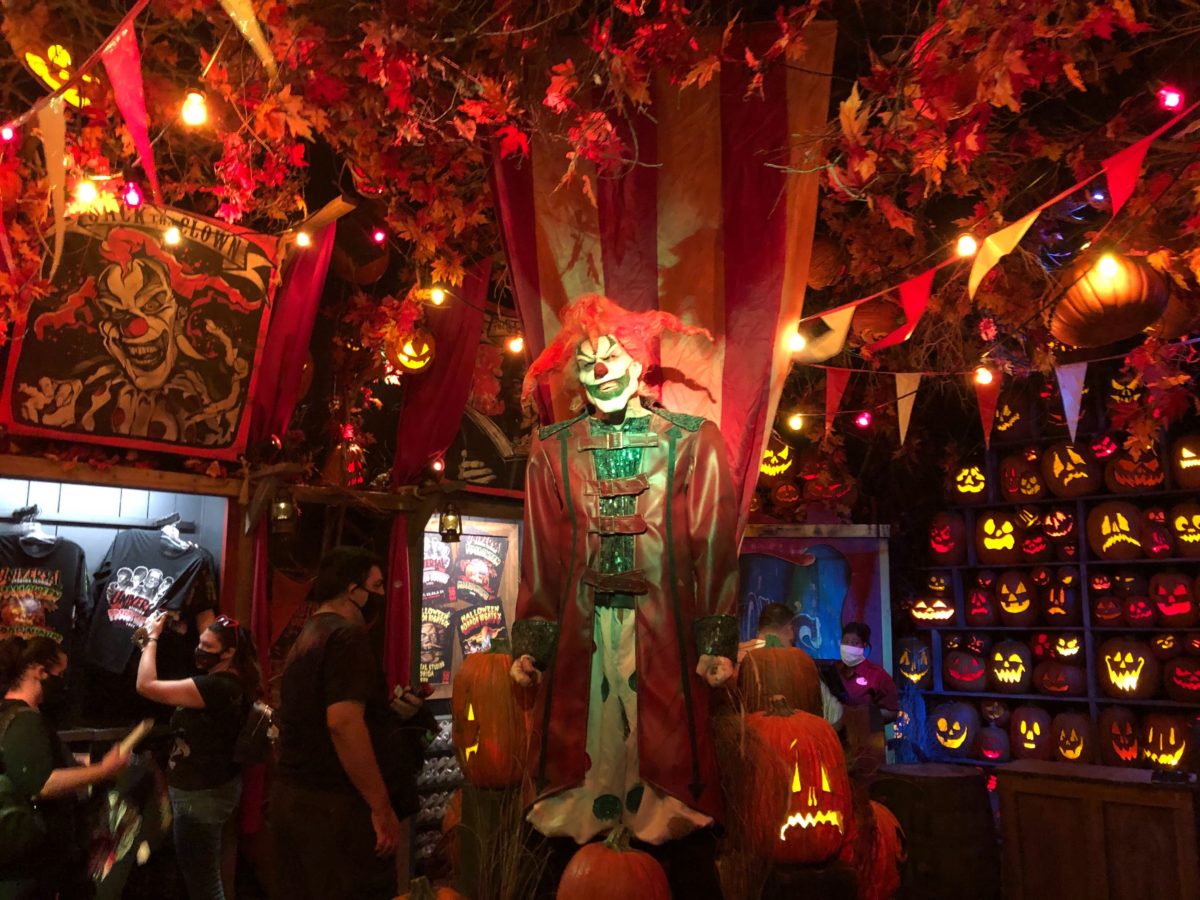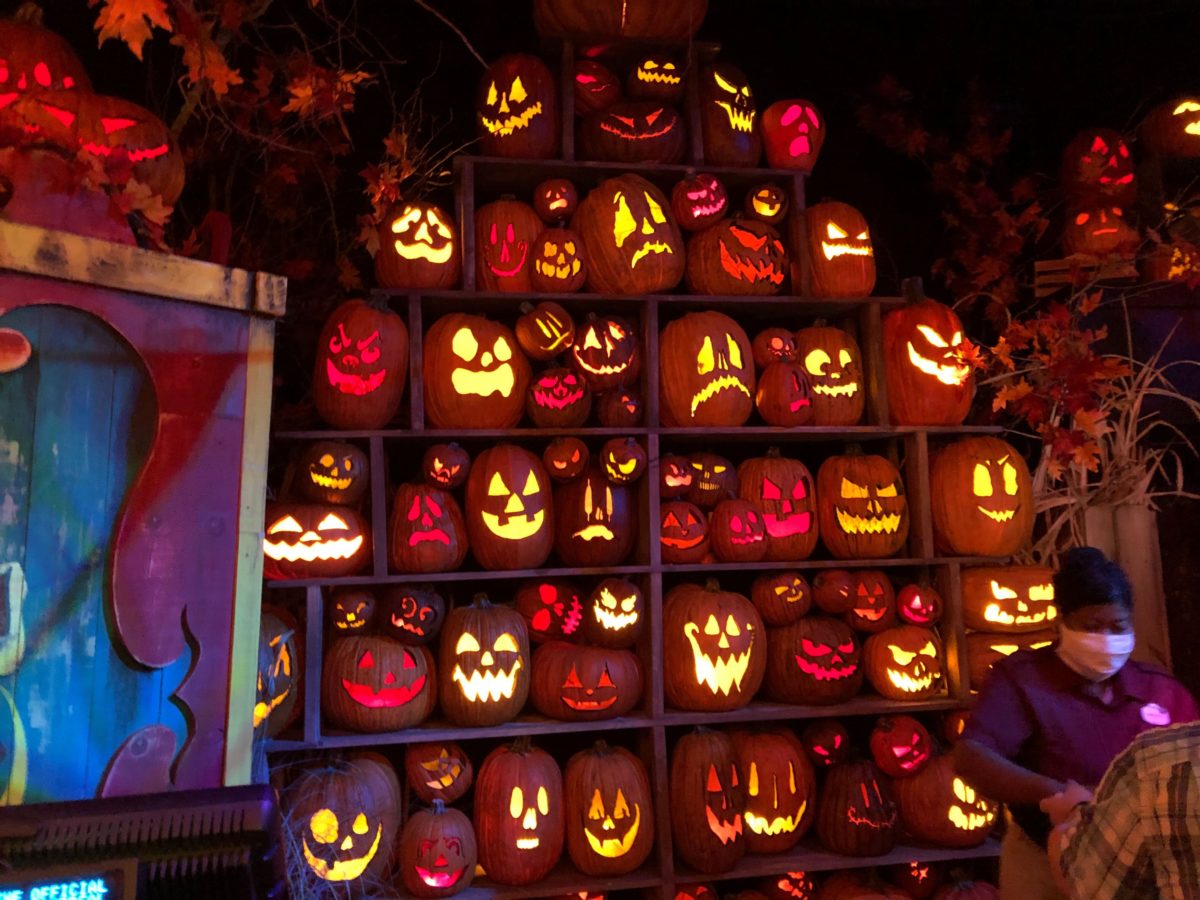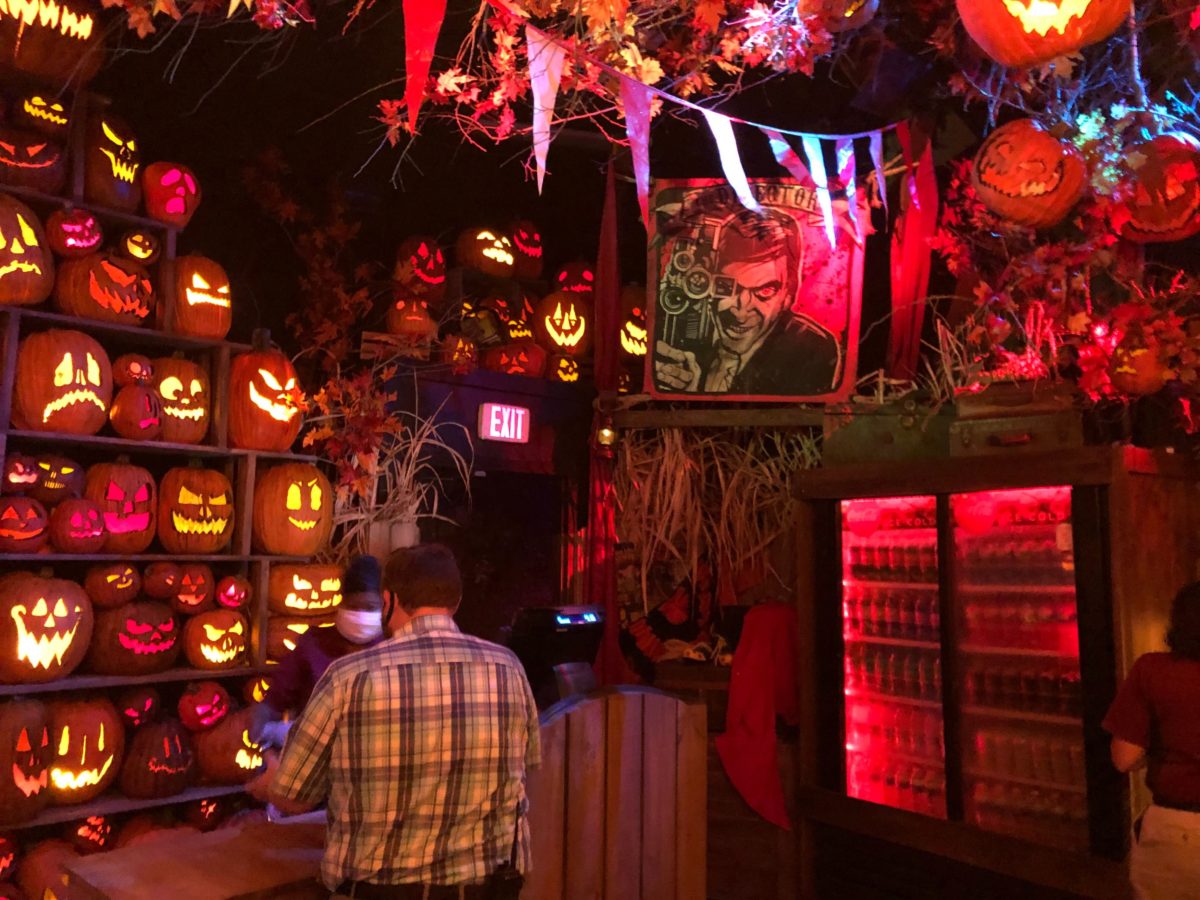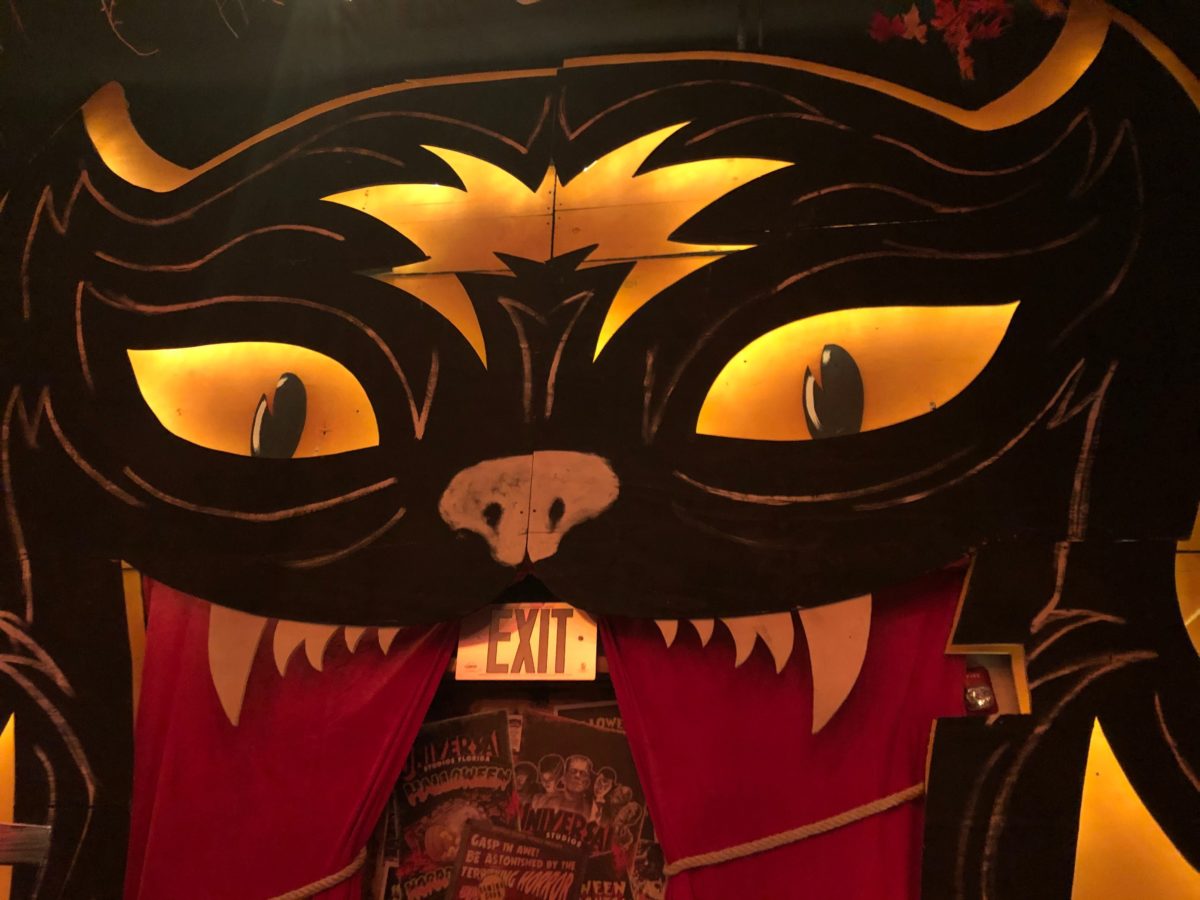 This year, creepy masks inspired by Halloween Horror Night houses from years past are on display for purchase. These don't necessarily fulfill the new face mask requirement at the parks, but are perfect for adding to your horror collection: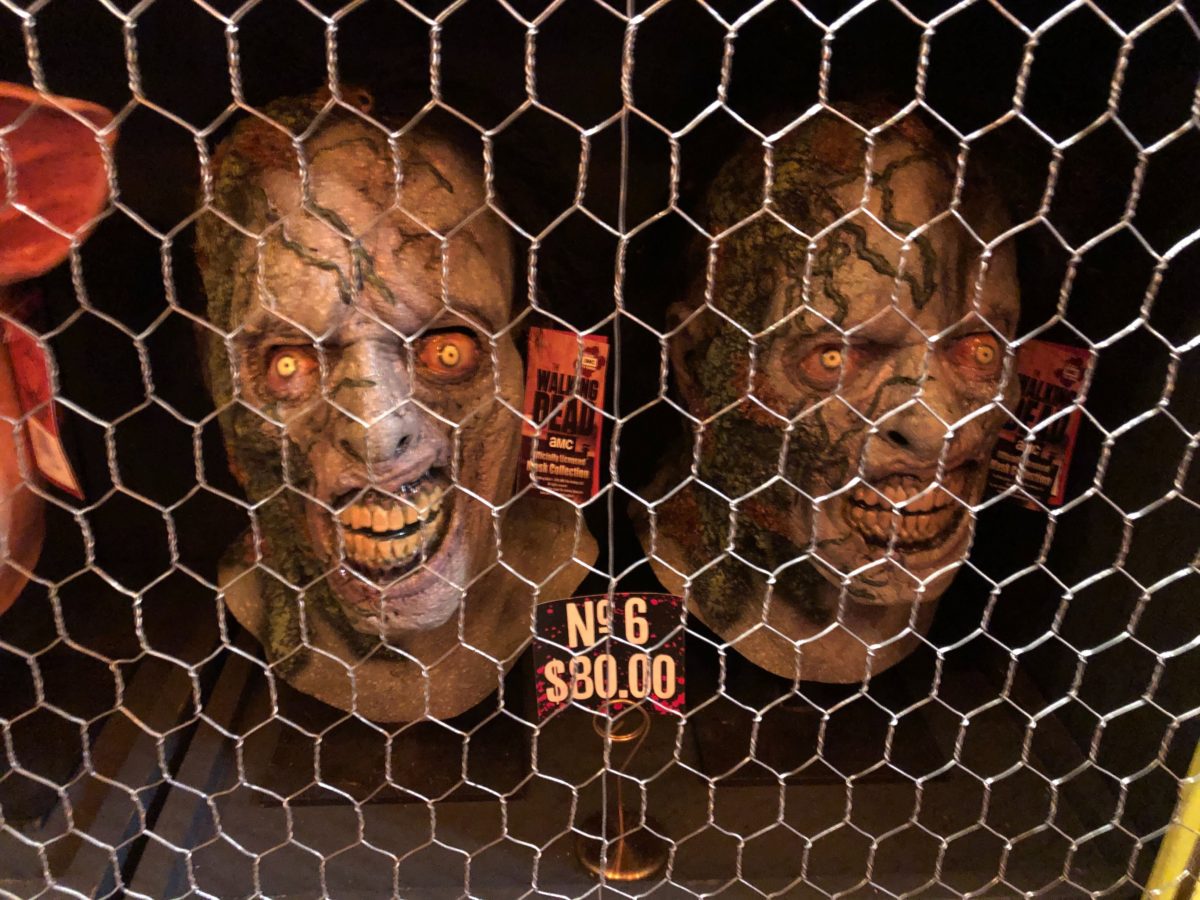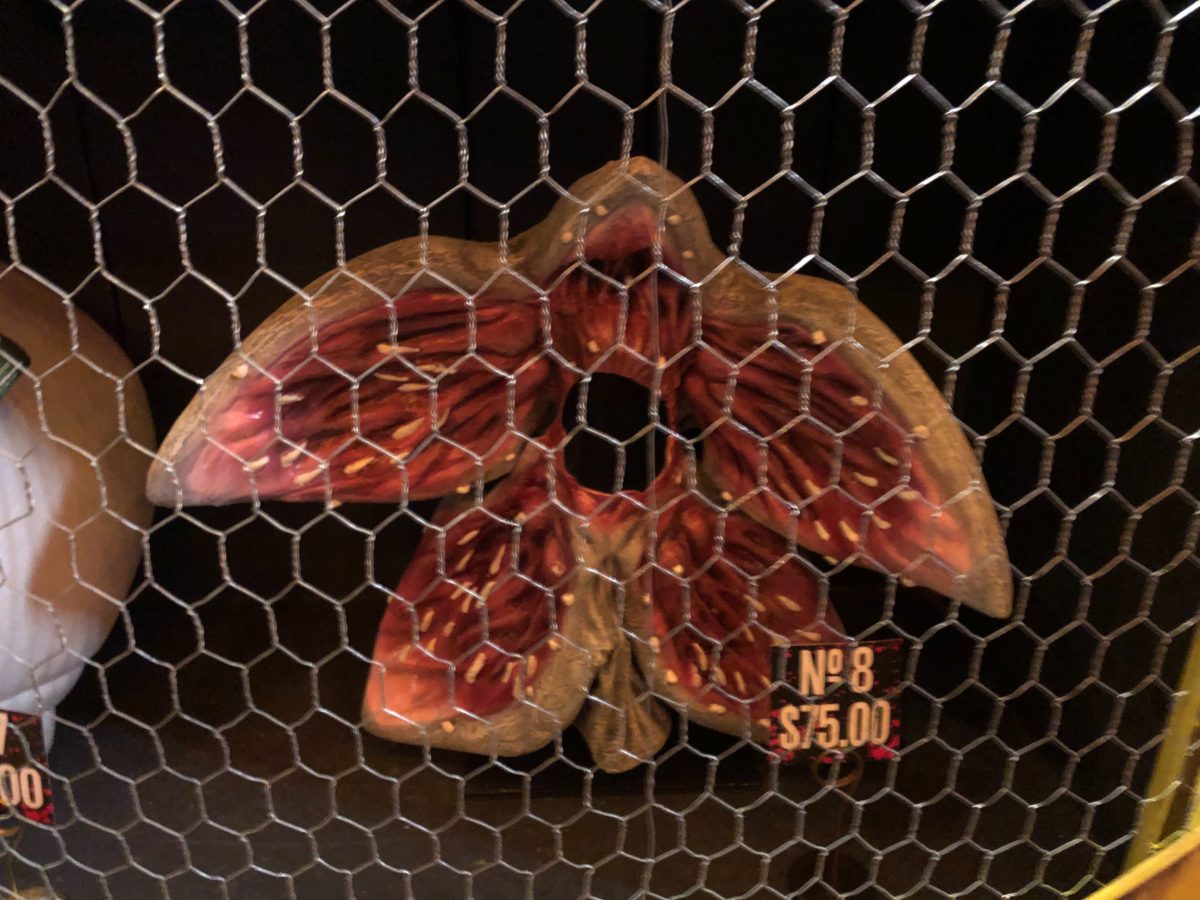 There are masks from last year's popular "Stranger Things" and Ghostbusters houses, plus other huge hits like "Walking Dead", Halloween II, Saw, and Child's Play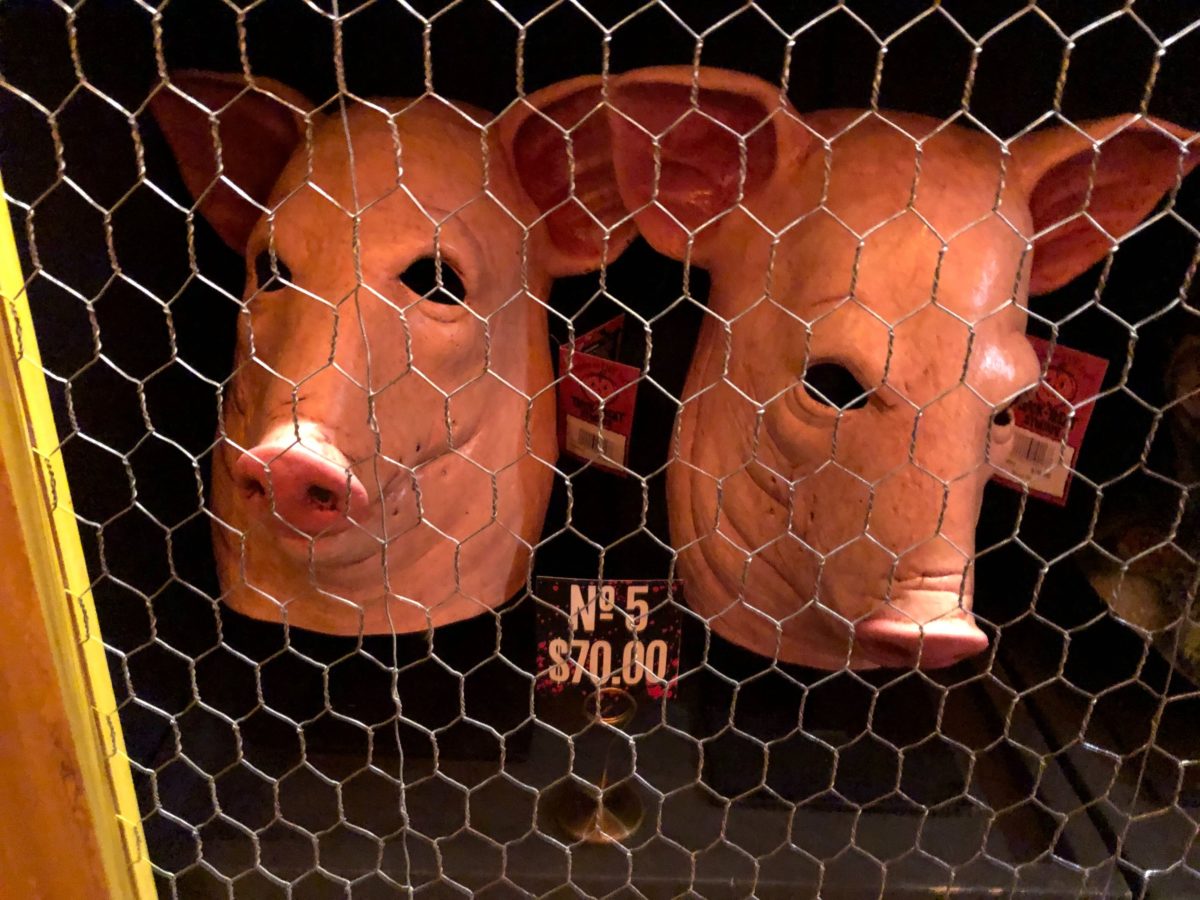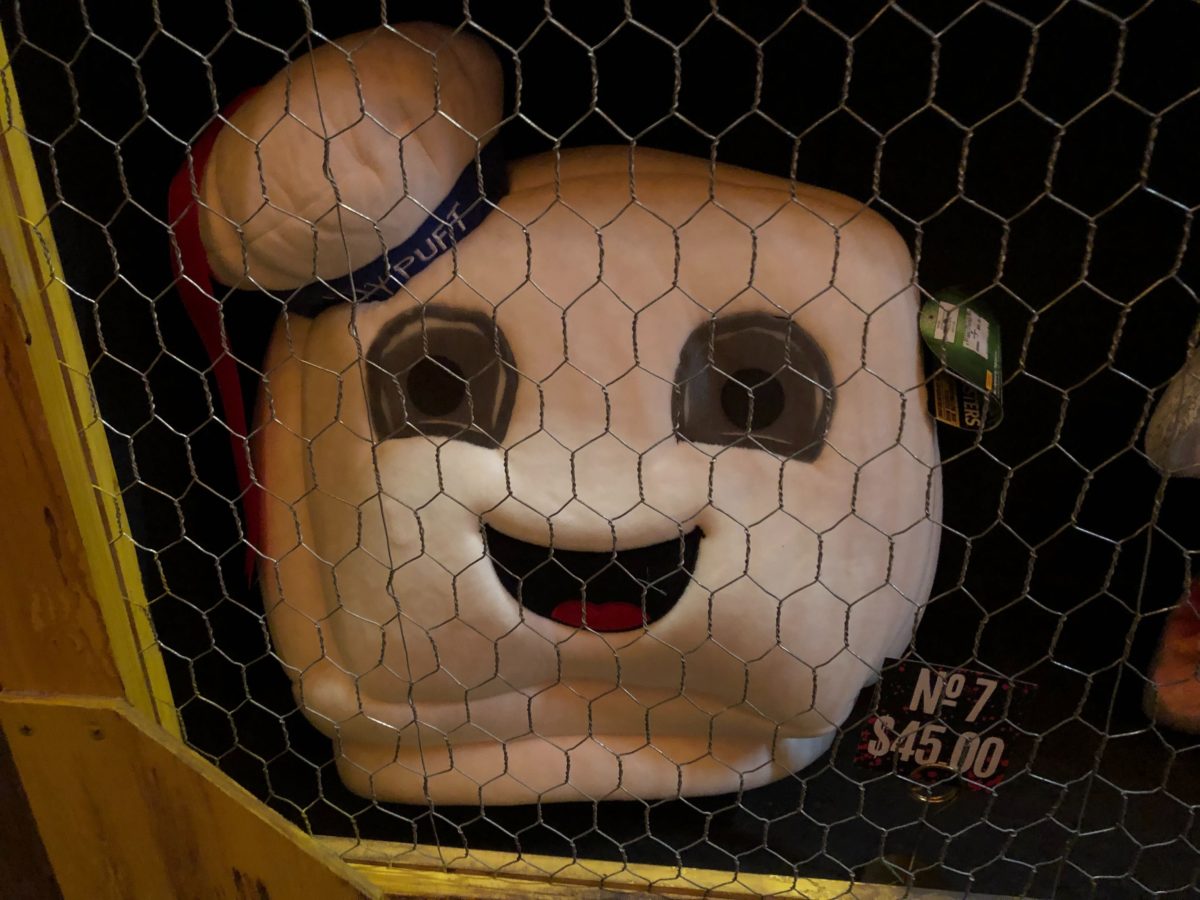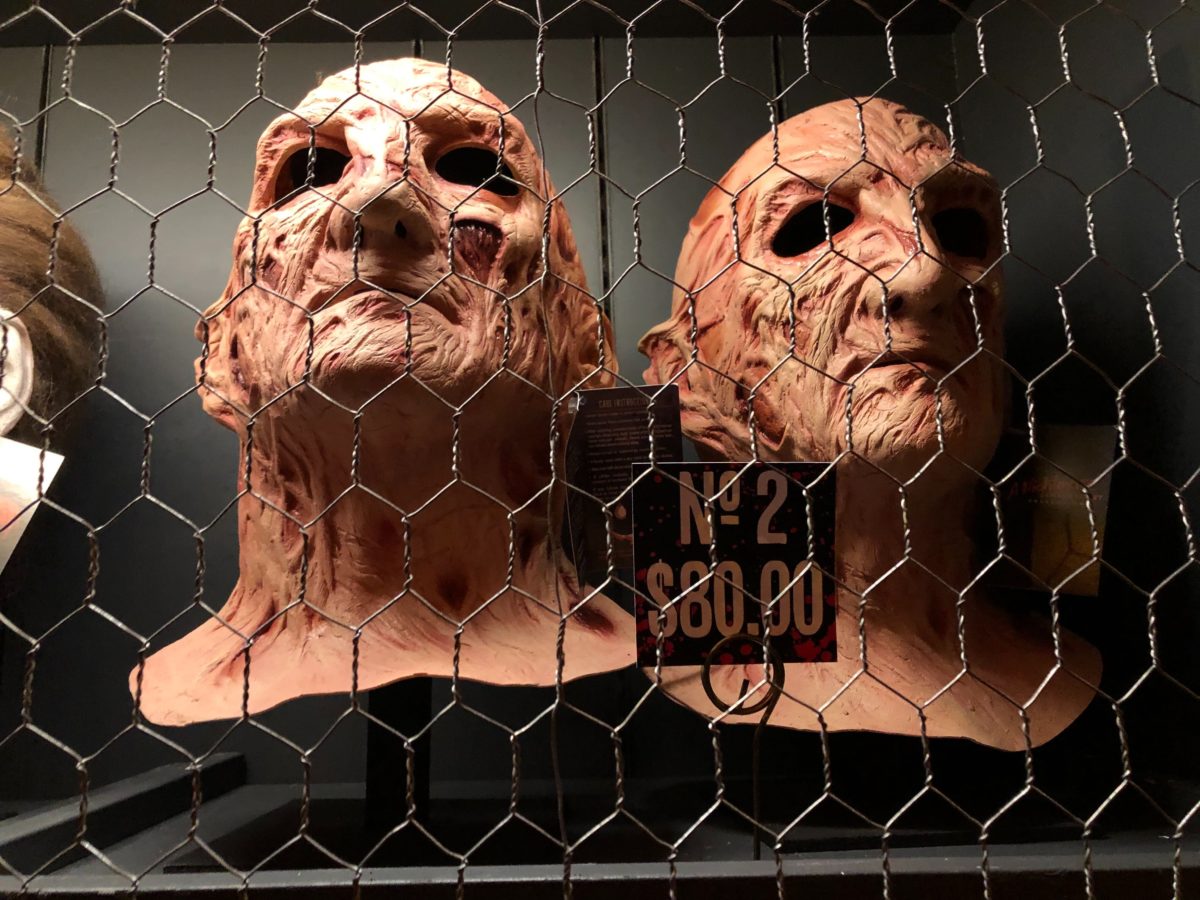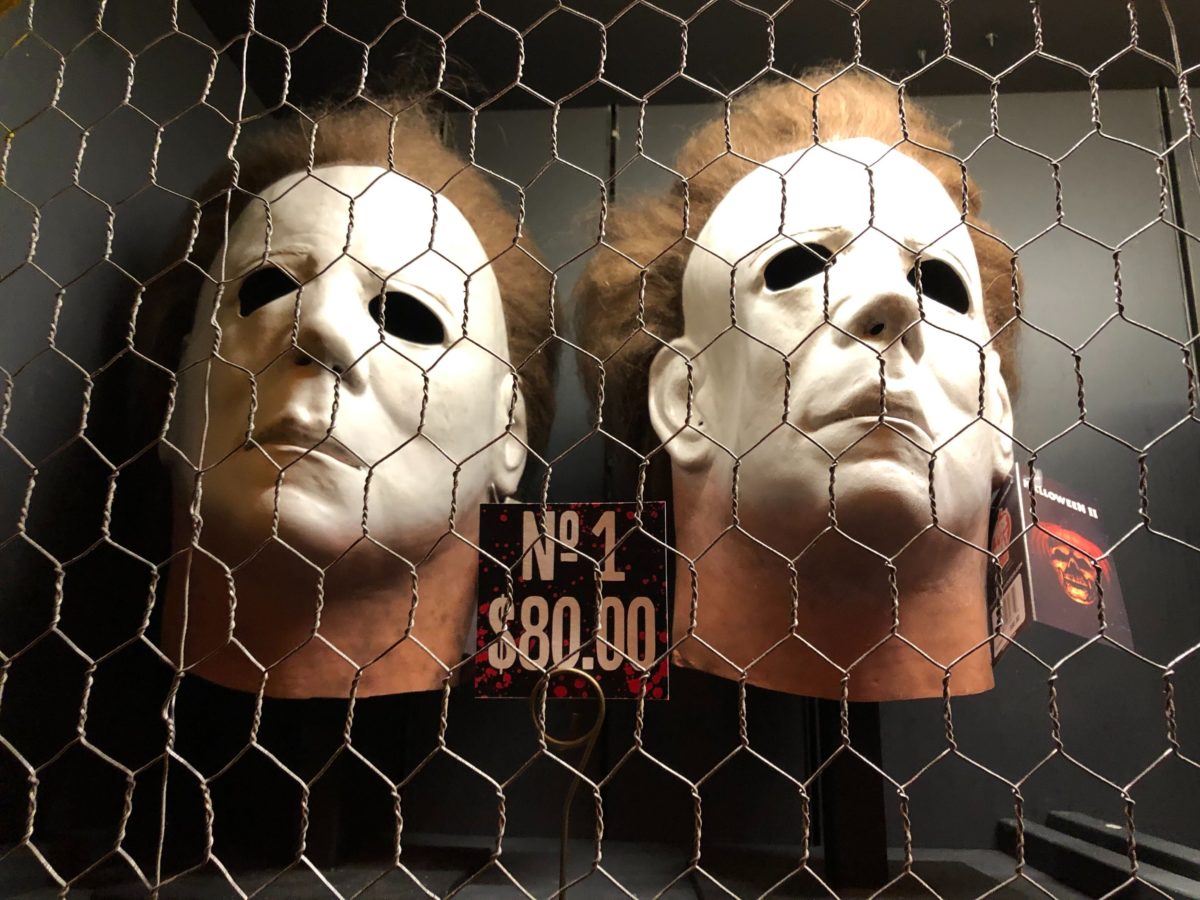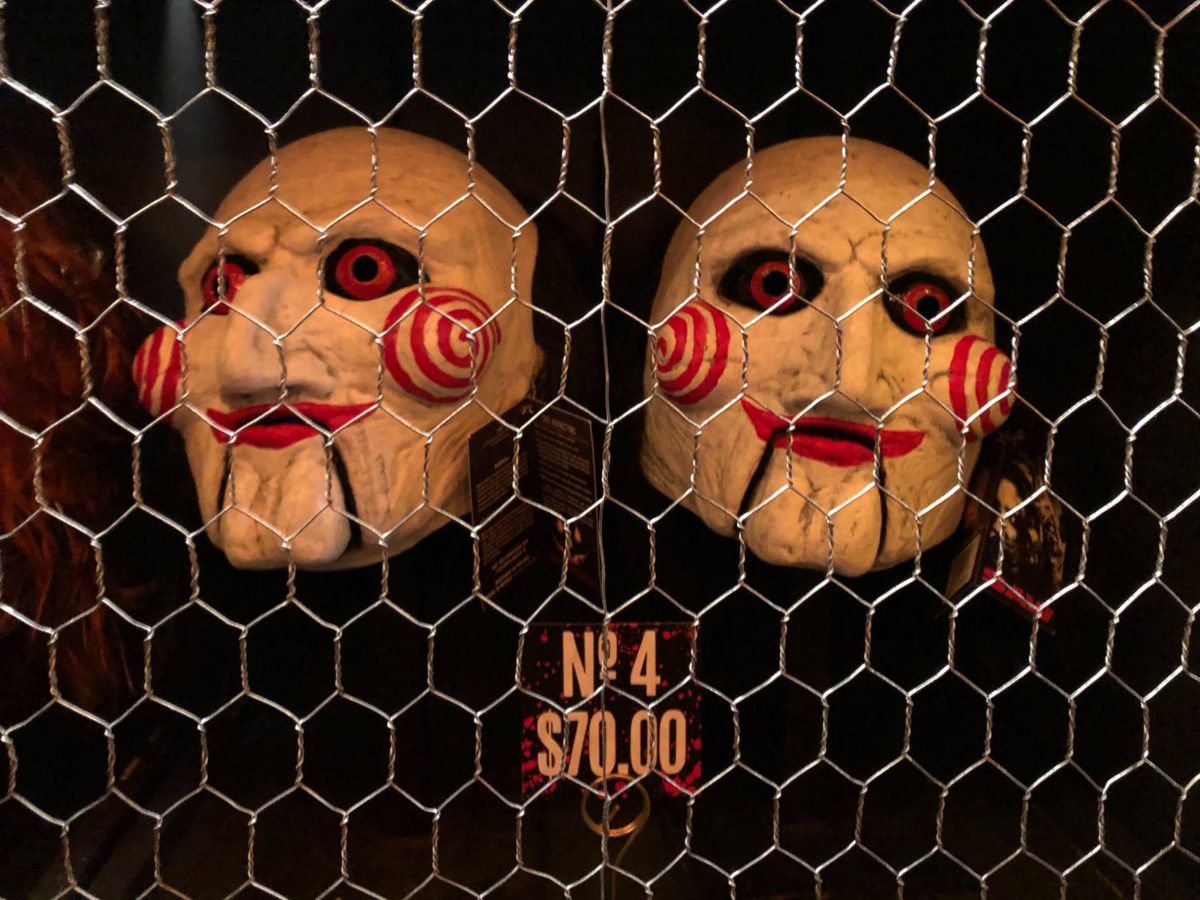 While these masks are normally out for guests to try on, they're cleverly displayed in creepy crates covered in chicken wire, with a sign instructing guests to see a Team Member for assistance with mask purchases.
Throughout the store, you'll find these incredible banners hung up, celebrating hosts from Halloween Horror Nights past, like The Storyteller from Halloween Horror Nights: Tales of Terror and Halloween Horror Nights: Sweet 16.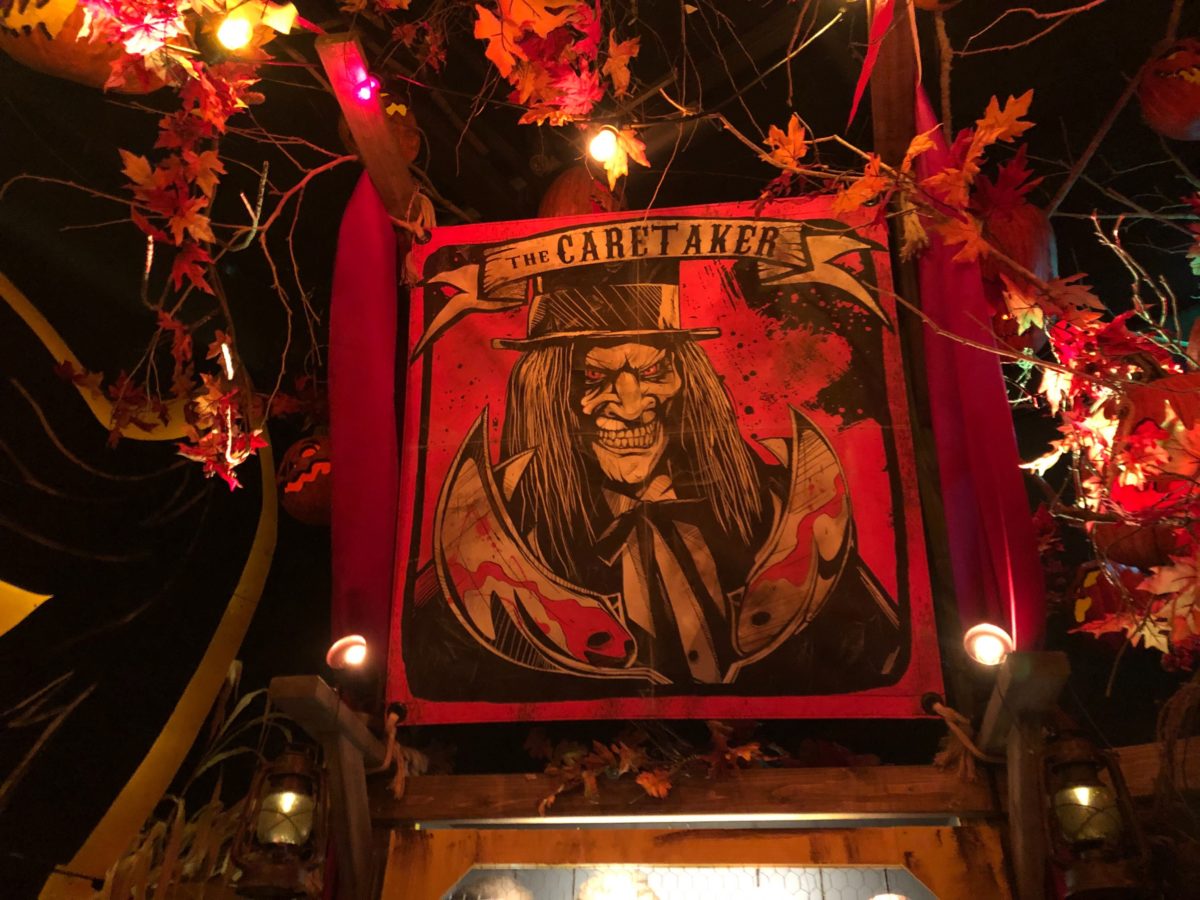 Here we have Dr. Albert Caine, better known as The Caretaker. He was Halloween Horror night's second original icon developed and first used for Halloween Horror Nights: Islands of Fear in 2002.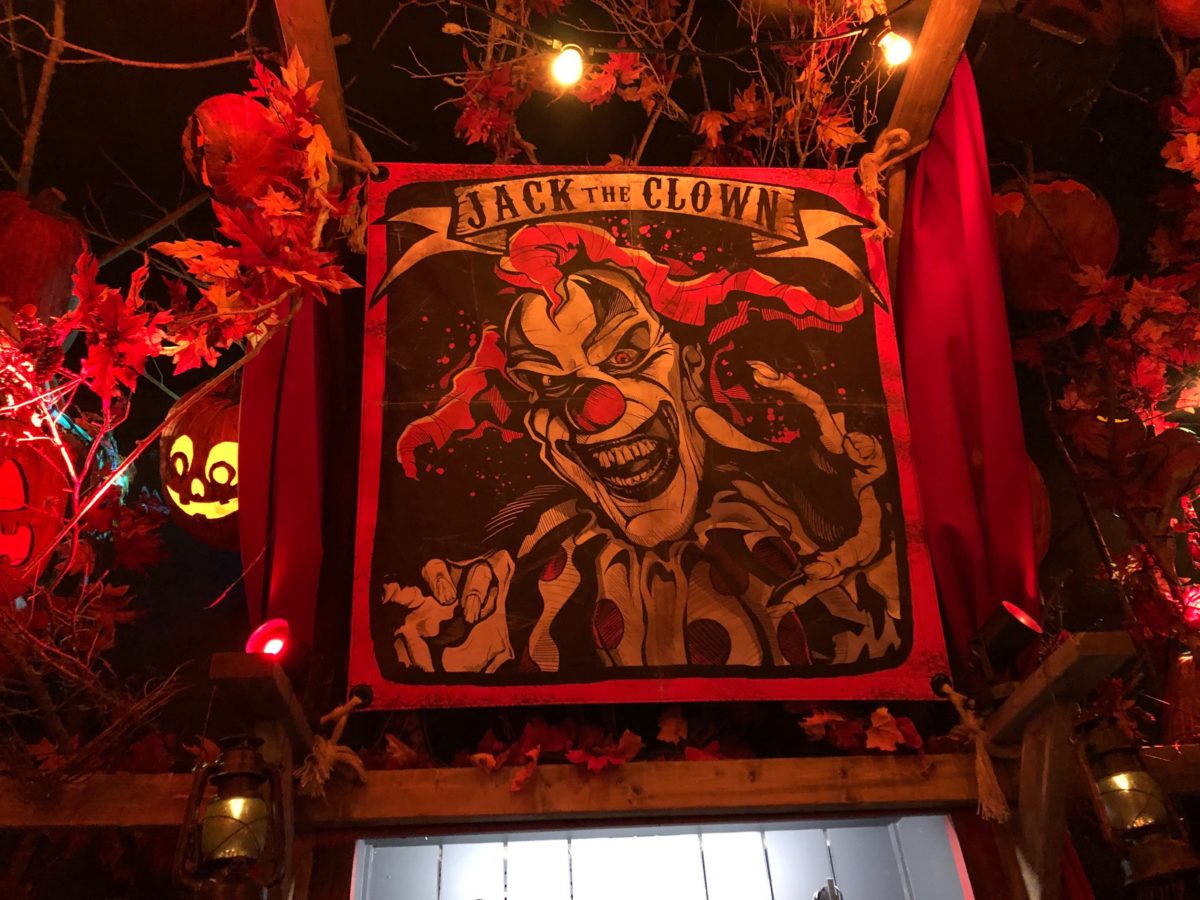 Here we have Jack, of course, the first-ever HHN icon and the clown that started it all. This insane former circus clown and serial killer murders his victims according to his twisted sense of humor.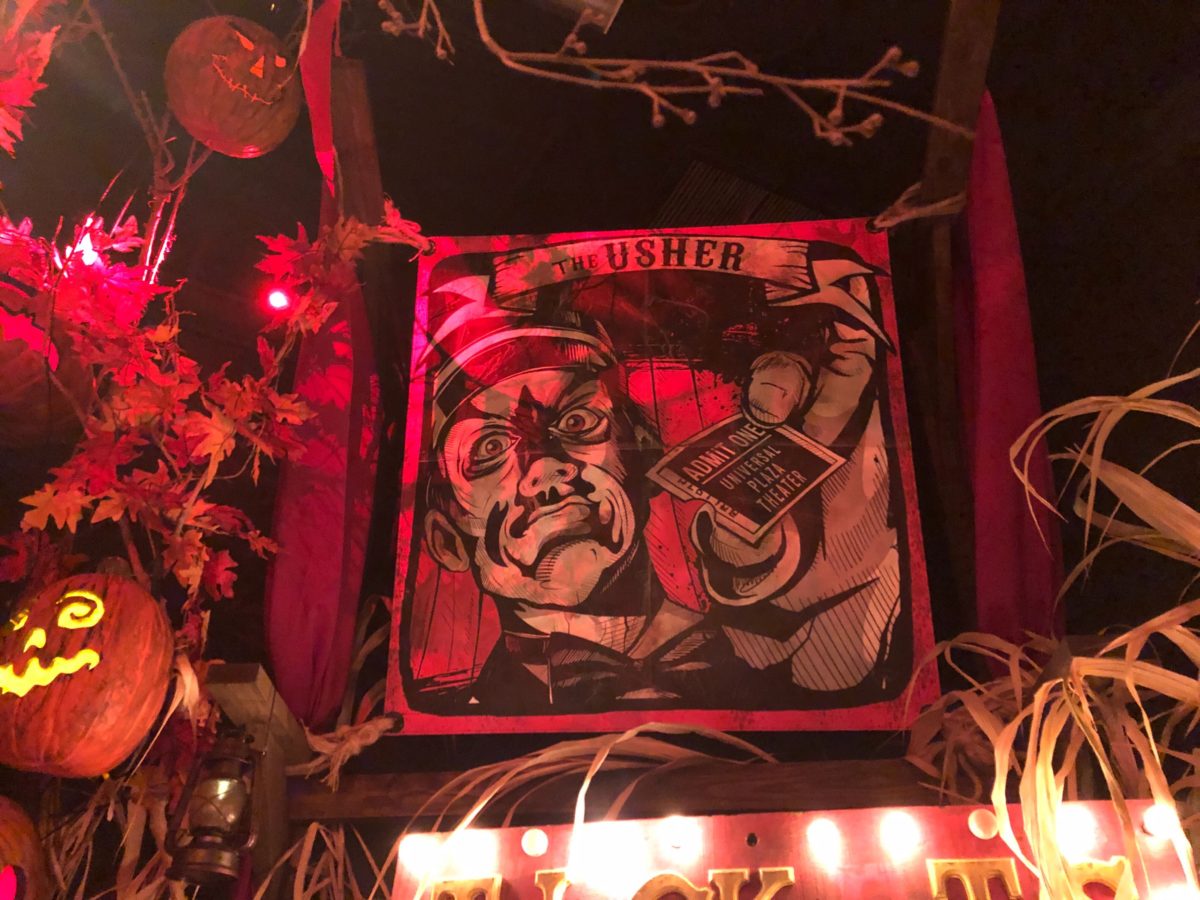 There's also The Usher, created for Halloween Horror Nights' 19th event, Halloween Horror Nights: Ripped from the Silver Screen.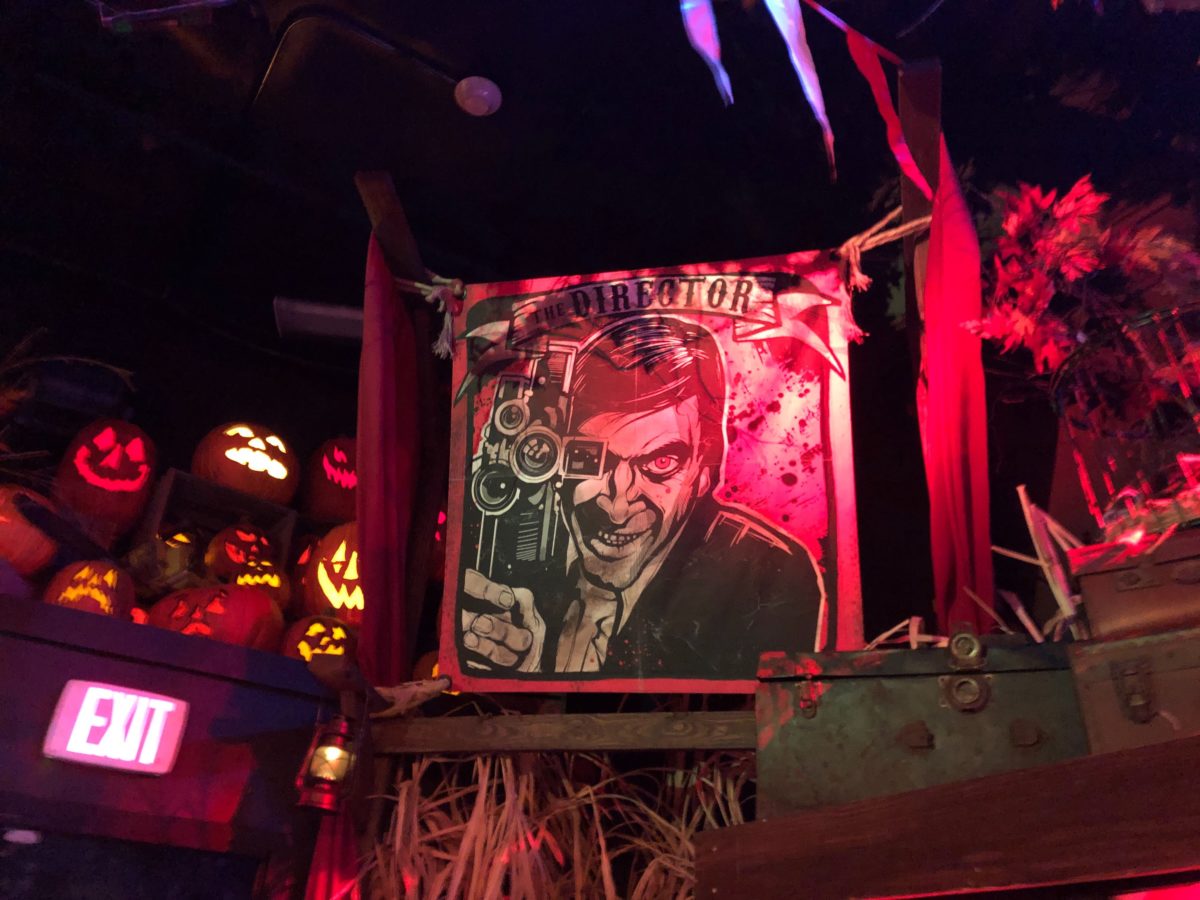 Finally, you'll also find The Director, also known by his real name Paulo Ravinski, from Halloween Horror Nights 13.
You can take a full tour of the Halloween Horror Nights Tribute Store at Universal Studios Florida in our YouTube video below!