With Disney Parks around the world closed for the foreseeable future, WDWNT is dipping into our archives of vintage parks materials for a look back into parks history! And in celebration of Hollywood Studios Appreciation Week, all this week, we're peeking into the studio vault with items from the early years of the Disney-MGM Studios! Today, we're heading back to Scene One with a Disney-MGM Studios Guide Book from the park's first year, 1989!
Note: This article will detail the guide page by page, but WIGS Members will have access to download a full-resolution PDF of the entire book. Head on over to Patreon.com/wdwnt to join WIGS, the WDWNT Inner Globe Society, for as little as $2 a month and unlock access to great content like this, and much more!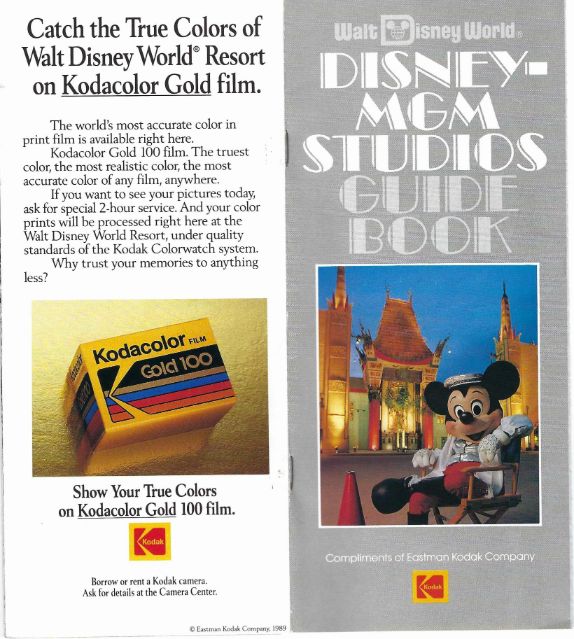 The guide opens with a picture of Mickey Mouse sitting in a director's chair in front of the Chinese Theater. I'd say that's a pretty good introduction to a world of movie and Disney magic. And since Kodak sponsors the guide, get ready to see some mention of photography later.
With a new park, there are new tickets for guests to maximize their visit to Walt Disney World: 4- and 5-day All Three Parks Passports, which allow for park hopping between the Magic Kingdom, EPCOT Center, and the Disney-MGM Studios. And be sure to stop by the Production Information Window to find out what television shows are taping!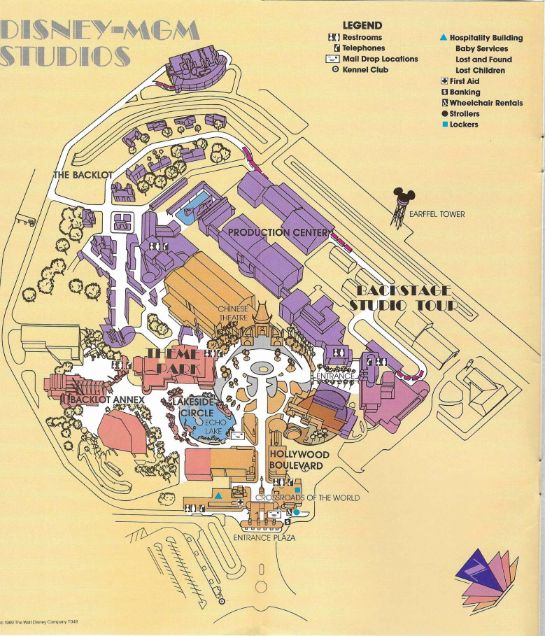 And there's the park, as it existed when it was still brand new. I still can't get over how much the Backstage Studio Tour encompassed in the early years.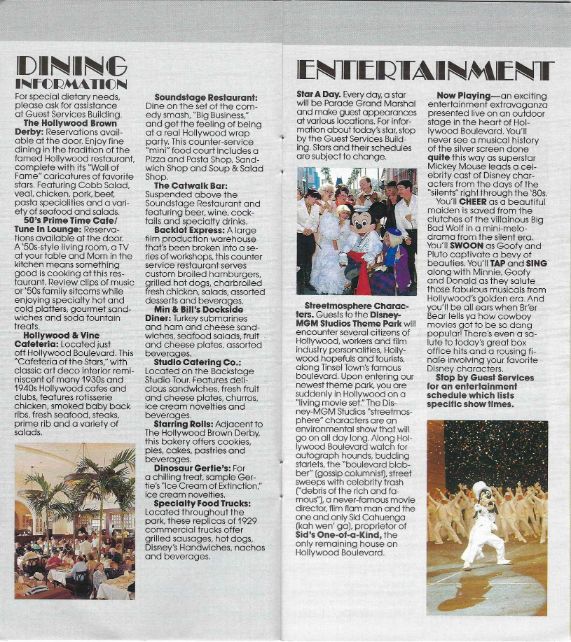 As for things that haven't changed in over thirty years, some familiar names populate the lineup of restaurants, including The Hollywood Brown Derby, 50's Prime Time Cafe and the Tune In Lounge, Hollywood & Vine, Backlot Express, Dockside Diner (sporting Min and Bill as the hosts back then), and Dinosaur Gertie's Ice Cream of Extinction. If you want to experience some park history next time you visit Disney's Hollywood Studios, be sure to grab a bite!
Also included in this section are the listings for live entertainment, including daily celebrity guest appearances and the Citizens of Hollywood (a WDWNT favorite), and the stage show known as "Hollywood! Hollywood!" the first in the park's history. Here's what the guide book says:
"Now Playing – an exciting entertainment extravaganza presented live on an outdoor stage in the heart of Hollywood Boulevard. You'll never see a musical history of the silver screen done quite this way as superstar Mickey Mouse leads a celebrity cast of Disney characters from the days of the "silents" right through the '80s.
You'll CHEER as a beautiful maiden is saved from the clutches of villainous Big Bad Wolf in a mini-melodrama from the silent era. You'll SWOON as Goofy and Pluto captivate a bevy of beauties. You'll TAP and SING along with Minnie, Goofy and Donald as they salute those fabulous musicals from Hollywood's golden era. And you'll be all ears when Br'er Bear tells ya how cowboy movies got to be so dang popular! There's even a salute to today's great box office hits and a rousing finale involving your favorite Disney characters."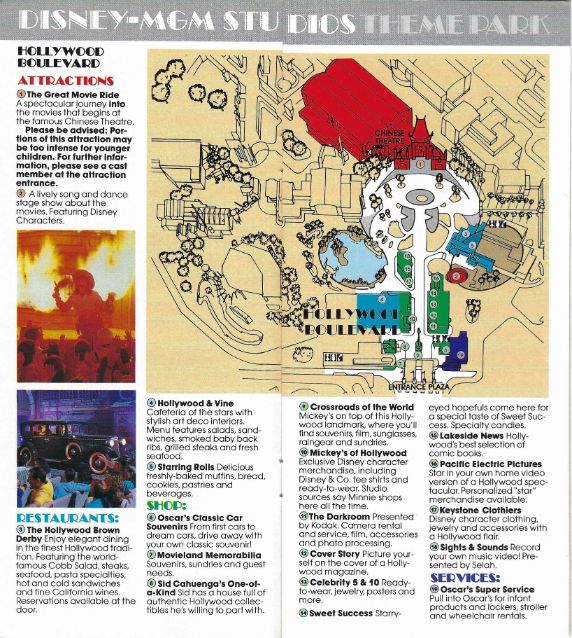 Then we move on to the attractions and shops the park has to offer. We start on Hollywood Boulevard with The Great Movie Ride, along with Hollywood, Hollywood, and some shops that have stay with the park over the years, including Mickey's of Hollywood, Celebrity 5 & 10 and Keystone Clothiers.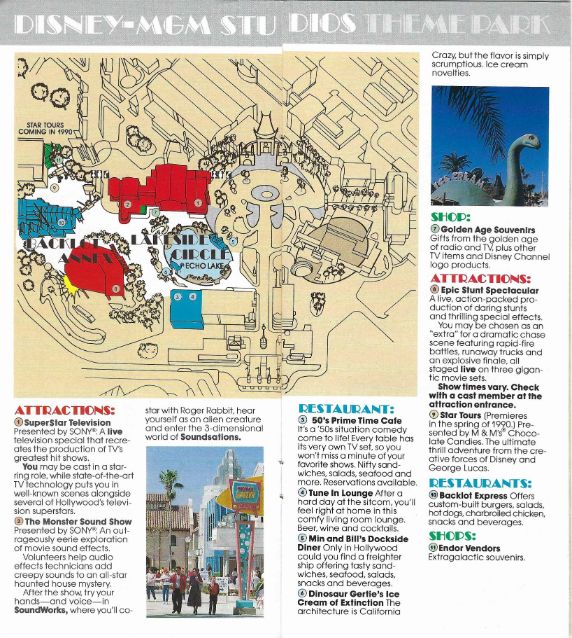 Next, we look at the offerings at Lakeside Circle and Backlot Annex. Interestingly enough, the Indiana Jones Epic Stunt Spectacular is listed here without the title character's name. There's also some attractions from the past, including SuperStar Television and the Monster Sound Show, which starred Martin Short and Chevy Chase. And coming soon: Star Tours! (Strangely enough, Endor Vendors was already open.)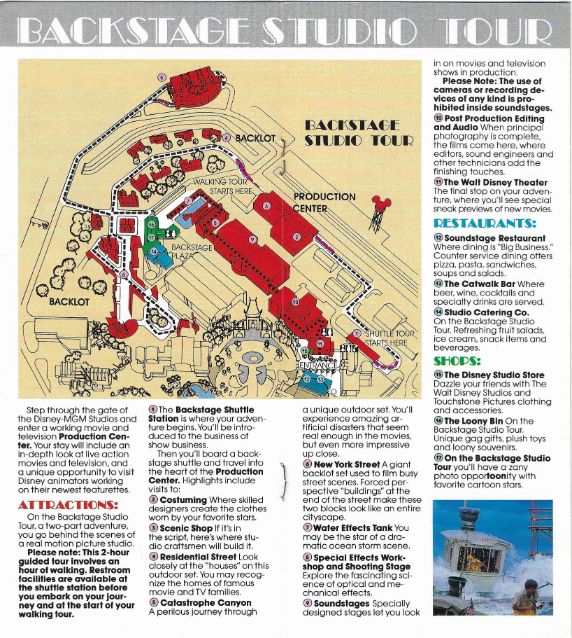 After that, it's the main attraction: the Backstage Studio Tour. While containing similar elements to the later (and significantly shortened) Studio Backlot Tour, it's interesting to see how the original tour differed. In the early days, trams left from what is now part of Star Wars Launch Bay. Guests then visited Costuming, the Scenic Shop, Residential Street, and Catastrophe Canyon before wrapping up at New York Street. And that was just the first half of the tour! In a reverse to later years, guests then stopped at the Water Effects Tank instead of before the tram tour, before exploring the Special Effects Workshop and Shooting Stage, the soundstages, and Post Production before ending in The Walt Disney Theater, which now serves as the home to the "One Man's Dream" film in Walt Disney Presents.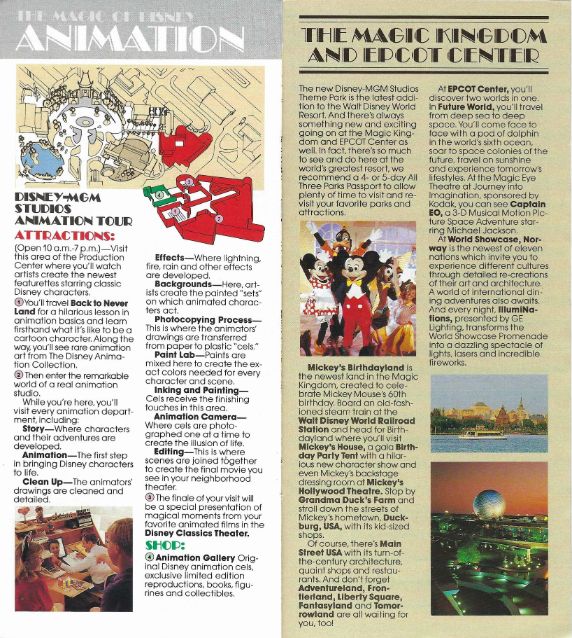 The final part of the park maps is The Magic of Disney Animation, where guests could see animators creating the next Disney classic in real time. Beyond that is a general guide to Walt Disney World, including a bit about what was new at the Magic Kingdom and EPCOT Center. Did you ever visit Mickey's Birthdayland?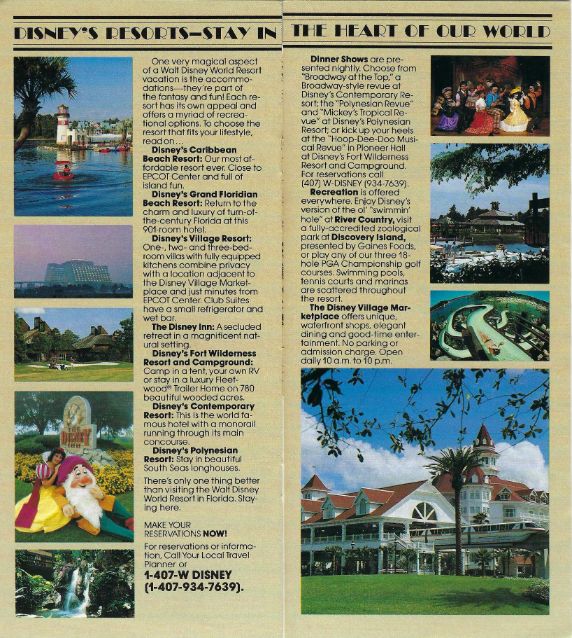 Meanwhile, there's a whole spread about the resort hotels, including the recently-opened Disney's Grand Floridian Resort and Disney's Caribbean Beach Resort, and recreation opportunities, including golf courses, dinner theater, and more. There's also mention of Disney's Village Resort (now Disney's Saratoga Springs Resort & Spa) and The Disney Inn (now Shades of Green).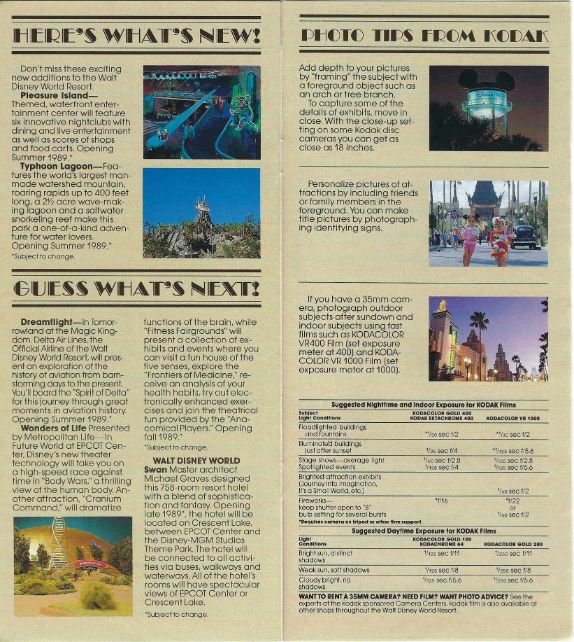 But what's next for Walt Disney World? How about Typhoon Lagoon, Pleasure Island, Delta Dreamflight, Wonders of Life, and the Walt Disney World Swan? And there's those photography tips I mentioned earlier!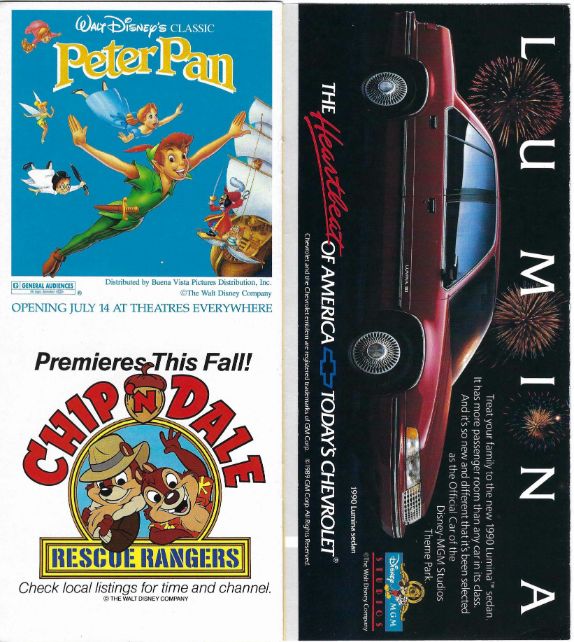 Next is a spread of ads, including one for the theatrical re-release of Peter Pan, and a new television show you might have heard of called "Chip 'n Dale Rescue Rangers."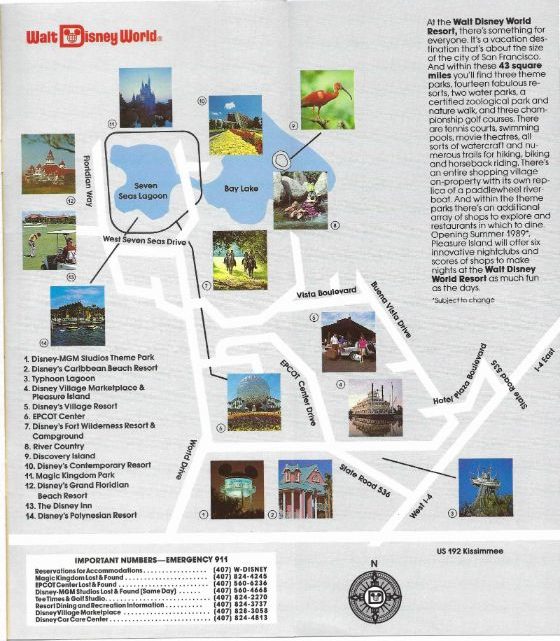 We close this nostalgic trip with a map of the Walt Disney World Resort as it was in 1989.
MORE:
Discover a Star-Studded Gala Opening at the Disney-MGM Studios With this Star Tours Grand Opening Press Itinerary from 1990
It's Game On When the Stars of "Super Mario Bros." Visit the Disney-MGM Studios in this 1993 Show Times Guide
Go Back to the Official Opening of EPCOT Center's World Showcase with this Festival Program From 1982