While the menu might be "not-so-secret," the reputation of the Jungle Navigation Co. LTD Skipper Canteen's Pão de Queijo, or Brazilian Cheese Bread, isn't something to be contained. It's also a staple of the Brazil Marketplace at the EPCOT International Food & Wine Festival! And if you found it as addictive as we did, you'll be glad to know the good folks at King Arthur Flour have your back with their own recipe for this cheesy goodness!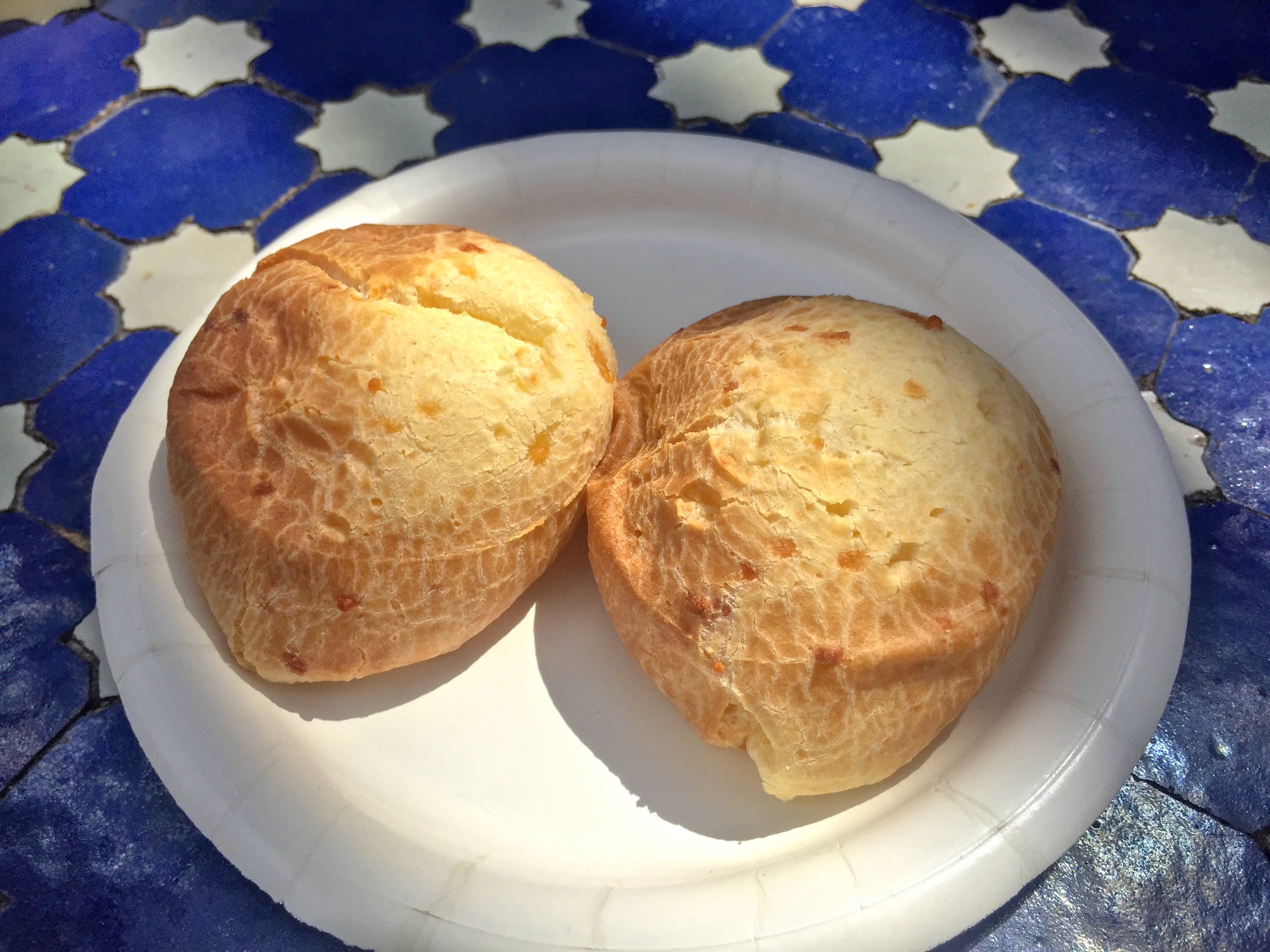 Thanks to a recipe from Brazilian bakery owner Ricardo Gonzalez, you can now get your fix at home!
Prep Time: 10 minutes, Bake Time: 20 minutes, Total Time: 30 minutes
Recipe makes approximately 18 to 20 buns
Ingredients
1/2 cup (8 tablespoons, 113g) unsalted butter
1/4 cup (57g) water
1/4 cup (57g) milk
3/4 teaspoon table salt or 1 teaspoon kosher salt
2 cups (227g) tapioca flour or tapioca starch
2 teaspoons minced garlic
3/4 cup (85g) grated Parmesan, Romano, or aged Asiago cheese
2 large eggs, lightly beaten
Instructions
Preheat the oven to 375°F. Lightly grease a couple of baking sheets; or line with parchment.
Put the butter, water, milk, and salt in a saucepan, and heat until the butter has melted and the mixture has come to a full boil. While the mixture is heating, put 2 cups of tapioca flour into a mixing bowl.
Pour the boiling butter mixture over the tapioca flour, beating to combine. Beat at high speed until the mixture becomes smooth and elastic-looking; this will happen very quickly.
Beat the garlic and cheese into the dough until well combined.
Stick your finger into the dough. If it's uncomfortably hot, let it sit for a couple of minutes to cool a bit; you don't want to cook the eggs when you beat them in. If it seems hot but not burning hot, continue with the next step.
With the mixer going, gradually dribble in the beaten eggs, beating until well combined and smooth. We've found that tapioca starch/flour varies in its absorption capabilities. If your batter is thick but pourable, like cake or pancake batter, beat in additional tapioca flour/starch until it's thick enough to hold its shape when you scoop some onto a baking sheet. It should be the approximate consistency of cream puff batter: when you plop it onto the pan, it should settle slightly, but not spread into a puddle.
Drop the mixture in 2-tablespoon balls (about the size of a golf ball) onto the prepared baking sheets, spacing them about 1 1/2″ apart. A level tablespoon cookie scoop works well here. The buns will settle slightly as they sit.
Bake the buns for about 20 minutes, until they have a freckled appearance (from the browning cheese), and they're beginning to color a bit. Remove them from the oven, and serve hot.
Wrap any leftovers in plastic. Store at room temperature for a couple of days; freeze for longer storage. Rewarm briefly (the microwave is fine) before serving.
Will you be making these at home while we wait for the Skipper Canteen to open its doors once more? Let us know in the comments below!
MORE:
RECIPE: Start Your Day Off in Paradise with Our Tonga Toast Copycat Recipe from Disney's Polynesian Village Resort
RECIPE: Toast to National Grilled Cheese Day with a Grilled Cheese Sandwich From Toy Story Land at Disney's Hollywood Studios
RECIPE: Make Walt's Favorite Chili with This 1958 Recipe from The Walt Disney Archives