With Disney Parks around the world closed for the foreseeable future, WDWNT is dipping into our archives of vintage parks materials for a look back into parks history! Grab your leisure suits and platform shoes and groove to a '70s-style tour of the Vacation Kingdom of the World with a Walt Disney World Vacation Guide from 1979!
Note: This article will detail the guide page by page, but WIGS Members will have access to download a full-resolution PDF of the entire thing. Head on over to Patreon.com/wdwnt to join WIGS, the WDWNT Inner Globe Society, for as little as $2 a month and unlock access to great content like this, and much more!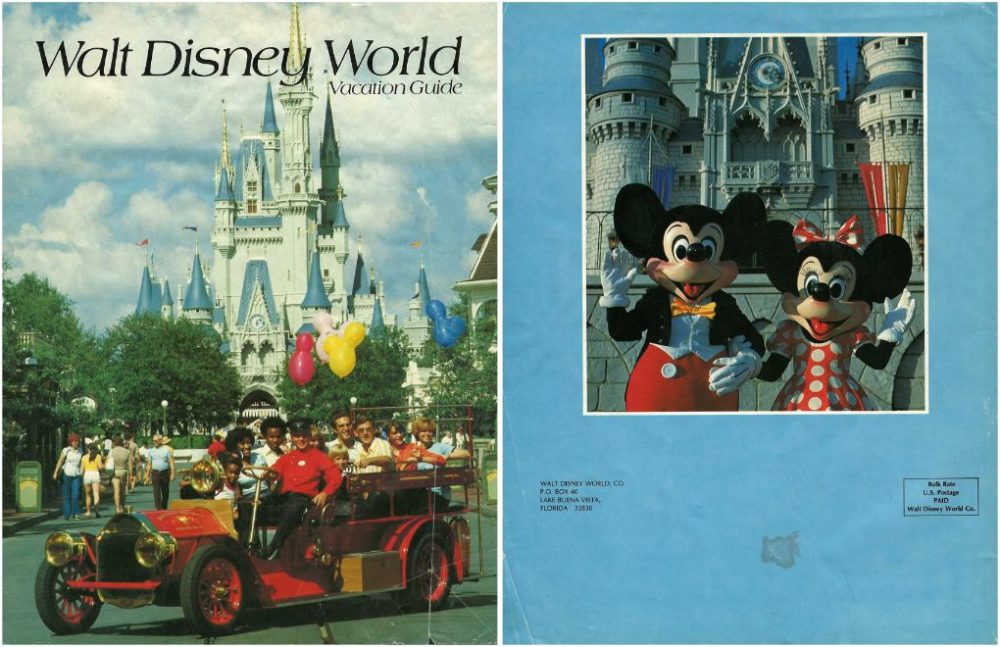 Four enduring symbols of Walt Disney World grace the front and back covers: Cinderella Castle, Main Street Vehicles, and good old Mickey and Minnie Mouse.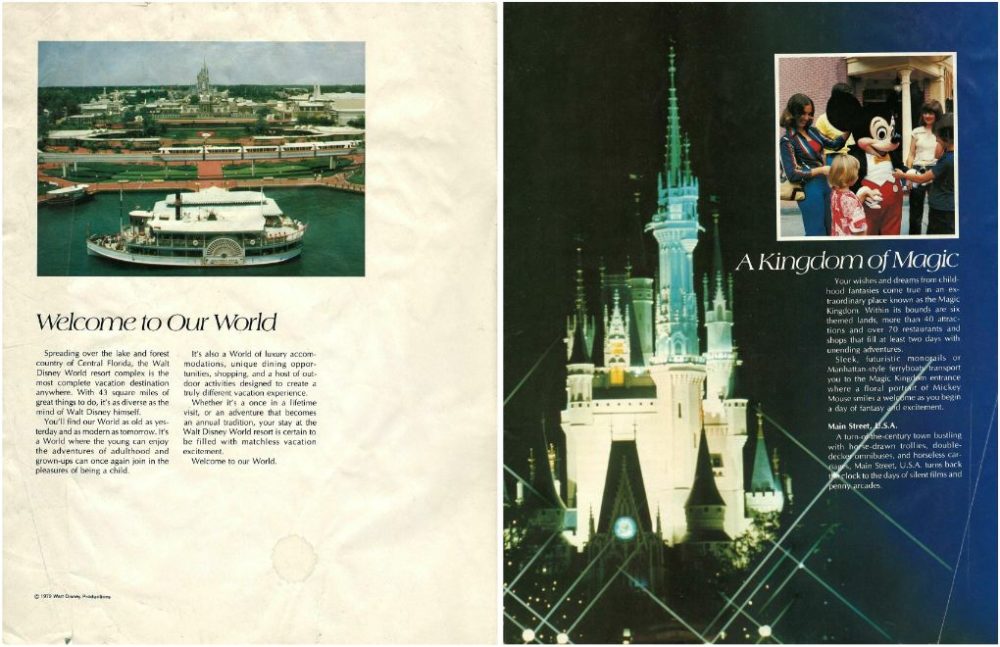 We're introduced to Walt Disney World with this passage:
"Spreading over the lake and forest country of Central Florida, the Walt Disney World resort complex is the most complete vacation destination anywhere. With 44 square miles of great things to do, it's as diverse as the mind of Walt Disney himself.
You'll find our World as old as yesterday and as modern as tomorrow. It's a World where the young can enjoy the adventures of adulthood and grown-ups can once again join in the pleasures of being a child.
It's also a World of luxury accommodations, unique dining opportunities, shopping, and a host of outdoor activities designed to create a truly different vacation experience.
Whether it's a once in a lifetime visit, or an adventure that becomes an annual tradition, your stay at the Walt Disney World resort is certain to be filled with matchless vacation excitement.
Welcome to our World."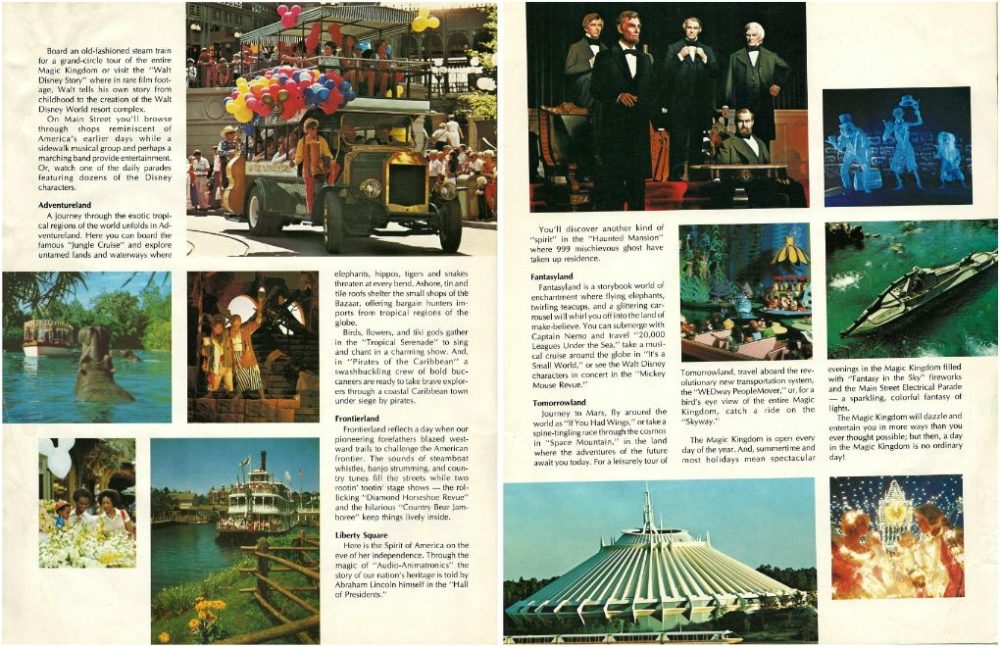 You know Walt Disney World is still young when the theme parks make up only three pages.  On the bright side, you do get a land-by-land look at the Magic Kingdom, including some favorites of the past, like 20,000 Leagues Under the Sea, the Mickey Mouse Revue, the Skyway, and If You Had Wings. Did you experience any of these?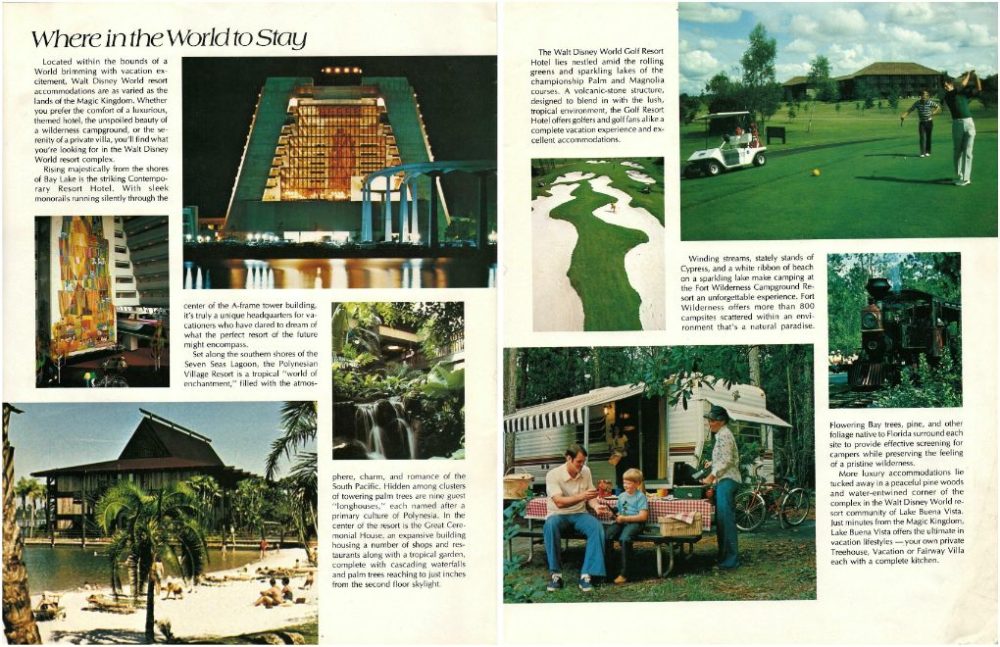 But Walt Disney World is more than just the Magic Kingdom! We also get a tour of the resort hotels, including the Contemporary Resort Hotel, the Polynesian Village Resort, the Walt Disney World Golf Resort Hotel, and the Fort Wilderness Campground Resort, including a rare picture of the Fort Wilderness Railroad!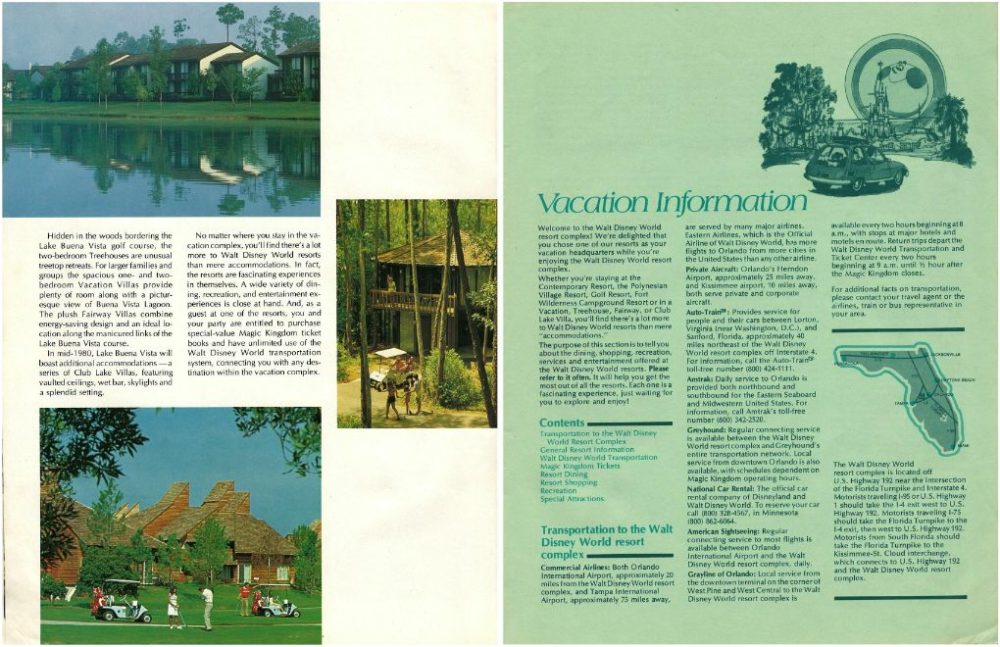 Following a look at the Treehouses and Vacation Villas (that would ultimately become part of what now is Disney's Saratoga Springs Resort & Spa), we get into the specifics of vacation information, including transportation, directions, and more.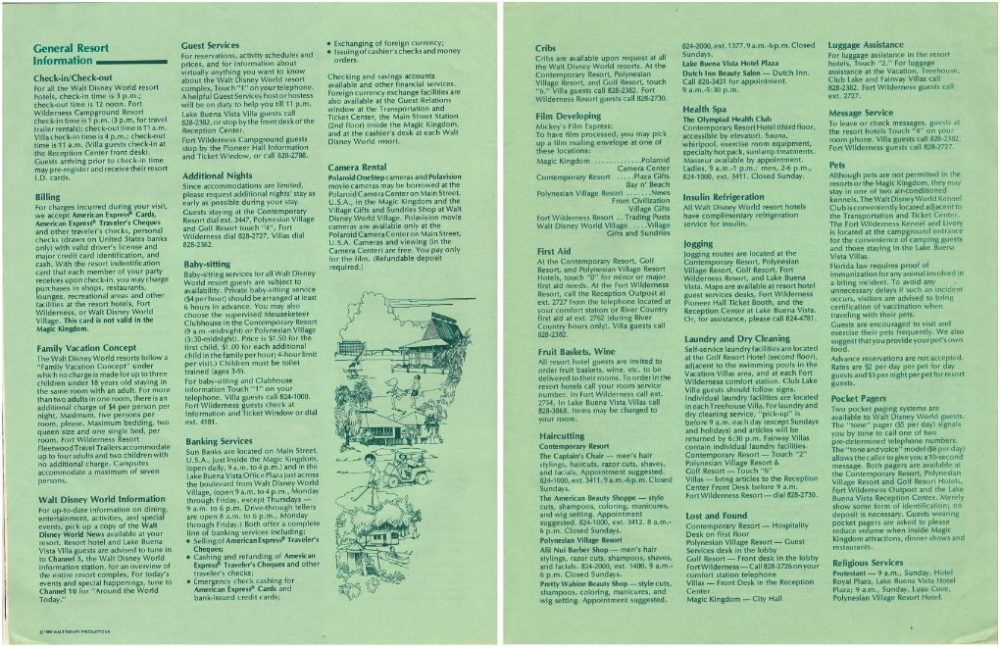 Did you know that not only could you rent a camera, but also a pocket pager? And that the Contemporary and Polynesian Village used to have haircutting facilities?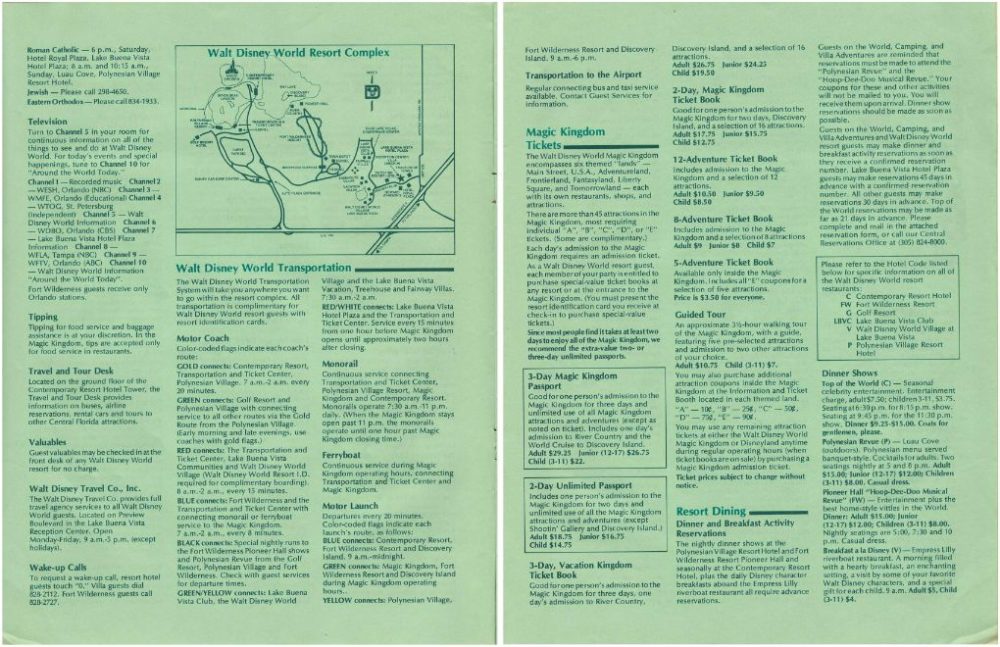 After information of resort transportation, television listings, and a map of the resort, we get down into the reason we go to Walt Disney World: theme park tickets and entertainment!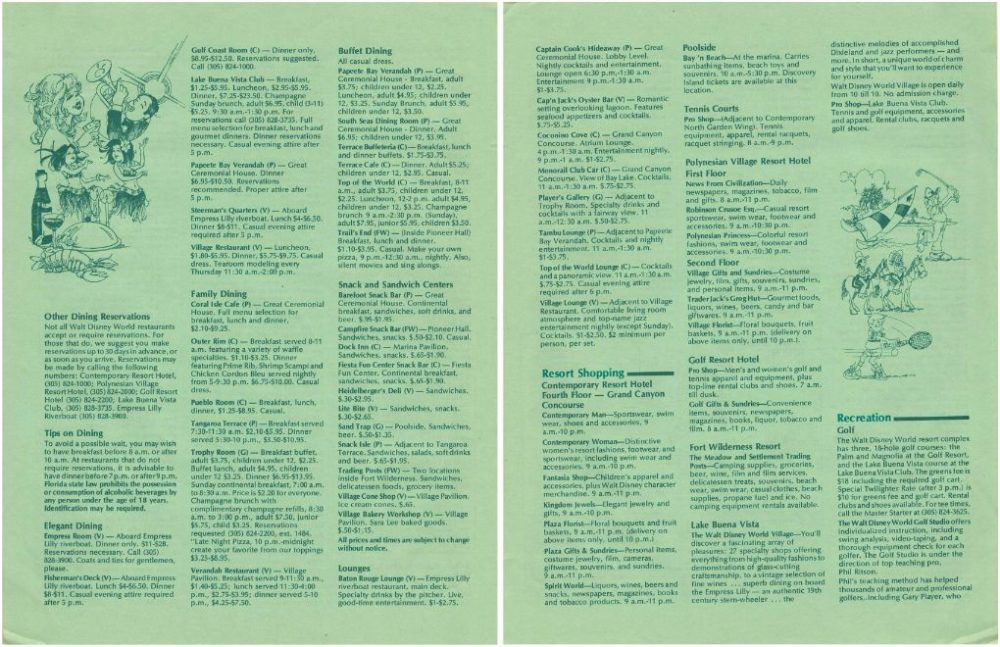 Can you believe that resort dining listings used to take up just over a page of info? The resort's come a long way since then…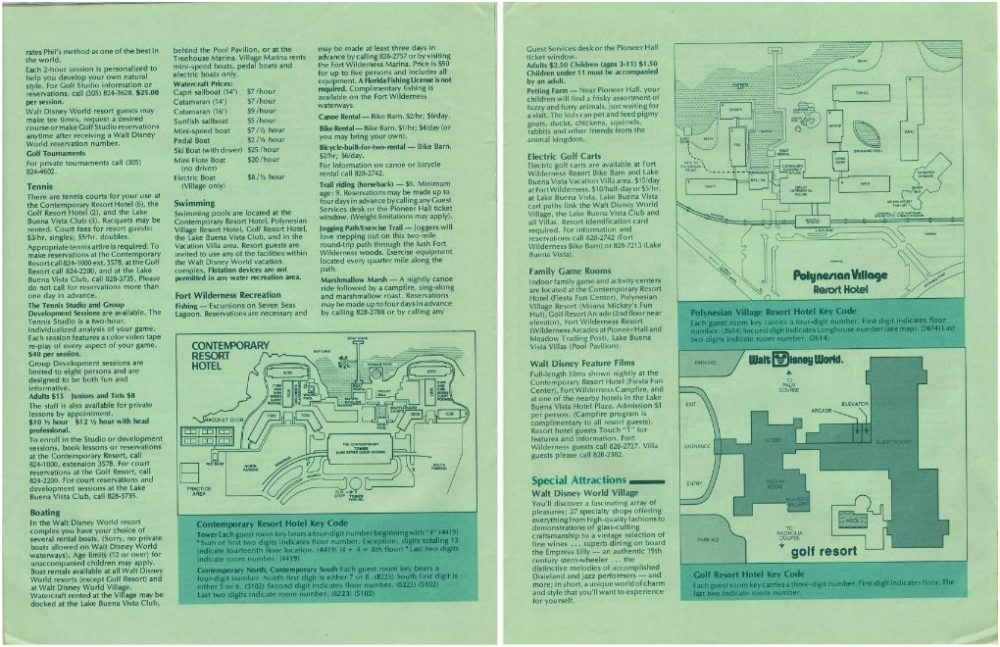 We also get some basic maps of the resorts, including Fort Wilderness in the following spread, along with information about recreation opportunities around the resort.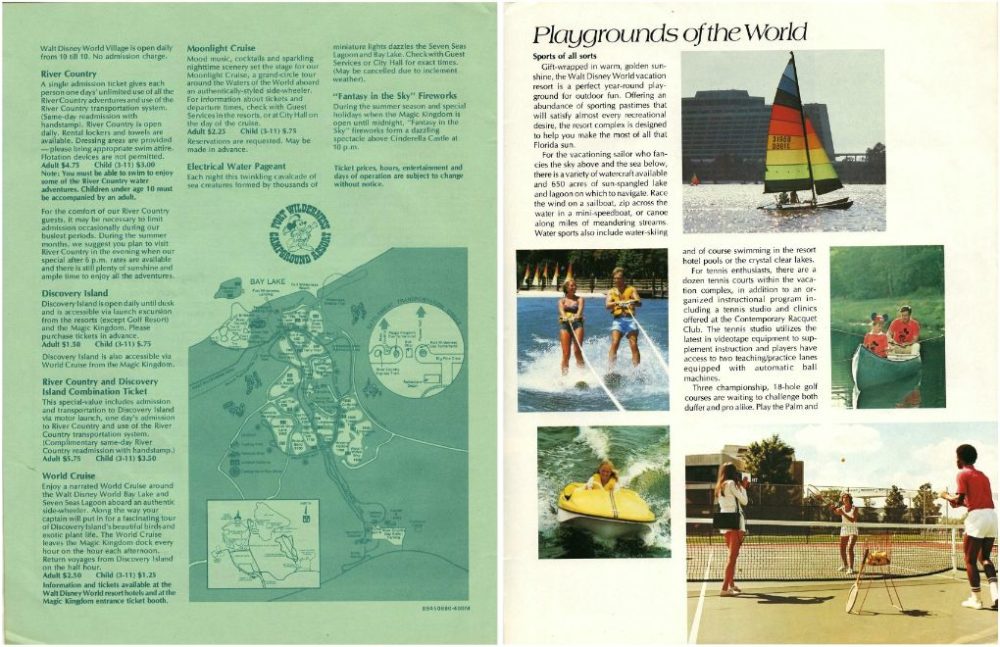 Be sure to visit River Country and Discovery Island on your visit! Or try your hand a some sports! There's plenty to choose from!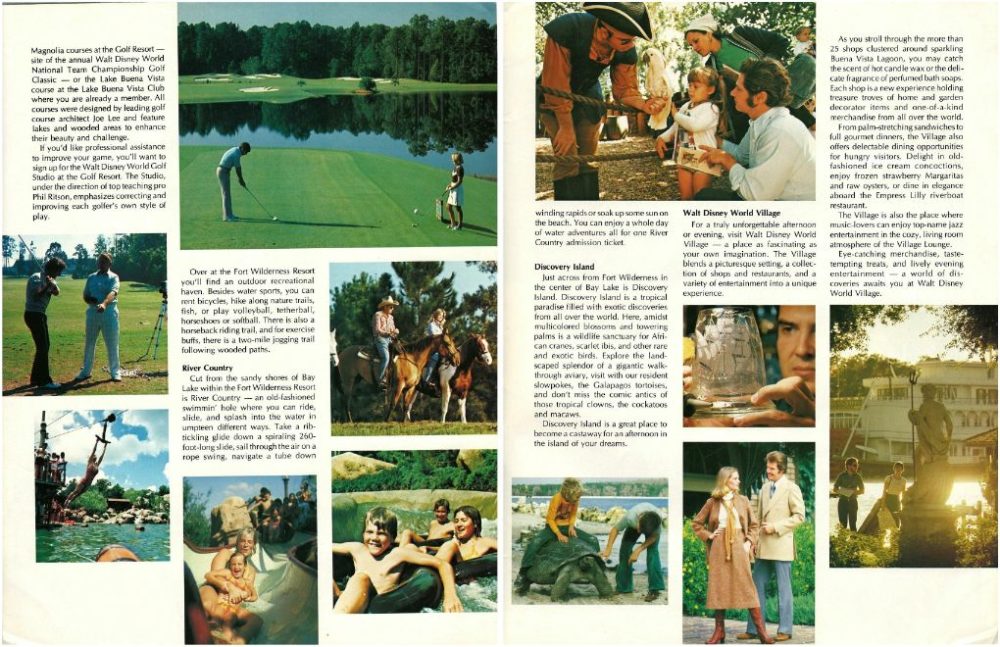 Doesn't that look like some retro fun?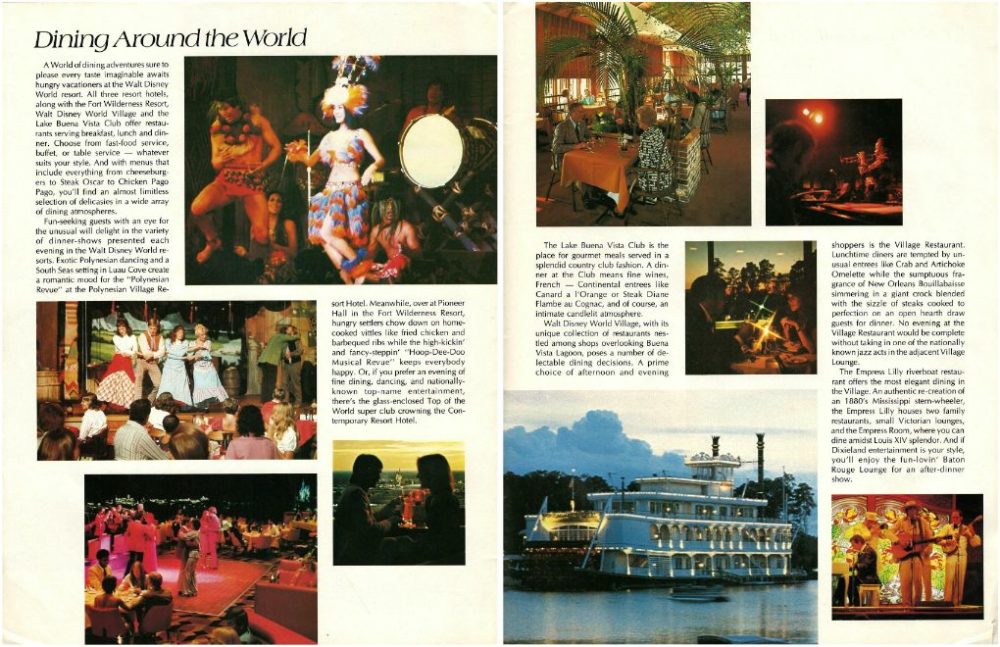 We get some more descriptions of some of the dining options, including dinner shows and high-end restaurants at Walt Disney World Village.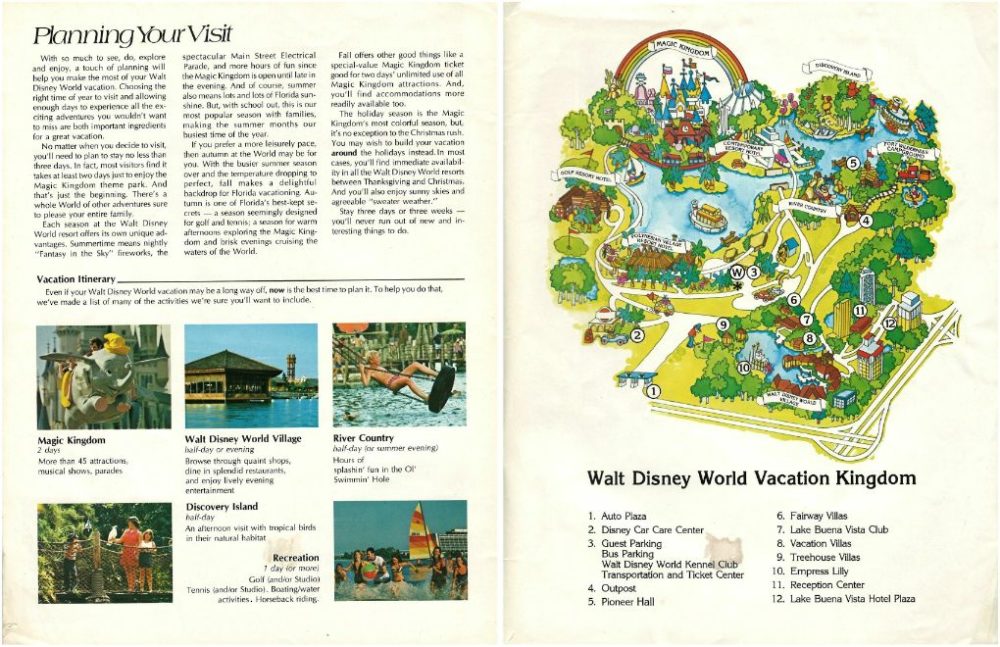 And with some tips and tricks on how to make the most of your stay and a resort map, the guide comes to a close. It's interesting to see Walt Disney World back in its early years when it felt… small. By this time a decade later, the resort would never be the same.
MORE:
See Walt Disney Productions in the Early 70's With the 1973 Annual Report – Part One
See Walt Disney Productions in the Early '70s With the 1973 Annual Report – Part Two
See EPCOT Center Under Construction in 1980 With This Article From Orlando-land Magazine