Reservations for the first phase of reopenings at Disney's Animal Kingdom have been fully booked for July 14, a full day after the Disney Park Pass system went live. To check for Disney Park Pass availability, you can take a look at the calendar here.
As of today, July 14 has fully booked by Disney Resort Guests. While not the first day that Disney's Animal Kingdom reopens, since the park is reopening on the same day as Magic Kingdom on July 11, it may be that guests are booking up their first days at Magic Kingdom and following up with Disney's Animal Kingdom in the later days after the initial reopening.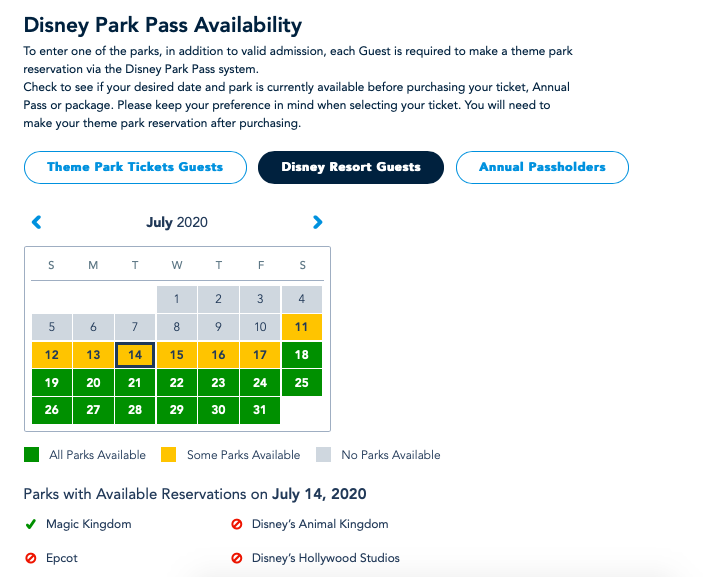 As Disney's Hollywood Studios and EPCOT don't reopen until July 15, the only park available to choose from on July 14 is Magic Kingdom. Of course, cancellations can occur, opening up additional booking windows in the future, but for now, that date is fully unavailable at Disney's Animal Kingdom. (That is, unless a portion of reservation slots have been saved for the two upcoming reservation access days for passholders and general ticket holders.)
Other fully booked-up dates include July 15 -17 at Disney's Hollywood Studios.
If you're looking to make reservations, you can check out our step-by-step guide here. Do note that reservations are only currently open for Disney Resort Guests with valid admission. On June 26, reservations will open for Annual Passholders, and on June 28, all other existing ticket holders can start booking reservations.
Featured Image: (C) Matthew Cooper Photography – www.thetimethespace.com