UPDATE: Walt Disney World has issued the following statement via text message to WDWNT:
"There is no truth to this rumor."

Jacquee Wahler, Vice President, Communications – Walt Disney World Resort
With Walt Disney World reopening this week in the midst of a secondary surge of COVID-19 cases across Florida, all eyes have been on the outlets covering the parks—from fans planning out their next trips, to the general public, curious about the masses flocking to a theme park in the midst of a pandemic. As you've seen throughout our extensive coverage, we've shown you just about every aspect about going to Disney in these unprecedented times.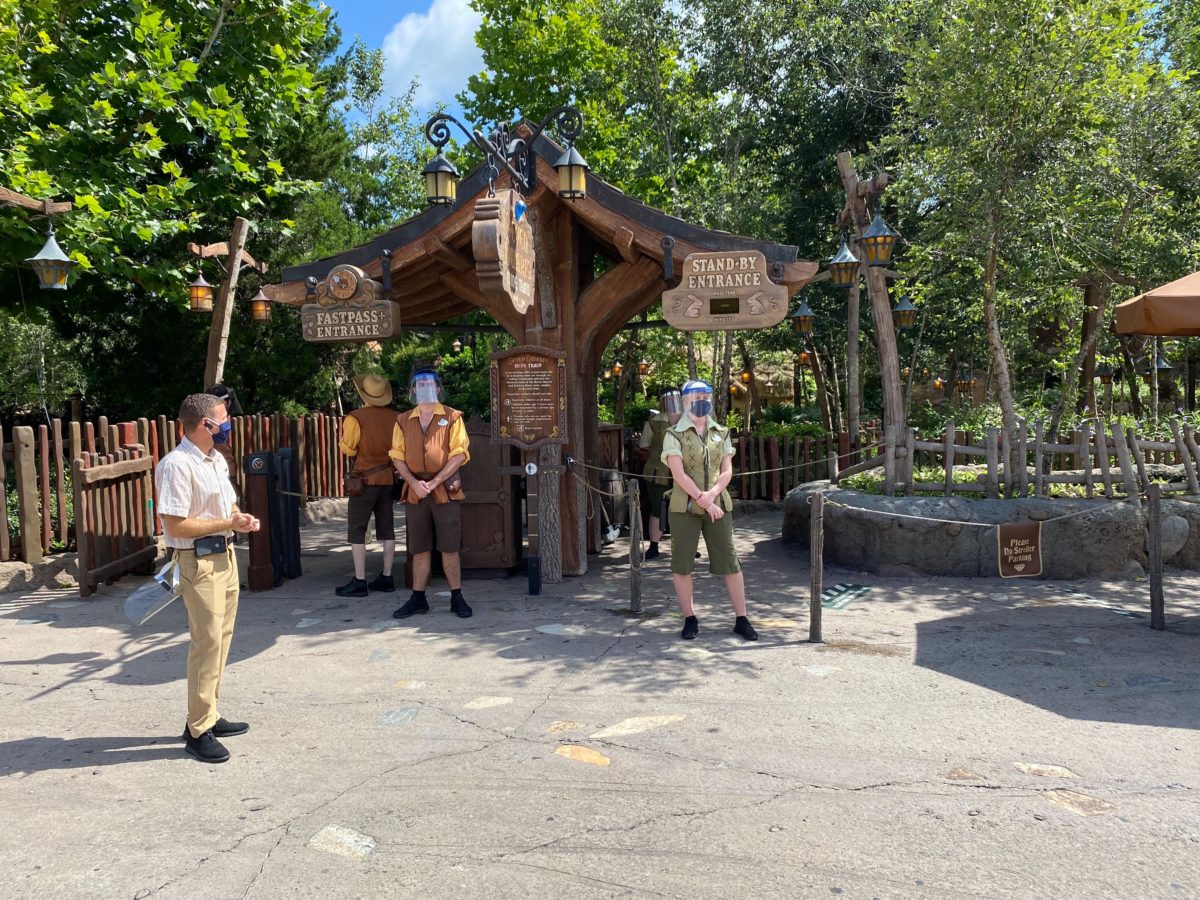 There's Cast Members spraying down attraction vehicles, characters roaming on boats or greeting from rooftops, and oh—everyone's wearing face masks. In the case of Cast Members, they're required to wear face shields on top of that whenever physical distancing isn't possible. With thousands of Cast Members still furloughed or returning to work under difficult conditions, all were allowed to reserve a date for Cast Member previews earlier this week. A handful of them were caught overcrowding the entrance to Seven Dwarfs Mine Train in a now-viral reposted photo:
We've been informed by several Cast that the employees in this photo have since been identified and reportedly either reprimanded or terminated by management. Cast Members are expected to "lead by example", and many guests expressed having qualms about the reopenings after seeing this scene at the reopening previews. We were in the park the very day that viral photo was taken, and saw no such crowding anywhere in the park throughout the duration of the preview. The way the entrance is set up for Seven Dwarfs Mine Train, there is a hand sanitizer dispenser at the entrance, and many have to briefly stop for it to dispense. The attraction had been closed due to weather conditions earlier, and had just reopened in this very moment. However, no such context was given when this photo was reposted, which unfortunately furthered the guest uproar. There was also no follow-up in terms of how quickly this crowd was dispersed after the photo was taken.
Despite our misgivings about indoor mask-free "Relaxation Stations", our observations on the reopening so far have been fairly positive, with mask enforcement throughout and pretty much all guests and Cast Members observing physical distancing rules. Every attraction (with the exception of Splash Mountain) was practically a walk-on, with large, expansive walkways virtually empty given the limited capacity for previews.
Whether theme parks should reopen is a very divisive topic right now, especially given the rising rate of COVID-19 cases across Florida, which has resulted in an extension of the current State of Emergency. Tomorrow, the Magic Kingdom will reopen to the general public (at least, the ones with Disney Park Pass reservations) for the first time in months. Cast Members will be there, face shields and all, to welcome them back.
Featured Image: (C) Matthew Cooper Photography – www.thetimethespace.com