We, the employees of WDWNT, wear many hats. Some of us write and broadcast, or report on the parks, or spend hours upon hours prepping and working on covering EPCOT festivals. I've watched all of the EPCOT festivals come and go, year after year––I've seen all the cool merch and yes, Italy really just has the worst food time after time, which I think puts me in a unique position to play judge and jury to determine which EPCOT festival truly is the best of all. Buckle up folks, this is going to be a wild ride.
Perhaps we should introduce our contestants before I decide who is the best and the worst. Starting our year off is the International Festival of the Arts. This is typically a short-run festival (this year, only 39 days,) but transforms EPCOT into an artists' wonderland. There are creative food options, artist demonstrations and workshops, Disney on Broadway, and plenty of Disney artists come out to the park to sell their finest work.
Once springtime hits, we then have the International Flower & Garden Festival. Bringing colorful flower beds, character topiaries, the Garden Rocks concert series, and of course, lots of fresh food to the park. This is probably the prettiest version of EPCOT we get to see throughout the year.
Following Flower and Garden, we have the International Food & Wine Festival. This is probably the best-known and longest-running festival for EPCOT. Last year, it started running in late August and went all the way through November, packing the park with food booth after food booth. It also brings to the park culinary demonstrations from renowned chefs and the Eat to the Beat concert series.
We end the year with the International Festival of the Holidays. This festival tries to bring culture to the park, showing how the different countries celebrate the holiday season. There's food booths (of course), the Candlelight Processional, and an outrageous amount of hot chocolate and cookies.
We've met our contestants, and now I'll decide their fates! Coming in at Number Four, also known as the worst of the worst, is…
I know what you're probably thinking. "But Alicia, the park is crawling with food and booze!" And, you would be correct. But honestly, how is that different from any other day at EPCOT? I've written enough food reviews for the festival at this point to know that most of the food is mediocre, the drinks aren't particularly strong, and almost everything is overpriced. I'm not saying this is the case at every stand, however. In 2019, we had some very good luck with some of the new dishes from The Alps, France, and Refreshment Port. However, I think it would be nice if we saw Disney scale down the number of booths and kitchens (which was a grand total of 41 last year) and focused more on the quality of the food and beverages. That may also help Guests be able to enjoy all of the different dishes during their visit––at this point, unless you're a Passholder visiting the park throughout the festival or you have a very long stay booked, chances are, you aren't eating every dish available.
Secondly, I understand there is more to Food & Wine than just eating and drinking around the countries. There are cooking demonstrations, Food & Beverage pairings, and even Cheese Seminars! Except that these, like most things in Disney nowadays, are upcharges. However, I will admit that some of these experiences aren't too awfully priced, with the culinary demos starting at $19 per Guest, and the Food & Beverage pairings $29. (You'll want to bring a lot of cheddar with you if you intend to attend the Cheese Seminars, as those were running for $95 per Guest last year.) I'm probably just bitter and sick of having to pay for more experiences once I'm actually at the park. I'd love it if Disney just stuck some of these demonstrators on the stage in The American Adventure pavilion and you could stop and watch as you pleased.
This brings us to the last aspect of the festival, the Eat to the Beat concert series. This, weirdly enough, is probably my favorite part of the festival. There's nothing like sitting down (as long as there's room) with a snack and taking in a fall evening at EPCOT while watching a short, but still fun, concert. Disney also has done a really great job with lining up performers, from the Plain White T's to Boyz II Men, to DCappella and Tiffany, there's a little something here for everyone, and I appreciate that.
However, no amount of good music will make me overlook the fact that the park is simply too crowded with food booths serving expensive, not-so-great food during the International Food & Wine Festival, and for that reason, I've decided it is the worst of the worst. Now, let's move onto third place!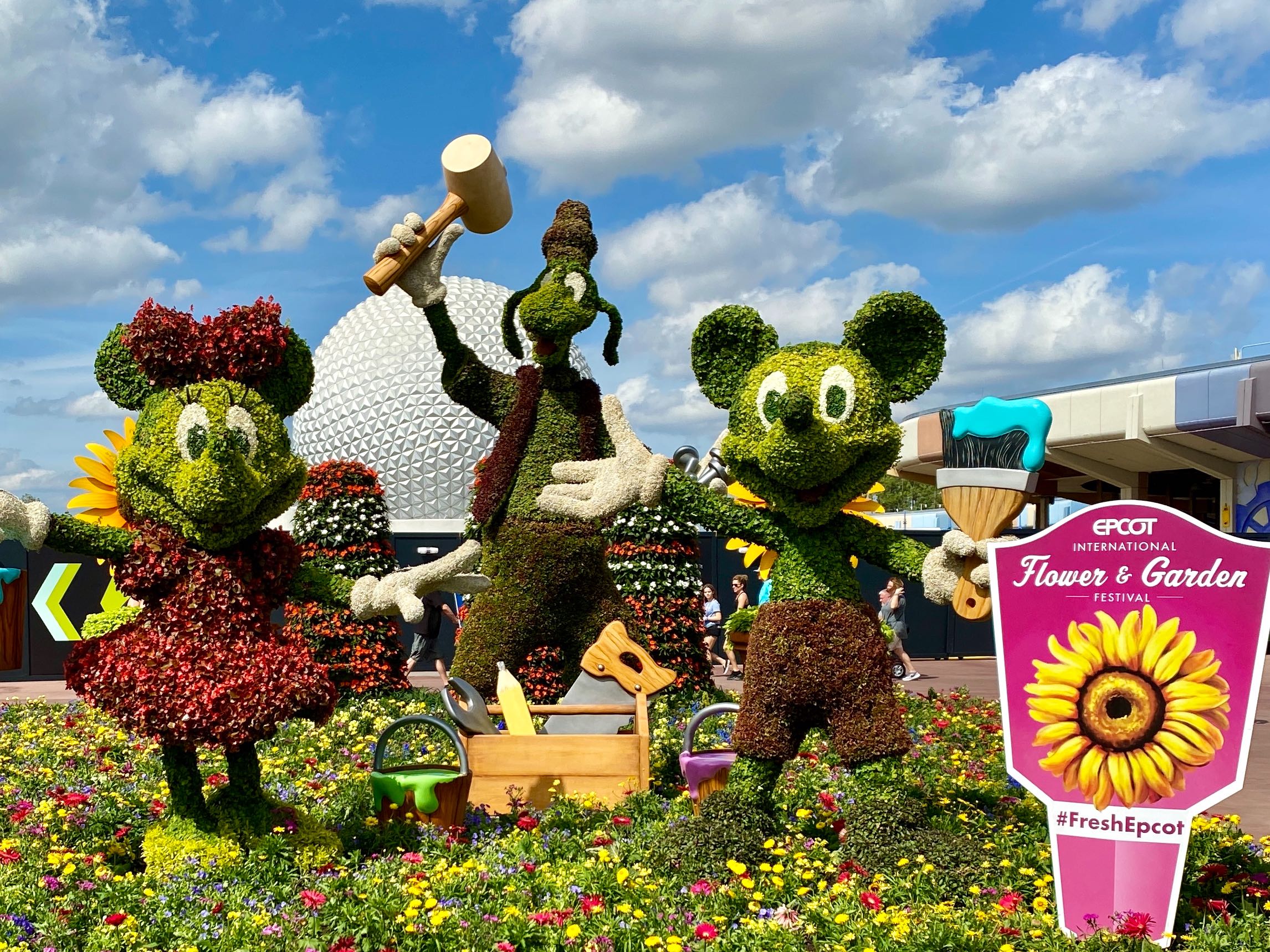 If you had asked me five or seven years ago what my favorite EPCOT festival was, my answer immediately would've been EPCOT's International Flower & Garden Festival. I have many memories of my family and I visiting this festival and enjoying the springtime vibes the park gives off. So, you may be wondering how this festival jumped to third out of four? Let's get into it.
Honestly, if you visited this festival five years ago, you visited it this year. I've watched this festival come back year after with almost the exact same offerings, where in reality, this may be the theme that Disney could potentially do the most with. Every year, the same topiaries in the same spots come back (with the exception of Remy this year… and that's just to drum up excitement for his upcoming attraction.) There's plenty of Disney/Pixar characters that they could rotate throughout the pavilions to change it up, but they don't. Buzz Lightyear is always in front of Mission: Space, but what if they used Wall-E instead? Or maybe some Star Wars characters? What if they switched Norway up to have Olaf and the trolls from Frozen instead of the sisters? Or instead of Figment out front of the Imagination! Pavillion, we had the characters from Inside Out (or at least Bing-Bong?) Maybe there's a logical reason why they can't change the characters, admittedly I know nothing about creating topiaries, but to me, this seems like Disney is being either cheap (shocker) or lazy.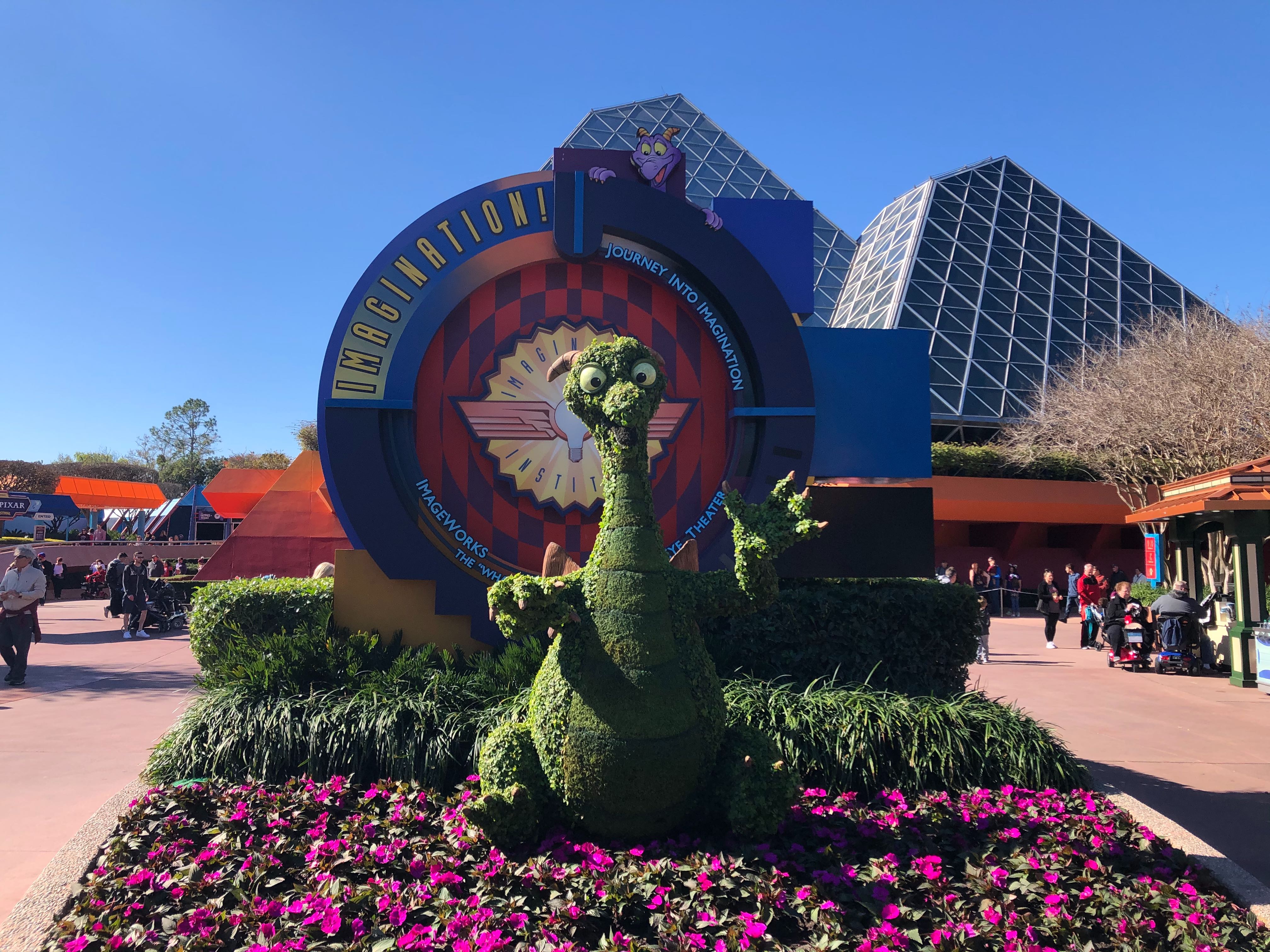 That's my biggest gripe of this festival… the rest of it I find rather lovely. We usually are able to find new decent, fresh food items (this year Flavour Full Kitchen, Hanami, and Jardin de Fiestas really stood out) and I'd be remiss to skip mention of the Spike the Bee Sipper. Disney, if you're reading this, continue giving us collectible festival sippers––we love them!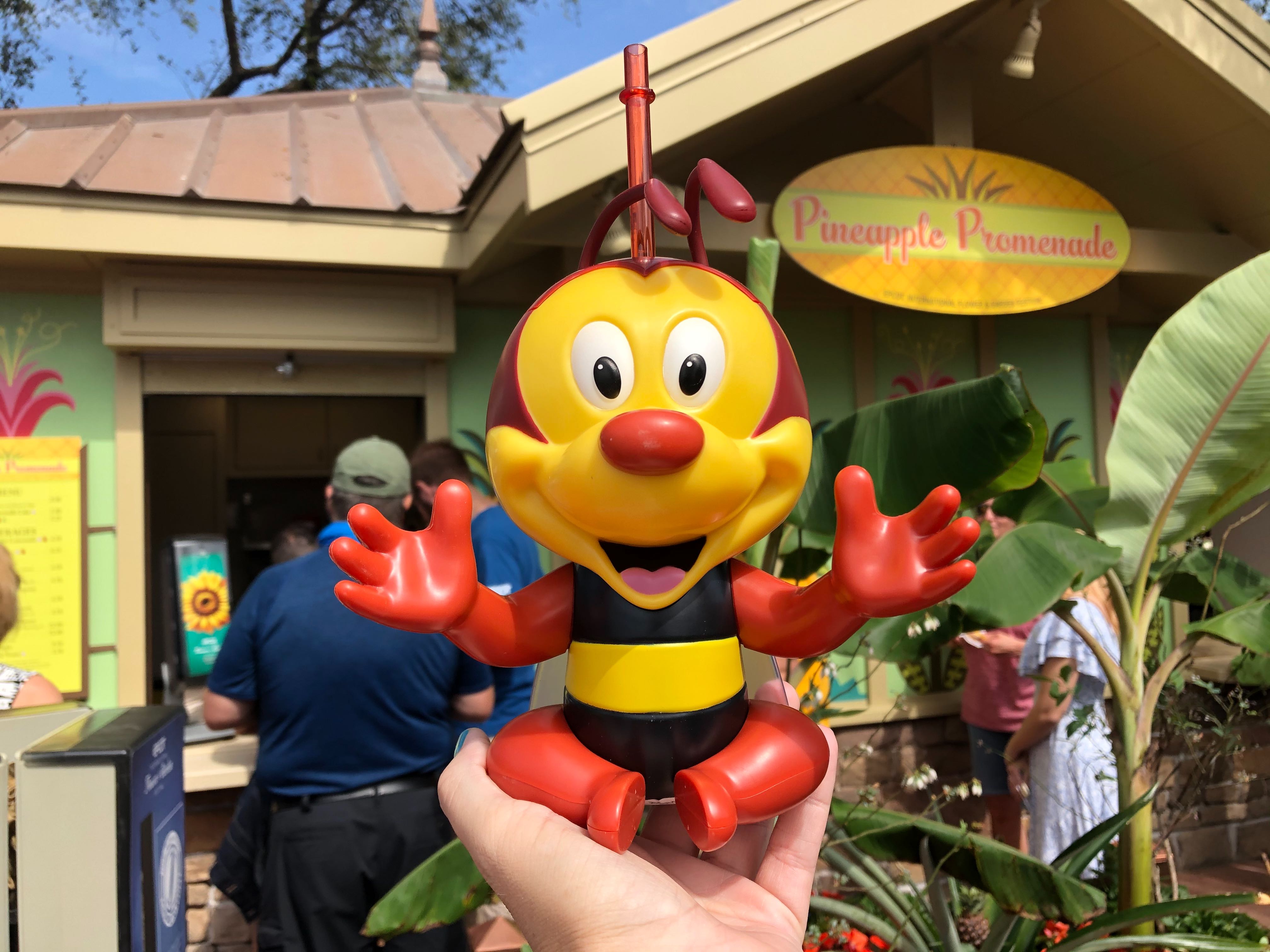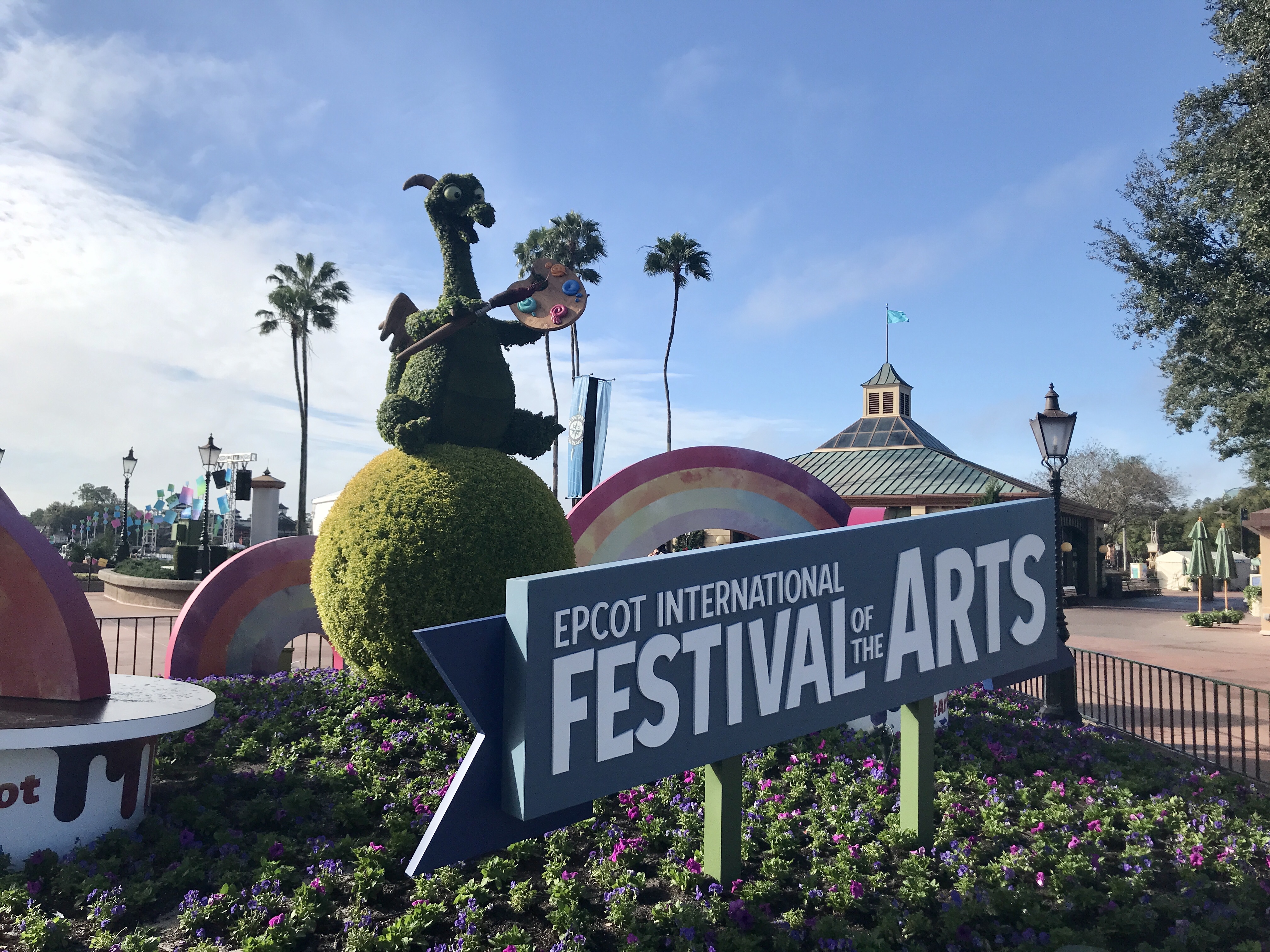 Taking spot number two is the International Festival of the Arts. I love visiting Walt Disney World from late January to early February. The weather is cool and there aren't a ton of people visiting the parks around then. This makes for a relaxed environment, where I feel like I can stroll across EPCOT and really take in everything this festival has to offer, and there's a lot that you can do.
We'll start with the festival basics: Food. A lot of the booths take a little bit of extra care and time into their presentation, bringing the theming of the festival into their dishes. For great examples of this, look no further than the paintbrush churros, the Taiyaki from Goshiki, or honestly, anything from The Deconstructed Dish––almost everything from this booth is nearly too pretty to eat.
Secondly, three words: Disney on Broadway. Genius. I don't think there's anything better than relaxing in EPCOT, strolling by the American Gardens Theatre, and hearing your favorite Disney tunes sung by amazing, professional artists. Plus, Disney does a great job by not only booking new acts, but spreading them out throughout the festival so if you missed a duo you really wanted to see, chances are, they'll be back.
But my absolute favorite part of this festival, the real reason that I go back year after year, is for the activities you can do around the park. These are all free to do, scattered around the park, and I really wish more festivals took hold of these ideas and incorporated them. There's chalk art, performing arts from high school bands, photo ops that pay homage to famous artists throughout World Showcase, and even a Disney mural you can help create. All for free!
Lastly, there are hundreds of Disney artists that sign up to come to the festival, selling their wares. Some artists even will hold meet and greets, talk about their work, and sign a piece if you happen to buy it. It's not too often you get to meet a Disney artist, and this is a great way to support them by doing so!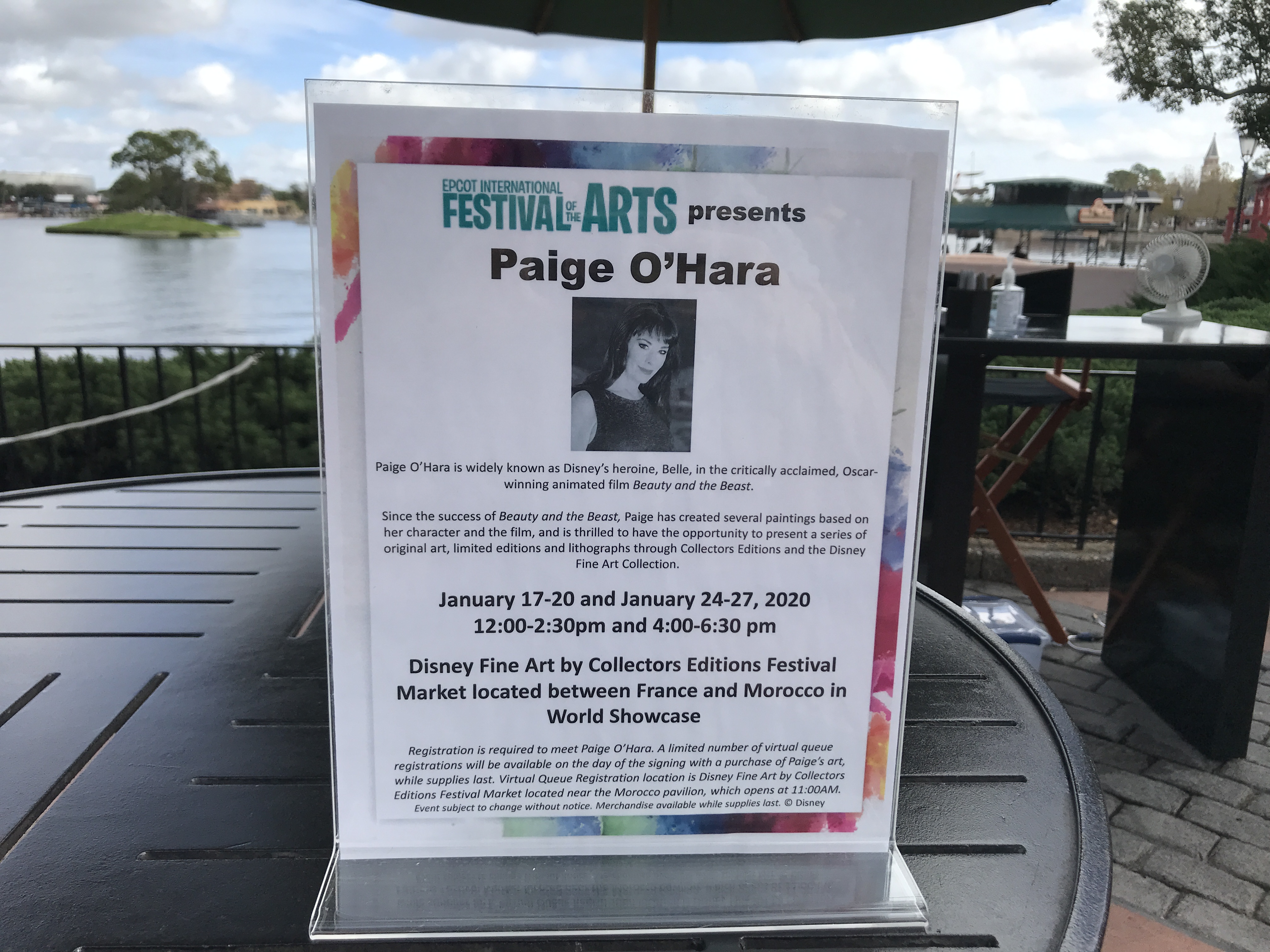 Well, folks, here are we. My pick for the best festival that EPCOT has to offer is none other than the International Festival of the Holidays. This festival is the shortest, running for basically a month from the end of November to the end of December––but I highly recommend taking a trip to check this one out.
I should preface this by saying that heritage is important to me. My parents made sure growing up that I knew not only where my ancestors came from, but to respect their traditions and culture. I think that was why I was always drawn to World Showcase as well––I liked seeing the different countries and experiencing the different cultures, even something as simple as hearing a Cast Members authentic accent I thought was cool. Over time, we seemed to have lost this a little in the park, like when we lost Malestrom to Frozen Ever After. However, during the Festival of the Holidays, it seems the park tries to embrace its roots again. Each country comes out and does something special to share their traditions, from a vocal group in Germany singing folk songs, to storytellers in Japan and Norway, or a lion dancer in China in celebration of the Lunar New Year, you walk away with a little knowledge of how other people around Earth spend their holiday season. And if the acts aren't enough for you, there are scrolls in each entertainment location that tell the story of each country's holiday traditions.
Reason #2: Living with the Land: Merry and Bright Nights. How often do we see EPCOT attractions get overlays? Well, during Festival of the Holidays, our favorite attraction from The Land gets a bit of a makeover with lights strung up throughout the greenhouses, music playing, and even a family of snowmen join in the fun. I'm truly a sucker for overlays, even simple ones, and if you haven't witnessed the attraction during the festival, you can check out our video from Festival of the Holidays 2019 right here!
Thirdly, the Candlelight Processional. We can't talk about the Festival of the Holidays and not mention the famous Candlelight Processional. Mind you, I'm not a religious person, at all. However, hearing famous celebrities tell a tale with a beautiful orchestra and choir behind them, with a hot chocolate on a chilly night, is truly magical.
And my final reason for loving Festival of the Holidays: the sweet treats. Forget the main dishes and give me all of the hot chocolate, cookies, tarts, and anything with Baileys Irish Cream. It may take a few trips to the festival or a few friends if you plan on eating every cookie on the Cookie Stroll, but it's kind of worth it. Standouts for us from last year was the Linzer Cookie, the Peppermint Pinwheel Cookie, and the Santa Mickey Sugar Cookie.
And there you have it, my rankings for the EPCOT festivals! I'd like to remind you that these thoughts and opinions are purely my own from my own park experiences, and don't represent my fellow WDWNT co-workers. I'd love to hear what you think of my rankings and feel free to share your own below in the comments section!