Jambo! So, we've officially made it to the final of the 4 Walt Disney World parks. Seeing as Disney's Animal Kingdom was the last park to open its gates, it's only fitting it be the final park we cover. But don't get sad just yet, there's still another part to look forward to!
For now, it's time to follow the sound of African drums and chirps of exotic birds as we trek into Animal Kingdom to see what allergy-friendly eats we can discover.
#3 – Yak & Yeti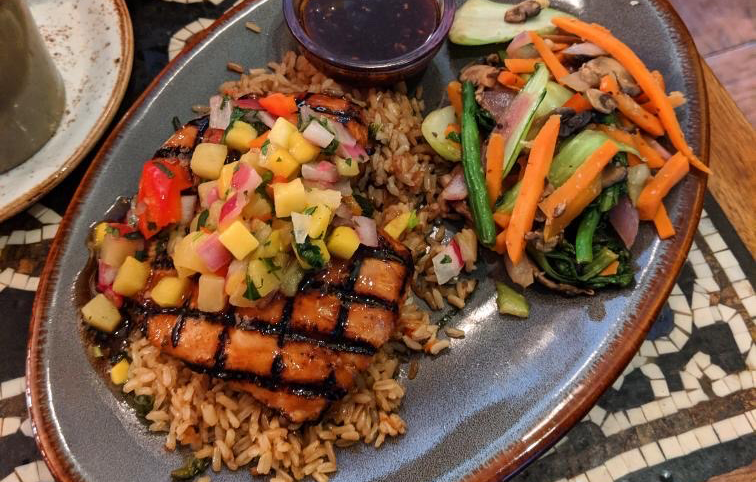 Located in the heart of Asia, Yak and Yeti is one of the few table service restaurants available within Animal Kingdom. Unfortunately, this eatery isn't owned by Disney, so an allergen menu does not exist, however, an entire Gluten-Free menu is available upon request.
Some of the options you can choose from off this menu are the Lettuce Cups which is served with Minced Chicken Breast, Chopped Vegetables, Tamari Sauce, and a Crisp Lettuce. The chicken can also be subbed for Tofu for any vegetarians looking for a fun appetizer.
For entrees, the Sweet and Sour Chicken (pictured) served with Ginger, Garlic, Bell Peppers, and Pineapple over rice is always a good option and for those looking to try some seafood, there is also an Atlantic Salmon which is brushed with a Garlic Ginger Butter, and served your choice of Jasmine or Brown Rice and Steamed Seasonal Vegetables.
For anyone with milk allergies, I have been able to get the Miso Salmon dairy-free which is served with Coconut-Ginger Rice, and Stir-Fried Vegetables. This dish also allows you to swap the Salmon for Tofu, making it a completely vegan dish free from milk, egg, honey, meats, and fish. The Dim Sum Basket for Two is also a dairy-free option, and always a yummy choice for those looking to share. 
In terms of allergy-friendly desserts, there is always sorbet, and they do offer two gluten-free cakes. One being a Dark and White Chocolate Layer Cake, and the other a White Chocolate Strawberry Shortcake.
When it comes down to it, Yak and Yeti is a great place for those with gluten sensitives or allergies, but does require more work with any other restrictions. Thankfully, the Chefs at Yak and Yeti are always accommodating and depending on your exact allergy, will be able to navigate the extensive menu for you. So, don't think just because there isn't anything on this list, there aren't any options. Even the pickiest of eaters will be able to find something delicious and safe as long as you take the right steps.
#2 – Tusker House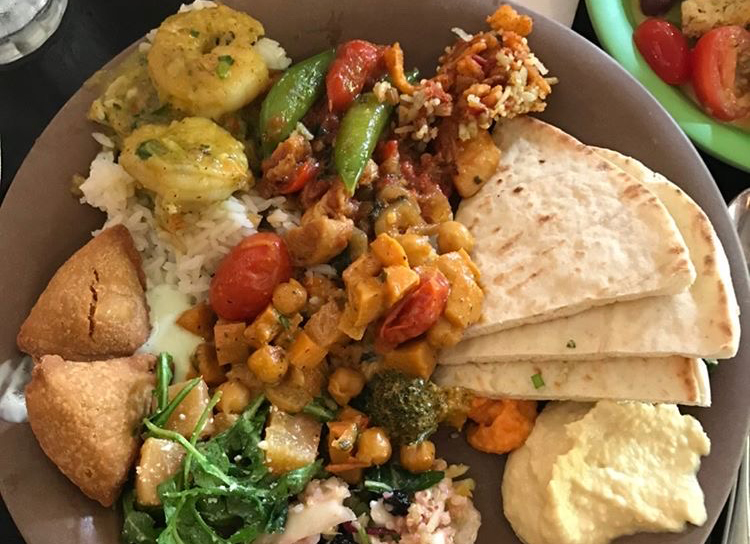 Tusker House is certainly different than any other restaurant we have covered thus far, in terms of the fact that its the first buffet that has made the list. That being said, Tusker House remains a favorite among park-goers and serves up so many options that not only will you be able to find safe food, you'll probably be full before you even get to try it all.
Starting off, Tusker House offers breakfast service and like many places in Walt Disney World offers Bacon, Sausage, Roasted Potatoes, and of course Waffles for those with any allergies to gluten, fish, eggs, milk, peanuts, tree nuts, and soy. Plus, the waffles here are shaped like Simba and Nala as opposed to the normal Mickey-shaped ones.
For lunch and dinner service, Tusker House offers multiple stations including Carving, Rotisserie, Bread, 3 Hot Food Stations, 4 Cold Food Stations, 3 designated for Kids, and 3 for just Pastries. So with that being said, we aren't going to get through all of the options but let's touch on a few favorites.
Over at the carving station, the Pork Shoulder and Peri Peri Marinated Salmon are safe for any gluten, egg, milk, shellfish, and any nut allergies. The Salmon is also free from soy.
The Rotisserie serves up some Split Roasted Chicken as well as Plantains and Pigeon Peas and Rice, which are all also safe for gluten, egg, milk, fish, nut, and soy allergies.
Some of the safe food on the Hot station include Cape Malay Curry Chicken, Basmati Rice, Collard Greens, and Vegetable Tandoori free from gluten, eggs, milk, fish, and soy. You can also grab some traditional Samosas free from any egg, fish, milk, nuts, and soy or the Spicy Coconut Shrimp Curry which contains no gluten, egg, milk, or soy.
There are also two types of hummus available a Garlic Leek Hummus, and a Tomato Hummus which are both safe for any gluten, egg, milk, fish, nut, or soy allergies. Although there is no gluten-free bread for dipping on the buffet line, all the bread available are free from milk, eggs, and nuts.
Allergy Tip: Remember just because it's not on the buffet line, doesn't mean they don't have it. So if you're looking for some gluten-free bread for dipping or dairy-free butter for spreading, don't be afraid to ask a server. 
For more information on booking your next trip with our official travel agent sponsor, the Vacationeer, visit wdwnt.travel.
For dessert, there is an allergy-friendly Banana Cake with Coconut Raspberry Cream which is free from gluten, egg, milk, and soy while also offering an abundance of nut-free desserts. Some of these include the Banana Bread Pudding, Zebra Coffee Cake, Mini Turtle Brownie, and Chocolate Cheesecake, just to name a few.
This barely scratches the surface of what Tusker House has to offer, but luckily, when checking in, you will receive a pamphlet that lists all the options on the buffet line, and what allergies they are safe for. Furthermore, if you have any questions, a Chef will gladly walk you through the line to point out any concerning choices. So you can hangout Mickey, Donald, Daisy, and Goofy without any worries.
#1 – Tiffins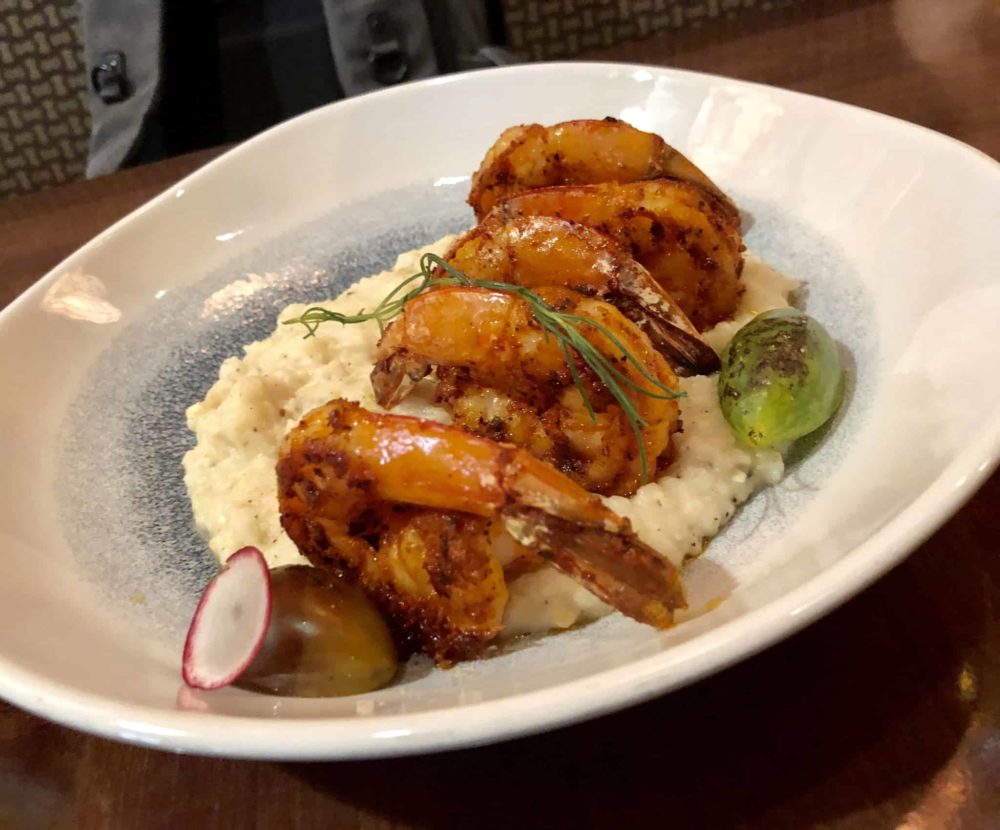 Tiffins is one of the top-rated Signature Restaurants across Disney property, so it's definitely on the pricier side, but also worth it. Though you may be paying a pretty penny, you are receiving delicious food on par with the cost. With it being a "fancier" dining experience, you can also expect extra special care when it comes to accommodating allergies.
For starters, the Charred Octopus is a must-do, served with Romesco, Olive Tapenade, Chorizo, and a Squid Ink Aioli, if you are avoiding gluten, milk, peanuts, or soy, this is the appetizer to try. The Charcuterie Board is always a fun option for the table, featuring the Chef's Selection of Cured and Smoked Meats, this one is safe for any egg, fish, milk, peanut, and soy allergies. And who can go wrong with Tacos! These plant-based favorites are filled with Tinga, Cheese, and Avocado on a Corn Tortilla and are safe from gluten, egg, fish, milk, and peanuts as well as being 100% vegan.
For your main course, just a few of the options you can enjoy are the Shrimp and Grits (pictured) featuring Anson Mills Grits, Heirloom Tomatoes, and an Applewood-Smoked Bacon-Pepper Jam, this dish is free from gluten, egg, peanuts, tree nuts, and soy. The Tamarind Braised Short Rib is certainly a crowd-pleaser consisting of a Parsnip-Potato Puree, Cauliflower, Cipollini Onion, and a Medjool Date Vinaigrette. You also have the option to substitute Grilled Beef Tenderloin for a slight upcharge, and this dish is safe for gluten, egg, fish, peanut, and tree nut allergies.
If you enjoyed the Tacos, and want to stay on the pant-based path the North African Spiced Tofu with Chermoula Marinated Tofu, Seasonal Vegetables, Wilted Kale, and a Tomato Chutney is a perfect choice and free from gluten, egg, fish, milk, honey, peanuts, and tree nuts.
Of course, a meal in Disney isn't complete without dessert. At Tiffins, you can enjoy the Passion Fruit Tapioca Creme featuring a Chocolate Crumble, Citrus Fruit, and Coconut Creme if you have an allergy to gluten, egg, fish, milk or peanuts, or the Halo-Halo, which is a unique treat that consists of Sweet Potato Ice Cream, Raspberry-Ginger Beer Sorbet, Condensed Milk Ice Cream, Jack Fruit, Coconut Crumble, and Lime Pate de Fruit. This dessert is a gluten and peanut-free option.
That about wraps up our safari through the restaurant jungles of Animal Kingdom. Hopefully, you found something on this list that will calm any and all worries when it comes to dining and have you living the epitome of the "Hakuna Matata" lifestyle. Make sure to keep an eye out for our next and final chapter, where we will be talking about quick-service options.
Till then, you can always catch up on the previous parts by clicking the links below:
Top 3 Locations to Dine With Food Allergies in Walt Disney World Part 6: Disney's Hollywood Studios – Quick Service
Top 3 Locations to Dine With Food Allergies in Walt Disney World Part 5: Disney's Hollywood Studios – Table Service
Top 3 Locations to Dine With Food Allergies in Walt Disney World Part 4: Epcot – Quick Service
Top 3 Locations to Dine With Food Allergies in Walt Disney World Part 3: Epcot – Table Service
Top 3 Locations to Dine With Food Allergies in Walt Disney World Part 2: Magic Kingdom – Quick Service
Top 3 Locations to Dine With Food Allergies in Walt Disney World Part 1: Magic Kingdom – Table Service