If this your first time reading this series, welcome! If you've been following these articles since the beginning, then thank you for making it to Part 9!
In this installment of dining with food allergies in Walt Disney World, we're going to be covering the top 3 table service options across the Walt Disney World Resorts. I have to say, out of all the parts, narrowing this down to just 3 was very difficult. When I'm dining in Disney, I actually prefer eating at resorts, as I find them to have more of a calming environment. So, if you're looking to get away from the crowds, or want a quiet meal away from the kiddos for a night, these are some of the top places I think you'll be happy with.
So without further adieu, let us start by taking a stroll down the Boardwalk…
#3 – Trattoria al Forno
Whether you are looking to enjoy a lively character breakfast with the kids, or a relaxing Italian dinner, Trattoria al Forno is sure to be the highlight of any trip. Located right on the strip of Disney's BoardWalk Inn, Trattoria al Forno is perfect for those staying at the resort or looking for something outside the park, but still within walking distance to both EPCOT and Disney's Hollywood Studios.
Starting off with the breakfast offerings, when looking over the allergy-friendly menu, some stand-out options are the Tangled Eggs, which feature Fresh Mozzarella, Tomato-Basil Eggs, Sunday Gravy and Roasted Potatoes with your choice of Bacon or Sausage. Two-Eggs Poached Underwater, which is a combination of House-made Fennel Sausage, Sunday Gravy, and Parmesan Cheese over Golden Polenta with Toasted Allergy-Friendly Roll. The Royale Breakfast, fit for a king this dish has Oak-Grilled Steak, Cheesy-Egg Torte, and Fonduta with Breakfast Potatoes and Crispy Onions, and lastly, the Golden Frittata consisting of Salumi, Piquillo Peppers, Scallion, and Pecorino Romano Cheese with Breakfast Potatoes. All of these are safe for gluten, fish, peanut, tree nut, or soy allergies.
Unfortunately, this doesn't leave much for those with dairy allergies. Luckily, Trattoria al Forno recently added a vegetarian breakfast menu which features many items that can be made vegan and thus dairy, and egg-free.
Some of these options include some Blueberry or Chocolate Muffins to start your meal off with. Both of these are free from gluten, dairy, egg, peanut, tree nut, soy, and corn. You can then enjoy entrees such as the Grilled Tomato & Potato Vegetable Hash with a Poached Egg, this dish is gluten, nut, and soy-free as is, and can be made vegan upon request. There is also a Vegetable Calzone which comes with Assorted Vegetables, Scrambled Eggs, and Cheese, this is naturally free from soy and nuts but with the removal of the eggs, and cheese, is vegan and dairy-free. You can also, as always, enjoy a few allergy-friendly Mickey Waffles here, with a special mix that's safe for anyone with gluten, dairy, egg, fish, nut, or soy allergies.
If you're looking for a character-less dining experience, with some good old Italian cooking, you may want to skip breakfast here and try out their dinner menu. For any gluten allergies, the options are plentiful with an Oak-Grilled Steak served with Fingerling Potatoes, Seasonal Vegetables, and a Roasted Pepper Sauce. The Pasta alla Bolognese featuring Braised Beef, Smoked Pork Belly, Mushrooms, and Tomatoes served with an Allergy-Friendly Pasta, this dish is also free from any egg, nuts, fish, or soy.
There's also a Parmigiana di Pollo (pictured), Pasta alla Carbonara with Guanciale, Peas, Local Organic Egg, Pecorino Romano, and Polpette which is Herb-laced Beef, Pork, and Veal Meatballs (just like Grandma use to make), all three of these pasta dishes are served with gluten-free pasta and are also safe for fish, nut, and soy allergies.
For those looking for a dish that is dairy-free, egg-free, vegetarian, or vegan, the Lentil Risotto is the newest addition to the menu and features Golden Lentils, Tofu Ricotta, and a Pistachio Gremolata. If you don't fancy yourself some risotto, the Chefs at Trattoria al Forno are more then happy to accommodate you. I have had many dishes made dairy-free in the past and have been given my choice of pasta, sauce, and toppings. Some entrees I've enjoyed have been Shrimp, and Vegetables in Garlic and Oil, and a Pasta Primavera in a Marinara Sauce.
Moral of the story: Talk to your server. You may think by just viewing menus online that there won't be any options for you, but the help of secret menus and accommodating Chefs can really go a long way if you speak up when dining.
#2 – Sanaa
Located in Disney's Animal Kingdom Lodge – Jambo House, Sanaa offers Indian-influenced dishes with a view of the amazing wildlife living on the property. Warning, this restaurant may not be the best for any picky eaters in the group, but if you give it a chance, I promise you won't be disappointed.
Starting at the very beginning, there's only one reason people go to Sanaa, and it's for the Indian-style Bread Service, and luckily, there's a version for you too! Right off the bat, the Traditional, Garlic, and Spiced Ginger Naan is safe for any egg, fish, nut, or soy allergies. However, if you're looking for a gluten- or a dairy-free option, you will have to get the Allergy-Friendly Naan. For your accompaniments, the Roasted Red Bell Pepper Hummus, Tamarind, Mango Chutney, Tomato-Date Chutney, Coriander Chutney, Garlic Pickle, Red Chile Sambal, and Jalapeno-Lime Pickle are all gluten, egg, fish, milk, peanut, and tree nut-free. The Cucumber Raita contains dairy and the Roasted Red Bell Pepper Hummus, and Tamarind contains soy.
For entrees, the Potjie-Inspired is always a fan favorite, letting you choose a dish from the "Journey", which is usually a protein option, and then a dish from the "Harvest", which is plant-based. Both options will then be served with Scented Basmati Rice. For gluten, egg, nut, and soy allergies, you can opt for Butter Chicken, Braised Beef, or Spicy Durban Shrimp for your "Journey" option, the latter two being free from dairy as well. For the "Harvest," your options include a Chickpea Wat, Aloo Masala, Lentil Dhal, or Cilantro-Coconut Vegetables, all of these options are egg and dairy-free, and the Chickpea Wat is safe for gluten, nut, and soy allergies.
Allergy Tip: For those following a vegetarian or vegan diet, you do have the option to pick both dishes from the "Harvest" as opposed to getting a meat dish. 
Some other entrees include the South African Braaivleis, which features Fire-Grilled Meats with Traditional Accompaniments. This dish is free from any gluten, egg, milk, fish, nuts, and soy. There is also a Mozambique Chicken which is Roast Piri Piri Chicken with Sweet Yam and Roast Vegetable Mash, and a Grilled New York Strip served with Roasted Potatoes Vinaigrette, Harvest Vegetables, and Bain's Butter. Both these dishes can be safely enjoyed by those with any gluten, egg, fish, nut, or soy allergies.
#1 – Grand Floridian Cafe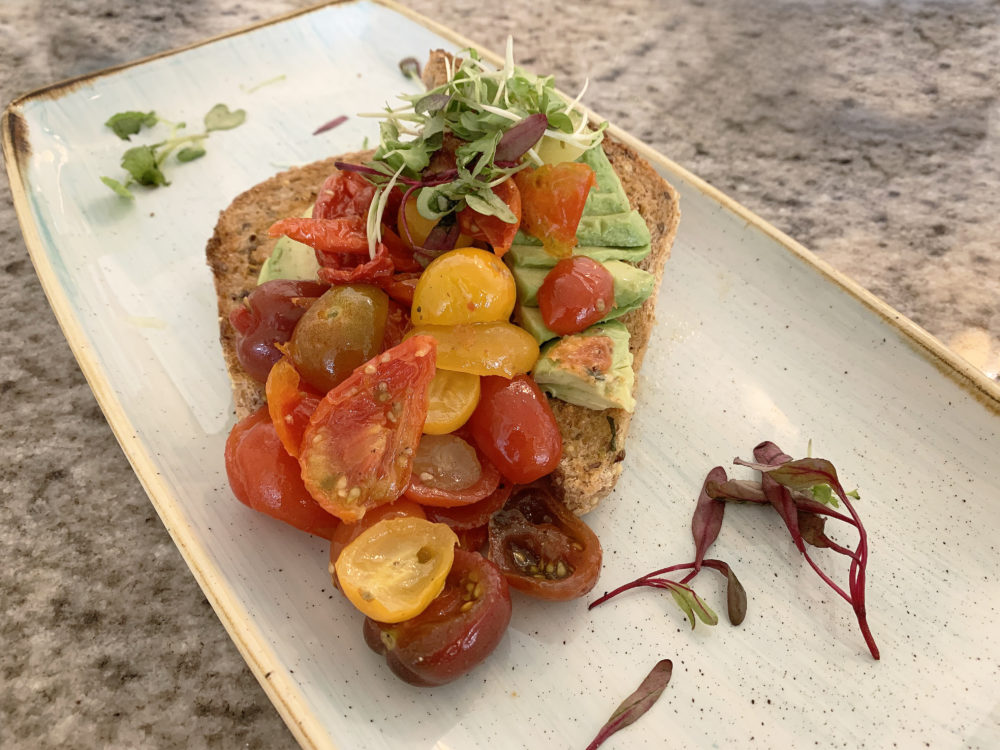 My number one on the list has to be the kindest and most accomodating place I have ever visited on Disney property. I've never left disappointed or hungry after a visit here, whether it be for breakfast, brunch, lunch, or dinner. Plus, it is located in the iconic Grand Floridian Resort & Spa, so it's a must place to visit if you have never seen it. But enough about the location… let's talk grub, shall we?
For breakfast, Grand Floridian Cafe is one of the few restaurants offering allergy-friendly Pancakes, served with your choice of Bacon, Sausage, or Fruit. These fluffy discs are gluten, egg, fish milk, and nut free. If you're looking for some eggs for breakfast, the Steak and Eggs featuring Sirloin Steak with Two Eggs-Any Style and Allergy Friendly Breakfast Potatoes is a great option and free from gluten, fish, milk, nuts, and soy. There is also an allergy-friendly version of the famous Eggs Benedict, served with Two Poached Eggs, a Toasted Allergy-Friendly English Muffin, Canadian Bacon, Hollandaise, and a Marinated Tomato Salad, this is free from gluten, fish, nuts, and soy.
There was also the recent addition of a plant-based Avocado Toast (pictured), served with Avocado, Fire-roasted Tomatoes, and Micro Greens on Multigrain Toast, this dish is dairy and egg-free and can be made gluten-free by requesting a bread swap, and though it sounds pretty basic, this is hands down the best Avocado Toast you will ever eat.
For lunch and dinner, there is an array of fantastic options, too many to mention but some highlights include the Miso-glazed Salmon served with Lemon Sticky Rice, French Beans, and a Ginger-Soy Vinaigrette, this dish is free from gluten, egg, milk, nuts, and shellfish. You can also swap the Salmon for Tofu, and make this meal completely vegetarian/vegan as well. If you're looking for another meatless option, there is also the Garden Vegetable Pasta served with Campanelle Pasta, In-season Vegetables, Garlic-Basil Pistou, and a Romesco Sauce, this dish is egg, dairy, and fish free. There is also a gluten-free version, titled the Allergy-Friendly Pasta which also has the option of adding chicken.
The Cast Iron-seared Pork Chop is another popular menu item consisting of a 10-oz Pork Chop, Allergy-Friendly Pasta, Mushrooms, and Marsala Sauce, this dish is safe for gluten, egg, fish, nut, and soy allergies. Or you can opt for the Shrimp and Grits served with Jumbo Shrimp, Chorizo and Fennel on top of Creamy Mascarpone Cheese Grits, when ordered off the allergy menu this dish is free from gluten, egg, nuts, and soy.
The Grand Floridian Cafe also offers an array of sandwiches and burgers, including the Artisanal Burger for gluten, fish, milk, nut, and soy allergies, the Impossible Burger served with Caramelized Onions and Plant-based Smoked Gouda on a Kaiser roll, for dairy, egg, and fish allergies, and The Cafe Sandwich which comes with Open-faced Hot Ham, Roasted Turkey Breast, Bacon, Tomato with a Rich Boursin Cheese Sauce on Allergy-Friendly Bread. The Cafe Sandwich is safe for gluten, fish, nut, and soy allergies.
Allergy Tip: When it comes to the burgers and sandwiches, if you see an option you like but is not safe for your allergy, most can be modified by the help of a Chef by simply removing cheese or swapping the bread. 
For desserts, Grand Floridian Cafe actually makes its own Coconut Milk Ice Cream, which is 100% dairy-free, and probably the best ice cream you will ever eat. This ice cream comes on top of their plant-based Apple Crisp dessert, which features Caramelized Apples and a Streusel Topping, this dish is completely free from dairy, and egg. You can also just order the ice cream on its own, or add on some allergy-friendly cookies, or a gluten- and nut-free brownie.
Remember, there is so much more that the Walt Disney World Resorts offer, these are just some of the highlights. Almost all resort restaurants carry their own Allergy-Friendly menus and have Chefs that will gladly accommodate you.
If you're interested in allergy-friendly options within the parks, please feel free to read through Parts 1-8, where we covered every park, covering both table service and quick service options. Simply follow the links below, and have fun researching!
Top 3 Locations to Dine With Food Allergies in Walt Disney World Part 8: Disney's Animal Kingdom – Quick Service
Top 3 Locations to Dine With Food Allergies in Walt Disney World Part 7: Disney's Animal Kingdom – Table Service
Top 3 Locations to Dine With Food Allergies in Walt Disney World Part 6: Disney's Hollywood Studios – Quick Service
Top 3 Locations to Dine With Food Allergies in Walt Disney World Part 5: Disney's Hollywood Studios – Table Service
Top 3 Locations to Dine With Food Allergies in Walt Disney World Part 4: Epcot – Quick Service
Top 3 Locations to Dine With Food Allergies in Walt Disney World Part 3: Epcot – Table Service
Top 3 Locations to Dine With Food Allergies in Walt Disney World Part 2: Magic Kingdom – Quick Service
Top 3 Locations to Dine With Food Allergies in Walt Disney World Part 1: Magic Kingdom – Table Service