We have reached the final part of our dining with food allergies series, and what a wild ride it has been. For part 10, we're going to cover three quick-service restaurants located at Disney's Grand Floridian, Port Orleans, and Caribbean Beach Resorts.
You may not see an allergy menu at these quick-service locations, but don't let that scare you off as they are available upon request. The Disney chefs are also available to walk you through your options and to make sure you are leaving happy and satisfied. Quick-service restaurants are a great choice for those battling allergies because many of these meals are "build your own" and made to order, so leaving out ingredients is even easier than usual.
#3 – Sassagoula Floatworks and Food Factory – Port Orleans – French Quarter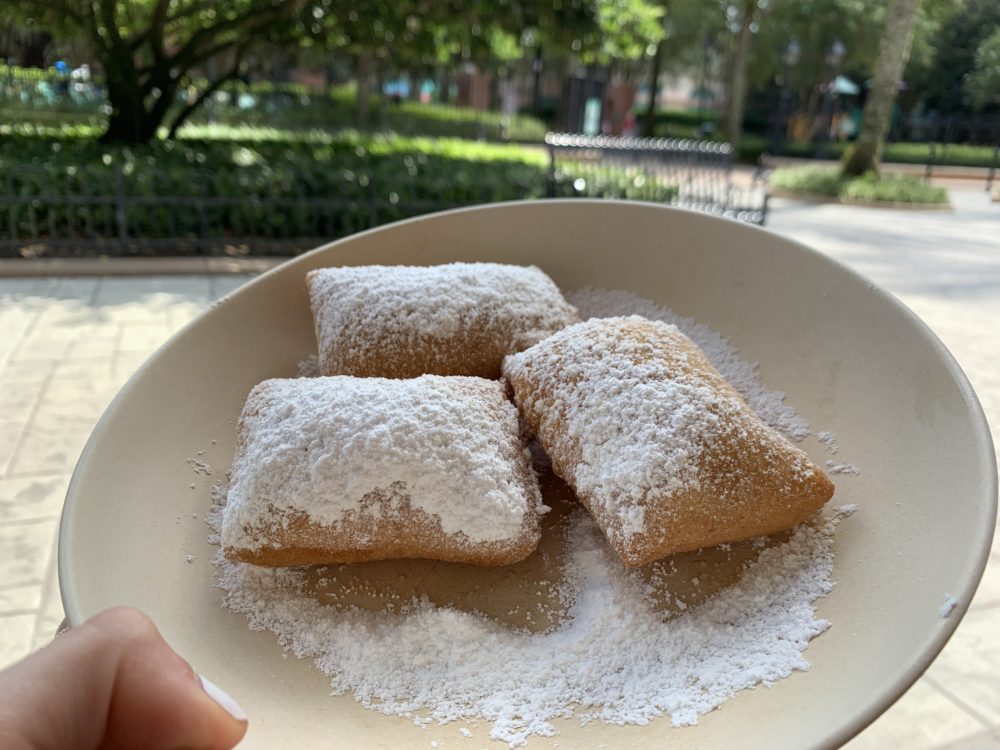 Looking to enjoy some southern Louisanna-inspired cooking without worry? Look no further than Sassagoula Floatworks and Food Factory. Nestled within the Port Orleans Resort – French Quarter, this spot features unique and delicious options that make every day feel like Mardi Gras.
Starting with a lighter option, the Sassagoula Power Salad features Shredded Kale, Quinoa, Dried Cranberries, Mandarin Oranges, Red Onions, Walnuts, and a Citrus Vinaigrette. This salad is made fresh, so it's easy to omit any of the ingredients. The vinaigrette is dairy and egg-free. You have the option add on Chicken or Shrimp, but if you ask for it, you can also add on Tofu. If you skip the Quinoa or ask the chef if it's gluten-free, this salad could easily accommodate someone with gluten sensitivities.
If you're looking for a heartier choice, you can Create Your Own Signature Rice Bowl. Choices include Pulled Pork, Shrimp, or Sustainable Fish of the Day, and you can choose between Red or Black Beans and Cajun, Dirty, or White Rice. Just make sure to run any and all allergies by an in-house Chef before ordering, and they will more than likely be able to create a bowl that's safe for you. I have been able to get this dish made dairy-free easily, and it can also be made gluten-free.
For those looking for gluten-free options, the Jambalaya served with Chicken and Andouille Sausage with Vegetables cooked in a rich, Spicy Sauce with Rice, and the Shrimp & Grits featuring Shrimp, Vegetables, Cream Sauce, Tasso Ham, and Grits can both be ordered gluten-free. I haven't tasted the Jambalaya at this location, but I know the dish at Boatwrights is dairy-free, so this is worth checking if you are interested. Just make sure your Jambalaya comes without cornbread as this contains both gluten and dairy.  
Let's be honest though, the reason you would be visiting this food court is for the powdery fried pot of gold at the end of the rainbow. I am happy to tell you that the iconic Port Orleans Beignets (pictured) can indeed be made allergy-friendly. Though they will not be Mickey-shaped, that doesn't take away from the taste, and whether you're interested in the OG beignet, or seasonal, both can be made free from all major allergens upon request.
#2 – Gasparilla Island Grill – Grand Floridian
Grand Floridian is one of the most iconic resorts on the East Coast, housing one of the best restaurants in America, so it's only fitting that their quick-service location would deliver as well, and boy, does it. With many make-your-own options, vegan choices galore, and a bakery case that would make anyone with a sweet tooth weep, no one will leave this spot hungry.
Similar to Port Orleans, Gasparilla Island Grill also has a Create-your-Own Salad option. Depending on your allergy you can order your own fresh green bowl that is safe for gluten, dairy, egg, nut, or shellfish allergies. In fact, no shellfish is used in any of the preparation processes, so this location is 100% shellfish-free.
There is also a wide array of Pizza options to choose from, all of which can be made using a gluten-free crust and with the recent vegan additions, you can also make your pie dairy-free by swapping the dairy Cheese for a Plant-based Mozzarella.
Any and all sandwiches (pictured) can be made by swapping the usual bread for gluten-free bread and the side options are made in a dedicated fryer so you can enjoy either the House-Made Kettle Chips or French Fries safely. Some sandwich options include the Grilled Vegetable Sandwich, Blackened Fish "Reuben", Chicken and Brie Sandwich, Smoked Ham Sandwich and Roasted Turkey Sandwich (which is dairy-free). Just be sure to speak to a chef when ordering any of these options to cross-check for any other allergens.
For anyone following a plant-based diet or for those with dairy, fish, or egg allergies you can now enjoy a wide array of sandwiches including the Smoked Gouda Grilled "Cheese", Plant-Based Impossible Burger, and Blackened "Chicken" Sandwich.
For dessert, there is a gluten and dairy-free Chocolate Coconut Pot de Creme, which features a Plant-based Chocolate Mousse and "Cream" Topping, and garnished with Chocolate Chips. You can also find prepackaged Gluten-free Brownies and Enjoy Life Cookies*.
*Most resort food courts have Enjoy Life products either in small personal bags, or in full-size boxes, so you might want to purchase these at the beginning of your trip to carry along with you. This is a great way to make sure you always have a safe treat on hand. 
#1 – Centertown Market  – Caribbean Beach
For more information on booking your next trip with our official travel agent sponsor, the Vacationeer, visit wdwnt.travel.
Located at the newly renovated Caribbean Beach Resort, Centertown Market features delicious dining items with an island flair. Though this kind of food may not be everybody's cup of tea, it's certainly worth trying out if you're looking for something outside the norm.
As always, let's started with the lighter fare, the Spinach and Kale Salad is served with Tomato, Avocado, Pickled Onions, and a Dairy-free Herb Vinaigrette and comes with your choice of adding on Shrimp, or Chicken. I would order this salad solely for that vinaigrette and it's perfect for someone looking for something not so heavy on a hot day. When speaking to a chef just be sure to note your allergies, but this option can certainly be made to accommodate most major restrictions.
For all my plant-based friends out there, this location is even more of a gold-mine then Gasparilla Island Grill. My personal favorite dish is the Curried Garbanzo Salad Sandwich (pictured) served with House-made Curried Chickpeas, Vegan Mayonnaise, Dijon Mustard, Sweet Potatoes, and Apples with Lettuce and Tomato on Multigrain Bread, this is definitely one of the more unique items across Walt Disney World Resort and really delivers a punch of flavor.
There are also a fair amount of dishes made with vegan "meat" including the Plant-based Tacos served with Chipotle Seitan, Pickled Vegetable Slaw, Cilantro-Lime Tofu Crema and a side of Pico de Gallo, the "Cheesesteak" Griddled Seitan with Cheese Sauce, Peppers and Onions melted between French Bread, and the Plant-based Spicy Jackfruit-Carnitas Hoagie featuring Orange-Chipotle Jackfruit, Cabbage Slaw, and Spicy Carolina-style Barbecue Sauce on a Hoagie Roll. All of these options will be served with your choice of Plantain and Yuca Chips, French Fries, Side Salad, or Fresh Fruit. All of these are vegan, so they are free from dairy, fish, shellfish, and eggs. Also, be sure to check what kind of tortillas are used for the tacos, if they are flour, you may be able to swap them for corn, as always, just speak to a chef.
You can also enjoy a Chicken Bowl here that is served over Red Beans and Rice with Cilantro-Lime Tofu Crema with a side of a Tomato and Cucumber Salad. Or, you might want to try the Jerk-seasoned Chicken that is served over Rice and Beans with Green Beans. 
As with the previous locations, as well as many other quick-service restaurants across the property, you can opt for a gluten-free/allergy-friendly bun with your choice of the vegan Impossible Burger or a standard Bacon Cheeseburger. Just be sure to omit the cheese on the burger or swap it with a vegan option if you have a dairy allergy.
Whew, we made it! We've covered quick-service, table service, and everything in between throughout all four parks as well as the Disney resorts! Hopefully, this series helped you make meal planning a little less stressful. If you missed any of the previous installments, they can be found by clicking the respective links below.
Before I leave, remember that Disney is constantly changing menus and suppliers so what may be safe for your allergy now may not 5 months for now. Remember to use these suggestions as loose guidelines and always communicate clearly to a person in charge, never just assume a dish is safe. The team at WDWNT, wants you to enjoy your next vacation as safely as possible, so when in any doubt, ASK A CHEF!
Top 3 Locations to Dine With Food Allergies in Walt Disney World Part 9: Resorts – Table Service
Top 3 Locations to Dine With Food Allergies in Walt Disney World Part 8: Disney's Animal Kingdom – Quick Service
Top 3 Locations to Dine With Food Allergies in Walt Disney World Part 7: Disney's Animal Kingdom – Table Service
Top 3 Locations to Dine With Food Allergies in Walt Disney World Part 6: Disney's Hollywood Studios – Quick Service
Top 3 Locations to Dine With Food Allergies in Walt Disney World Part 5: Disney's Hollywood Studios – Table Service
Top 3 Locations to Dine With Food Allergies in Walt Disney World Part 4: Epcot – Quick Service
Top 3 Locations to Dine With Food Allergies in Walt Disney World Part 3: Epcot – Table Service
Top 3 Locations to Dine With Food Allergies in Walt Disney World Part 2: Magic Kingdom – Quick Service
Top 3 Locations to Dine With Food Allergies in Walt Disney World Part 1: Magic Kingdom – Table Service