With cast member previews of Walt Disney World's parks already underway, Disney has faced criticism for reopening the parks in the wake of the COVID-19 pandemic. Newly-minted President of Disney Parks, Experiences and Products Josh D'Amaro defended the reopening in an interview with The New York Times' Brooks Barnes.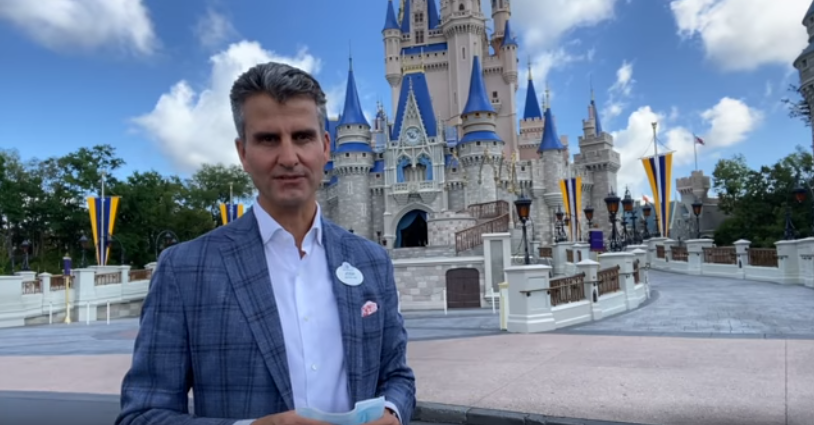 D'Amaro stated: "This is our new normal. Our new reality. Covid is here, and we have a responsibility to figure out the best approach to safely operate in this new normal. Businesses across the country are open, whether it's a local pizza shop in Orlando or an airline taking on new guests."
Disney's Asian theme parks, including Shanghai Disneyland, Hong Kong Disneyland, and the parks of Tokyo Disney Resort, have already open in the last few weeks "without incident," according to D'Amaro.
D'Amaro cited the safety measures the resort is utilizing, noting that other businesses have already reopened: "The world is changing around us, but we strongly believe that we can open safely and responsibly, for those that might have questions or concerns, when they see how we are operating and the aggressive protocols that we have put in place, they will understand."
Measures specifically mentioned in the article include the addition of 4,000 hand-washing stations, the installation of Plexiglas partitions in certain areas like restaurants and shops, as well as reduced capacity, with D'Amaro noting that guests should expect a "sparse" atmosphere as compared to normal operation.
Barnes also mentions the push-back that Disney has received from Cast Member unions, citing Actors' Equity's alleged refusal to let stage performers return to work over a lack of COVID-19 testing, though that information has been disputed, with others claiming that while the union isn't stopping actors from returning, Disney has continued to leave them on furlough. A Disney spokesperson confirmed the continued furlough in a statement to the Times, saying "we've decided to move forward with our phased reopening without their participation."
This likely means that at least for the foreseeable future, it's unlikely that stage shows like the Indiana Jones Epic Stunt Spectacular or Festival of the Lion King will be performed for guests. The Times did note that full-body character performers are unaffected by this, as they are represented by the Teamsters union.
Infectious disease expert Dr. William Schaffner seems to support the reopening. "Disney's approach seems reasonable," said Schaffner, who works at Vanderbilt University and is part of a group of advisers to the Centers for Disease Control and Prevention that will review vaccine data. "If Disney strictly enforces the safety procedures it has outlined — no exceptions — it will keep the risk very low for visitors and employees."
Keep reading WDWNT for continuing coverage of the reopening of the parks of Walt Disney World.