This is Deep in the Plus. Here's where we go into the Disney+ catalog and pull out some of the movies and TV shows that you haven't gotten around to yet, and we break them down to see if they're worth your time.
This week, we're traveling back to 1989 and the Disney classic – Honey, I Shrunk The Kids!
This is the story of inventor Wayne Szalinski, played by Canadian heartthrob Rick Moranis. Wayne is a brilliant, yet absent-minded scientist, building a shrink ray that will change the world. Only, it doesn't work… it just blows stuff up. When the kid next door hits a baseball through the window and it lands in the path of the machine's laser, it begins working.
Wayne's two kids, plus the ones next door end up getting shrunk. Now the four children have been taken out with the trash and have to find their way back across the world's most dangerous backyard, so Wayne can make them big again. A tale as old as time.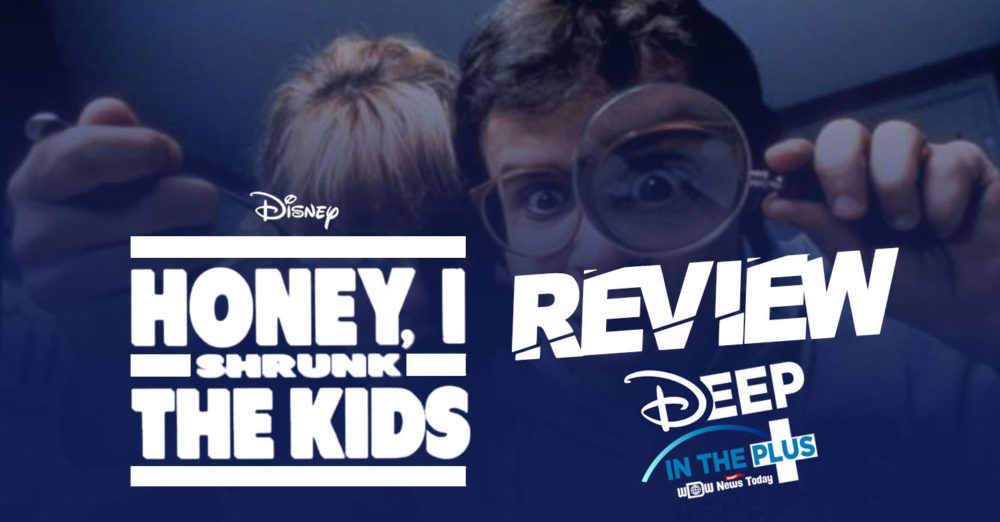 Honey I Shrunk the Kids is definitely an icon property for the Walt Disney Company. With a trilogy of movies, a short-lived TV series, and lost park attractions such as "Honey, I Shrunk the Audience!" and the Honey, I Shrunk the Kids: Movie Set Adventure, Disney has a lot invested in the series. And don't forget, a new movie has been announced with Josh Gad joining the Szalinski family. (Can we bring back the playground?) But with all that, does this movie stand up for a 2020 audience?
Watch this episode and decide for yourself. Is this movie for you? Do you agree with our thoughts?
And don't forget, in every episode of Deep in the Plus, you'll get bonus recommendations as we present our "Pick of the Week." This is where we offer suggestions on even more gems from the Disney+ vault. Don't miss it!
Our review of Honey I Shrunk The Kids is the 12th episode of Deep in the Plus! Make sure to go check out our previous episodes reviewing the back catalog of Disney content on the Disney+ streaming network:
Get notified of new Deep in the Plus episodes each week by subscribing at YouTube.com/WDWNT. You can also follow Deep in the Plus on Instagram, Twitter and Facebook to share your thoughts on each week's picks.
Podcast: Play in new window | Download (Duration: 19:23 — 18.0MB)
Subscribe: Apple Podcasts | Google Podcasts | RSS