It's time once again for financial results! The Oriental Land Company held its quarterly earnings call on July 30th, and released their rather dismal first quarter results. Of course, this year, the COVID-19 pandemic has made things a little bit more different than usual, so these results aren't really indicative of a problem at Oriental Land. Let's take a closer look, shall we? A note that before we begin, these results reflect financials between April 1st and June 30th of 2020.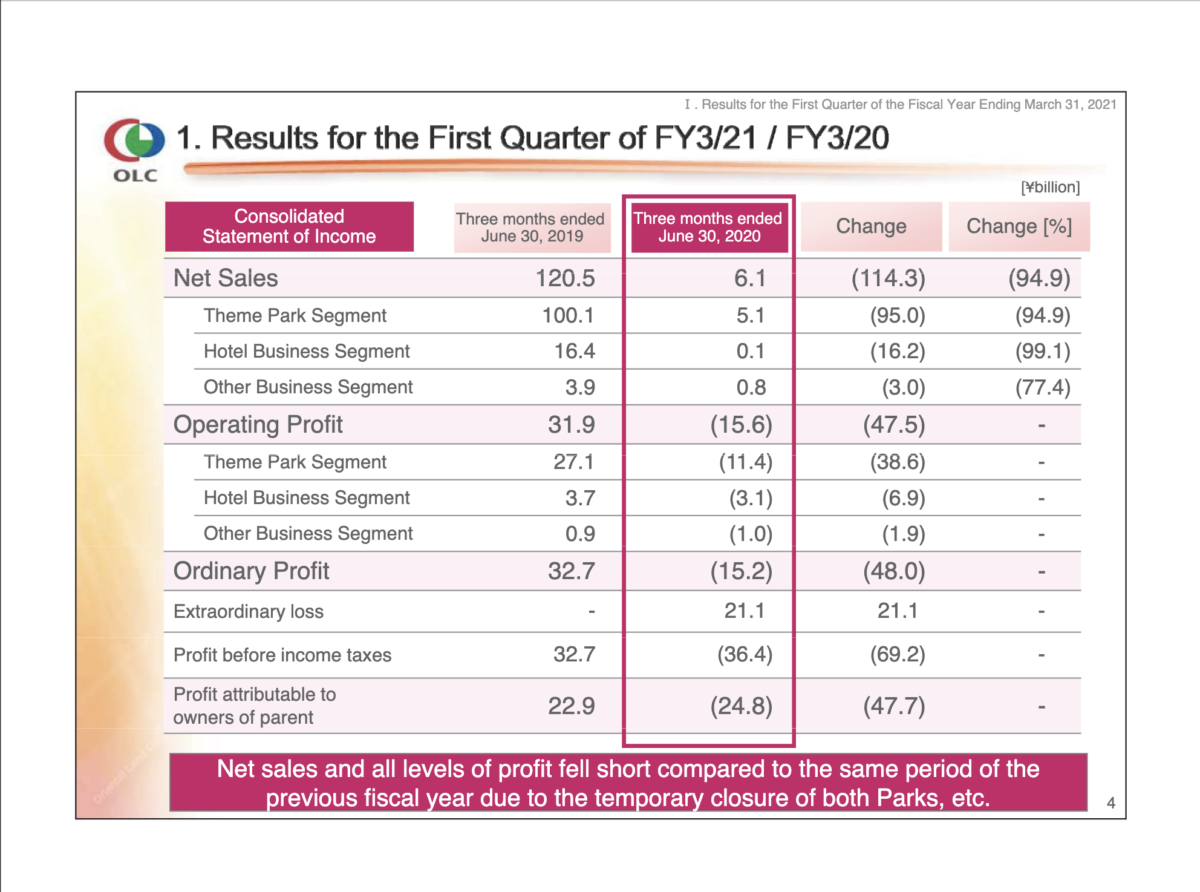 Because of the temporary closure of Tokyo Disneyland and Tokyo DisneySea, the vast majority of Oriental Land's business, revenue was down 94.9% in the first quarter, amounting to a loss of ¥114.3 billion, or roughly $1.08bn. Since the Disney Hotels closed on the first day of the fiscal year, April 1st, and reopened June 30th, revenue at the Hotels was down 99.1% to ¥100 million, or around $950,000. "Other Business Segment", which includes Ikspiari and the Disney Resort Line, among others, saw a 77.1% decrease in revenue to ¥800 million, or roughly $7,600,000. Overall, Oriental Land saw a loss of 48% in the first quarter of FY2020.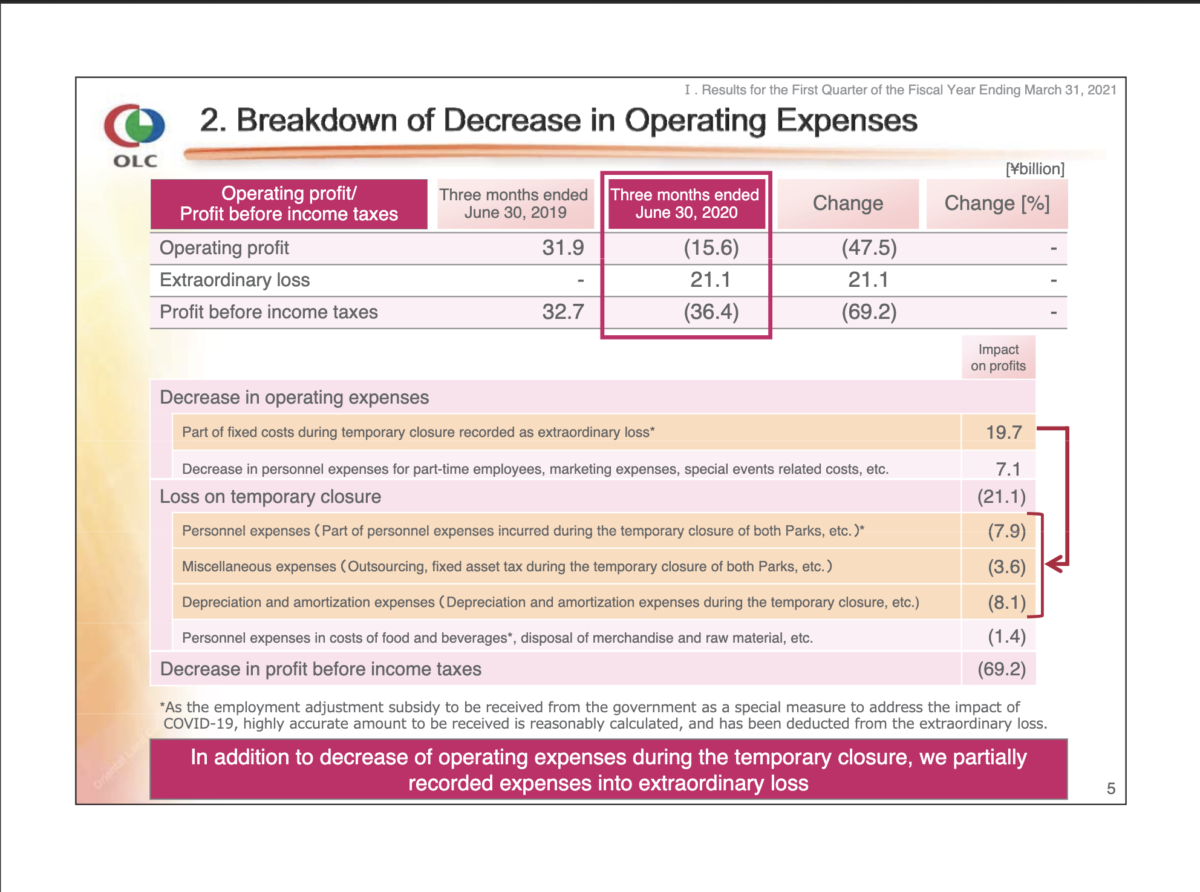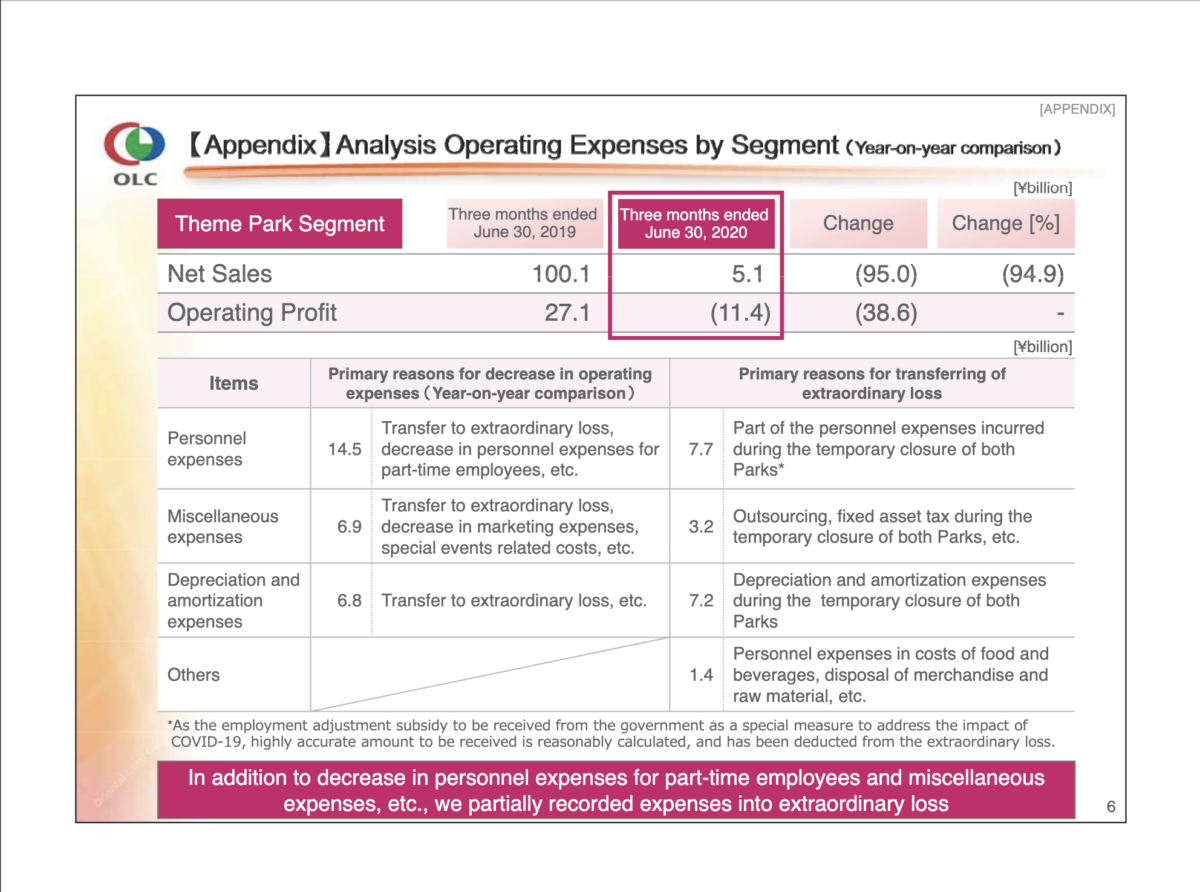 The decrease in operating and personnel expenses in Q1 2020 can largely also be attributed to the park closure. Some expenses were recorded as "extraordinary loss" this quarter as well. The Oriental Land Company did grant partial pay to furloughed Cast Members during the closure through at least the end of May.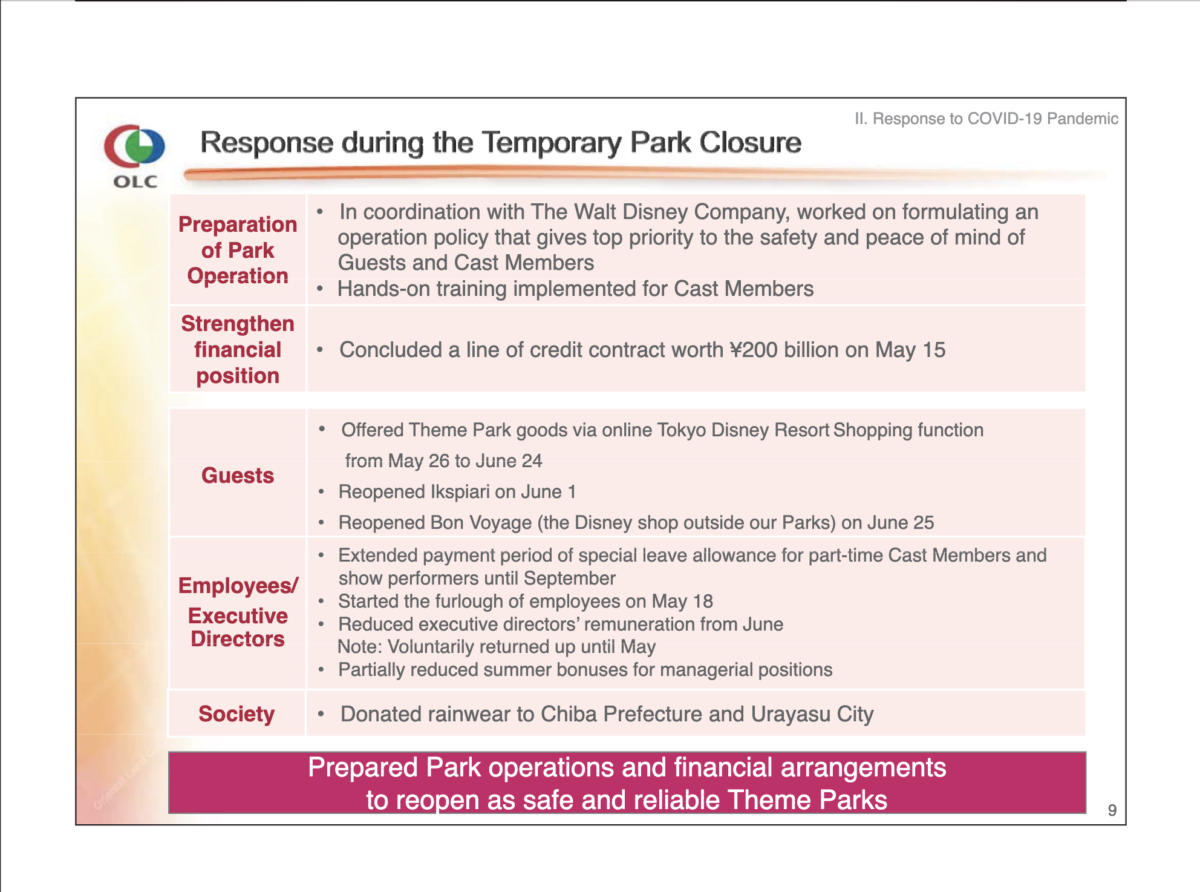 Through the park closure, the Oriental Land Company worked with the Walt Disney Company to create operations plans, a somewhat rare move, with top priority given to the safety and peace of mind of Guests and Cast Members. Additionally, they were able to secure a line of credit worth ¥200 billion, or roughly $1.86 billion, during the closure to strengthen their financial position.
In Guest-facing moves, theme park merchandise was offered online for around a month, Ikspiari reopened on June 1st, and Bon Voyage resumed business on June 25th. For Cast Members, special leave allowance was extended for part-time Cast and show performers until September, furloughs began on May 18th, and executive salaries were reduced starting in June, as well as cutting summer bonuses for managerial staff. Executive salaries were voluntarily reduced until May. Also, unsold rainwear was donated to Urayasu City and Chiba Prefecture for the infamous rainy season in Tokyo.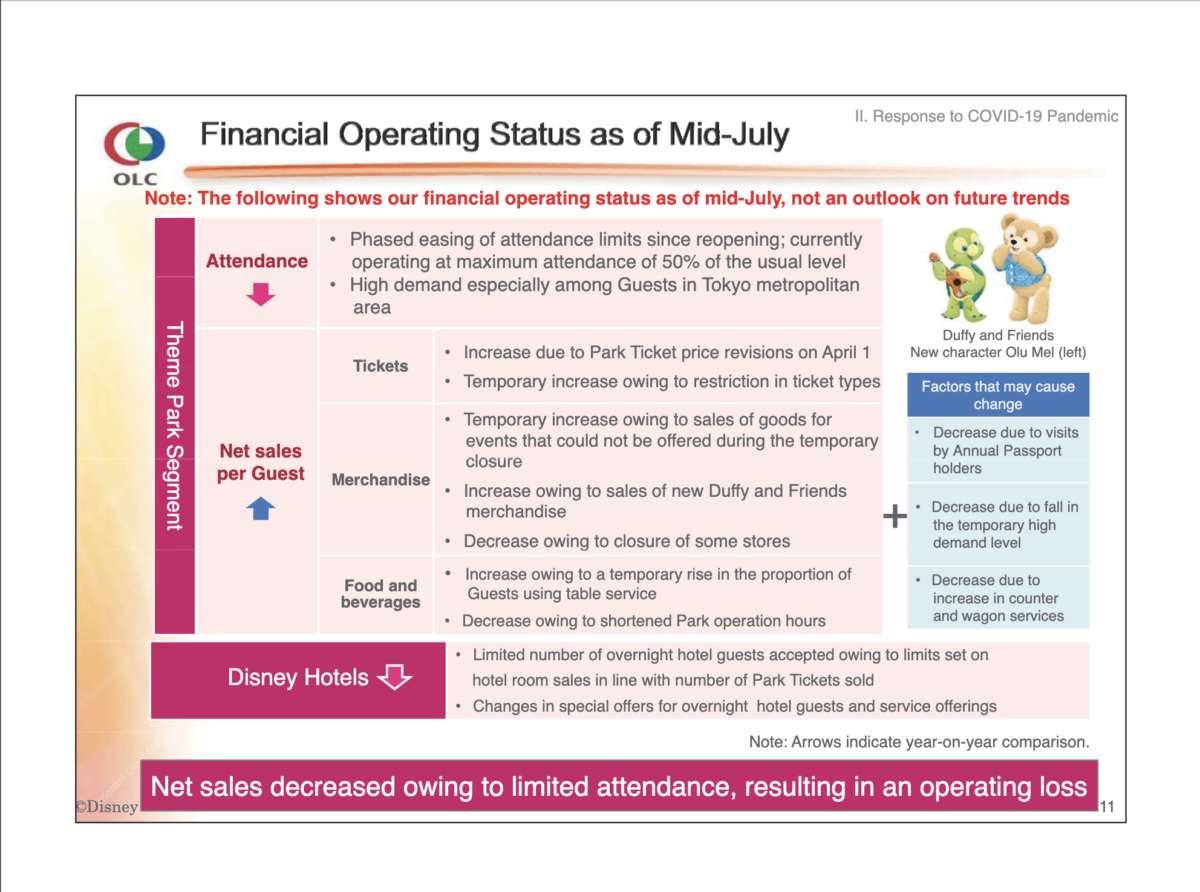 Oriental Land also released a financial operating status as of mid-July, still expecting an operating loss as of Q2 2020. Attendance is currently in phases, with a maximum of 50% normal attendance at present, up from 15% at the park's reopening on July 1st. Demand is particularly high from Guests in the Tokyo area, as is normal for Tokyo Disney Resort attendance.
In net sales per Guest, ticket revenue is up due to the increase of ticket prices from April 1st, and temporarily up due to the ticket restrictions in place. Merchandise sales are temporarily up due to sales of seasonal event items unable to be sold during the closure, and the introduction of new Duffy & Friends merchandise with CookieAnn and 'Olu Mel has also increased sales. However, a minor decrease is currently expected as well since some stores remain closed across the resort. In food and beverage, more Guests are opting for Table Service restaurants, resulting in a temporary increase. But there's also a decrease due to shorter theme park operation hours. Factors that may cause changes include a decrease due to visits by Annual Passholders, decrease due to falling demand after reopening, and a decrease due to increase in counter and wagon-service food sales.
At the Disney Hotels, revenue is down due to limited sales of hotel rooms in proportion with limited sales of park tickets.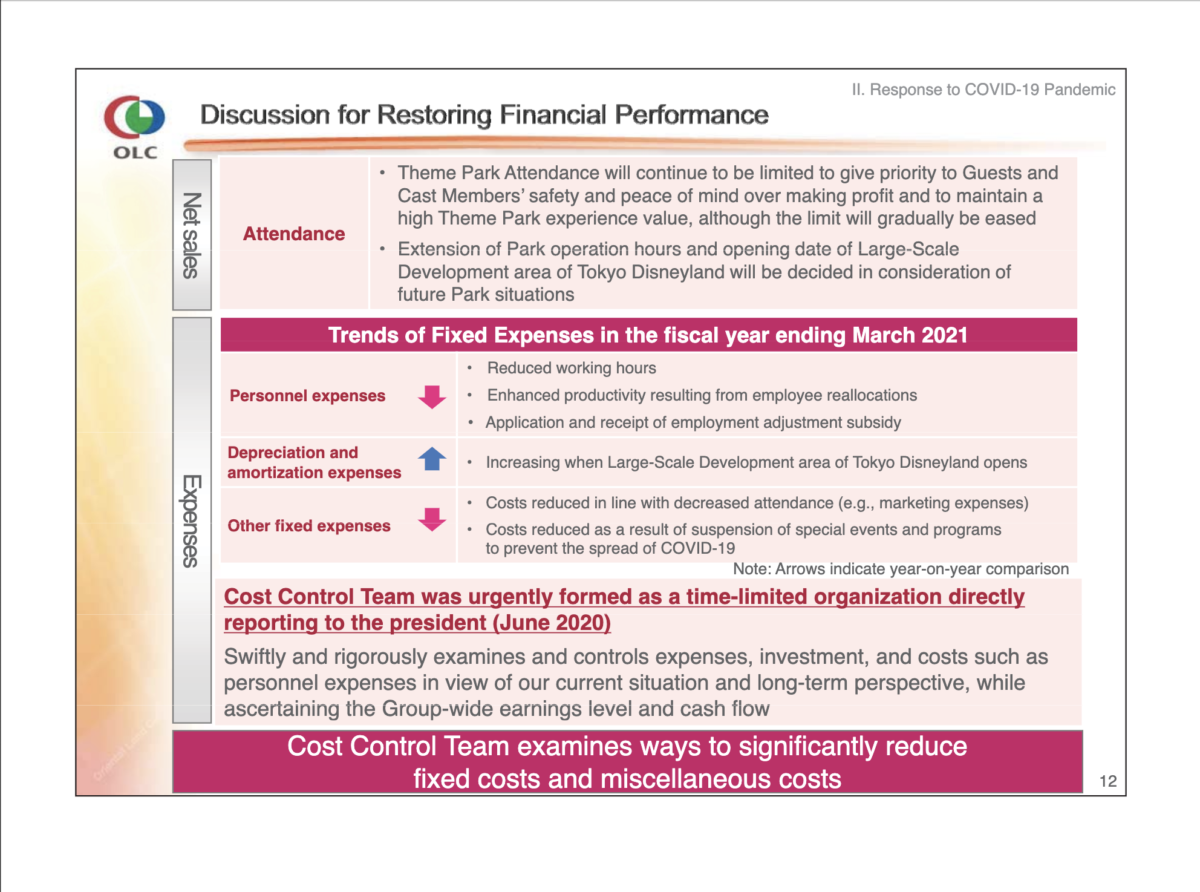 Oriental Land does have some plans in place to gradually restore their financial performance. Theme park attendance will continue to be limited, as priority will remain the safety and peace-of-mind of Guests and Cast Members and maintaining a high theme park experience value over making profit, but limits will be gradually eased. Also, park hours will be gradually extended back to normal, and the opening date of New Fantasyland at Tokyo Disneyland will be decided in consideration of the situations at the park.
As for trends of fixed expenses for FY2020, Oriental Land expects a decrease in personnel expenses owing to reduced hours, enhanced productivity from reallocations, and the application of the employment adjustment subsidy. Depreciation and amoritzation expenses will increase once New Fantasyland opens, and other fixed expenses will decrease in line with decreased attendance (e.g. marketing expenses), along with the costs reduced as a result of suspending special events to prevent the spread of COVID-19.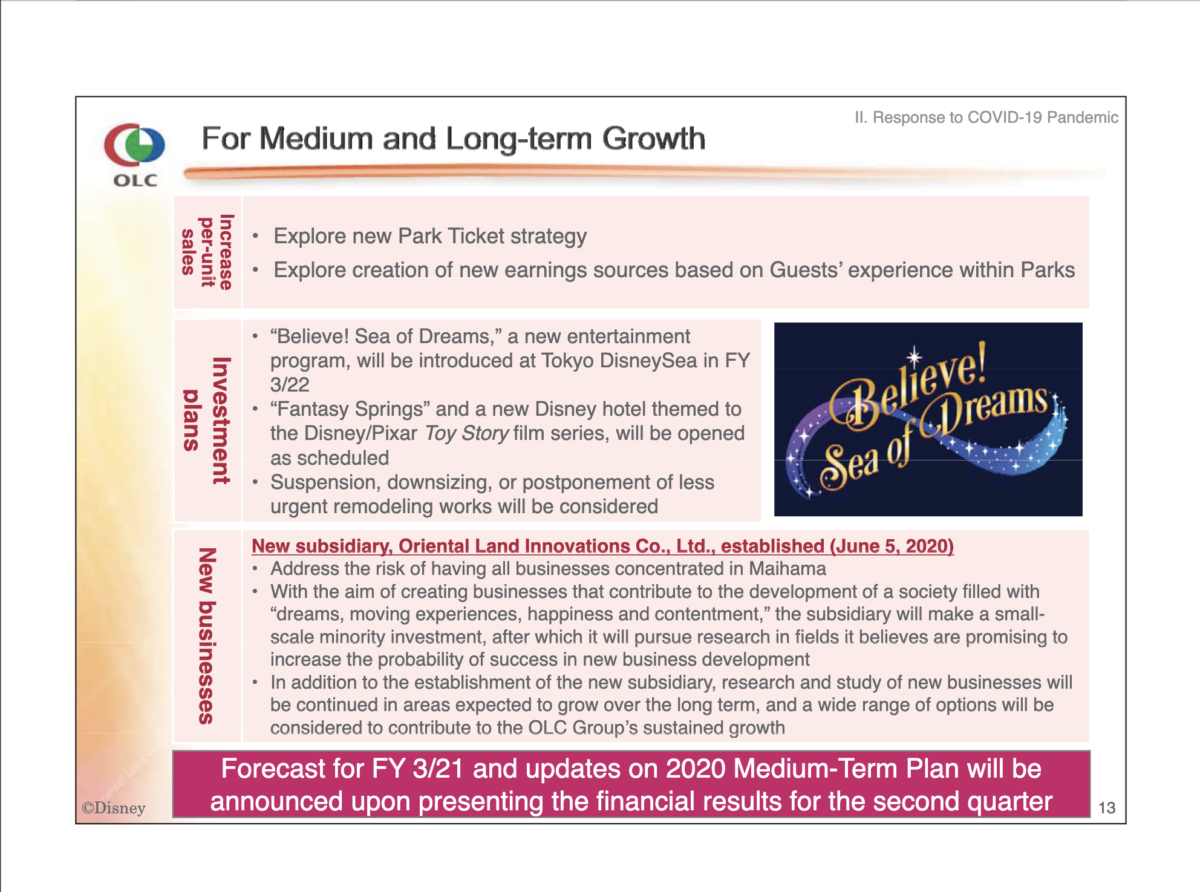 In medium and long-term growth plans, Oriental Land looks to increase per-unit sales by exploring new park ticket strategies and the creation of new earning sources based on Guest experiences within the parks. Investment plans include the upcoming Believe! Sea of Dreams nighttime show set to debut during FY2021 at Tokyo DisneySea, Fantasy Springs opening on-schedule during FY2023, and putting consideration towards suspension, downsizing, or postponement of less urgent remodeling projects.
Are you considering or planning a visit to Tokyo Disney Resort? Visit TDRPlans for every detail (and more) that you'll need to make your trip the best it can be! Did I mention it's 100% free?