This is Deep in the Plus! Every Friday night, we screen a new film or TV show on Disney+ and go over its history, details, and let you know if we think it's worth a watch. This week, we review the 2006 football drama based on a true story, Invincible, starring Mark Wahlberg.
Picture it: the year is 1976, the city is Philadelphia, and things are looking grim for our protagonist Vince Papale (Wahlberg). After his wife dumps him and he loses his teaching job, the 30-year-old seems to be lost.
A truly unprecedented event occurs when the new coach of the Philadelphia Eagles, Dick Vermeil (Greg Kinnear), announces that they will have open tryouts for the team. Will this opportunity give Vince the chance to turn his life around?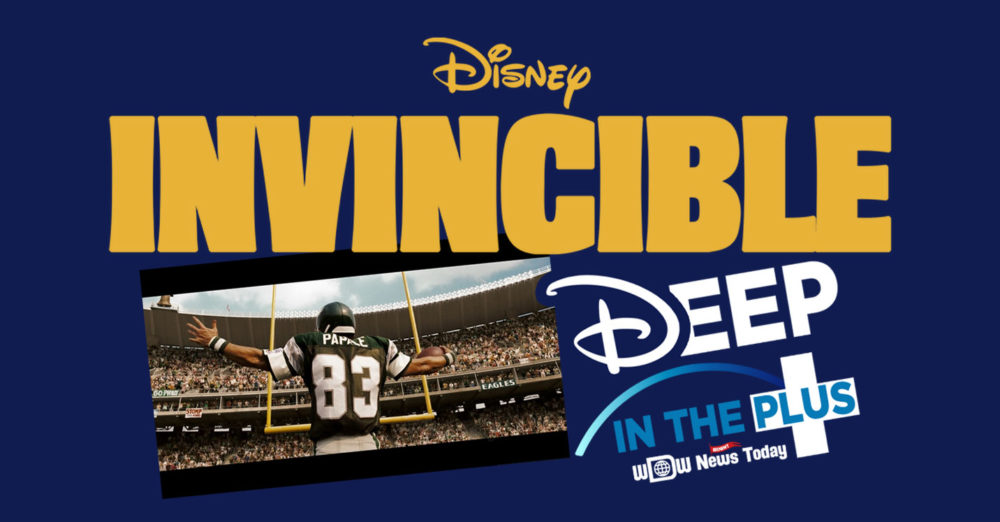 Disney is no stranger to true-life sports dramas celebrating underdogs such as McFarland USA, Miracle, Remember the Titans, and Glory Road. While this movie did not make a huge splash at the box office, it did pull in a respectable $58.5 Million, and I would definitely count it among the better films in this genre.
The cast, which also includes Elizabeth Banks, Michael Rispoli from The Sopranos, and House of Cards actor Michael Kelly is strong, and the story has a lot of heart. However, despite it being touted as a true story, Disney definitely took more than a few liberties with the details to play up the drama.
Click to the video below to see our full review of Invincible. You'll also see our bonus recommendations for the best hidden gems on Disney+ in our "Picks of the Week."
If you're looking for more reviews from us  Deep in the Plus! Make sure to go check out our previous episodes reviewing the back catalog of Disney content on the Disney+ streaming network:
Get notified of new Deep in the Plus episodes each week by subscribing to our YouTube channel. You can also follow us on Instagram, Twitter, and Facebook to share your thoughts on each week's picks.
Podcast: Play in new window | Download (Duration: 19:23 — 18.0MB)
Subscribe: Apple Podcasts | Google Podcasts | RSS