Welcome to Deep in the Plus!
In this 1993 live-action retelling of Alexandre Dumas' classic tale, D'Artagnan (played by Chris O'Donnell) travels to Paris hoping to become a musketeer, one of the French king's elite bodyguards, only to discover that they've been disbanded by Cardinal Richelieu (played by Tim Curry). The Cardinal secretly hopes to take the throne for himself.
Fortunately, Athos (Kiefer Sutherland), Porthos (Oliver Platt) and Aramis (Charlie Sheen) have refused to lay down their weapons and continue to protect their king.
Come along with us as we travel back to the time of the Musketeers as we take you, Deep in the Plus!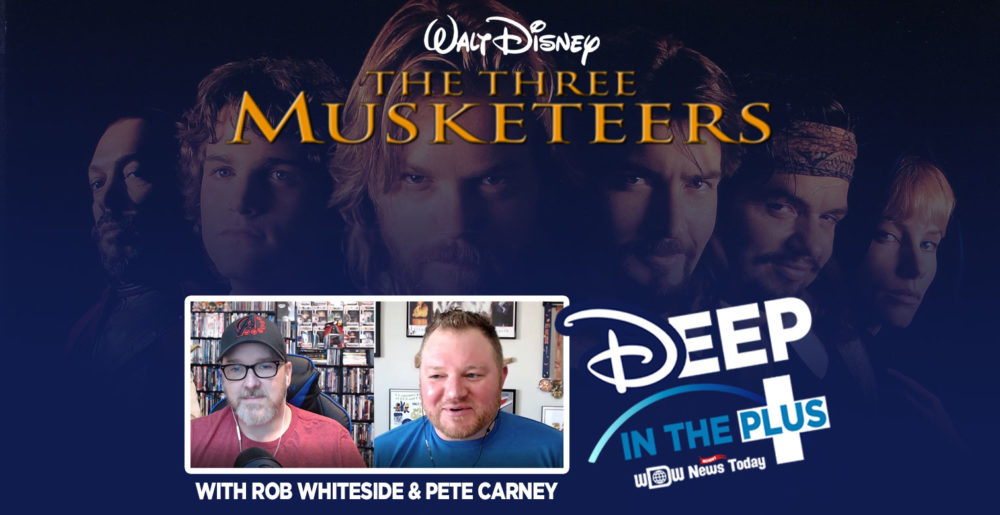 These stars were possibly at the heights of their careers when they joined forced for this film. Kiefer Sutherland, Charlie Sheen, Chris O'Donnell and Oliver Platt do a great job coming together as an on-screen team.  Yet, this movie seems to have missed the mark with audiences as it only made $54 million at the box office and received very lukewarm ratings from critics.
Does it deserve a second chance? Is this the BEST retelling of The Three Musketeers? Watch our show and decide for yourself.
And don't forget, in every episode of Deep in the Plus, you'll get bonus recommendations as we present our "Pick of the Week." This is where we offer suggestions on even more gems from the Disney+ vault. Don't miss it!
Our review of The Three Musketeers is the 16th episode of Deep in the Plus! Make sure to go check out our previous episodes reviewing the back catalog of Disney content on the Disney+ streaming network:
Get notified of new Deep in the Plus episodes each week by subscribing at YouTube.com/WDWNT. You can also follow Deep in the Plus on Instagram, Twitter and Facebook to share your thoughts on each week's picks.