For the first time in nearly four months, the Magic Kingdom is once again welcoming guests at Walt Disney World. Of course, in light of the COVID-19 pandemic, major changes have been made to the park experience, including temperature screenings, mandatory face masks, social distancing, and more.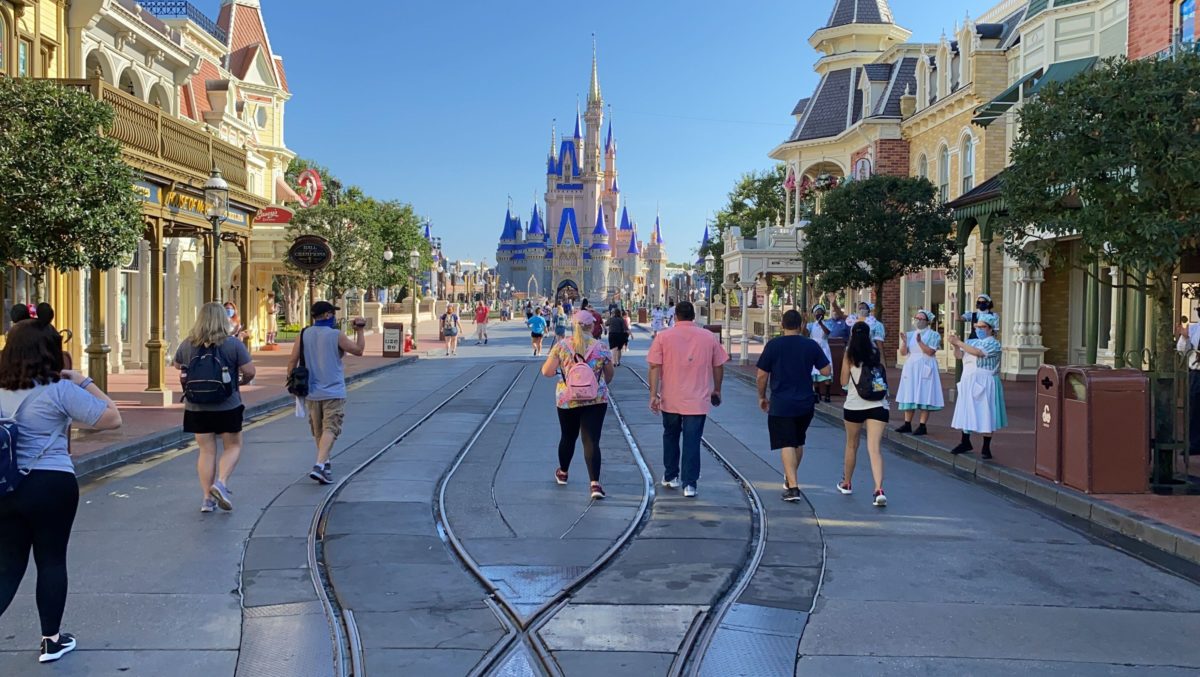 If you're planning a visit, or if you just want to see what's changed, below is a complete listing of our coverage of the reopening of the Magic Kingdom.
Arrival Experience
Whether you're arriving by way of the Transportation and Ticket Center or taking a leisurely walk over from Disney's Contemporary Resort, here's everything you need to know about arriving at the Magic Kingdom. From temperature screenings to the new bag check procedure, we've got full coverage of it all:
The Grand Floridian Resort walkway is still under construction, but a temperature check tent has been set up in anticipation of its opening.
Once you've had your temperature checked and you're past security, it's finally time to enter the Magic Kingdom:
Attractions and Entertainment
Main Street, U.S.A.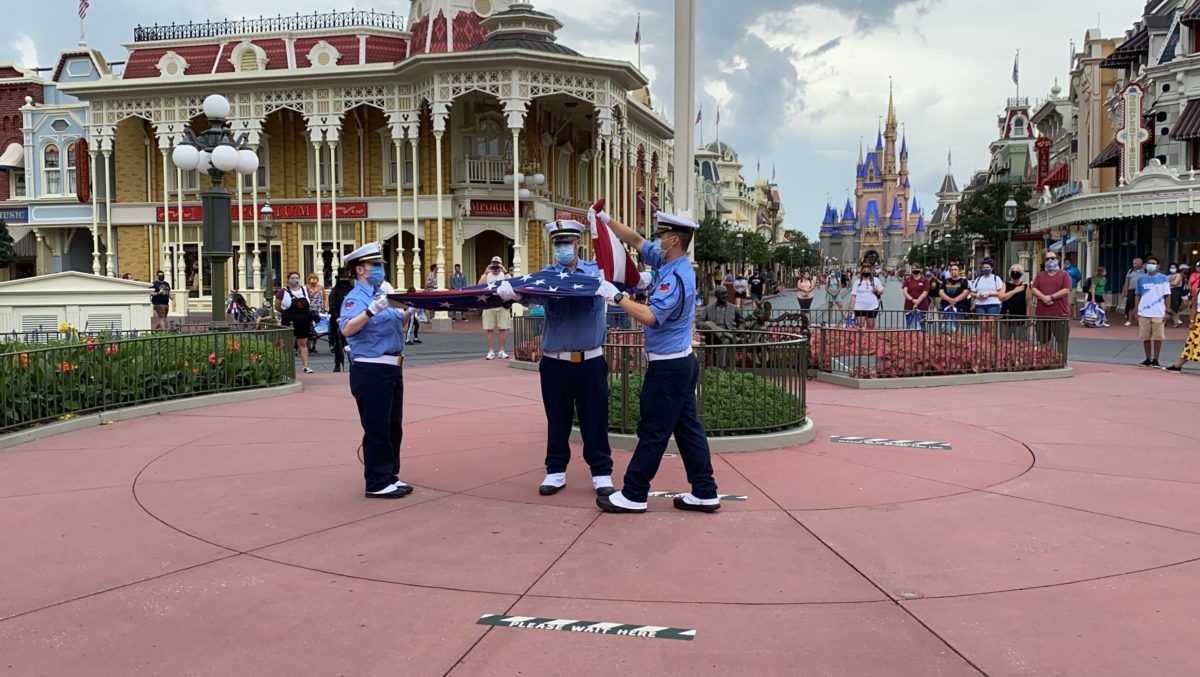 The patriotic Flag Retreat Ceremony continues at the Magic Kingdom, with some modifications for social distancing.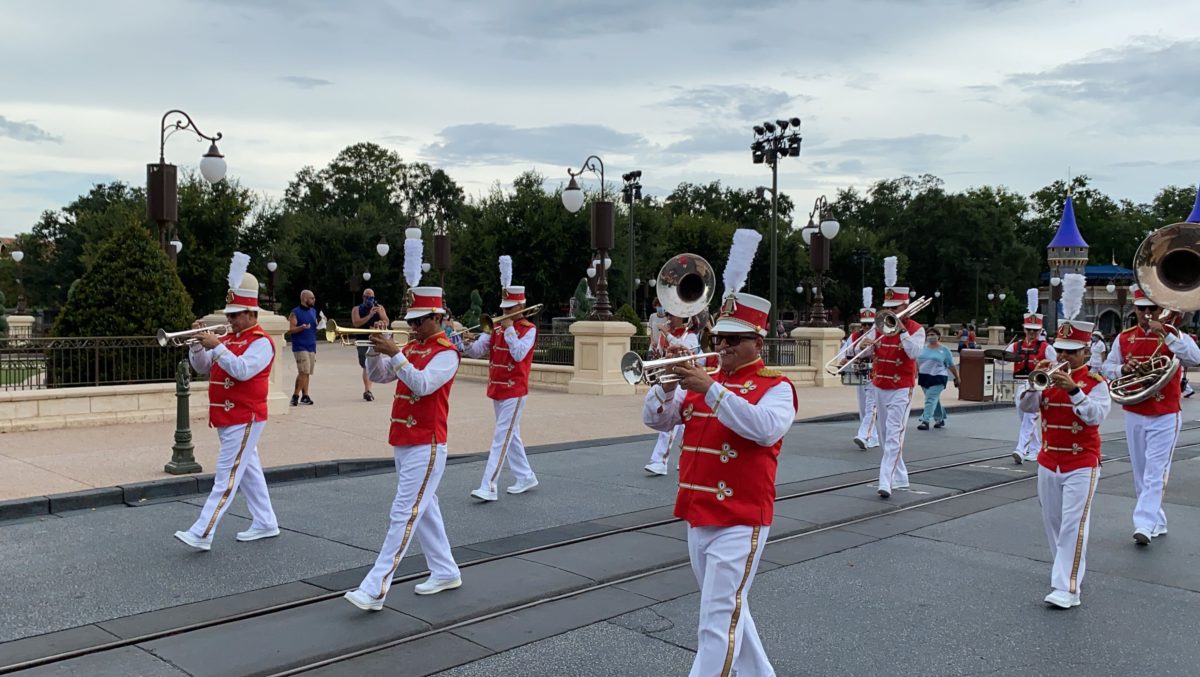 You'll find The Main Street Philharmonic marching on throughout the Magic Kingdom at varied parts of the day. Do note that due to the nature of this activity, these talented musicians do not wear face masks while performing.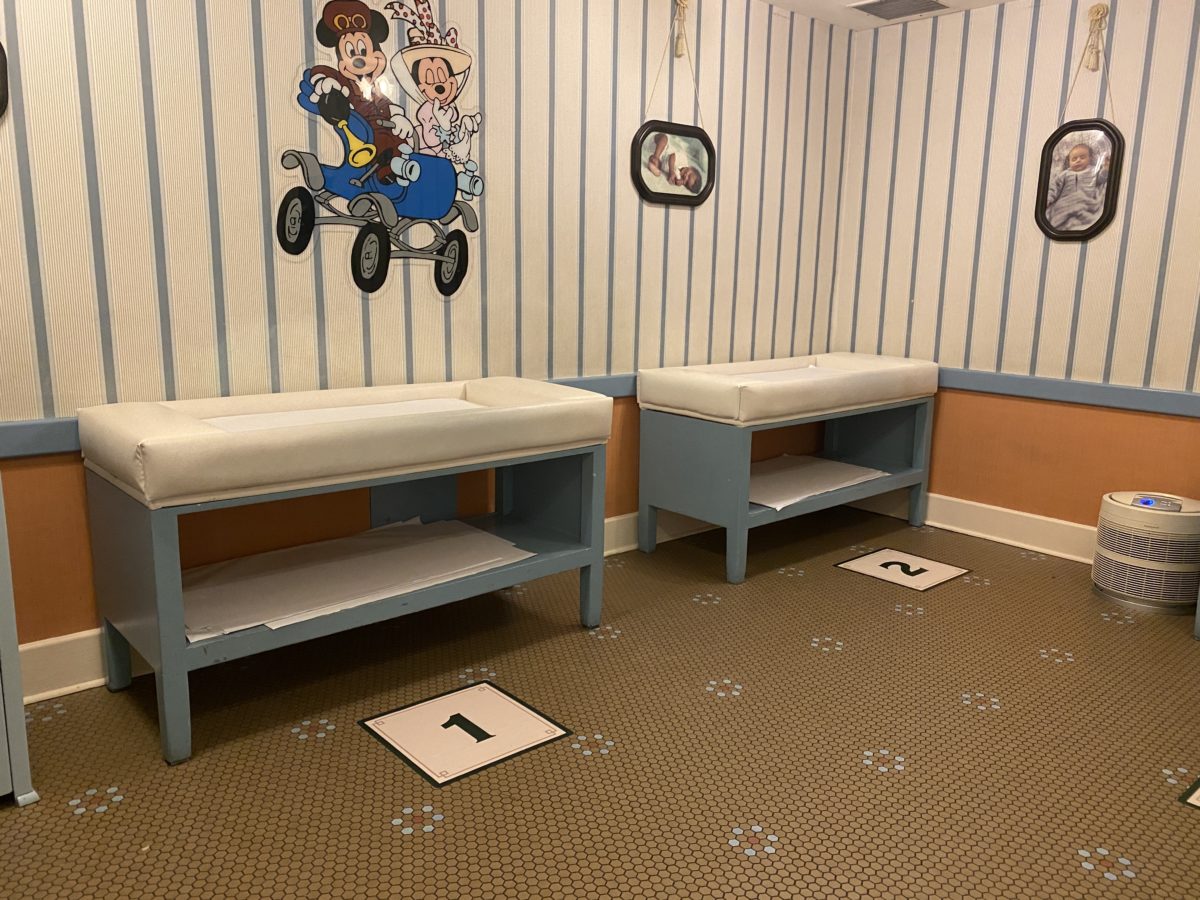 The Magic Kingdom Baby Care Center has seen their own changes, including the downsizing of changing and feeding stations within to keep social distancing.
Adventureland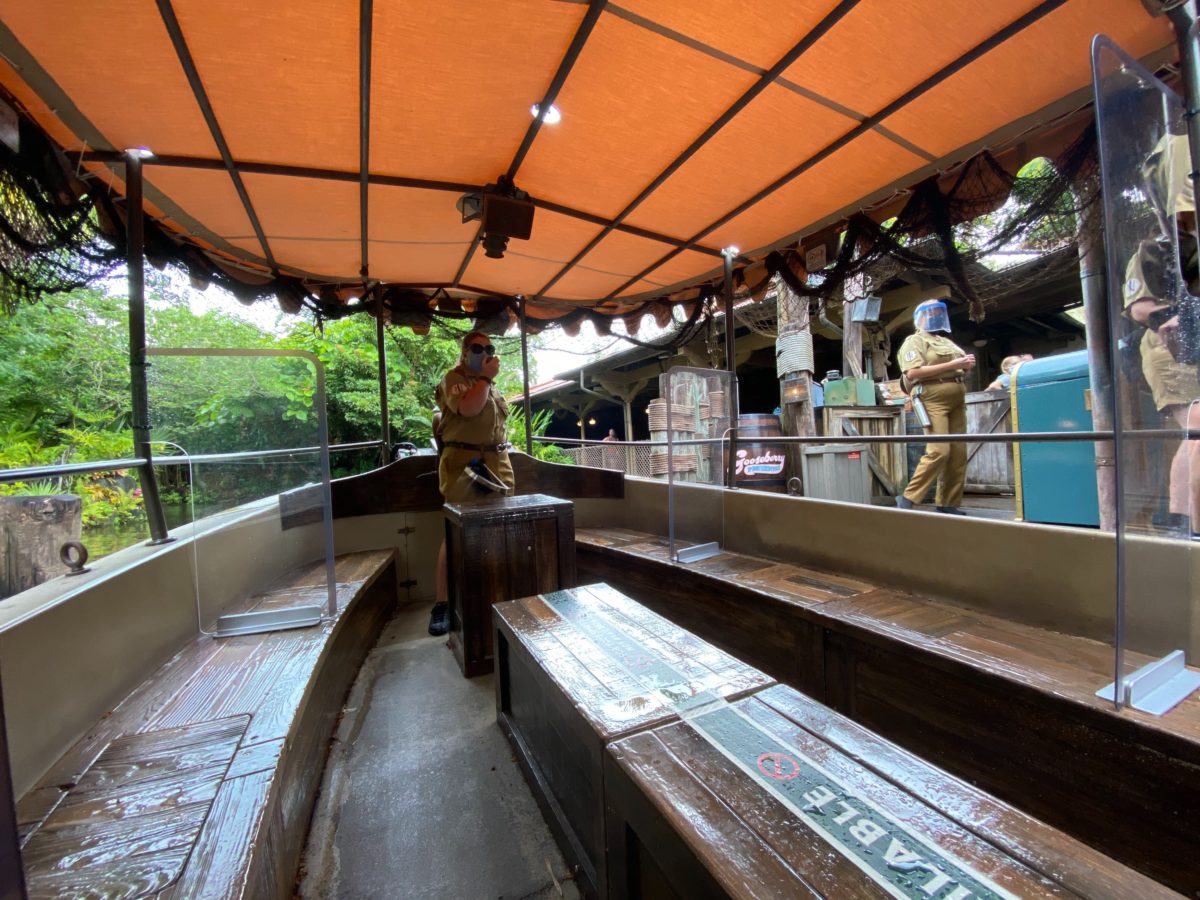 Our days of cramming in tightly aboard these vessels are over, as seating aboard the Jungle Cruise has been modified with the addition of plexiglass dividers and blocked-out benches.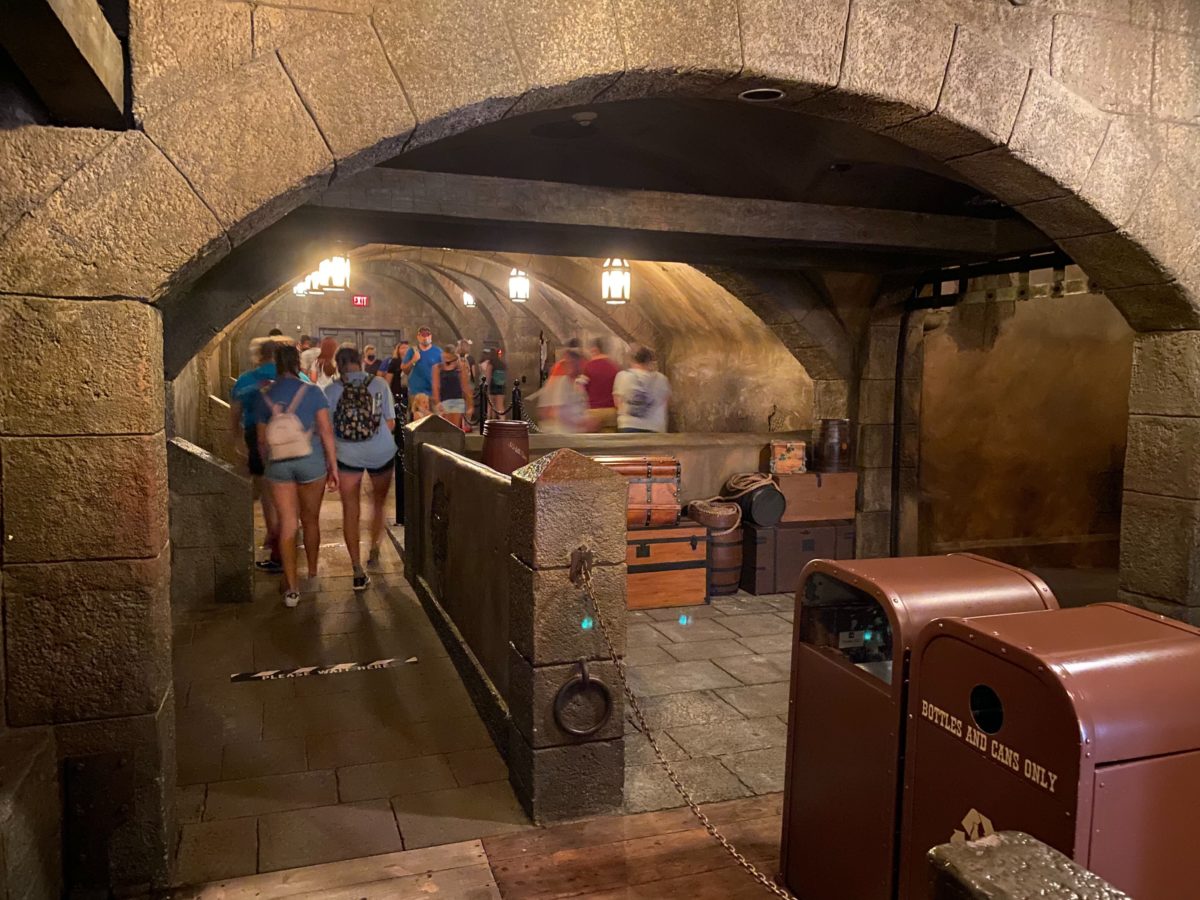 Avast, ye land lubbers… there be modified seating aboard these ships. You may want to tread extra carefully through the wingding caverns of the Pirates of the Caribbean queue, as social distancing markers have been installed throughout.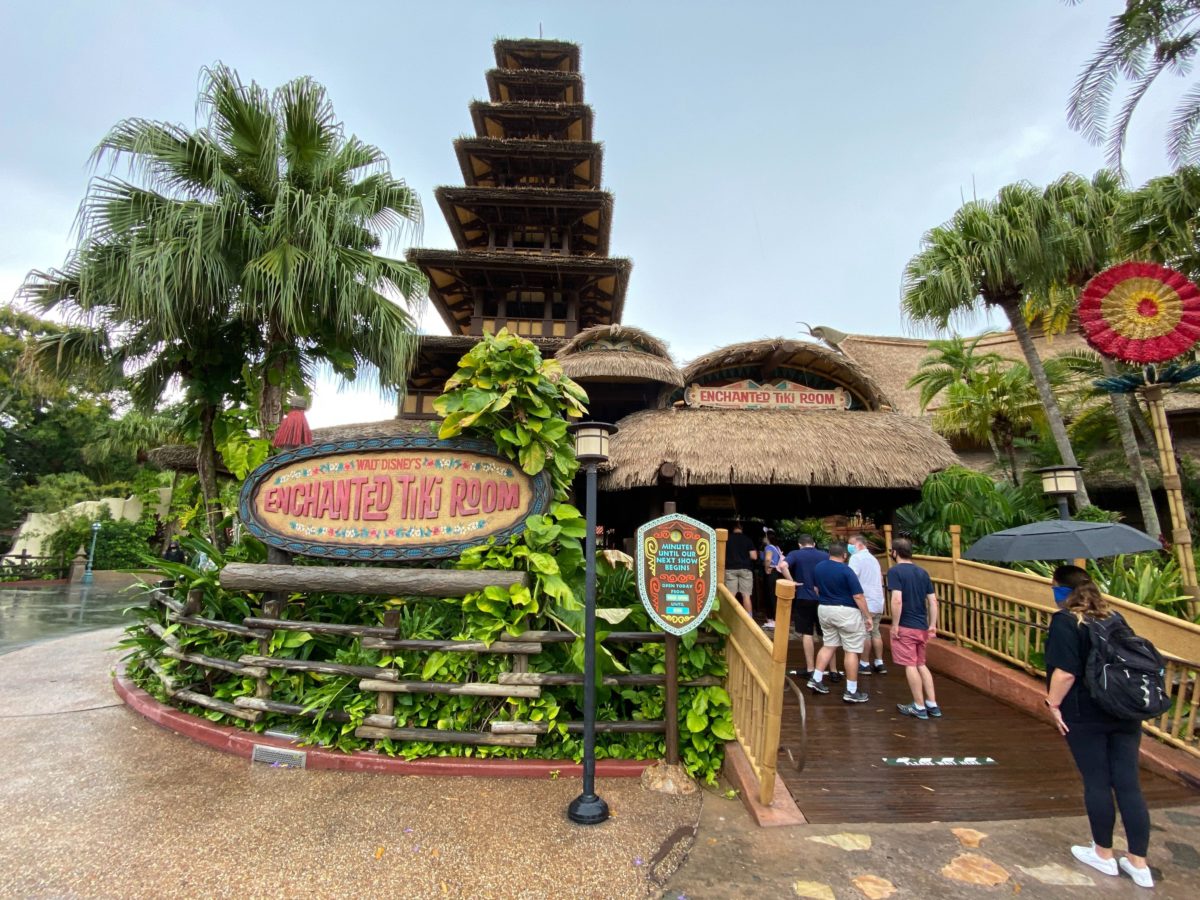 All the birds sing words and the flowers croon, so long as you keep your face mask on and follow new socially-distanced seating at the Enchanted Tiki Room.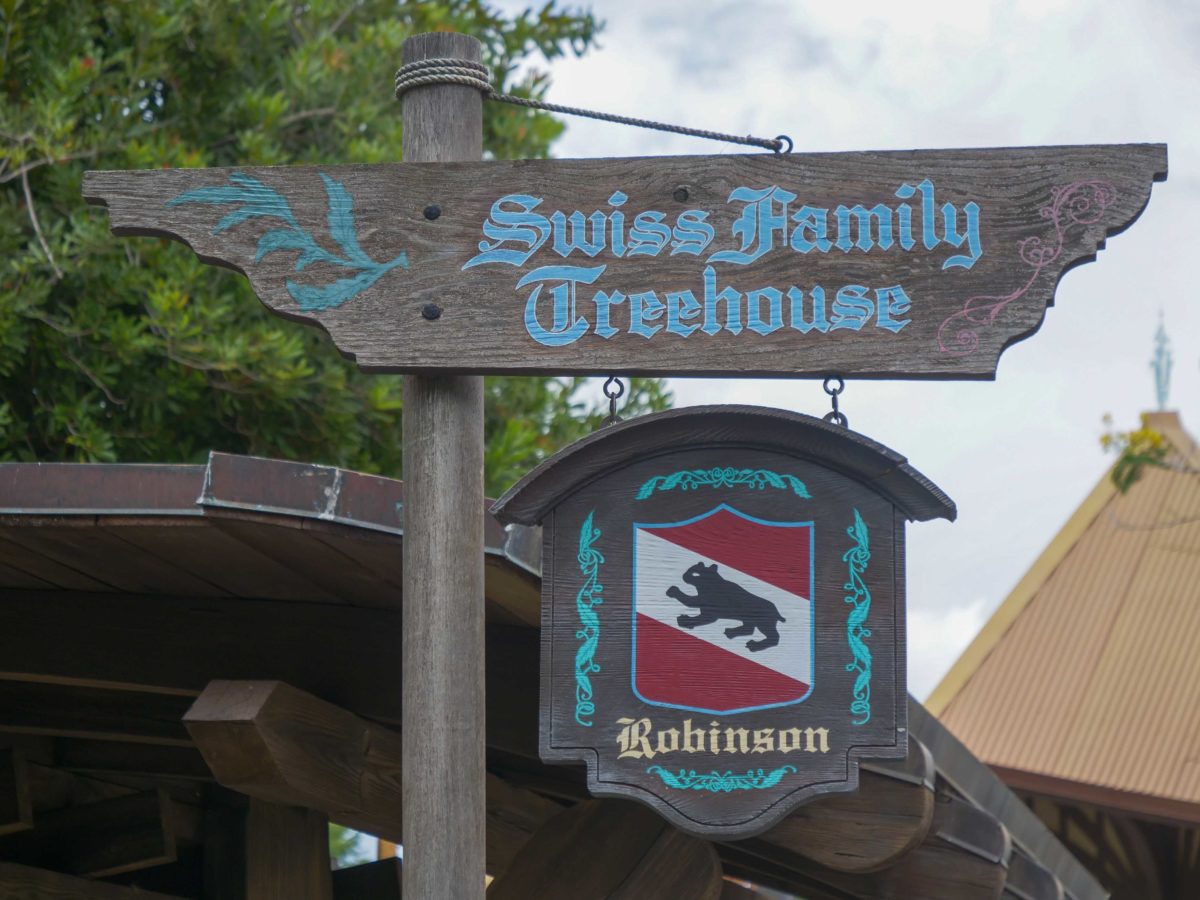 We noticed few changes at the Swiss Family Treehouse, but as you climb the many steps of the attraction, do keep in mind to maintain social distancing.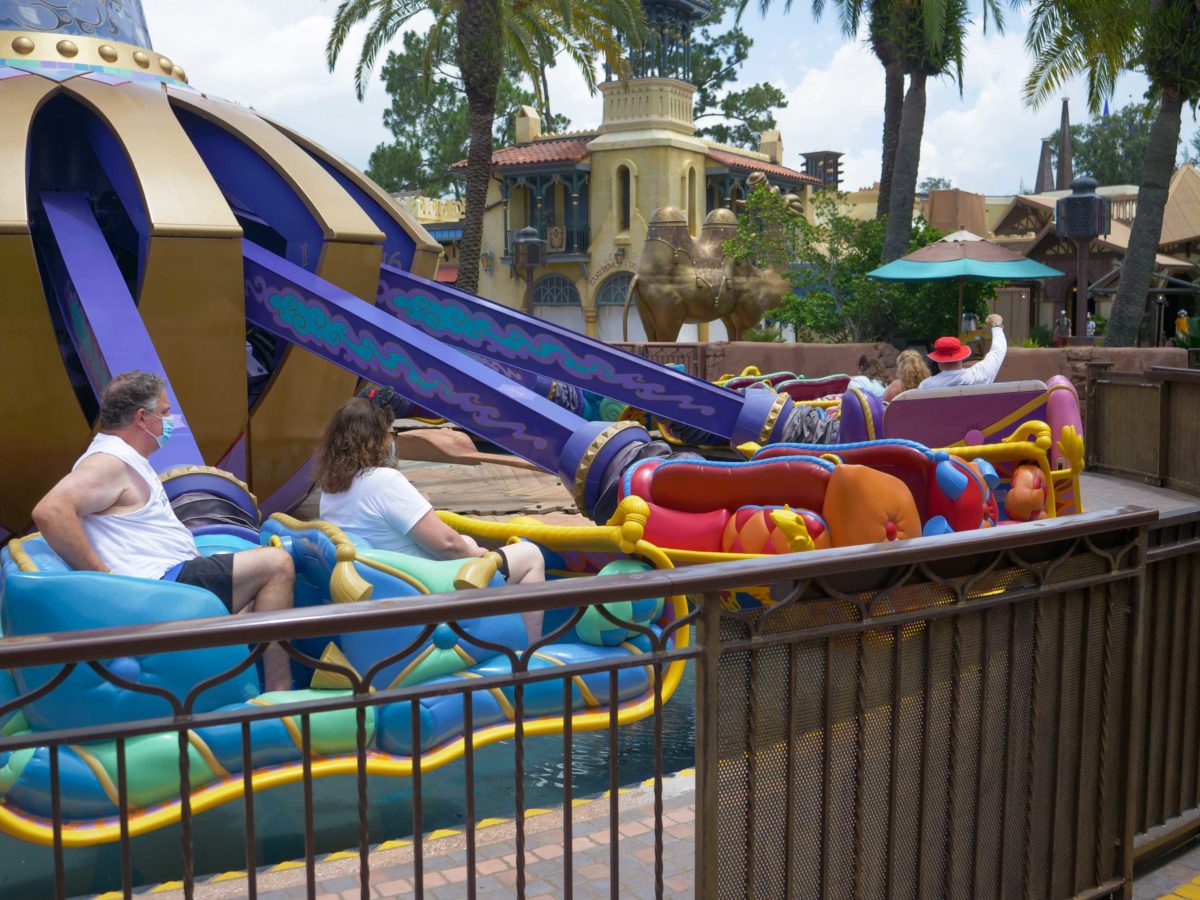 Aboard The Magic Carpets of Aladdin, every other carpet is loaded, and watch out, because there's still one spitting camel on the loose.
Frontierland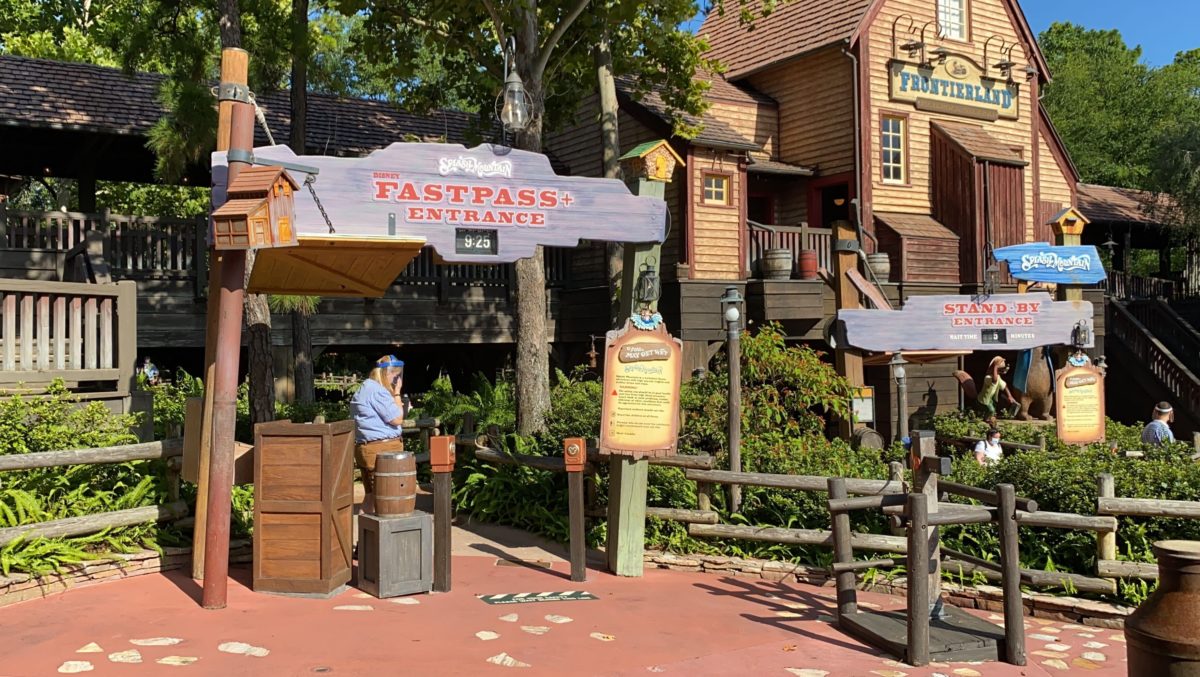 Looking to visit the Laughin' Place before Splash Mountain gets rethemed into a Princess and the Frog attraction? You may be in for some long wait times, but there are social distancing markers throughout the queue to help keep all guests distanced from each other. It has also been experiencing frequent issues and downtime.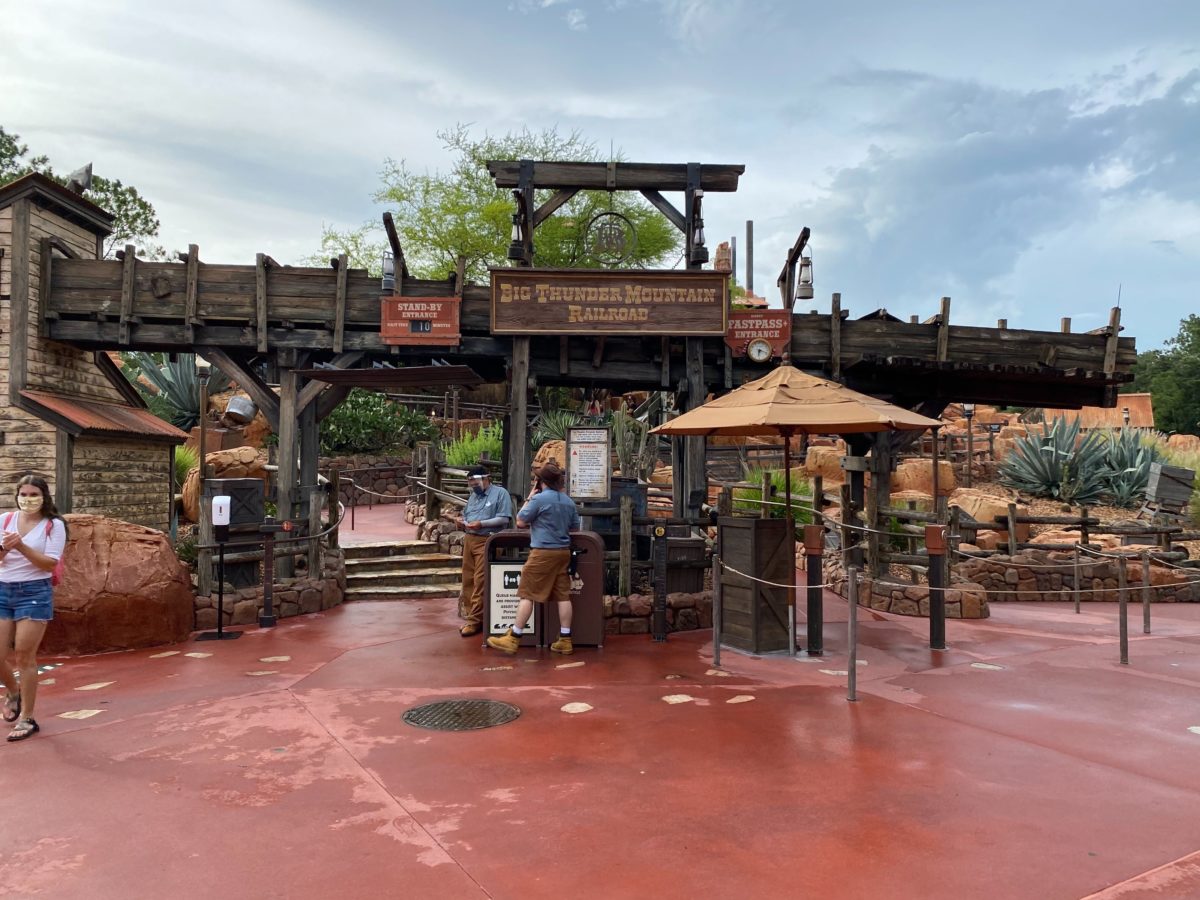 If you're ready to take the wildest ride in the wilderness, be sure to follow all of the social distancing markers that have been placed throughout the queue.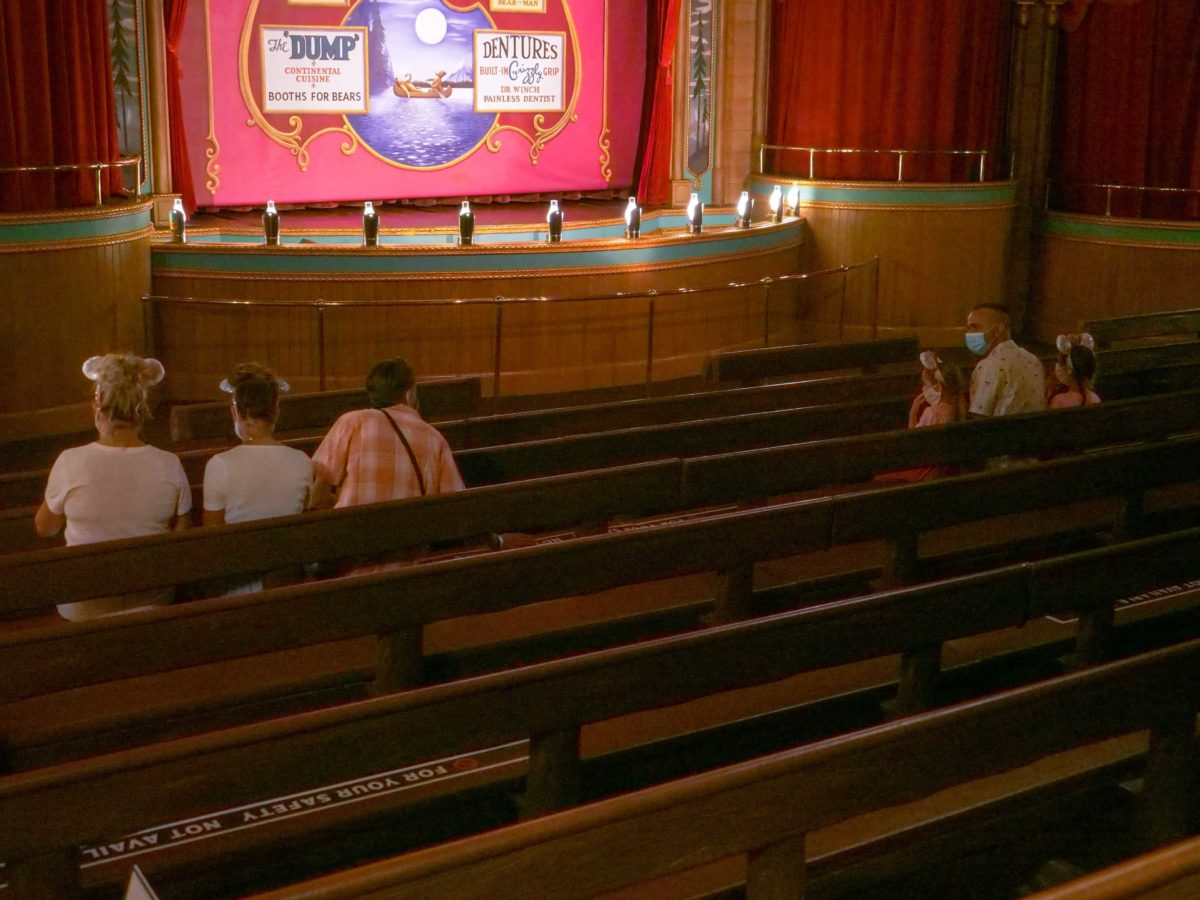 Zeke and Zeb and Ted and Fred are ready to sing along with the Magic Kingdom guests again, but be mindful all showings have limited seating, with every other row currently being used.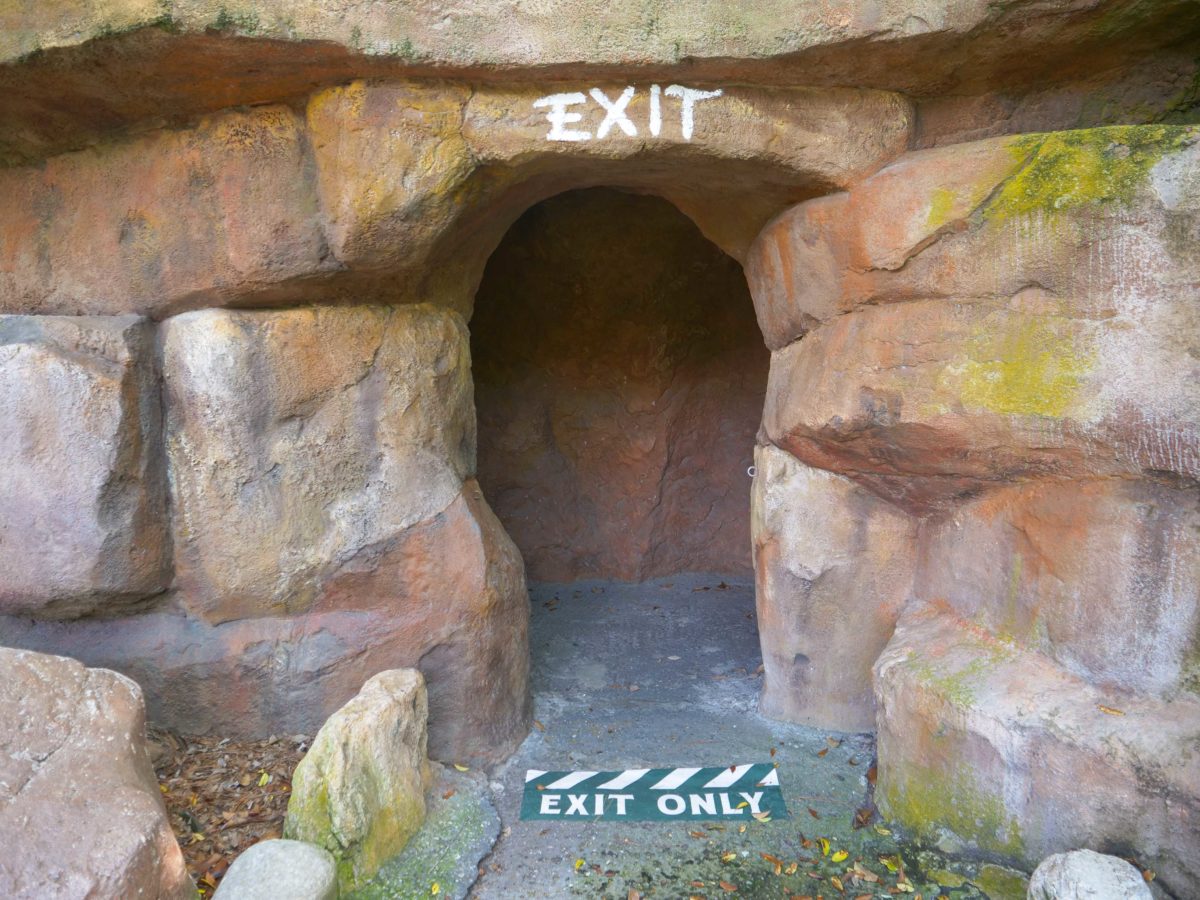 Tom Sawyer Island is open for all adventurers, just be mindful to use the proper entrance and exits around the island, and be aware only three parties can fit on the raft going to and coming from the island.
Liberty Square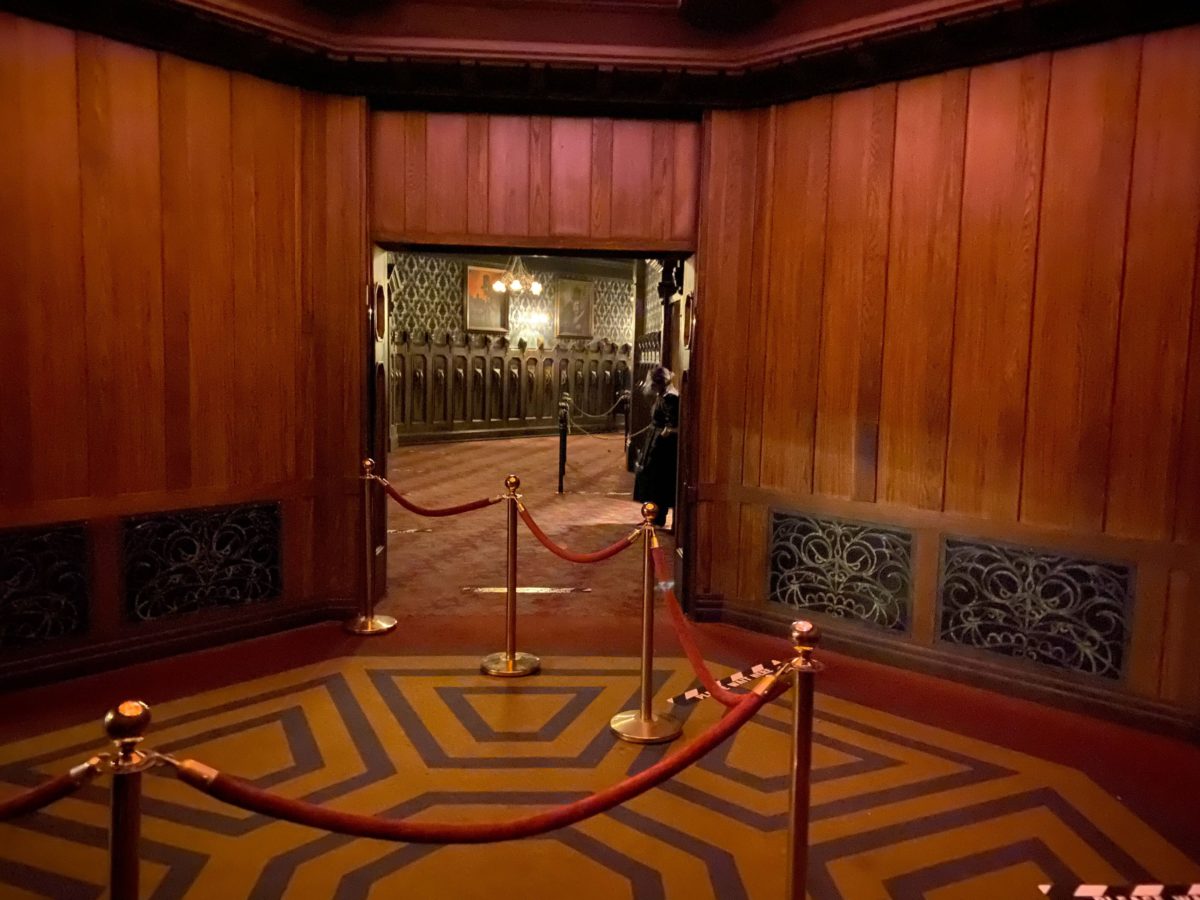 If you're looking to join the 999 happy haunts at the Haunted Mansion, keep in mind the pre-show is currently not running, but you can still take in the stretching room portraits in their fully stretched, corruptable, mortal state.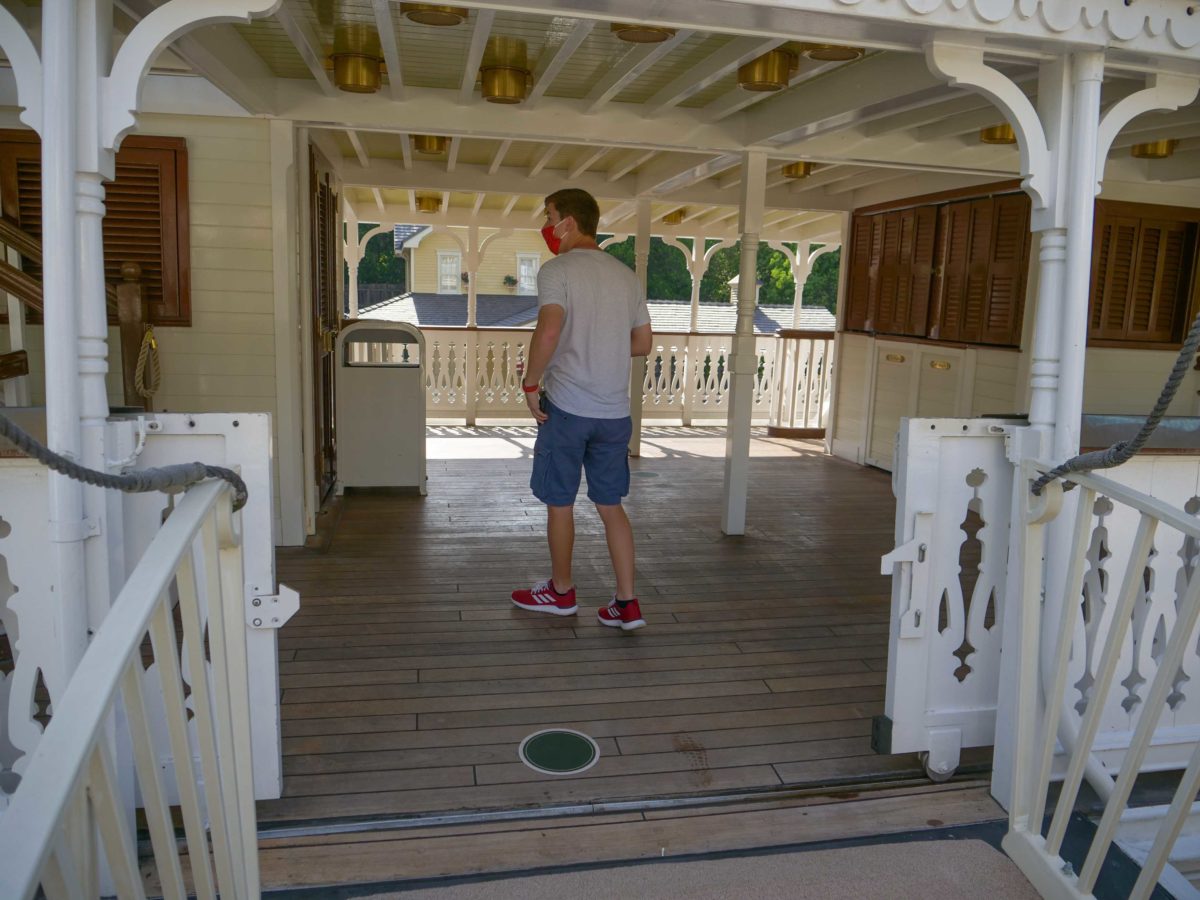 The beautiful Liberty Belle is once again taking guests for a scenic trip around the Rivers of America, just with a few additional safety measures put into place.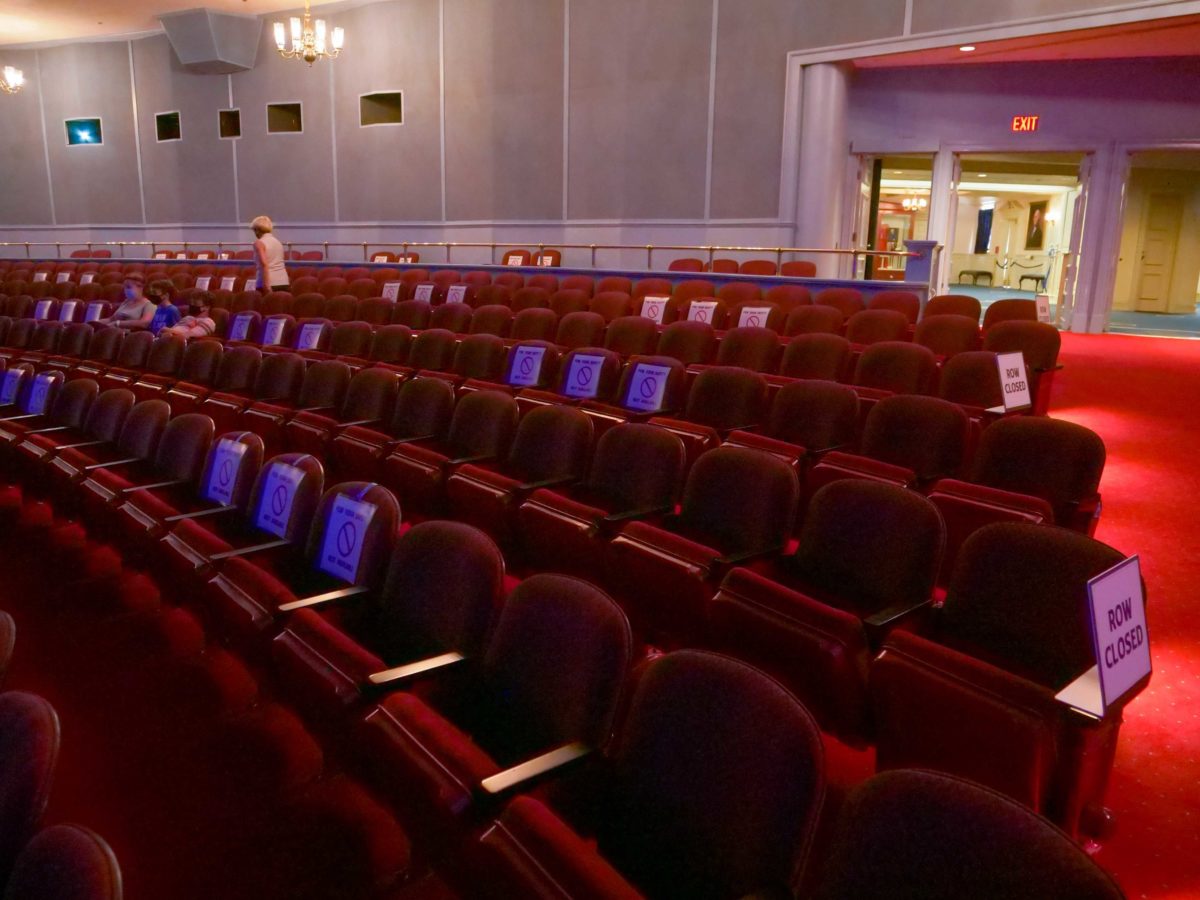 Much like other shows found the Magic Kingdom, the Hall of Presidents returned with socially distanced seating, but at least we can once again learn about the leaders of our country.
Fantasyland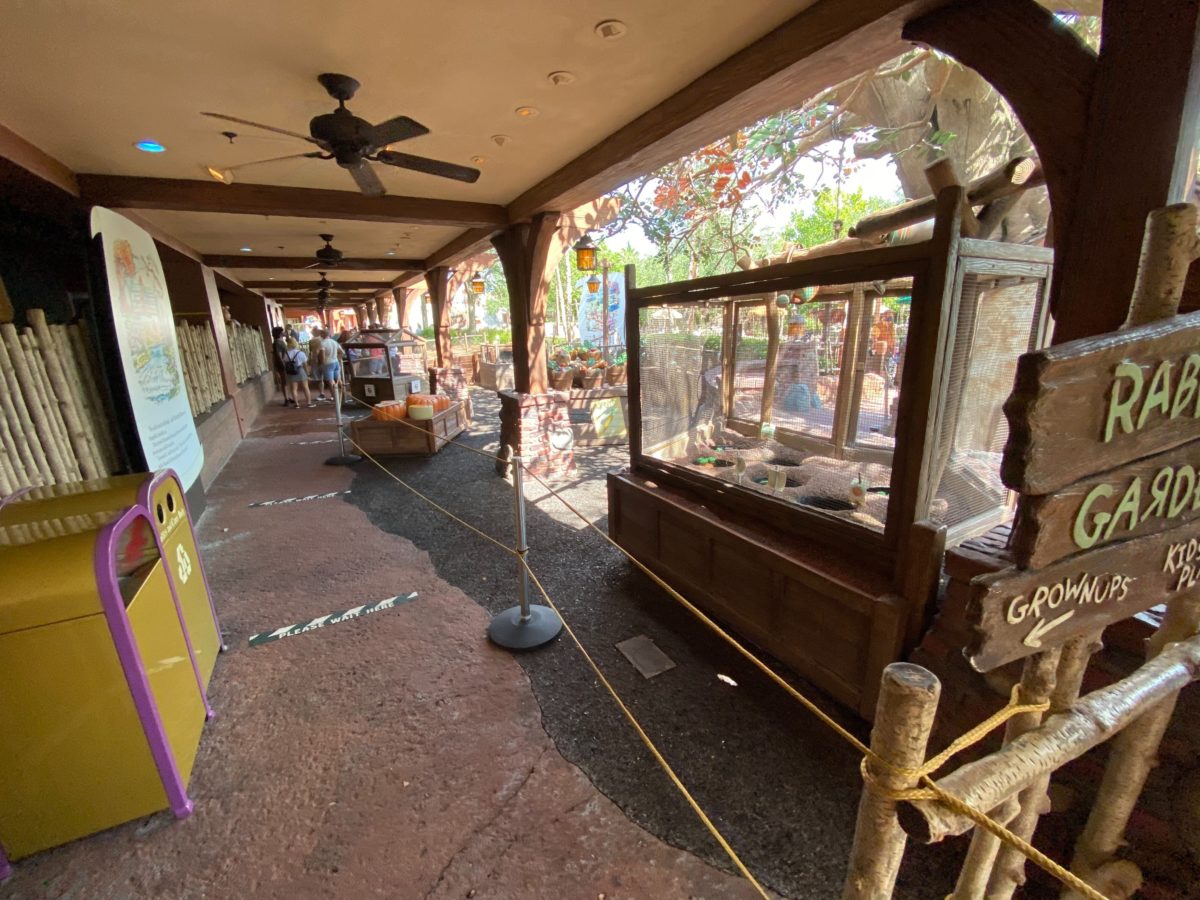 While we can finally join our favorite friends in the Hundred Acre Wood again, keep in mind that the interactive queue elements, Rabbit's Garden, have been roped off and the popular hunny wall has been shut off to prevent guests from touching unneeded surfaces.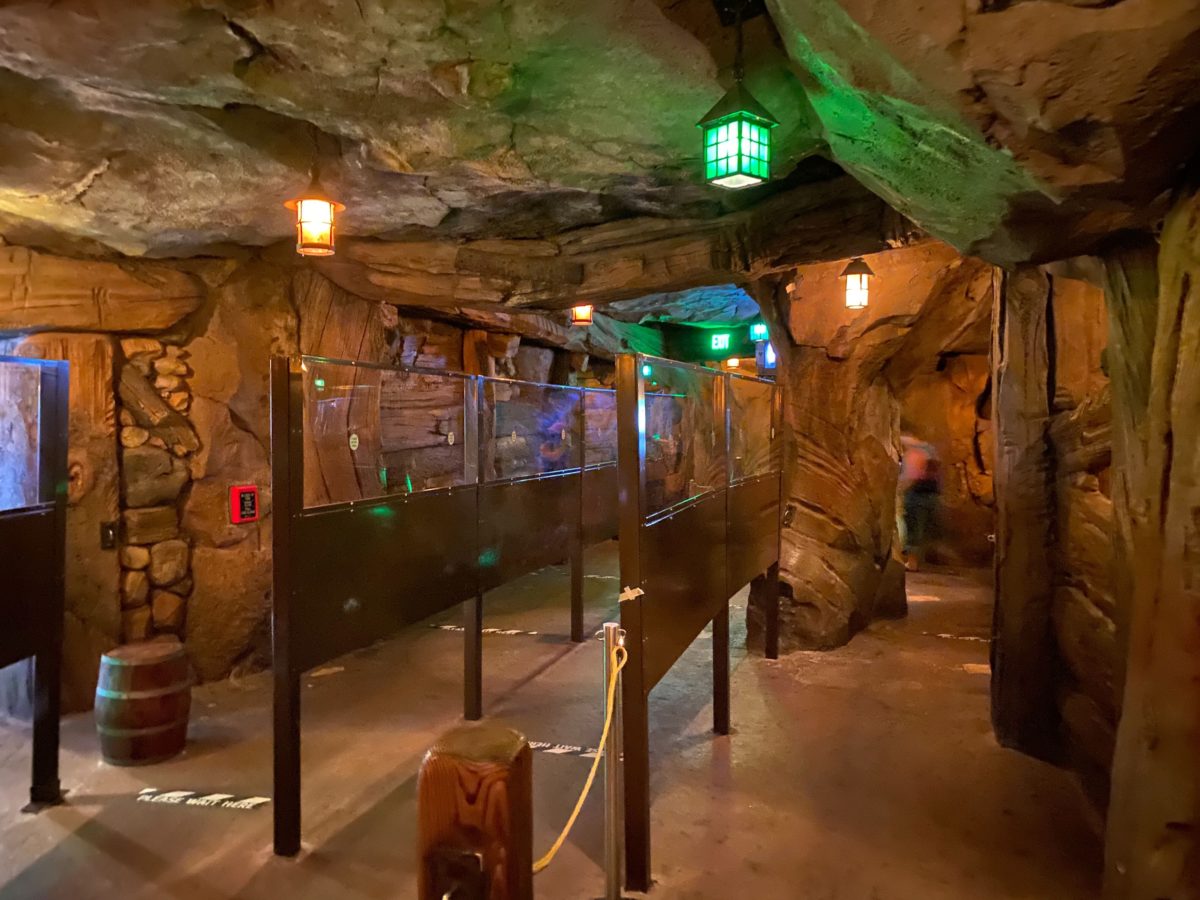 One of the more popular attractions in the Magic Kingdom, Seven Dwarfs Mine Train is ready to take guests back through the gem mines and reopened at the park with social distancing signage throughout the queue and plexiglas dividers.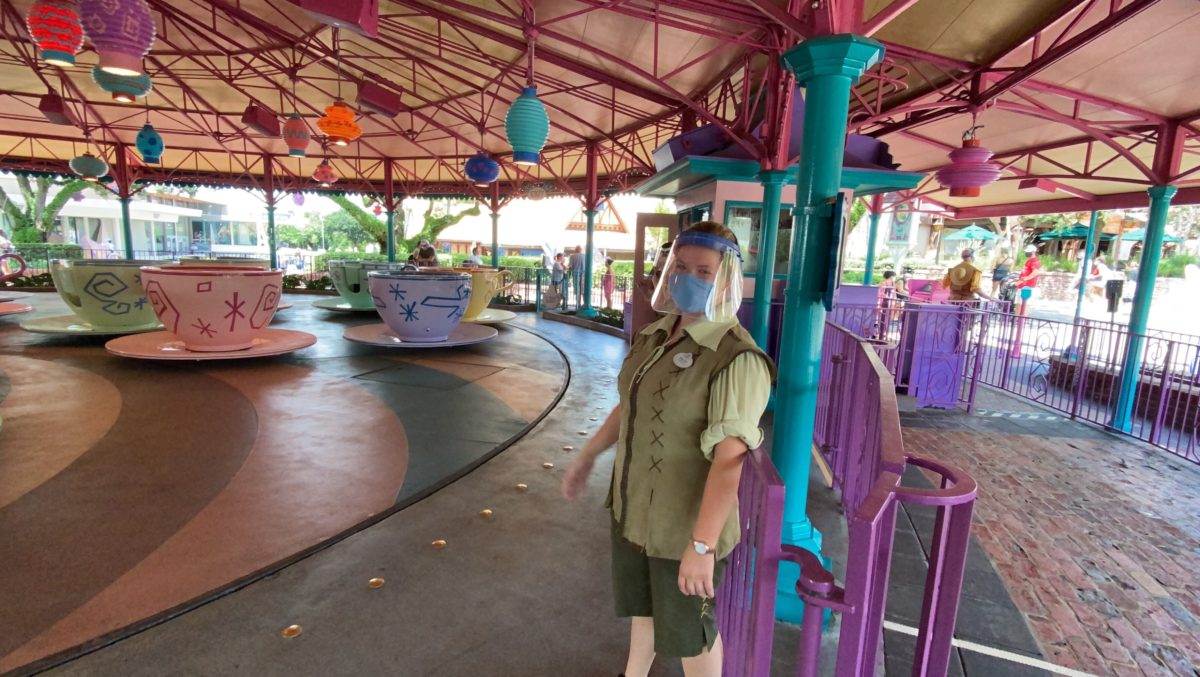 If you're looking to take a spin around the Mad Tea Party, remember to keep a distance of six feet from other parties in the queue and use hand sanitizer before hopping in your teapcup.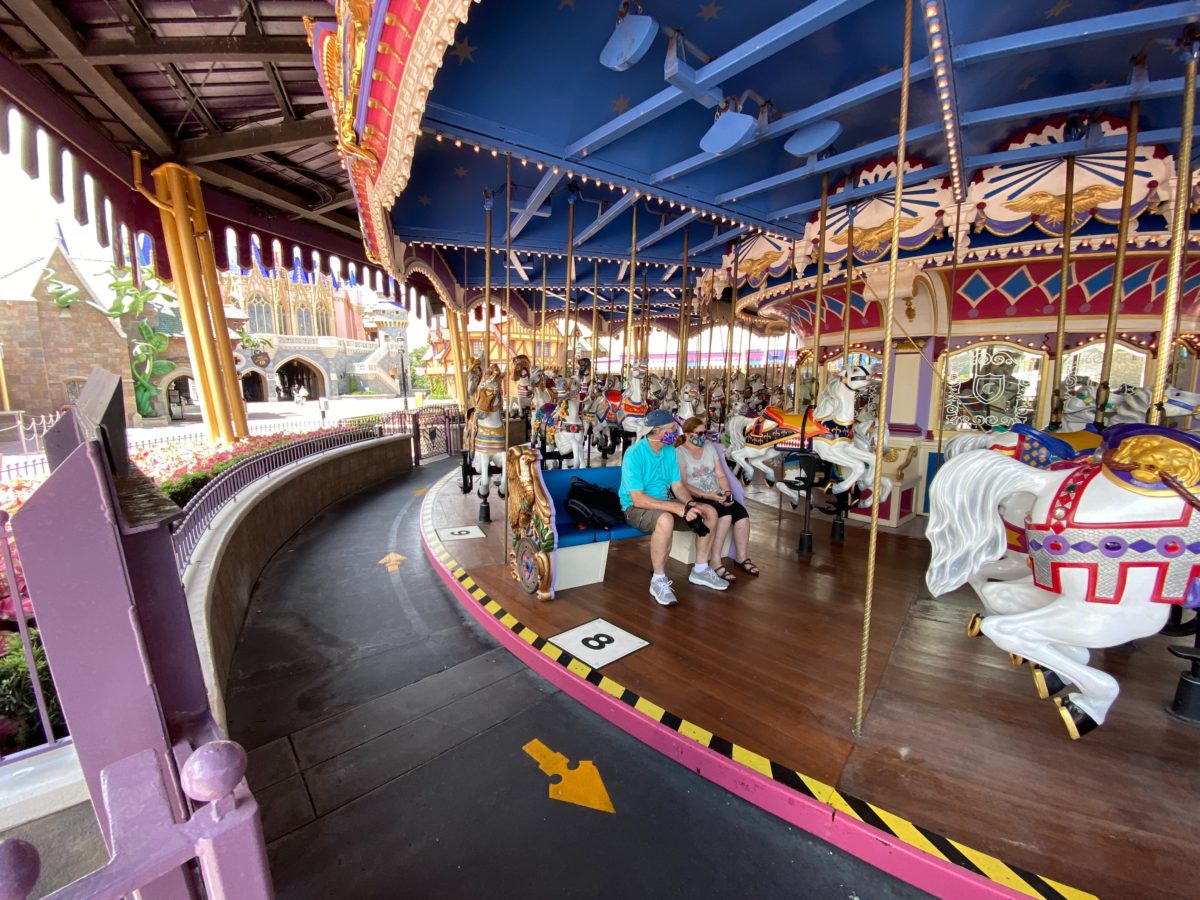 If you're looking to take a relaxing ride on the Prince Charming Regal Carrousel, the boarding procedure for this attraction has changed to help keep guests socially distant.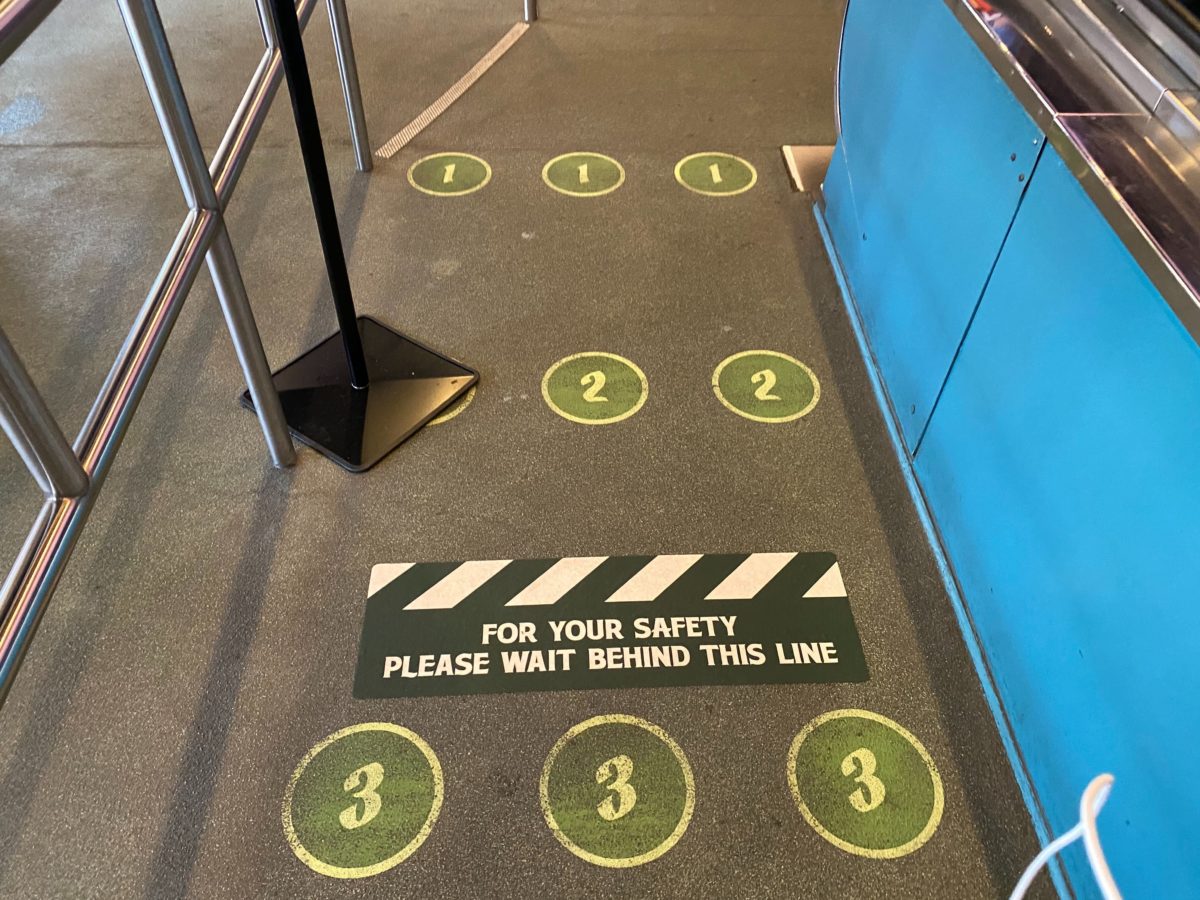 Off to Neverland! All throughout this very long queue for Peter Pan's Flight, social distancing markers have been set up.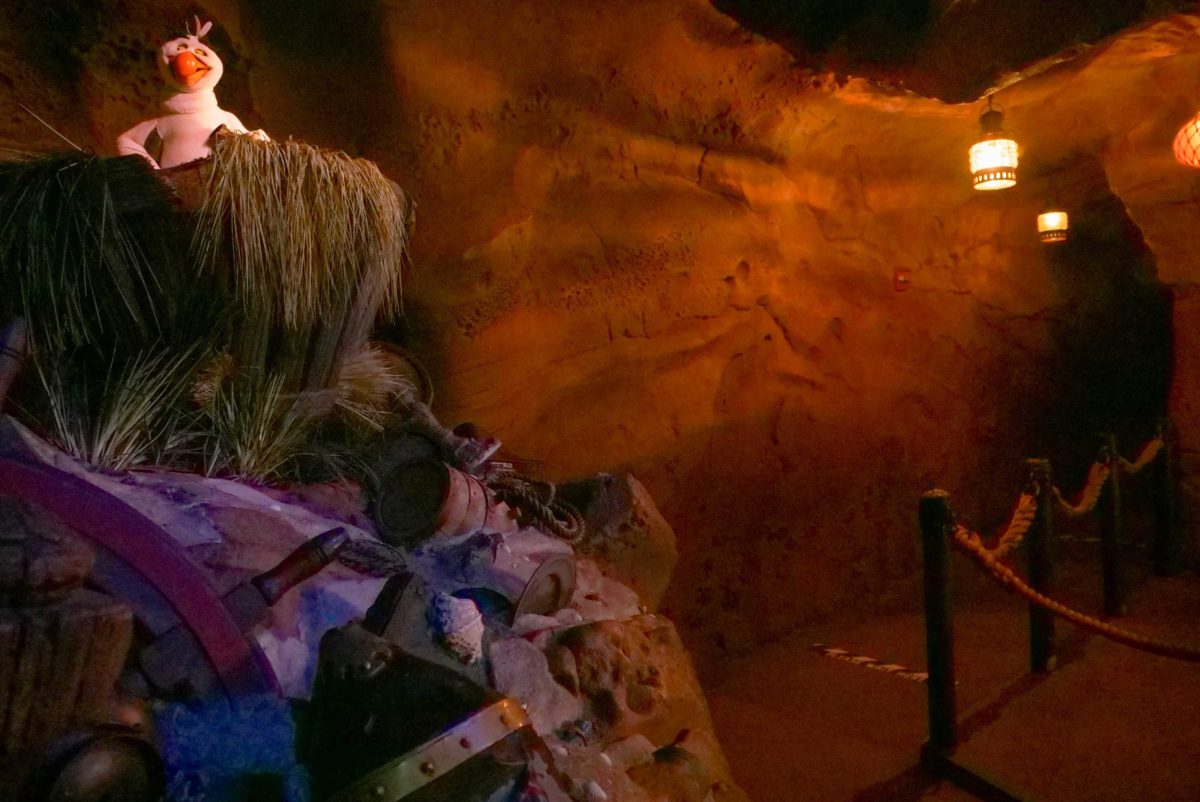 If you're ready to dive into the story of The Little Mermaid, social distancing markers have been set up throughout the queue, but Scuttle and the interactive crab games are still working and entertaining guests.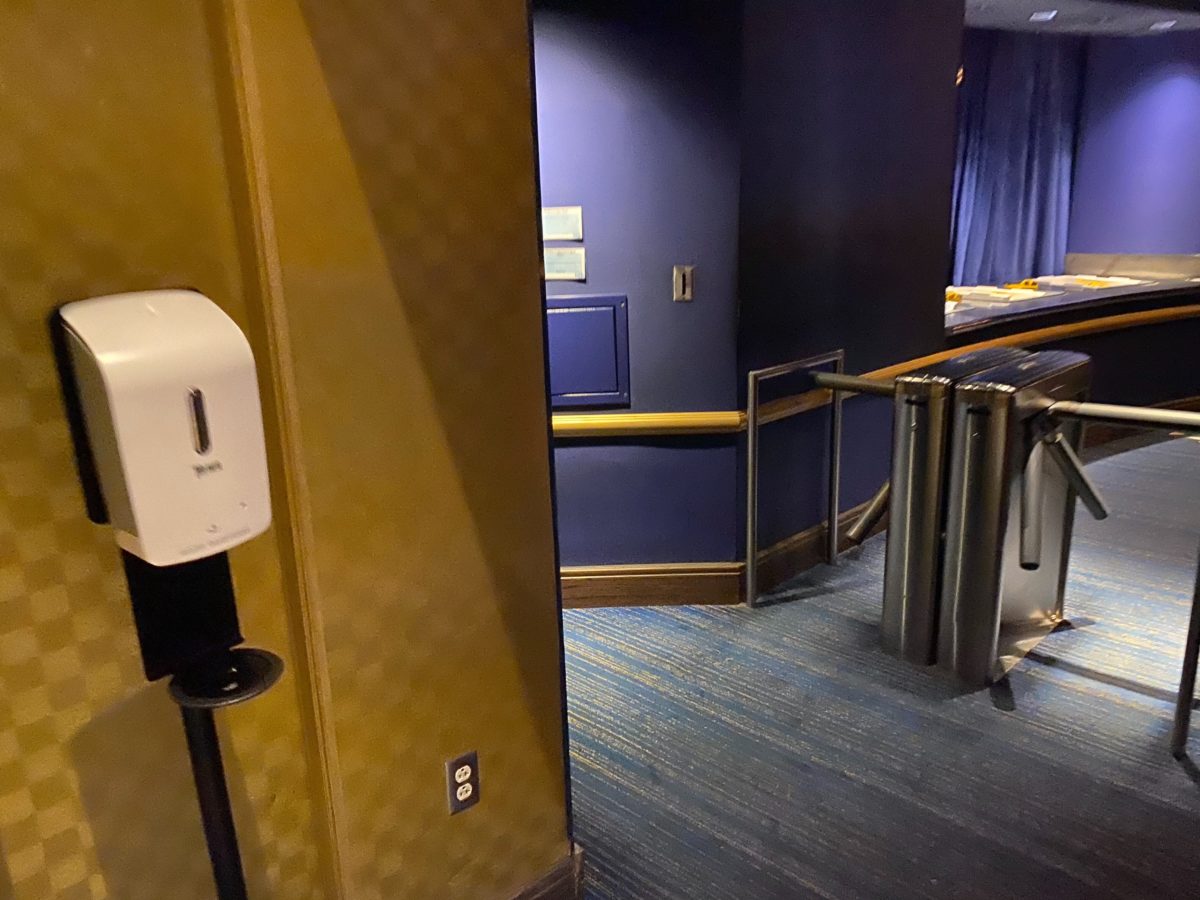 If you're looking to catch up Donald's latest adventure at Mickey's PhilharMagic, make sure you sanitize those hands before picking up your opera glasses.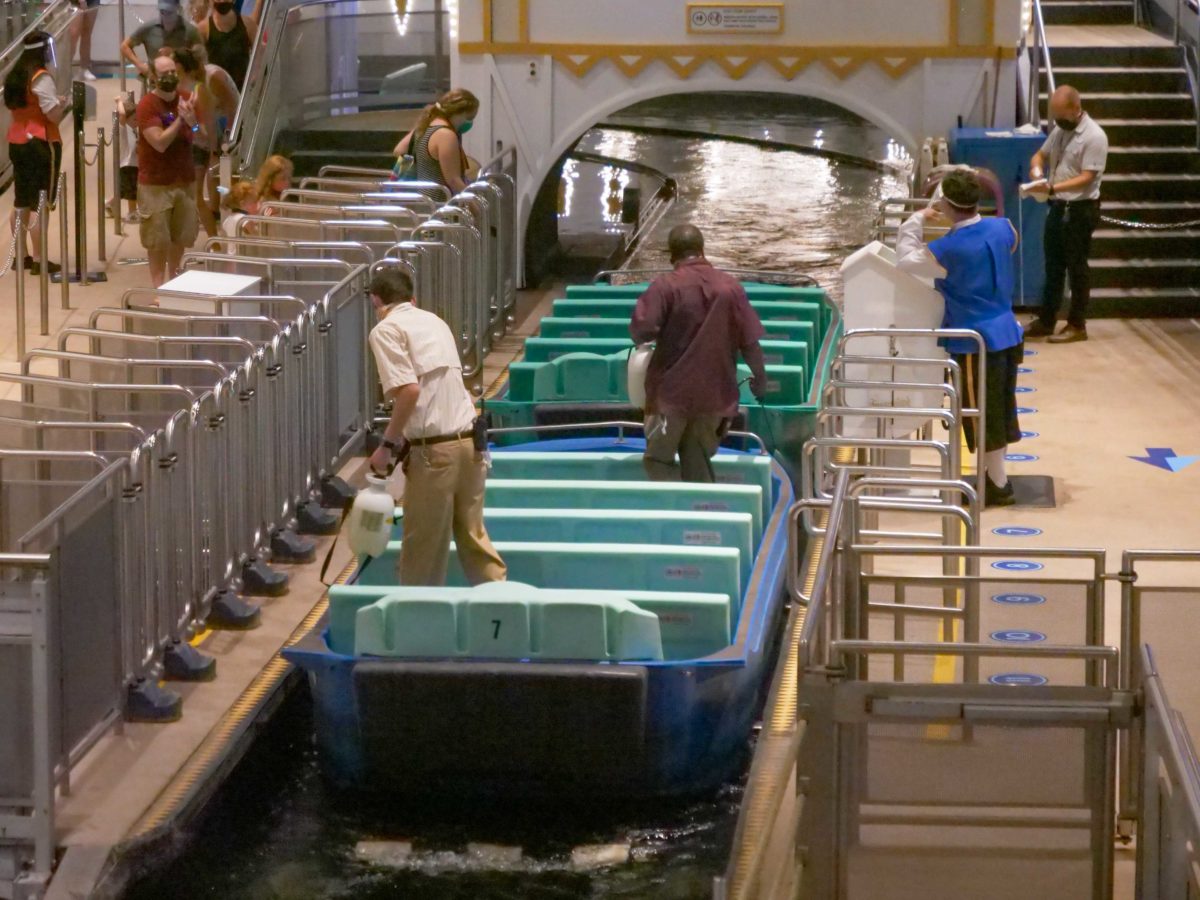 If you plan on taking the Happiest Cruise that Ever Sailed, detailed cleaning is taking place on the boats with social distancing queue markers leading up the boarding area.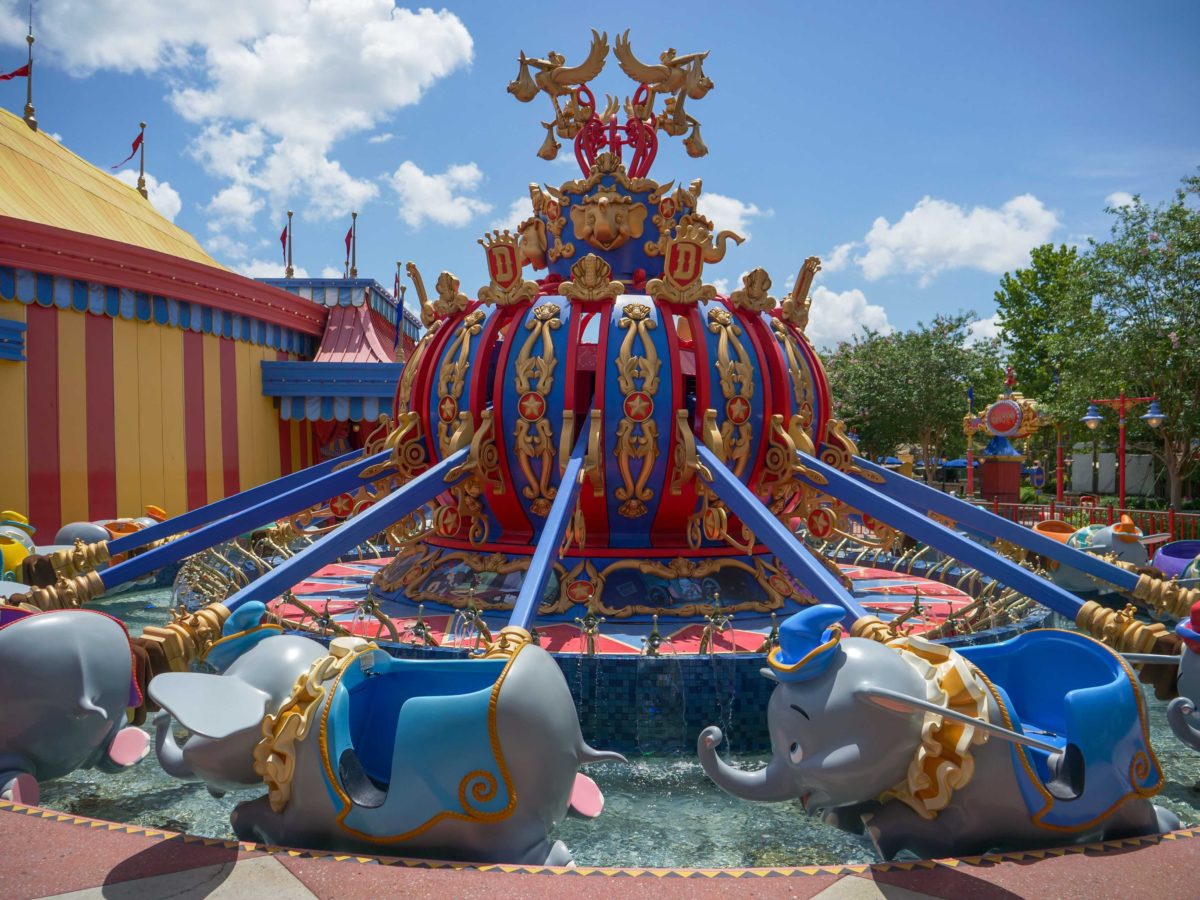 If you want to fly high in the sky with Dumbo the Flying Elephant, some changes have come to the queue including turning off the interactive elements and only one party can ride per elephant now.
Tomorrowland
Stitch has officially left the building, as the attraction was finally announced to be permanently closed.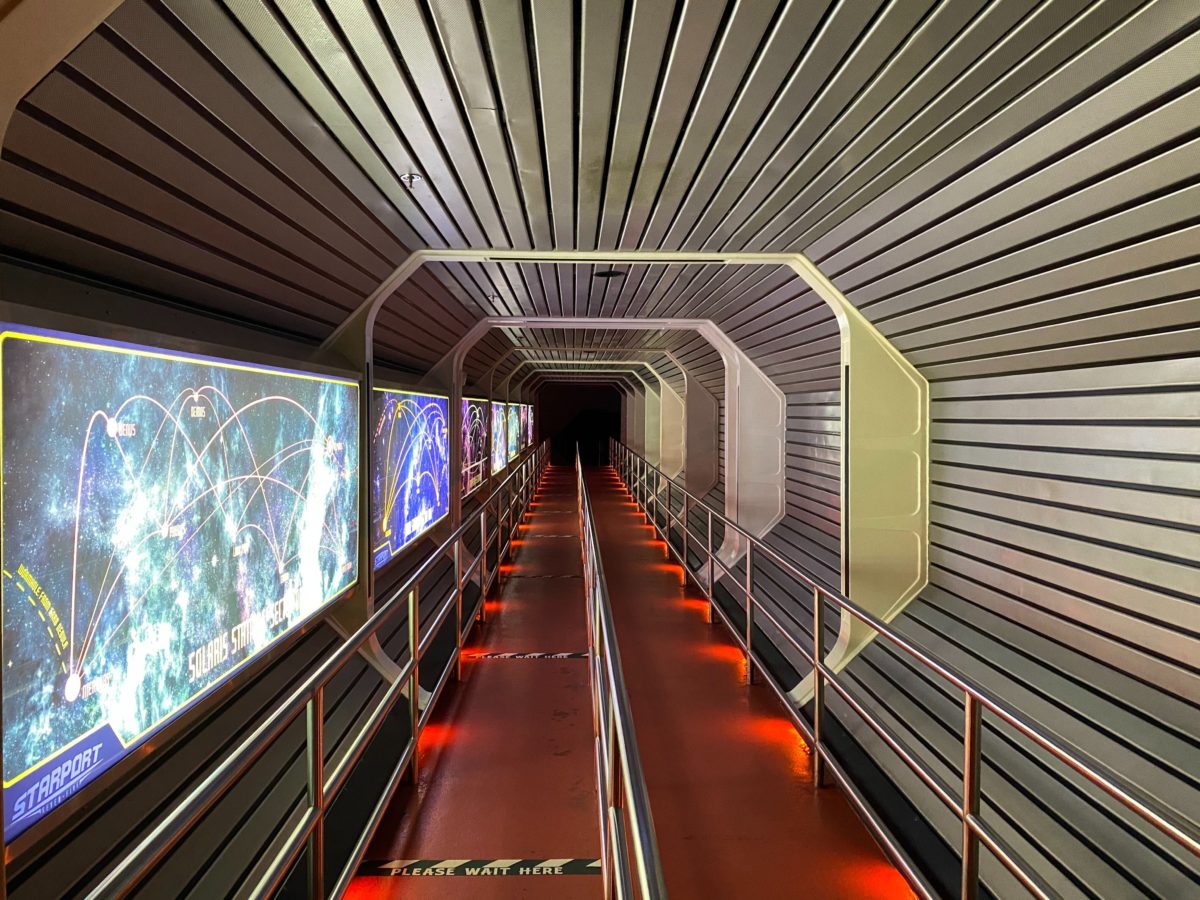 Journey into the stars at Space Mountain, where social distancing markers and dividers have been placed throughout the queue.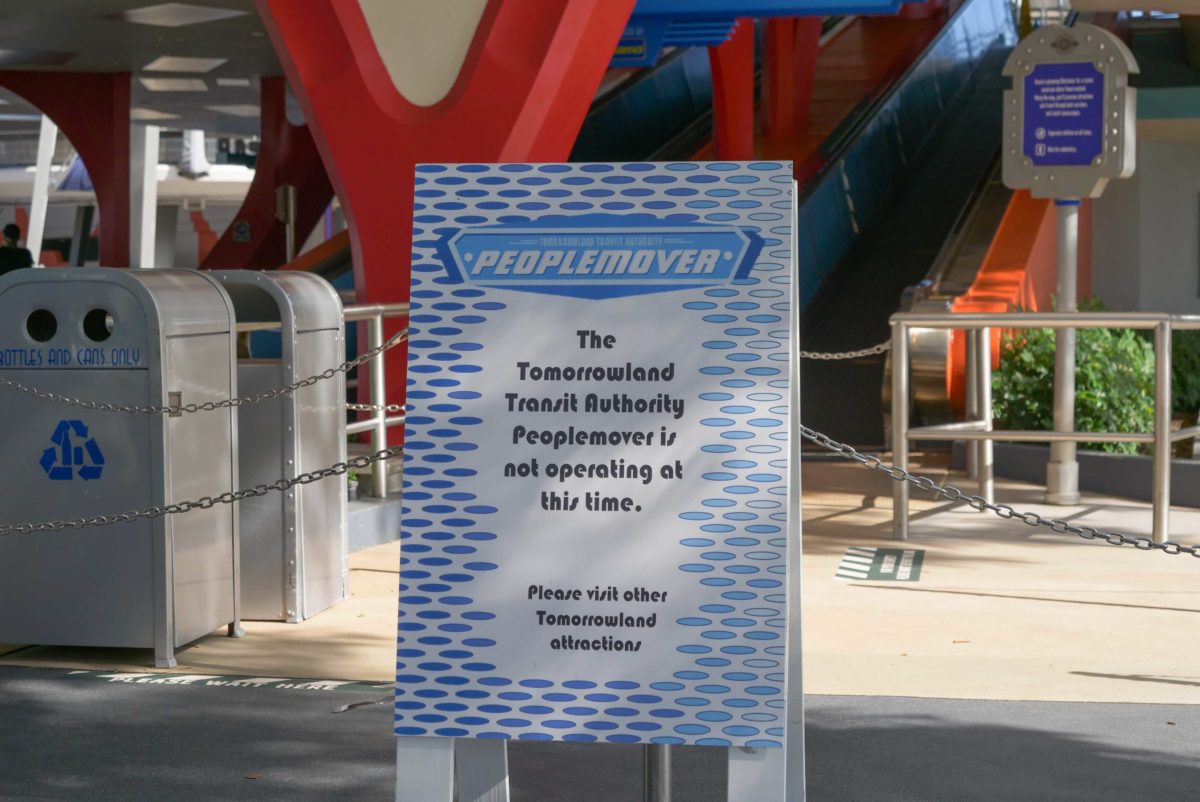 Unfortunately, the Tomorrowland Transit Authority Peoplemover has remained closed since reopening. As of July 28, it is listed as "Temporarily Unavailable" on My Disney Experience.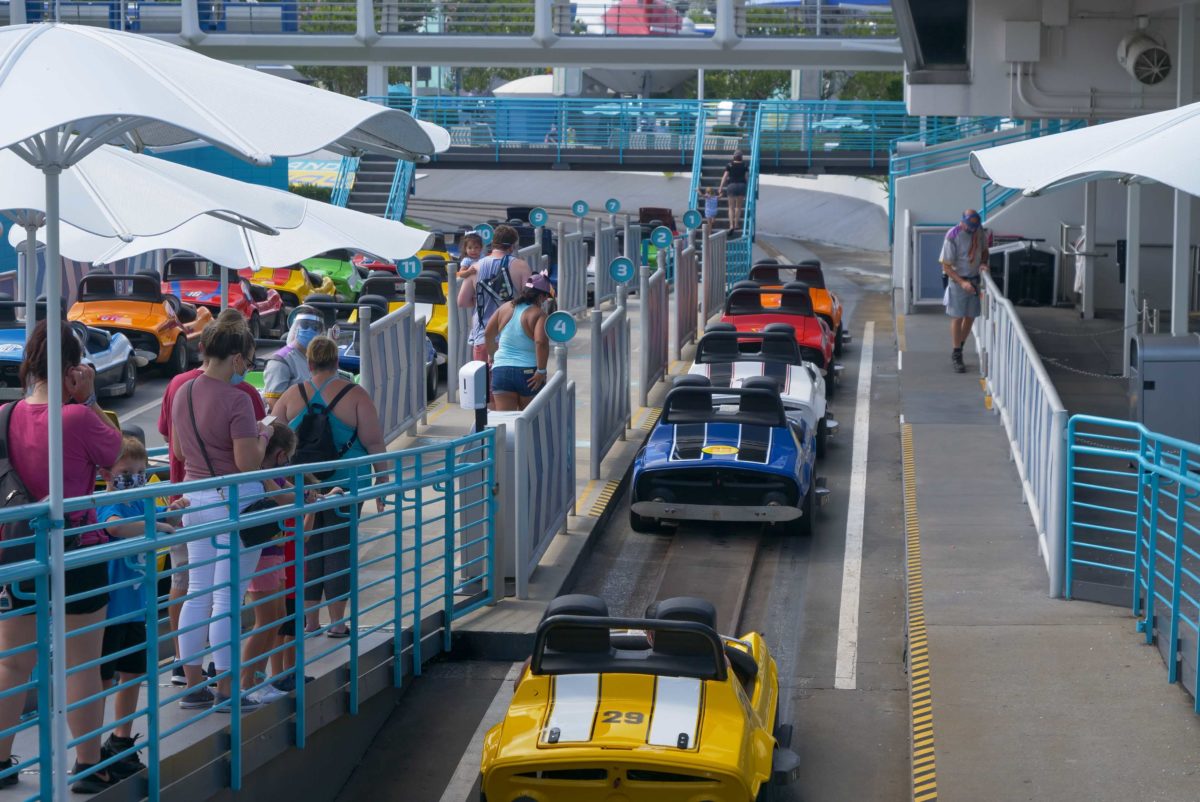 If you want to take a spin around Tomorrowland in a fancy car, know that there are limited ride vehicles available right now.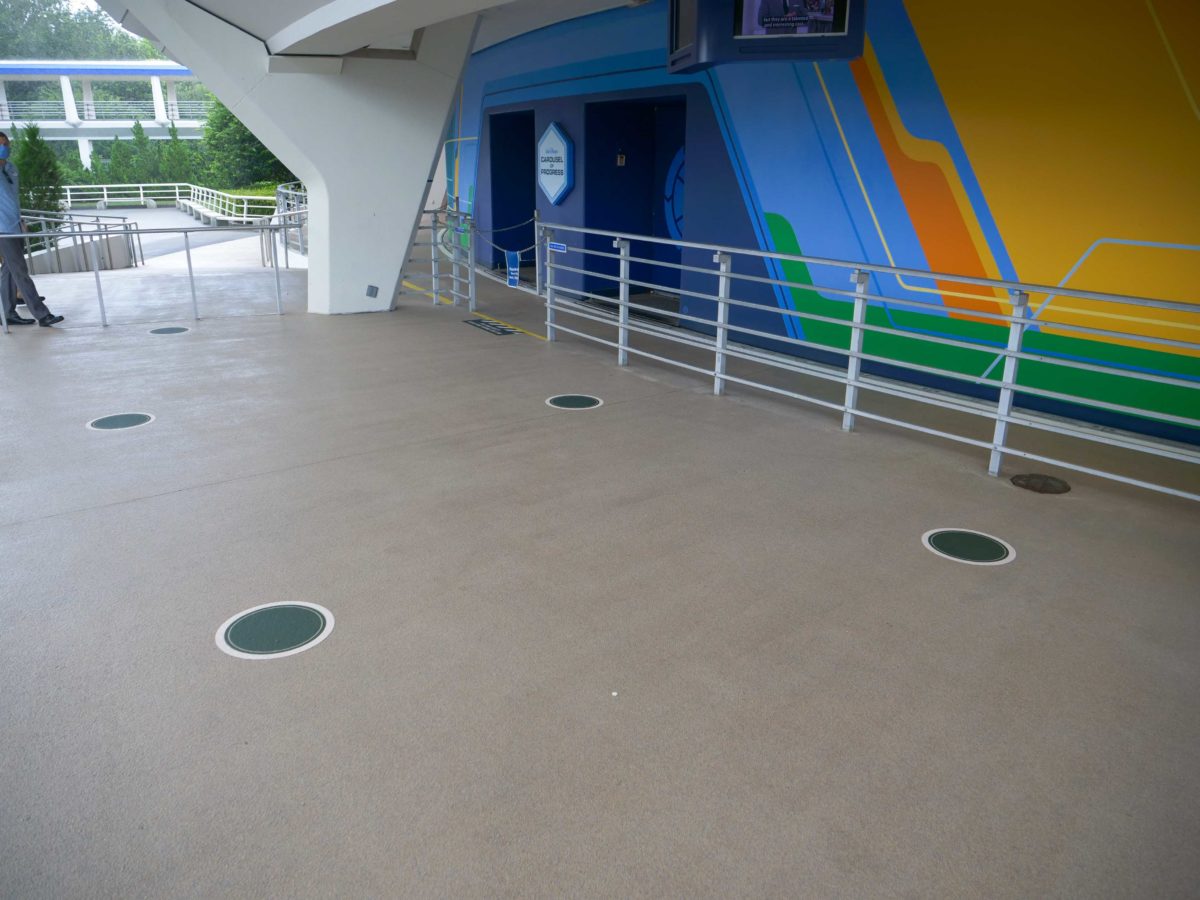 It's a great big beautiful tomorrow! Guests looking to visit our favorite family from the Magic Kingdom should know that every other row is currently blocked off and parties over four people will need to split up.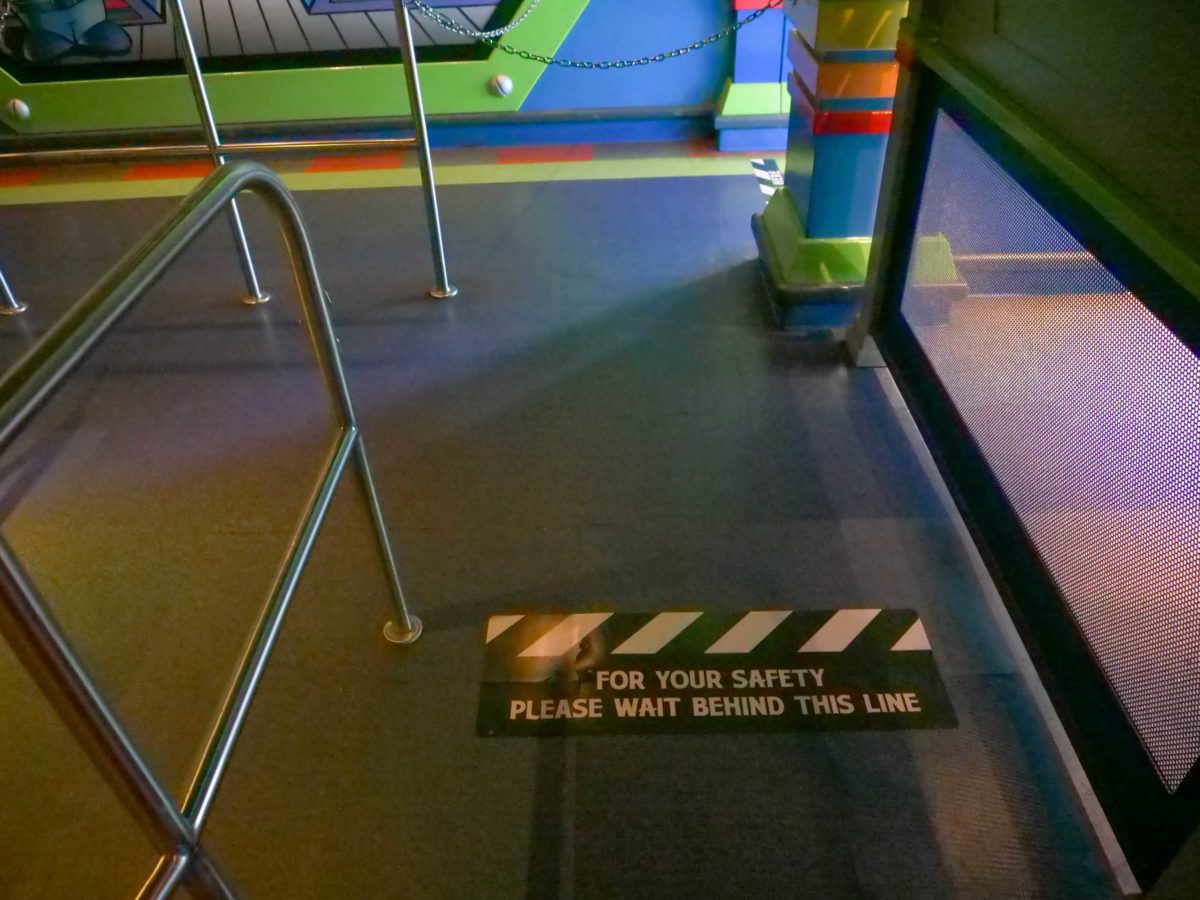 Looking to defeat the Evil Emperor Zurg? Buzz Lightyear's Space Ranger Spin reopened with social distancing markers in the queue and hand sanitizer stations available before and after the attraction.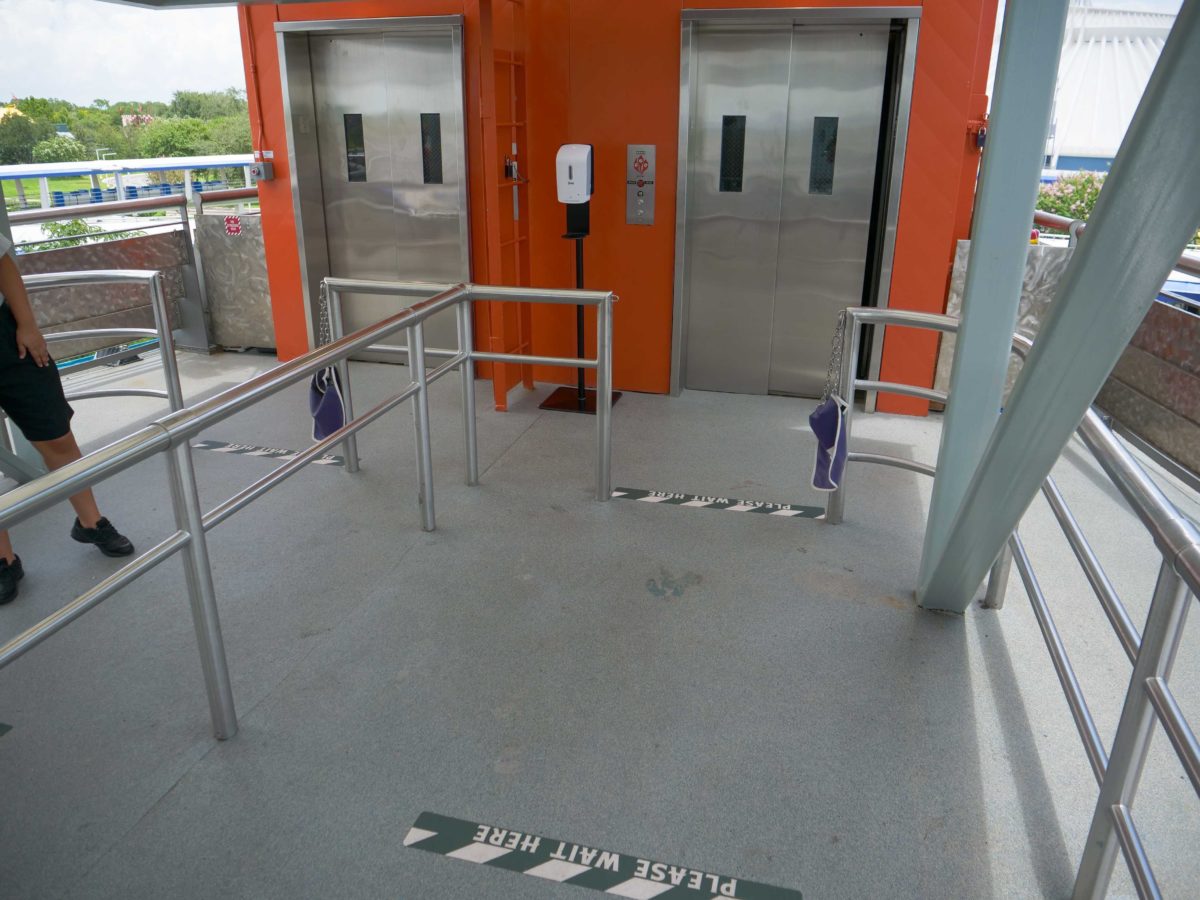 Flying high in the sky on the Astro Obiter, there are now changes to the queue experience including only one party per elevator trip and hand sanitizer available for guest use.
Character Cavalcades and Experiences
In lieu of traditional character meet-and-greets, the Magic Kingdom has created several different character experiences that you can find throughout the park during the day.
Heading right down the middle of Main Street U.S.A, you can wave hello to all of your favorites from the Hundred Acre Wood!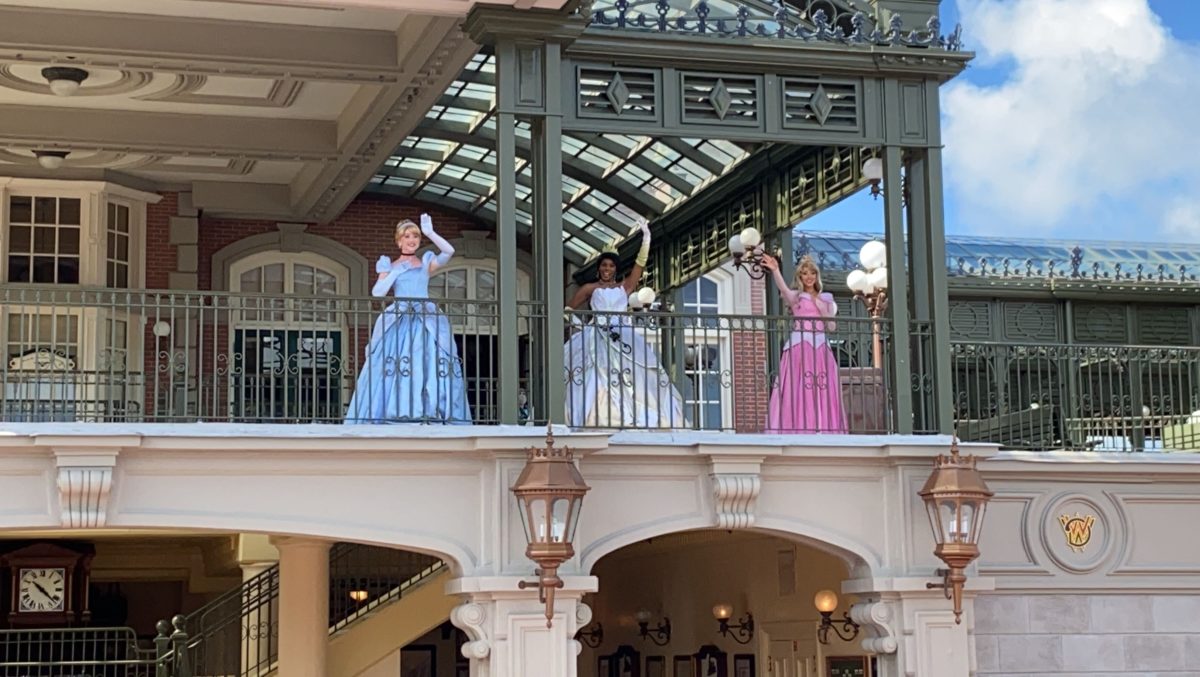 Looking down upon their royal subjects from the Main Street Train Station, throughout the day you can see different Disney Princesses, such as Cinderella, Princess Tiana and Sleeping Beauty!
"A Goofy Cavalcade" features our pal Goofy, Max, Clarabelle Cow, Panchito, and José Carioca.
"The Royal Princess Processional" lead by Merida riding Angus, features all of our favorite Disney Princesses, and even the Fairy Godmother!
When it starts to rain, the Princesses don't stay inside. Instead, they take to the streets in the Princess Processional Rainy Day Cavalcade!
"Mickey & Friends Cavalcade" features Mickey, Minnie, Donald, Goofy, and Pluto as they dance along to an upbeat track of the "Move It! Shake It! Mousekedance it!" parade.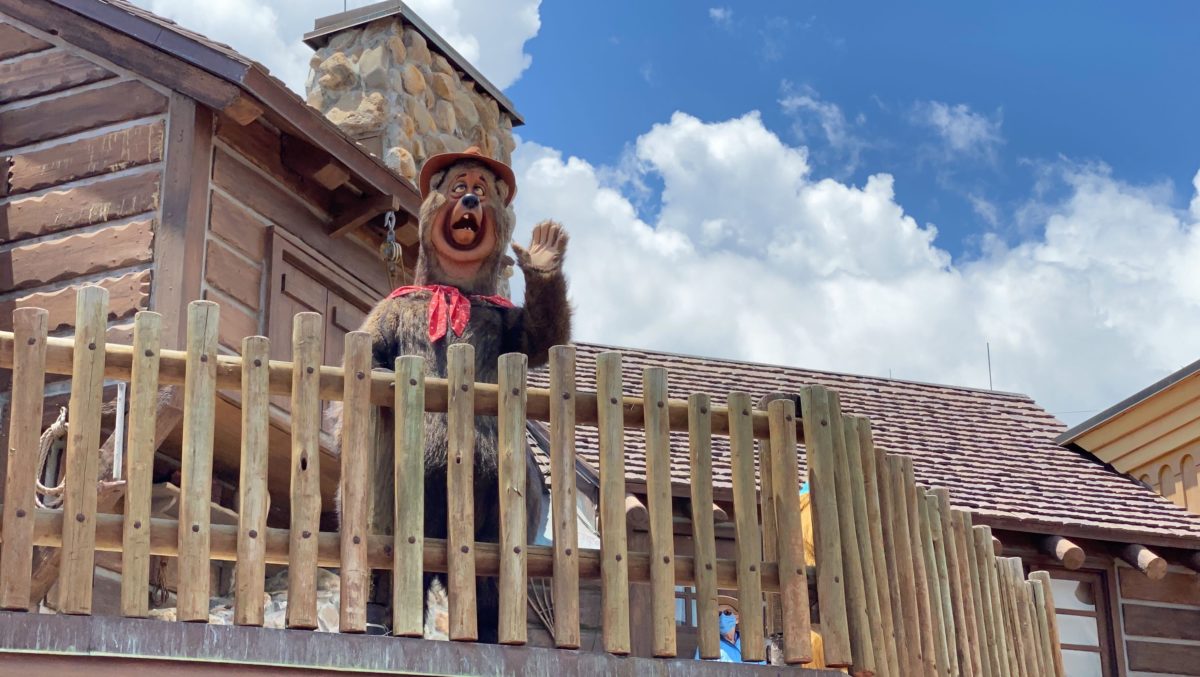 Can't get enough Country Bears? Then be sure to look up above the Country Bear Jamboree throughout the day as our favorite bears were spotted waving down to guests.
In Tinker Bell & The Lost Treasure watch as Tinker Bell rides high atop a treasure chest in this spontaneous character experience.
Our favorite Evil Stepsisters can be found throughout the day high above the guests at Cinderella Castle!
Watch as Chip 'n' Dale take a barge and set off for a new adventure around the Rivers of America.
Winnie the Pooh is also featured in the Fantasyland Friends Cavalcade joined by his pal Tigger, alongside other literary favorites like Alice, Peter Pan, Mary Poppins, Aladdin, and Gaston, who rides on his trusty steed!
When it starts to rain, the characters climb aboard vintage vehicles in the Fantasyland Friends Rainy Day Cavalcade.
Relaxation Stations
"Relaxation Stations" are mask-free zones where you and your party can take a seat at a table, eat a snack or just relax with your mask off! Tables are setup around the different zones but are very carefully spaced apart from other guests to keep everyone safe in this post-COVID-19 world.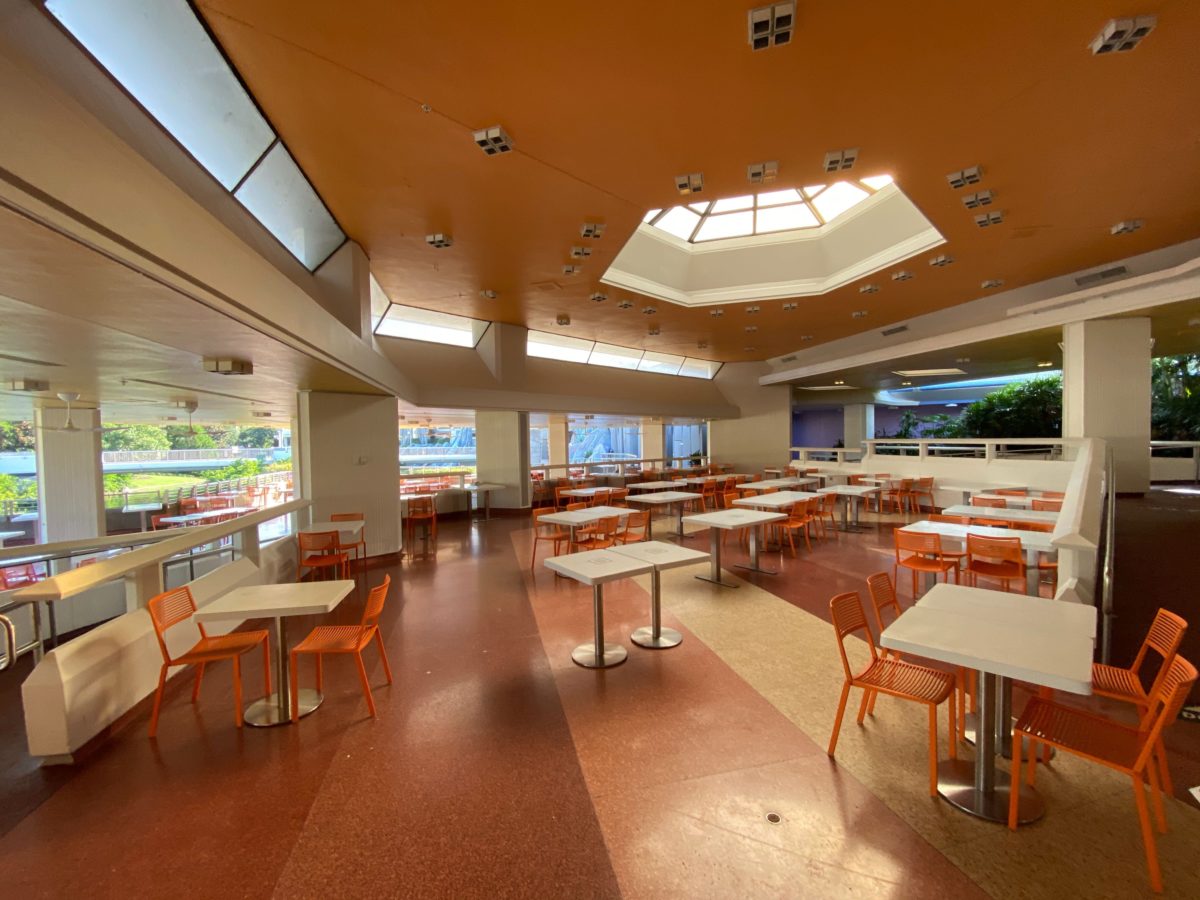 This relaxation station in Tomorrowland Terrace offers great views of the Tomorrowland area of the Magic Kingdom and is still tucked away enough to let guests relax and take a breather.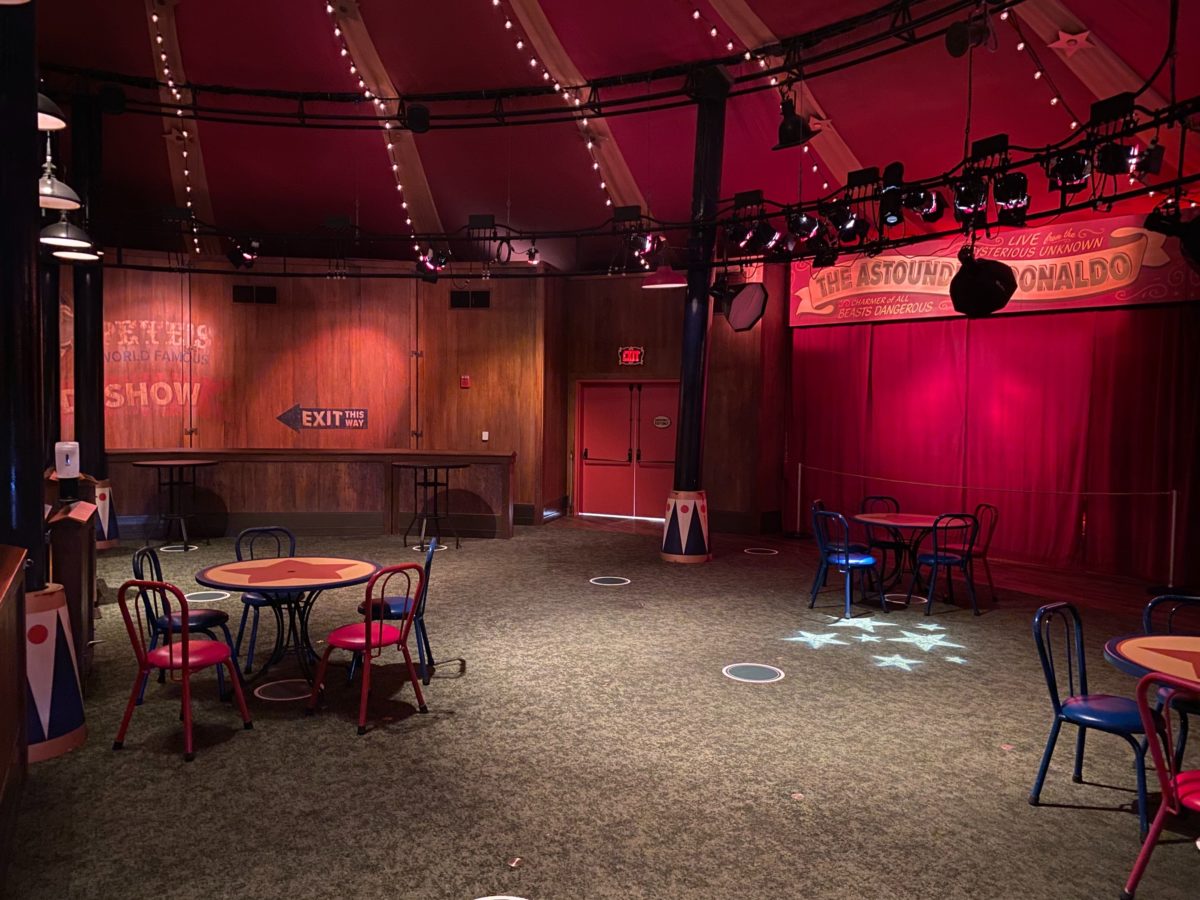 In need of a break and also some air conditioning? The relaxation station at Pete's Silly Sideshow is sure to be your favorite spot.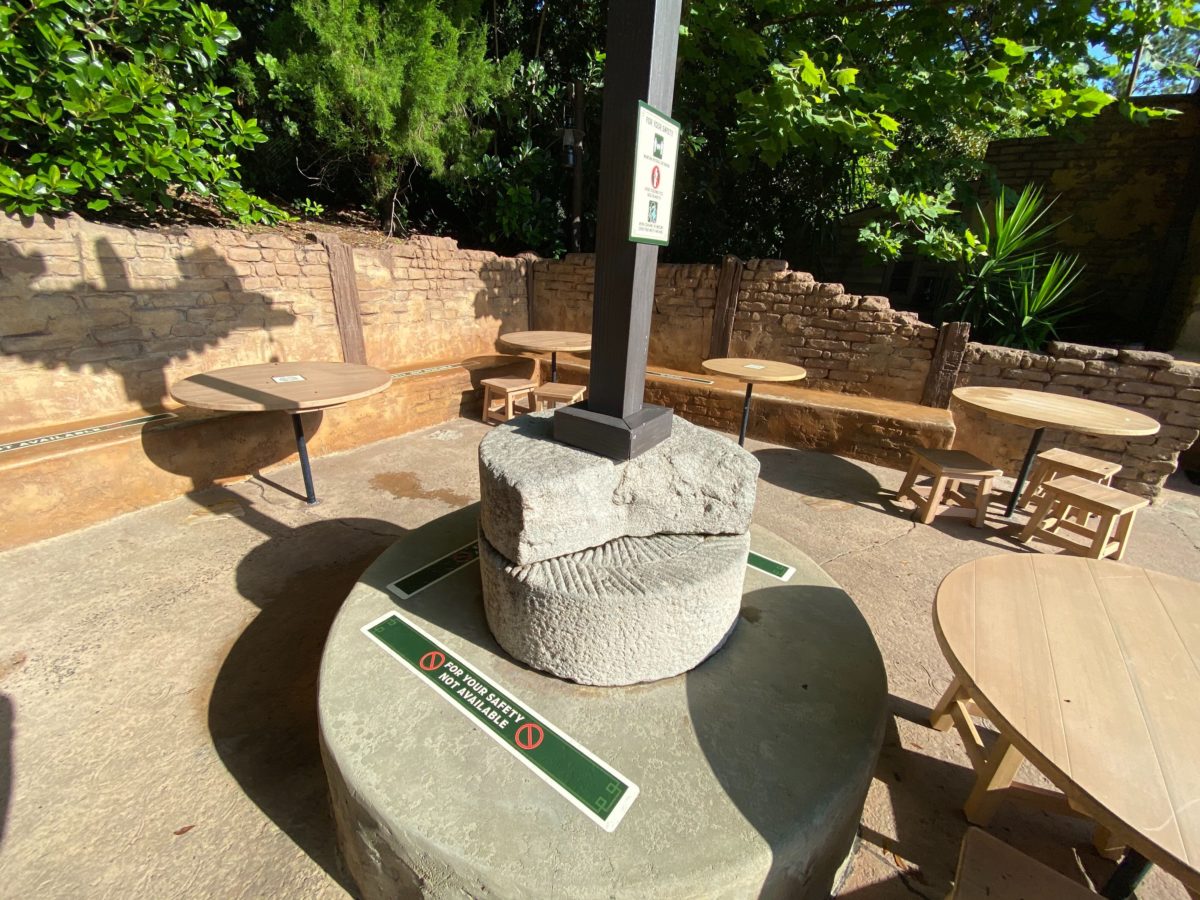 At the border of Frontierland and Adventureland, guests can find a Relaxation Station near Golden Oak Outpost, where they can remove their required face mask.
Dining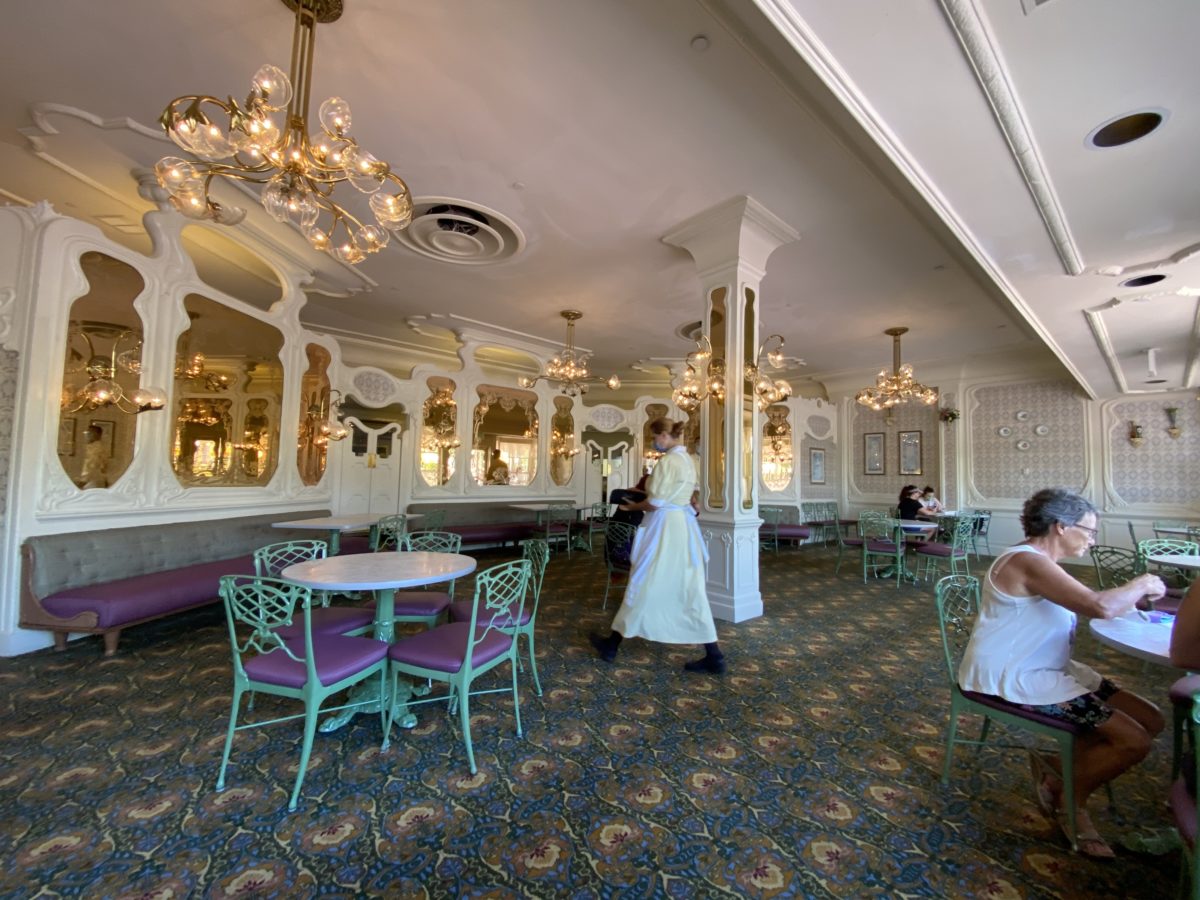 Tables have been removed inside and made unavailable outside to help enforce social distancing. Guests can use a QR code to access the current menu, or request a paper one if they don't have a smart device. Prior to reopening, the restaurant was hit by menu changes, so be sure to check the menu in advance to avoid disappointment.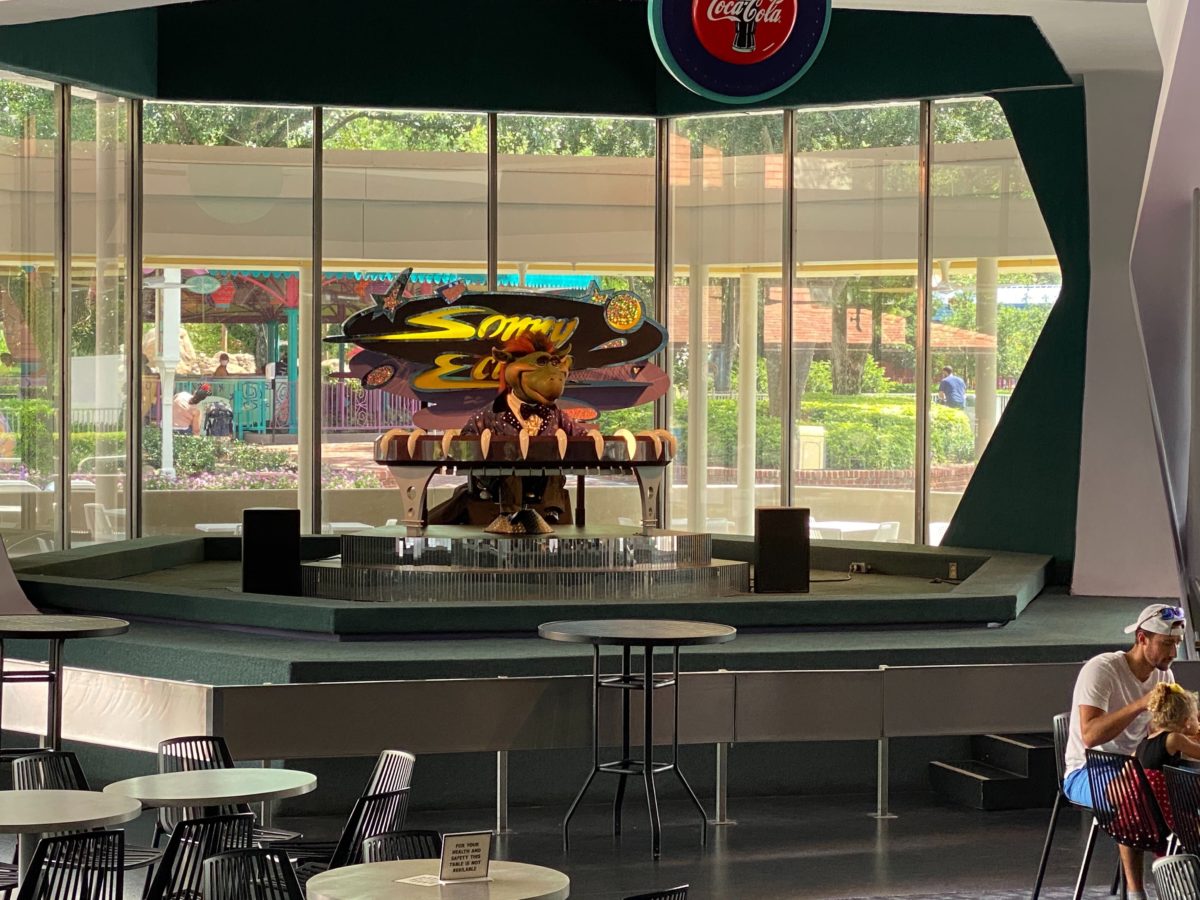 Sonny Eclipse is back and crooning away to guests at Cosmic Ray's Starlight Cafe, which reopened at the Magic Kingdom with Mobile Ordering and social distancing guidelines.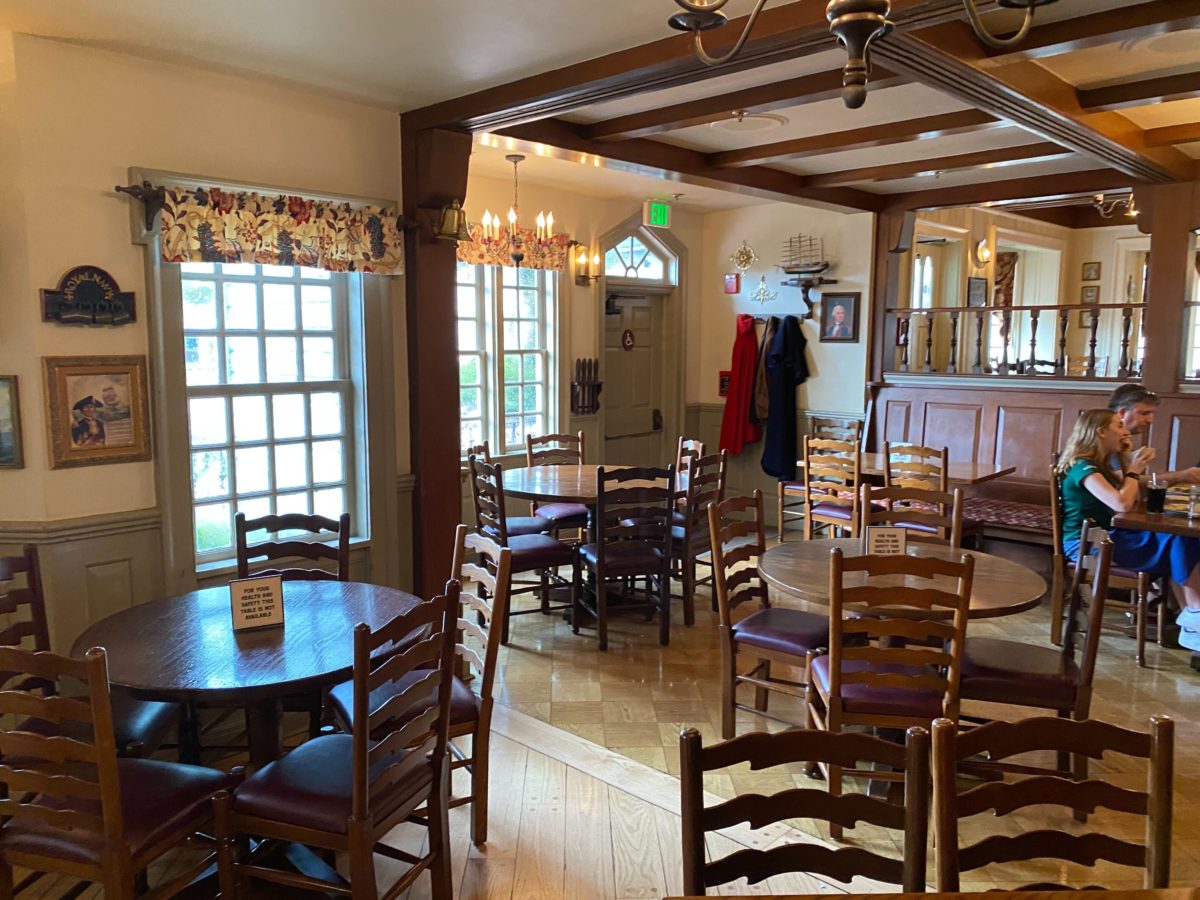 Liberty Tree Tavern in Liberty Square is now open, and we stopped in for lunch. On the tables, instead of menus are QR codes for guests to scan on their mobile devices to view the available menu and social distancing is taking place in the dining room.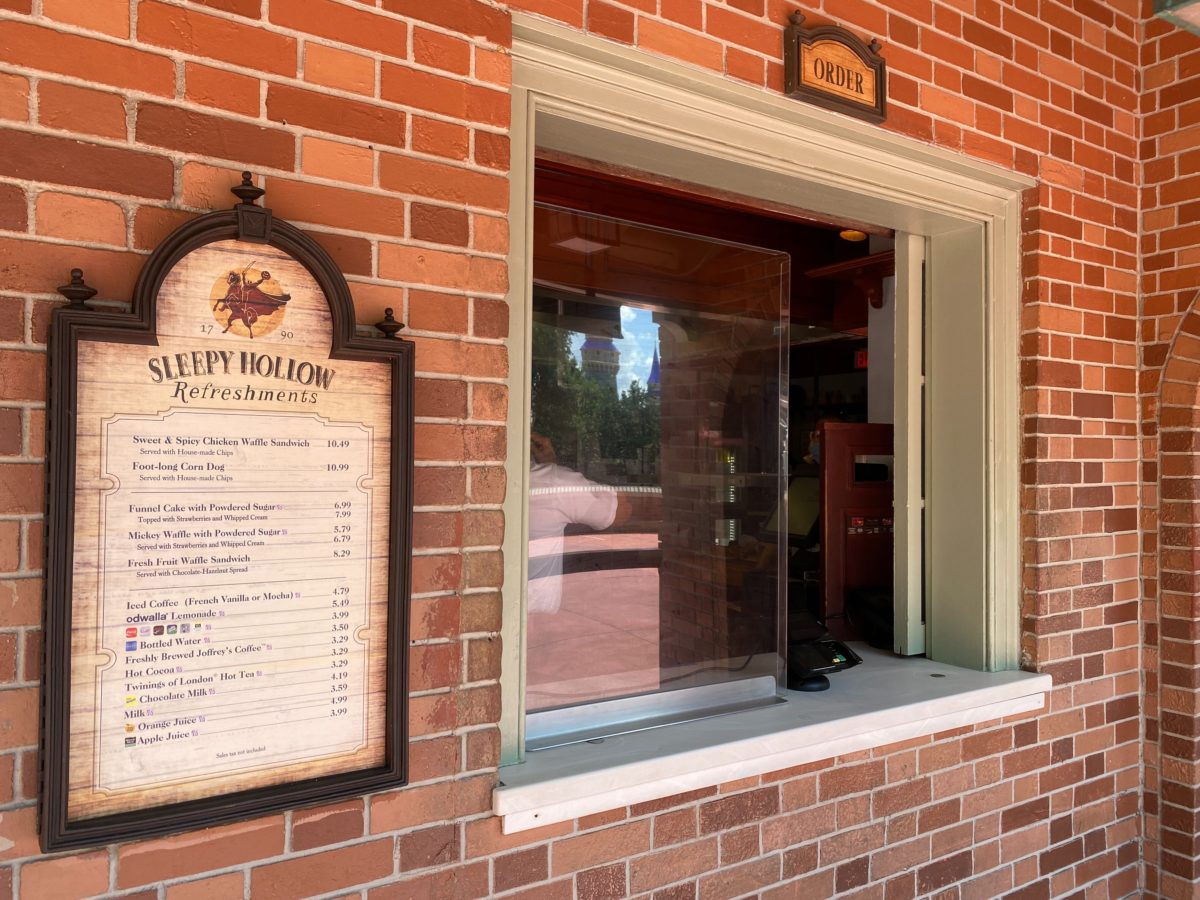 Crossing over to Liberty Square for something a bit more casual, we couldn't resist the smell of those fresh waffles from Sleepy Hollow and trying a new lemonade slushy.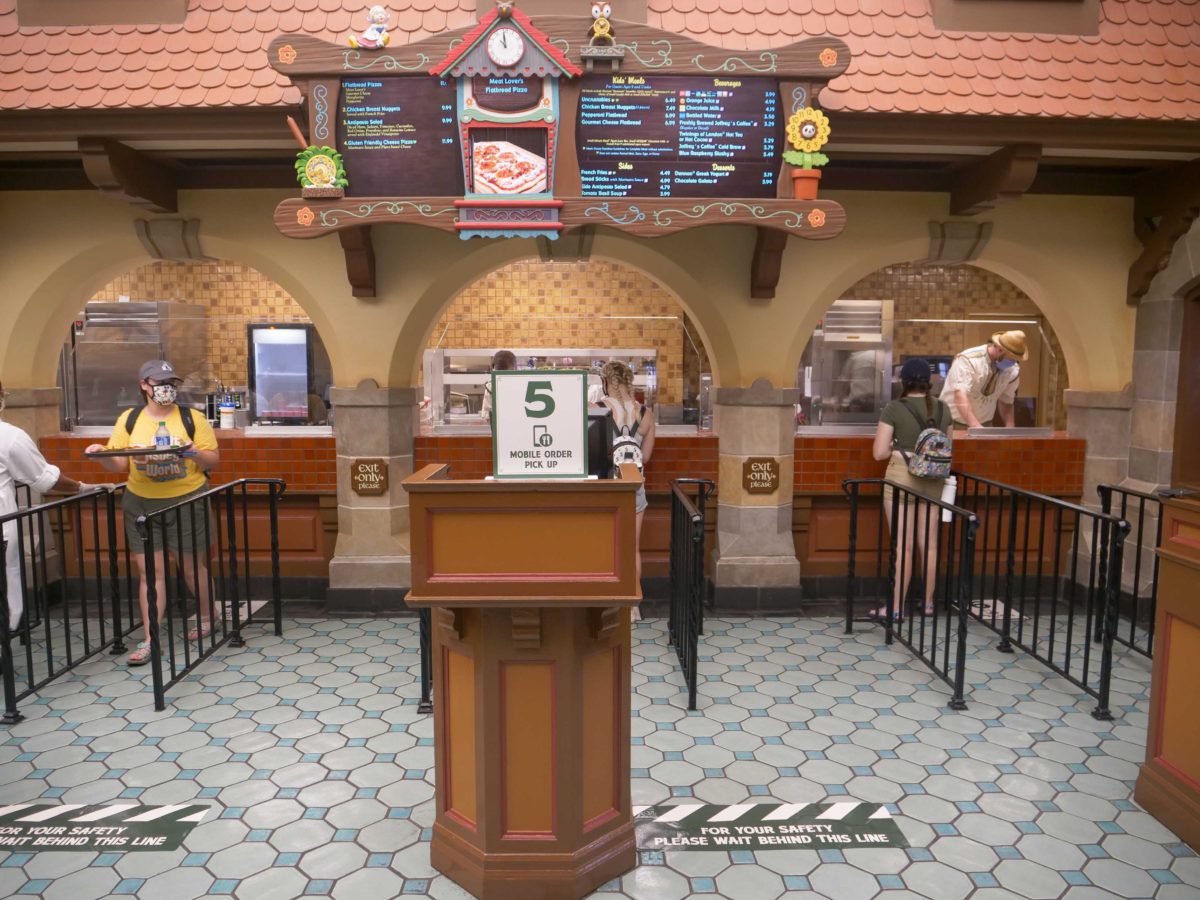 Located above "it's a small world" this popular quick-service reopened without the upstairs dining room and mobile ordering to help control guest traffic in and out of the restaurant.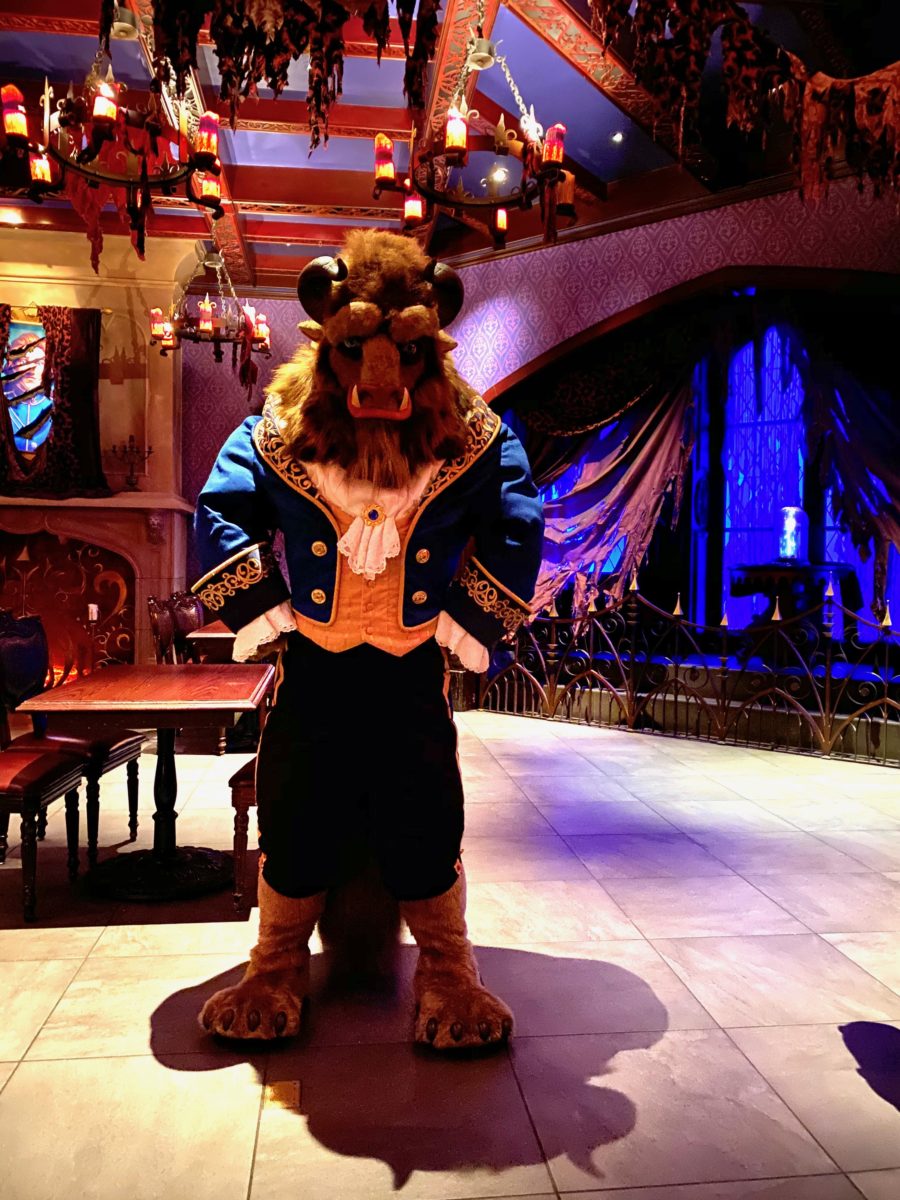 Be Our Guest Restaurant's fast-casual breakfast and lunch has been suspended, with only table service prix fixe dinner available. The biggest surprise was the appearance of the Beast. With most character dining suspended around Walt Disney World, we weren't expecting him to return. His highness doesn't stop for posed photos, but he still waves to diners. Changes include arrows on the floor indicating the direction of foot traffic and reduced capacity.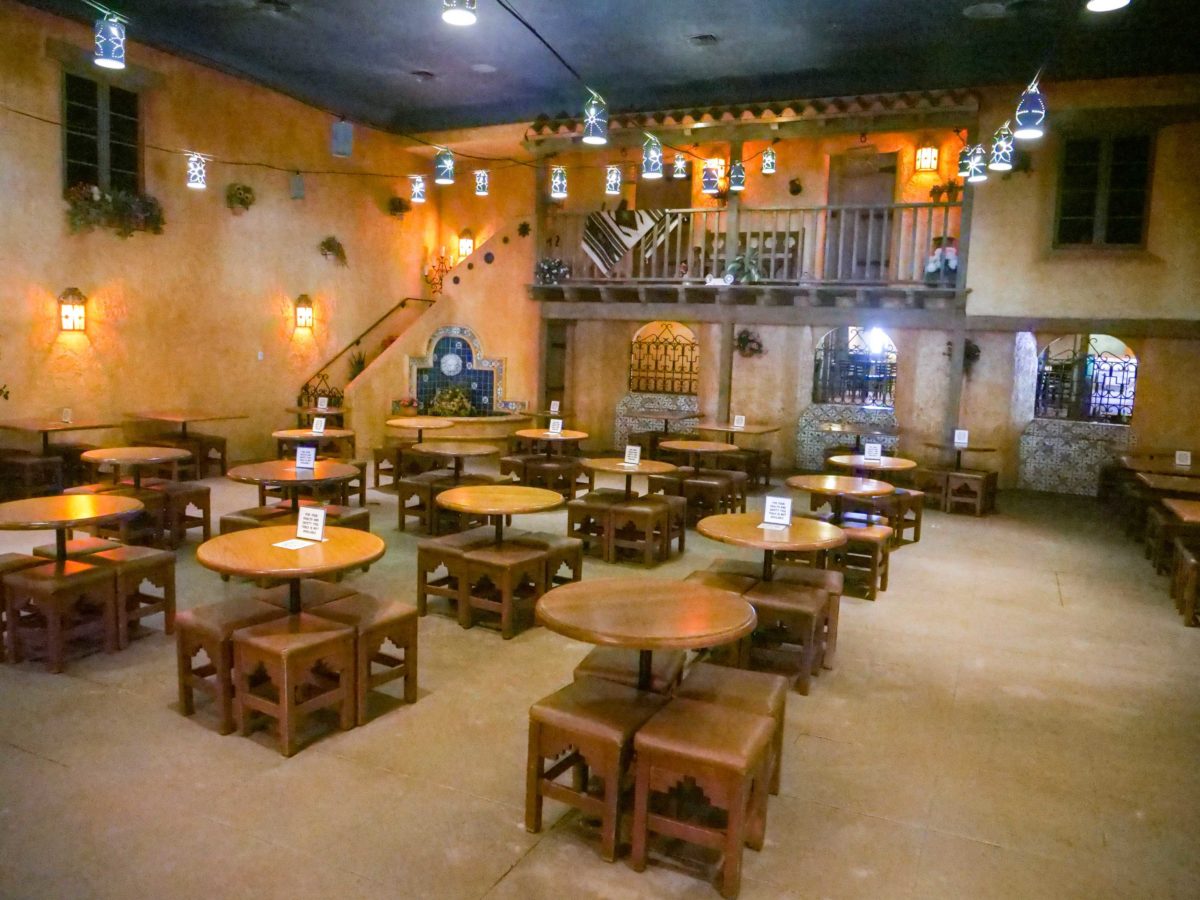 One of our favorite spots to eat in the Magic Kingdom is Pecos Bill Tall Tale Inn and Cafe, so we were thrilled to see social distancing signage added to the many dining areas around the restaurant. Socially distanced waiting spots were later added for mobile ordering.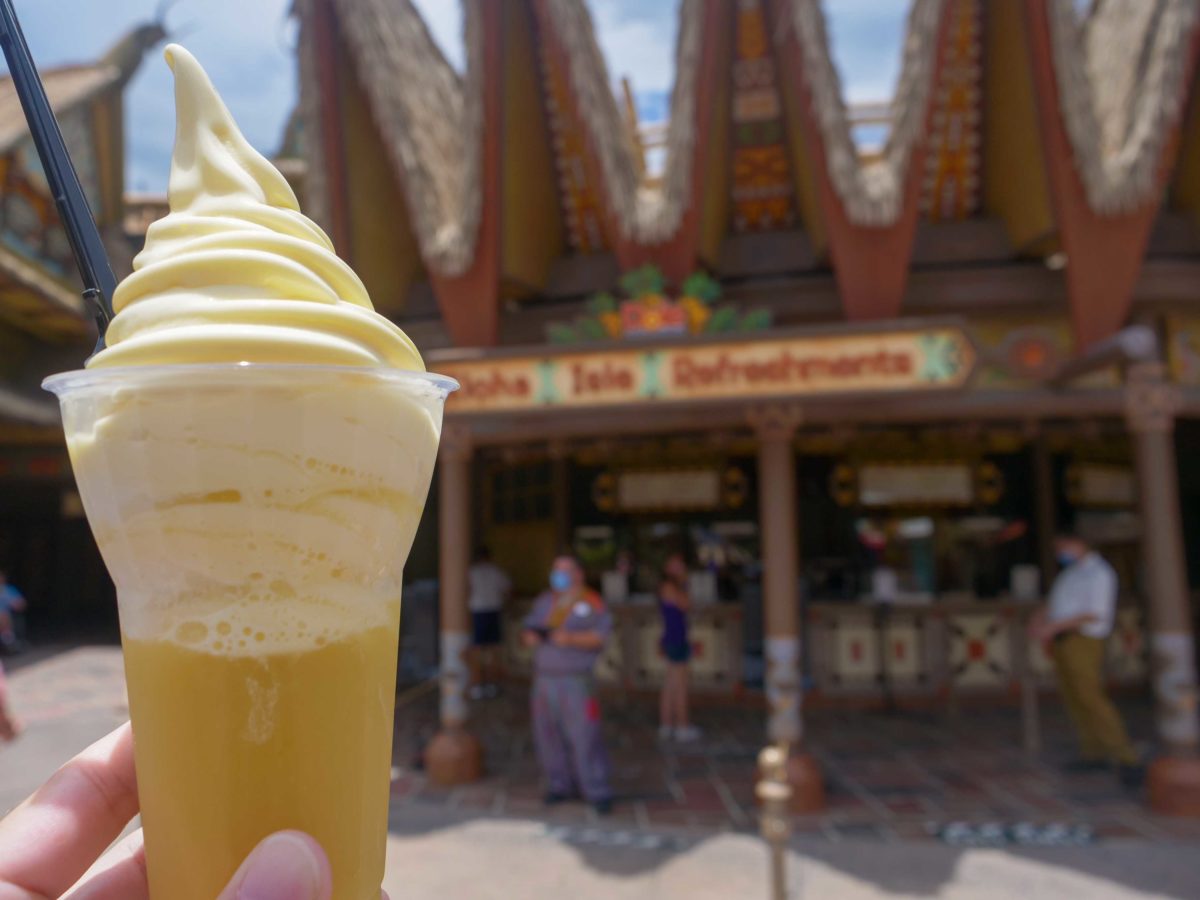 Aloha Isle is the go-to spot for Dole Whips at the Magic Kingdom, and guests can still enjoy that pineapple treat with mobile ordering and social distancing queues.
Shopping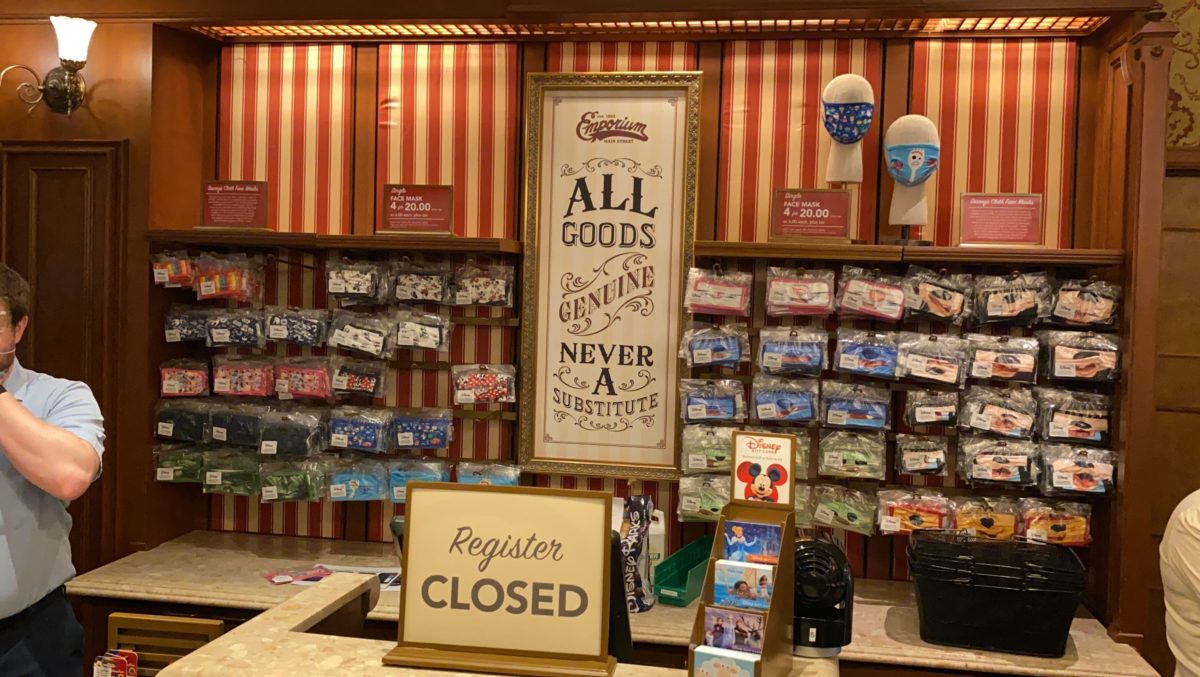 The Emporium reopened with social distancing markers found throughout the store and Virtual Queues.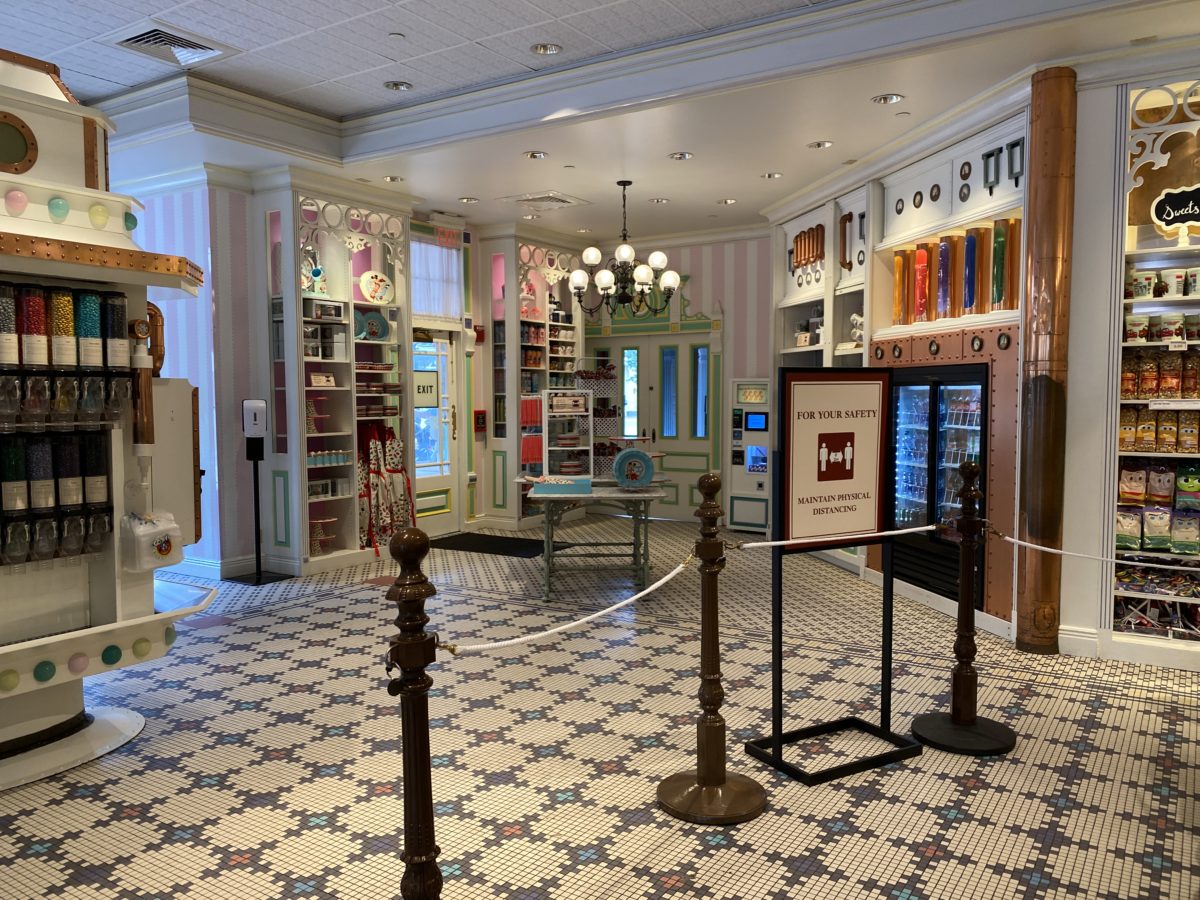 The Main Street Confectionery is back serving up lots of sweet treats with new social distancing measures in place.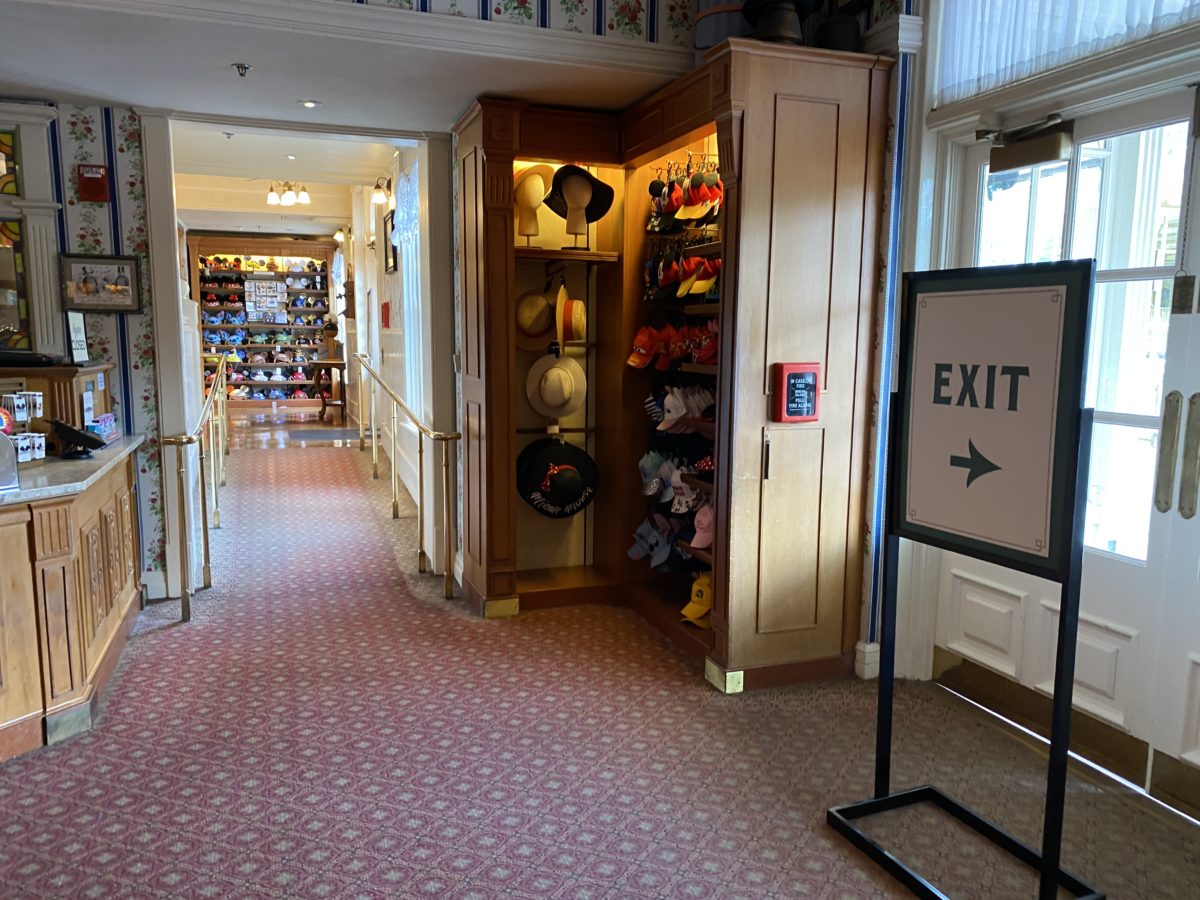 Currently, guests can only enter The Chapeau through the Main Street Confectionery, with the doors leading outside serving as an exit. If you're looking for a personalized set of ears, you're in luck: embroidery services are still available.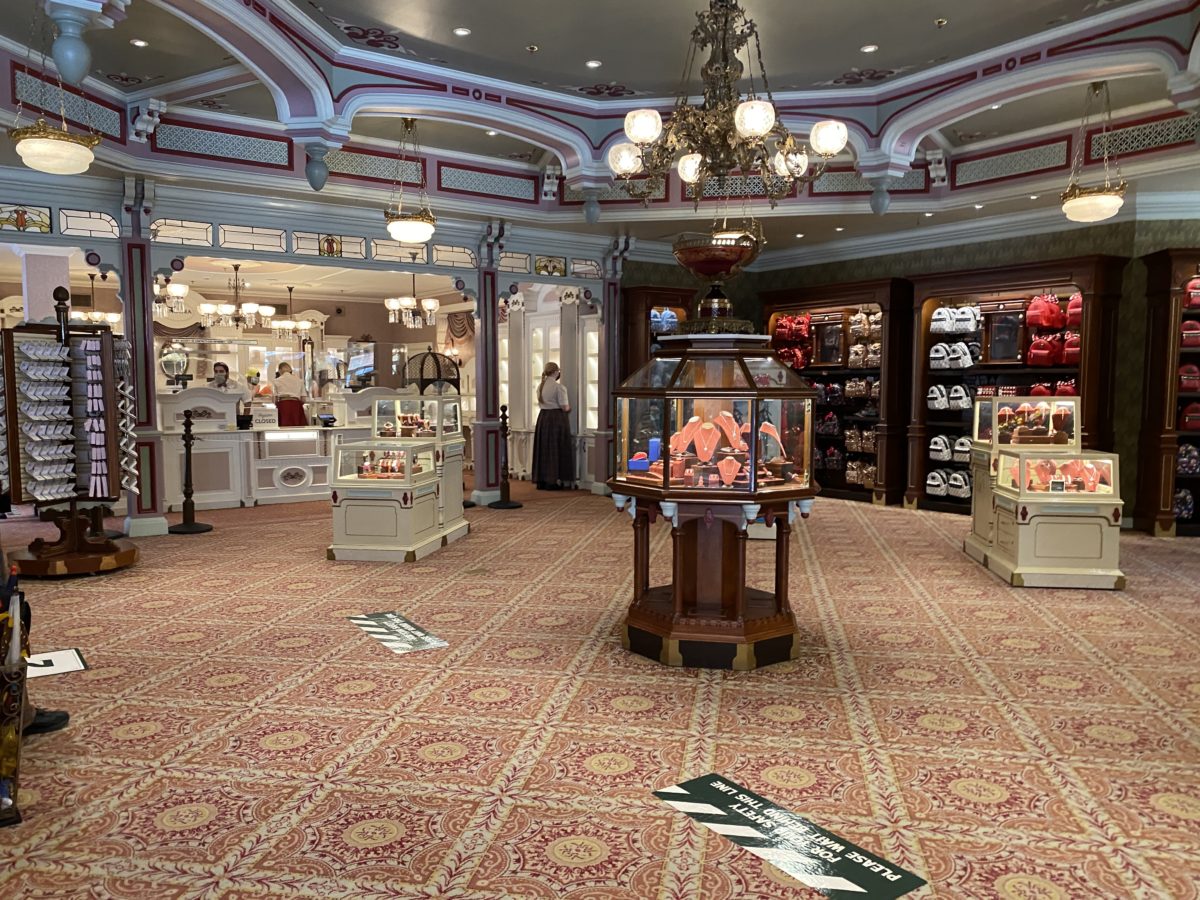 Uptown Jewelers has reopened with a much wider area to shop around displays and social distancing markers placed throughout.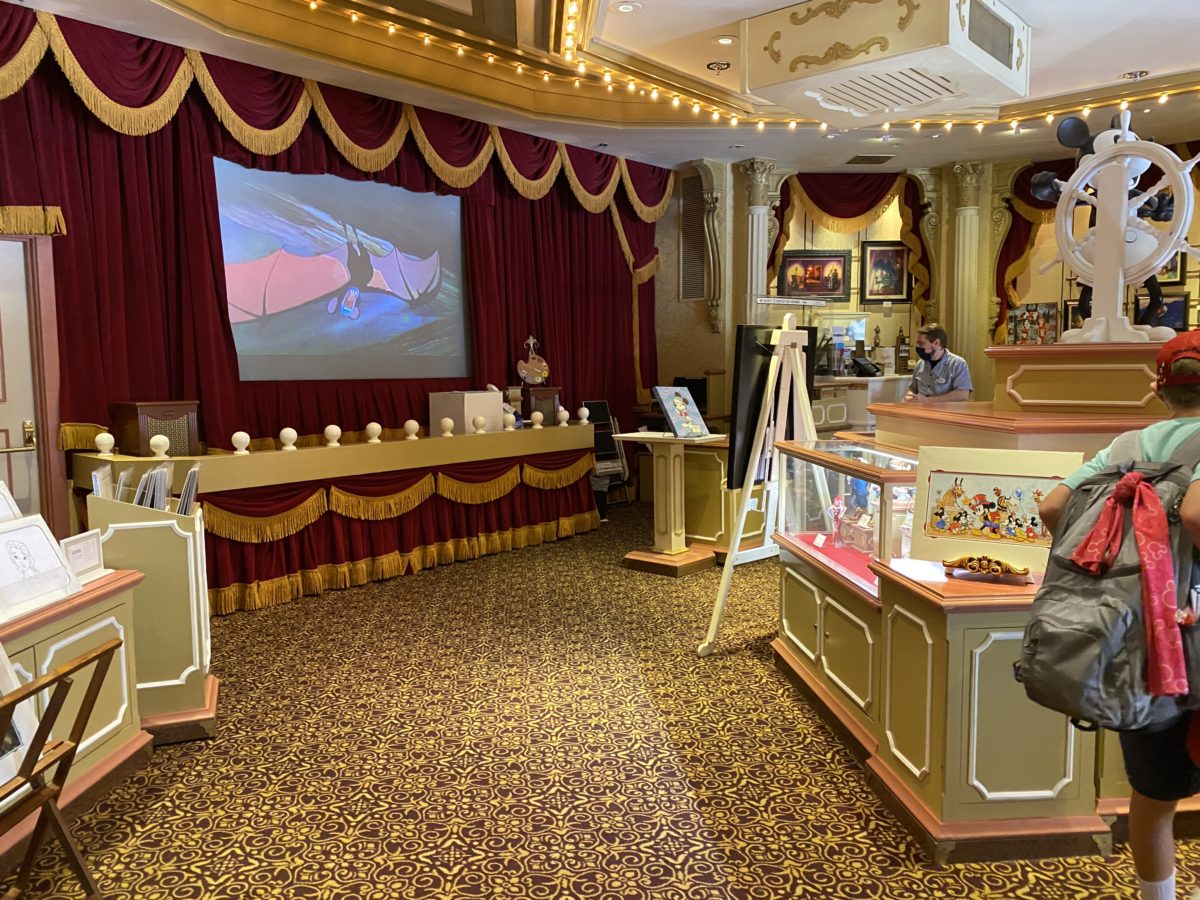 Guests can only enter the Main Street Cinema through Uptown Jewelers. Social distancing markers lead to the cashier.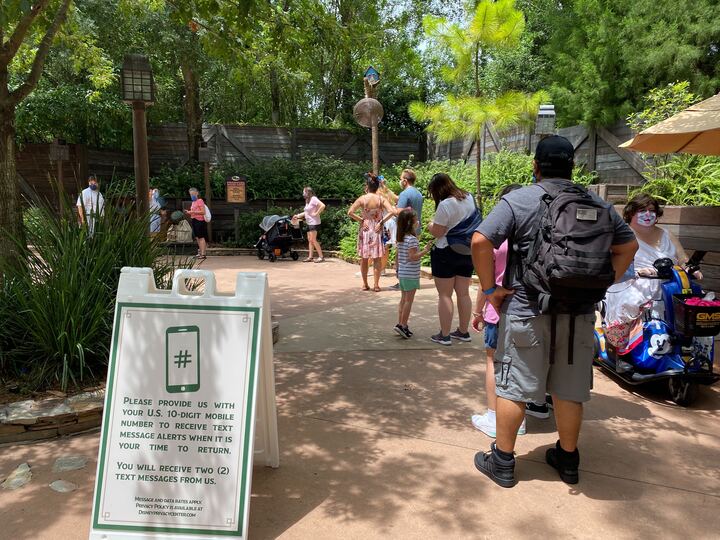 Due to the high demand for Splash Mountain merchandise ahead of its permanent closure, a virtual queue has been implemented for Splashdown Photos at the ride's exit. Guests provide their cell phone number to a Cast Member, and when it's time for them to return, they'll receive two text messages notifying them to return.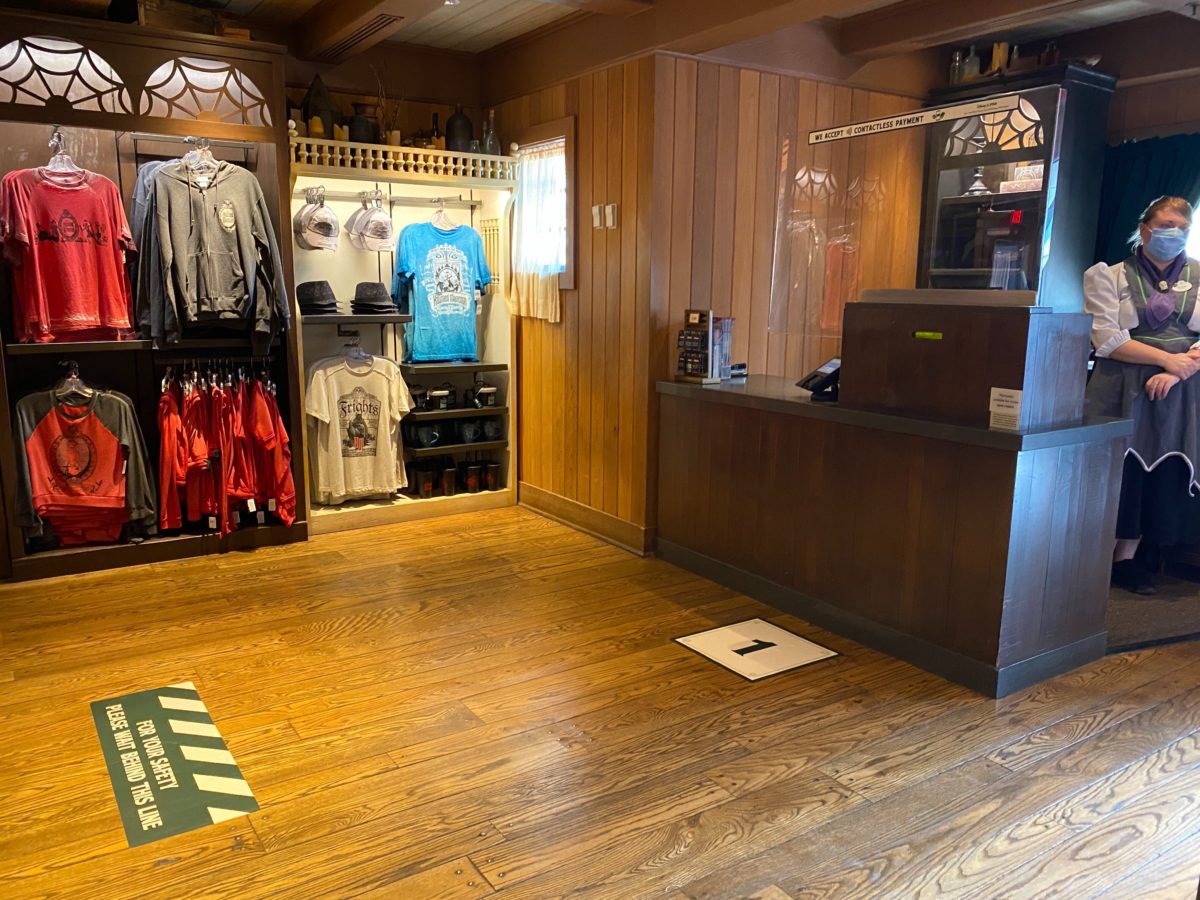 Memento Mori is once again letting foolish mortals inside with new social distancing procedures to keep guests safe in the mortal world.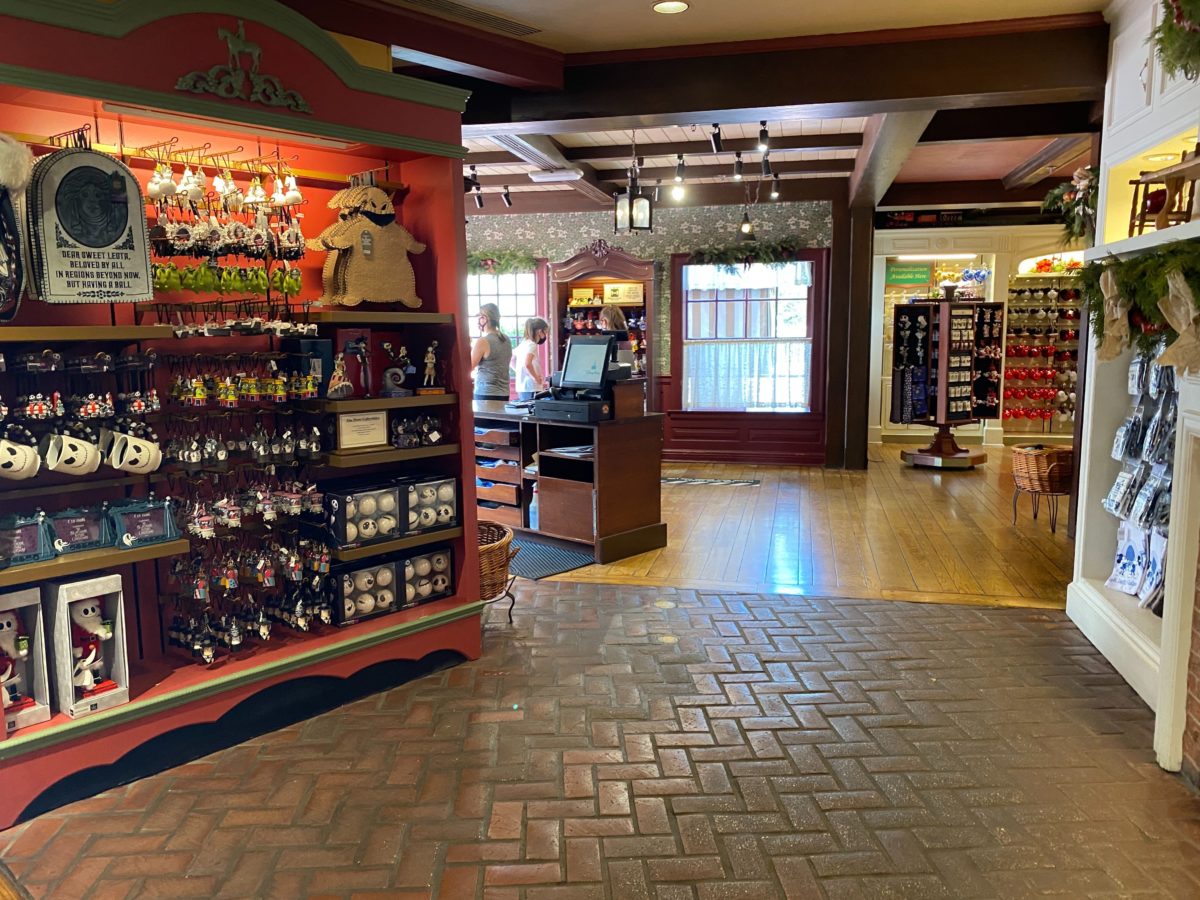 Ye Olde Christmas Shoppe has added new social distancing markers and designated entrances and exits. There's also currently no one sat inside handling customization of ornaments.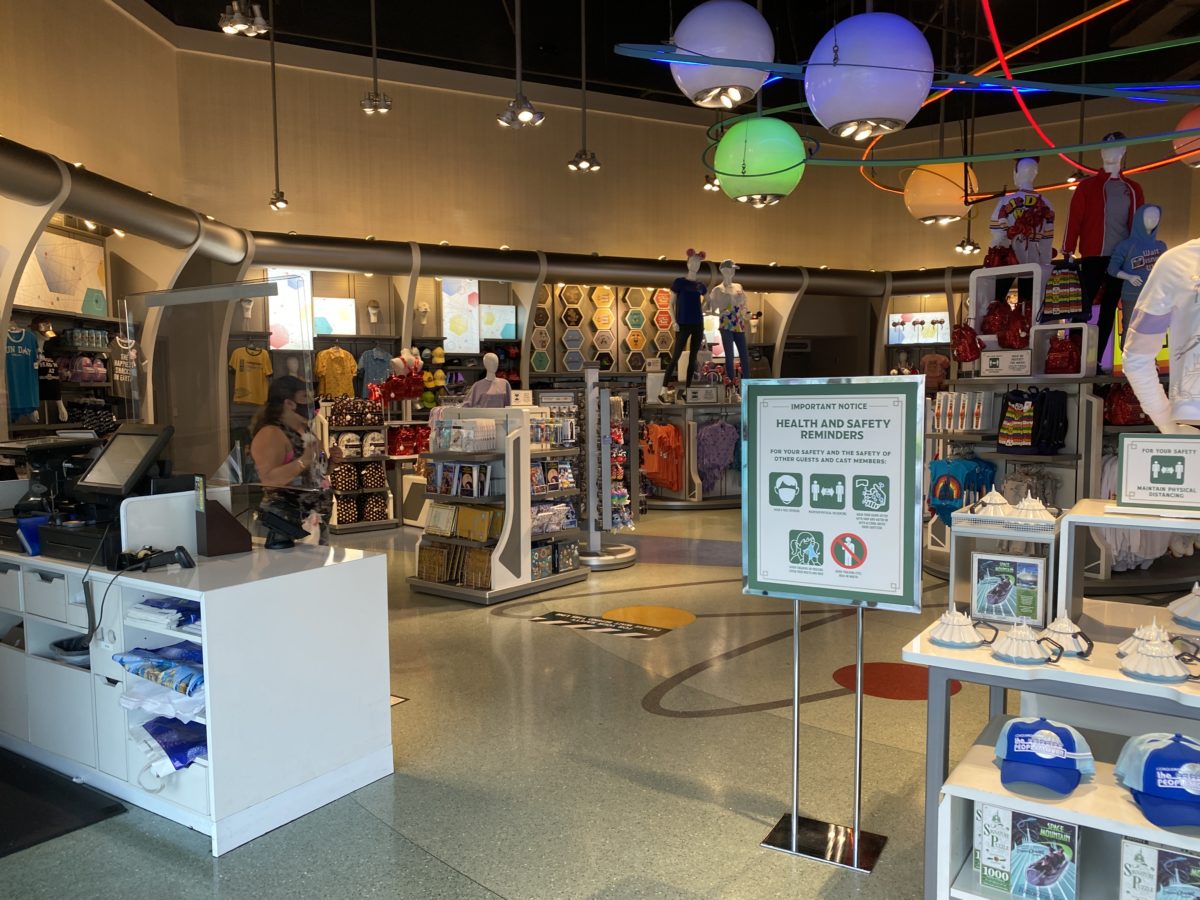 Star Traders in Tomorrowland has reopened with new social distancing measures, plexiglass on the registers and a designated entrance and exit.
Transportation
For guests taking the Monorail to or from the Magic Kingdom should know there are now boarding zones and partitions added to the cabins.
The Ferryboat has once again set sail with social distancing markers and limited seating around the ferryboat.
Boat service between the Magic Kingdom and Disney's Fort Wilderness Resort & Campground has resumed with a piece of Disney history. The former Discovery River Cruise boats from Disney's Animal Kingdom have been put into service here, with plenty of social distancing on the dock and reduced seating on the boat itself.
We hope this comprehensive guide allows you to better understand the changes that have come to the theme park since reopening and help plan your upcoming visit to the Magic Kingdom.